CNY snack gift sets by Mdm Ling Bakery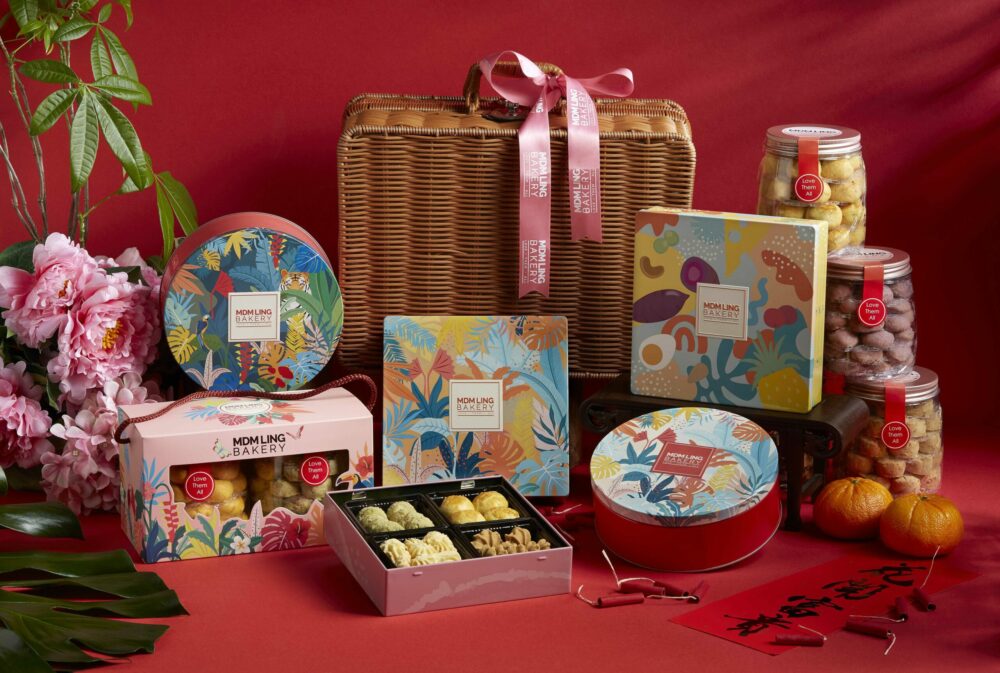 Image credit: Mdm Ling Bakery
The season of indulging isn't over, with Chinese New Year 2022 coming up hot on the heels of the Christmas just past. If you haven't got your CNY goodies sorted for yourself and gifting, Mdm Ling Bakery has a whole range of festive yummies, including gift sets in limited-edition, rainforest-themed tin boxes!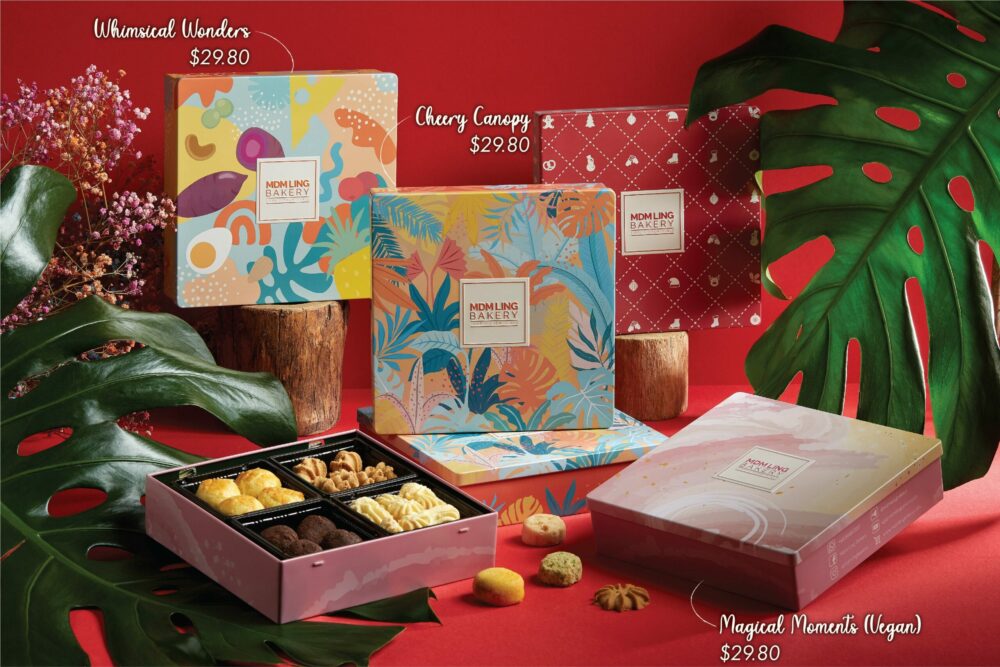 Image credit: Mdm Ling Bakery
Priced at $29.80 each, the Whimsical Wonders and Magical Moments gift boxes each hold a collection of four cookies, all of which have been curated from their bestsellers. The tin boxes, with whimsical, abstract prints, are perfect for gifting, so your intended recipient has a variety of nibbles to snack on, and a keepsake to reuse after CNY. Not only are these snack boxes halal, Magical Moments is vegan-friendly too!
Whimsical Wonders, which comes in a rainforest-themed box, comprises Cranberry Pineapple Balls, New Zealand's Premium Anchor Butter Cookies, Wholemeal Raisin Cookies, and Green Pea Cookies. 
On the other hand, you'll get Almond Cookies, Green Pea Cookies, Peanut Cookies, and Hazelnut Cookies in the Magical Moments tin.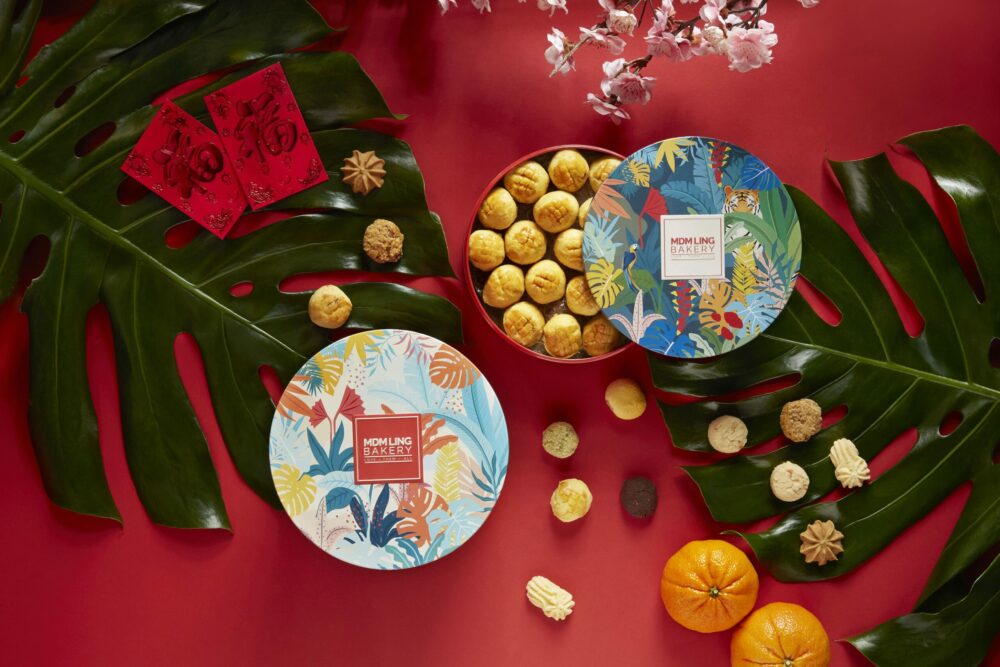 Image credit: Mdm Ling Bakery
If your friend has very specific likes, consider instead the Rainforest Rhapsody ($26.80) tin. While it's sold out in Premium Pineapple Balls, you can still get tins of New Zealand's Premium Anchor Butter Cookies or Pink Himalayan Sea Salt Chocolate Almond Cookies, each roughly 300g in weight.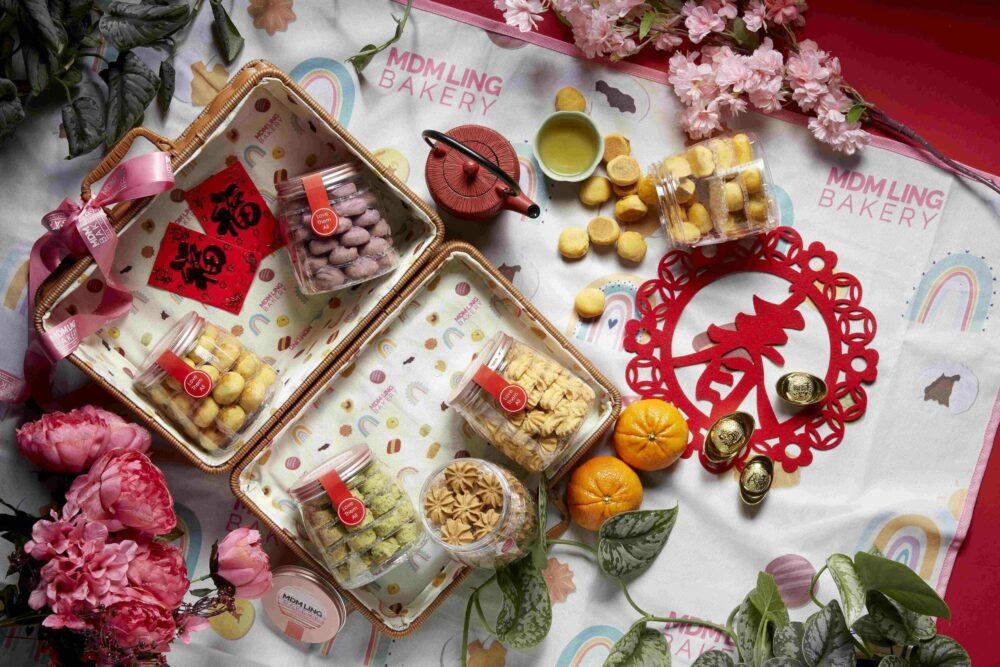 Image credit: Mdm Ling Bakery
Alternatively, be the gifter with the mostest when you order the Festive Picnic Basket ($148), a medley of six standard-sized tins, packaged together with a picnic mat designed specially for Mdm Ling Bakery, and a gift card for you to write your festive wishes on! Choose from 12 different cookie flavours here, including Molten Chocolate Cookies, Purple Sweet Potato Cookies, Red Velvet Cheese Cookies and more.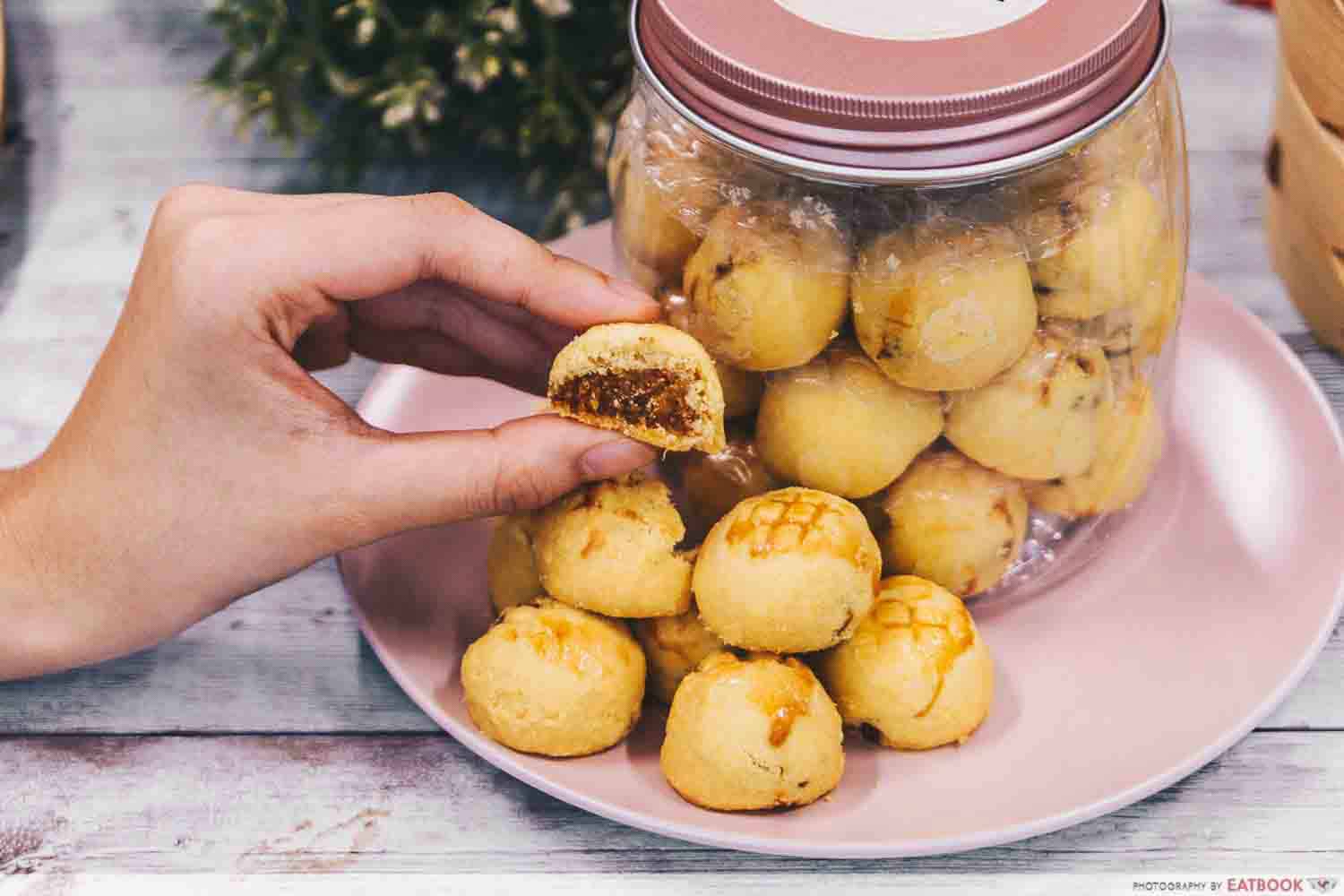 Of course, CNY is never complete without pineapple tarts, so spoil yourself with some Premium Pineapple Balls $18.80). Each pineapple ball features a crumbly, extra buttery crust, enveloping a centre of lightly sweet pineapple jam.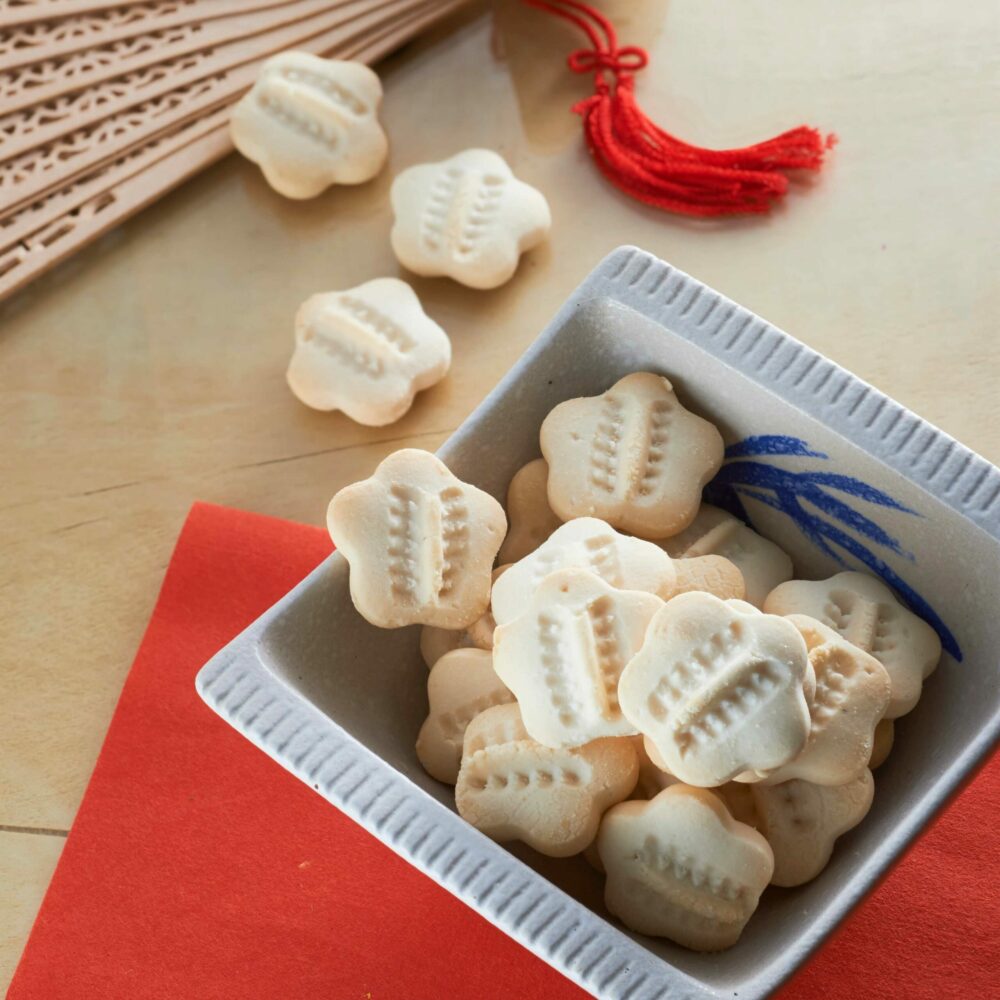 Image credit: Mdm Ling Bakery
Another staple at the goodies table each Lunar New Year is kueh bangkit, which needs no further introduction. Here, the ever-popular Premium Kueh Bangkit retails for $21.80 per bottle of these light-as-air, melt-in-your-mouth coconut cookies.
If you missed them last year, the bakery has increased their production capacities so there's plenty of kueh bangkit for everyone!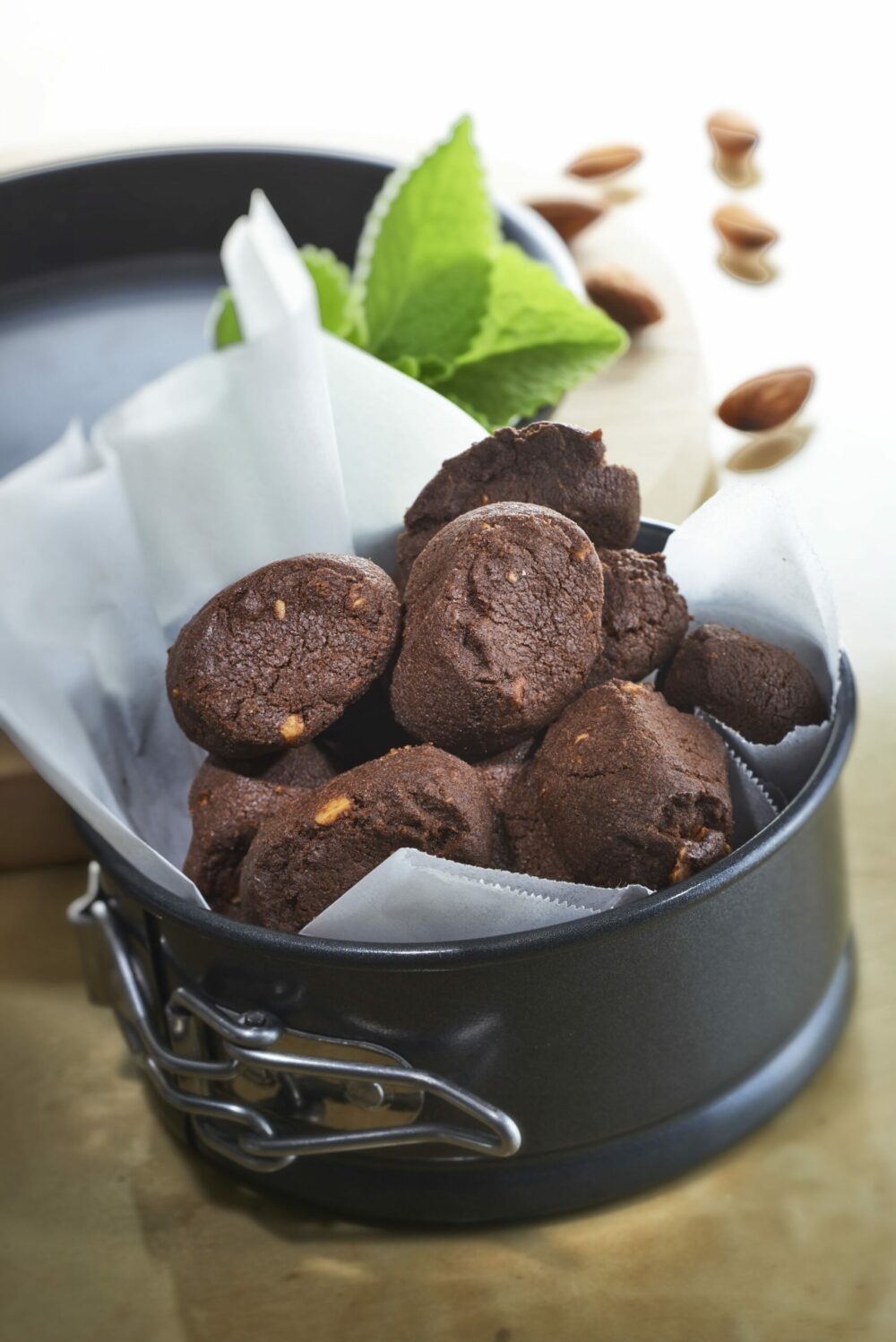 Image credit: Mdm Ling Bakery
Win your guests, both young and old, over with the Pink Himalayan Sea Salt Chocolate Almond Cookies ($18.80). These rich chocolatey bites are studded with almond bites, and sprinkled with pink Himalayan sea salt for just a touch of savouriness.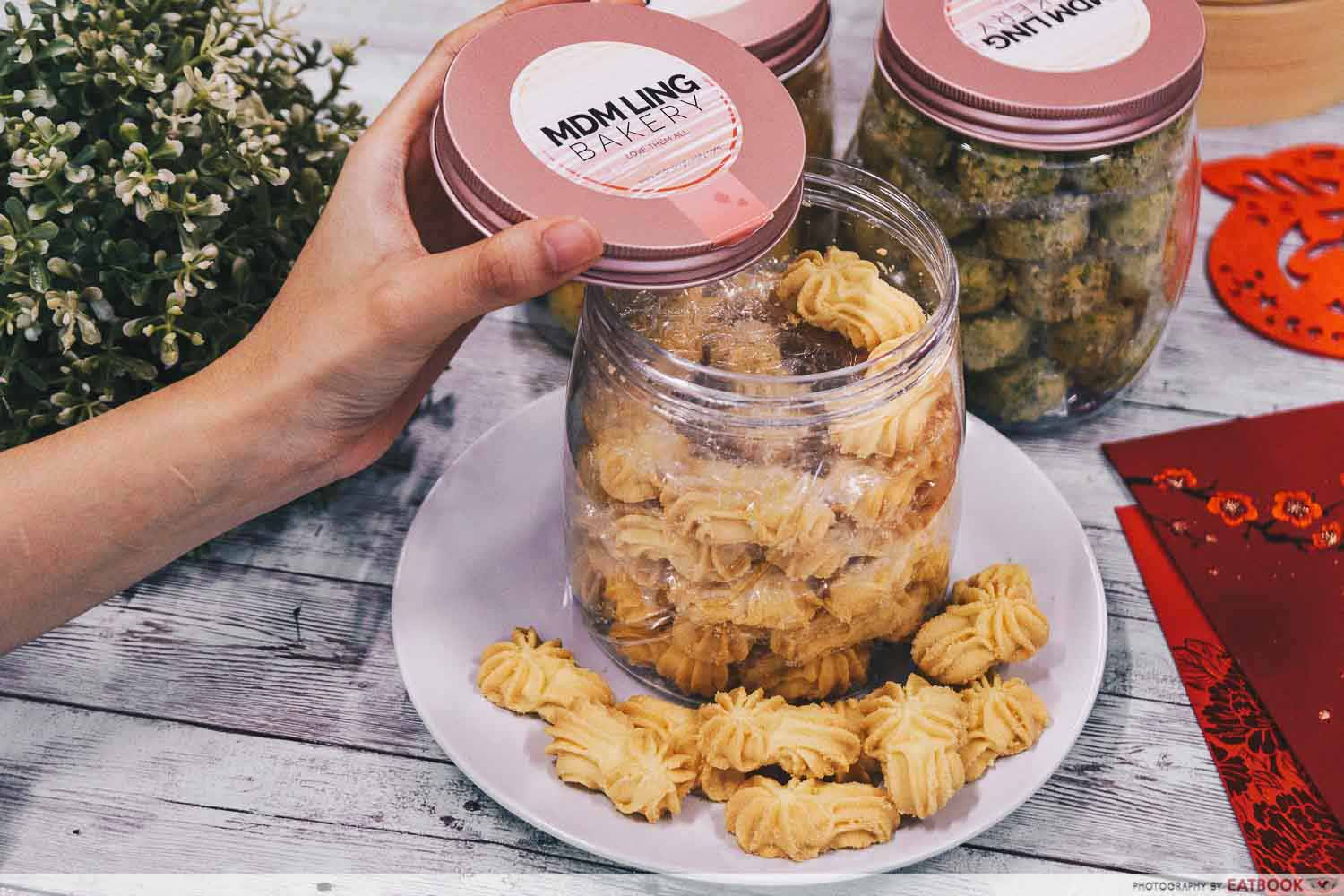 Made with Anchor Butter, known for its distinctive yellow colour, the New Zealand Premium Anchor Butter Cookies are crisp and light, yet melty. A bottle of these golden swirls is priced at $18.80.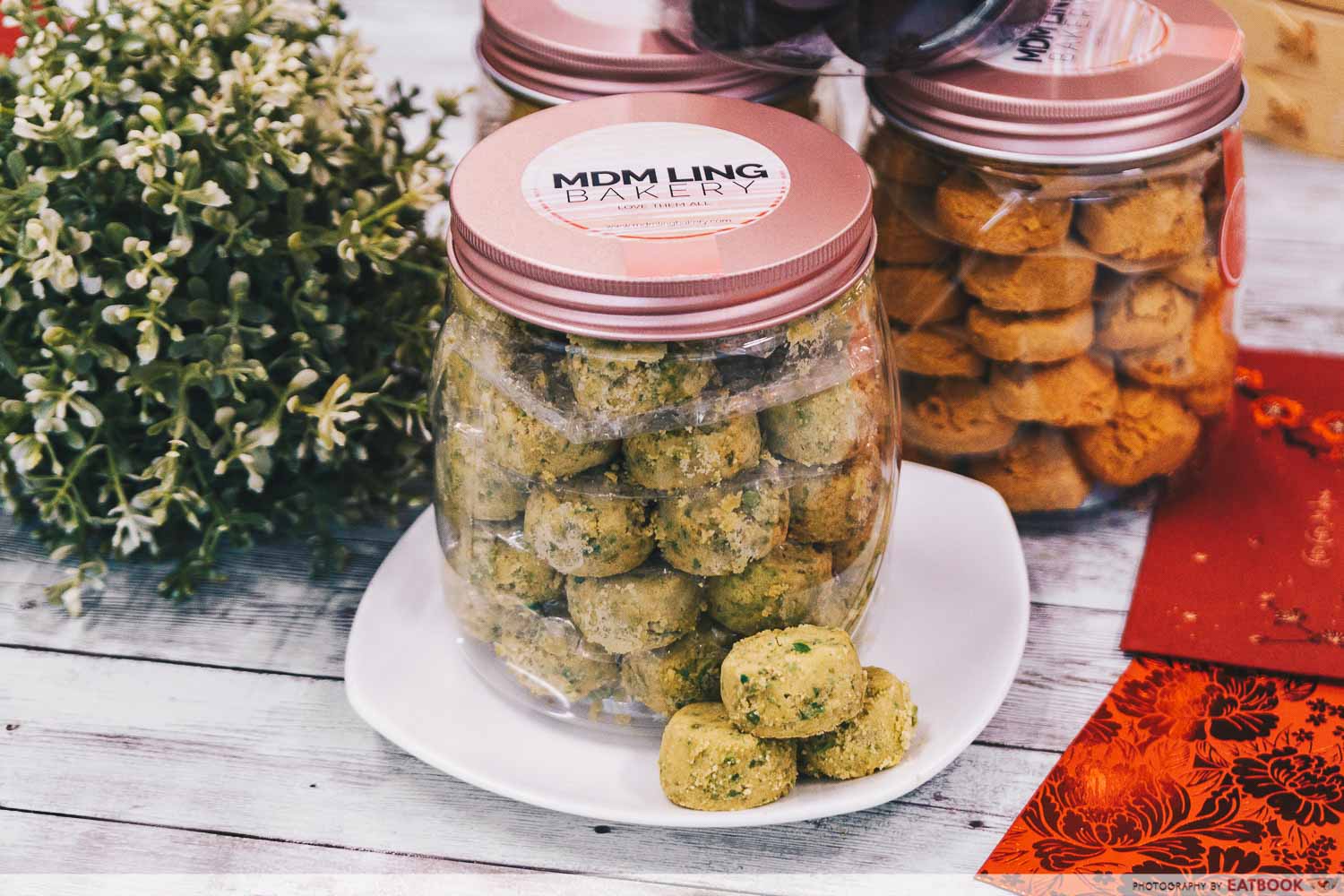 For something fresher tasting, get the Green Pea Cookies ($16.80), which are made with toasted green peas. These crisp bites are nutty and tasty; they'll convert even the most ardent pea haters!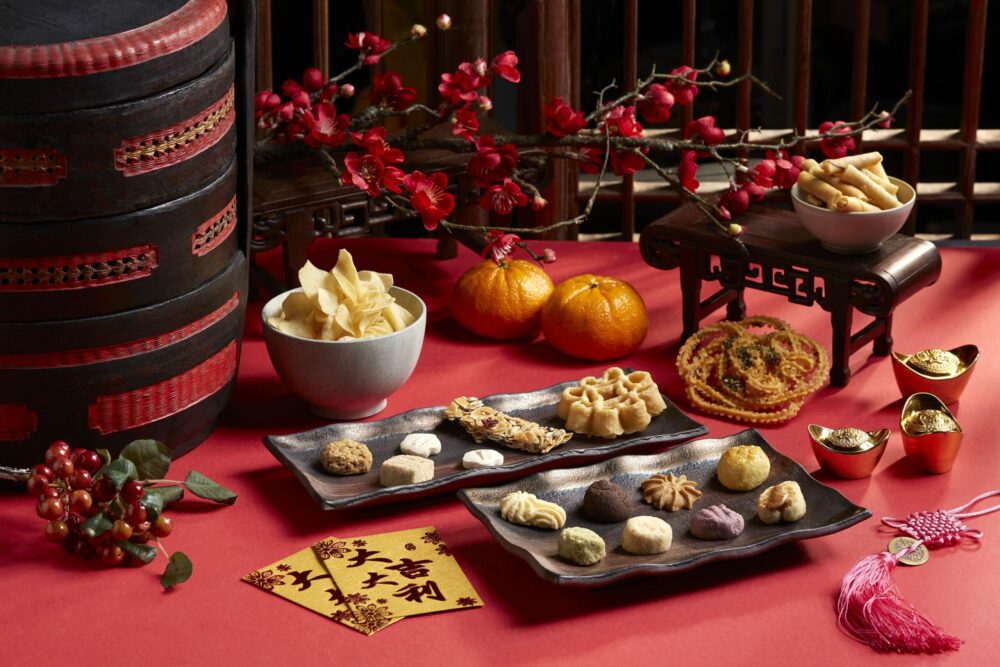 Image credit: Mdm Ling Bakery
Right now, delivery is free with purchases above $45! Otherwise, a delivery fee of $10.90 is chargeable. Delivery dates are flexible, so pick what's best for you at checkout!
They're also extending an exclusive promotion to Eatbook readers━the first 250 readers who check out with the promo code 'MLBEBCNY2022' will be entitled to a mystery gift with $148 spent on the site.
What's more, from 19 January to 24 January 2022, enjoy $15 off when you order six standard-sized bottles of CNY cookies. Otherwise, get $8 off if you order four standard-sized bottles! Do note that these discounts are only valid on a la carte prices. Some of the gift sets have already sold out, and the other cookies are selling fast, so be sure to place your orders soon!
Photos taken by Muhammad Hafiq.
This post was brought to you by Mdm Ling Bakery.