Mel Pot has unique Japanese desserts 
Update: Mel Pot has permanently closed.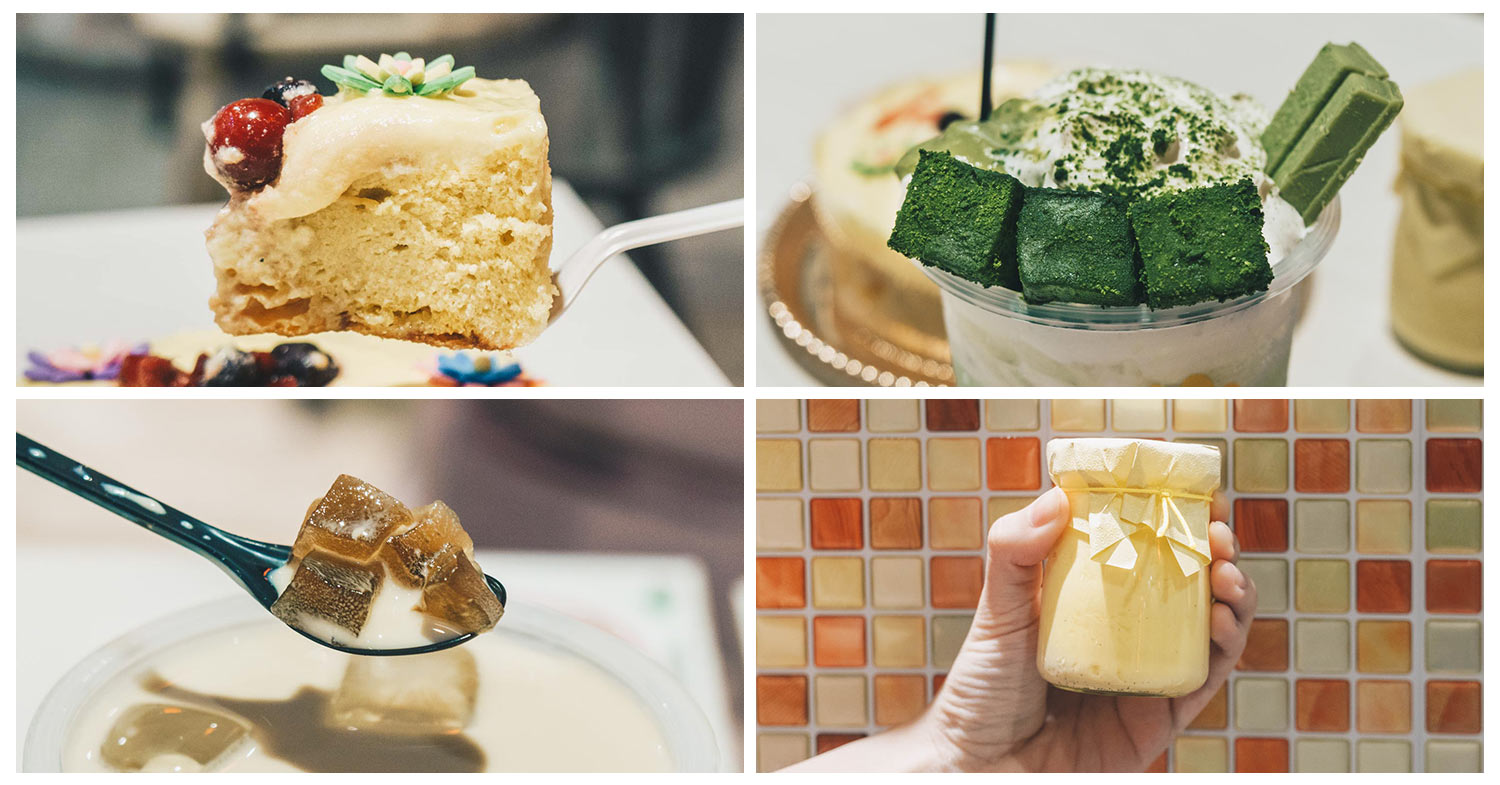 Orchard Road prevails as one of the most common avenues for my usual dinner affairs with my friends. However, I do find myself being overwhelmed by the plethora of dessert options available, resulting in us propelling towards the same, old ones for our post-dinner course whilst continuing the banters through the evening. If you ever find yourself in a situation like this, there's one dessert shop that I'd like to bring to the fore.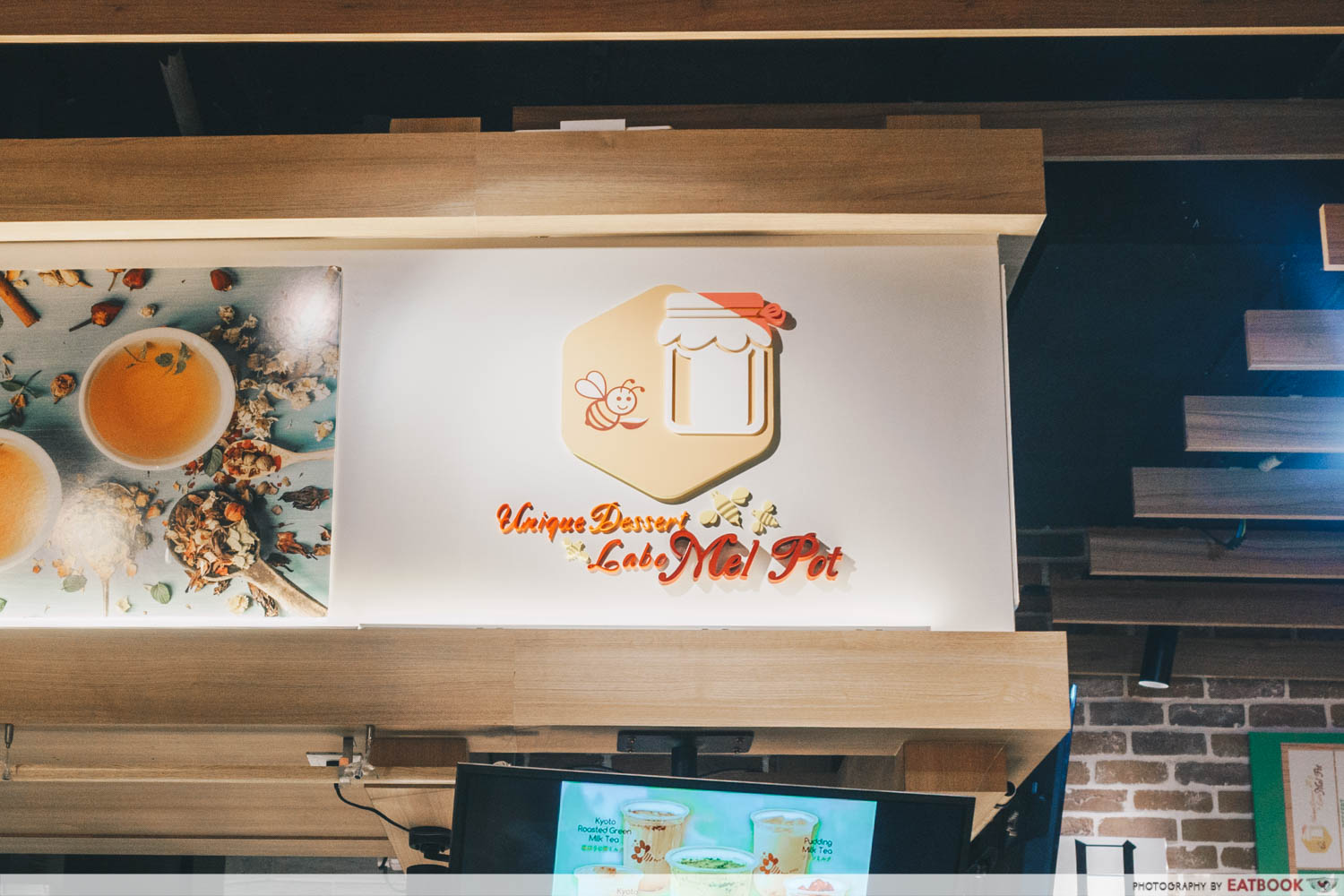 Located in Orchard Central, Mel Pot offers an array of unique kawaii desserts including pudding, iced tea, shaved ice, ice cream and their signature warabimochi. These sweet treats feature ingredients directly from different parts of Japan such as Kyoto, Hokkaido and Fukuoka. 
The food at Mel Pot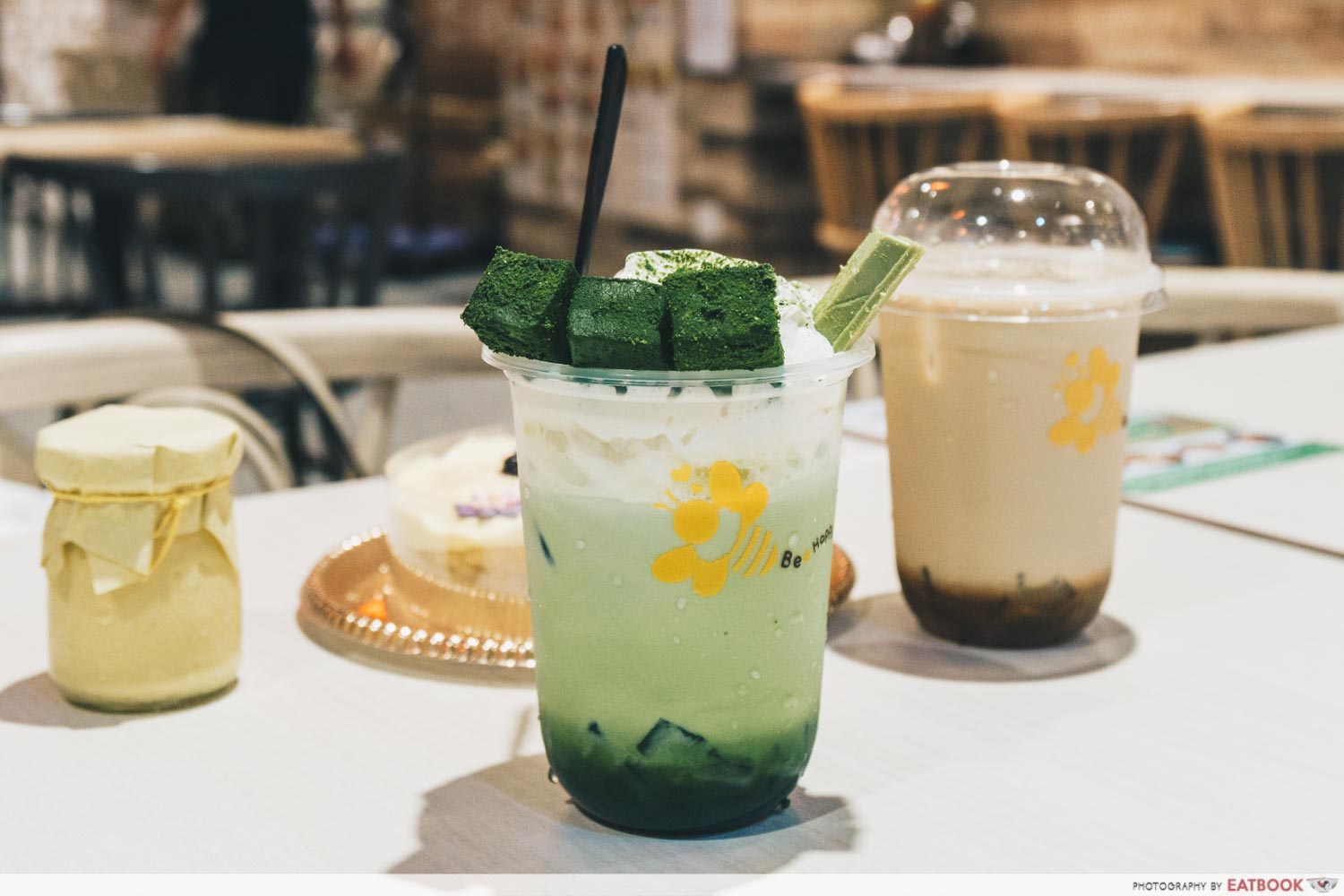 The Matcha Lovers ($7.80) is Mel Pot's rendition of a decadent matcha bubble tea. This limited-edition beverage includes an overwhelming amount of elements such as matcha warabimochi, matcha KitKat, whipped cream, matcha pudding, and matcha milk.
It only took one sip for me to be swayed over, as every element in the drink was well-integrated. The pleasant fragrance of the matcha hit first, followed by the rounded milky sweetness. I also thoroughly enjoyed the creamy consistency of the matcha milk.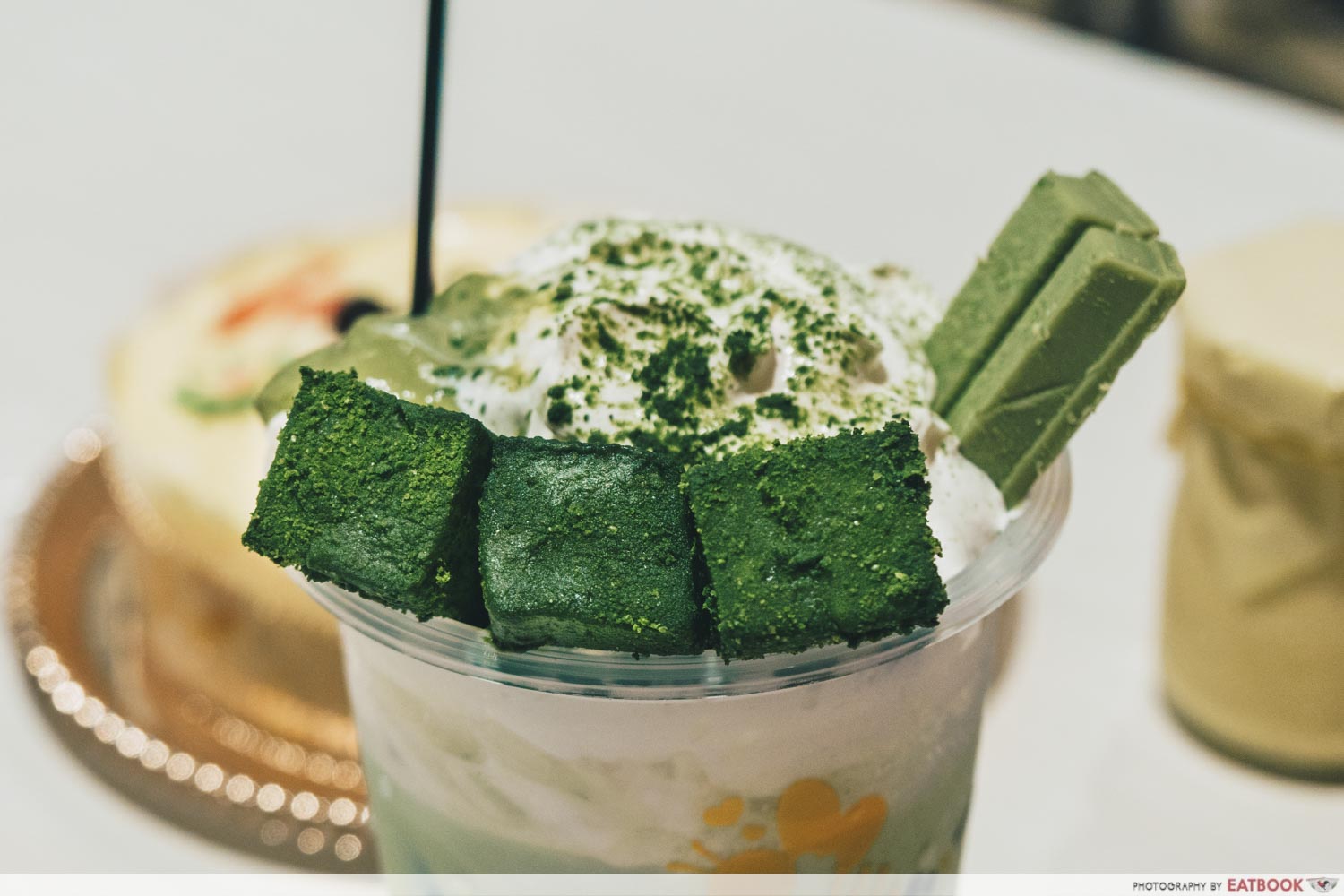 Apart from the avalanche of whipped cream, the top of the drink was loaded with ingredients of iridescent shades that made it very enticing and Insta-worthy. It could get a little messy once you dig into it, but this contributed to the fun of it.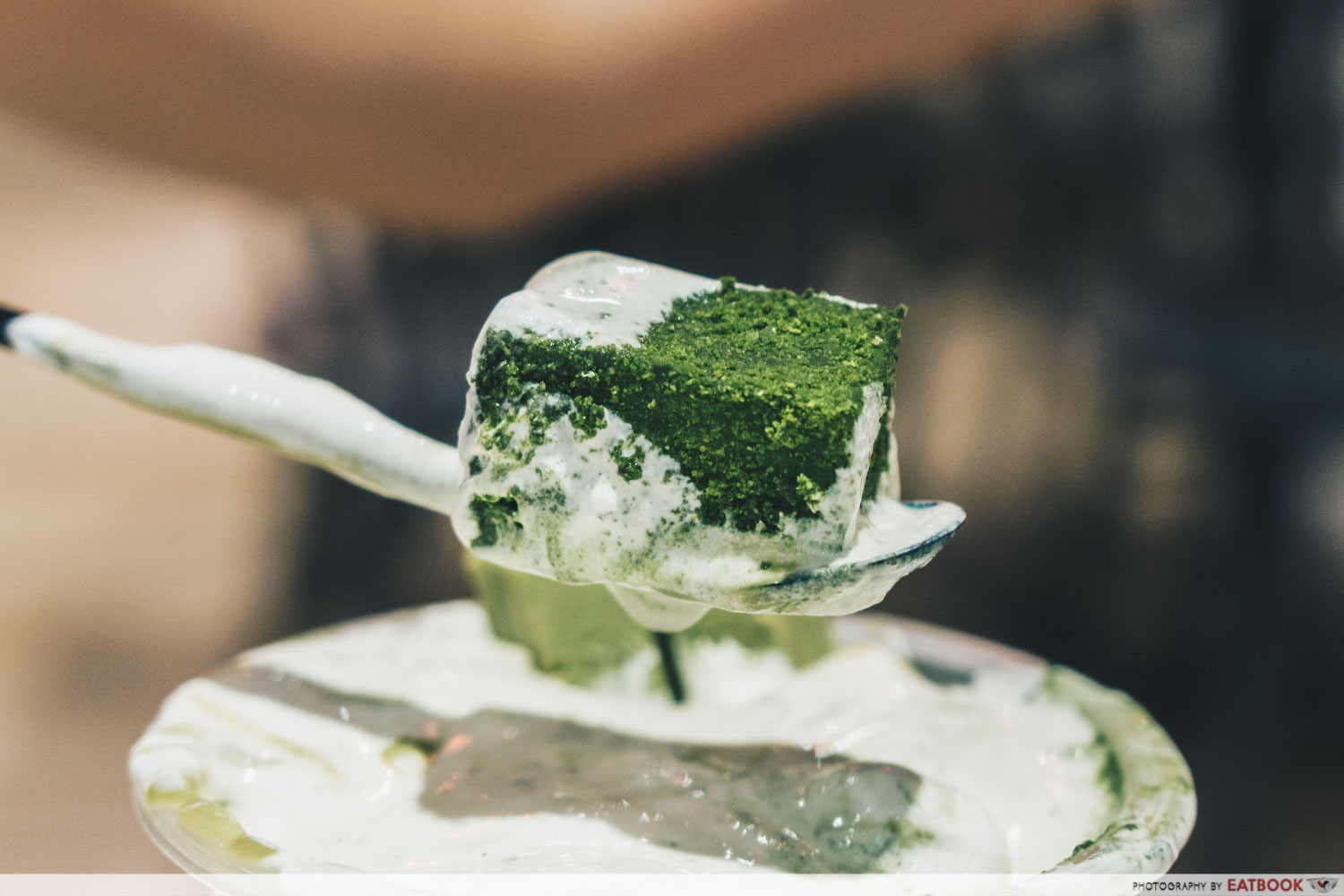 Warabimochi is made from starch, as opposed to the standard mochi that's made from glutinous rice. It is common in Japan to savour warabimochi along with a cup of green tea. Hence, this beverage replicates this matcha-mochi pairing through the addition of three large warabimochi cubes coated with matcha powder. It had a satisfying soft and squishy texture, with a subtle sweet flavour. 
The idea of using warabimochi instead of boba pearls definitely piqued my interest. Initially, I was expecting the warabimochi to become mushy since it would be drenched with matcha milk. However, the chewy texture was retained and it was even a little powdery. It was denser, chewier and less sweet compared to your average brown sugar boba. I dare say I now prefer warabimochi to pearls.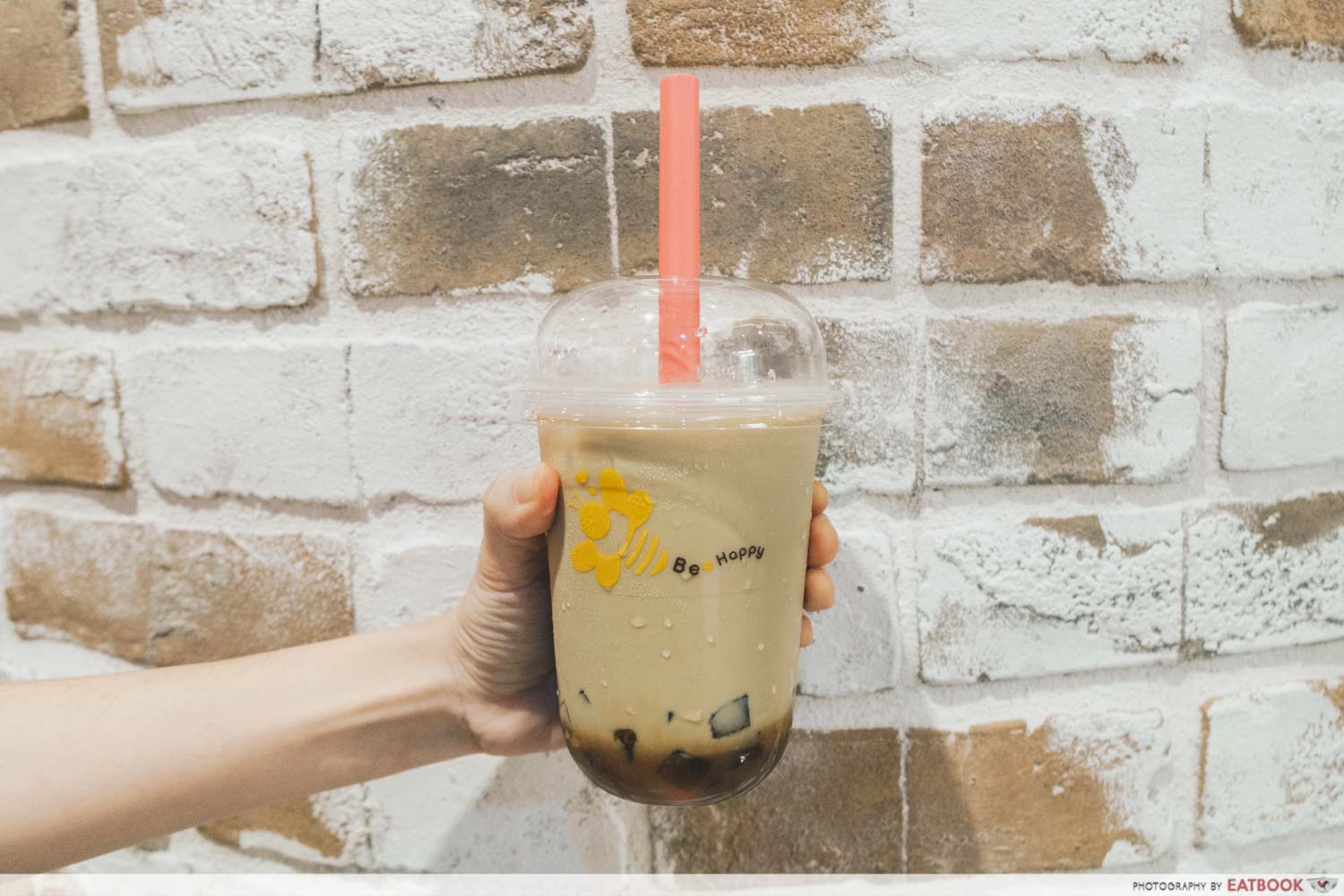 The Kyoto Hojicha Milk ($5) falls under the warabimochi tea series which features tea that's from Nanzanjo Village in Kyoto, home of the best tea makers. Hojicha is essentially Japanese green tea, and it's one of the more prevalent types in Osaka and Kyoto.  
I could easily tell the distinction between the hojicha milk tea and the typical BBT as this had a fragrant, roasted flavour profile. The brew was also more intense compared to the Japanese green tea that we're used to. If you have a preference for conventional flavours, you should opt for this. Alternatively, you can try their black bean milk tea which is said to resemble tau huay.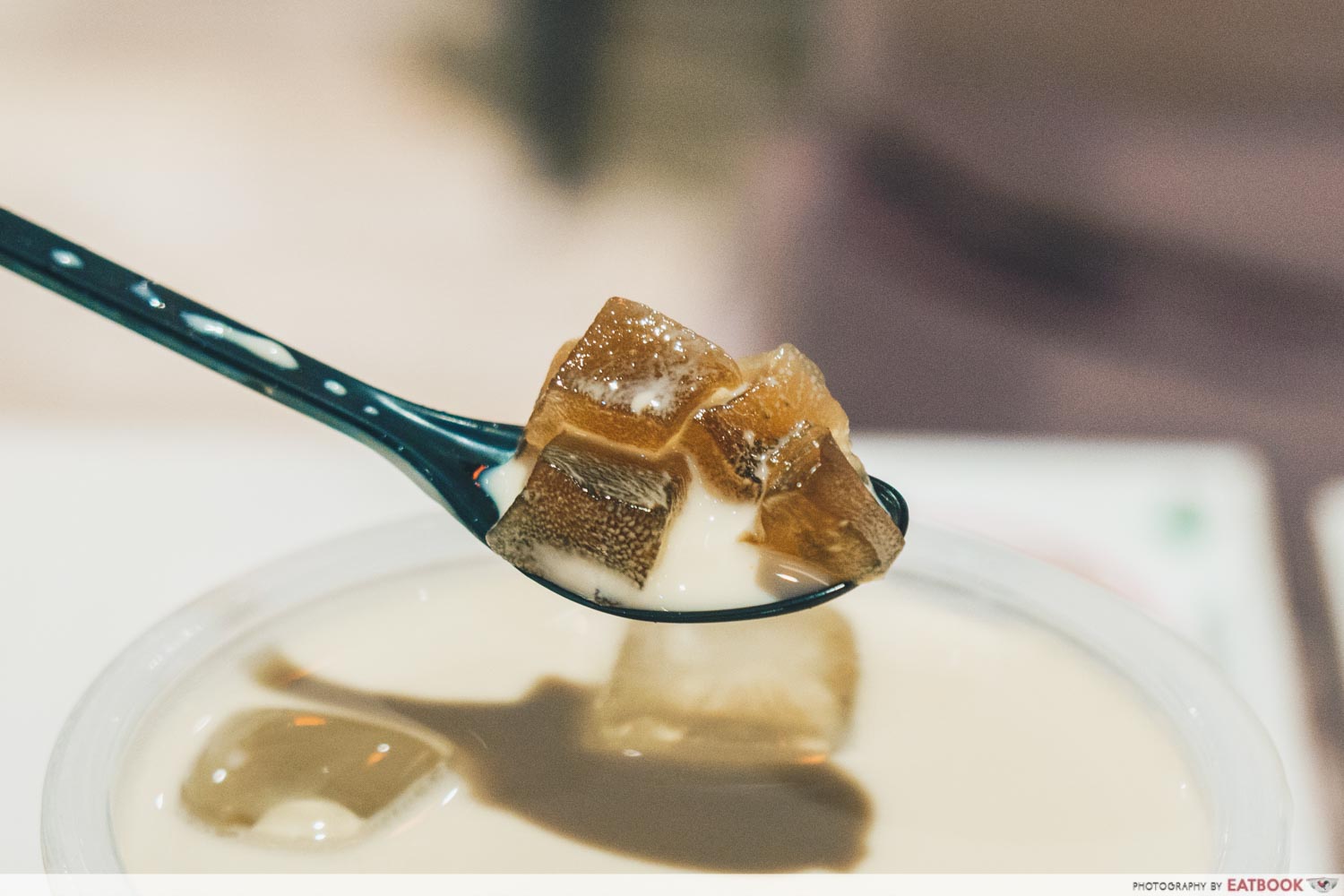 Similarly, warabimochi was used instead of pearls. The tinge of sweetness in the chewy warabimochi complemented the smoky flavour of the drink.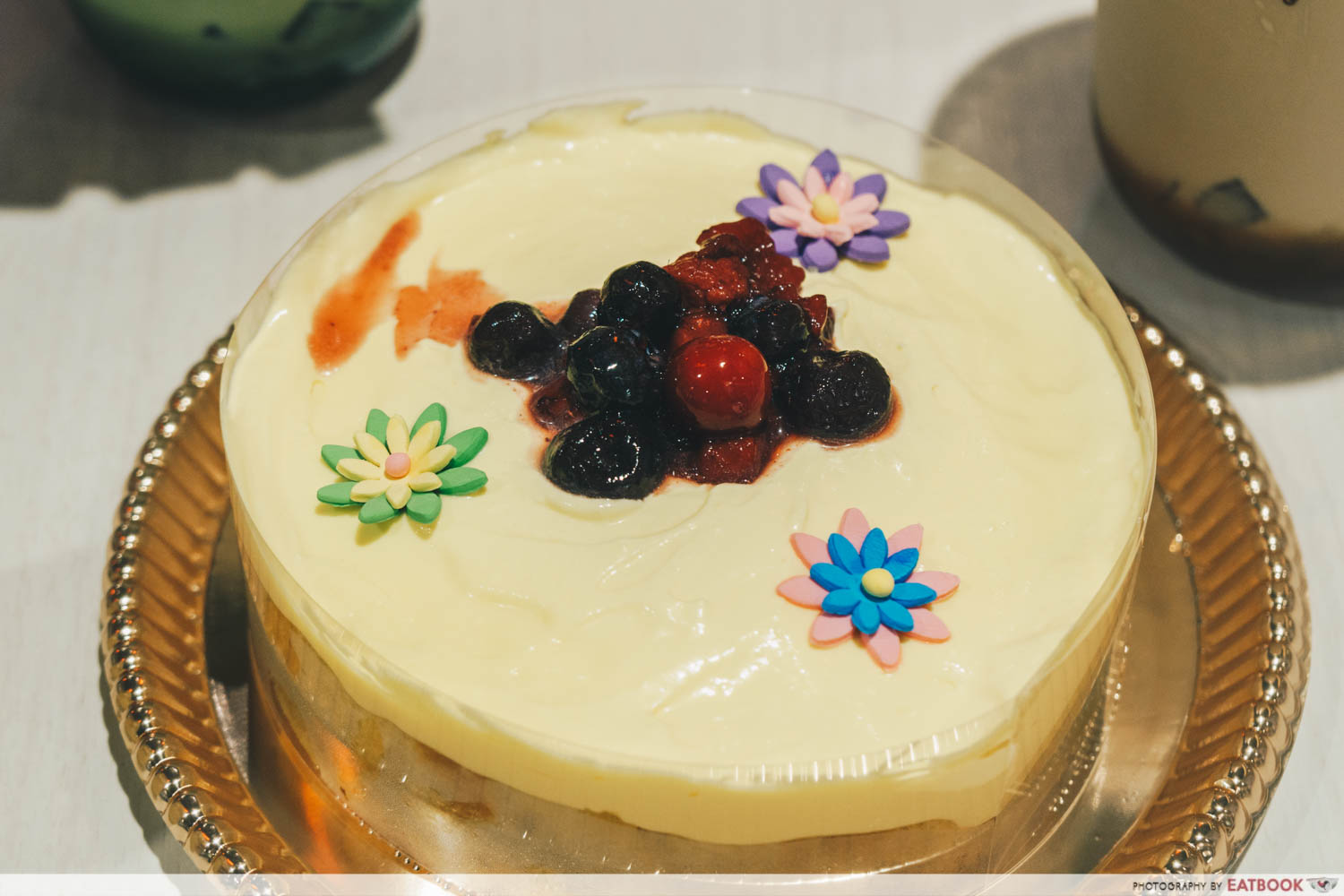 The Half ripe Castella Cake ($18) stands as Mel Pot's sole cake option. This vanilla sponge cake was generously smothered in a decent layer of custard and a heaping spoonful of berry compote. It was also decorated with dainty sugar flowers, which came from Japan.
The centrepiece of this dessert for me was the custard, as I couldn't stop myself from savouring it. It had a well-balanced sweetness, and was incredibly smooth and velvety. The light, aerated body was almost similar to whipped cream.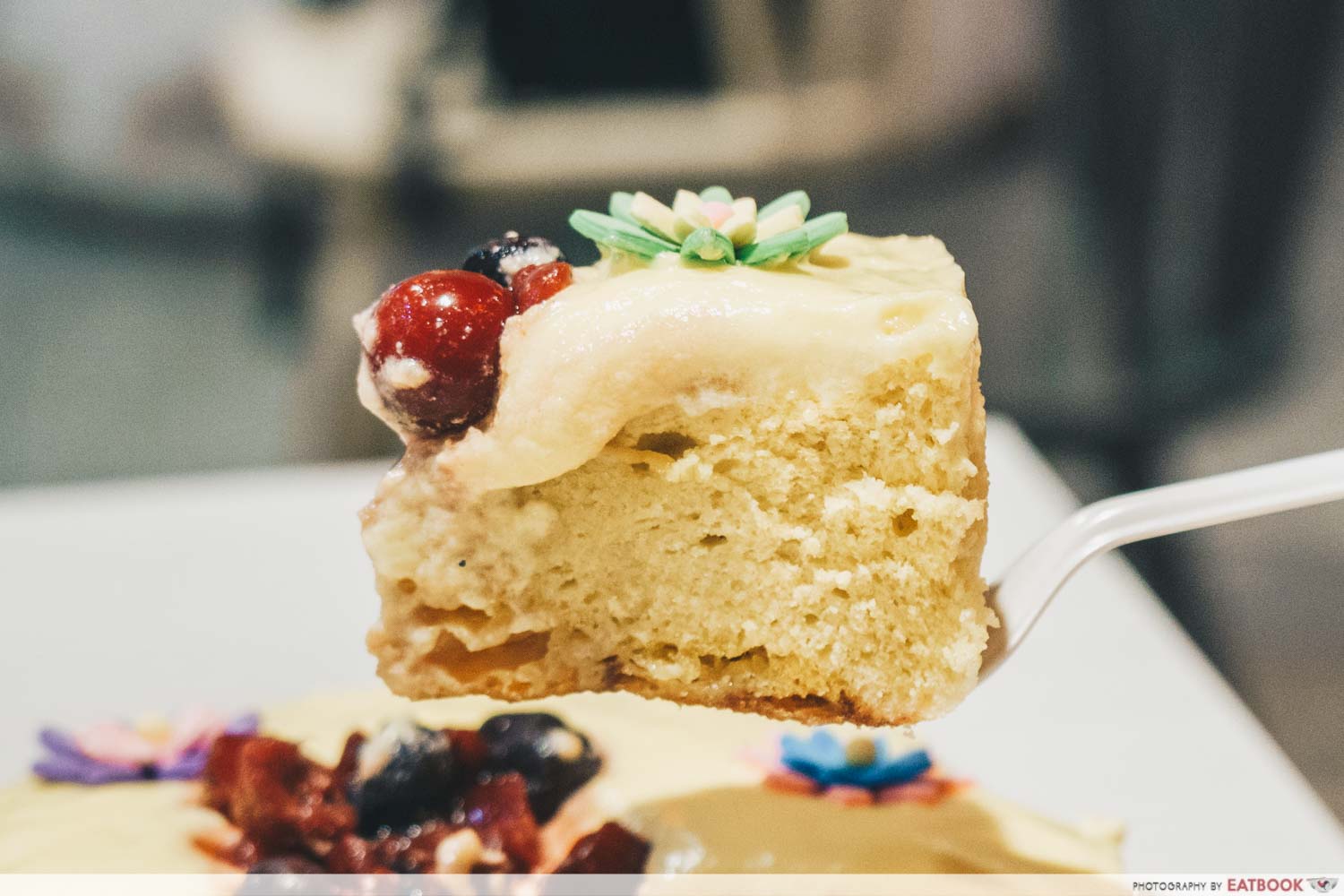 As the nature of the cake was half ripe, the middle portion had a slightly different texture as compared to the outer rim, where it was more crumbly and less dense. Overall, it was moist and they managed to attain a great level of sweetness. The berry compote added an element of tartness that helped balance the dish.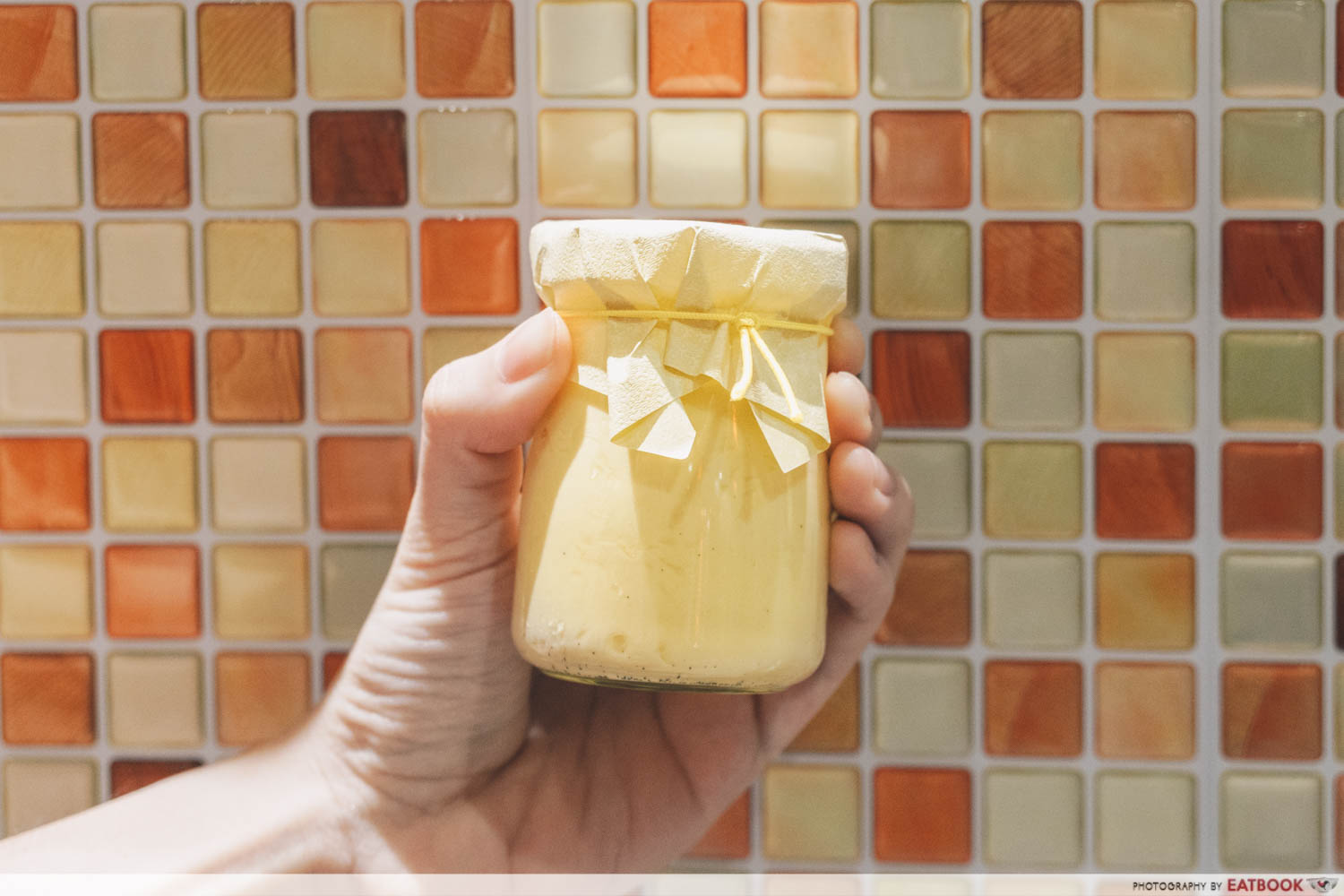 The palm-sized Plain Mel Pudding ($5.80) came in an adorable, quaint pudding bottle. This little dessert had no preservatives and it was simply made with 100% natural honey from Fukuoka, egg yolk, vanilla, and milk. I immediately noticed the specks of vanilla beans resting at the bottom of the pudding cup.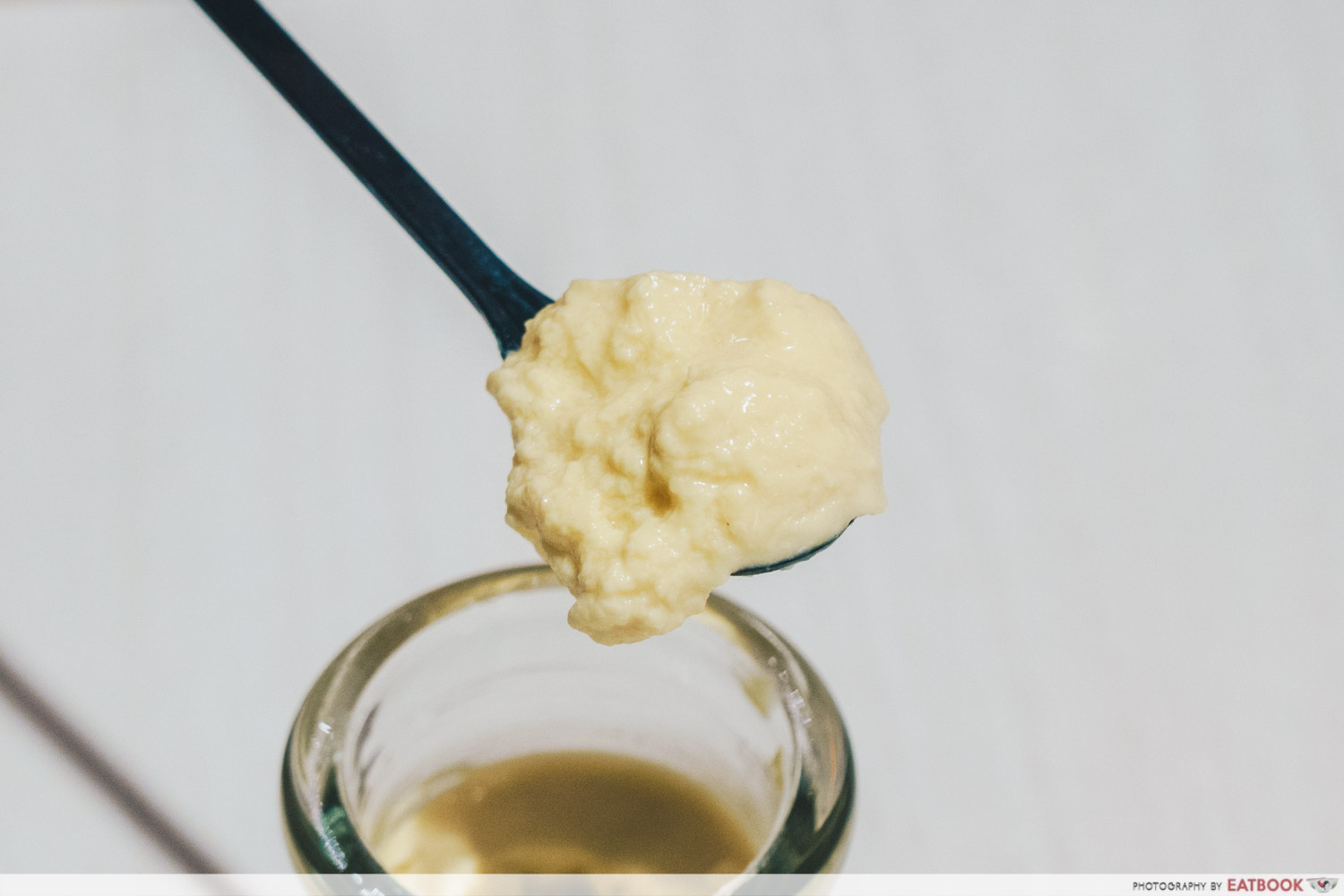 Despite only being made up with a mere number of ingredients, the pudding had a rich and eggy flavour, along with a hum of vanilla essence. The texture was undeniably light, but I would've preferred it to be more delicate as it was slightly curdled. It got a little cloying for my palate towards the end. 
The ambience at Mel Pot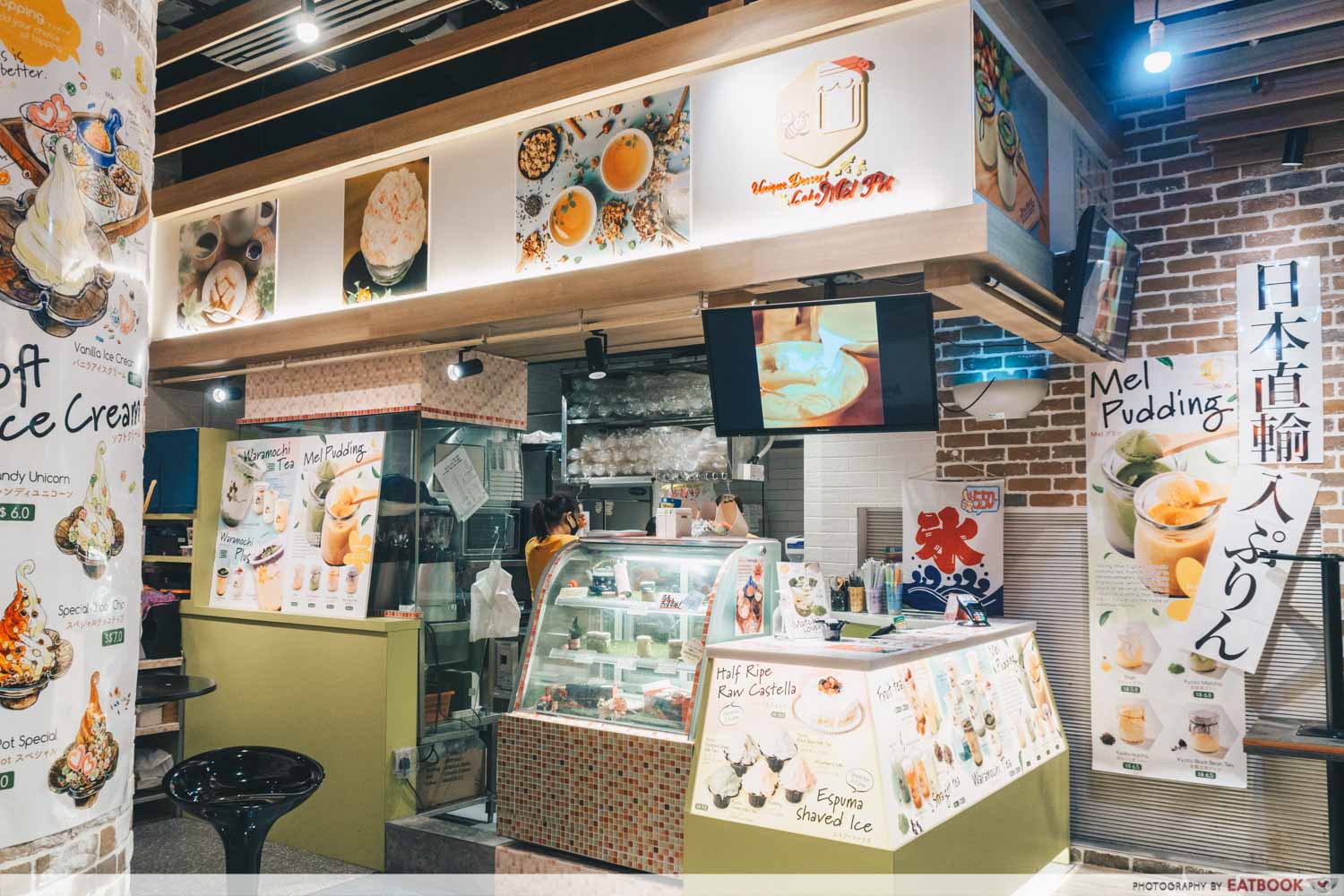 Mel Pot nestles right in the corner of Hokkaido Marche, which is a food hall that presents multiple legit Japanese fare. Plastered with images of their desserts all over the storefront, this humble little shop is hard to miss.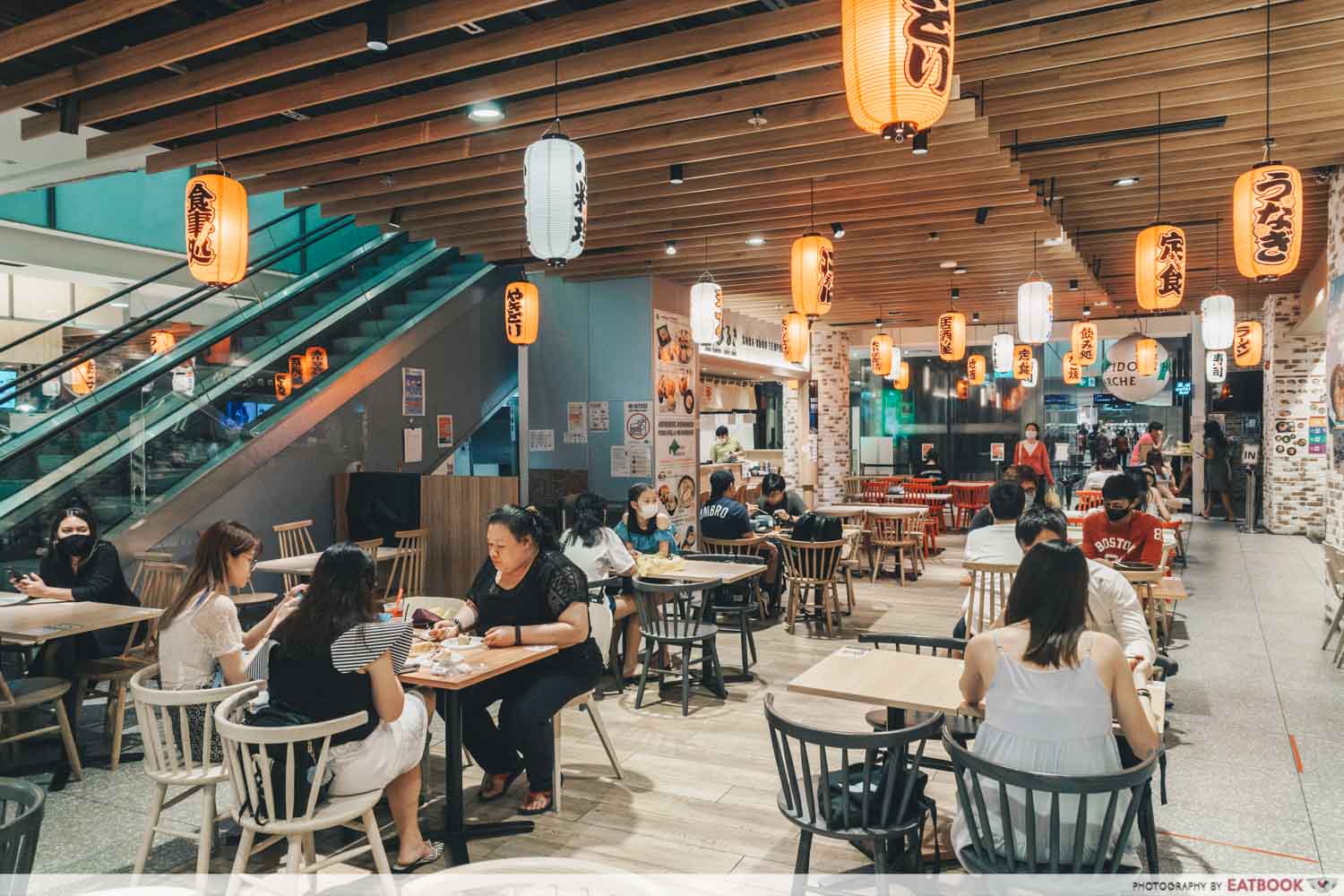 Resembling a marketplace, the space had a street-style to it, with Japanese lanterns dangling from the teak plank ceilings. The upbeat Japanese background music and warm lighting also added a layer of vibrancy to the setting. There should be a couple of vacant tables available during non-peak hours, but be prepared to wait once the dinner crowd comes.    
The verdict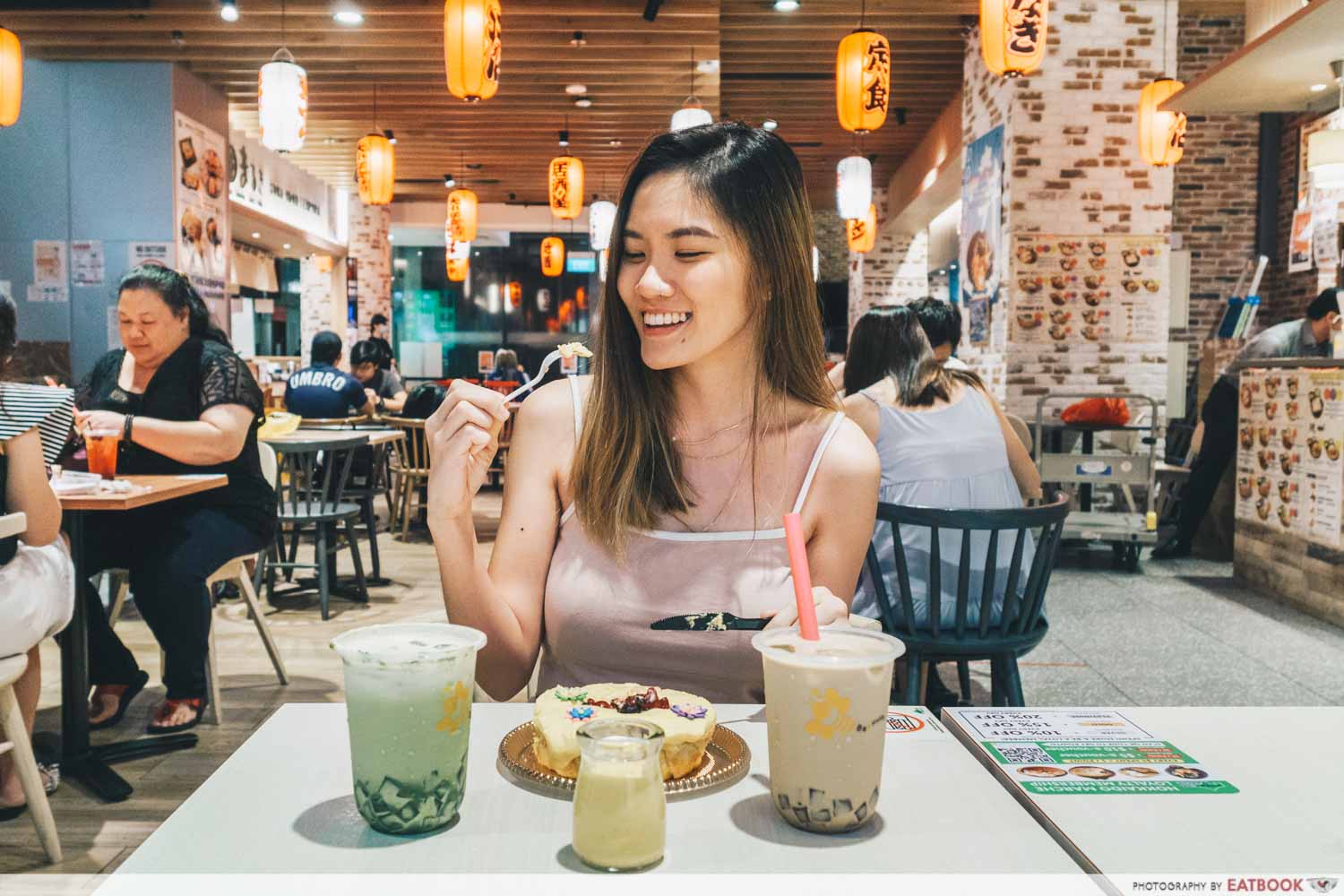 I was impressed with Mel Pot's offerings as most of the desserts I've tasted were well above average. Even with the saturated pool of dessert options in Orchard, Mel Pot managed to differentiate itself with a decent spread of variety as well as well-executed and appealing desserts. The authenticity of ingredients did reflect in the taste and quality. Moreover, I thought that the use of warabimochi as a substitute for pearls was really novel.  
I'd definitely head back with my friends to relish in the matcha lovers beverage as well as their half ripe castella cake. This may just be my new post-dinner hangout if I'm in the vicinity.
10 Dessert Spots In Town And CBD With 1-For-1 Acai, Gula Melaka Cake And More
For more decadent treats, check out our list of 10 dessert spots in town. Alternatively, catch our review of Kamome Bakery for more delectable Japanese baked goodies.
Kamome Bakery Review: Japanese Cafe With Red Bean Butter Buns, Mentaiko Baguettes And More
Address: 181 Orchard Road, #B2-11 to 29, Singapore 238896
Opening hours: Daily 11am to 9:30pm
Website
Mel Pot is not a halal-certified eatery.
Photos taken by Hay Thi.
This was a media tasting at Mel Pot.
Summary
Pros
– Unique offerings
– Accessible location
– Great beverages
– Decent variety 
Cons
– Pudding can be a little too sweet
Recommended Dishes: Matcha Lovers ($7.80), Half ripe Castella Cake ($18)
Opening hours: Daily 11am to 9:30pm
Address: 181 Orchard Road, #B2-11 to 29, 238896