Ming Kee Chicken Rice at Bishan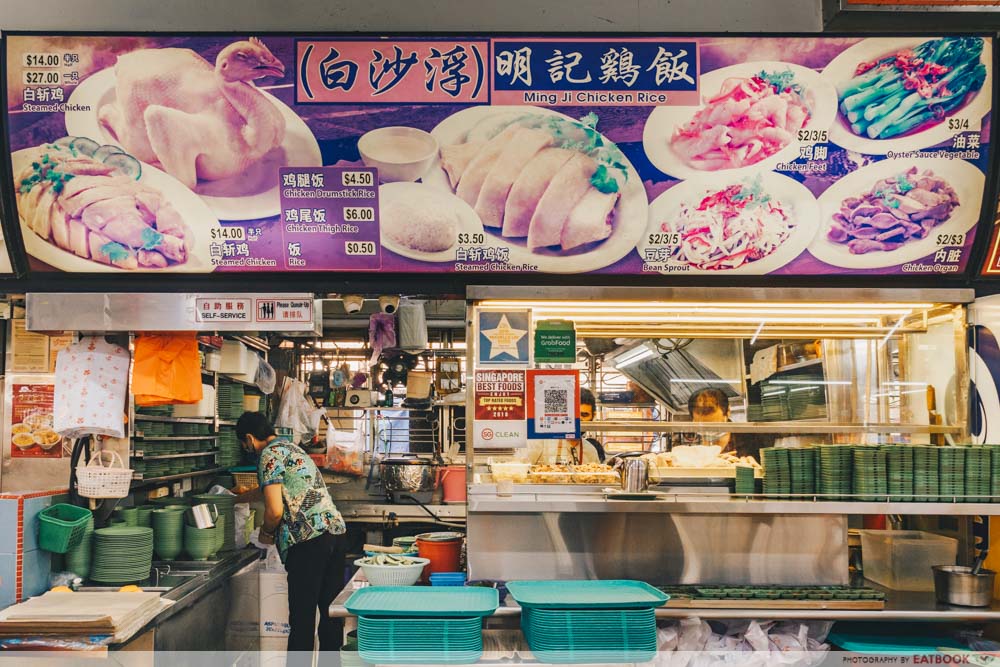 There's no hawker staple like chicken rice, a dish I naturally gravitate towards if I can't think of what to eat. Arguably our national dish, residents in Bishan claim Ming Kee Chicken Rice to be the best in the hood. Ready to test that claim, I headed down with an eager belly.
Three generations of the family run this stall, with granddaughter Grace set to take over fully in the near future. Armed with 40 years of heritage, Ming Kee Chicken Rice is famous for their ice bath technique. Unlike other stalls, you won't see chickens hanging in their storefront—they are shocked in an ice bath and remain there until chopped. Grace's father explained that doing so would keep the meat fresh, especially in our tropical climate.
Food at Ming Kee Chicken Rice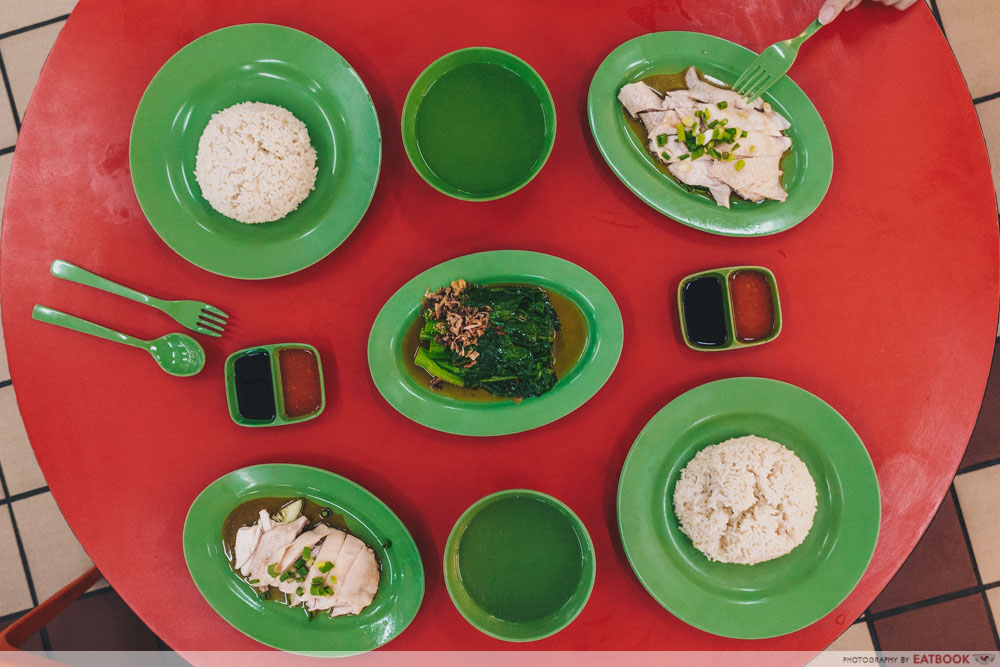 They only sell steamed chicken here, with sides like chicken feet, gizzards, beansprouts, and oyster sauce vegetables. Roasted chicken fans, don't be disappointed—when a stall sells just one main dish, you know they are good.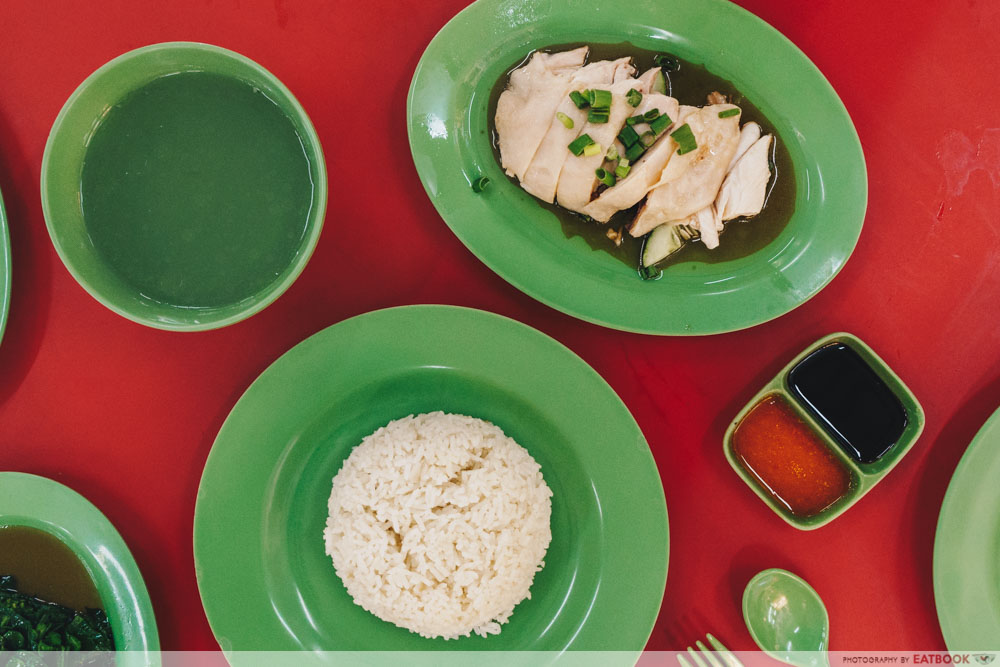 We started with the Steamed Chicken Rice ($3.50), which came with chilli and dark soy sauce, and soup on the side.
What's integral to good chicken rice is, of course, the rice. Here at Ming Kee, don't expect the oily, flavourful type. The rice was clean-tasting, with a hint of chicken oil fragrance, and distinct grains to boot. As someone with a heavier palate, I found this a little bland.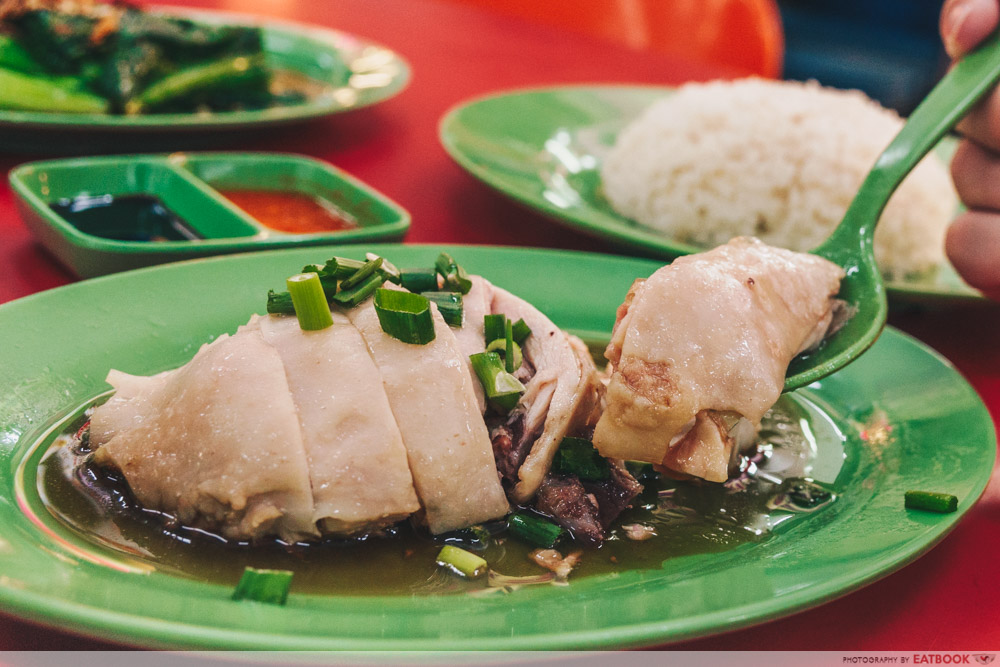 Fortunately, the rice was made up for by the chicken. The ice bath helped create a jelly-like layer between the skin and meat. Its gelatinous texture made the protein more succulent, even though I got the breast cut. The chicken also soaked up the light sauce underneath, finishing with a slight soy sweetness.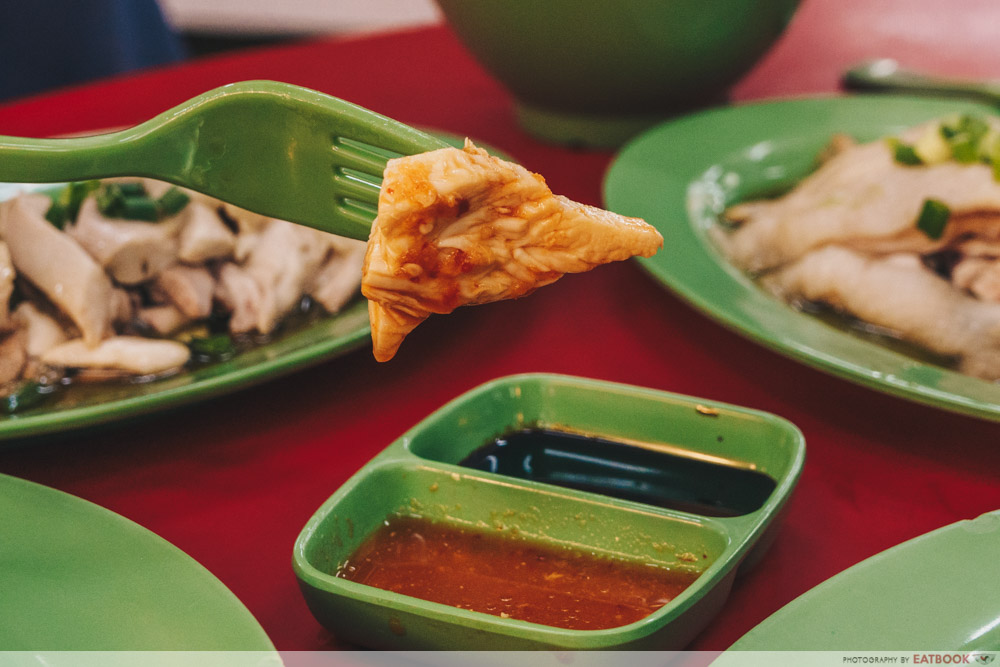 Despite packing sufficient spice, I was disappointed by the chilli's watery consistency. Grace and her team cannot be faulted though, as the chilli sauce is outsourced. Perhaps a thicker variety would go a long way.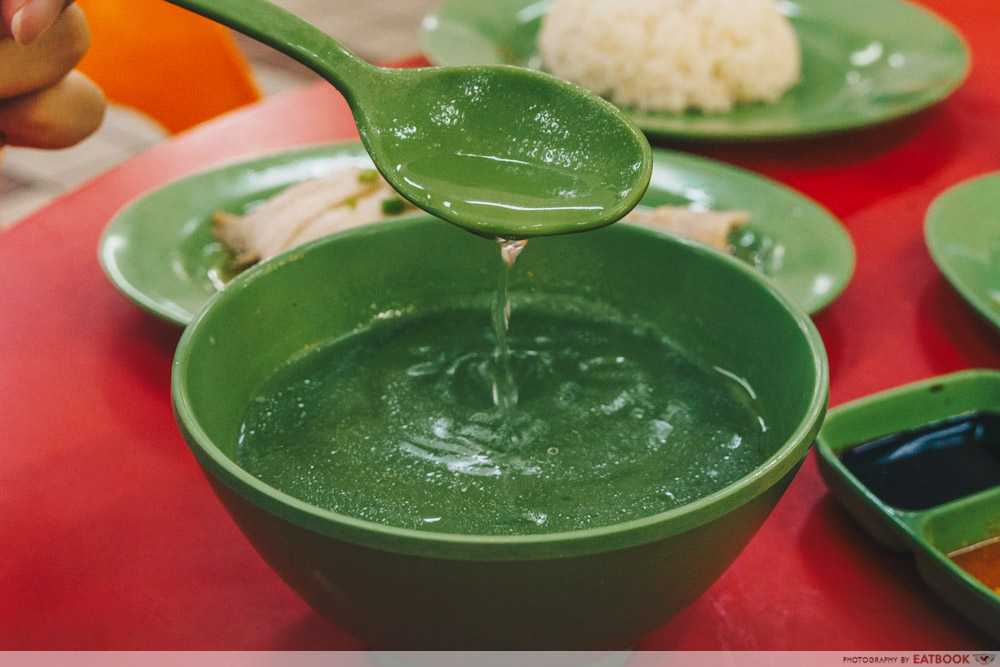 Cooked with only chicken bones and salt, the soup had an unassuming appearance. However, it carried a natural sweetness, which I initially thought was derived from other ingredients like corn and carrots. It refreshed my palate between bites of the chicken rice.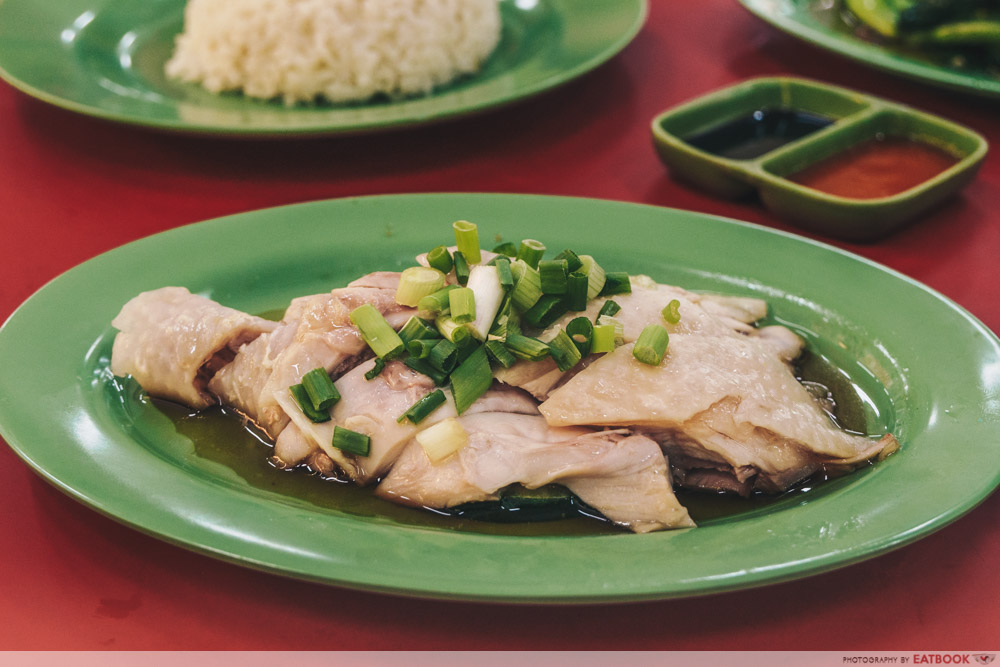 Next, we had the Chicken Drumstick Rice ($4.50). Replacing the chicken breast was a drumstick, complete with the same sauces, soup, and rice.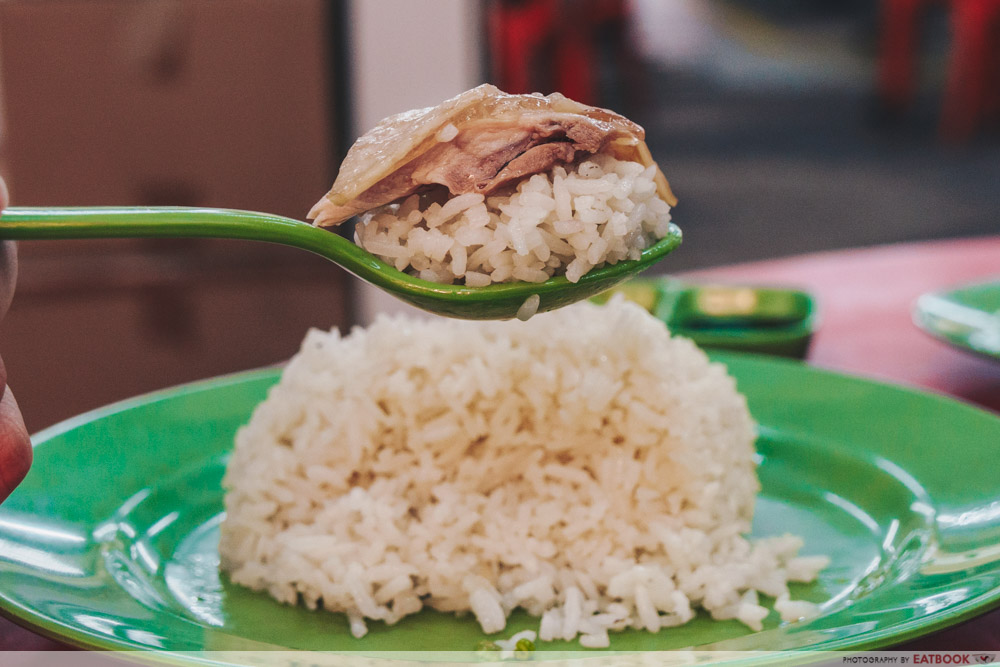 After taking a bite, I recommend simply topping up $1 for the drumstick, as this cut had juicier, more supple meat. The fresh chicken was accentuated by the light sauce underneath, and each bite burst with flavour.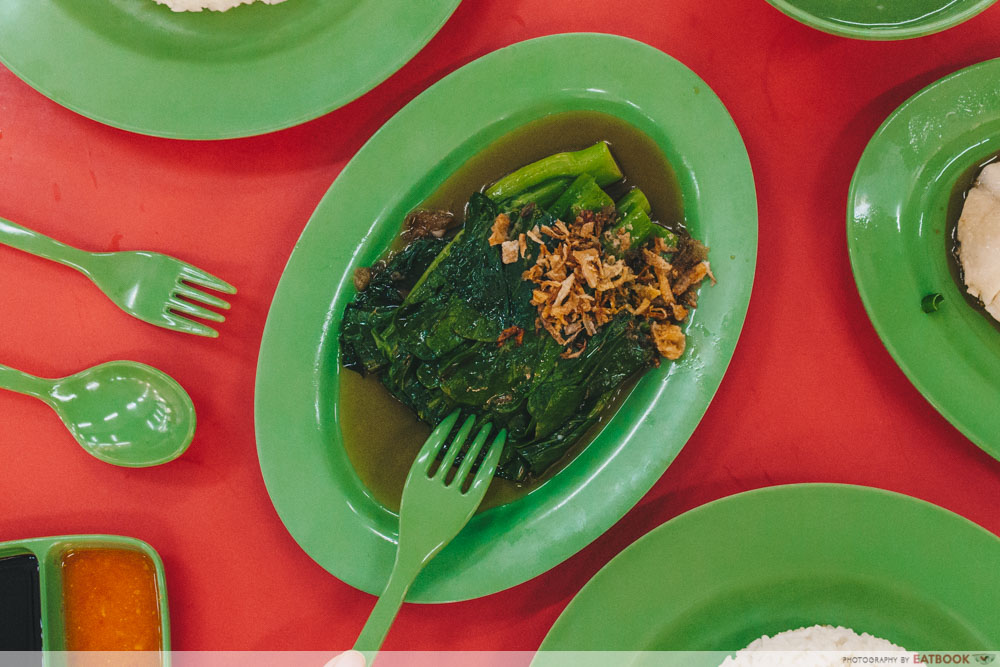 In a bid to have a more balanced meal, we got the small Oyster Sauce Vegetables ($3) to share. They were topped with fried shallots.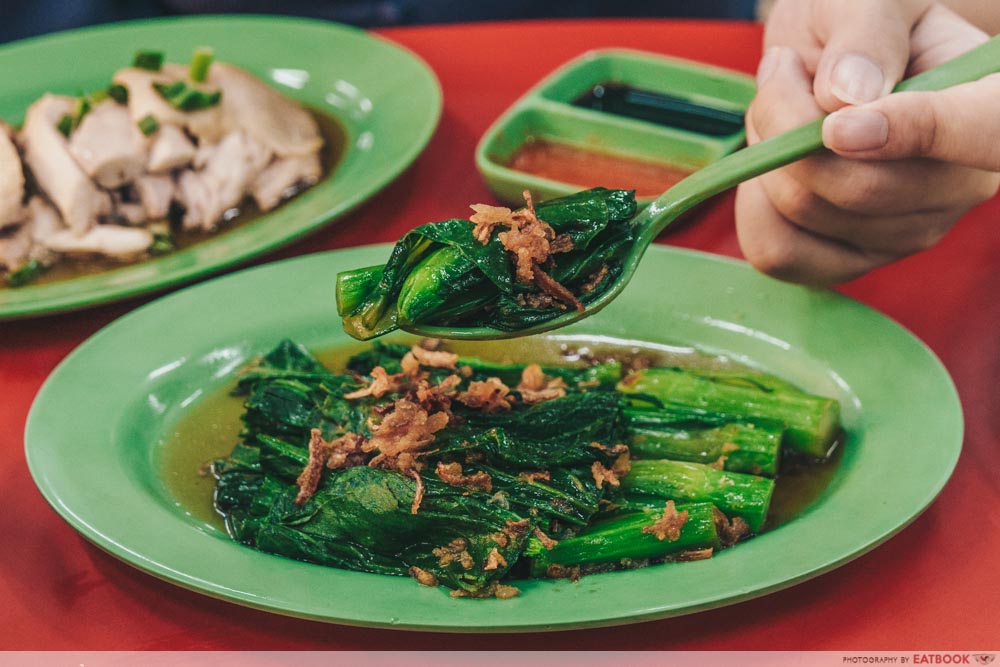 The vegetables were served crunchy, and drenched in the savoury-sweet oyster sauce. I also liked how the fried shallots provided extra crunch and aroma to the dish.
Ambience at Ming Kee Chicken Rice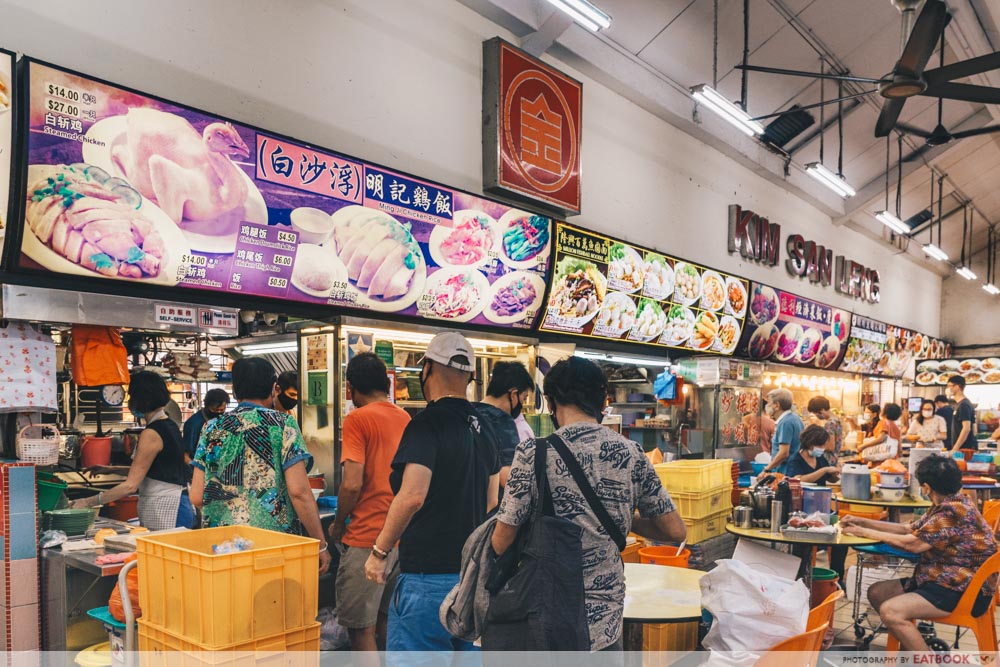 It takes less than five minutes to walk to Ming Kee Chicken Rice from Bishan MRT Station. The coffee shop is completely sheltered, netted even at the sides. Still, it remains bright and well-ventilated. Tables are nicely spaced apart, though the area can feel quite clustered with people during the lunch hour. On that note, the store attracts a snaking queue from as early as 11am, so do come prepared to wait.
The verdict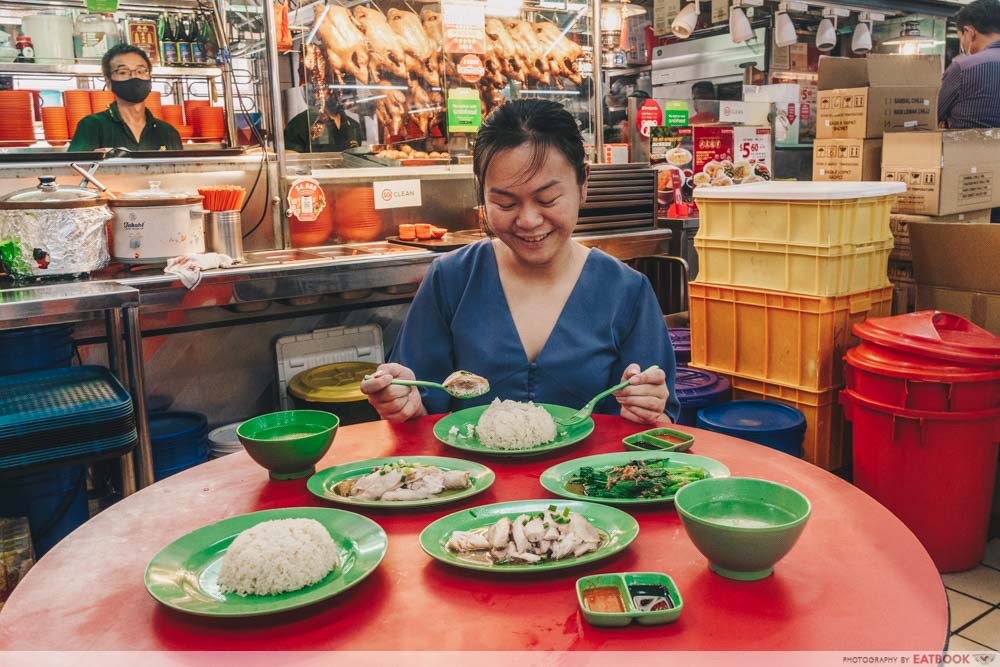 Though lacking on the rice and chilli fronts, Ming Kee Chicken Rice's chilled chicken is good enough to warrant a second visit from me. Coupled with the affordable prices and friendly staff, I believe the store will continue to satisfy Bishan's residents and more, for the many years to come.
For more chicken rice goodness, check out our reviews of Le Da Chicken Rice and Green Chilli Chicken Rice.
Address: 511 Bishan Street 13, #01-522, Kim San Leng Coffee Shop, Singapore 570511
Opening hours: Wed-Mon 10am to 9pm
Website
Ming Kee Chicken Rice is not a halal-certified eatery.
Le Da Chicken Rice Review: Delicious And Tender Chicken Rice By Young Hawker At Bukit Batok
Photos taken by Syamira Rohaizad.
This is an independent review by Eatbook.sg.
Ming Kee Chicken Rice Review: Three-Generation-Old Hawker Stall With Chilled Chicken Rice At Bishan
Summary
Pros
– Succulent chicken
– Affordably priced
– Convenient location
Cons
– Rice can be more flavourful
– Chilli sauce can be thicker
Recommended dishes: Steamed Chicken Rice ($3.50), Chicken Drumstick Rice ($4.50)
Opening hours: Wed-Mon 10am to 9pm
Address: 511 Bishan Street 13, #01-522, Kim San Leng Coffee Shop, Singapore 570511