Modern dim sum buffet at Mister Wu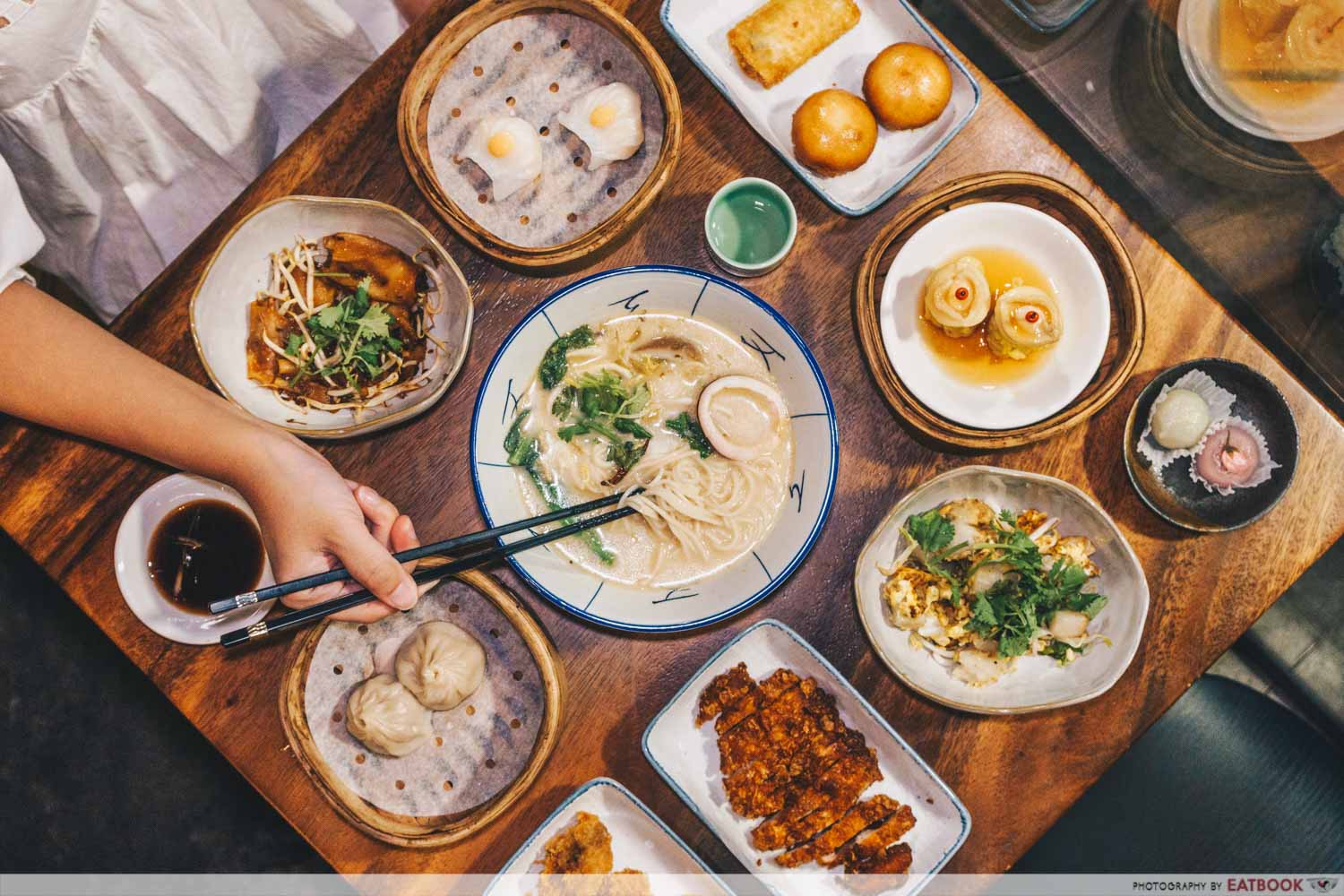 As someone who appreciates quality more than quantity, I rarely give my nod of approval to buffets. To me, buffets are just an expensive affair filled with dishes made from lower quality ingredients. Mister Wu's dim sum buffet, however, might have made me a buffet convert. At $32+, you get a wide variety of over 30 items on the menu, including a range of dim sum with a modern twist to them.
Food at Mister Wu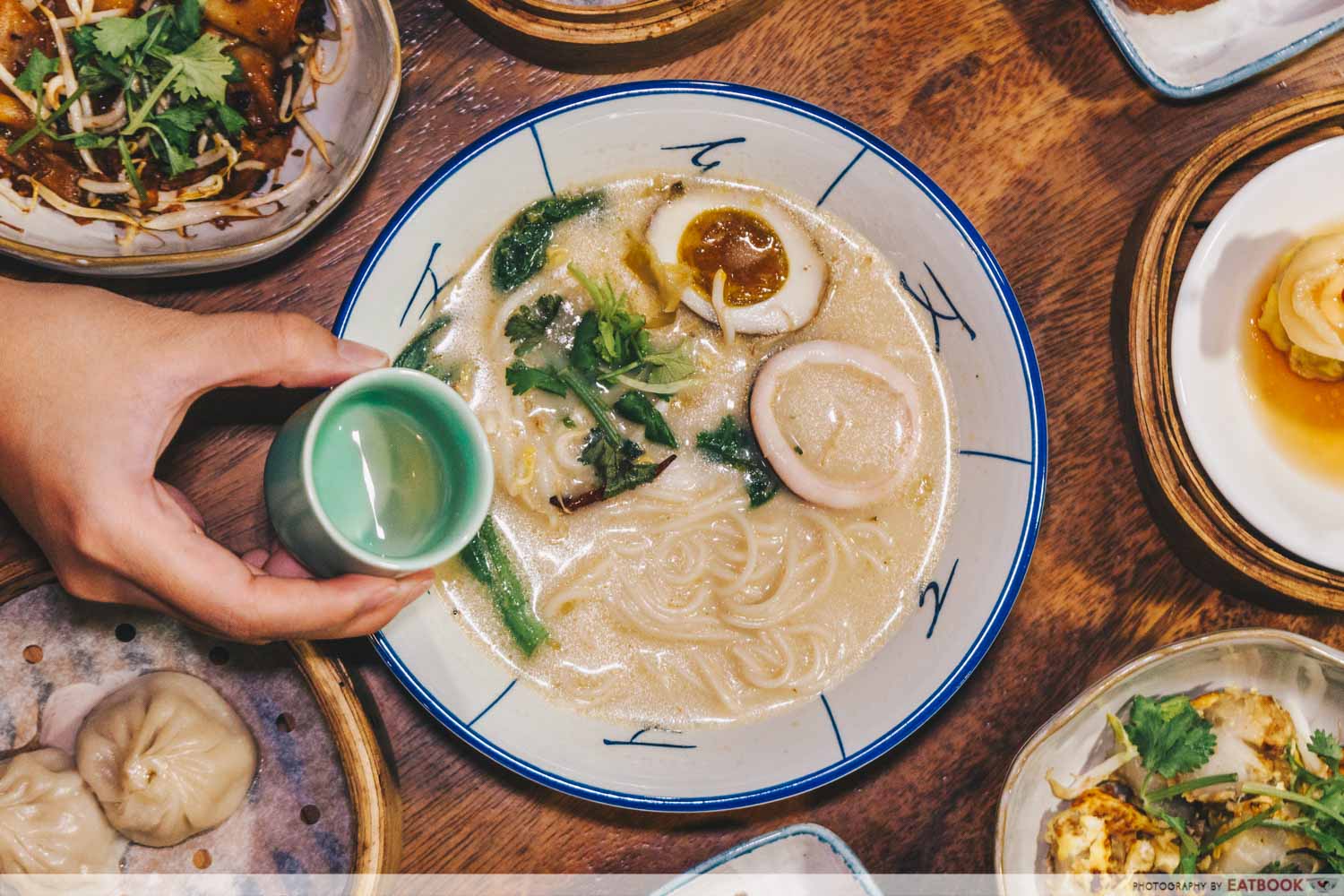 Every item here is free-flow, except for two dishes which are limited to just one order each. These two dishes, Hibiki Whisky Seafood La Mian and Abalone Siew Mai, are definitely must-haves.
The Hibiki Whisky Seafood La Mian is an interesting one. It comes with a small amount of Hibiki whisky served separately in a Chinese teacup. Since it was the chef's intention for us to add the whisky in, we emptied the cup into the noodles. I slurped a spoonful of the broth and struggled to restrain myself from bringing the entire bowl to my lips.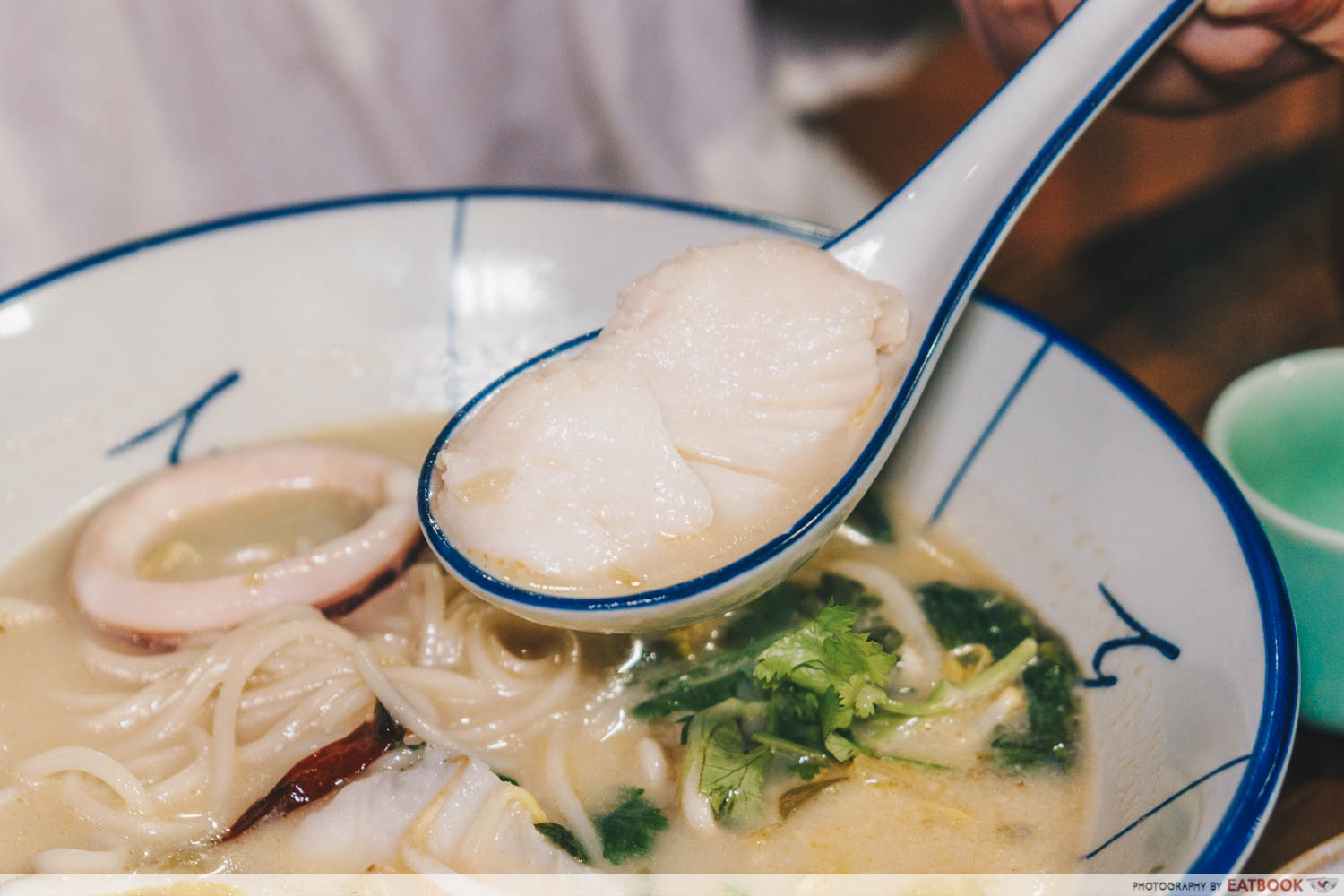 Milky, aromatically sweetened with seafood, and slightly spiked with pepper, the delicious soup envelopes your tastebuds. Thanks to the addition of whisky, each spoonful was also free from any fishiness even though there was a generous amount of fish slices and chewy squid in the mix. The wealth of flavours lingered with richness, robbing any attention away from the swirls of la mian which didn't stand out in taste nor texture.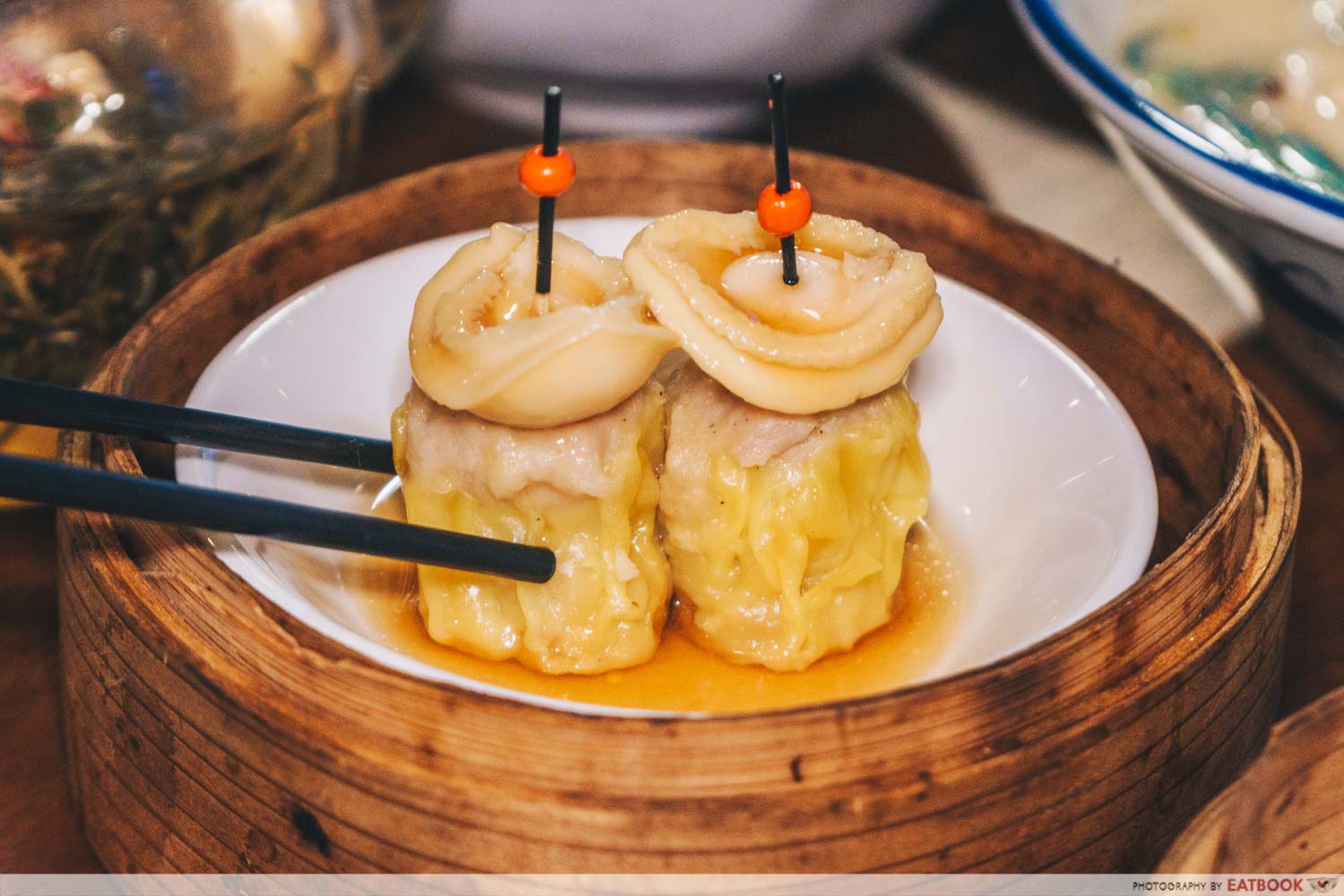 Ordinary siew mai is great, but Mister Wu doesn't seem to want to be associated with anything ordinary. They have zhnged-up their siew mai with baby abalone and drenched the dim sum in a savoury light soya sauce. Their flavours were on point with a good ratio of pork to shrimp. Too bad each diner is only entitled to one!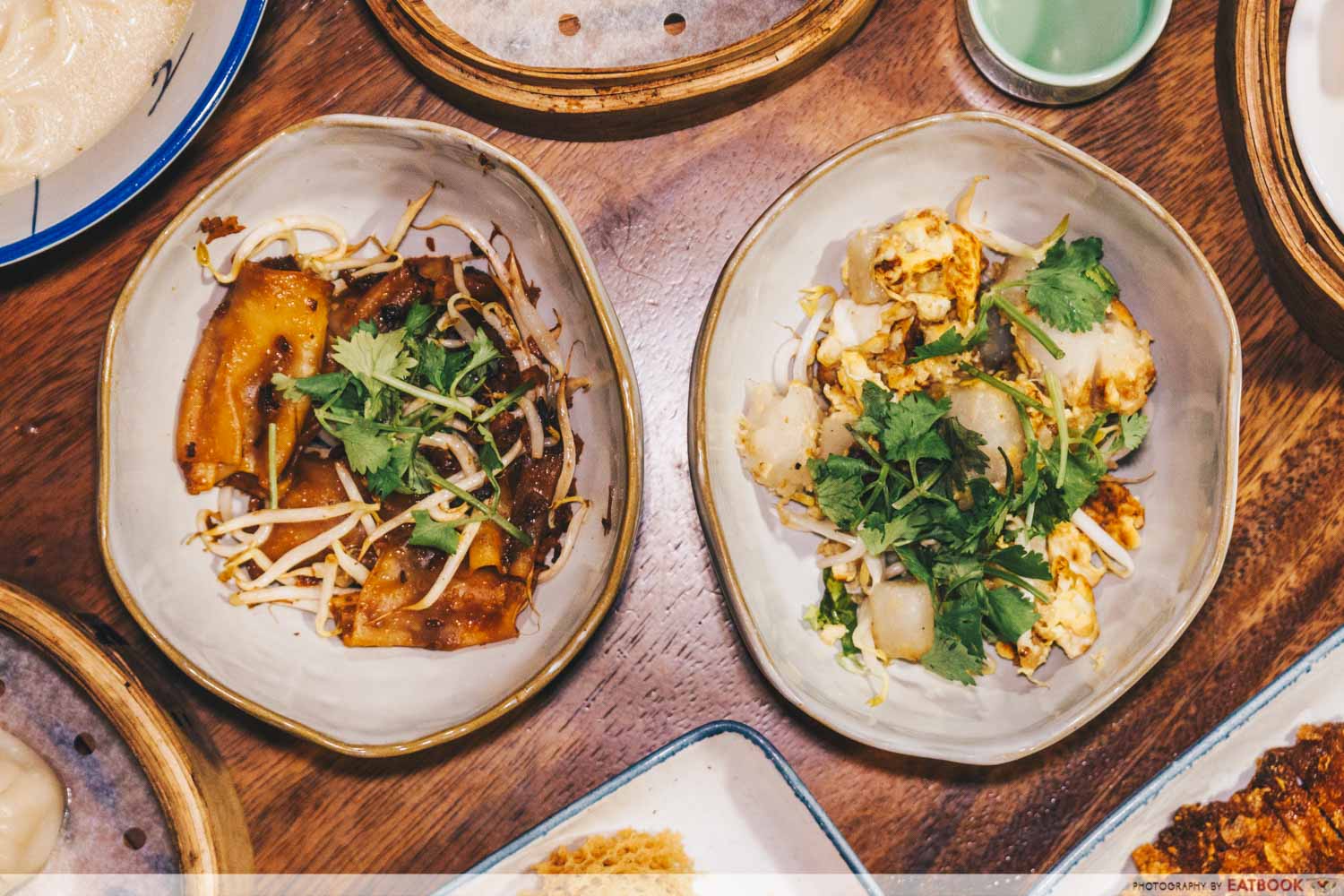 Two items under the stir-fried dim sum section of the menu also caught out eye: the Truffled Carrot Cake and XO Sauce Cheong Fun. The latter looked assuring as it came to our table tainted with dark sauce, promising intense flavours to come. Sadly it didn't deliver in the taste department, as it tasted almost like a flour-bomb with hints of dark soya sauce. The iconic umami of XO sauce was also missing.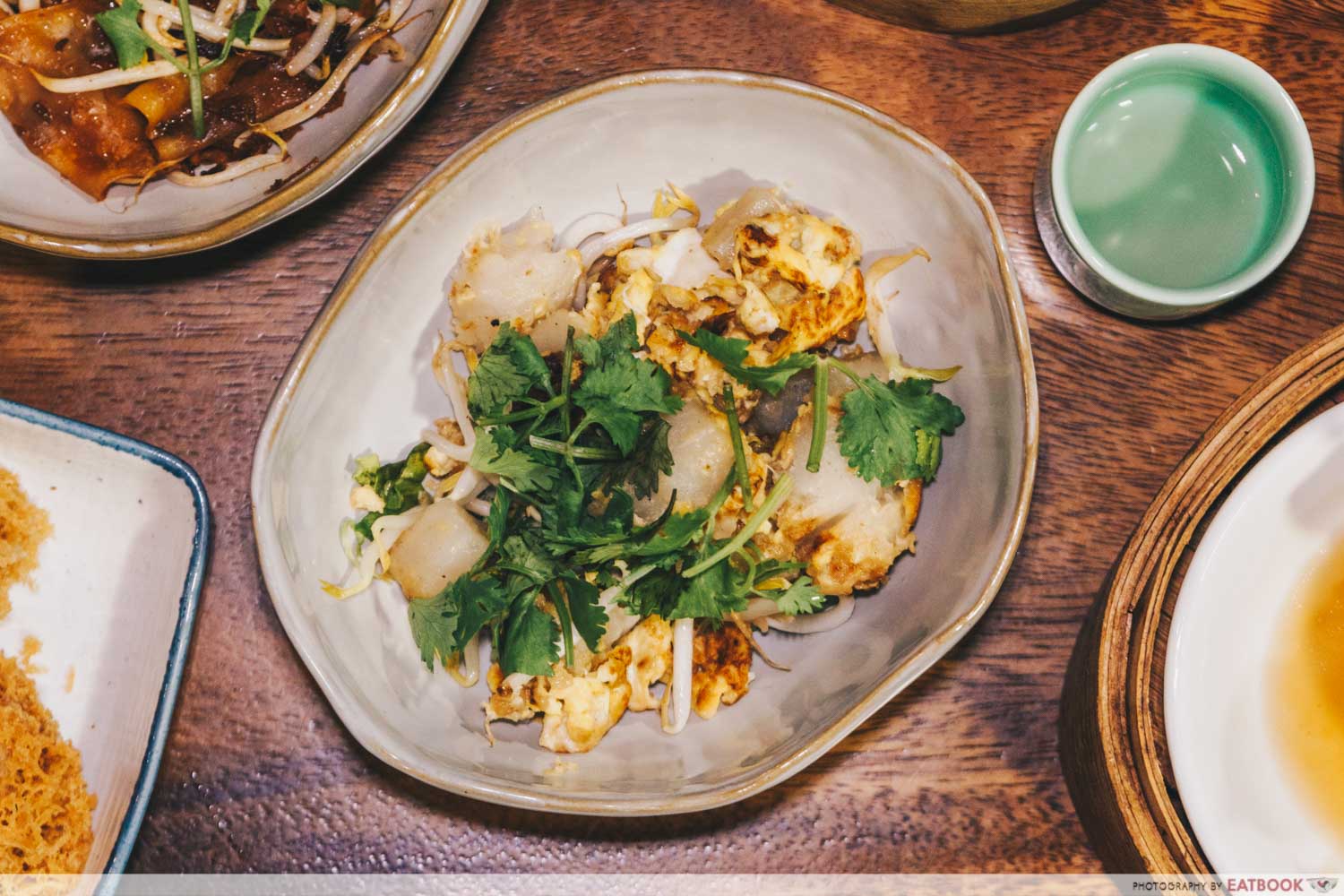 It was the exact opposite with their Truffled Carrot Cake. Comprising shabbily stir-fried egg, carrot cake chunks, and Chinese parsley, the dish might not have been a looker but it reeled me in at first bite. Imagine soft bites of carrot cake, tempered with subtle truffle-flavoured egg bits. It would easily be my favourite dish here if it was showered with chai poh.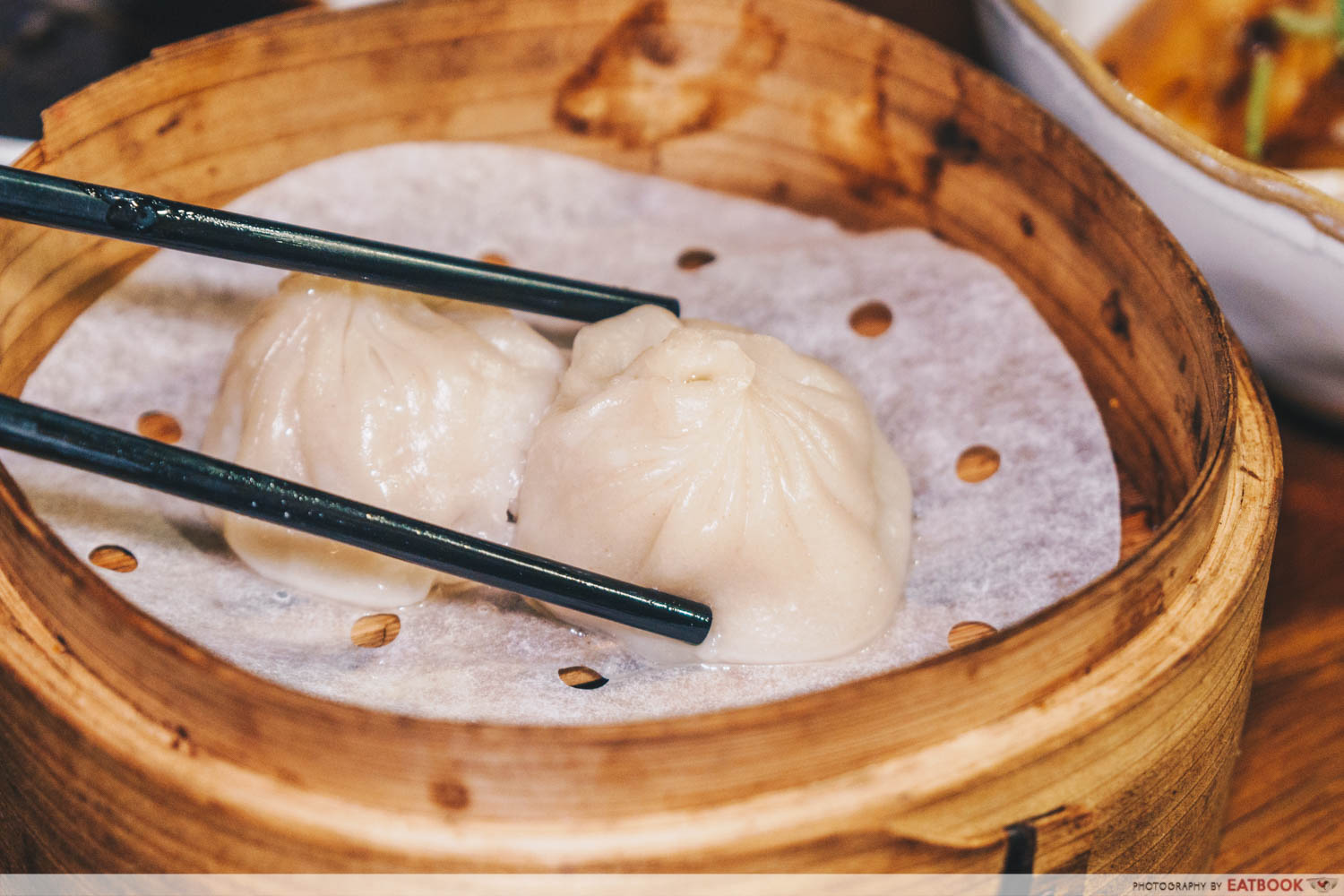 Like a fairy godfather, Mister Wu has made a xiao long bao lover's dream come true with its free-flow Truffle Xiao Long Bao. The only difference between this soup dumpling and your typical XLB is the slight tinge of truffle perfumed in both its soup and meat filling. Be careful not to fill your tummy to the brim with these moreish dumplings, as there are more items in the menu to savour.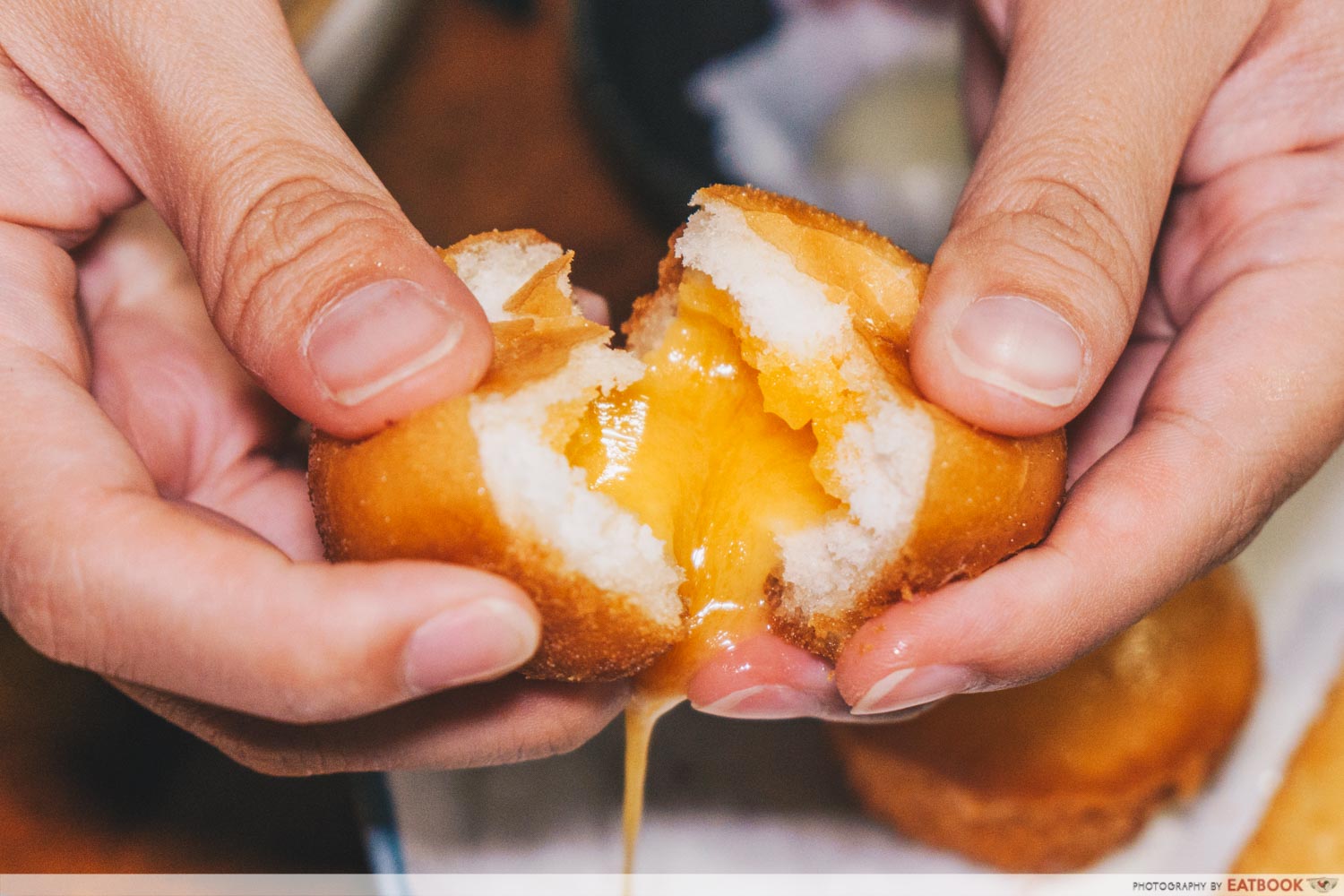 Onward to the fried stuff! I don't know about you, but ever since I've been bitten by the salted egg yolk bug, lava buns are one of the first items I order at dim sum restaurants. 
We readied our Crispy Lava Bun for the camera, and to our delights, golden liquid spilled out from the crispy and fluffy deep-fried bun. I had no problem finishing off this sweet treat in the middle of our buffet, but my dining partner wished she left it for dessert instead.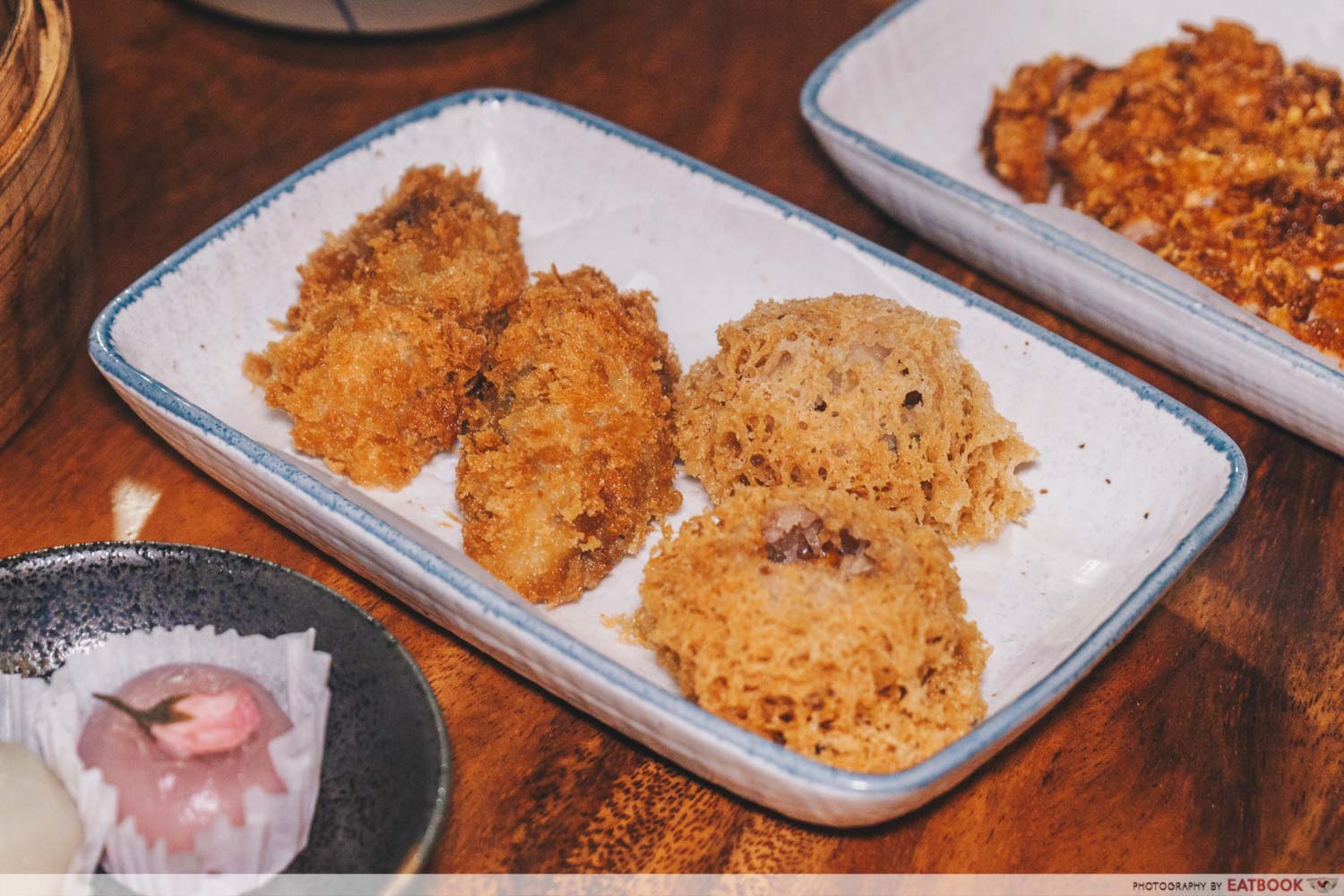 If you're looking for more savoury dim sum, there is no shortage of choices. Dipped in a light batter for tempura-like crispness, the Scallop Yam Fritter, Crispy Japan Oysters, and Golden Prawn Ball were simply addictive.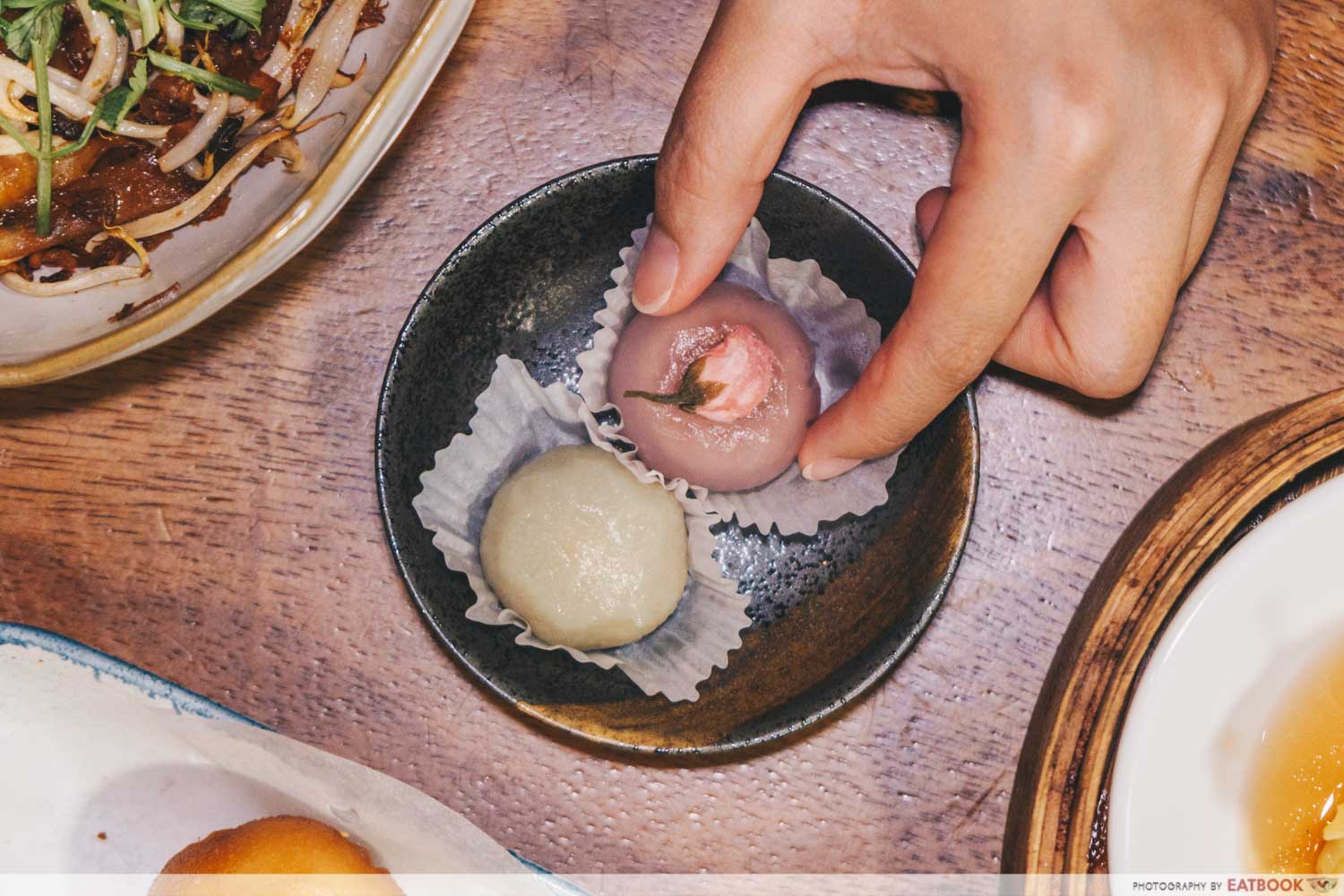 In the rare chance that you still have space in your stomach, try the delectable Melon or Sakura Crystal Ball. Slightly similar to tang yuan, these slippery and chewy globes boast a thin layer of skin, bursting to the seams with a smooth paste. It might be a tad too sweet for some, so share a pair with your dining partner to be safe.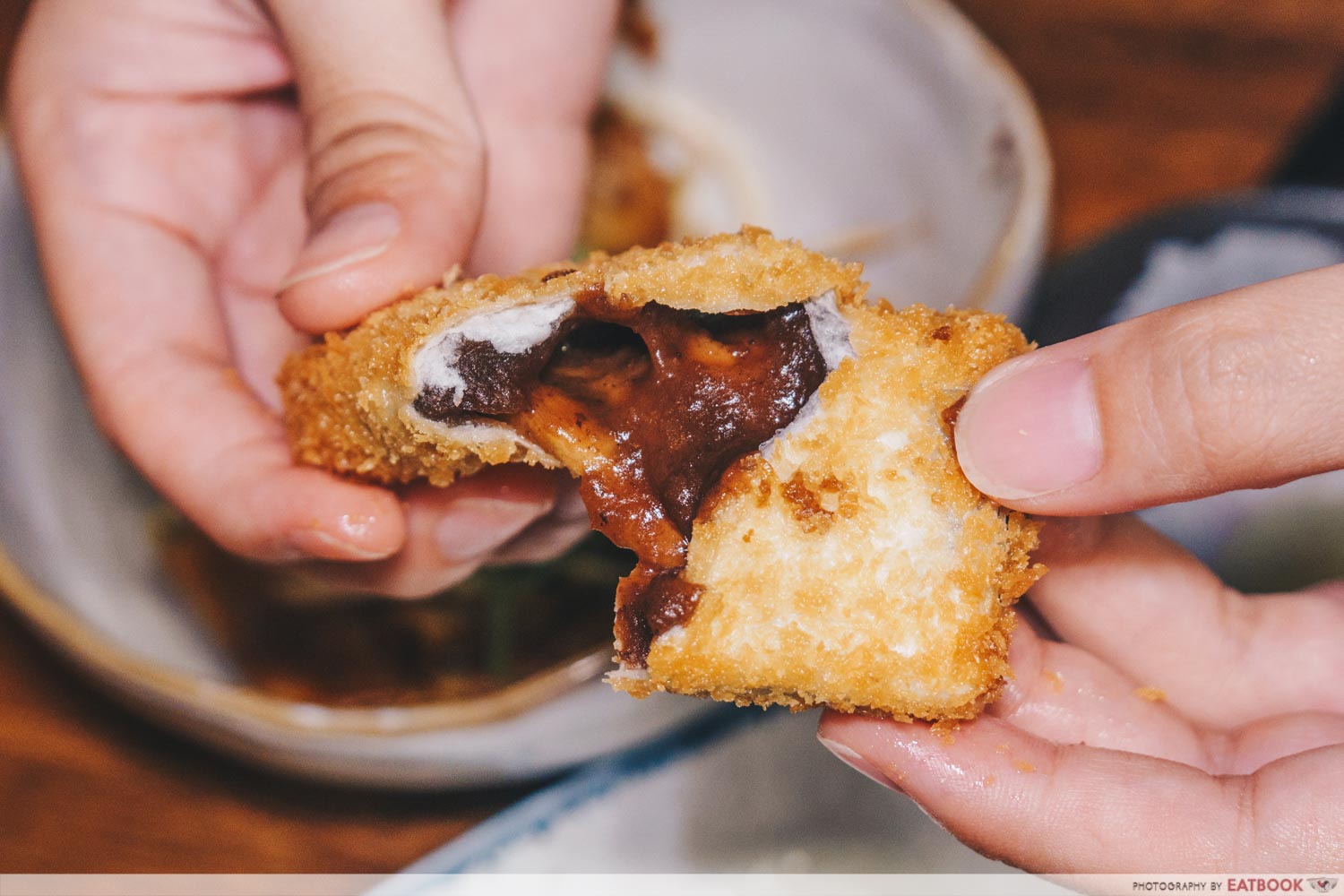 Those who are less adventurous can order a serving of their Banana Red Bean Roll instead. This foolproof classic Chinese dessert is nicely fried and crispy on the outside, and warm and gooey in the middle. 
Ambience at Mister Wu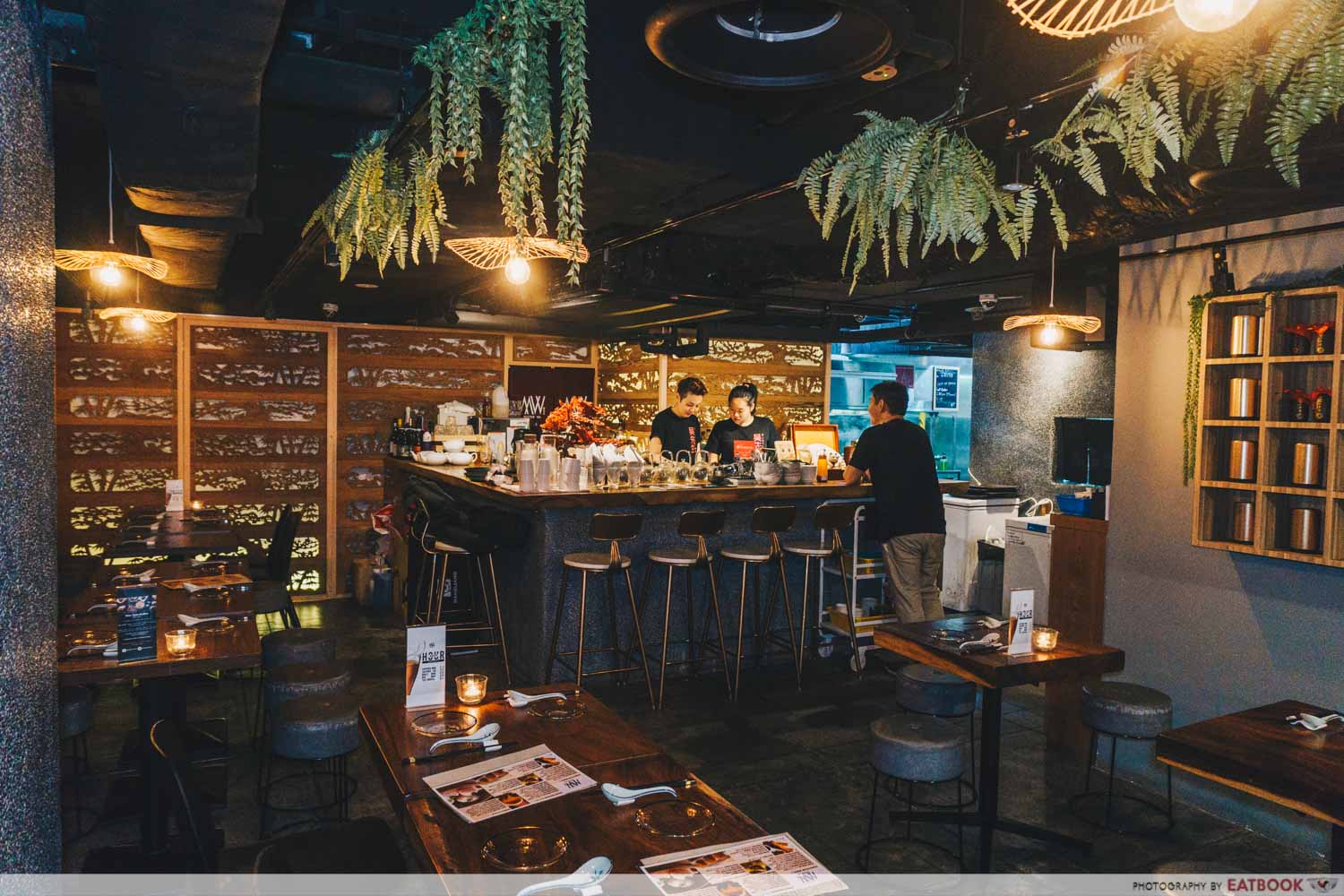 In tandem with the modern grub served at Mister Wu, the ambience is equally stylish with plants and exposed light bulb fixtures hanging from the ceiling. As with any cool, hip spot in the CBD, they are also armed with their own Spotify playlist, which is filled with curated covers of old-school Chinese songs. 
If you're looking to impress a date, Mister Wu will do the job. Just remember to make a reservation at least a week beforehand as seats are extremely limited in this hidden gem near Telok Ayer MRT Station. 
The verdict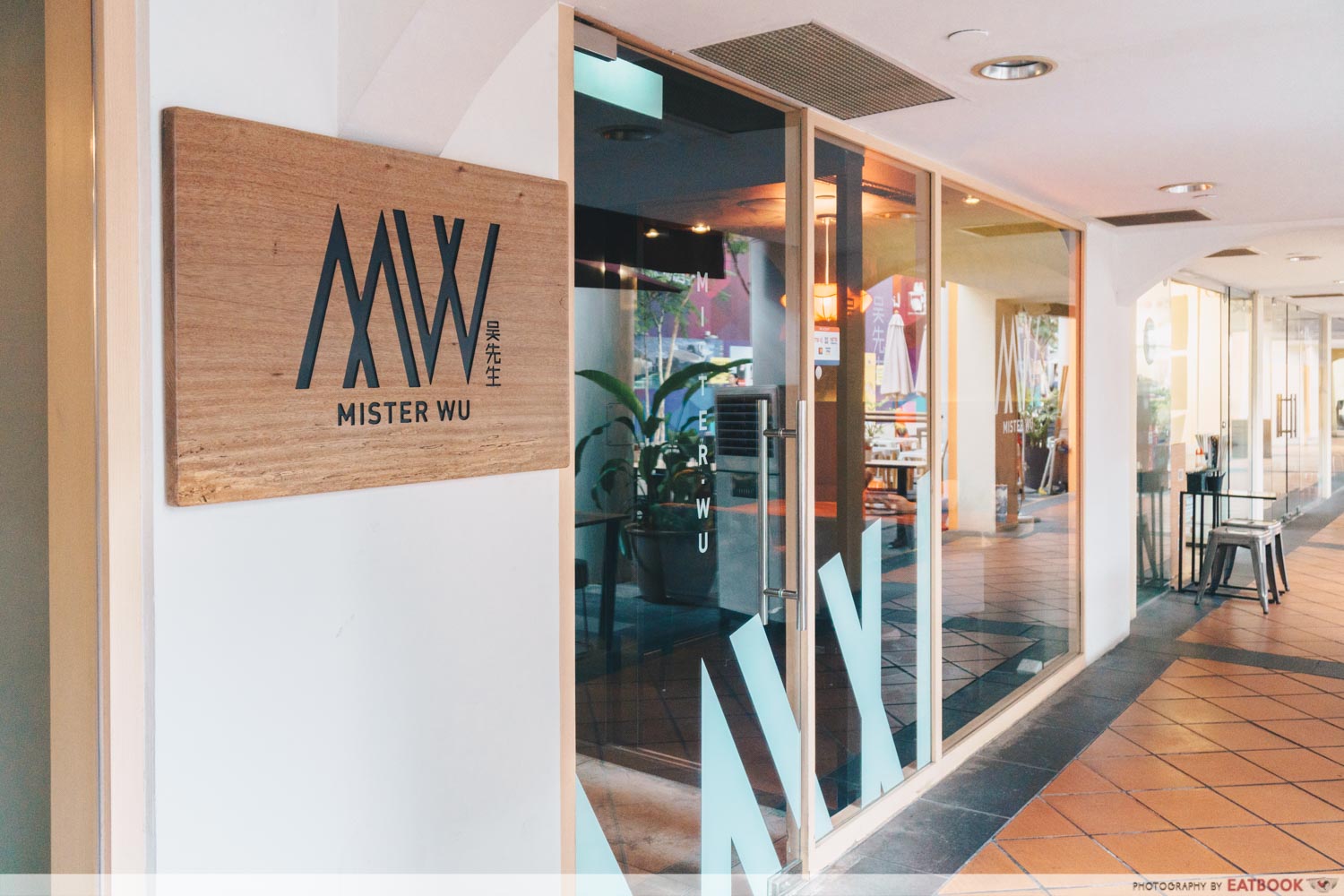 It's hard for me to voluntarily return for a buffet, but the one at Mister Wu is worth every penny. From the ambience to the quality of ingredients used, you will feel you've had value for money. I also love how its menu gives a breath of fresh air to dim sum eateries with non-conventional items such as truffle-infused XLB, carrot cake and more. 
If you're looking for more buffets to check out, here are some affordable buffets in town under $30++!
Address: 3 Pickering Street, #01-44/45, Nankin Row, Singapore 048660
Buffet hours: Mon-Fri 6:30pm to 9:30pm
Tel: 6781 3833
Website
Mister Wu is not a halal-certified eatery.
Photos taken by Lim An.
This is an independent review by Eatbook.sg.
Summary
Pros
– Value for money
– Unconventional items on the menu
– Well-seasoned dishes
Cons
– Tables slightly cramped
– Need to make reservations
Recommended dishes: Hibiki Whisky Seafood La Mian, Truffled Carrot Cake, Crispy Lava Bun
Buffet hours: Mon-Fri 6:30pm to 9:30pm
Address: 3 Pickering Street, #01-44/45, Nankin Row, Singapore 048660