---
Best buffet places of 2018
---
A buffet is the ultimate all-in-one meal, and what I think of the moment you mention the word is "value-for-money". Albeit the countless of buffets around, only a handful truly belies its usually hefty price tag.
As part of our Eatbook Top 50 Awards, we cast the net wide and ate at a range of buffet spots, so we could whittle down the very best. Here are some of the best buffets for every budget, with variety as the name of the game.
---
For the most bang for your buck (<$18++)
---
1. Yakiniju Ohji
---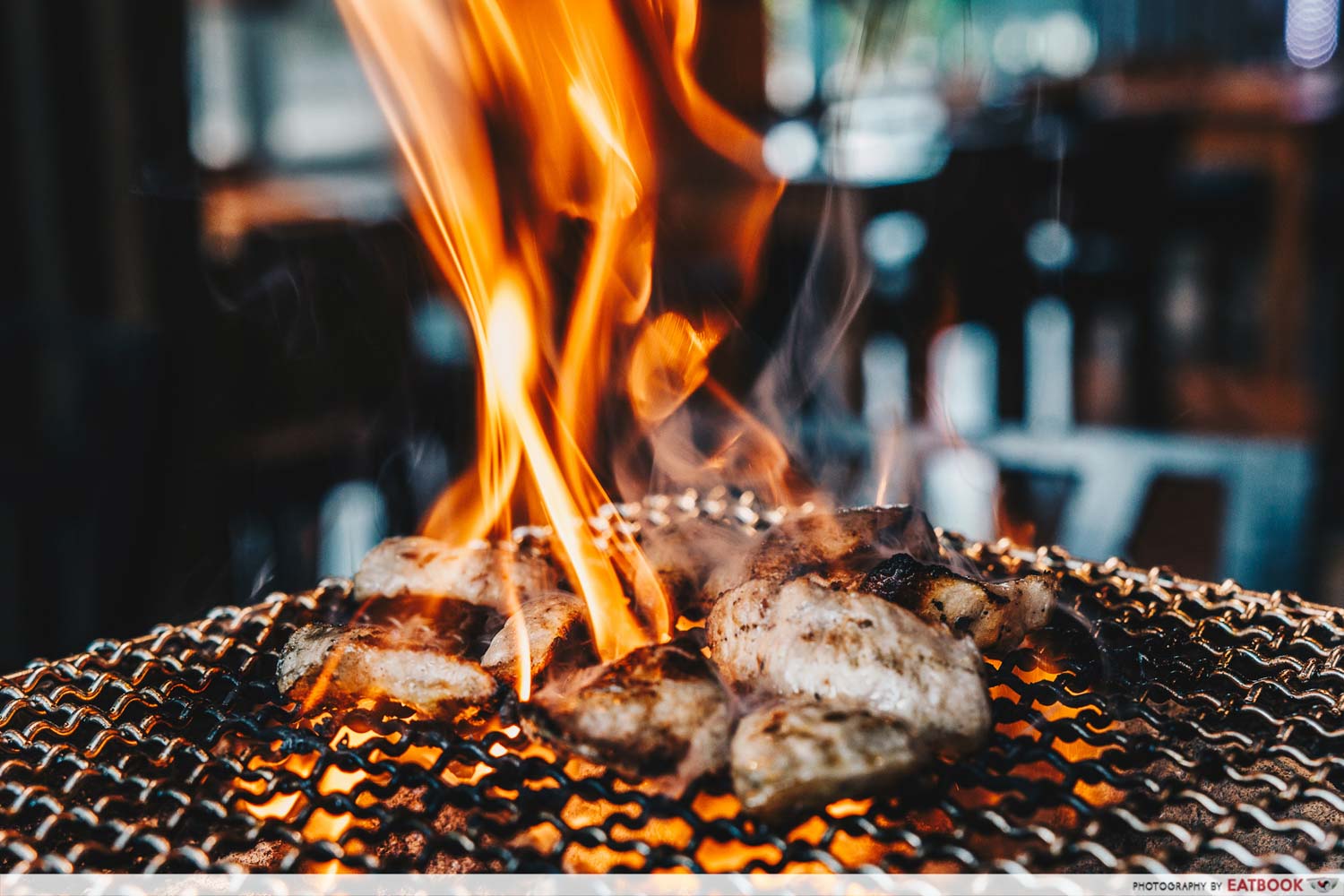 Forking out $17.80+ nets you all the meat you want out of the basic meat BBQ buffet at Yakiniku Ohji. Ticking all the right boxes of a good buffet, you not only get a nice variety of vegetables and meat such as chicken, pork, and arabiki (coarsely ground) sausage, but also a bit of fun from grilling your own food.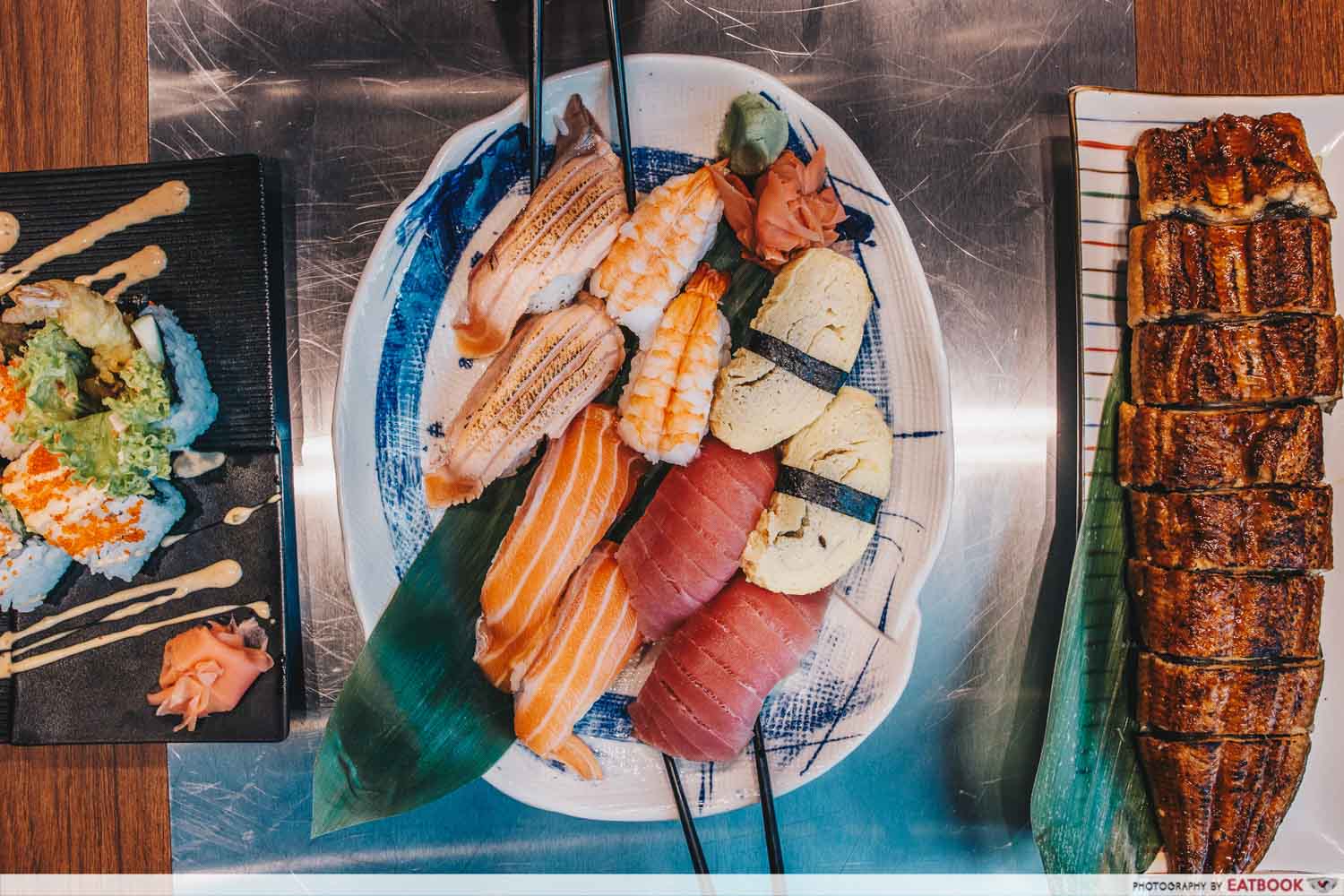 For fans of Japanese food, their sushi buffet ($17.80+) add-on is a must. Their Unagi Cake Sushi Roll and Aburi Salmon Sushi come in huge sizes, reflecting the generosity of the food served at the restaurant. Yakiniku Ohji is a real gem for offering their buffet at such decent prices.
Check out our full review of Yakiniku Ohji!
Yakiniku Ohji Review: Japanese Charcoal BBQ And Sushi Buffet At Ang Mo Kio
Address: 61 Ang Mo Kio Avenue 8, #02-03, Jubilee Square, Singapore 569814
Opening hours: Tue-Sun 12pm to 3pm, 5pm to 10pm
Tel: 6251 1736
Website
Yakiniku Ohji is not a halal eatery.
---
2. Fat Bird
---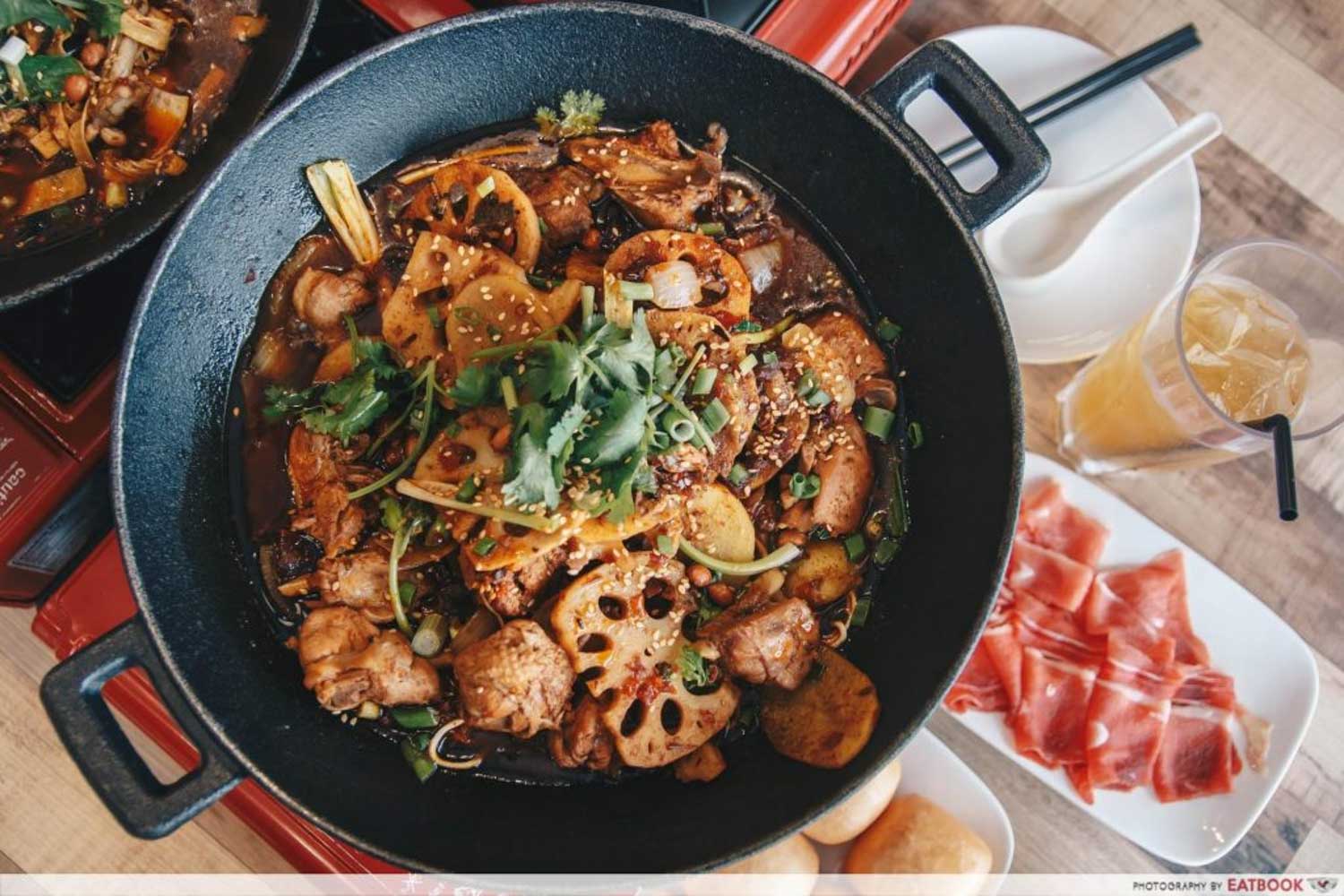 Eating ma la xiang guo is usually a pricey affair, setting one back at least $10 even at a hawker centre. However, Fat Bird at Bedok has an enticing ma la xiang guo buffet for only $15.90++.
There is no other Chinese dish more communal than ma la xiang guo. This is the place to bring large groups to feast out on a budget. Get your fill by piling on your favourite orders of pork and beef slices, Fried Tofu Strip, Thick Vermicelli and more.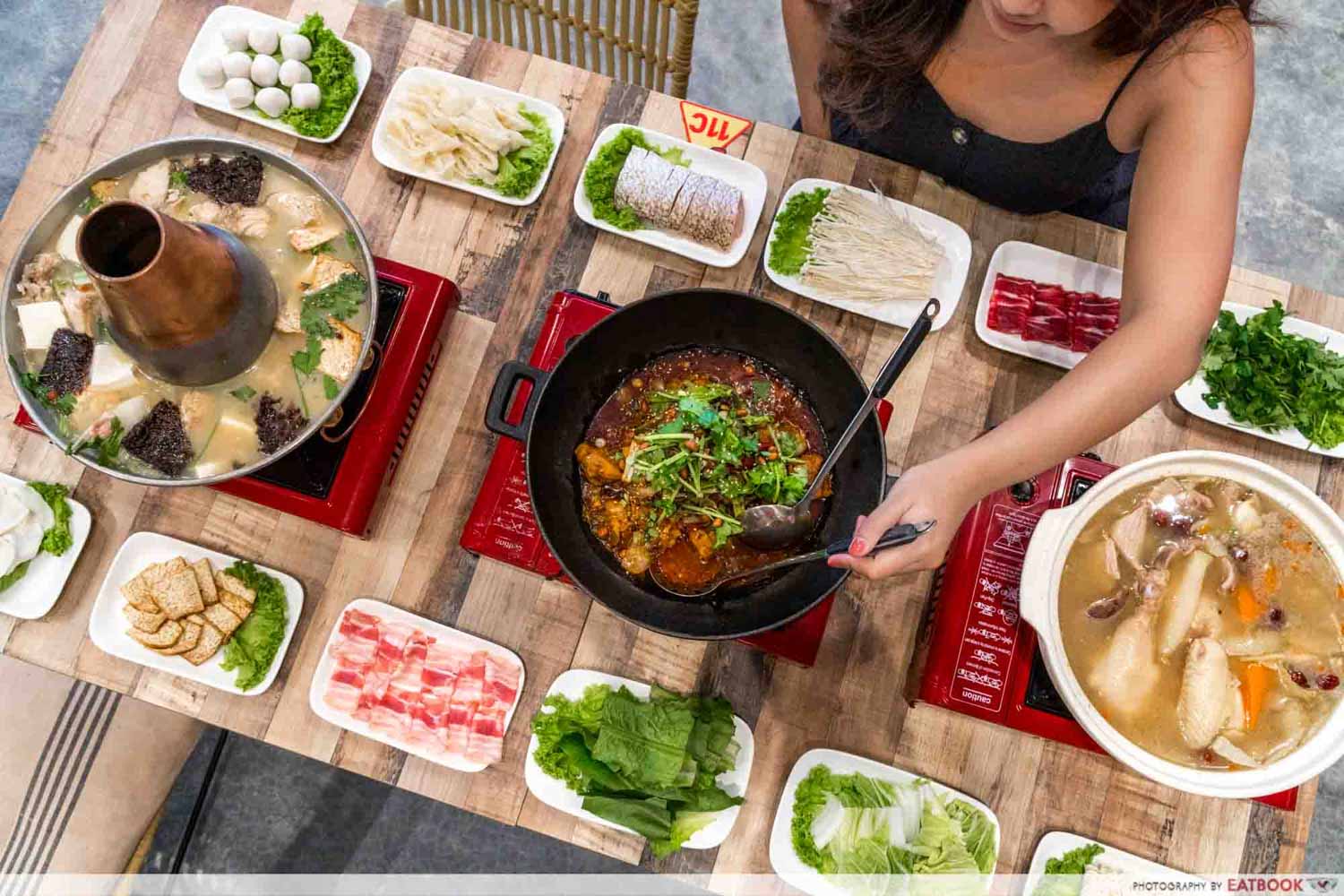 Those who fear the lip-tingling spice can opt for a non-spicy Chicken Stew in Pig's Stomach hot pot instead. It features a pot of aromatic broth, with chunks of fork-tender chicken, slices of chicken stomach, and a whole slew of herbs and spices. With ingredients such as ginkgo nuts, dates, dang shen, and dang gui, this is a nourishing soup I can see my parents enjoying.
Check out our full review of Fat Bird!
Fat Bird Review: Ma la Xiang Guo And Chicken Stew Hot Pot Buffet At $15.90++ At Bedok
Address: 11 Bedok North Street 1, #01-24, Heartbeat @ Bedok, Singapore 469662
Opening hours: Daily 12pm to 12am
Buffet hours: Daily 12pm to 4pm, 9pm to 11:15pm
Buffet prices: Mon to Thur $15.90++ for adults, $10.90++ for children, Fri-Sun, eve of & PH $18.90++ for adults, $10.90++ for children
Tel: 6284 0473
Website
Fat Bird is not a halal eatery.
---
3. Walking On Sunshine
---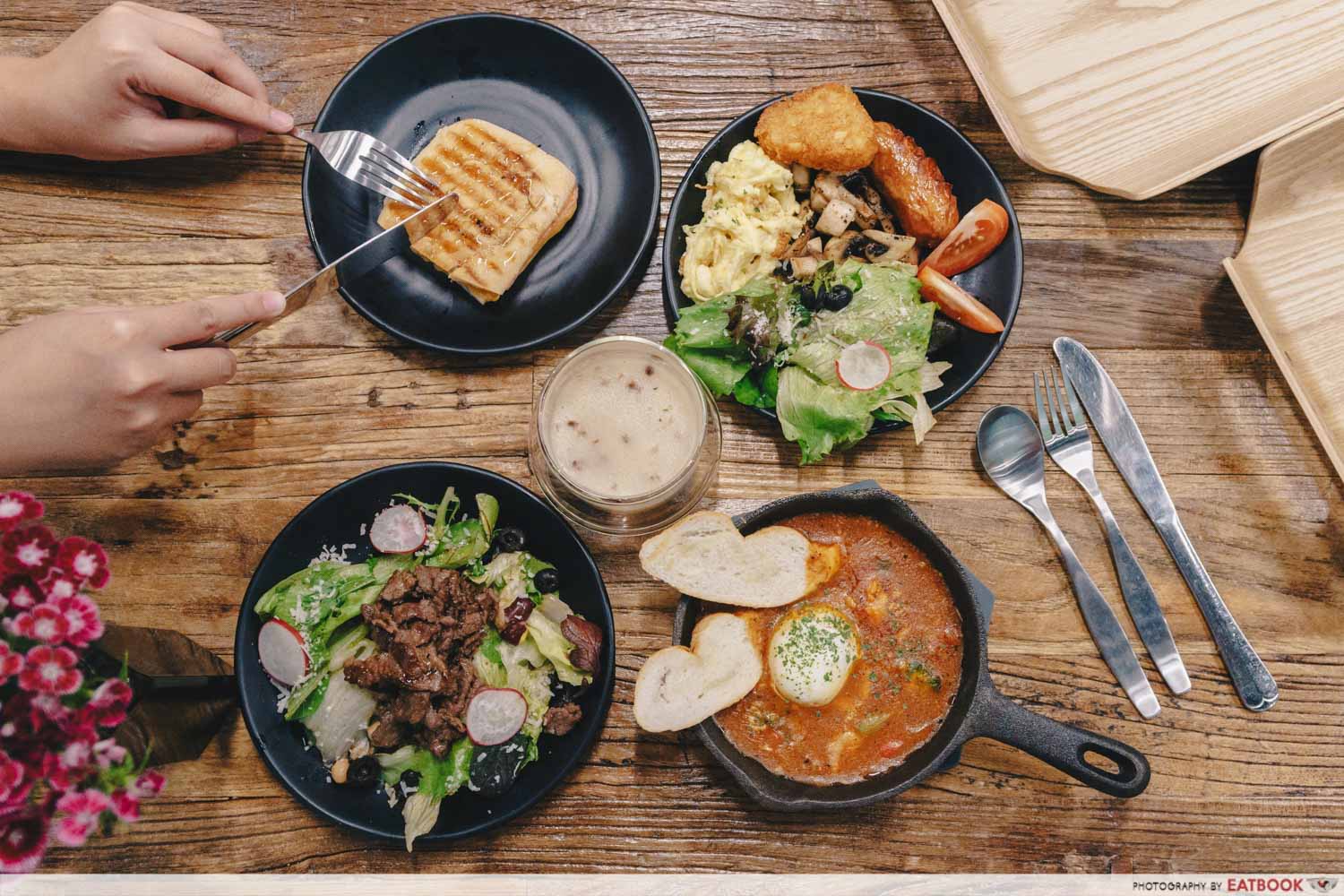 Walking On Sunshine is a really cool multi-concept store which has both a Korean beauty salon and a cafe in it. This hidden cafe will draw you in with its aesthetic vibes, along with a very value-for-money brunch buffet at $15 nett. It is available both on weekdays and weekends, between 9am to 12pm.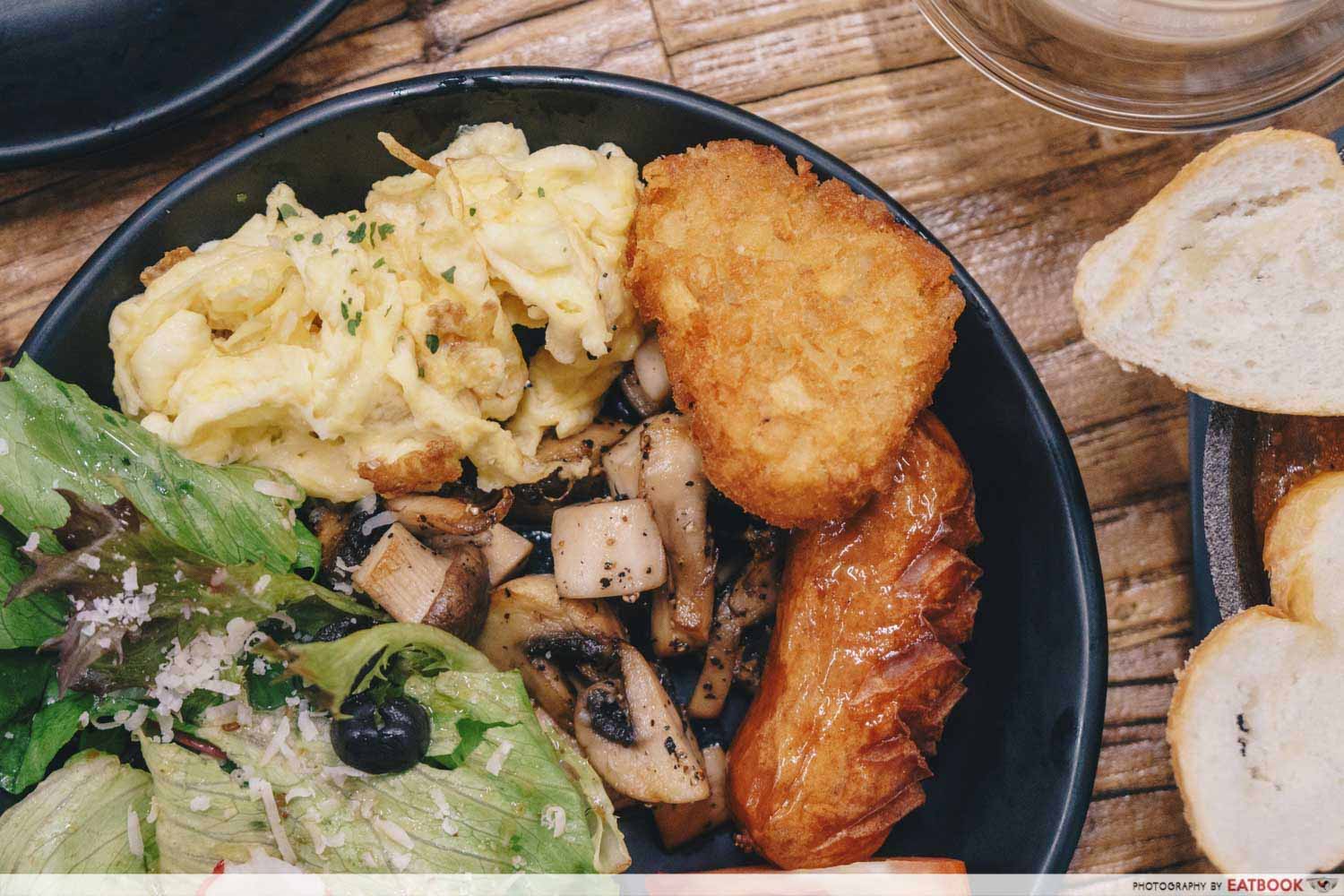 This buffet boasts a menu of brunch must-haves such as American Breakfast and Eggs Benedict, alongside Korean dishes such as a Bulgogi & Mix Bean Salad and a Honey Ham Cheese Panini. This is a great place for dates, as the food here comes beautifully plated without being pretentious.
Check out our full review of Walking On Sunshine!
Walking On Sunshine Review: $15 Nett Korean Brunch Buffet At Chio Cafe In Orchard
Address: 181 Orchard Road, #03-07, Orchard Central, Singapore 238896
Opening hours: Daily 9am to 10pm
Buffet hours: Daily 9am to 12pm
Tel: 8877 8800
Website
Walking On Sunshine is not a halal eatery.
---
4. Captain Kim
---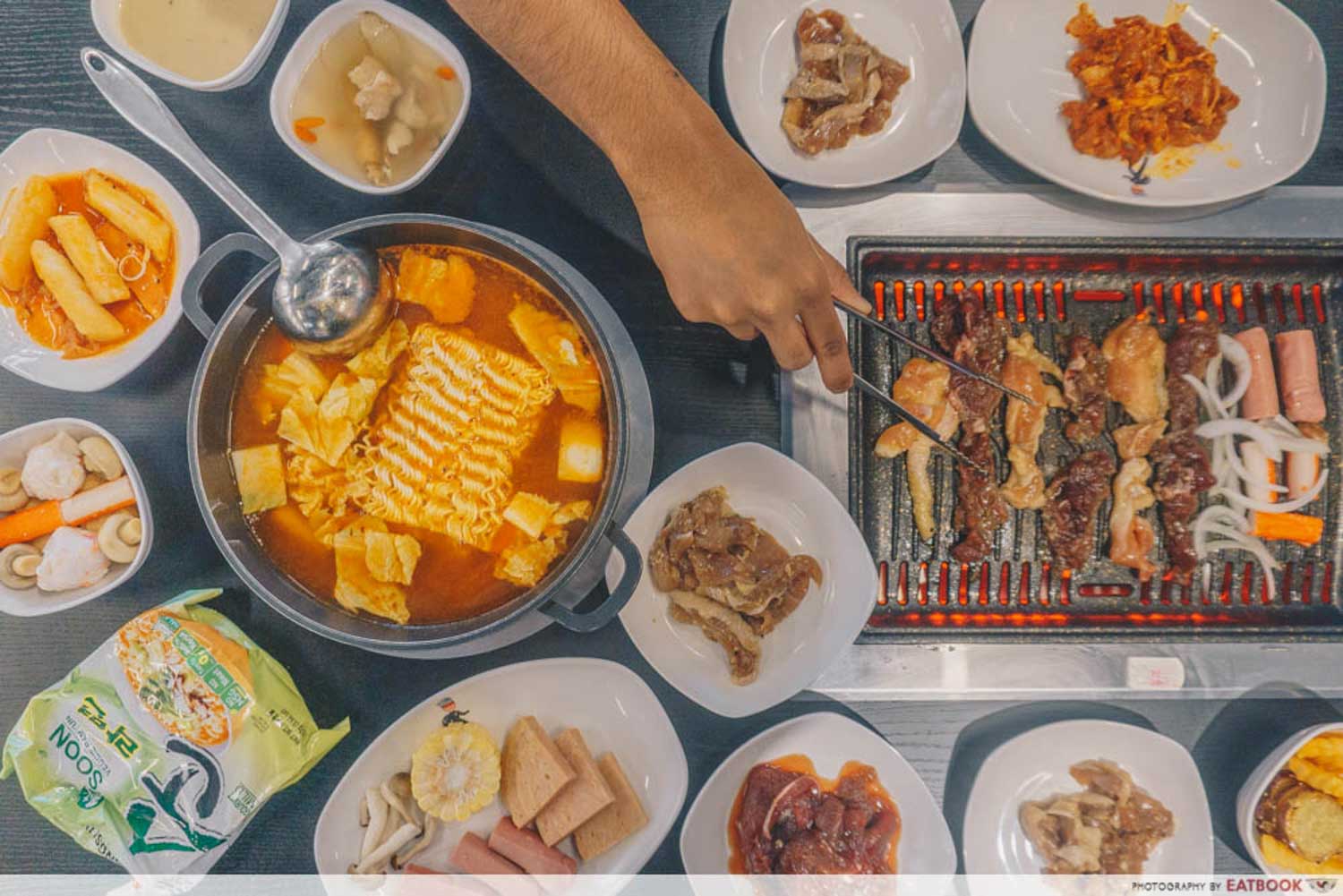 Captain Kim offers the best all-rounder buffet lunch ($13.90++ for students, $16.90++ for adults). This halal Korean BBQ joint has a whopping 60 types of food, presented in stations named meats, vegetables, hotpot, ready-to-eat, and salad bar.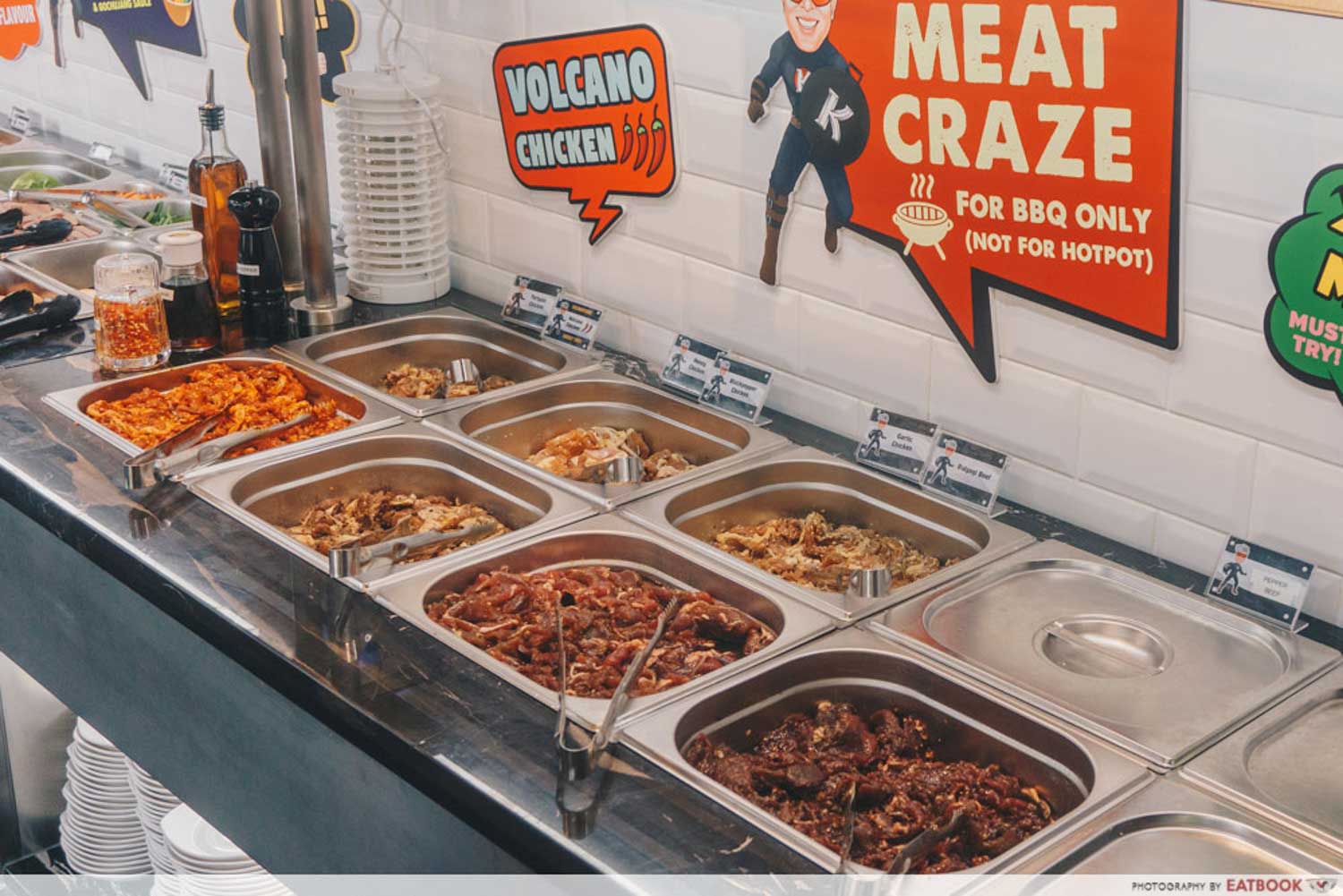 Captain Kim does their BBQ meats best. They are marinated to the centre, making every chunk of meat flavourful even after being grilled. Highlights include their Bulgogi Beef, which is a delicious combination of sweet and savoury flavours, and Volcanic Chicken, which imparts a mouth-watering tinge of spiciness at every bite.
Check out our full review of Captain Kim!
Captain Kim Review: Muslim-Friendly Korean BBQ & Hot Pot Buffet From $16.90++/Pax At Tampines
Address: 300 Tampines Avenue 5, #01-06, NTUC Income Tampines Junction, Singapore 529653
Opening hours: Mon-Fri 11:30am to 3:30pm, 5:30pm to 10:30pm, Sat-Sun 11:30am to 10:30pm
Tel: 6260 4247
Website
Captain Kim has applied and is awaiting its halal certification.
---
For good value for money (<$30++)
---
5. Tung Lok Seafood
---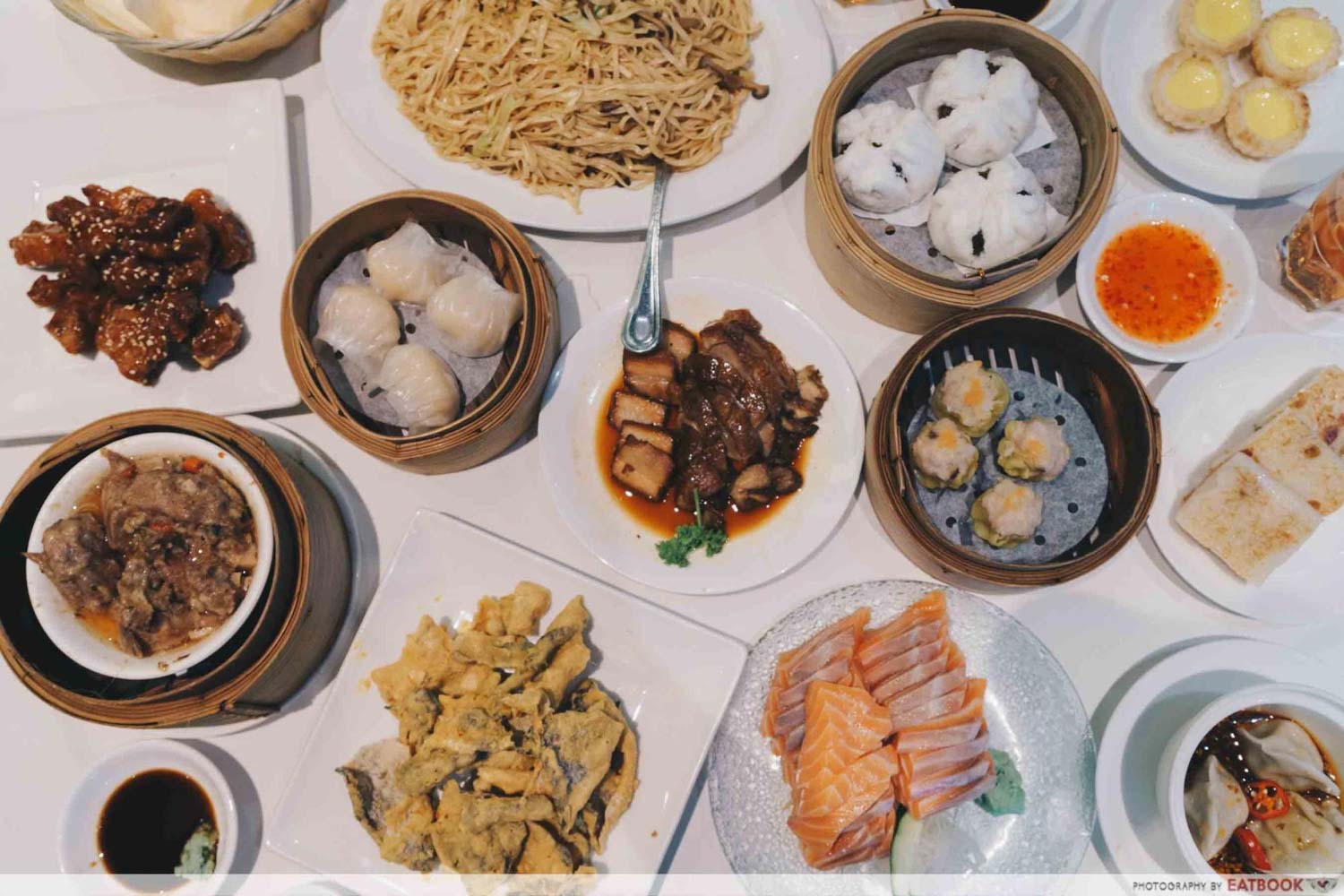 The lunch buffet ($28.80++) from Tung Lok Seafood is a personal favourite. Do not be confused with the two outlets; the one at Orchard Central offers a Chinese buffet spread, while the one at Upper Jurong Road offers an extensive menu of dim sum and zi char dishes.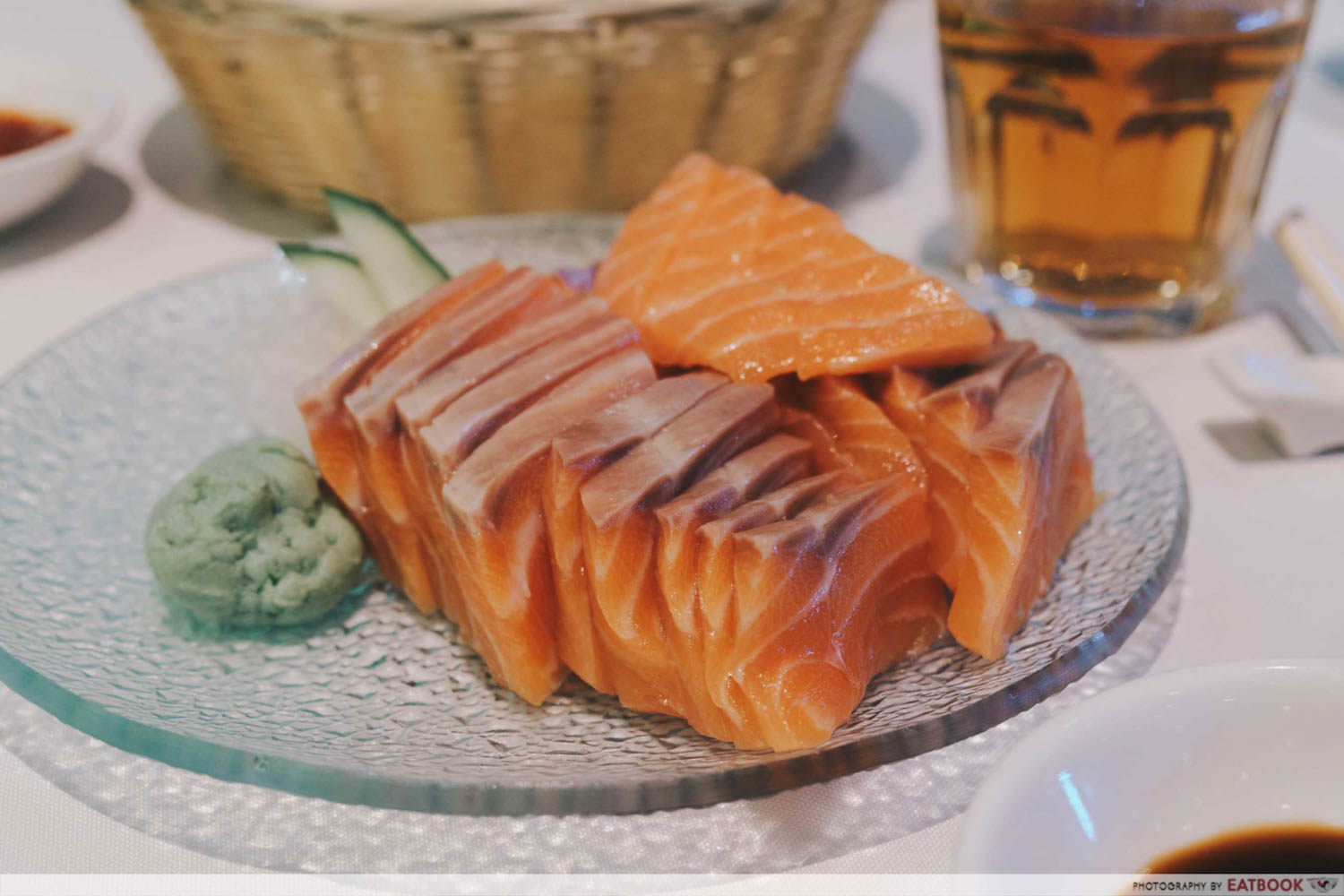 It is reasonably priced and considerably generous with all items being free flow, including their Roast Meat Platter, Salmon Sashimi, and fresh Steamed Red Tilapia with Spicy Bean Sauce. Their dim sum is also stellar, with elegantly pleated har gao and moreish ma la handmade dumplings.
Check out our full review of Tung Lok Seafood!
Tung Lok Seafood Review: Dim Sum Buffet With Unlimited Sashimi At Only $28.80++
Address: 511 Upper Jurong Road, The Arena Country Club, Singapore 638366
Opening hours: Mon-Sat 11:30am to 3pm, 5:30pm to 10:30pm, Sun 10am to 3pm, 5:30pm to 10:30pm
Tel: 6262 6996
Website
Tung Lok Seafood is not a halal eatery.
---
6. Aroma Kampung
---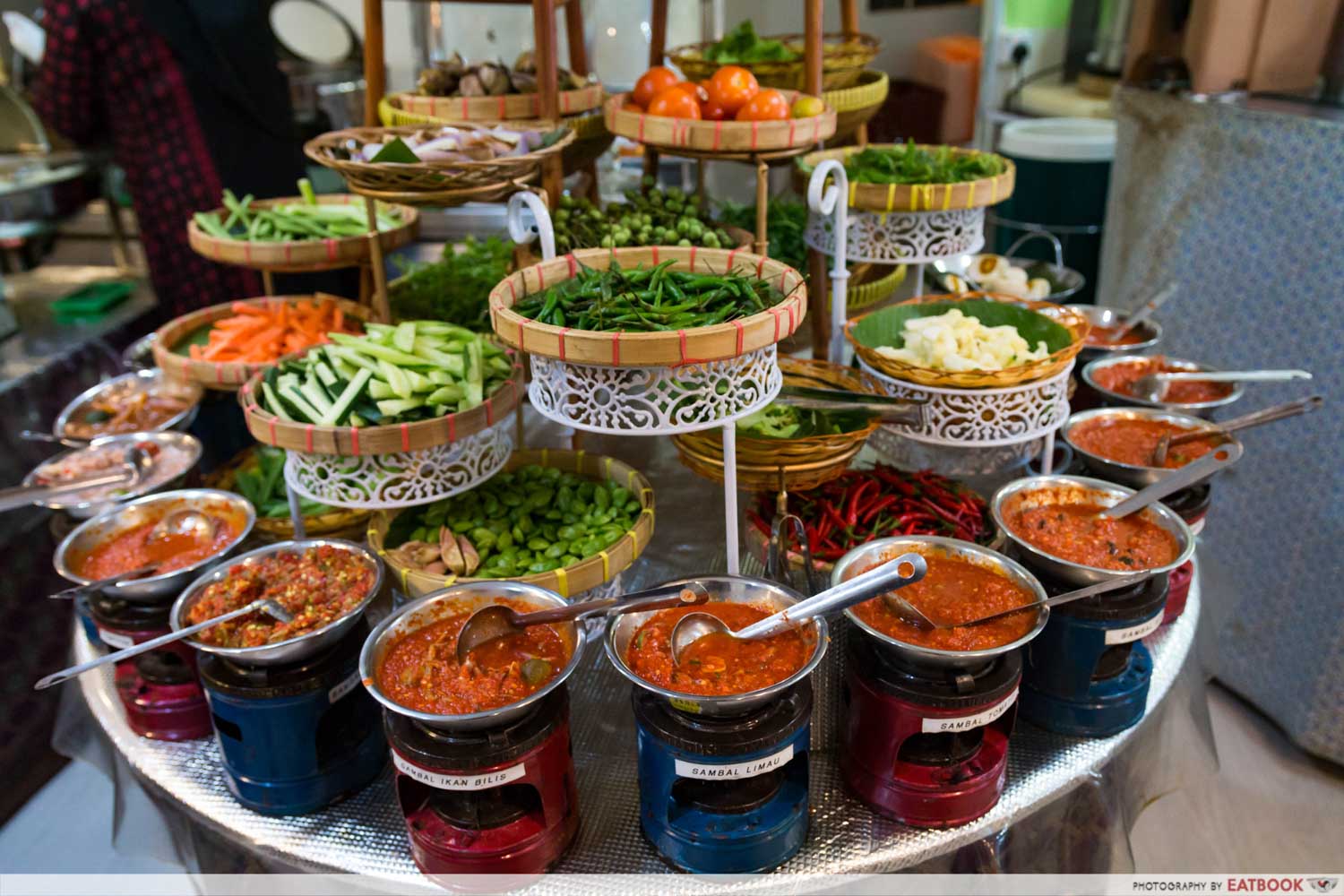 Aroma Kampung is a Muslim-owned restaurant which is here to quell your disappointment for all the times you were overcharged at a nasi padang stall. The nasi padang buffet is priced at $25.90 for adults from Monday to Thursday, and $27.90 from Friday to Sunday. You will be impressed by the array of over 40 gravy-laden and deep-fried dishes.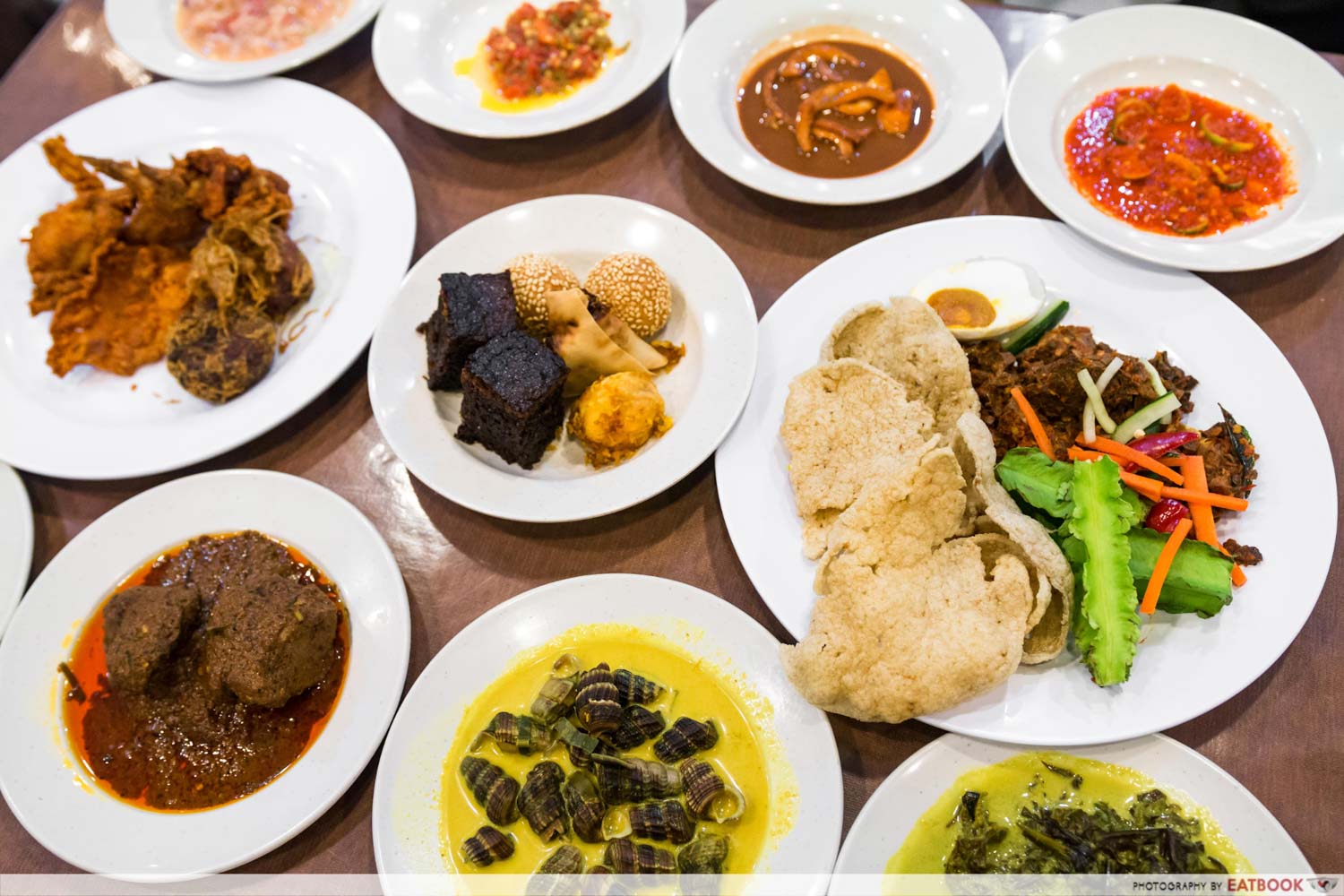 Start from their ulam (salad) and sambal tower that features winged beans, petai, and more than 12 kinds of sambal chilli. Have a plate of Nasi Kerabu, which is pastel blue basmati rice cooked with butterfly pea flowers. Drench it with the creamy gravy from the Ayam Lemak Chilli Padi for a glorious meal so tasty you'll be thinking about it all week.

Check out our full review of Aroma Kampung!
Aroma Kampung Review: Nasi Padang Buffet With Over 40 Dishes And 12 Types Of Sambal
Address: Blk 2 Joo Chiat Complex, #03-1111, Singapore 420002
Opening hours: Daily 9am to 7pm
Tel: 8750 0089
Website
Aroma Kampung is a Muslim-owned eatery.
---
For fancy occasions (>$38++)
---
7. Mitsuba
---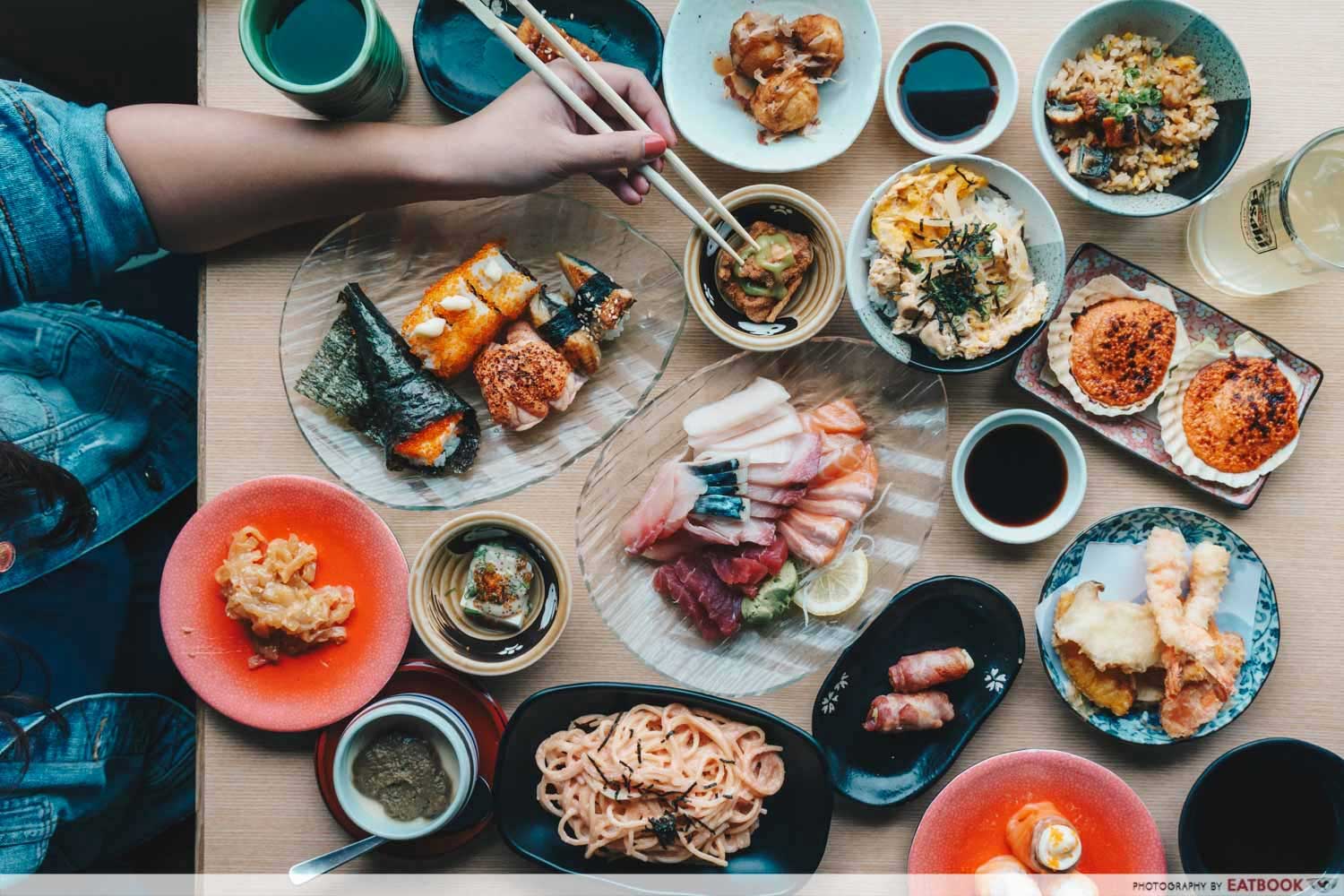 Mitsuba at Clarke Quay has both an a la carte menu and an all-you-can-eat a la carte buffet at $41.90++ per person. Most Japanese restaurants tend to charge a premium for pricier items, or present a cheaper alternative at the expense of quality. However, here at Mitsuba, you can see that they place emphasis on both quality and quantity, without jacking up their buffet prices.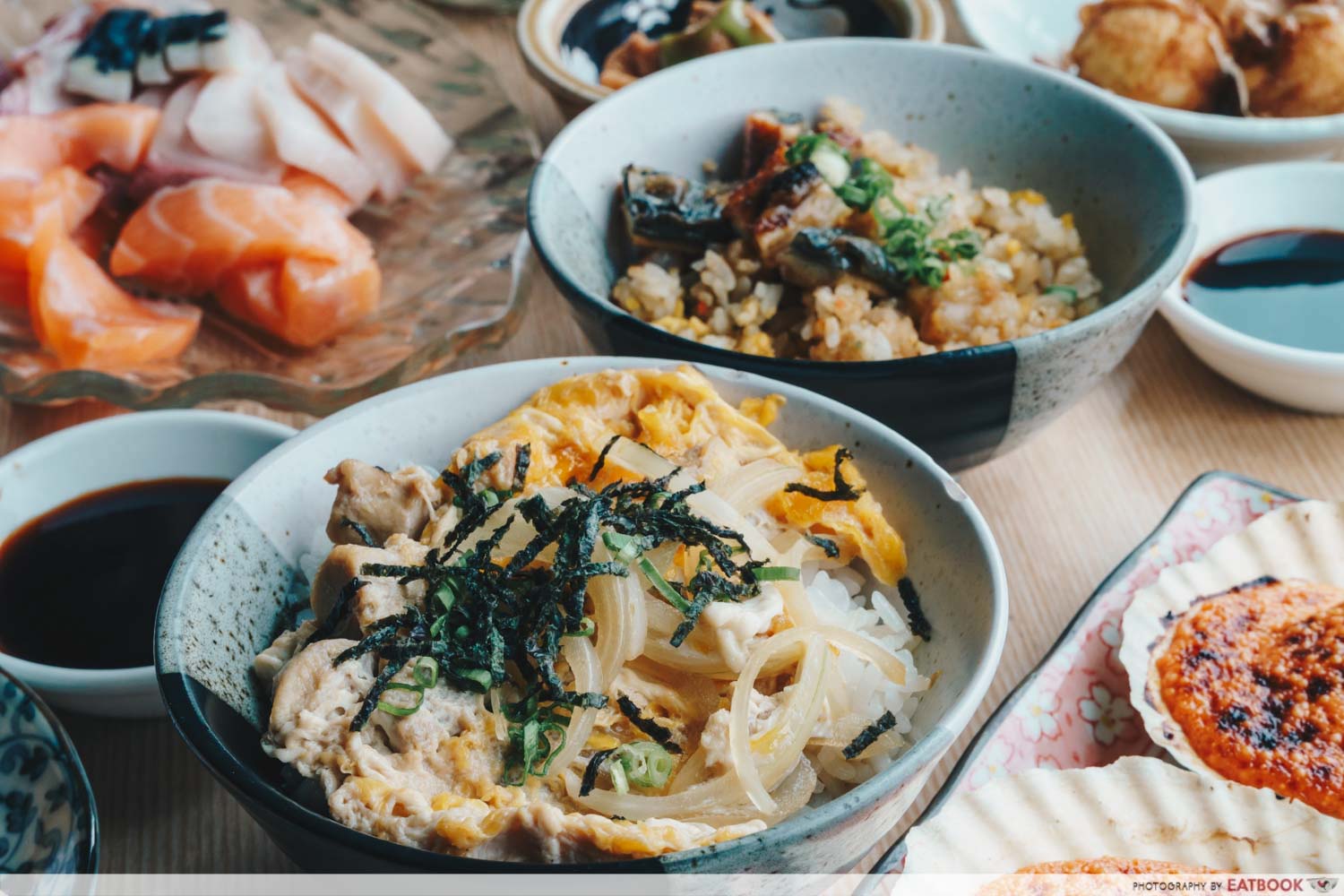 Eat to your heart's content as the buffet numbers more than 150 items in the menu. Among the highlights: thick cut Sake (salmon) and Mekajiki (swordfish) sashimi, Sake Mentai Aburi (flamed salmon in mentaiko sauce), and Ebi Tempura. Even though carbs are usually a no-no for me at buffets, I highly recommend their Unagi Yakimeshi (eel fried rice), which is laden with umami.
Check out our full review of Mitsuba!
Mitsuba Review: Japanese Buffet With >150 Items Including Salmon Mentaiko Sushi, Unagi Don And More
Address: 6 Eu Tong Sen Street, #03-88, The Central, Singapore 059817
Opening hours: Mon-Thur 11:30am to 3pm, 6pm to 10pm, Fri-Sun 11:30am to 3pm, 5:30pm to 7:55pm, 8pm to 10:30pm
Tel: 6227 0388
Website
Mitsuba is not a halal eatery.
---
8. Picnic
---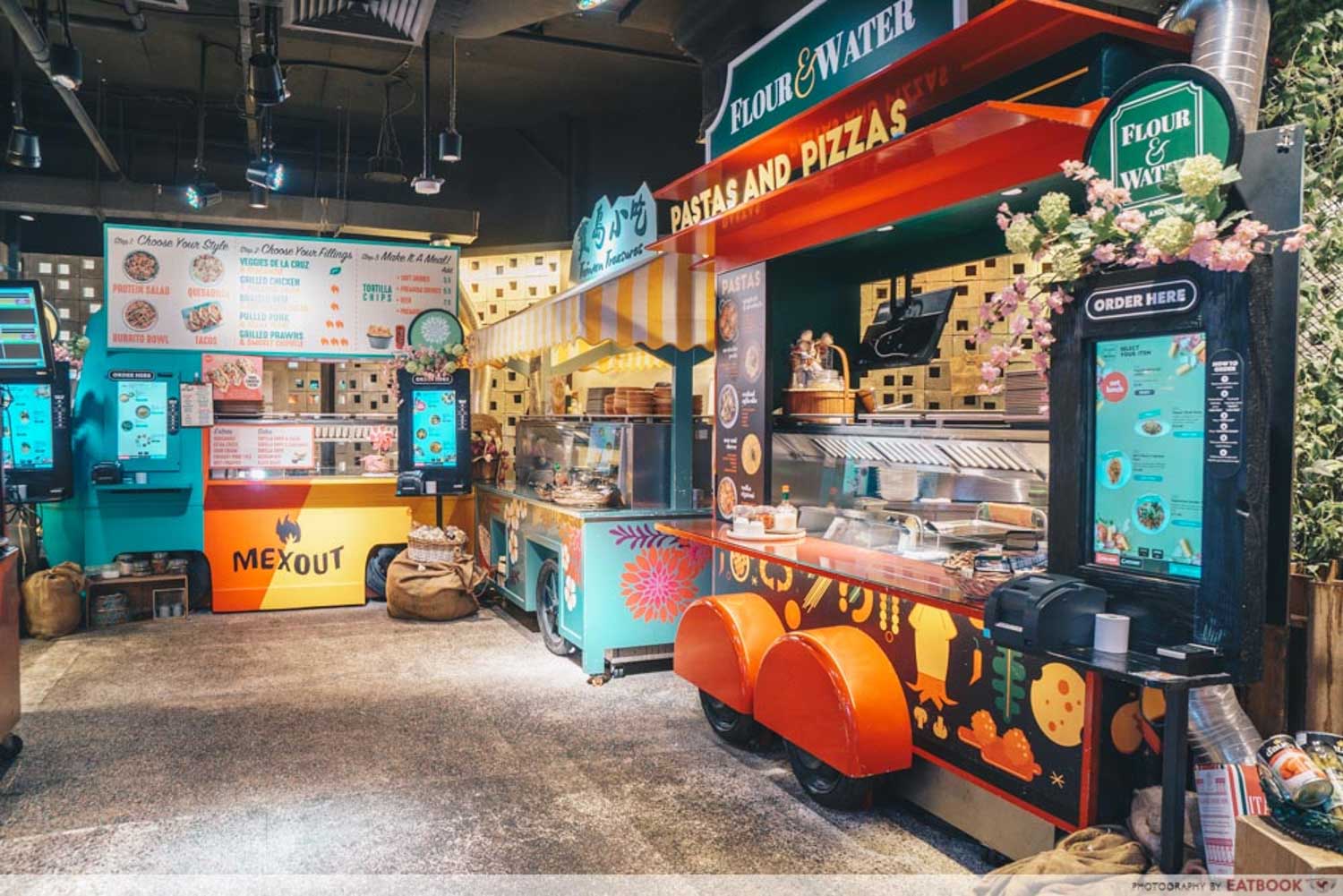 This is the place for big groups to gather and feast. At Picnic, you get a wonderful ambience of food trucks serving different cuisines. They have recently launched a buffet, priced at $39.90++ for weekday lunch, and $55++ for dinner and weekends, where you can get a full portion of mains from all stalls.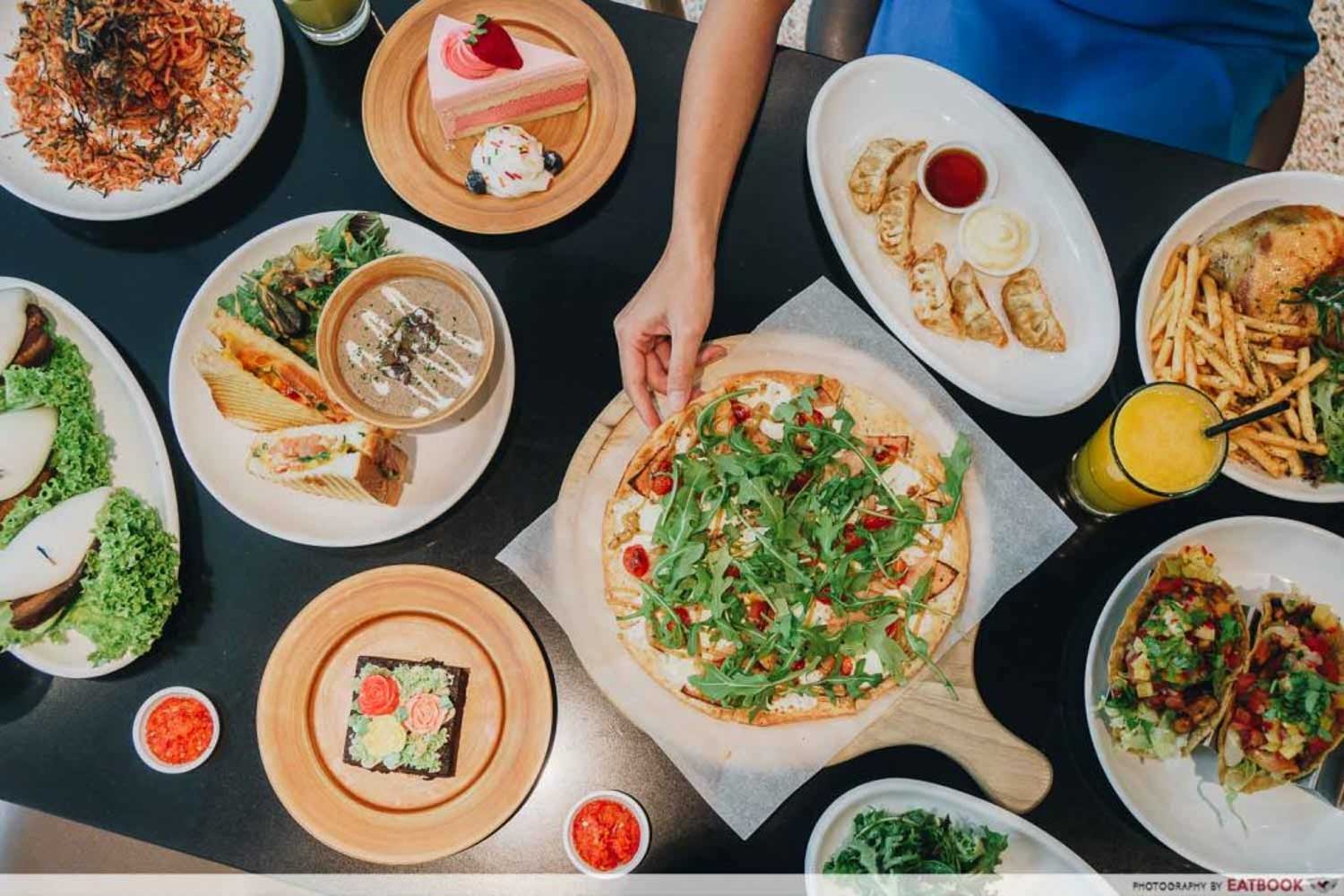 Some of the food trucks at Picnic are run by well-known eateries like Mex Out. Get some DIY tacos with fillings such as Grilled Chicken and Pineapple Salsa and Braised Beef and Fire Roasted Salsa. If Mexican isn't your thing, order a plate of Spanish Garlic Prawn Rösti from Rösti Haus that comes piping hot and crispy at the edges.
Check out our full review of Picnic!
Picnic Review: Marche-Like Food Truck Buffet At $39.90++ At Orchard
Address: 435 Orchard Road,  #03-15-49, Wisma Atria, Singapore 238877
Opening hours: Daily 10am to 10pm (dinner buffet starts from 6pm)
Tel: 6734 8352
Website
Menu
Picnic is not a halal eatery.
---
9. The Three Peacocks
---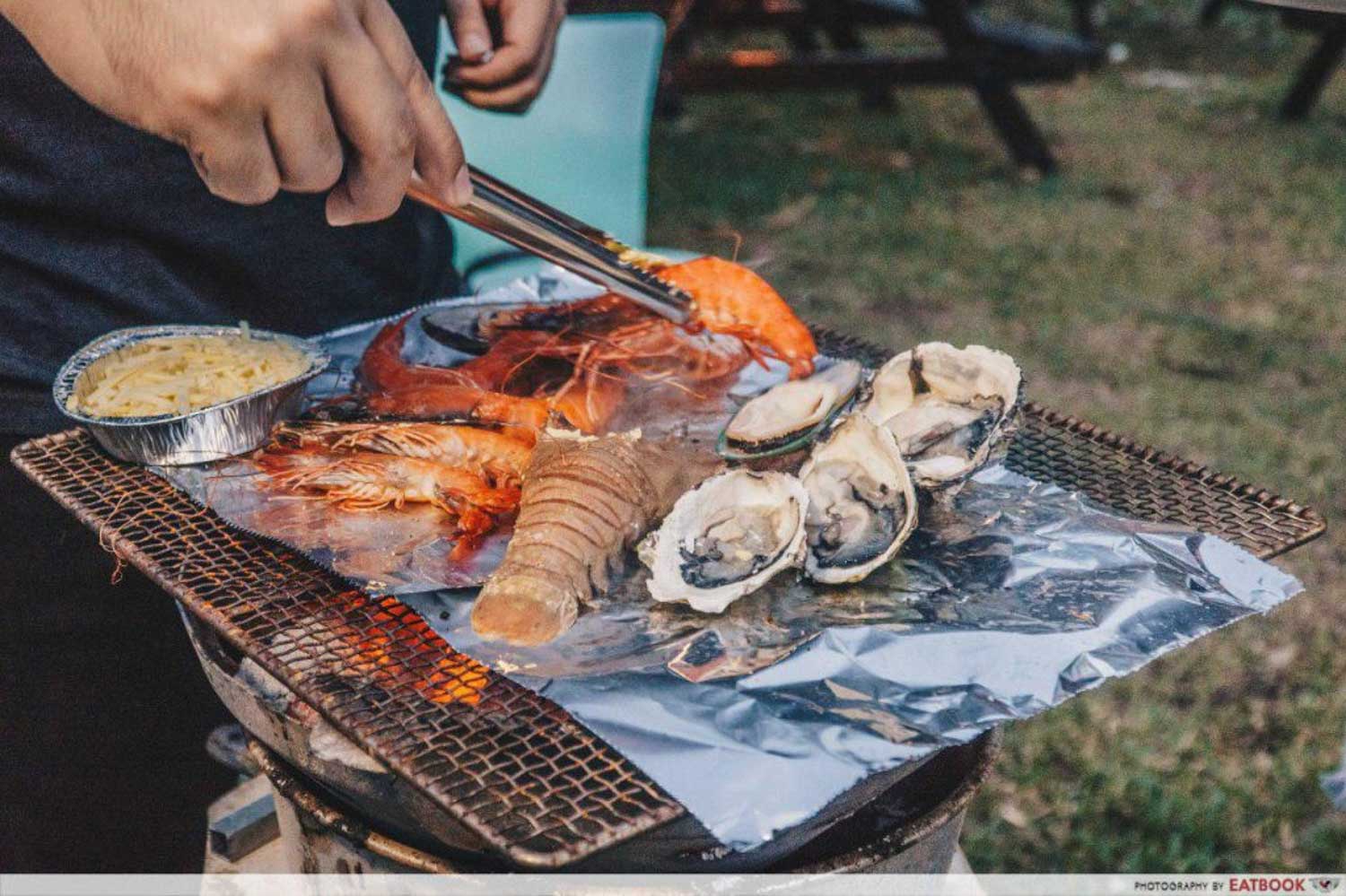 Take a break from the city's hustle and bustle and reside in the quiet ambience of The Three Peacocks. Located a 20-minute walk away from Labrador Park MRT Station, this alfresco restaurant has a $38+ buffet that comes with a staggering selection of fresh seafood and meats.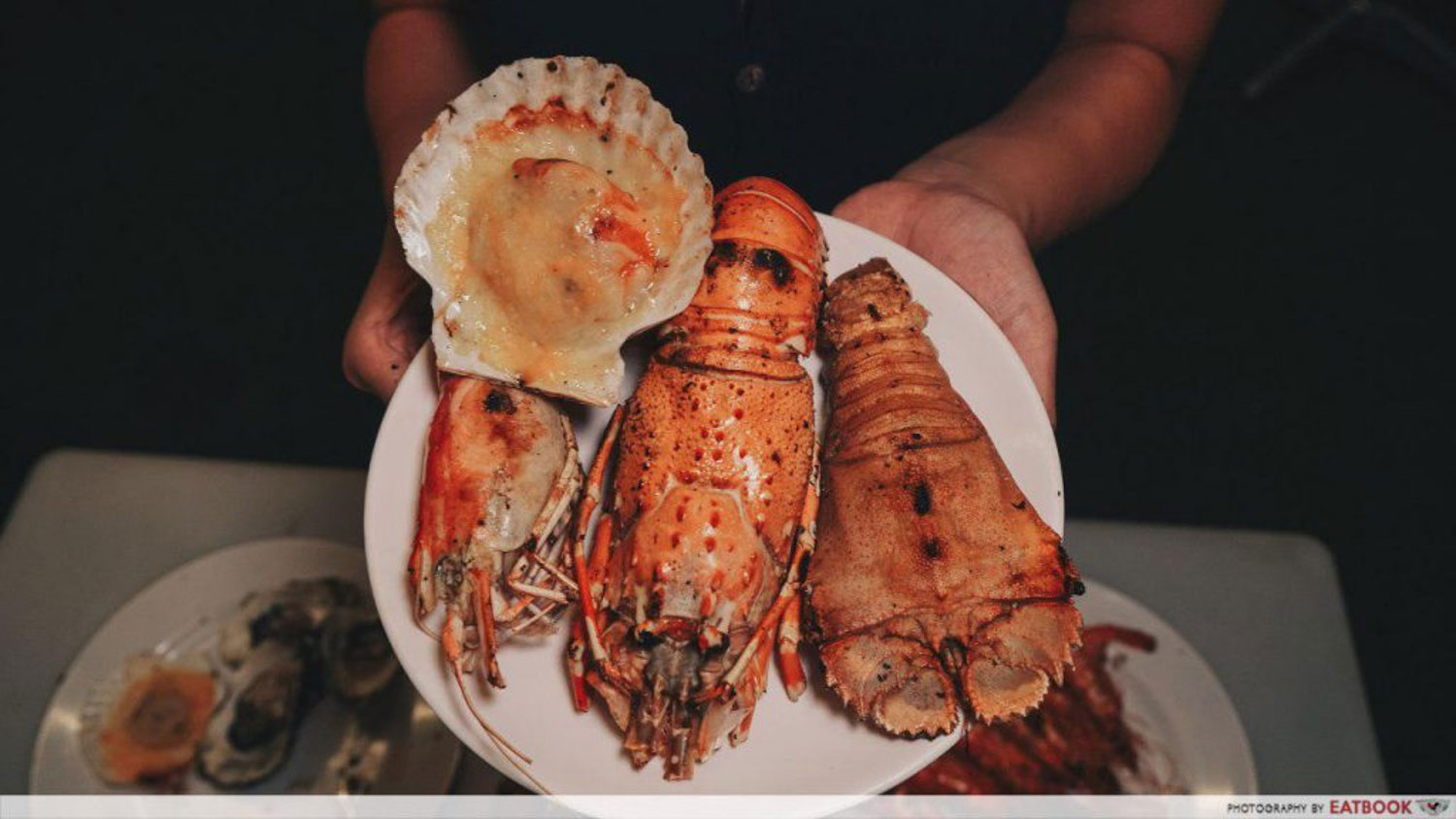 The buffet lets you pick out your own live seafood. The whole experience of fishing the seafood out, then grilling them by yourself adds an interesting element to an otherwise ordinary seafood buffet. From baby lobsters to crayfish, mud crabs to prawns, the buffet offers a whole lotta choices for even picky eaters.
Check out our full review of The Three Peacocks!
The Three Peacocks Review: Live Seafood BBQ Buffet With Live Crabs, Prawns And More
Address: 8 Port Road, Singapore 117540
Opening hours: Daily 5:30pm to 1am
Tel: 9851 1802
Website
The Three Peacocks is not a halal eatery.
---
10. Colony
---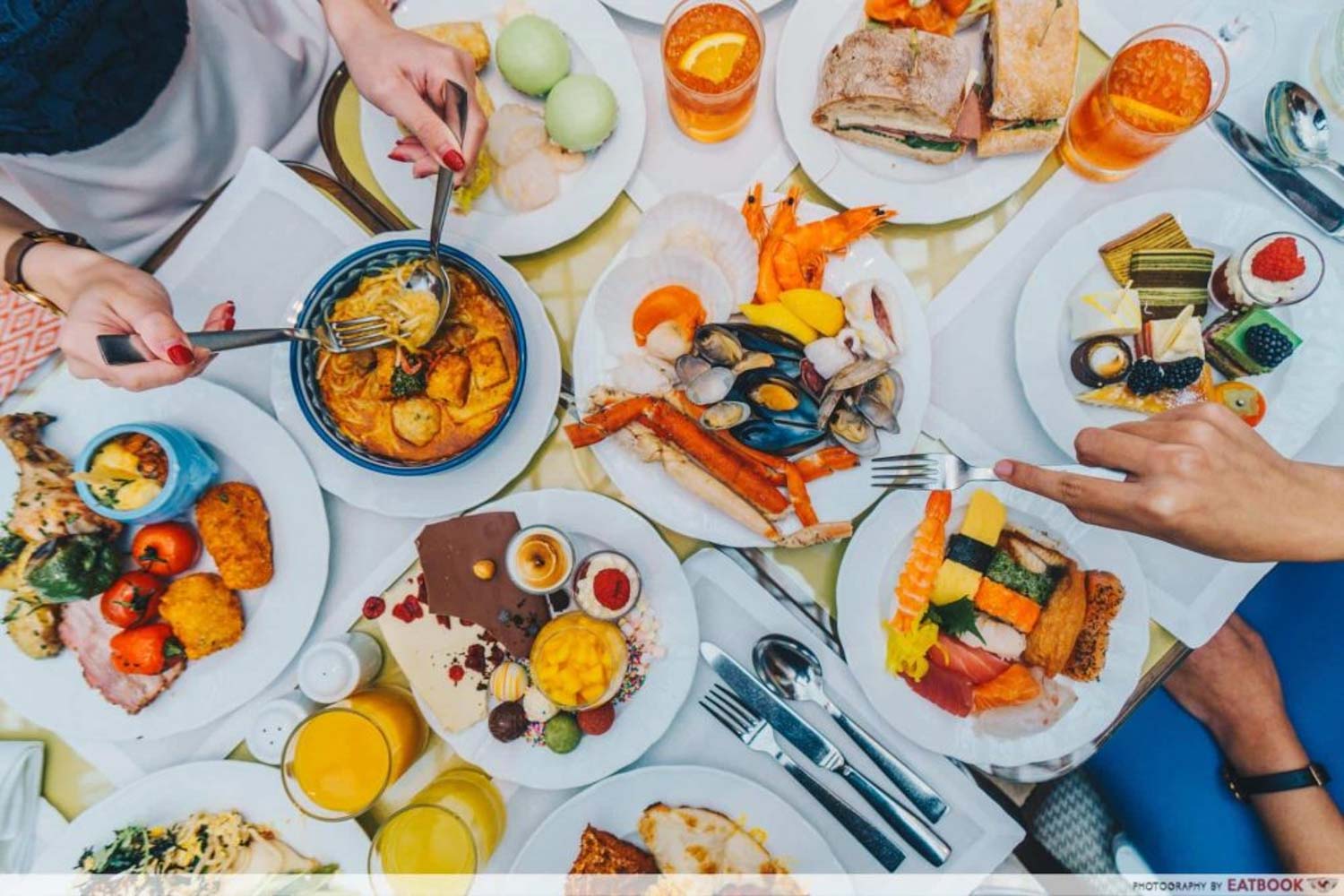 Colony is our choice for the most value-for-money hotel lunch buffet. $58++ on weekdays and $62++ on weekends, expect an epicurean feast from this swanky restaurant, located within The Ritz-Carlton.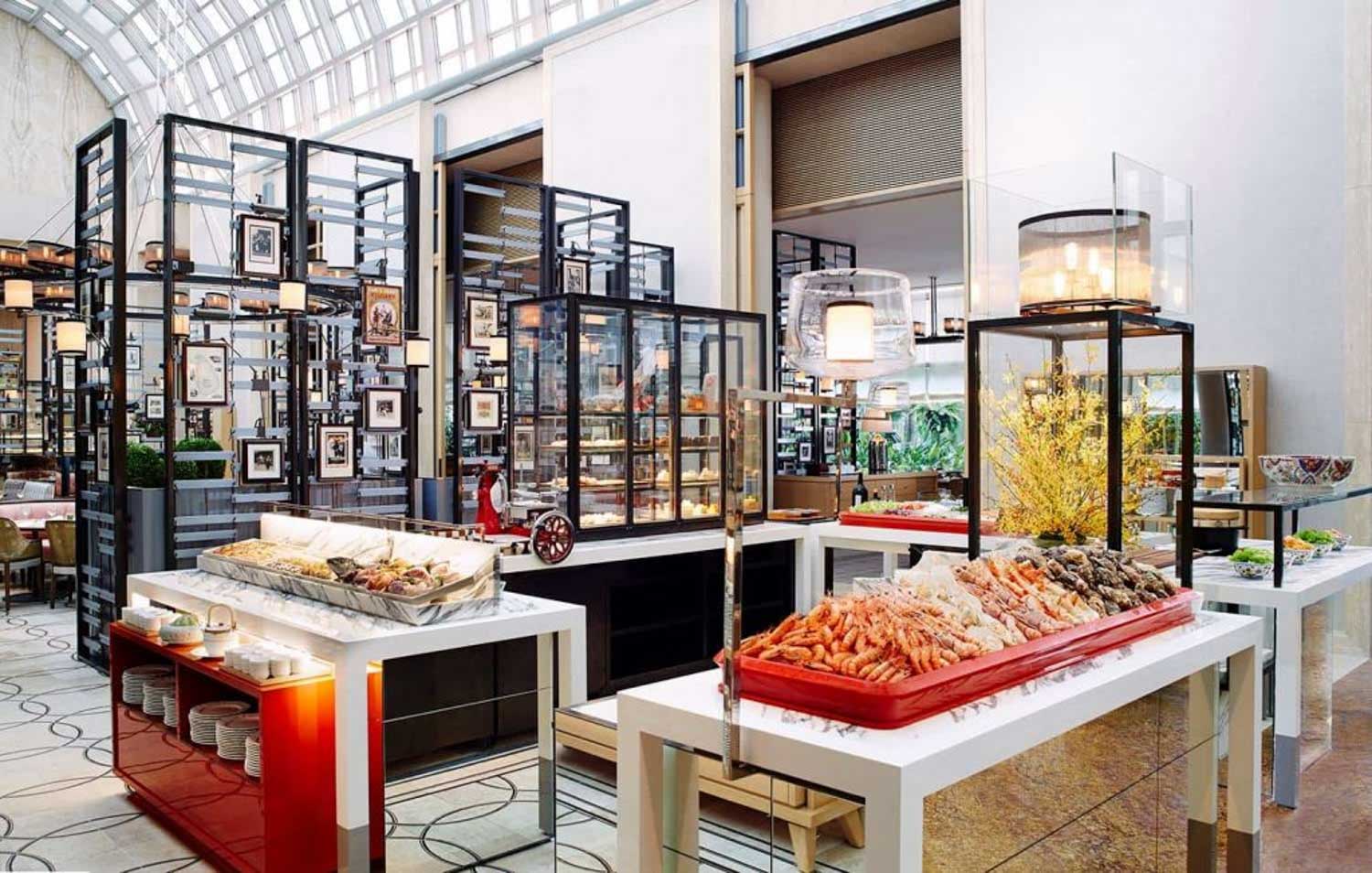 Reserve this spot for fancy occasions as the rows of gourmet food will definitely impress. Head straight to The Grill & Rotisserie station for crispy pork belly and marinated beef ribs which are stone-grilled upon order. Or get your hands on fresh seafood including scallops, snow crab legs, and marinated sea squid at the Ice Bar.
Check out our full review of Colony!
Colony Review: Most Value-For-Money Hotel Lunch Buffet With Snow Crab, Dim Sum And More
Address: 7 Raffles Avenue, The Ritz-Carlton, Millenia Singapore, Singapore 039799
Lunch buffet hours: Mon-Sat 12pm to 2:30pm
Tel: 6434 5288
Website
Colony is not a halal eatery.
---
There's always something for everyone
---
A buffet might not be an everyday affair, but is emblematic for celebratory meals. The good value and wide variety means everyone will leave happy.
From affordable to luxurious ones, arm yourself with this list of best buffets, along with our full list of Eatbook Top 50 Awards 2018 winners, to be the go-to person for food recommendations in Singapore.