MooTeow chilli beef kway teow at Wild Market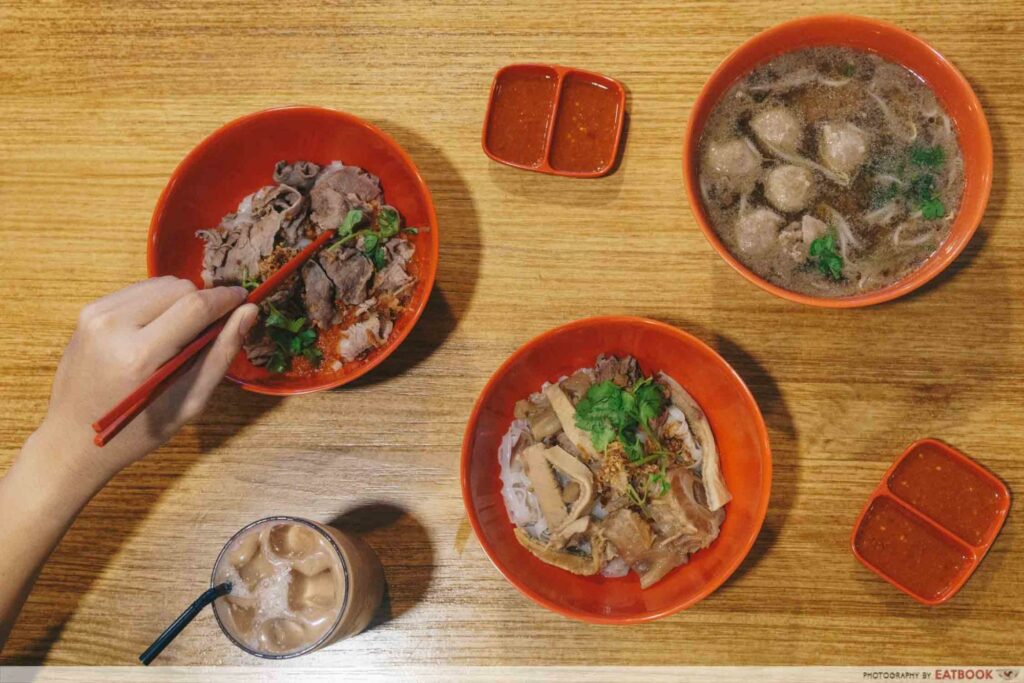 When it comes to beef kway teow in Singapore, the revered Original Hock Lam Street brand with its 108 years of history undoubtedly comes to mind. 
The store was first opened in 1921 by Tan Chin Sia who handed over the reins to his fourth son, Anthony Tan. The business was eventually passed to Anthony's daughter, Tina Tan, who unfortunately had to close the business in July 2019 due to manpower issues. However, the legacy of Tan Chin Sia is not lost. At least for now.

Tan Chin Sai's daughter, the late Madam Tan Sok Eng, decided to branch out from the family's illustrious beef noodle business and opened up her own store, Empress Place Beef Kway Teow. The store gained quite a popular following and was eventually handed over to David Lim, Madam Tan's son.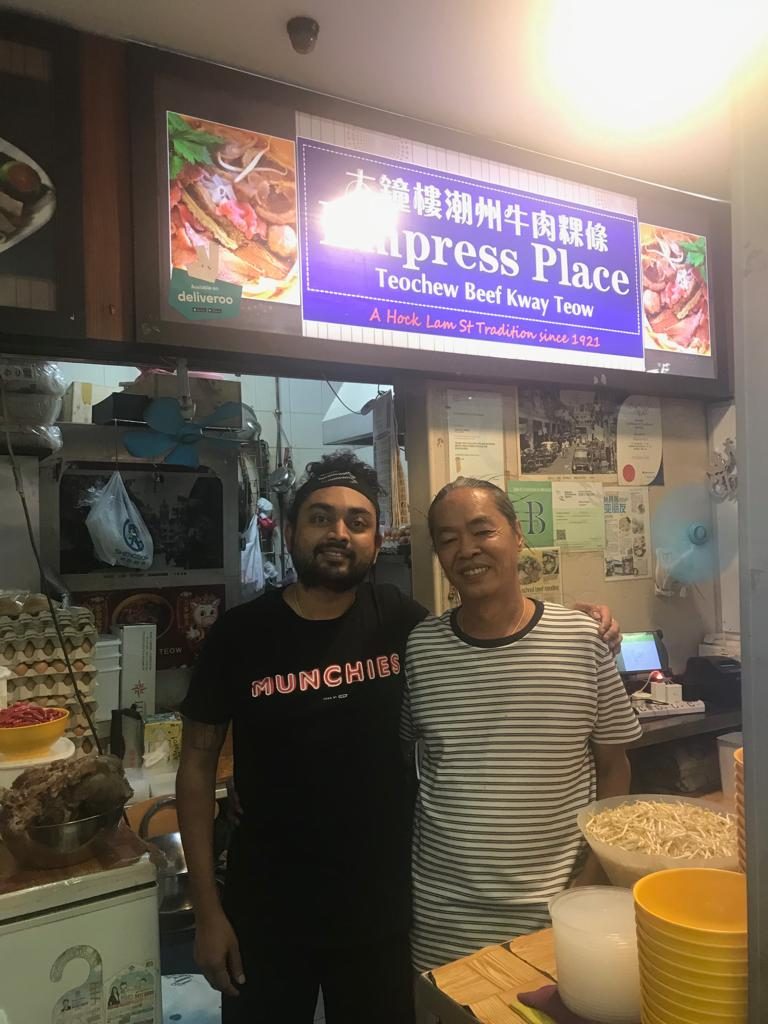 Image credits: Ruben Brandon
This exciting beef noodle saga now has even more characters added to it. David Lim recently decided to pass the baton of his business to his daughter, Melissa, while his son, John Paul, continues the legacy by adding a modern spin to the beef noodles at Gubak Kia. The saga doesn't end there; he has also sold the recipe to Ruben Brandon—a big fan of David's noodles.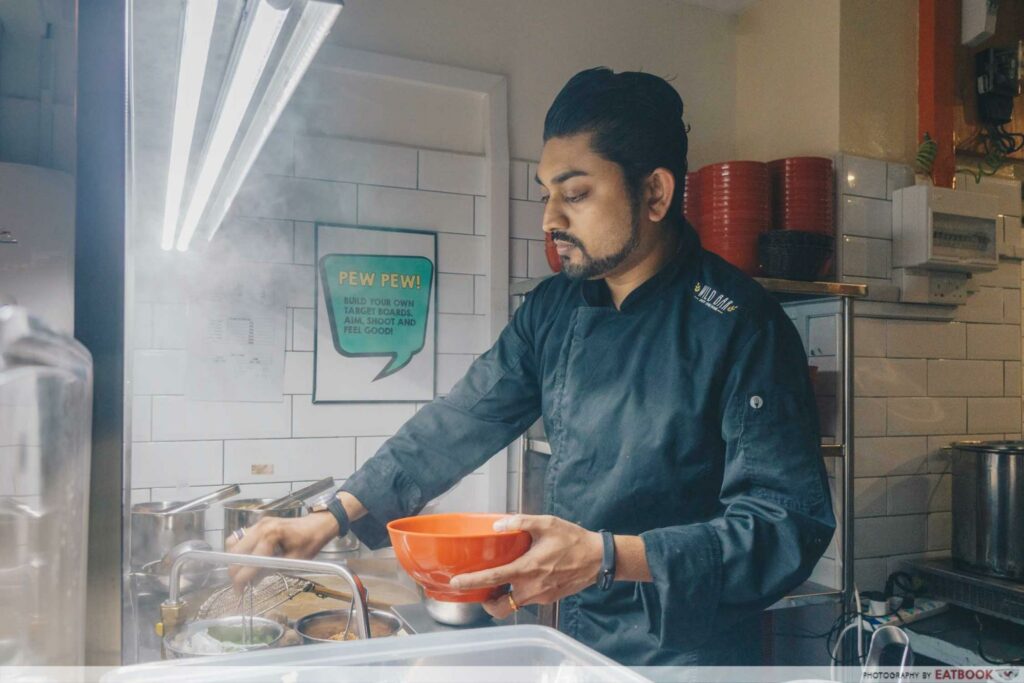 After learning the ropes from David for two months, Ruben opened up MooTeow Chilli Beef Kway Teow. This store serves up the same Teochew-style beef noodles that many have loved, while placing a strong emphasis on the chilli used. We were recently invited to check out this exciting noodle place at East Coast. 
Food at MooTeow Chilli Beef Kway Teow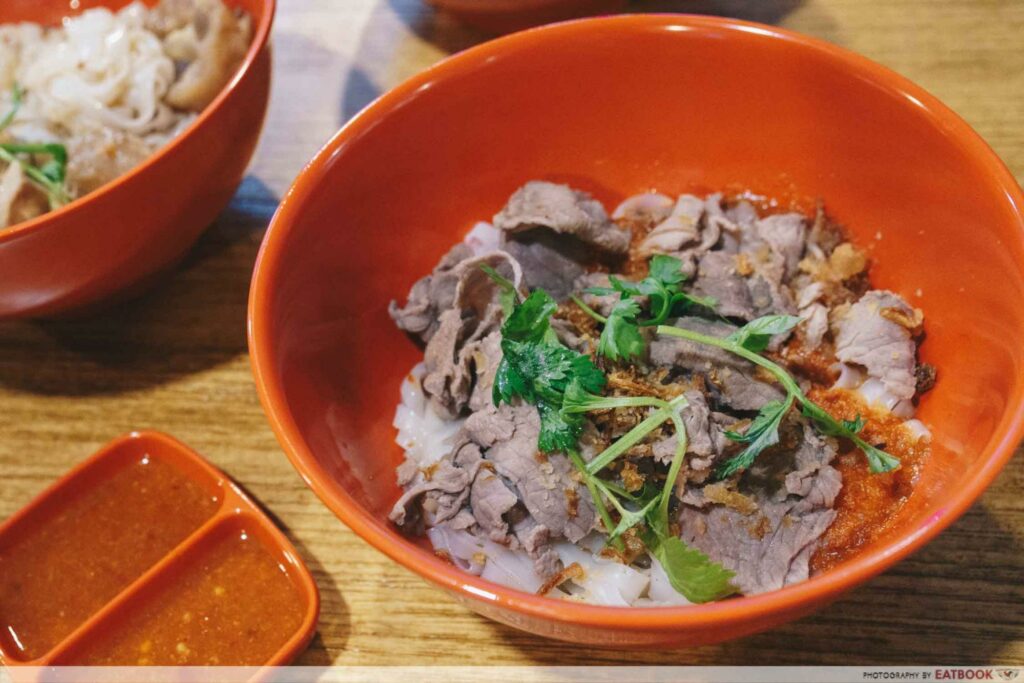 The Dry Sliced Beef ($6/$8) features thin white kway teow that are tossed in a generous dollop of their signature chill sauce, soy sauce, and sesame oil. It's then crowned with pieces of blanched hand-sliced beef and coriander leaves to give a nice splash of colours.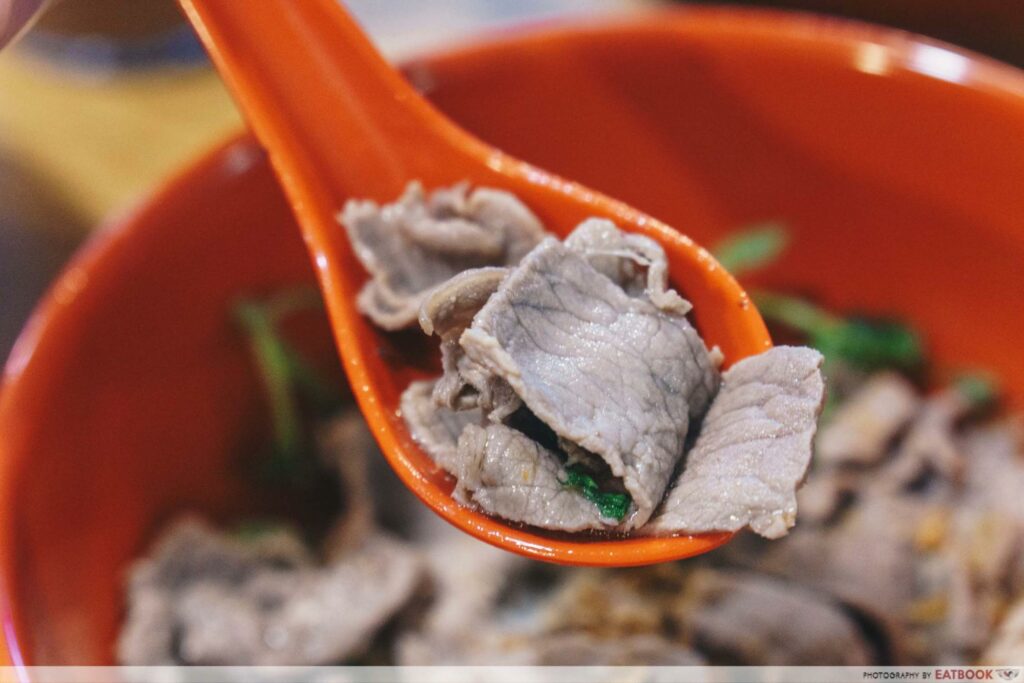 Sourced from Australia, the beef slices were tender and had a good ratio of fat to meat. I also liked how the slices were cooked to a nice pink, resulting in meat that was not too chewy.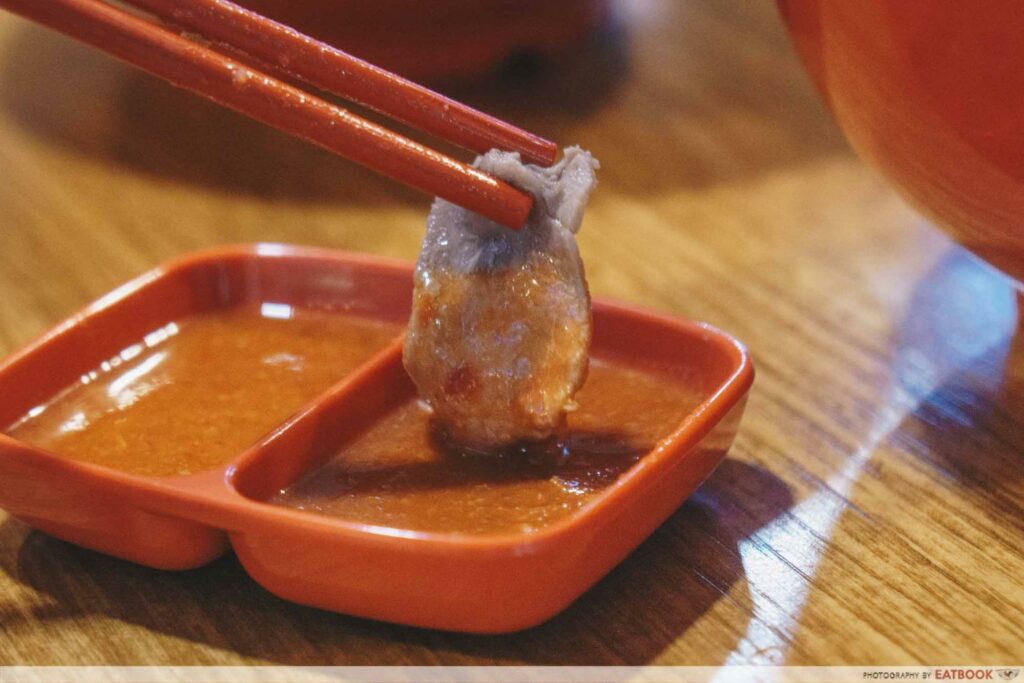 The chilli at MooTeow is different from its Empress Place counterpart. Having tried both stores, I felt that MooTeow's packed a heavier citrusy zing to it. It's also noticeably chunkier, with hand-chopped pineapples giving it an almost salsa-like texture. Ruben tells us that the chilli is intentionally done this way to give each strand of noodle a thick coat of chilli.

It's a hard fight, but I prefer the chilli here to Empress Place. It brought out the beef's flavours better through its sharp piquant notes.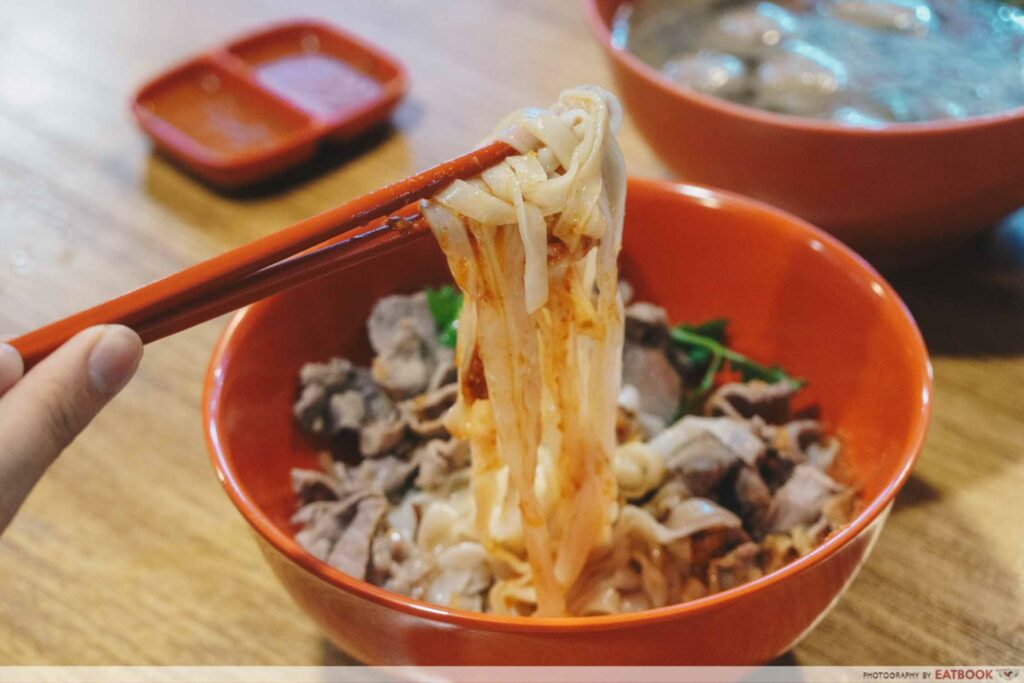 While the flat kway teow noodles were beautifully cooked, we felt that the sesame oil was too overpowering—strangely reminding us of chee cheong fun. It gave a strong breath of nuttiness that stripped out the light nuances that we would have preferred in the noodles. Perhaps they should have used a milder type of sesame oil with a gentler roast.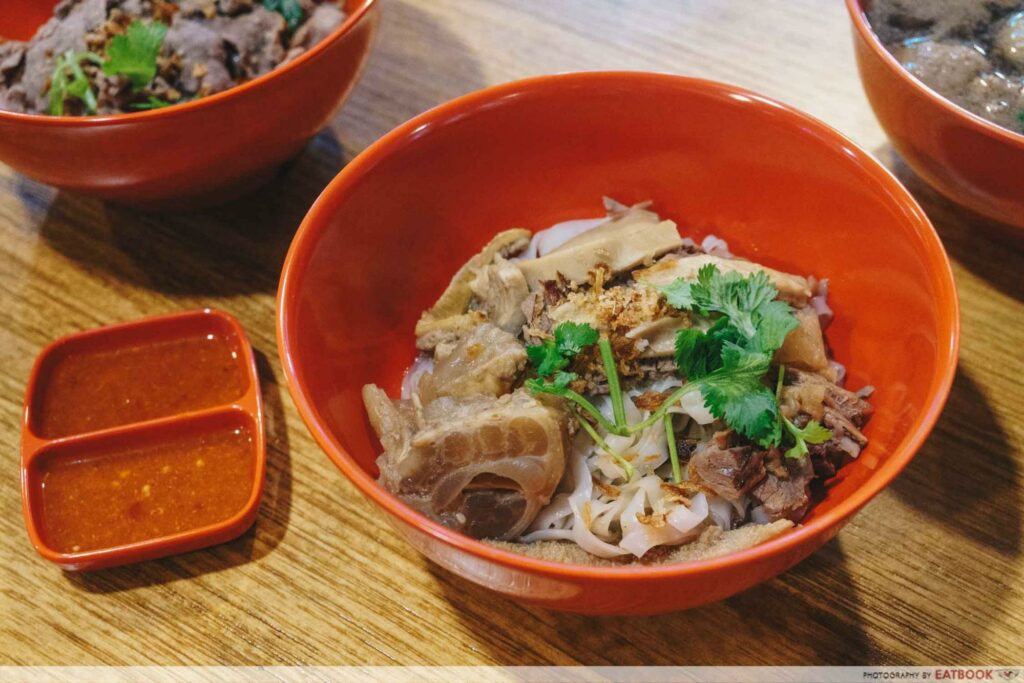 The Dry Mixed Beef w/Tendon ($8/$10) comes with a whole assortment of braised beef, featuring the tripe, brisket, tendon, and beef balls.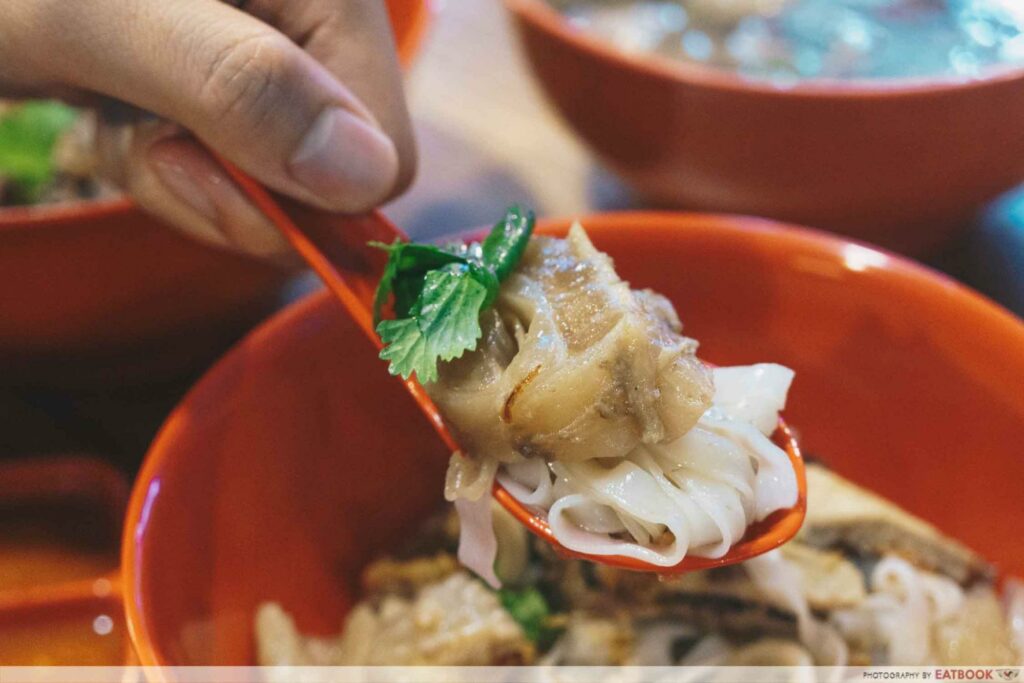 If you can order only one thing at MooTeow, make it their beef tendon. It seemed to melt almost instantly in the mouth, releasing lush notes of cinnamon. The gelatinous tendon also absorbed the robust beef broth well, gently dispensing a mild beefiness. 
It's as good as the ones I remember chowing down at Empress Place Beef Kway Teow. My only gripe was how they should have given more pieces of this collagen-rich meat.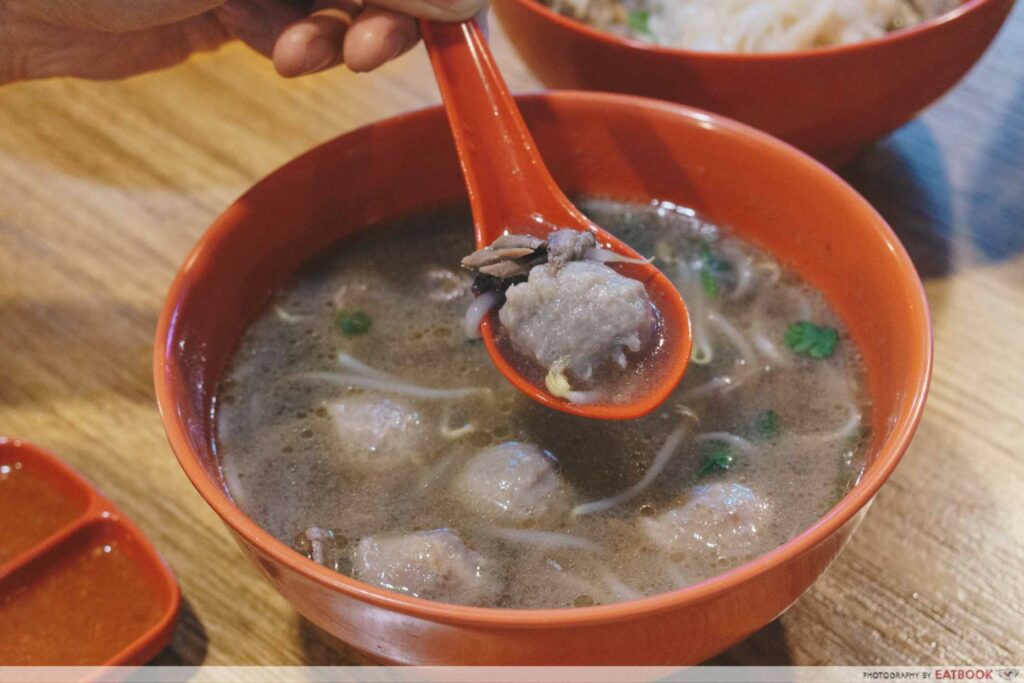 Those who are craving a bowl of Hock Lam-esque beef noodles will find comfort in the Mixed Beef Soup ($7/$9). This uncomplicated bowl of beef noodle soup is reminiscent of a hearty bowl of beef pho. However, it seemed to omit the generous heaping of fresh garnish that its Vietnamese counterpart is famous for.
The soup's flavour straddles the fine line between being too weak and strong, providing a right balance that goes nicely with the braised beef items.

However, I felt that the beef balls lacked a certain beefiness to it, lacking the much-coveted beefy oomph. 
Ambience at MooTeow Chilli Beef Kway Teow 
MooTeow Chilli is located at the hipsterish The Bullion Hawker Bar after moving out of their previous location at Wild Market.
Service is fast, but expect to run into a small queue if you're hitting this joint during the peak lunch-time crowd. 
There are also loads of arcade machines and toy catchers that you can splash your spare change on after a nourishing bowl of beef noodles. 
The verdict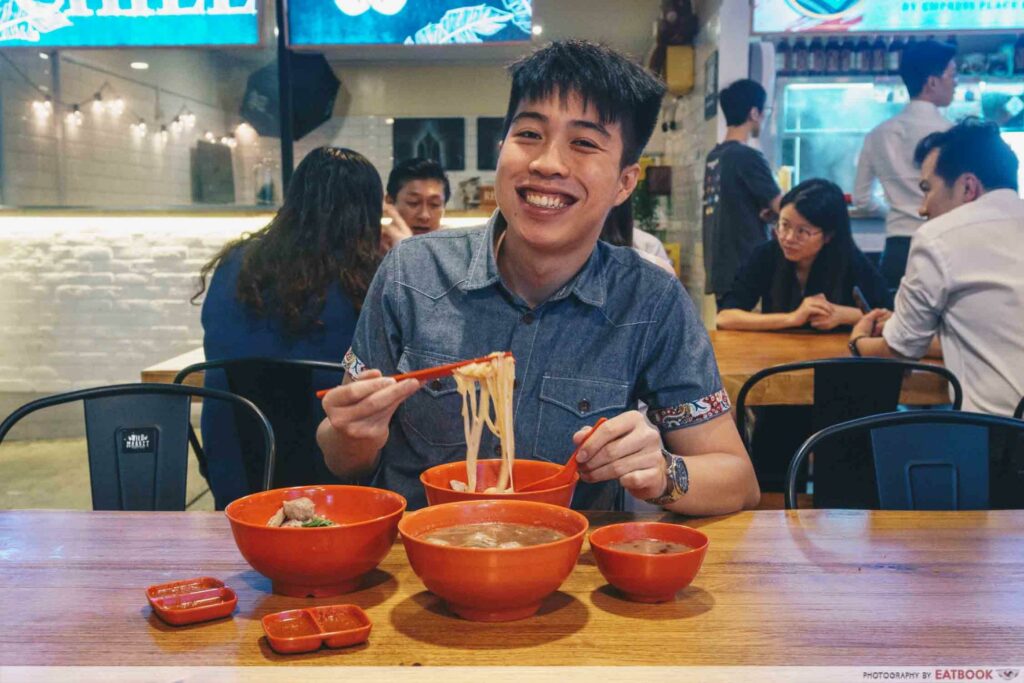 Having tried both Empress Place Beef Kway Teow and MooTeow Chilli Beef Kway Teow, it's safe to say that both stores deliver a mean bowl of beef noodles that ought to impress anyone. 
Aside from the chilli, it's hard to find anything drastically different from both stores. While the prices at MooTeow are considerably higher, the comfortable dining area and convenient location will attract those in the city.

If you're still hankering for beef noodles, be sure to check out our guide on beef noodle soup stalls that even includes a hawker stall selling wagyu beef soup! 
10 Beef Noodles Soup Stalls Including Wagyu Beef Soup And Thai Beef Noodles
Address: 396 East Coast Road, The Bullion Hawker Bar, Singapore 428993
Opening hours: Mon, Wed-Sun 11:30am to 9:30pm
Website
MooTeow Chilli Beef Kway Teow is not a halal-certified eatery.
Photos taken by Reynard Lee.
This was a media tasting at MooTeow Chilli Beef Kway Teow.
MooTeow Chilli Review: Empress Place Beef Kway Teow Passes On Recipe To Loyal Fan
Summary
Pros
– Tasty tendon

Cons
– A little pricey
Recommended dish: Mixed Beef w/Tendon ($8/$10)
Opening hours: Mon-Sat 11:30am to 10:30pm
Address: 396 East Coast Road, The Bullion Hawker Bar, Singapore 428993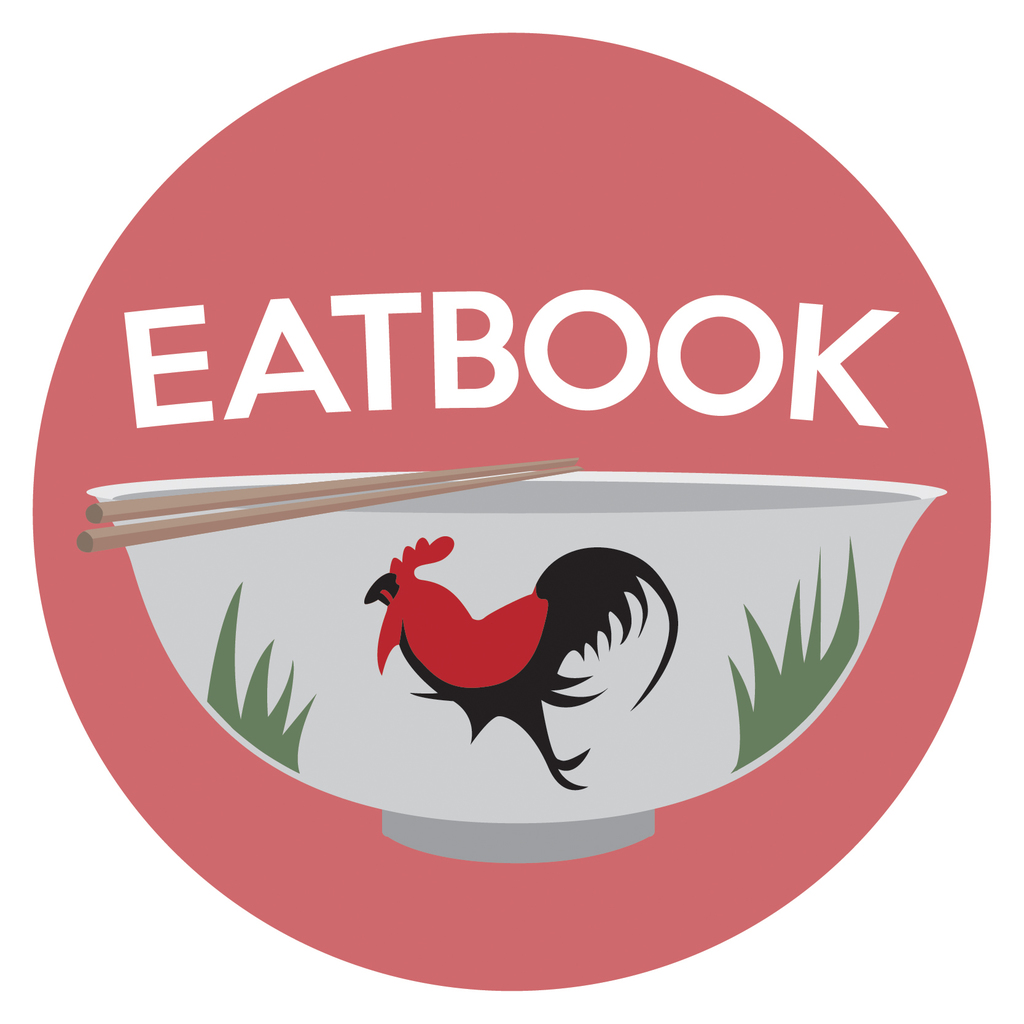 Drop us your email so you won't miss the latest news.