Soba is not the only thing on the menu at Nadai Fujisoba Ni-Hachi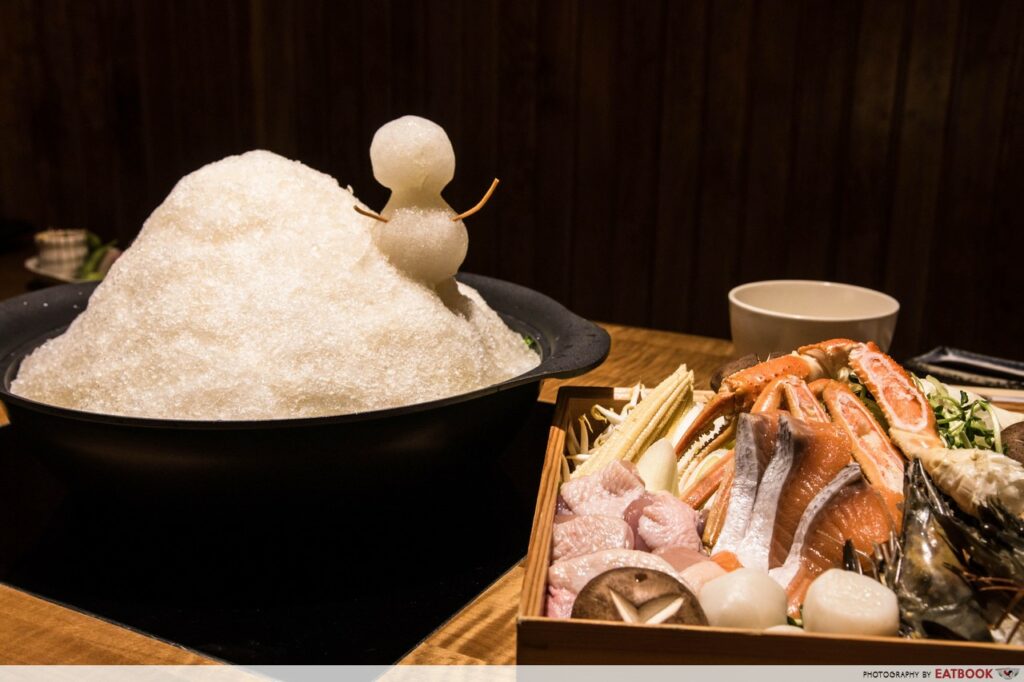 From ma la steamboat buffets to Alaskan crab hot pot, Singaporeans love breaking bread over a simmering pot of soup. And catching on to this wave is Nadai Fujisoba Ni-Hachi. Best known for their gigantic soba servings, the one-year-old restaurant celebrates their first anniversary with an innovative hot pot and six-course party set that's available during weekday dinners and weekends.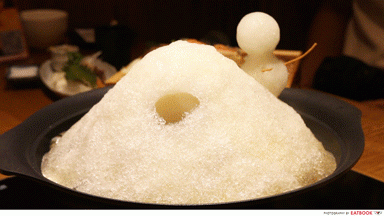 Contrary to its description, the Mount Fuji Hotpot ($28++ per person, minimum two to dine) does not have chilled seafood swimming in an ice cold broth. Instead, the chicken and prawn collagen broth is presented as a mountain of shaved ice, a little like, as my editor calls it, a naked bingsu. Said to keep the ingredients hidden below fresh, the heap of ice took about 15 minutes to melt away, and revealed a medley of ingredients comprising of Argentinian red shrimps, Norwegian salmon, New Zealand mussels, chicken, and vegetables. We each had an additional snow crab leg too, which you can also get for free if you order the hot pot by 30 November 2017.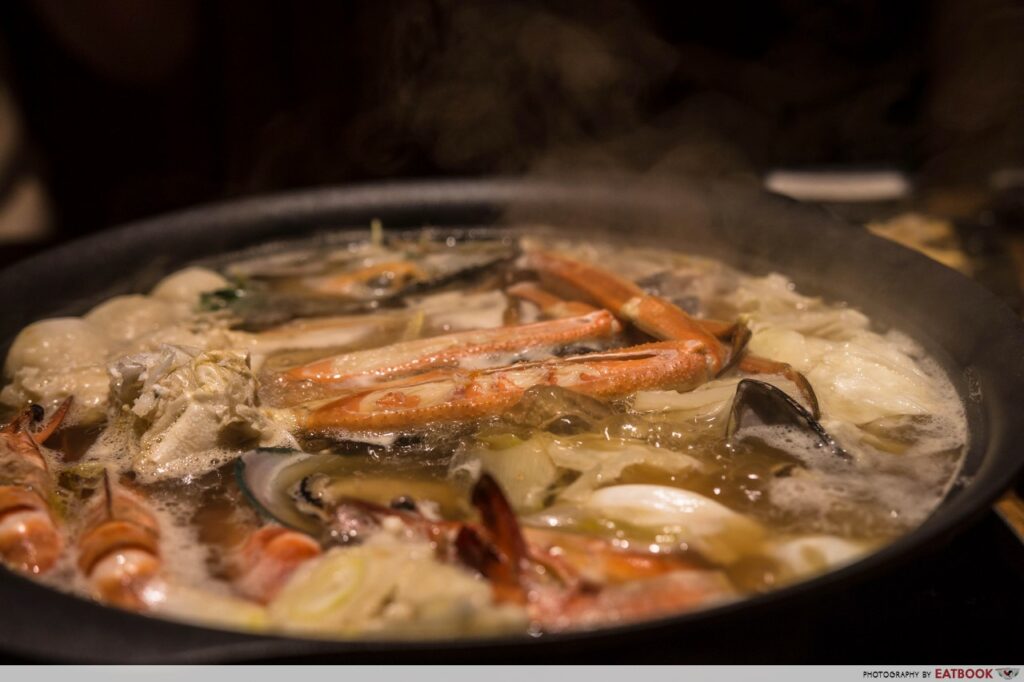 Boiled for hours before being kept in a freezer for a day, the soup was a delicate delight with strong umami notes. Using less salt, the pristine flavours from the seafood were able to sing through the broth, while the leeks, enoki, mushrooms, baby corn, pea shoots and cabbage gave it a mildly sweet taste. Don't lap it all up though! Once you've savoured all the ingredients, you will be served their signature buckwheat noodles to cook in the broth.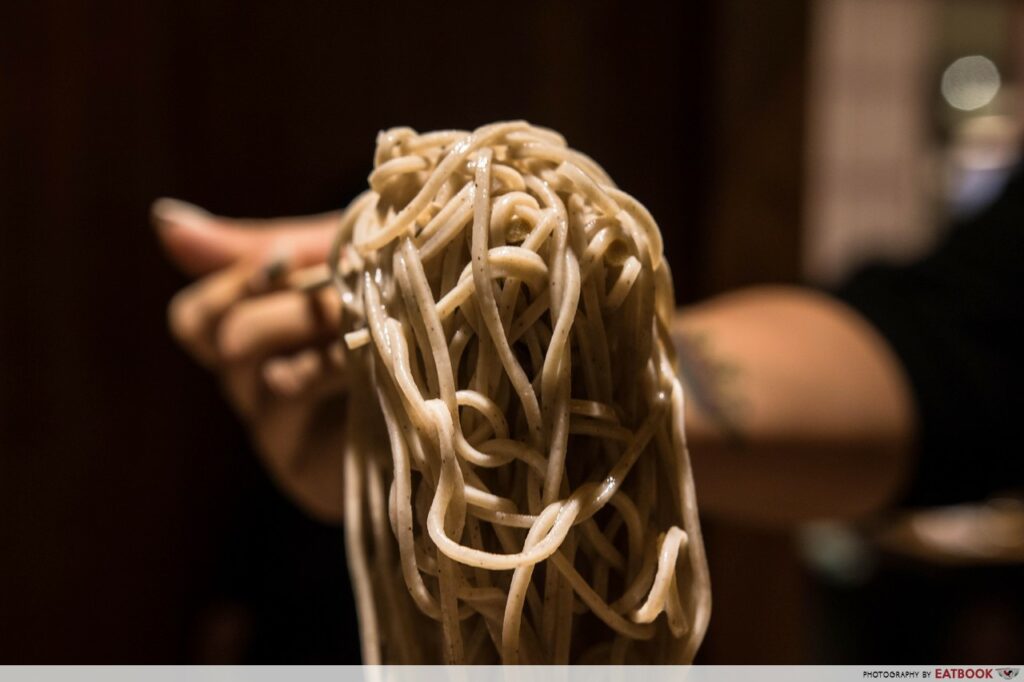 Giving you more bang for your buck is the Nadai Fujisoba Ni-Hachi's 6-course Party Hot Pot Set ($49.80++ per person), which will be launched this December. The set comes along with the delicious hotpot, as well as an appetiser, a selection of sides, and an indulgent dessert to complete the meal.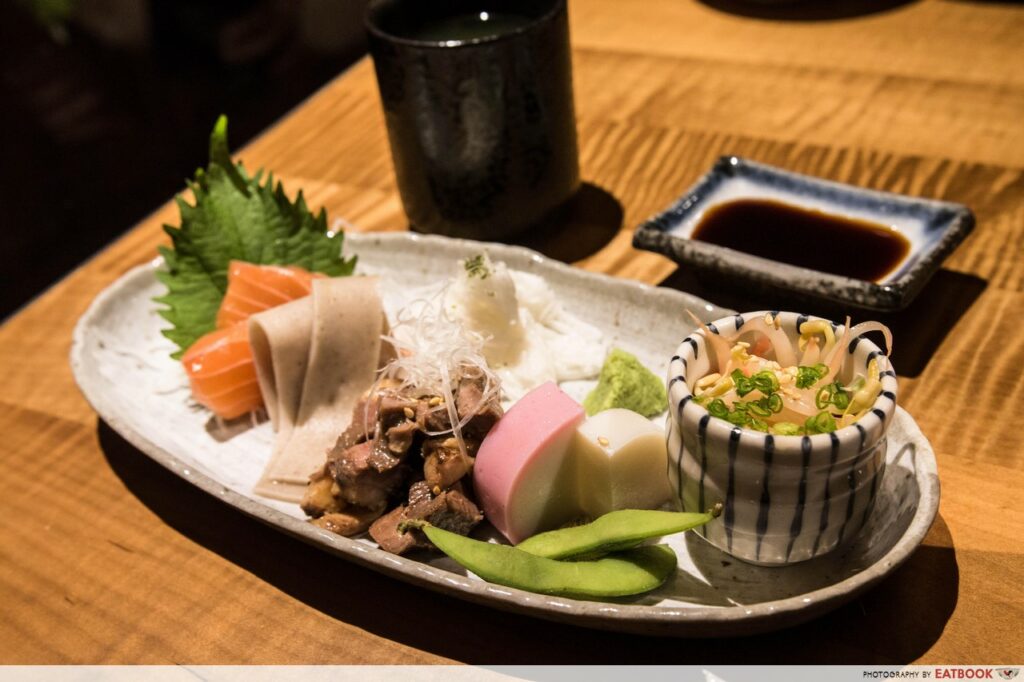 The appetiser was a small platter of cold dishes including soba and salmon sashimi, duck chashu, namul (bean sprout salad), edamame, Japanese fish cake, and shredded Japanese yam. The simplicity of each item whet our appetites, as we waited for the frozen broth to melt.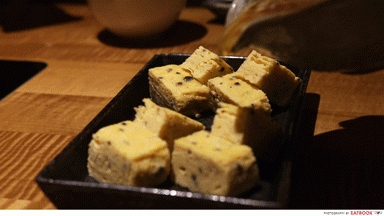 A noteworthy side dish was the Dashimakitamago (U.P. $15++). Tasting similar to chawanmushi, the fluffy Japanese omelette is doused in a savoury dashi crab sauce boasting copious shreds of Indonesian crab meat. A sumptuous, earthy aroma was also apparent, as fresh truffles were incorporated into the tamago.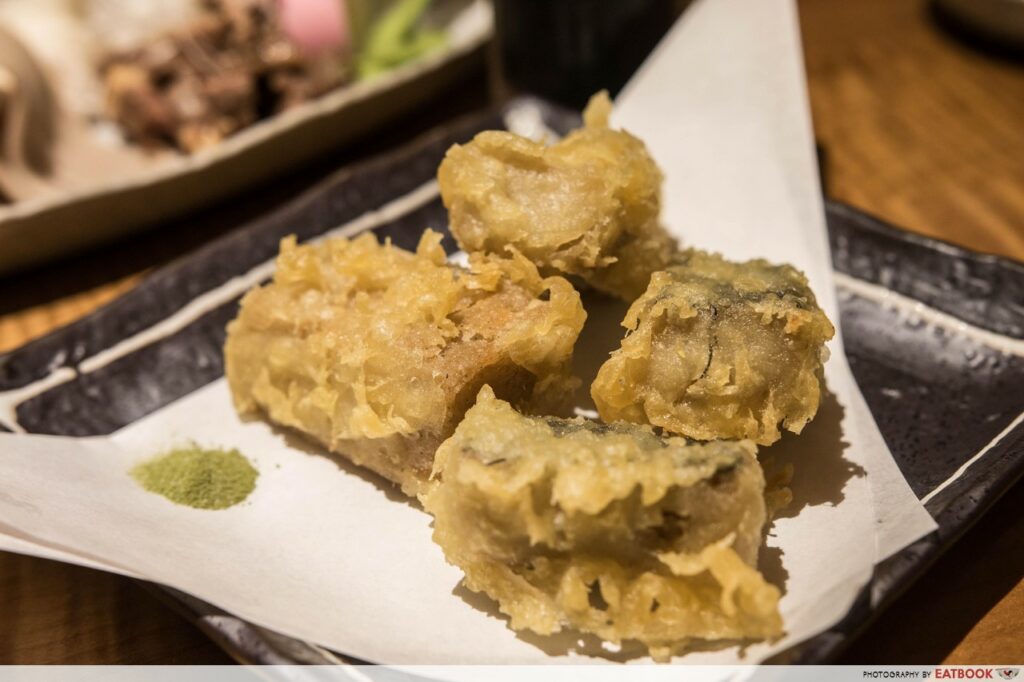 Another interesting accompaniment was the Mash Buckwheat Tempura, served with matcha sea salt. The squidgy mash against the light, crispy batter created a palatable mouthfeel and brought me to textural heaven. It also helped that it was not oily at all. Don't forget to dip it in the matcha sea salt and tentsuyu sauce. The bittersweet and savoury combination was a great finishing touch to the nutty fried treat.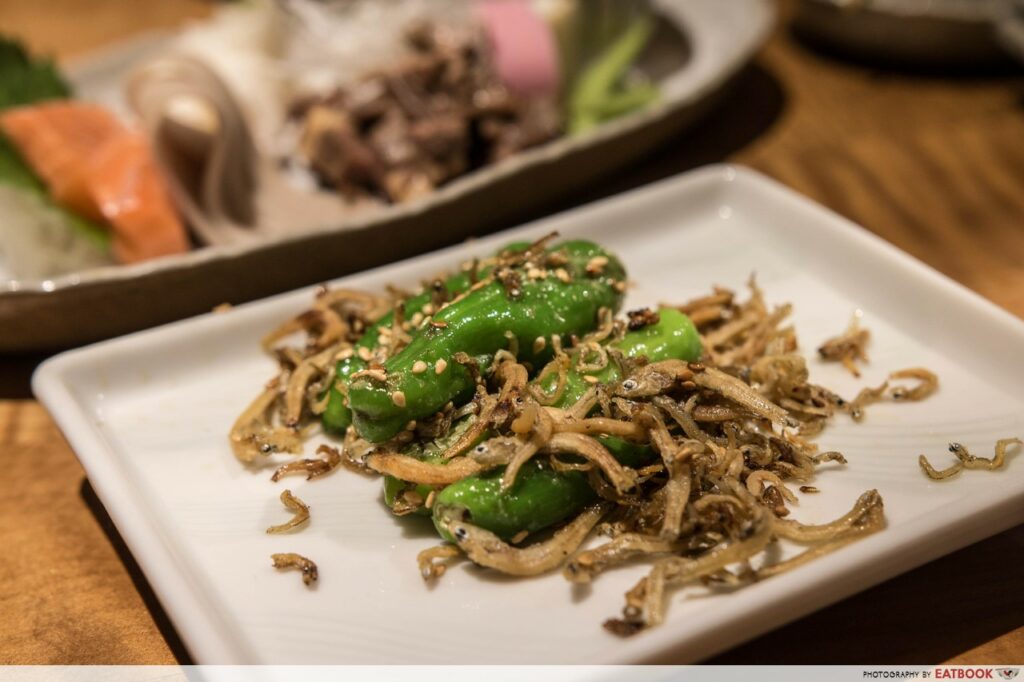 The other three side dishes served were unmemorable. The Ni-Hachi Soba Salad was an ordinary salad and I couldn't taste the yuzu dressing. Its only saving grace was the crunchy soba toppings. Too salty for my liking was the Jako to Shishito Itame featuring anchovies fried with Japanese pepper and seasoned with salt and sesame. And while the meat was pretty juicy, the Yakitori Salt and Teriyaki was simply grilled chicken and did nothing to excite my taste buds.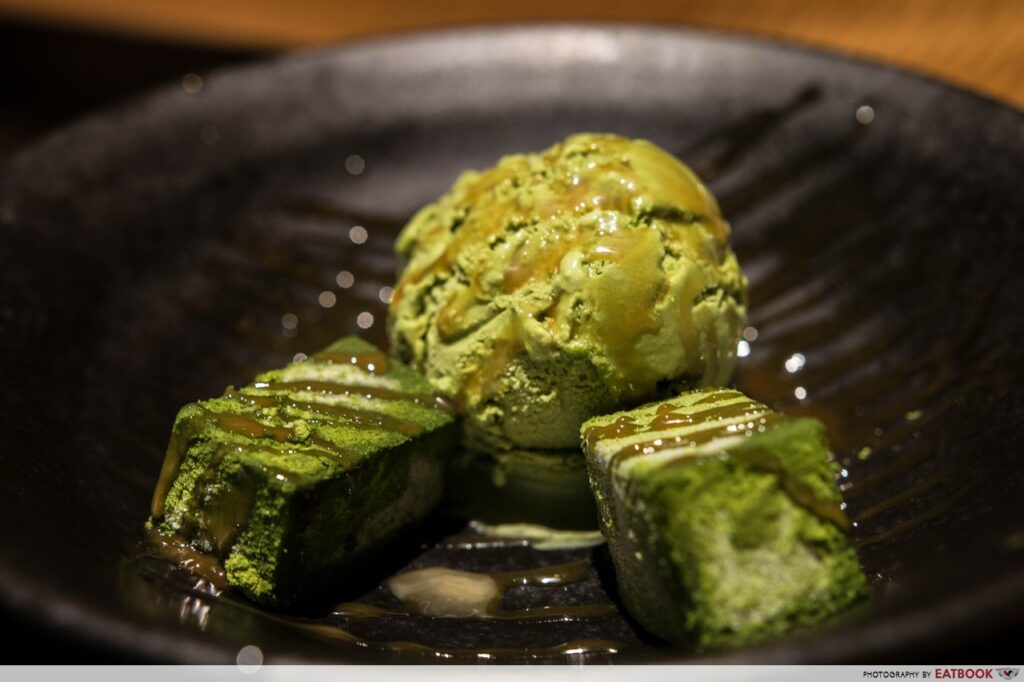 The Matcha Warabi Mochi with Caramel Sauce dessert was just as underwhelming. The matcha powder dusted over the soft warabi mochi overpowered the flavour of the green tea ice-cream, making the latter taste pretty bland. I would have enjoyed this dessert more if they swapped the ice-cream with more of the QQ warabi mochi.
Ambience at Nadai Fujisoba Ni-Hachi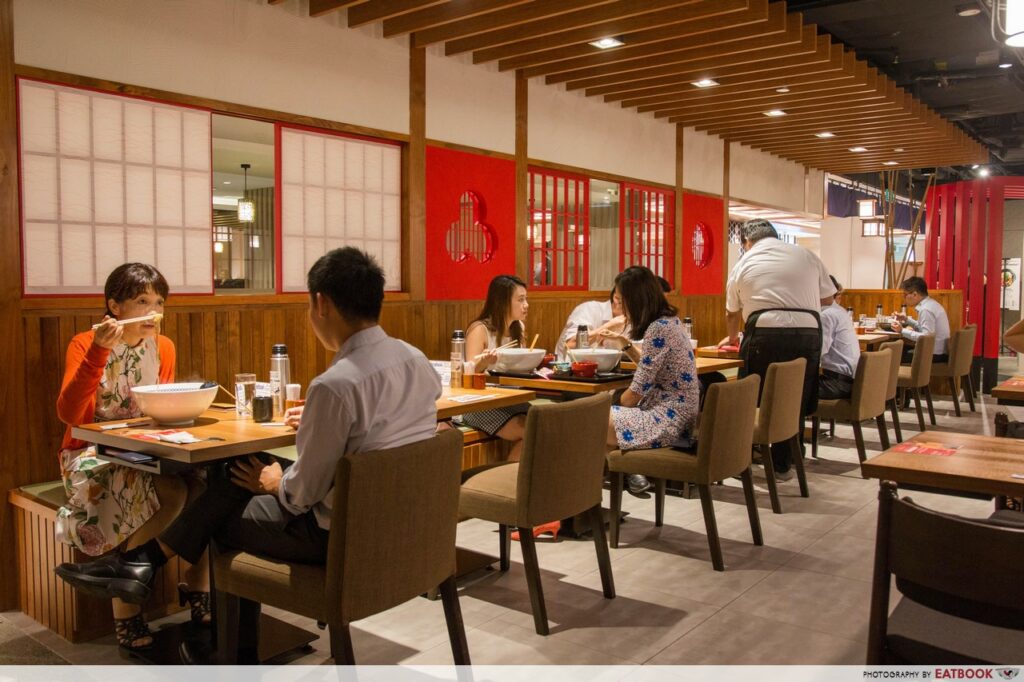 Located in 100AM and Japanese food town Itadakimasu, Nadai Fujisoba Ni-Hachi saw a steady stream of customers during lunchtime, with a high table turnover. The space was well-structured, further reminding me of the efficient eateries in Tokyo. The traditional Japanese design of the restaurant, such as the shōji screen windows and the torii-inspired entrance, also gave a nice touch of authenticity.
The verdict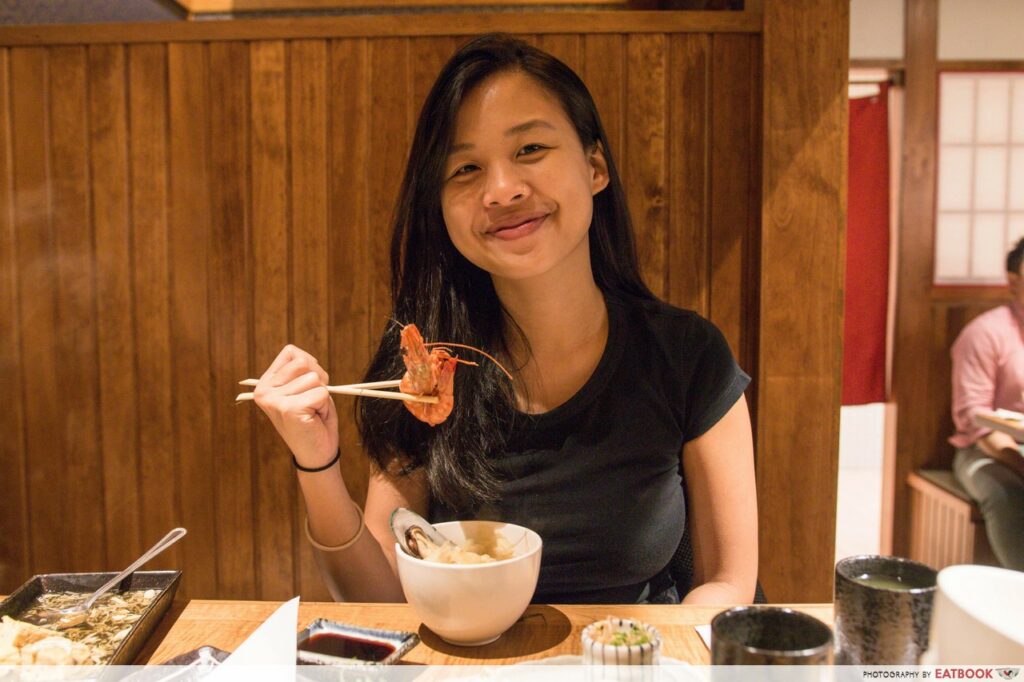 I truly enjoyed the hot pot, but I don't think it's worth the price. I can easily go to a seafood steamboat buffet for less than $28++. The additional dishes included in the party set also didn't improve its value. For starters, they were not show-stopping enough and did not fill me up, even though it was meant to be a feast. Nevertheless, I will definitely come back for their affordable soba noodles. Starting at just $11++ a bowl, all their standard soba noodles will be going at 1-for-1 between 20 and 30 November 2017. But if payday is still far away and you can only afford to spare $5 for lunch, head to Pepper Bowl at Amoy Street Food Centre or Frenzlink Cafeteria for noodles at $2 instead.  
Address: 100 Tras Street, #03-14, 100AM, Singapore 079027
Opening hours: Daily 11am to 3pm, 5:30pm to 10pm
Tel: 6443 8827
Website
This was a media tasting at Nadai Fujisoba Ni-Hachi.
Summary
Pros
– Premium ingredients
– Friendly staff
– Convenient location
Cons
– Expensive
– Disappointing side dishes
Recommended Dishes: Dashimakitamago ($15++)
Opening Hours:
Daily 11am to 3pm, 5:30pm to 10pm
Address: 100 Tras Street, #03-14, 100AM, Singapore 079027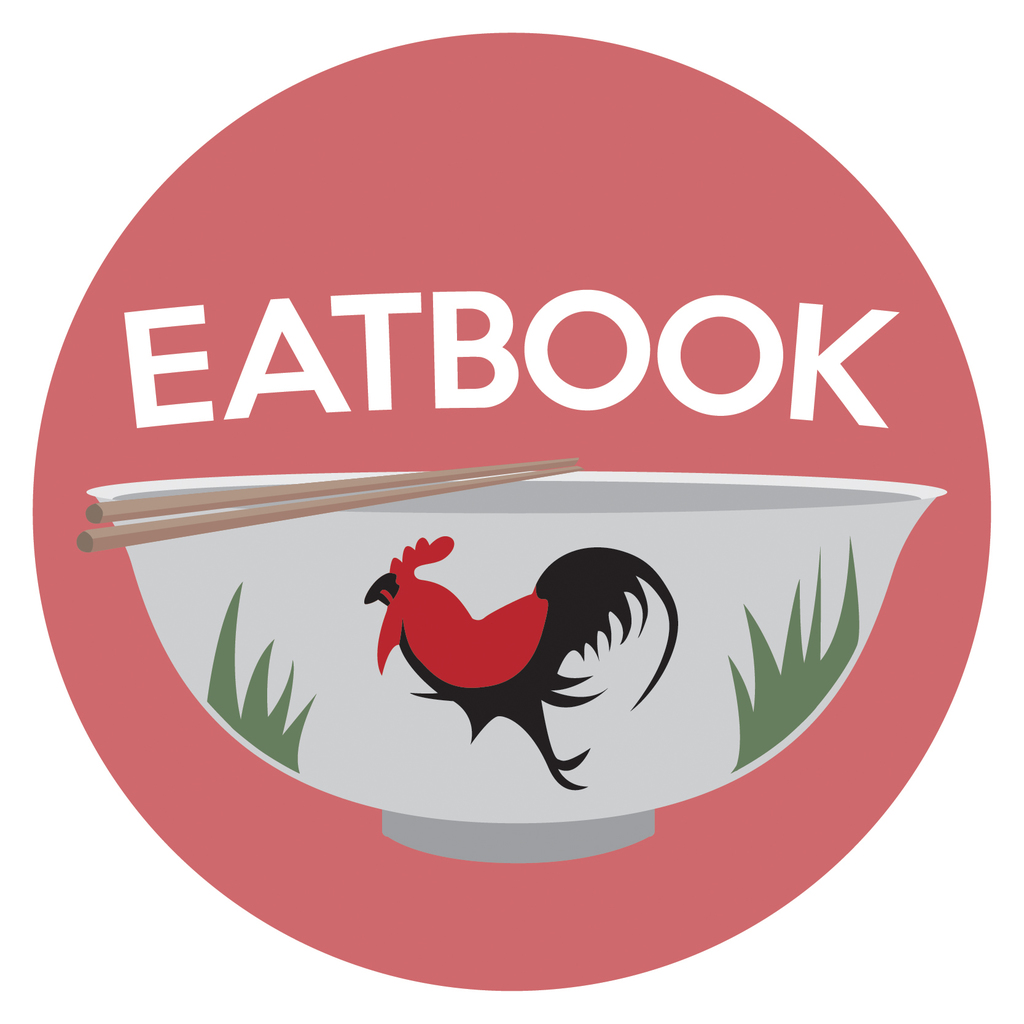 Drop us your email so you won't miss the latest news.