Jin Ho Mia serves Alaskan crab and sio bak in a hot pot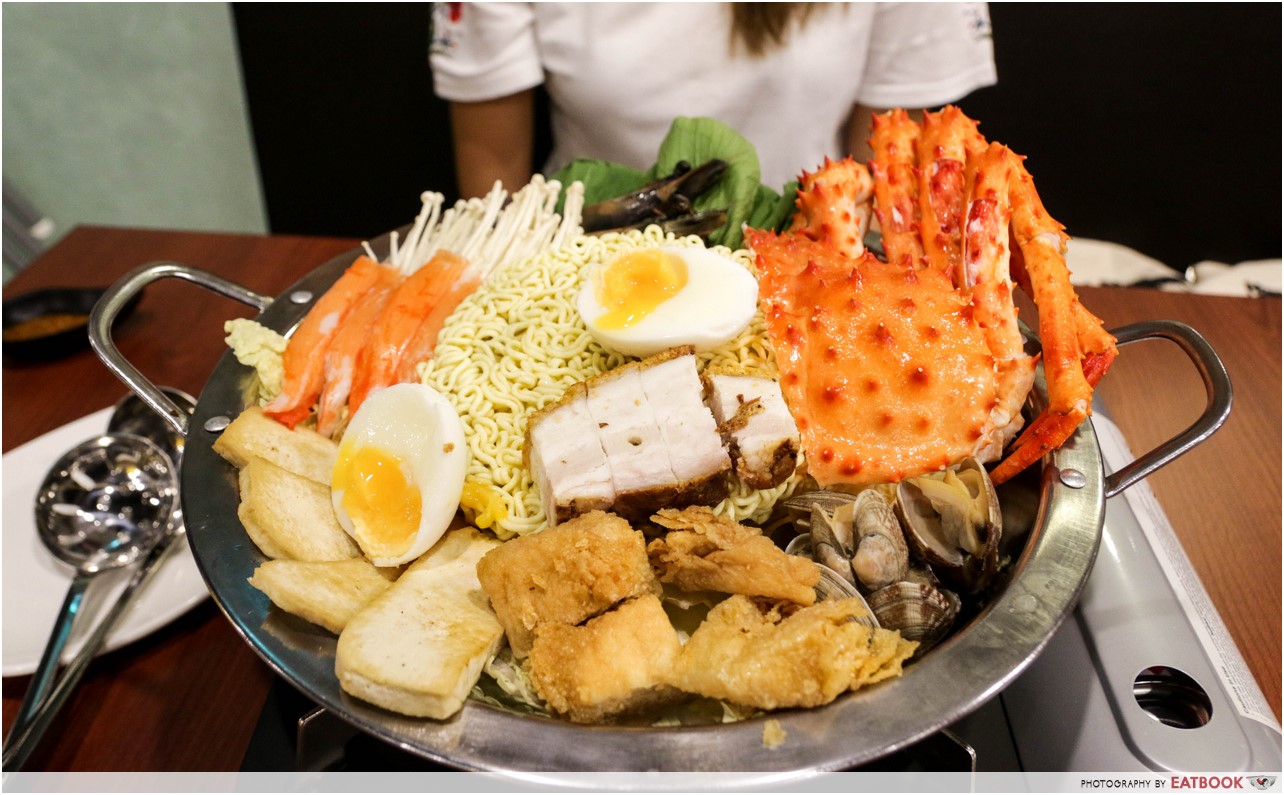 When I first heard about "Jin Ho Mia", I was clueless about what the name meant and the kind of food I should expect. After Googling the place and looking at pictures of their hot pots brimming with sio bak and crab legs, I knew I had to pay the newly opened restaurant a visit, regardless of what its name means.
Found conveniently on the second level of Alexandra Retail Centre, Jin Ho Mia – a Hokkien phrase that translates to "really good life" –  serves rice bowls in the day and hot pots in the evening.
Food at Jin Ho Mia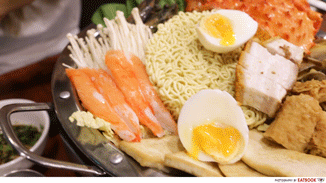 With only three different types of hot pots available at the restaurant, deciding on what to order was not difficult. While Giam Pui Pot ($28.80++) and Ah Boy Pot ($33.80++) looked appetising, we went for their heartiest option, Tok Kong Pot ($48.80++). Meaning "out of this world" in Hokkien, Tok Kong Pot comes with 13 ingredients, including Alaskan crab legs, sio bak, flower clams, and tiger prawns.
Served almost immediately after we made our order on their iPad, the huge metal pot overflowing with ingredients looked no less grander than the pictures on their menu. The hot pot, which is meant for two to share, was served dry and we were able to choose one soup base out of the five available – fish, tom yum, cheese, chicken, and tomato.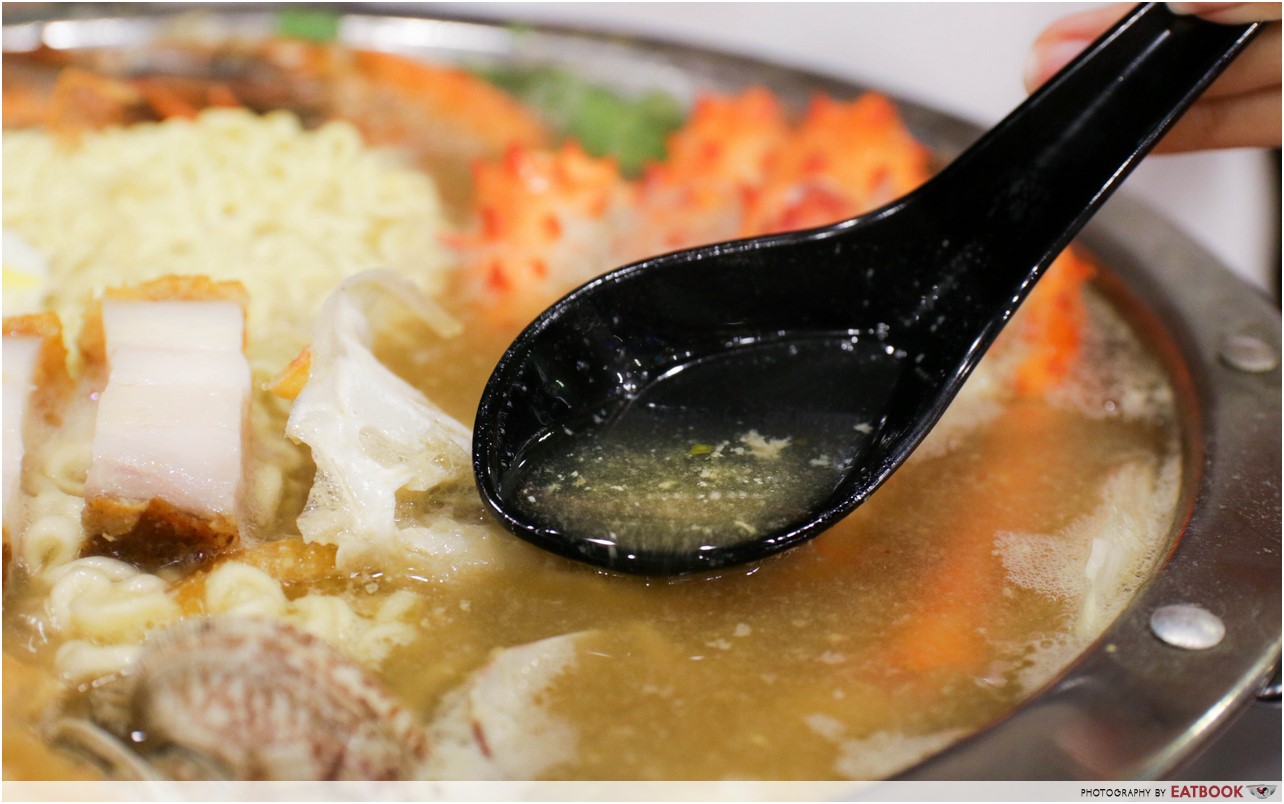 Preferring something light, we went for their signature fish stock which was boiled for over eight hours. Although the pot was overflowing with ingredients, it did not take long for the soup to start bubbling. I was initially excited by how quickly the soup boiled but the affair soon turned messy as the soup spilled aggressively out of the pot. Many customers around us faced the same problem.
Once the soup was brought to a boil, we tasted it and were disappointed that it was slightly bland and lacked the sweetness I expected from a fish soup. The initial disappointment was, however, turned into relief as the broth got saltier after it was left simmering with the ingredients. Depending on how intense you like your soup to be, you can request for unlimited top-ups of either clear soup or the soup of your choice.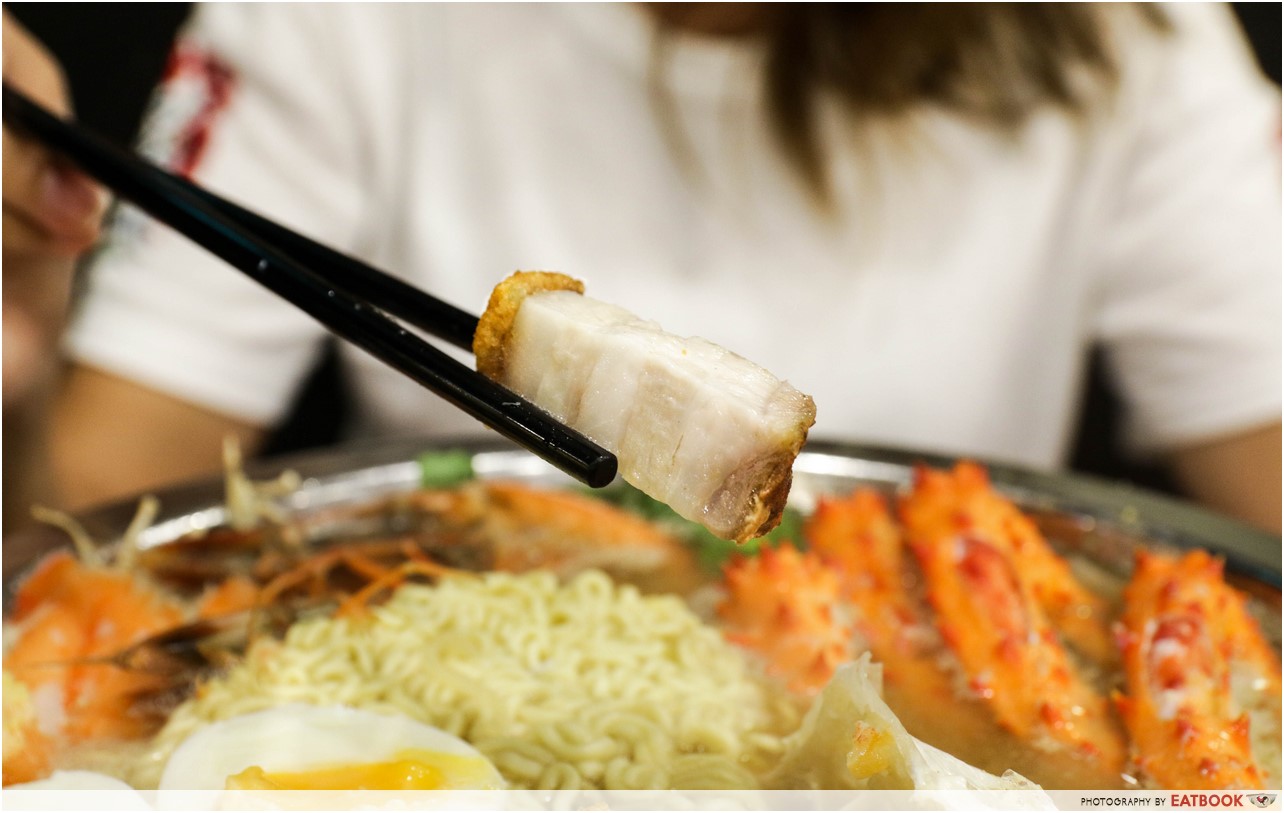 Having never had sio bak in hot pots before, that was the first ingredient I went for. I was surprised by the strong barbeque taste that the meat had and it reminded me of the roast meats I tried at Malaysia's street stalls. Though tasty, the sio bak was too fatty for my liking and I stopped after the first slice.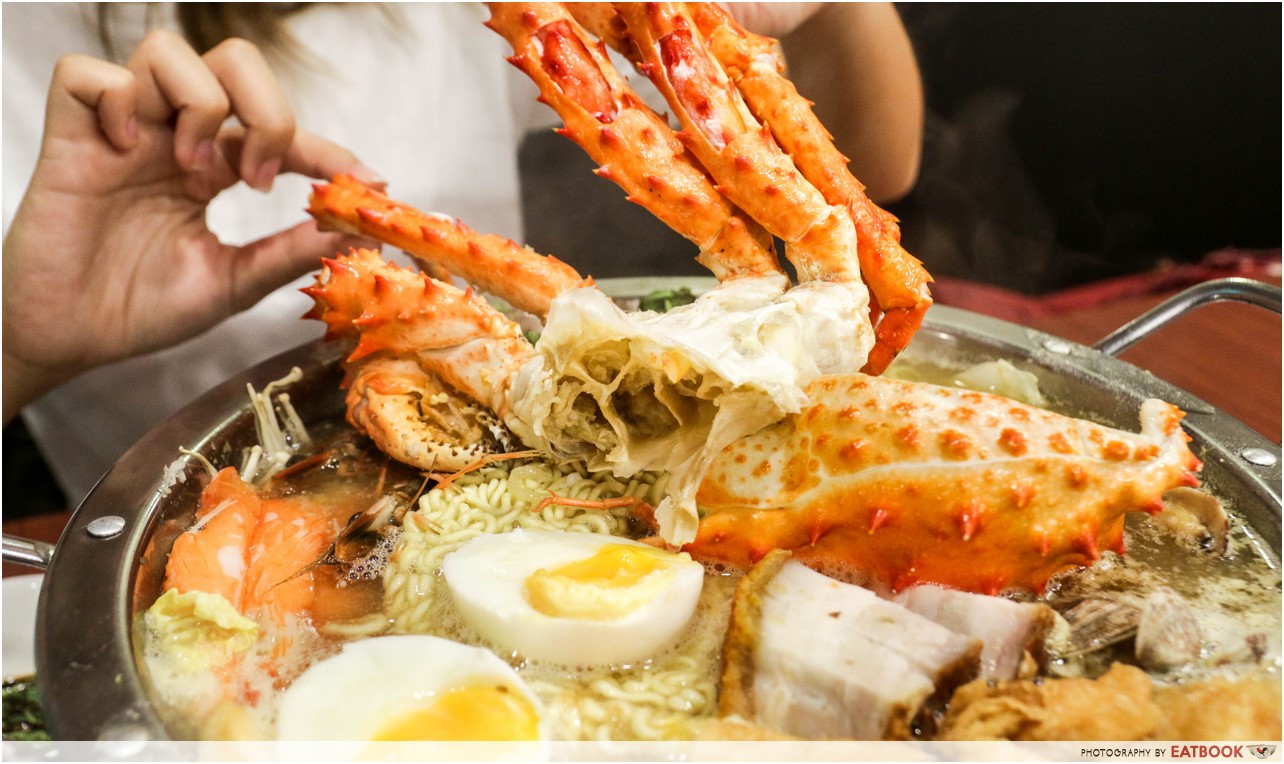 The next ingredient we could not wait to get our hands on was the Alaskan crab. Although the crab looked big, we were disappointed to find that there was little flesh inside. With the crab scissors provided, removing the meat from the crab legs was generally hassle-free, but taste-wise, there was nothing spectacular. With so little meat, we could hardly taste the crab and with that being the main feature of the pot, it was disappointing.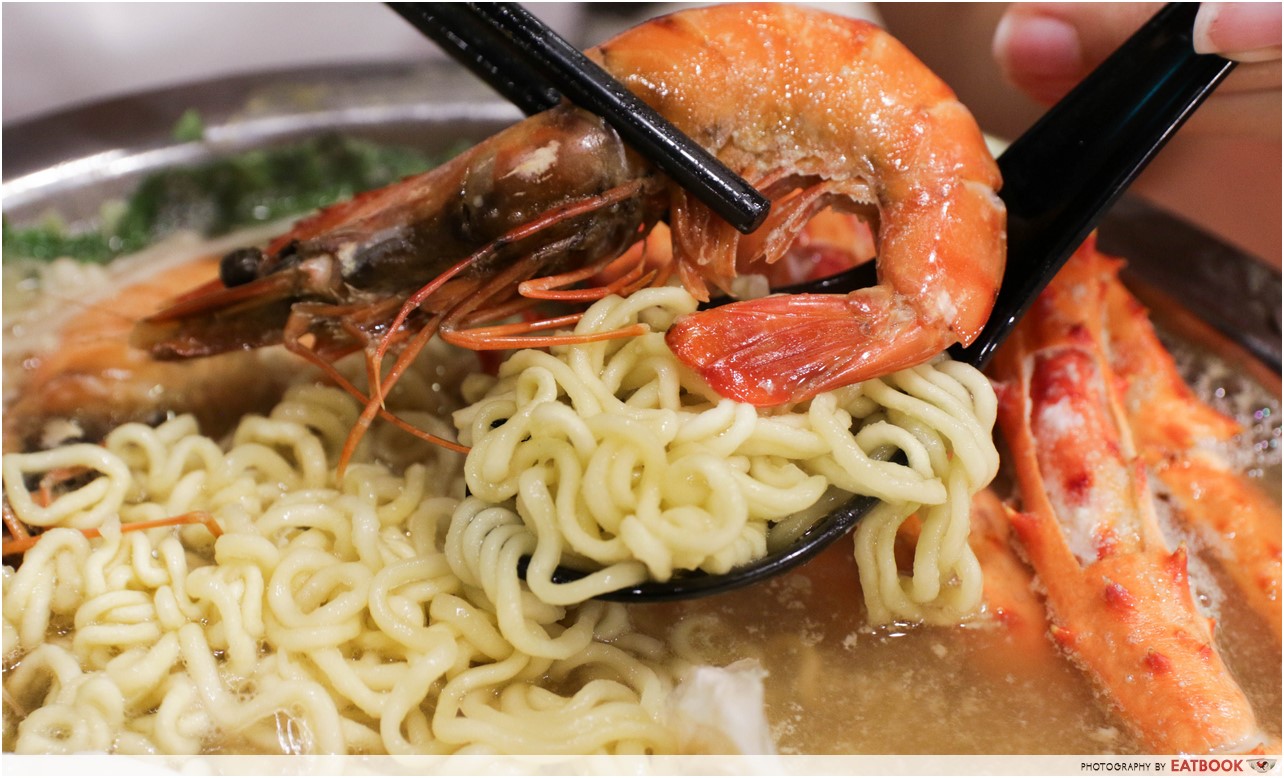 Hoping that the other seafood would be better, we went for the tiger prawns and clams next. I was pleased that the prawns were bigger in size compared to those from other eateries. As the prawn absorbed much of the broth, it was savoury and juicy, but oddly mushy and pasty in texture. To our dismay, the clams were fishy.
As for the instant noodles, we were pleasantly surprised by how springy it was even after sitting in the soup for quite some time. Unlike usual instant noodles, this was thick and smooth, reminding me of Japanese ramen. I enjoyed the less "premium" ingredients a lot more. The sweet cabbage, pressed tofu, fried bean curd roll, and soft-boiled egg went well with the noodles, making each spoonful flavourful and comforting.
As with most steamboat and hot pot restaurants, Jin Ho Mia has a section with various condiments including roasted sesame, spring onion, sesame oil, and light soya sauce. They also have four sauces that are unique to their restaurant –  JHM Hot Pot Sauce, JHM Chilli Sauce, Seafood Sauce, and Shabu Shabu Sauce. My favourite was the JHM Chilli Sauce, which was spicy and tangy, giving an exciting kick to the blander items in the hot pot.
Ambience at Jin Ho Mia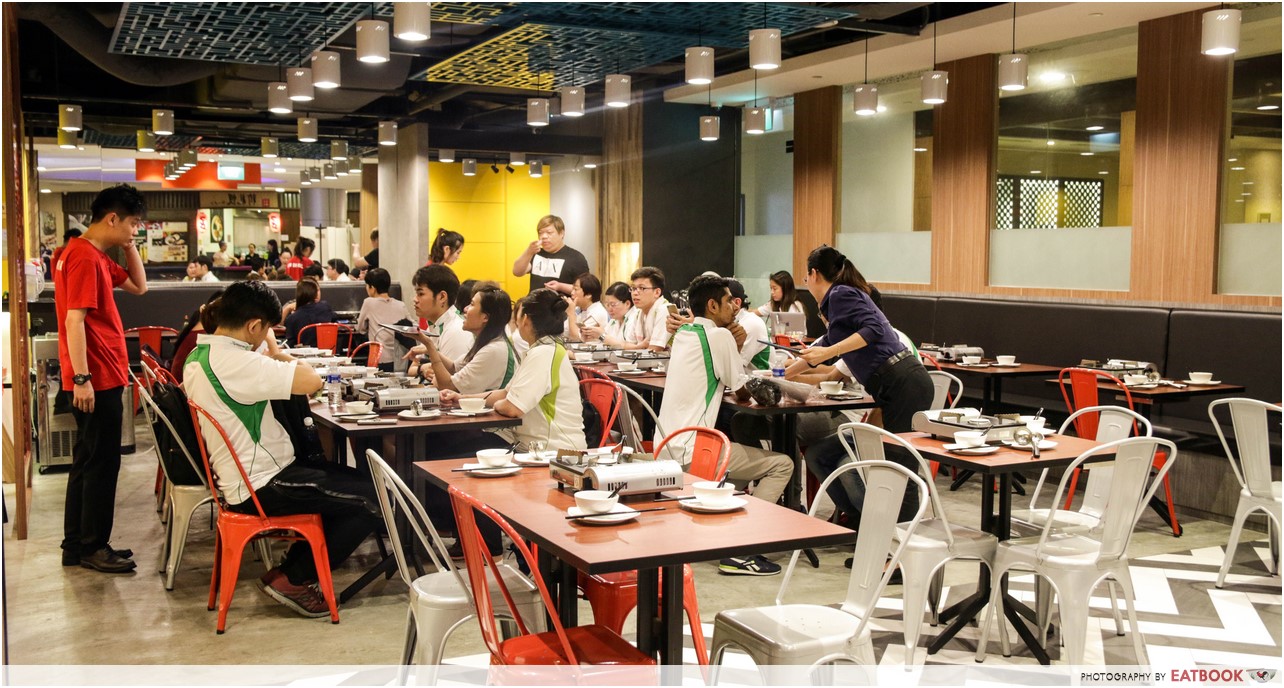 We reached Jin Ho Mia the moment it opened for dinner at 5:30pm. Though the restaurant was quiet at that time, most tables had reserved signs and the dinner crowd came streaming in soon before long.
Unlike many restaurants that serve hot pots, Jin Ho Mia was well-ventilated and did not have much of a smoky and greasy smell. With Chinese pop music familiar to those born in the 80's playing in the background, the restaurant had a laid-back atmosphere, and the overall dining experience was comfortable.
The verdict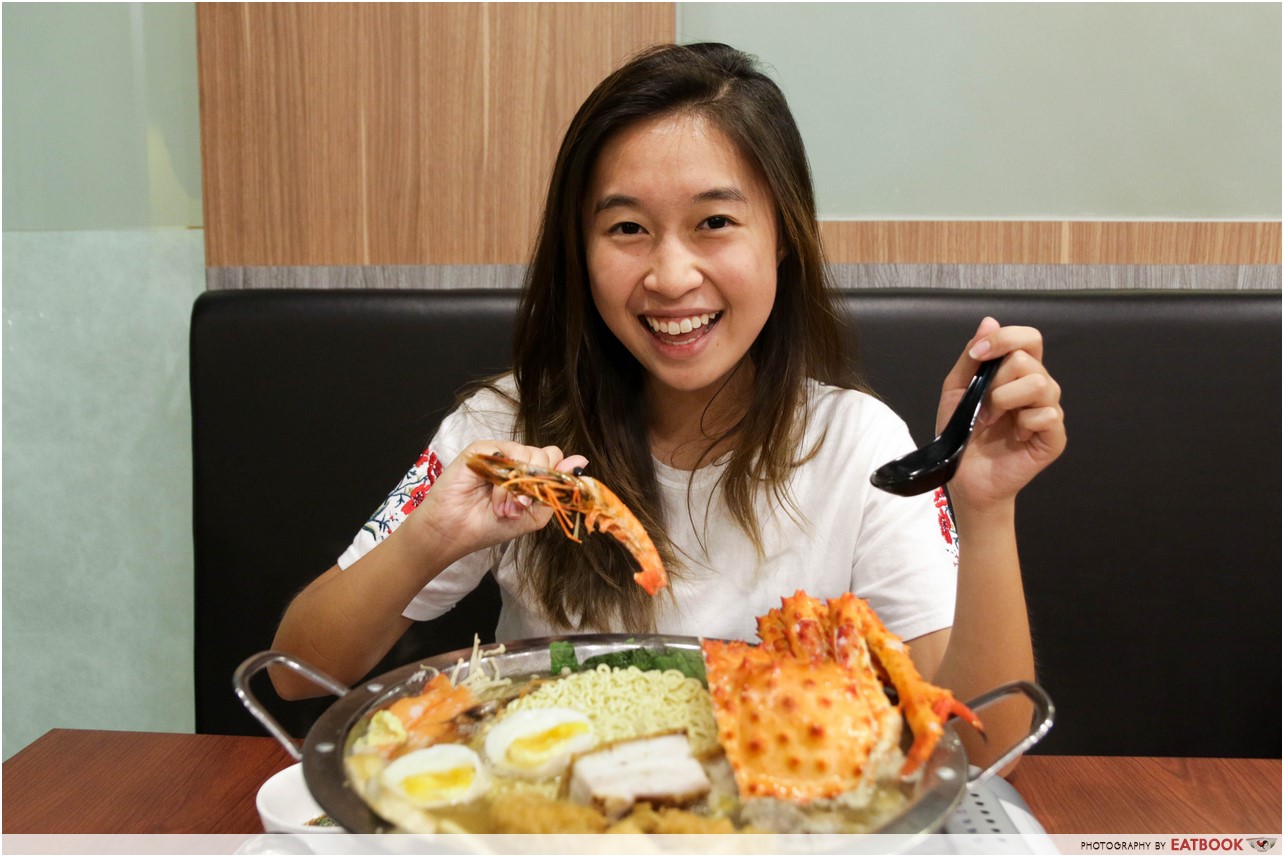 As a whole, I found the food at Jin Ho Mia mediocre and unworthy of the price. Although the portion was more than enough for two, none of the ingredients stood out to me. Given that the Alaskan crab legs hardly added value to the hot pot and the rest of the ingredients were ordinary, I would rather prepare my own steamboat at home than return to Jin Ho Mia for their Tok Kong Pot.
If I was in the area in the afternoon, however, I would pop in to try their rice bowls such as Salmon Poke ($14.80++) and Tom Yum Pao Fan ($14.80++). For more interesting hot pots, check out King's Laksa Steamboat or Guo Fu Steamboat, which offers free-flow xiao long bao. Alternatively, save some money by using our guide to affordable steamboats below $20 around Singapore!
Address: 460 Alexandra Road, #02-20, Alexandra Retail Centre, Singapore 119963
Opening hours: Mon-Fri 11:30am to 3:30pm, 5:30pm to 10pm, Sat-Sun 11:30am to 10pm
Tel: 6352 7725
Website
Jin Ho Mia is not a halal restaurant.
This is an independent review by Eatbook.sg.
Summary
Pros
– Large hot pots
– Near Labrador Park MRT Station
– Friendly staff
– Wide variety of ingredients in their hot pots
Cons
– Food was average
– Expensive
Operating Hours:
Mon-Fri 11:30am to 3:30pm, 5:30pm to 10pm, Sat-Sun 11:30am to 10pm
Tel:
6352 7725
Address: 460 Alexandra Road, #02-20, Alexandra Retail Centre, Singapore 119963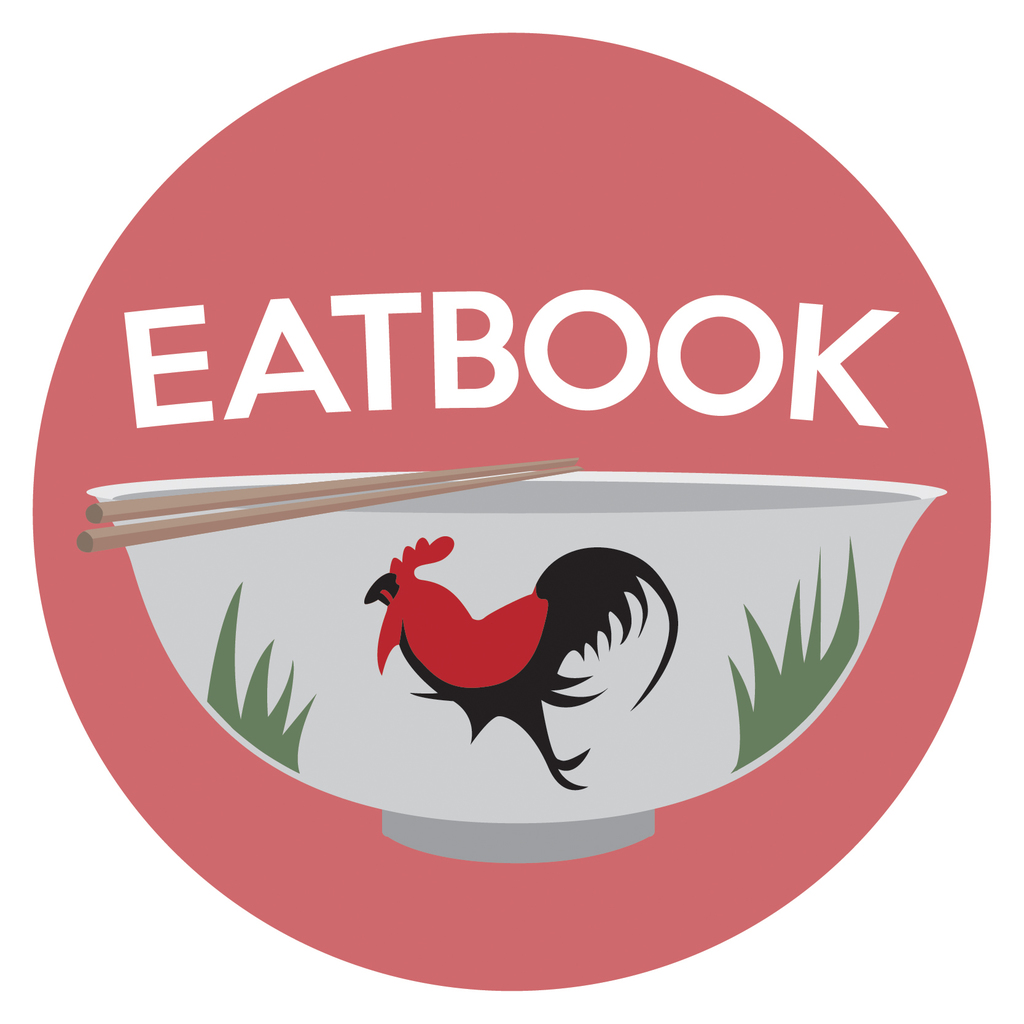 Drop us your email so you won't miss the latest news.