Natsu lets you customise your tempura don
Update (16 March 2019): Natsu is now permanently closed.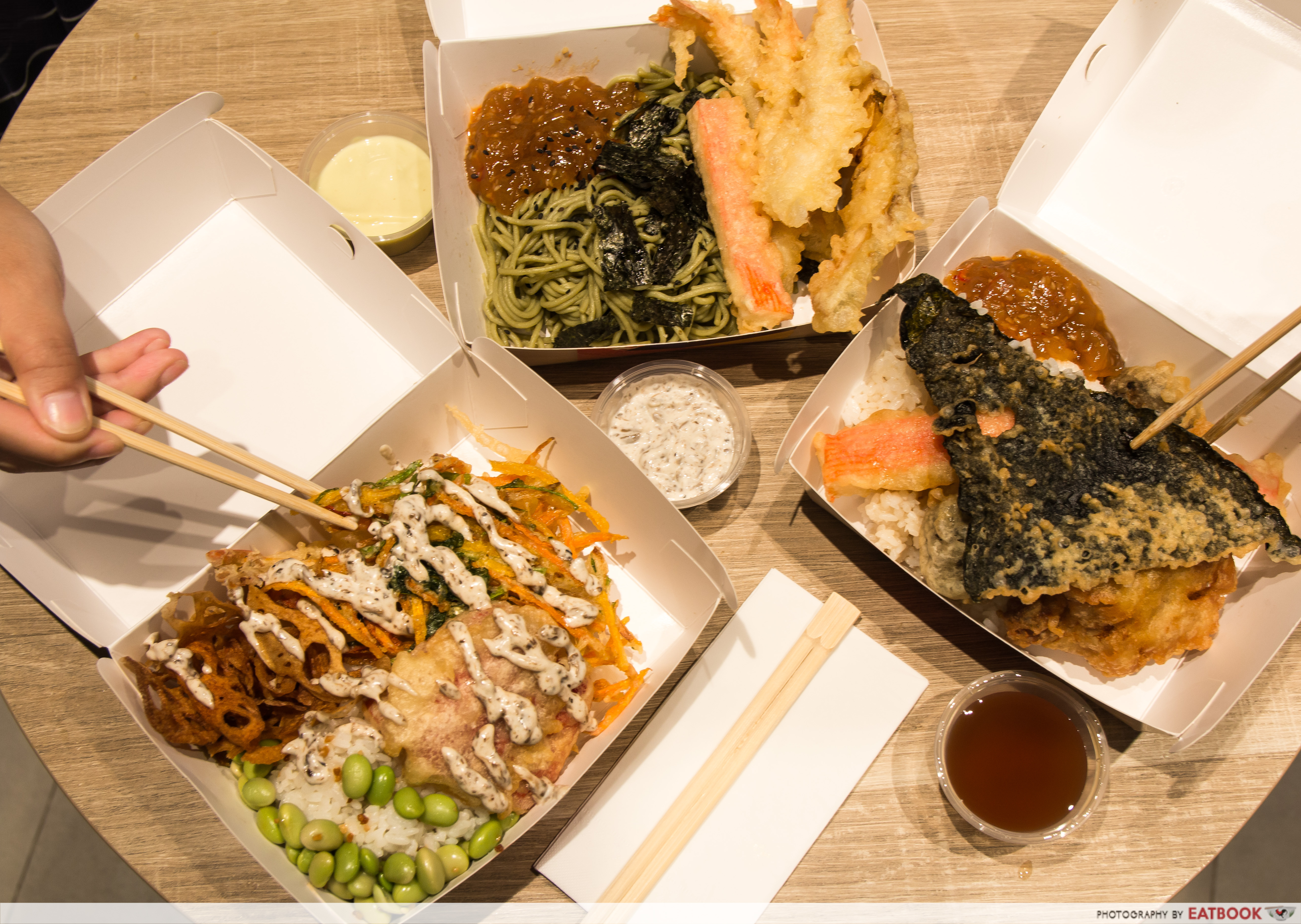 Back in my secondary school days, The Clementi Mall was my home ground. It was where my friends and I always go to for lunch after school. Sadly, after I graduated, I seldom head down anymore. Recently though, I was in the area and spotted a handful of new places, such as Bobii Frutii and Say Chiizu, in the mall. I also found an eye-catching Japanese tempura stall, Natsu.
Food at Natsu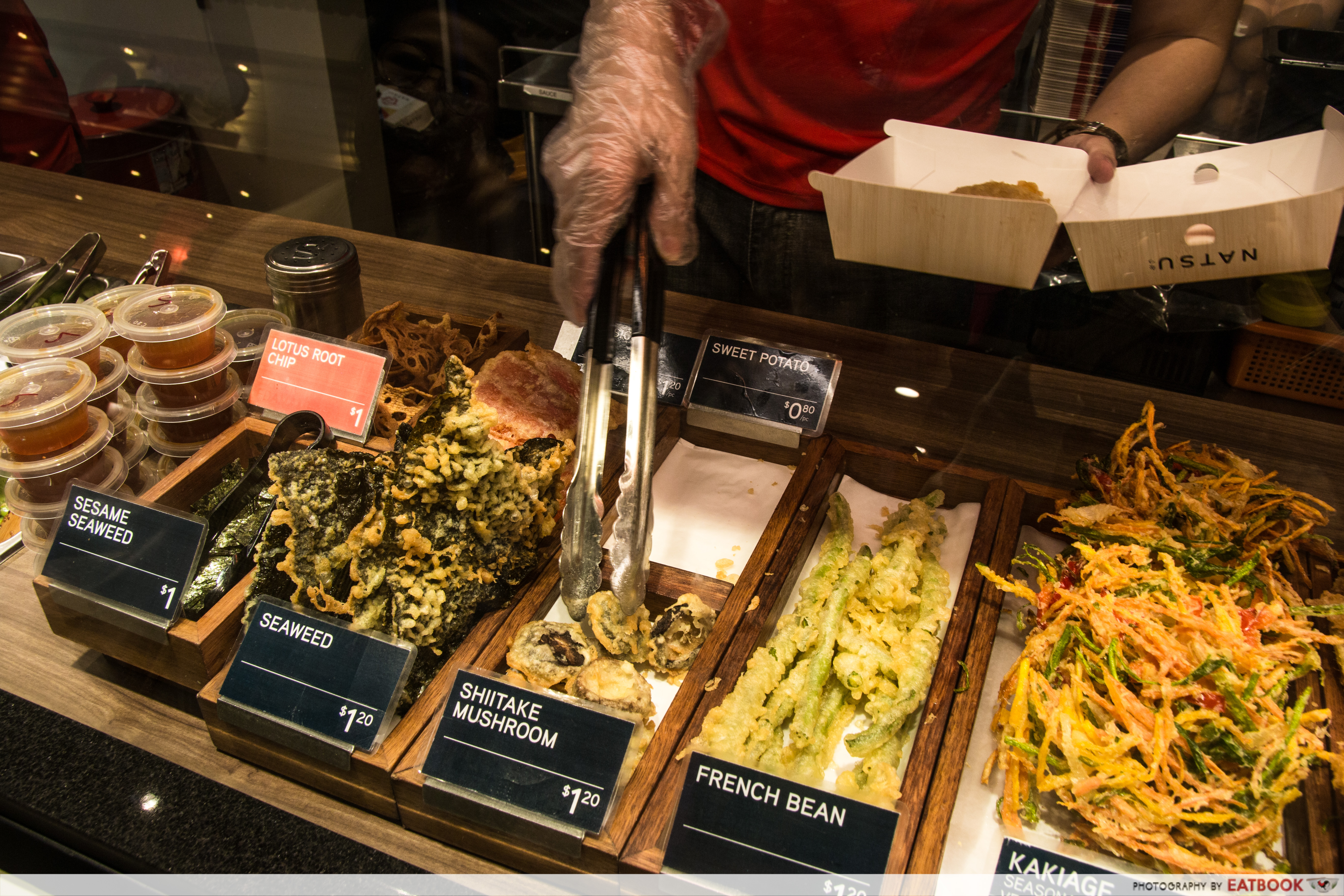 What makes Natsu stand out is their customisable tempura don. There was a range of choices, including lotus root chips, kakiage, and the usual tempura ebi.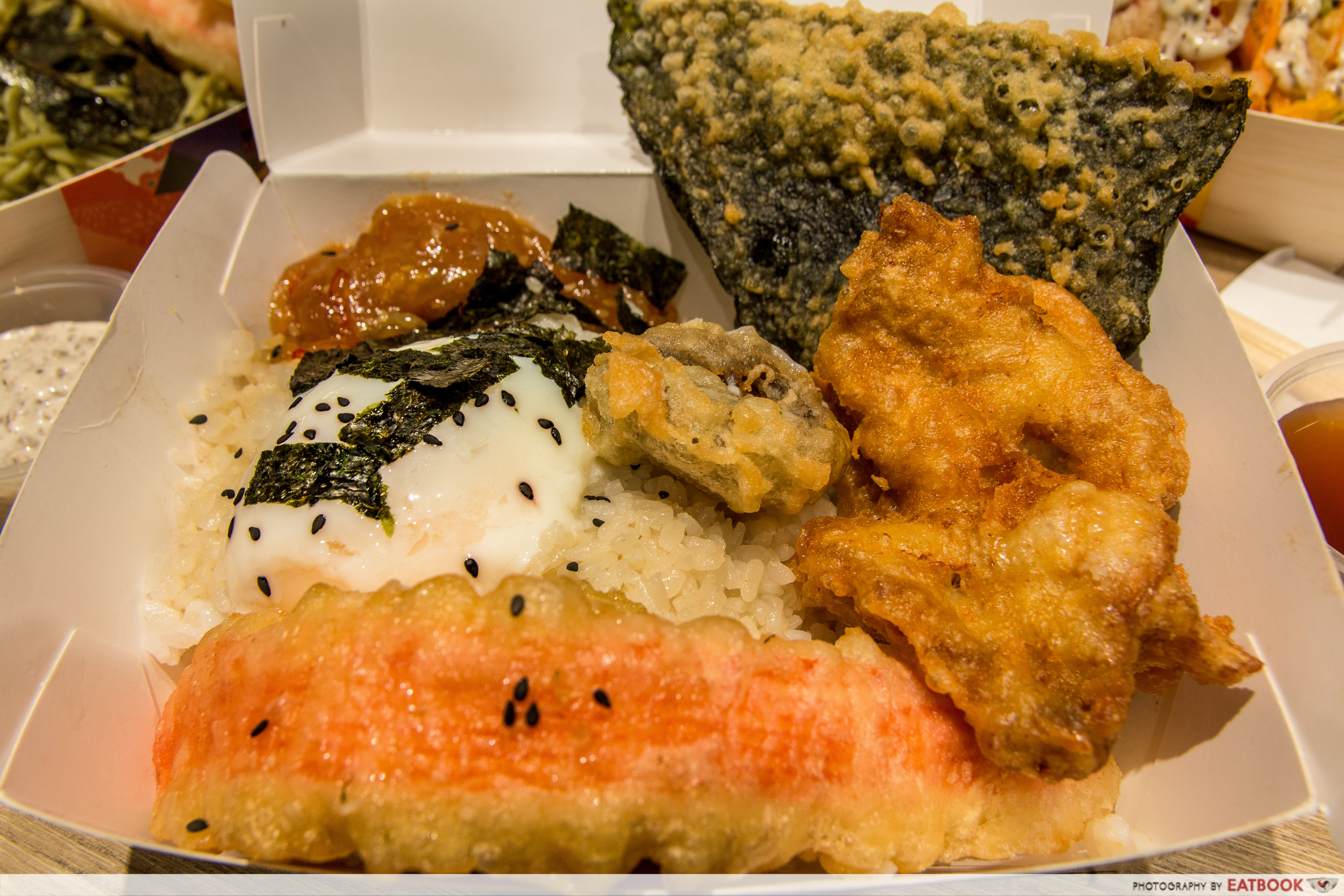 We selected their Jumbo Japanese Crab Stick ($2), Tempura Chicken ($1.50), Shitake Mushroom ($1.20), Tempura Seaweed ($1.20), and Onsen Egg ($1.20).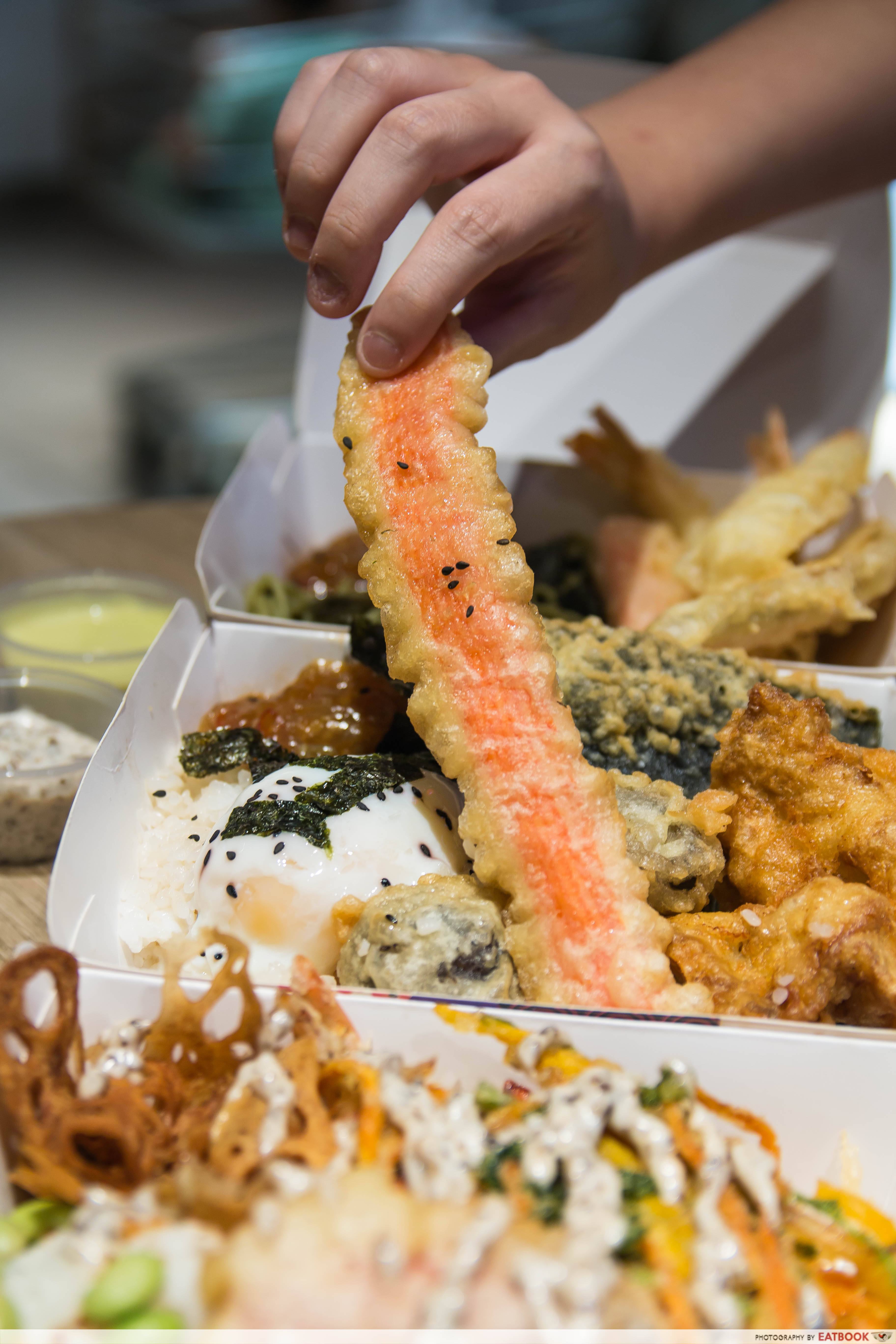 I was amazed when I picked up the Jumbo Japanese Crab Stick, which was roughly twice the length of a regular crab stick. Taste-wise, it was sweeter than the frozen ones we usually get from supermarkets. The tempura chicken was well-seasoned and surprisingly juicy. We only got one piece of chicken, but it was big enough to make it worth its price.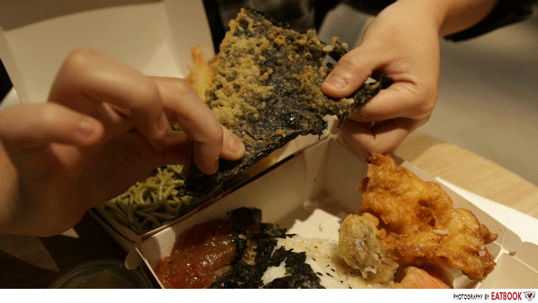 The triangular-shaped seaweed tasted like a less salty version of Tao Kae Noi's Japanese seaweed snack. But hey, I ain't complaining! The crisp was there and it wasn't as oily as I thought it would be.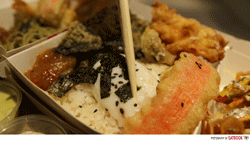 My colleagues and I saved the best for the last. We were super stoked to break the onsen egg to replicate those flowing egg yolk shots we often see on Instagram. However, our dreams were shattered as the egg yolk was almost fully cooked. Nonetheless, the egg still went really well with the rice.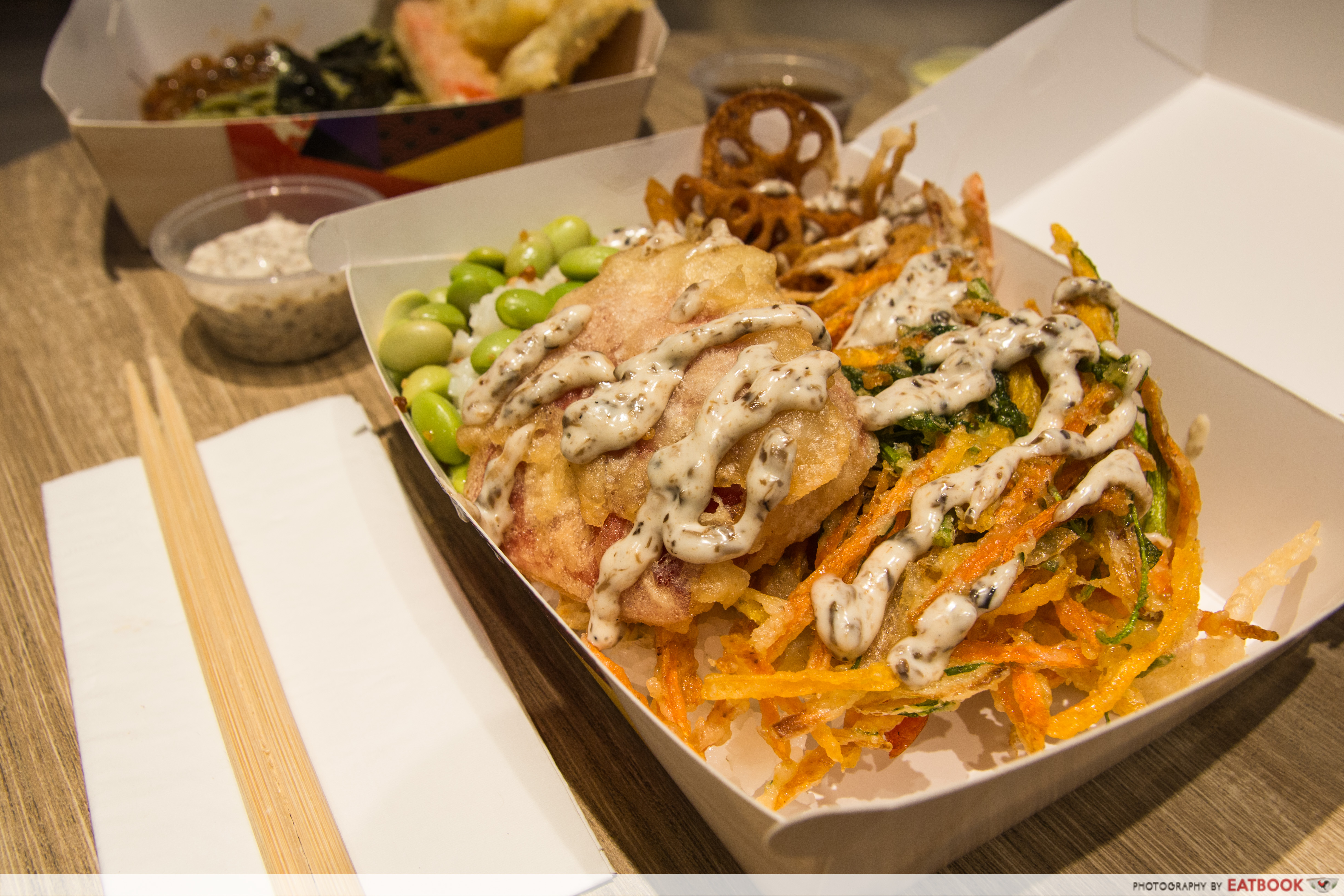 Next up was their Signature Tendon ($6.90). Capped over Japanese white rice was a range of ingredients – tempura prawn, capsicum, tempura kakiage, tempura lotus roots chips, and garlic edamame.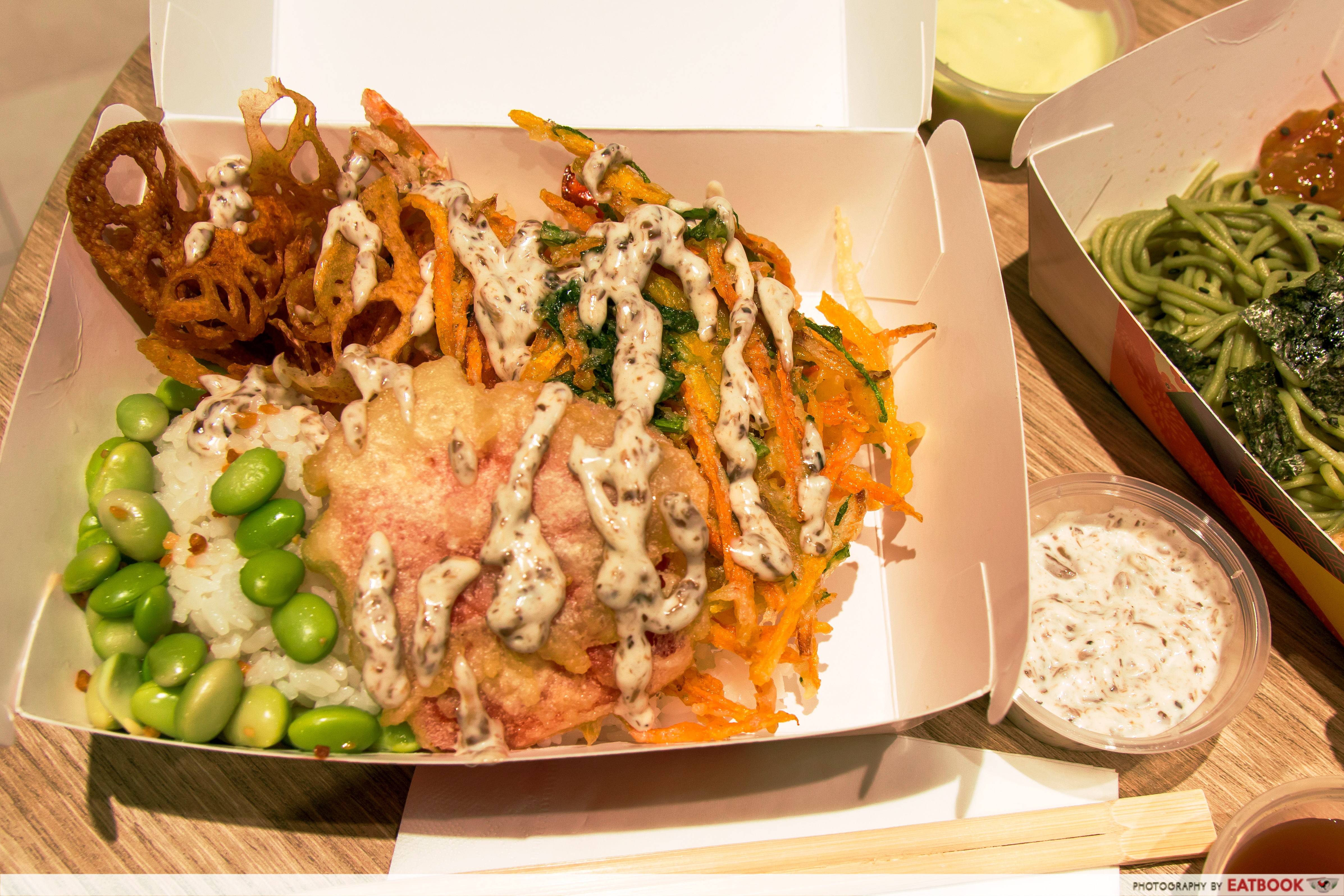 Unlike some tendon places that serve kakiage with more batter than vegetables, the one at Natsu was more balanced, making it less jelak than the ones I've tried elsewhere. Although it was tasty, I found it pretty oily.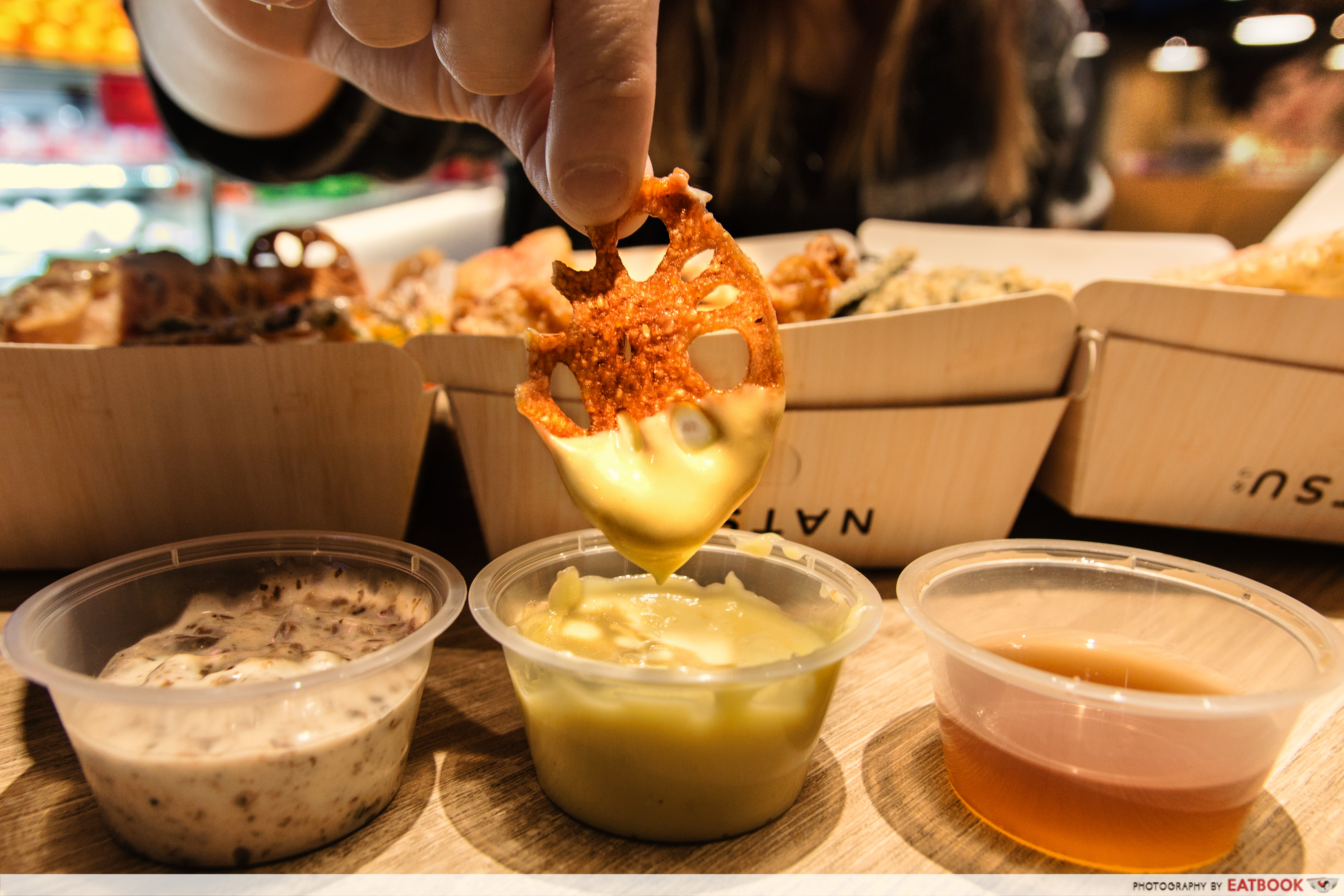 I particularly liked the tempura lotus root chips. It was absolutely crispy and I loved the crunch that came with every bite I took. The garlic edamame, on the other hand, was disappointing as there was a lack of garlic taste. To me, it was just eating unseasoned bits of edamame.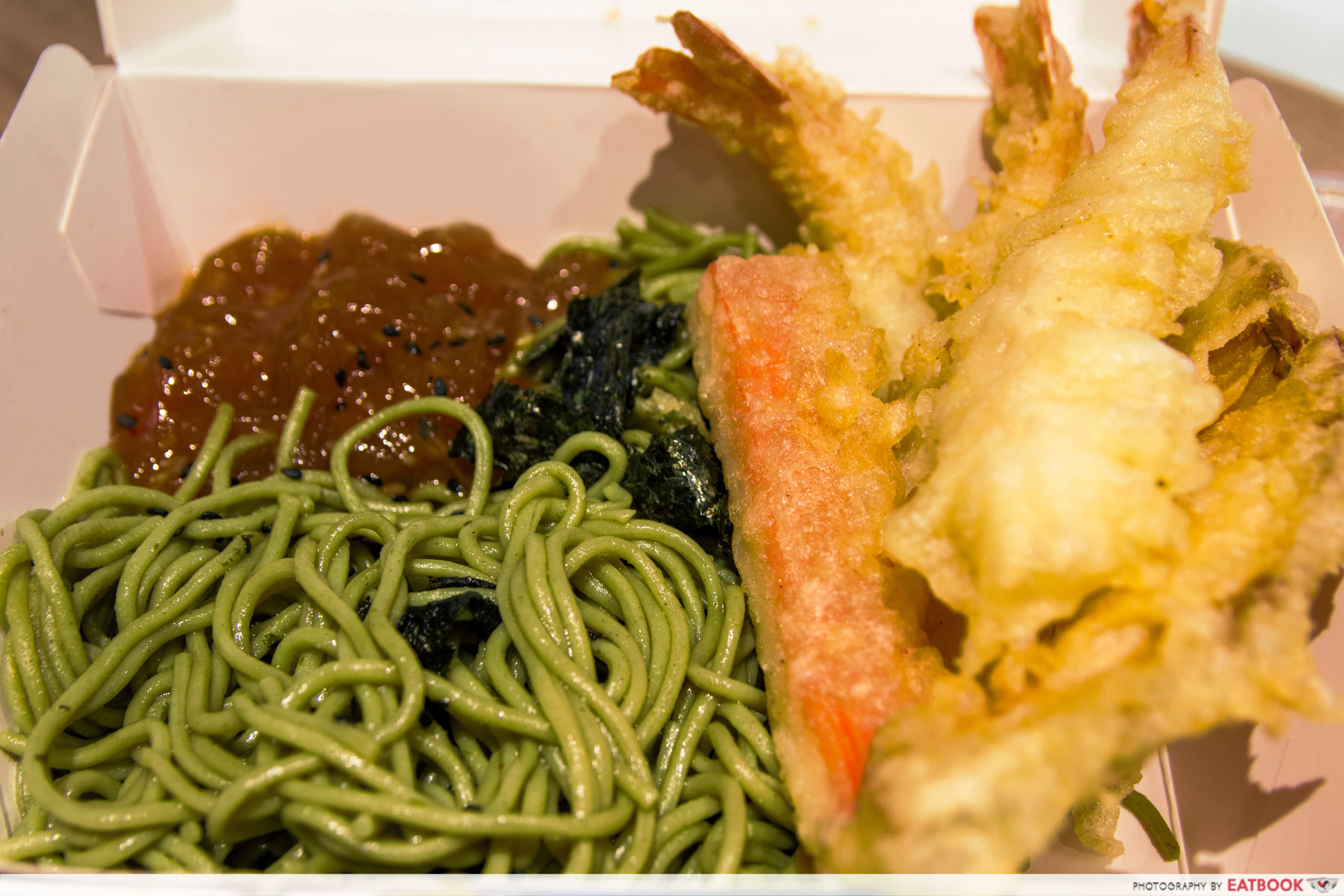 After much praises for the Signature Tendon, my colleagues and I moved on to try the Seafood Tendon ($9.90). Instead of the usual Japanese white rice, this dish comes with matcha soba. The Seafood Tendon came with three tempura prawns, Japanese crab stick, pumpkin, marinated jellyfish, and Japanese pickles.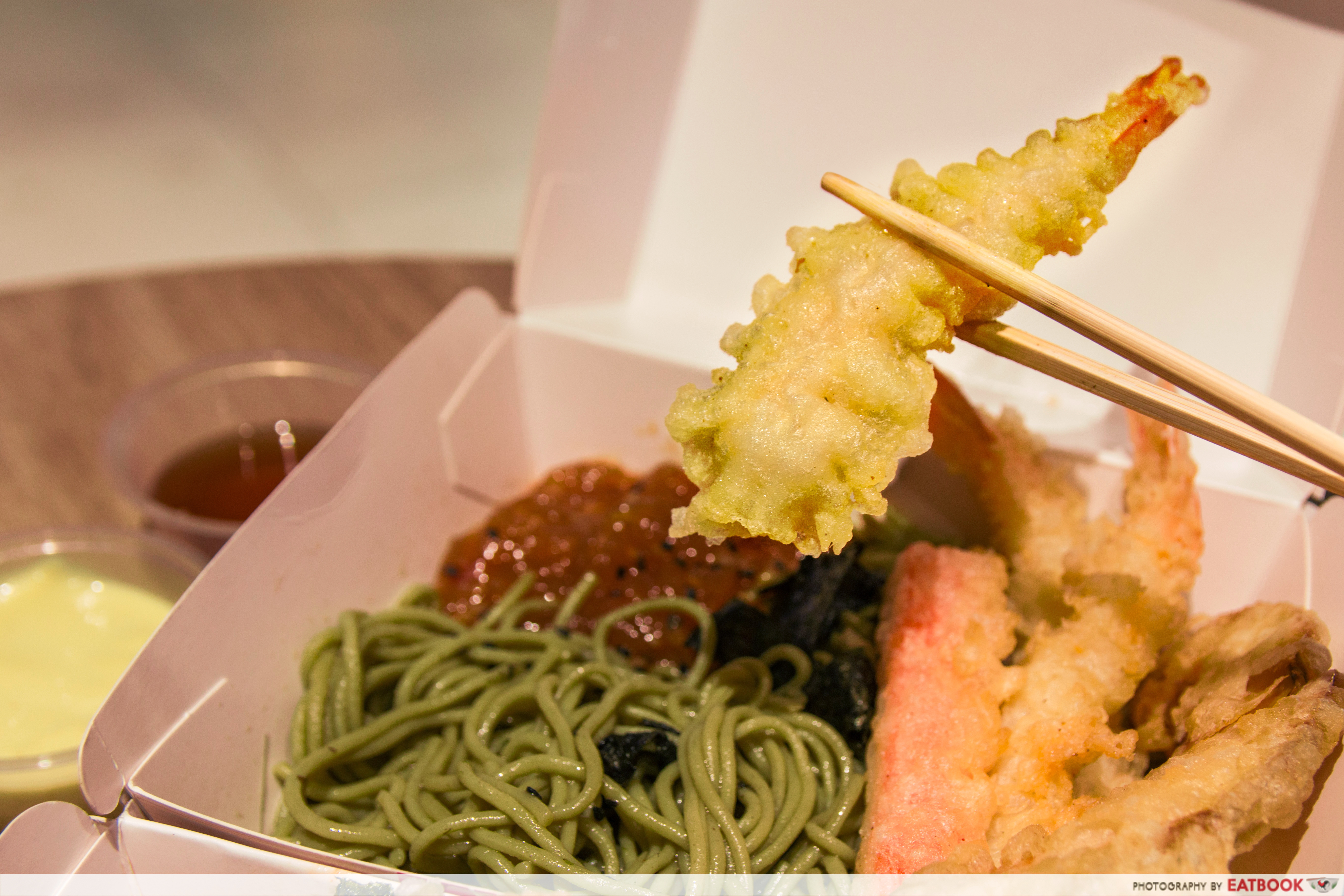 My first bite of the tempura prawn was made up of a crispy mouthful of light batter, followed by the springy prawn encased inside.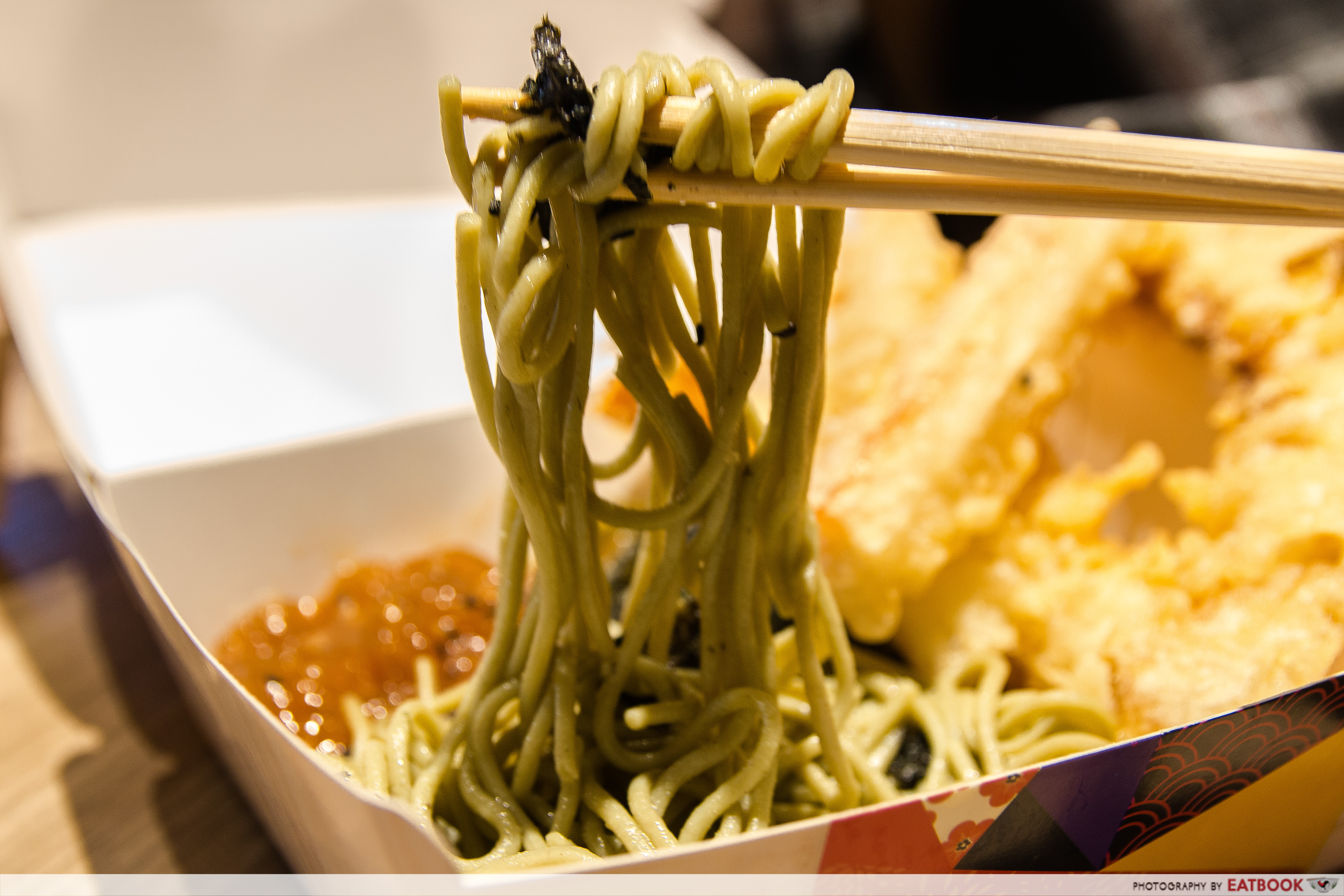 The marinated jellyfish was crunchier than the ones at typical Japanese restaurants. I often avoid eating marinated jellyfish at Chinese weddings, but the one at Natsu managed to win me over. Natsu's jellyfish is marinated in light soya sauce and sesame oil, making it more flavourful. The soba paired well with their Original Tendon sauce that gives a tinge of saltiness to the noodle's bland taste.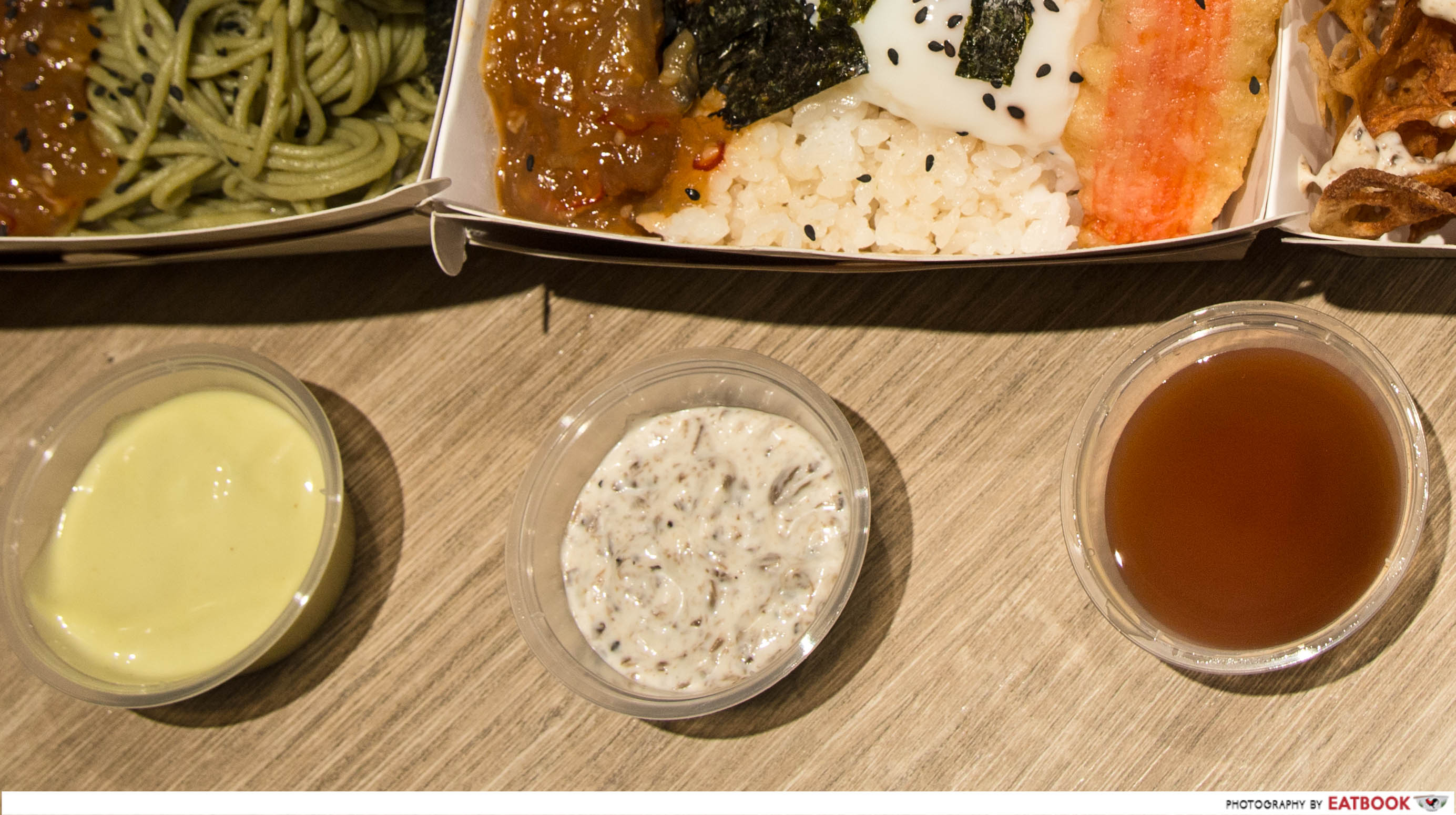 Natsu offers four different types of sauces, namely Original Tendon, Spicy Tendon, Truffle Cream, and Wasabi Mayo. With an additional $1, we got the Truffle Cream. It has a really strong truffle taste, and according to the staff, their truffle is directly imported from Italy. Besides that, we also had the Wasabi Mayo, which comes without additional cost. The wasabi taste overpowered the taste of the mayonnaise, and the wasabi kick was too strong for me to enjoy the donburi.   
Very soon, Natsu will be introducing new sauces such as Rendang Tempura, Satay Tempura, as well as Salted Egg!
Ambience at Natsu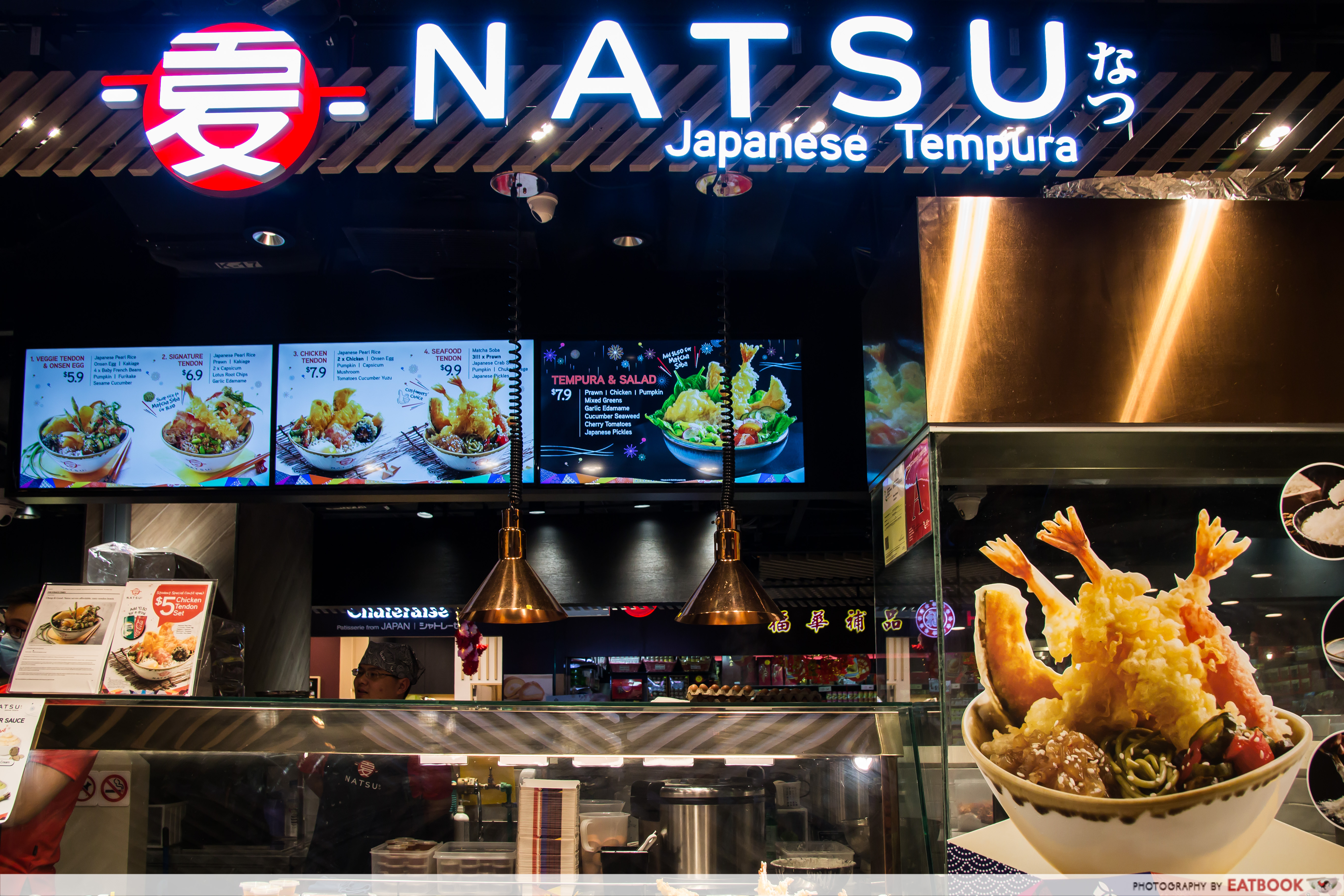 Natsu is a takeaway kiosk and thus there are no seats provided. The staff members were very friendly. There is a special Chicken Tendon Set ($5) until 4pm on weekdays for students who flash their student cards, or are in their school uniforms.
The verdict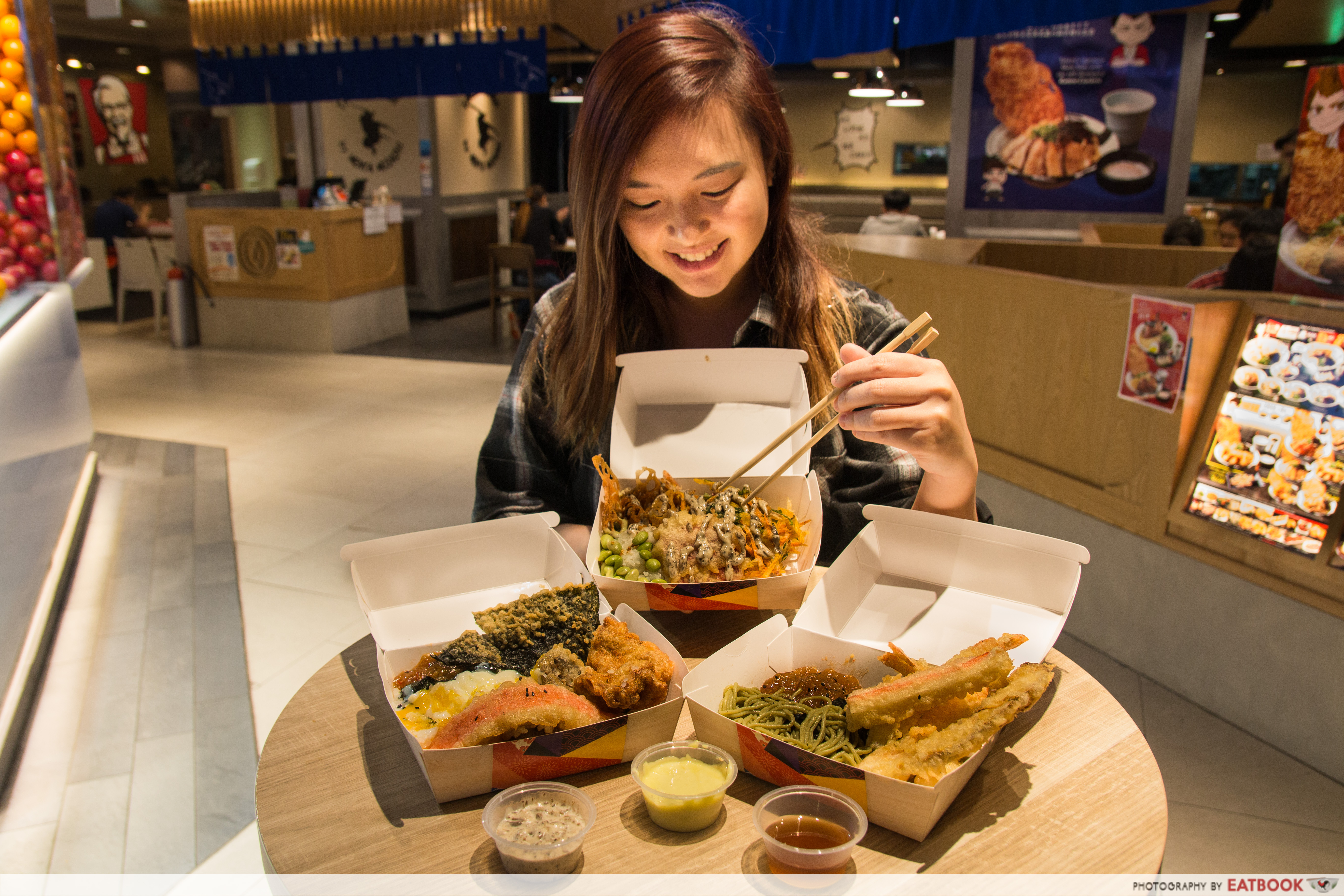 Despite the failure of getting an #eggporn shot, the meal was overall enjoyable. With just one bus ride separating me away from Natsu, this is a stall I would consider getting my meal from if I ever were to crave for tendon. For more places to get cheap tempura don, check out our list of affordable tempura don!
Address: 3155 Commonwealth Avenue West, #B1-K17, The Clementi Mall, Singapore 129588
Opening hours: Daily 10:30am to 9:30pm
Website
Natsu is currently applying for halal certification.
This is an independent review by Eatbook.sg
Summary
Pros:
– Batter was light and not jelak
– A variety of ingredients and sauces to choose from
– Friendly staff
Cons:
– Some items were too oily
– Some items were quite unseasoned
– Mayonnaise taste was masked by the wasabi taste in the wasabi mayo sauce
Recommended dishes: Seafood Tendon ($9.90)
Operating hours: Daily 10:30am to 9:30pm
Address: 3155 Commonwealth Avenue West, #B1-K17, The Clementi Mall, Singapore 129588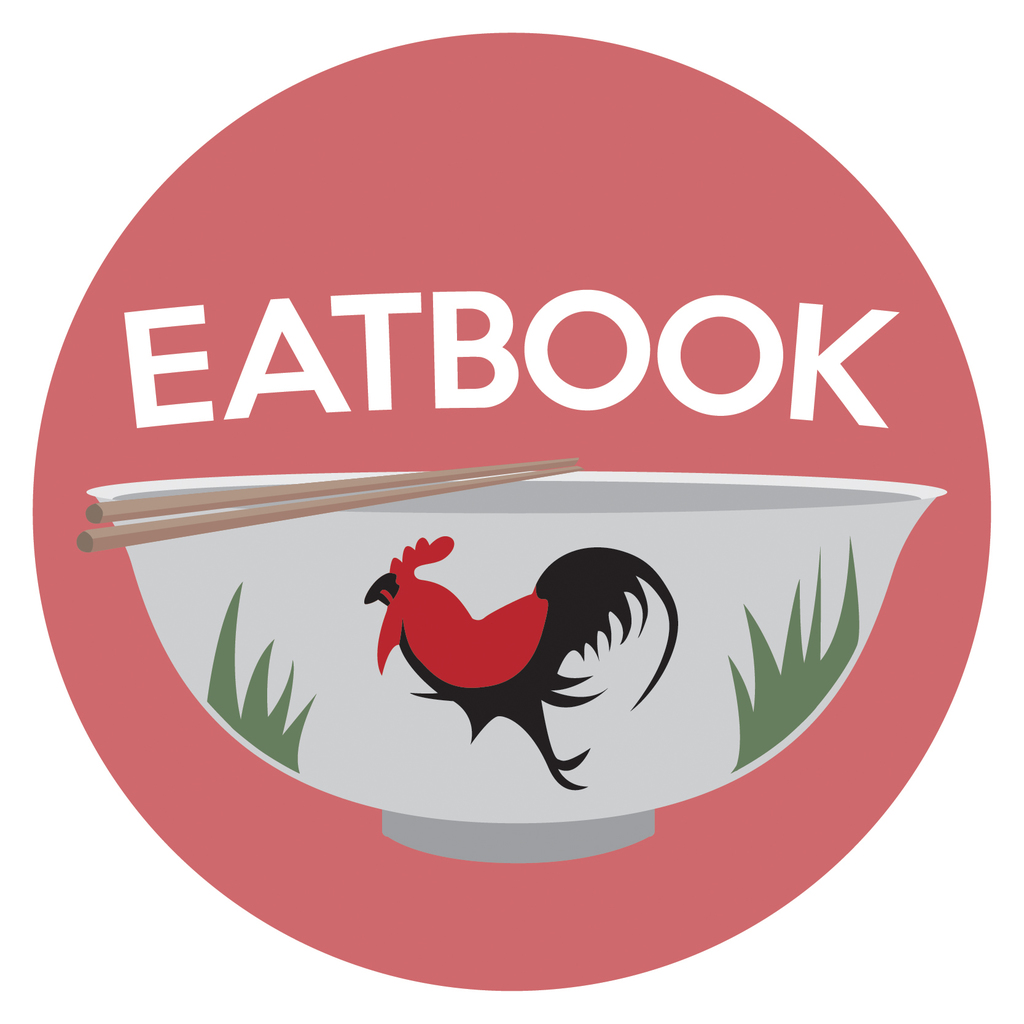 Drop us your email so you won't miss the latest news.