---
New restaurants in December
---
And just like that we've come to the end of the year. If you're looking for a cool spot to gather with your friends to celebrate, check out our list of new restaurants in December. Here you will find a Korean breakfast buffet, Japanese-inspired claypot rice, a chio glamping-style cafe and more!
---
1. Walking On Sunshine
---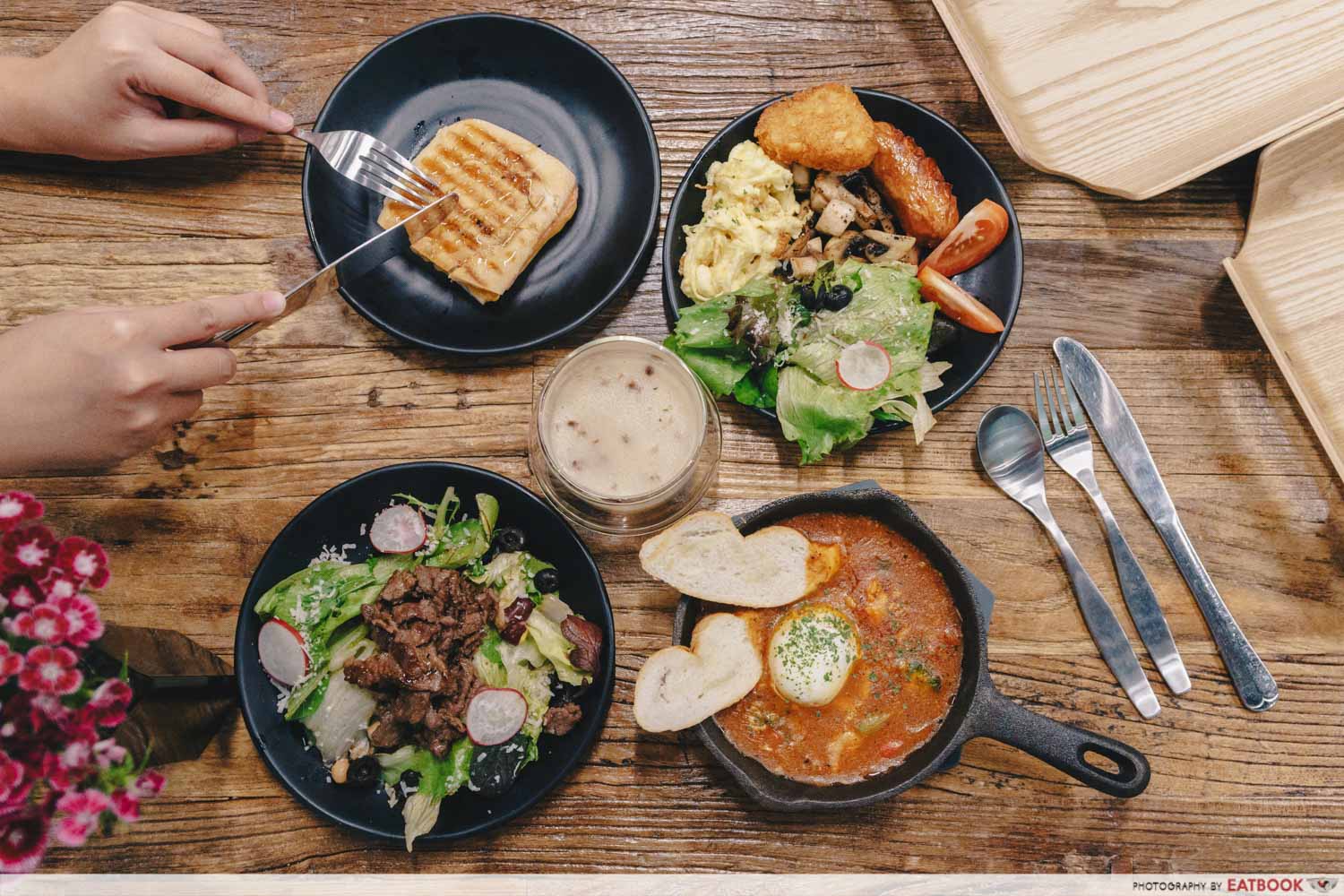 Like the luscious pots of plants and flowers around this Korean multi-concept cafe, Walking On Sunshine has quietly sprouted on the third level of Orchard Central. Hiding behind the pretty ambience is an extremely value-for-money $15 breakfast buffet. It offers brunch, soup, salad, and panini every day, between 9am and 12pm.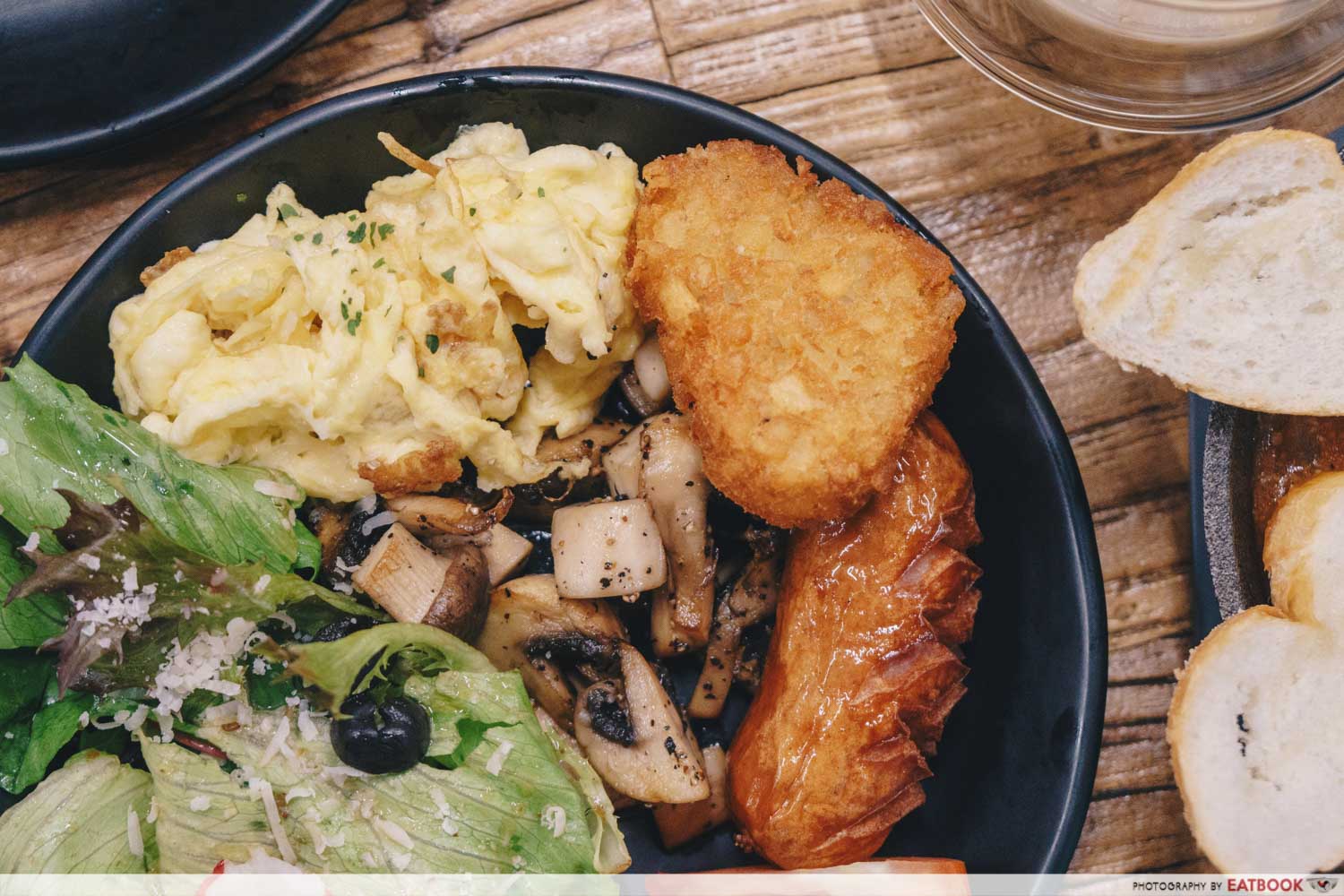 The dishes here are hearty and presentable without being pretentious. Must-gets include the American Breakfast, which comes with the sausage, hash brown, scrambled eggs, salad, and a medley of mushrooms. Bulgogi & Mix Bean Salad is also great for those who wish to pile on the veggies and some tender, robustly-flavoured beef slices.
Walking On Sunshine Review: $15 Nett Korean Brunch Buffet At Chio Cafe In Orchard
Address: 181 Orchard Road, #03-07, Orchard Central, Singapore 238896
Opening hours: Daily 9am to 10pm
Buffet hours: Daily 9am to 12pm
Tel: 8877 8800
Website
Walking On Sunshine is not a halal eatery.
---
2. House Of Happiness
---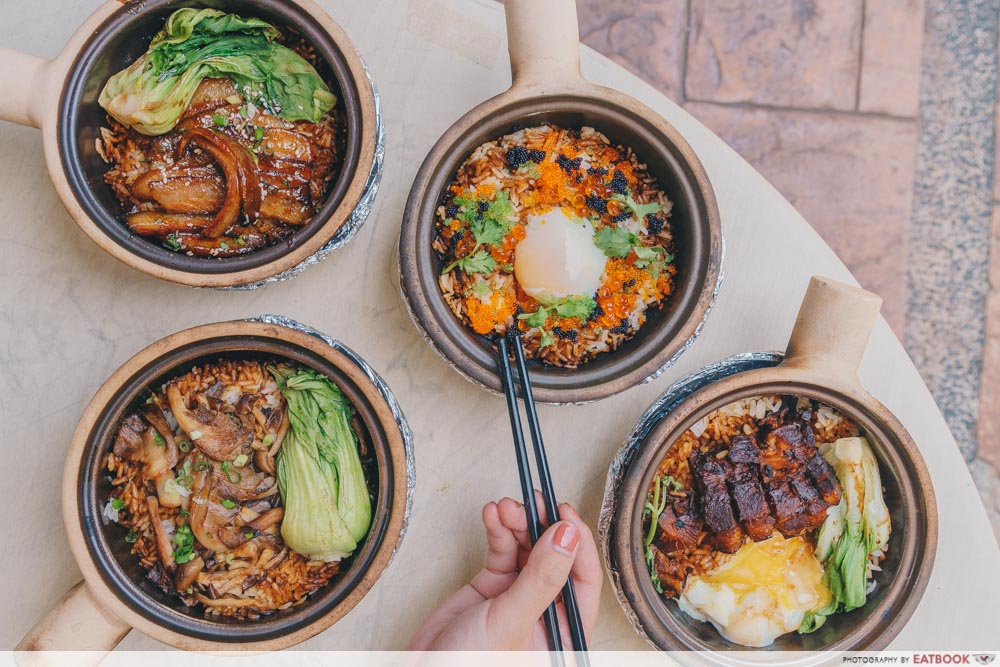 A new kid on the block at Bedok is House Of Happiness, serving killer claypot rice dishes. Owned and managed by the same people behind Mr Lorbak, they boast not only good food, but also wowed us with half the usual waiting time for a piping hot bowl of claypot rice.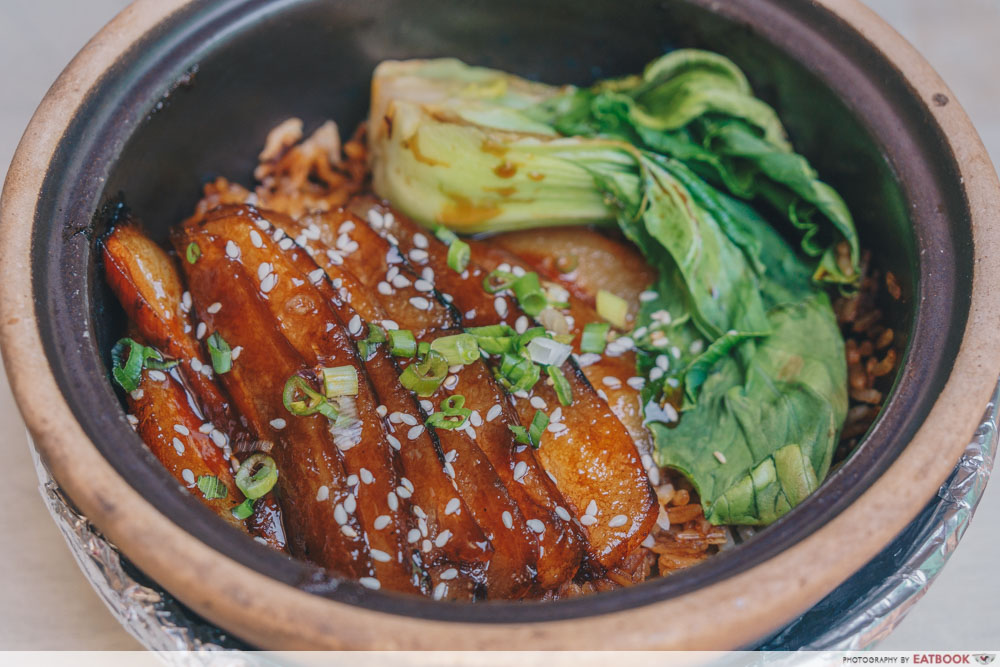 We highly recommend the teriyaki Pork Jowl ($7) claypot rice. It features a bed of parboiled rice, half a head of bok choy, and more than eight slices of melt-in-your-mouth pork jowl drenched in a thick teriyaki sauce. Their Onsen Egg with Ikura and Tobiko ($11) also impressed, with its kaleidoscope of colours and flavourful spoonfuls, made delicious from the oil of the fish roe.
House Of Happiness Review: Claypot Rice With Teriyaki Pork Jowl And Tobiko By Mr Lorbak
Address: 294 Bedok Road, Singapore 469450
Opening hours: Wed-Mon 12pm to 10pm
Tel: 6241 2648
House Of Happiness is not a halal eatery.
---
3. Kota88
---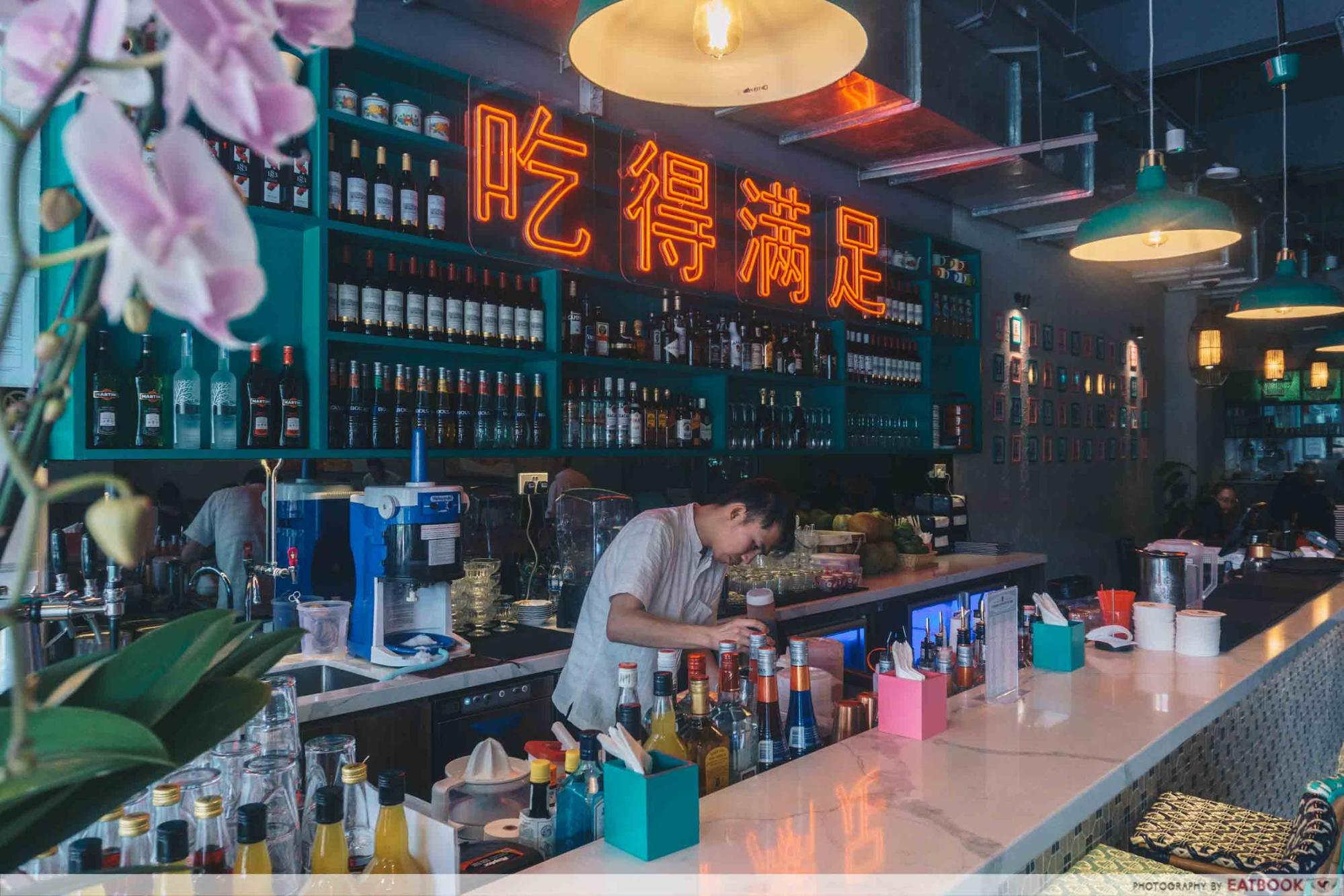 Entering Kota88 will relive your trip to Bali. The ambience here is idyllic with an air of 1920's decadence. If you're down for a good time, enjoy their extensive spread of Chinese-Indonesian food, and a liquid buffet of free-flow beer and cocktails at $31.88++ from 9pm to 12am every night.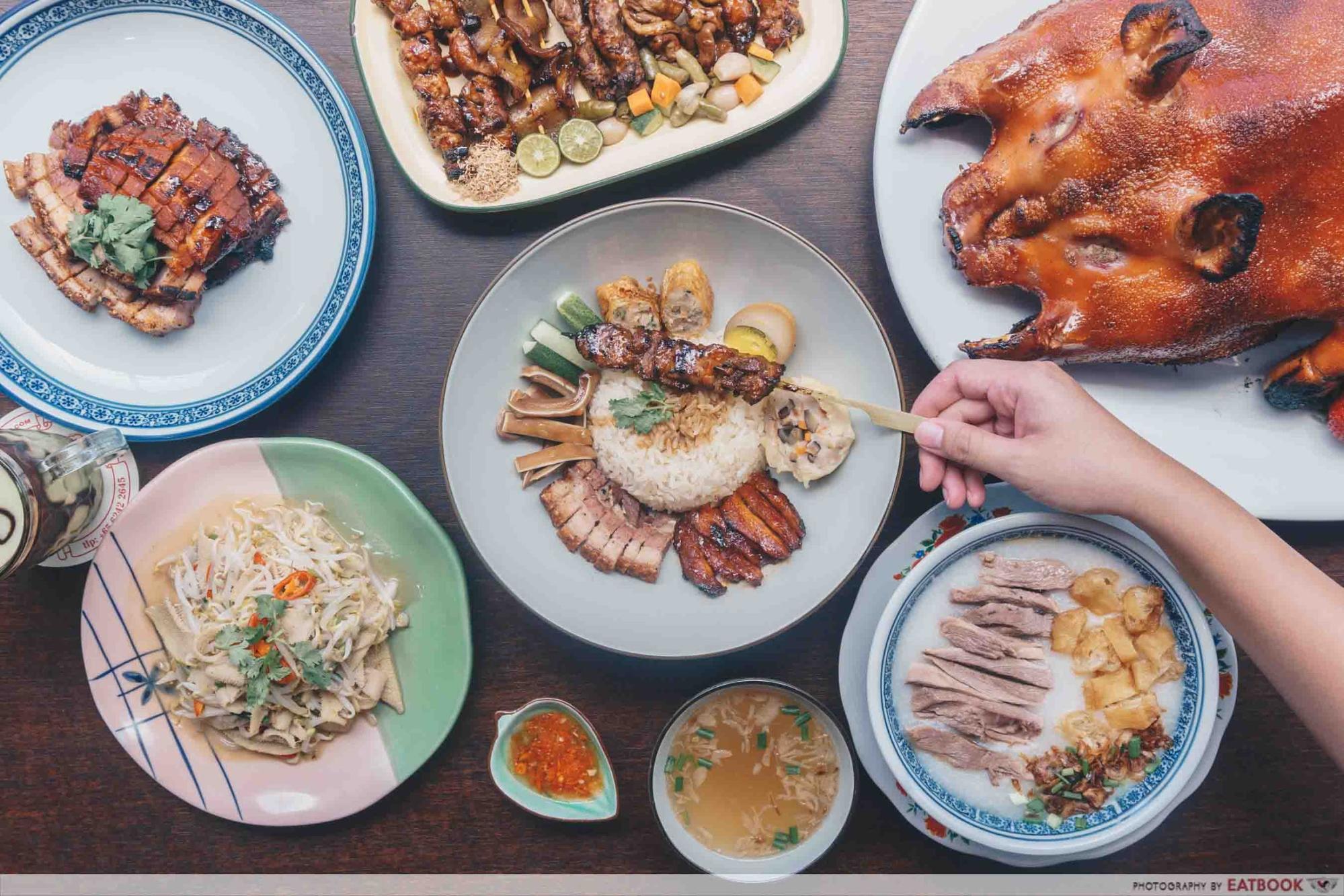 You will be in for an atas treat. If, like me, you love your pork, get their Nasi Campur Babi ($12.88++) which is simply a pork platter with rice. It features roast pork, char siew, siew mai, ngoh hiang, pig ears, braised egg, and a sweet pork satay, beautifully plated with steamed white rice. Those hankering for more can also order a Sate Babi ($15.88++) or Kombo Cha Sio & Sio Bak ($34.88++).
Kota88 Review: Late-night Resto Serving Pork Nasi Campur, Pork Satay And A Cheap Liquid Buffet
Address: 907 East Coast Road, #01-02, Springvale, Singapore 459107
Opening hours: Daily 11am to 3pm, 6pm to 3am
Tel: 6242 2645
Website
Kota88 is not a halal eatery.
---
4. Kindori
---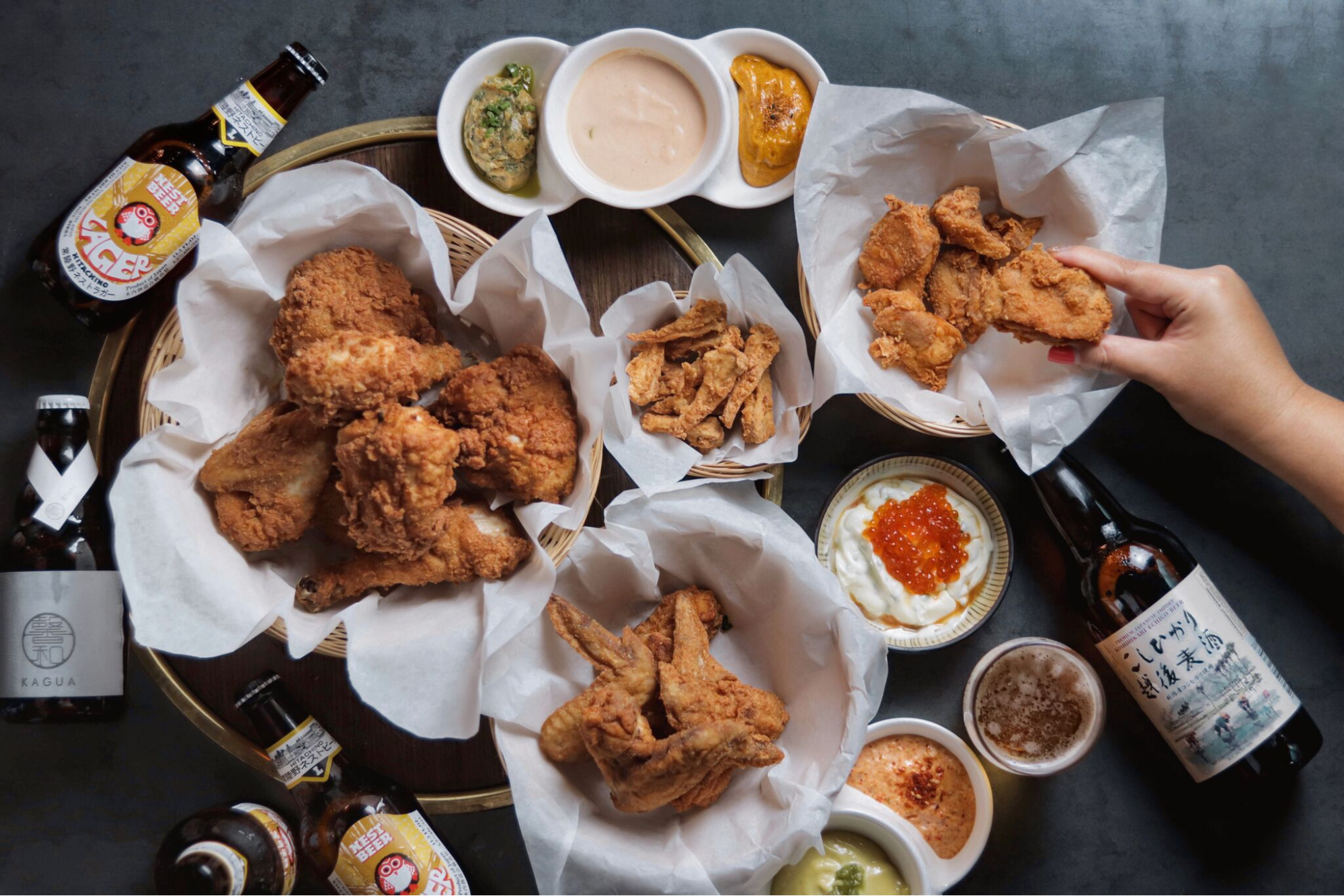 Take everything you know about fried chicken and cast it aside. Kindori is a newly opened fried chicken joint that changes the game. Using only fresh kampong chicken, which gives a more robust and meatier flavour, their fried chicken ($16++ for six pieces) is marinated in Japanese yoghurt and a blend of herbs and spices. The end product is a bird that's incredibly juicy with a flavourful flesh.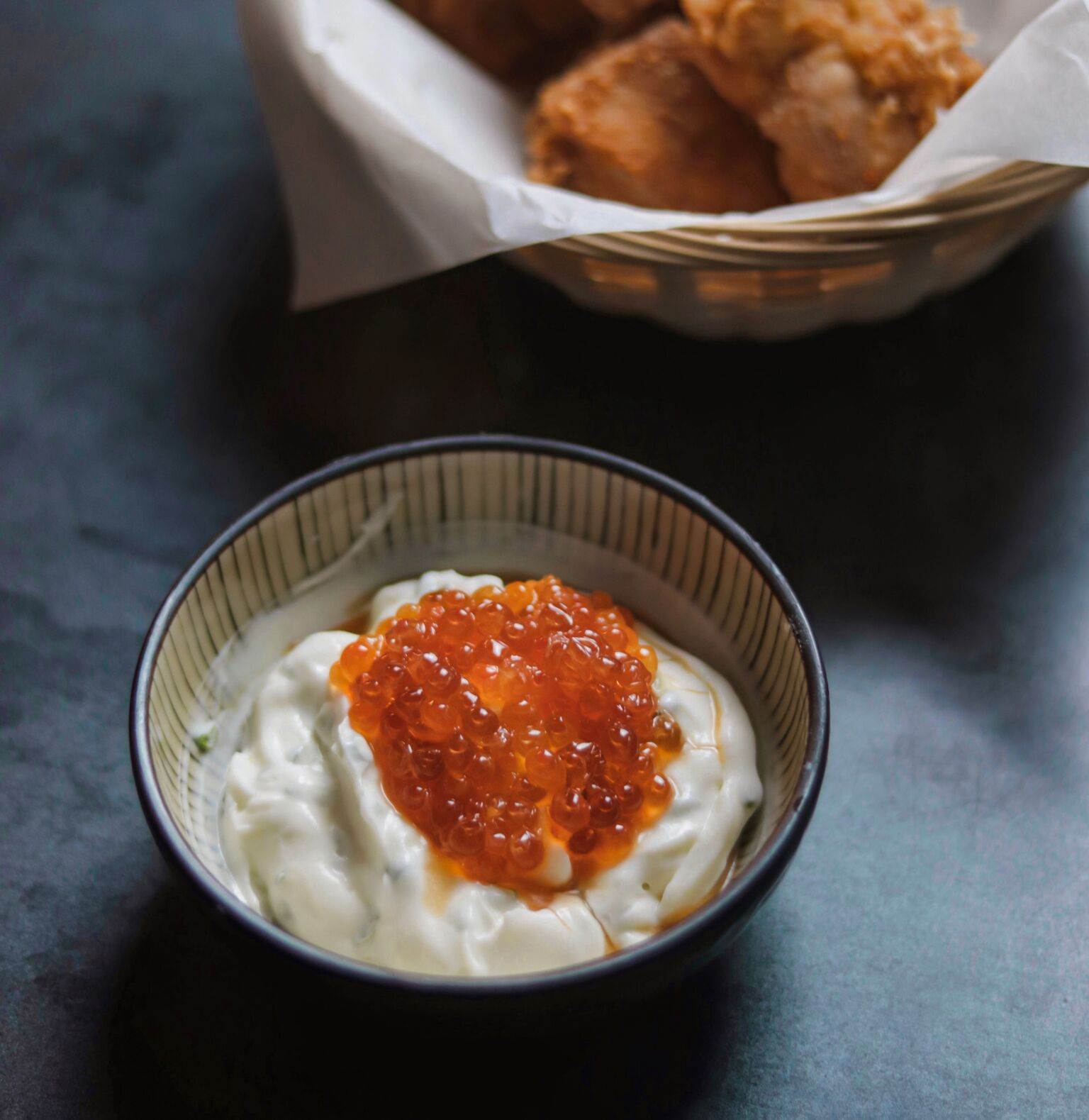 Get the Magic Ikura Cream ($8++) that's made from crème fraîche and ikura. I'm not sure how this combination is forged, but the beautiful marriage between creamy sour cream and crisp chicken skin was definitely one of the best I've tried this year. Also look out for the wide range of Japanese craft beers that are available.
Address: 30 Victoria Street, #01-11/12, CHIJMES, Singapore 187996
Opening hours: Daily 6:30pm to 11:30pm
Tel: 6352 1966
Website
---
5. Tipo Pasta Bar
---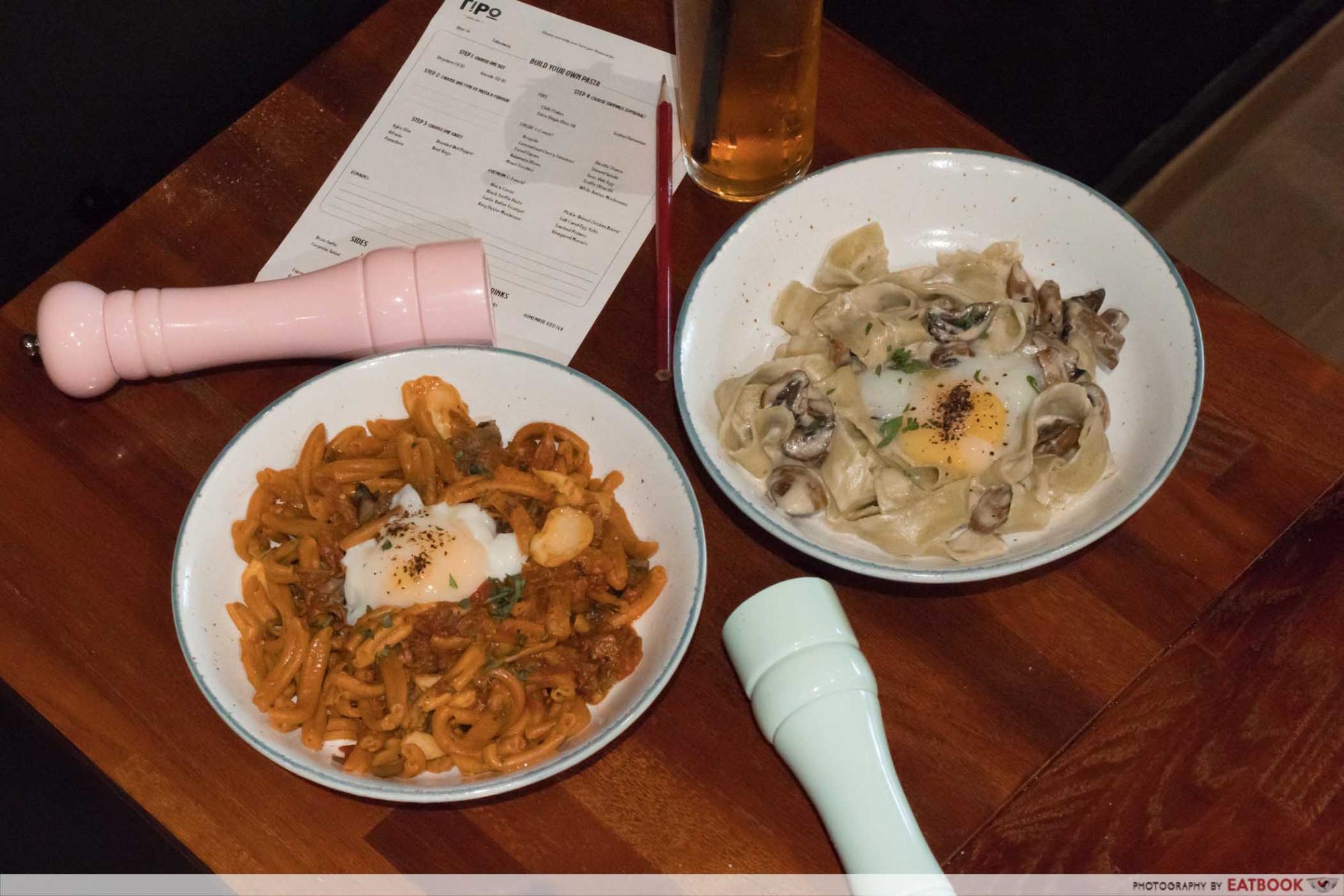 Joining the ranks of customisable food places is Tipo Pasta Bar. Headed by the same people behind Santap and Afterwit, this joint serves build-your-own pasta bowls (from $9.90+) – using premium ingredients like garlic escargot ($3+) and truffle oil ($2+).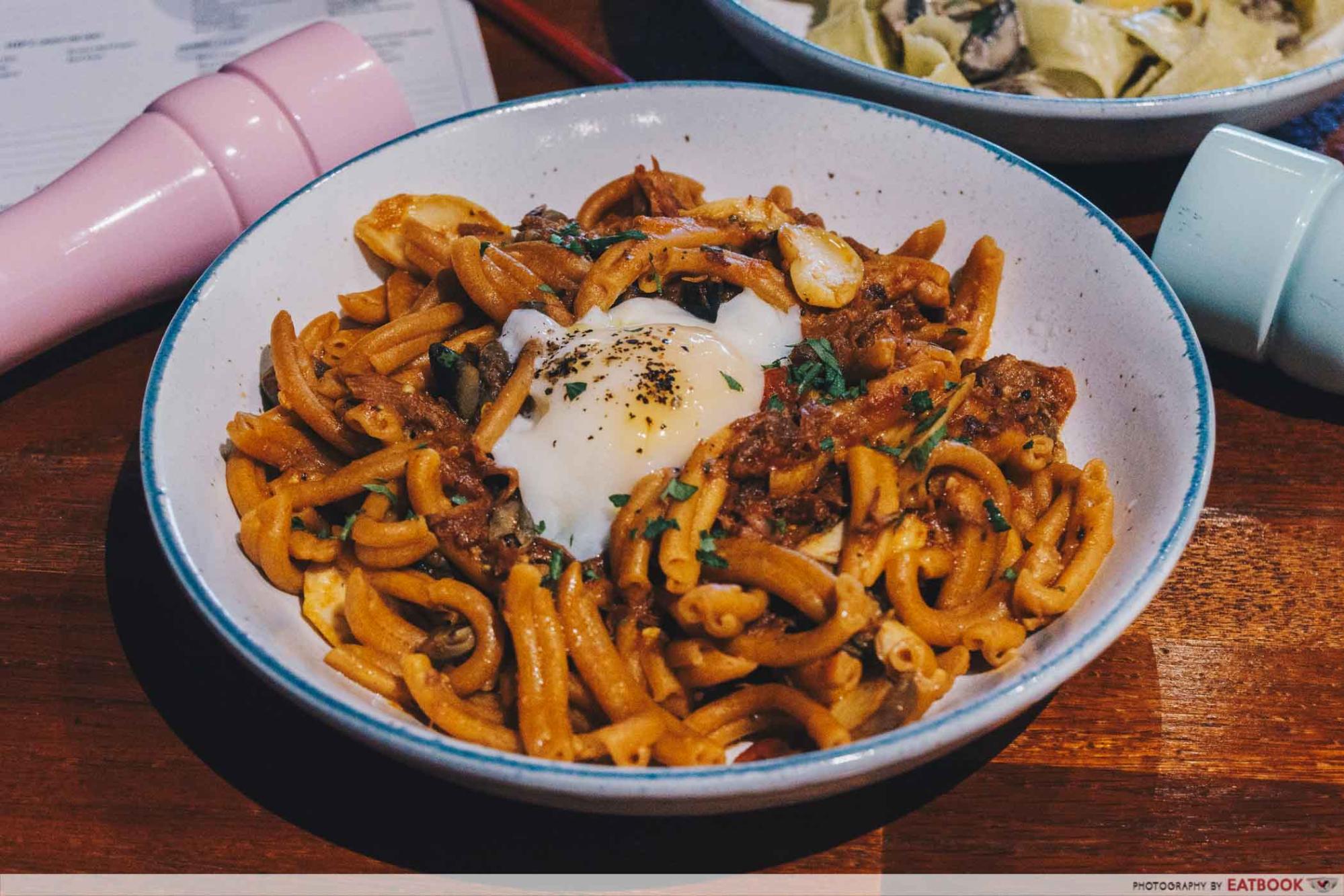 We thoroughly enjoyed our bowl which comprised beef ragu, truffle olive oil, garlic butter escargot, and king oyster mushroom. The escargot was, by far, the stars of this dish, as despite their size, these morsels were fatty and chewy.
Address: 785 North Bridge Road, Singapore 198753
Opening hours: Sun-Thur 12pm to 10pm, Fri-Sat 12pm to 11pm
Tel: 8768 0785
Website
---
6. Stack
---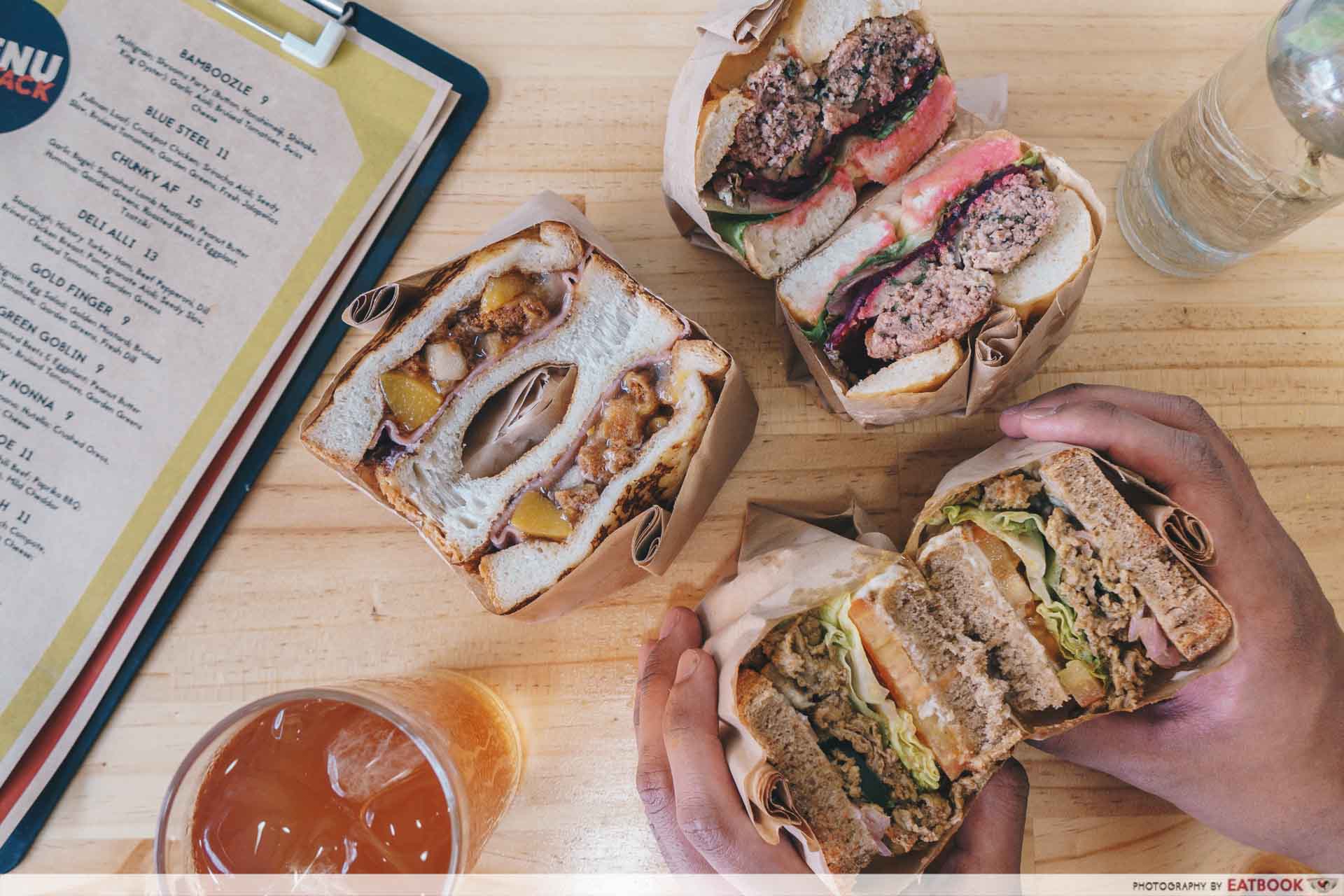 Located along the same street as Kumoya, Stack is a Muslim-owned eatery that specialises in gourmet sandwiches. Their offerings include sweet and savoury toasties like the Makcik ($13), a gathering of greasy beef rendang, greens and garlic aioli between rye bread. The beef rendang was dripping rich meat juices. The smooth garlic aioli also deserved a shoutout as it gave the depth to the sandwich, without overpowering the other ingredients.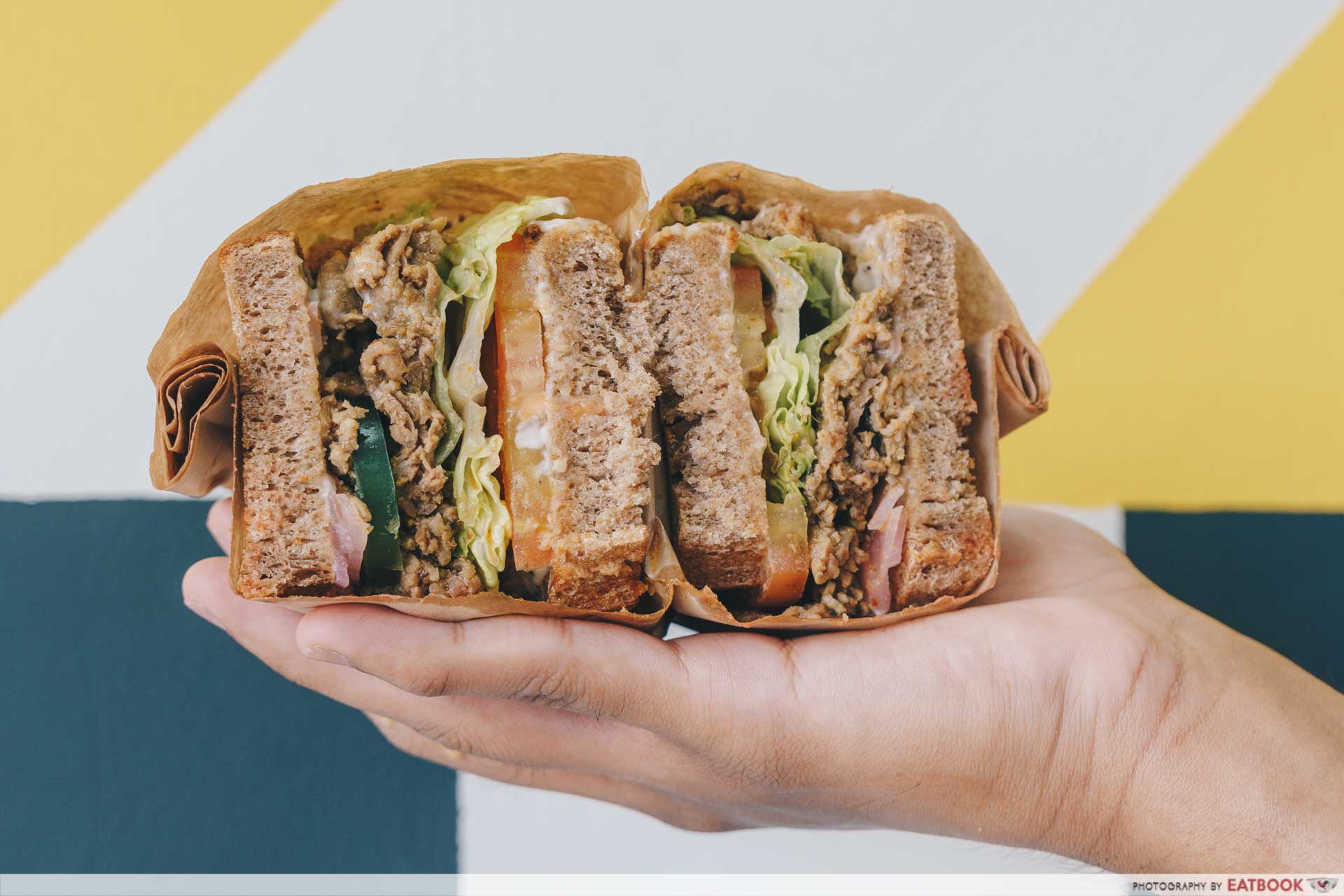 For sweets, they have the Sweet Valley High ($11) which oozes out a divine country apple and peach compote filling.
Stack Review: Halal Beef Rendang Sandwich And Lamb Meatball Bagels At Bugis
Address: 4 Jalan Klapa, Singapore 199316
Opening hours: Daily 10am to 6pm
Tel: 6904 8117
Website
---
7. C Plus
---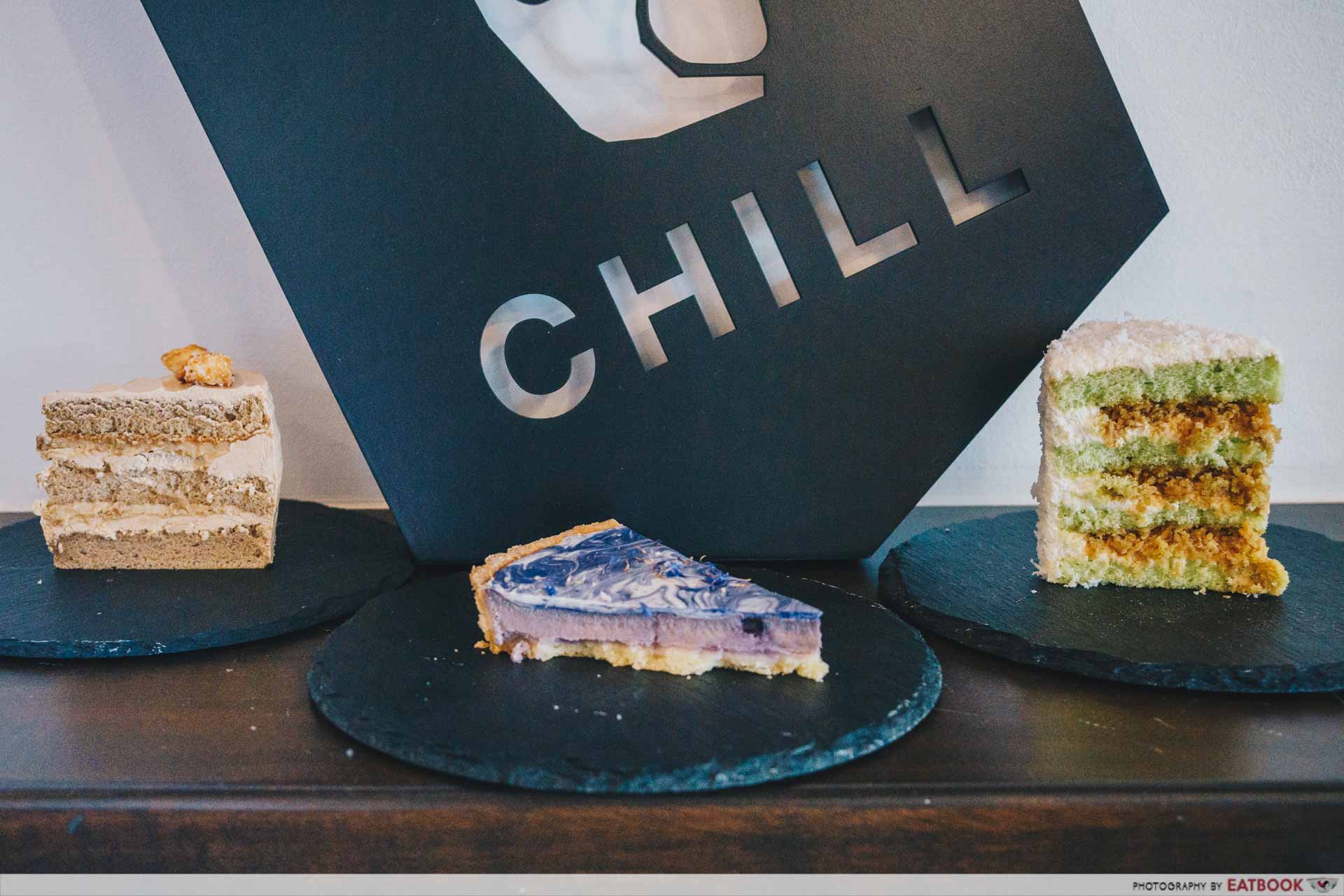 Instagram is teeming with talented home bakers and they've now congregated to C Plus. This brand-new cafe sells a medley of desserts made by popz home-bakers like Beeli Bakes, ELIJAH Pies and Our First Bake.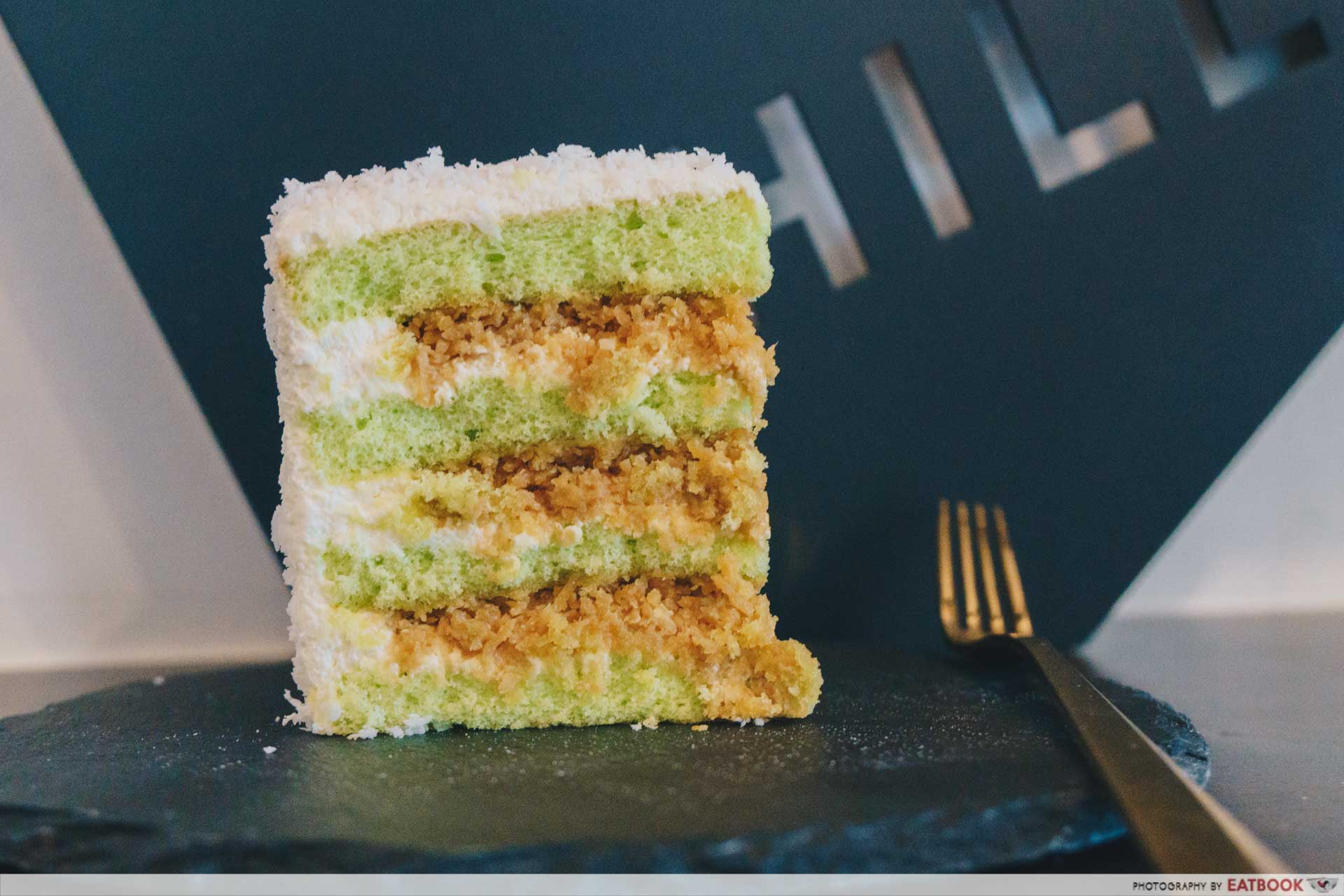 Out of all the cakes we tried, the Ondeh Ondeh Cake ($7.50+) by Beeli Bakes stands as our favourite. This towering slice of pandan sponge cake is layered with rich gula melaka and had just the right amount of consistency.
The sweetness of the gula melaka was strong without being cloying. And the literal icing on the cake – the coconut shavings – were a beacon of freshness, given how soft and moist they were.
Address: 217 Rangoon Road, Singapore 218457
Opening hours: Wed – Sun 10am to 10pm
Website
---
8. Tongue Tip Lanzhou Beef Noodles
---
Saying out "Tongue Tip Lanzhou Beef Noodles" is a huge mouthful – which is exactly how you'll be eating the food here. Hailing from China, this halal restaurant serves four types of customisable noodle bowls.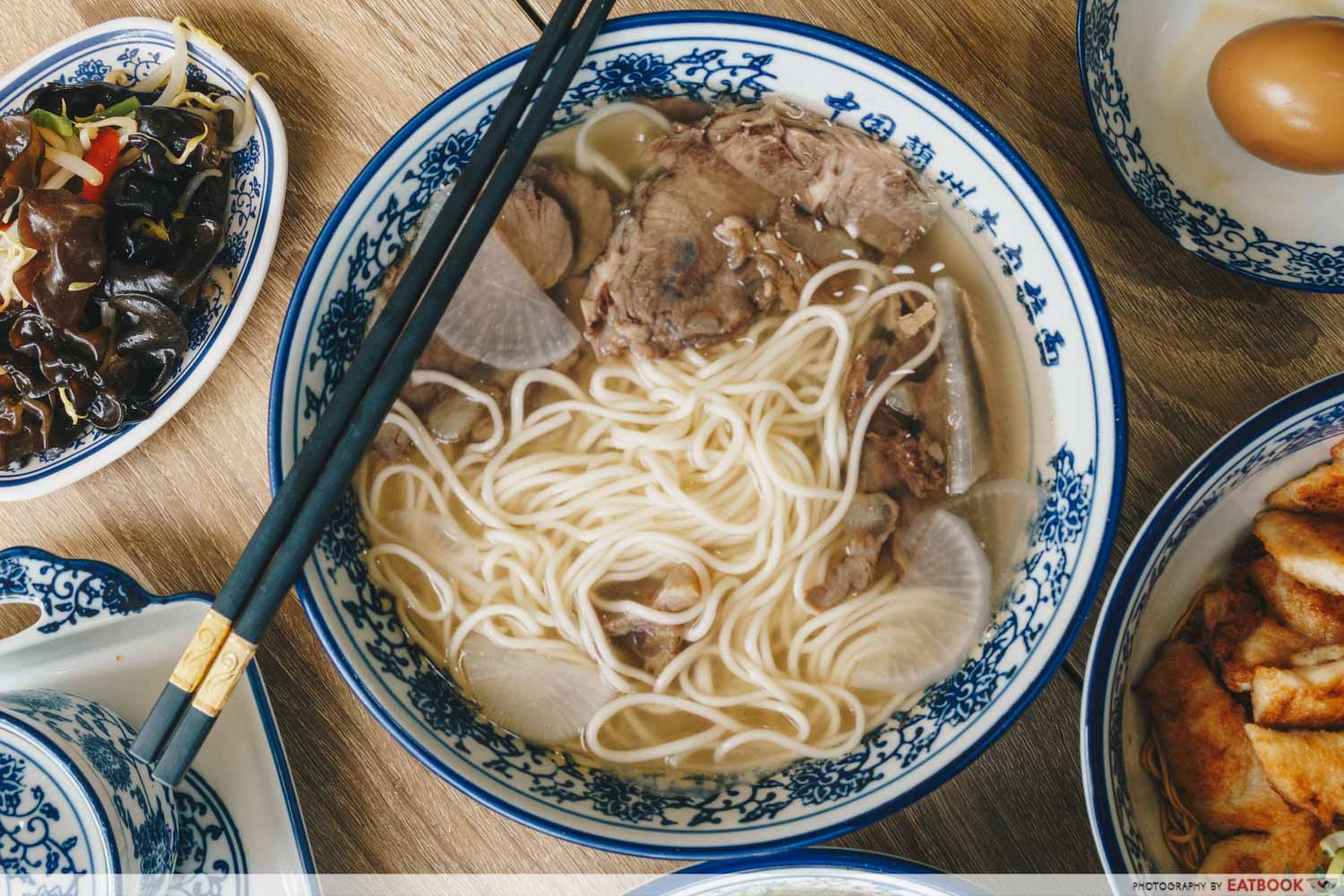 Their Signature Beef Noodles ($10.90+) made it well-worth the visit. The broth was akin to a piping hot bowl of sup daging with the savouriness dialled up to 11. And the noodles were simply amazing, given how chewy they were.
Address: 302 Tiong Bahru Road, #02-107/187, Tiong Bahru Plaza, Singapore 168732
Opening hours: Daily 11am to 10pm
Website
---
9. Tiong Bahru Bakery Safari
---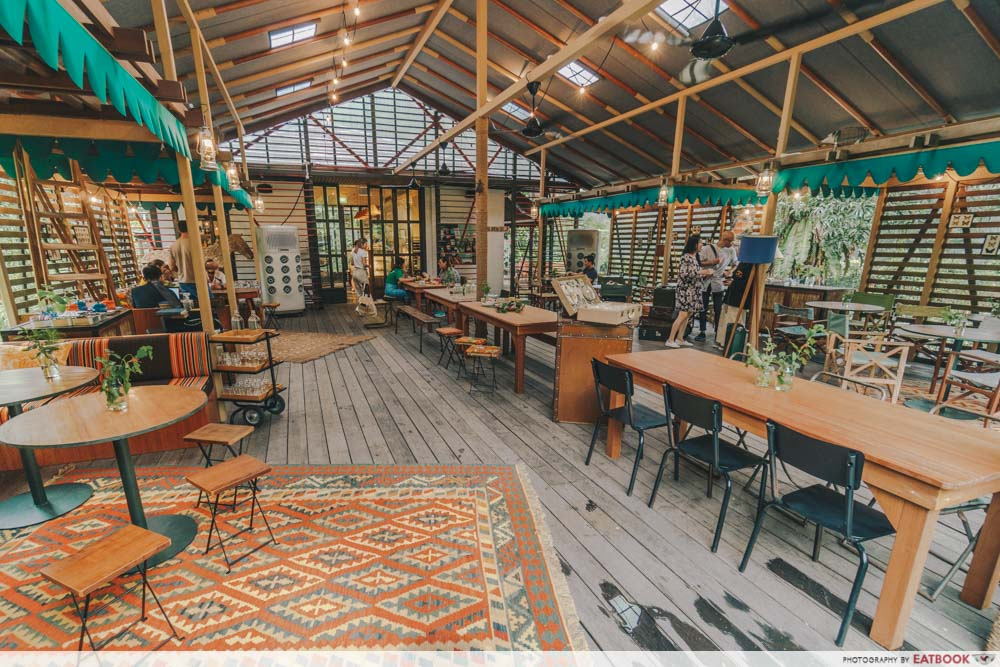 Tiong Bahru Bakery Safari is the artisanal bakery's latest cafe, and it's their most ambitious one yet. Styled up like a swish glamping spot, the new cafe in Dempsey sports a canvas tent and a vibrant decor comprising Kilim rugs and butterfly taxidermy displays.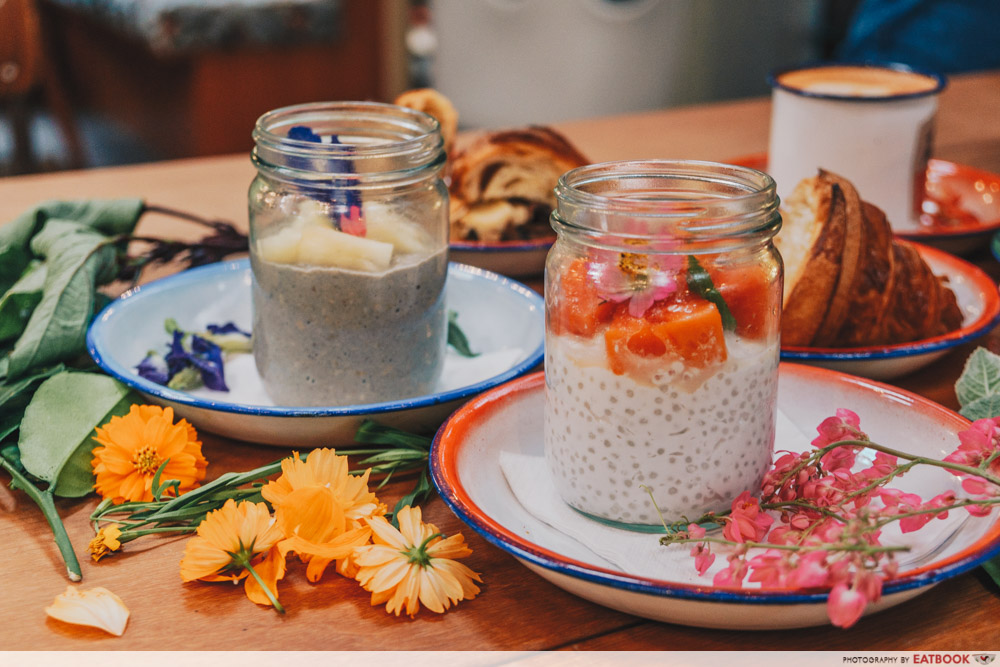 The menu features the usual Ham & Cheese Croissant ($7.50) and Brie & Roasted Mushroom Croissant ($8.50). But if you are looking for something new, get the Rolled Oats with Sesame and Pineapple ($8.80) and Tapioca Coconut Papaya ($8.50) – both are exclusive to this Dempsey outlet.
Tiong Bahru Bakery Safari Is An Exclusive Glamping-Themed Cafe At Dempsey
Address: 130E Minden Road, Singapore 248819
Opening hours: Daily 8am to 5pm
Tel: 6877 4876
Website
---
10. The Communal Place
---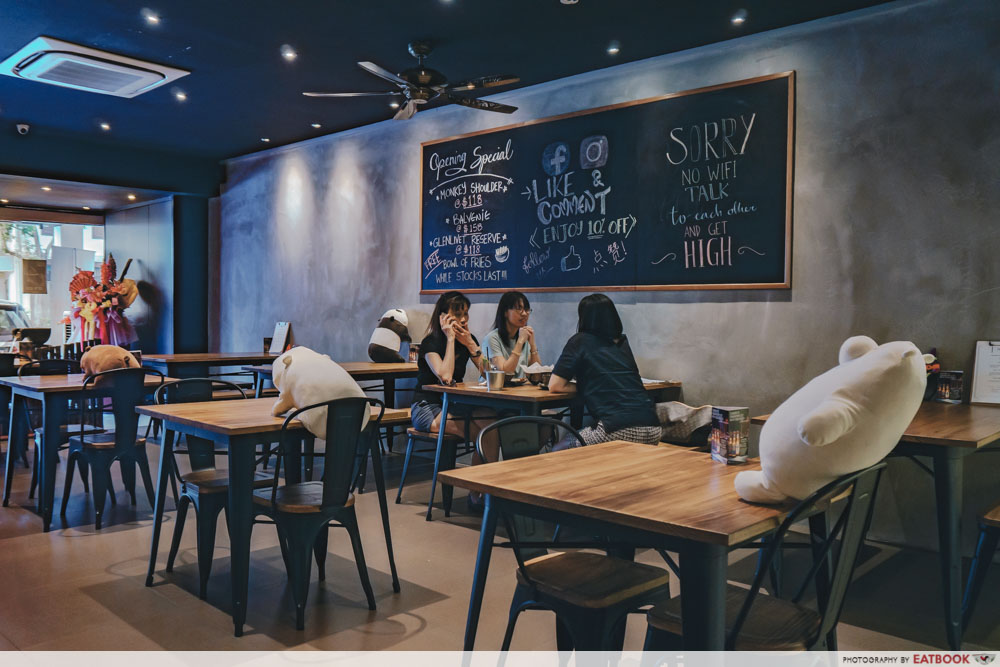 The Communal Place is the newest kid on the block along Joo Chiat Road. Taking over the space of FatPapas, this bistro is decked up with plushies from We Bare Bears. It's cute, casual, and inviting – great for simple get-togethers with the your loved ones.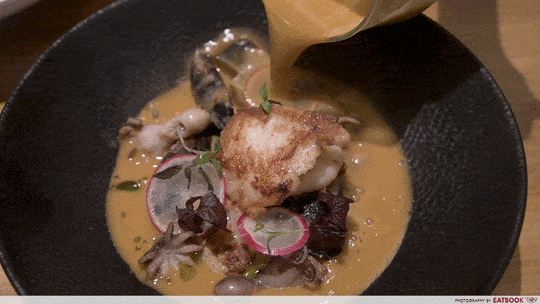 The dishes here are worthy of a re-visit, especially the Bouillabaisse ($15++). Swimming in a picante seafood broth are a generous portion of mussels, baby octopus, prawns and dory. For a fun way to end your meal, get the Chocolate Dome ($16++), which requires you to take it up in the air and smash it apart. This will unleash a slew of treats like gummy bears and honeycomb.
Address: 465 Joo Chiat Road, Singapore 427677
Opening hours: Tue-Thur 11am to 10:30pm, Fri-Sat 11am to 11pm, Sun 11am to 10:30pm
Tel: 6282 3359
Website
---
BONUS 1: Iron Supper Club
---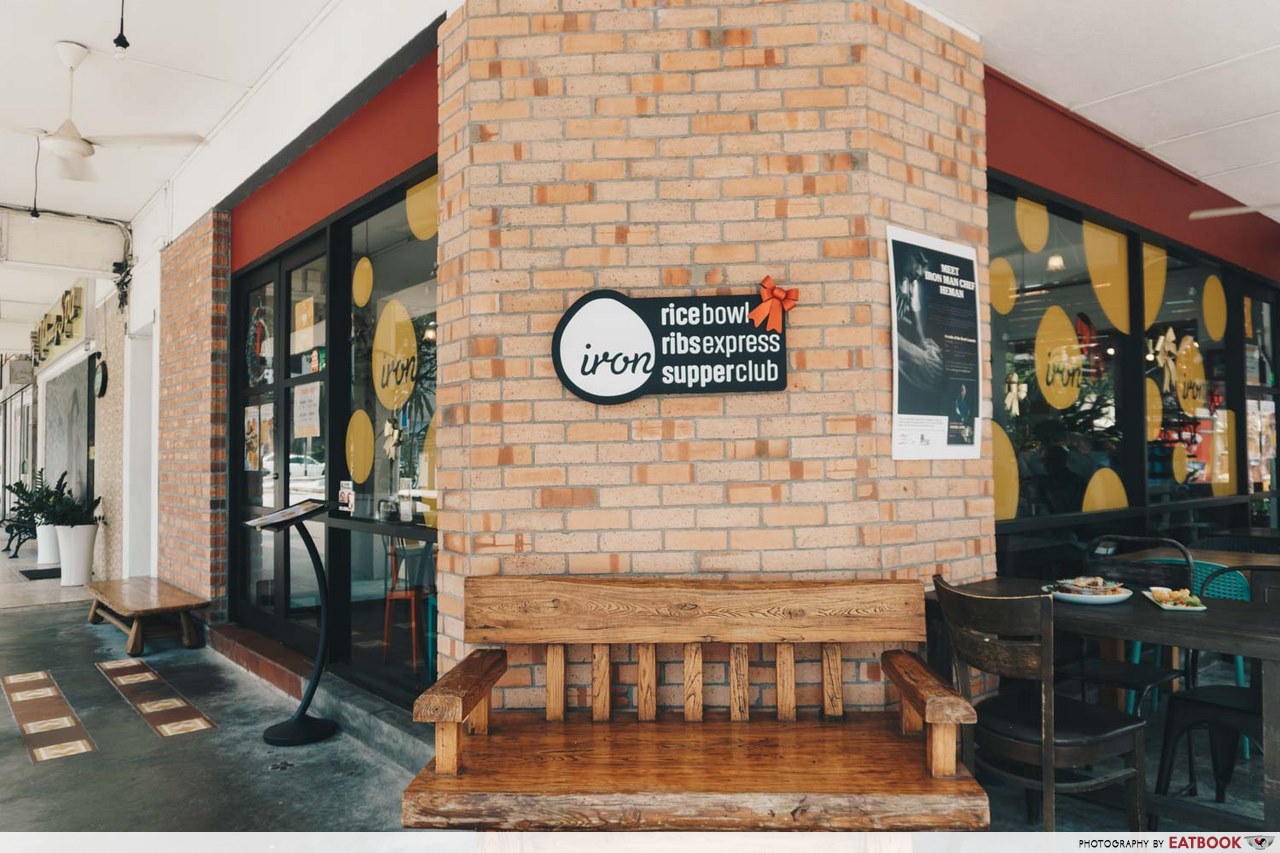 Opened by Herman Tan, the former executive chef of JP Pepperdine Group, which operates restaurants such as Jack's Place, IronSupperClub combines local and Western flavours in a homely restaurant just off MacPherson.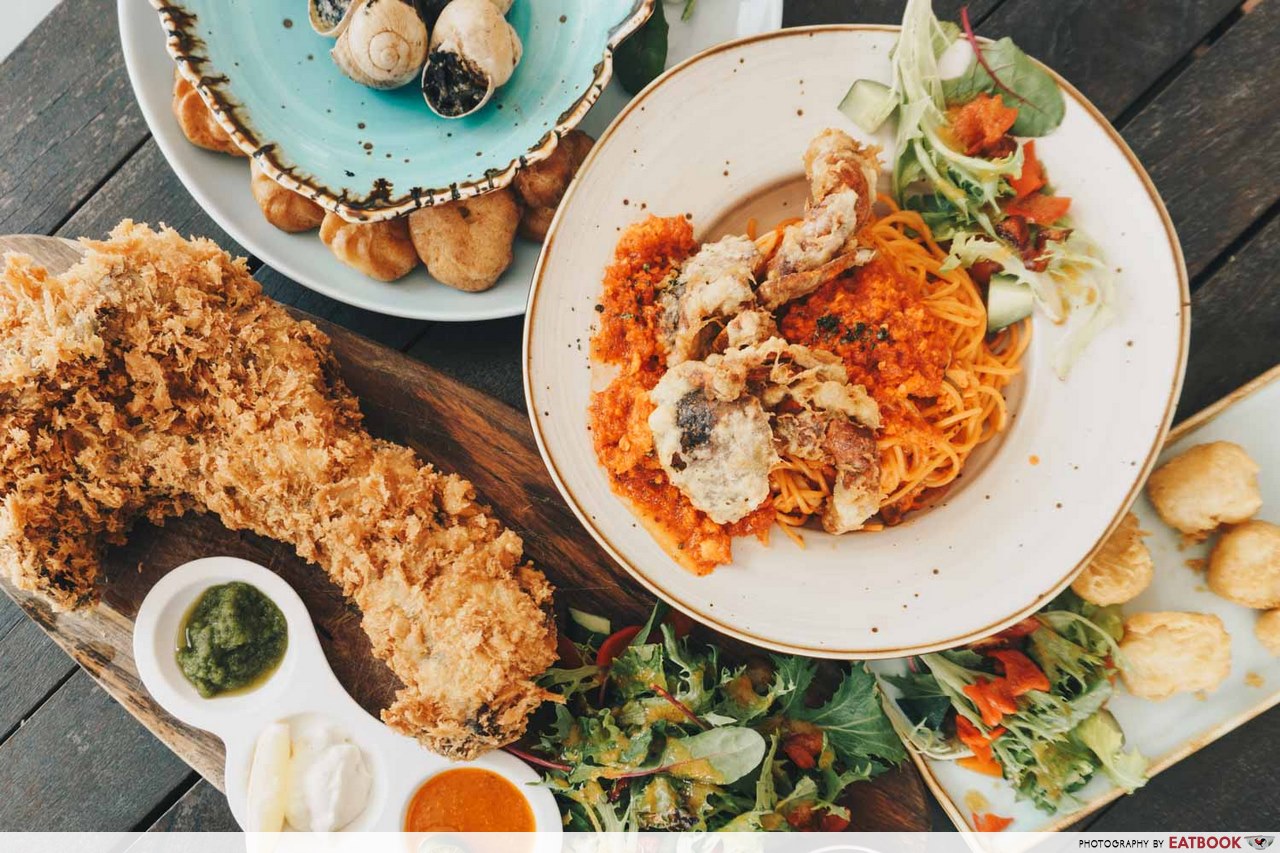 A must-try is their Signature Bulan Pork Tomahawk Tonkatsu ($48.90+). Using an entire piece of tomahawk cut, the meat is dry-aged for 14 days before being deep-fried, tonkatsu style. The meat remained incredibly juicy and it's accompanied with a variety of sauces, which includes a fiery house-made chilli sauce.
Address: 9 Jalan Wangi, Singapore 349354
Opening hours: Mon-Fri 11am to 3pm, 5:30pm to 10pm, Sat-Sun 11:30am to 10pm
Tel: 6245 2827
Website
---
BONUS 2: Rengaya
---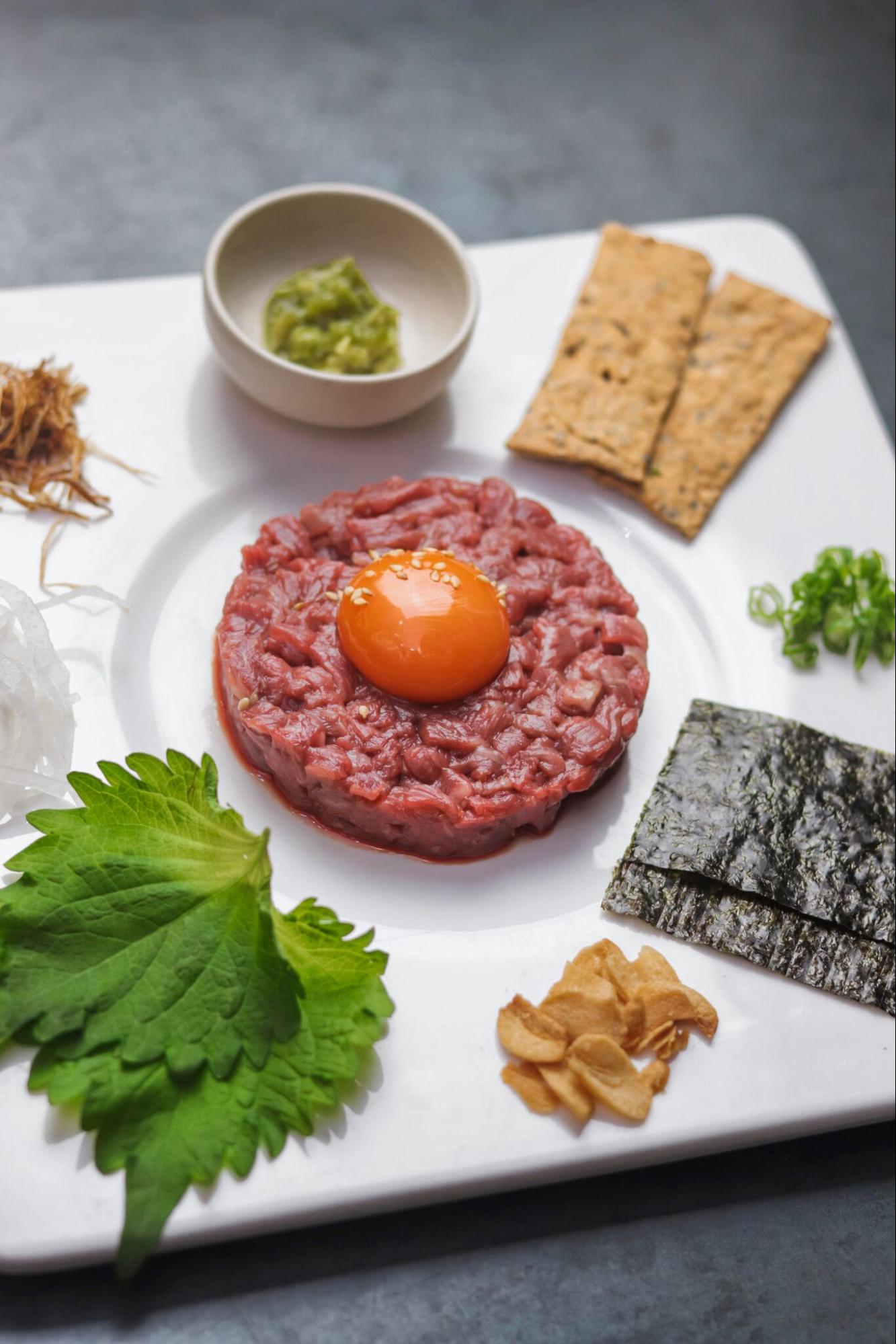 Rengaya ought to be appearing more on your Instagram feeds. Formerly a yakiniku restaurant, the store has revamped its entire menu to an American-style steakhouse that brings in quality cuts from purebred Kagoshima beef.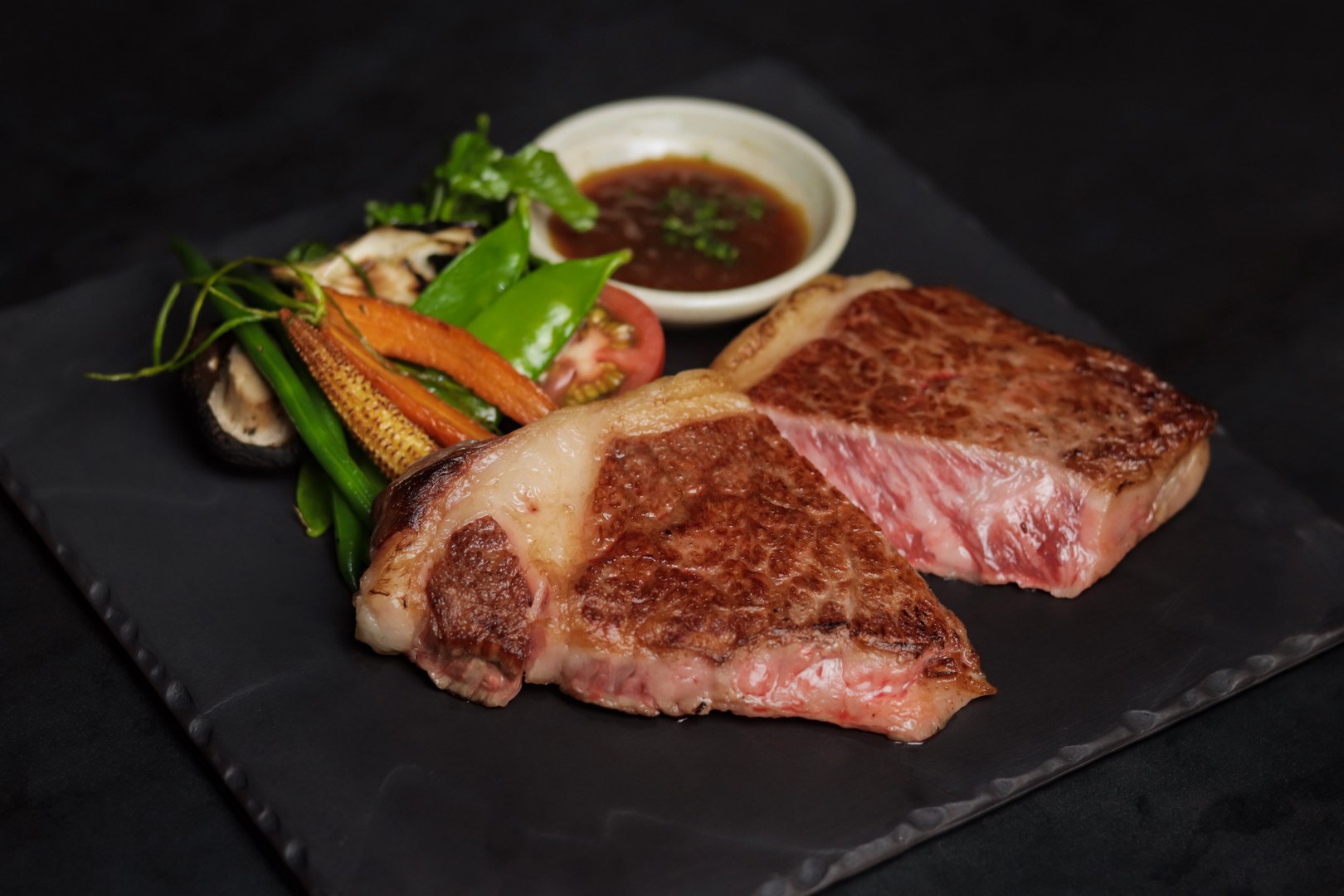 The Japanese Wagyu Sirloin Steak ($55++) is well-marbled and had just the right amount of fat that coats the tongue. The steak is grilled right in front of you using binchotan, giving off an even golden-brown sear to the beef. What's unique is that they also have a recommended house pour for each item of the menu, with prices starting from $13++.
Address: 30 Victoria Street, #01-11/12, Chijmes, Singapore 187996
Opening hours: Mon-Sat 12pm to 2:30 pm, 6pm to 11:30pm, Sun 12pm to 2:30pm, 5:30pm to 10:30pm
Tel: 6352 1966
Website
---
BONUS 3: Festive Forest Feast at The Carvery
---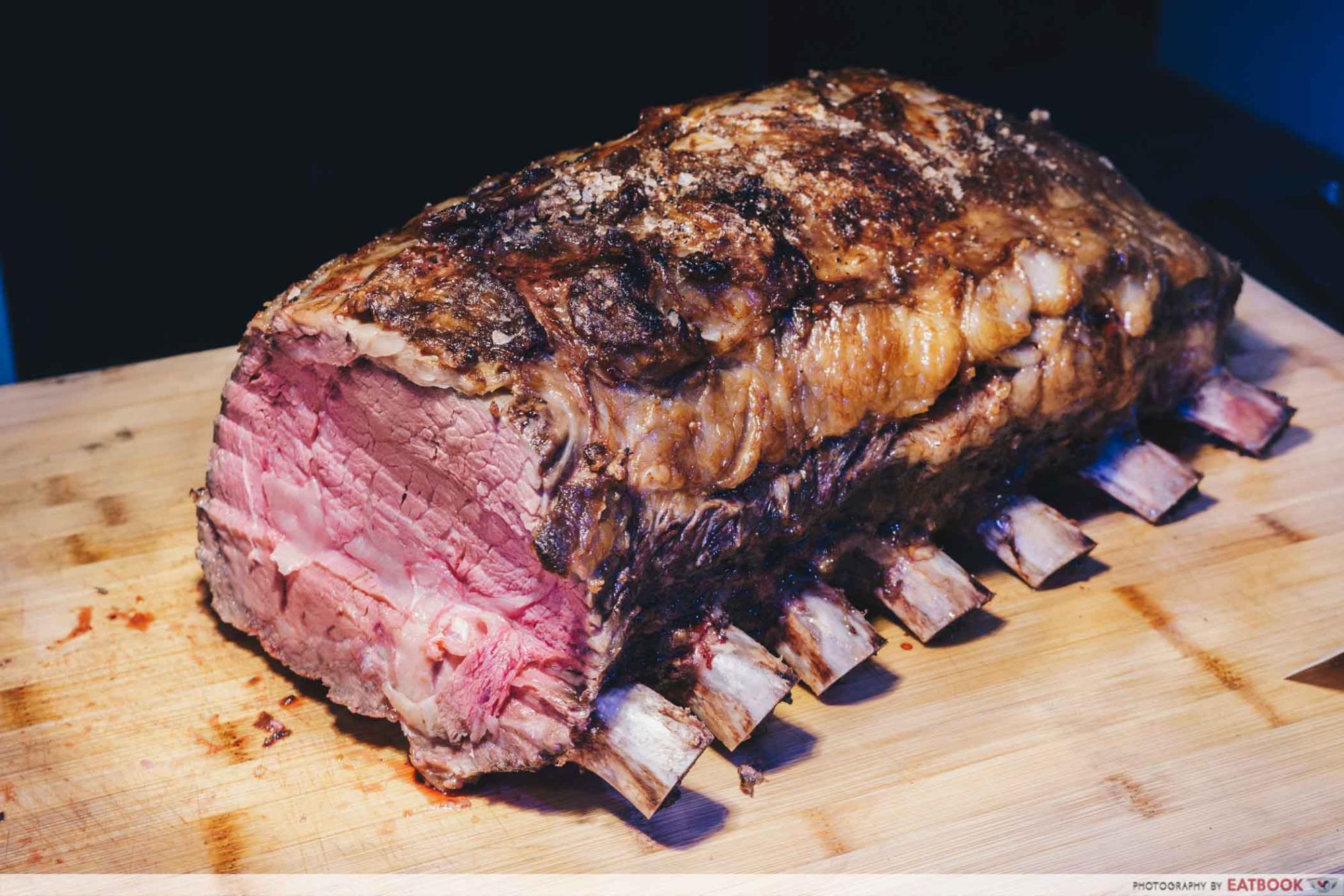 Available from 5 December 2018 to 1 Jan 2019, The Festive Forest Feast at The Carvery returns this year. The meat-centric buffet is priced at $48++ for daily lunches and $58++ for dinner from Monday to Thursday. Fridays to Sundays are a little pricier at $68++, but there are also new additions to the line-up during then.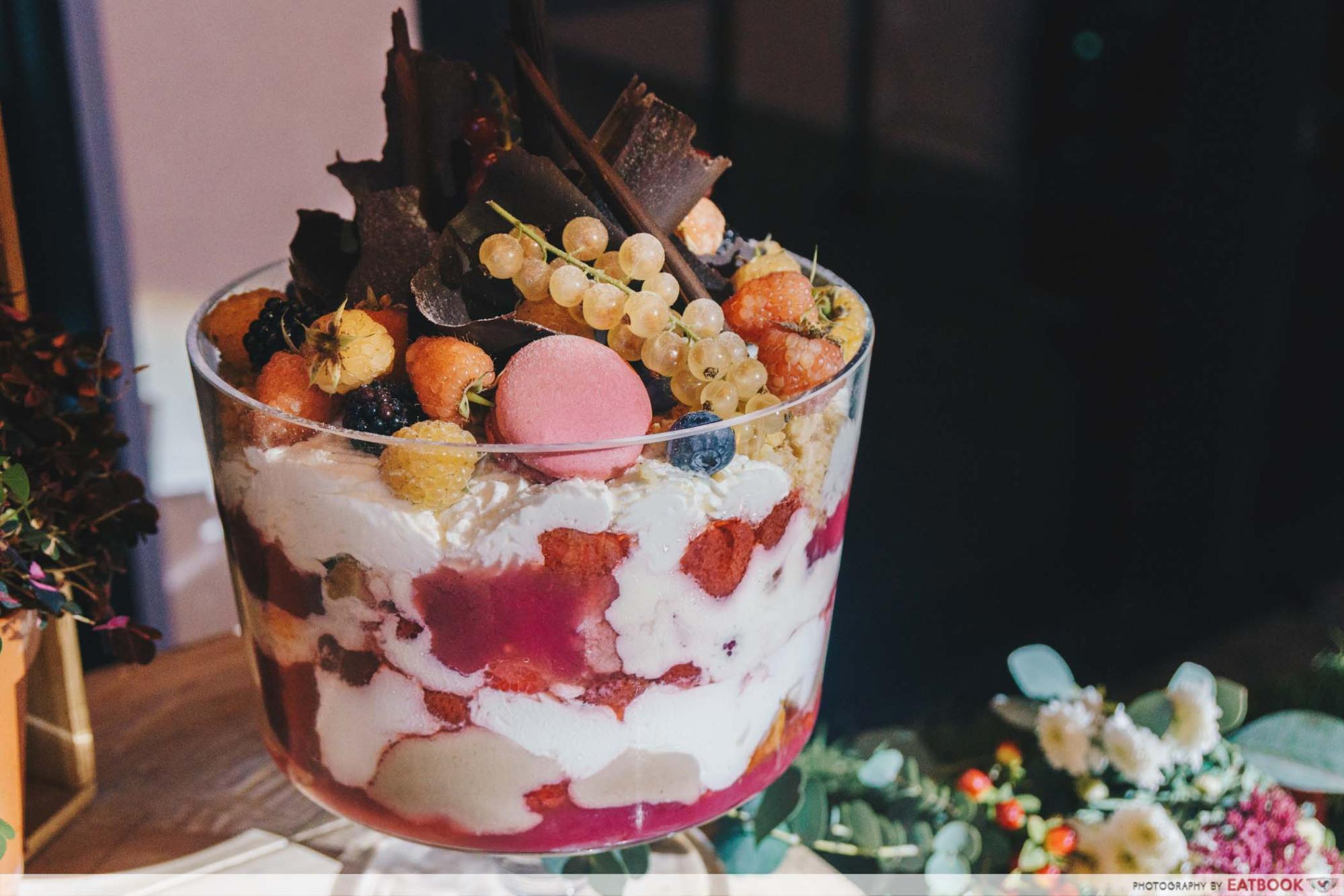 The star of the show is definitely the weekend-only Whiskey-Aged US Angus Beef Prime Ribs. The meat is dry-aged in a cloth soaked with bourbon whiskey to lightly perfume the meat. What you get is a delightfully succulent and tender roast to end off the year in style.
Look out for the restaurant's signature trifle which rotates every season. Keeping in line with this season's forest feast theme, the Raspberry and Lychee Trifle is filled with layers of lychee custard, fresh cream, vanilla sponge soaked with kirsch liqueur, and other berry goodies.
Address: 332 Alexandra Road, Level 7, Park Hotel Alexandra, Singapore 159972
Opening hours: Daily 12pm to 2:30pm, 6pm to 10pm
Tel: 6828 8880
Website
---
New restaurants and cafes in December for end-of-year gatherings
---
What a year it has been. End off the year in style by checking out these new restaurants and cafes for your end-of-year gatherings. Let us know what you think of them in the comments below!