Interesting claypot rice at House of Happiness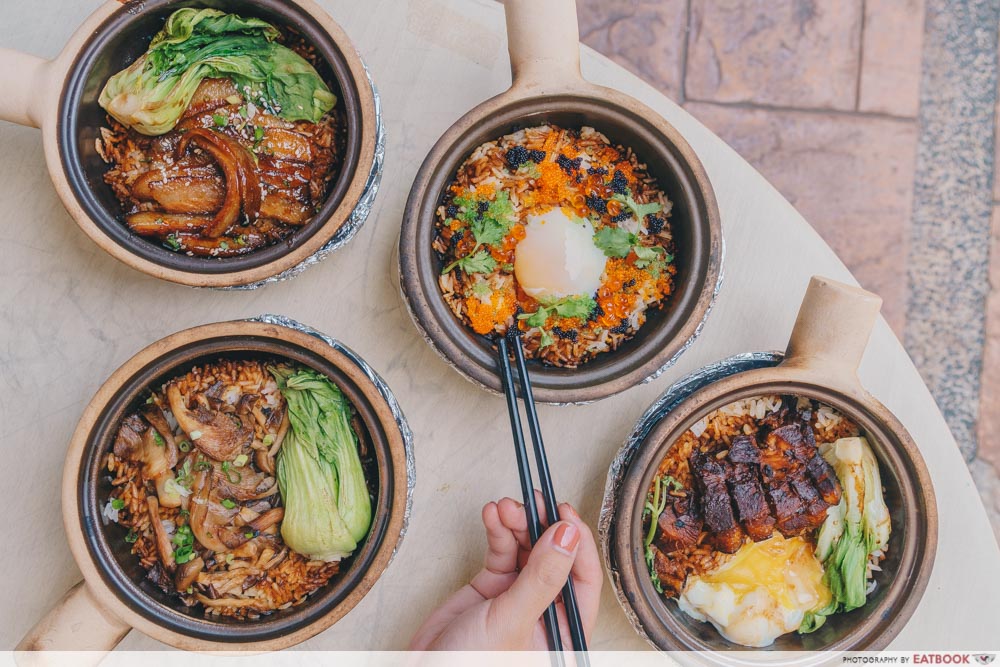 If Mr Lorbak blew you away, then its sibling, House Of Happiness will hit you like a hurricane. Just like chicken rice, nasi lemak, or Hokkien mee, claypot rice has always been a classic favourite. However, we don't often order it as frequent as other hawker dishes. The smoky aroma might be to-die-for, but the long waiting time is a killer. Thankfully, with their kung fu and culinary expertise, waiting time here has been cut into half.
Food at House Of Happiness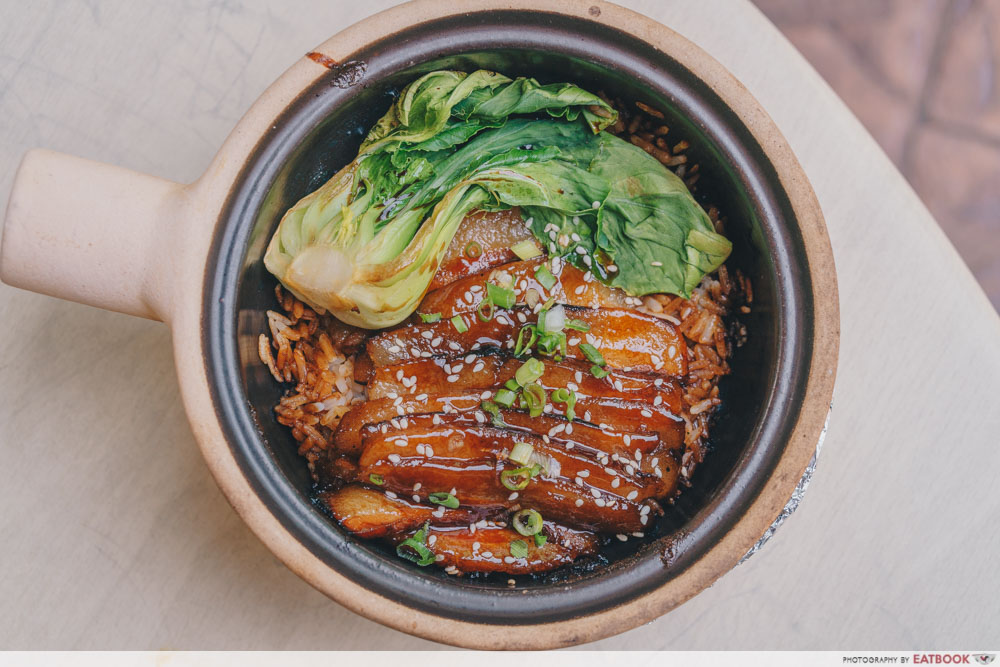 There's something for everyone at House Of Happiness, but you can't go wrong with the Teriyaki Pork Jowl ($7). It features a bed of claypot rice, half a head of bok choy, and more than eight luscious slices of pork jowl drenched in a thick teriyaki sauce.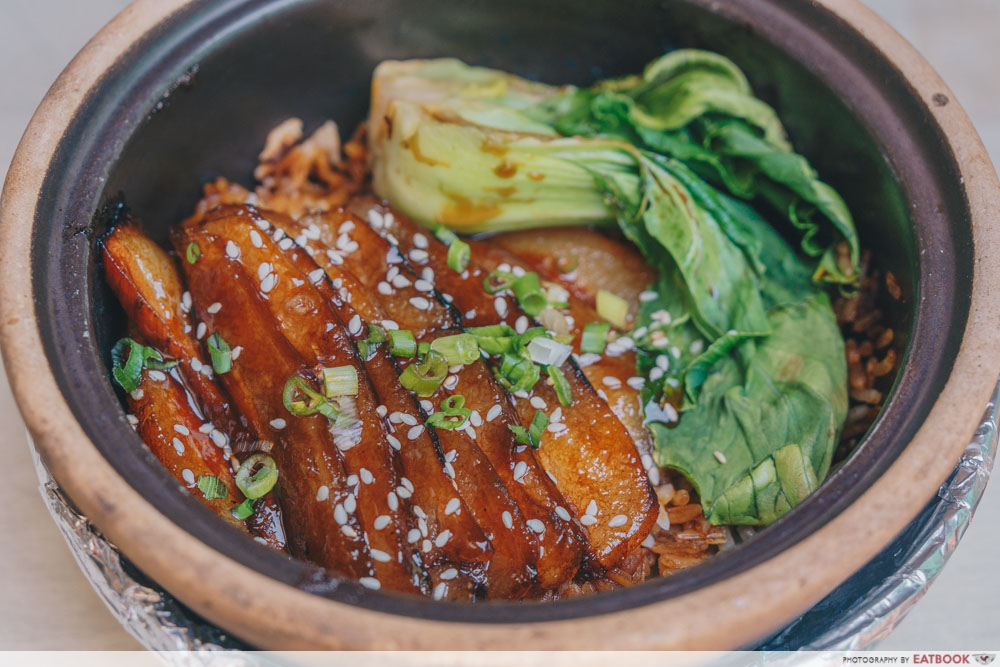 This familiar classic is given a contemporary flair. Some might call it gimmicky, but as a millennial who enjoys good food with that extra element of fun, I would say this teriyaki pork jowl claypot variant is to die for.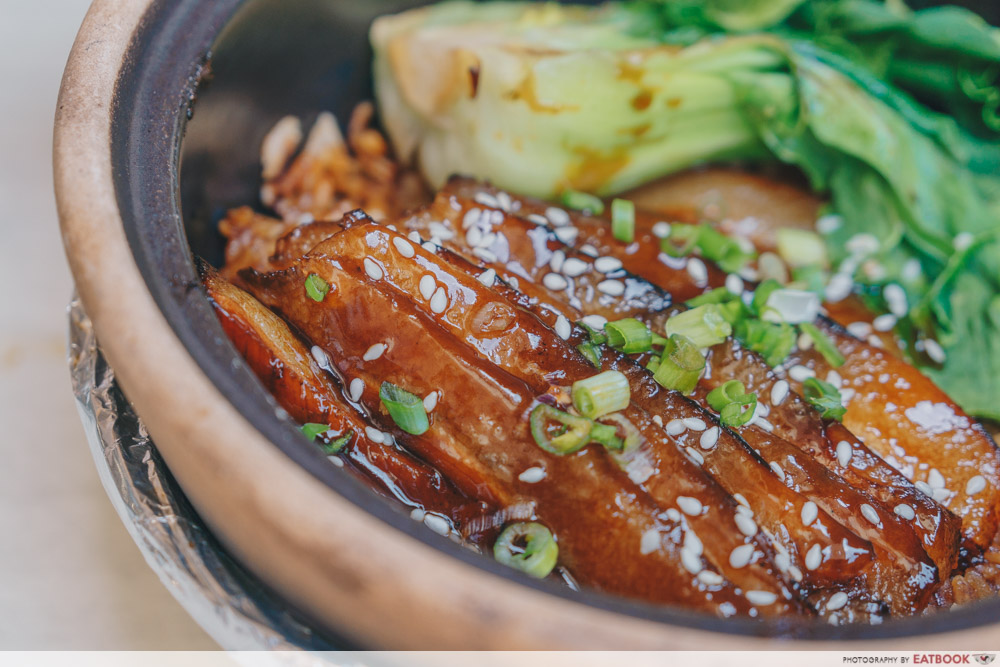 The slivers of pork jowl melted in my mouth – and this is no exaggeration. Each slice was packed full of porky flavours, which were further elevated when paired with the sweet teriyaki sauce.
Giving the pot of rice a good mix, you will first be engulfed by its aromatic essences, and later greeted by the sight of beautifully browned rice grains. Drizzled with a unique family-owned recipe of red bean dark soya sauce, the rice was utterly delicious, with an extra complexity from the burnt bits. Made from garlic, sesame oil, fish sauce, and of course red bean, the sauce is intense and umamilicious. Don't bother Googling for a recipe online – you won't find it.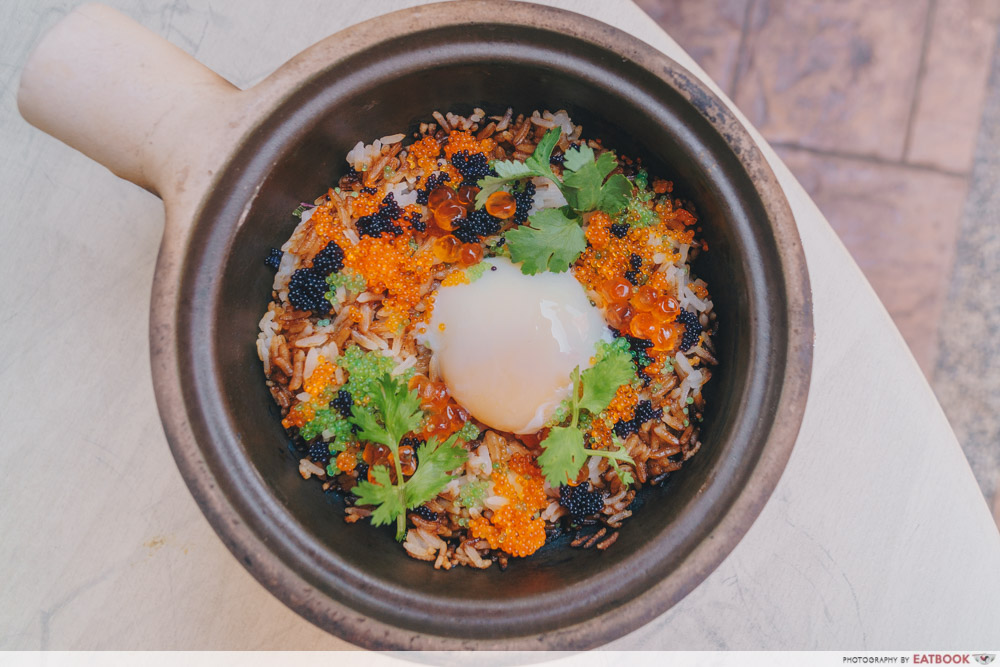 Onsen Egg with Ikura and Tobiko ($11) is an interesting one, which fuses Asian claypot techniques with Japanese flavours. Immaculately decorated with ikura, orange, green, and black tobiko, this claypot rice features a joyful team of ingredients that will lift your spirits with the kaleidoscope of colours.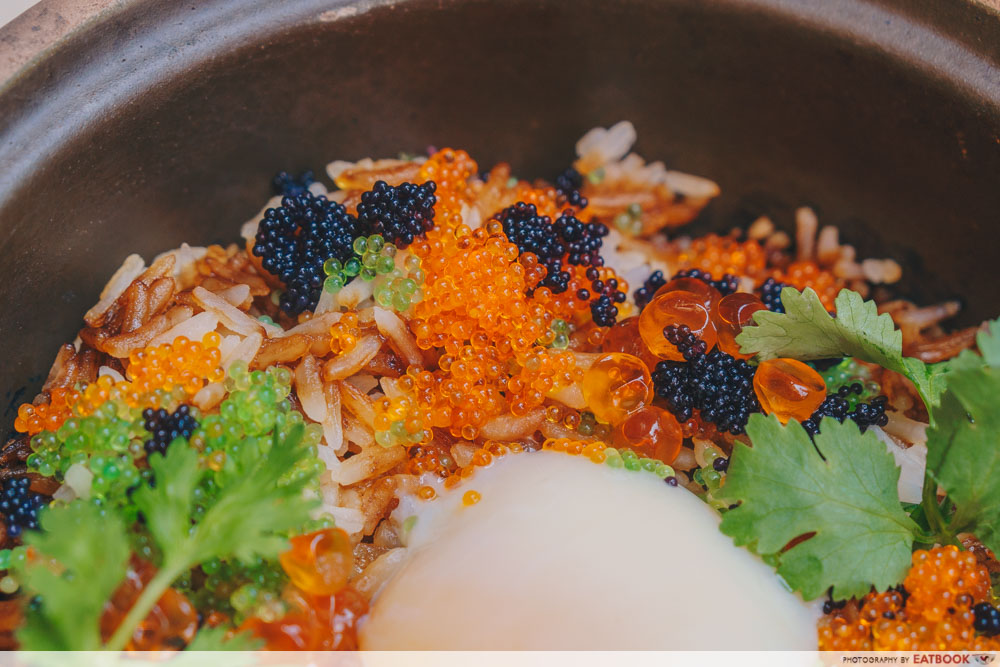 Pro tip: give the rice a good mix as soon as it arrives, lest you want your roe to cook and lose its pop. The rice absorbs not only the savoury red bean soya sauce, but also the oil from the fish roe. I suggest holding your horses and going light on the sauce, or the flavour from the fish roe might disappear into the dark abyss.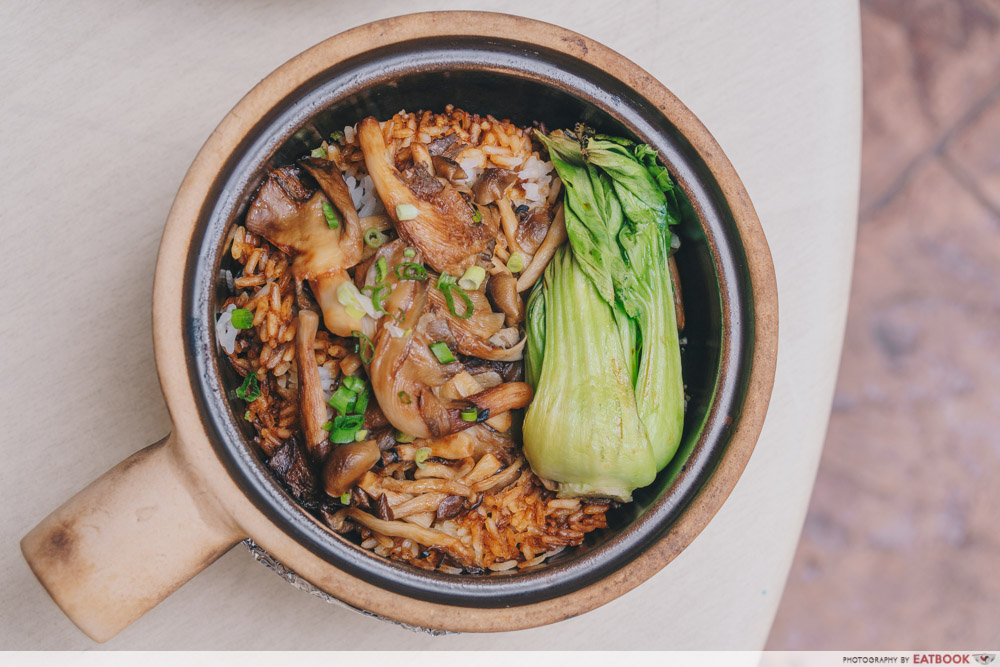 There is also a vegetarian option on the menu. Assorted Mushroom with Baby Bok Choy ($7) uses two kinds of mushroom: oyster mushrooms and shimeji mushrooms. It was as if the mushrooms were sauteed in butter before being added atop. You get a warm mouthful of moist rice, followed by a strong earthy fragrance from the mushrooms.
The meal is good on its own, but if like me, you can't do without meat, order it with a side of Pork Jowl ($8) that comes with 30 whooping slices, and an add-on of Onsen Egg ($1.50).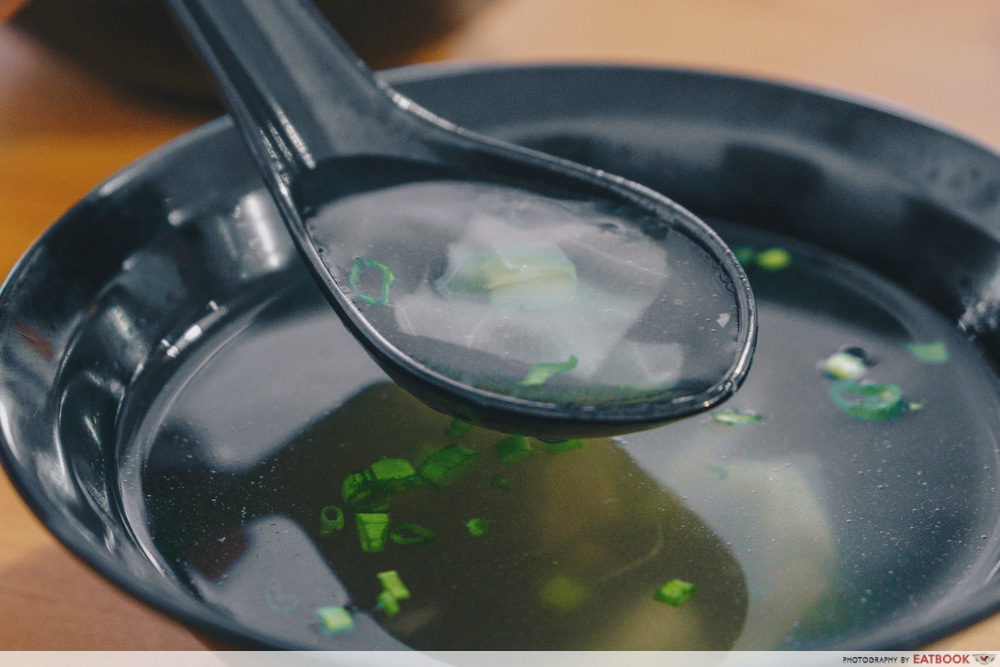 Each claypot also comes with a small complimentary bowl of sweet and light-tasting dashi and cabbage soup, to help wash the rich flavours from the rice down.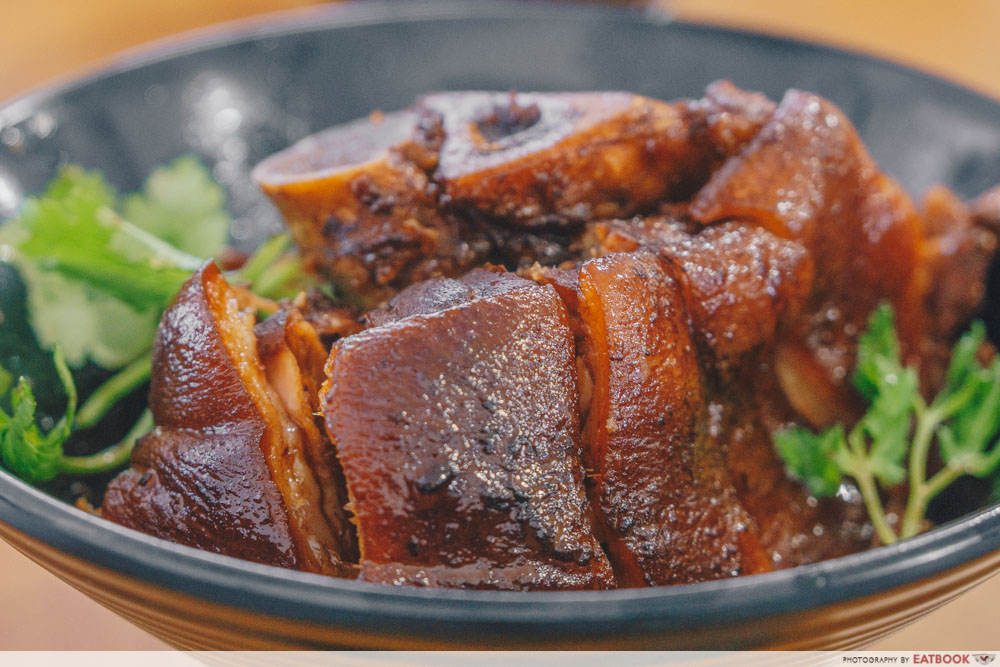 Fans will also find their Mr Lorbak favourites such as the Signature Lorbak ($9) here at House Of Happiness. Braised in a stock with a blend of more than 15 herbs and spices, the chunk of meat is fall-off-the-bone tender and as deep and rich as a lor bak can be.
Ambience at House Of Happiness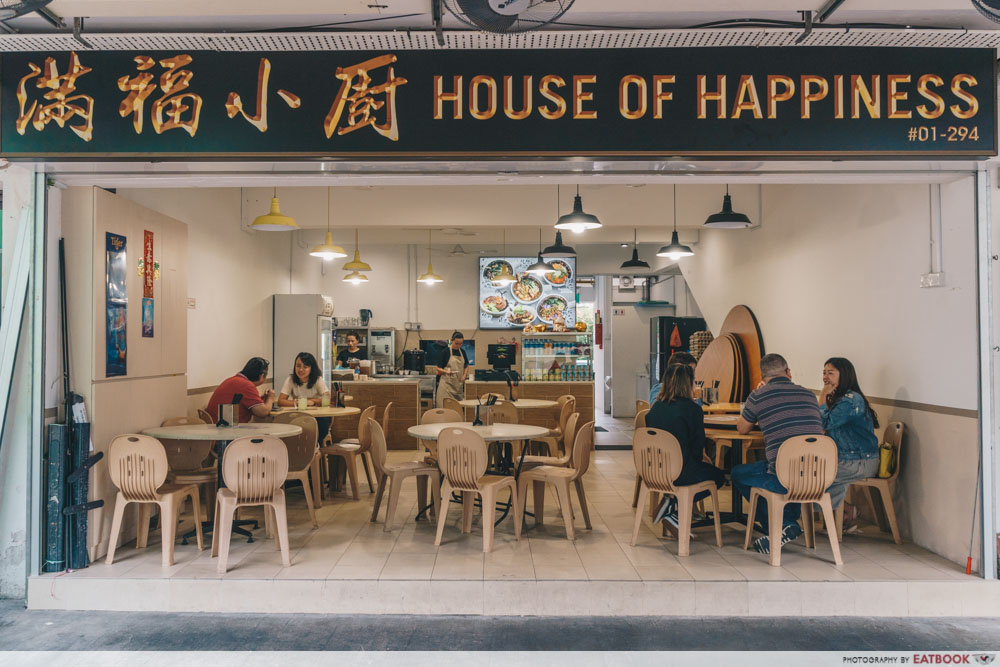 Tucked away at the row of shops beside Bedok Marketplace, House Of Happiness might look like any other zi char store to the unassuming eye. The eatery is an open-air one, but the temperature indoors was significantly cooler than outdoors. You will not be drenched in sweat by the time you're done scraping the burnt rice at the bottom of your claypot.
The verdict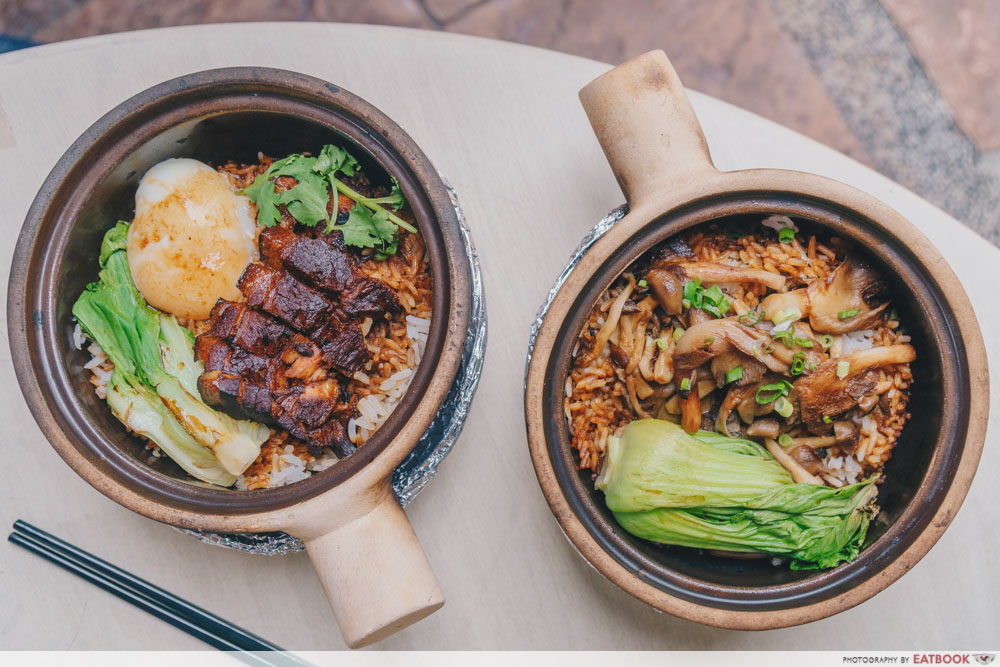 Easties have another reason to celebrate, with House Of Happiness as the new addition on their list of good food. The claypot dishes here can't go wrong as your default orders when in the area. The usual waiting time for claypot rice has also been significantly shortened, with their parboiling techniques that did not affect taste or texture. They will have you vowing to return, even if you don't reside in the area.
Address: 294 Bedok Road, Singapore 469450
Opening hours: Wed-Mon 12pm to 10pm
Tel: 6241 2648
House Of Happiness is not a halal eatery.
Photos taken by Ho Jing Yi.
This was a media tasting at House Of Happiness.
Summary
Pros
– Well-flavoured dishes
– Extensive menu
– Value for money
– Interesting claypot variations
Cons
– Located a distance from the MRT station
Recommended dishes: Teriyaki Pork Jowl ($7), Onsen Egg with Ikura and Tobiko ($11), Signature Lorbak ($9)
Opening hours: Wed-Mon 12pm to 10pm
Address: 294 Bedok Road, Singapore 469450