---
Affordable food at The Bedok Marketplace
---
For the longest time, I have marked The Burning Oak from The Bedok Marketplace down as one of the many food stalls I have to return to. However, I never found it in me to drag myself all the way to Simpang Bedok just for it – especially since my family members are not big fans of Japanese food. After hearing about the rest of the food found in the modern hawker centre, however, I finally have more than enough reasons to make the trip there. From zi char to wanton noodles and handmade bao, here are some stalls from The Bedok Marketplace to check out when you are in the East!
Update (30/10/20): The Urban Smokeshack has moved. Kokoro Ramen and Sakana-ya has permanently closed.
---
1. The Burning Oak 
---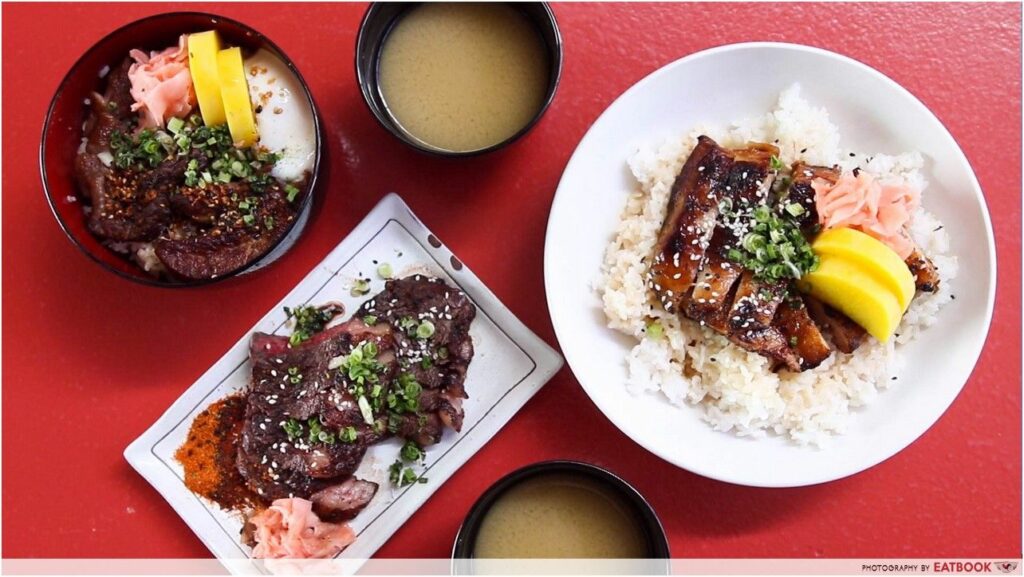 One of the first stalls that dominated The Bedok Marketplace when they opened was The Burning Oak. This stall specialises in wagyu donburi, boasting beef sourced from Australia. We tried their Foie Gras and Wagyu Bowl ($22) and Wagyu Bowl ($14) while we were there and were satisfied with every slice of flavourful and semi-fatty meat. Another dish that impressed us was the Pork Cheek Bowl ($12) that came with thick slices of juicy pork cheek served over short-grain Japanese pearl rice.
Check out our full review of The Burning Oak!
The Burning Oak Review: Wagyu And Foie Gras Dons At A Hawker Centre
Unit number: #02-16
Opening hours: Tue-Sun 11am to 2pm, 5:30pm to 9pm
Tel: 9234 7848
Website
---
2. Urban Smokeshack
---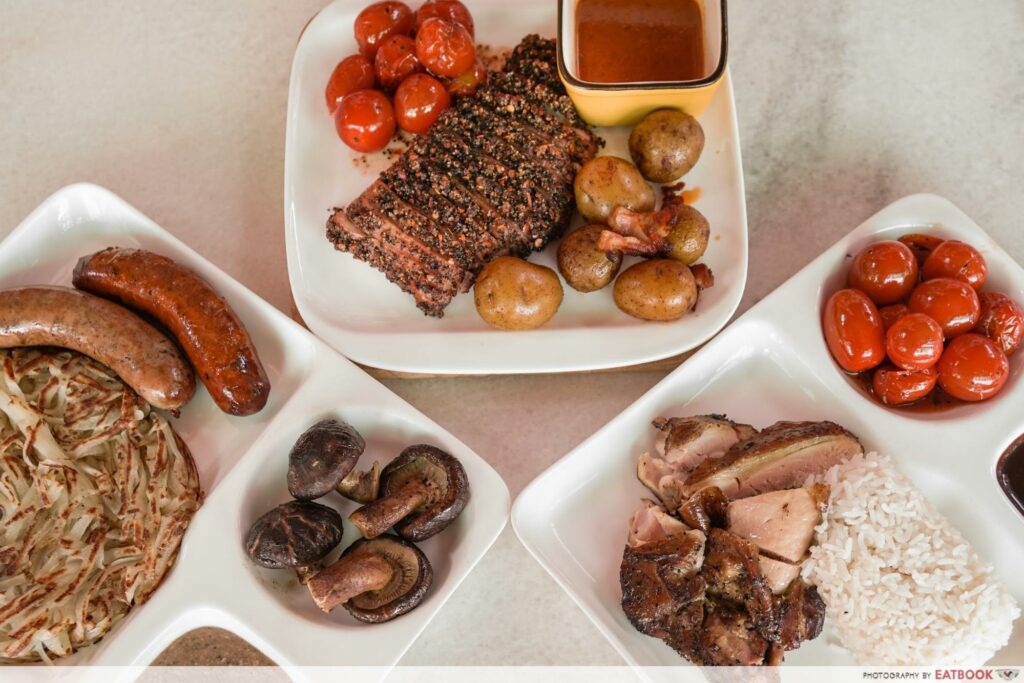 Urban Smokeshack takes the cake when it comes to atas hawker food. Though a hawker stall, they serve dishes that you'd expect in a high-end restaurant, such as Whole Duck Breast ($14). While a $14 price tag for hawker food may be a little hefty, the generous portion justifies the price and you can expect every thick slice of meat to be succulent and flavour-packed. For something more wallet-friendly, their Chicken Thigh with Buah Keluak Sauce ($5) is also a noteworthy dish!
Find out more about our experience at Urban Smokeshack!
Urban Smokeshack: Smoked Meats And Sausage Raclette Sets In A Hawker Centre
Address: 3014 Bedok Industrial Park East, Singapore 489980
Opening hours: Tue-Sun 12pm to 8:30pm
Website
---
3. The Naughty Chef 
---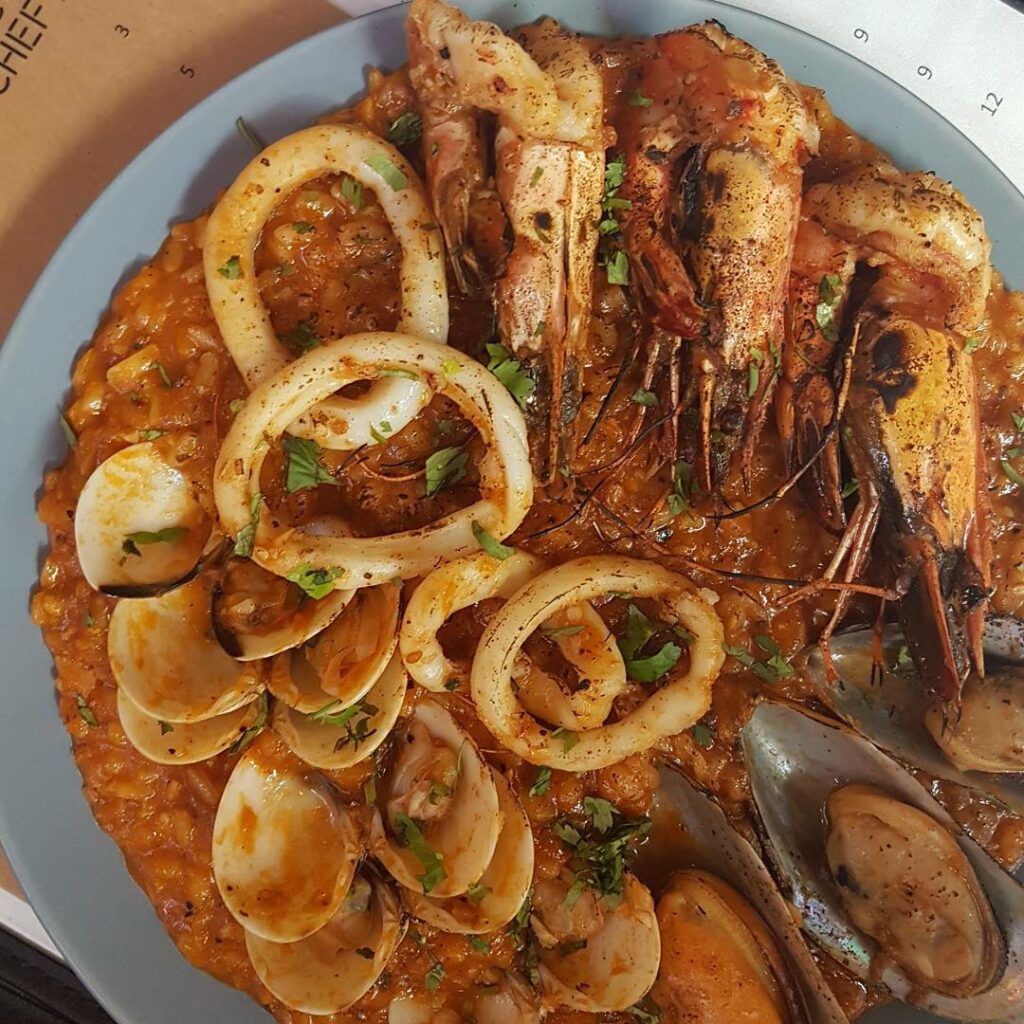 Image credit: @thenaughtychefsg
The Naughty Chef serves affordable Italian grub including roast meats, pasta, pizza, and risotto. For $12, you can get a 10-inch pizza made of squid ink, pomodoro sauce, baby octopus, and mozzarella. They also have other pizzas going for $10. One of the most popular dishes that you have to get is their Special Grilled Curry Prawn ($22), which is a sizable portion of curry risotto topped with five large grilled prawns!
Unit number: #02-14
Opening hours: Tue-Sun 12pm to 2:30pm, 5:30pm to 9:30pm
Tel: 6920 4669
Website
---
4. Liang's Wanton Noodles 
---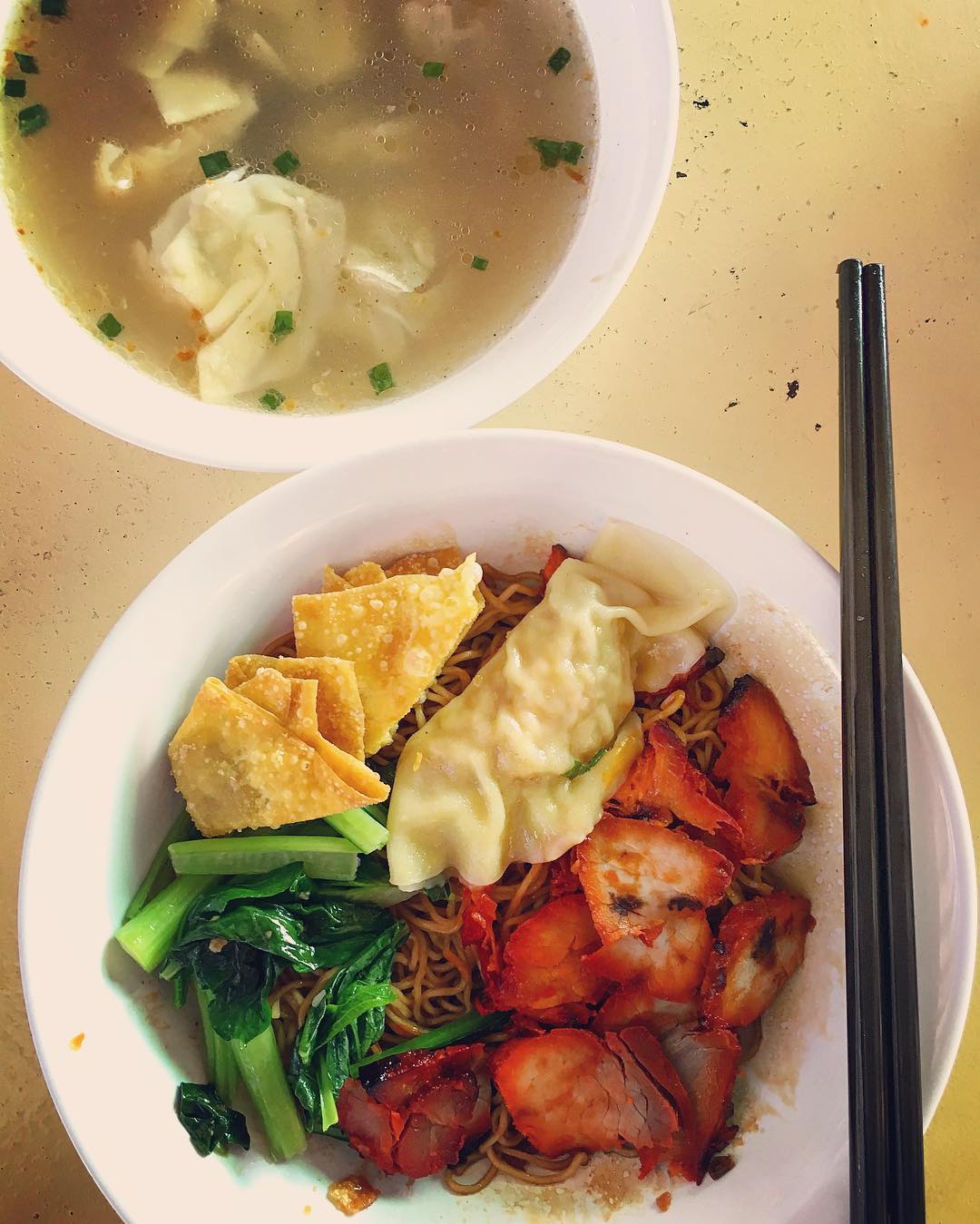 Image credit: @jon.soh
Many stalls at The Bedok Marketplace specialise in Western food but if you don't fancy pasta or pizza, head to Liang's Wanton Noodles for good ol' Wanton Mee ($4). Served with a peppery bowl of wanton soup, the chilli-tossed noodle dish impresses with its springiness and the generous amount of char siew that sits on top. Another popular option from Liang's Wanton Noodles is their Signature Chicken Feet Noodles ($4) that comprises noodles, braised chicken feet, and braised mushroom. For those who prefer your noodles sweet and spicy instead of savoury, you can go for their Wanton Mee and have Chicken Feet ($3) as a side!
Unit number: #02-07
Opening hours: Tue-Sun 11am to 2:30pm, 5 to 10pm
Tel: 8407 8042
---
5. The Chop Chop Selections 
---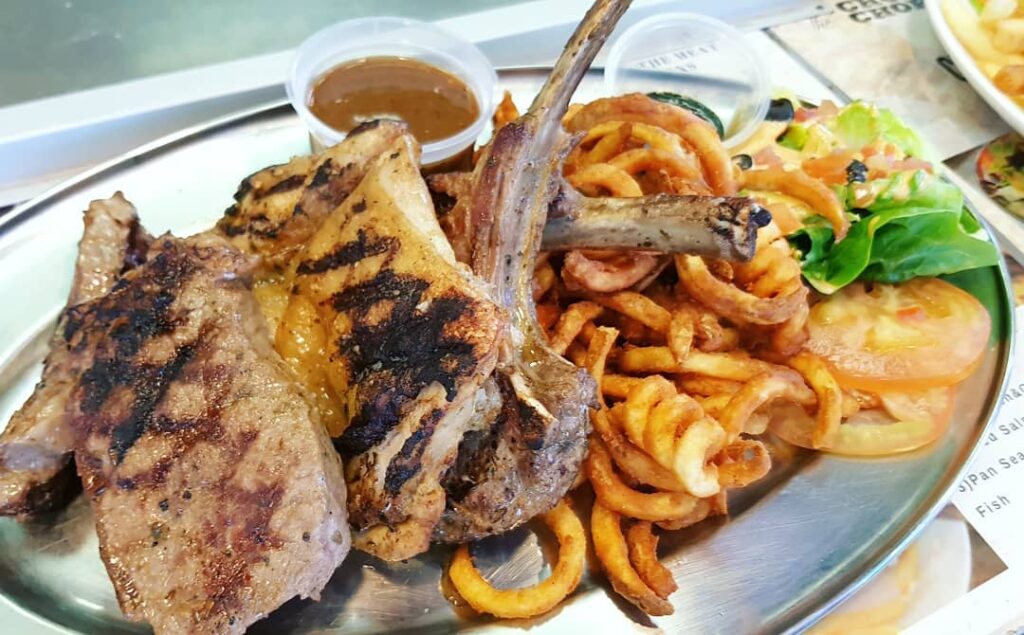 Image credit: @thechopchopselections
When looking for something to share with your group of friends, a good option would be The Chop Chop Premium Meat Platter ($42) from The Chop Chop Selections. This platter of grilled meat comprises short ribs, two chicken chops, two lamb racks, and tons of curly fries. Only available during lunchtime, they also whip up dishes such as Fish and Chips ($9.90) and Mee Goreng Pasta ($10)! For something to munch on with your beer buddy, go for Calamari ($7.90) or the Crsipy Mid-Wings ($7.50).
Unit number: #02-01
Opening hours: Tue-Sun 12pm to 9:45pm
Tel: 9168 0300
Website
---
6. Kokoro Ramen 
---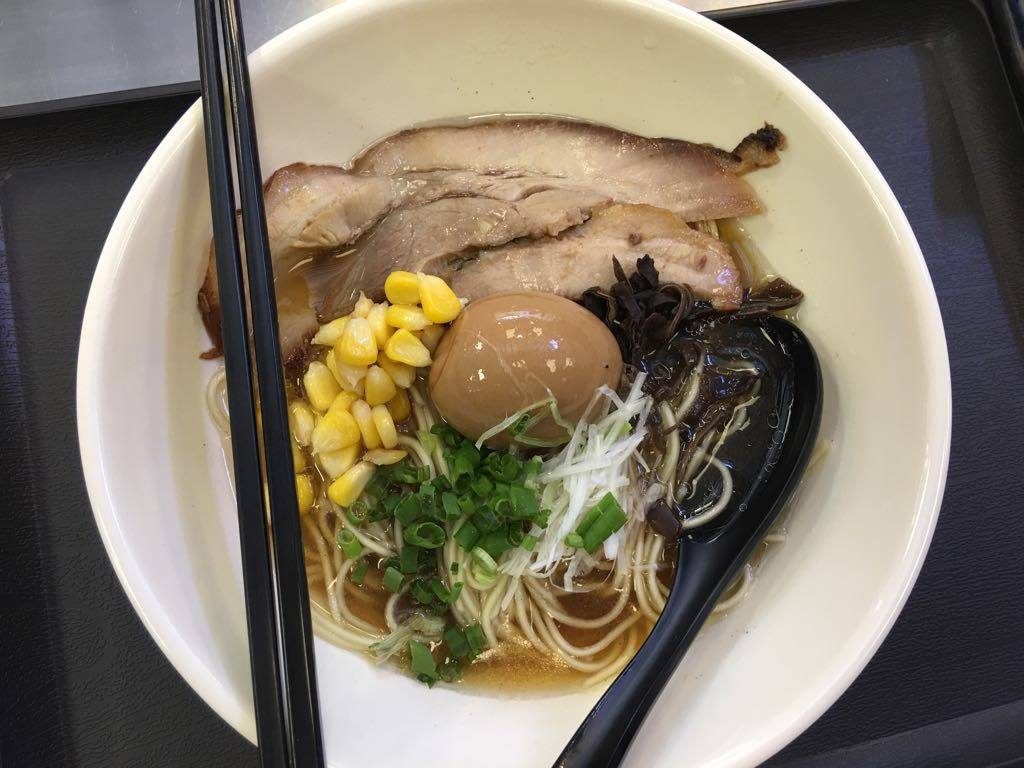 Image credit: Kokoro Ramen Pte. Ltd.'s Facebook Page
Kokoro Ramen can fix your ramen cravings without creating a hole in your wallet. With a menu that comprises a small variety of ramen, their signature dish is Shoyu Ramen ($8). Swimming in a light broth that has been simmered for over eight hours, ingredients that you can find include handmade ramen, pork slices, egg, and corn. They also serve Spicy Miso Ramen ($8), Miso Ramen ($8), and Tonkotsu Ramen ($8) if you prefer stronger flavours.
Unit number: #02-22
Opening hours: Tue-Thur 11:30am to 9:30pm, Fri 11:30am to 10:30pm. Sat 11am to 10:30pm, Sun 1:30pm to 9:30pm
Tel: 8182 2015
Website
---
7. Sakana-Ya
---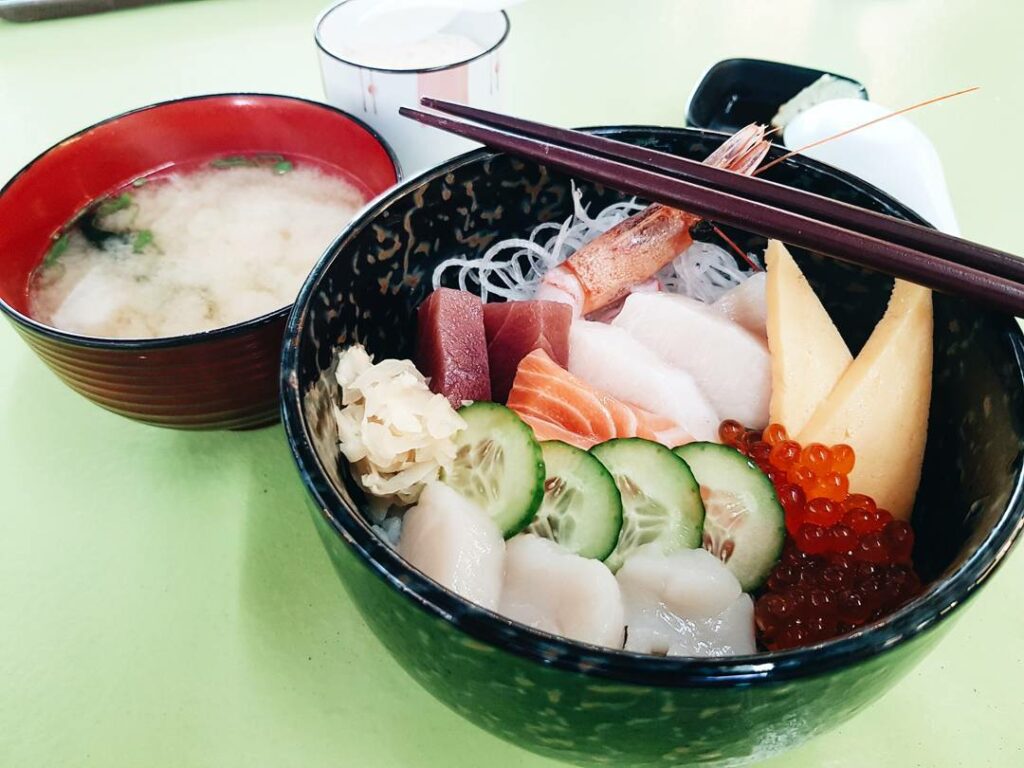 Image credit: @ahkenblossom
Another stall that serves Japanese food is Sakana-Ya. This is probably one of the few hawker stalls where you can find build-your-own chirashi don. Their Shirashi ($18) comes with three different types of fish, two sides, and two add-ons. Sashimi that you can choose from includes salmon, aburi tuna, and tuna, while sides include scallop, tobiko, uni, and ikura. For add-ons, you can choose from items such as tobiko salad, kuri (Japanese chestnut) and tamago, and chuka wakame (seaweed). The stall also serves hot meals such as Ten Don ($12) and Yaki Wagyu Don ($16). The best thing is that every don comes with either an onsen egg or chawanmushi!
Unit number: #02-09
Opening hours: Tue-Fri 11:45am to 2pm, 5:45pm to 10pm, Sat-Sun 11:45am to 2:30pm, 5:45pm to 10pm
Tel: 9105 0633
Website
---
8. Sedap V Seafood 
---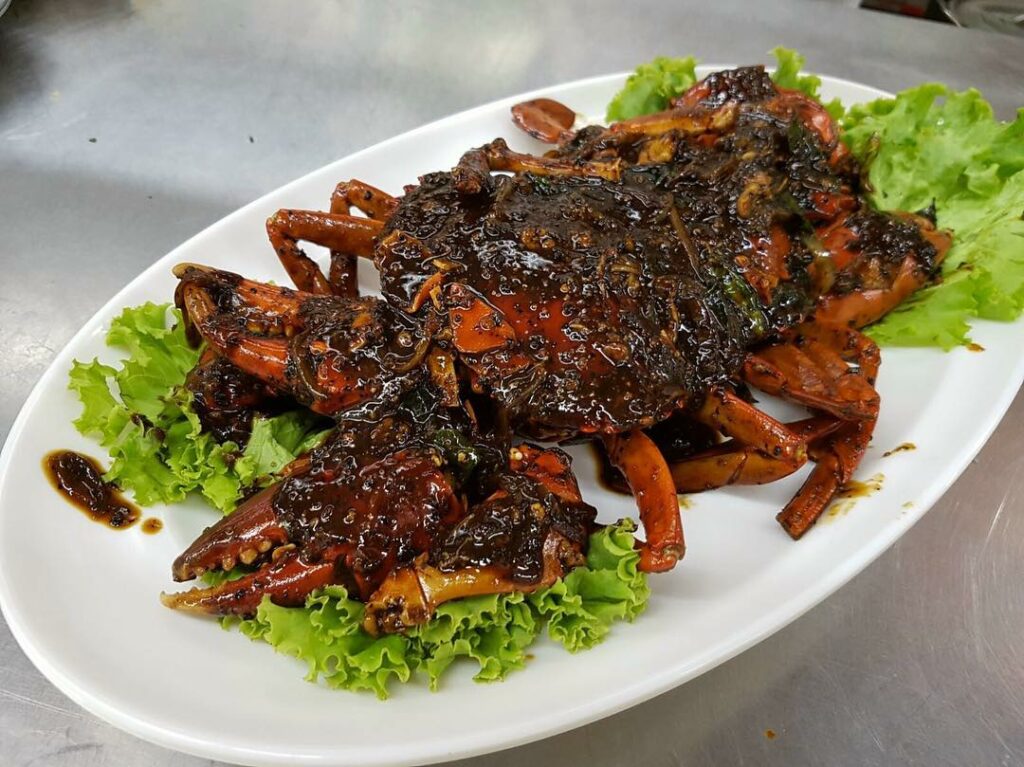 Image credit: @thebedokmarketplace
With two other outlets in Ang Mo Kio and Aljunied, Sedap V Seafood occupies two stalls at one of the corners of The Bedok Marketplace. Like many zi char stalls, Sedap V Seafood has an extensive menu that may make deciding on what to eat difficult. Try their Signature Seafood White Bee Hoon ($13) that is good to be shared between two. You can expect this plate of noodles to come brimming with ingredients such as crayfish, prawns, squid, and la la! Also to be shared with a small group, some other popular items on their menu are Black Pepper Crab ($48 for two crabs) and Assam Fish Head ($28).
Unit number: 02-21/32
Opening hours: Daily 10am to 10pm
Tel: 8838 8787
Website
---
9. Teochew Handmade Pau 
---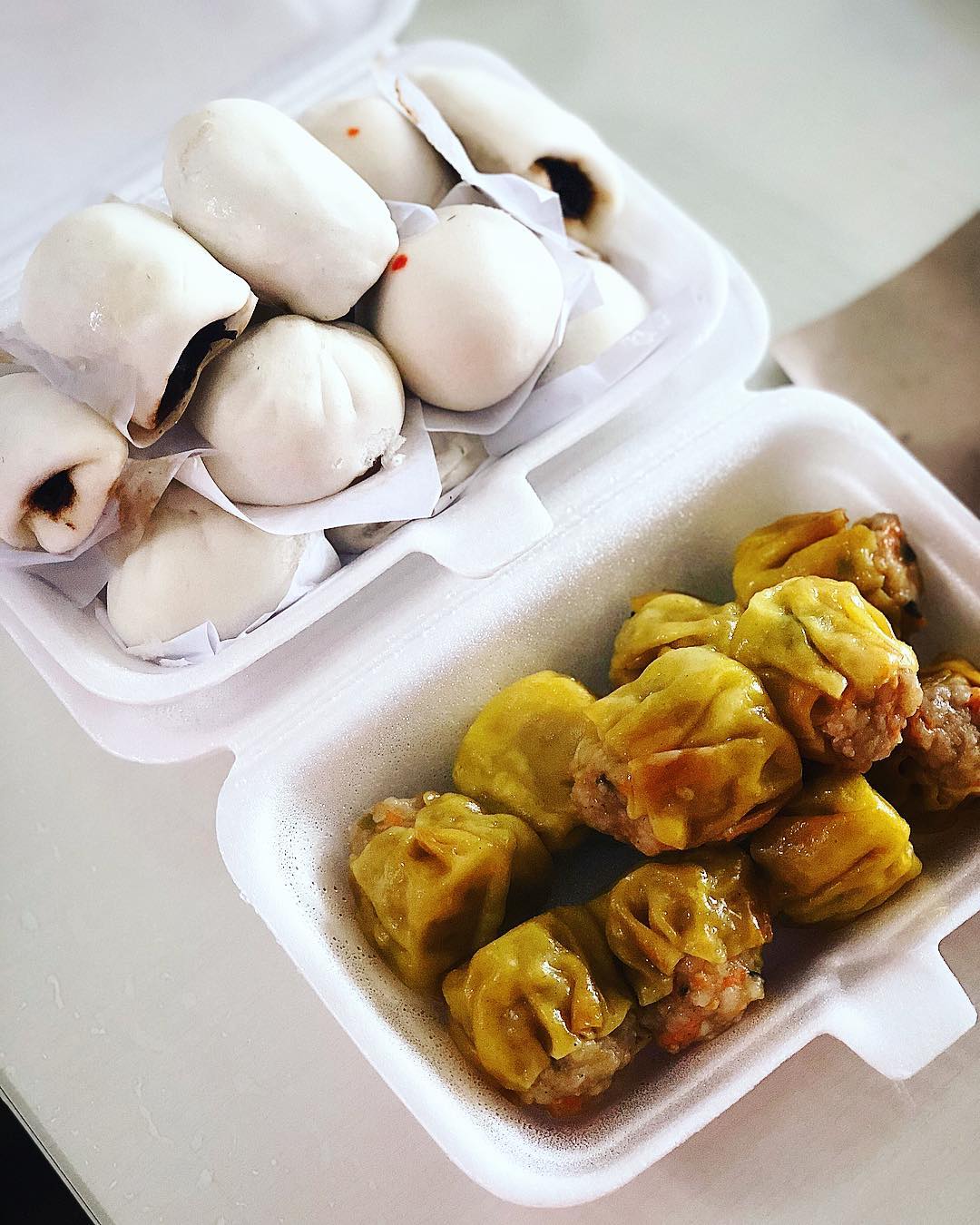 Image credit: @jennytaneats
Though not new to the food scene, Teochew Handmade Pau is one of the newer additions to The Bedok Marketplace and only opened their stall there in June. Here, you can find traditional bao flavours such as Red Bean, Lotus, BBQ Pork, Braised Pork, and their Longevity Bun. If you are just looking for a small bite to satisfy your itchy mouth, their Small Pau only costs $0.80. They also sell the Small Pau in sets of five at $3.80 if you can't help but want to try all the different flavours. For something bigger and more filling, go for their Big Pau ($1.60)!
Unit number: #02-25
Opening hours: Mon-Fri 10am to 8pm, Sat-Sun 9am to 8pm
Tel: 6254 2053
Website
---
10. Mr Kneady's
---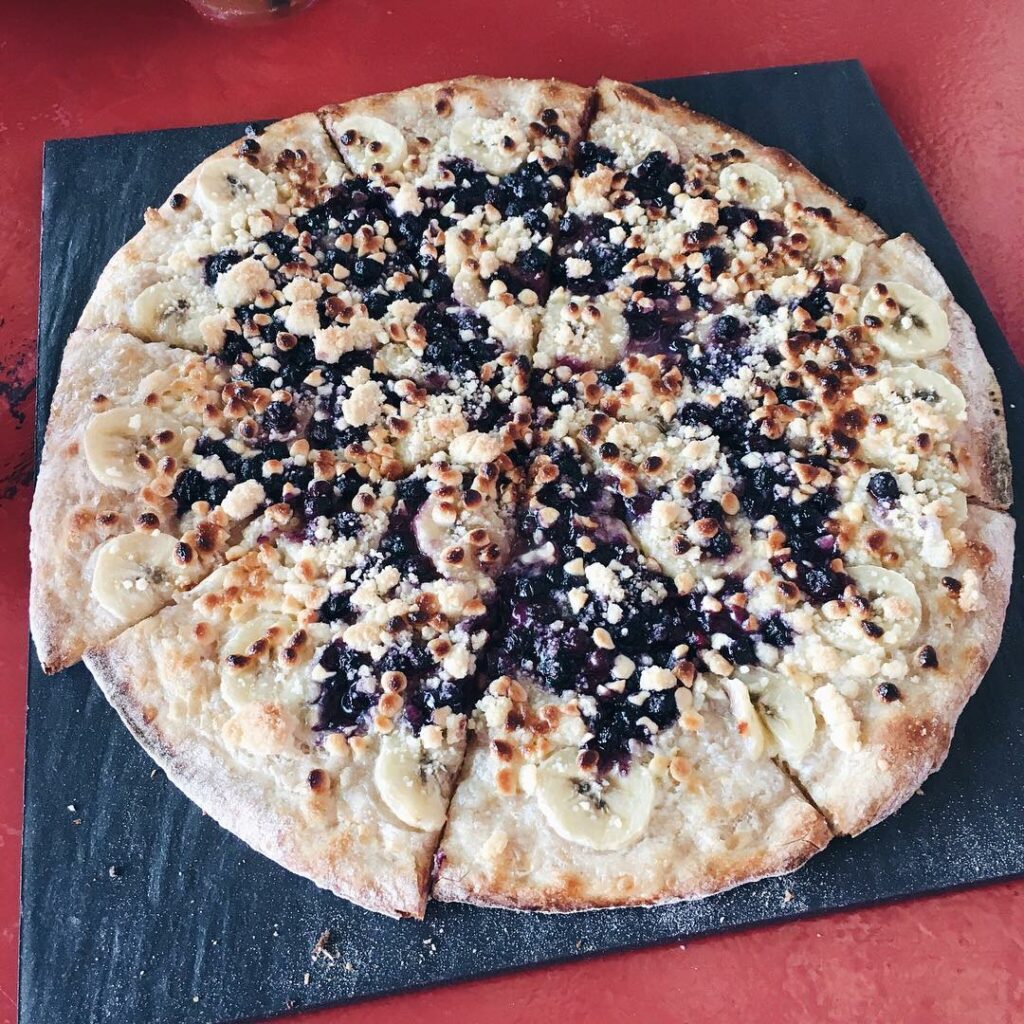 Image credit: @isitcarissa
Mr Kneady's serves sourdough pizza and bread. A popular item is their Space Oddity ($12), which is made of tomato sauce, pepperoni, salami and mozzarella. End your meal with Art of War ($12). This sweet pizza comprises bananas, blueberries, and caramelised white chocolate chips. Even though the ingredients make this dish sound like a recipe for diabetes, the flavours were surprisingly balanced. The slightly hardened caramelised chocolate chips, combined with the chewy sourdough crust and soft bananas, created a harmonious blend of textures that led to a party in my mouth. To bring home for the following day's breakfast, Mr Kneady's also offers sourdough bread with variations such as Whole Wheat ($3 for 250g), Walnut ($4 for 350g), and Cranberry Turmeric ($3.50 for 250g)!
Unit no: #02-24
Opening hours: Tue-Sun 11am to 9:30pm
Website
---
Modern gems at The Bedok Marketplace
---
Modern and hipster food places are often dissed for serving food that are Instagrammable but poor in quality. Before you cast this stereotype in stone, let these food stalls from The Bedok Marketplace change your mind! For more good grub in the East, check out Terang Bulan, which is found opposite The Bedok Marketplace, or The Talking Cow.
5 Bedok North Food Places To Fuel Up At After Your Bedok Reservoir Run
Address: 348 Bedok Road, Level 2, Singapore 469560
Nearest MRT Station: Tanah Merah (EW4)
---
Featured image adapted from Instagram user @ahkenblossom's post.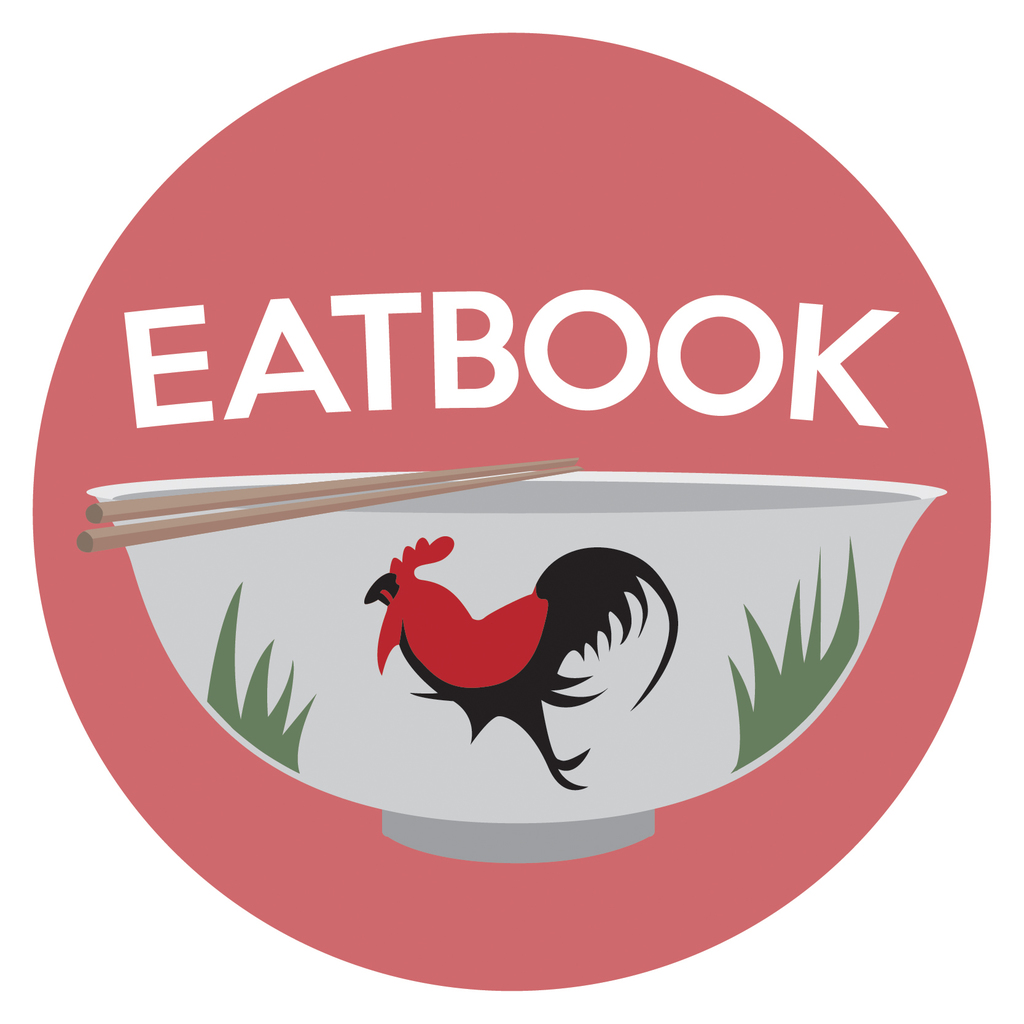 Drop us your email so you won't miss the latest news.