Giant meat platters and handmade pasta at Noods and Meat
Update: Noods And Meat has relocated to 8 Purvis Street, Singapore 188587.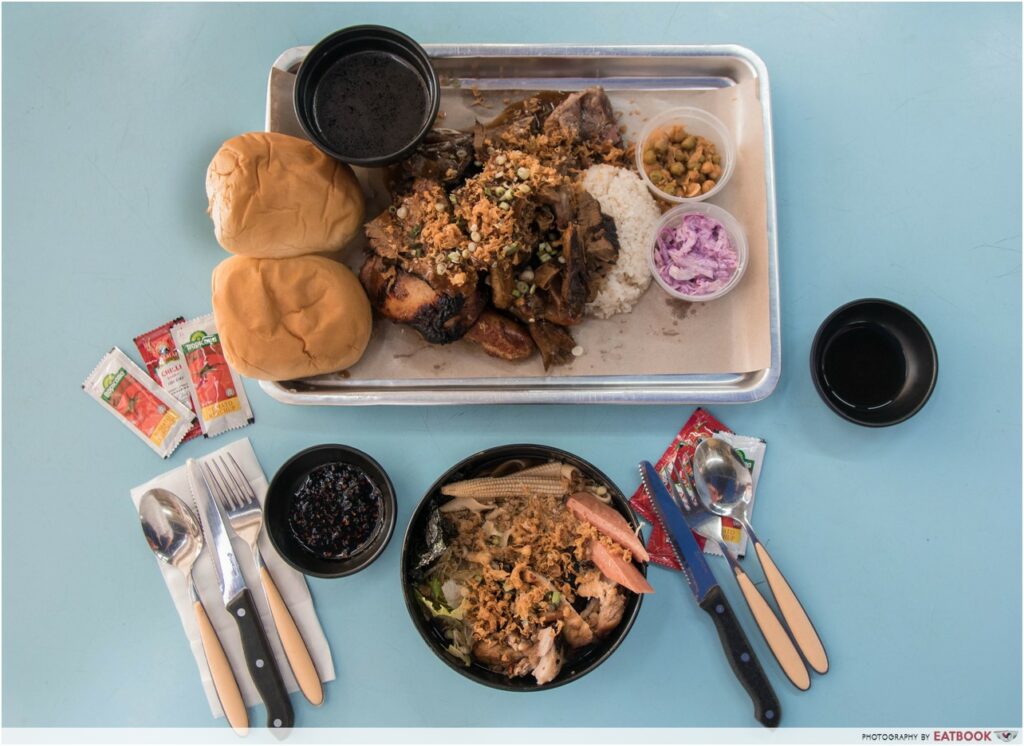 Despite knowing my low-maintenance best friend for seven years, I have never been to his Yishun hood. There just wasn't any reason for me to go there, as he always met me at Whampoa, where I live, for our meals. Perhaps he doesn't want me to travel so far, although something tells me it's because he is just as clueless as I am about any worthy food gems in the area. Nonetheless, I constantly feel bad about making him travel down, so I began my search for a place to eat in Yishun.
Coming across Noods and Meat was like a blessing, as it fits our preferences pretty well; it is affordable, has meat, and boasts substantial portions. Its meat selection looked so enticing, along with their house-made pasta. But what made me start my 90-minute journey to Yishun was the fact that they smoke their own meat in-house with almond wood!
Food at Noods and Meat
With excitement bubbling inside me, the long bus ride passed by in a blink of an eye. After a 15-minute wait, the Wokey Platter ($29.90), which consisted of one chicken chop, 100g of Texas beef brisket, 120g of chicken sausage, 120g of lamb chop, one duck confit, coleslaw, two buns and bean stew, was laid before me. A smoky aroma entered my nose and my initial thoughts on how dry the platter looked vanished.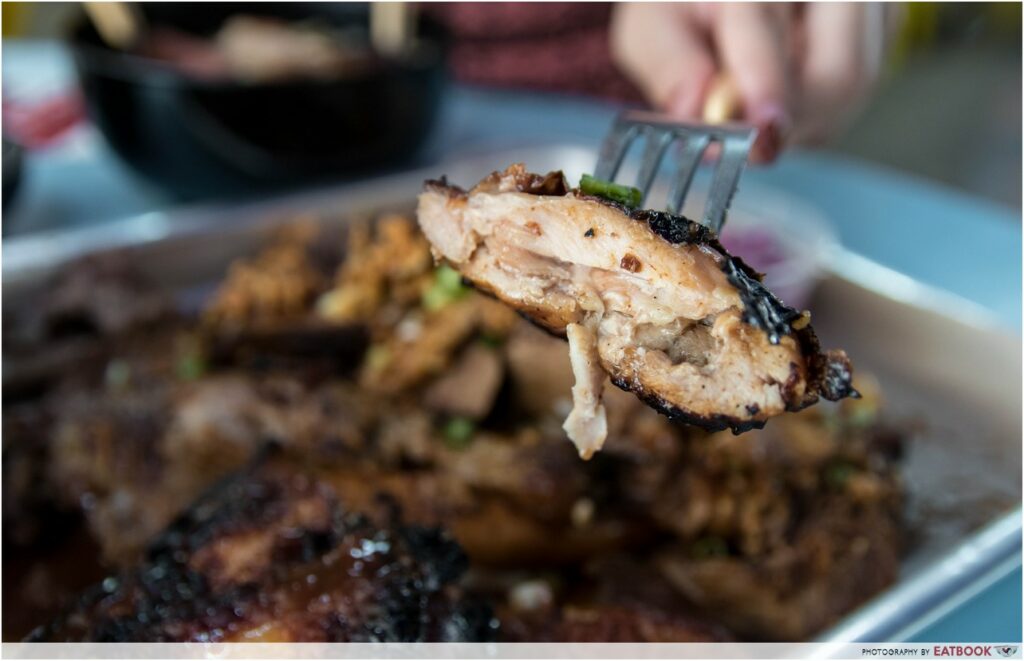 We dug into the chicken chop first. It looked more charred than it should be. However, underneath all that chao dah (burnt) skin, was tender and moist chicken. The smokiness of the meat pleasantly lingered at the back of my throat. Enhancing the flavour of the chicken was their house-made sauce – I couldn't help but go back for seconds! I wish they offered more sauce, as we barely had enough for all the meats.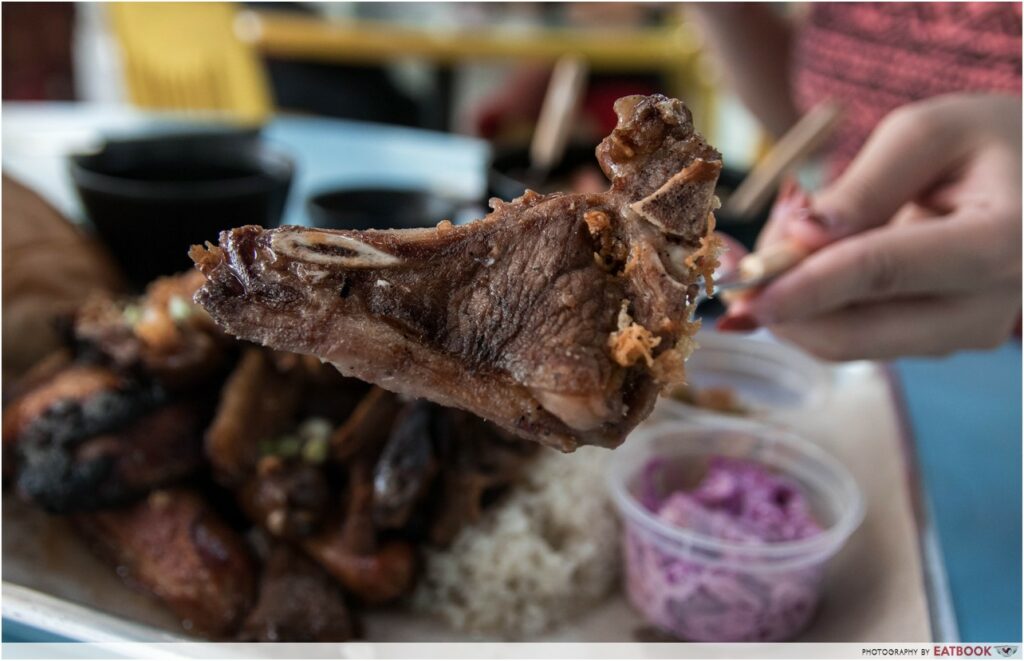 It's been years since I've eaten lamb for the mere reason that I have experienced one too many gamey lamb chops. And this lamb chop reminded me again why I dislike lamb. The small pieces of meat were tough and chewy. And even though the sauce drizzled on the lamb was tasty, it was not enough to take away the strong taste.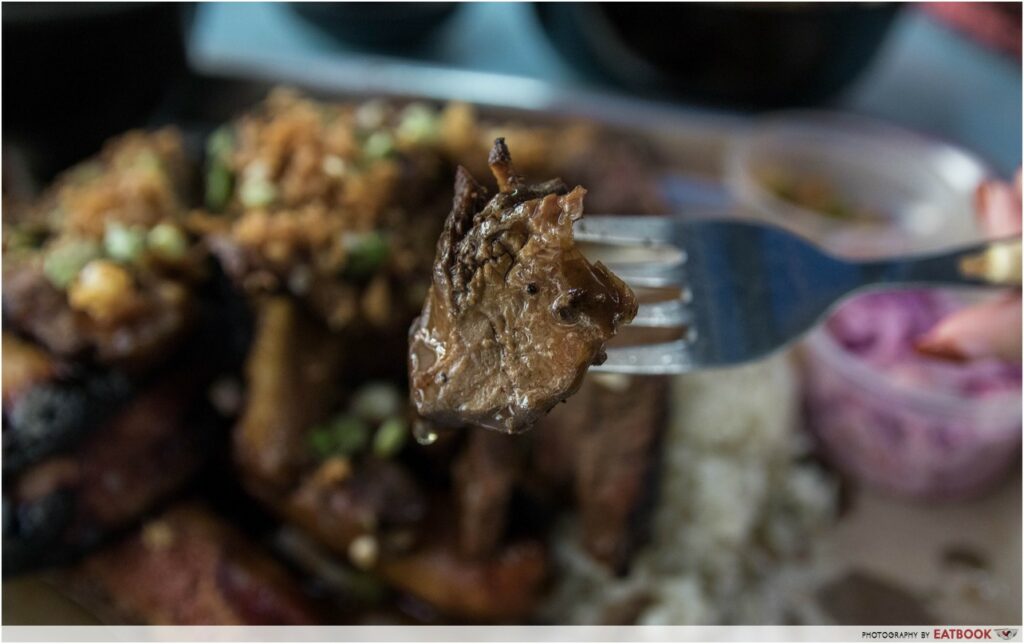 The Texas beef brisket was a let down too. Some parts were so tough that my jaws ached from chewing. Plus, the softer bits were mainly fats, making each piece jelak.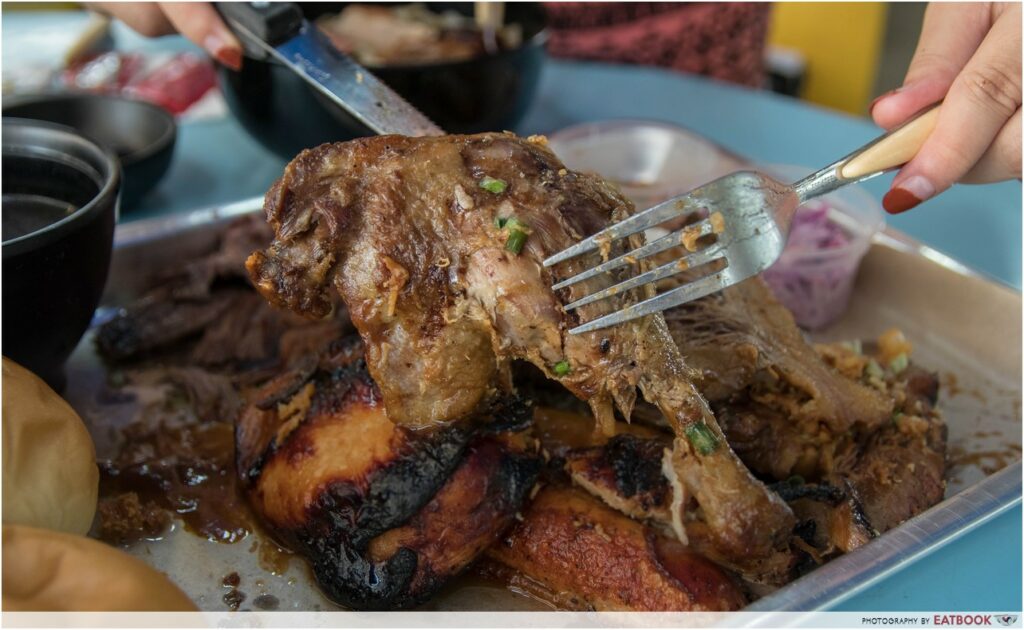 I had one of the best duck confit dishes during my trip to Indonesia last December and Noods and Meat's duck leg confit was slightly comparable to it in terms of taste. This was thanks to its accompanying sauce. Unfortunately, the texture of the duck pulled the dish down greatly. It took great effort to pull the duck meat apart from the bone and when it came off, it wasn't stringy or juicy.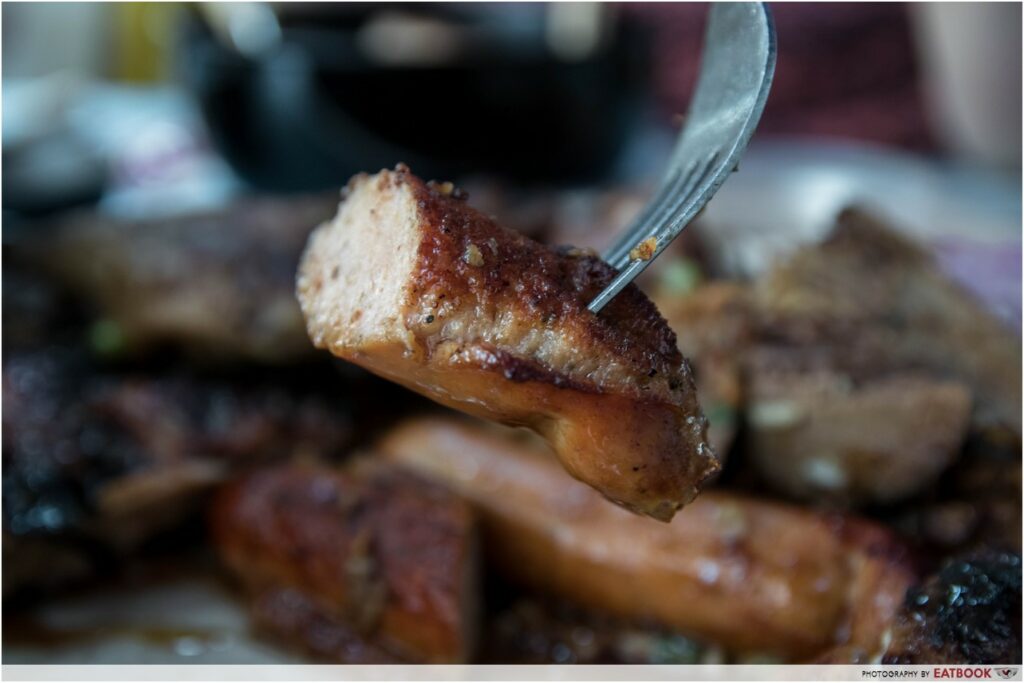 I left the chicken sausage for the last and luckily, it was the right choice. I liked the woody aftertaste of the firm sausage. The robust smokiness of the sausage awakened my palate, and it helped take away the oily aftertaste from the beef brisket and lamb.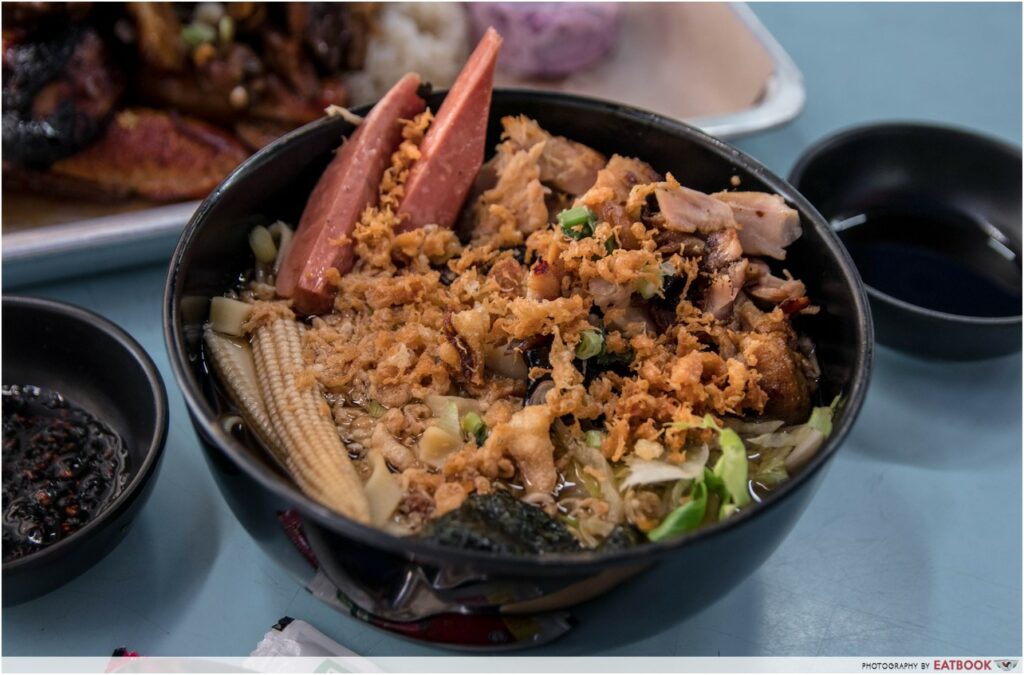 After the disappointing meat platter, I wasn't expecting much from the bowl of pasta I ordered – YOLO ($10.90). Noods and Meat proudly claims that their noodles are handmade, and the broth used here is supposedly boiled for 16 hours.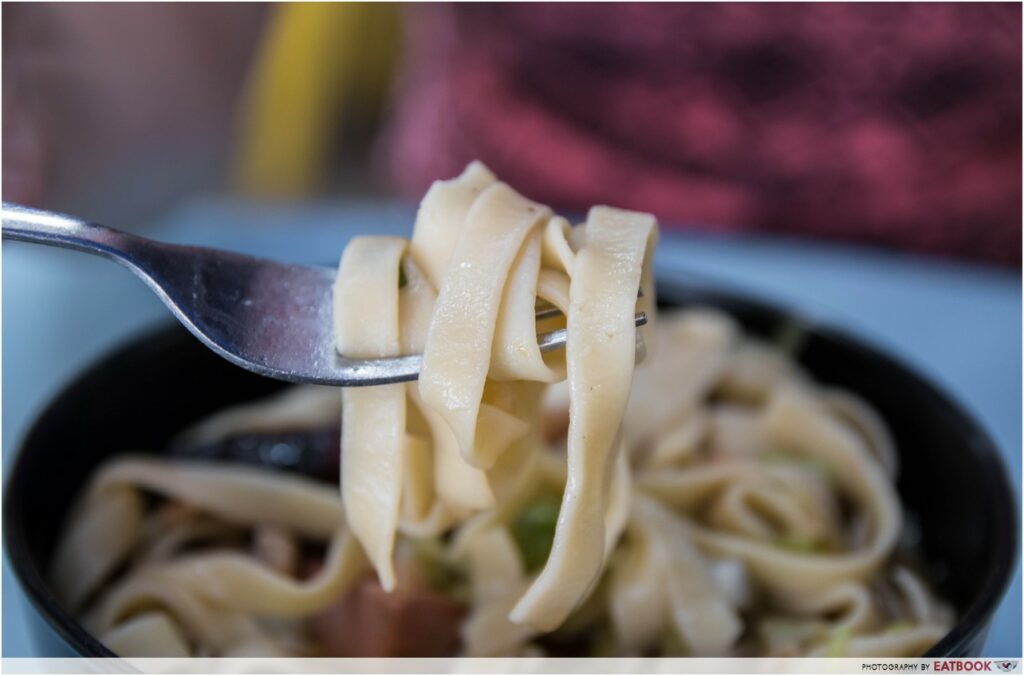 Biting into the pasta made me appreciate all the pastas I previously thought were bad. The pasta was doughy – far from al dente – and flimsy; I could barely twirl it up. Disheartened, I tried the soup and regretted it immediately. The broth tasted as if vegetables took a long bath in it and didn't leave.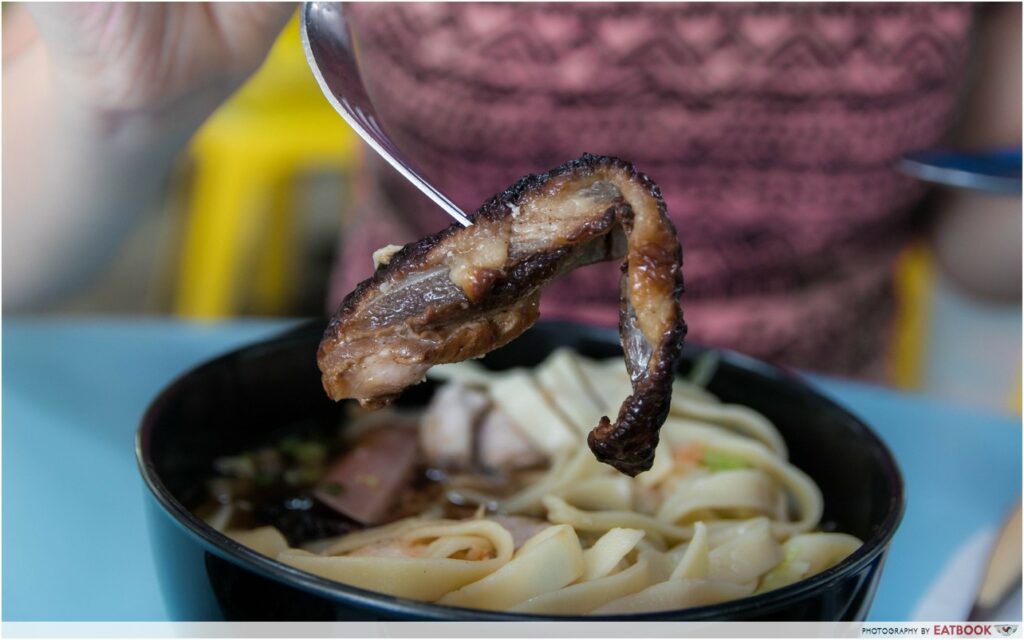 I wasn't expecting the chicken to let me down, as it fared well in the Wokey Platter. Sadly, the chicken here was tough and dry – the complete opposite of what I tasted before.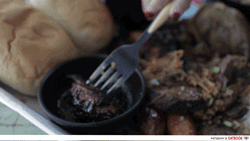 While most of the dishes were letdowns, Noods and Meat's sauces were on fleek. The chilli sauce, in particular, was the star of the show. Despite its dark colour, the dip was savoury with bits of chilli seeds that packed a punch of spiciness. The heat spreads slowly in your mouth, allowing you to savour the taste, before hitting you with a fiery burn.
Ambience at Noods & Meat

Tucked away in Yishun, this coffee shop is just a couple of stops away from Yishun Bus Interchange. It's pretty accessible and easy to find. Despite being at a corner of the coffee shop, spotting Noods and Meat was no issue too, due to its black signboard, which stands out from its neighbours'. 
The verdict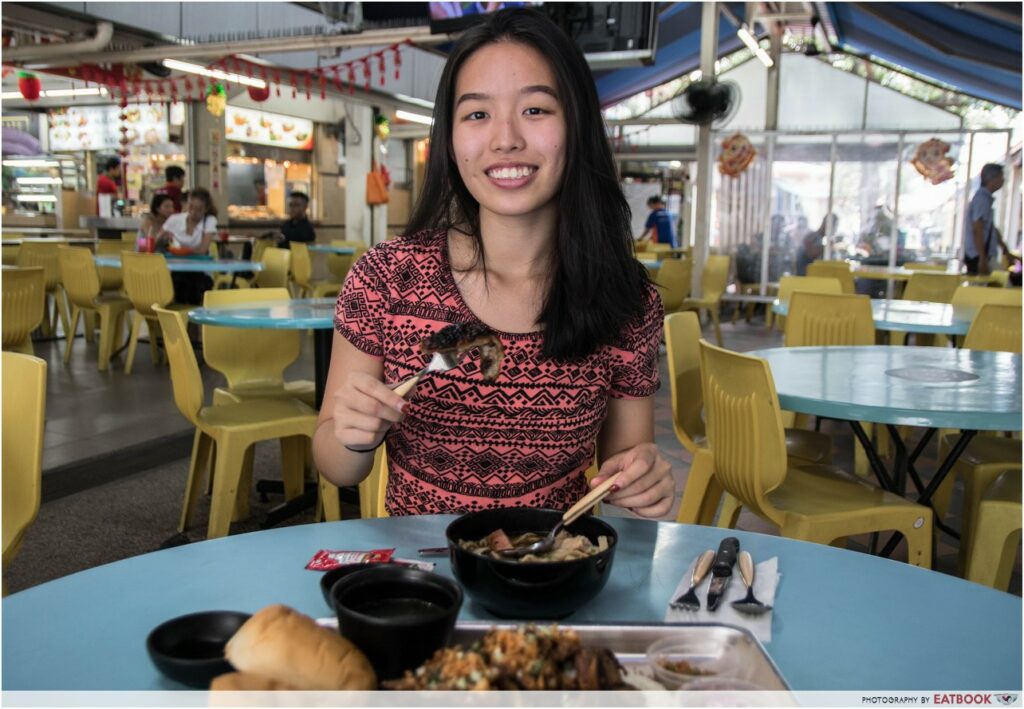 For a place that is known for meat platters and handmade pasta, Noods and Meat failed to impress me with their food. It was an unsatisfying meal; I'd much rather have my mum's chicken chop at home and save my wallet for something better. I guess I have to work harder to find a place for my best friend and I to dine at in Yishun!
For more Western food, check out The Plug Co. or these spots with giant meat platters!
Address: 8 Purvis Street, Singapore 188587
Opening hours: Tue-Sun 11am to 3pm, 6pm to 11pm
Tel: 6909 8804
Website
Noods and Meat is a Muslim-owned eatery.
This is an independent review by Eatbook.sg.
Summary
Pros
– Flavourful sauces
Cons
– Tough and dry meat
– Pasta was doughy
Operating Hours:
Tue-Sun 11am to 3pm, 6pm to 11pm
Address: 8 Purvis Street, Singapore 188587