---
Old-school hawkers selling delicious food
---
From regular train breakdowns to complaints about our National Service, there are many things that unite us as Singaporeans. But nothing really bonds us better than food – hawker food to be exact. Along with talks surrounding our fading hawker culture, we also celebrated the many young hawkers who are diving into this trade, as well as new-generation hawkers coming up with reinvented dishes to spice up the food scene.
While it is hard not to be wowed by dishes like lobster Hokkien mee and wagyu beef bowl, sometimes a good bowl of porridge or fishball noodles is all we need to satisfy the craving for comfort food. Besides supporting those with creative food inventions, the Tiger Street Food Support Fund 2017 has also chosen hawkers who are selling simple old-school hawker food as recipients of their $10,000 grant. We tried some of these hawkers' food and spoke to them about how the fund has helped their business and some of the future plans they have!
---
1. Prawn Village
---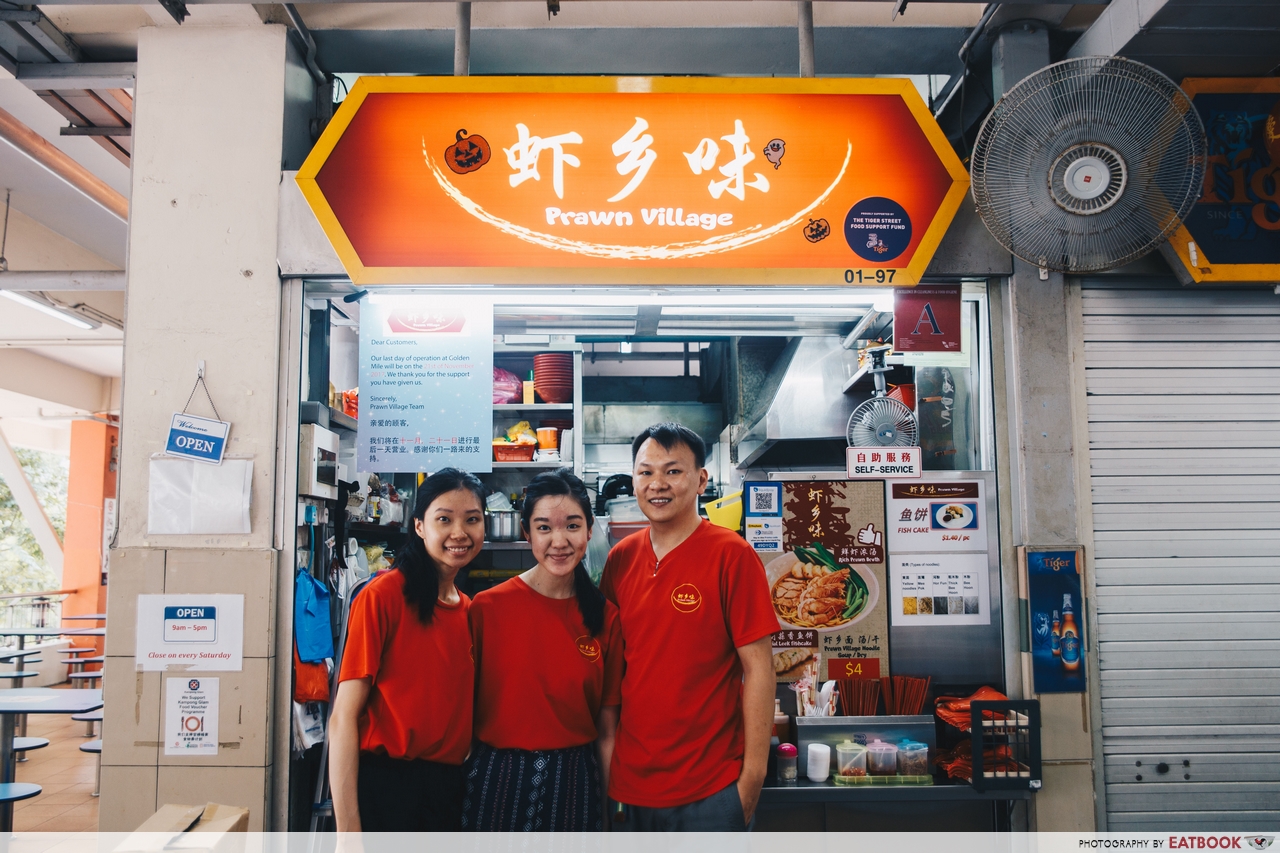 A holiday to Penang was what changed the former nurse of 16 years into a hawker and marked the beginning of Prawn Village. Blown away by a bowl of prawn noodles that he had in Penang, Anson Loo, 39, asked to learn the recipe and tested it out with his family members back home. Several trials and errors later, Anson mastered the recipe and with his own savings and the support from Tiger Beer's fund, he set up a stall at Golden Mile Food Centre last December.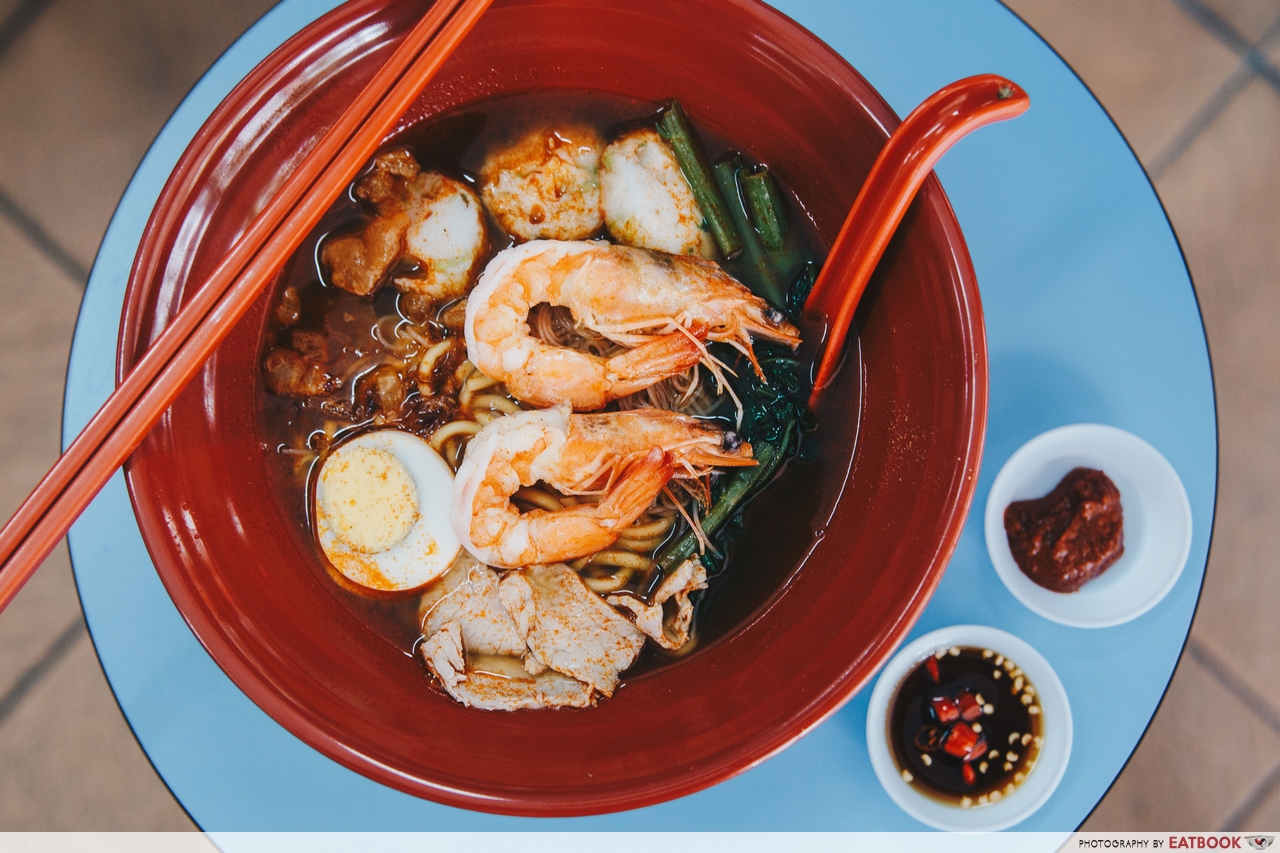 Priced at $4 per bowl, their prawn noodles come in soup and dry versions. Each bowl is served with two deshelled prawns, lean pork, vegetables, egg, and pieces of handmade fishcake.
Although Prawn Village is now drawing long queues with their richly salty and spicy broth, coming to this stage was not an overnight affair. "I was used to cooking for my family members, but cooking in large amounts here honestly scared me a little," said Anson. Till now, they are still constantly readjusting and tweaking their recipes according to customers' responses. When asked about their future plans, Anson said they aim to attain complete consistency in the quality of their broth before expanding the business.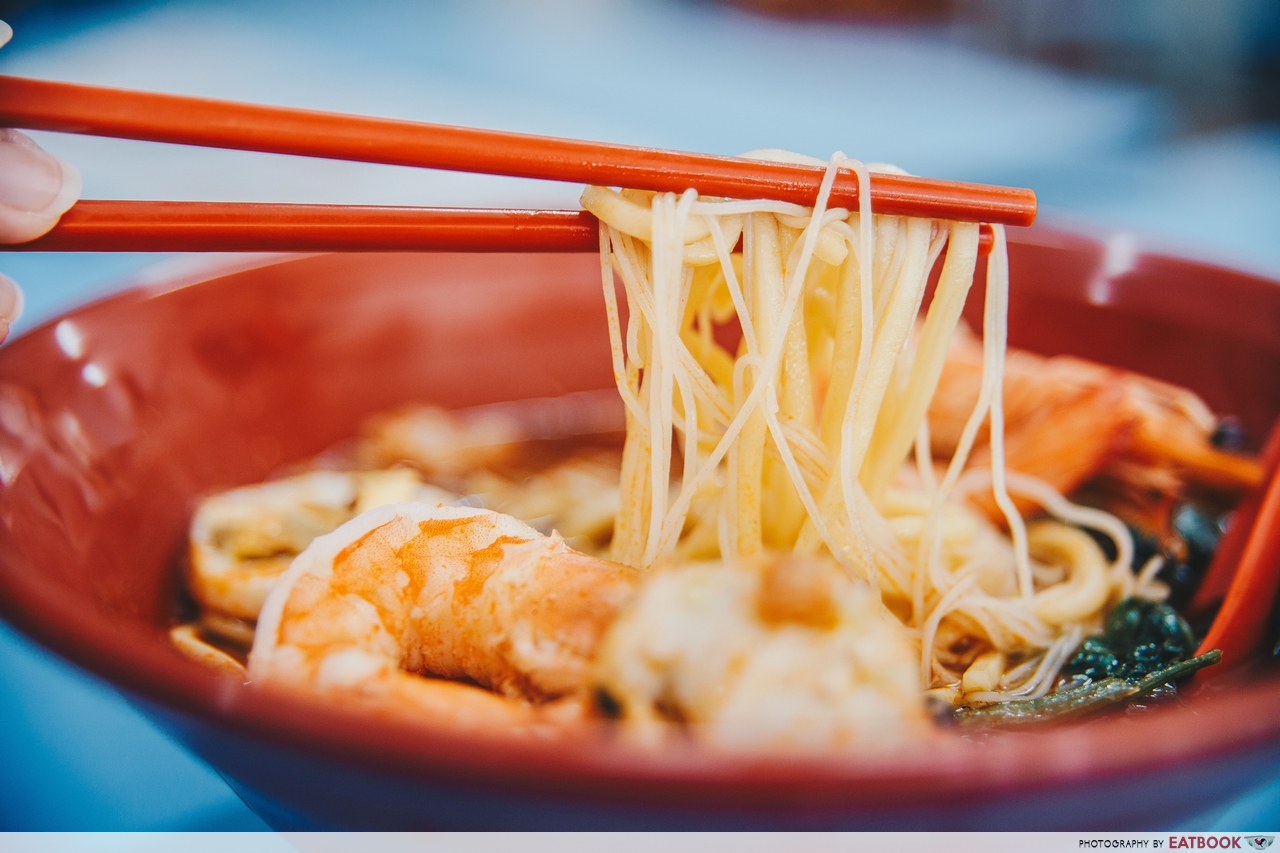 Those who have visited Prawn Village before would probably also have taken notice of the two young ladies who work in the stall. Often mistaken as Anson's daughters, Joanna and Kheng Yee, both in their early 20s, graduated from university last year and have been apprenticing under Anson since.
"I was looking for people to help me at my stall and I found them," said Anson. "They started off like my interns, but now they are my business partners," he added.
Helmed by the trio, Prawn Village is slowly making a name for itself in the food centre. However, they will be ceasing operations on 21 November 2017 and moving to Ghim Moh Market & Food Centre this December. If you are planning to check out their stall, look out for updates on their Facebook page!
Address: 505 Beach Road, #01-97, Golden Mile Food Centre, Singapore 199683
Opening hours: Sun-Fri 9am to 5pm
Website
---
2. Fried Rice U Need
---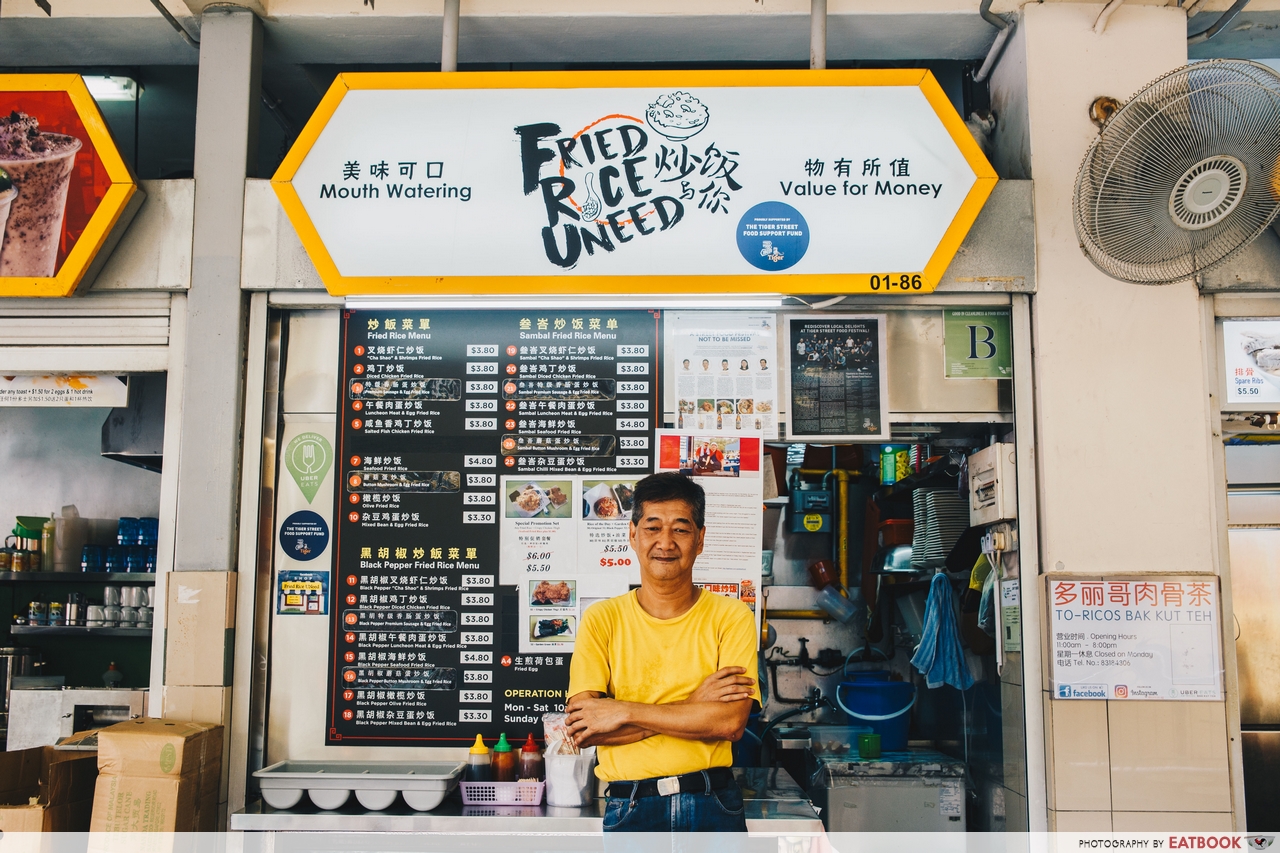 While most people his age are planning for retirement, Desmond Koh, 51, recently set up his stall, Fried Rice U Need, and is looking to expand his business into a chain. A former taxi driver, Desmond does not see his age as a deterrence but an inspiration "to change the traditional labour-intensive hawker methods"  by using semi-automatic machines to prepare his fried rice.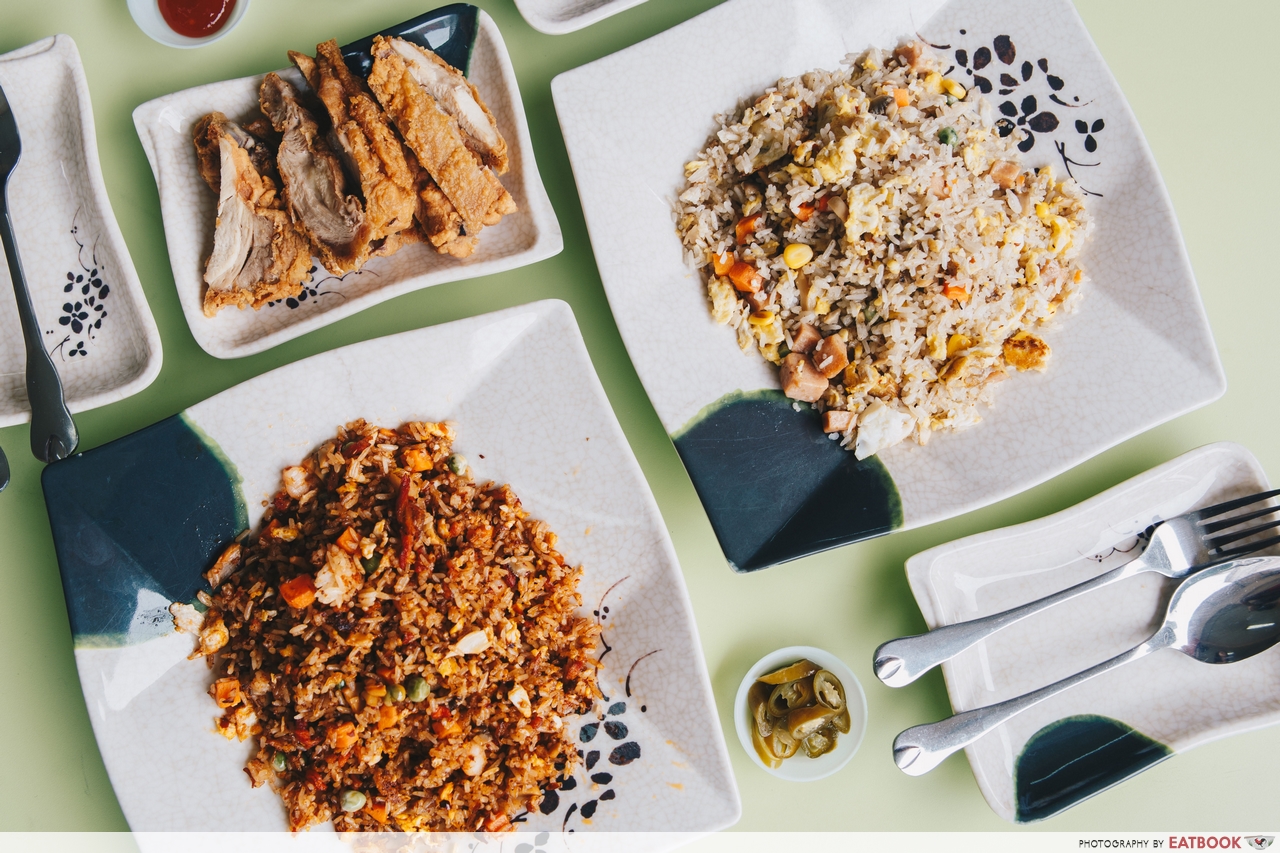 After two years of research, Desmond found suitable machines that can fry batches of fried rice to standard consistencies and bought them using the $10,000 grant from Tiger Beer. With the machines, he whips up about 25 different variations of fried rice, including Olive Fried Rice ($3.80), Black Pepper Seafood Fried Rice ($4.80), and Sambal "Cha Shao" & Shrimps Fried Rice ($3.80).
When asked which of the 25 are his specialties, Desmond proudly said, "No best, they are all good!"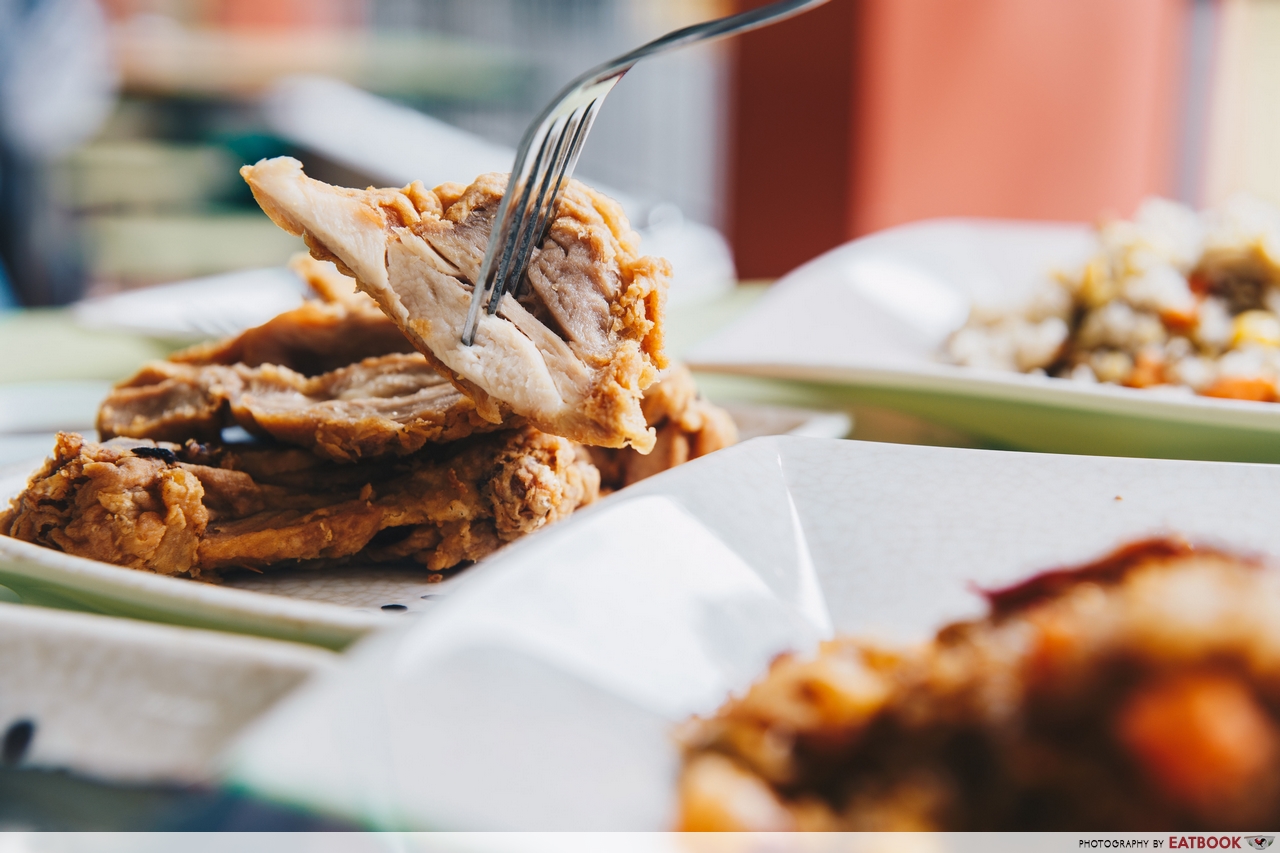 At $5.50, the stall also serves a fried rice set that comes with Crispy Chicken Thigh, a side I would recommend as a must-have. Encouraged by the positive comments he received, Desmond is looking into serving other side dishes such as crab meat steamed egg and soups. However, preparing these dishes would require much more space in the shop and he is planning to incorporate them into future stalls.
Quoting from Jack Ma where he said 30 to 40 years-old is the prime time to be an entrepreneur, Desmond said, "I am about 20 years late, but I can still do it. If you got faith, you can just go."
Address: 505 Beach Road, #01-86, Golden Mile Food Centre, Singapore 199683
Opening hours: Mon-Sat 10:30am to 8:30pm
Tel: 8298 8030
Website
---
3. Fish Boss
---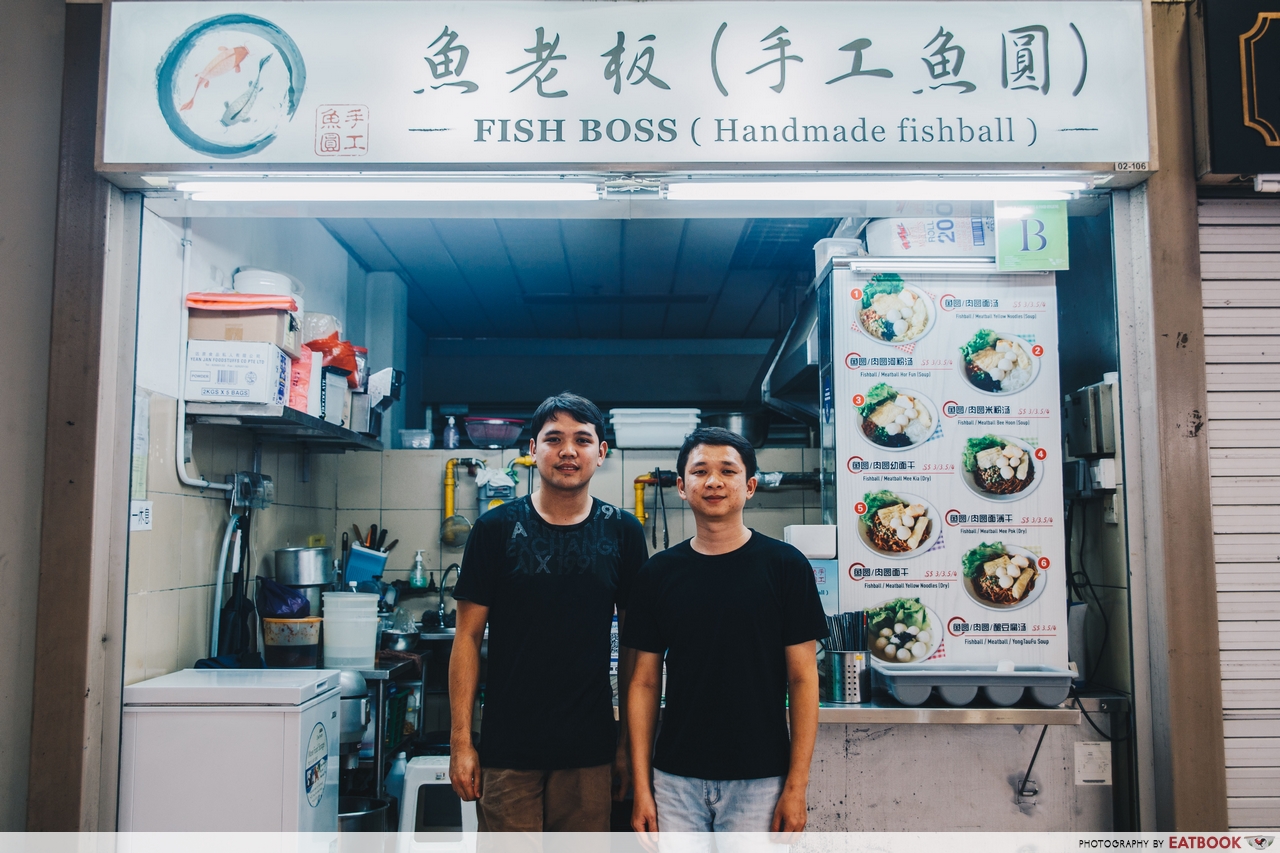 Tucked at a quiet corner of Taman Jurong Market and Food Centre is Fish Boss, a stall run by a pair of young hawkers. Both from Malaysia, Lim Boon Hong, 29, and his partner came to Singapore with the desire to "try something different". Though fishball noodles is one dish that can be found almost anywhere in Singapore, the pair felt that noodles they have back home tastes distinctly different and they wanted Singaporeans to be able to try their "Malaysian-style noodles".
When asked about the difference, Boon Hong said in Mandarin, "The ones in Singapore are mostly sweet. Instead of vinegar and chilli, our dry noodles are tossed with soy sauce and black sauce to make it more savoury."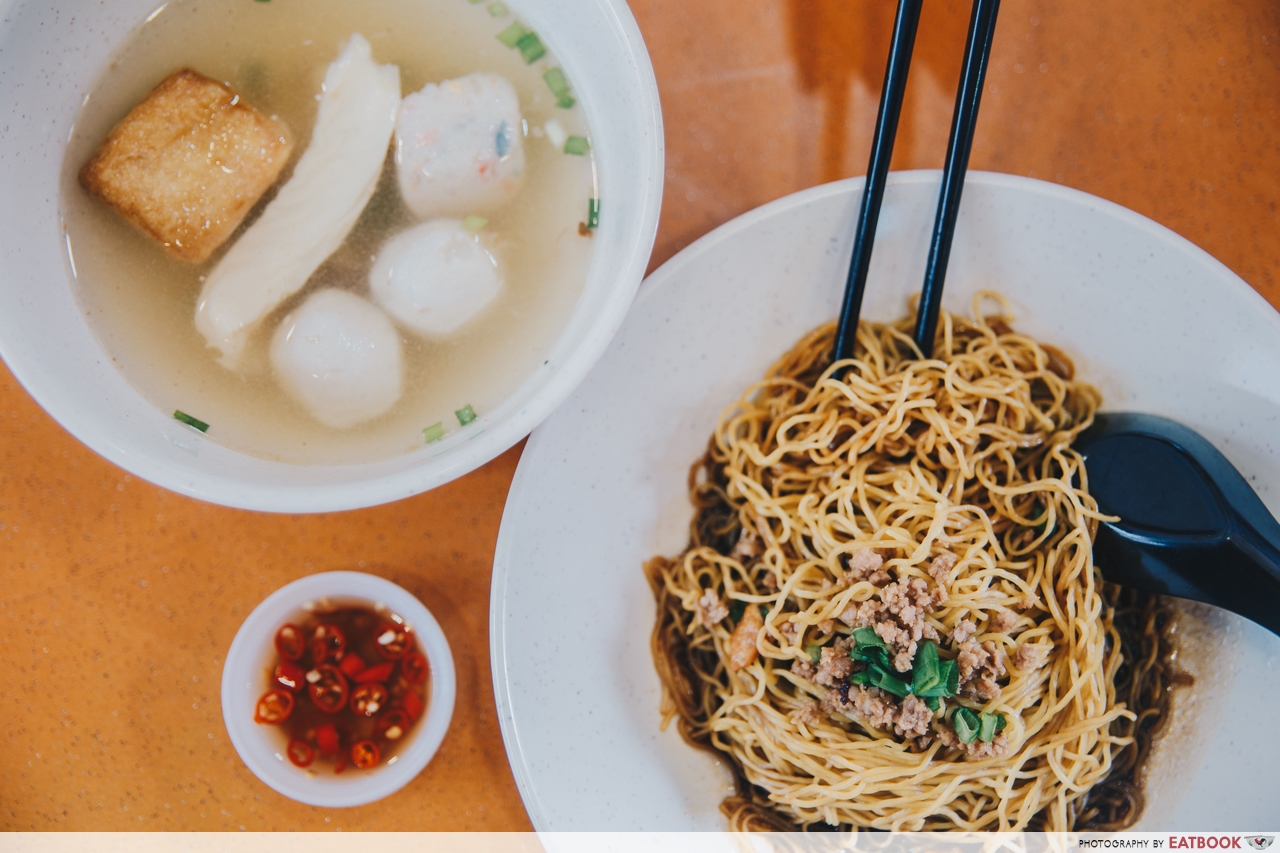 Available in both soup and dry versions, you can choose from their variety of noodles and each bowl is priced at $3, $3.50, or $4. Every set comes with handmade fishballs, meatballs, stuffed tau pok, fishcake, and noodles topped with minced meat and pork lard.
The fishballs are made in the stall on a daily basis, with a recipe they learnt from a "hawker uncle" from their kampong. Slightly springy, the fishballs are much lighter in taste compared to those found in other places, but still had a distinct freshness that came from the fish.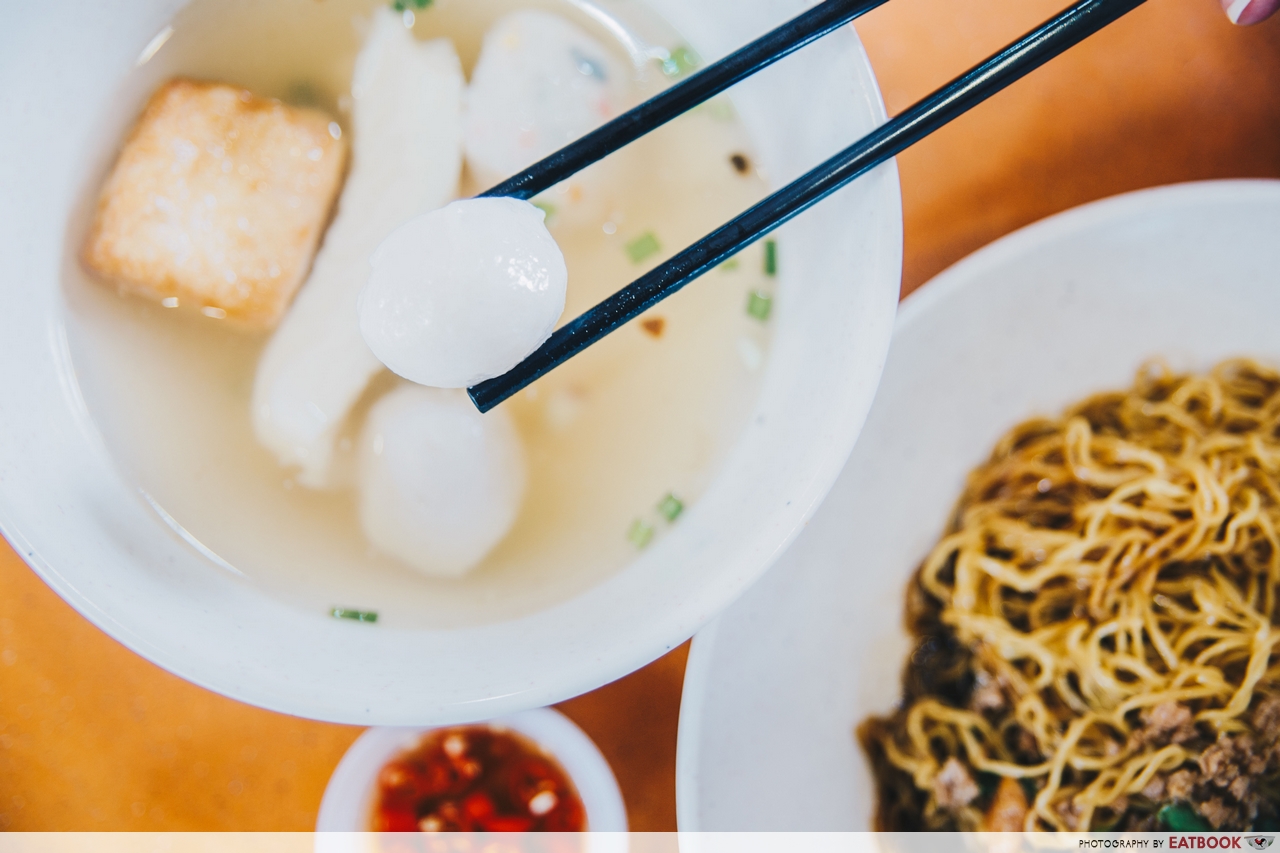 Former investors, the pair had zero experience in running a hawker stall and their biggest obstacle was having to compete against all the other stalls in the hawker centre. "When we started, our stall was very empty and people just walked past us," said Boon Hong. With financial support received from Tiger Beer, they redesigned and changed the physical setup of their stall.
Now that their business has picked up, the pair is looking into expanding their business by opening a few more stalls and they also aim to become a fishball supplier one day.
Address: 3 Yung Sheng Road, #02-106, Taman Jurong Market and Food Centre, Singapore 618499
Opening hours: Tue-Sun 6am to 10pm
---
4. FORUM Hainanese Congee
---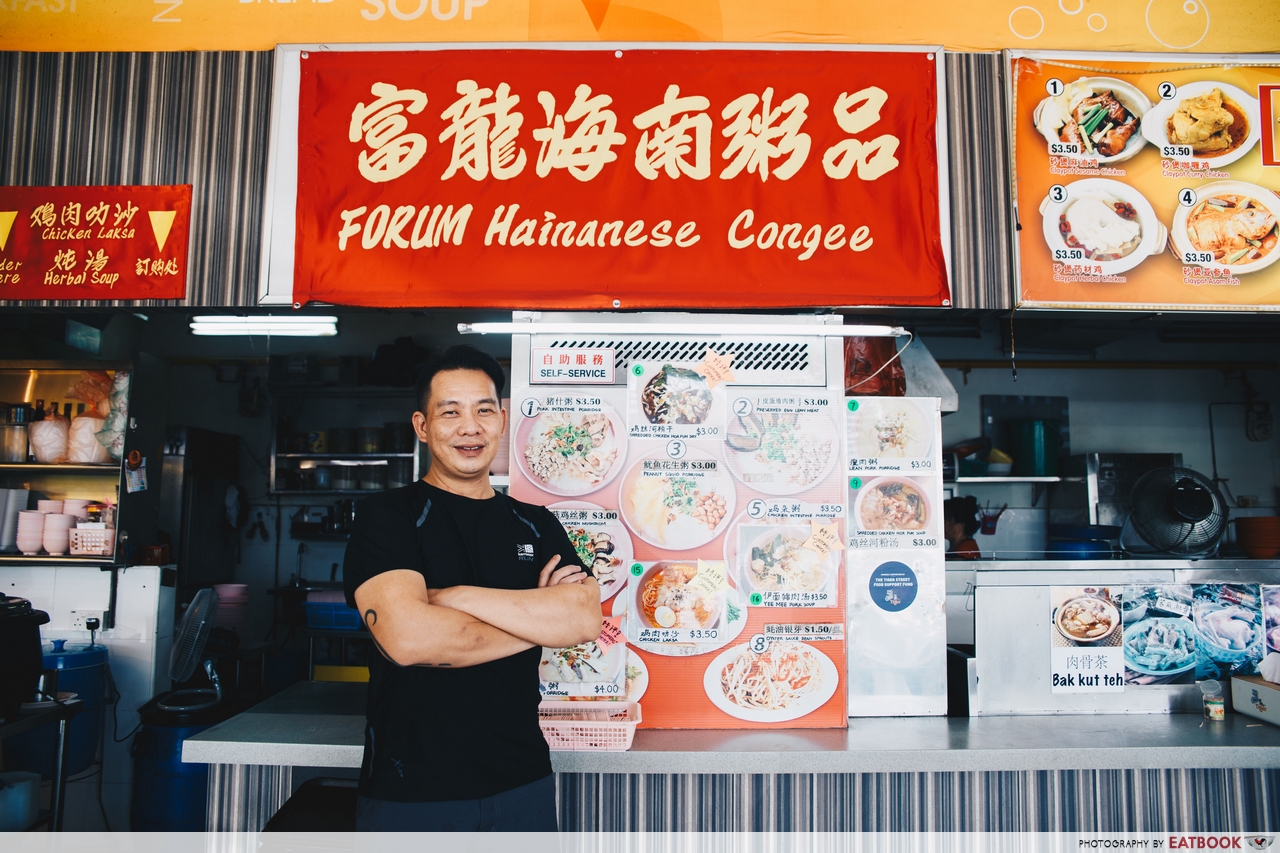 When it comes to setting up a business, location is probably one of the most important factors. And Tuas is definitely not a hot spot to open a hawker stall. However, that is exactly where Leo Kee Jack, 45, decided to go in his first venture into the hawker scene. Hoping to work alongside his family's chicken rice stall, the former retailer kick-started his own stall, FORUM Hainanese Congee at Tuas South Street 2.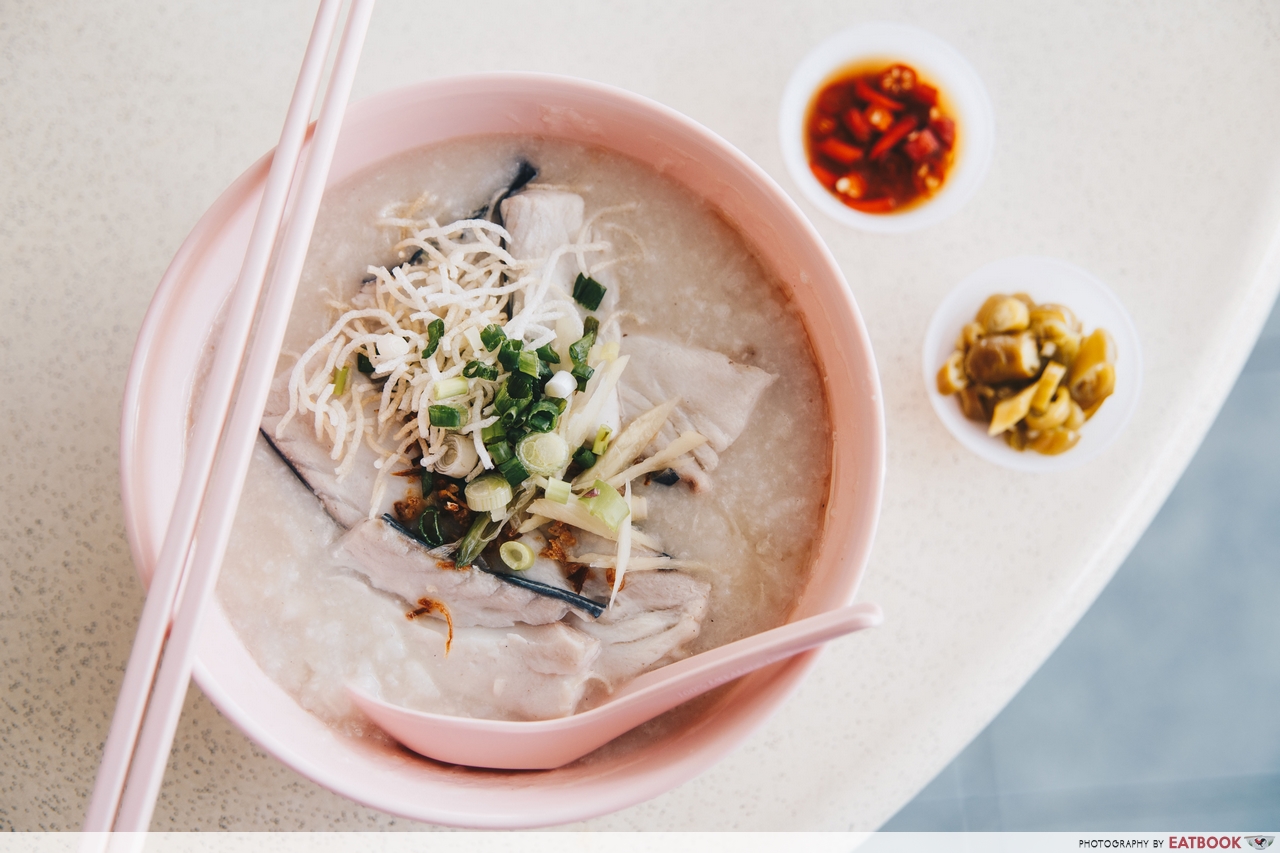 For about 25 years, Mr Leo worked in the retail line but decided he "needed a change from the hectic lifestyle". However, switching to become a hawker was no less tougher. Aside from the long hours and physically demanding environment, he also had a hard time drawing customers in his first few months.
He was determined to give his all in the first six months, which he feels is the crucial period where you either make or break. Seeing that most of the industrial workers in the area preferred "heavier food" to lighter-tasting congee, Mr Leo started expanding his menu to include dishes such as Shredded Chicken Hor Fun Dry ($3) and Chicken Laksa ($3.50), on top of his specialties including Fish Porridge ($4) and Pork Intestine Porridge ($3.50).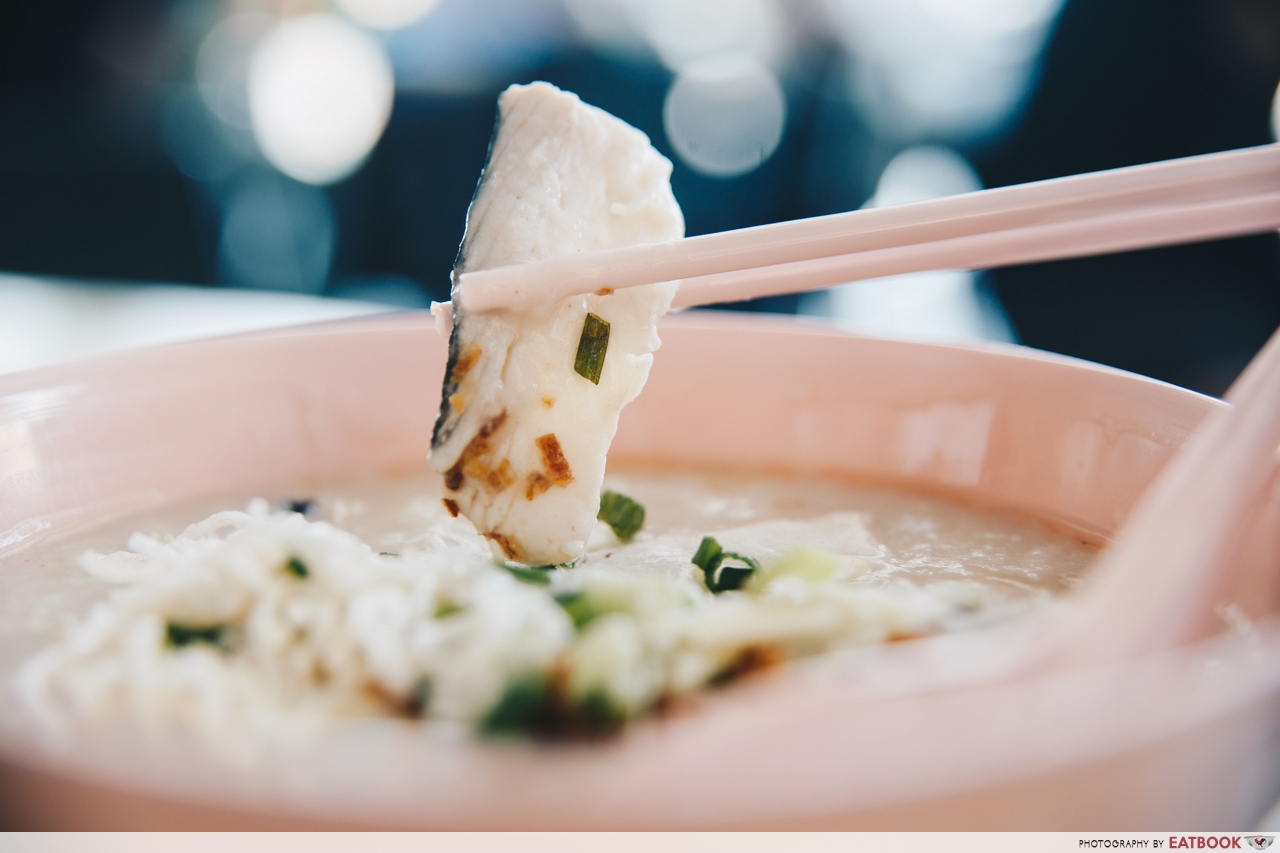 During the initial months when he was still trying to find his footing, he mentioned that funds from Tiger Beer helped him tide through the tough period. Most of the money was spent on purchasing second-hand kitchen equipment as well as to pay for his workers' salaries.
Now, FORUM Hainanese Congee has gained a steady group of followers, with some even patronising his stall three to four times a week. When asked about his future plans, Mr Leo said, "Once I make a name for myself, I want to introduce my skills to any kind of individual who are interested in being a hawker, whether they are old or young." Calling it "a venture" for himself, he plans to hold partnerships with such individuals and become their mentors.
Address: 2 Tuas South Street 2, Singapore 637895
Opening hours: Mon-Fri 7:30am to 4pm, Sat 9am to 3pm
---
5. Botak Delicacy 
---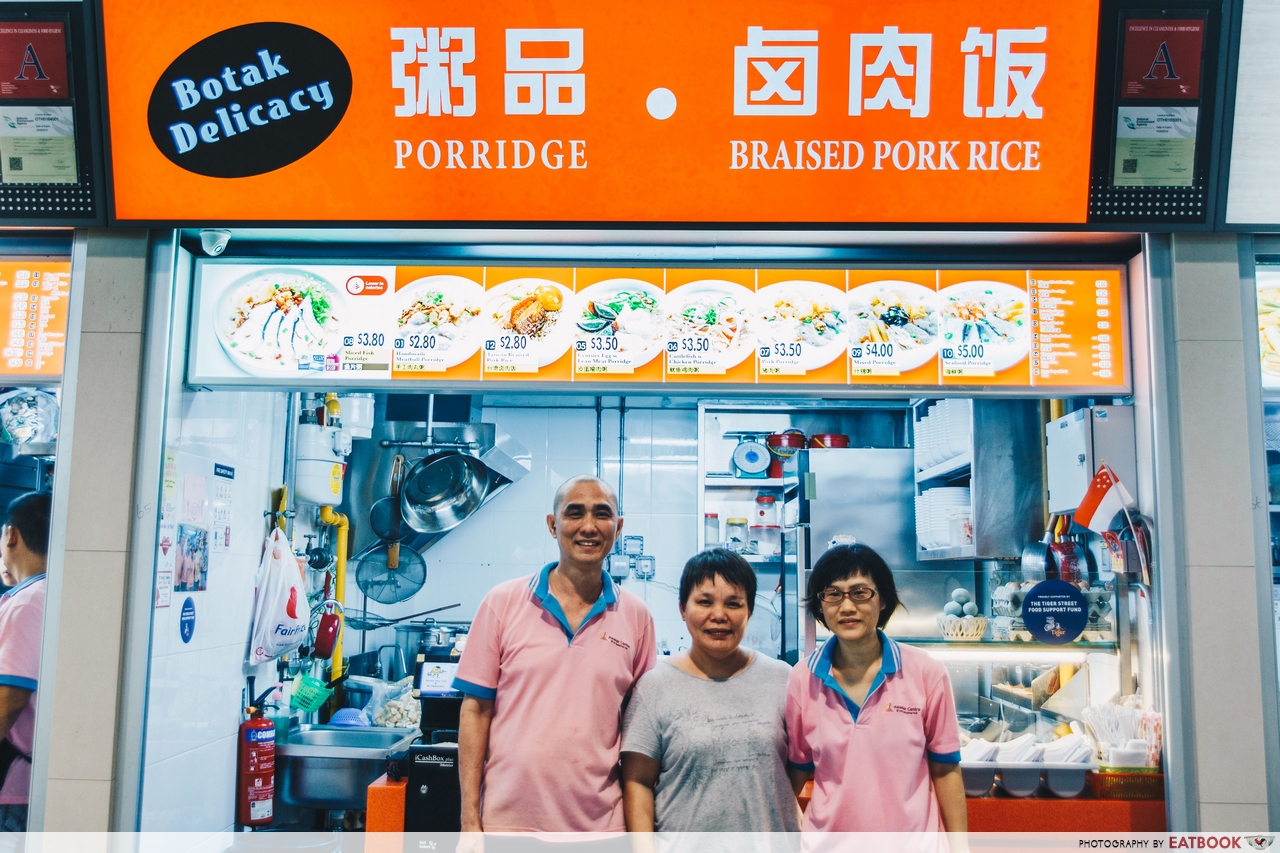 Those who used to frequent Golden Mile Food Centre years ago would probably find Ngoh Jook Guan, 54, familiar. For years, Mr Ngoh ran a cai png stall there until he suffered a heart attack in 2015. When his health improved last year, he returned to the workforce and opened his own stall, Botak Delicacy, specialising in porridge and braised pork rice.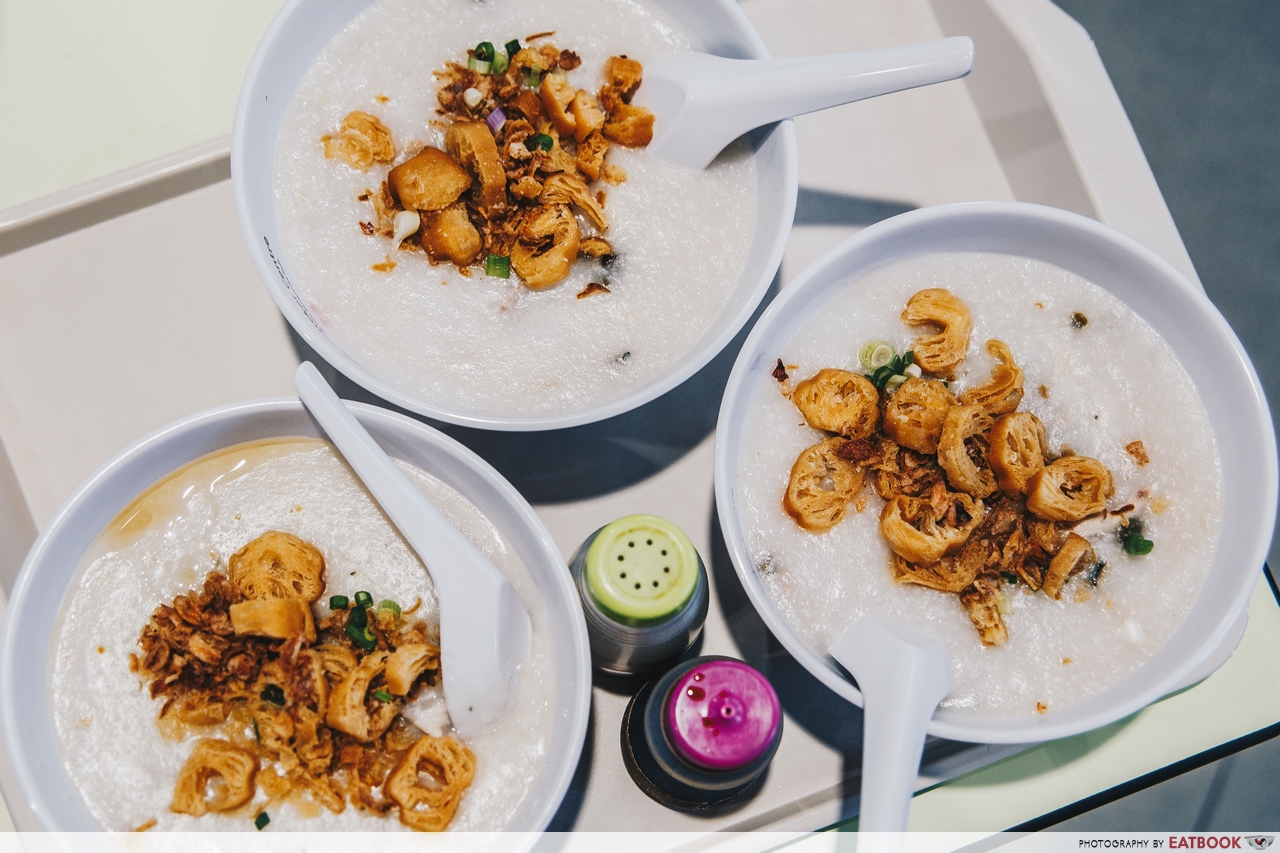 At three every morning, Mr Ngoh wakes up and make his way to his stall at Our Tampines Hub to prepare the porridge. "More people tend to have porridge for breakfast, so I have to wake up early to prepare," said Mr Ngoh in Mandarin. With everything handmade from scratch, he prepares different types of porridge daily, including Sliced Fish Porridge ($3.80), Handmade Meatball Porridge ($2.80), and Seafood Porridge ($5).
Although Mr Ngoh ran his own mixed rice stall for many years, setting up Botak Delicacy after his recovery was never the plan. Instead, he went looking to work for others but said that "a permanent job is harder to find as people know about [his] medical history." Deciding to be his own boss, Mr Ngoh applied to be a recipient of the Tiger Street Food Support Fund and with their financial support, he got to where he is today.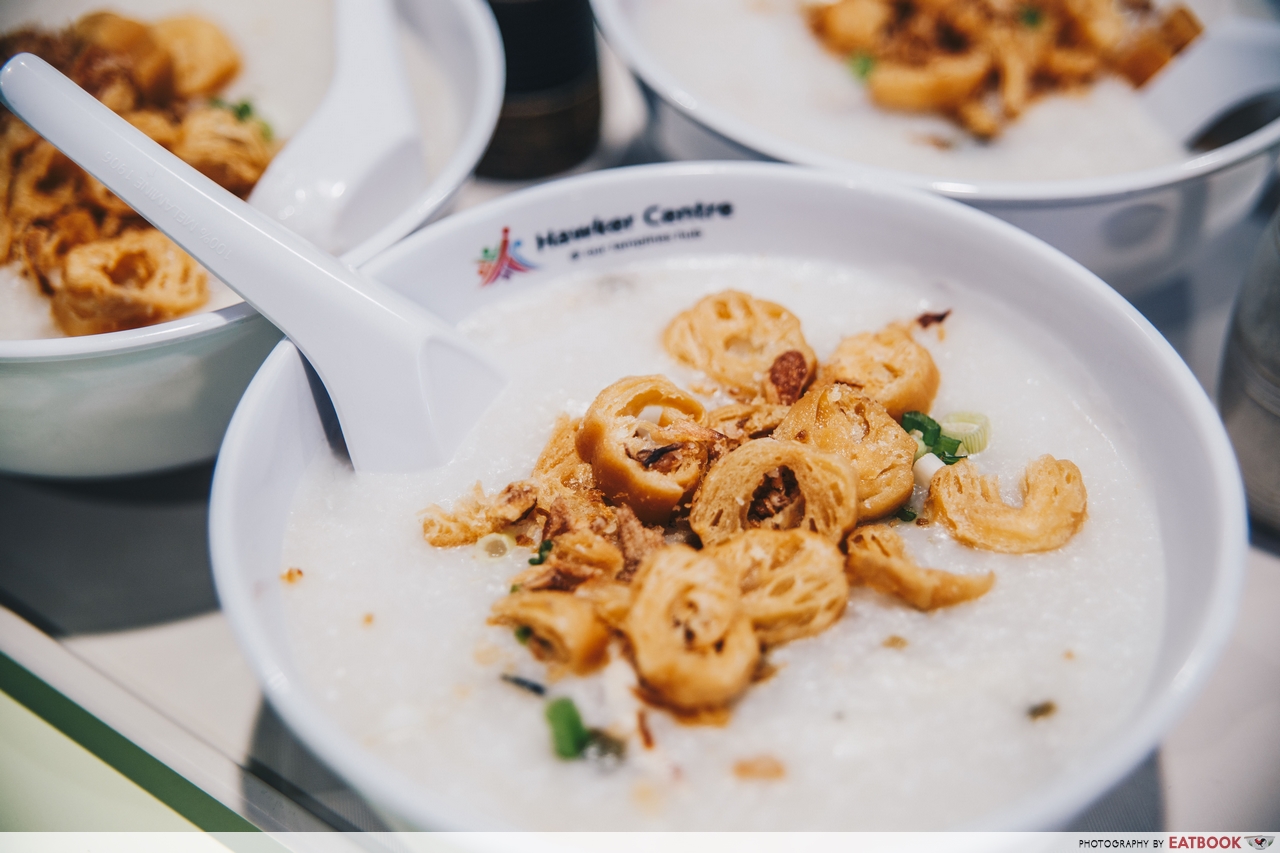 When asked about the greatest satisfaction that he derives from being a hawker, Mr Ngoh said, "When customers return to say that our food is good, that is what we are most happy about."
With the stall now run by him and his family members, Mr Ngoh spends most of his time imparting his cooking skills to his daughter, who plans to take over his stall in the future. The family is also looking at opening new stalls at either Pasir Ris or Punggol in the near future.
Address: 1 Tampines Avenue, #01-65, The Hawker Centre @ Our Tampines Hub, Singapore 529684
Opening hours: Thur-Tue 6am to 4pm
---
The simpler the better
---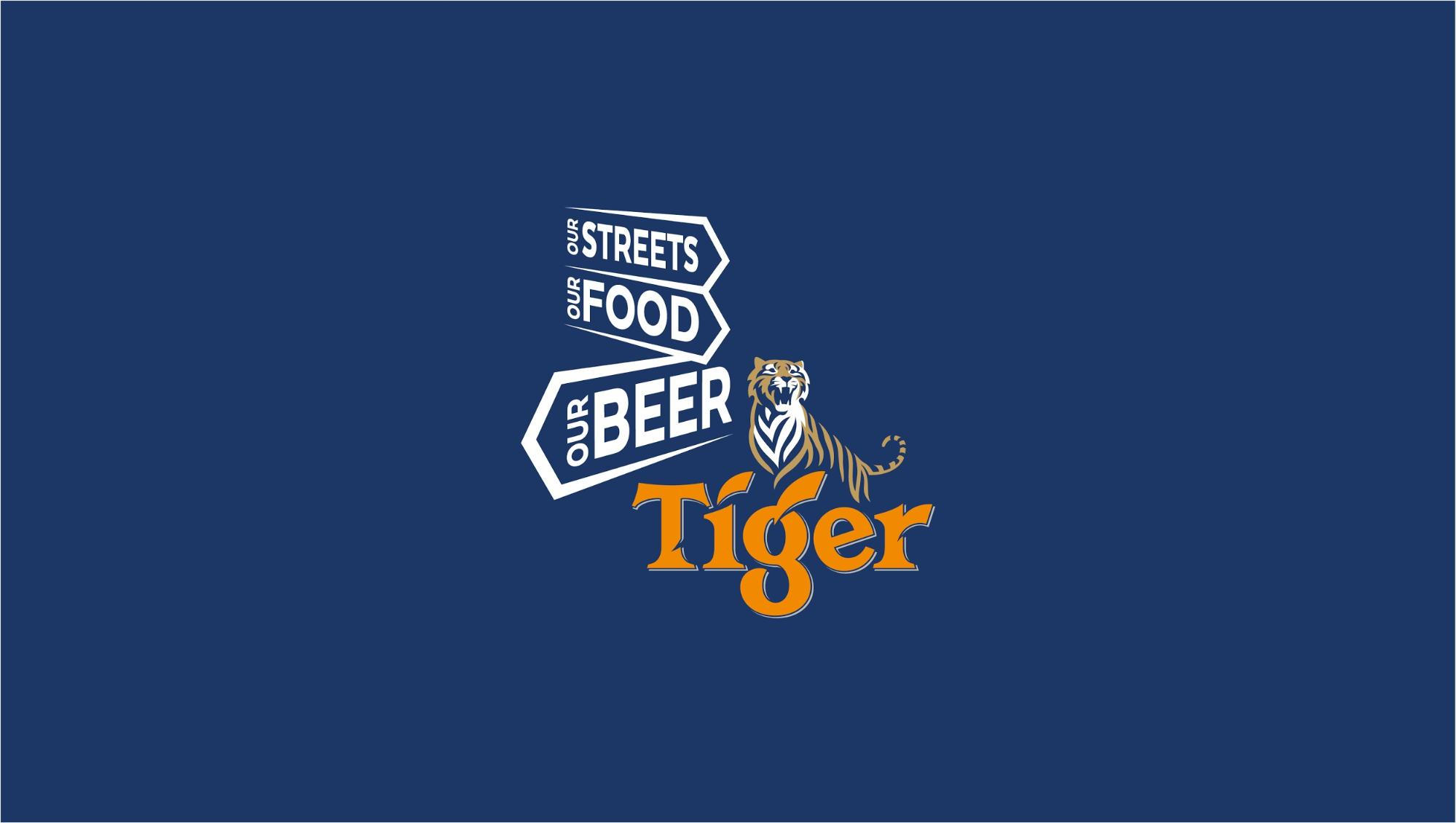 Whether it's the weekend and you're recovering from your Friday night out or just craving for something cheap, good, and comforting, these simple bowls of porridge or fried rice will never go wrong. As we show our appreciation to young and new-generation hawkers, we also shouldn't forget these people who are still whipping up plates of sedap traditional hawker food for us!
The Tiger Street Food Support Fund 2017 is started by Tiger Beer in a bid to promote and support the continuation of the hawker trade. Among 135 applicants this year, 25 hawkers were chosen and they each received a $10,000 grant to either improve on their current stalls or expand their business. So check them out the next time you're craving for hawker food to show your support for our hawker trade!
Find out more about the chosen hawkers of the Tiger Street Food Support Fund 2017!
This post is brought to you by Tiger Beer Singapore.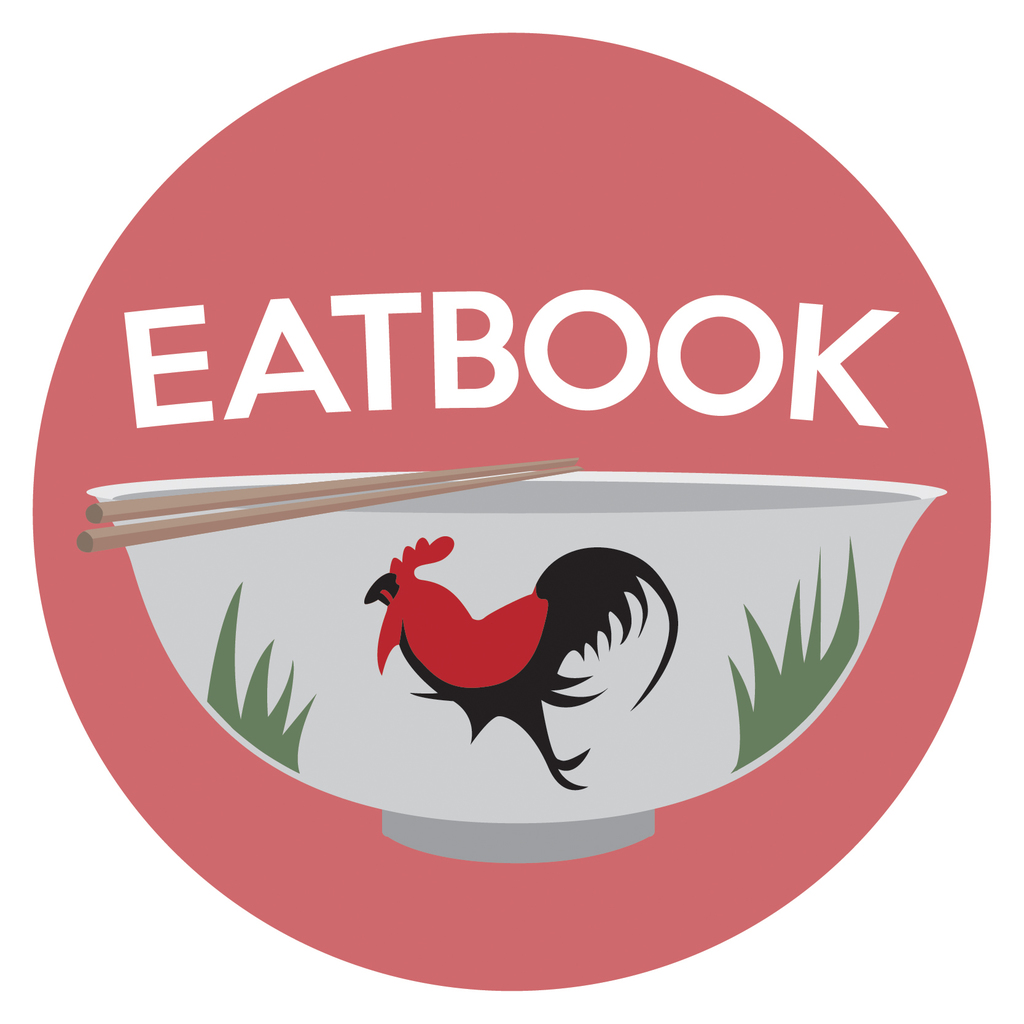 Drop us your email so you won't miss the latest news.