Oporto opens in Holland Village
Bondi Beach is one of Sydney's most popular beaches, and for good reasons. Many boast about how it's beautifully shaped, clean, and has soft sand and sparkling water. There's almost nothing better than a day spent listening to waves crashing against the rocks, breathing in salty wind, and tanning on the white sand under the glorious sun. But that isn't all Bondi Beach has to offer. Years ago, Oporto started selling flame grilled chicken that many love right on that beach. Almost 32 years and 160 stores later, this popular Australian chain has finally arrived on the shores of our sunny island!
Food at Oporto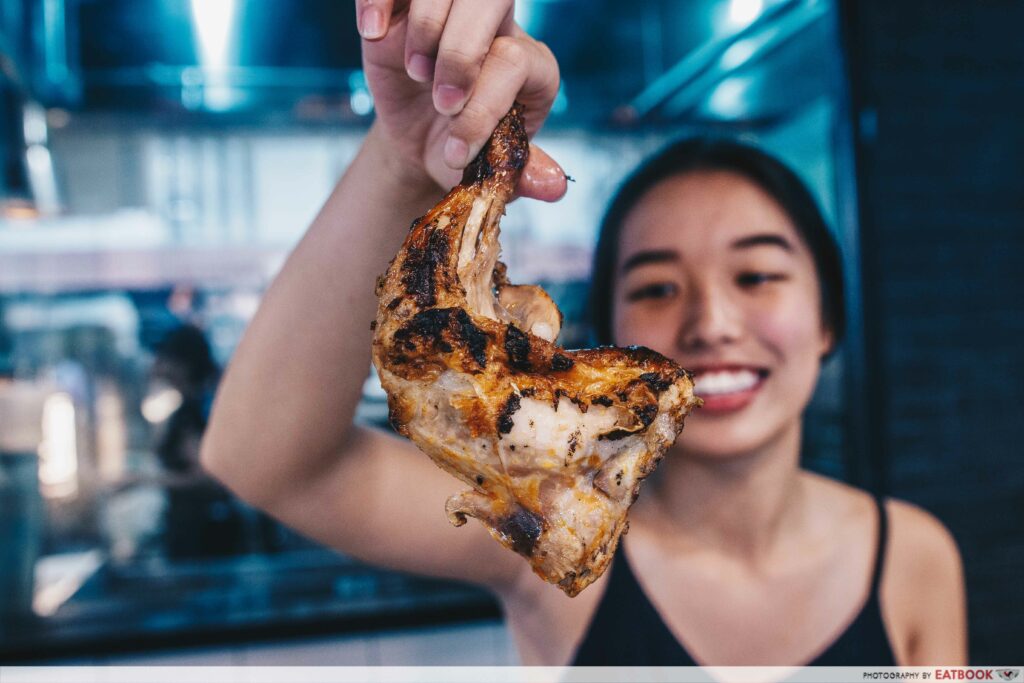 As their ¼  Portuguese Flamed Grilled Chicken Original Chili ($6.90) was set on my table, I was thrilled by the smoky aroma that wafted up. The beautiful charred marks on the crispy chicken skin only added to my excitement – I couldn't wait to dig in!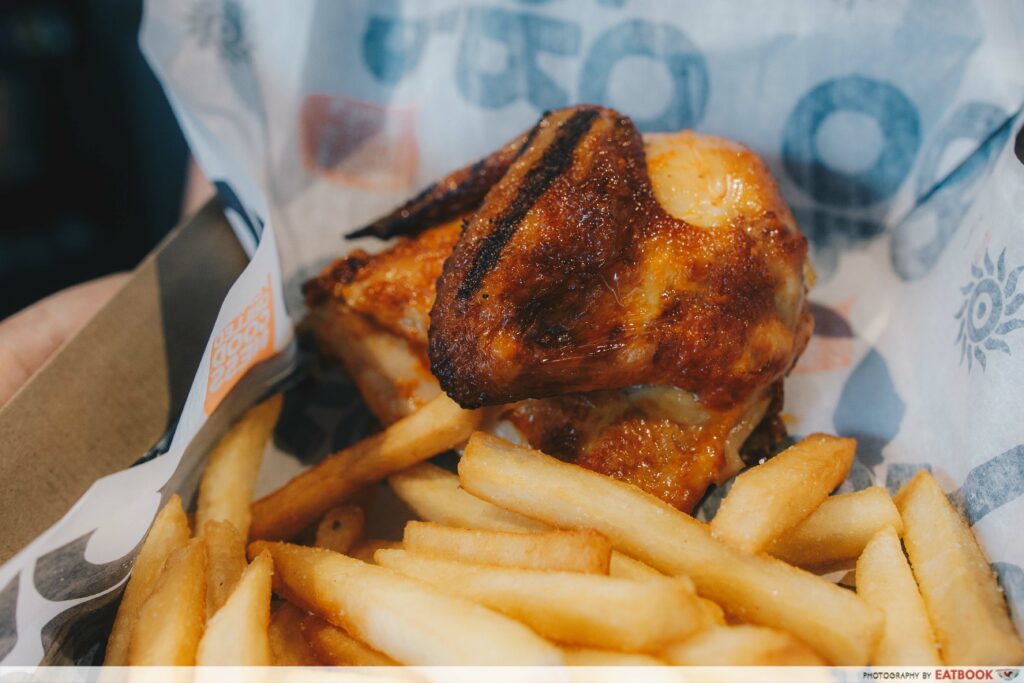 Each piece of chicken was packed with well-marinated meat. Biting into the grilled chicken, I was hit with a tinge of spice, which died down before I could enjoy it.  I loved the lingering smoky aftertaste and how tender and juicy it was, but I couldn't seem to stop myself from wishing for more heat.
Top up $2.50 to get a regular-sized side and drink to go along with your chicken. Though they have five sides for you to choose from, I'd go straight for their Chips. Their savoury thick-cut fries are peppered with a certain secret ingredient, creating fries that are flavourful without being jelak. You'd be hooked on them, and I bet you'll be unable to stop yourself from reaching for fry after fry!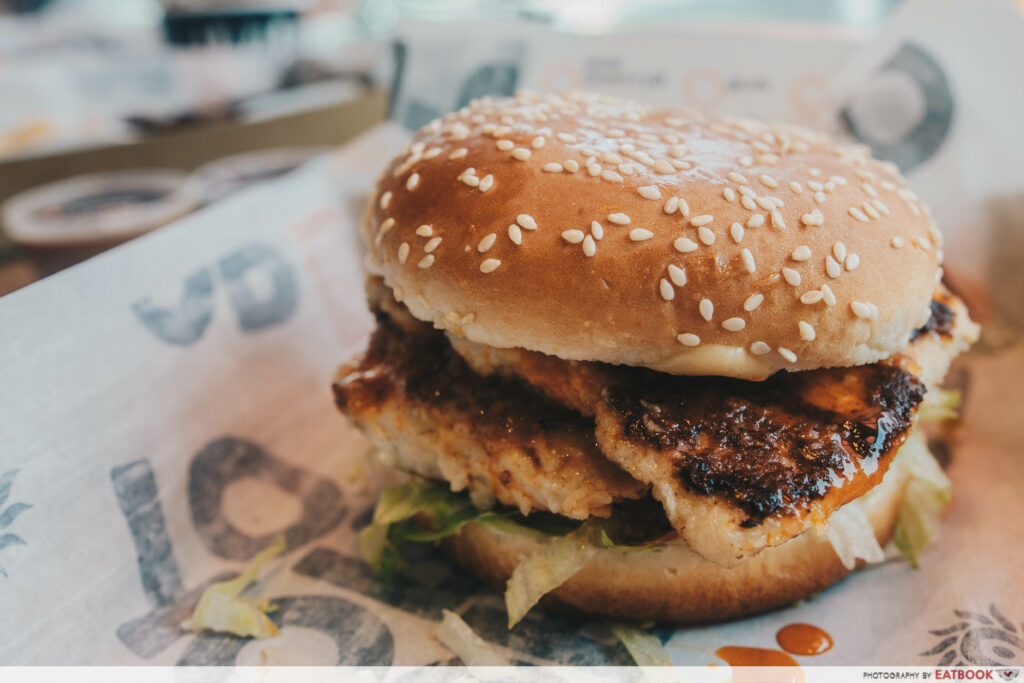 Served next was this Bondi Burger ($5.90 for one, $7.90 for two, $9.90 for three patties), which is really popular in Australia. While it may look like just another plain burger, I was excited to see what was all the buzz about with the Bondi Burger. Trapped between two buns, the neatly charred chicken patties sat on top of a bed of shredded lettuce, and were topped with their house-made chilli sauce and mayo.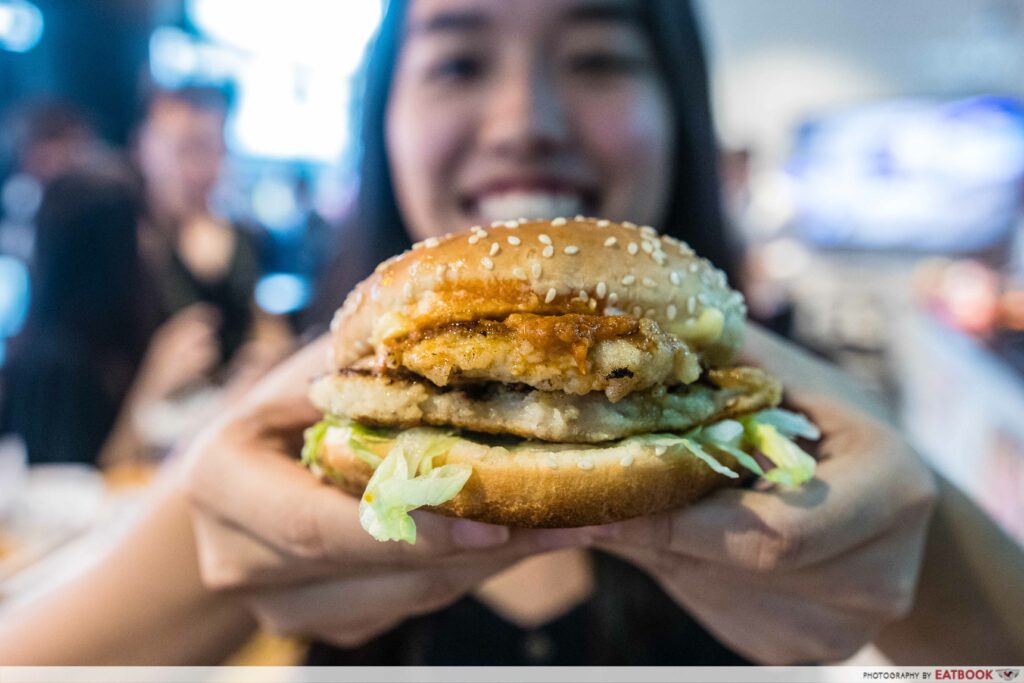 This hearty burger was a satisfying one; one that I would go back for when I'm in the mood for greasy food. However, it was unable to impress me with its lack of a certain wow factor. Also, the sauces were too mild for my liking. I see myself craving for their chicken more!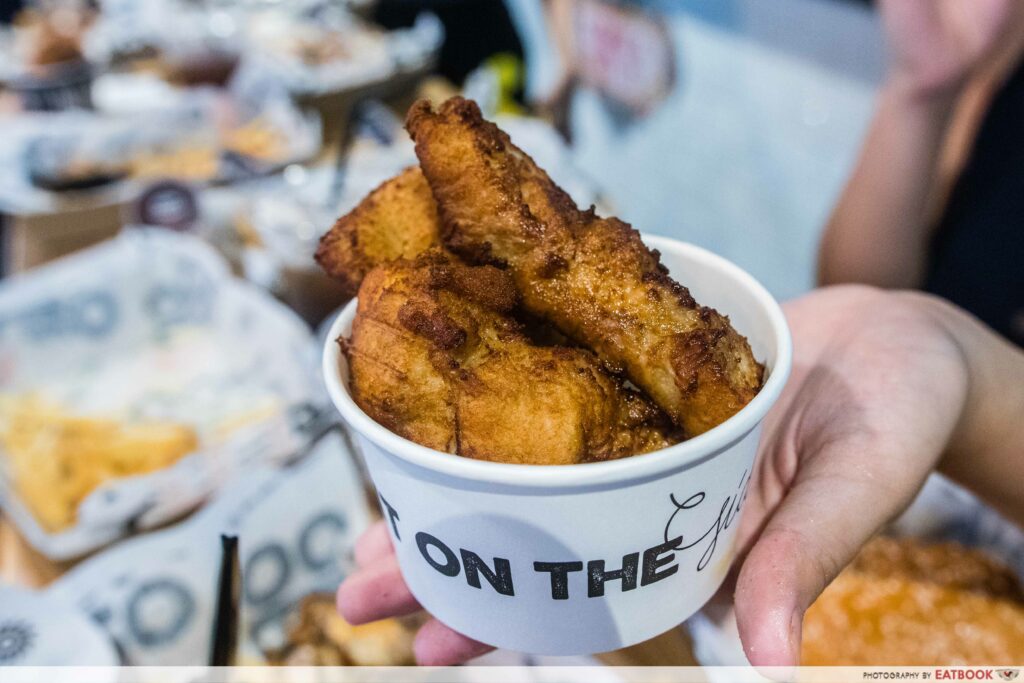 We ended our meal with some Bondi Bites ($4.90/$6.90); these are pieces of chicken tender that are fried till golden brown. Lightly breaded, these streaks of deep-fried chicken are slightly crispy, while the meat was tender and surprisingly not chalky at all!
You can share it with a group of friends, but I'd advise you to gobble it all up by yourself! With every portion of Bondi Bites, you are allowed to pick one out of six sauces: Lemon & Herb, Original Chili Sauce, Mayo Sauce, BBQ Sauce, Prego Sauce, and Garlic Dipping Sauce. The citrusy Prego Sauce complemented the savoury chicken strips the best!
Ambience at Oporto

Just steps away from Holland Village MRT Station, Oporto is located in the newly revamped Holland Piazza. This cosy restaurant is only able to accommodate 30-odd people, which may make it tough to find seats, especially during mealtimes. It is truly an experience to watch the staff fire away and get busy grilling the chicken in their open kitchen. The theatrics were captivating and added to the entire experience at Oporto. Do note that you will need to spend some time queuing for food, as everything is self-service here. Press on, for the chicken is worth the waiting time.
The verdict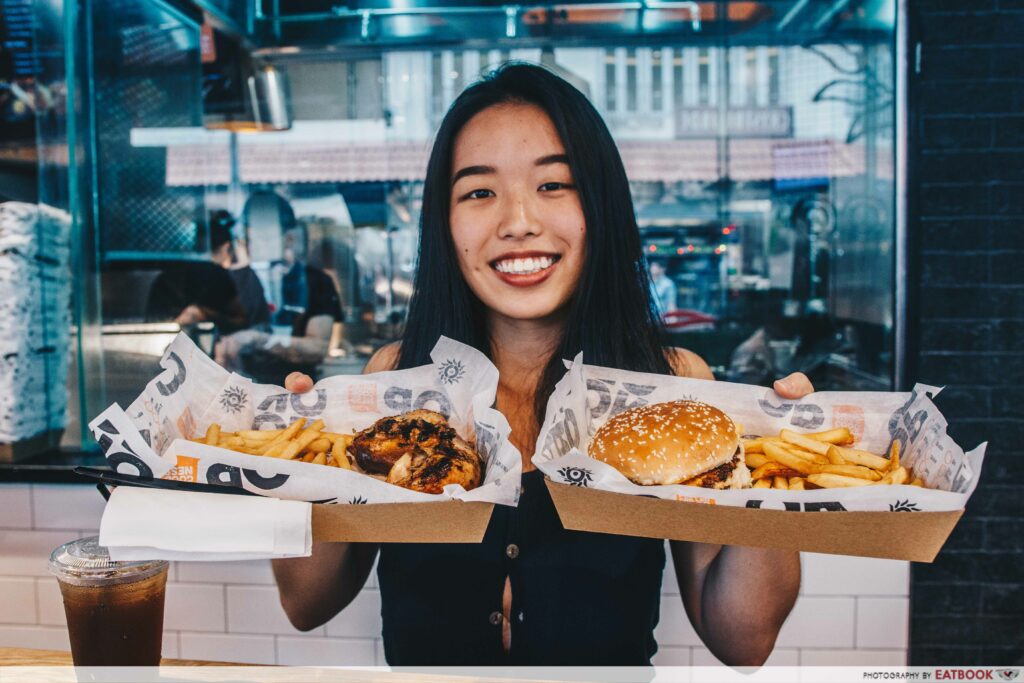 If the smile on my face hasn't given it away, I was extremely happy with my meal and left with a happy tummy. While the sauces were not as strong as I'd like them to be, I was impressed by how every chicken part was fork tender. That simply won me over. Like my boyfriend always says, "If something is good enough, you don't need to pair it with anything else." Thanks for the wise words.
For more affordable Western food, check out The Plug Food Co. and Wild Olives!
Address: 1 Lorong Liput, #01-01, Holland Piazza, Singapore 277724
Opening hours: Daily 10am to 10pm
Website
This was a media tasting at Oporto.
Oporto Review: New Portuguese Flame Grilled Chicken Restaurant By A Famous Australian Chain
Summary
Pros
– Tender and flavourful chicken
Cons
– Small portions
– Limited seats available
Recommended Dishes: ¼ Portuguese Flamed Grilled Chicken Original Chili ($6.90)
Operating Hours: Daily 10am to 10pm
Address: 1 Lorong Liput, #01-01, Holland Piazza, Singapore 277724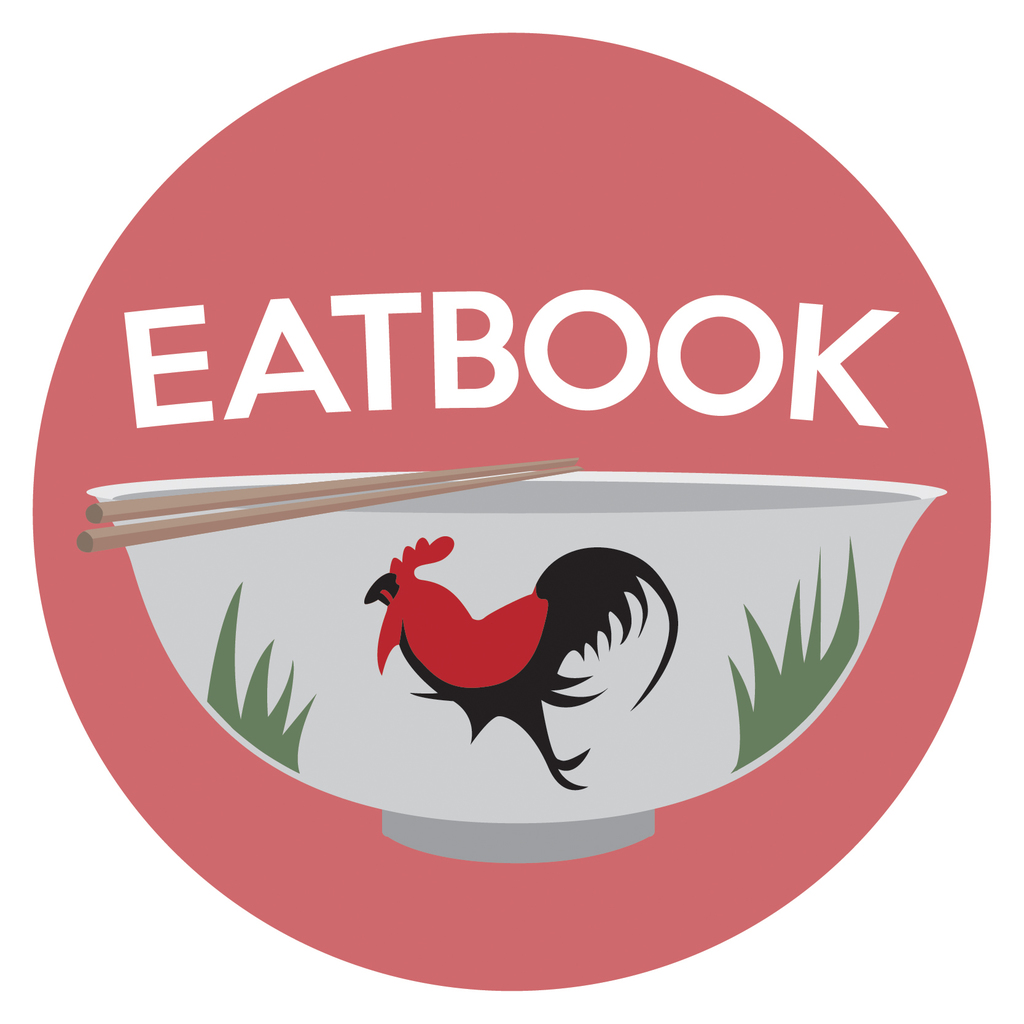 Drop us your email so you won't miss the latest news.