About Opus Bar & Grill
Update: These seasonal dishes are no longer available.
---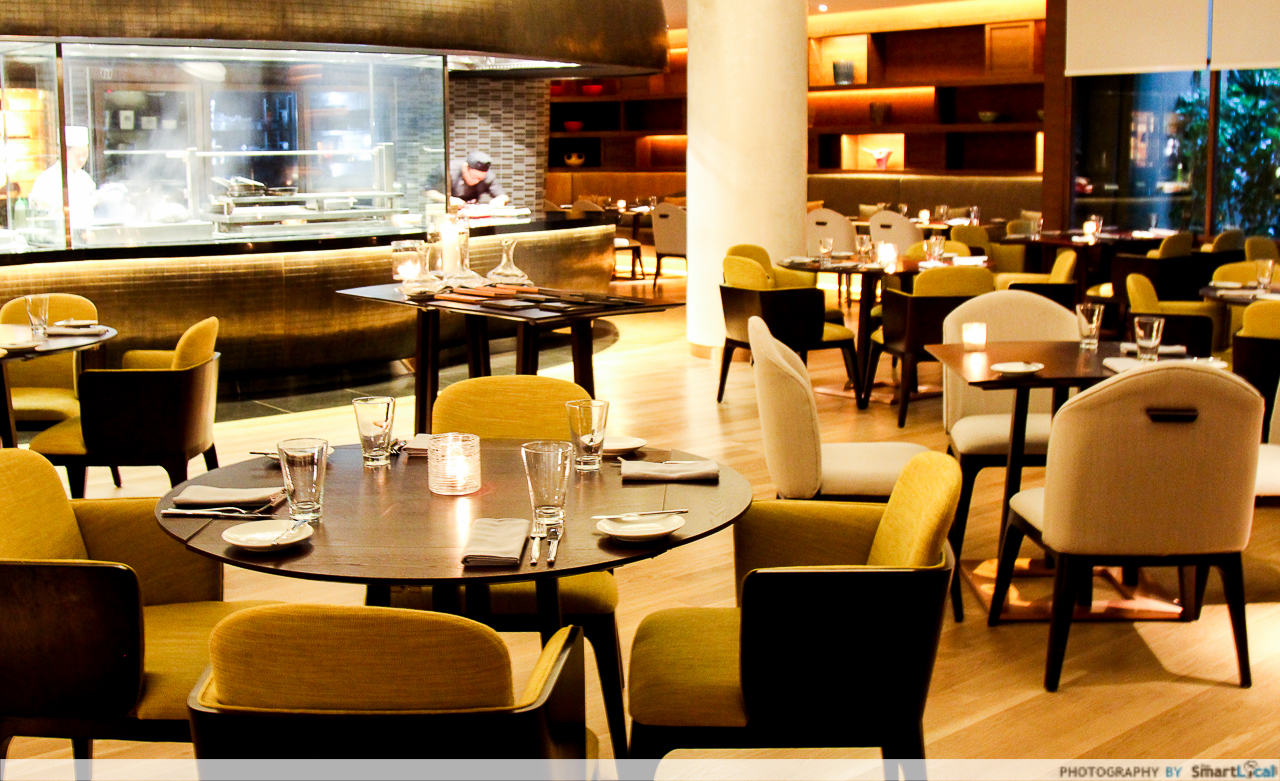 If you're in the market for a posh steakhouse, the newly opened Opus Bar & Grill might be for you .  The steaks here are aged in a Himalayan salt cabinet to intensify the beefy flavor for a one of a kind experience.
We had sample portions for the dishes. Actual portions will be larger in size.
---
Appetizers
---
Cured Salmon ($19)
---
A dish bearing on its simplicity and quality of ingredients. The salmon was firm, full of flavour, and was lent a new lease of life from the citrus vinaigrette. A pleasure to eat overall and a good use of a vinaigrette.
---
Seared Hokkaido Scallops ($23)
---
The scallops are served with edamame beans, miso espuma and blood sausage. If you're wondering if blood sausage is anything like what it sounds, it is. It's not something out of a horror movie that's going to burst in your mouth, in fact the texture is similar to a dry lup cheong and adds a saltiness to the dish.
The miso espuma is a heavy and creamy sauce that complements the scallops well. The dish was light overall. While the flavors came off too shy, it was still a strong dish.
---
Smoked Buffalo Mozzarella Salad ($16)
---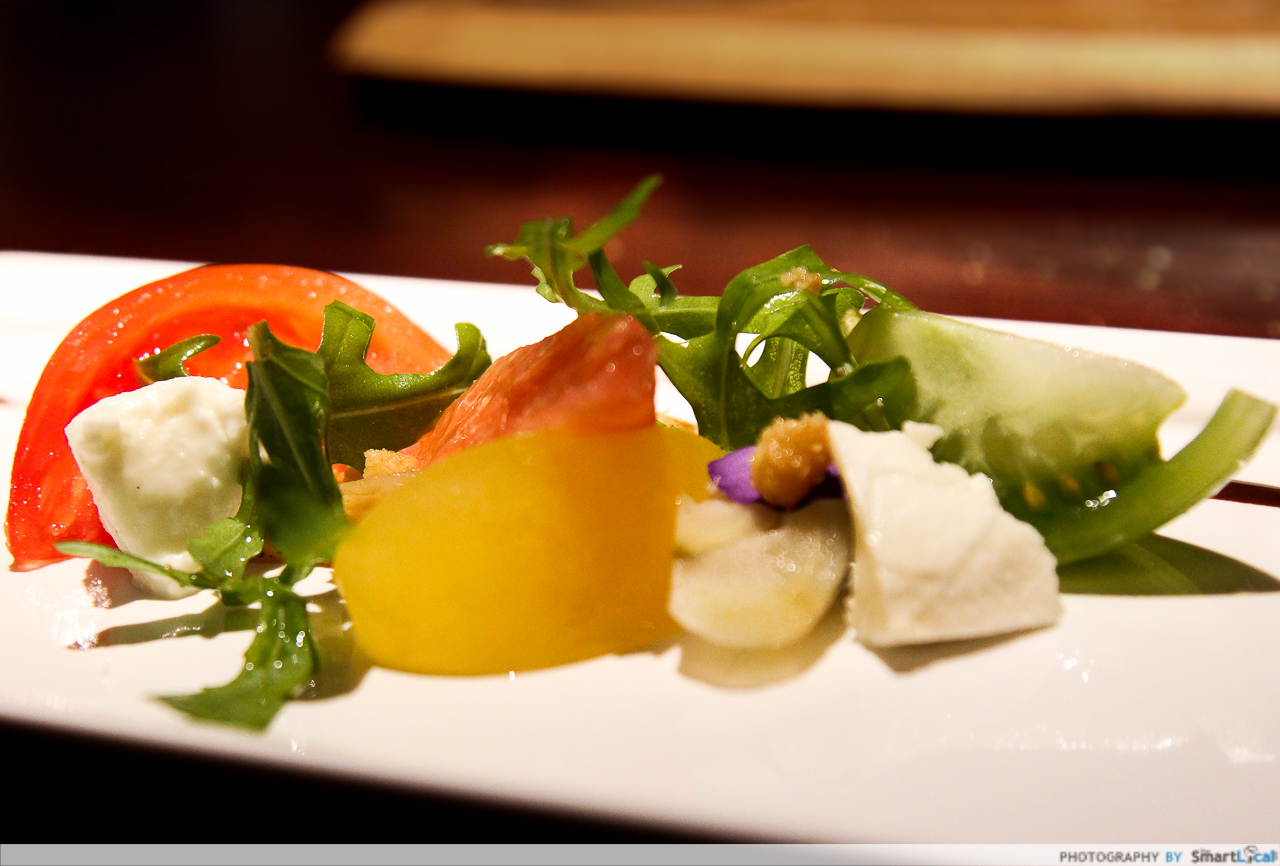 I love me some good quality tomatoes, but they are really hard to find in Singapore. Perhaps it should come as no surprise then that this dish was disappointing for me. The tomatoes didn't leave much impact and the coffee vinaigrette lent the dish a bizarre bitterness it could have done without.
---
Mains
---
Glacier 51 Toothfish Fillet ($47)
---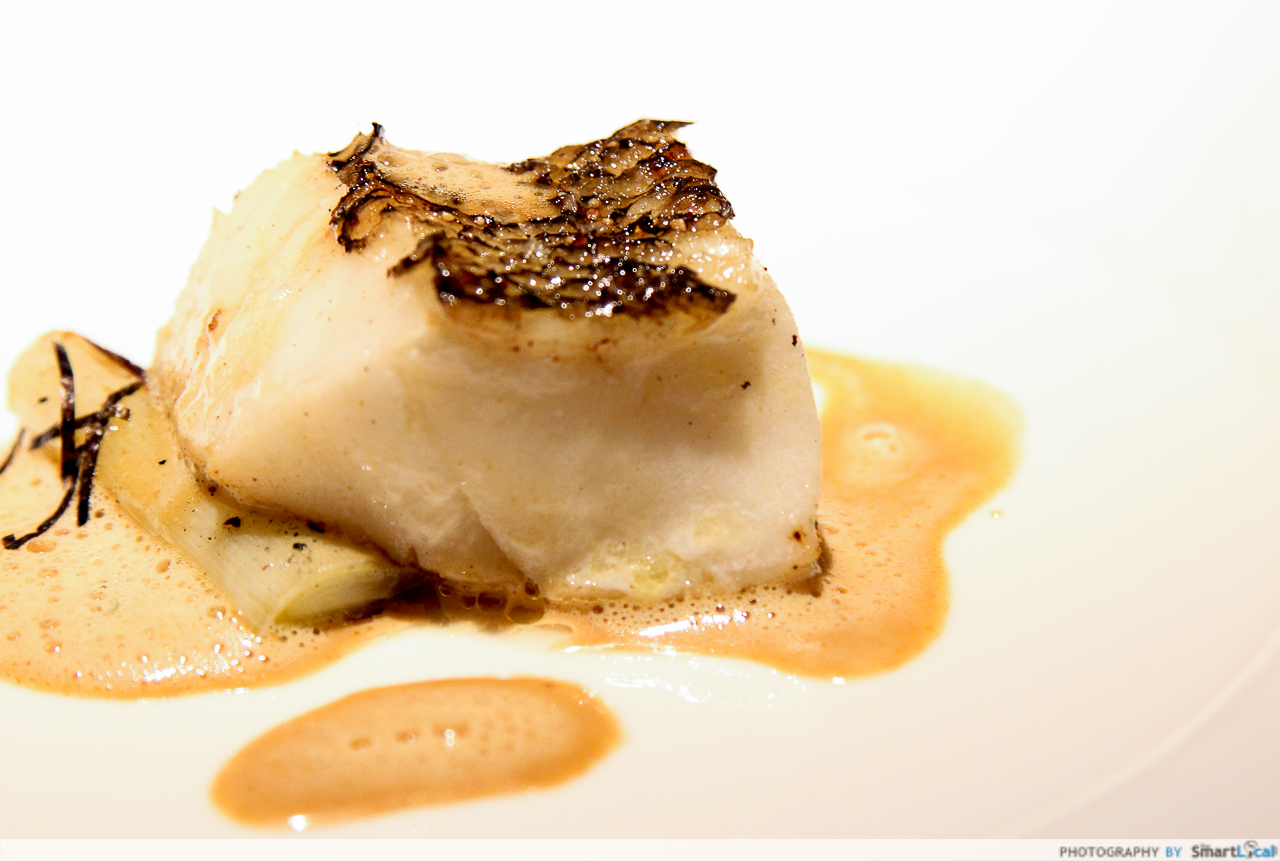 On the outset, this dish doesn't look very exciting, the colours don't really pop. But while it lacks in style, this dish makes up for in substance. The fish is deceptively light and packed with flavour. The brown butter sauce was decadent and complemented the fish well with a luxurious coat of flavour. You'll wish all fish tasted as good as this.
---
Char-grilled Kobe Wagyu ($92 | Sides $7 each)
---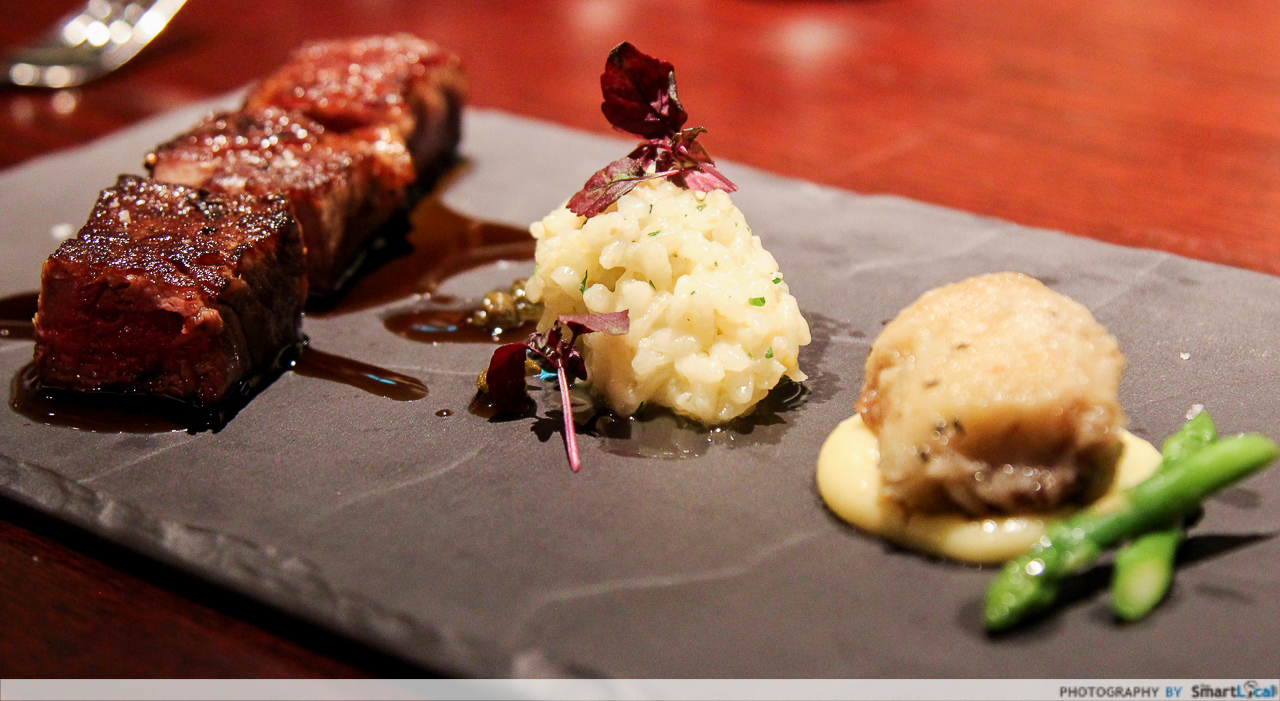 The steak comes with a selection of three different kinds of salt -Rosemary, Himalayan, and volcanic salt. I personally prefered the rosemary salt's tinge of herbaceousness on the beef. The other two had more of an earthy tone. The steak was fantastic and you could literally feel the fat melt in your mouth. It wasn't too fatty either and it was very pleasant to eat.
The bone marrow was luxuriously sinful. Cutting into it is like watching liquid chocolate ooze when you bite into your favourite candy bar. It was fatty and decadent, and I loved every second of eating it.
The smoked risotto ditched the traditionally moist presentation for a drier texture. It was well cooked and flavourful with a very strong smoky herb accent, which provided pleasant reprieve from the two other components on the plate.
The price of the beef might turn off some diners but I'll say that the quality was certainly present to justify that cost. More affordable grades of beef are also available at $58 or $62.
---
36-hour Pork Belly ($36)
---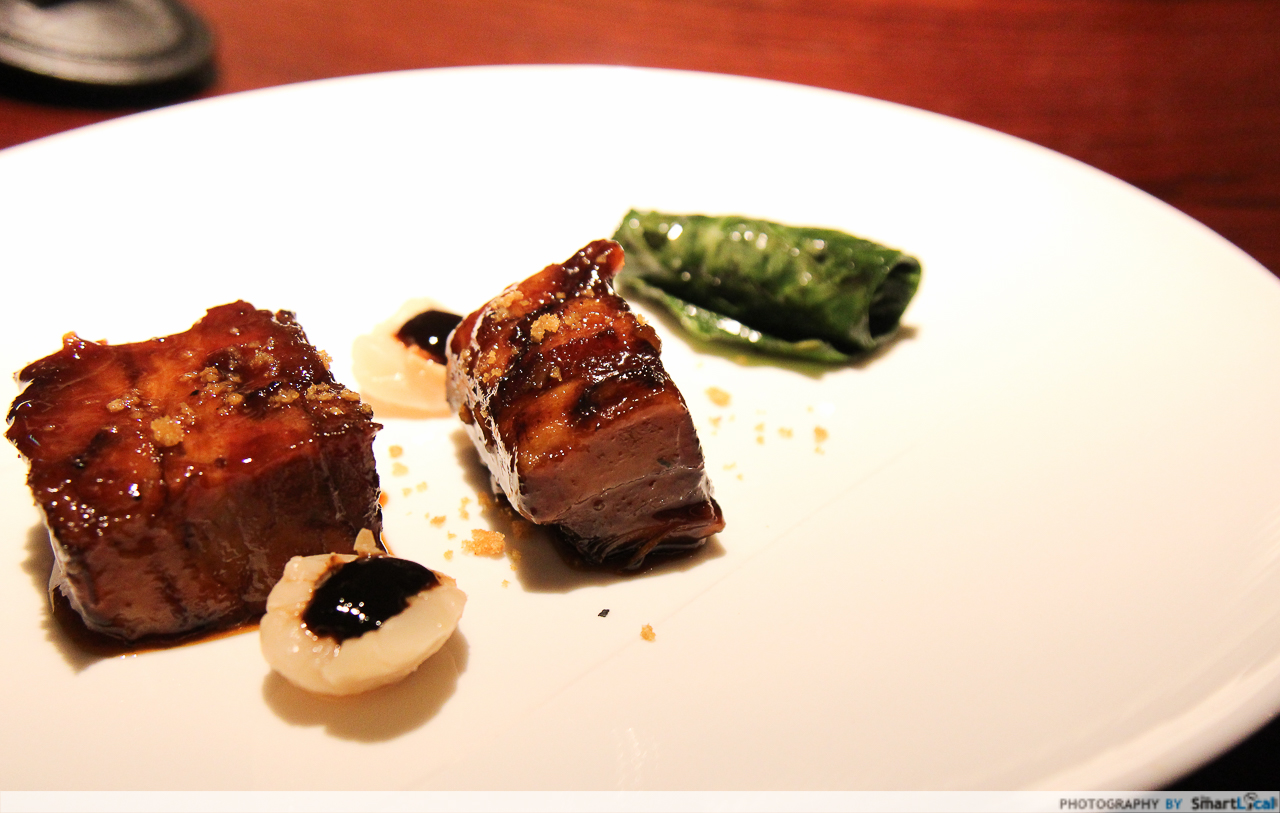 Tearing through the pork's tender exterior was a joy, and tasting it was even better. The sweetness really came through. The pork is served with sweet lychees and coffee sauce, and if you've ever had kopi pai guat served in cantonese restaurants you'll have a general idea on how the taste was like. I prefered to have the pork on its own however, and dipped it into the sauce only when it got a little too sweet.
---
Dessert
---
Coconut Sago ($14)
---
Actual serving portion
This fun dessert starts off with a sago base, and is topped with a mango gel and white chocolate and then topped with young coconut granite (flavoured shaved ice). Digging into this will expose you to an array of textures and flavours that playfully go off in your mouth with enthusiasm. The mix of density between the light ice and heavier gels play well together too giving the dessert a great mouth feel.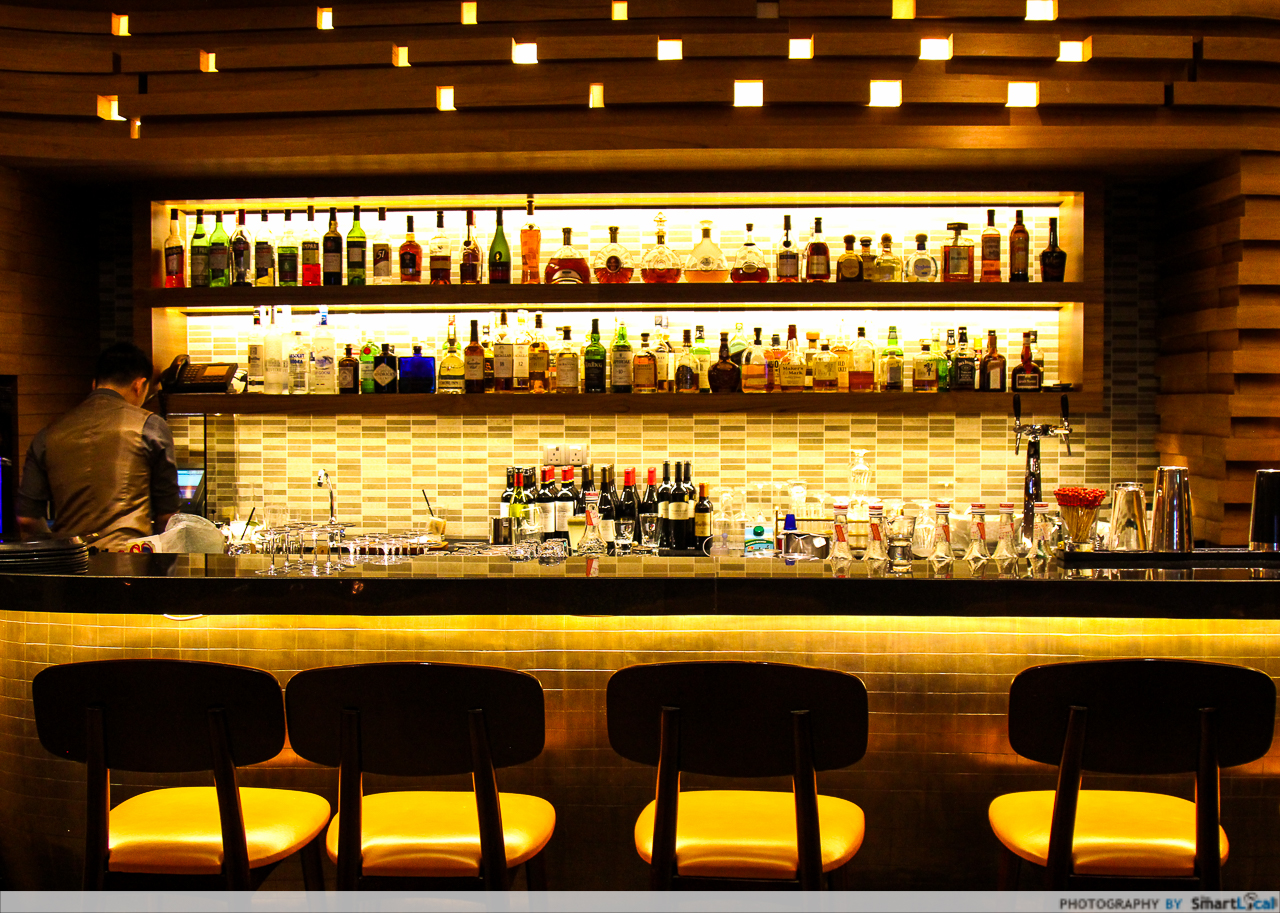 This review was adapted from The Smart Local
The new grill on the block
Summary
Opus Bar and Grill has some great dishes, the main courses definitely stood out from the rest of the experience, in fact they were excellent. But there is still more work to be done on the appetizers before I would consider it to be a magnus opus. Still, it still has some solid offerings if you're feeling the craving for some meat on Orchard road.
If you need another reason to dine here, Hilton Singapore is the only hotel in Singapore to be certified by the Marine Stewardship Council, which means all the seafood here is sustainably caught so you can eat guilt-free and cause minimum damage to the environment.
Opening Hours:
Dinner: 6.30pm-10.30pm
Bar: 10am-12am
Address: 581 Orchard Road, Hilton Singapore