XXL nasi briyani at Papa's Kitchen

I simply love the emphasis on communal dining in our Asian culture. During such meals, you'll get to try out a variety of dishes while catching up with family and friends. If sharing platters are up your alley, then Papa's Kitchen is the place to be. This Muslim-owned eatery at Bencoolen has an extensive menu boasting classic Indian fare as well as Western dishes. The star at this joint has to be their massive nasi briyani platter.
Food at Papa's Kitchen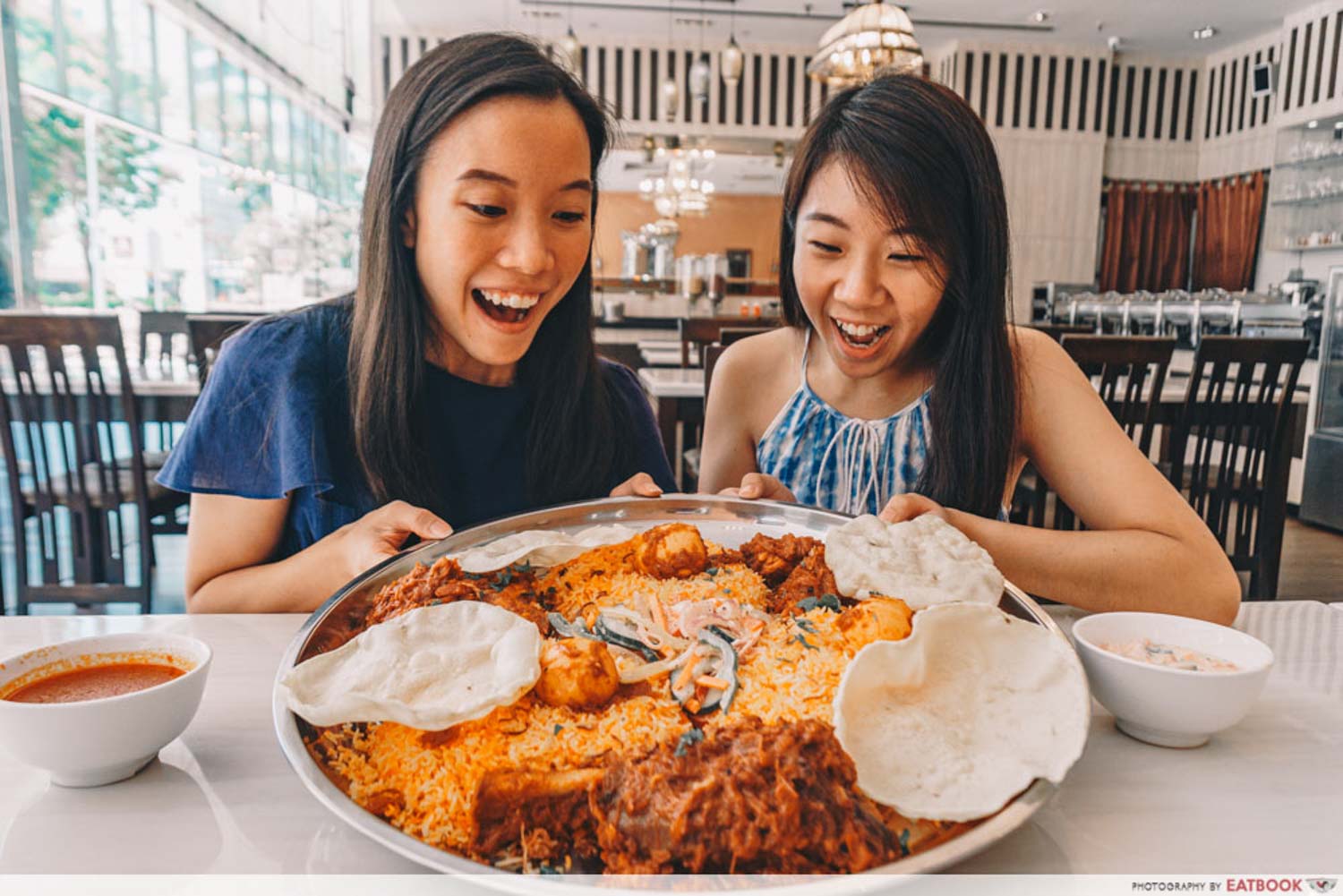 The star of Papa Kitchen's menu has to be their briyani combos which provide a feast for three to four people. We went straight for their Chicken Meat Briyani Combo ($29.90+).
Two waiters had to serve this mammoth silver platter of briyani to our table, a testament to its heaviness.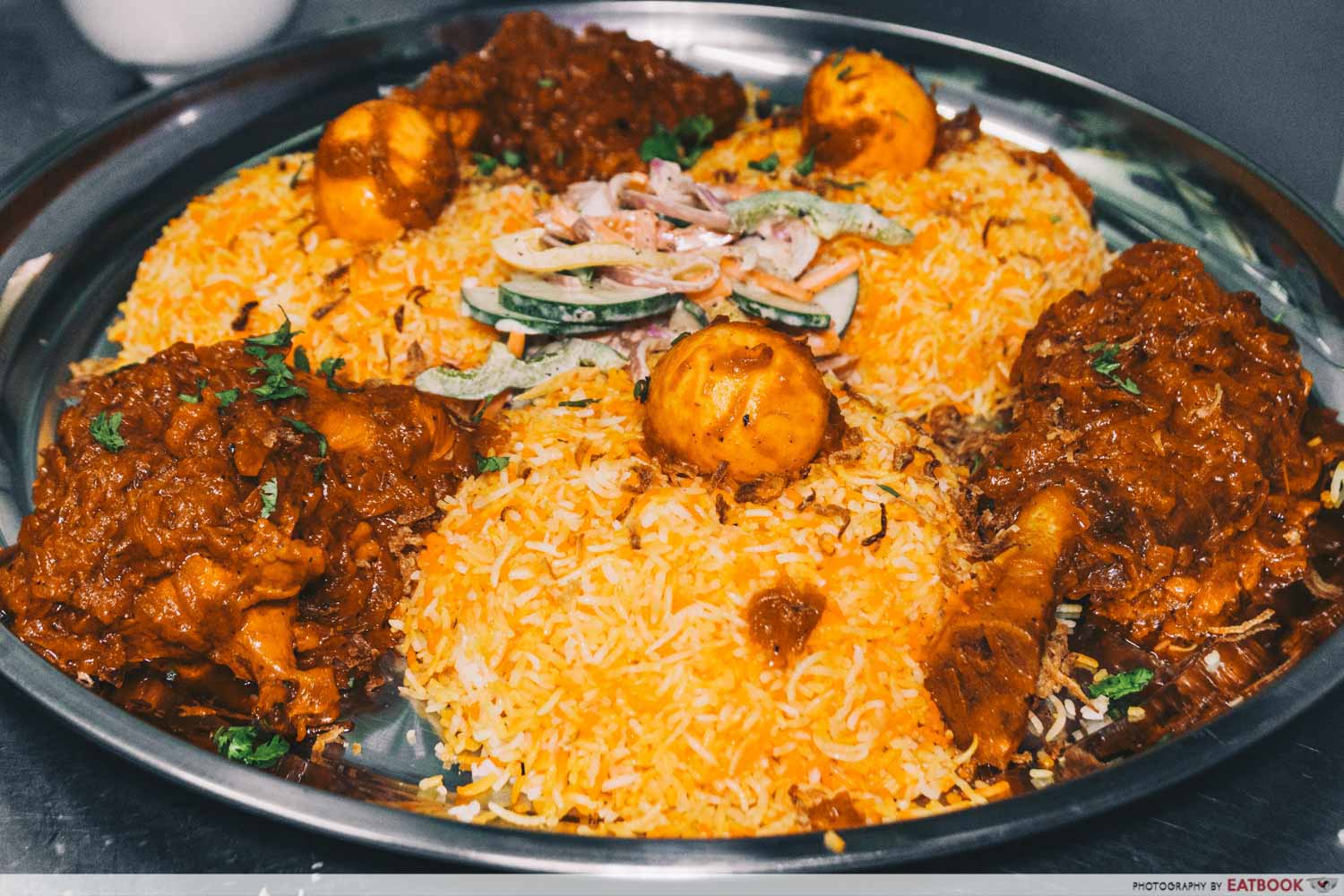 Their chicken briyani was a sight to behold. Three plates of rice blanketed the entire plate, which were then topped with a liberal serving of chicken masala and hard-boiled eggs. A mix of vegetables sat in the middle of the briyani and crispy papadum lied around it like petals of a flower.
It goes without saying that Indian cuisine is amazingly aromatic. Fragrant scents of spices, such as star anise and cardamom, wafted from the massive dish.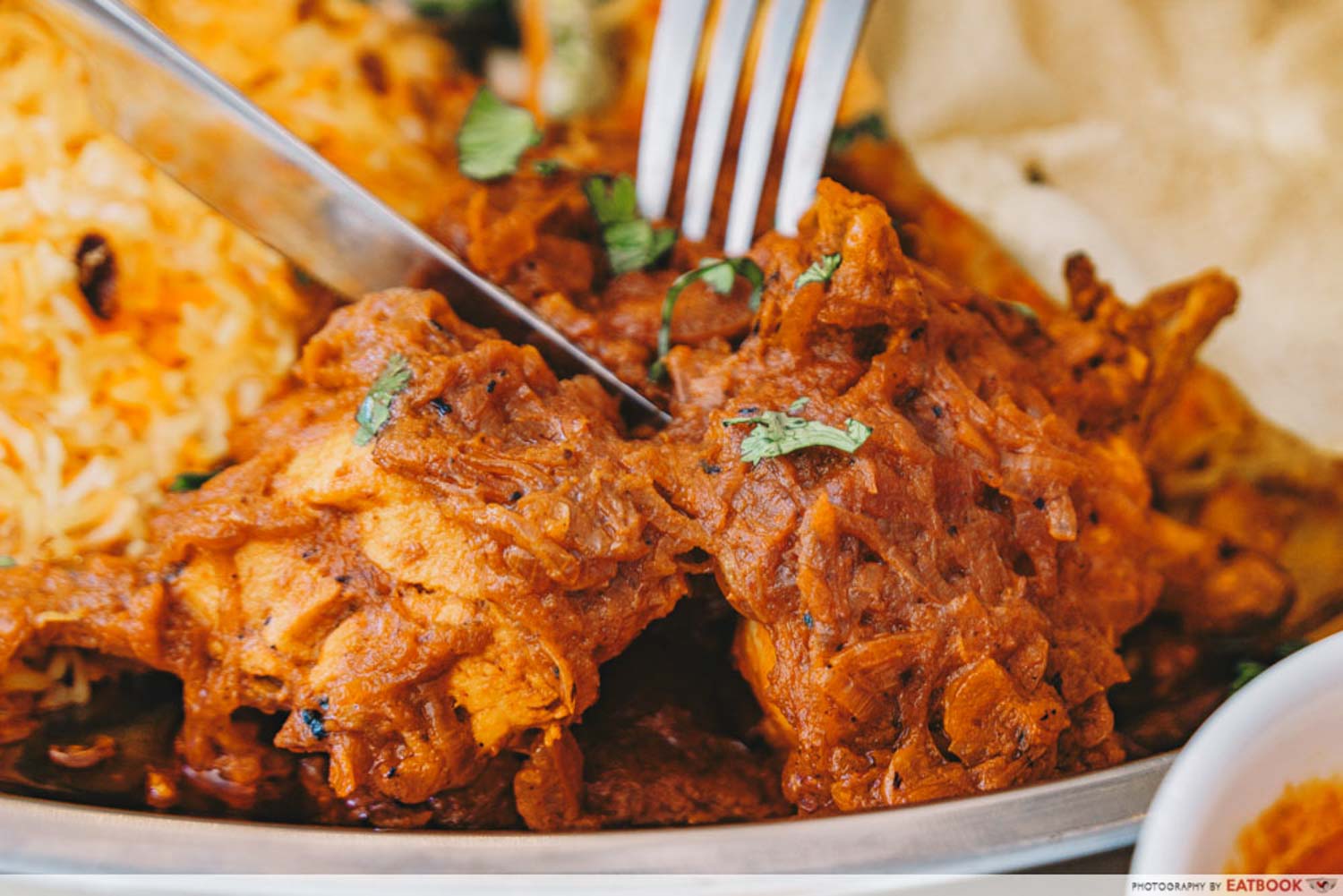 Disappointment set in as I tore apart the chicken masala. The meat was not as tender as expected and a little dry. However, it was well seasoned with hints of turmeric and tamarind. Each bite was a burst of bold flavours, accompanied by a mild spicy kick.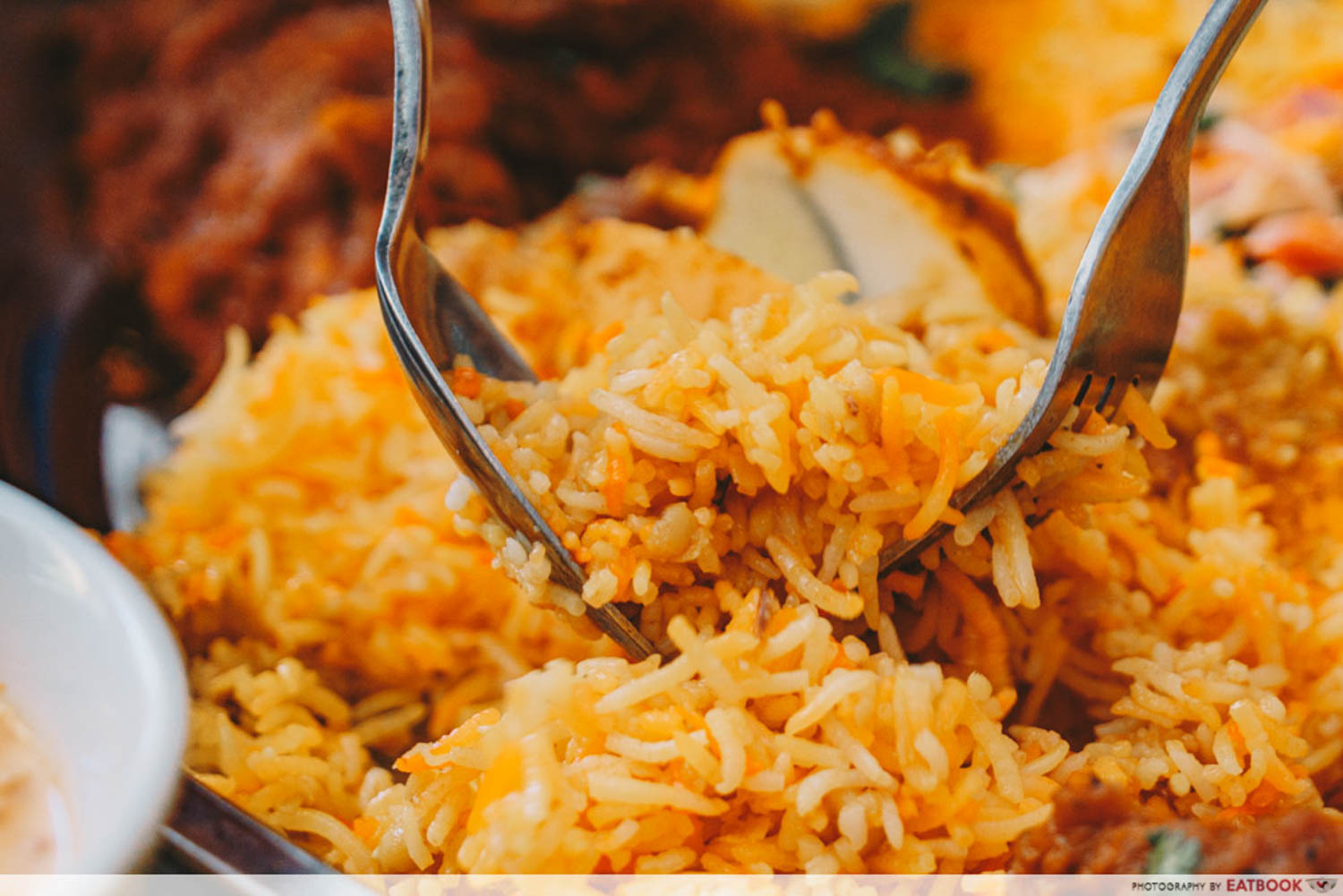 The briyani rice played an essential supporting role to complement the rich chicken masala. The long grains were firm and fluffy but lacked oomph in the taste department.
By the way, the rice is free-flow. So if the massive amount is somehow not enough for you and your friends, don't be shy to ask for more.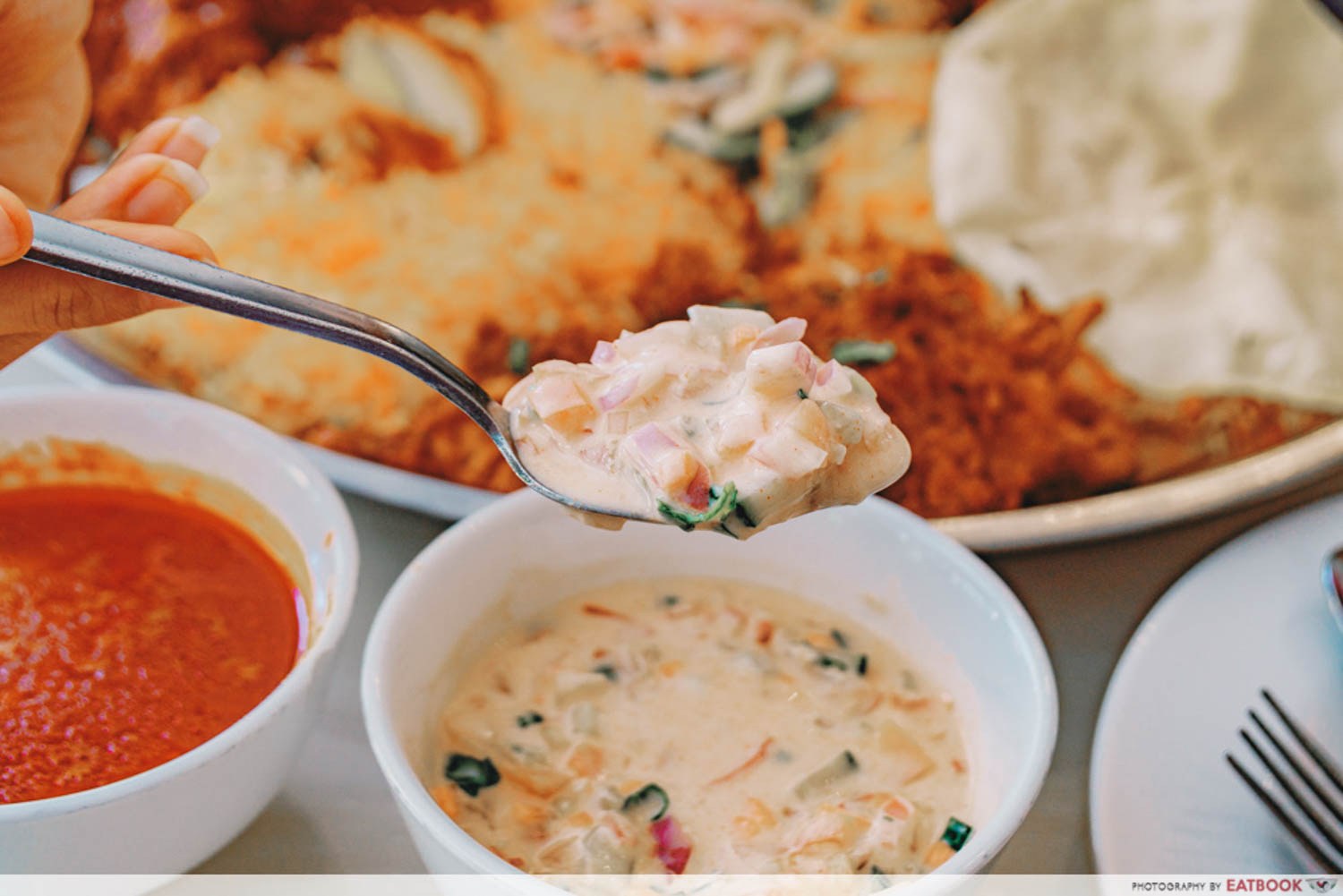 A dollop of their house-made raita helped to elevate the lacklustre rice with savouriness. Made with a mix of yoghurt and an assortment of vegetables, this light-tasting sauce provided a refreshing break from the bold flavours in the dish.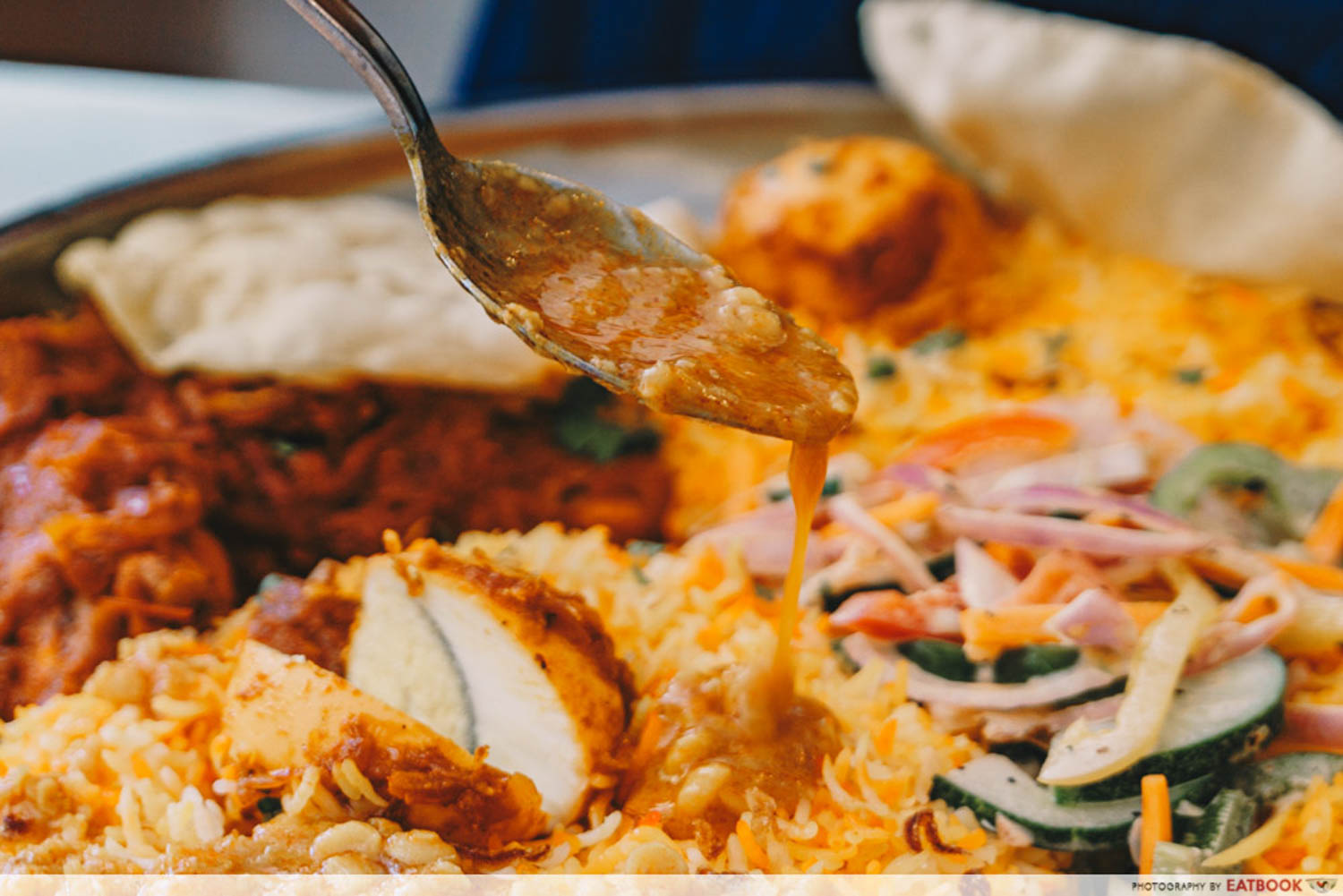 Don't be taken aback by the red hues of their daal. The heat from this lentil curry is manageable, even for those who can only tolerate xiao la. Mix this savoury daal with the rice for a harmony of tantalising flavours. Plus, this thick sauce provided some moisture to the dry chicken.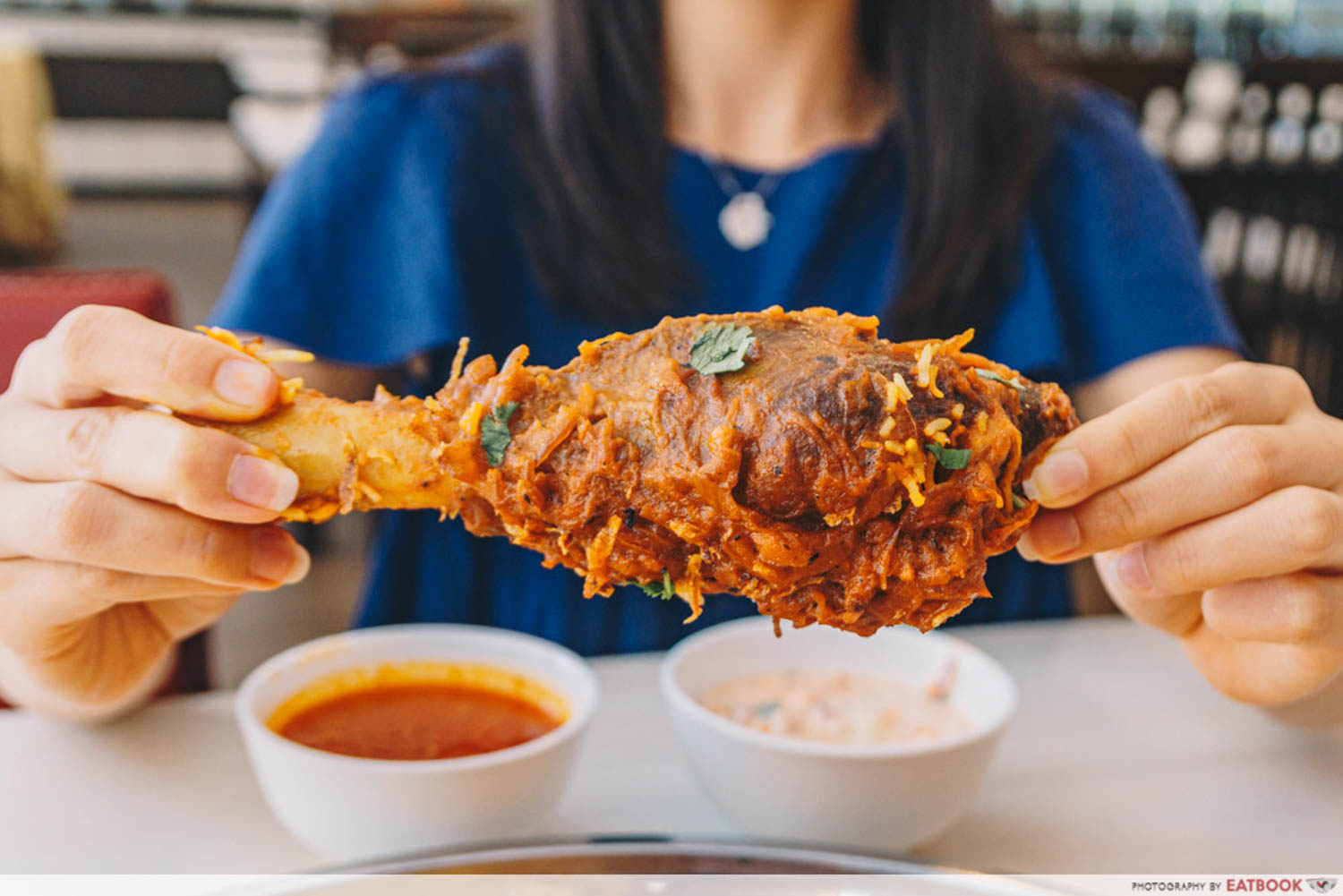 Papa's Kitchen offers an add-on of Lamb Shank at just $8+ with an order of their chicken briyani combo. This affordable price for a large lamb shank is not common, so I had to get this side order.
You might want to use a fork and knife to tackle this hefty hunk of meat as it takes some effort to lift it up by hand.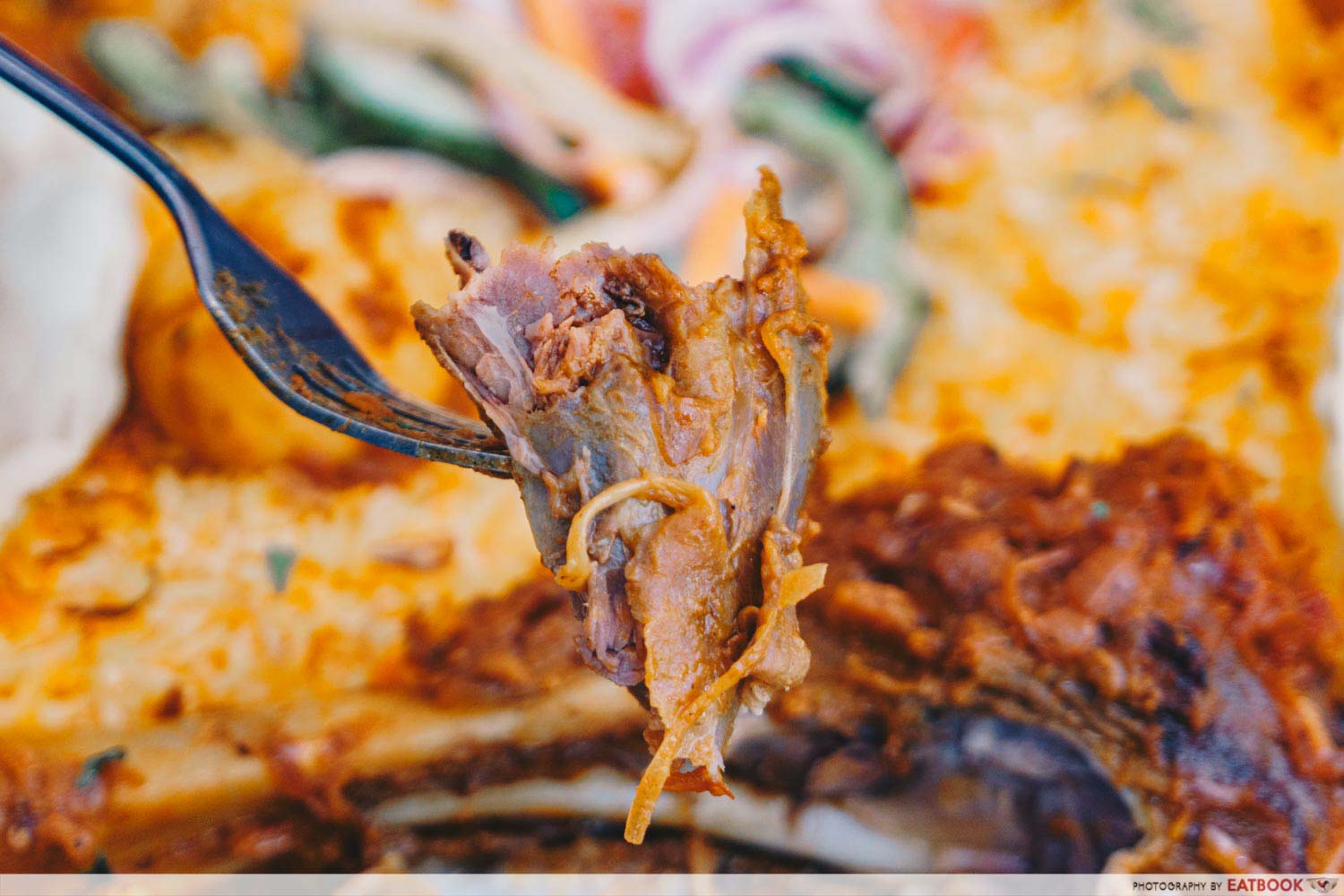 Cutting through this wildly aromatic lamb was a breeze. The tender meat easily tore away from the bone. Unlike the dry chicken, this lamb was juicy and packed with bold flavours. My dining companions commented that the lamb shined over the chicken.
Ambience at Papa's Kitchen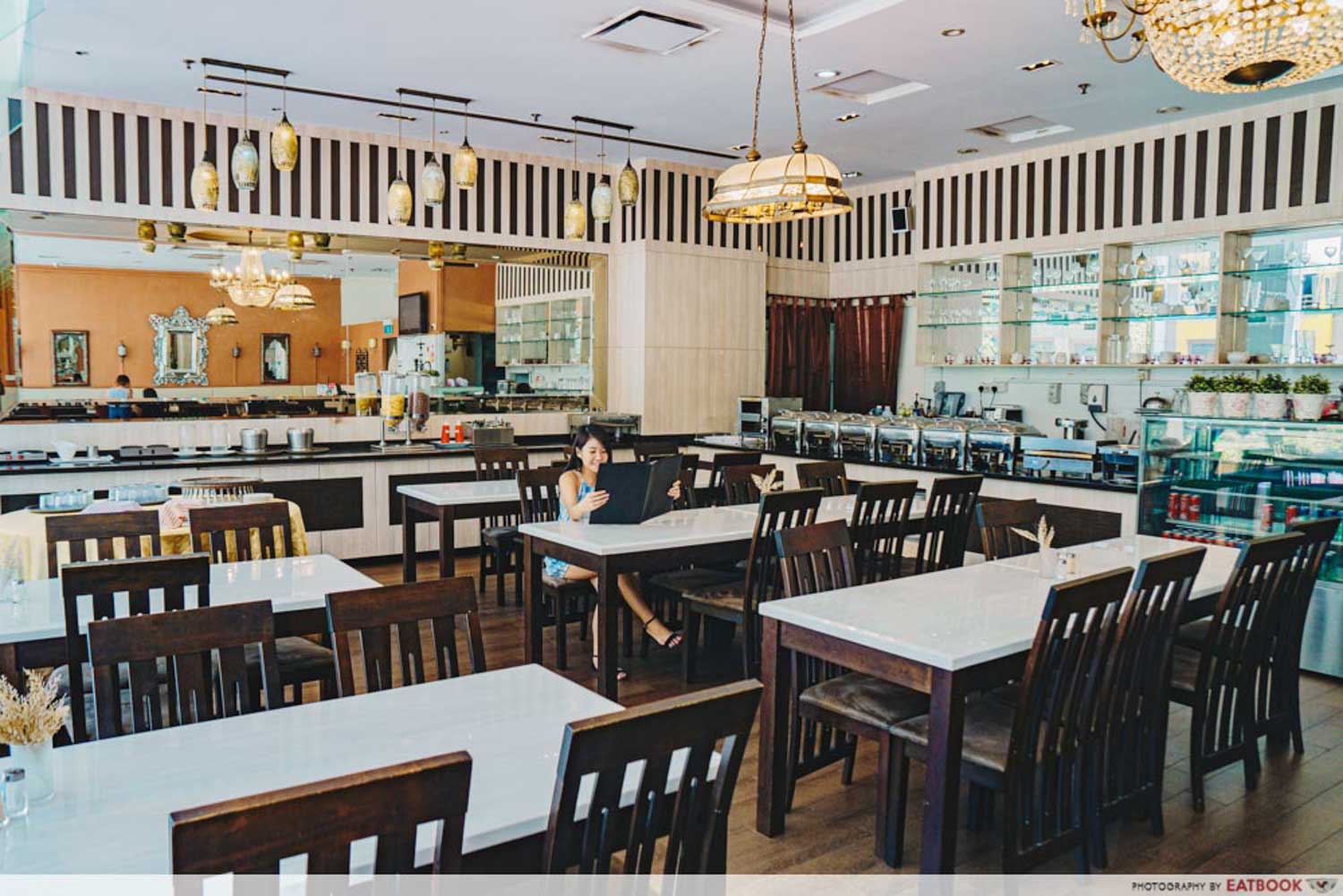 With decorations kept to a minimal, Papa's Kitchen may not be the most aesthetic joint. Don't expect to be snapping any IG-worthy pics here, well except for their XXL briyani platter that is.
Big groups coming to take on their briyani sharing platters have plenty of room in the 56-seater eatery. Things can get heated while chowing down on this massive rice dish, but you won't have beads of sweat running down your face in this air-conditioned restaurant.
The verdict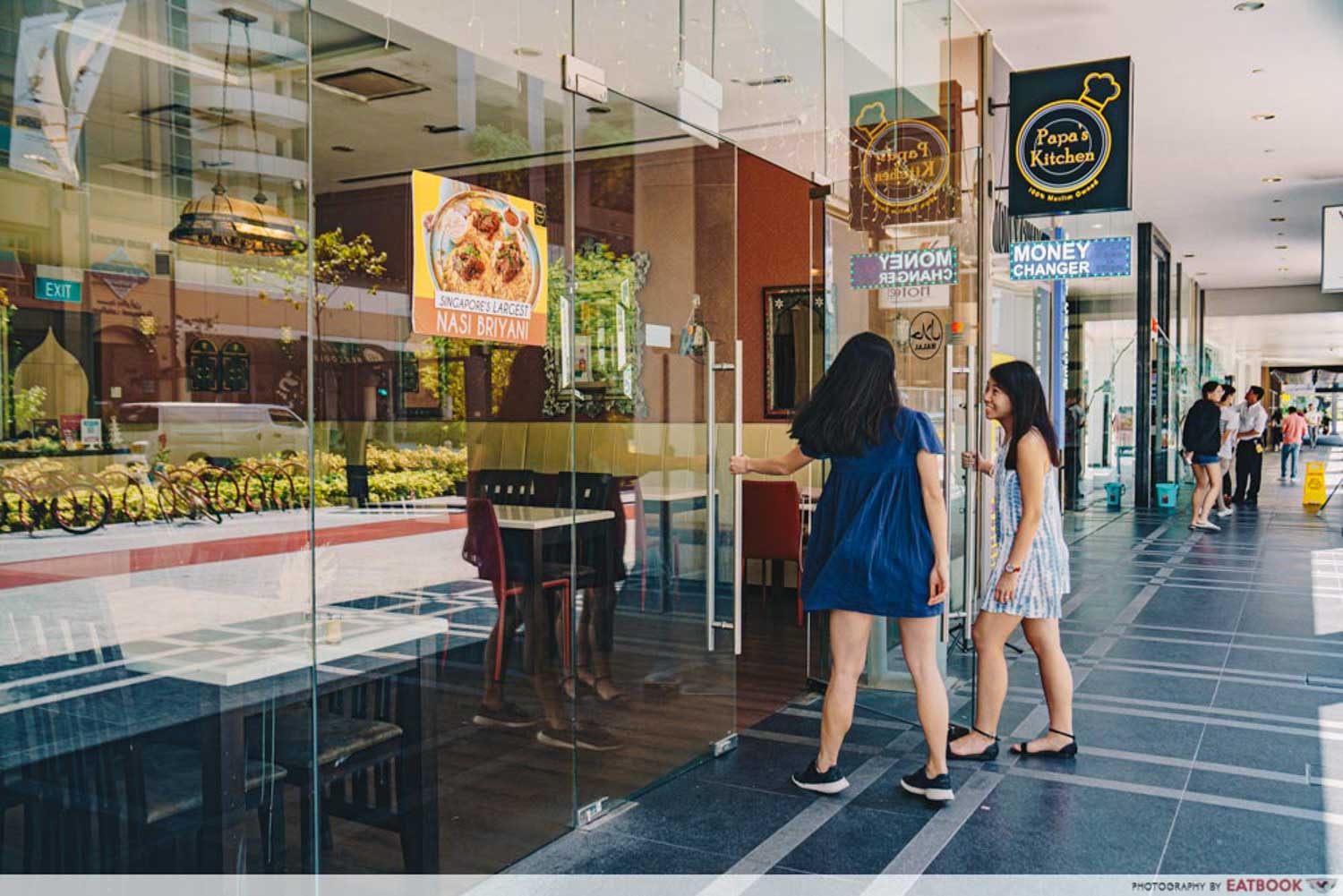 XXL dishes tend to be gimmicky, where quantity triumphs quality. However, Papa's Kitchen does a decent job with their Chicken Meat Briyani Combo. Although the chicken was on the dry side, other elements, such as the tender lamb shank and savoury daal, help to bring this rich and aromatic dish together.  
This briyani meal could be a messy affair, so be sure to head down with friends whom you're comfortable with. If you're good with your hands, don't be shy to ditch the cutlery.
If you're looking for more delicious nasi briyani, check out our review of Ali Nachia Briyani Dam!
Address: 48 Bencoolen Street, Singapore 189627
Opening hours: Daily 12:30pm to 2:30pm, 5:30pm to 10pm
Website
Papa's Kitchen is a Muslim-owned eatery.
Photos taken by John Lery Villanueva.
This is an independent review by Eatbook.sg.
Summary
Pros
– Prices are reasonable
– Generous portions
– Tender and flavoursome Lamb Shank
Cons
– Dry chicken
– Average-tasting briyani rice
Recommended dishes: Chicken Meat Briyani Combo ($29.90+), Lamb Shank ($8+)
Opening hours: Daily 12:30pm to 2:30pm, 5:30pm to 10pm
Address: 48 Bencoolen Street, Singapore 189627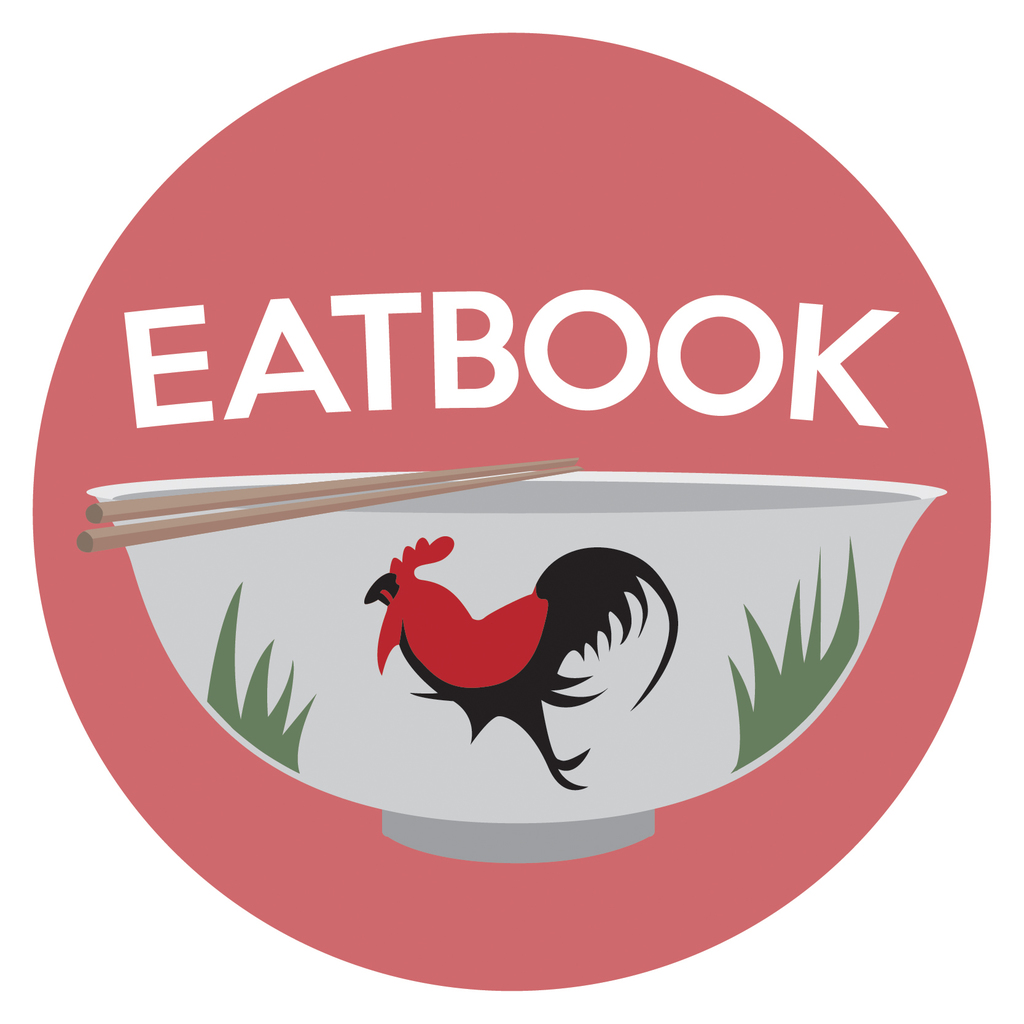 Drop us your email so you won't miss the latest news.