Paradise Gastronomy is a Taiwanese foodie paradise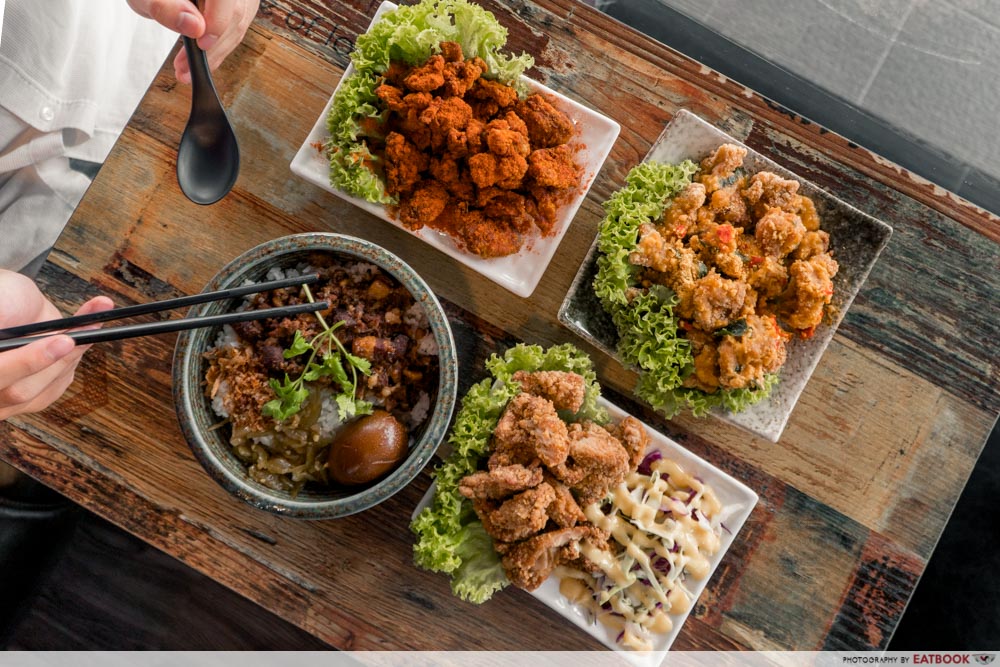 "Handsome man, want eat [sic] lu rou fan?" the waitstaff at Paradise Gastronomy asked. I was apprehensive—the dodgy interior of GV Yishun and the solicitous way she advertised raised a few red flags.
But somehow, the irresistible smell of lu rou that wafted in the air lured me in. I obliged nonetheless.
More than just a lu rou fan stall, they also sell a crazy assortment of Taiwanese fried chicken ranging from ma la to salted egg. The gimmick-loving me was instantly hooked. "One of each," I said impulsively, much to the amusement of my dining companion.
Food at Paradise Gastronomy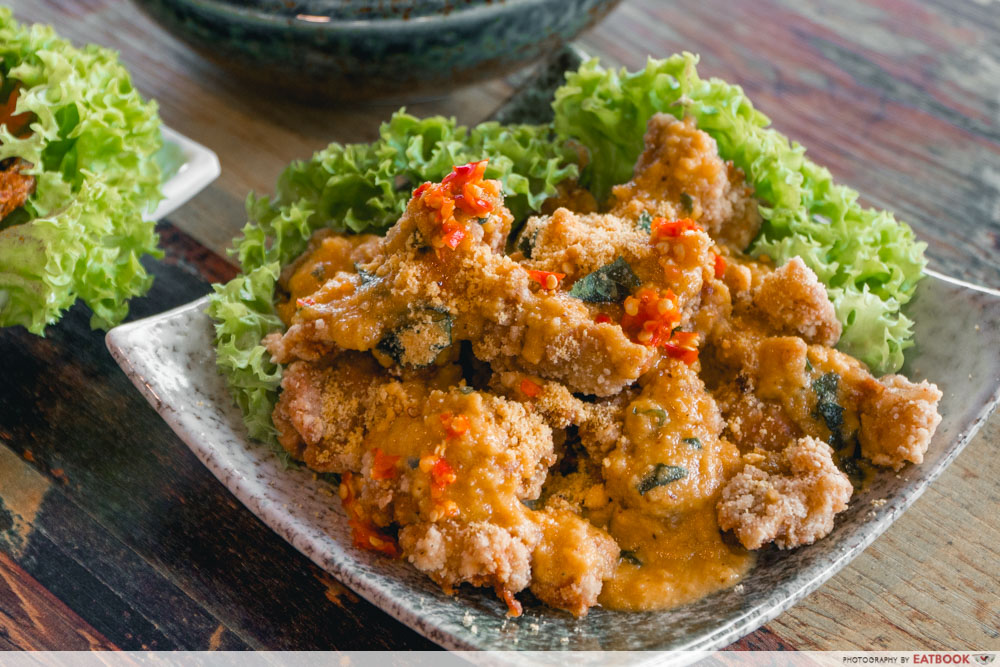 Once we were seated, the Salted Egg Chicken ($4.50) was quickly served. It was blanketed in a deluge of salted egg yolk sauce, then garnished with chilli paste and additional salted egg yolk powder.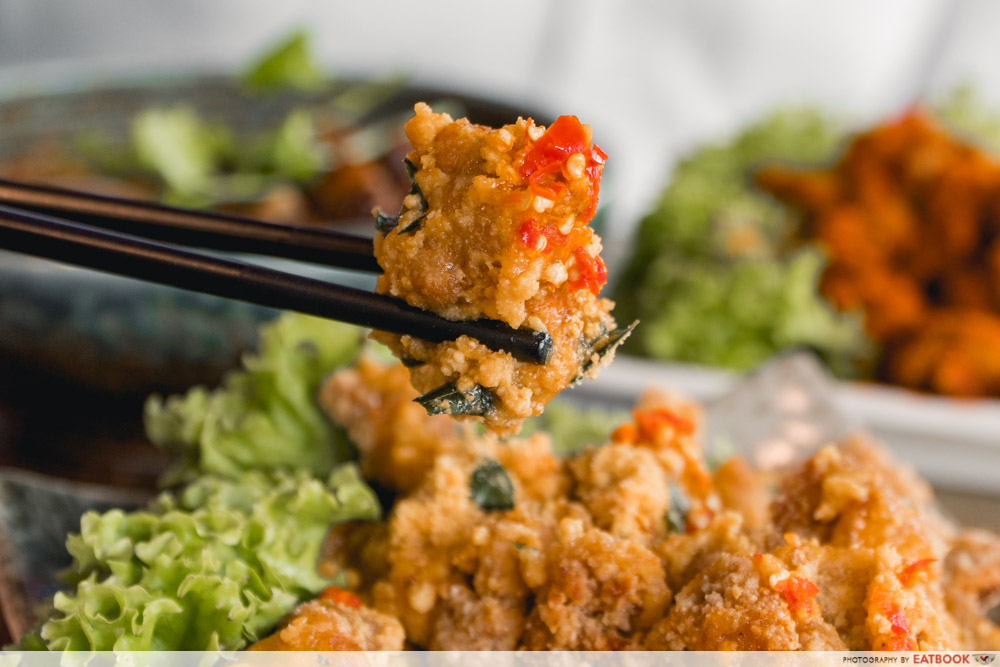 The shimmering, golden sauce was properly creamy. Lathering it on crispy chunks of fried chicken was a stroke of brilliance. The smooth, luscious sauce juxtaposed beautifully with those crunchy fried bits. And unlike most SEY chicken, I could actually taste the salted egg yolk here.
YEAH Taiwanese Review: XXXL Fried Chicken Steak And Flaming Beef Cubes From A Food Truck
Slowly, the creeping tinge of heat from those crushed chillies surfaced. It was subtle, yet strong enough to excite.
Braised Pork Rice ($3.50/$5.50/$7.90) is a must-have at any Taiwanese restaurant. Here, fatty cubes of pork are simmered into a gooey sauce, then liberally slathered on a bed of rice.
A flavourful braised egg and crunchy salted vegetables were then added, garnished with a few sprigs of coriander.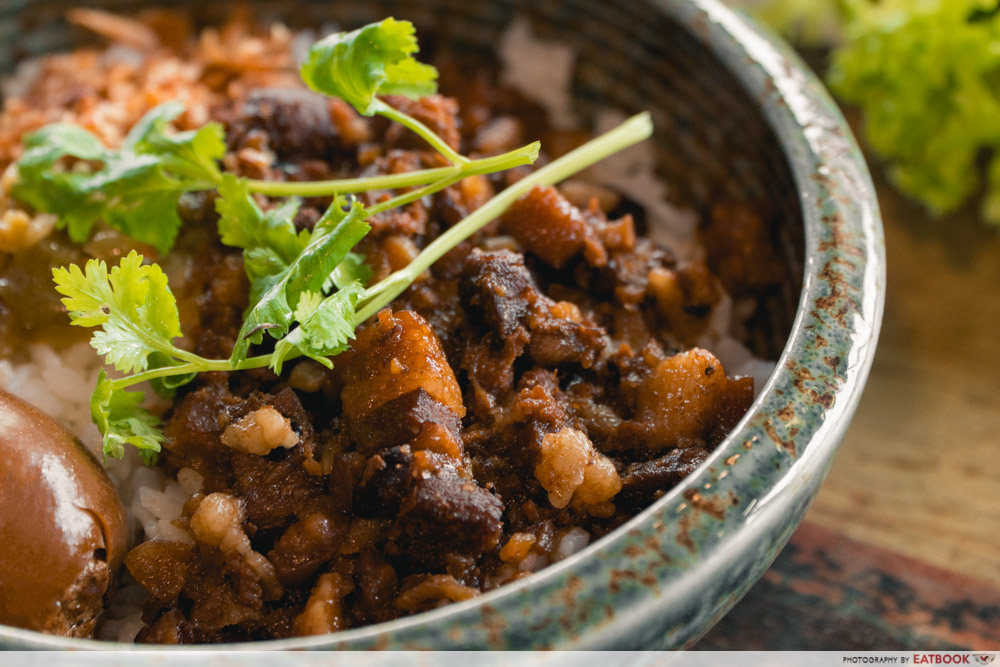 While I utterly disdain excessive fats in my food, the chunks of lard here were a welcome treat.
It provided a play in textures. Soft and gelatinous yet firm and chewy around the rind.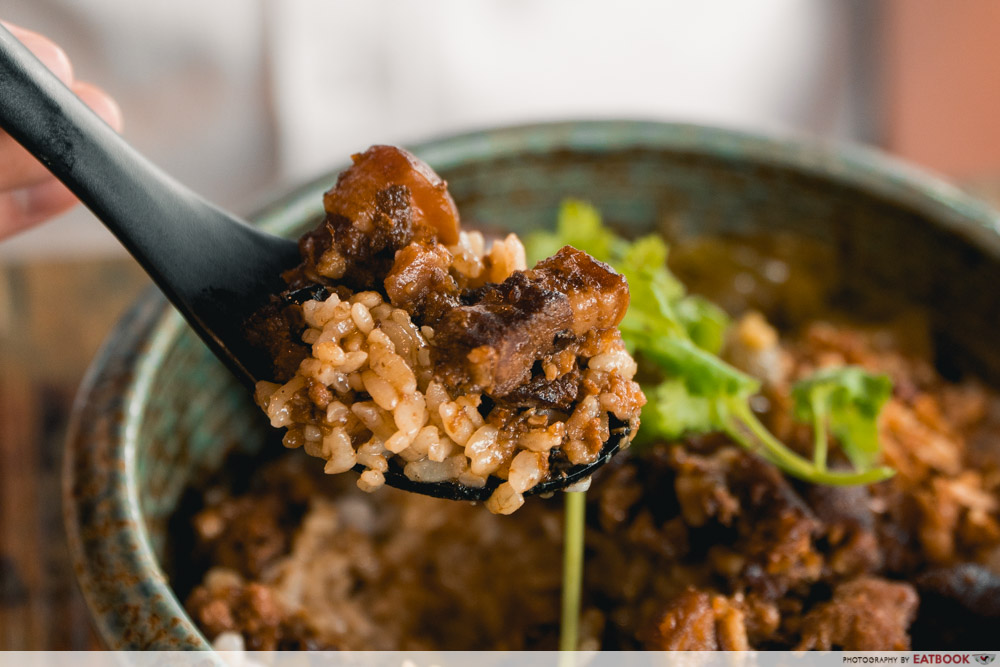 Mixing it all up brought upon the full potential of those textures. Because of how much the cartilage and fats have rendered, it became a viscous sauce that enveloped those fluffy grains of rice in a beautiful creaminess.
Porky flavours also exploded in my mouth. We felt that the Chinese spices used here greatly temper the lu rou's meaty aromas.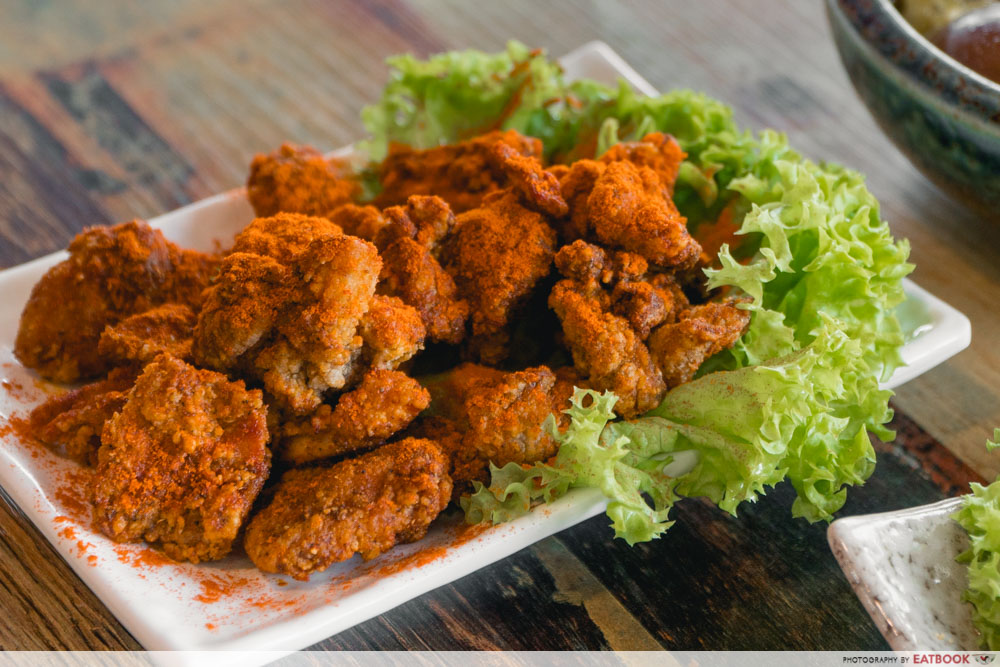 I was shocked when the Ma La Chicken ($4.50) was served. Fried chicken were tossed in an excessive amount of chilli powder, then further garnished with even more of that fiery, red dust.
Keep this caveat in mind: the ma la seasoning is a fine powder, so you may choke on it when attempting to take a bite as I have.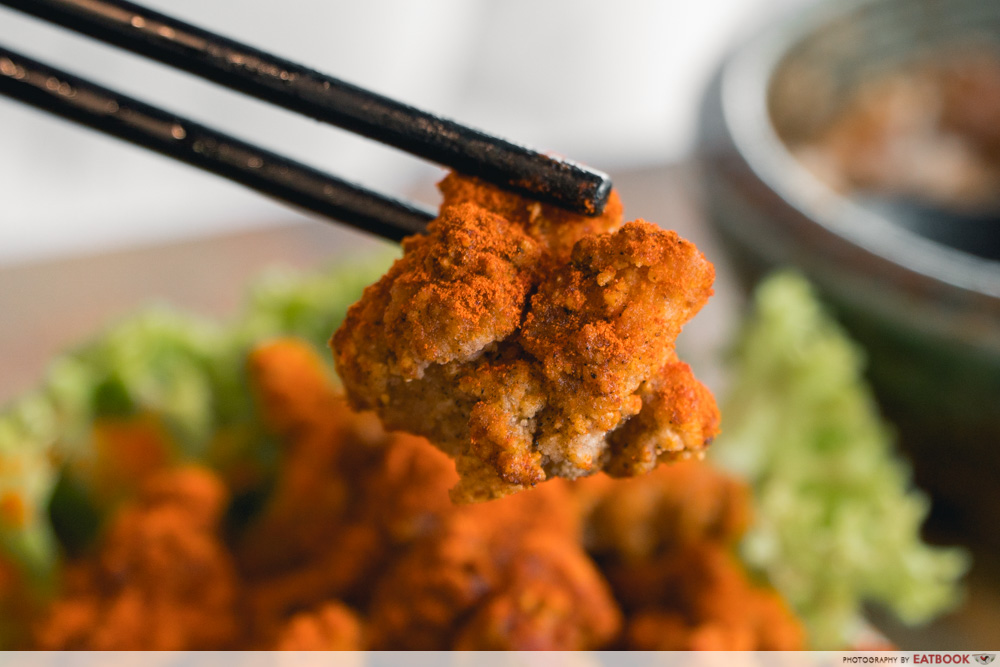 The taste, however, is nothing remarkable. I barely tasted any ma la. It felt more like Japanese shichimi chilli powder that I'd get from NTUC.
Perhaps a spice blend with freshly ground Sichuan peppers would take this dish up a notch.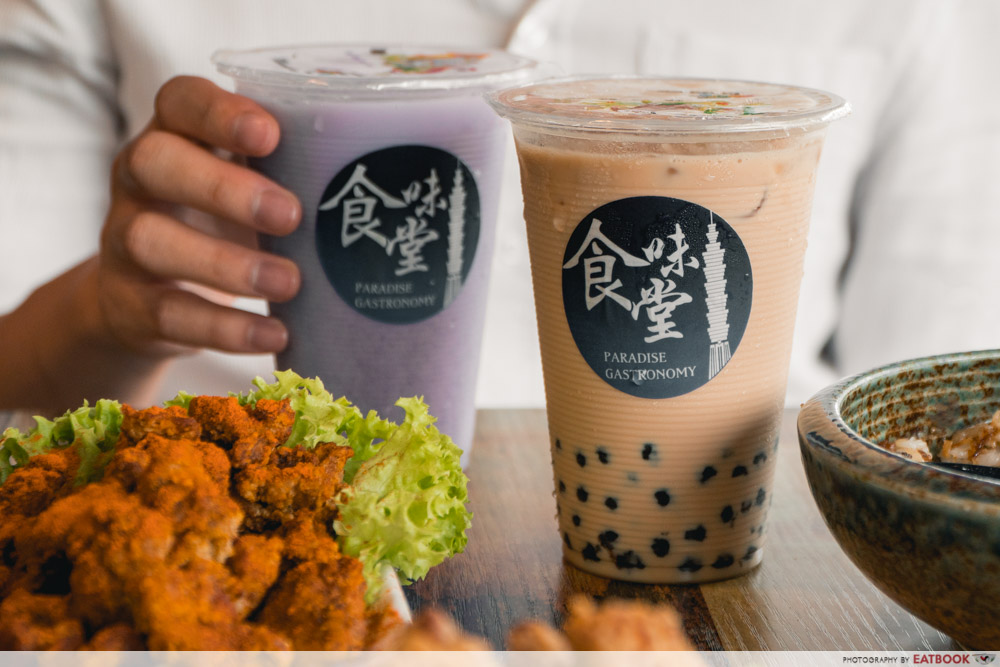 After our meal, the staff offered us Taiwan Pearl Milk Tea ($3.50/$4.50). It was perfect because my dining companion had already purchased milk tea from KOI. We were ready to do a taste test.
It's a long stretch to claim that their bubble tea is comparable to KOI's, though I did enjoy it. There was the defining nostalgic taste from Sweet Talk that came through in this drink, perhaps from the type of tea and milk they use.
Fong Sheng Hao: Famous Taiwanese Charcoal-Grilled Toast & Milk Tea Coming To Singapore
Not exactly the item with the most Taiwanese flair, but still passable nonetheless.
Ambience at Paradise Gastronomy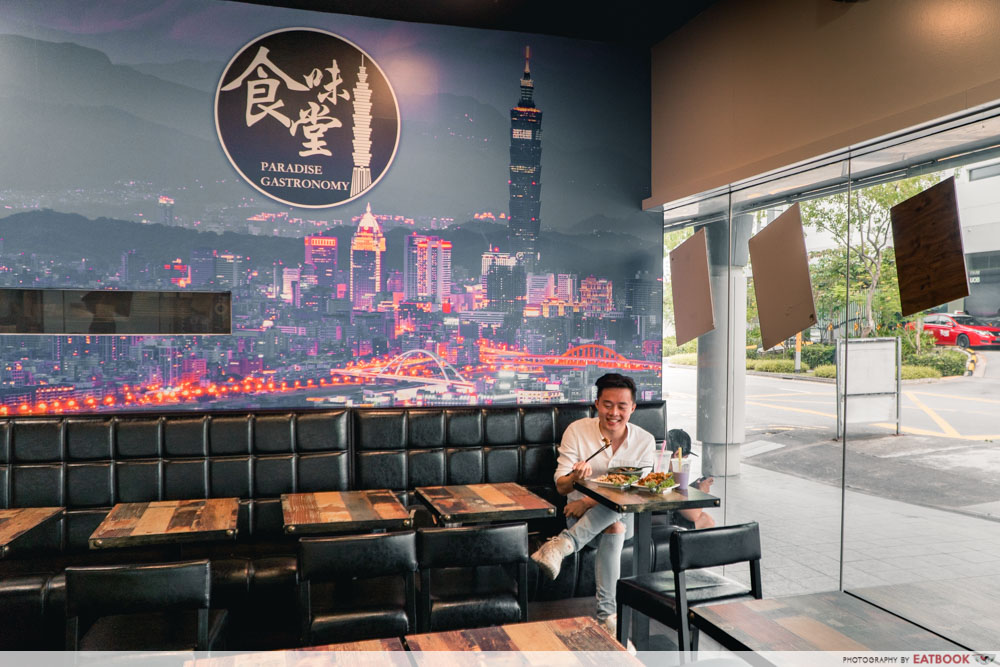 Like I've said before, the facade of this eatery isn't the most flattering. The dim lights and 80's decor of the neighbouring GV Yishun were rather off-putting. And although the restaurant's interior fared better, those faux wood tables and  pixelated Taiwan skyscape wallpaper didn't appeal to me either.
That said, I guess that added to the whole "hidden gem" experience. The most unexpected places often turn out to be the most amazing.
The verdict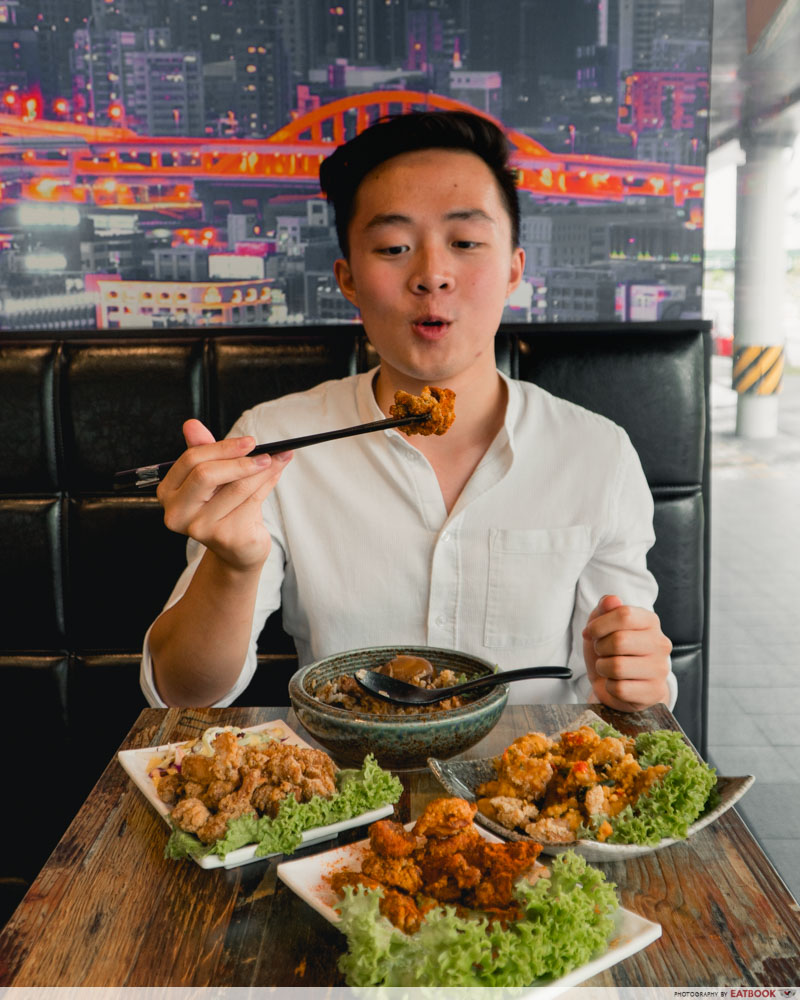 In retrospect, I would've skipped the gimmicks: salted egg and ma la chicken. Lu rou fan of this calibre doesn't need such theatrics. Paradise Gastronomy should stay true to serving up classic Taiwanese food.
Because it's not the dying fad of salted egg and ma la that gave them a 7.5 . It was the simple, honest-to-God lu rou fan that we loved the most.
Address: 51 Yishun Central 1, #01-01, Singapore 768794
Opening hours: Mon-Thu 12pm to 9:30pm, Fri-Sun 12pm to 10pm
Tel: 6252 5122
Website
Photos taken by Nadia Loewito.
This is an independent review by Eatbook.
Paradise Gastronomy Review: Tasty Lu Rou Fan And Ma La Chicken Cutlet In Yishun
Summary
Pros
– Affordable dishes
– Lu rou fan was excellent
– Conveniently located beside the MRT Station
Cons
– Ma la chicken lacked flavour
Recommended dish:  Braised Pork Rice ($3.50/$5.50/$7.90)
Opening hours: Mon-Thu 12pm to 9:30pm, Fri-Sun 12pm to 10pm
Address: 51 Yishun Central 1, #01-01, Singapore 768794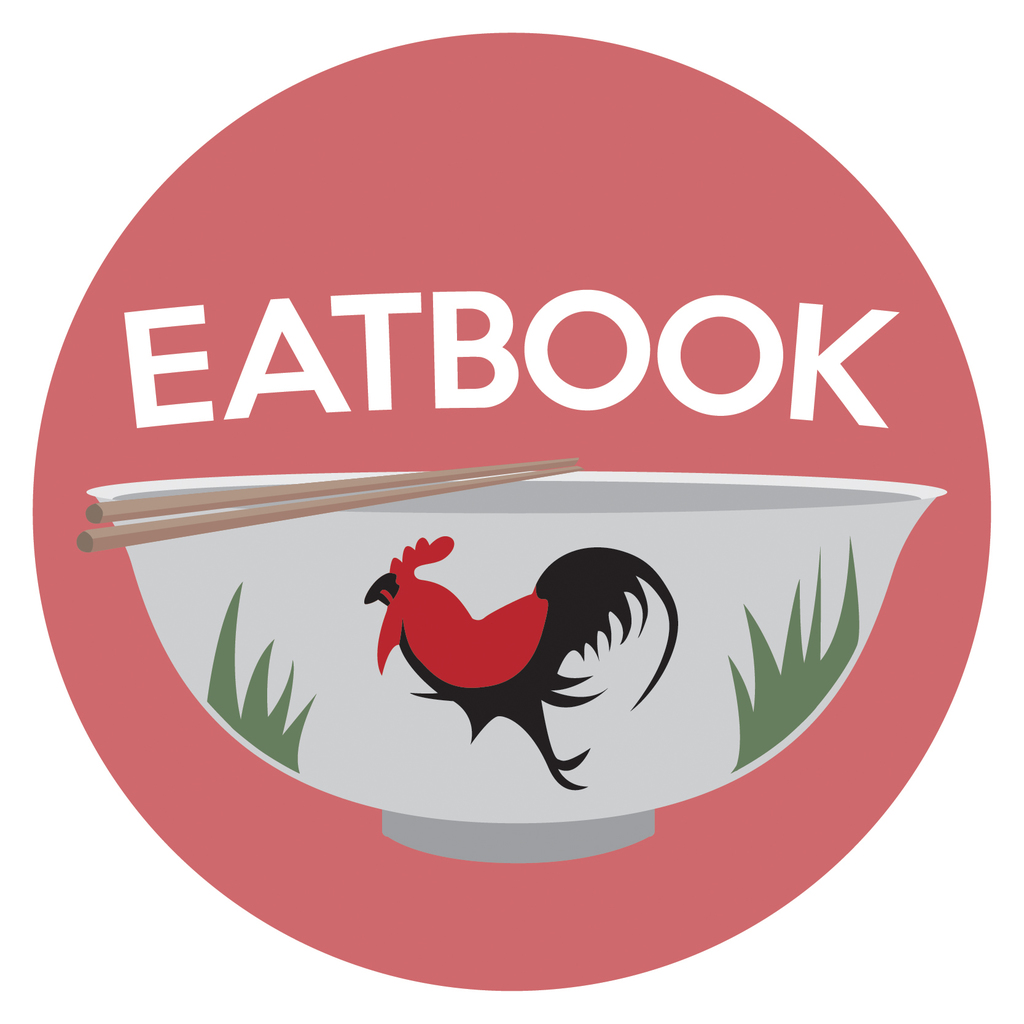 Drop us your email so you won't miss the latest news.