Pondok Daun Upeh at Tampines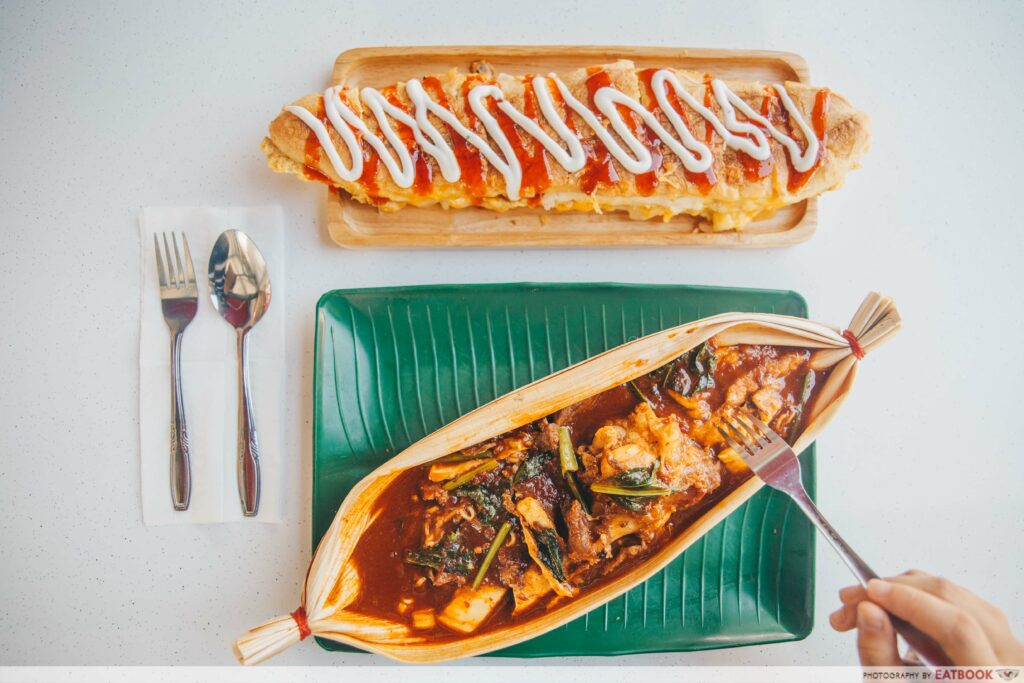 Just a stone's throw away from Tampines West MRT Station, Pondok Daun Upeh lies in a neighbourhood I used to frequent. However, I've never noticed this eatery as I usually get my food fix from the kopitiam beside it. Attracted by their aesthetic food, which I saw photos of on Instagram, I decided to visit this forgotten neighbourhood again.
Food at Pondok Daun Upeh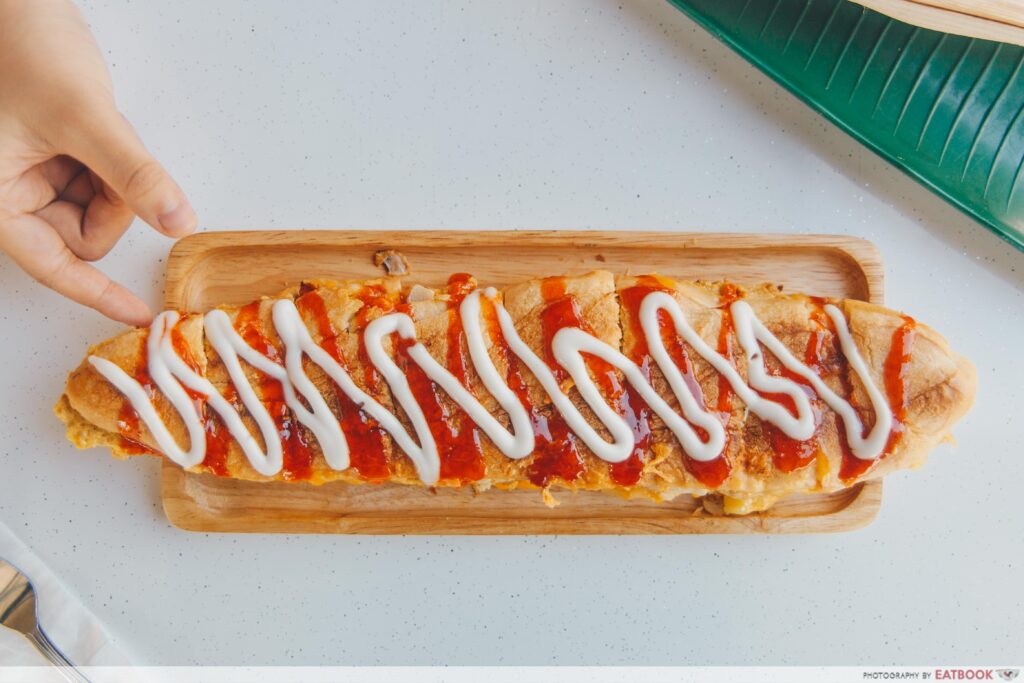 All my life, I remember roti john as a dish I only eat at pasar malams or in my school canteen. However, when news about this Instagrammable Roti John Cheese Chicken ($7.50) reached my ears, I couldn't stop myself from ordering one of these beauties.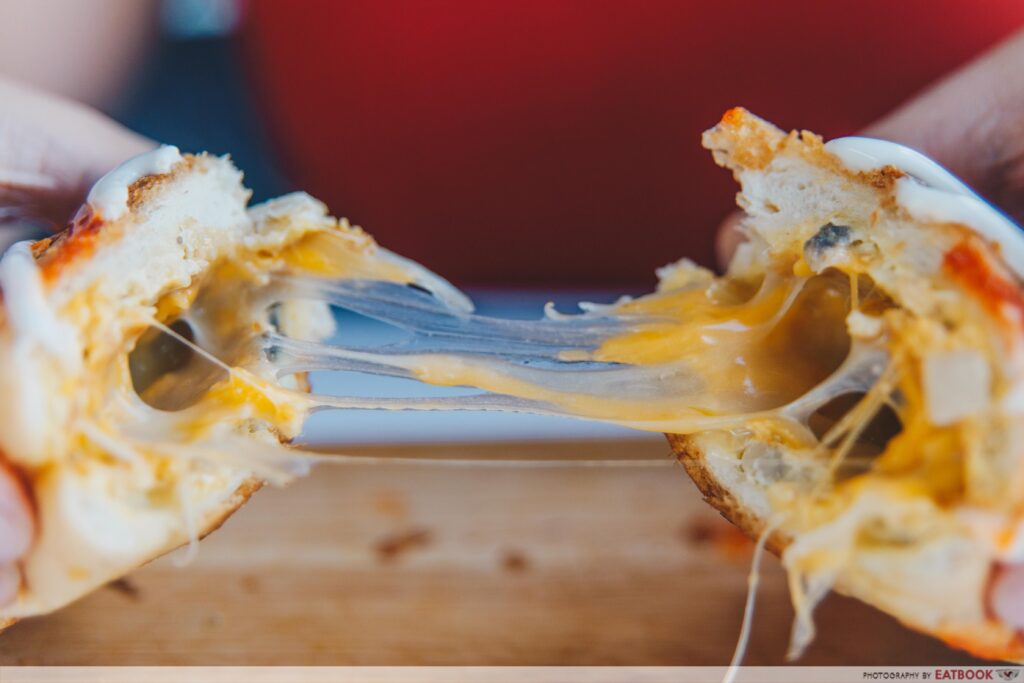 When it arrived, I fell in love with the aesthetics of this simple dish. Trying to get the perfect cheese pull shot proved to be a messy affair; chilli sauce and mayo just coated every finger. After the chaotic photoshoot, this cheesy delight proved to be worth the mess.
Of the mix of ingredients kiaped between the soft sandwich, the mushroom bits and well-seasoned minced chicken stood out the most. The mushrooms added a tinge of earthiness that complemented the savoury touch that the chicken brought to the table. The cheese also enhanced the flavour of the indulgent sandwich.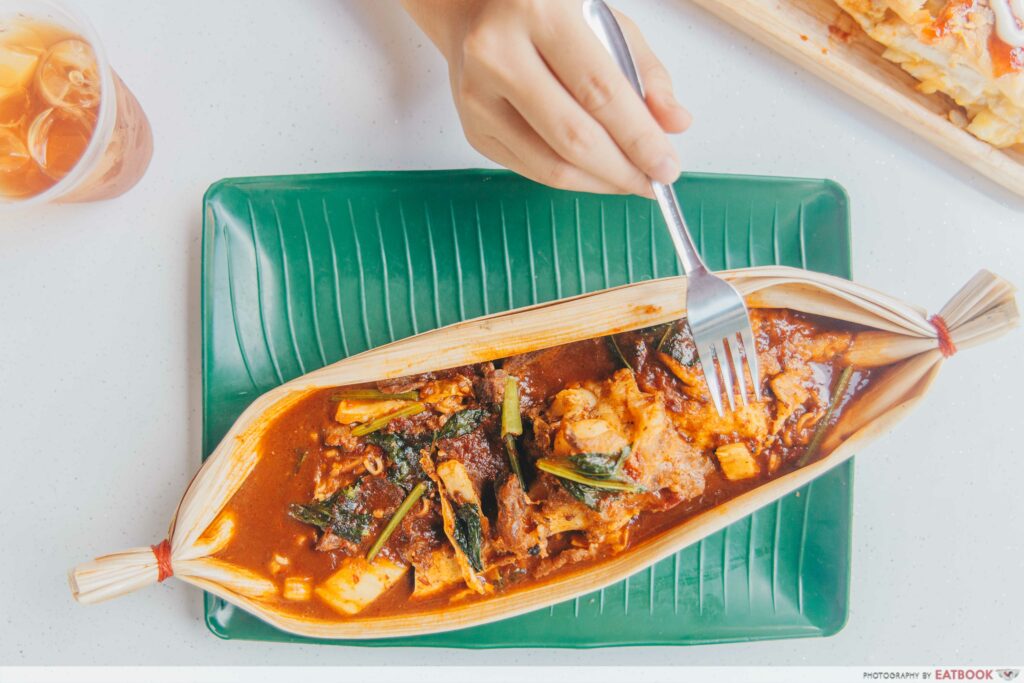 When the next dish was served, its interesting presentation got cameras snapping once again. Served only after 3pm, Pondok Daun Upeh's Mee Racun ($7) came with instant noodles, a large beef bone, tender beef slices, omelette slices, and some vegetables.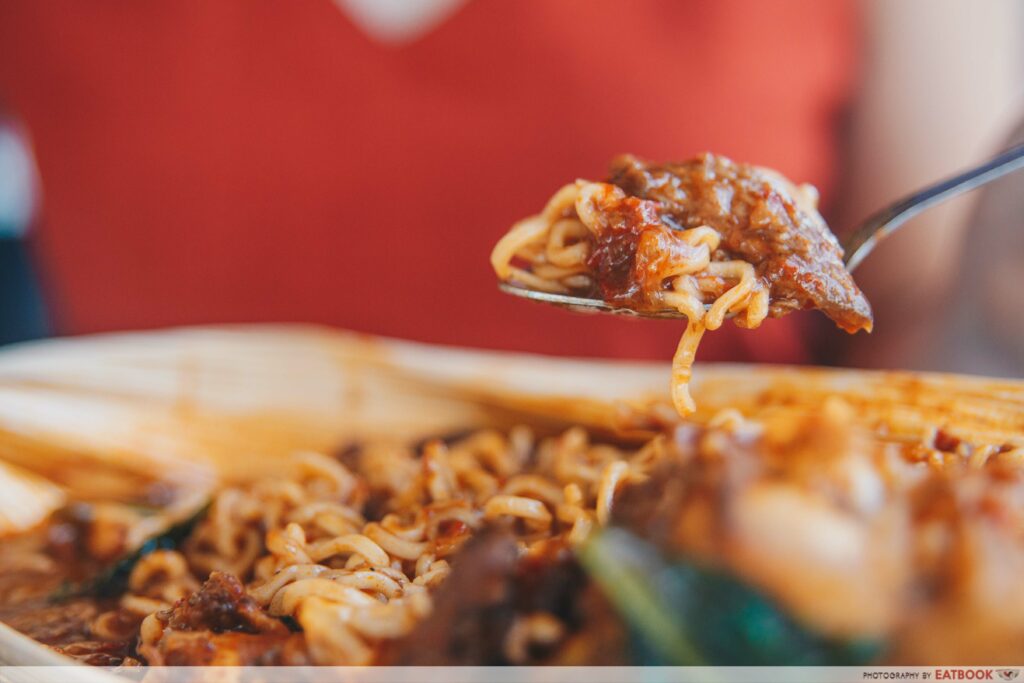 Slurping up the noodles, I was taken aback by a strong gamey taste that enveloped my taste buds. While I didn't enjoy the taste of the dish, the melt-in-the-mouth beef slices made up for the shortcomings of the pungent sauce slightly.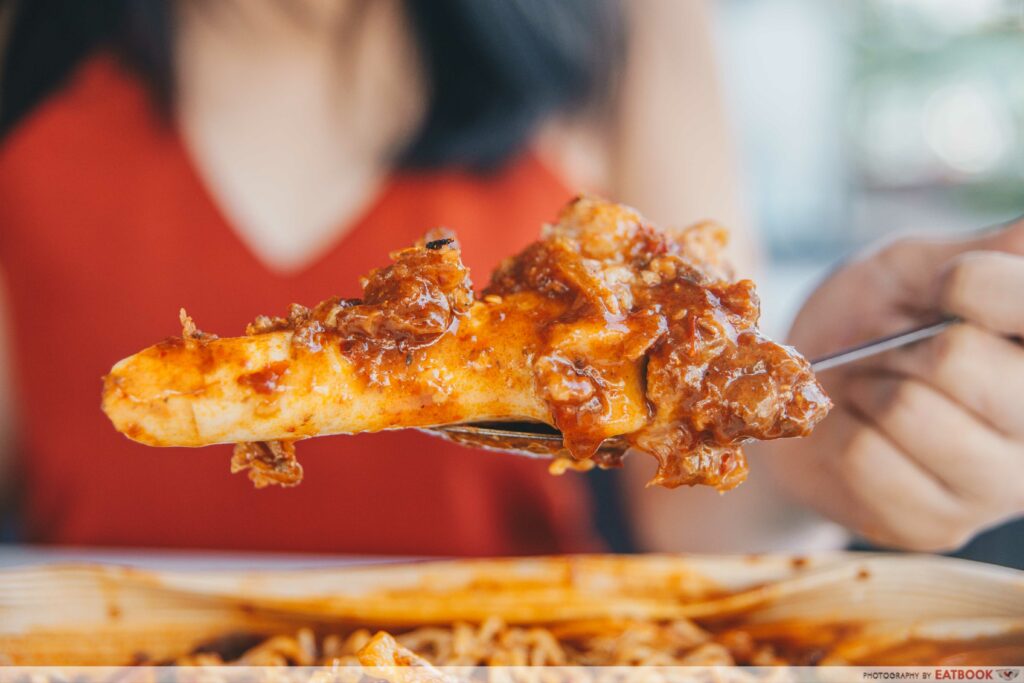 Though the beef bone was huge, there was barely any meat on it. I suggest you try the roti john instead, for this noodle dish was disappointing.
Ambience at 
Pondok Daun Upeh

Styled like your regular HDB kopitiam, Pondok Daun Upeh stands alone and sells a wide range of dishes until 12am daily. The ordering system here is confusing, as there are two counters to order from and no instructions at all. I was left clueless for a good five minutes.
If you do pop by, know that the counter where all the dishes are displayed is for those looking for nasi padang, while the small counter in front of it is for those looking to get something off their menu!
The verdict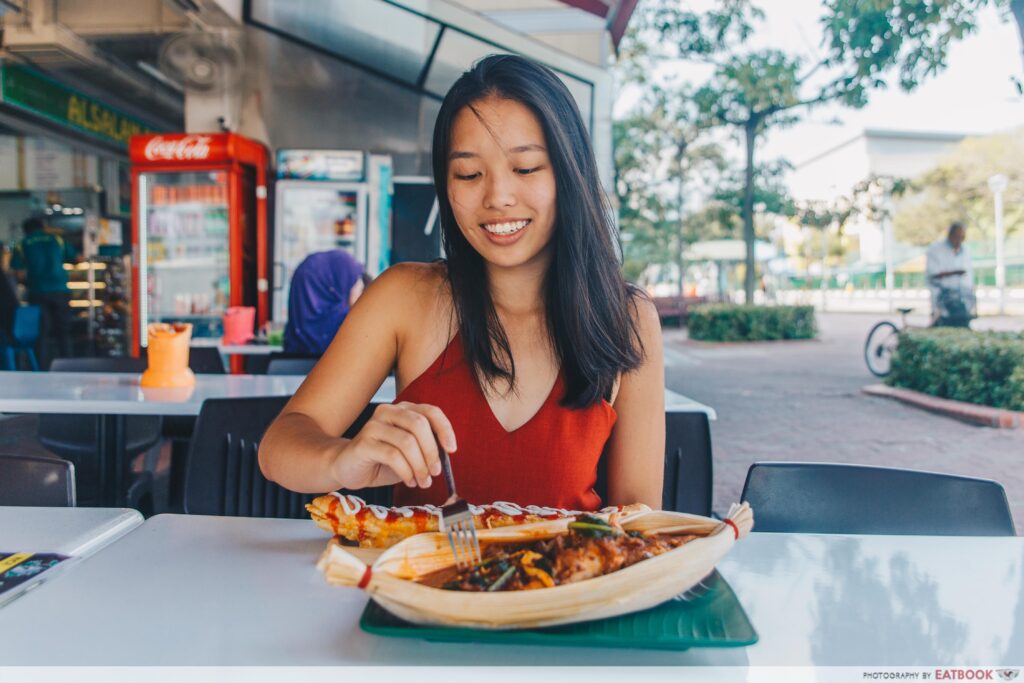 While there were some hits and misses, I would say that the Roti John Cheese is definitely a dish worth trying, especially when you are in the area. However, if I were to go back, I would give Mee Racun a miss and instead, try other dishes such as the Beef Horfun that I saw so many people having when I was there.
Check out Aroma Kampung for a sumptuous nasi padang buffet and Bebek Goreng Pak Ndut for crispy duck rice as well!
Address: 801 Tampines Avenue 4, Pondok Daun Upeh Restaurant, Singapore 520801
Opening hours: Daily 9am to 12am
Pondok Daun Upeh is a Muslim-owned eatery.
This is an independent review by Eatbook.sg
Summary
Pros
– Instagrammable food
– Tasty Roti John Cheese
Cons
– Disappointing Mee Racun
Recommended Dishes: Roti John Cheese Chicken ($7.50)
Operating Hours: Daily 9am to 12am
Address: 801 Tampines Avenue 4, Pondok Daun Upeh Restaurant, Singapore 520801