Popo and Nana's offers Peranakan food At Maxwell Food Centre
Coming from a secondary school with Peranakan heritage, my first overseas school trip was to Melaka, where I was introduced to the wonders of buah keluak, babi pongteh, and kueh pie tee. Besides memories of me sniffling and tearing up uncontrollably from the spices, the other thing that really stuck with me was the class about how tedious the preparation process is for every single dish.
Since then, I've always had massive respect for chefs whipping up Nyonya dishes. So when I heard about Popo and Nana's Delights, a hawker stall specialising in Peranakan and Eurasian dishes, I had to check it out.
Food at Popo and Nana's Delights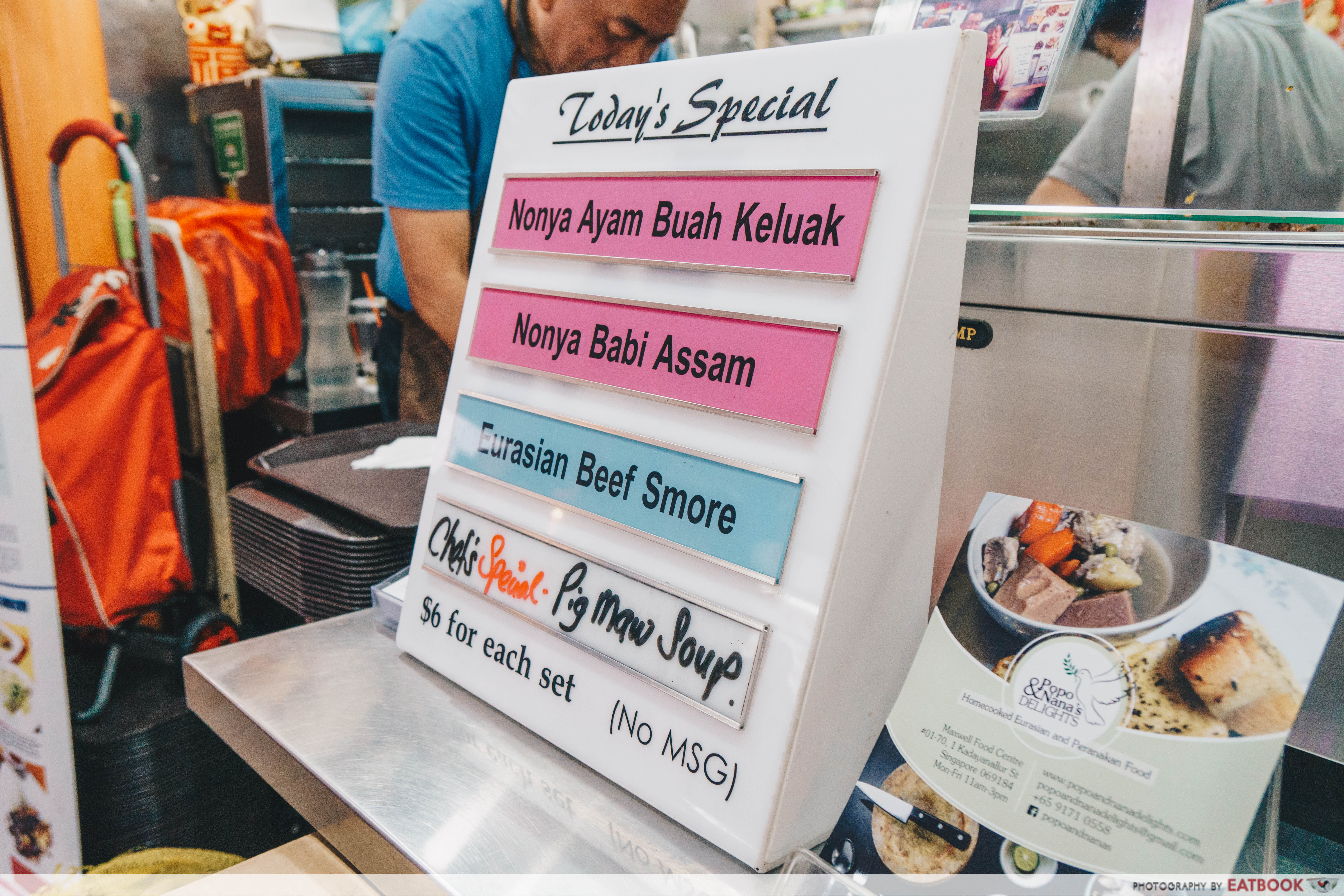 At Popo and Nana's Delights, you can expect to see a different menu every day. Priced at $6 per set, the pair of siblings running the stall whips up only four dishes each day. When we visited the stall on a Monday, they were serving Nonya Ayam Buah Keluak, Nonya Babi Assam, Eurasian Beef Smore, and Pig Maw Soup.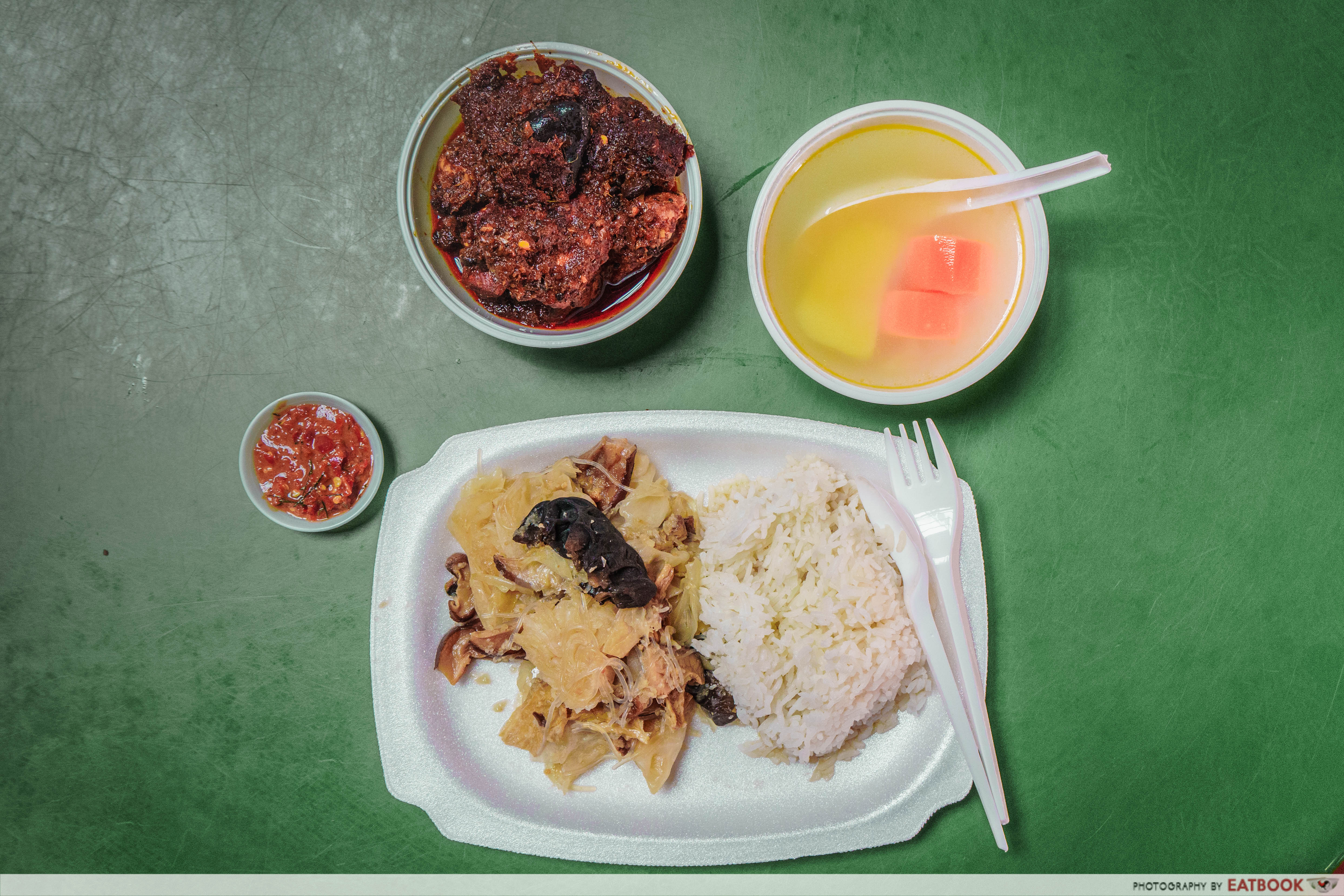 One of the dishes we tried was a quintessential Peranakan dish – Ayam Buah Keluak. This set came with a serving of white rice, a bowl of clear vegetable soup, and a choice of vegetables – we chose their Chap Chye over Achar.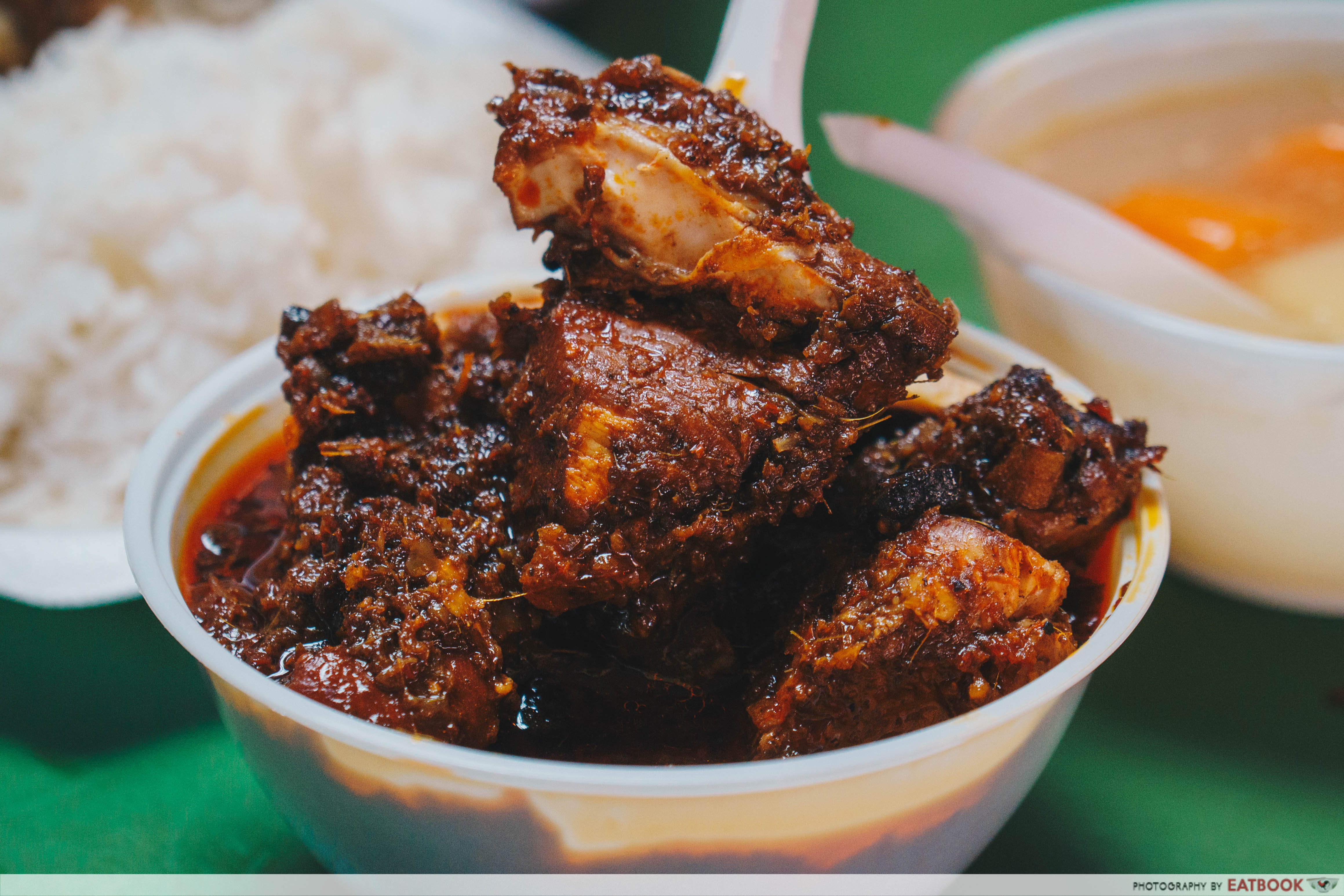 Served in a separate bowl, the portion of Ayam Buah Keluak was generous, with huge chunks of meat overflowing from the bowl. Coating the chicken meat was a thick rendang-like gravy which was mildly spicy. It also carried a sour-sweet flavour from the tamarind, which did not sit well with me initially but I grew to like it after a few bites.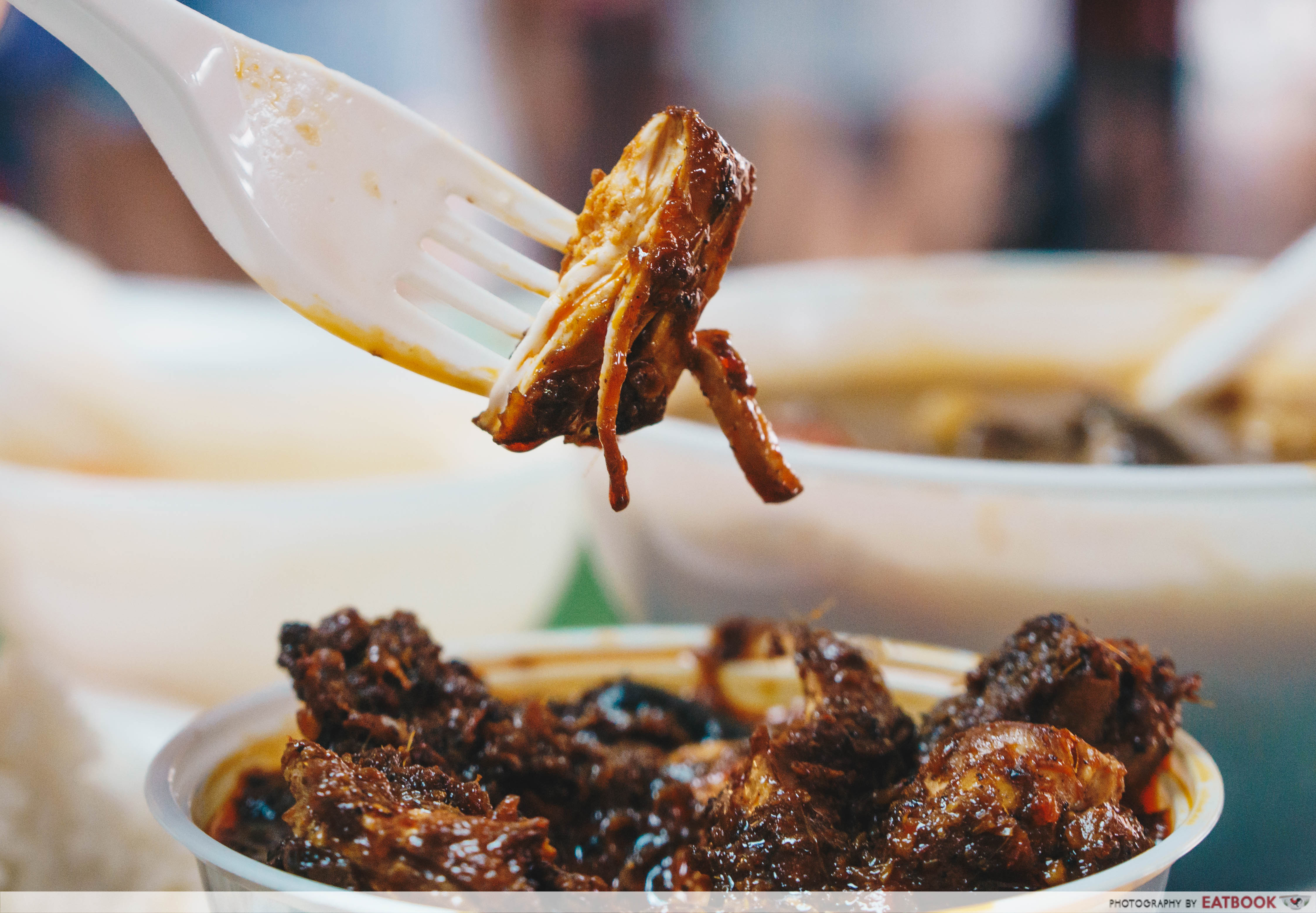 As for the chicken meat, lean chunks were primarily used in this dish. Though lean, the meat was cooked just right, and was still tender enough to be pulled apart using the plastic utensils. A downside, however, was that the meat was a little dry and the dish could've been better if the meat had some fatty parts to add on to the dish's otherwise dull texture.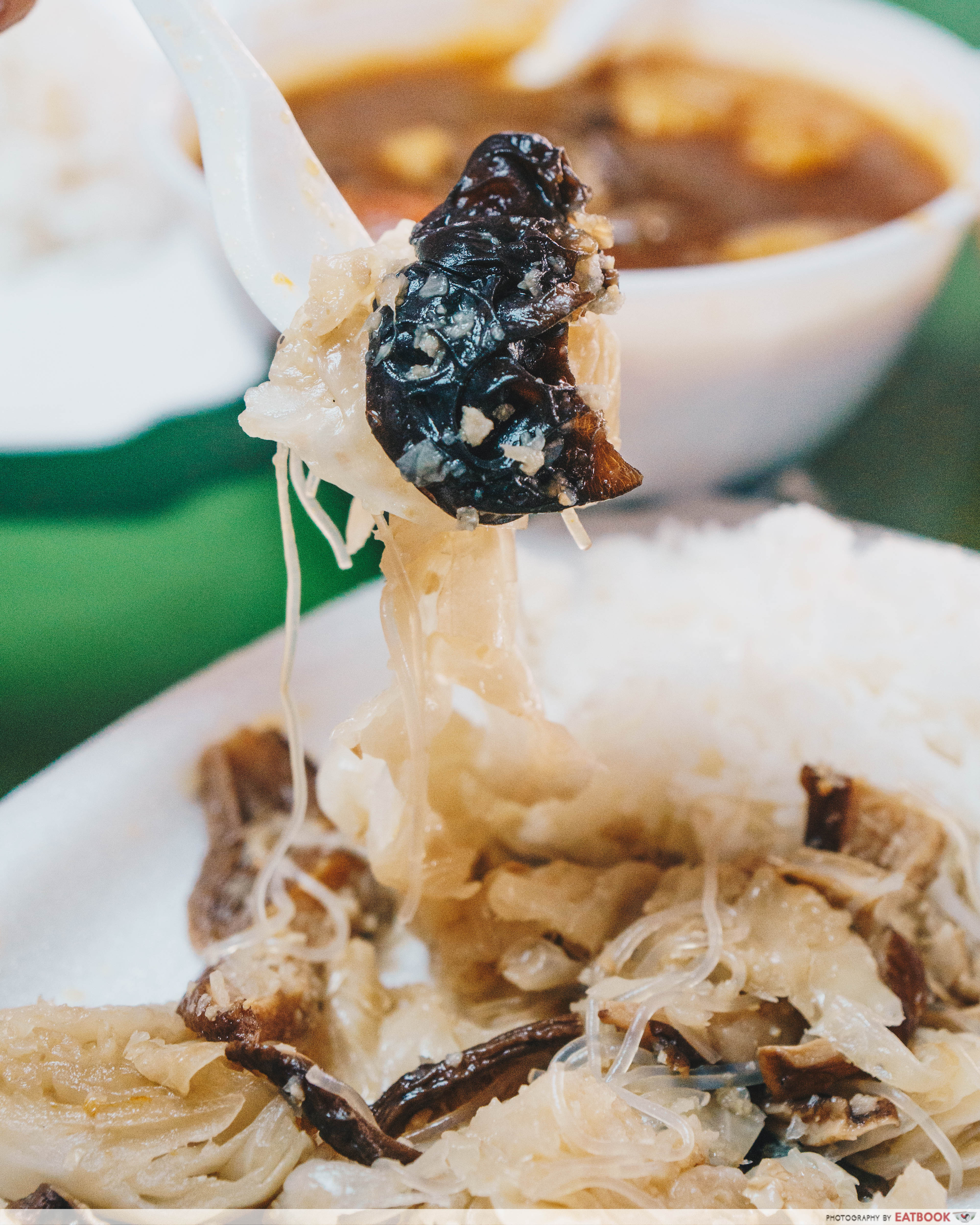 Overall, the ayam buah keluak did not particularly impress me and the more memorable dish was actually the chap chye. Though it's a side dish, the vegetables took up almost half the space of the plate and was a huge heap of sweet cabbage, black fungus, dried beancurd, glass noodles, and mushrooms. Slightly sweet and savoury, the vegetables gave a refreshing change in flavour from the heavier and oilier meat dish. While the oily gravy from the chicken became jelak after a while, wiping out the vegetables was a piece of cake.
The other dish that we had was their Eurasian Beef Smore. For the same price, the beef stew came in an even larger bowl, filled with beef chunks, carrots, potatoes, and tomatoes.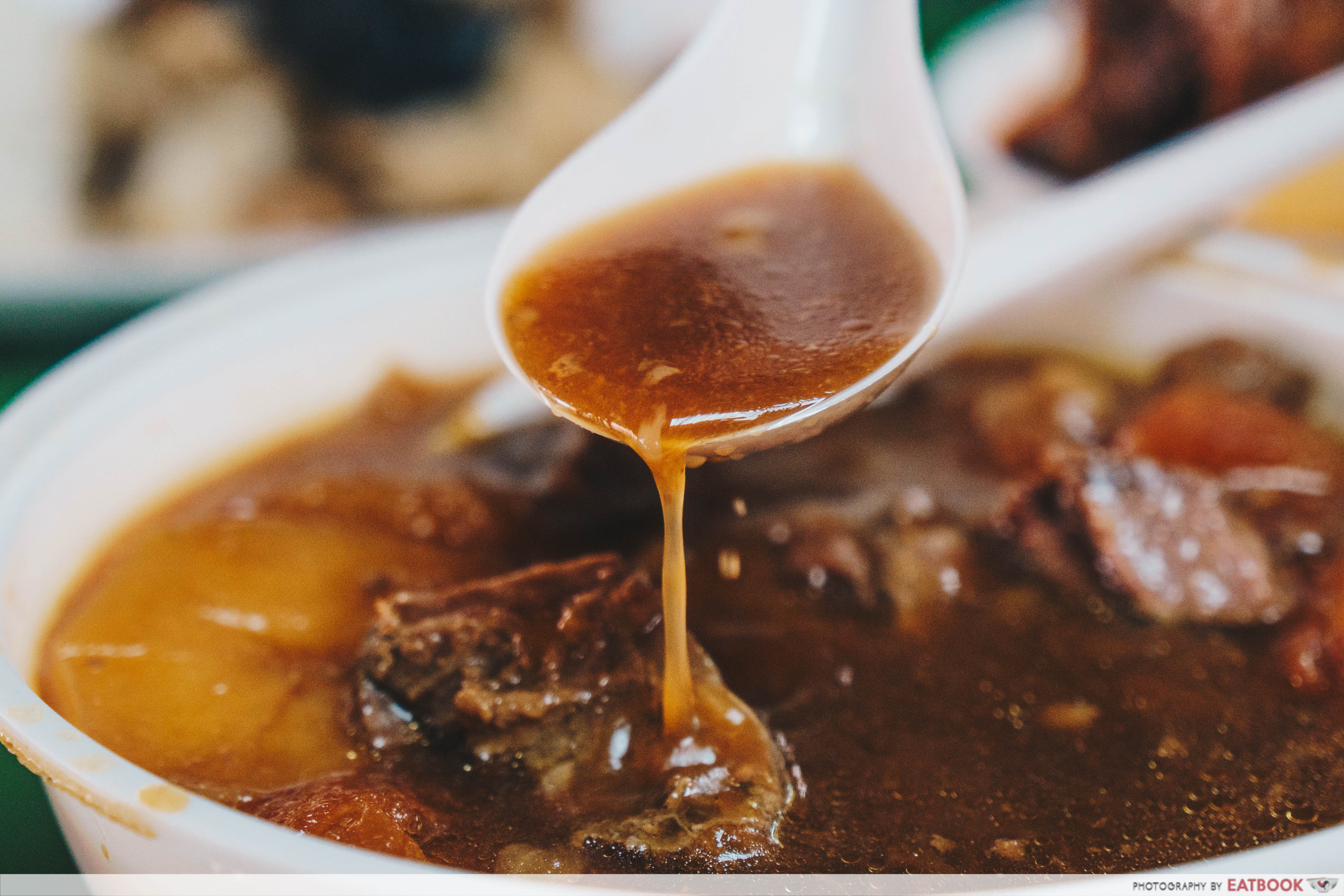 With a thin layer of oil sitting on top, the stew had a soupy consistency and was generally sweet. An interesting element of this dish was that the soup leaves a slight fiery sensation on the lips, giving an additional punch to the light-tasting dish.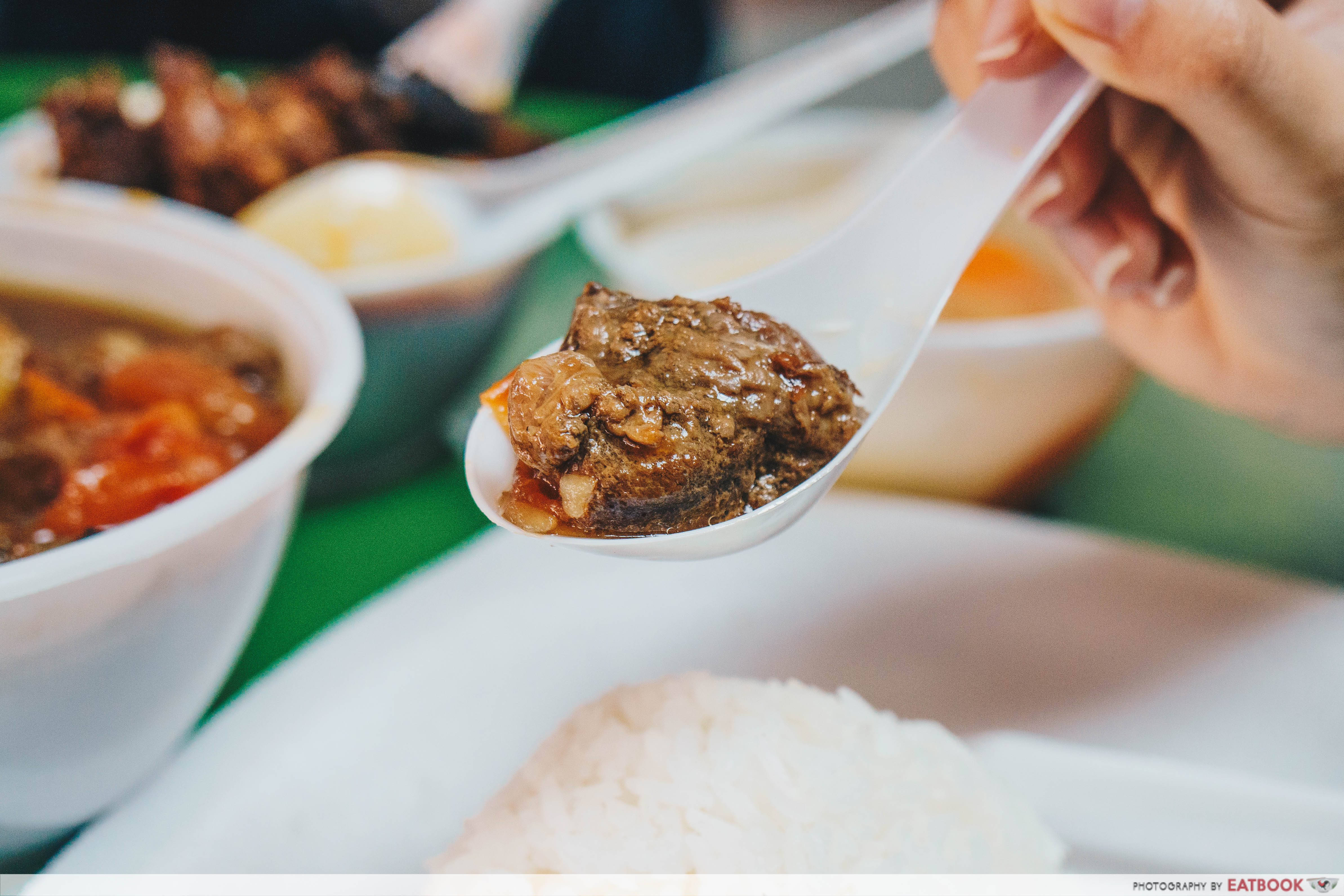 Like the chicken meat in the previous dish, the beef chunks here were lean, easy to chew, but also lacking in texture. While I generally enjoy leaner cuts, this one was too monotonous in terms of texture.
The saving grace was the generous portion of potatoes and carrots, which were delightfully soft and sweet.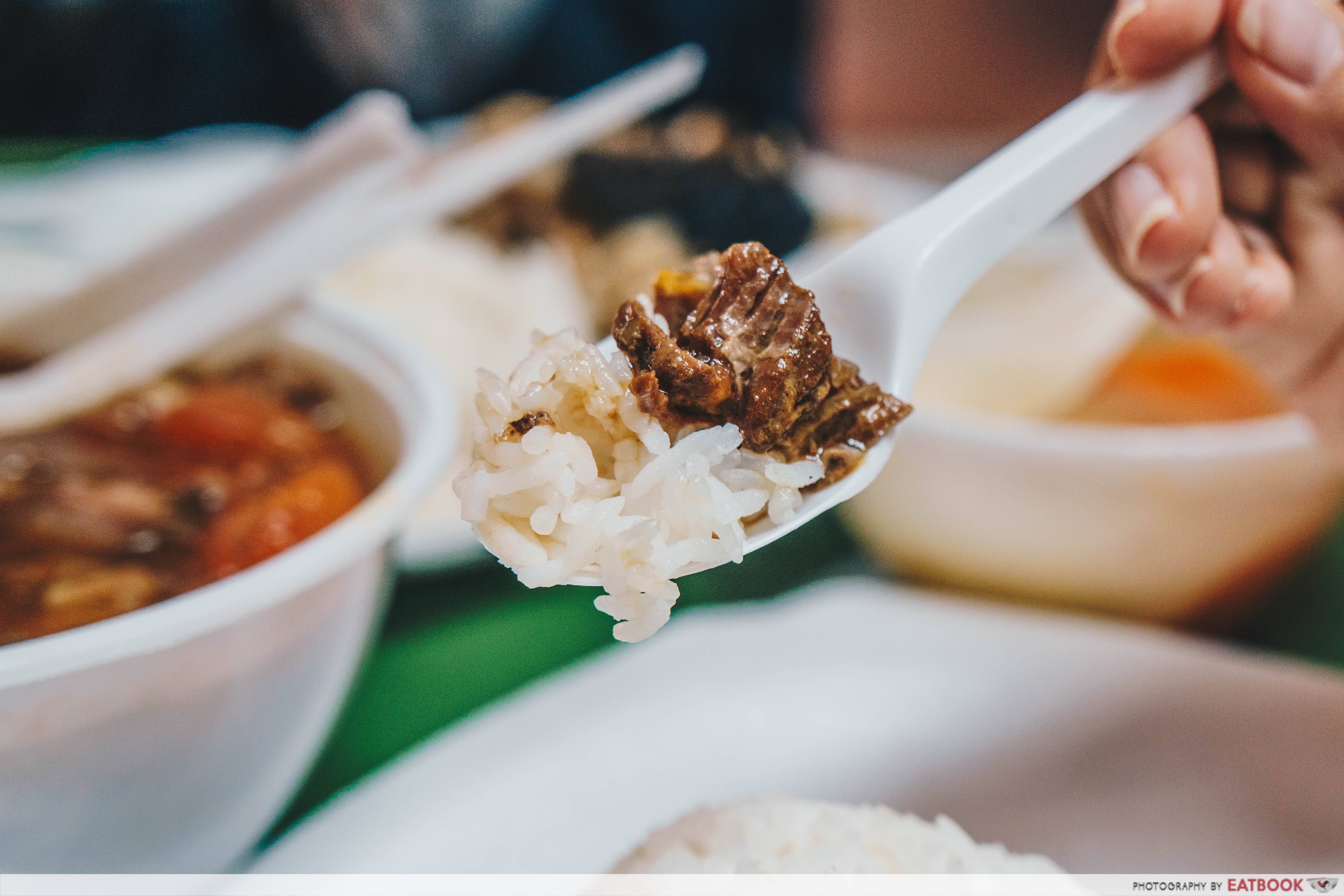 In terms of taste, I enjoyed the natural and strong taste of the beef. The combination of the sweetness from the vegetables and the pungent meat made the meal hearty and satisfying. The best thing was that while the stew was well-flavoured, there was no aftertaste of MSG, which I would usually expect from such tasty stews.
Ambience at Popo and Nana's Delights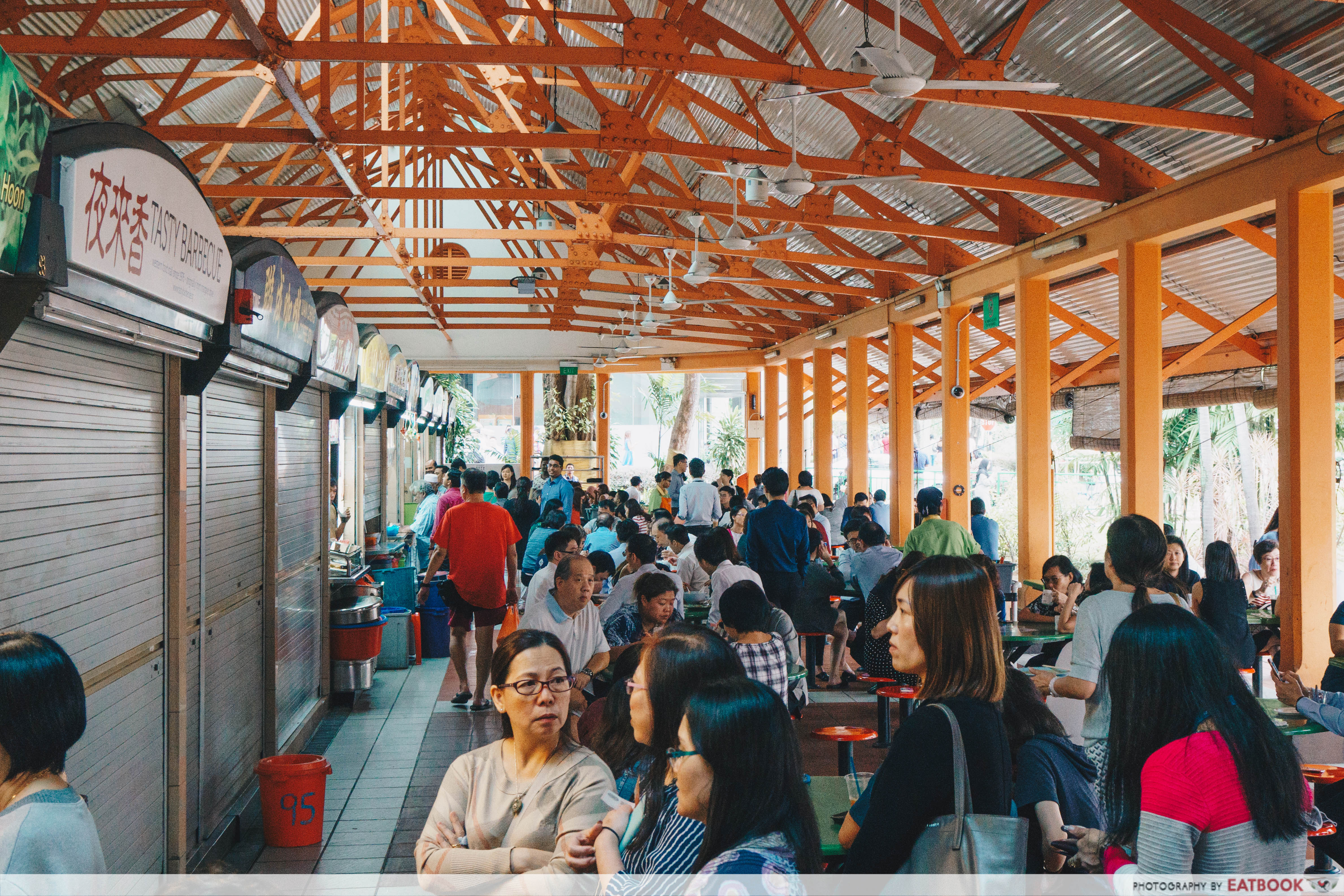 Sandwiched in the middle of a row of stalls at Maxwell Food Centre, Popo and Nana's Delights can be spotted by their minimally designed white signboard. When we were there slightly before noon, finding a seat in the big hawker centre was no sweat. But when lunch hour hit, insane queues could be seen at almost every stall and the place quickly became crowded and stuffy.
In terms of waiting time, you won't have to worry at Popo and Nana's Delights as they are efficient at serving their set meals and a wait typically wouldn't take more than five minutes even during the busy lunchtime.
The verdict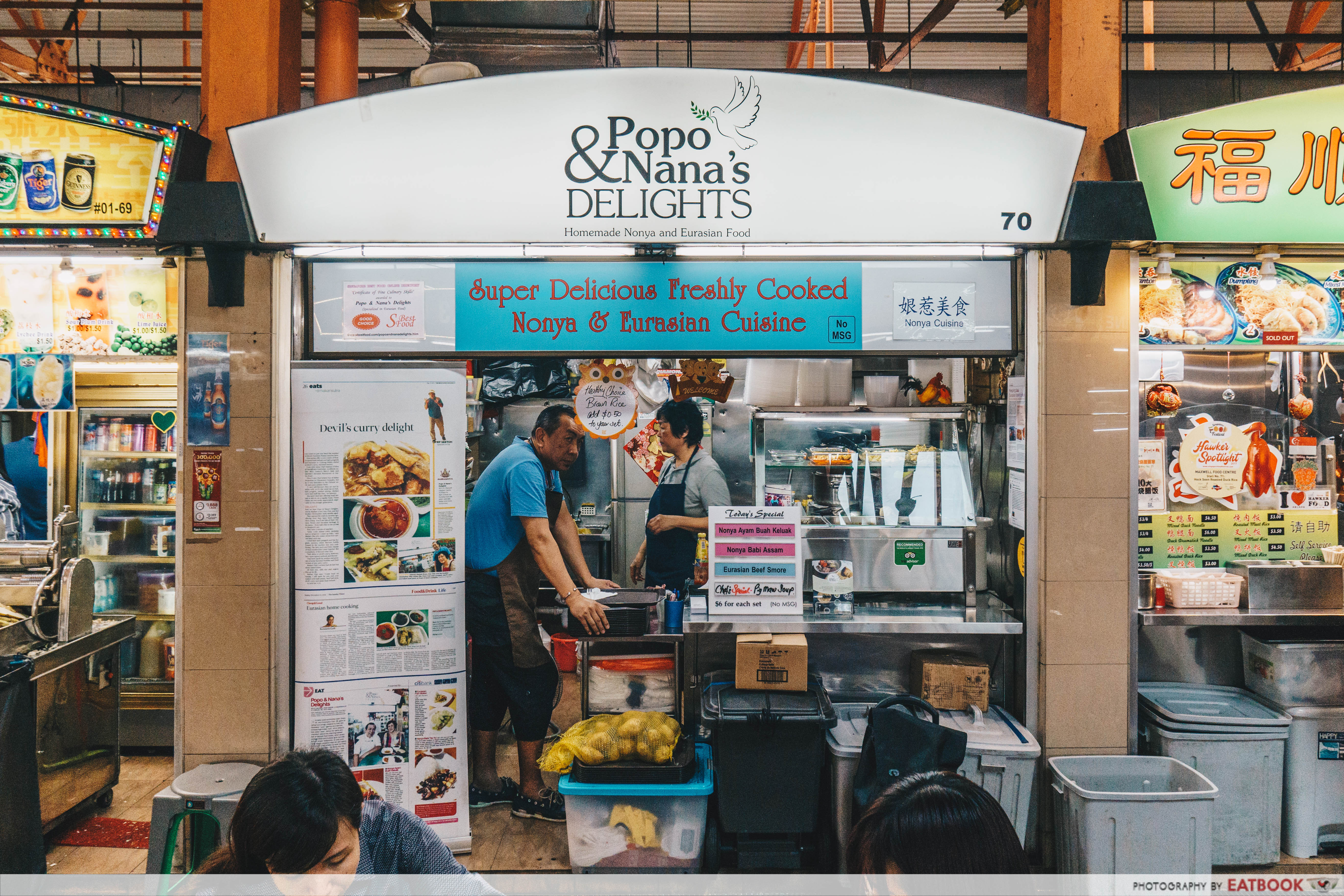 For a hawker stall specialising in Peranakan and Eurasian cuisines, I was impressed by the amount of effort put into preparing each dish as well as the affordable prices that came with the huge portions. Although the taste of the food served here was not spectacular, they were more than value-for-money and was an interesting experience found at a hawker centre!
From the past menus found on their Facebook page, the stall also serves dishes such as Eurasian Fish Molie, Nyonya Beef Rendang, and Nyonya Babi Pongteh. While I wouldn't make a trip down to Maxwell Food Centre just to visit Popo and Nana's Delights, I'll definitely try their other dishes if I happen to be there!
Address: 1 Kadayanallur Street, #01-70, Maxwell Food Centre, Singapore 069184
Opening hours: Mon-Fri 11am to 3:30pm
Tel: 9171 0558
Website
Popo and Nana's Delights is not a halal eatery.
This is an independent review from Eatbook.sg
Summary
Pros
– Huge portions
– Rare cuisine found in a hawker centre
– Menu changes on a daily basis
– Eurasian Beef Smore was hearty and comforting
– Friendly hawkers
Cons
– Meats from Ayam Buah Keluak and Eurasian Beef Smore were a little dry and tough
– Short opening hours
Recommended Dishes: Eurasian Beef Smore ($6)
Opening Hours:
Mon-Fri 11am to 3:30pm
Address: 1 Kadayanallur Street, #01-70, Maxwell Food Centre, Singapore 069184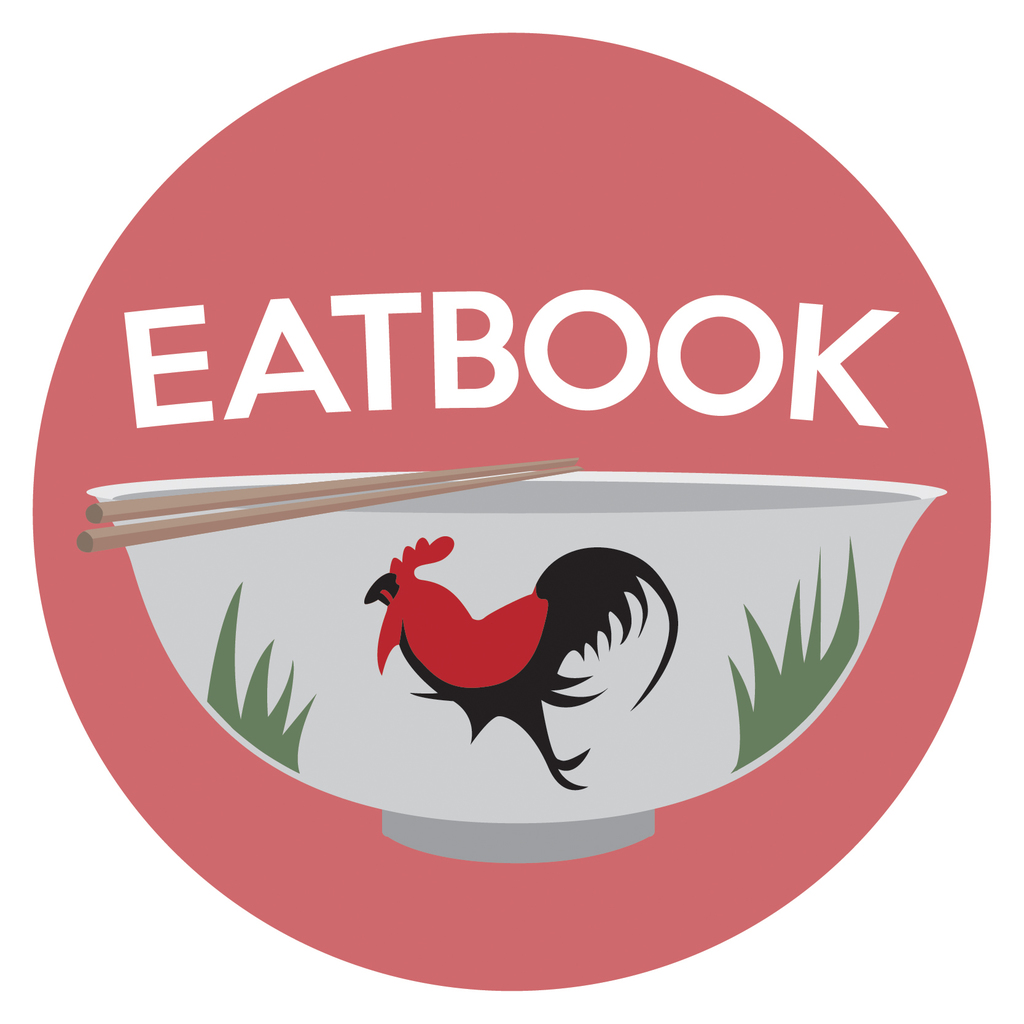 Drop us your email so you won't miss the latest news.