Rakuya at East Coast Road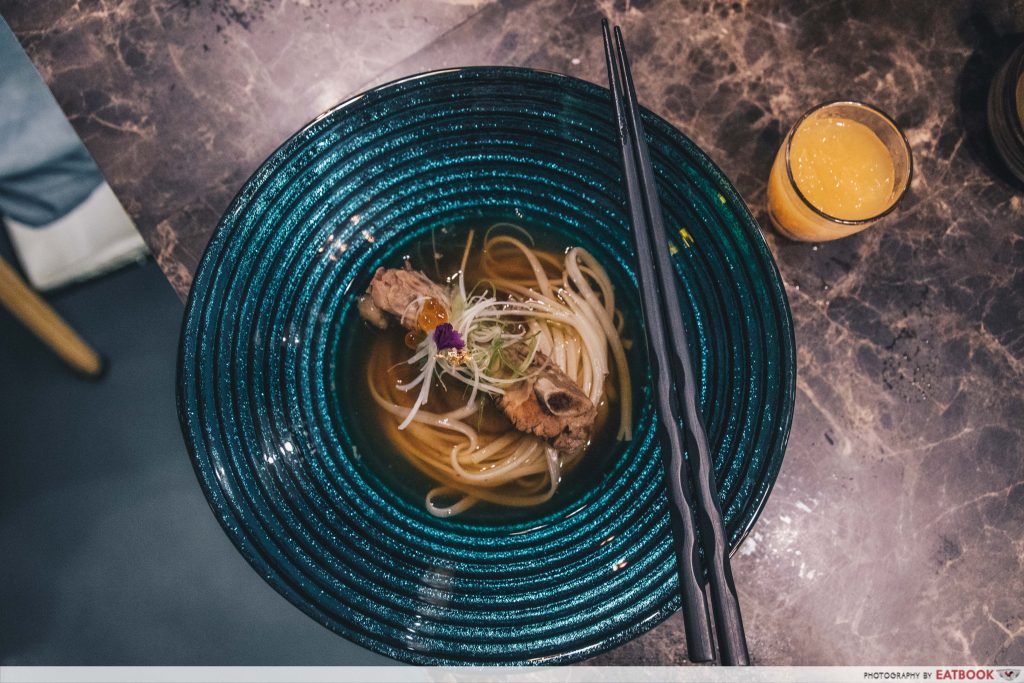 Katong is one of my favourite hang-out spots in Singapore. To me, it's like the Bukit Timah of the East, with plenty of good food found in shophouses. Aside from the famous Katong laksa as well as the handful of chicken rice stores, they also have plenty of bars, restaurants and cafes. It's definitely a buzzing food enclave – one that mediocre restaurants have difficulty surviving in. And after my satisfying eight-course omakase ($48++, $88++ or $128++) at the new Rakuya, I can safely say this is one restaurant that probably won't close down anytime soon once word gets out on how great it is.
Food at Rakuya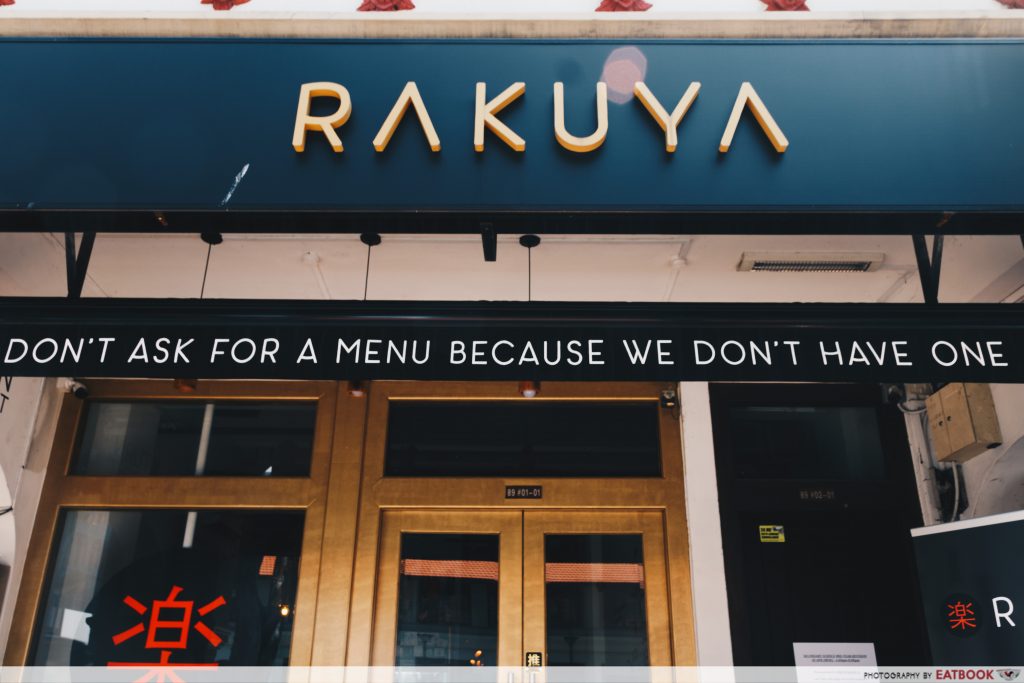 Rakuya does things differently than most Japanese restaurants offering omakase. Instead of the usual Japanese fare of sashimi and what-not, local flavours are fused into their dishes. They are fun and creative; dishes the quaint restaurant can truly call their own.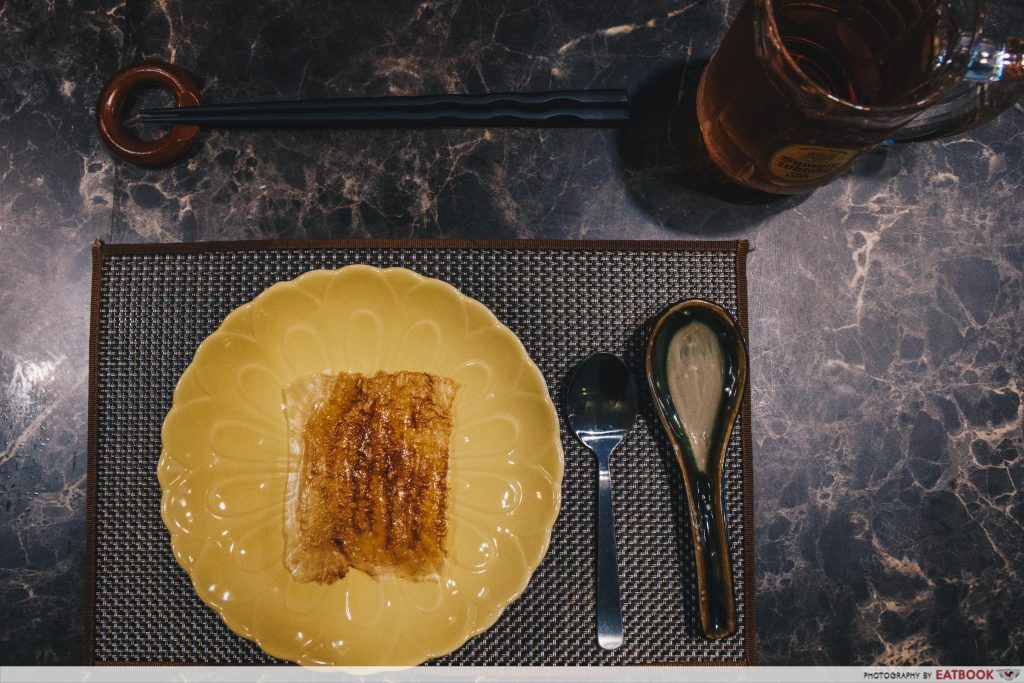 Take for instance their amuse bouche. Served on a pretty yellow plate is a sheet of edible paper that's glazed with teriyaki chicken sauce. It was sticky, crispy and interesting, setting the tone of the next seven dishes to come.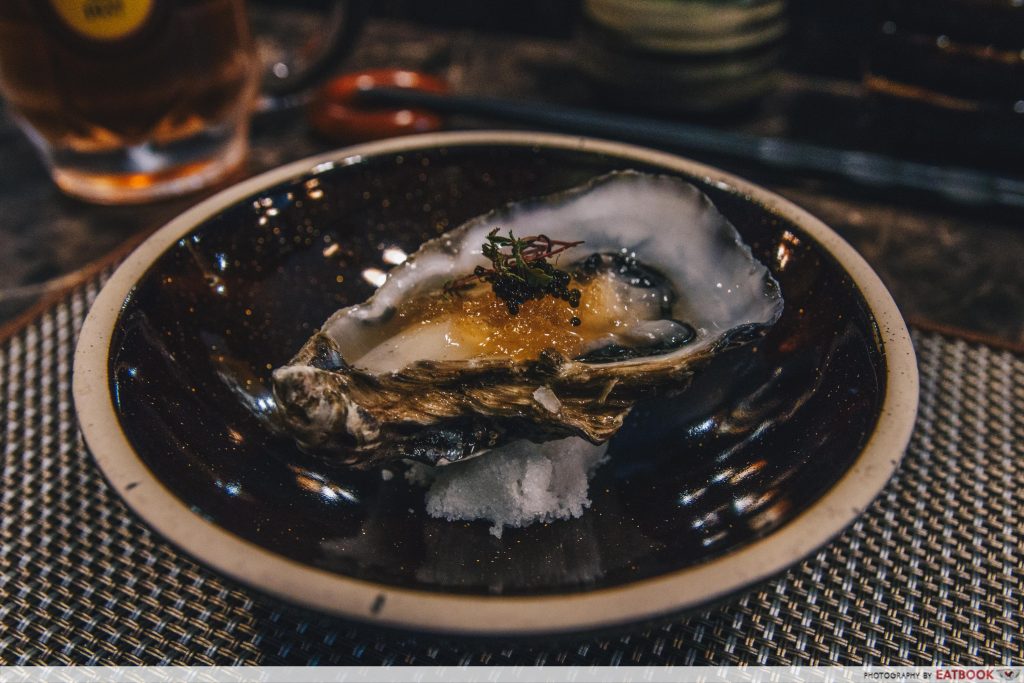 For our appetiser, we were served a small Fine de Claire oyster that was topped with tobiko and togarashi. Catching my clueless expression as he presented the dish, Executive Chef Derrick, who has previous experiences at award-winning Jaan and Tippling Club, went on to explain that togarashi is a Japanese spice pepper blend that contains seven ingredients.
Tilting the oyster into my mouth to slurp it up in one go, I was met with a pinch of piquancy and a zesty bite. It reminded me of a more refined version of these briny oysters that are usually enjoyed with Tabasco and lemon.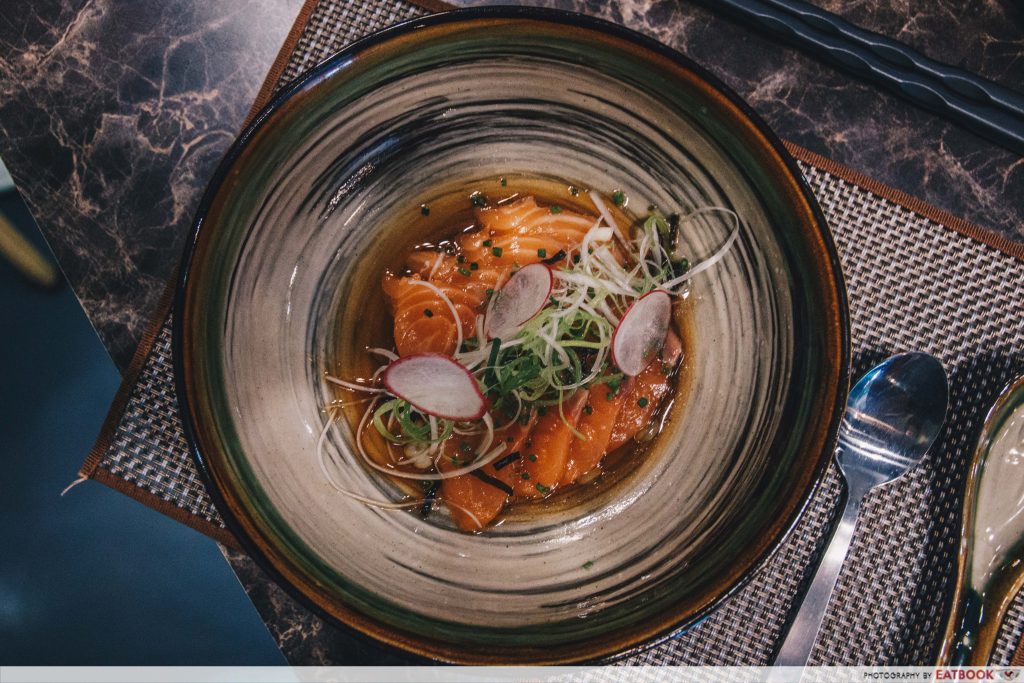 Instead of serving up plain ol' sashimi, Chef Derrick decided to shake things up with a Salmon Carpaccio. Here, raw Tasmanian salmon is dressed in house-made ponzu and truffle oil, then topped with sliced chives, leeks and soy kombu. Truffle oil was used sparingly; its aromatic flavour was subtle and not meant to steal the show, but to harmonise with the tart ponzu.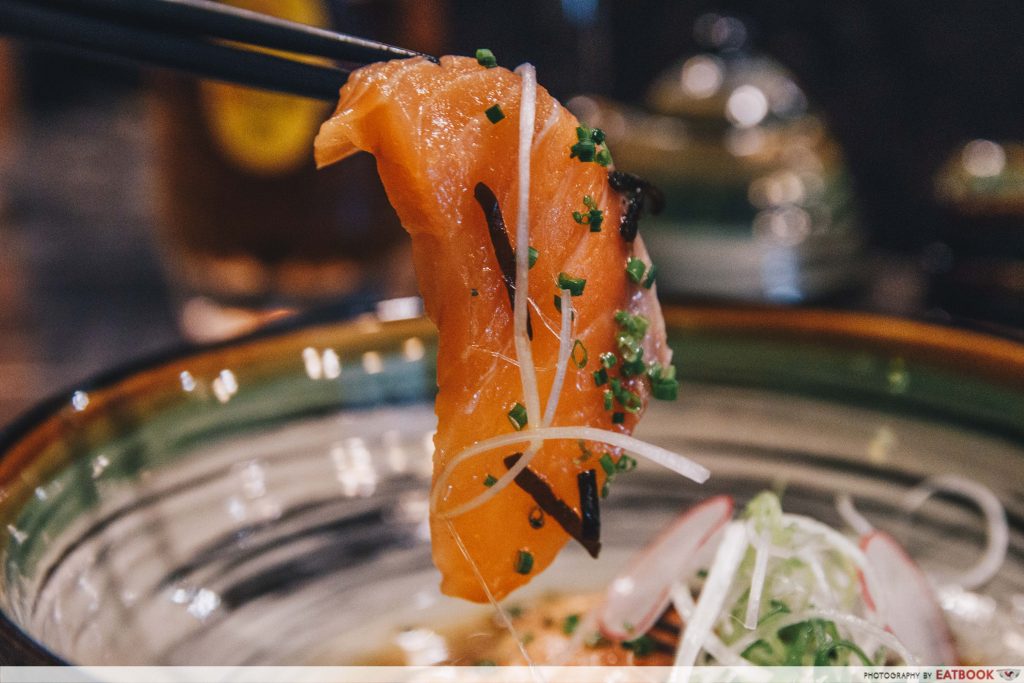 It was a delicious, well-balanced mix, and the sauce brought a nice brightness to the creamy salmon slices. In fact, my colleague who doesn't like raw fish, stated this was one of her favourite courses!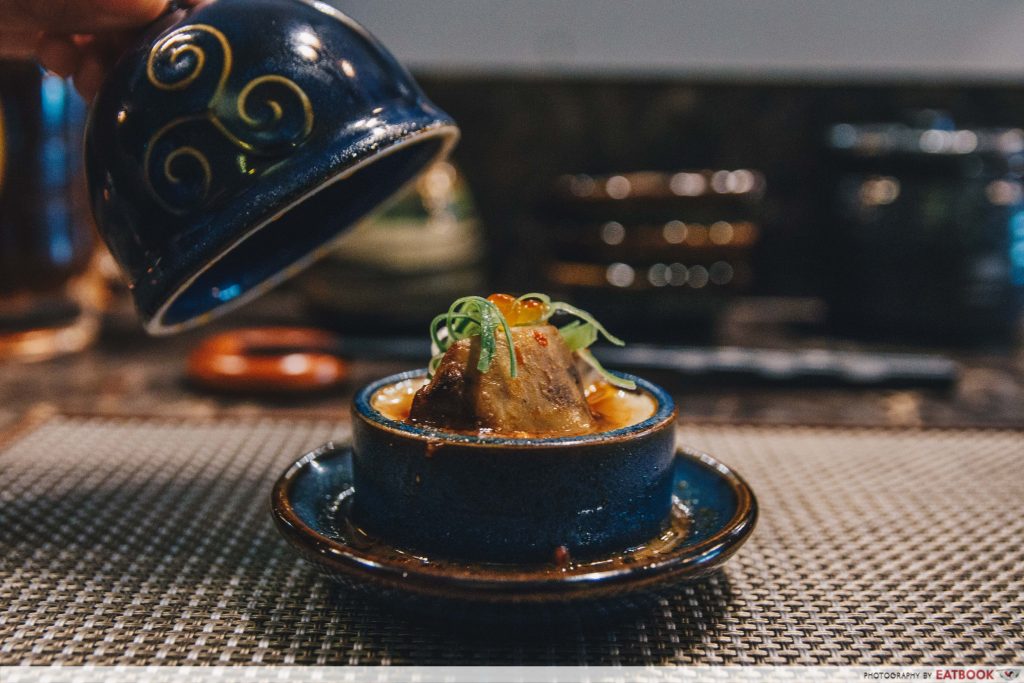 Food is a multisensory experience; how it's plated and served to you is just as important as its taste. Even though Rakuya is pretty laid-back, they don't compromise on delivering an exquisite experience that's worthy of top-notch fine dining restaurants. Served in a small tea cup that's covered by a dome-shaped cover is their popular Foie Gras Chawanmushi with Mapo Sauce.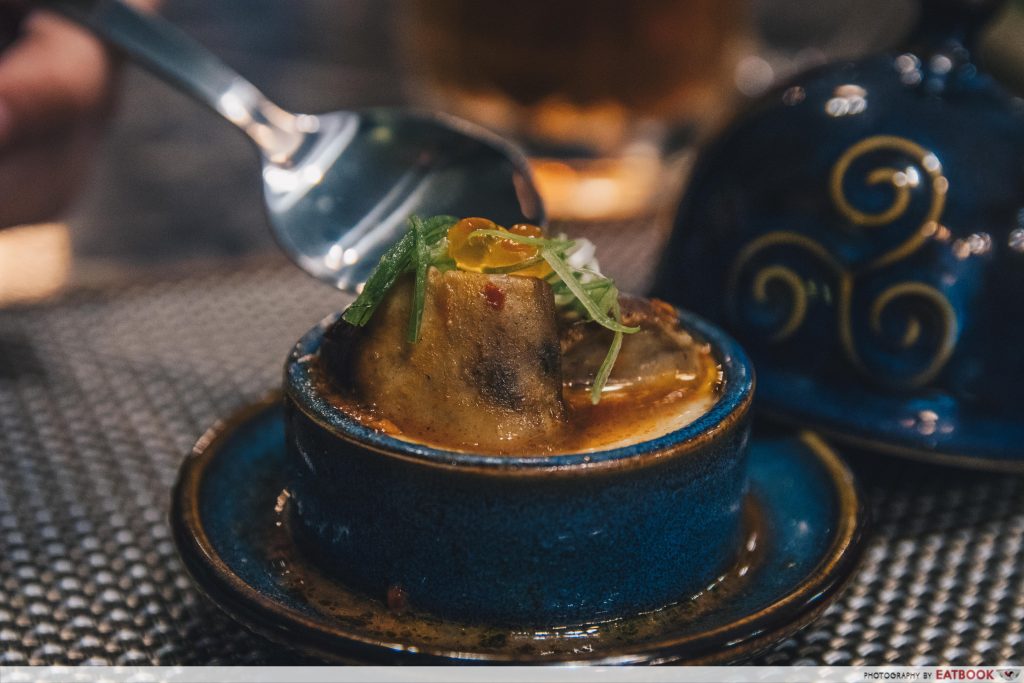 As someone who loves the torturous numbing spice ma la gives, I was disappointed that their mapo sauce was not spicy. Nonetheless, I was in love with the generous chunk of goose liver. Its buttery texture went well with the silky egg custard, while its unctuous taste made the simple Japanese dish a decadent treat.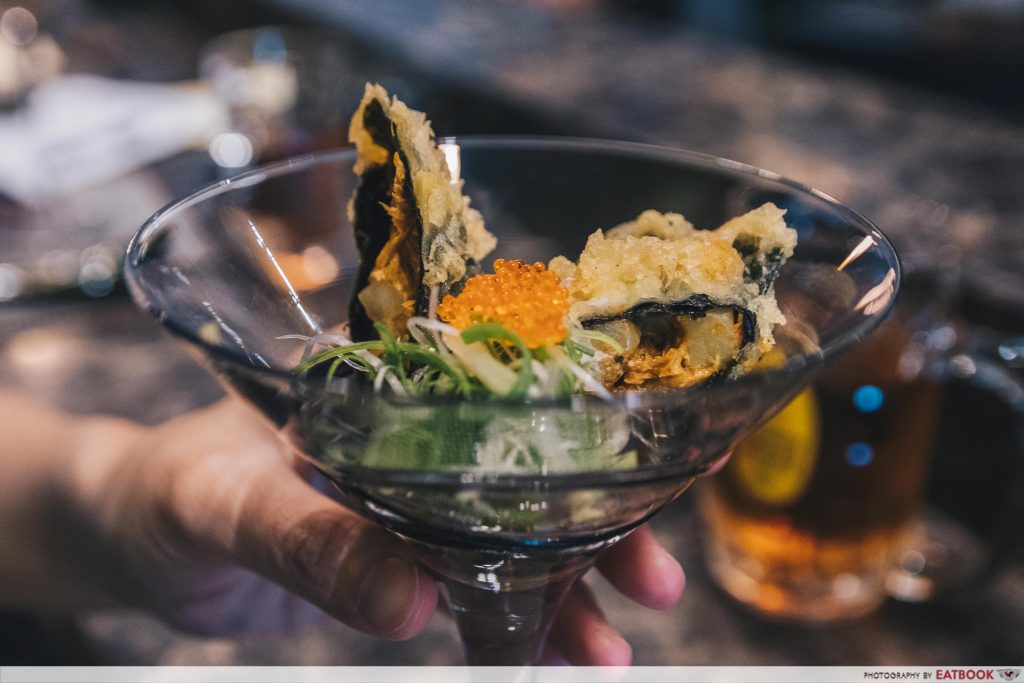 Another dish that impressed was the Curry Puff. Here, chunks of tuna, small cubes of potato, onion and boiled eggs are cooked together in a house-made curry spice. However, instead of the doughy pastry, crisp deep-fried seaweed that is coated in tempura batter is used to pocket the filling.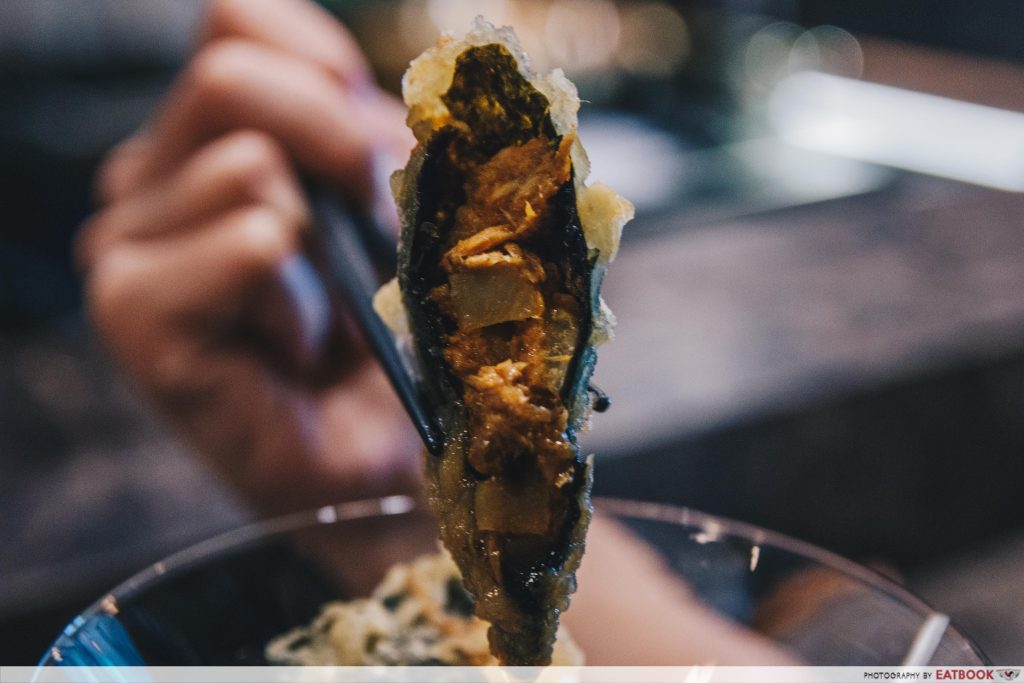 Unlike its popular sibling that is usually taken away in plastic bags or sold out of cardboard boxes, this version came packaged in a tall cocktail glass. It sits in a full-bodied tempura dipping sauce, which gives the savoury fried treat a sweet tinge.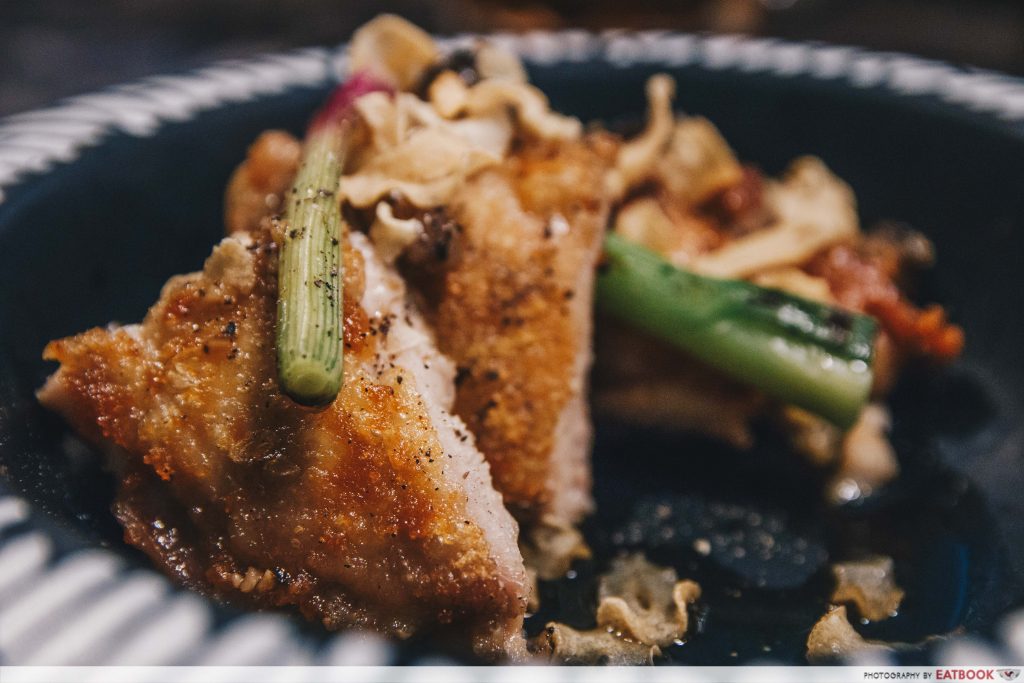 Next up was the main dish: Pan-fried chicken with fried garlic chips, leeks and mushroom soy. For the $48++ set, you usually get mains with less premium ingredients. Wagyu beef is on the menu for the $88++ version, and $128++ gives you a combination of meat – think wagyu beef or miso pork – and seafood such as Hokkaido scallops.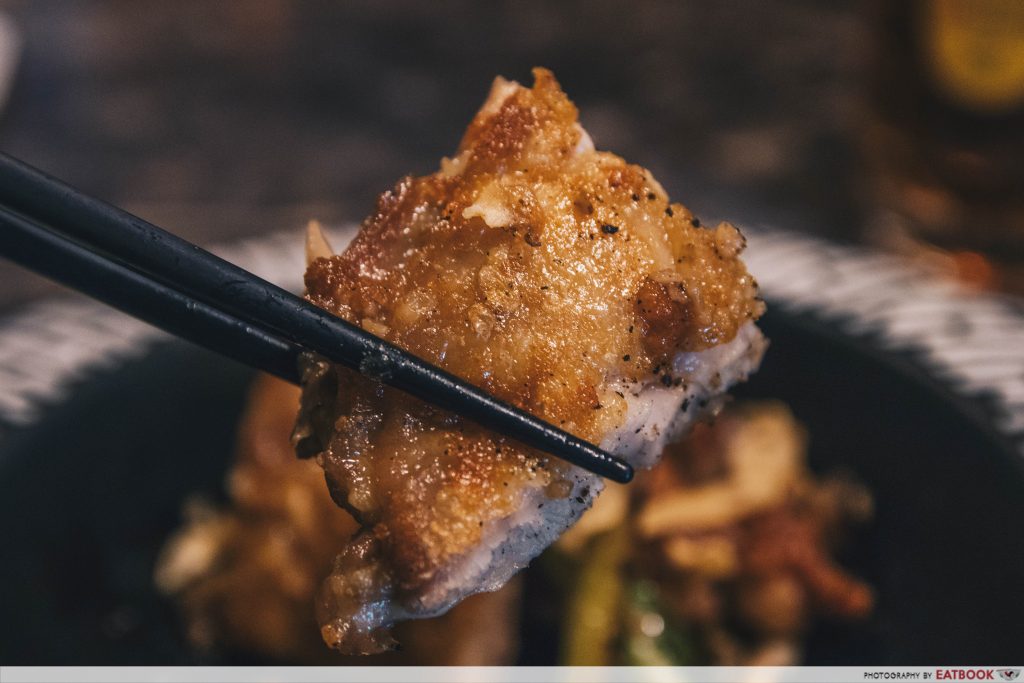 This simple dish reminded me of roasted chicken served at wedding dinners, with its golden crackling skin and tender meat. I found it a tad oily; I could see oil glistening off the plate. Its taste also wasn't mindblowing and paled in comparison to the rest of the dishes served.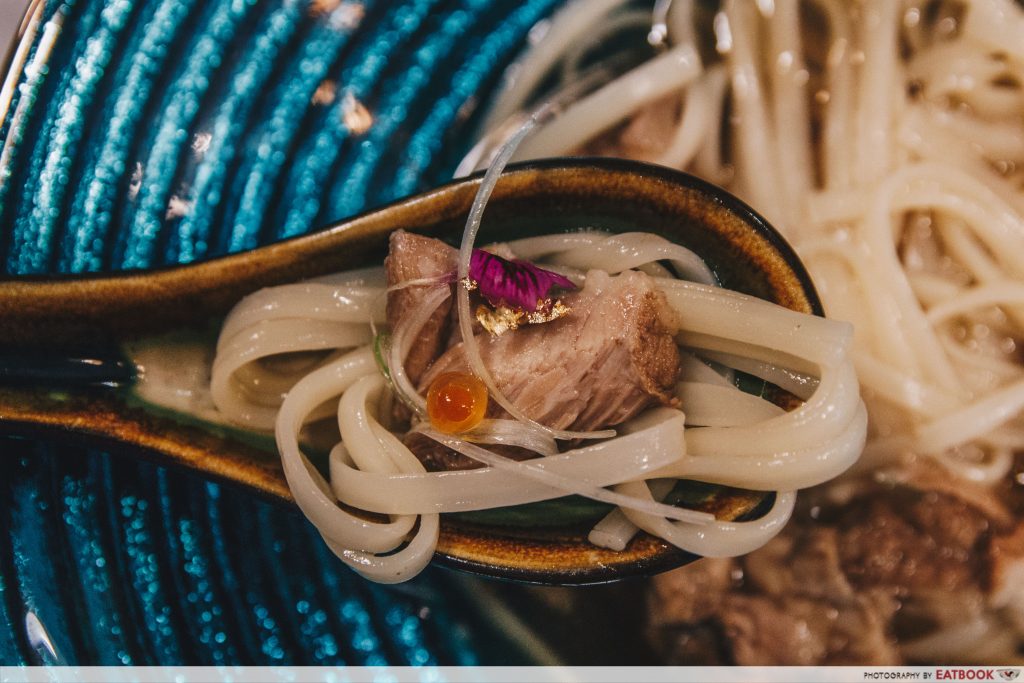 To ensure you leave feeling well-fed, you are also served a rice or noodle dish. On the day we went, we had the pleasure of trying their Bak Kut Teh Udon. The delicate broth in this painstaking dish requires at least eight hours of simmering time, and had a mild peppery and herby nuance from the addition of dang gui. It reminded me of a cross between Teochew-style BKT and the herbal version from Klang.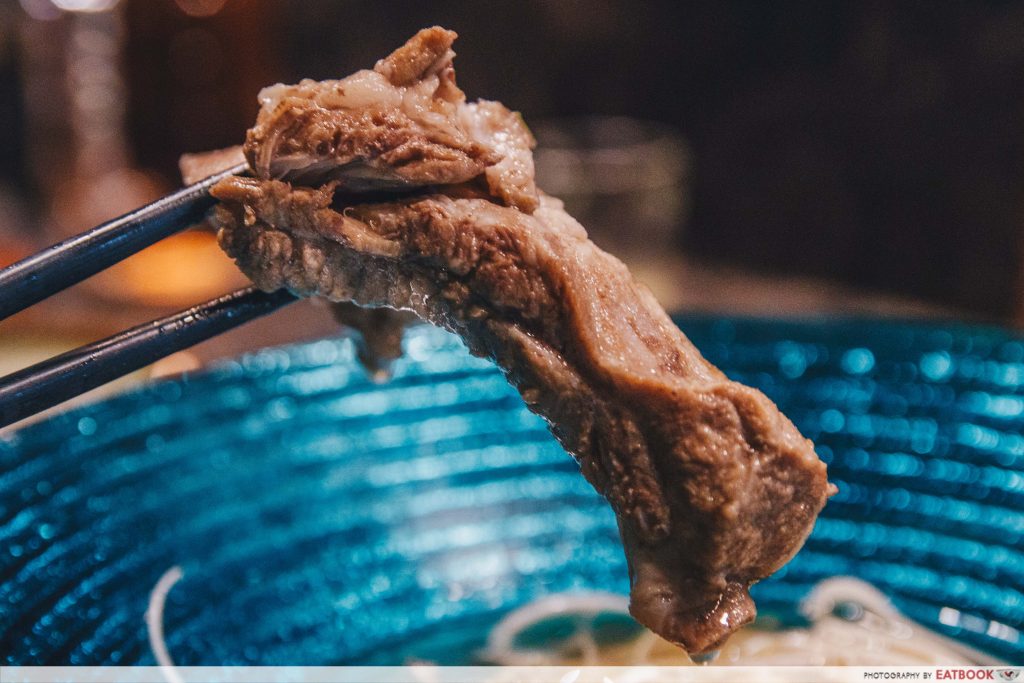 It also features Inaniwa udon and baby back pork ribs. The udon is thinner and silkier than regular udon, while still retaining a nice chewiness. This paired well with the chopstick-tender meat that was succulent, with bits of fatty part; it was not dry or tough at all.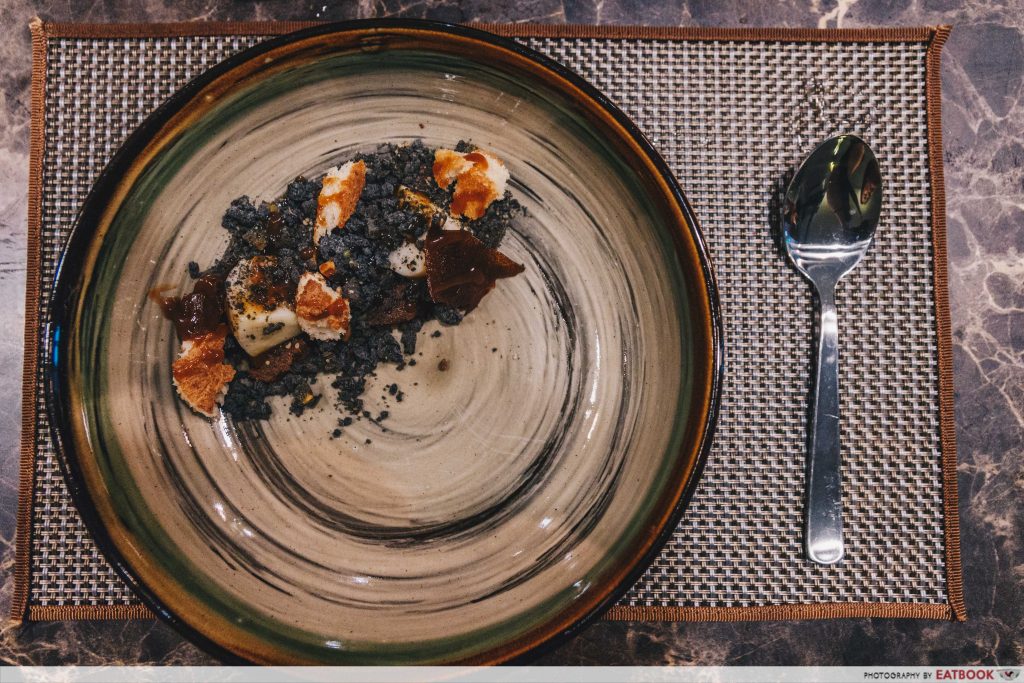 Desserts at Japanese restaurants are usually simple, and I was expecting fruits or a unique mochi creation. But the last course – a Deconstructed Soy Pudding Tarte – at Rakuya was far from that.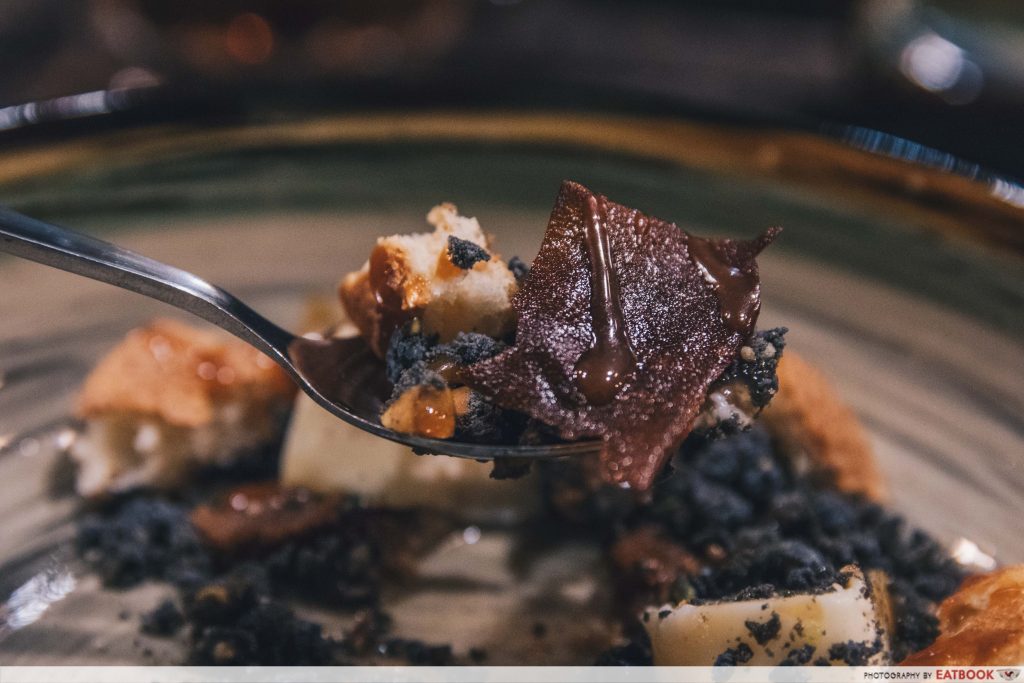 Featuring a crumbled charcoal biscotti with mixed nuts, soy pudding, yuzu tart, egg yolk sponge cake and miso toffee, this dish showcased a range of flavours, each complementing the other well. I was so in love with this dessert, I felt sad as I wiped my plate clean, signalling the end of my omakase meal.
Ambience at Rakuya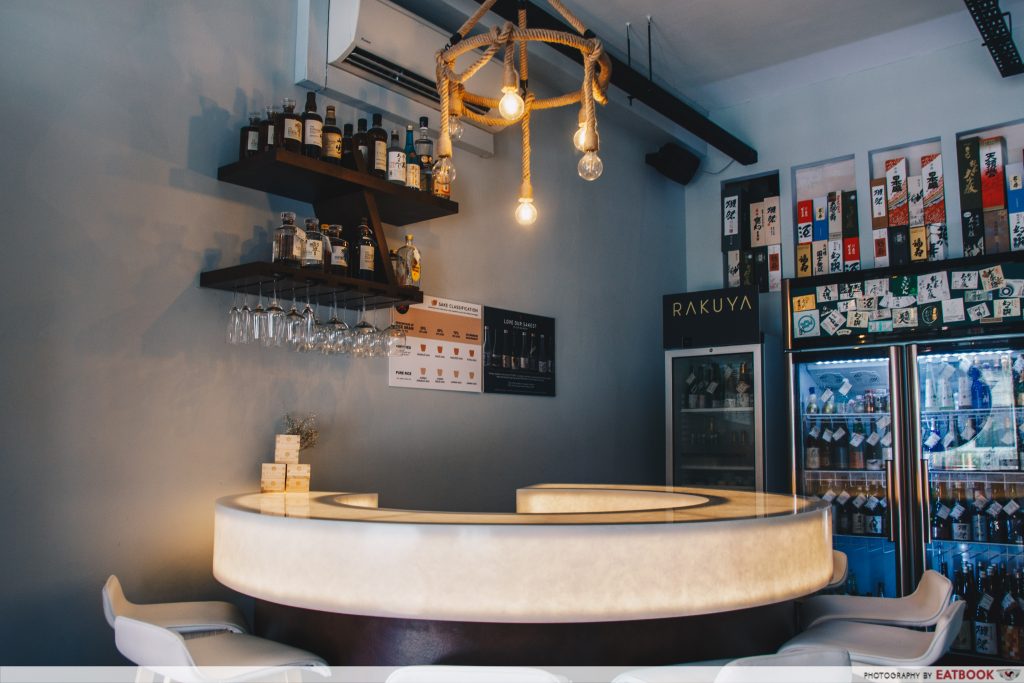 The space is small and cosy, and is divided into two portions. At the front is a sleek sake bar boasting an illuminated countertop, where you and up to 10 people are ensured an intimate experience with the sake sommelier, who is also the boss of the restaurant.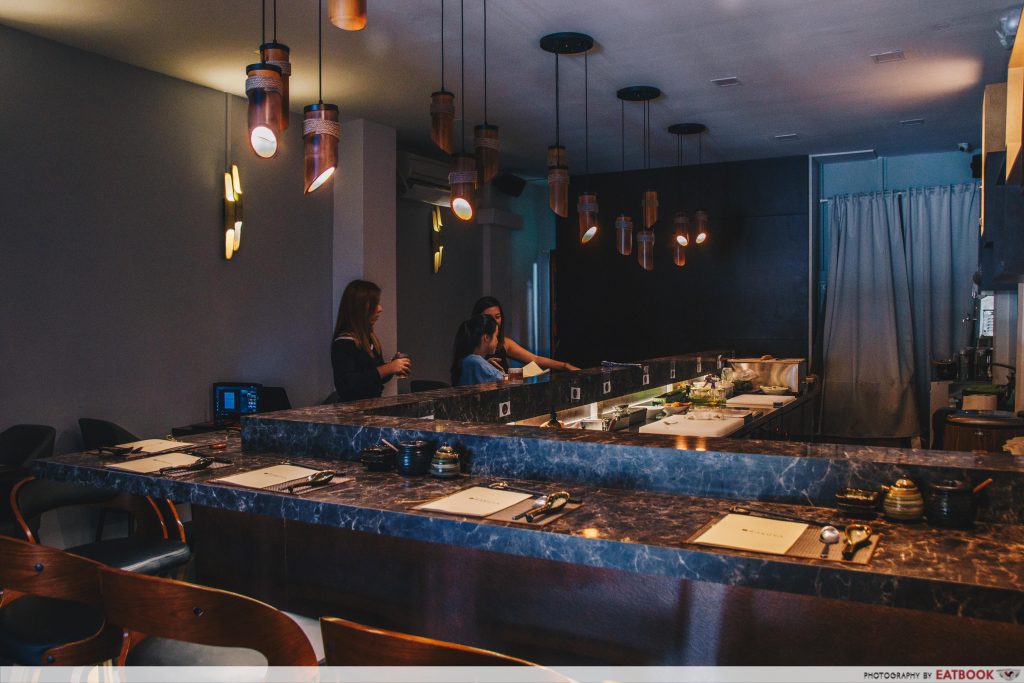 As you walk in further, you will find a marbled omakase counter with bamboo lights hanging over it. Although the space may seem chic, the chirpy chefs help make your dining experience a casual and relaxing one.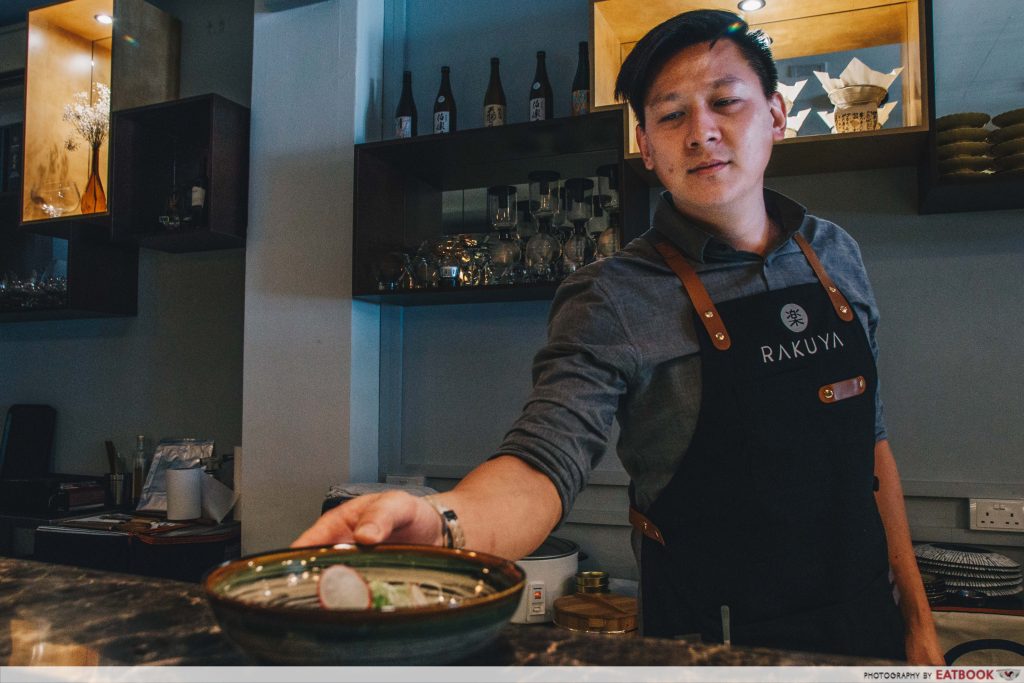 In fact, I felt our experience was great thanks to Chef Derrick, who answered all our questions and made us feel like we were talking to a long-lost friend. If you're lucky and visit Rakuya on a day when he is feeling experimental, you might just get a sample of whatever new creation he is conjuring up behind the counter.
The verdict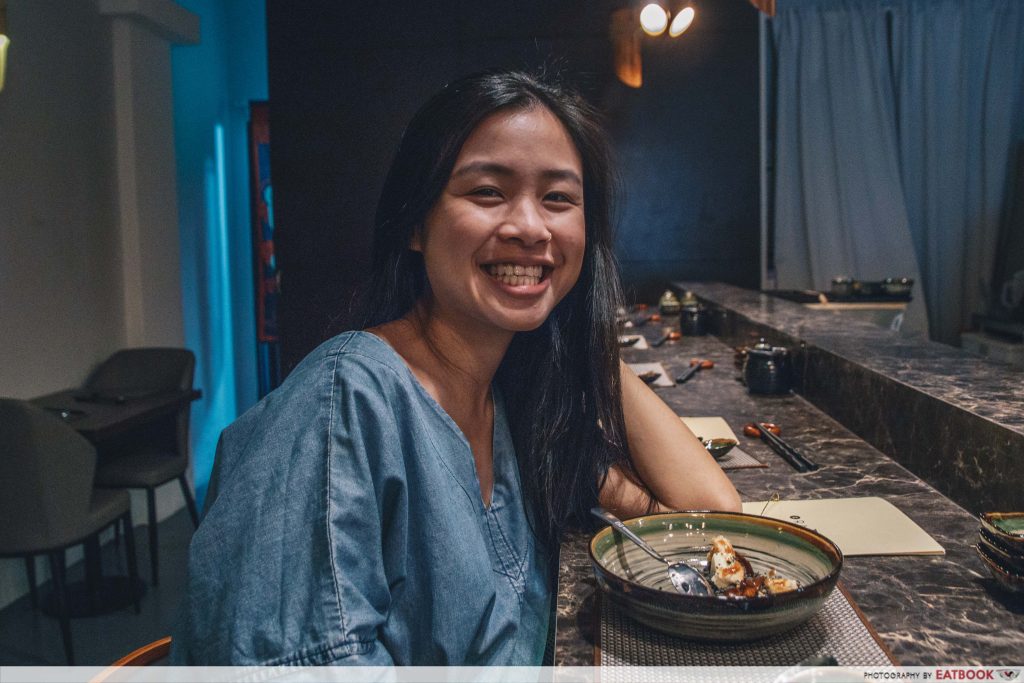 If you are looking for an interesting omakase experience, visit Rakuya. The dishes are innovative, without being overly experimental. The team of chefs really do a good job in blending flavours together, and I will definitely make a return to Rakuya on my own budget. On an important note, the place has been getting tons of bookings despite being open for less than a month, so it's recommended you reserve a seat at least a week or two ahead.
Check out these places for more cheap omakase spots. Or if you only have $10 to spare, but still want good Japanese grub, visit Yokozuna!
Address: 89 East Coast Road, Singapore 428790
Opening hours: Daily 12pm to 11pm
Tel: 6440 7071
Website
This was a media tasting at Rakuya.
Summary
Pros
– Cheap omakase
– Creative and delicious dishes
– Friendly chef
Cons
– Limited seating
– Advance booking is required
Opening hours: Daily 12pm to 11pm
Address: 89 East Coast Road, Singapore 428790