---
Ramadan Bazaar 2017 food stalls to give your friends FOMO at
---
Most Singaporeans know and love visiting pasar malams. Whether you enjoy visiting the various makeshift stalls, or just being surrounded by a happening night scene, we can all agree that food is the highlight at these places. The Geylang Serai Ramadan Bazaar 2017 is one of the biggest and most happening night markets in Singapore every year, with stalls spanning over Haig Road, Geylang Serai market, and Joo Chiat Complex. So before you get too overwhelmed, here's a list of 10 different stalls to visit when you're at the Ramadan Bazaar to make sure your Instagram followers get a dose of FOMO.
---
1. Loco Loco (Stall 11)
---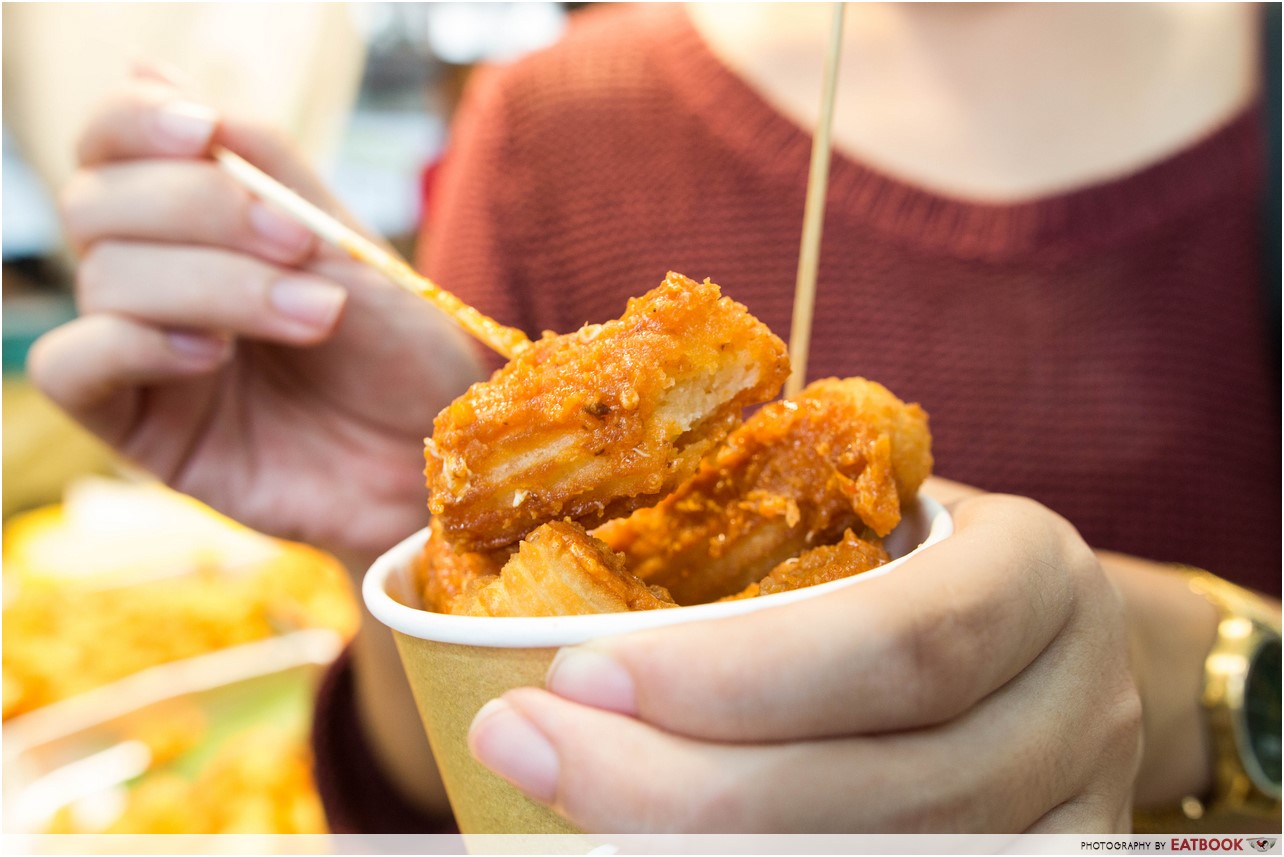 Churros have been in the pasar malam scene for a while, from those sprinkled with standard cinnamon sugar to more Singaporean flavours such as pandan. However, Loco Loco has upped the ante and started making Singapore Chilli Crab Churros ($6). This may sound strange at first, but the deep-fried churros managed to act as a mantou replacement. Their chilli crab sauce was quite fragrant and also had a spicy kick. Just try to eat these ASAP as the sauce gets soaked up quickly by the top few churros.
If you prefer your churros sweet, Loco Loco still offers their Original Churros ($5), which comes with your choice of chocolate, caramel, or gula melaka sauce.
---
2. Fairy Floss (Stall 33)
---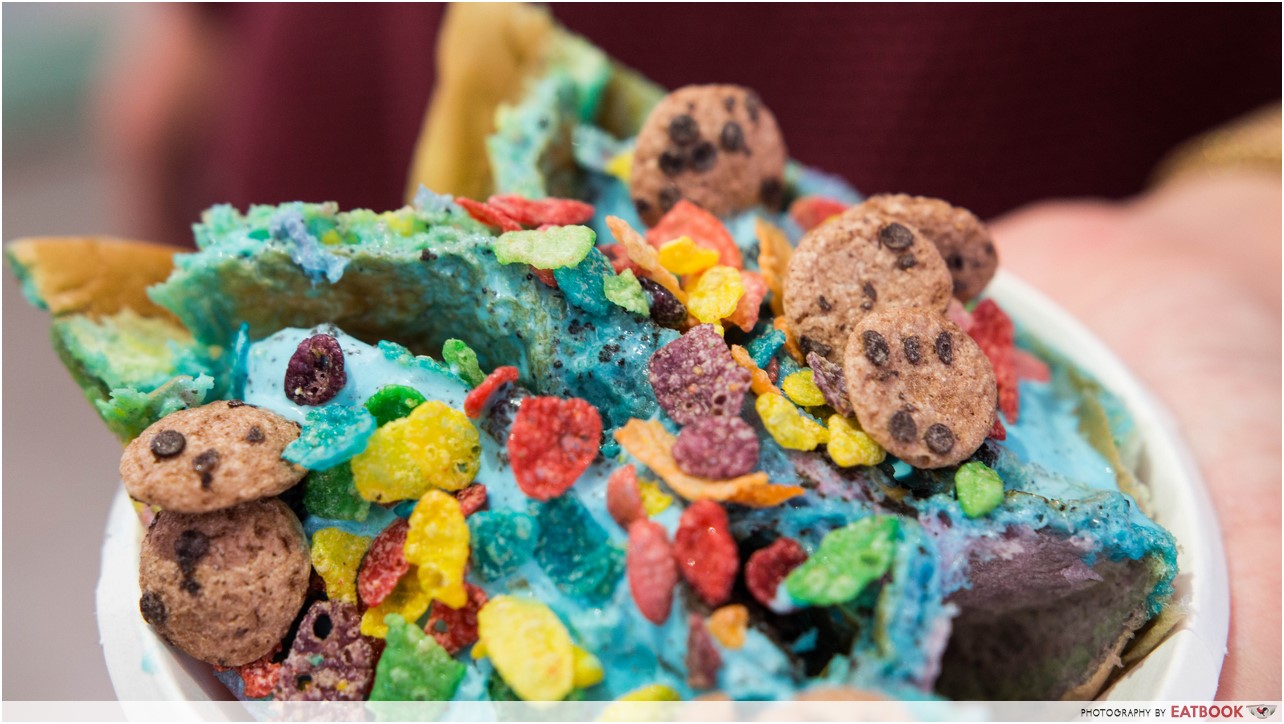 This stall is all about the unicorn food trend, with their food items taking on cutesy colours and fluffy textures. Rainbow Planet Ice Cream Bun ($8) is basically a one-dollar push-cart ice-cream bread on steroids. The bun itself has pastel swirls running through it, while the ice-cream is a vibrant, Cookie Monster blue. You can even top the whole thing with two cereal toppings of your choice.

Disclaimer: This is extremely messy to eat and is not first-date food.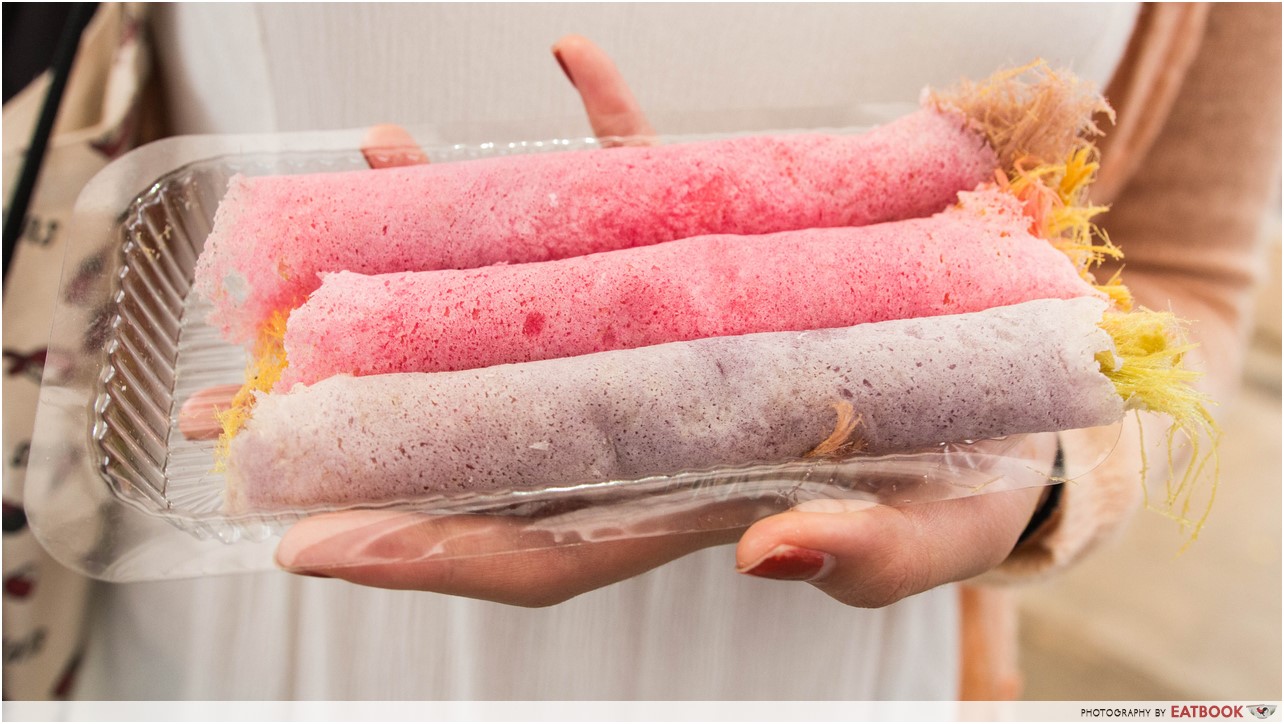 Their Candy Floss Burritos ($8 for three rolls) also follow through with the unicorn trend. Made with pink and purple crepes and stuffed with colourful candy floss, this one sugary treat. Just remember to eat these within five minutes because the floss will melt in Singapore's unforgiving humidity.
---
3. Pokerrito (Stall 48)
---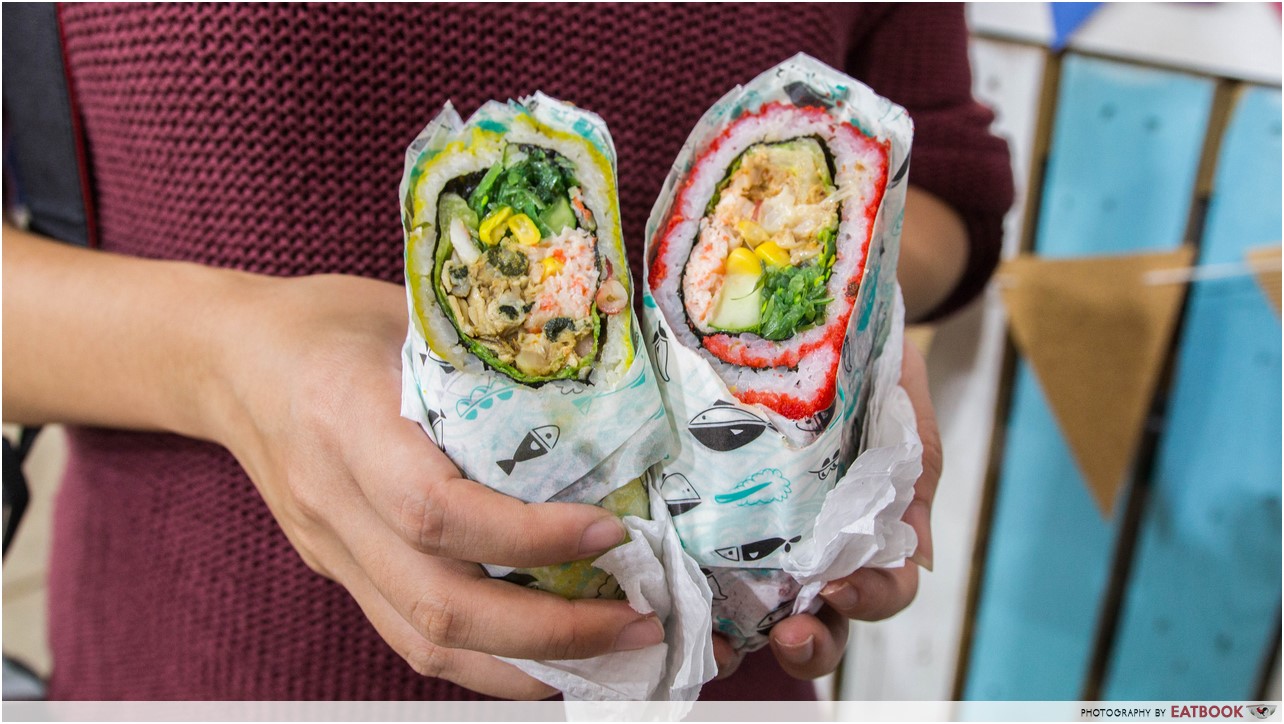 Though we usually think of junk food when it comes to pasar malam fare, Pokerrito has proved otherwise. Their nutritious Poke Bowl ($10) comes with rice, furikake, edamame, tako (octopus), scallops, and mussels. If you'd rather skip the hassle of carrying a plate around, get one of their Pokerritos, AKA Poke Burritos. Those who enjoy spicy food can get a Spicy Pokerrito ($8/$14) or a Wasabi Pokeritto ($8/$14). Oriental Pokeritto ($8/$14) comes with the same fillings but is coated with a savoury chicken snack instead of spicy cheeto dust or crushed wasabi peas.
---
4. The Raclette Factory (Stall 78)
---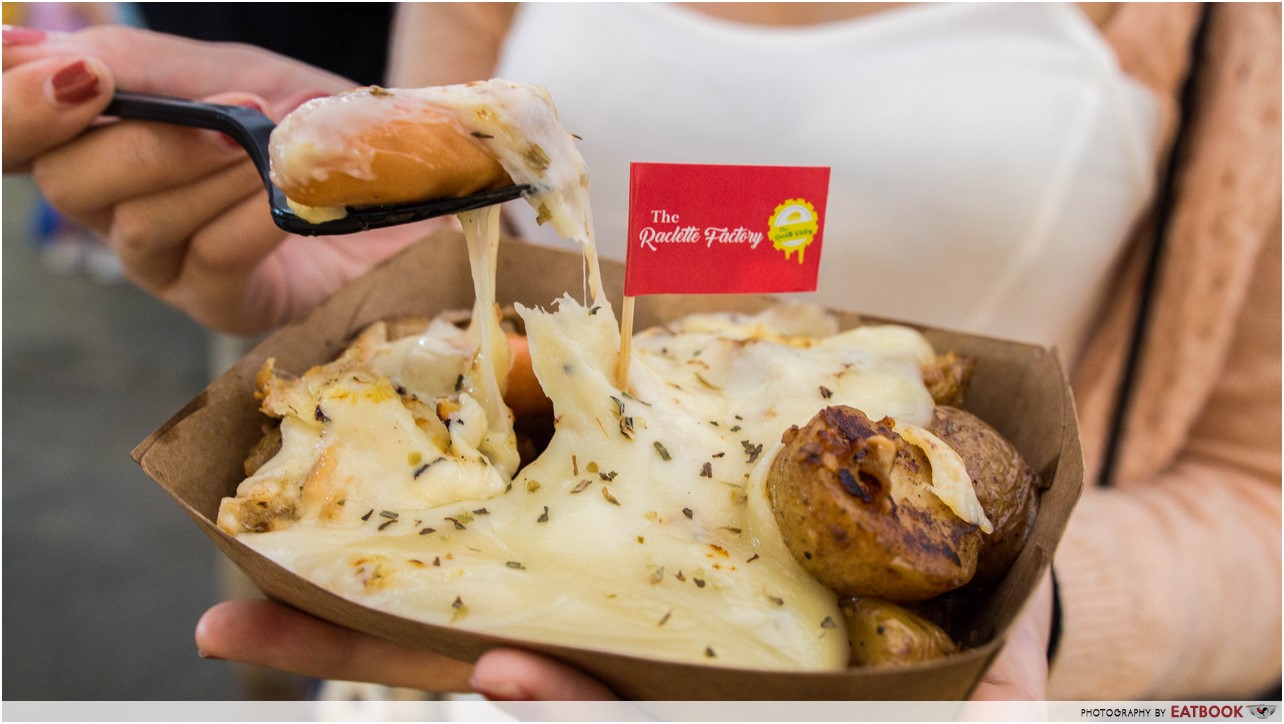 Of course, you can't talk about trendy food without mentioning raclette cheese. At The Raclette Factory, you'll get to witness them skillfully prepare this famous cheese dish in front of you. Half a wheel of French raclette is heated and blow torched till it gets oozy and slightly charred.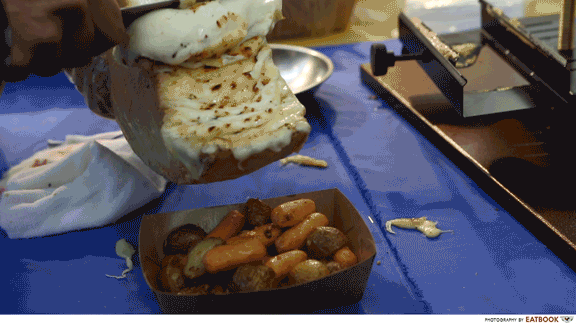 Then, they'll cover pan-fried baby potatoes and chicken sausages in a thick blanket of cheese. You can order their standard-sized The Raclette Set ($12), or go for The Family Platter ($40) that can feed four to five people.
Aside from raclette dishes, The Raclette Factory also offers pretty drinks. Soldier's Pride ($6) is a refreshing blend made of apple juice, lychee, and pandan. When you swirl the bottle, you'll start seeing tiny, iridescent flecks dancing around in the drink. Their Ramadan Special, First Love ($6), is a baby blue bandung.
---
5. Happy Rollies (Stall 130-132)
---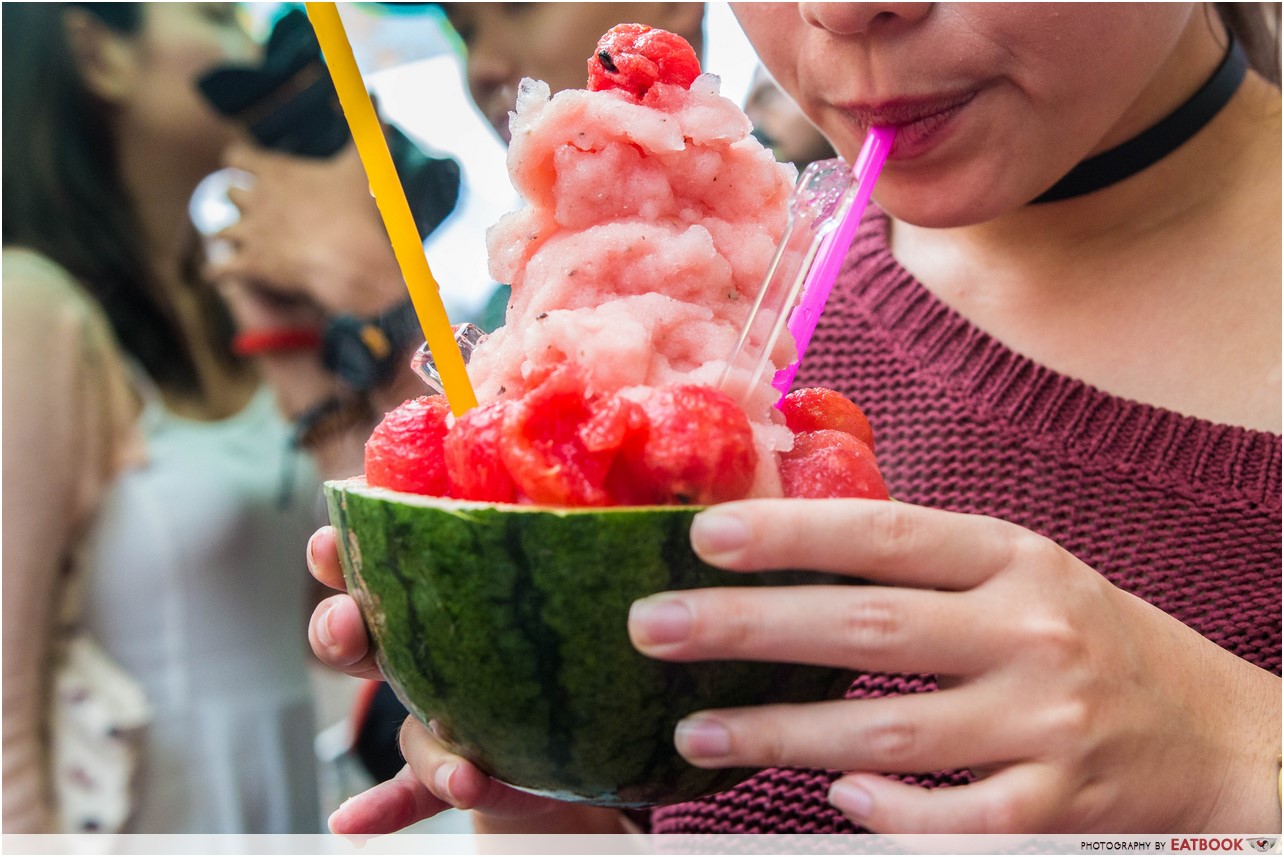 For another OTT drink to slurp on while you battle the bustling crowds and sweltering heat, get a Watermelon Volcano ($6.90) from Happy Rollies. A refreshing blend of crushed ice and watermelon are heaped into half an emptied watermelon before being studded with melon balls. You can easily share this among three to four people, just don't gulp it down too fast to avoid brain freeze.
---
6. JC creative food (Stall 29)
---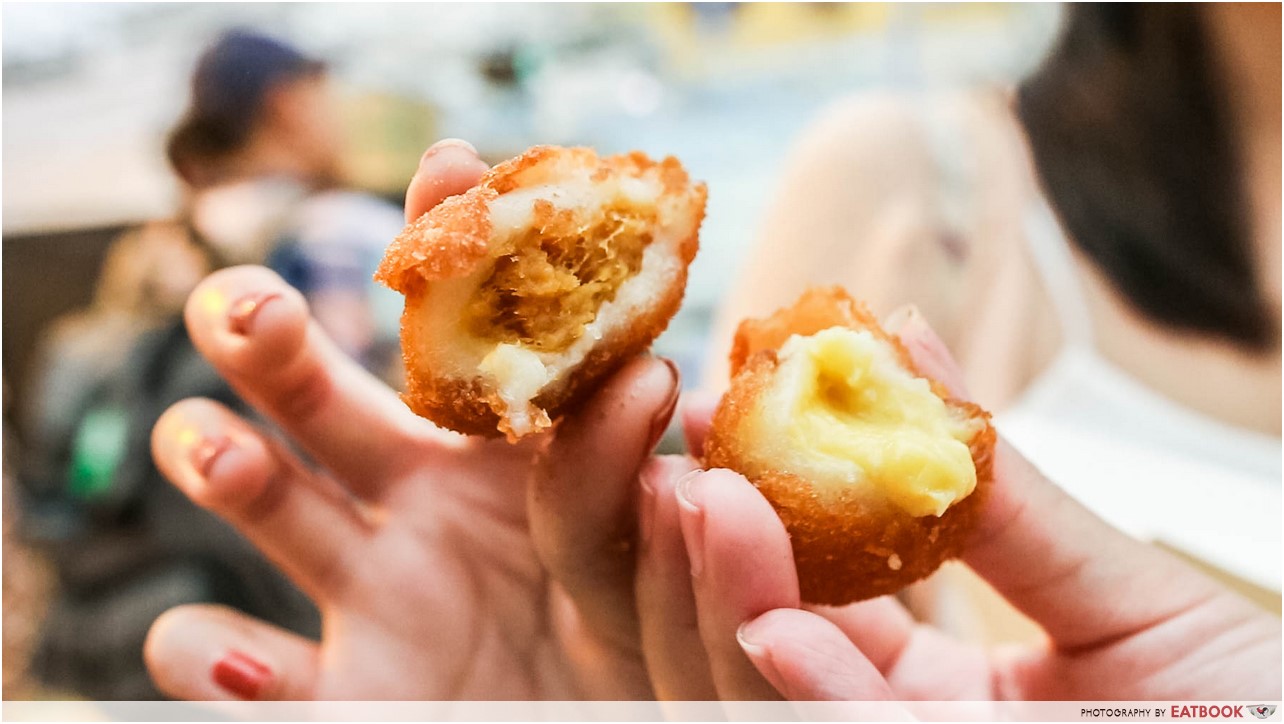 Hardcore durian lovers should pay JC creative food a visit. They dish out these unassuming Durian Bombs ($4 for three, $6 for five pieces) that are deep-fried balls of durian flesh. The golden brown outer layer adds a nice crunch while the dough encasing the filling is chewy and mochi-like. Combined with warm and creamy durian, this makes for a decadent treat.

If durian isn't really your thing, they also sell Jackfruit Bombs ($4 for three, $6 for five pieces) that use jackfruit pulp instead. These are much sweeter and have slightly more layers of texture compared to the durian bombs.
---
7. Take A Bite (Stall 34)

---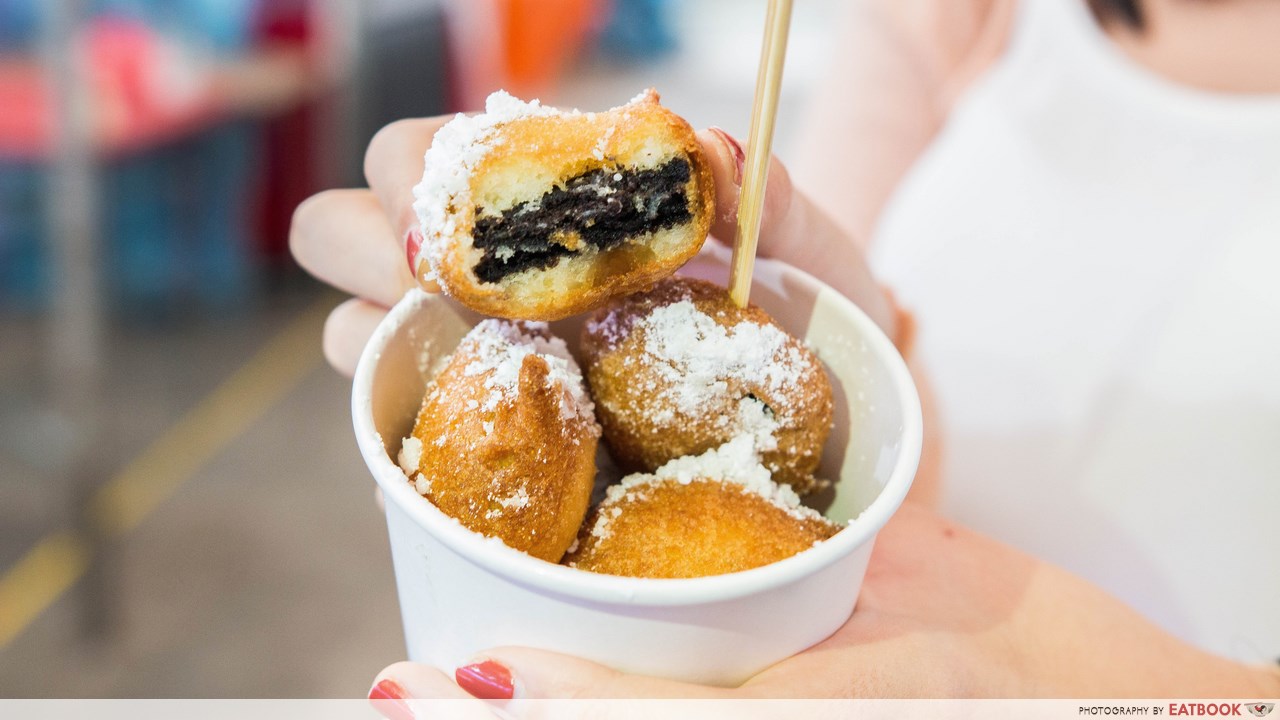 Those with a sweet tooth will enjoy the finger food from Take A Bite. You can get your hands on a classic American carnival snack: deep-fried Oreos. These Fried Oreos ($3 for five pieces) are topped with a light dusting of icing sugar. You can also replace the sugar with either chocolate sauce or condensed milk for an additional $0.50. Crunchy on the outside, warm and sweet in the middle, these are the ultimate comfort food.
---
8. Sofnade (Stall 9)

---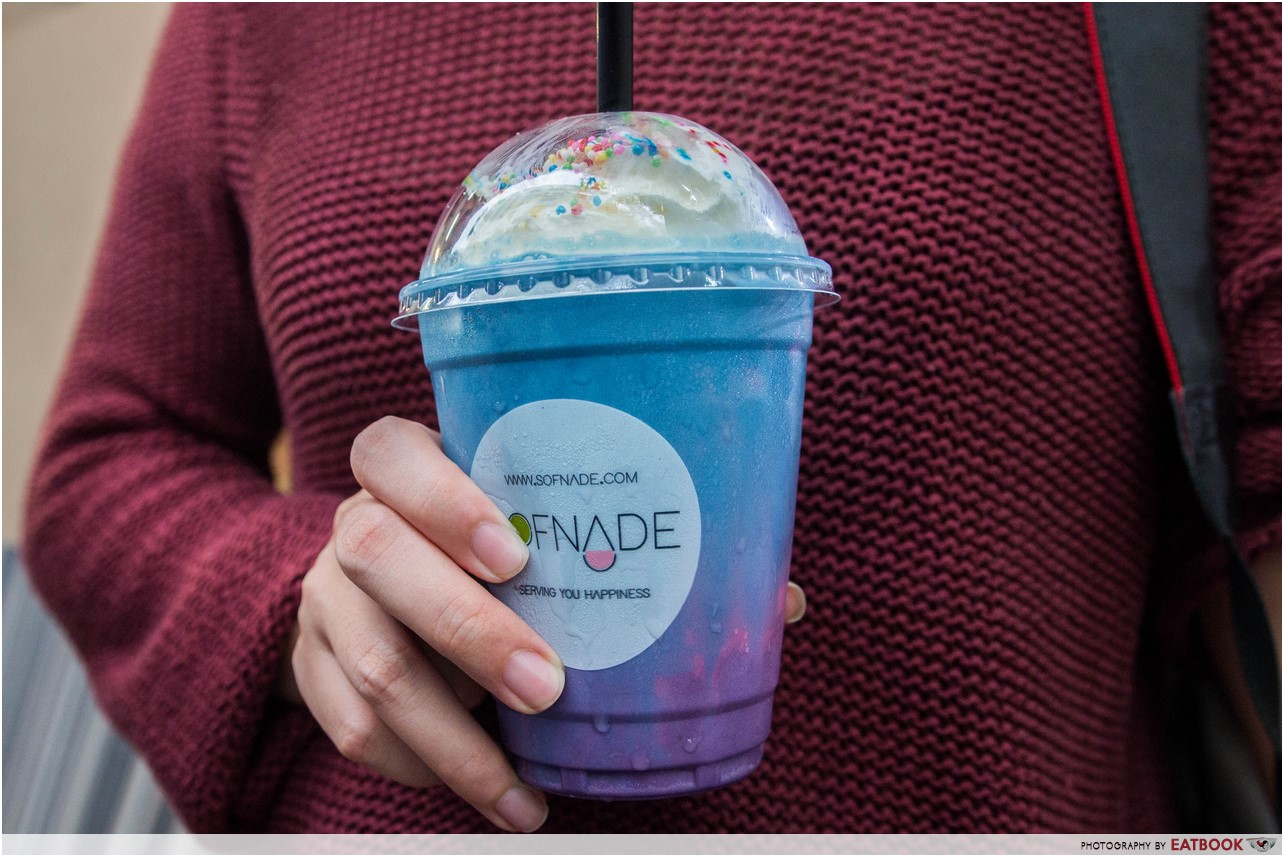 Just like the unicorn trend, galaxy desserts have also been making waves in the food scene. At Sofnade, you can get your hands on a Galaxy Milkshake ($6.50) that is blended on the spot with ice-cream and Nutella. This Paddle Pop-in-a-cup is also topped with a generous swirl of whipped cream and rainbow sprinkles. Though this makes for a pretty photo, it just tastes like a standard vanilla milkshake. Its saving grace was the Nutella that added some sweetness and chocolatey flavour to the drink.
---
9. Word. (Stall 30)
---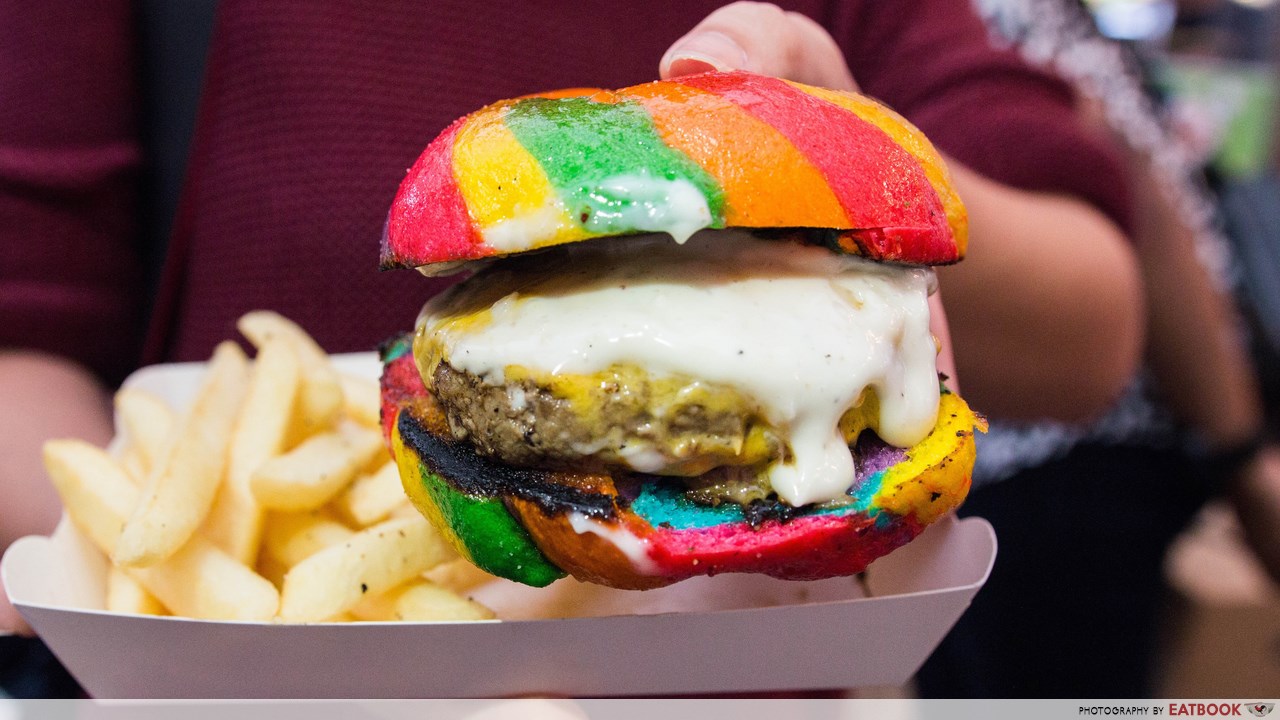 For some updated fast food, visit Word.. Their signature Handsome Burg ($8) tasted as good as it looked. Don't let the vibrant colors scare you! Unlike many rainbow-coloured food that leave an artificial aftertaste, this bagel was surprisingly buttery and pillowy-soft. The thick, juicy patty went well with the salty melted cheese and made for a satisfying burger. However, the fries were on the plainer side and took a back seat.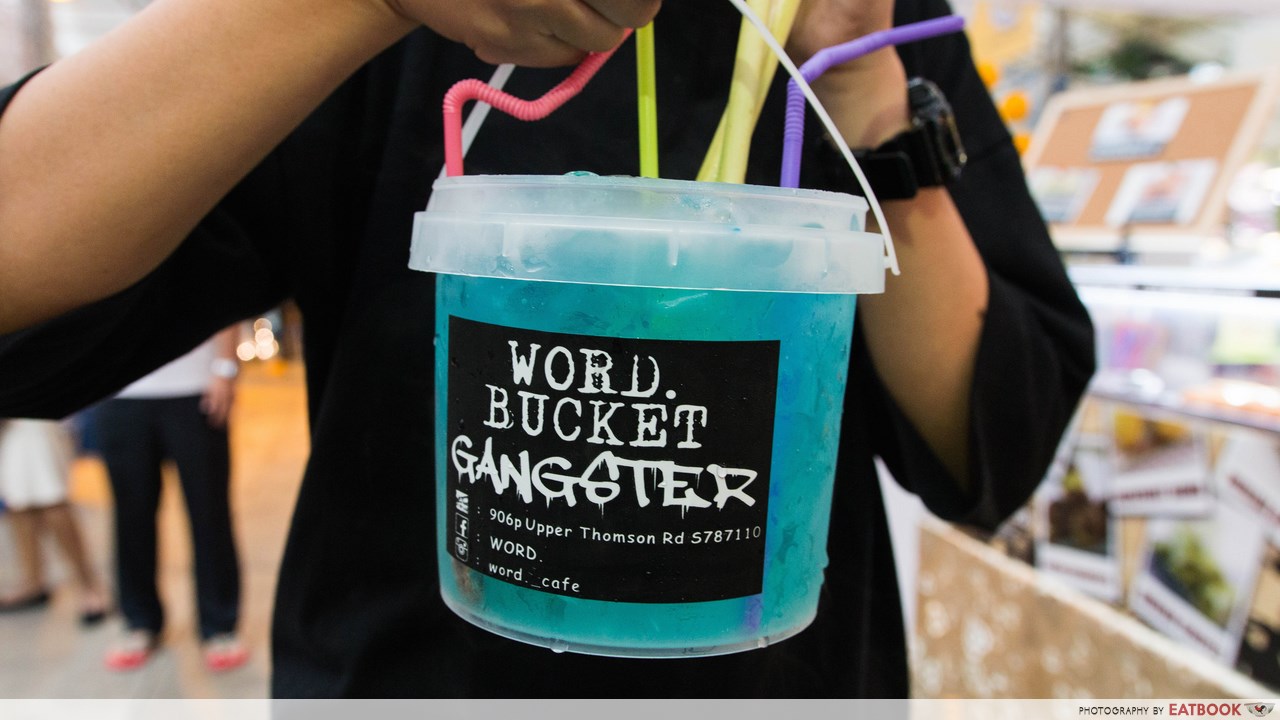 If you're taking on the bustling market with a big group of friends, get yourselves a Bucket Gangsta ($8) to share. A crowd-favourite is Mat Rep, which is a refreshing mix of ice-cream soda, lemongrass and sour plum. If those flavours aren't up your alley, they also have Minah and Ah Beng, which are orange- and mango-flavoured respectively.

Check out our full review of Word Bistro's outlet at Upper Thomson!  
---
10. Istanbul Express (Stall 91)
---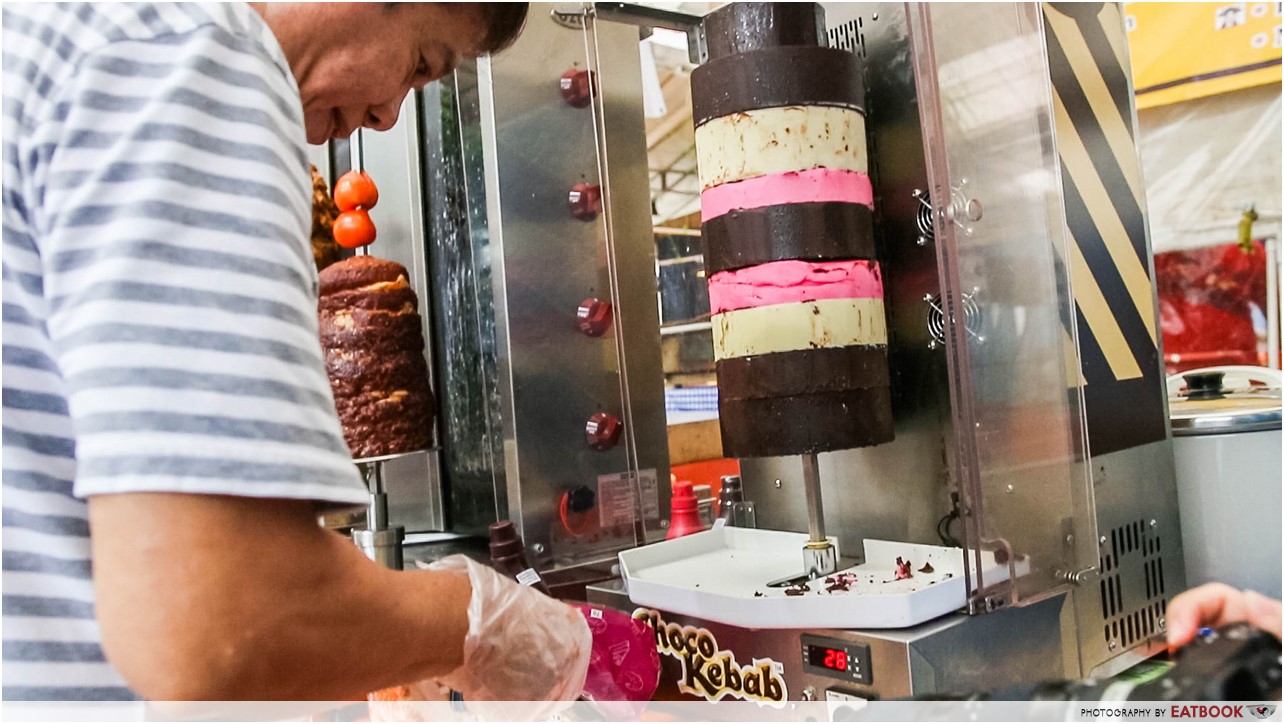 If you follow food scenes across the world as closely as I do, you probably would've seen the clip of a huge slab of rotating chocolate being sliced and served kebab-style. Now you can be the first in Singapore to try a Chocolate Kebab ($5) at Istanbul Express.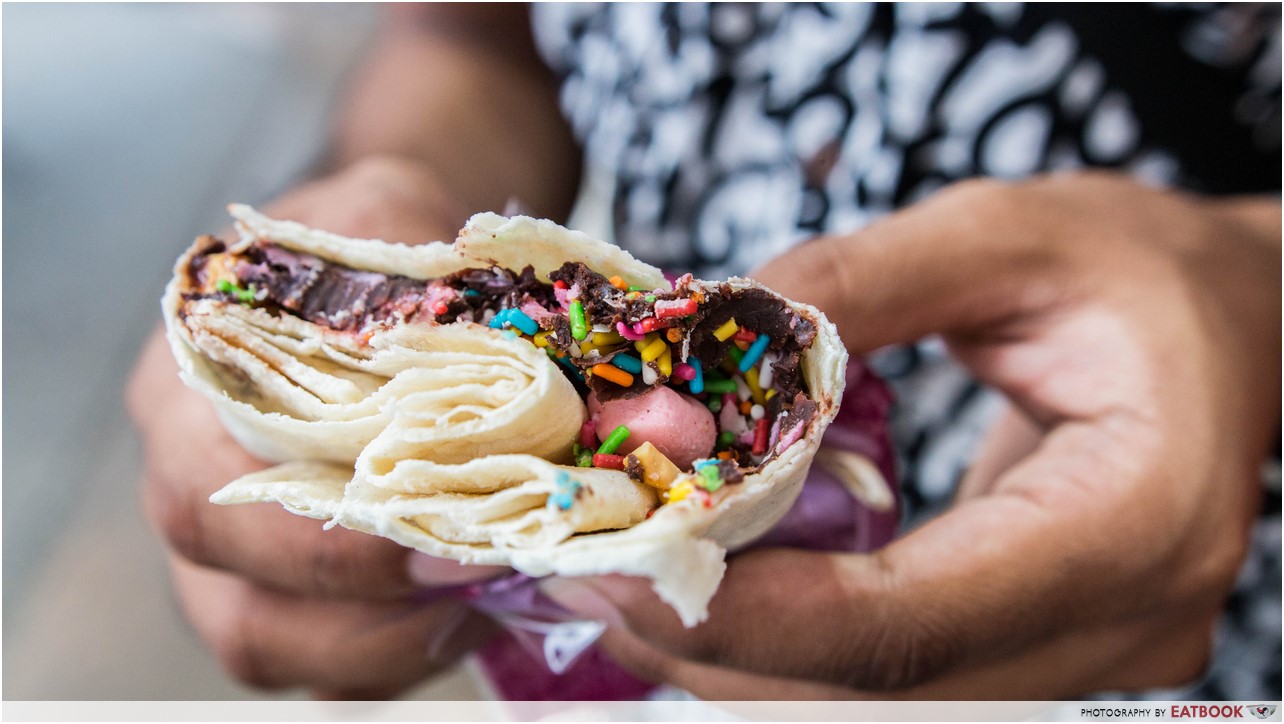 What you'll get is a combination of chocolate, sprinkles, and mini marshmallows folded into a standard tortilla wrap. The wrap-to-chocolate ratio was quite unbalanced, making it doughy and plain at certain sections. However, you can always just opt for a savoury kebab that also costs $5.
---
Mother of all pasar malam, breaker of diets
---
With so many stalls and so much food to try, you have to head down to the Ramadan Bazaar 2017 to avoid intense #FOMO. Leave a comment below telling us which of these stalls you'd like to visit first!
Ramadan Bazaar 2017 started on 26 May and ends on 24 June. Opening hours vary for all stalls, but most start at around 4pm and close after midnight.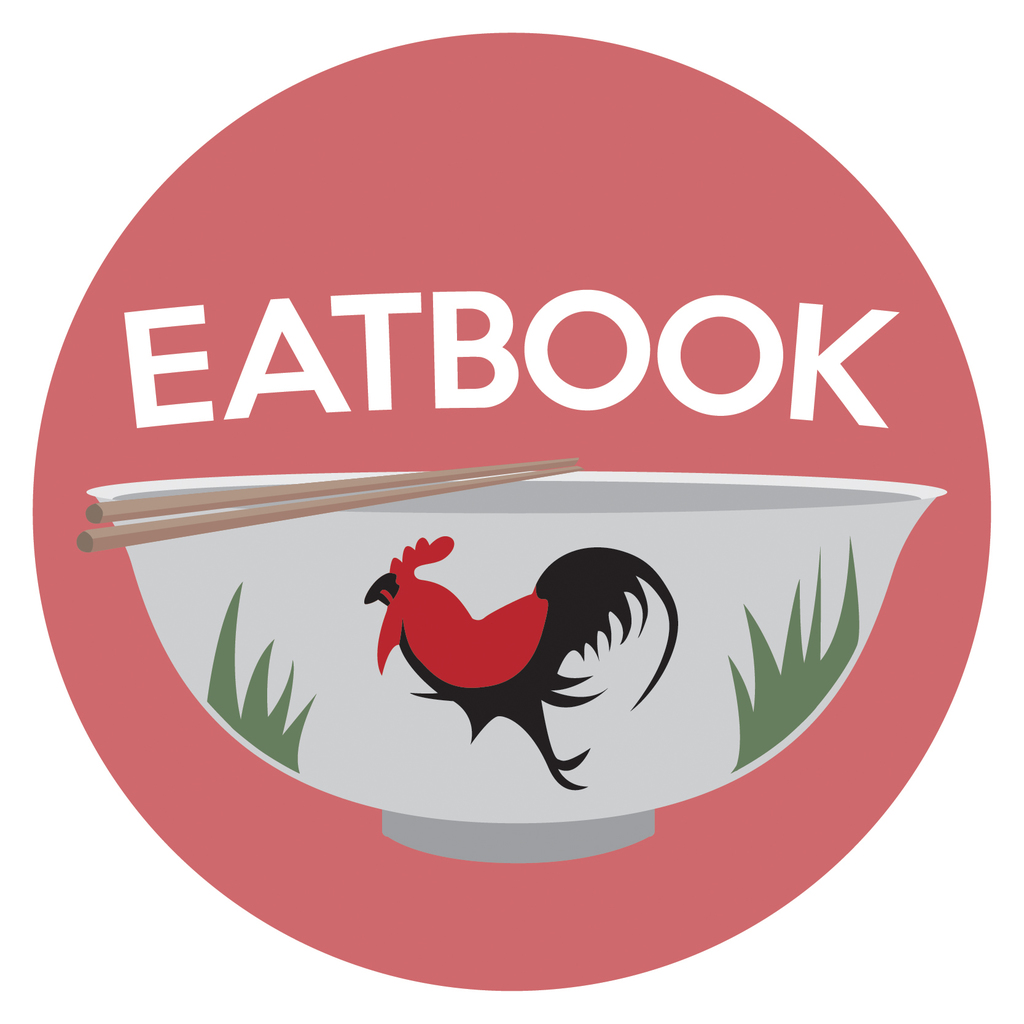 Drop us your email so you won't miss the latest news.