---
Ramly burger in Singapore
---
Going to the pasar malam used to be a national pastime. With every visit, grabbing a Ramly burger was a must for many of us—the affordable snack in all its juicy, greasy glory were the stuff pasar malam dreams were made of. 
Now that we've had to bid temporary goodbyes to the pasar malam experience, many Ramly burger sellers have set up permanent shop in malls, hawker centres, or even online to offer fans easier access to this cult favourite treat. We've listed down 6 places for you to find Ramly burgers in Singapore outside of a night market.
---
1. East Village Cafe 
---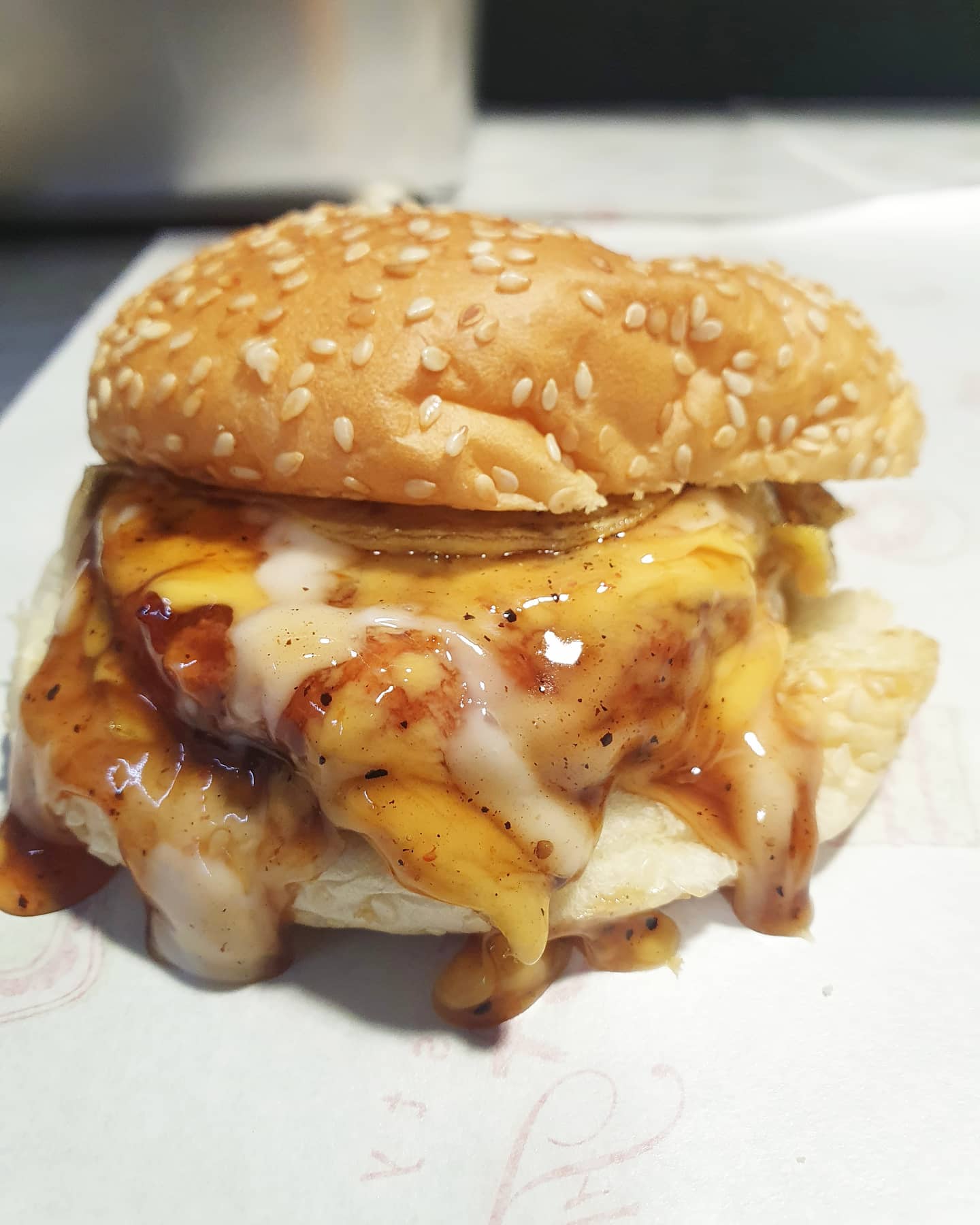 Image credit: The Original Pisang Keju
Those who frequent the pasar malam will definitely recognise The Original Pisang Keju, one of the key local vendors for Ramly burgers. Since they can no longer do pop-up stalls, the brand has opened a flagship outlet known as East Village Cafe in East Village Mall, located in Upper Changi. Each burger costs $4.50, which you can enjoy with either beef or chicken patties. 
They also have another outlet at Gallop Kranji Farm Resort at 10 Neo Tiew Lane.
Address: 430 Upper Changi Road, #01-15, East Village Mall, Singapore 487048
Opening hours: Daily 12pm to 8pm
Tel: 8742 6967
Website
---
2. Ramly Burger By Burock Cuisine 
---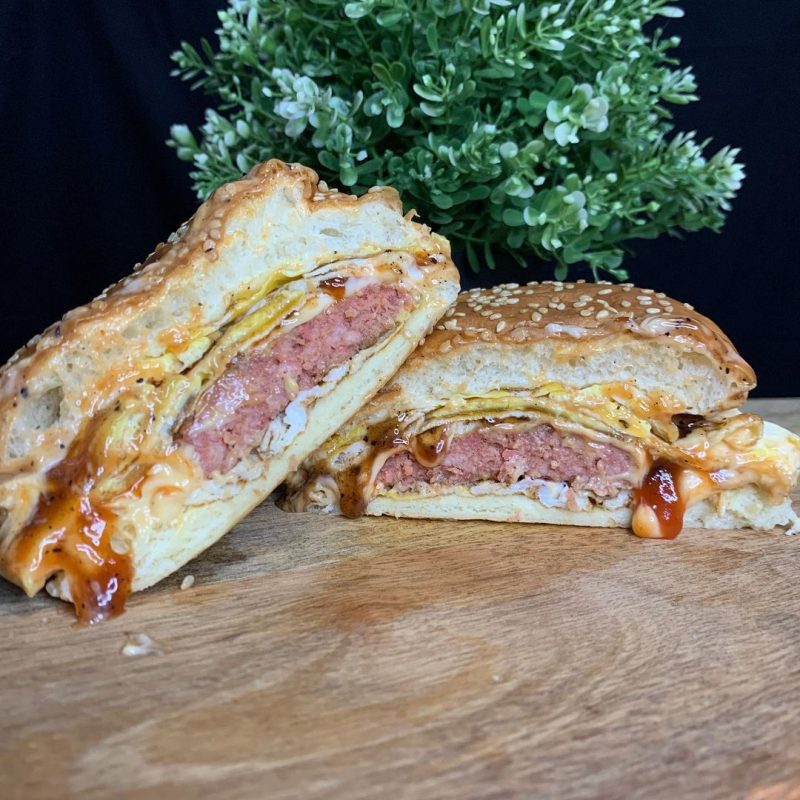 Image credit: @burockcuisine
Another familiar pasar malam Ramly burger kiosk is Burock Cuisine. This year, they have opened two brick-and-mortar stores in Yishun and Bedok North respectively, selling beef or chicken burgers for just $4. You can even get an additional patty of your choice with a $2 top-up. Otherwise, for vegetarians, Burock Cuisine also has a Benjo burger, made with cabbage and egg in place of a meat patty for $2.
Their outlets are located at 418 Bedok North Avenue 2, and 101 Yishun Chong Pang. They do delivery for orders on their website too.
Address: 418 Bedok North Ave 2, Singapore 460418
Opening hours: Fri-Wed 12pm to 8pm
Tel: 8815 1652
Website
---
3. Pasar Malam Corner 
---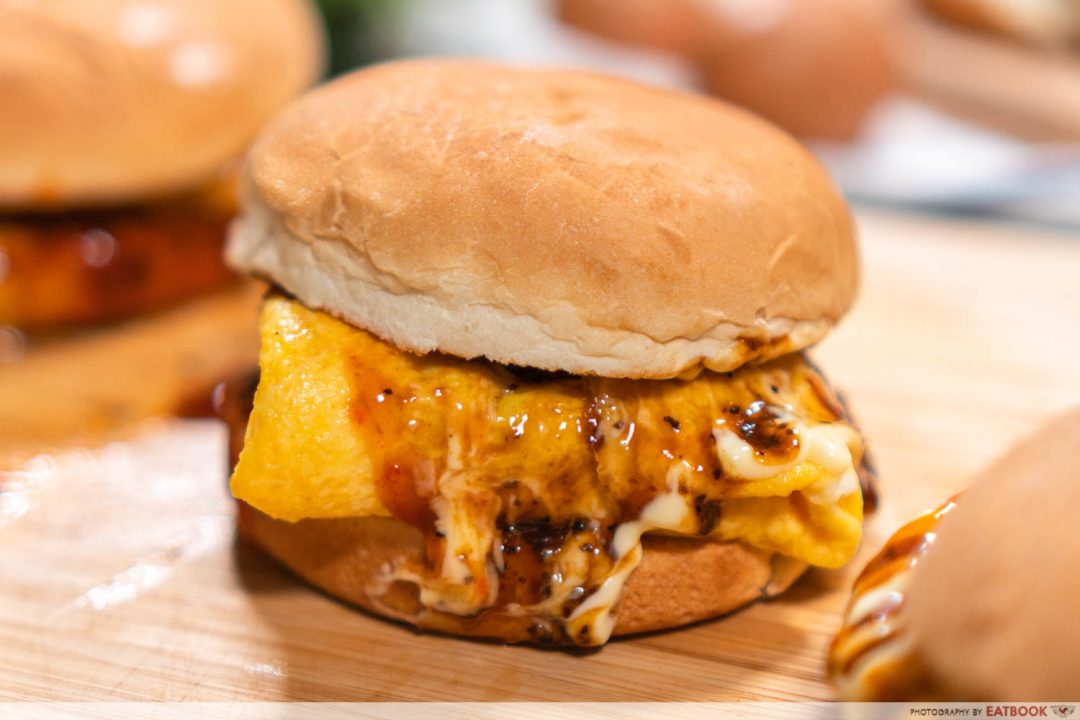 Pasar Malam Corner is a food stall near JEM that recently went viral for being a one-stop-shop for all things pasar malam. They sell Ramly burgers from $4 here, but also Roti John for the same price. Aside from the two, you can get other nostalgic street snacks like Takoyaki (from $3), or a cup of Bandung ($1.50) to wash it down.
Read more about what to expect at Pasar Malam Corner!
Address: 135 Jurong Gateway Road, #01-333, Singapore 600135
Opening hours: Daily 9am to 9pm
Pasar Malam Corner: New Stall Has Pasar Malam Snacks Such As Ramly Burger And Takoyaki Near JCube
---
4. Ministry Of Burgers
---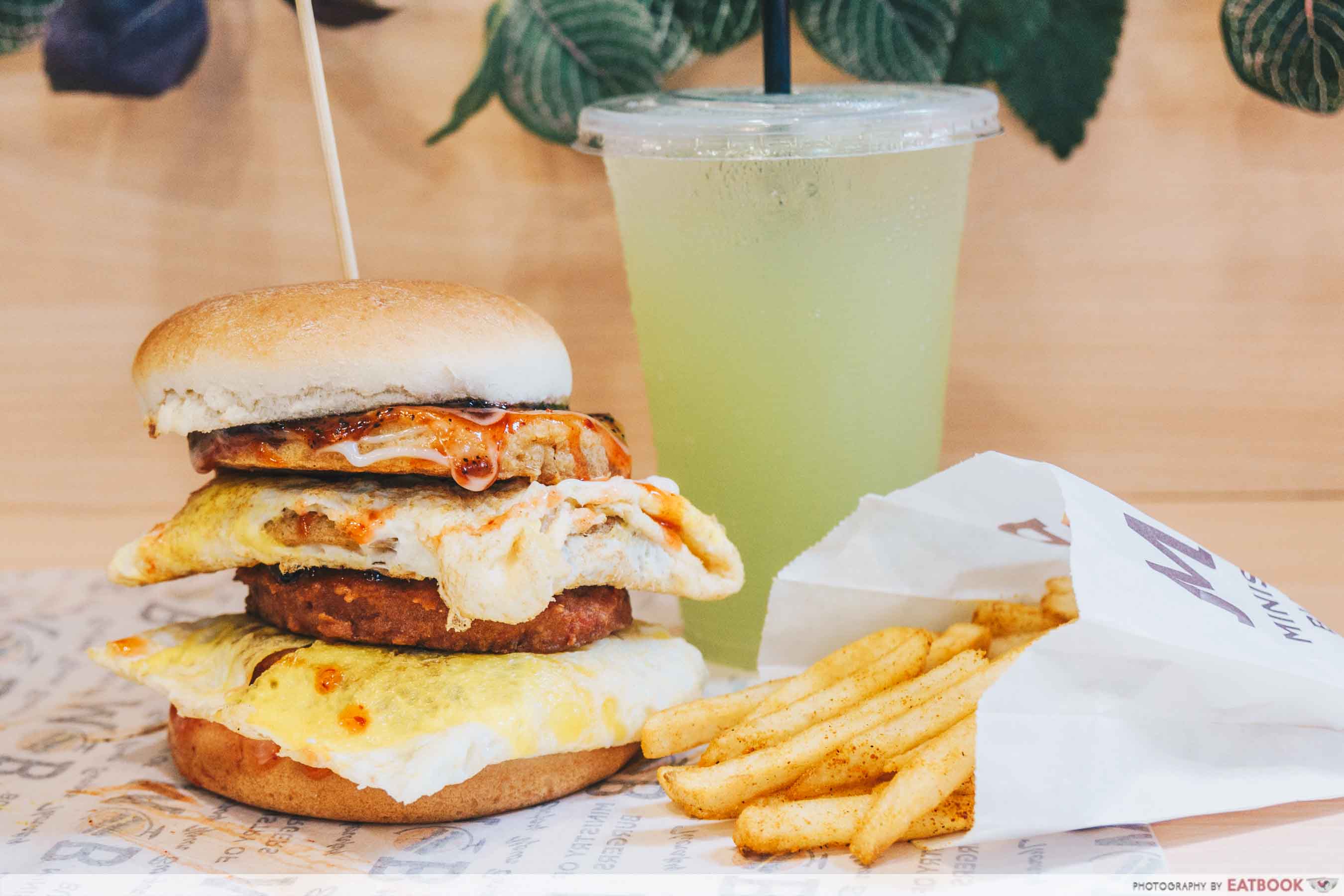 Located in Downtown East is Ministry of Burgers, a Ramly burger cafe that sells a wider variety of burgers than the rest on this list. Their signature is the Thunder Burger ($11.50), which comes with four stacked patties of your choice, as well as egg, lettuce, and sauce. Otherwise, their atypical burgers go for $4.50, with a choice of chicken or beef. Round off the meal with their Special Briyani Fries ($2.90), where shoestring fries are dusted in briyani spices for kick.
Address: 1 Pasir Ris Close #01-K101, Downtown East, Singapore 519599
Opening hours: Daily 11am to 10pm
Tel: 8182 6497
Website
---
5. Duit SG 
---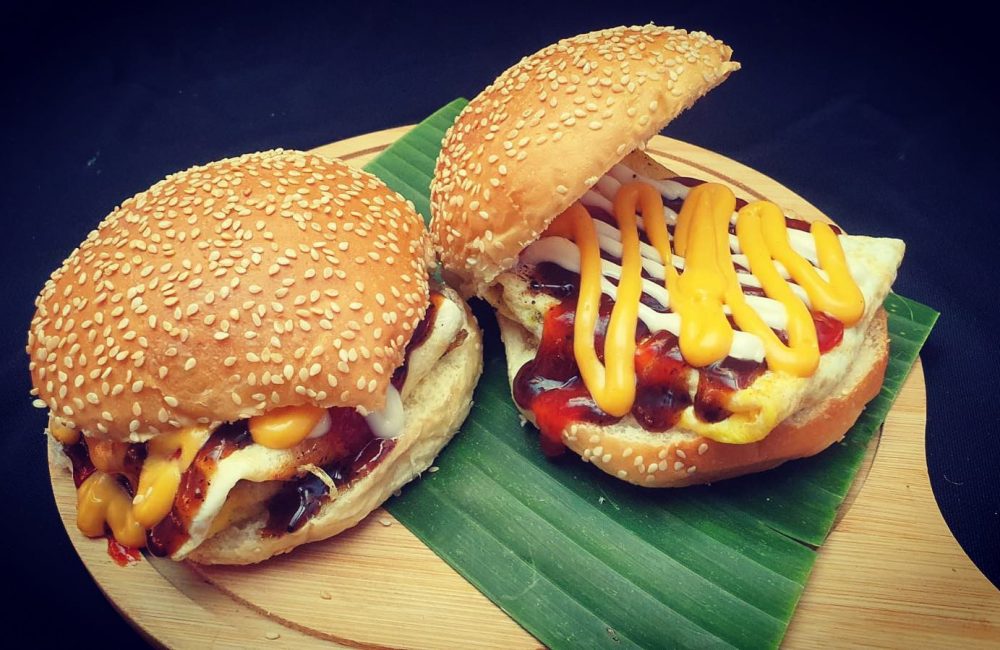 Image credit: Burock
Tucked away in Changi is Duit SG, an outdoor F&B experience that's a throwback to JB days. Customers dine under shelters strung up with fairy lights, and get to tuck into a variety of dishes from the numerous food trucks and kiosks around. You can get Ramly burgers here from Burock, but also bites like seafood shellout, martabak manis, satay, and more. 
Address: 27 Cosford Rd, Singapore 499549
Opening hours: Daily 11am to 11pm
Website
Changi Eatery Has BBQ Seafood, Ramly Burger & Satay In An Outdoor Food Truck Park Setting
---
6. Ramli Burger Seafood & Western
---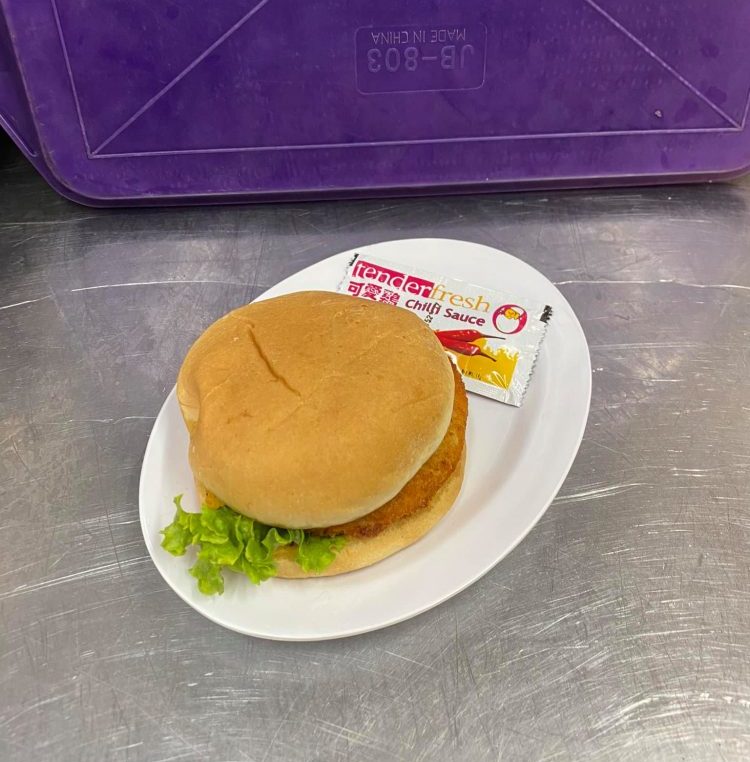 Image credit: Ramli Burger Seafood & Western
Newly-opened Ramli Burger Seafood & Western has Ramly burgers available for the Redhill crowd. Burgers are available in chicken, beef, or fish for $4. Apart from their signature dish, the stall also sells hawker Western food classics like Chicken Chop ($7), and seafood zi char, such as Seafood Fried Rice ($6). 
Address: 55 Lengkok Bahru, #01-409, Singapore 151055
Opening hours: Mon-Tue, Thurs-Fri 10:30am to 9pm, Sat 11am to 7pm, Sun 11am to 9pm
Website
---
Ramly burger stalls around the city
---
While pasar malam visits are currently put on hold, we're definitely psyched to see Ramly burger kiosks gaining new leases of life as physical stores around the city. If you prefer to try your hand at making your own, then we also have a Ramly burger recipe for you to try your hand at.
Ramly Burger Recipe: Make The OG Pasar Malam Burger From Scratch With Simple Ingredients