---
Food places at R&F Mall
---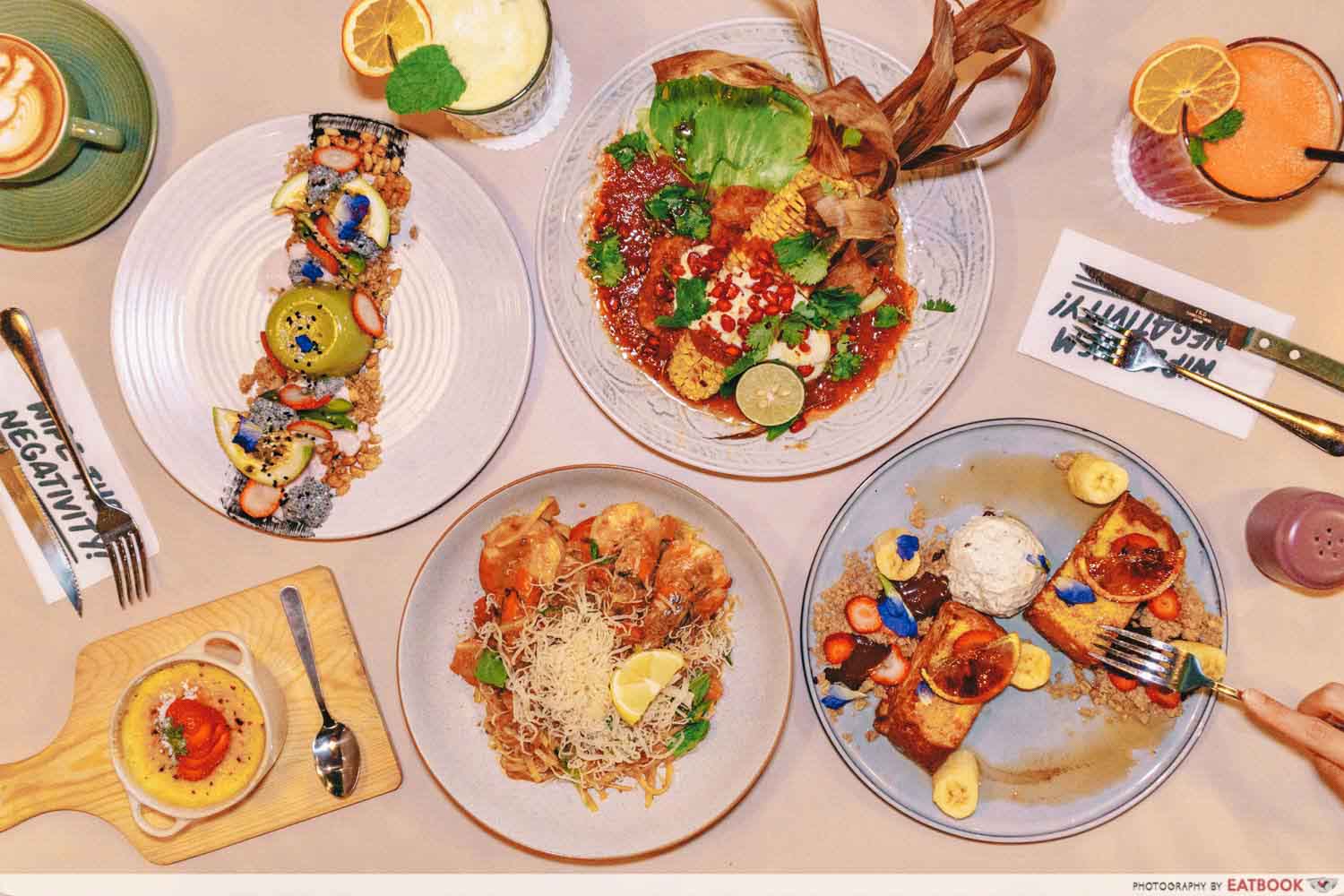 As someone who loves cafe hopping, Malaysia's 3:1 exchange rate makes me feel like a king when I'm dining in Johor Bahru. Despite the numerous aesthetic eateries in this city, you'll often need a Grab ride to reach them. If you're on the lookout for new spots to feast near the border, then check out our list of R&F Mall food places. This mega mall recently opened its doors near the checkpoint, bringing a whole range of food to munch on.
---
1. Routine by Soon Cafe
---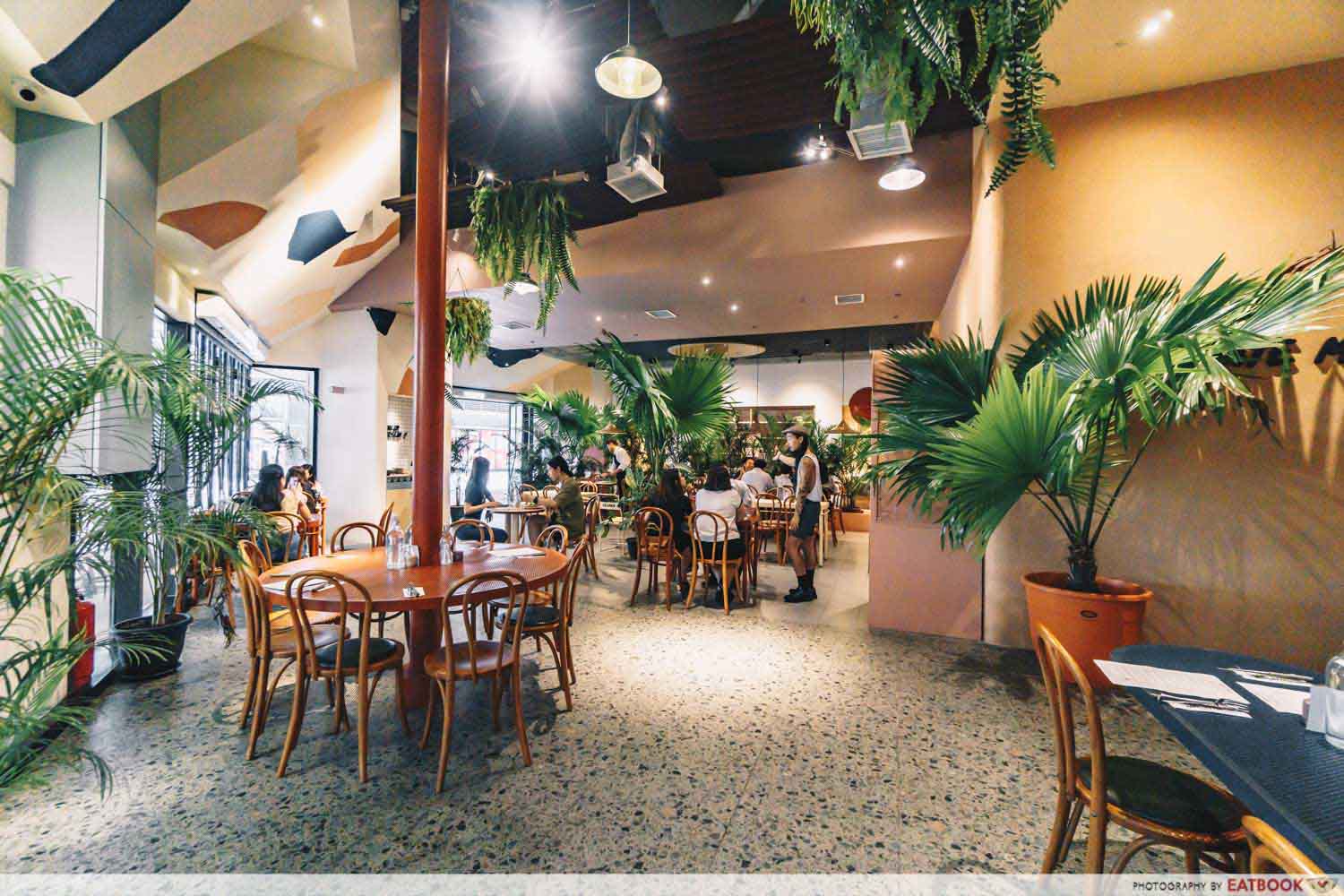 Opened by the folks behind People and Places, Routine by Soon Cafe stands out from its hipster sister with millennial pink walls and lush greenery taking over the space. This aesthetic cafe had the basic girl in me screaming. Plus, there're plenty of photo-op spots to jazz up your Instagram feed. 
This snazzy vibe also extends to their food, with an updated menu offering a mix of savoury dishes and sweet treats.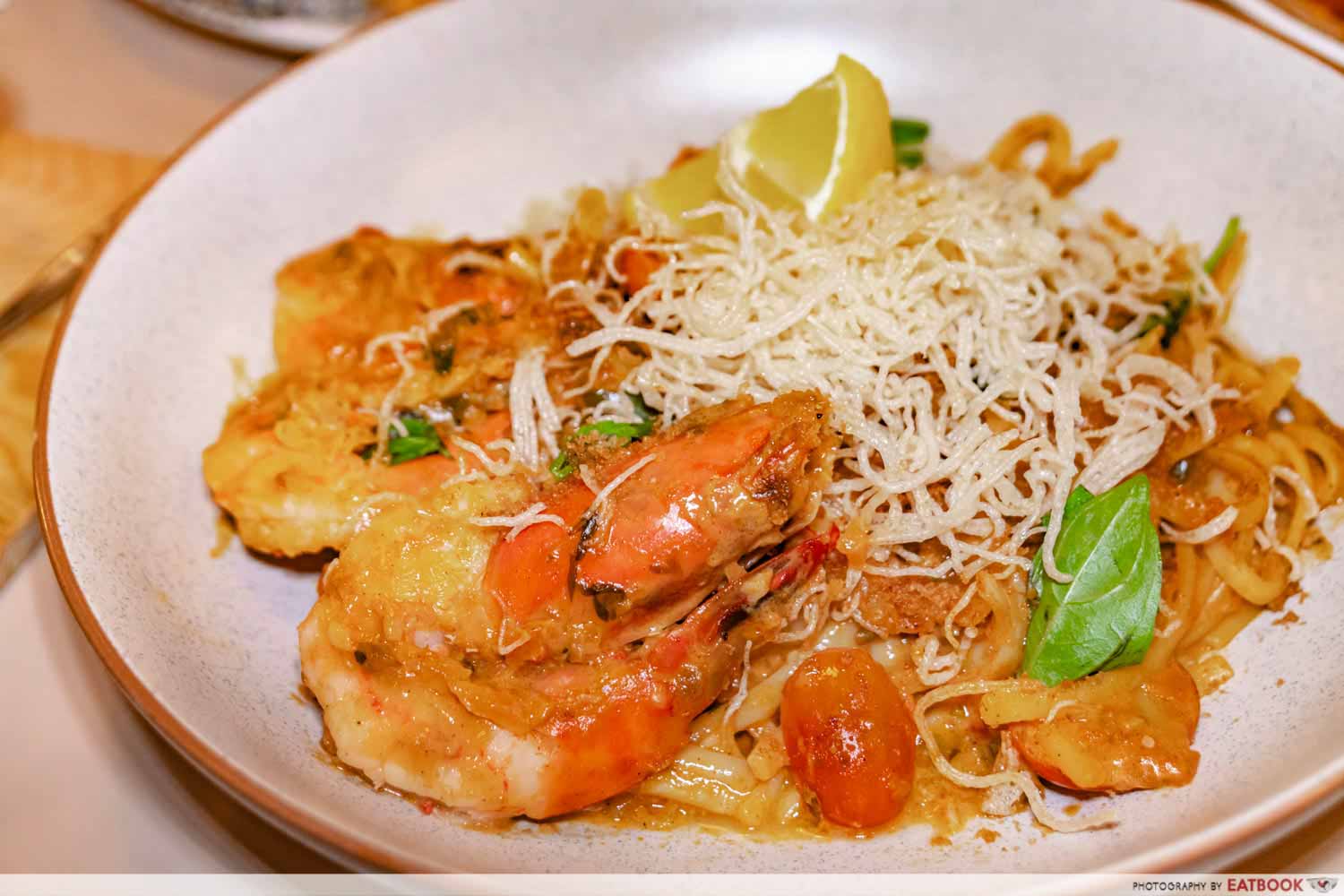 The Tiger Prawn Linguine (RM42.90+/~S$14.30+) is a must-order, especially for pasta lovers out there. Al dente linguine is tossed in a classic French cream-based sauce, with each strand coated in this velvety goodness. The star of the show is the plump tiger prawns which are juicy and bursting with natural sweetness. For those looking to bulk up, check out their Sous Vide Piri Piri Fried Chicken (RM27.90+/~S$9.30+) which is adorned with an ear of char-grilled corn. The deep-fried breast meat is a little on the tough side, but the tangy salsa and sour cream helped to add some needed moisture, elevating the well-seasoned chicken.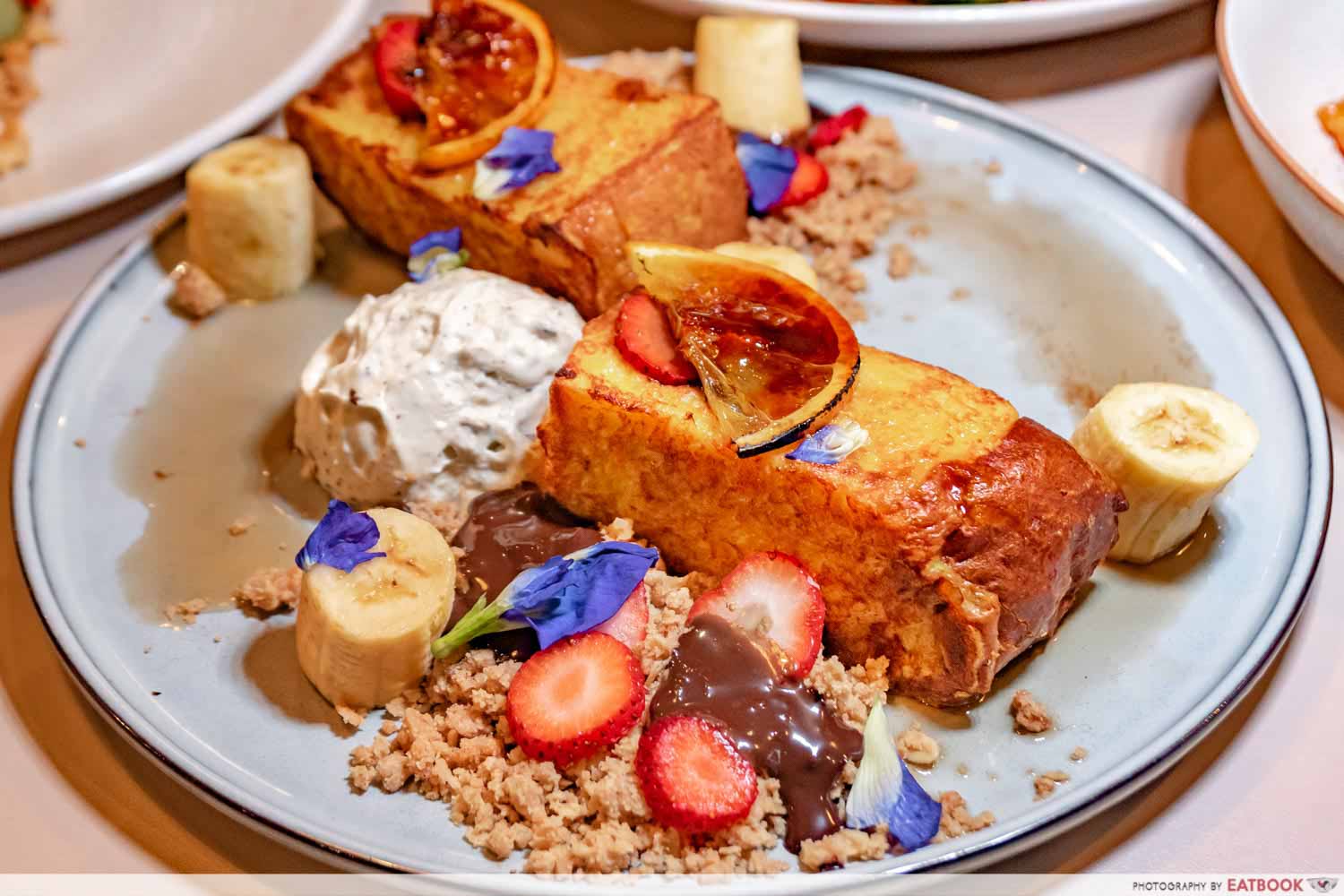 A visit to this charming cafe isn't complete without an order of their Citrus French Toast (RM22.90+/~S$7.60+). This stunning dessert comprises a beautiful arrangement of thick French toast slices decorated with slices of fresh strawberry and brûléed orange slices. Take a bite of this fluffy bread with the rich chocolate ganache and velvety house-made chocolate chip ice-cream for a sugar rush.
Unit no: G-025-026
Opening hours: Daily 10am to 10pm
Website
Routine by Soon Cafe is not a halal-certified eatery, but their food contains no pork or lard.
---
2. Fei Teng Kao Yu
---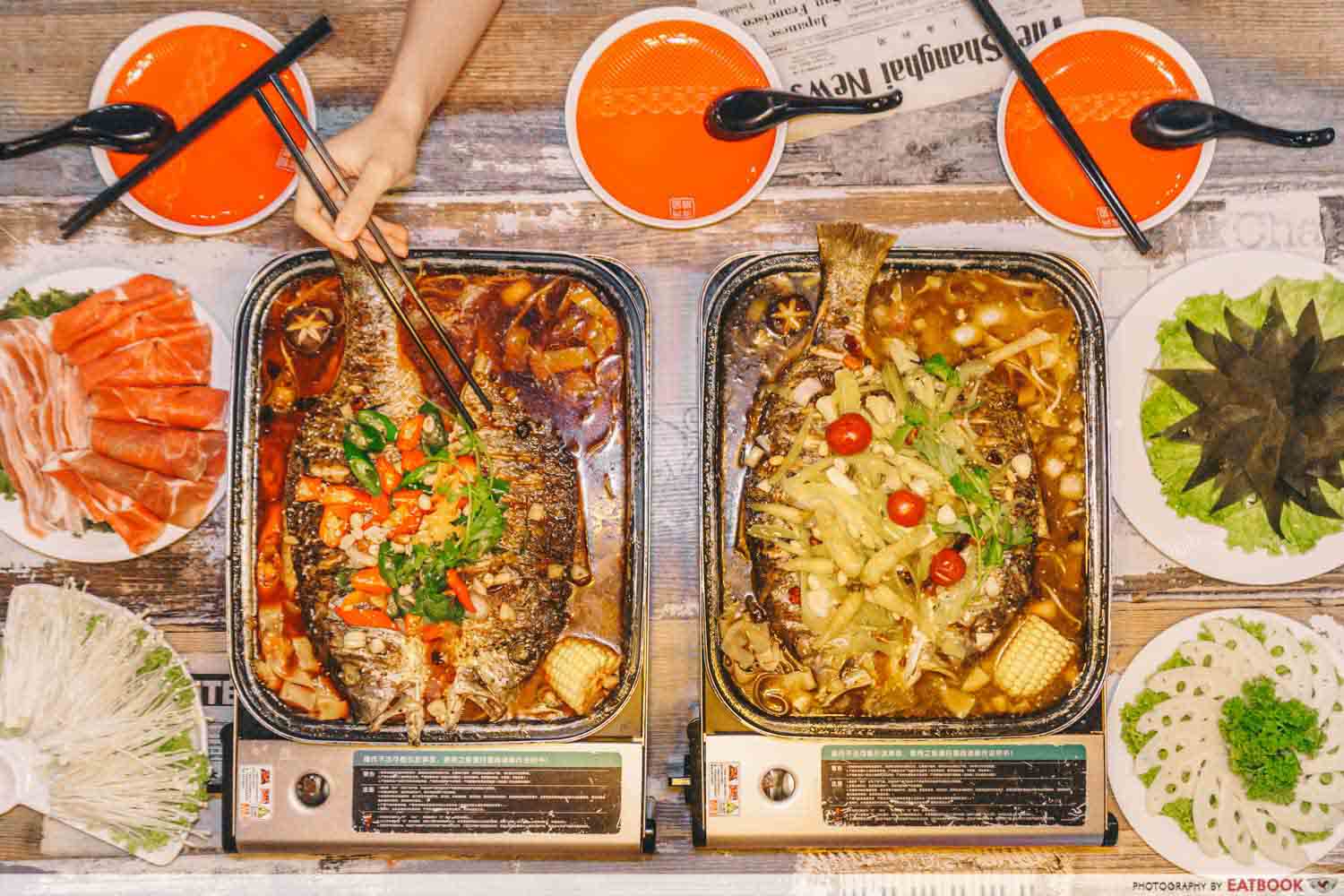 Asian eateries are known for their emphasis on communal dining and Fei Teng Kao Yu is no stranger to this. You'll definitely wanna bring the whole gang here to split their massive grilled fish. Don't worry about the fish getting cold, as it's served in hotpot style.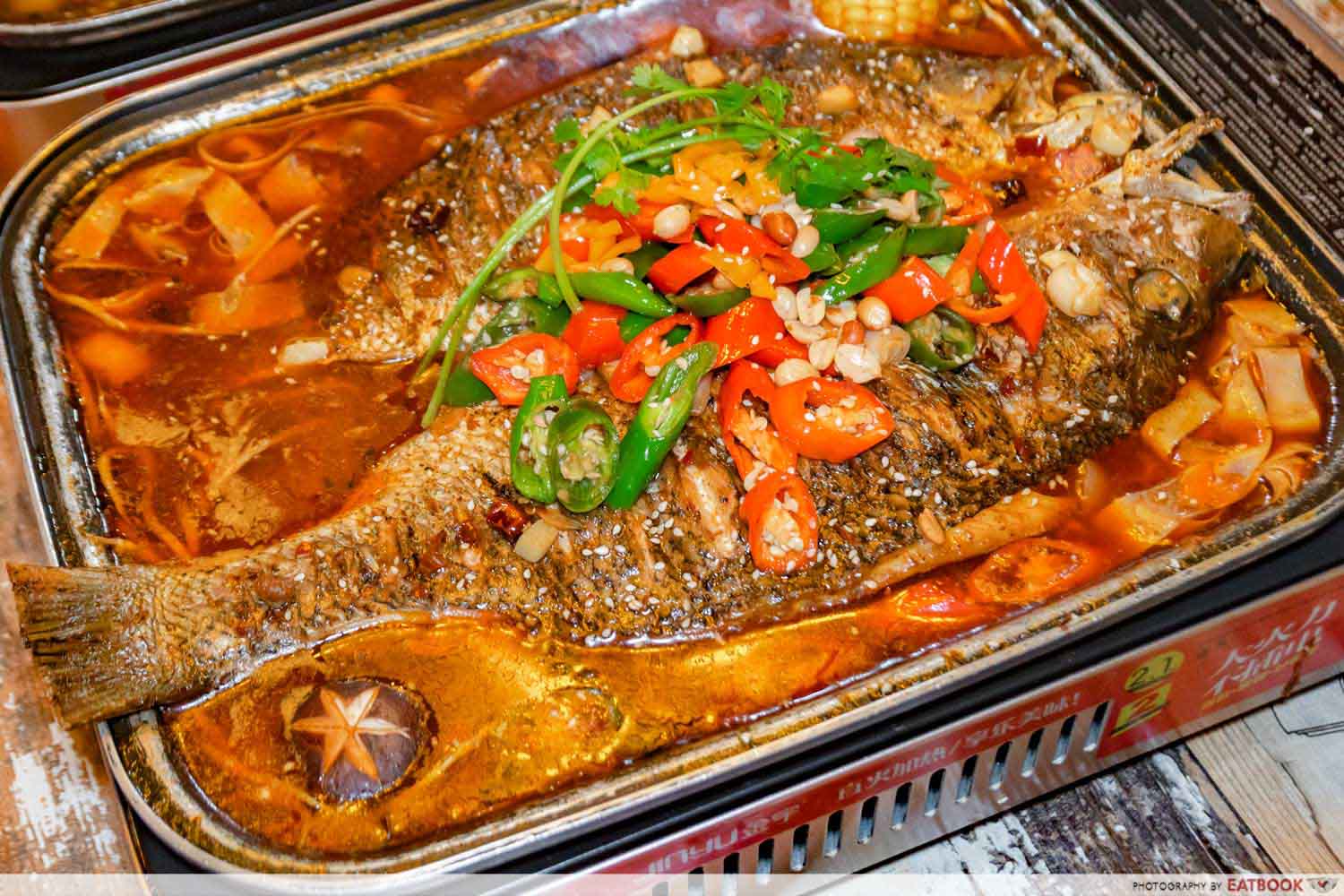 Test your tolerance for spice with their Red Snapper in Hot & Spicy Flavour (RM128+/~S$42.60+), which features an entire fish doused in a generous serving of mala sauce. You'll get a kick from the generous amount of red pepper chillies and peppercorns.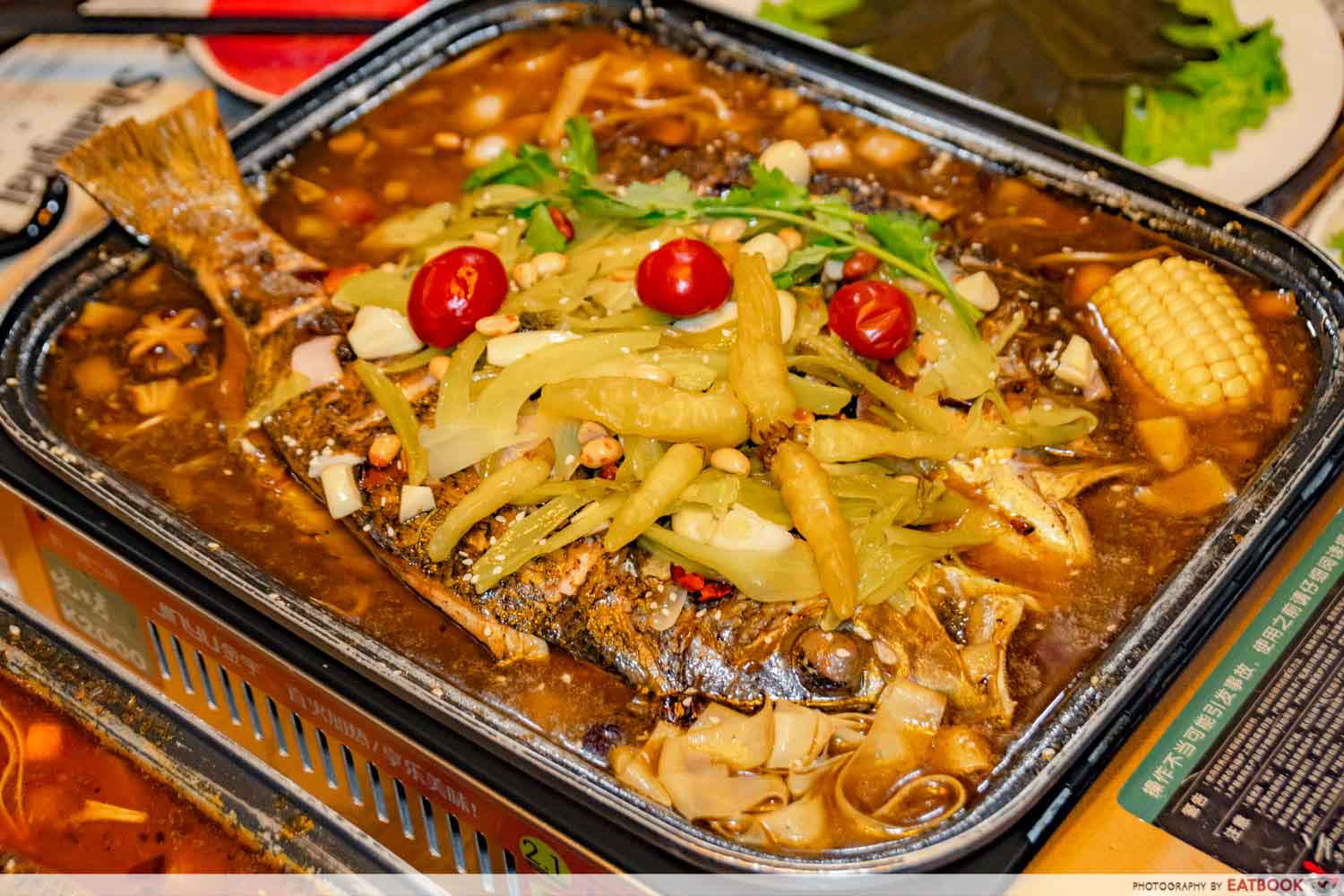 Those who prefer not to numb their tongues with spice can opt for the Red Snapper in Pickled Vegetable Flavour (RM128+/~S$42.60+). This dish still comes with peppercorns but the tart pickled vegetables help to cut through the heat. This flavour allows you to taste the tender and succulent fish in its original form.
Unit no: G-144/145
Opening hours: Daily 10am to 10pm
Tel: +60 12-668 7858
Website
---
3. Belly Bar
---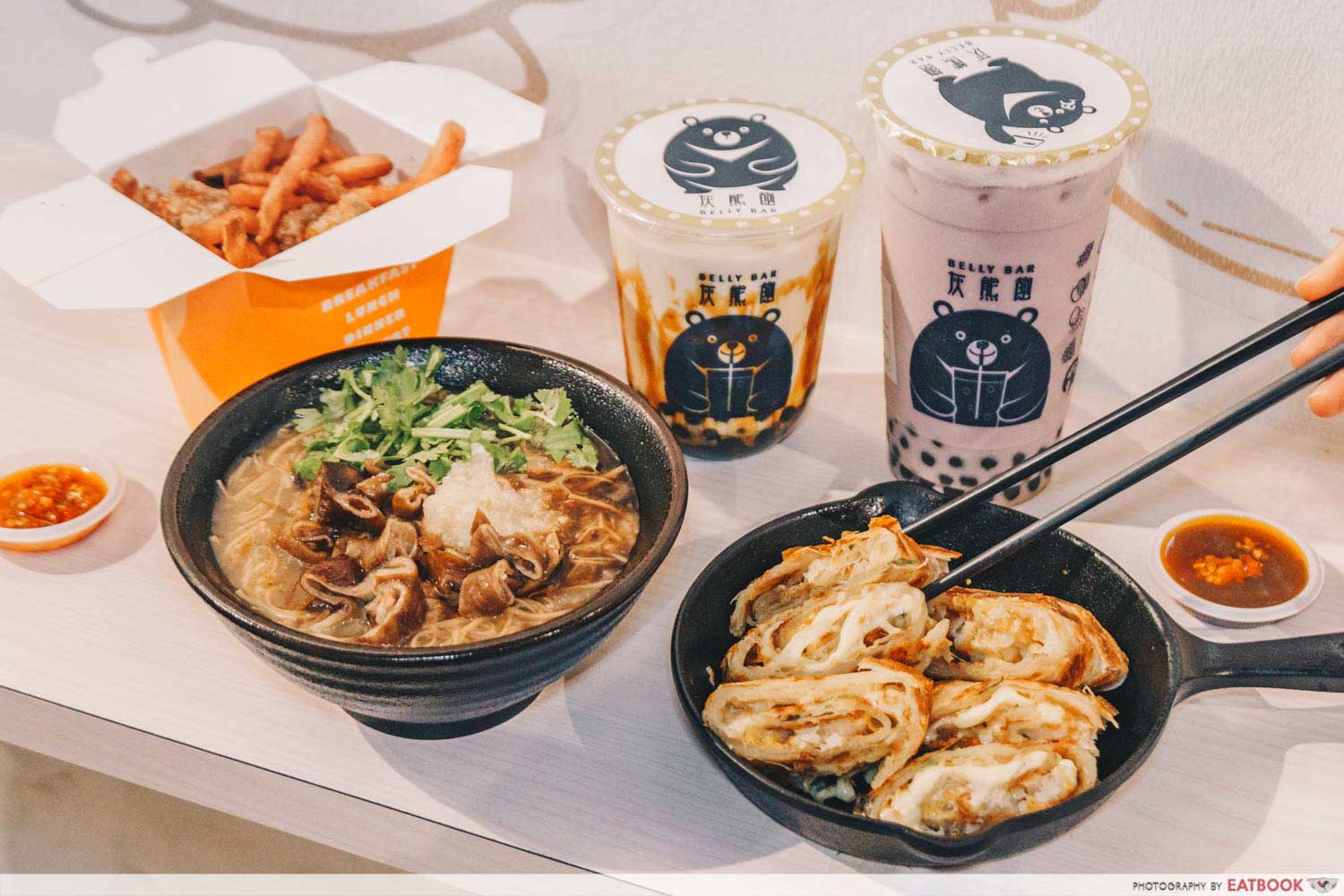 For a quick bite, head over to Belly Bar and choose from their range of Taiwanese street food snacks. Made with ingredients imported from Taiwan, these legit-tasting bites transport you to the bustling night markets where you get the real deal.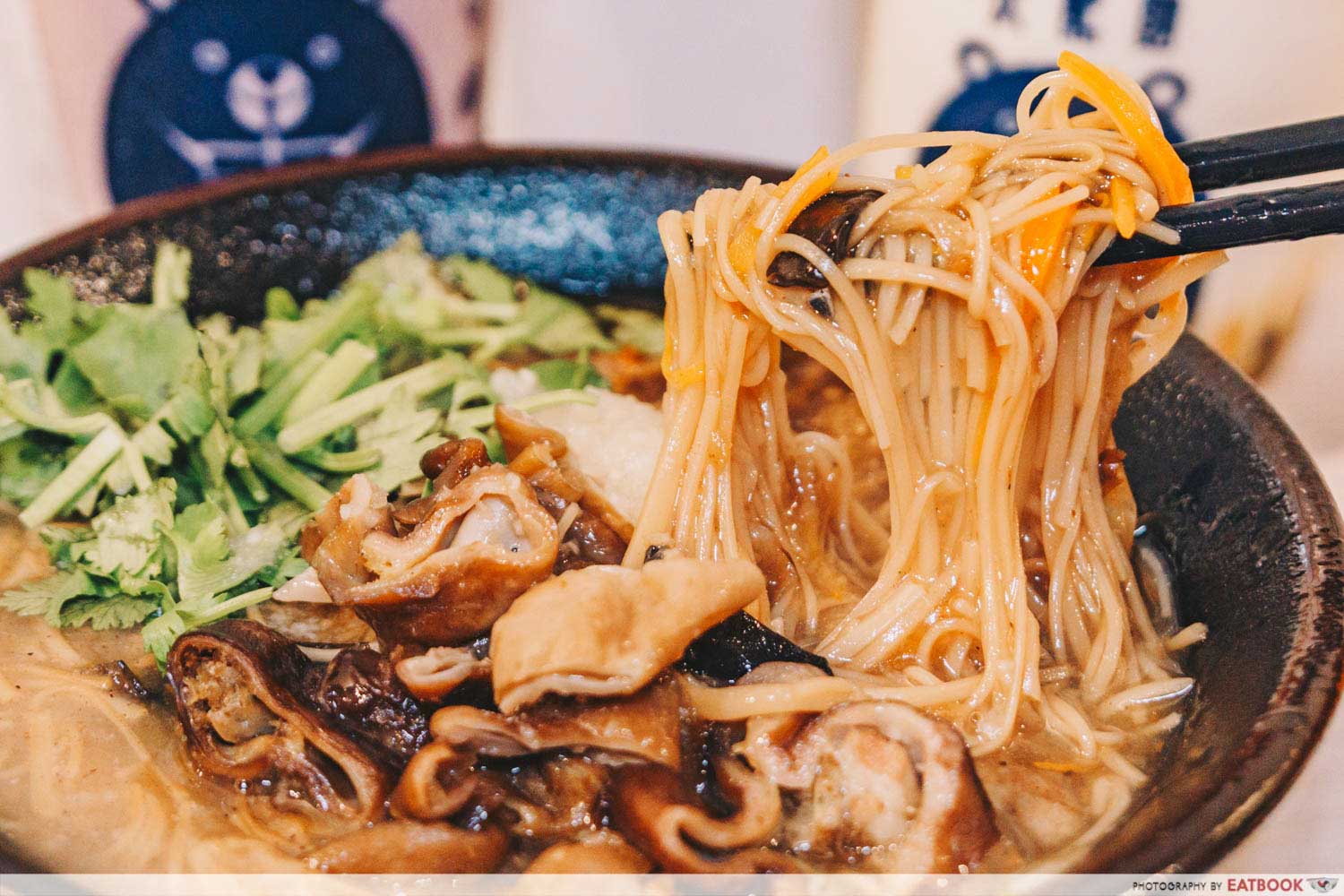 They've nailed the classic mee sua with their Intestine Vermicelli (RM9.90/~S$3.30). Each spoonful of these flavoursome noodles was packed with spices and strands of carrots which added some natural sweetness. The generous chunks of large intestines were surprisingly free of any pungent smell or gamey taste.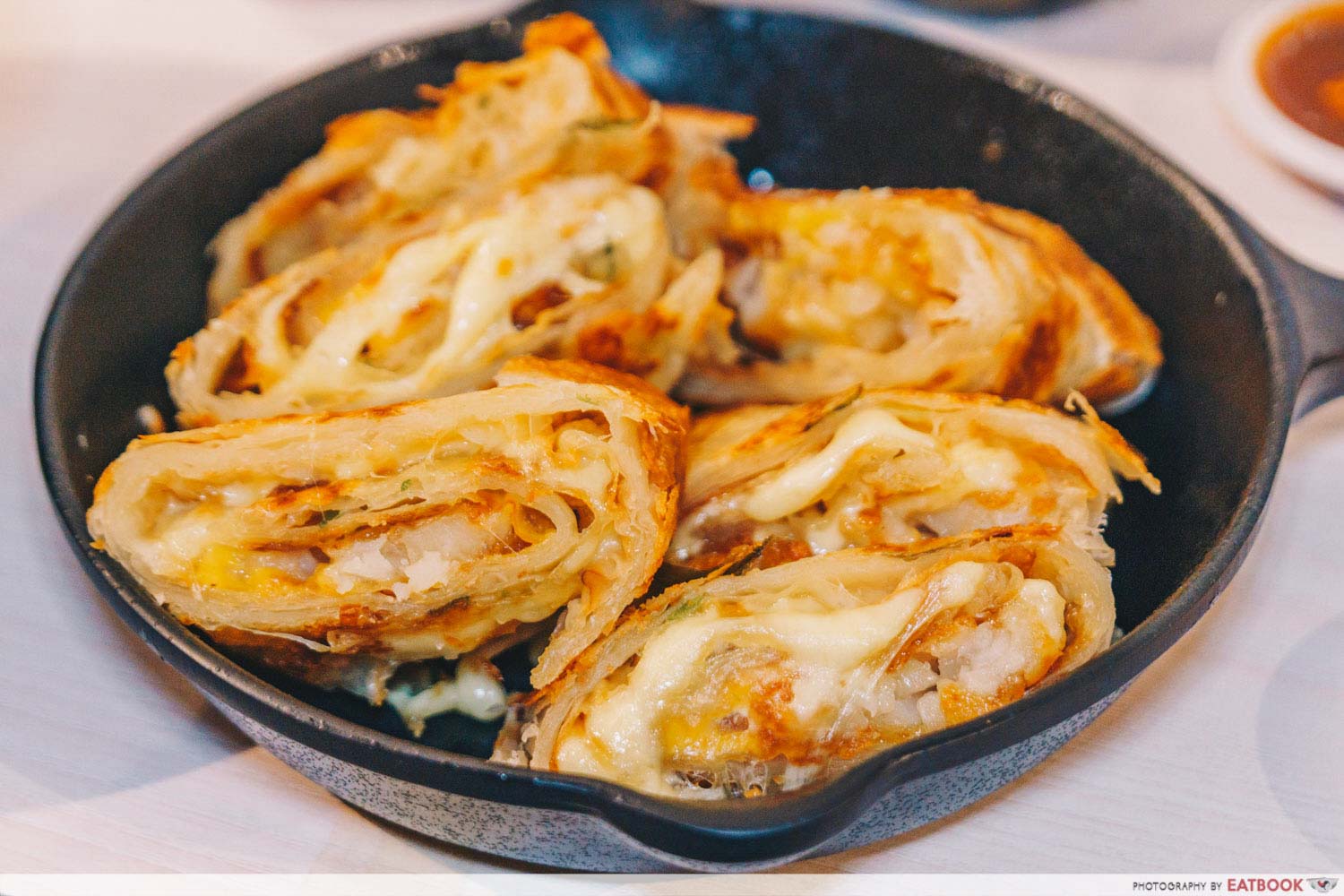 Another great street snack is their savoury Hash Browns & Cheese Scallion Pancakes (RM10.90/~S$3.60). My colleague who just came back from a trip to Taiwan mentioned that this flaky pancake tasted similar to what he had during his holiday. The savoury blend of mozzarella and cheddar complemented the aromatic scallions. As someone who opts for the healthier choice, I appreciated how this fried wrap was not dripping in oil.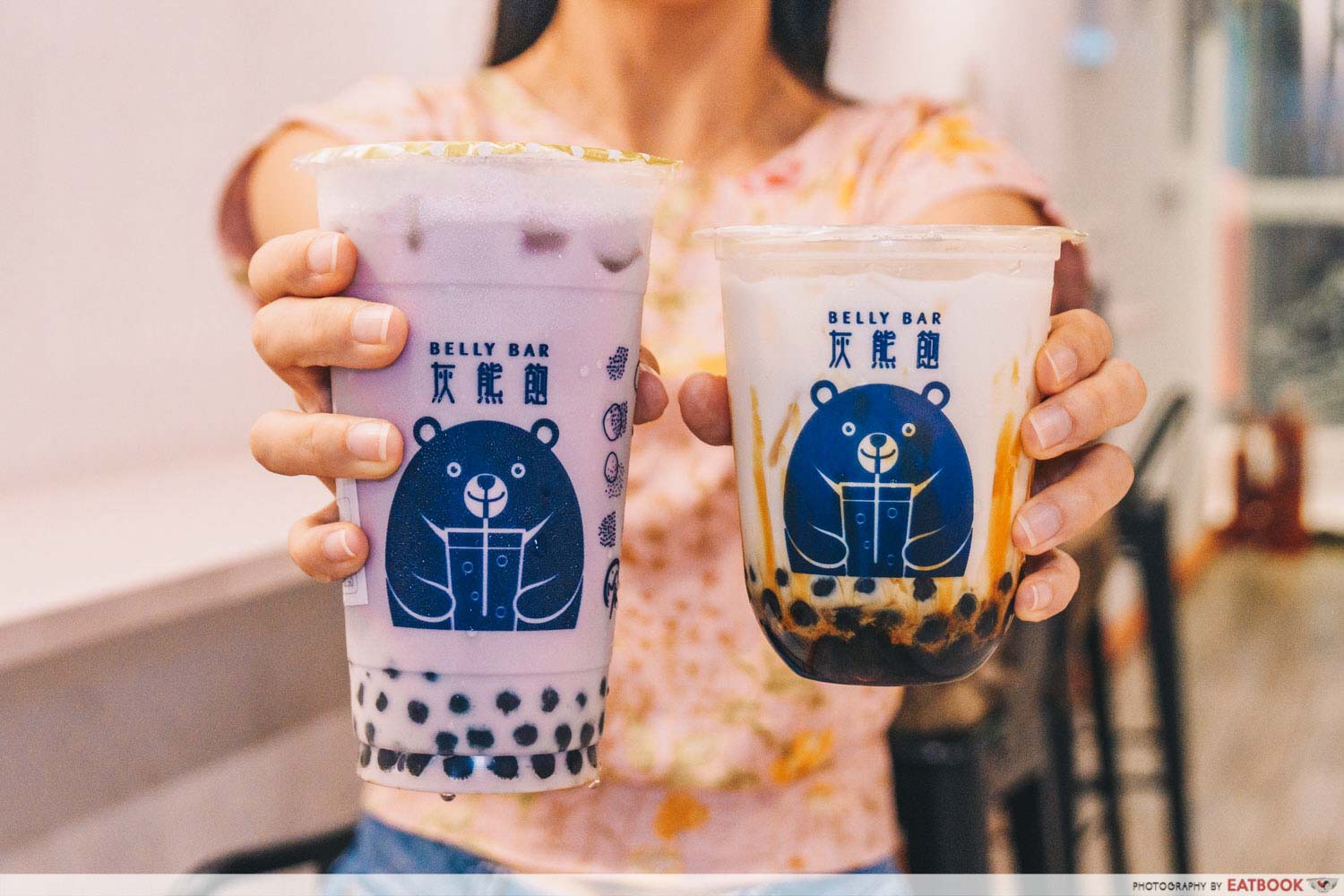 Satisfy your BBT cravings with their Brown Sugar Fresh Milk with Pearl (RM8.50/~S$2.80) and the Yam Milk Tea Pearl (RM8.50/~S$2.80). Using an old traditional recipe and tea leaves from Taichung, the milk tea here was unlike what I had from other major BBT brands. It was lighter on the palate yet packed with bold, earthy notes.
Unit no: 1-103
Opening hours: Daily 10am to 10pm
Tel: +60 14-619 6868
Website
---
4. KyoChon 1991
---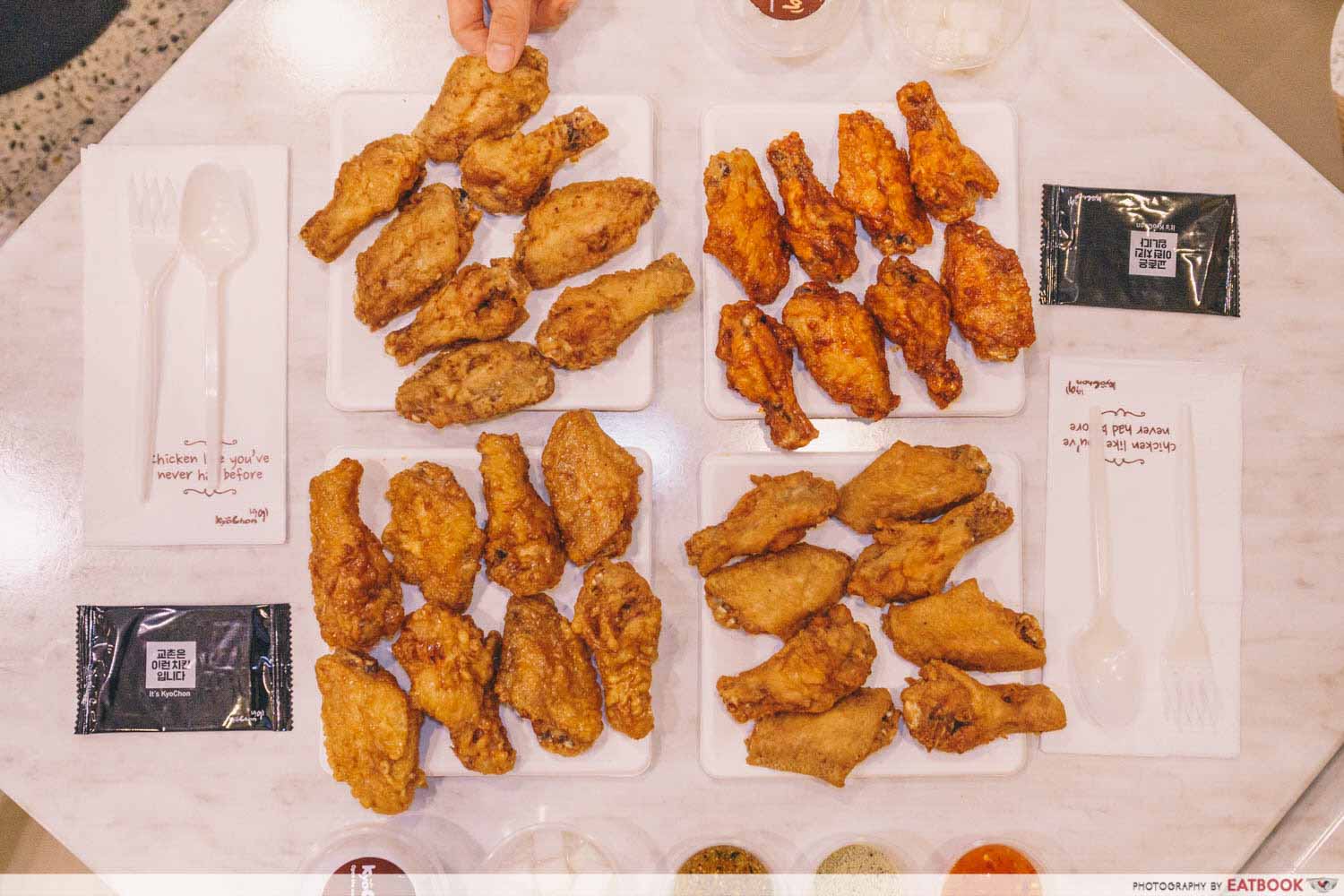 You'll definitely have to put your diet on hold when visiting KyoChon 1991. Those who've visited Korea will be familiar with this popular fried chicken chain. Though they've yet to set up shop in Singapore, you can now get your hands on these flavoursome wings across the Causeway. Be prepared to wait for 10 to 15 minutes, as the chicken is deep-fried upon ordering to achieve that crispy, brown skin.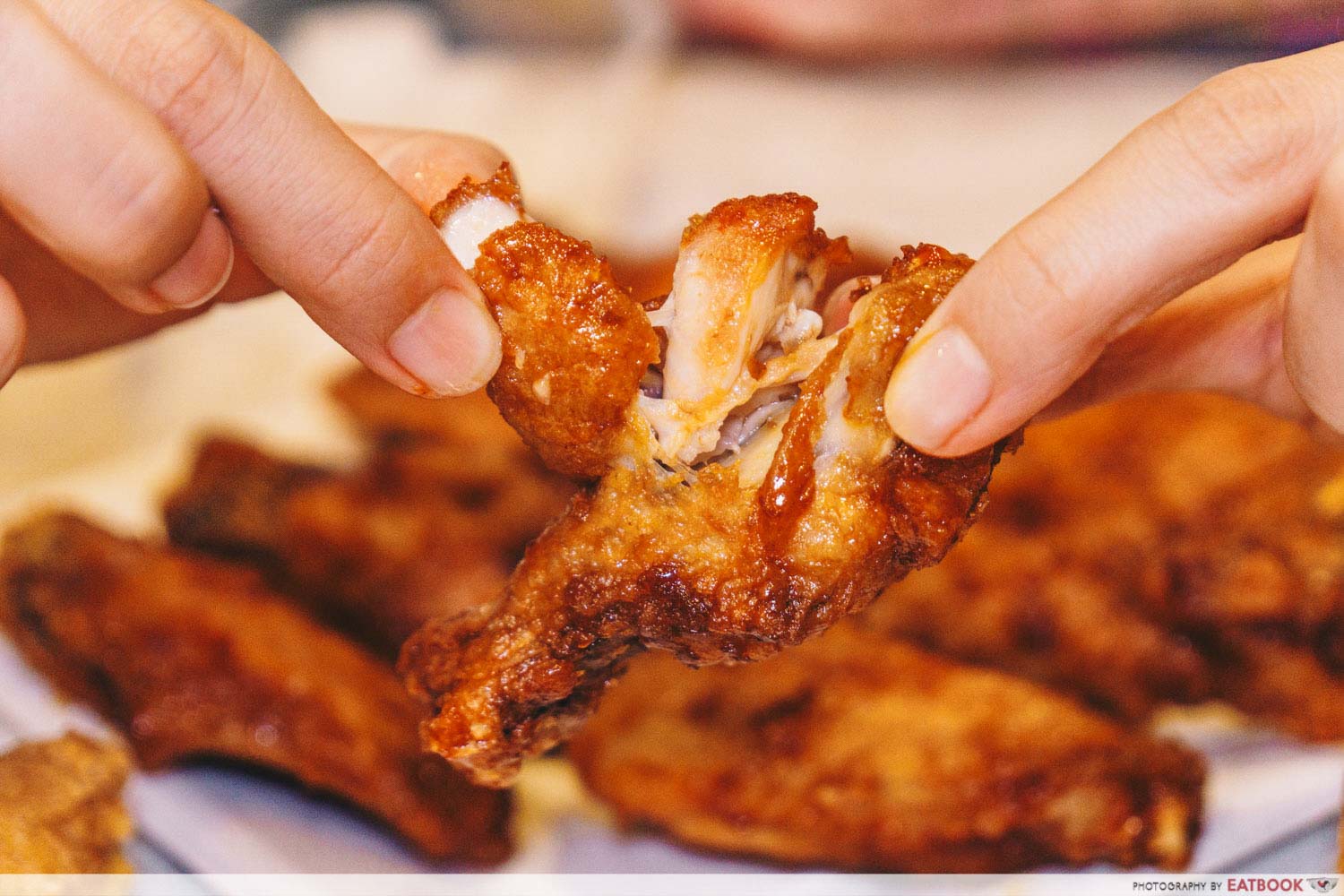 Coated in their original batter and liberally brushed with soy sauce, the Soy Garlic Wingette & Drumlette (RM28/~S$9.30) lets you indulge in KyoChon's true flavour. The crispy chicken skin soaked up all this savoury seasoning, while the meat was tender. For something sweet, try out their Honey Wingette & Drumlette (RM32/~S$10.60). The chicken here is thicker as they use a special honey batter. I'm not complaining as this means extra crunch and sweetness. 
Turn up the heat with their Red Pepper Wingette & Drumlette (RM28/~S$9.30) which features their classic red pepper sauce. As Korean cuisine is known for its spicy food, I was expecting a fiery kick. Surprisingly, the spice level was mild and highly manageable.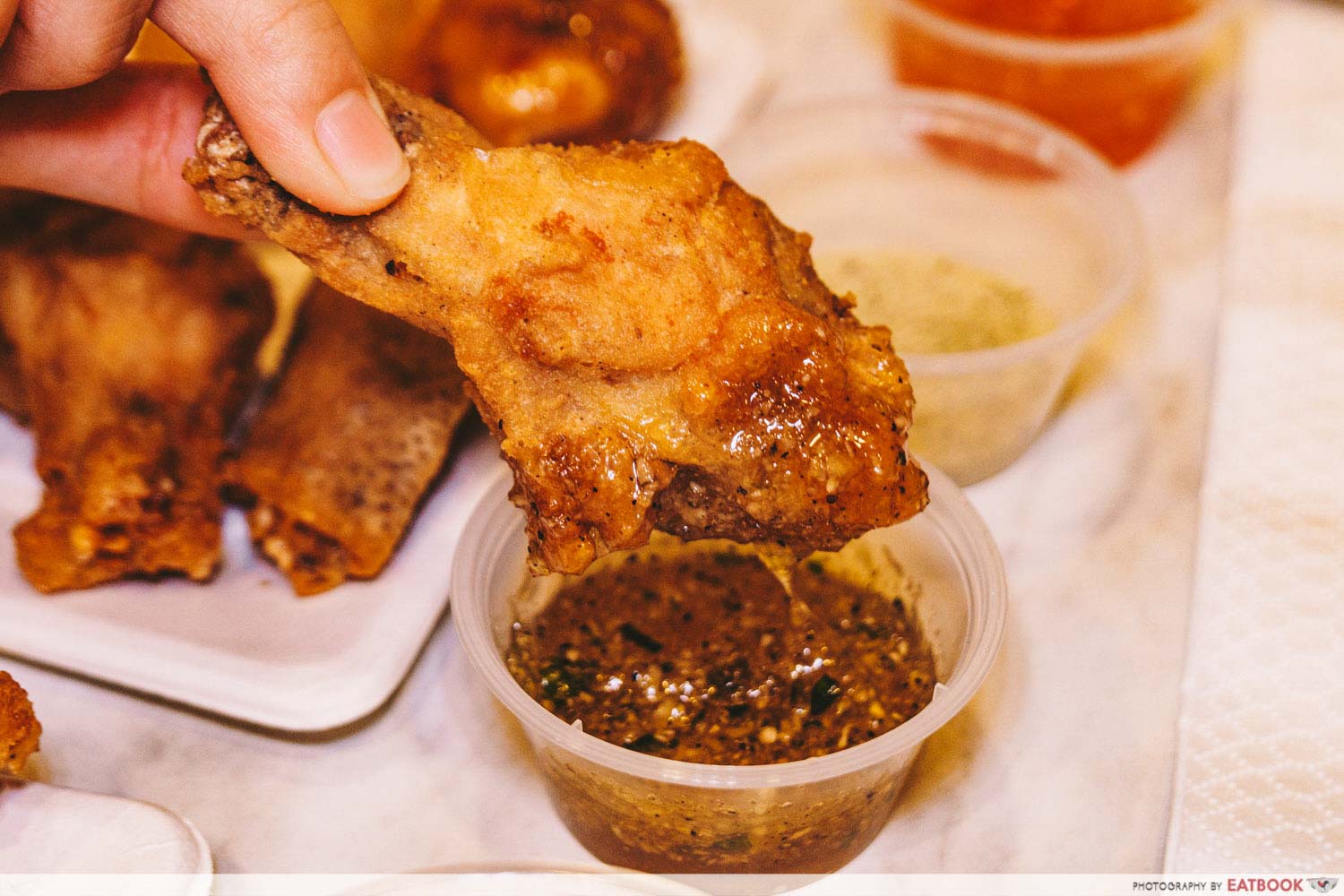 If you want a little bit of everything, check out their Rice Wingnette & Drumlette (RM32/~S$10.60). These crunchy wings are served with three dipping sauces: Korean sweet chilli, house-made honey garlic, and barley salt. My personal favourite was their honey garlic dip as the garlic bits added sharp notes to the earthy honey.
Unit no: 1-115
Opening hours: Daily 10am to 10pm
Tel: +60 7-266 2546
Website
---
5. Xiao Ming Gyoza
---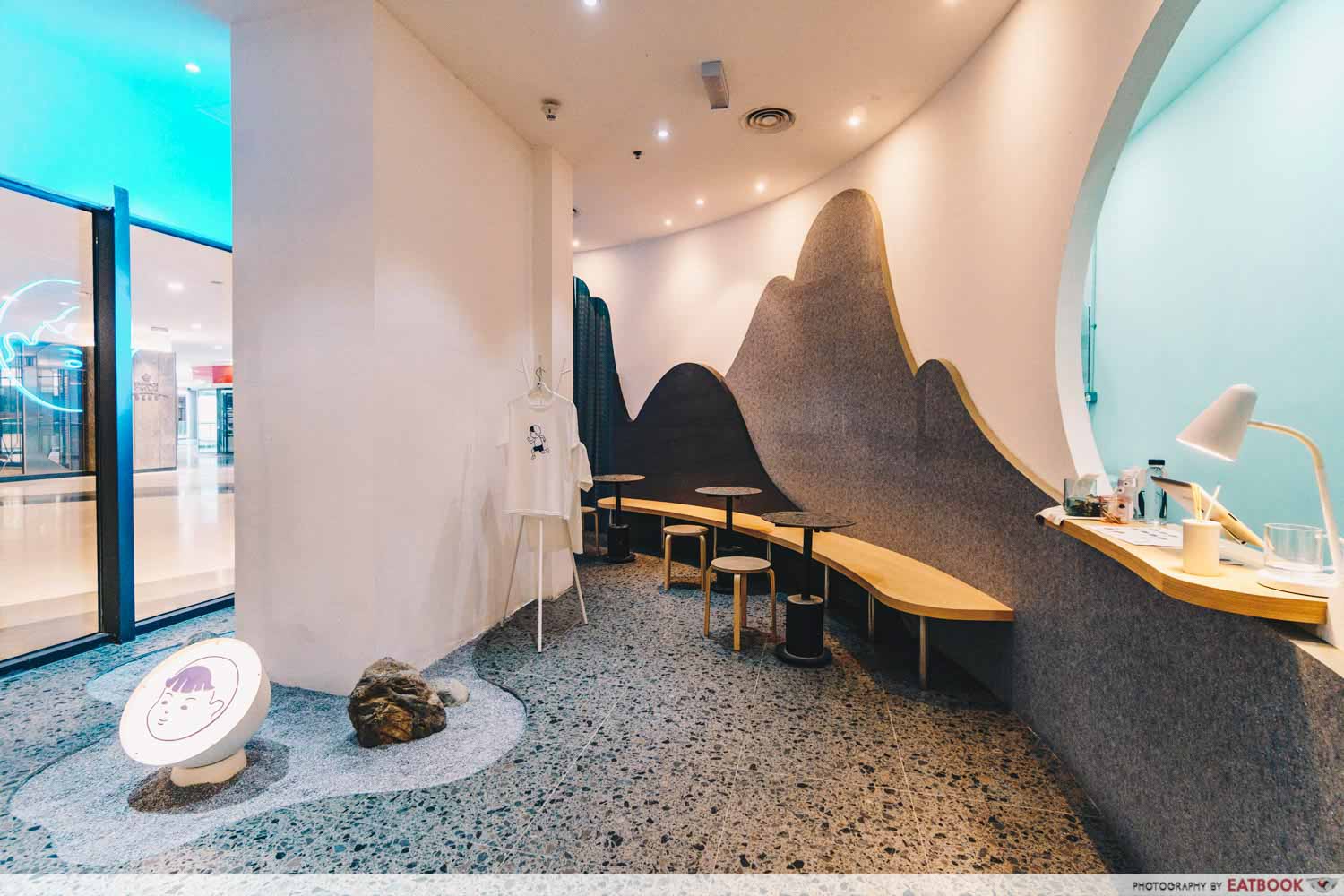 After gaining traction from locals and tourists, dumpling and noodle cafe, Openwork brought their popular dumplings and minimalist concept over to Xiao Ming Gyoza. With grey tones and soft lo-fi music playing in the background, this unpretentious cafe has chill vibes written all over it. Their minimal approach extends to the space's layout and simple gyoza menu. A few neon signs, including one with the iconic Xiao Ming logo, add a splash of colour to the otherwise bare walls.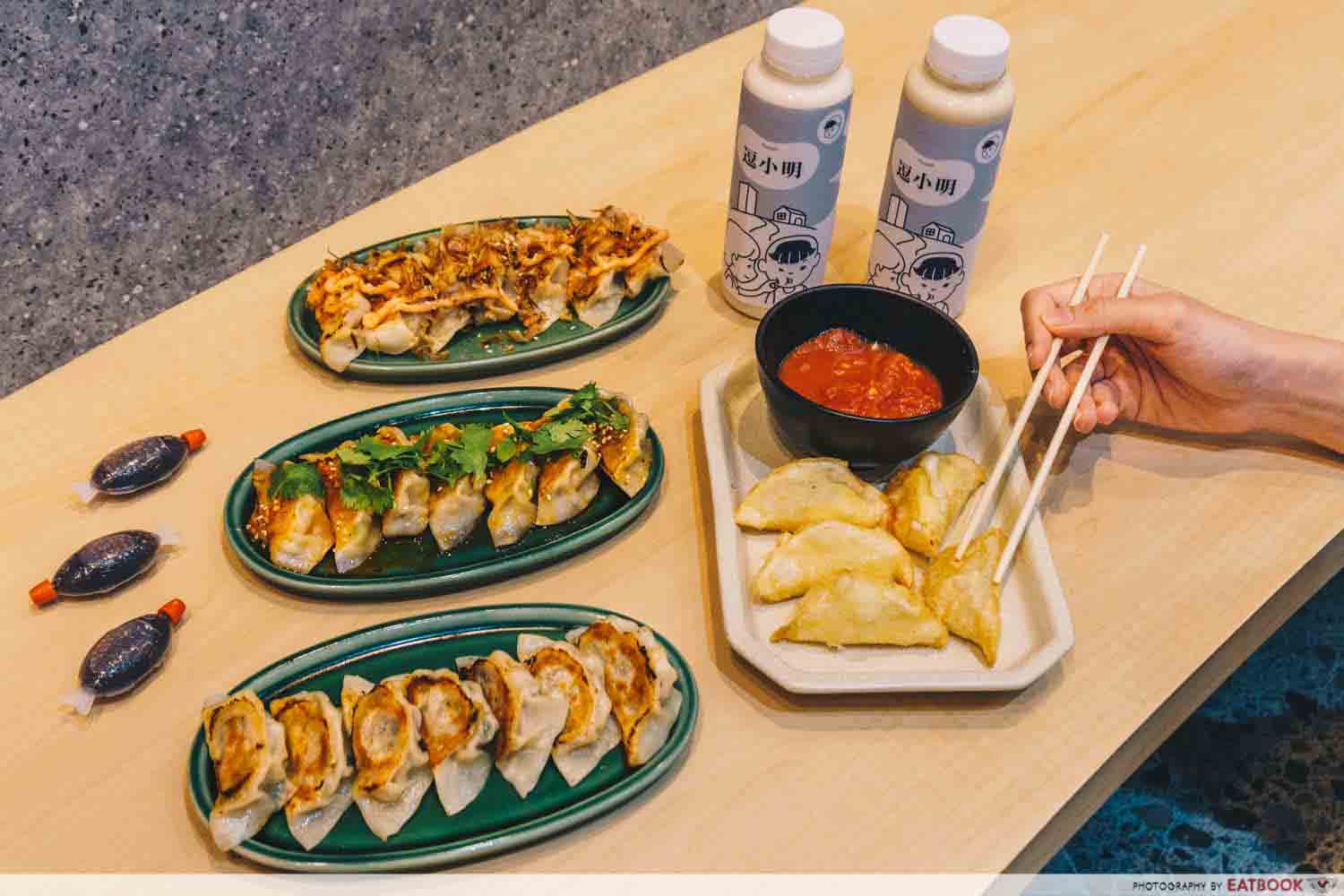 After taking a bite of a crispy Signature Xiao Ming Gyoza (RM10/~S$3.30 for seven pieces), I understood why these dumplings are a crowd favourite. Encased in a thin wrapper was the succulent and savoury meat filling. Adding a few drops of vinegar helped to deepen the bold flavours.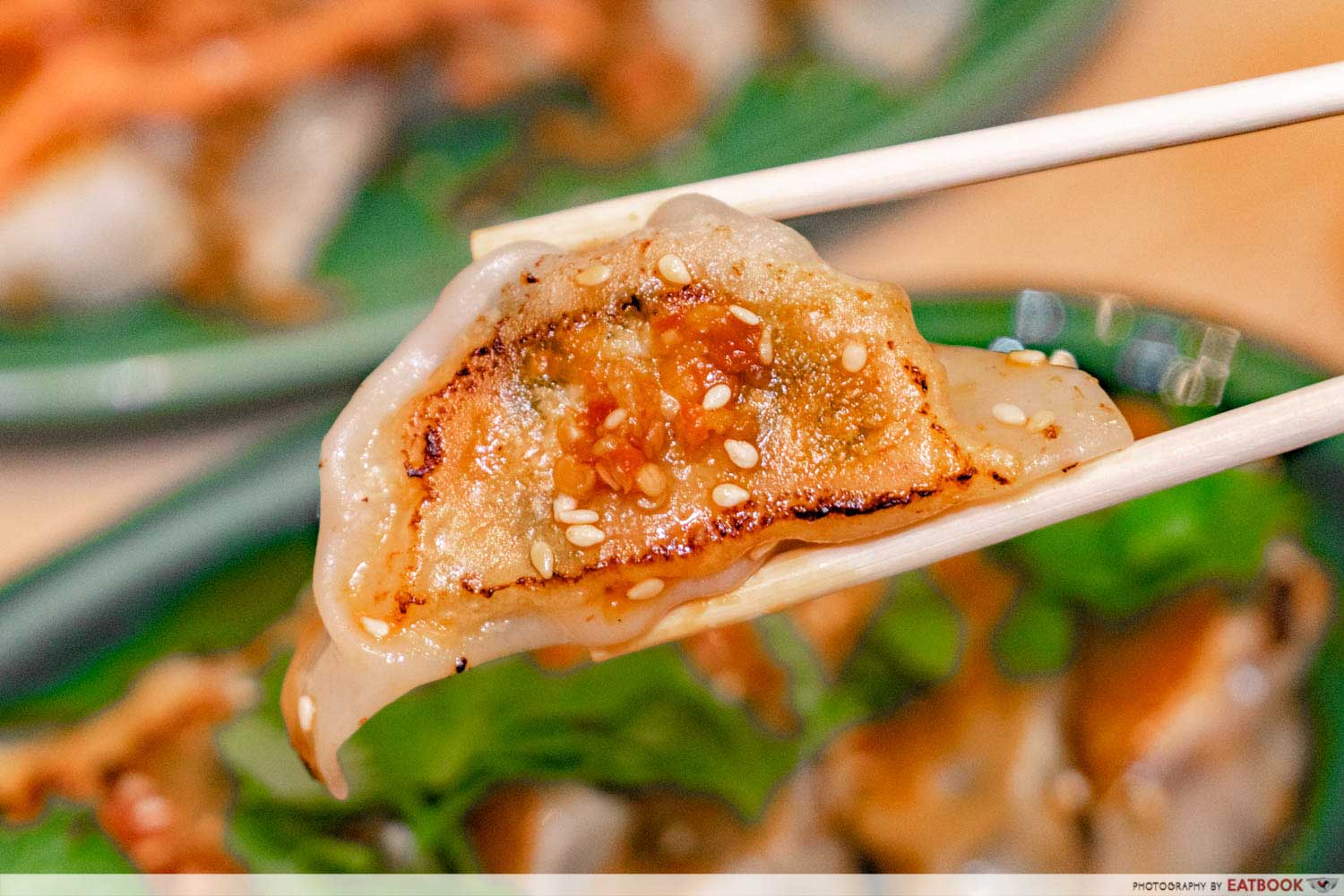 I personally enjoyed their Sichuan Chilli Oil Gyoza (RM13/~S$4.30), as the addition of spice elevated the dumpling's savoury flavour profile and provided a fiery kick. Their Mozzarella Fried Gyoza (RM14/~S$4.60) is an interesting take on dessert potstickers with cheesy dumplings paired with a sweet tomato dip. This blend of savoury and sweet flavours made for an interesting taste.
Unit no: 2-105
Opening hours: Daily 10am to 10pm
Tel: +60 10-226 0311
Website
---
Feast your way through R&F Mall
---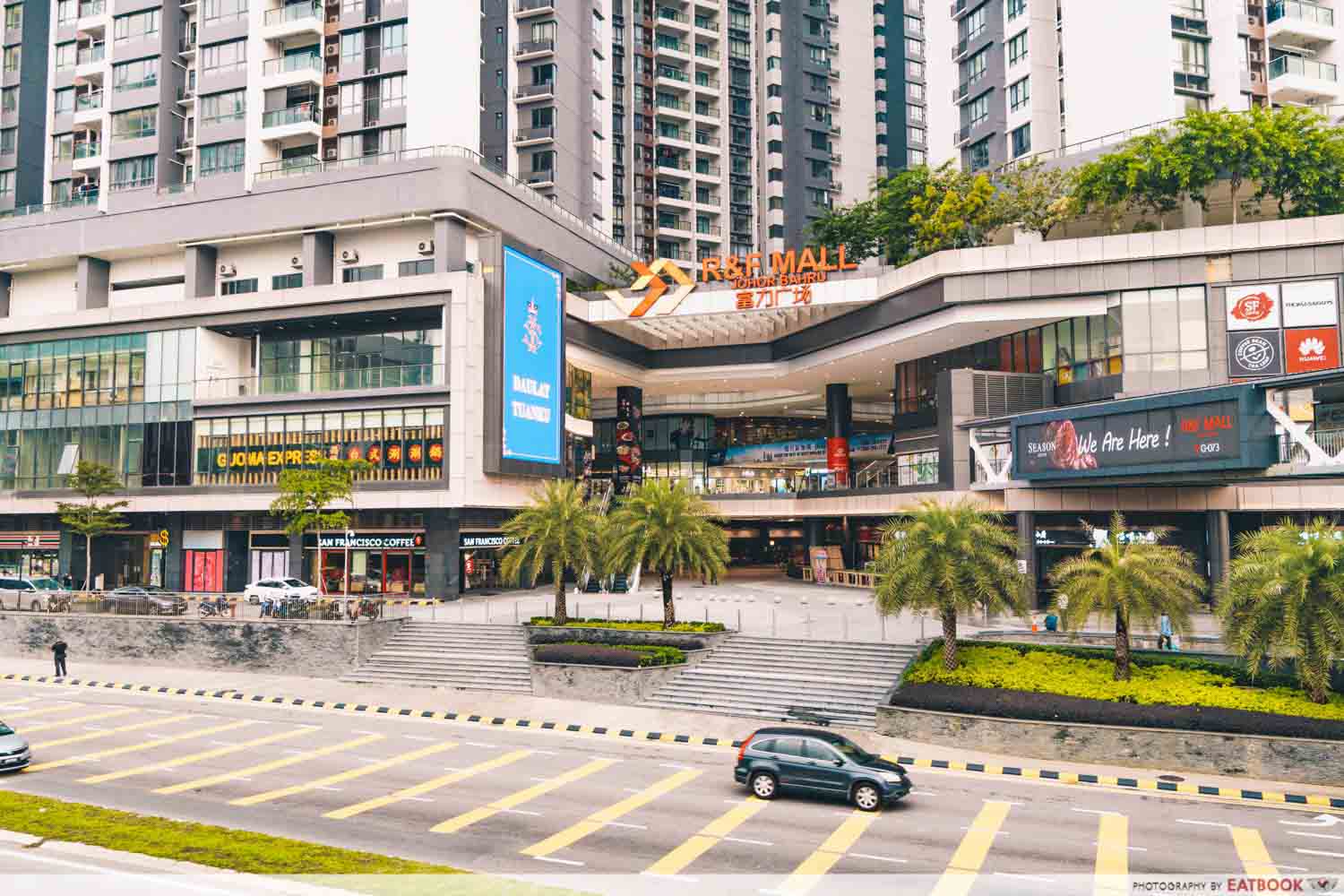 With all these eateries packed in one central location, R&F Mall makes a great place for a food adventure. Plus, it's just a stone's throw away from the Johor Bahru Checkpoint. Keep your eyes peeled for the bridge walkway and you'll be at the mall in eight minutes. The next time you're planning a lil' trip to JB, slot in some time for a food tour at R&F Mall!
Address: Jalan Tanjung Puteri, 80300 Johor Bahru, Johor, Malaysia 
Photos taken by John Lery Villanueva.
This post is brought to you by R&F Mall.