---
Rotisserie chicken noodle soup recipe
---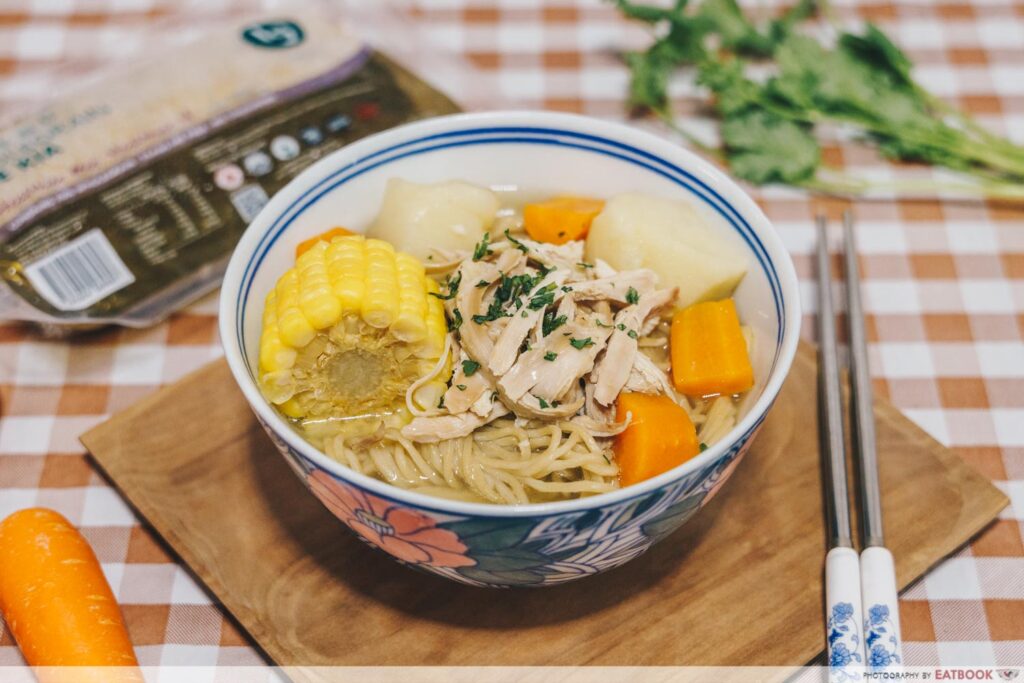 When my soup cravings hit me, they hit me hard. Now, whipping up a steaming pot of soup from scratch is no easy task. Of course, it's always easy to cut short the cooking process, and dump a load of sodium-laden chicken stock into a pot. While I'm all for using shortcuts, home cooking should always be healthy, and feature wholesome produce. Using only a rotisserie chicken and simple ingredients, here's how you can brew a tasty and nutritious rotisserie chicken noodle soup with this recipe.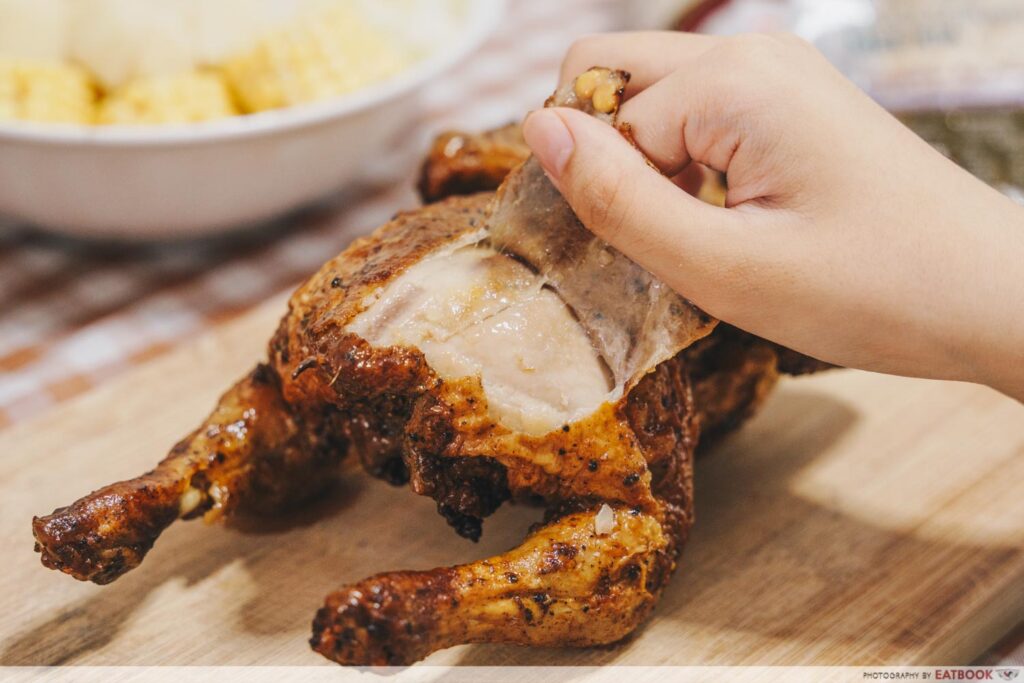 Start by peeling off the skin from the chicken. You can choose to discard it, or be naughty and eat them on the spot like myself. The chicken skin needs to be removed as they give the soup an oily and greasy mouthfeel.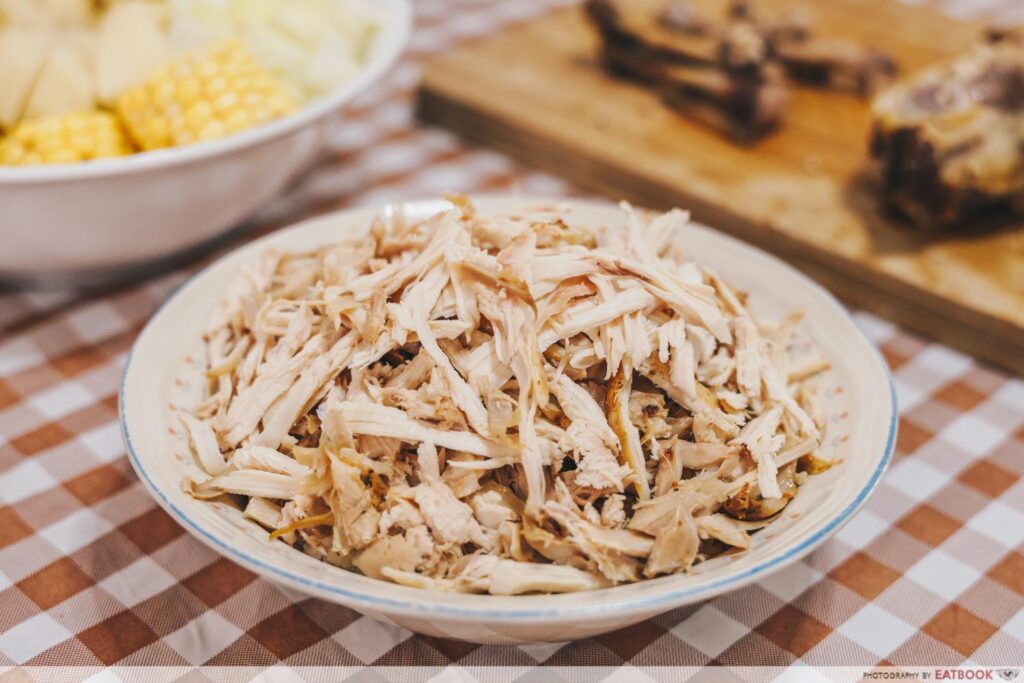 Remove the chicken meat, and shred them into bite-sized pieces. You may choose to use your hands or a fork. I prefer to use my hands as it makes the process a whole lot faster.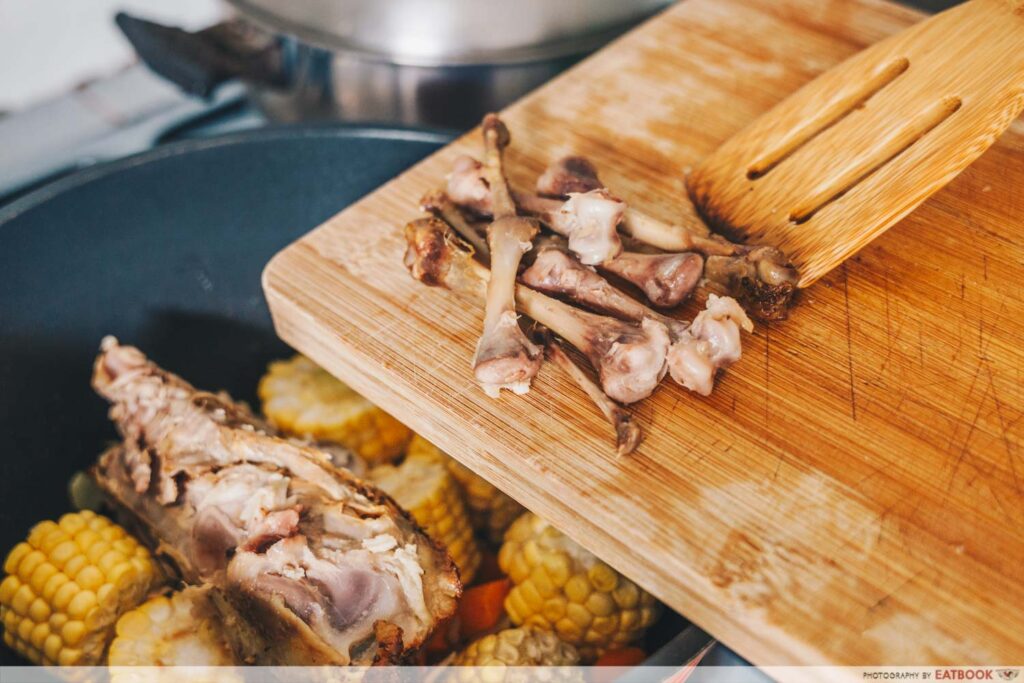 After removing the precious meat, what's left of the chicken ought to only be the bones. They still pack loads of flavour, and also give an added roasted character to the soup.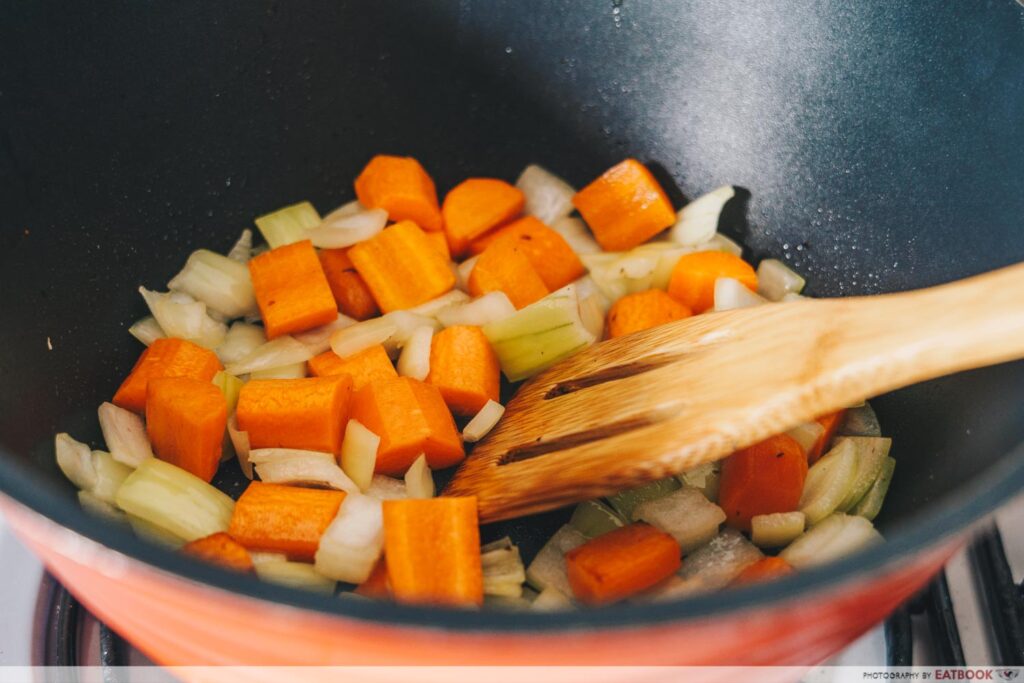 Break out a medium-sized stock pot, and adjust the heat to medium-low. Add a touch of your favourite cooking oil, and drop in some minced onions and carrots. It's important to cook the aromatics patiently to release all of their natural sweetness. This should take around six to 10 minutes.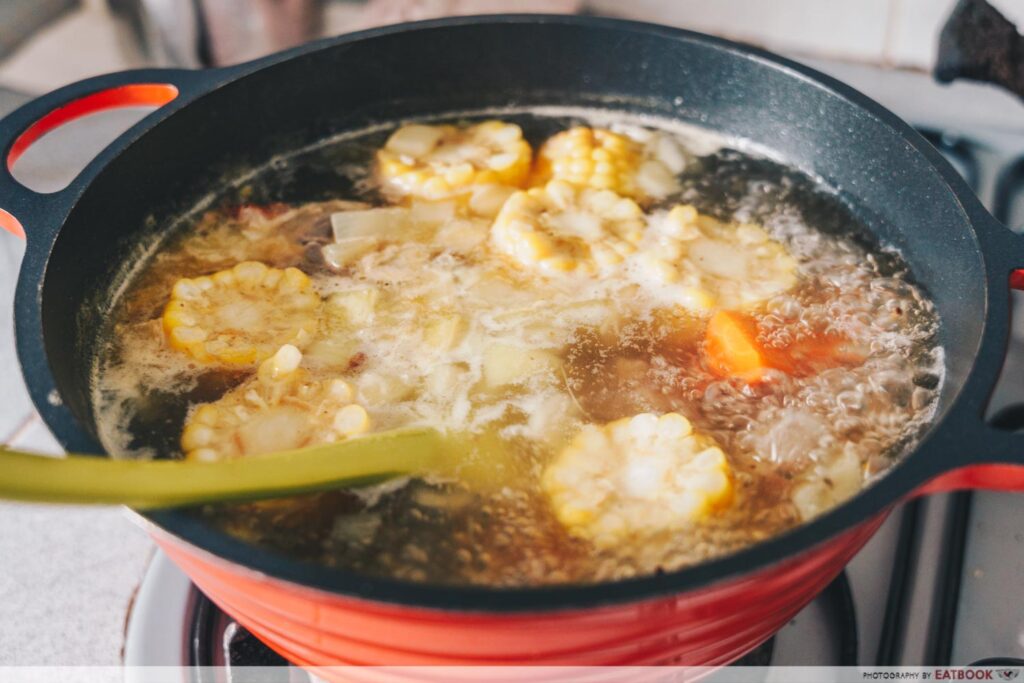 Toss in a few pieces of corn, the chicken bones, and fill up the stock pot with water. Bring the soup to a boil, and reduce the heat to a simmer. Continue to stir the soup from time to time, and cook for 45 minutes.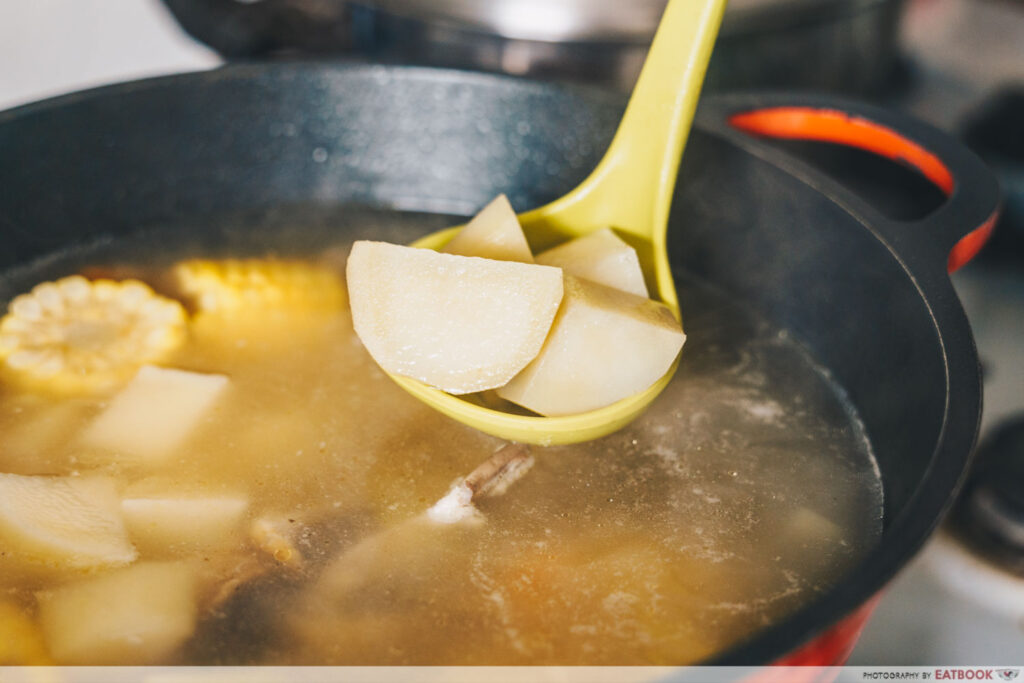 For a complete and filling meal, we're also adding in diced potatoes during the last 15 minutes of cooking. Feel free to substitute them with sweet potatoes, cauliflower, or any other vegetable.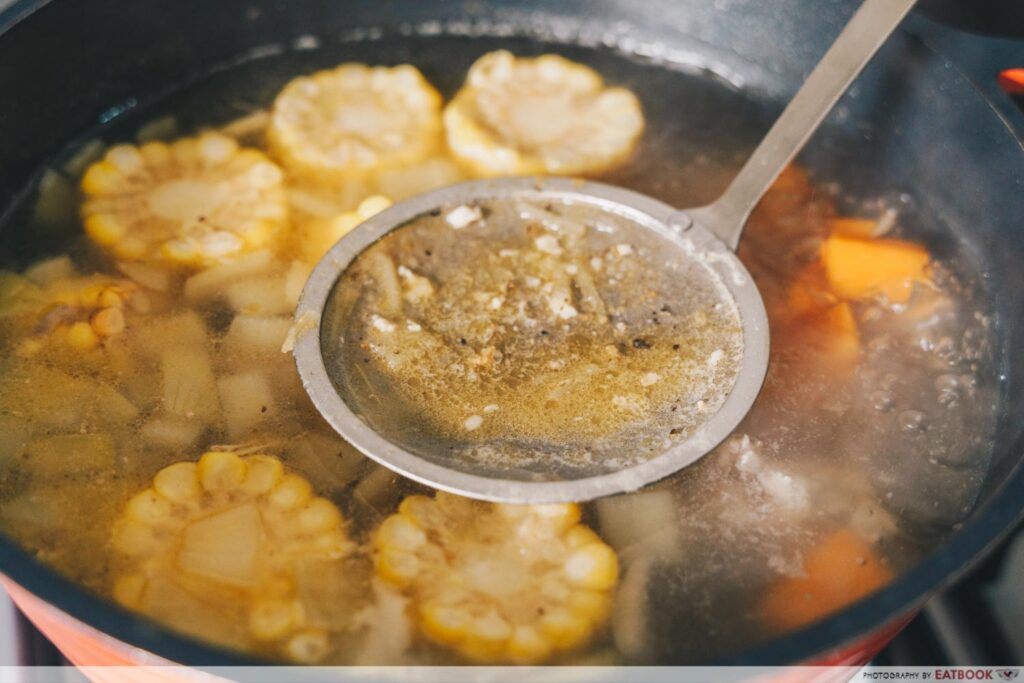 As with all soups, remember to occasionally skim the surface for impurities. This gives it a velvety smooth mouthfeel, and ensures that the broth remains clear.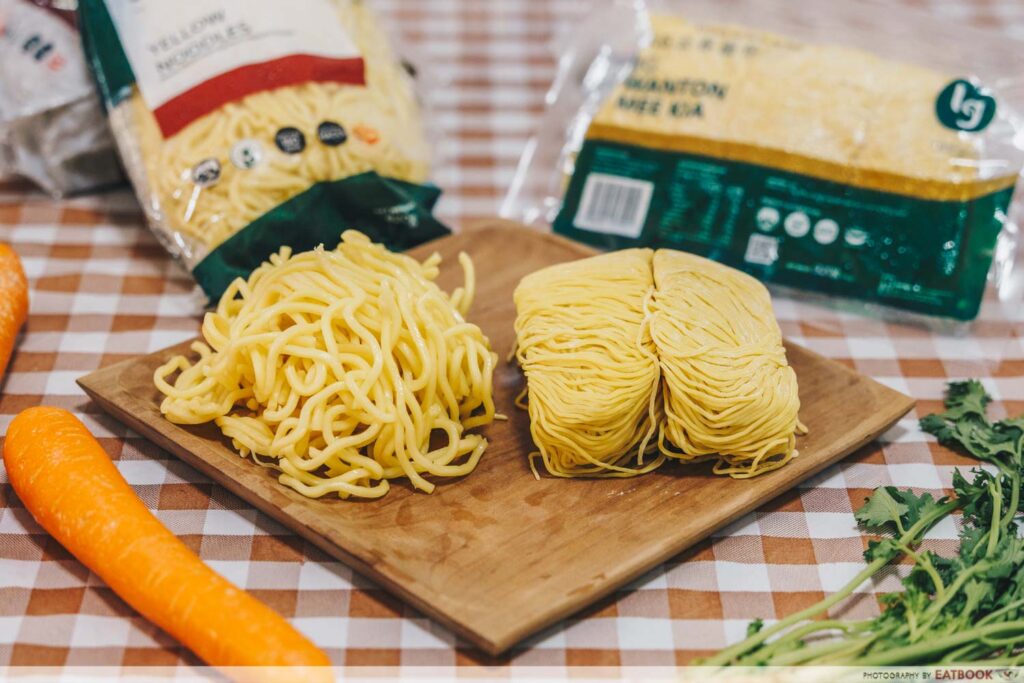 Five minutes before the soup is ready, add in the shredded chicken and your favourite noodles. Traditionally, this soup is made with yellow noodles or mee kia.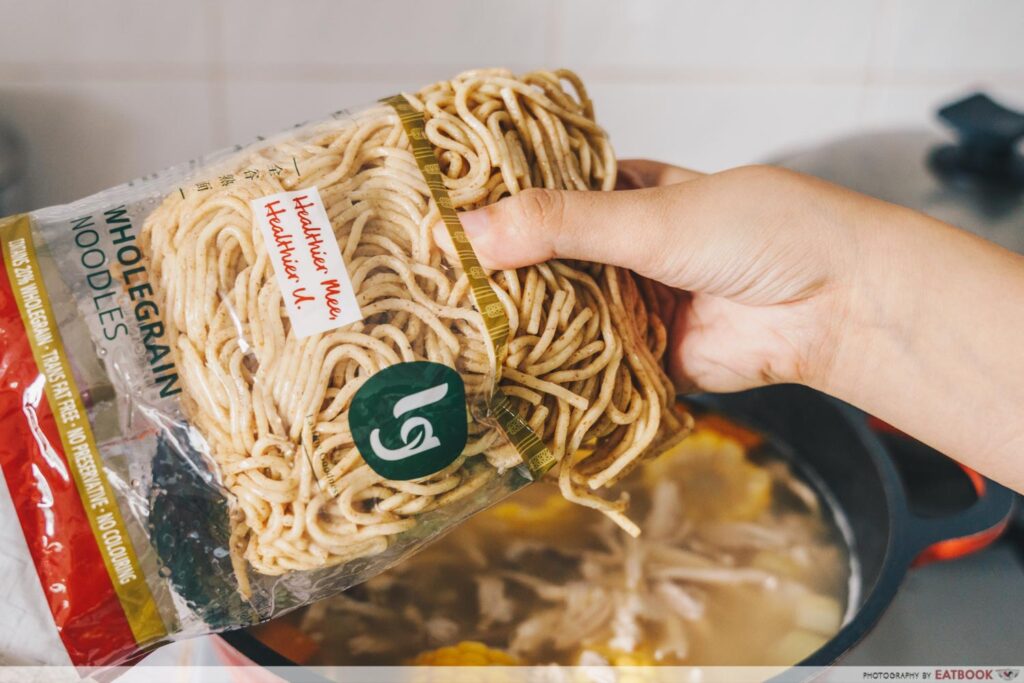 For an extra nutritious spin, we used LG Wholegrain Noodles ($2.25 for 420g) from local noodle manufacturer Leong Guan. They're made from whole grain flour and do not come with any preservatives nor colouring. It's also nice that they have been awarded the Healthier Choice Symbol from the Health Promotion Board. 
The noodles taste just like the actual thing, and also have an extra tasty earthiness to them. It's a good alternative to regular noodles, and is great for all occasions.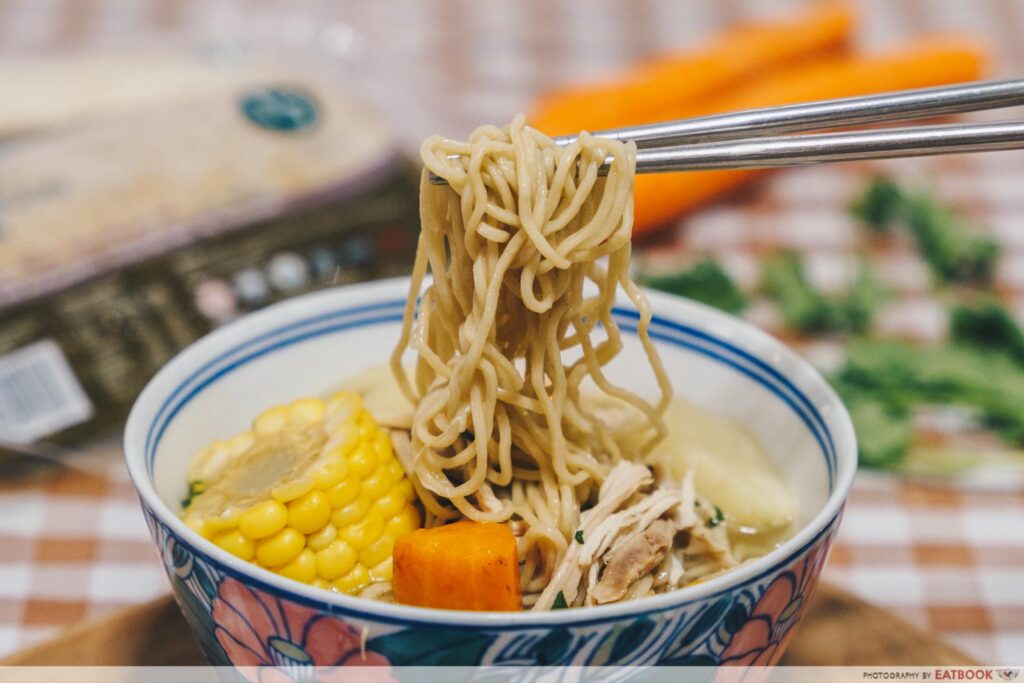 The noodles also come in different varieties. Another favourite of ours is LG Wholegrain Mee Kia ($2.85 for 320g). These traditional local noodles are also made with whole grain flour and come loaded in nutrients and fibre. We like how they have a pleasant springiness to them, and how they manage to retain their shape during the cooking process.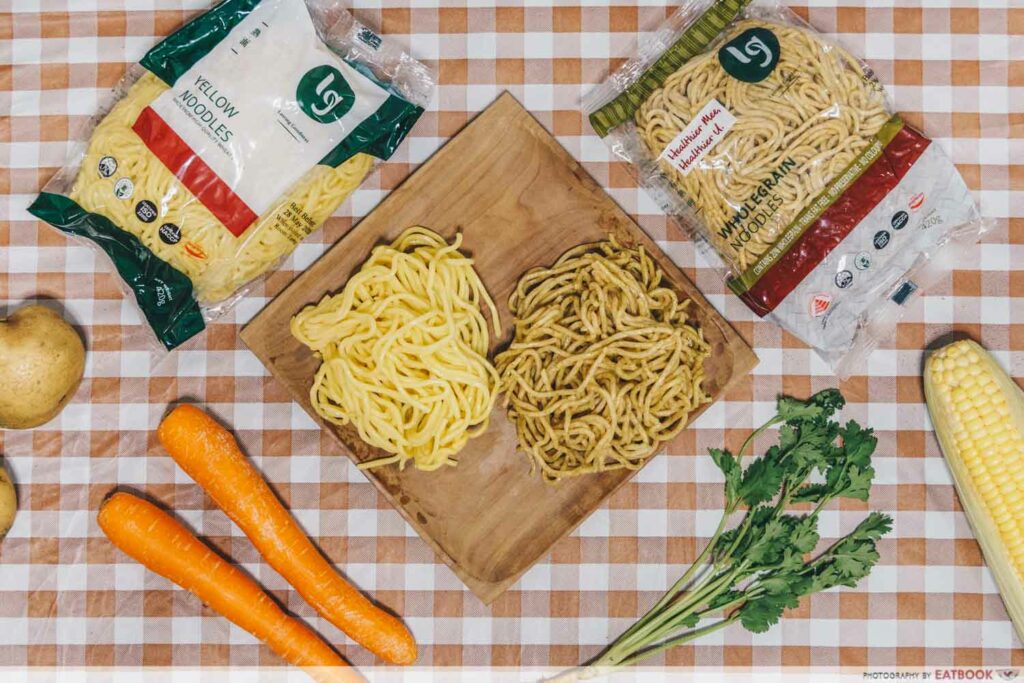 For those who prefer traditional noodles, Leong Guan also carries regular variants such as Yellow Noodles ($1.10 for 420g) and Mee Kia ($2.20 for 320g). The noodles are conveniently packed into small portions, and are made with high-quality flour.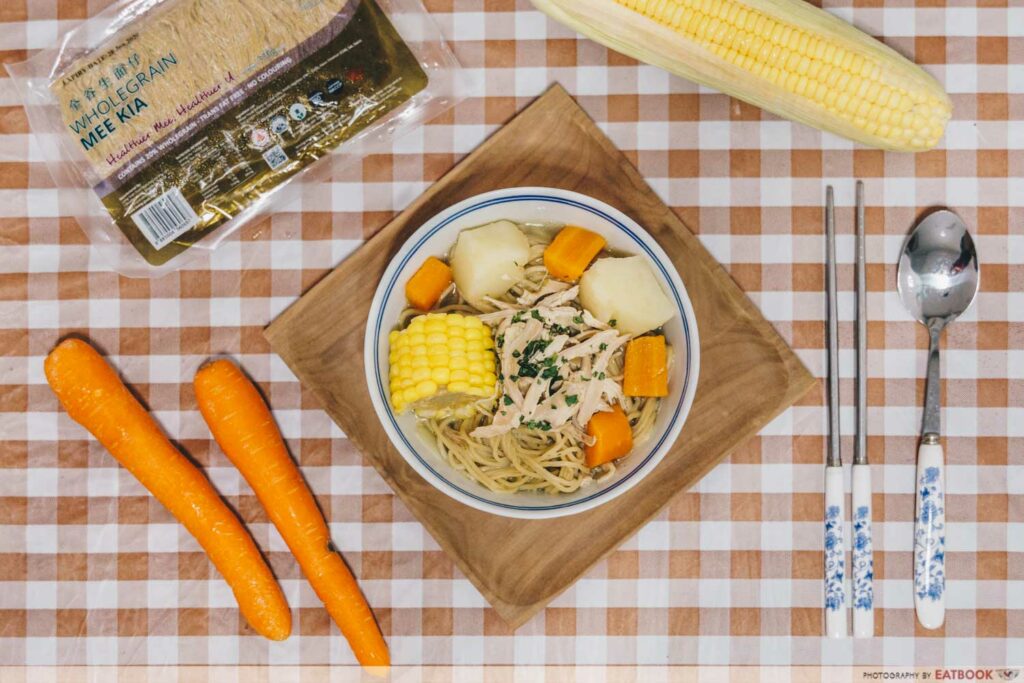 Give the soup a final boil, season with salt and pepper to taste, and portion out to individual bowls. The rotisserie chicken noodle soup is great as a meal by itself, and is even better when enjoyed on a cold rainy day. 
---
Rotisserie Chicken Noodle Soup Recipe
---
Yield: Serves 2
Cooking time: 30 minutes
Ingredients:
1 whole rotisserie/store-bought chicken
1 large yellow onion, small-diced
1 carrot, small-diced
2 potatoes, medium-diced
1 tbsp olive oil
1 corn, cut into 2cm pieces
2 litres water
2 cups LG noodles of your choice
Salt to taste
Black pepper to taste
Parsley (optional)
Directions:
Remove the skin from the chicken and cut out the thigh, drumstick, and breast meat. Shred the meat, and set aside. Reserve any remaining chicken bones. 

In a medium-sized stock pot, gently sweat the onion and carrot with olive oil on medium-low heat until the vegetables turn slightly soft. This should take around six to 10 minutes. 

Add the reserved chicken bones, corn, and water. Bring the soup to a boil. 

Skim the soup for any impurities and continue to simmer for 45 minutes while stirring and skimming occasionally. 

15 minutes before the soup is ready, add in the cubed potatoes. Add in the chicken pieces and noodles during the last five minutes of the cooking process.

Remove the chicken carcass from the soup. Season the soup with salt and pepper to taste, and garnish with chopped parsley. Portion out into individual bowls and serve immediately. 
---
Rotisserie chicken noodle soup recipe with LG noodles
---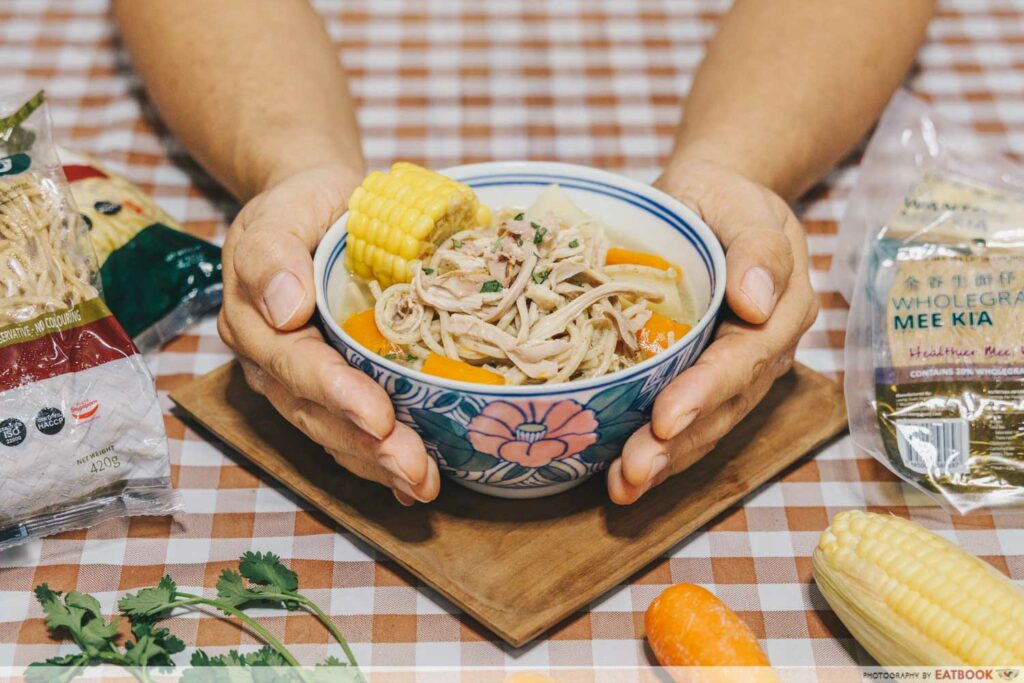 Kitchen hacks and shortcuts are always welcomed in the kitchen. But it's important to see that they're also giving a healthy spin.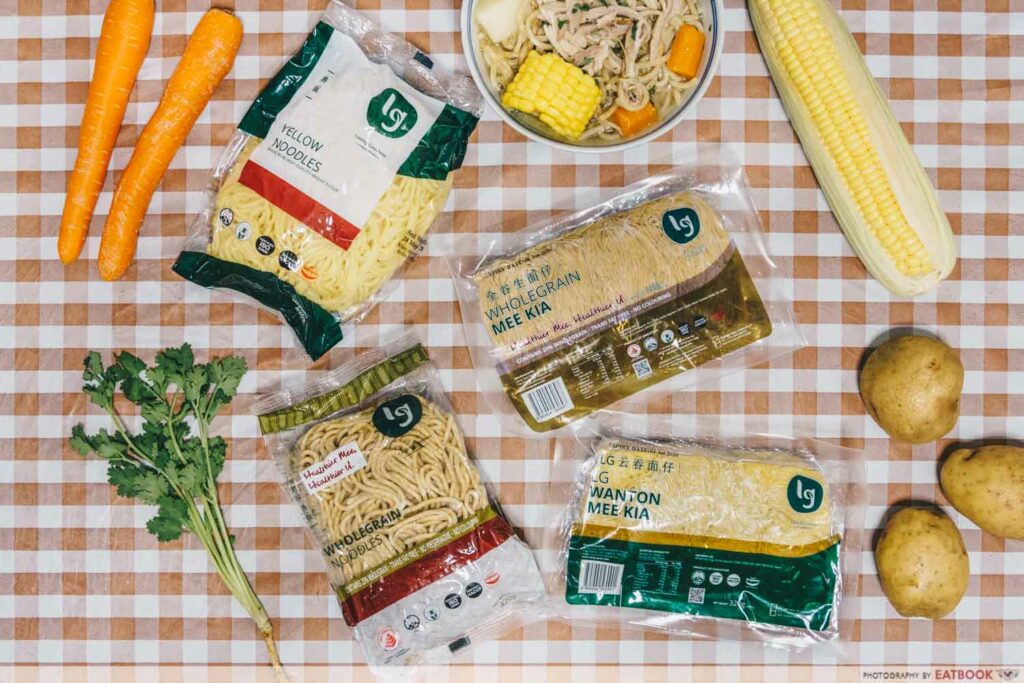 Leong Guan has been manufacturing whole grain noodles since 2012, and continues to produce the same level of deliciousness as local favourites—with an added nutrition boost. The noodles are currently available at all major FairPrice, Sheng Siong, and Redmart Speciality Store outlets under the brand LG.
Rice Cooker Oyakodon Recipe: Easy And Tasty Japanese Donburi Made With A Rice Cooker
If you're looking for more kitchen hacks, check out these zhng-ed up instant noodle and rice cooker oyakodon recipes.
Photos taken by Lim An.
This post is brought to you by Leong Guan.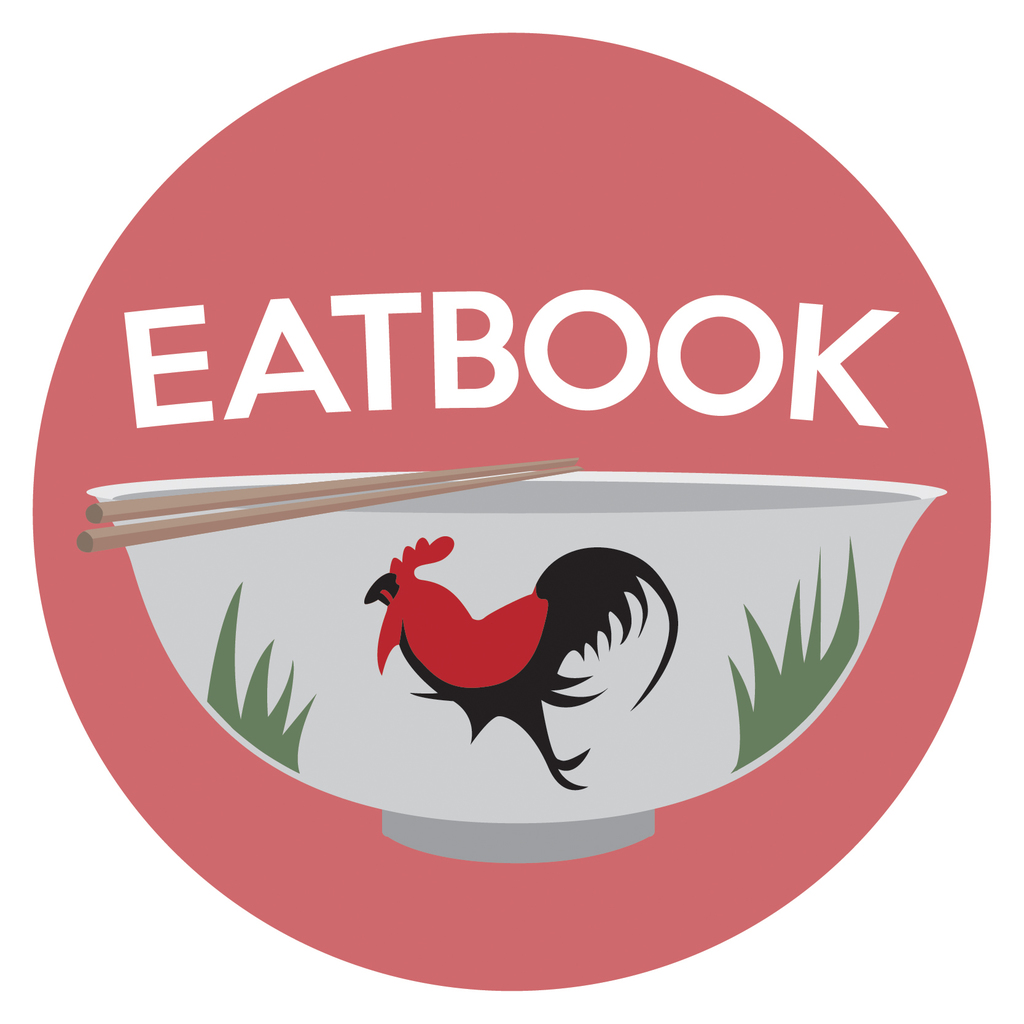 Drop us your email so you won't miss the latest news.