---
Rustic cafes that will satisfy your stomach and senses
---
We all know Singapore is a sunny paradise with good food, but cafes that dish out great meals with a cosy and comforting ambience to boot are harder to come by. Whether you're looking for a quiet hideout from this concrete jungle, or if you're just scouting for a new sanctuary to wind down at with your friends, here's a list of rustic cafes to visit for a quick getaway.
---
1. Old Habits Boutique & Cafe
---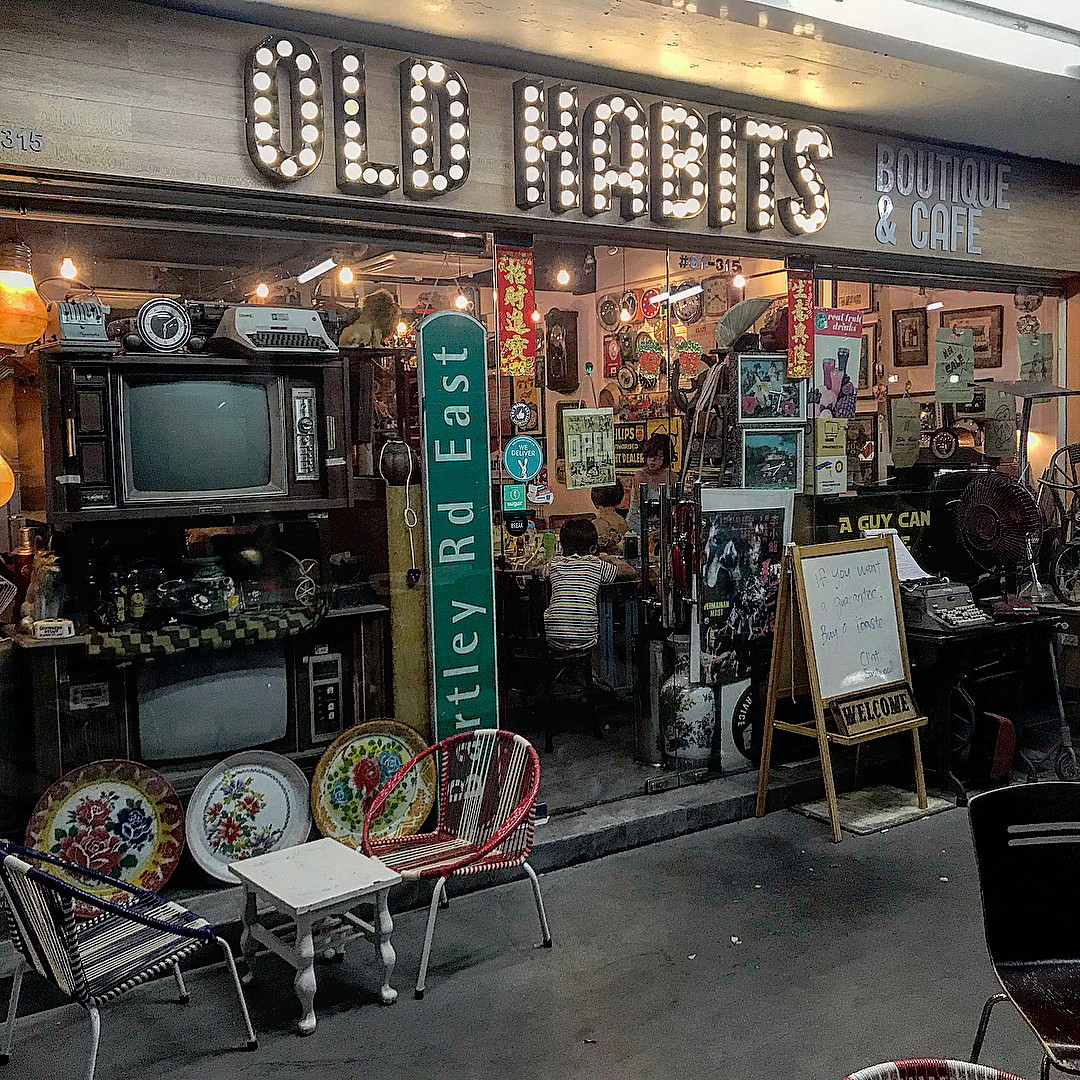 Image credit: @theretrofactorysg
If you're looking for a rustic cafe that can offer a trip down memory lane, pay Old Habits Boutique & Cafe a visit. Forget the minimalist, "less-is-more" aesthetic of the 21st century, this cafe is filled to the brim with vintage knickknacks and antiquities that give it a distinct, old-school charm that is hard to come by. Even if you aren't shopping for antiques, you can still enjoy their homely dishes, such as Shepherd's Pie ($12.50), or Jessy's Spicy Casserole ($12.50), which is similar to the Shepherd's Pie, but spicier and made with chicken and Peranakan spices. If you're craving something sweet, order their Coconut Kueh with French Vanilla Ice Cream ($6.50). This fusion dessert is a delightful cross between a warm bread pudding and a souffle, topped off with a scoop of ice-cream for a satisfying contrast in temperature and texture.
Address: 38 Telok Blangah Rise, #01-315, Singapore 090038
Opening hours: Tue-Thur 11am to 3pm, 6pm to 10pm, Fri-Sat 11am to 10:30pm, Sun 11am to 9pm
Tel: 9127 7147
Website
---
2. Jubilee Coffee House & Bar
---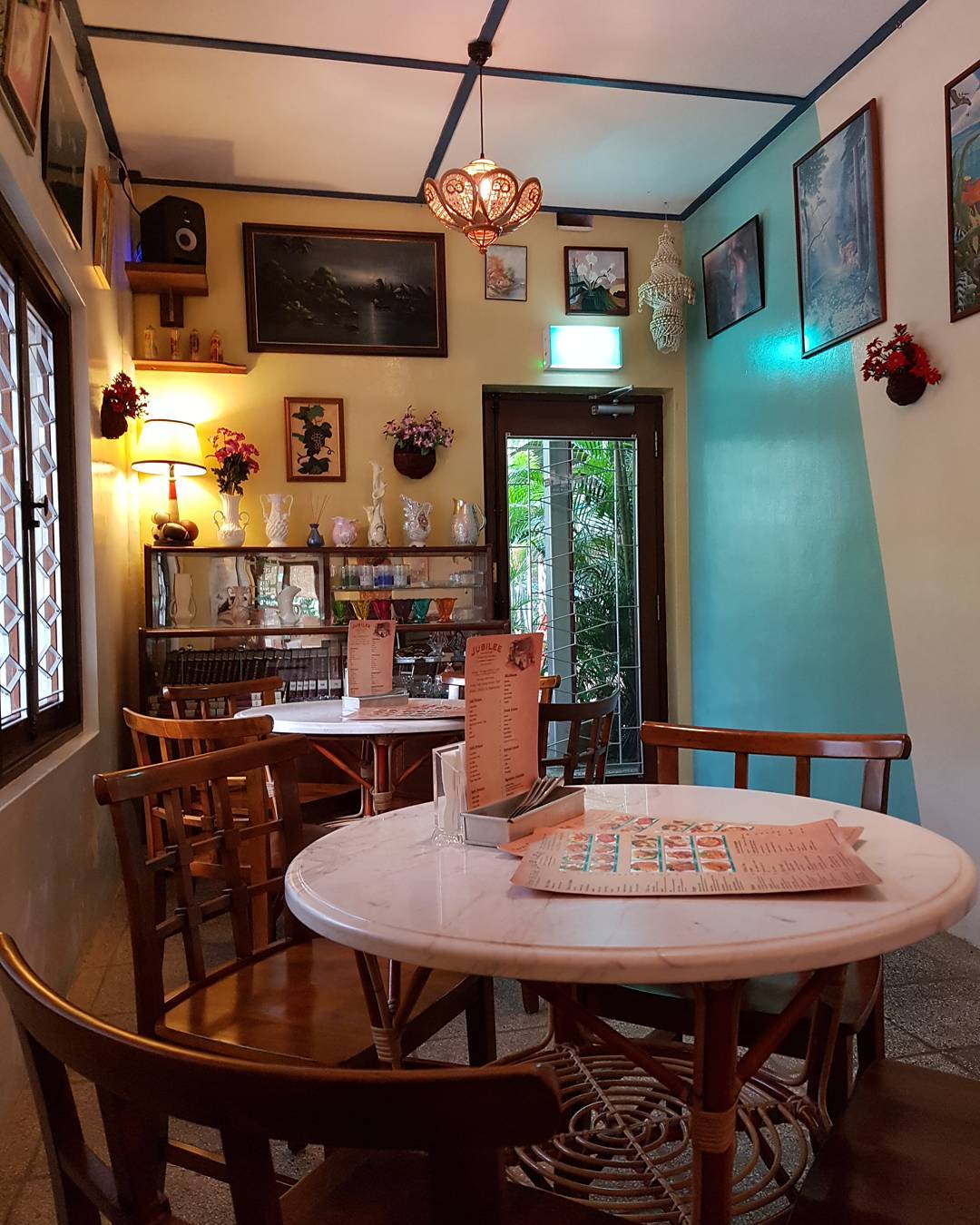 Image credit: @jazz_in_april
Speaking of going back in time, Jubilee Coffee House & Bar is another vintage-themed restaurant that is worth a visit. This two-storey restaurant features artwork, antiques and household items from the 1960s that are sure to evoke a sense of nostalgia, especially for patrons from the older generations. Their menu has a good mix of local and Western food, such as Changi Fish & Chips ($18++), which is made with premium dory, as well as their generously portioned Ter Kar Bee Hoon ($15++), a traditional Chinese braised pork trotter and noodle dish. If fusion food is up your alley, order their Otah Pizza ($13++), which combines a thin crust with fish otah, onions, sambal tomato sauce and toasted cheese. So if you're scouting for your next weekend dinner spot, this is one restaurant that can satisfy the whole family.
Address: 580 Netheravon Road, Singapore 508516
Opening hours: Mon-Fri 10:30am to 12am, Sat & Eve of PH 9:30am to 1am, Sun & PH 9:30am to 10:30pm
Tel: 6543 0060
Website
---
3. Seok Seng 1954 Bicycle Cafe
---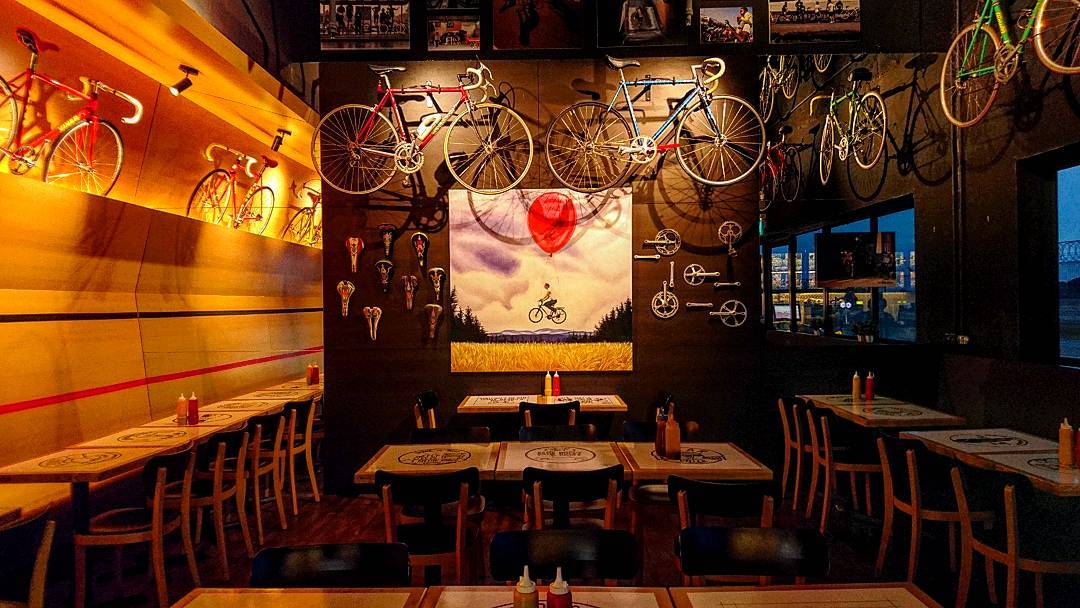 Image credit: @suede.lovace
For a food spot that exudes rustic charm without costing a bomb, head down to Seok Seng 1954 Bicycle Cafe. Just as the name suggests, this cafe is decked out in vintage bicycles as well as some quirky pieces of artwork that feature bicycles. While admiring the pleasantly curated interior, order their simple Katsu Don ($7.80), which comes with warm Japanese rice, crispy chicken cutlet, fluffy egg, carrots and sweet caramelised onions, all coated in a tasty teriyaki sauce. They also have a slightly different version of this dish, Unatamadon ($8.80), which comes with unagi instead of chicken. If you're lucky enough to visit when the weather is good, grab a seat outside and you might even catch a private plane taking off at the nearby Seletar Airport!
Address: 80 Seletar Aerospace View, MAJ Aviation Building, Singapore 797563
Opening hours: Tue-Thur 10am to 11pm, Sat-Sun 10am to 10pm
Seok Seng 1954 Bicycle Cafe's kitchen closes from 3pm to 5pm daily.
Tel: 6659 6124
Website
---
4. The Coastal Settlement
---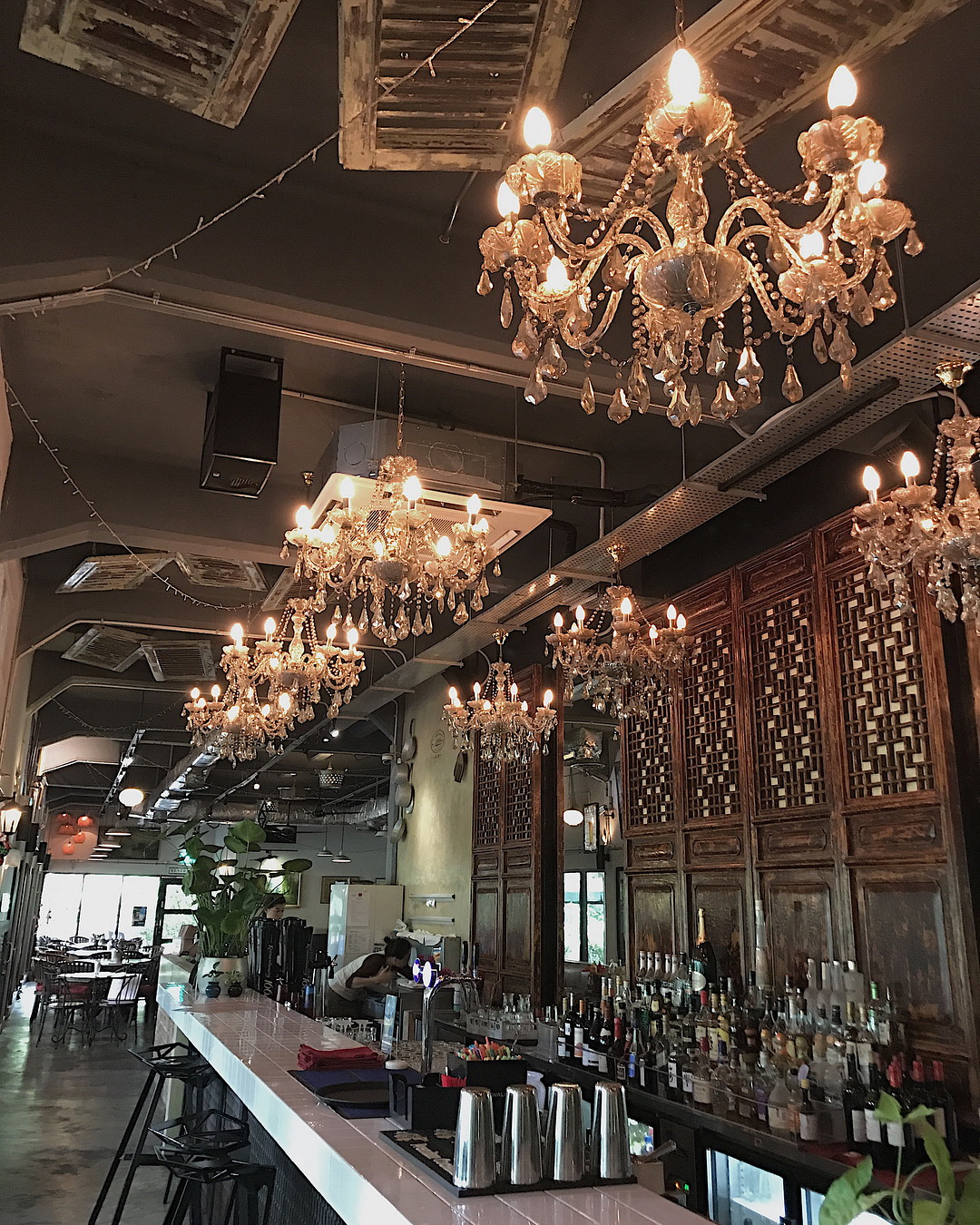 Image credit: @mycafediary101
If your heart yearns for a relaxing resort getaway, but your busy schedule only has room for a nice meal, head down to The Coastal Settlement. Located near the Changi coastline, the breezy, nature-filled surroundings might just make you believe you're away from Singapore. If you're there with friends or family, order a side of Truffle Fries ($15++) and their Italian-style Thin Crust Pizza ($22++), which is made with tomatoes, fresh basil and three types of creamy cheeses. For those who would rather skip on the Western options, they also serve dishes such as their generously portioned Nasi Lemak ($16++) and Mee Goreng ($16++).
Address: 200 Netheravon Road, Singapore 508529
Opening hours: Tue-Thur 10:30am to 11pm, Fri 10:30am to 12am, Sat 8:30am to 12am, Sun 8:30am to 11pm
Tel: 6475 0200
Website
---
5. Drury Lane
---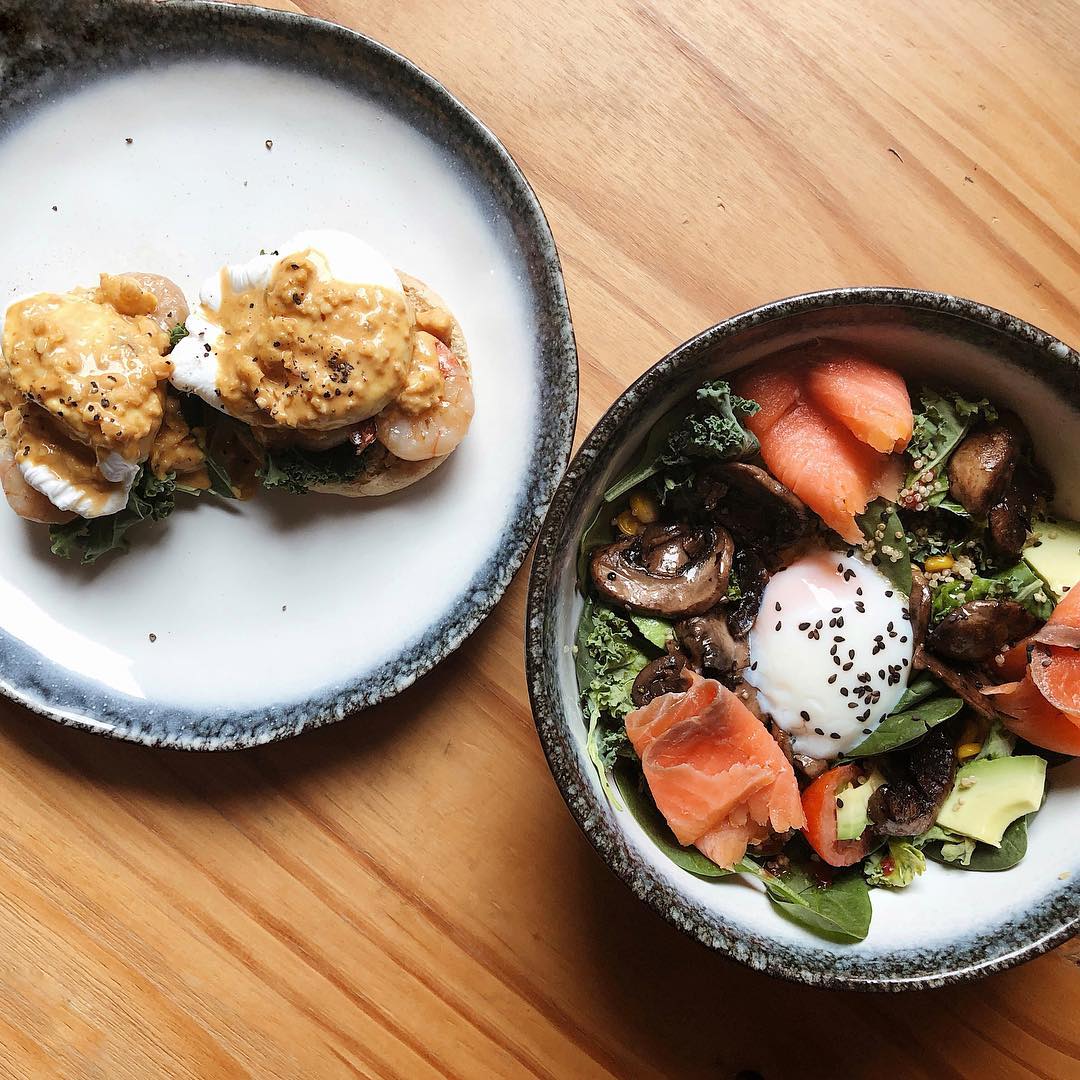 Image credit: @hiiamvu
If you're a brunch junkie, Drury Lane can be the next cafe you hop to this weekend. Their menu features some of your typical brunch favourites, such as Smoked Trout, Avocado, and Mushroom Croissant with Herbed Cream Cheese ($12) and Pancakes with Warm Maple Butter ($8). However, they also have some unique dishes that come with a twist. Their Creamy Salted Egg Yolk Eggs Benedict with Grilled Prawns ($17) is basically a Singaporean eggs Benedict made with steamed buns, kale and juicy prawns, all topped with creamy salted egg yolk sauce instead of hollandaise. With dark wooden floors and warm lighting, this cafe is great for laid-back brunch meetups.
Address: 94 Tanjong Pagar Road, Singapore 088515
Opening hours: Mon-Tue 8am to 6pm, Wed-Fri 8am to 10pm, Sat-Sun & PH 9am to 6pm
Tel: 6222 6698
Website
Menu
---
6. Tolido's Espresso Nook
---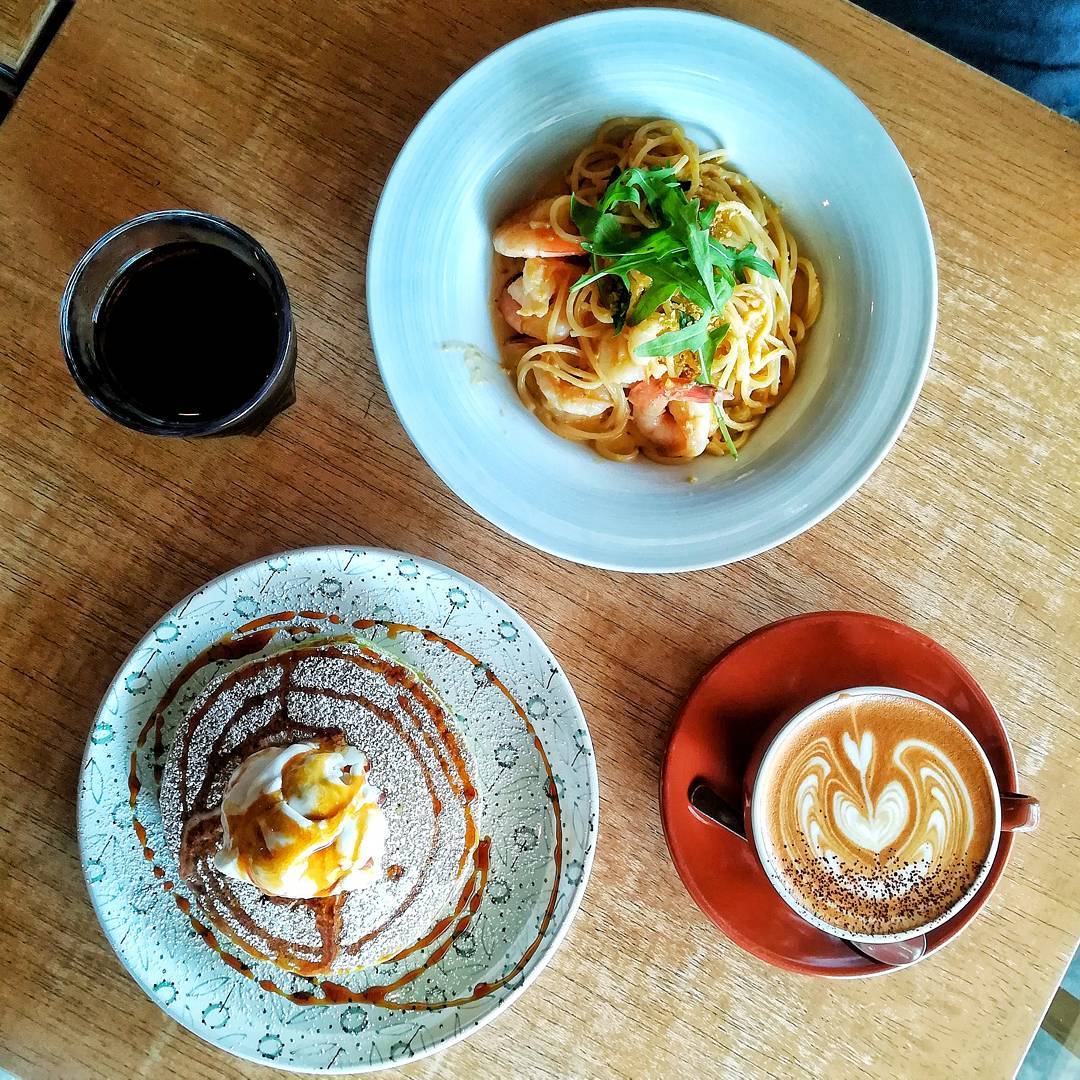 Image credit: @keltontyrrelltan
Calling all coffee lovers, Tolido's Espresso Nook might just be your new favourite cafe. You'll first be greeted by a cosy interior, which includes beautifully drawn chalkboards, comfy couches and potted plants, before the smell of freshly made coffee hits. Though they offer classics such as Cappuccino ($5.50) and Latte ($5.50), there are some interesting beverages too, as seen from their Sea Salt Caramel Mocha ($7) that can be appreciated even by non-coffee drinkers. Their mains may be impressive, but many come for their desserts. Their popular Pandan Pancakes ($11) burst with the fragrance of pandan and are drizzled with gula melaka sauce. It's also served with a scoop of coconut ice-cream that balances out the stronger flavours.
Address: 462 Crawford Lane, #01-63, Singapore 190462
Opening hours: Tue-Fri 8am to 6:30pm, Sat-Sun 9am to 6:30pm
Tel: 6648 0178
Website
---
7. W39 Bistro & Bakery
---

Image credit: @jieyingc
For larger groups that are looking for a chill-out spot, visit W39 Bistro & Bakery. There are large wooden tables that are able to accommodate bigger groups, regardless of whether you and the gang choose to sit inside or dine al fresco. Their mains include Western dishes, such as Confit of Chicken Leg ($18+) that comes with corn and edamame, and Fish and Chips ($17+). On weekdays, they have a lunch set option that allows you to add $5+ for soup and a drink to go along with your main dish. If you're craving something local, order their Chef's Special Nonya Mee Siam ($9.50+), which is made with house-made sambal and comes with a poached egg that gives the gravy a richer texture once it breaks open.
Address: 39 Jalan Mas Puteh, Singapore 128637
Opening hours: Tue-Fri 11am to 10pm, Sat-Sun & PHs 9am to 10pm
Tel: 9646 5372
Website
Menu
---
8. Laurent's Cafe
---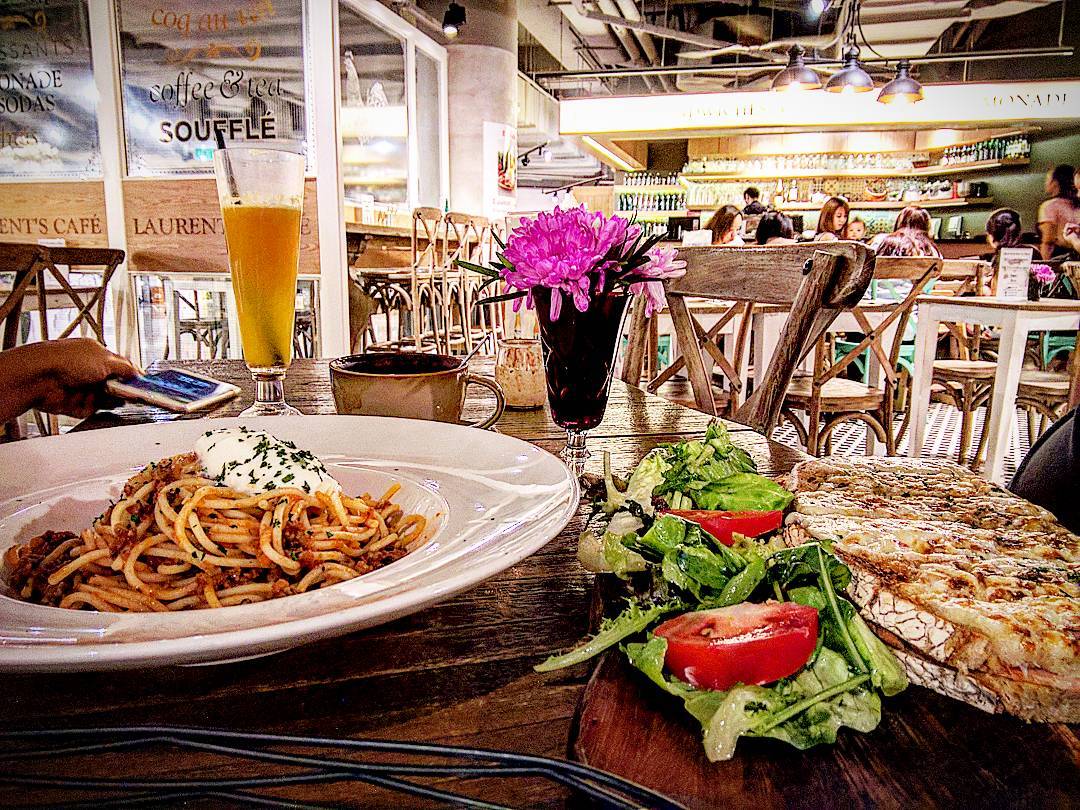 Image credit: @christ.ngantung
Though Laurent's Cafe may be located amidst the hustle and bustle of Orchard Road, it's still a relatively quiet spot for you to retreat to. Complete with monochrome tiles, hanging ceiling lights and wooden furniture, this cafe provides a comforting ambience for you to enjoy a meal with friends. Some of their popular mains include their Croque Monsieur Sandwich ($16++), which is made with toasted bread, ham, bechamel sauce and melted gruyere cheese, as well as a classic Spaghetti Bolognaise ($19++) that comes topped with fresh cream. If you're in the mood for dessert, you can also order a Homemade Waffle ($12++) which comes with ice-cream, berries, and cream.
Address: 260 Orchard Road, #B1-02C, The Heeren, Singapore 238855
Opening hours: Daily 9:30am to 10pm
Tel: 6235 2340
Website
Menu
Full list of outlets
---
Kick back and relax at these cafes
---
Whether you need a safe haven away from the busy city, or if you're looking for a cosy new brunch spot that has a cosy ambience, these rustic food spots have got your back. Leave us a comment telling us which of these places you'd like to visit next. For more cafes that come with interesting decor, check out Blue Willow or Enchanted!
---
Featured image adapted from Instagram user @theretrofactorysg's post.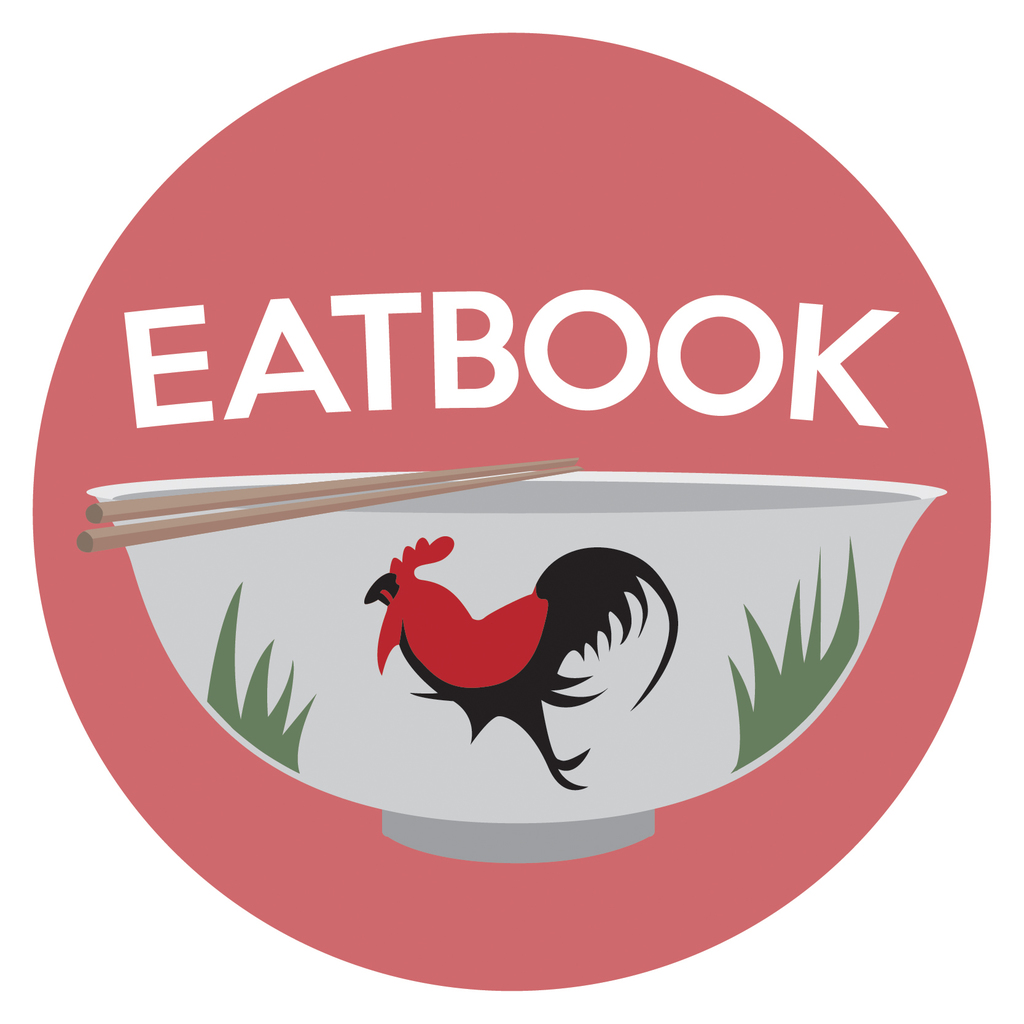 Drop us your email so you won't miss the latest news.