Pan-grilled satay rice sliders 
It's amazing how food can trigger memories. Marcel Proust's memories of soaking madeleine into hot tea, resulting in a wave of nostalgia that took him back to his childhood, will always be remembered for linking memory and taste together.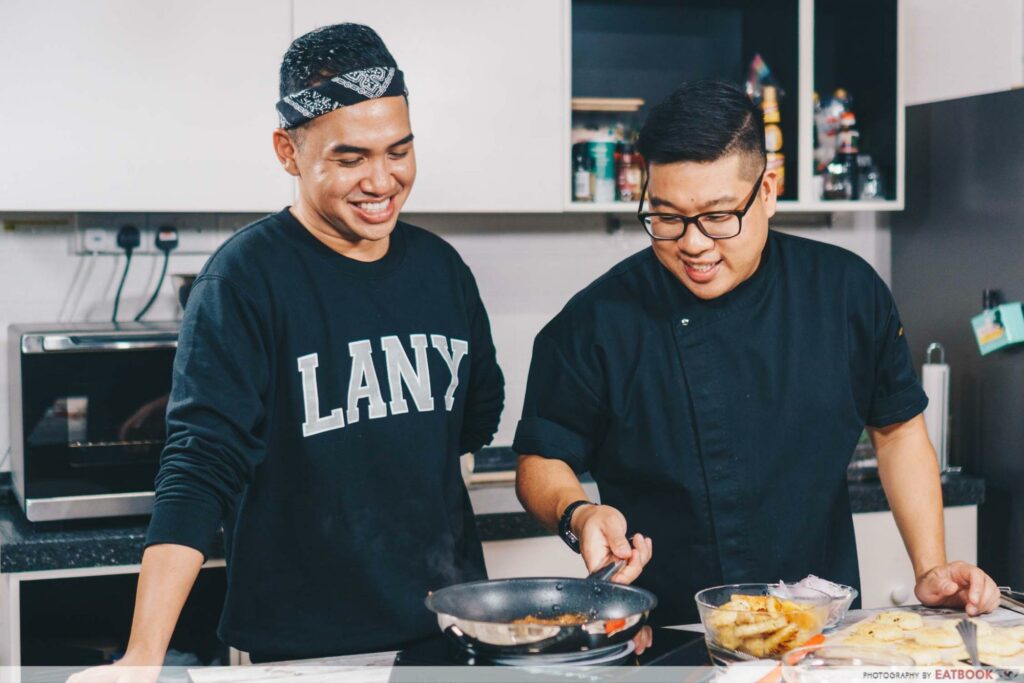 For Fauzi Aziz, family meals are something he treasures greatly. A picky eater since he was a boy, Fauzi recalls how his mother always makes the extra effort to get his favourite satay at every family mealtime. 
Till today, satay still finds its place on the family table. Just for him. That's why whenever he eats satay, he is reminded of his family.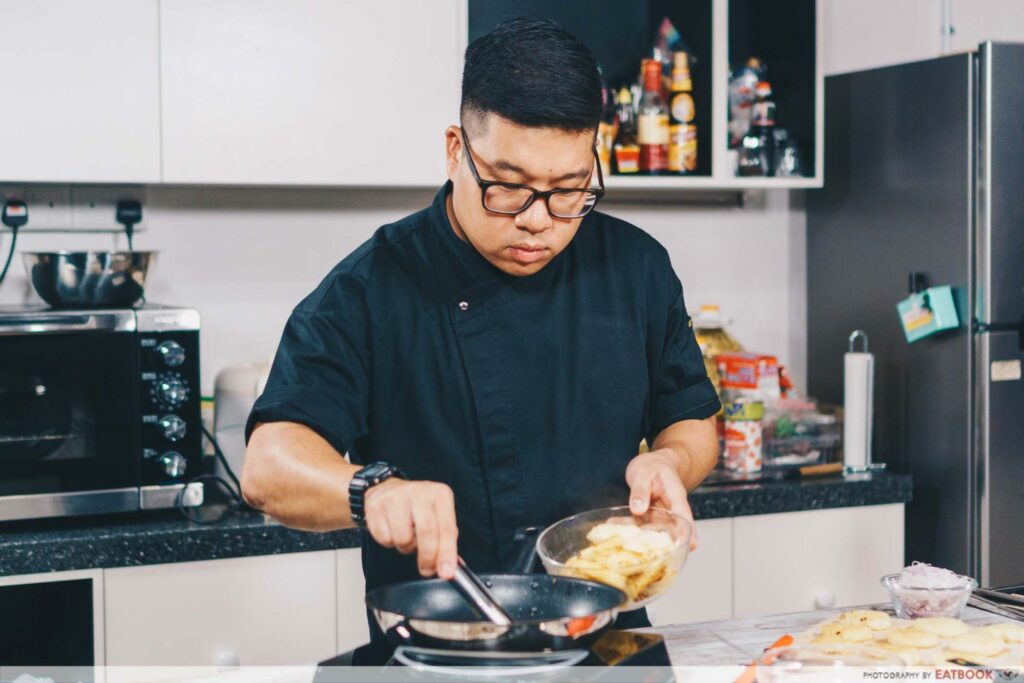 Chef Ming Tan, executive chef of Jam at Siri House and co-founder of popular CBD sandwich joint Park Bench Deli recently came over to Eatbook's kitchen to share an exciting dish inspired by Fauzi's memory.
Requiring an outdoor grill and charcoal fire, authentic satay can be fiddly to make at home. That's why Chef Ming came up with a Pan-grilled Satay and Sticky Rice Sliders recipe that Fauzi can put together with his family in the comfort of their own kitchen. 
The best part is how everyone can participate in assembling its components, adding on to the family fun. 
Head to the bottom for the full recipe.
---
The process
---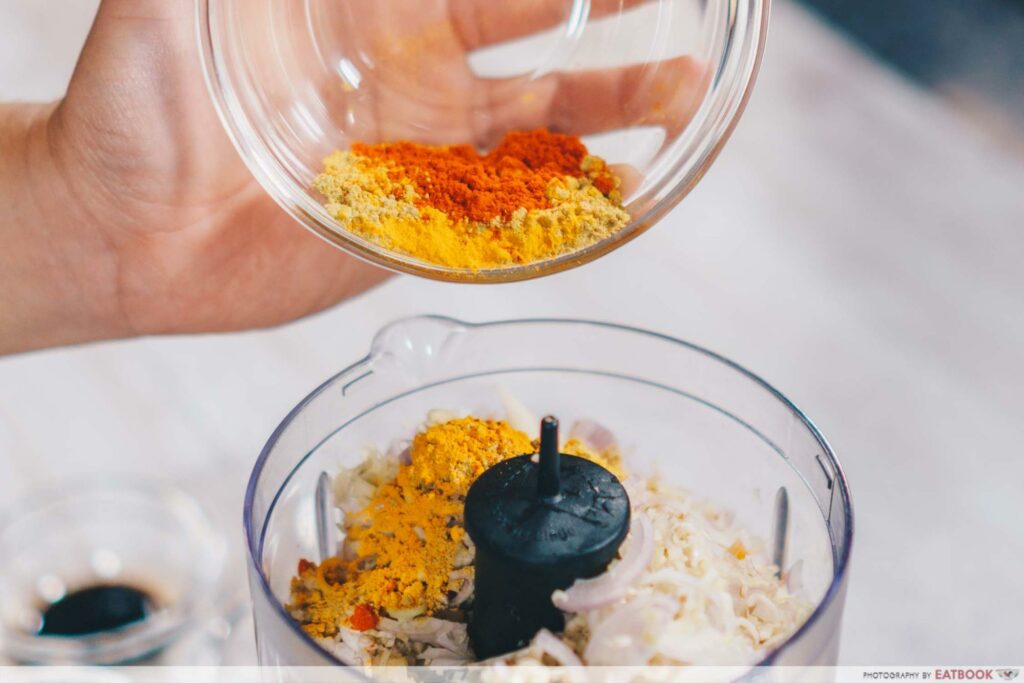 Start by blending all the ingredients needed for the marinade in a food processor. Check out the recipe below for the full list of ingredients. The mix of coriander seed powder, chilli powder, and fennel seed powder combines beautifully to give a deep earthy aroma.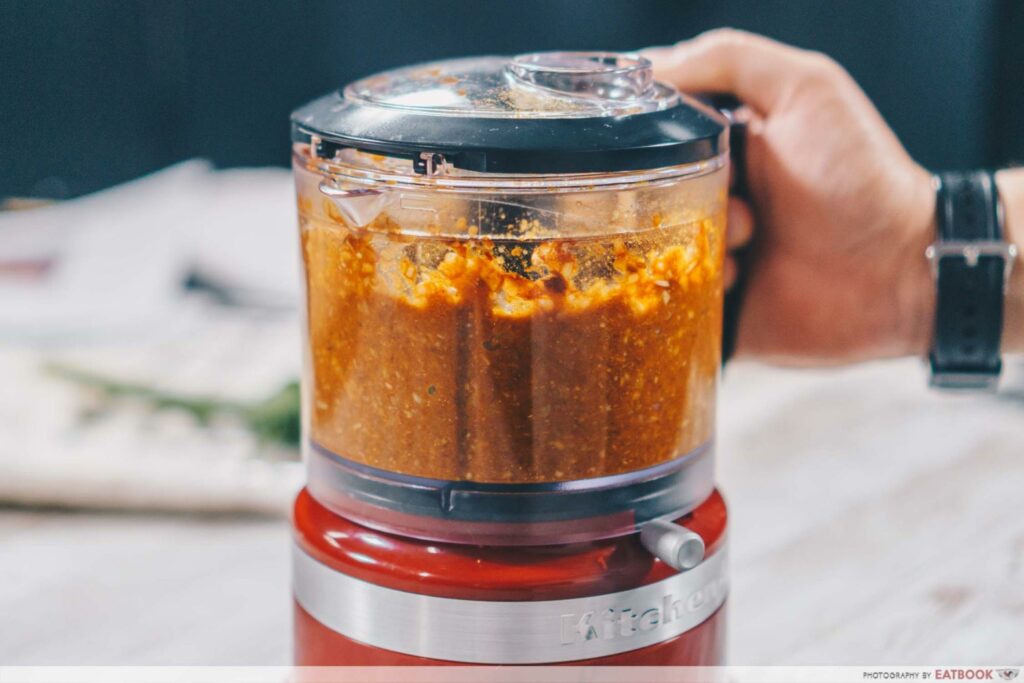 Give everything a long whirl in the food processor, and make sure the lemongrass and gula melaka get finely blended into a luscious and smooth paste.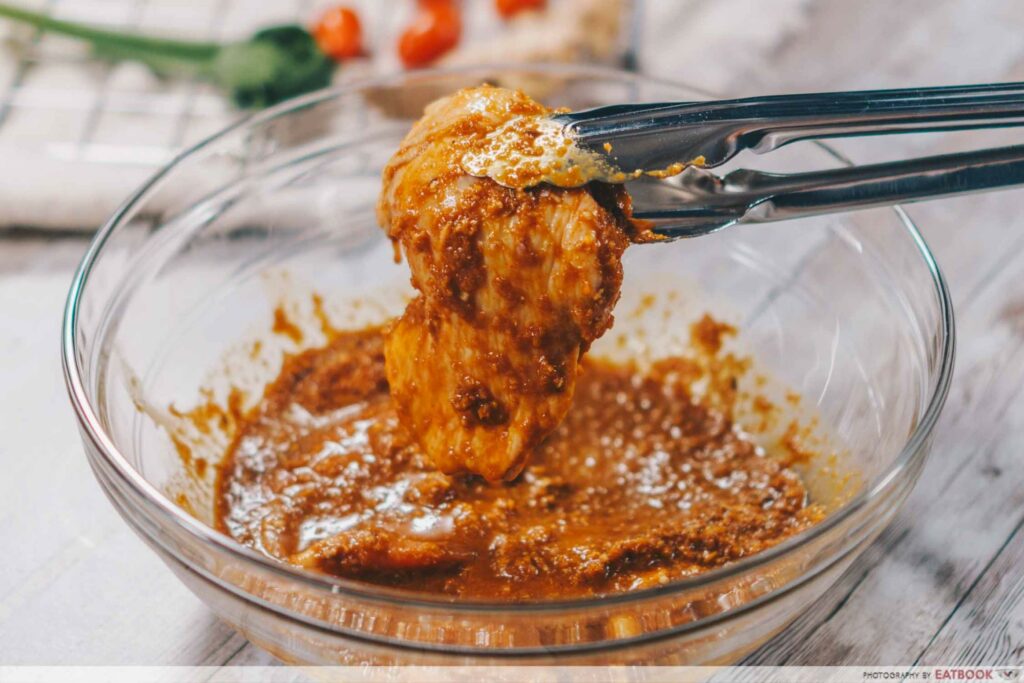 Gently marinate the chicken. Then, chill the marinated chicken in the refrigerator for around four hours, to allow the meat to soak up all of the marinade's rich and aromatic goodness.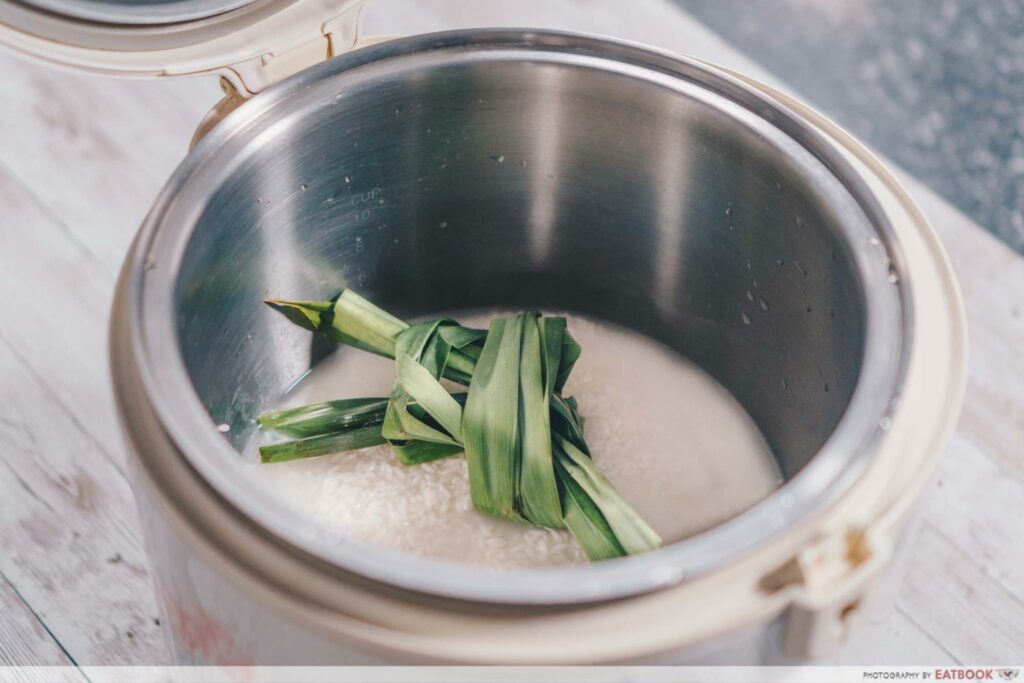 To prepare the rice patties, cook glutinous rice in a rice cooker. Toss a knob of pandan leaf inside to give the rice a mild and pleasant touch of sweetness. 
Once the rice is cooked, remove them from the rice cooker and shape them into rice patties. You'll need about half a palm size's worth of rice for one patty.
This is also a great time for the entire family to chip in and help contribute to the meal.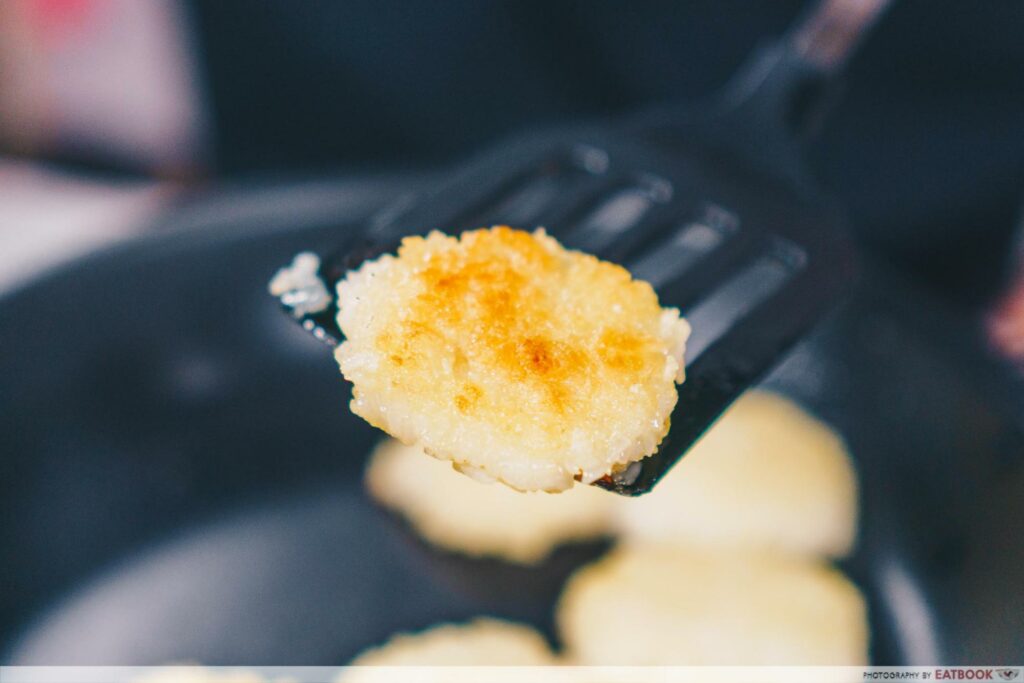 Lightly oil a non-stick pan with vegetable oil on low heat and gently sear the rice patties. Be sure to keep an eye on the patties as they burn quite easily.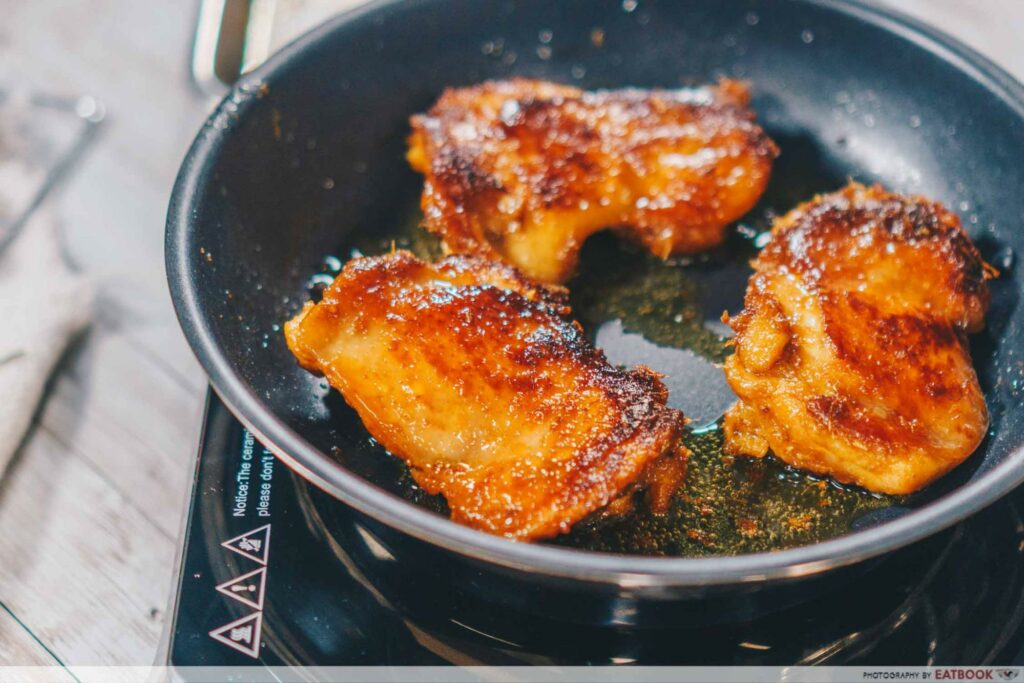 Remove the chicken from the marinade and pat dry with paper towels. Heat the vegetable oil on a cold non-stick pan on low heat, and place the chicken skin side down.

Cook the chicken slowly on low heat to render its fat. This evaporates the water content inside the chicken skin, leaving a shatteringly crispy skin at the end. You'll need to be patient, as this process will take around 15 minutes or so.

Once the skin is crispy and golden brown, flip it onto the other side and cook on medium heat to cook it all the way through.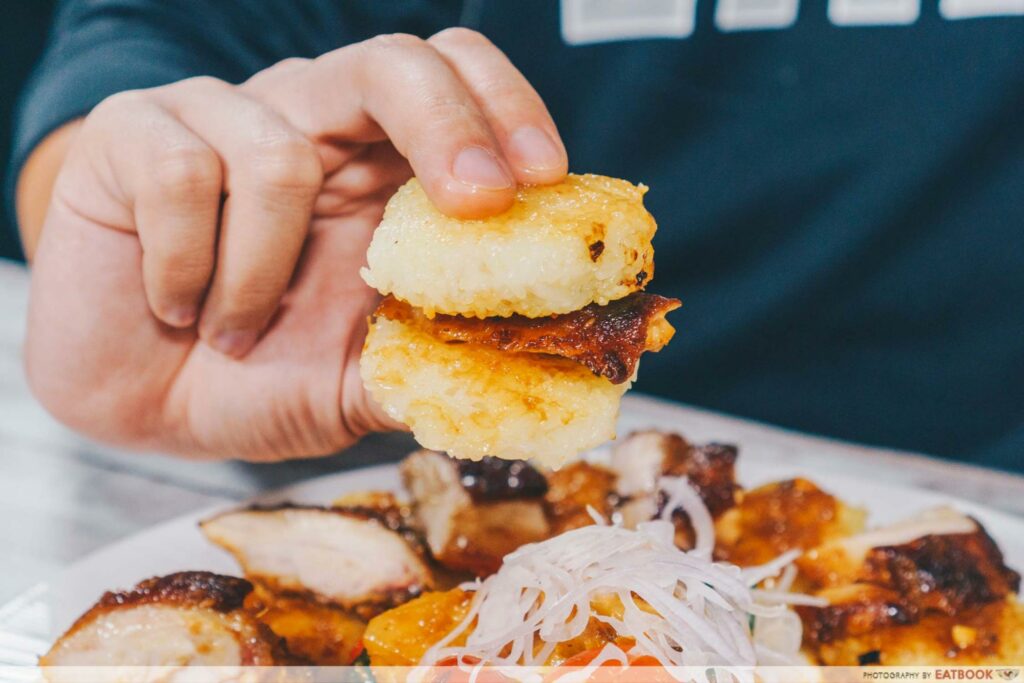 To assemble the satay rice slider, slice the chicken thigh into four pieces and sandwich them between the rice patties. If you're bringing them to a picnic, it's recommended to separate the rice patties and chicken to prevent them from getting soggy.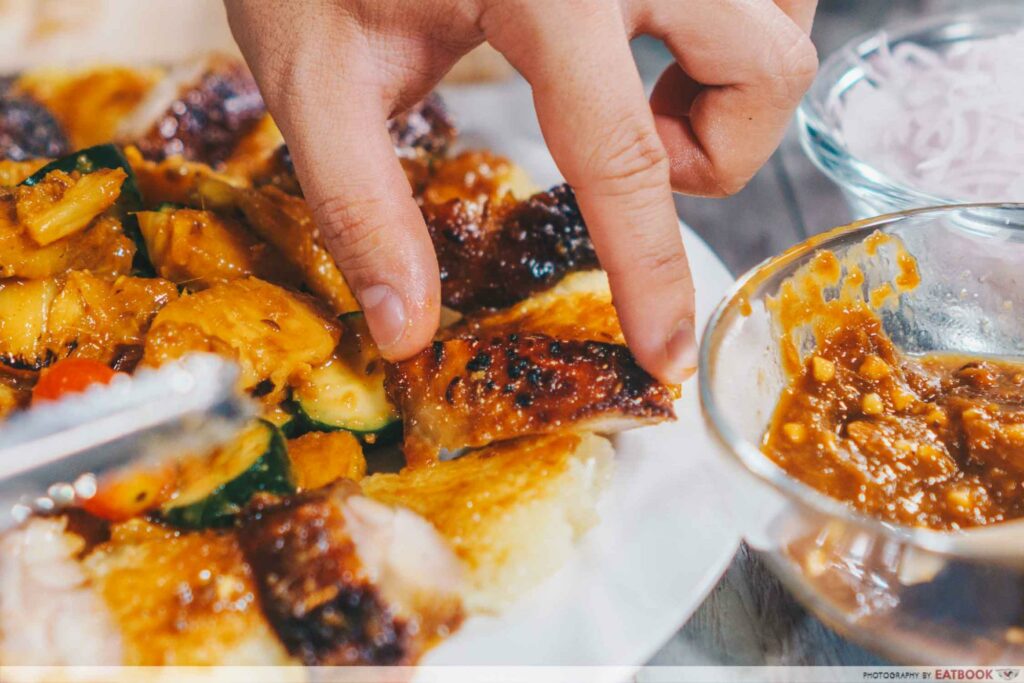 Take this dish up a notch by adding a simple pineapple salad. My favourite part is how its dressing is made from the chicken's marinade. Check out the recipe below for more details.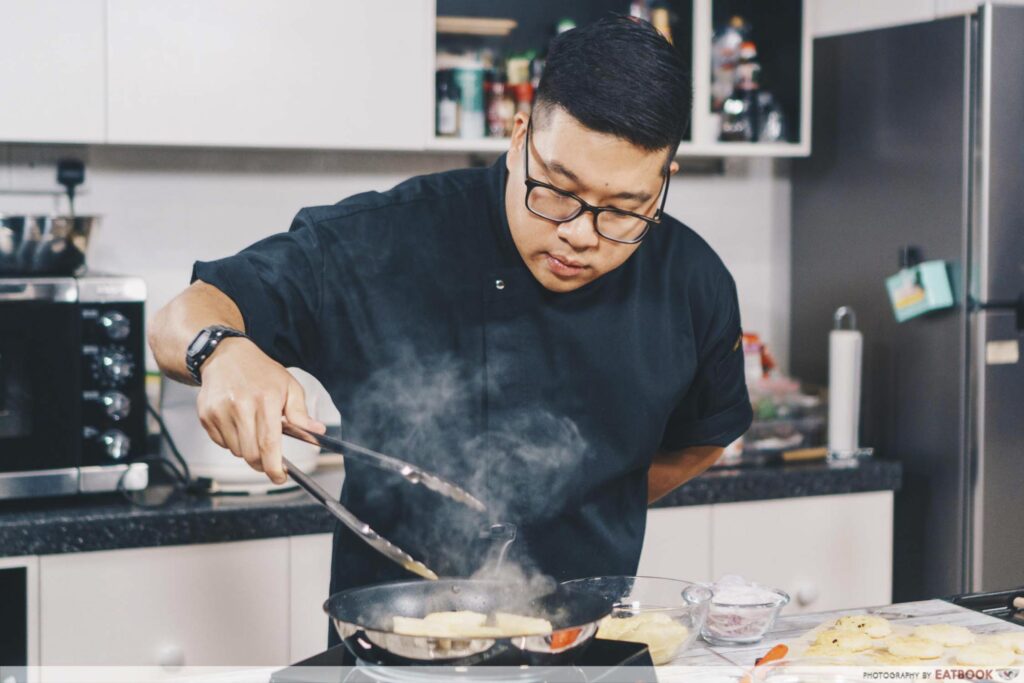 Fairprice Finest will be giving four lucky winners a private dining experience by Chef Ming, where he will create a dish inspired by their memory. On top of that, they will also get $100 worth of FairPrice Gift Vouchers! 
All you'll have to do is share an original and memorable story here.
There will also be 10 consolation prizes of $50 worth of FairPrice Gift Vouchers each up for grabs. Terms and conditions apply.
---
Pan-grilled Satay and Sticky Rice Sliders recipe
---
Yield: Serves 4
Cooking time: 1 hour
Ingredients:
Chicken marinade:
3 boneless chicken thigh, skin-on 
3 tablespoon vegetable oil
2 stalks lemongrass, remove outer coating
3 cloves garlic, peeled
3cm galangal, outer skin removed
5 shallots, peeled
100g gula melaka 
1 teaspoon cumin seed
2 tablespoon turmeric powder
1 teaspoon coriander seed powder
1 teaspoon chilli powder
1 teaspoon fennel seed powder
2 teaspoon kicap manis
1 teaspoon dark soy sauce
1 teaspoon salt
Glutinous rice patties:
4 pieces fresh pandan leaf, tied into a knot
2 cup glutinous rice
2.5 cup water
1 teaspoon salt 
2 tablespoon cooking oil  
Grilled pineapple salad (for garnish):
Leftover chicken marinade
1 red onion, sliced very thin
3 tablespoon tamarind pulp (soak 70 grams of tamarind in 1/2 cup of boiling water, strain seeds and discard)
½ pineapple, peeled, cored and sliced into chunks
120g ripe cherry tomatoes
1 Japanese cucumber, chopped into rough slices
4 tablespoon crunchy peanut butter
1/2 tablespoon salt
Directions:
Add all the ingredients for the chicken marinade in a food processor and blend. 

Marinate chicken in mixture and refrigerate for four hours. Remove chicken and pat dry. Set aside marinade. 

To prepare the rice patties, soak glutinous rice in water for four hours. Stir in salt and place the pandan leaves in the rice cooker. Steam till cooked, this should take around 20 to 25 minutes.

Lay the cooked glutinous rice onto a tray of waxed baking paper to cool for 10 minutes.

Wet hands with water and shape the glutinous rice into ½-inch patties. 

Add the vegetable oil to a non-stick pan on low heat. Gently sear the rice patties until they form a brown crust on all sides. 

To cook the chicken thighs, oil a cold non-stick pan and place the chicken skin side down on low heat. Continue to cook slowly so that the chicken's skin renders fully and turn crispy. This should take around 15 minutes. 

Once the skin is golden brown, flip it over and cook on medium heat for another five minutes. Make sure not to burn the chicken.

Remove chicken from heat and cut into four to six pieces. 

To prepare the grilled pineapple salad, grill the pineapple slices in a non-stick pan over low heat until slightly charred. Set aside. 

To prepare the pineapple salad dressing, cook the chicken marinade on low heat in a non-stick pan to reduce it. This should take around five minutes. Add in the crunchy peanut butter and tamarind pulp, and cook for another 10 minutes. Set aside to cool. If you wish, you may brush some of this sauce onto the grilled rice patties. 

Assemble pineapple salad by tossing cucumber, cherry tomatoes and grilled pineapples with the peanut butter sauce. Garnish with thinly sliced red onion. 

To serve, place the pineapple salad in the middle of a large plate. Surround the salad with the chicken and sticky rice sliders.



Photos taken by Lim An.
This post is brought to you by Fairprice Finest.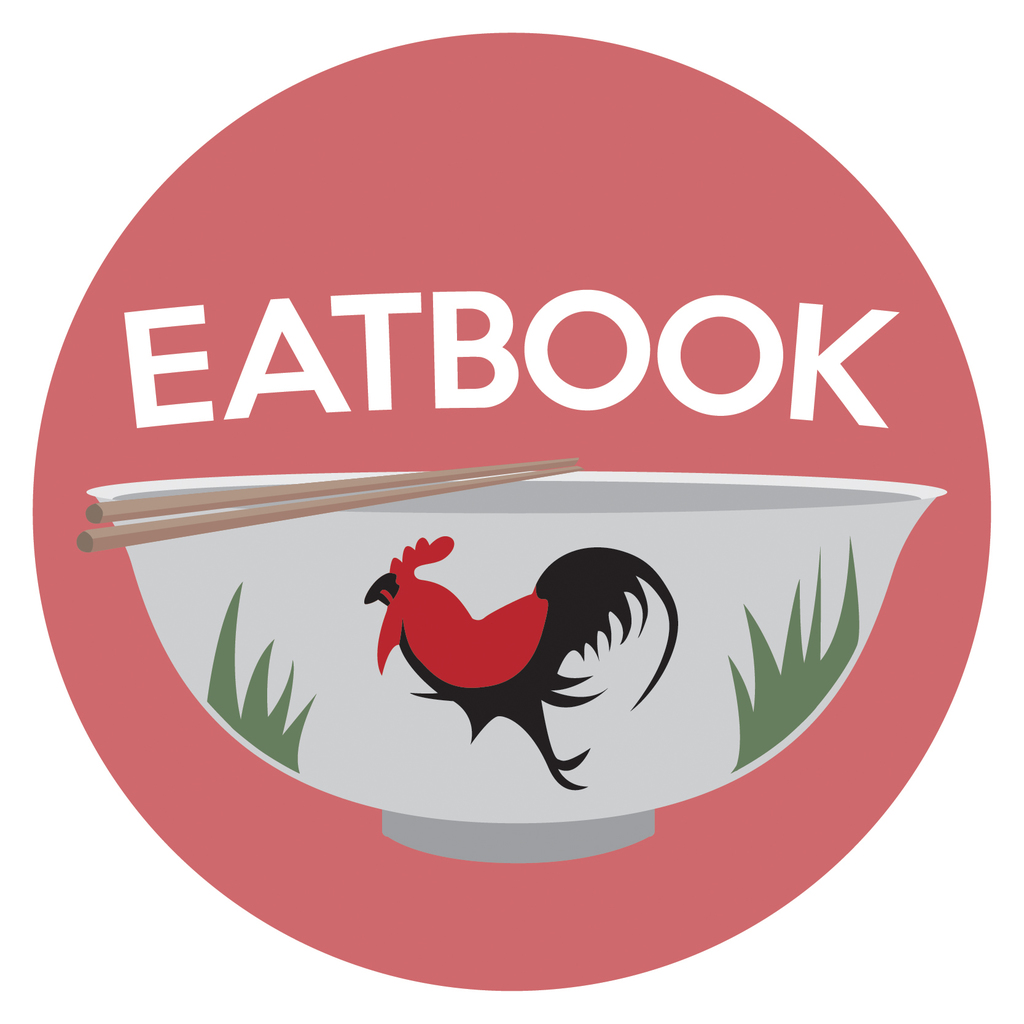 Drop us your email so you won't miss the latest news.