Seoulizm in Tanjong Pagar has Korean barbecue sets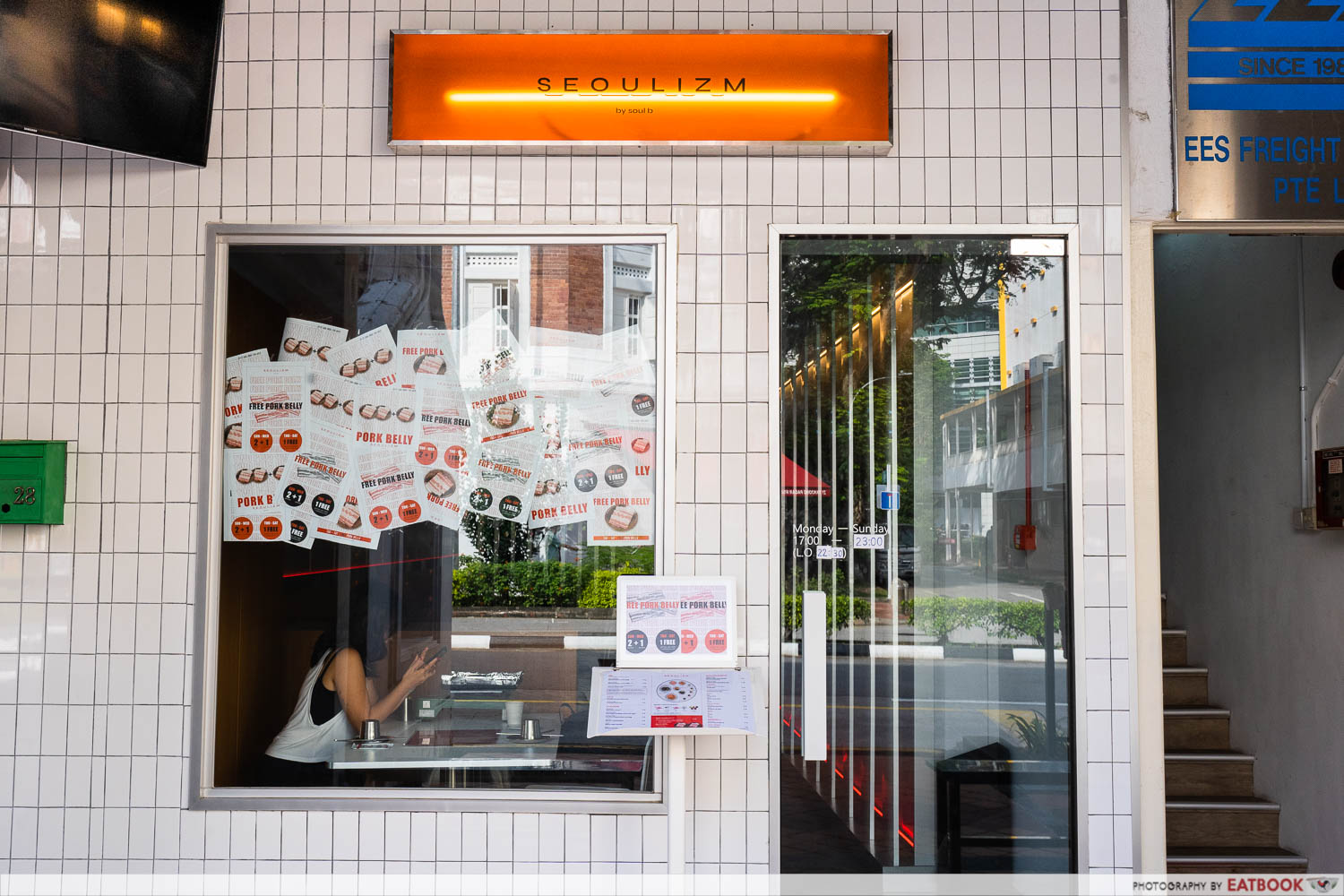 Being one of the few within my social circle who didn't book a trip to Korea in December, I was crippled with FOMO as I browsed through the Instagram Stories of those who spent their holiday there, enjoying bowl after bowl of kimchi noodles and jjajangmyeon. Needing to satisfy my craving for legit Korean food, I jumped on the opportunity to review Seoulizm, a new K-BBQ restaurant in Tanjong Pagar that has been making waves for their affordable barbecue pork.
Food at Seoulizm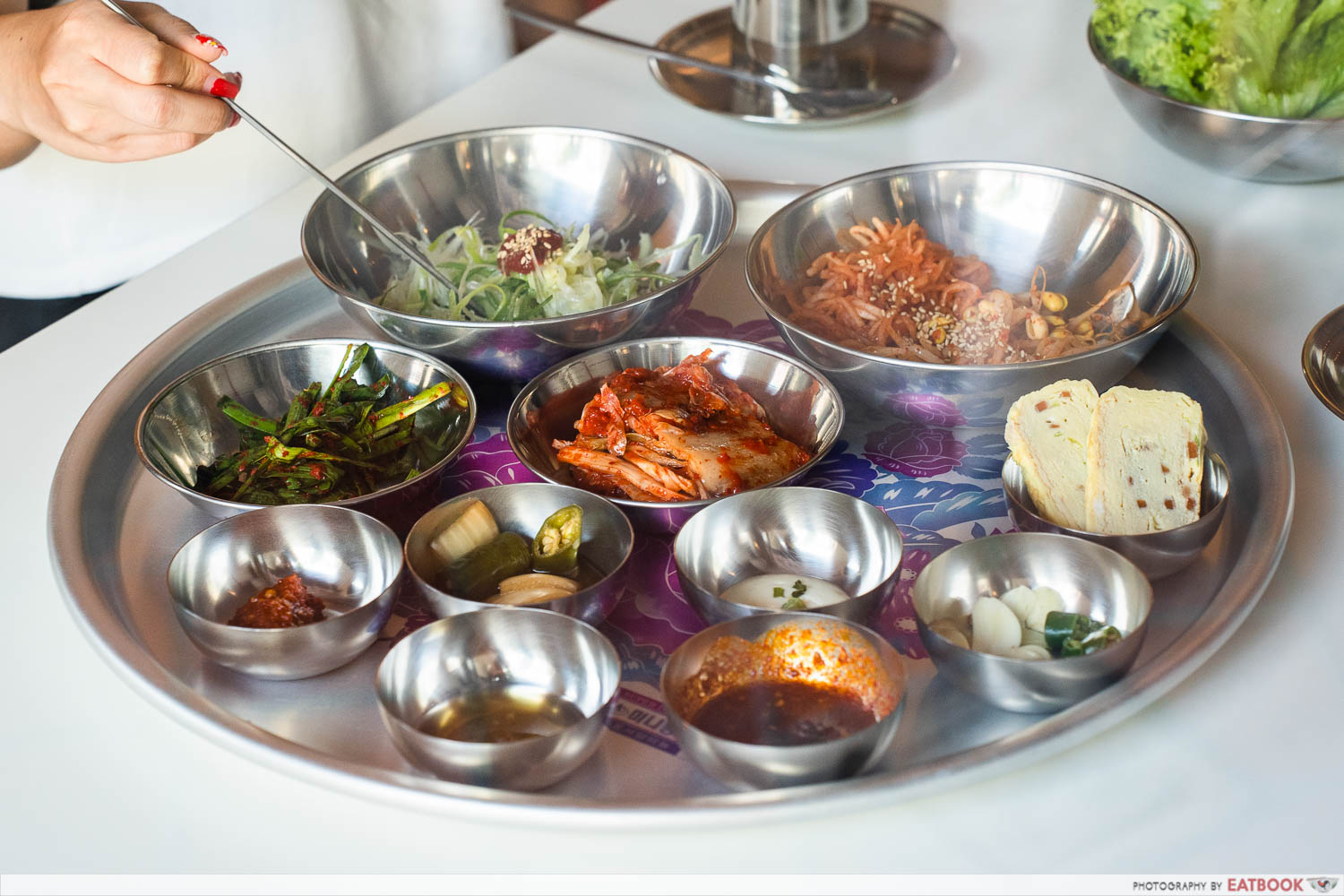 The Korean-owned restaurant sports a simple menu of less than 15 food items. Our meal started off with their signature banchan: a slew of Korean side dishes with the likes of spicy leek salad, house-made kimchi, bean sprouts, and egg rolls. These were served alongside Seoulizm's five special sauces: Wasabi Mayo, Sesame Oil & Salt, Egg Soy Sauce, Bean Paste Sauce, and Seoulizm Sauce.
My colleague and I were recommended the BBQ Couple Set ($68++) by the staff, who were all smiles as they described to us the restaurant's signature offering—Iberico pork. We were told that this cut of meat has a higher fat content, which contributes to its rich flavour profile.
Since not everyone is a fan of fatty meat, the restaurant also offers customers the option to request leaner cuts of meat, if they'd prefer.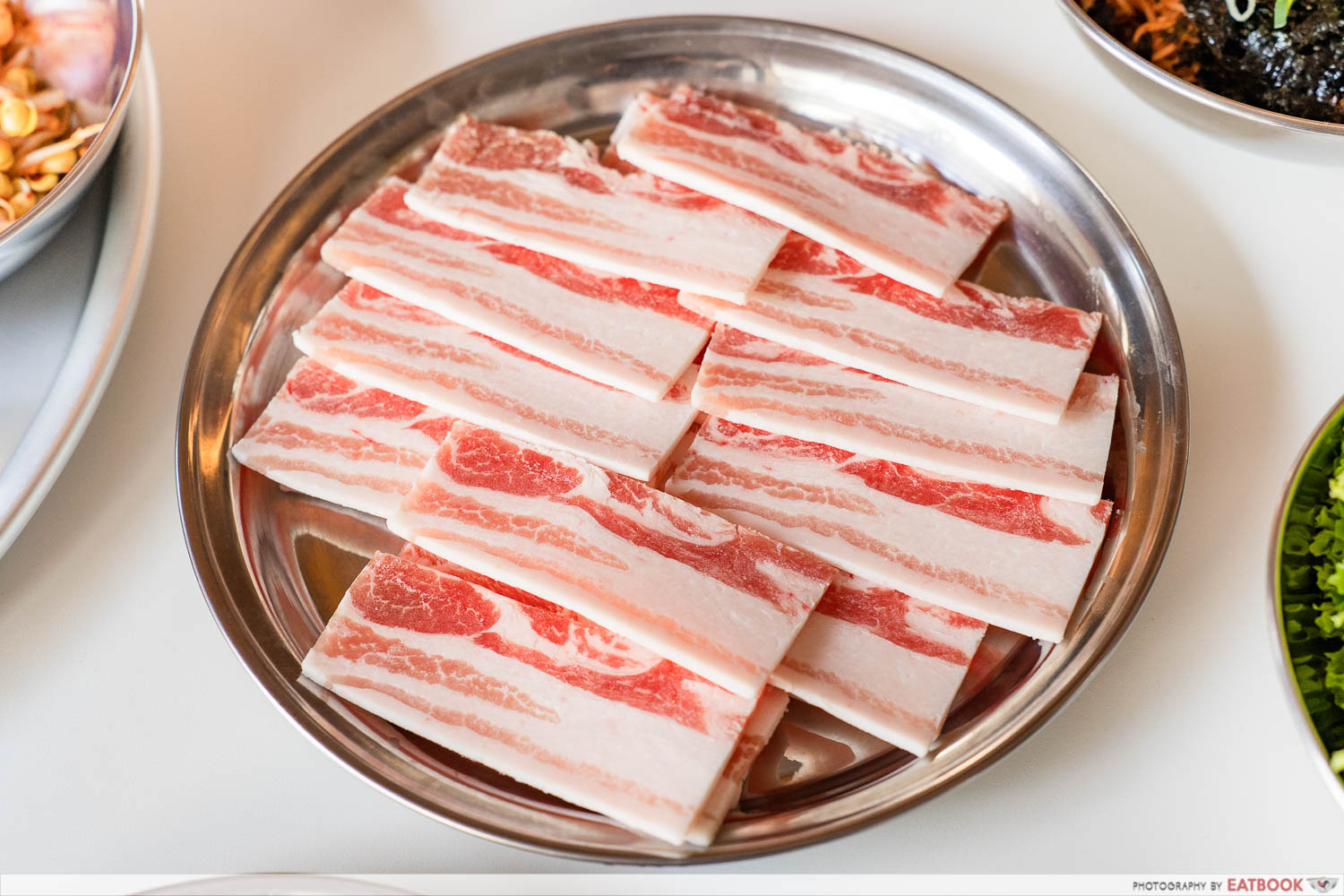 Our BBQ set comprised two servings of sliced Iberico pork belly, a Mentaiko Cheese Steamed Egg ($13++), and Spicy Cold Noodles ($12++). We also ordered an a la carte serving of Sliced Iberico Pork Collar ($27++), another popular item with limited quantities available each day. For a la carte orders, do note that there is a minimum order of two plates per item.
If you're not confident of your grilling skills, you'll be glad to know that the staff at Seoulizm does all the work for you here. They kicked off the barbecue session by picking out different kinds of kimchi from the banchan platter and placing them on the grill. Then came the thin slices of pork belly, which were cooked to a glistening brown and stacked on top of the kimchi.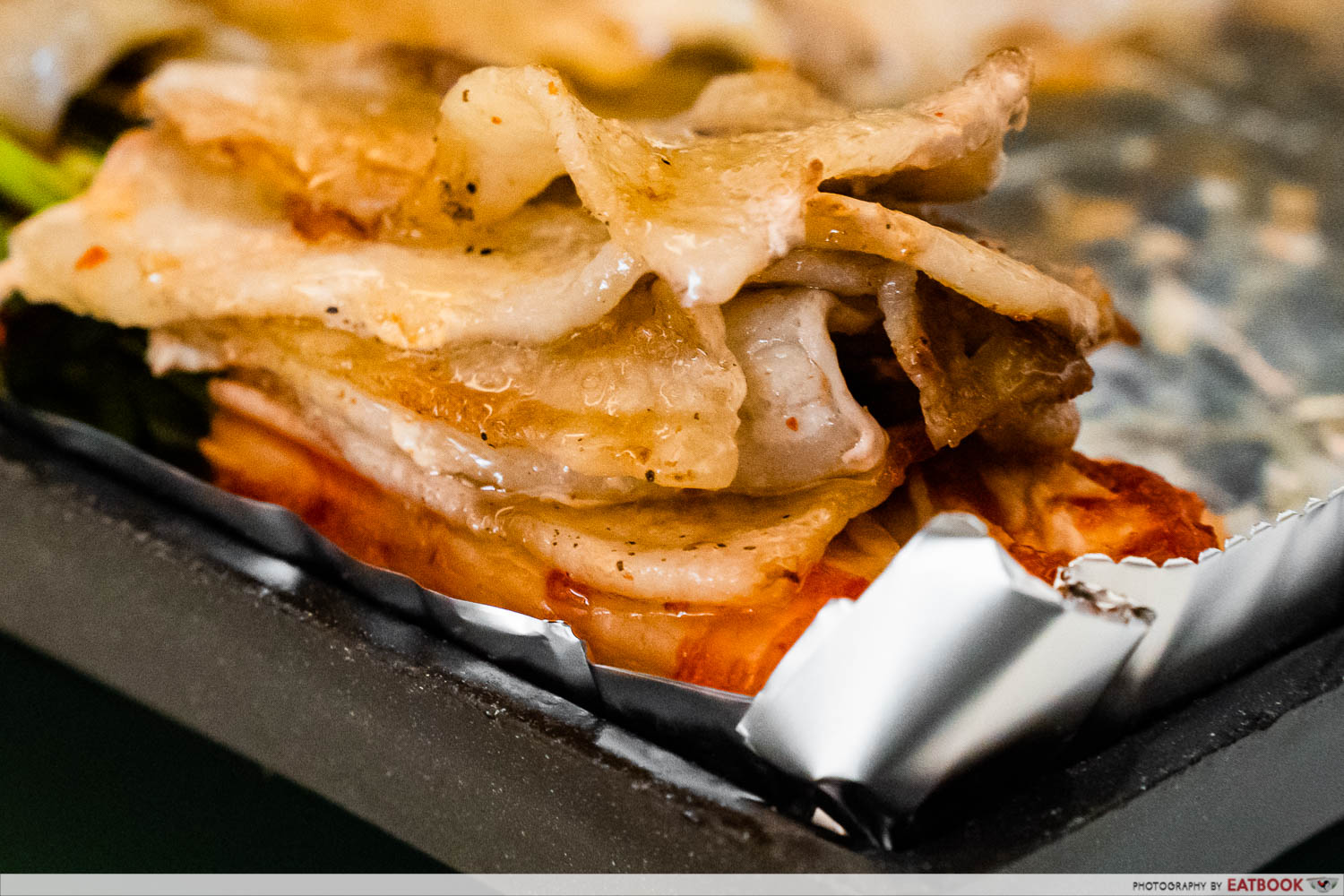 The thinly sliced pork belly had a crispy exterior when grilled, with the meat itself being slightly chewy thanks to the thick layer of fat. Flavour-wise, I found it to be mild on the palate, with a tangy note courtesy of the grilled kimchi.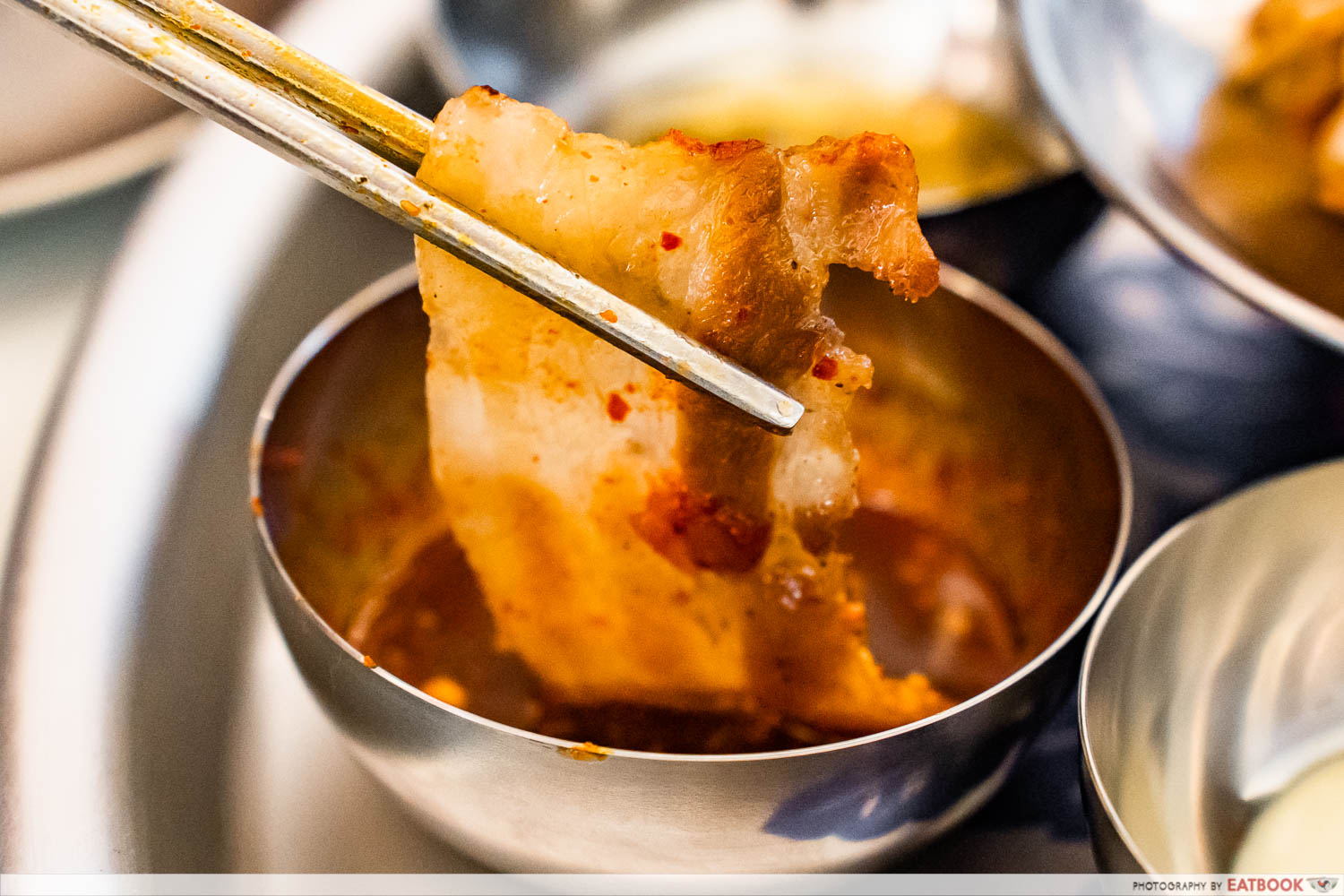 I took my time trying out the different barbecue sauces and eventually found a winner—Seoulizm Sauce. It had a garlicky flavour that reminded me of the umami glaze on honey-garlic Korean fried chicken, with a light saltiness that elevated the mild flavours of the pork belly.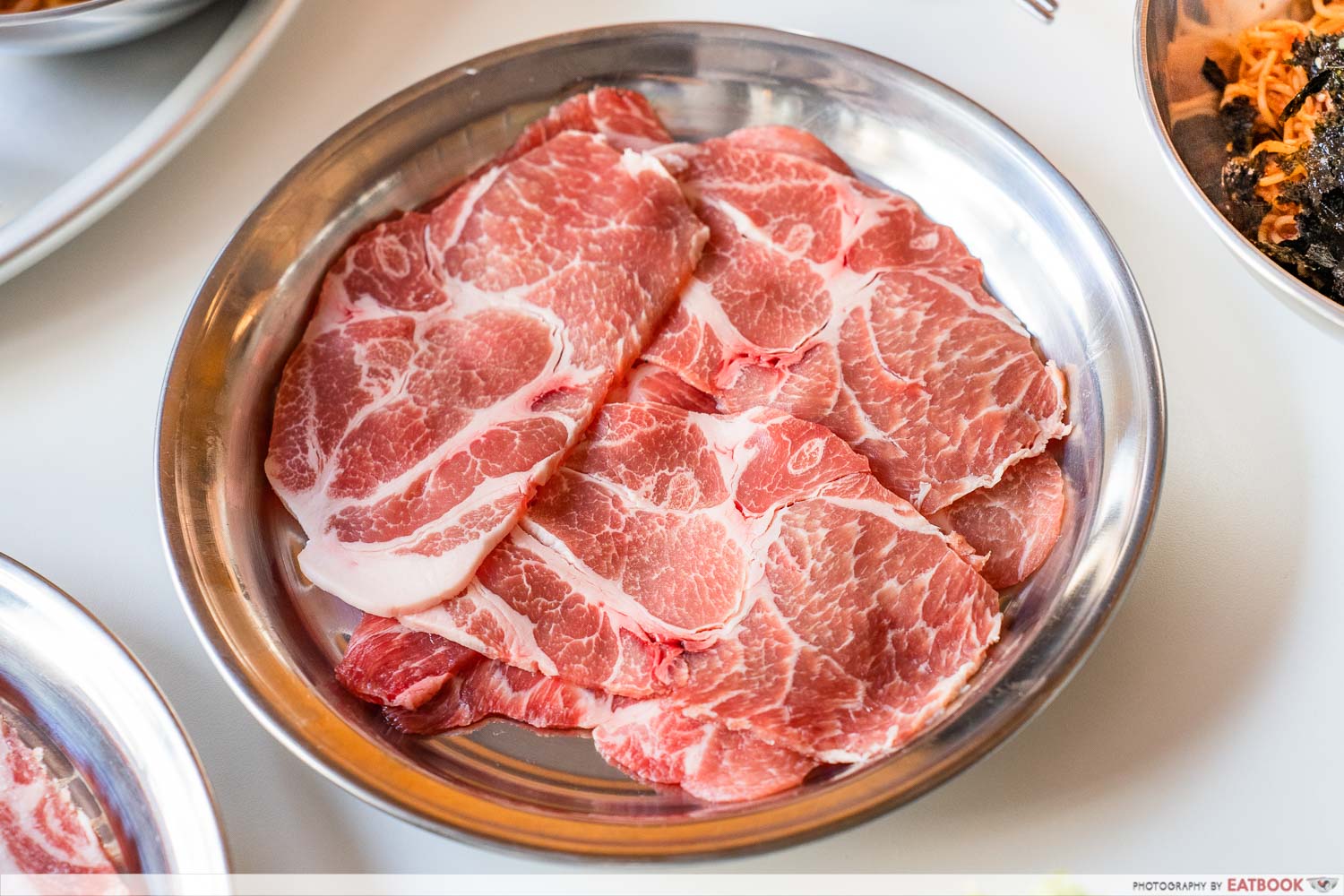 After we completely devoured the pork belly, the staff proceeded to grill the pork collar. Although pork collar has a leaner texture when compared to pork belly, it's known for its beautiful marbling and delicious tenderness.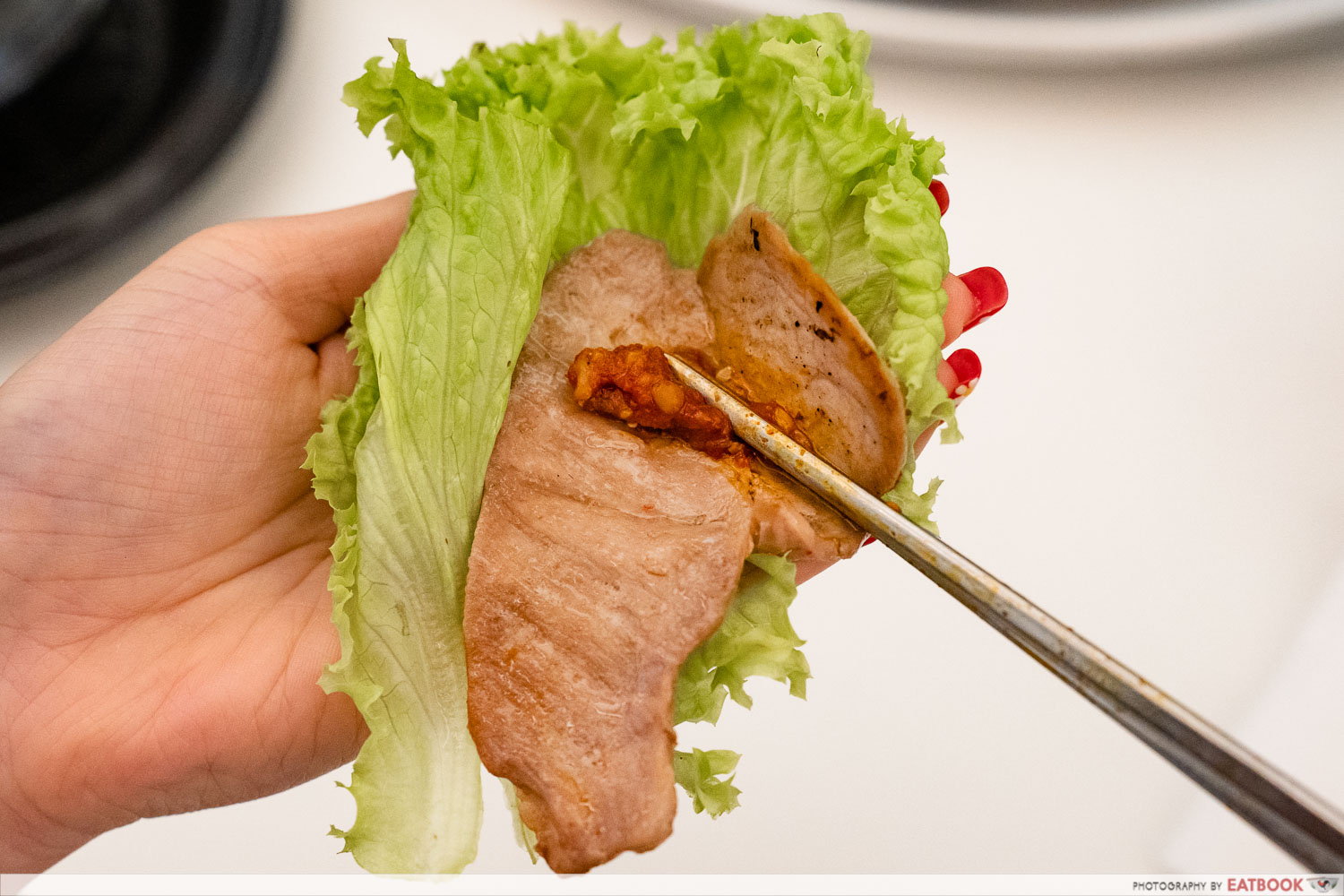 The pork collar was cooked slowly over a low fire, allowing the meat to retain its moisture and succulence. I enjoyed the pork with crisp lettuce and a dollop of spicy chilli paste. The meat, though tender, was a tad bland on its own, and was easily overpowered by the stronger flavours of the spicy sauce.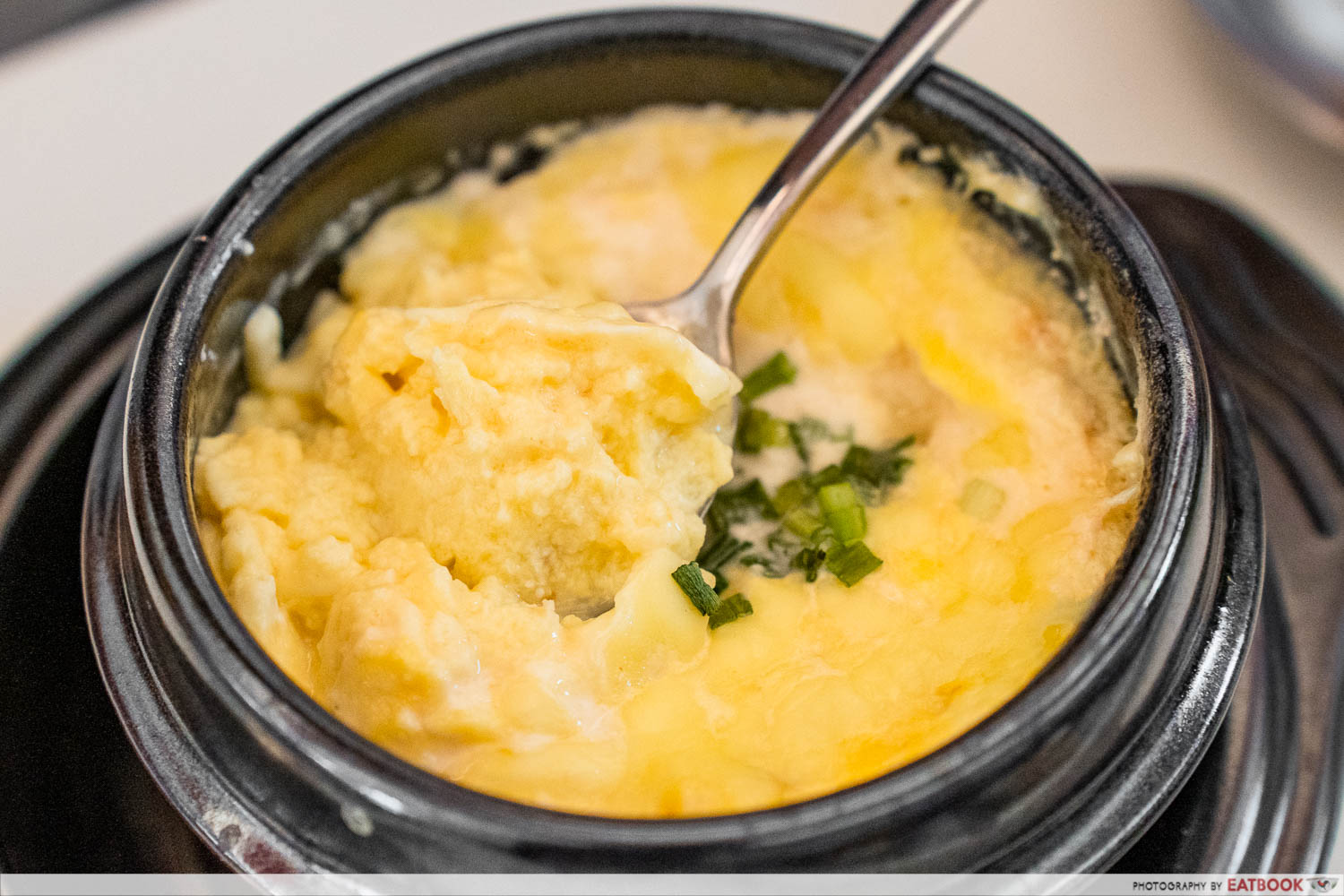 While enjoying the meats, I also helped myself to the Mentaiko Cheese Steamed Egg, which reminded me of a fluffy egg porridge. Unfortunately, the dish was too watery for my liking—I would've preferred it cheesier and creamier. I could hardly taste the mentaiko flavours, which were extremely subtle to the point that I wondered if I had gotten the wrong order. However, it still made for a comforting, eggy dish that warmed my stomach on that rainy day.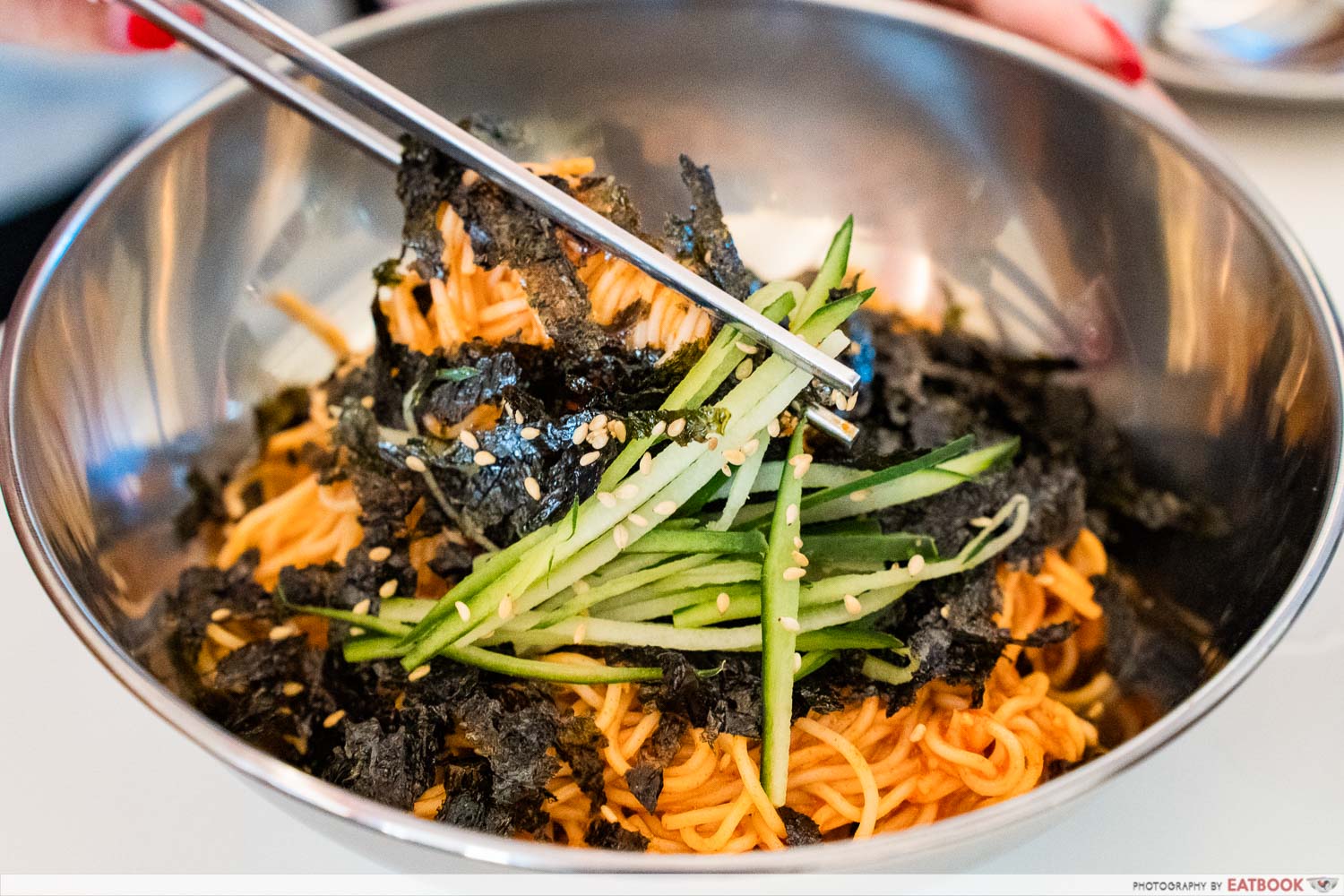 Next was the Spicy Cold Noodles. Despite its name, the noodles were more sweet than spicy, with sesame oil and seaweed being the most discernable flavours. I liked how the soft noodles were coated thoroughly with the red paste, which had a refreshing tang that helped curb my impending food coma.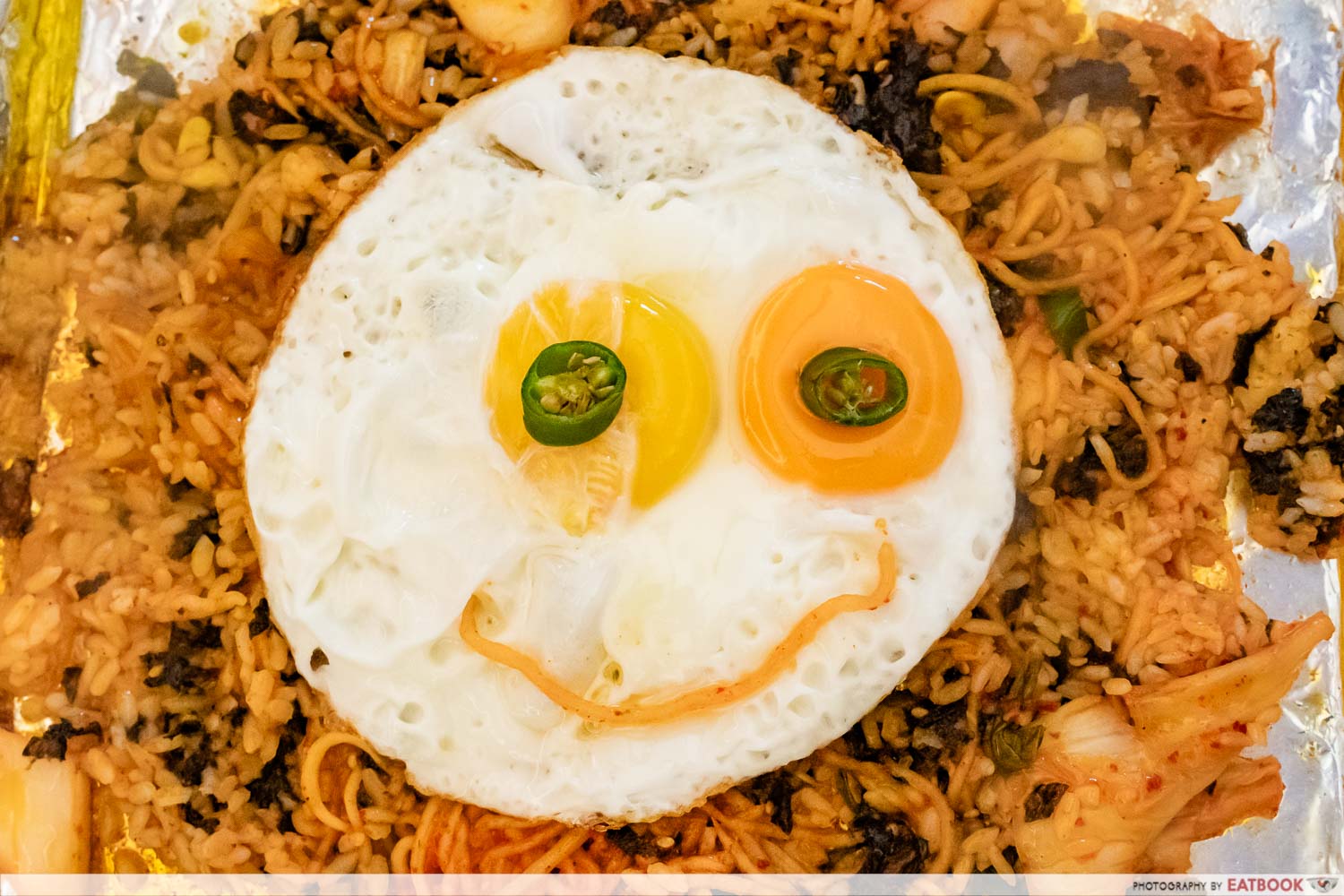 We ended the meal with the Cheese Fried Rice ($12), which was hands down my favourite dish of the night. The fried rice was made by stirring all remaining side dishes together on the hot plate, before topping it with additional seaweed and rice. The result—a bowl of sizzling goodness with smoky wok hei similar to that of claypot fried rice. We finished every last bit of it.
Daejim Review: Korean BBQ With Soy-Marinated Raw Crabs And Mozzarella Scallops In Tanjong Pagar
Ambience at Seoulizm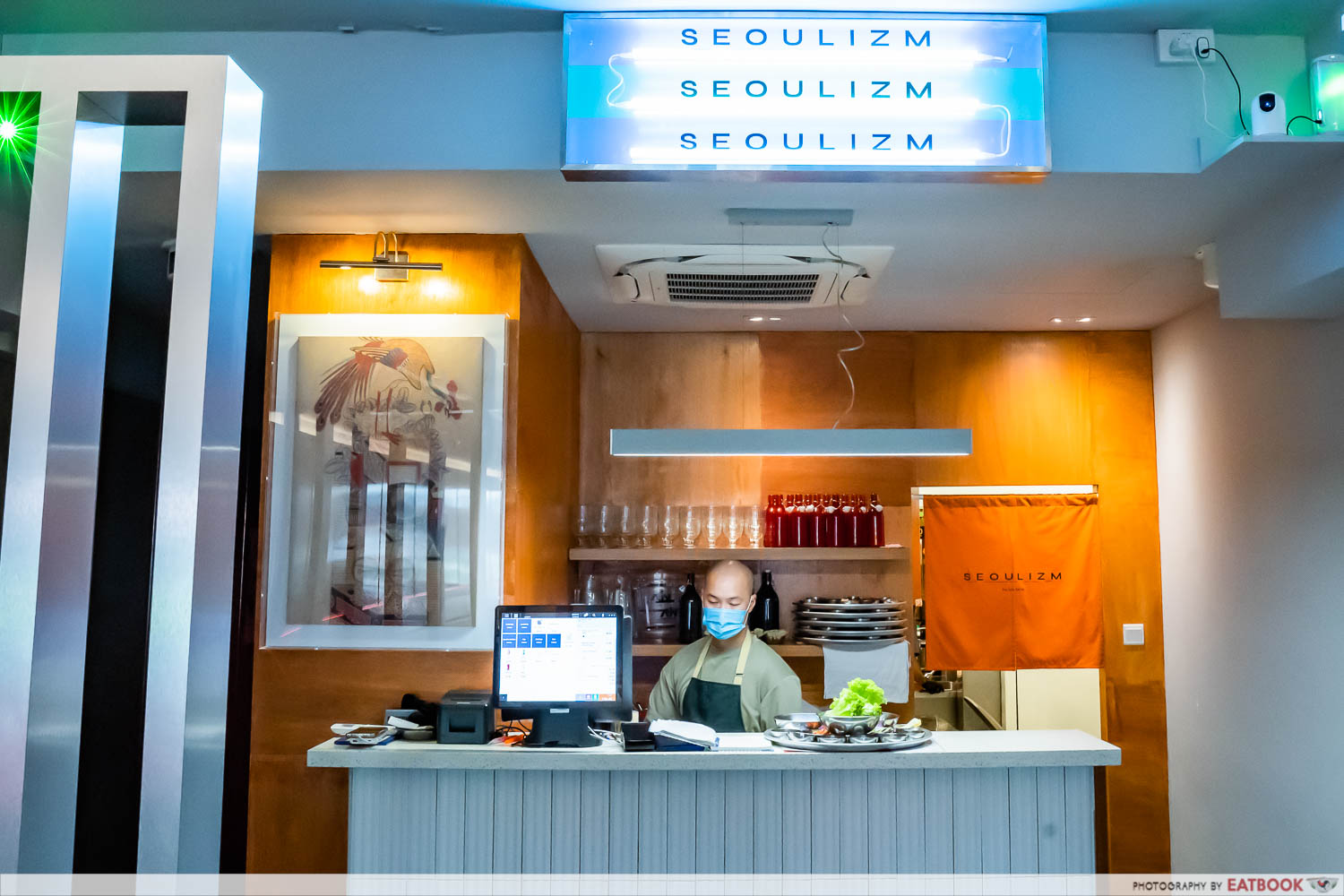 Seoulizm exudes the vibe of a hip Korean barbecue restaurant from the 1980s. The space features a fairly minimalist interior complete with neon lights and illustrated posters of Seoul plastered on the walls. Very often, I caught myself swaying to the K-pop hits that played in the background as I stuffed my face with kimchi.
During our visit, my colleague and I were the only Singaporeans present, with our surrounding tables fully occupied by Korean patrons. I suppose this is always a good sign when you're eating at a Korean restaurant!
Seoulizm is a six-minute walk from Tanjong Pagar MRT Station.
The verdict
I left the restaurant with a full belly and an earworm that I couldn't shake off for the rest of the night. While this isn't the best Korean restaurant I've dined at, there are many plus points for visiting Seoulizm, namely the affordable prices, decent portions, and great vibes. Looks like I won't be thinking twice about where to have dinner the next time I'm in Tanjong Pagar!
If you're looking for more K-BBQ in the area, check out our best Korean restaurants food guide. Else, check out our Dopa review for nut-based ice cream flavours to indulge in after dinner.
Address: 28 Tanjong Pagar Road, Singapore 088451
Opening hours: Mon-Sat 5:30pm to 11pm, Sun 5:30pm to 9:30pm
Tel: 8042 8025
Website
Seoulizm is not a halal-certified eatery.
15 Best Korean Restaurants In Singapore For K-BBQ, Tteokbokki Buffets And More
Photos taken by Casandra Nicholas.
This was a media tasting at Seoulizm.
Seoulizm Review: Retro-Themed K-BBQ Spot With Affordable Iberico Pork And Mentaiko Steamed Egg
Seoulizm Review: Retro-Themed K-BBQ Spot With Affordable Iberico Pork And Mentaiko Steamed Egg -

7.5/10
Summary
Pros
– Affordable bbq sets and Korean main dishes
– Convenient location
– Relaxing ambience
– Friendly and helpful staff
Cons
– Limited items on the menu
– Iberico pork flavours are too mild
Recommended dishes: BBQ Couple Set ($68), Spicy cold noodles ($12), Cheese Fried Rice ($12)
Opening hours: Mon-Sat 5:30pm to 11pm, Sun 5:30pm to 9:30pm
Address: 28 Tanjong Pagar Road, Singapore 088451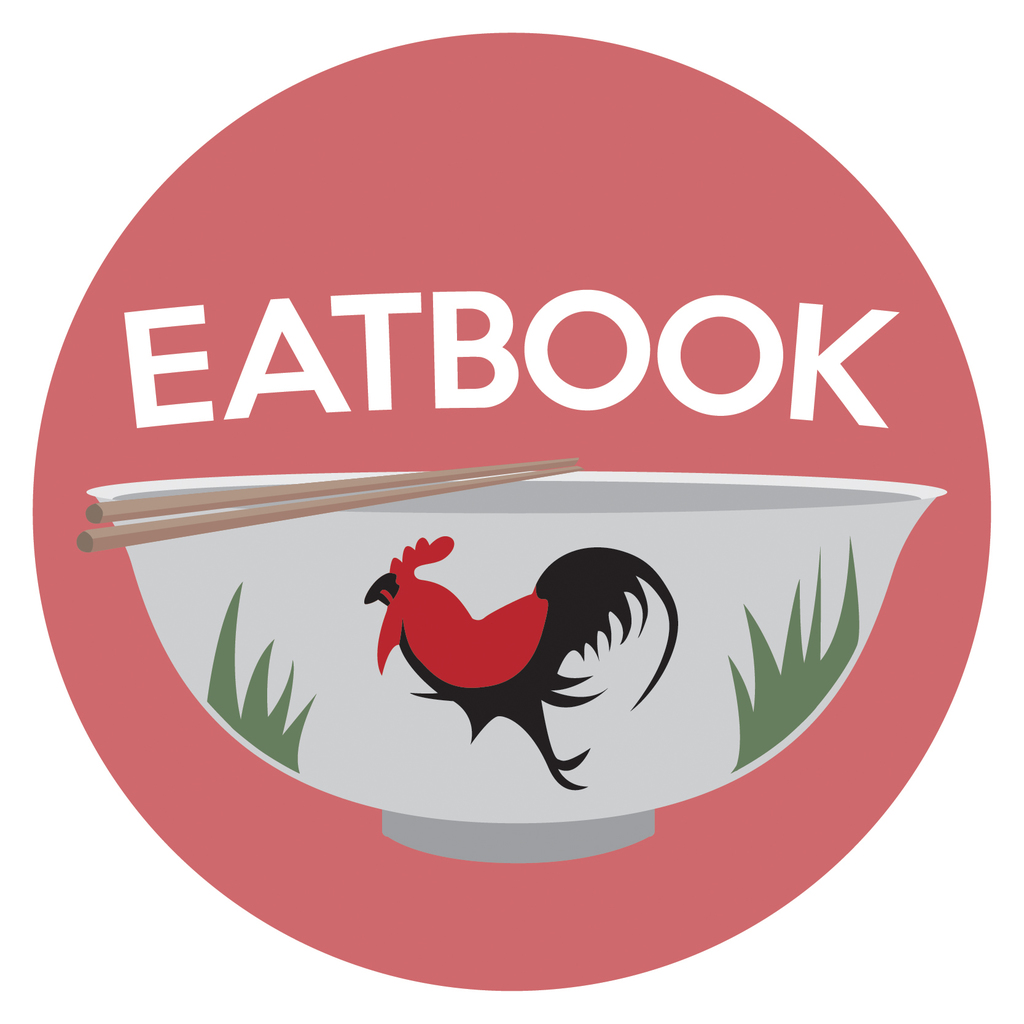 Drop us your email so you won't miss the latest news.