Shang Hai Fried Xiao Long Bao has sheng jian bao in Chinatown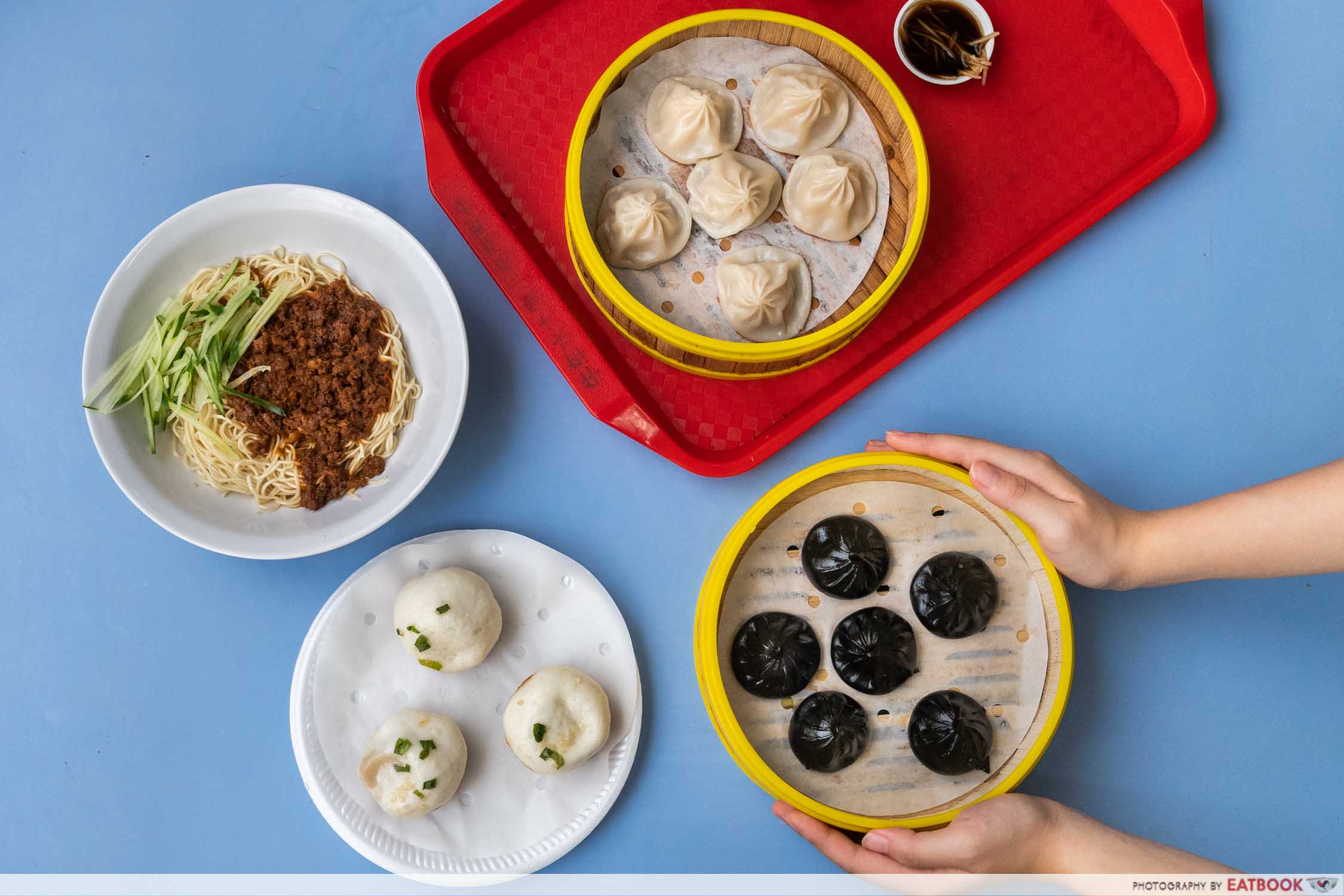 Back in uni, my Chinese housemates introduced me to the magic of sheng jian bao: large meat buns that are pan-fried for an extra crispy bottom. These aren't as common in Singapore as xiao long bao (XLB), so when I heard of Shang Hai Fried Xiao Long Bao in Chinatown Complex, I was excited to see if I'll have a new spot to satisfy my cravings for a good sheng jian bao.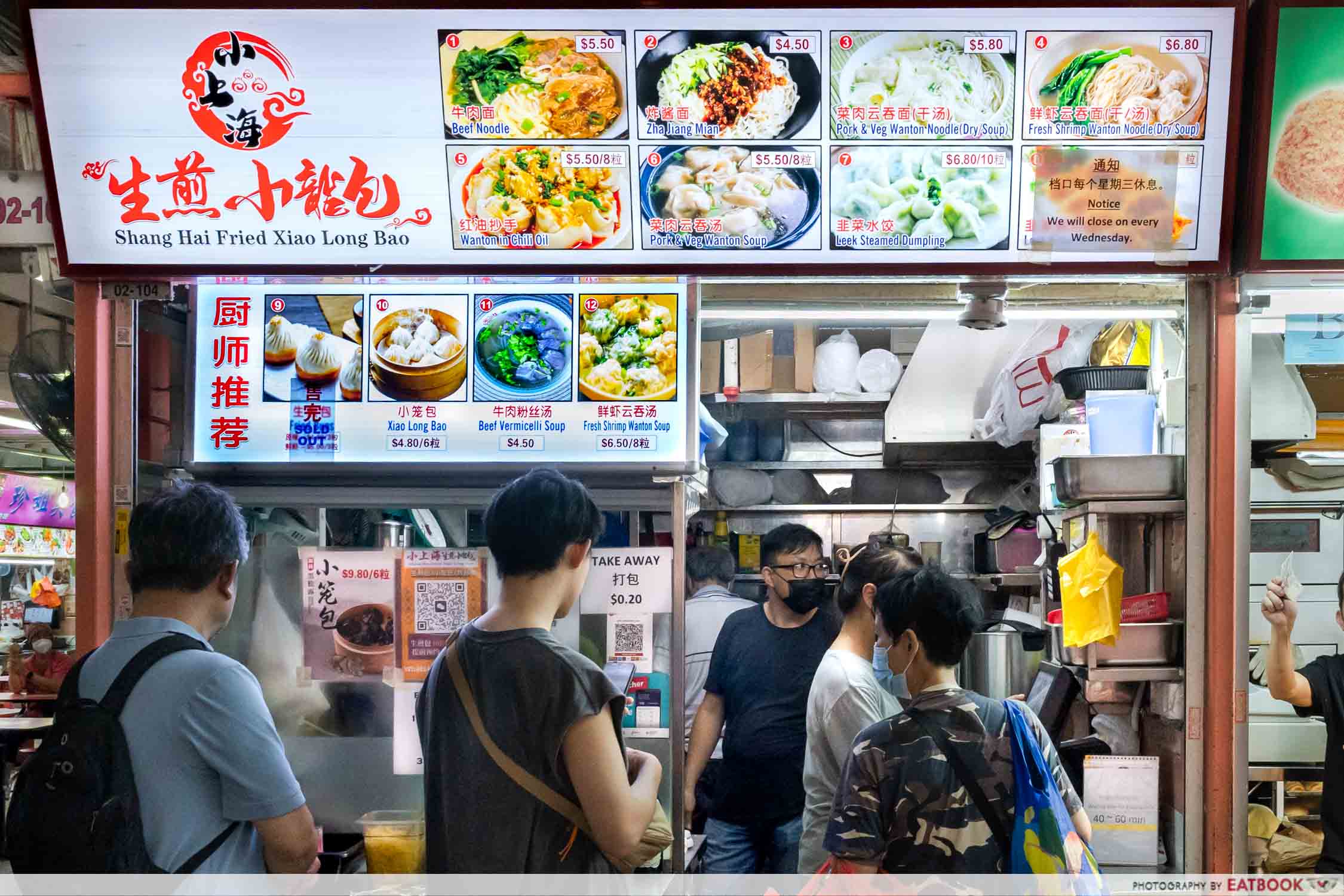 Other than the unusual offering of sheng jian bao, this stall is notable for being helmed by an ex-Crystal Jade and Paradise Group chef with over 25 years of experience making dim sum. They've only been open since last year, but the long queue that stretches around the corner could match even that of the nearby ex-Michelin star Hawker Chan.
15 Chinatown Complex Food Stalls For Cheap Xiao Long Bao, Michelin-Approved Chicken Rice And More
Food at Shang Hai Fried Xiao Long Bao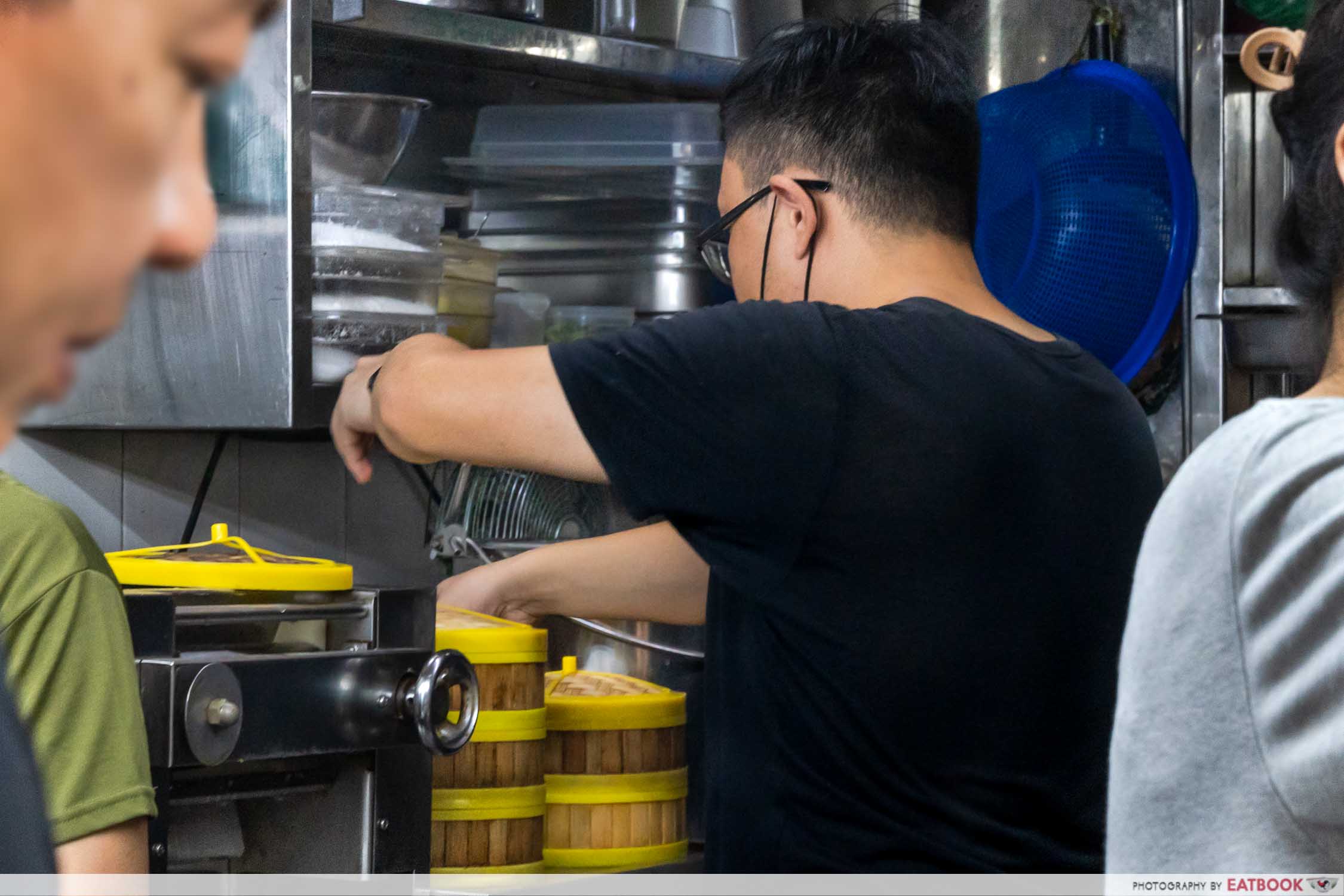 From my experience, the queue here moves relatively fast and the team of hawkers are incredibly efficient in preparing the endless baskets of dumplings ordered by hungry customers. They do seem to prepare some of the more popular items in advance though, as I was served the XLB and sheng jian bao immediately, but given a buzzer and told to return later for my zha jiang mian and truffle xiao long bao.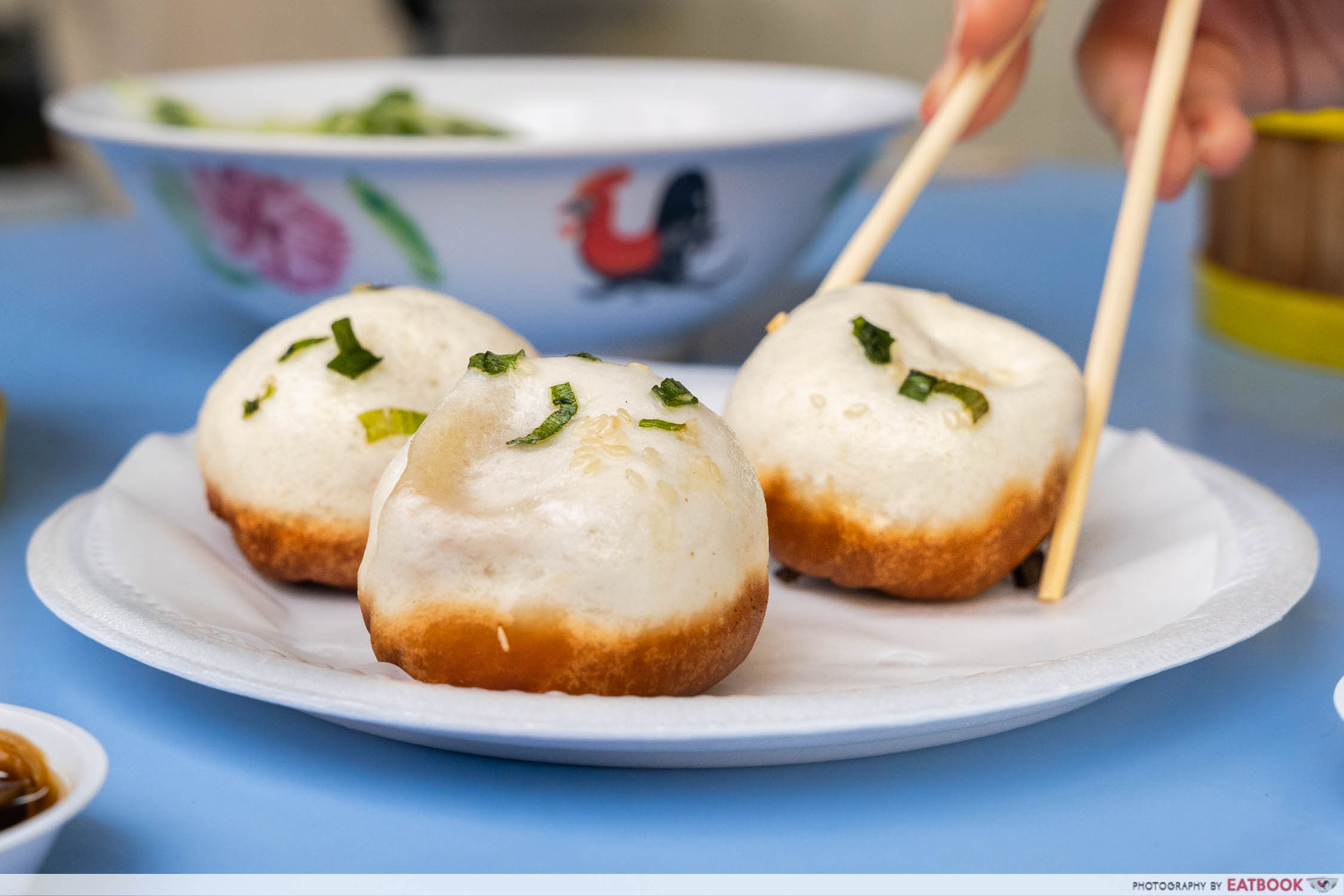 The Sheng Jian Bao here are sold in threes, with pork and shrimp versions. We got the original pork bao, which was sold for $4. That meant one sheng jian bao here was roughly $1.30, which is quite affordable when compared to those sold at other places.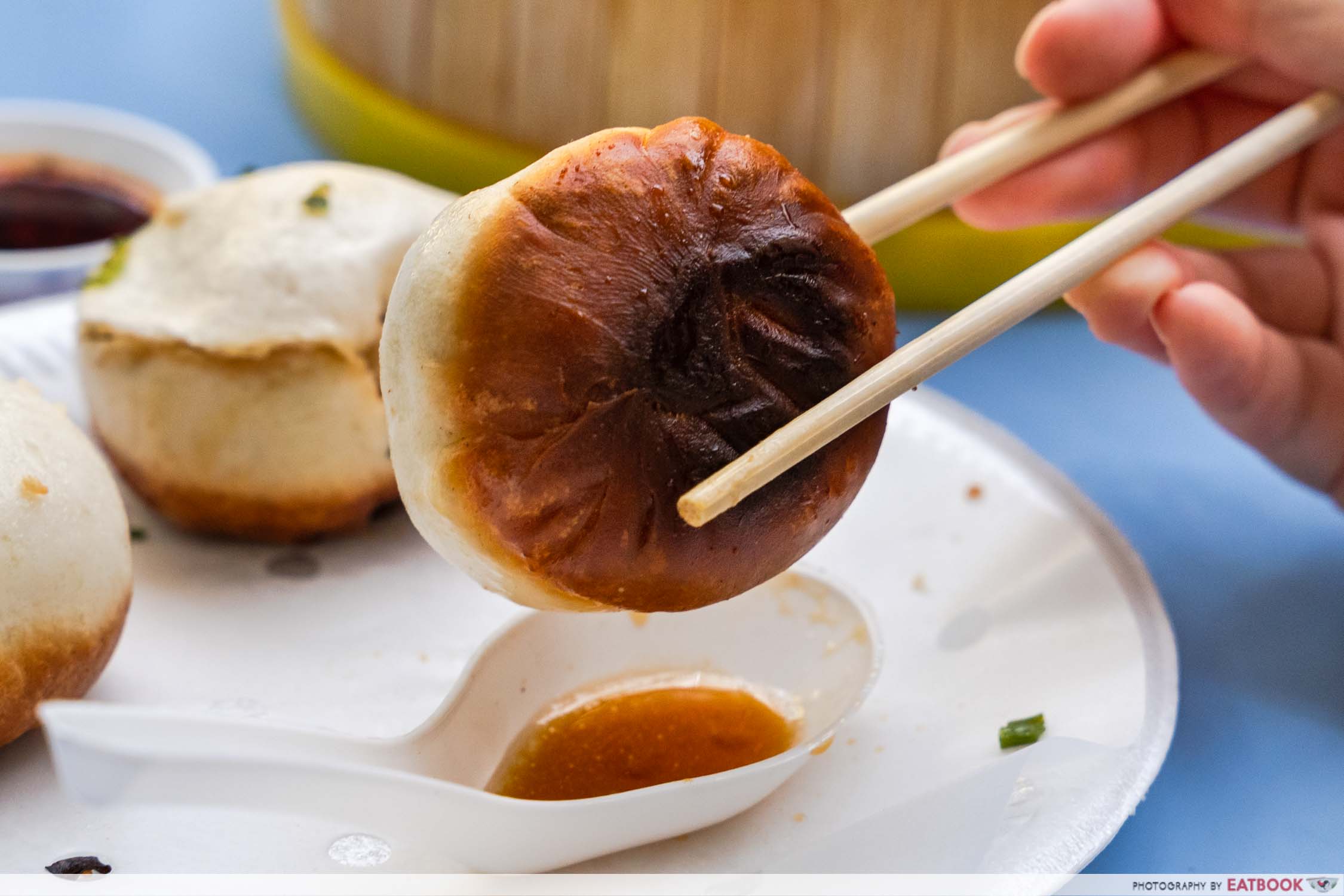 Sheng jian bao skin is doughier and thicker than xiao long bao, to allow for the bottom to be pan-fried till firm and crispy, creating a great contrast to the rest of the softer bao skin. This was also my favourite part of the stall's sheng jian bao, as the browned bottom of the bao produced crisp cracking sounds as I bit into the skin that was neither too thick nor too thin.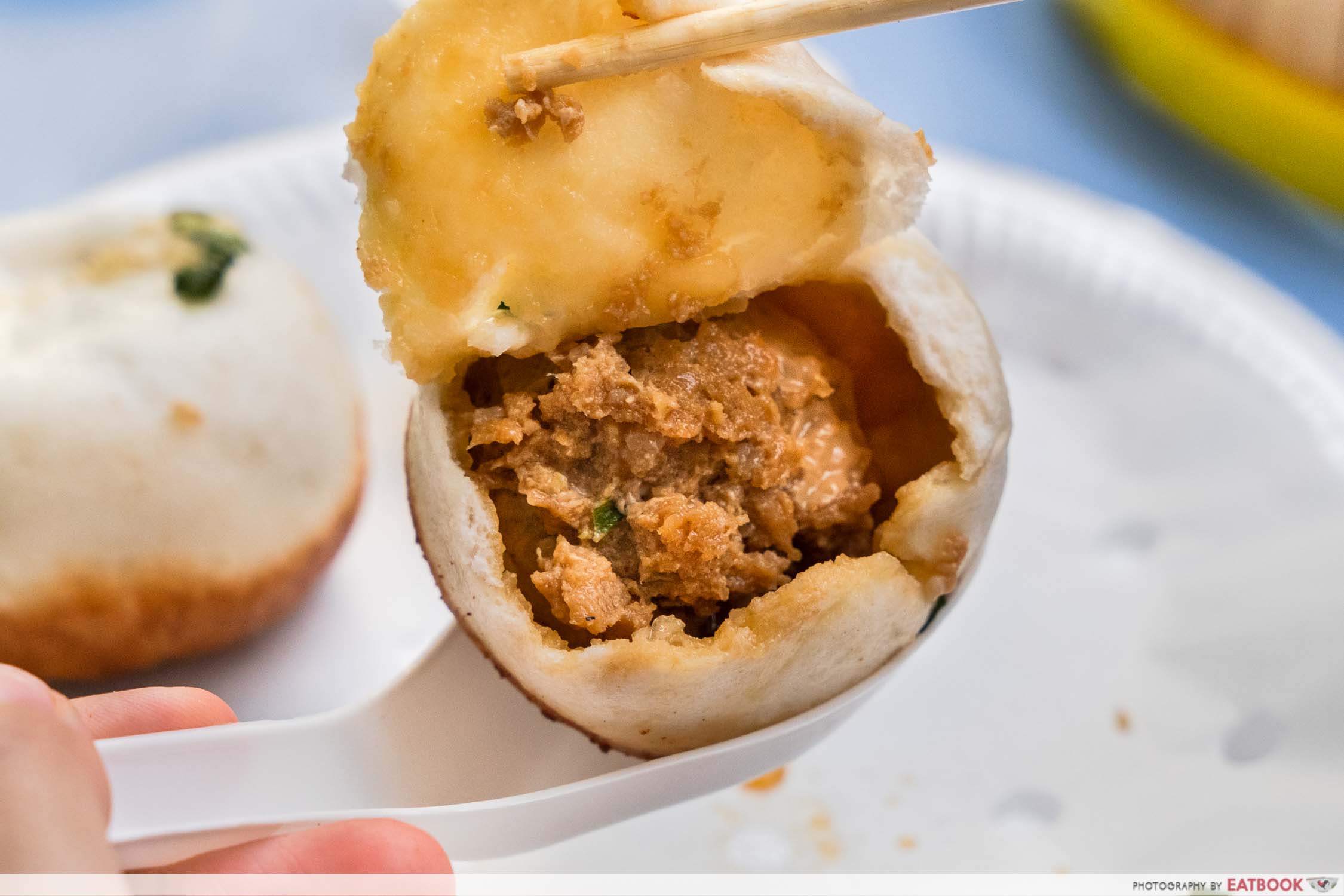 I was disappointed that the bao here was not bursting with the hot, flavourful soup on the first bite that I'd experienced with other sheng jian bao in the past, though it's unclear if this was due to a lack of soup in the bao or what soup there was having been absorbed by the bao skin. On the bright side, the minced, marinated pork filling was incredibly juicy and flavourful, though a little coarser than I was used to.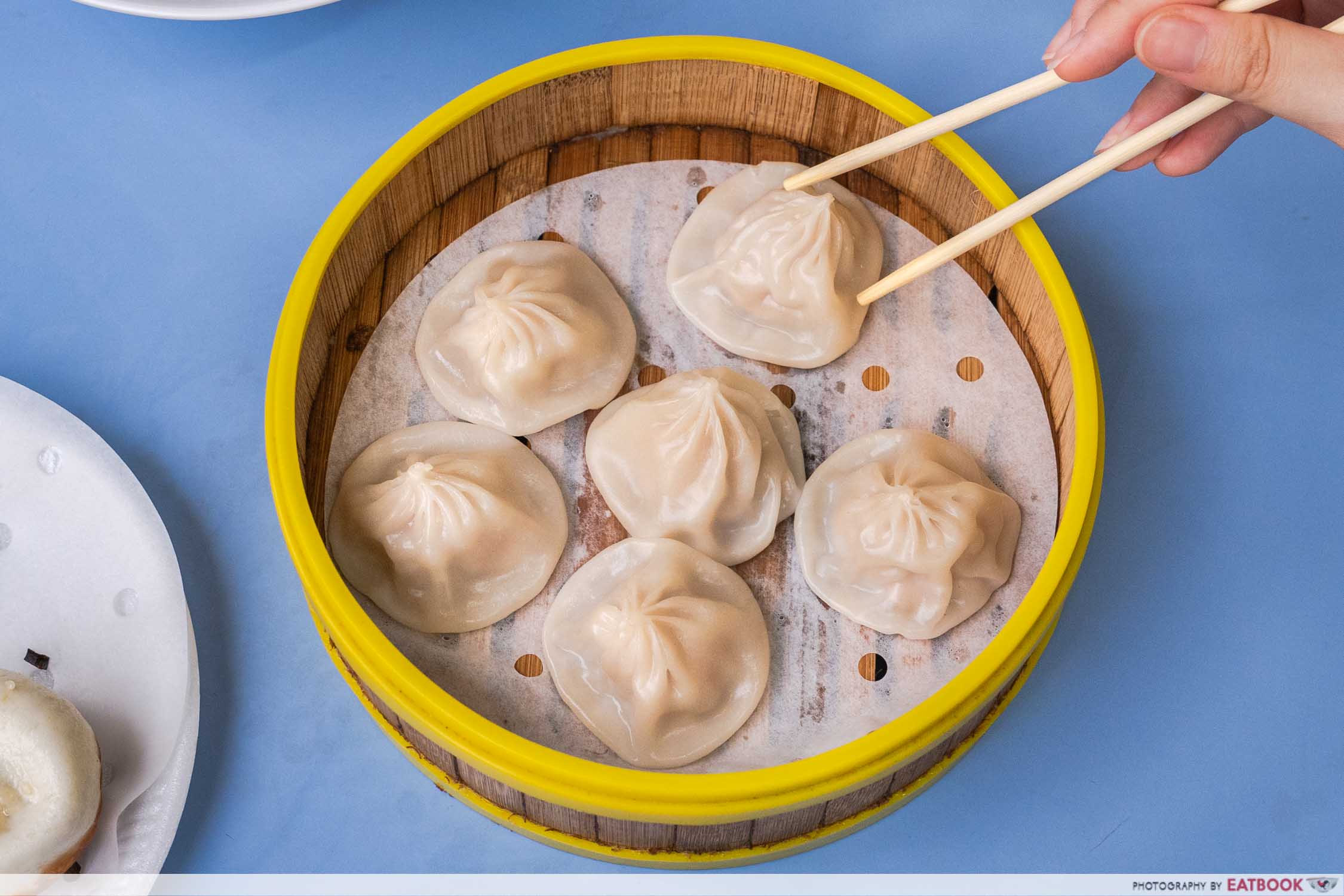 We also tried the Xiao Long Bao ($4.80), which were a little flat, but otherwise looked like your regular XLB.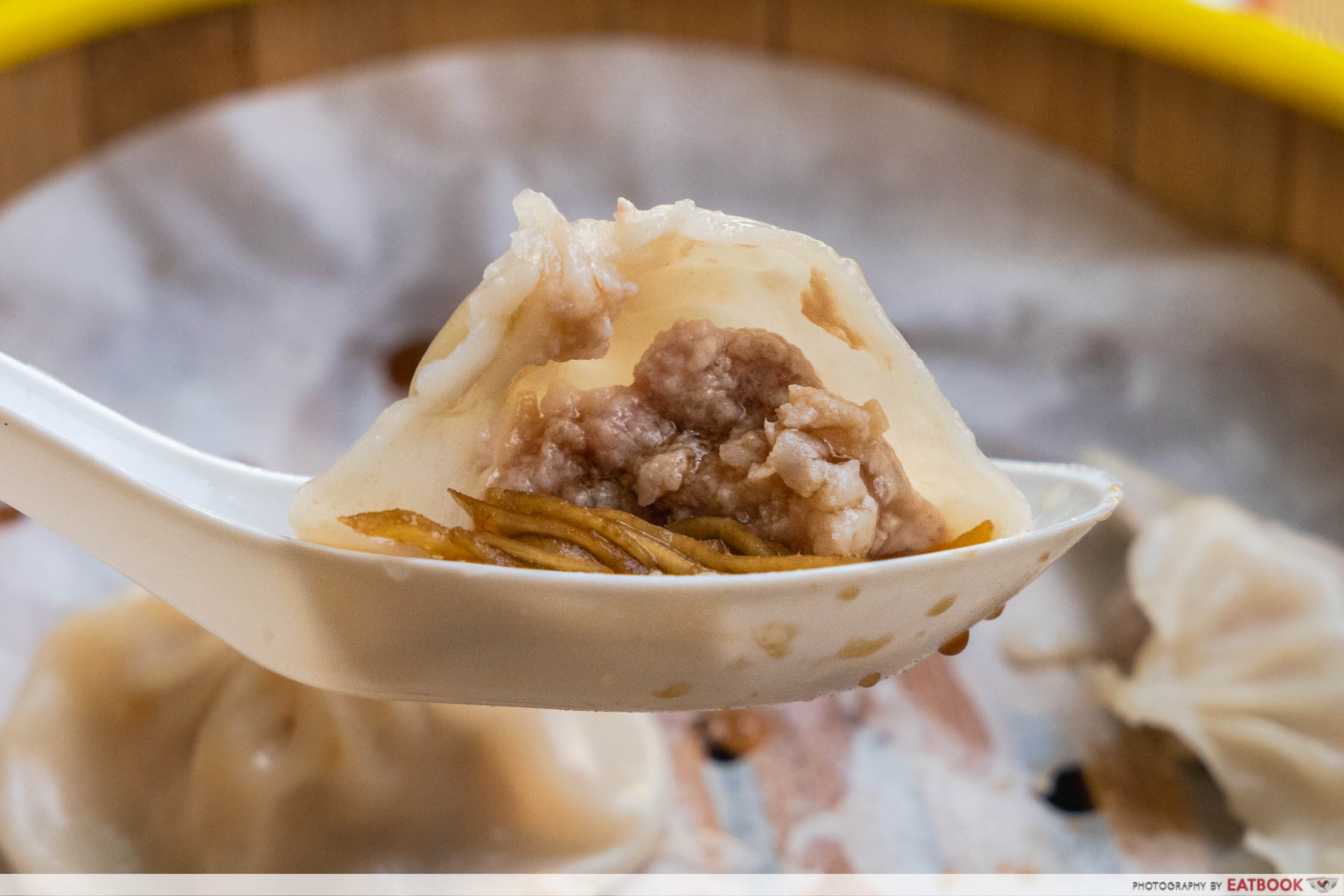 The XLB here had a very generous meat-to-skin ratio, but definitely needed more soup. Like the sheng jian bao, I felt that the skin was great: not too fragile, but not too thick either. The filling was well-marinated, but had an oddly coarse texture that wasn't to my liking.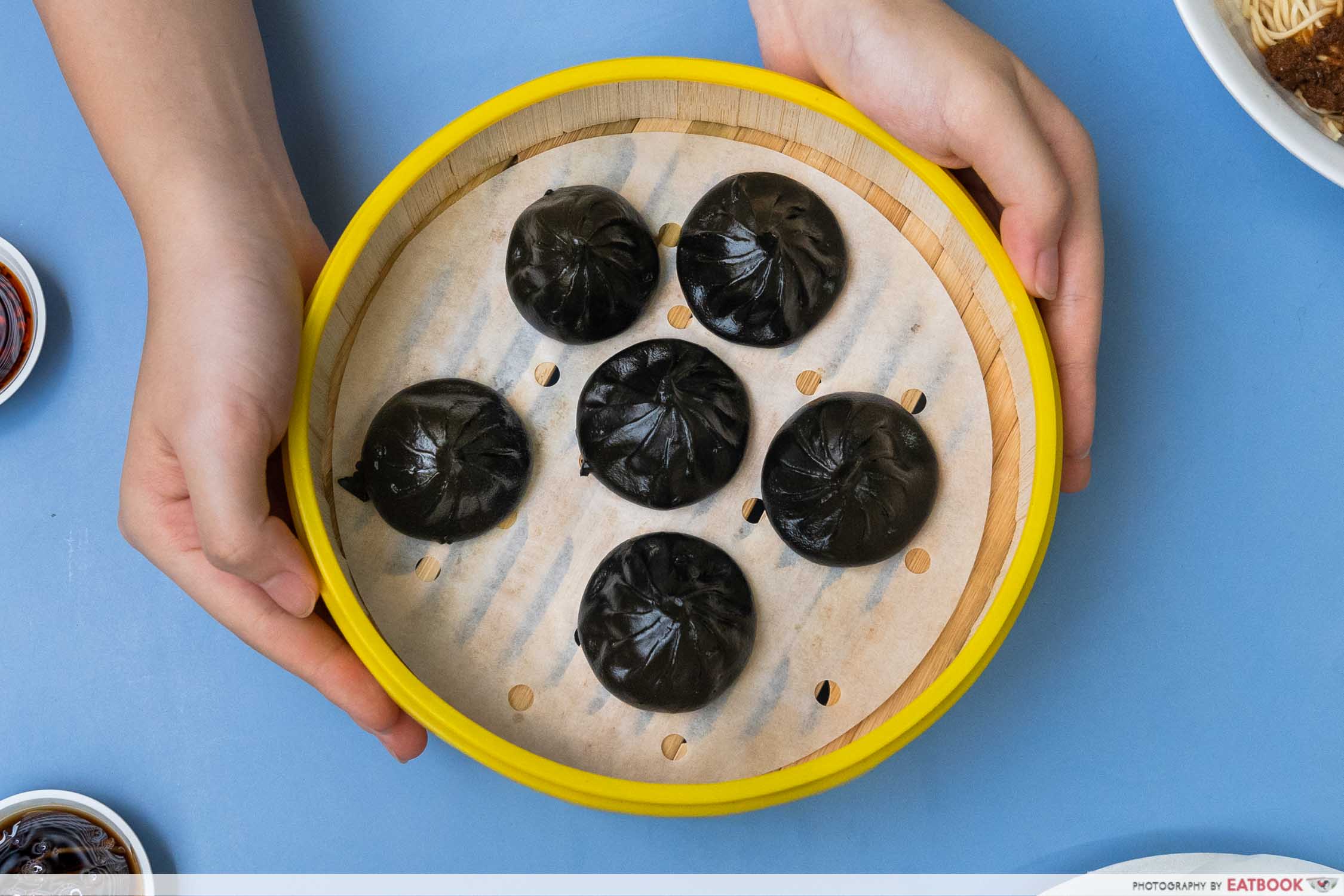 Tempted by the tiny picture pasted onto the glass storefront, we also got the Truffle Xiao Long Bao ($9.80). Unlike the regular XLB, we had to wait about 15 minutes for this XLB as they didn't have a fresh batch on hand. I was endeared by the fact that you could tell they were handmade, with the XLB all being slightly different in shape and size from each other.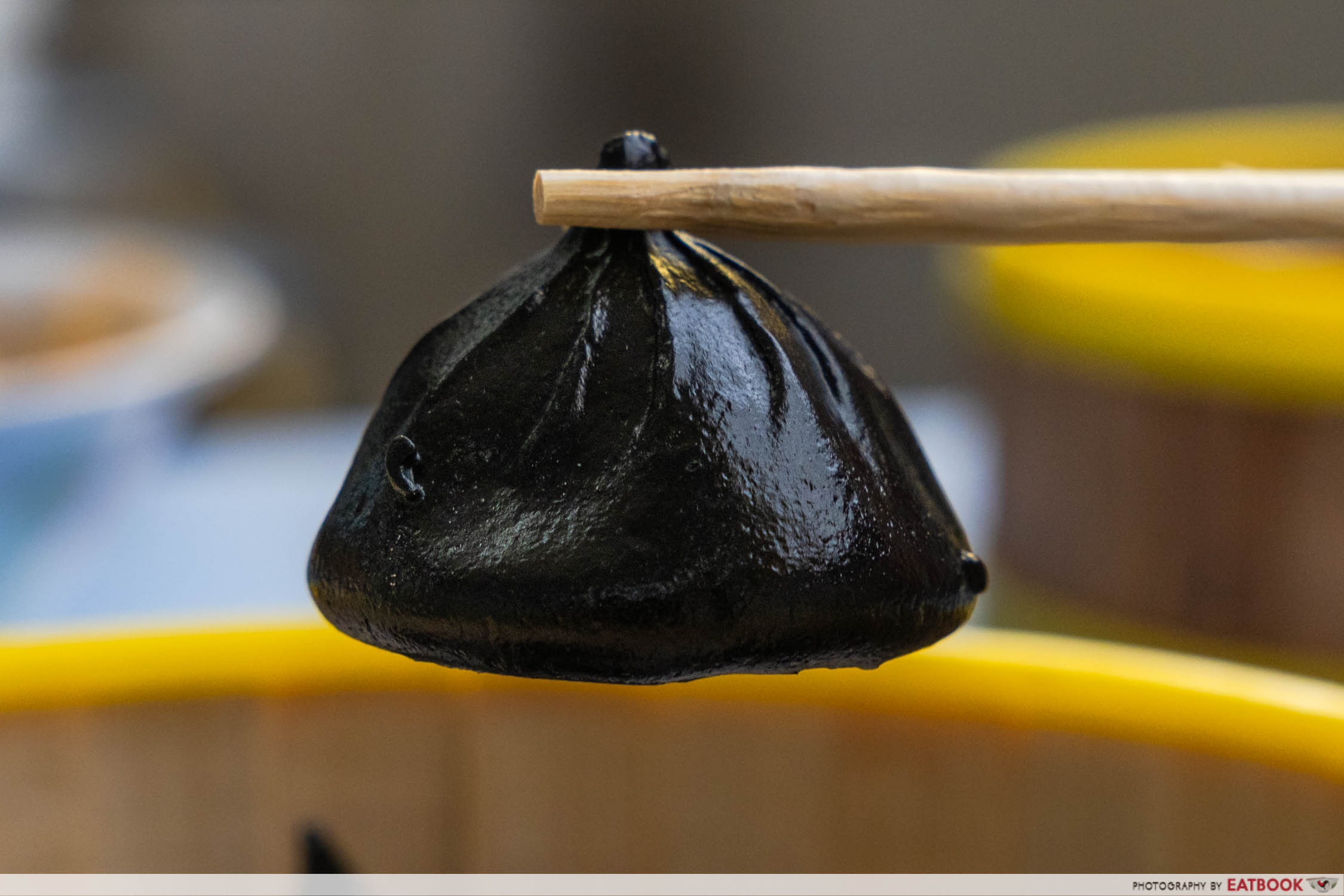 Compared to the regular XLB, these were far plumper, and the truffle aroma was also rather apparent, especially once we broke open the shiny, black skin.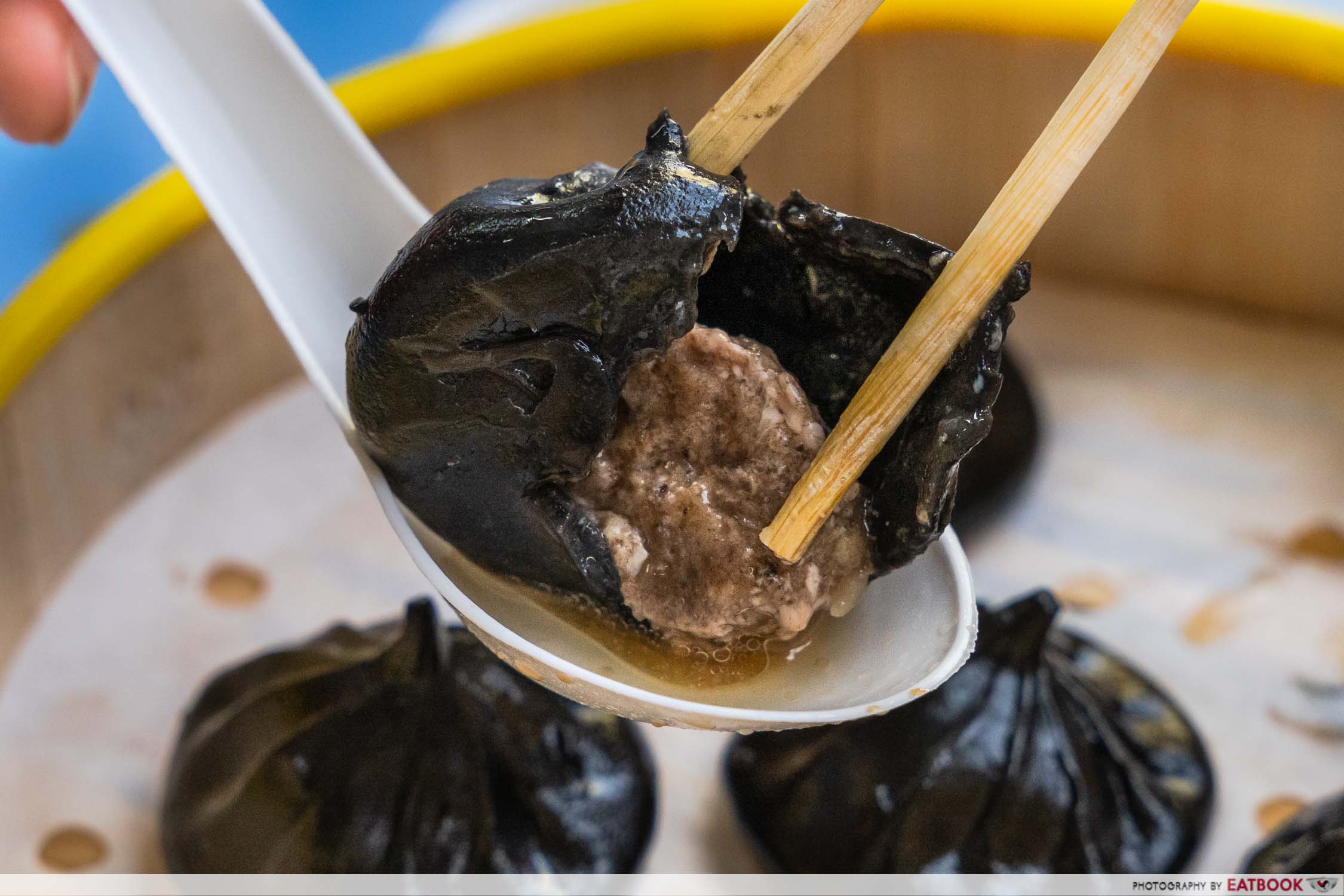 There was a lot more soup in the truffle version than the regular XLB, and that's where most of the truffle oil flavour comes from. I'm not a super huge fan of truffle, but admittedly the balance of soup to filling to skin ratio here was a lot better than the regular version. Whether spending over double the amount for this version of XLB is worth it is another question.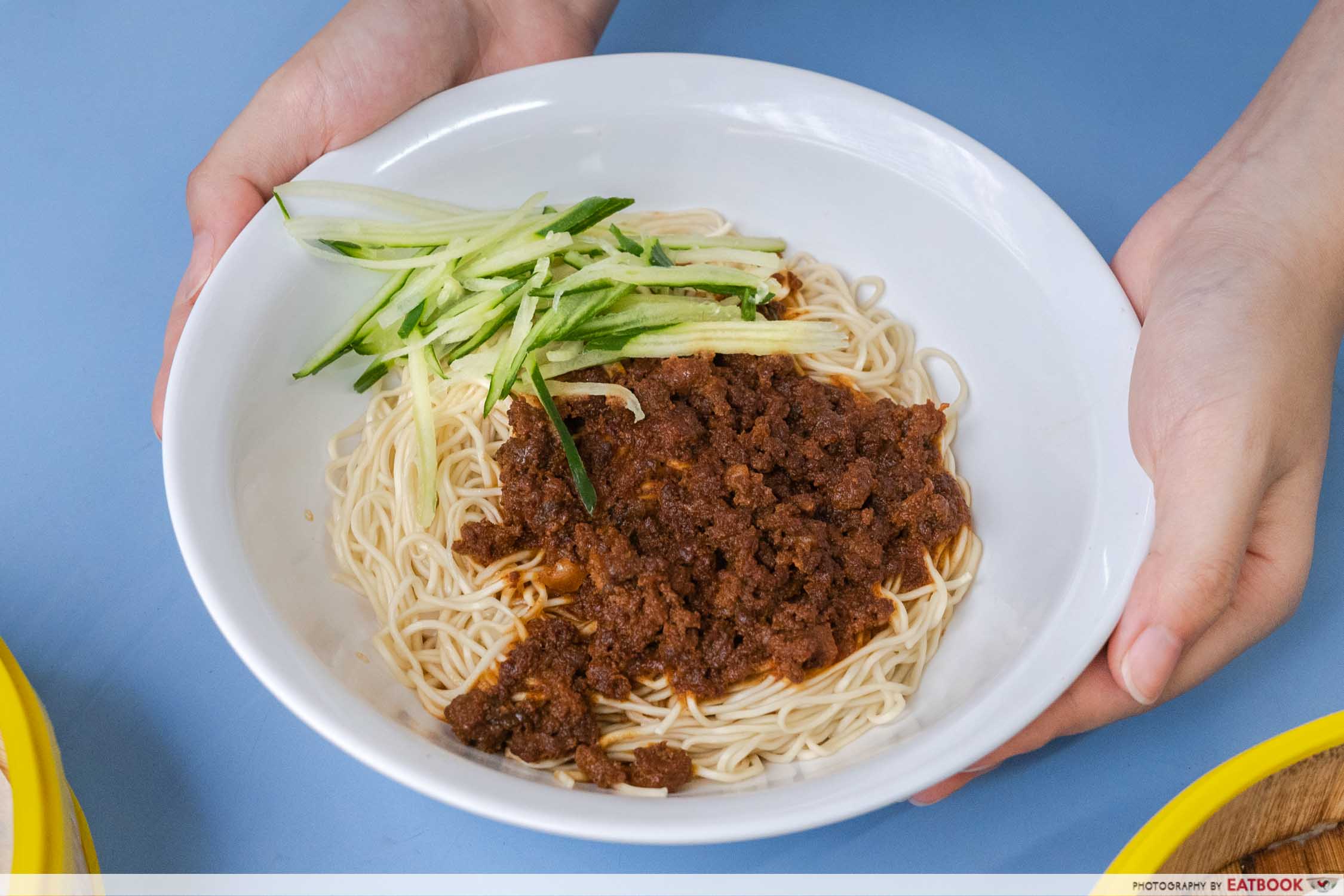 The Zha Jiang Mian ($5.80) looked a little dry when I came to collect it, but having heard good things about it beforehand, I was optimistic and reminded myself that looks could be deceiving.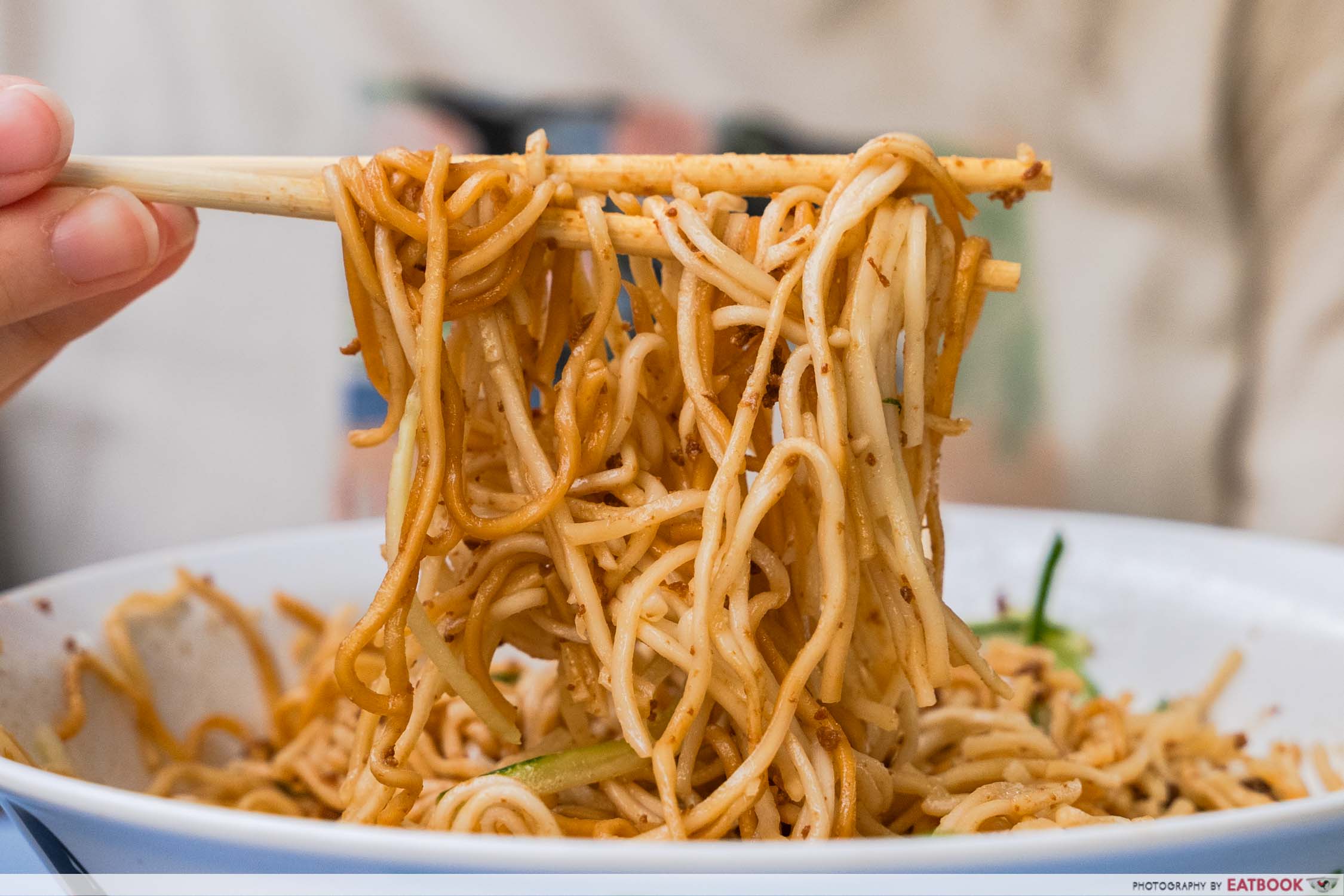 Unfortunately, the noodles were really too dry. We had been focused on finishing the XLB and sheng jian bao though, so perhaps it would have tasted better if we had tucked in immediately. I did enjoy the taste of the meat though, and tossing the noodles with a good amount of chilli oil added some moisture on top. It also gave it a pleasant, spicy aroma which I felt elevated the dish greatly. 
Rong Xing La Mian Xiao Long Bao Review: Guo Tie And XLB From $0.60 In Redhill
Ambience at Shang Hai Fried Xiao Long Bao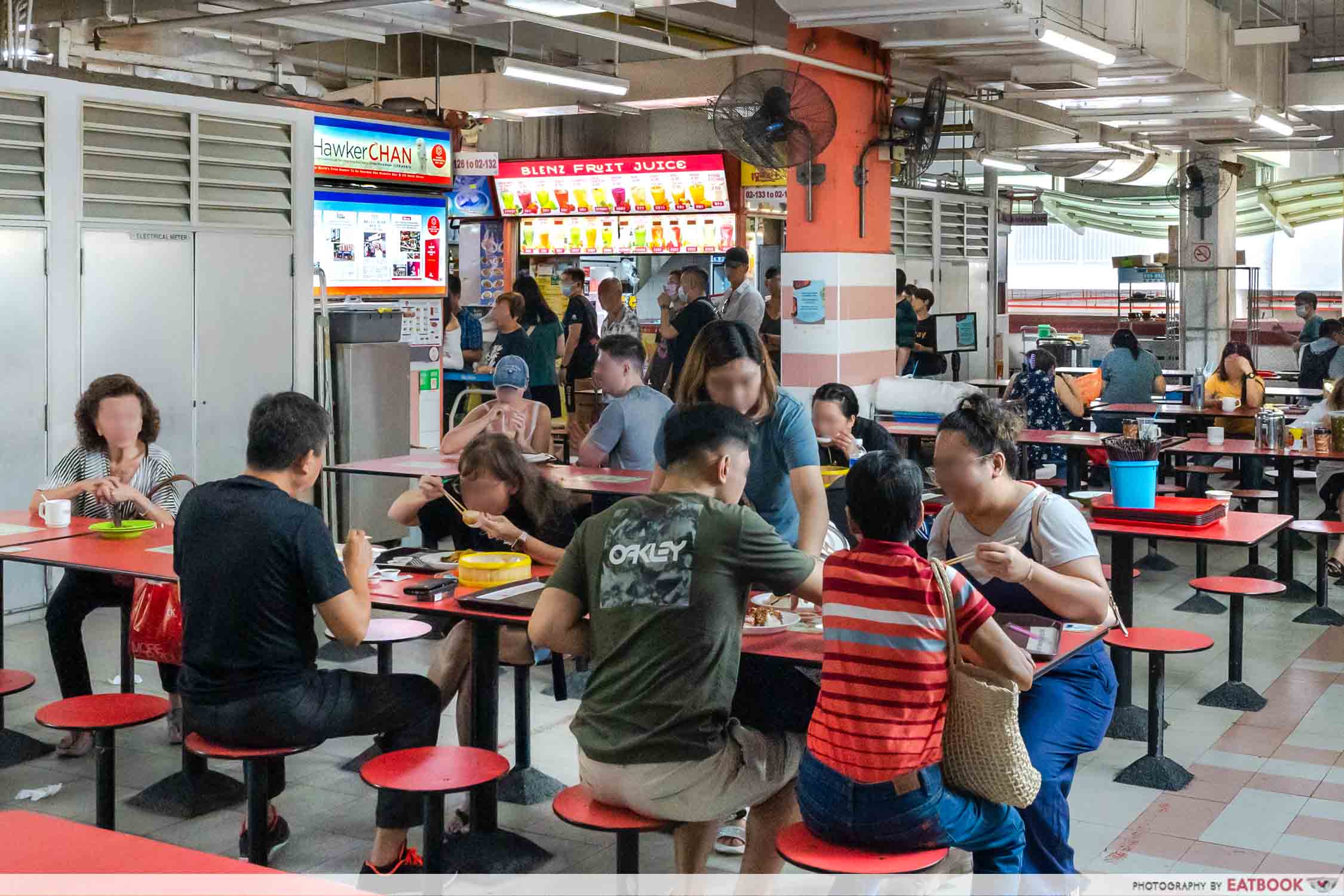 Shang Hai Fried Xiao Long Bao is located in Chinatown Complex, one of the island's largest hawker centres. Chinatown Complex is charming in a very specific way that sets it apart from your friendly neighbourhood hawker centre. Maybe it's the inherent griminess that seems to be a permanent fixture of the place, or the fact that it manages to feel both local and touristy as you dodge the horde of confused tourists and numerous ah pehs playing Chinese chess while smoking under the "No Smoking" sign. 
More importantly, it's a five-minute walk from Chinatown MRT Station, and it's large enough that you'll be able to find a seat even when it is extremely crowded. 
The verdict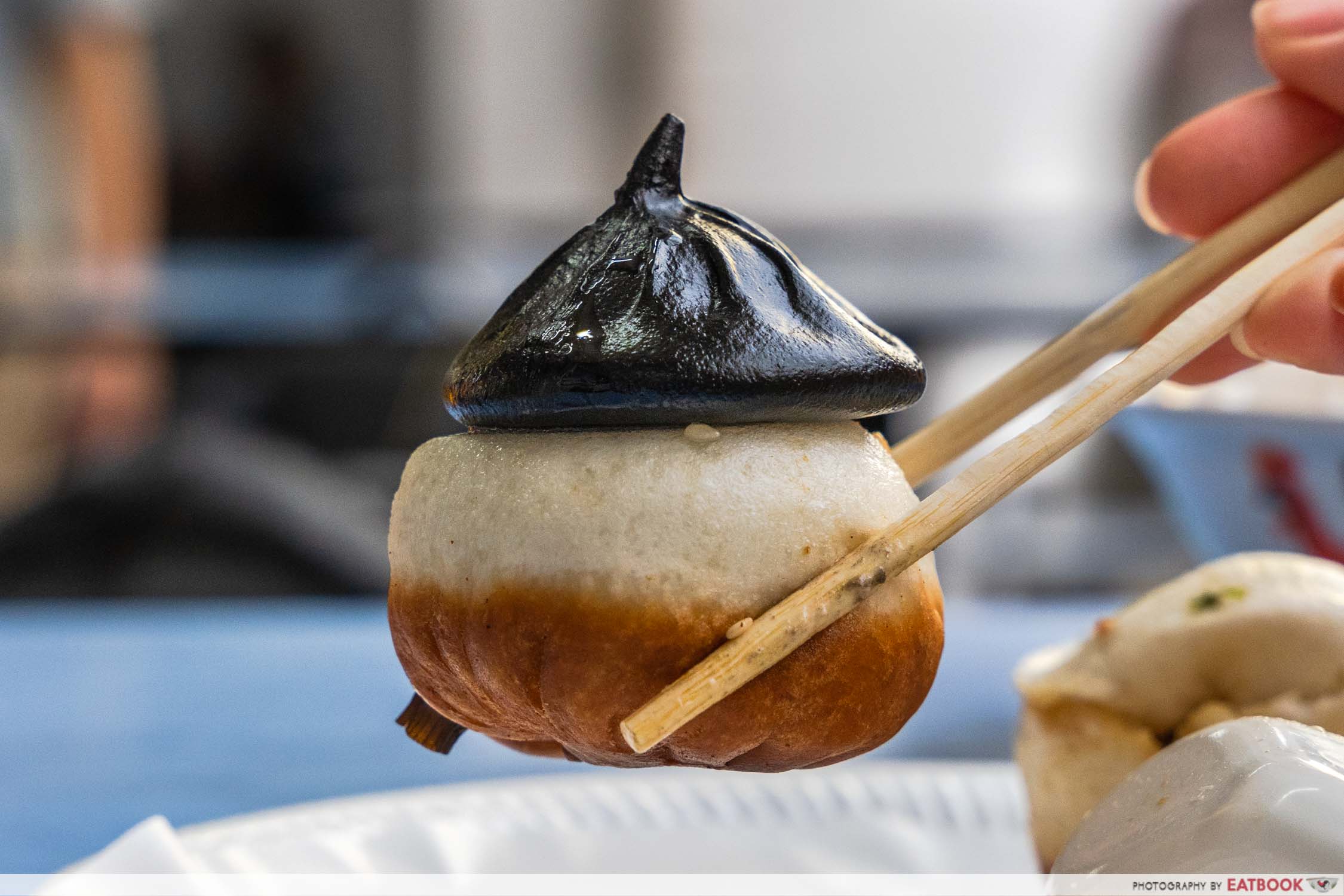 Well, I still haven't found a stall that can live up to the expectations set by my housemate's sheng jian bao, so I guess it's time for a heist to steal her secret recipe. Jokes aside, I do think that Shang Hai Fried Xiao Long Bao makes decent sheng jian bao and XLB, with particularly excellent skins and well-seasoned fillings. I only wish there was more soup in everything and that the texture of the minced meat could be finer. 
I'm not particularly inclined to brave their queue again, though my mum did inform me that the prawn-filled sheng jian bao tasted better in her experience, so perhaps I'll give this stall a second chance the next time I'm in the area. 
Check out our Rong Xing La Mian Xiao Long Bao review for a hawker stall with delicious XLB at just $0.60 a piece! Also, read our Chinatown Complex food guide for more stalls to try in the same hawker centre. 
Address: 335 Smith Street, #02-104, Chinatown Complex Market & Food Centre, Singapore 050335
Opening hours: Thurs-Tue 10:30am to 3:30pm, 5:30pm to 8:30pm
Shang Hai Fried Xiao Long Bao is not a halal-certified eatery. 
20 Best Chinatown Food Places For Cheap Hotpot Buffet, Michelin-Approved Curry Mee And More
Pictures taken by Tan Jia Hui
This was an independent visit by Eatbook.sg
Shang Hai Fried Xiao Long Bao Review: Popular Sheng Jian Bao By Ex-Crystal Jade Chef In Chinatown
Shang Hai Fried Xiao Long Bao Review: Popular Sheng Jian Bao By Ex-Crystal Jade Chef In Chinatown -

7/10
Summary
Pros: 
– Bao skin was expertly made
– Minced meat was flavourful in all dishes
Cons: 
– Zha jiang mian was dry
– You either get your food very fast or you'll have to wait very long
Recommended Foods: Sheng Jian Bao ($6), Truffle Xiao Long Bao ($9.80)
Opening hours: Thurs-Tue 10:30am to 3:30pm, 5:30pm to 8:30pm

Address: 335 Smith Street, #02-104, Chinatown Complex Market & Food Centre, Singapore 050335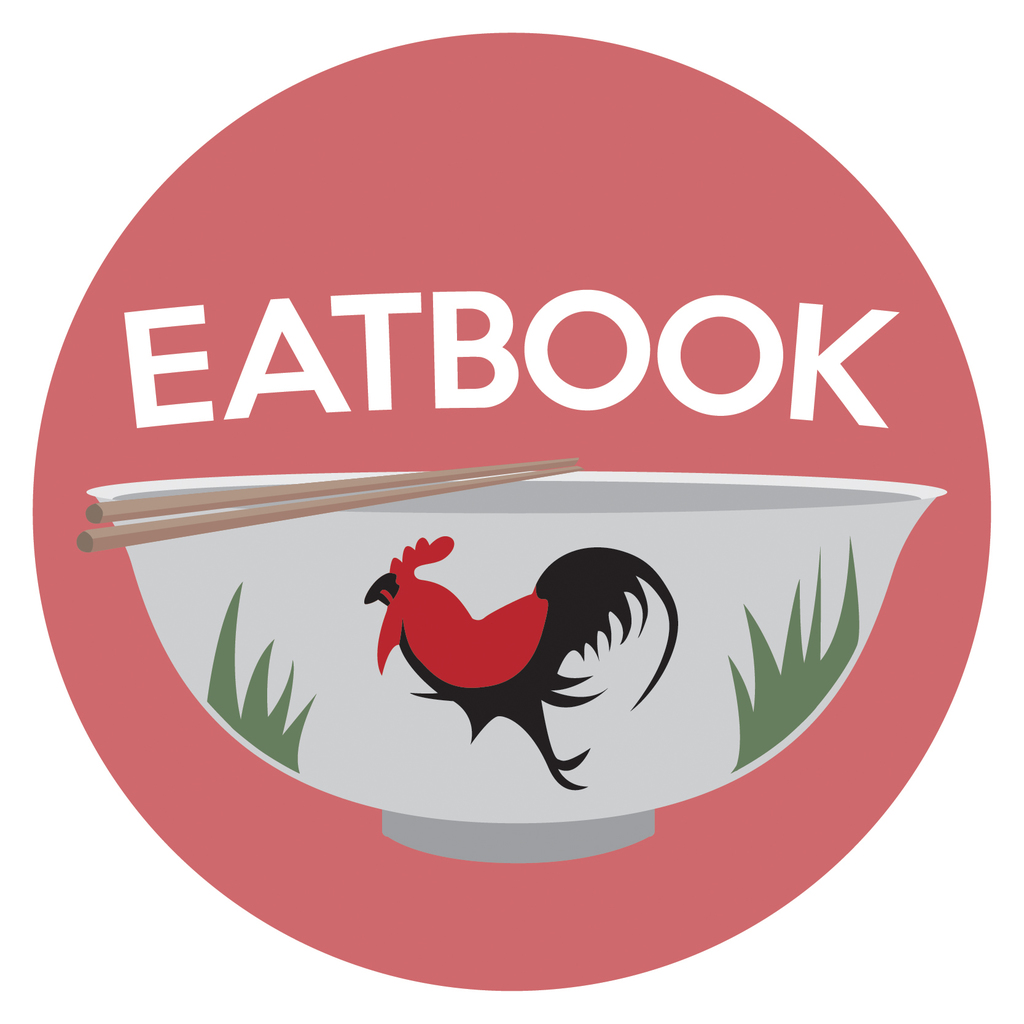 Drop us your email so you won't miss the latest news.