Shinjitsu Ramen at Toa Payoh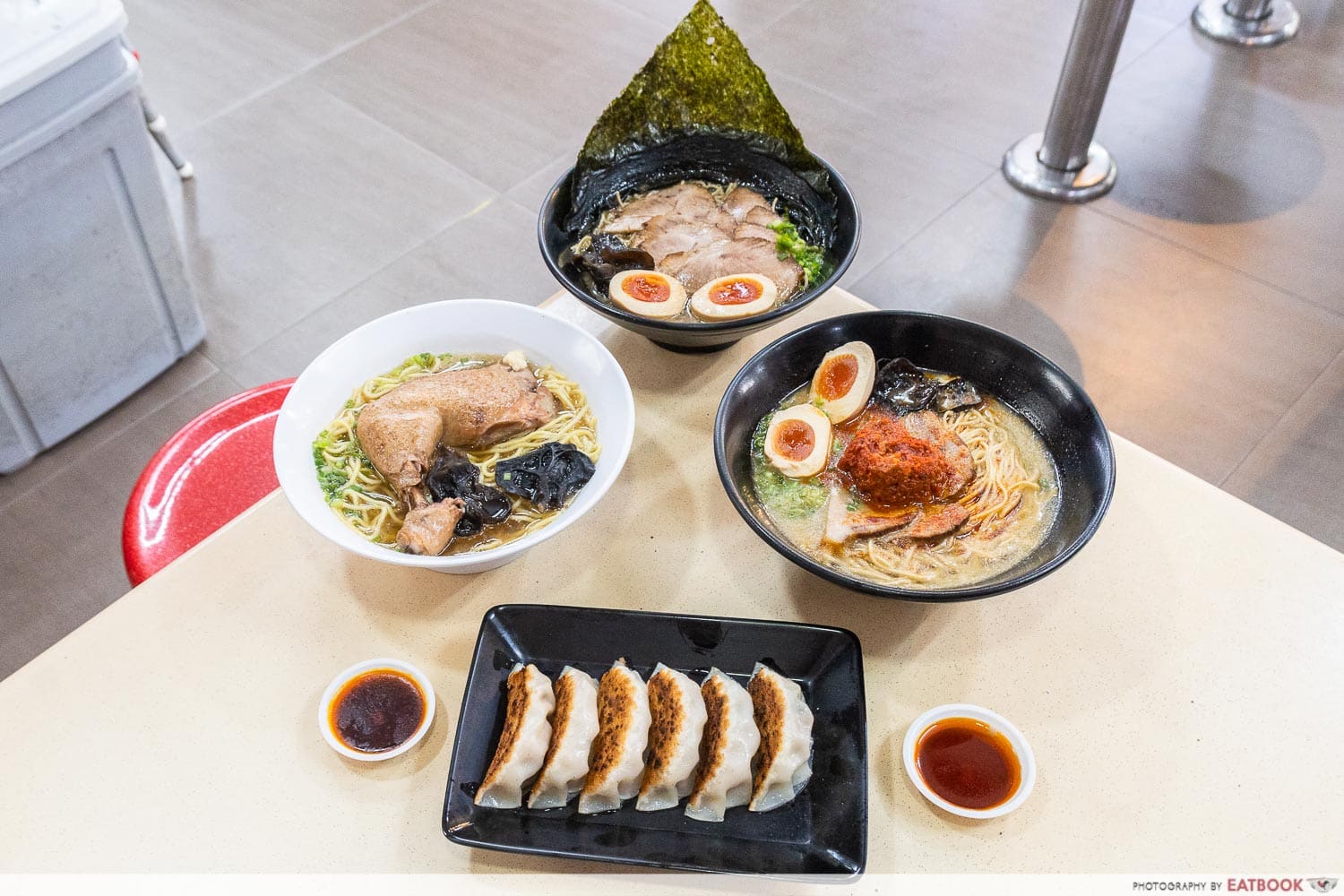 Unlike most Singaporeans, I'm not an avid fan of ramen. I usually find the broth too salty and the noodles too alkaline for my liking. I do, however, love a great bargain. Thus, when I chanced upon Shinjitsu Ramen in a Toa Payoh coffeeshop, I became intrigued by its affordable prices. A whole chicken drumstick with ramen for less than $10—that's a steal in my books.
Food at Shinjitsu Ramen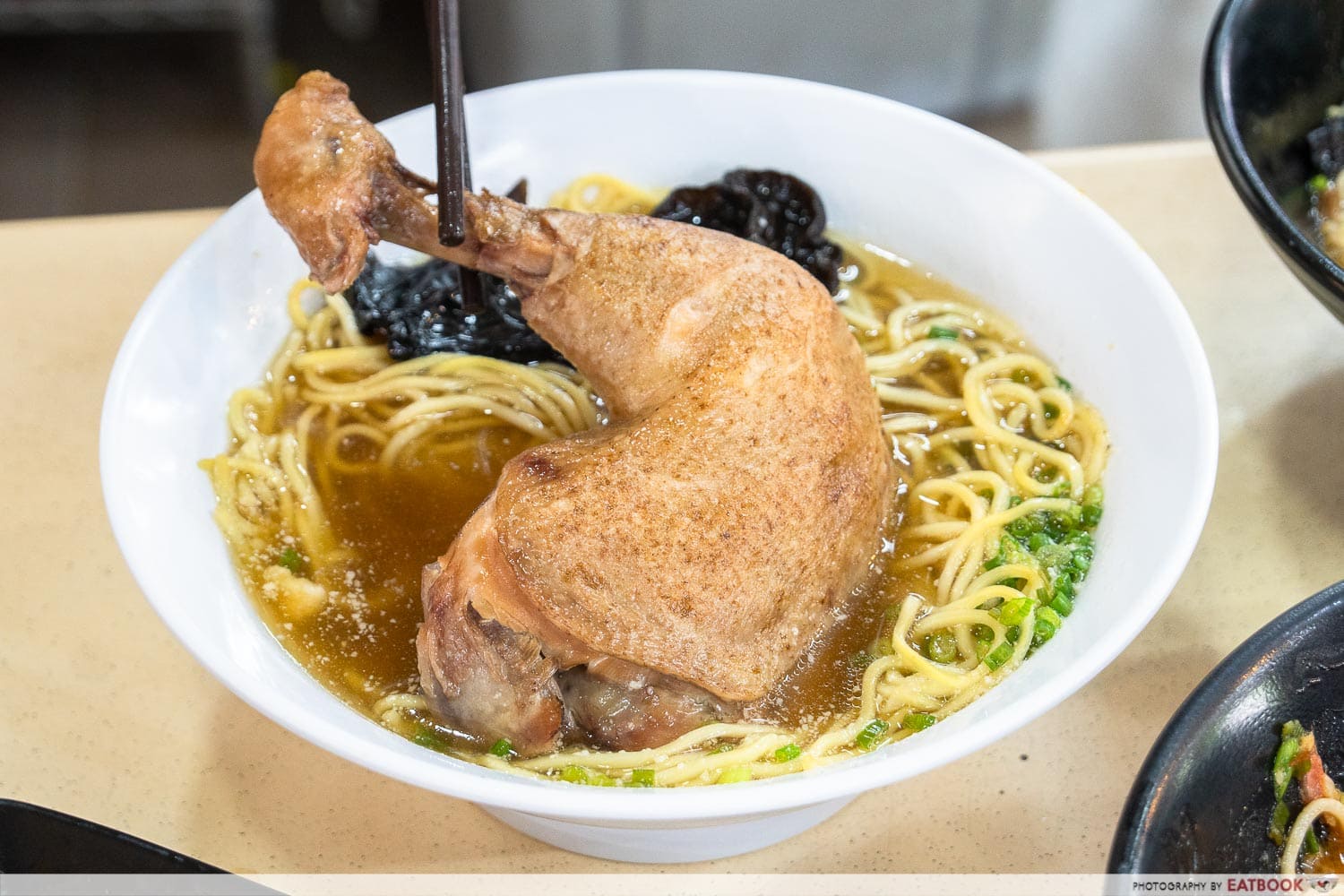 Since I was there for the Clear Chicken Broth ($6.50), I wasted no time diving into it. Punched with a scent of garlic, the tori chintan, or clear chicken soup in English, was incredibly flavourful. It had just the right amount of savouriness, while still remaining light on the palate, making this an instant hit at the table.
In terms of noodles, you'll get thick strands of ramen. I found this to be more alkaline than I would have liked, but my colleague had no similar complaints.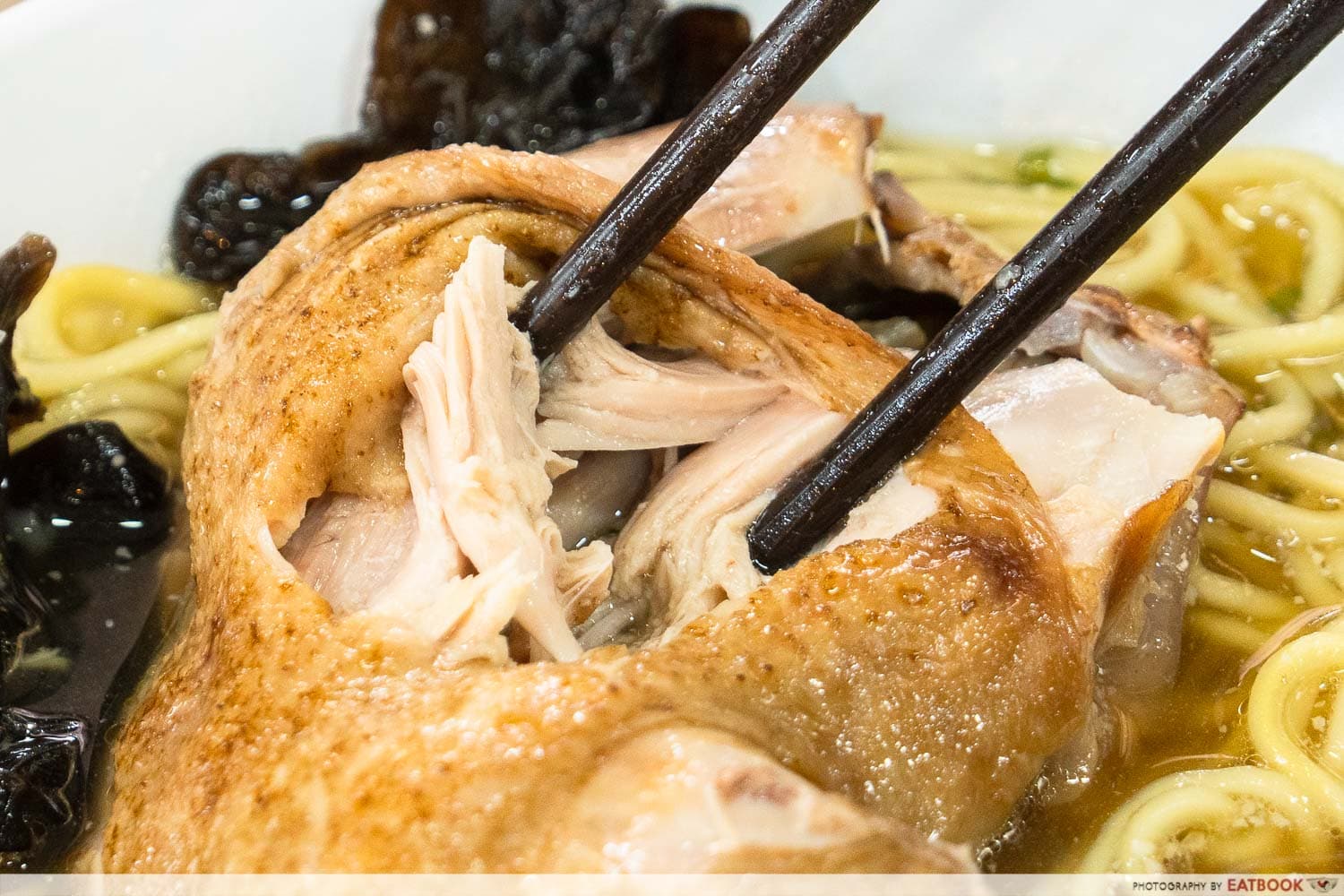 As for protein, each bowl of ramen comes with a full chicken leg as advertised. Using only my chopsticks, I managed to peel apart chunks of meat—a testament to how tender it was. The drumstick was also flame-torched right before serving for some smoky goodness.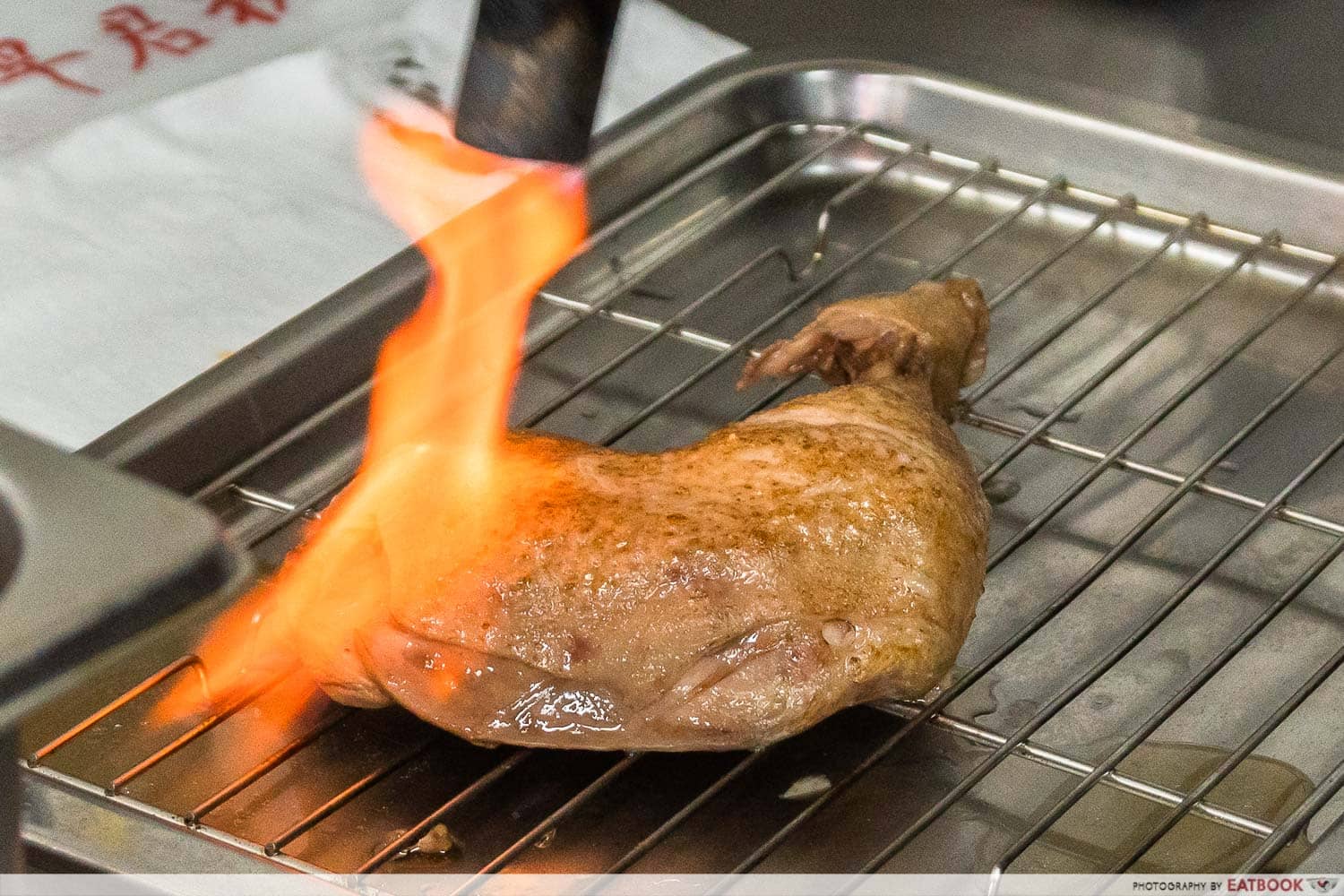 That said, while I appreciated the hefty portion, I found it regrettable that the meat was a tad powdery. With prices of chicken soaring though, I was still more than delighted to find such a pocket-friendly ramen option.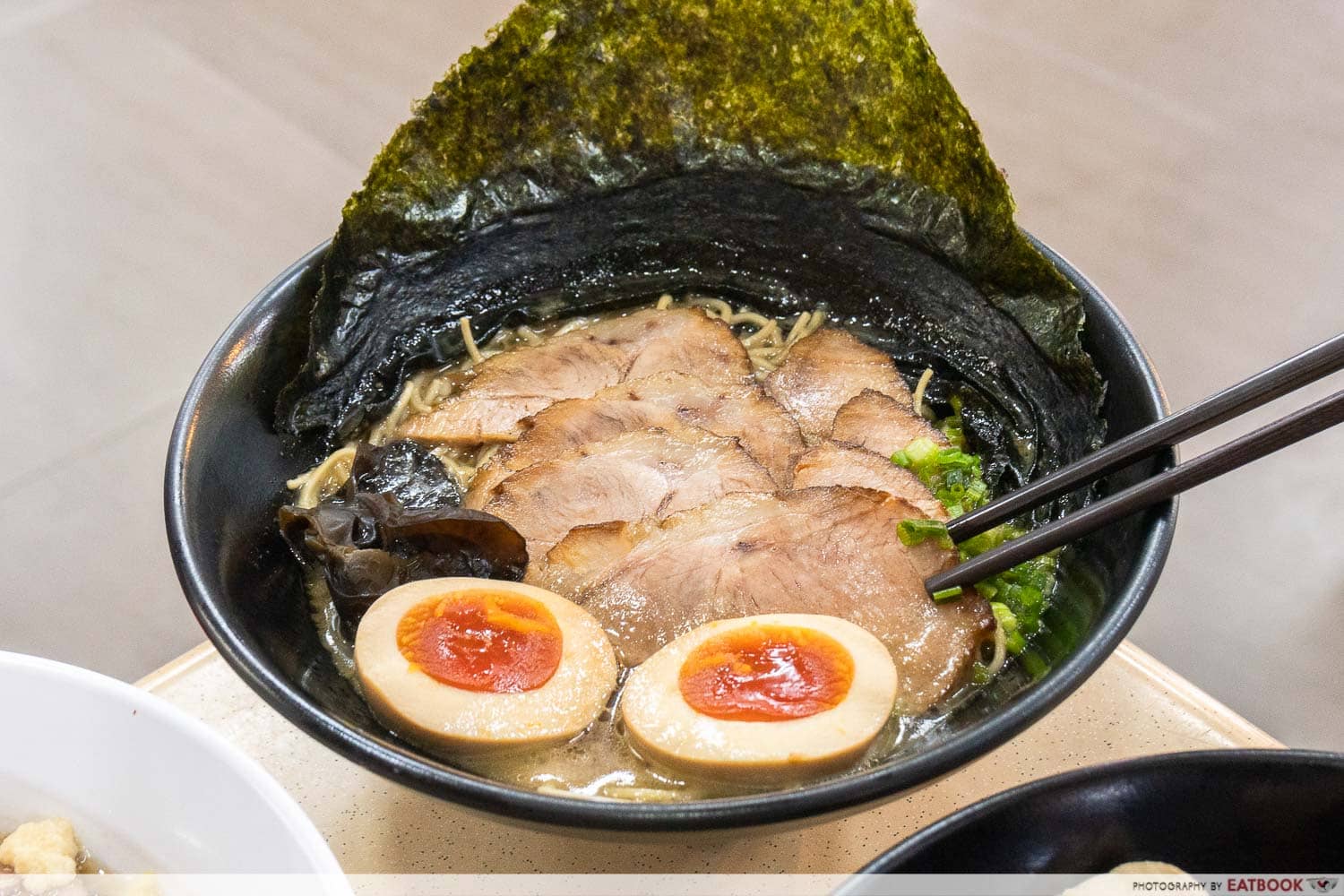 Other than the clear chicken ramen, we also ordered the Tonkotsu Special ($11.30) and Red Spicy Tonkotsu ($9.30). They're both made with the same broth base, but featured different accompaniments. 
The lone stall assistant shared that the pork bone broth is cooked for six hours daily at the main Shinjitsu Ramen branch in Ang Mo Kio, before it's personally delivered to the Toa Payoh and Hougang outlets by their boss.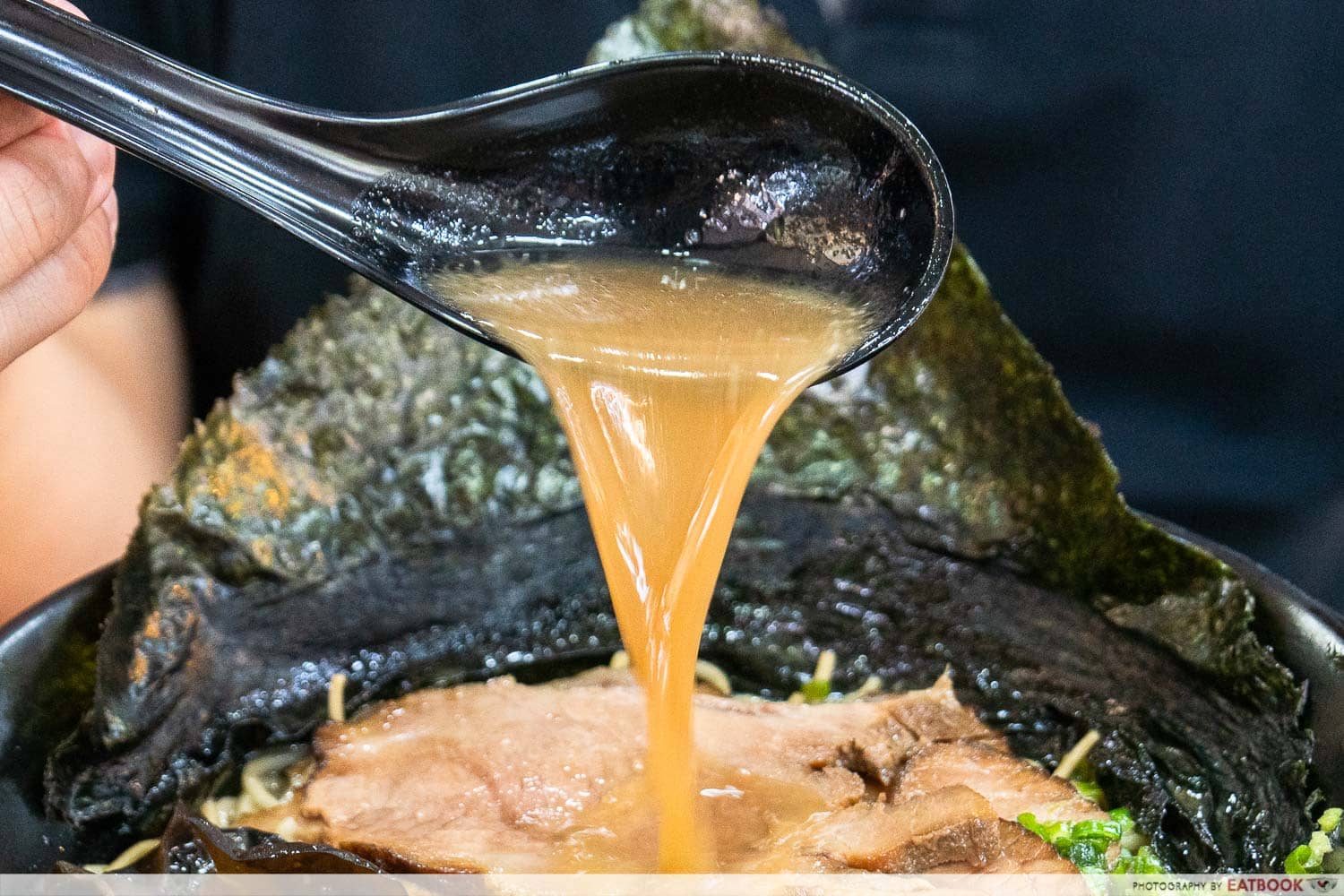 As a result of this quality control, the tonkotsu broth was intensely umami. You get a deep porky fragrance with every spoonful, though it can be a wee bit salty if you drink too much of it.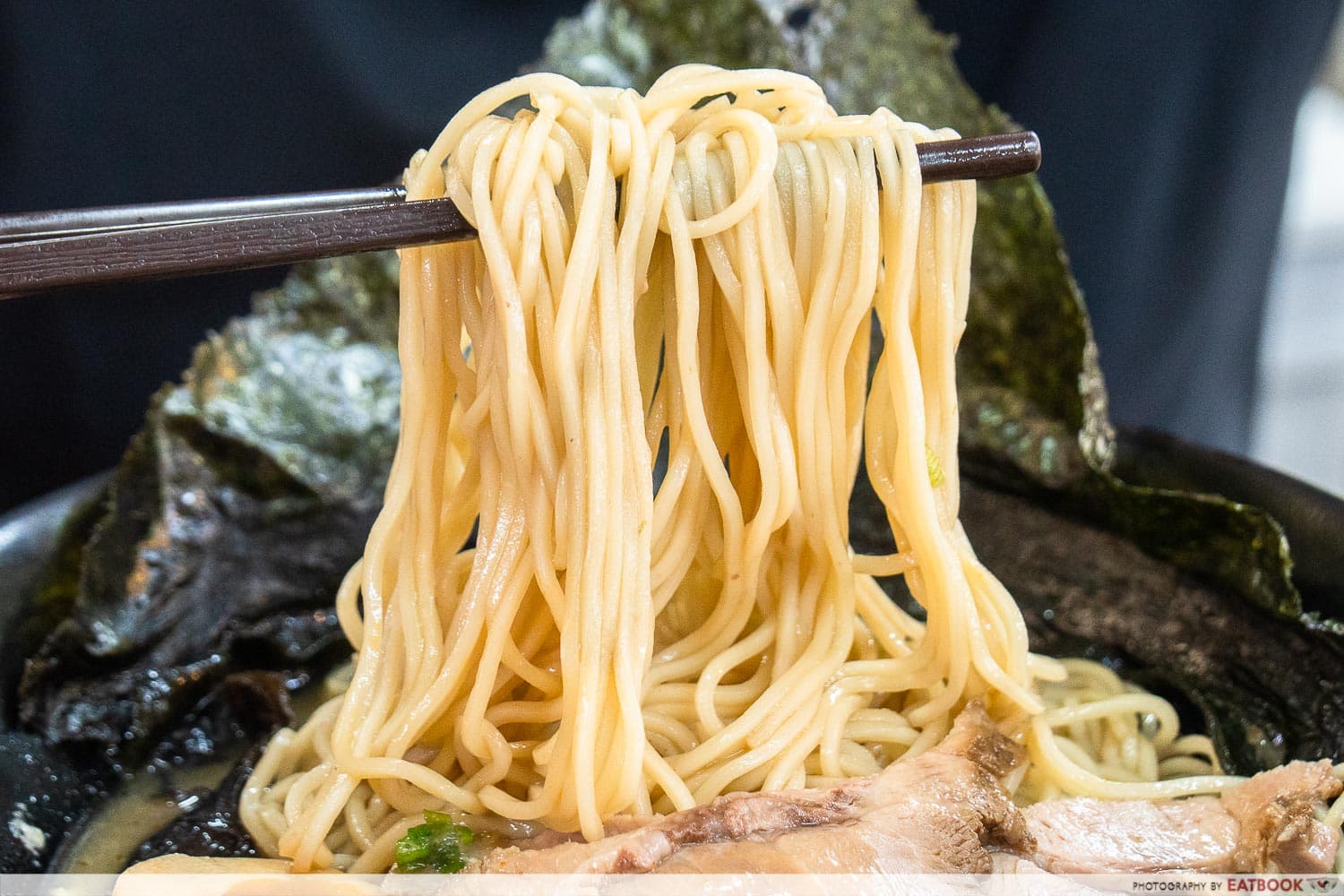 Both the Tonkotsu Special and Red Spicy Tonkotsu are served with thinner ramen, which I enjoyed more compared to that of the Clear Chicken Broth. 
With the Tonkotsu Special, your ramen comes with four accompanying ingredients—Ajitama, chashu, black fungus, and a sheet of nori. Of the lot, the ajitsuke tamago blew me away with its jamminess and savouriness.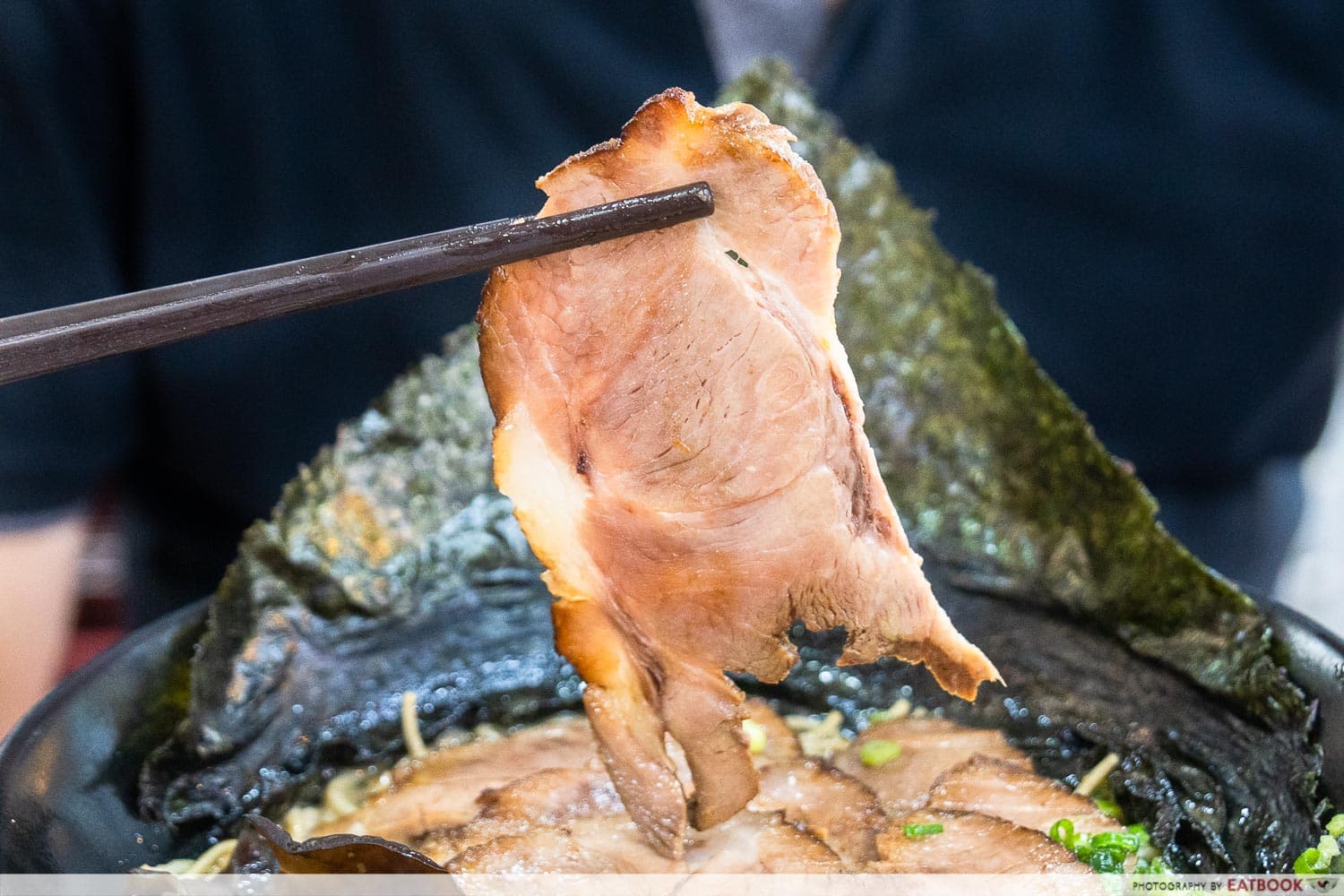 The chashu slices were less tender than I had hoped for but well-marinated nonetheless.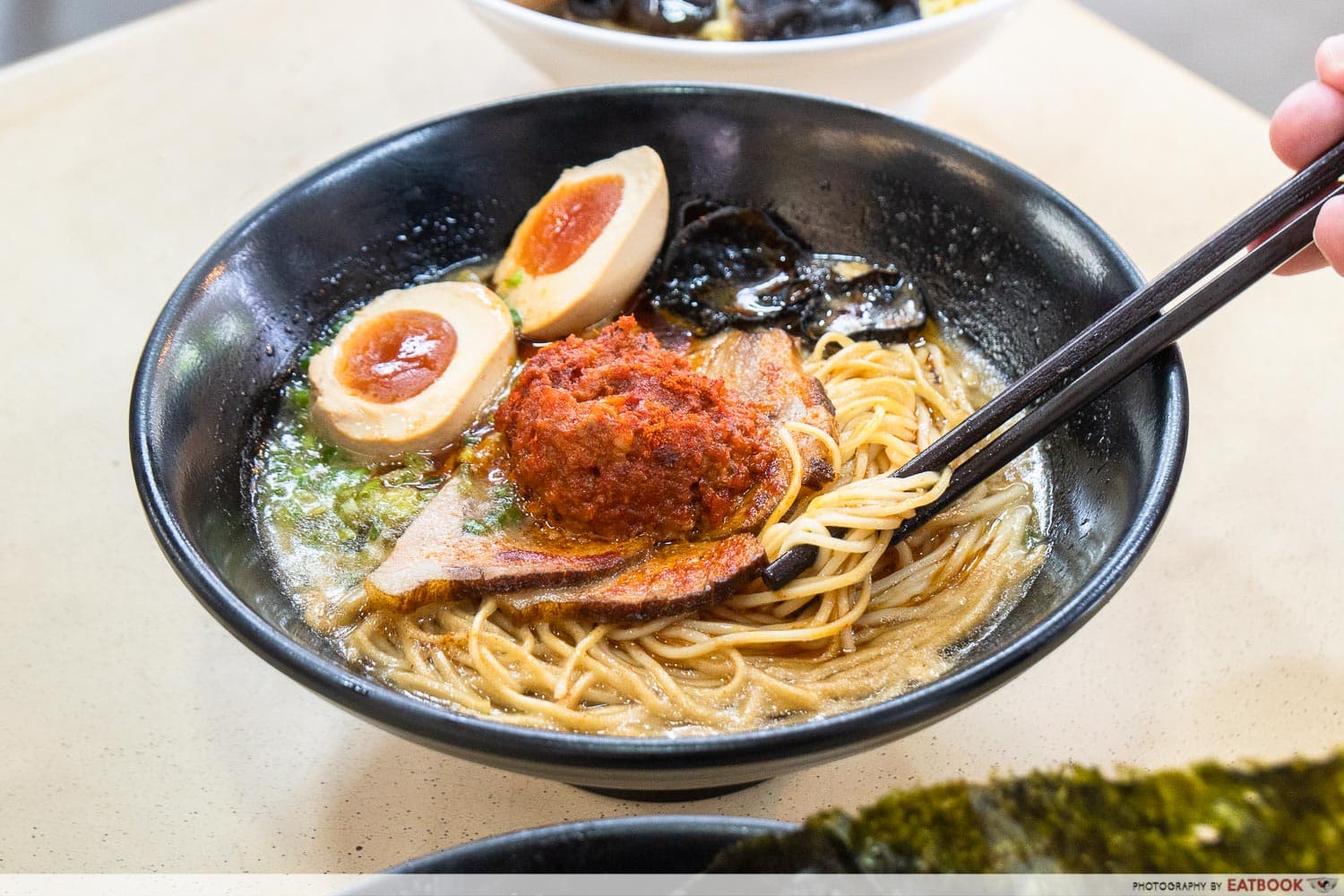 On the Red Spicy Tonkotsu front, a dollop of spicy minced meat is added, which infuses the broth with a hint of spice when mixed in. The tonkotsu soup also became thicker, with a miso-forward flavour. While the soup wasn't bad, I still favoured the original version for its cleaner, classic taste.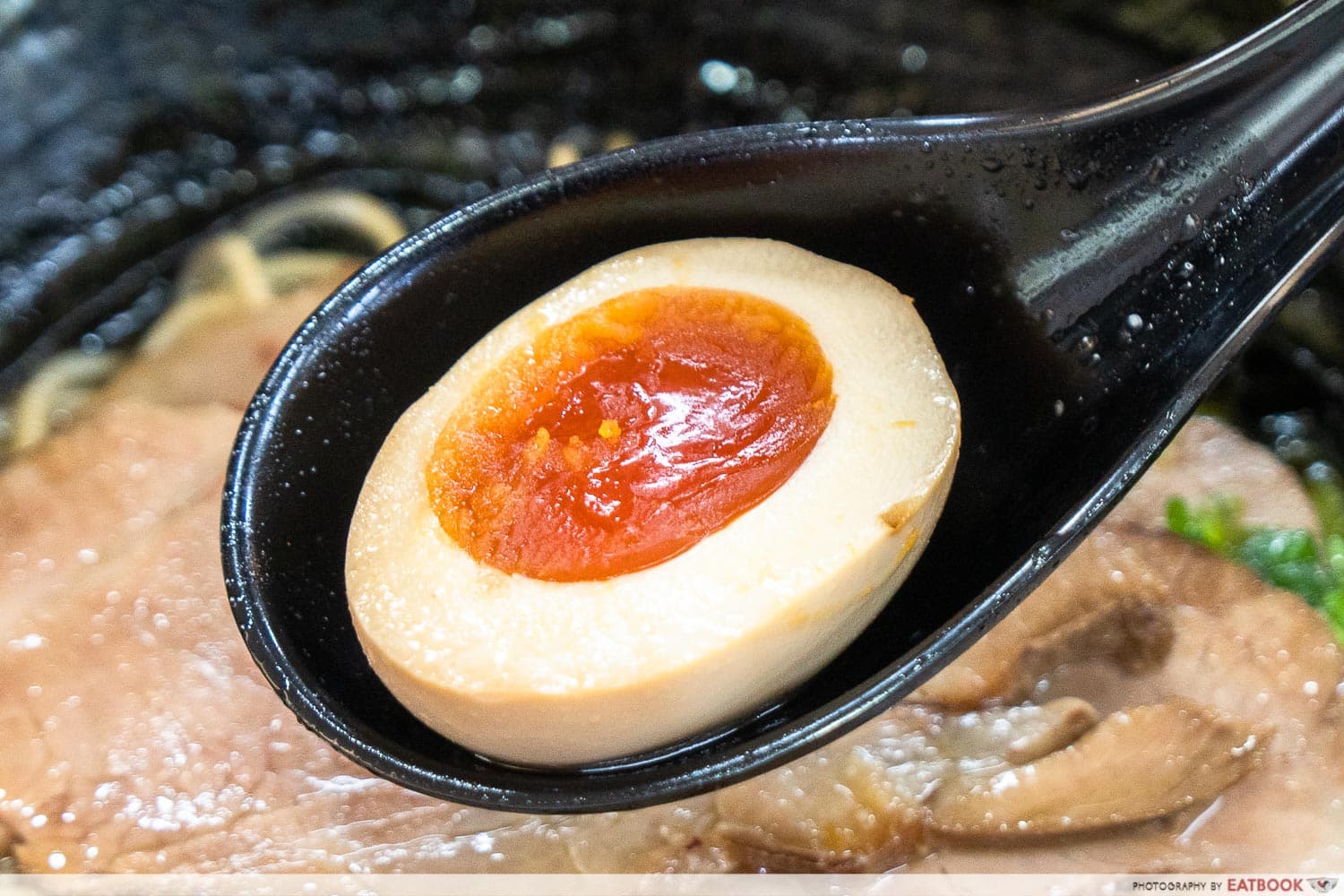 To be clear, the Red Spicy Tonkotsu does not usually come with the Ajitama. However, we were so impressed with it that we added a portion for $2.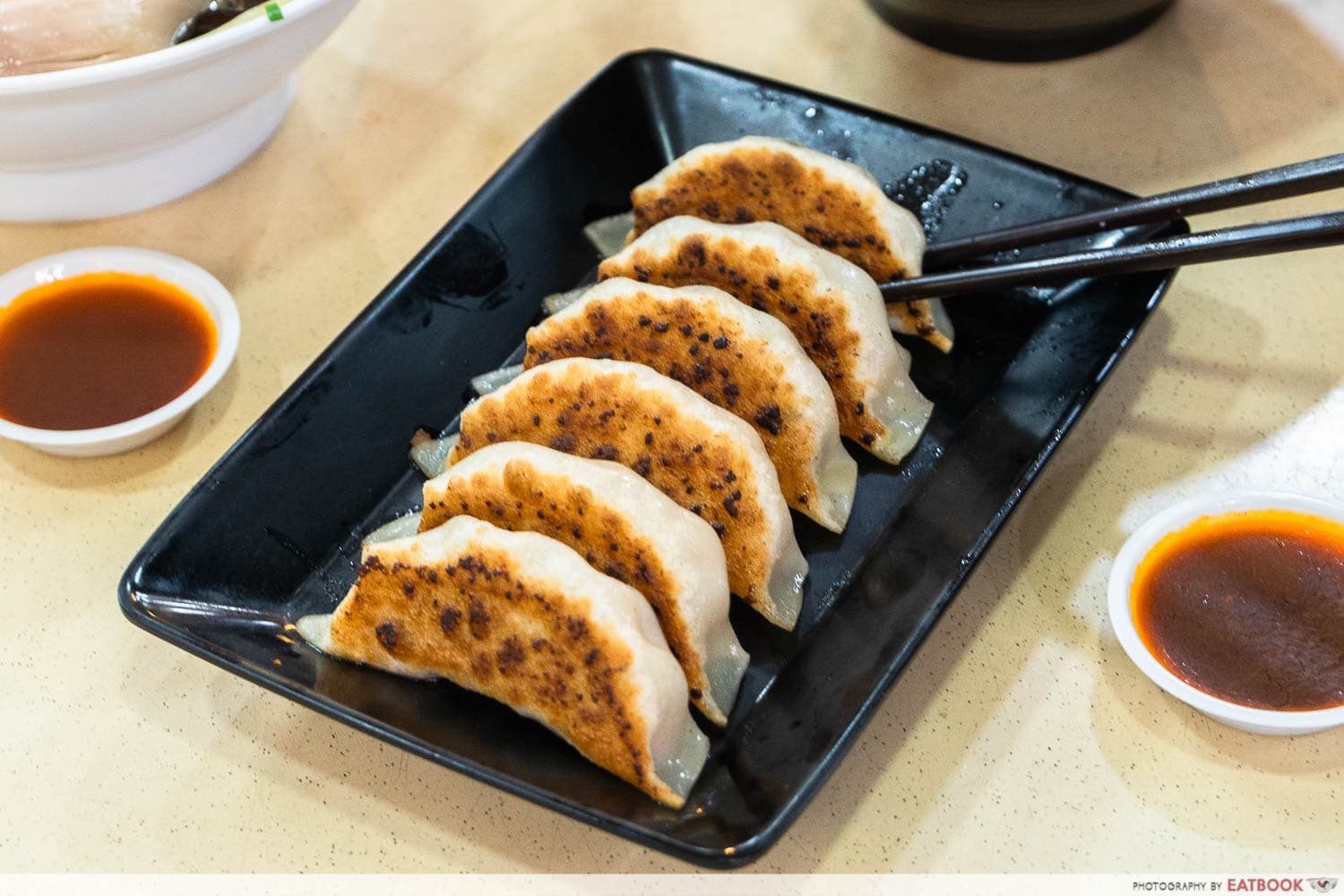 Shinjitsu Ramen has three side dishes to accompany their noodles. We went with the Pork Gyoza ($6 for six pieces) as we spotted them making the dumplings by hand before the stall opened.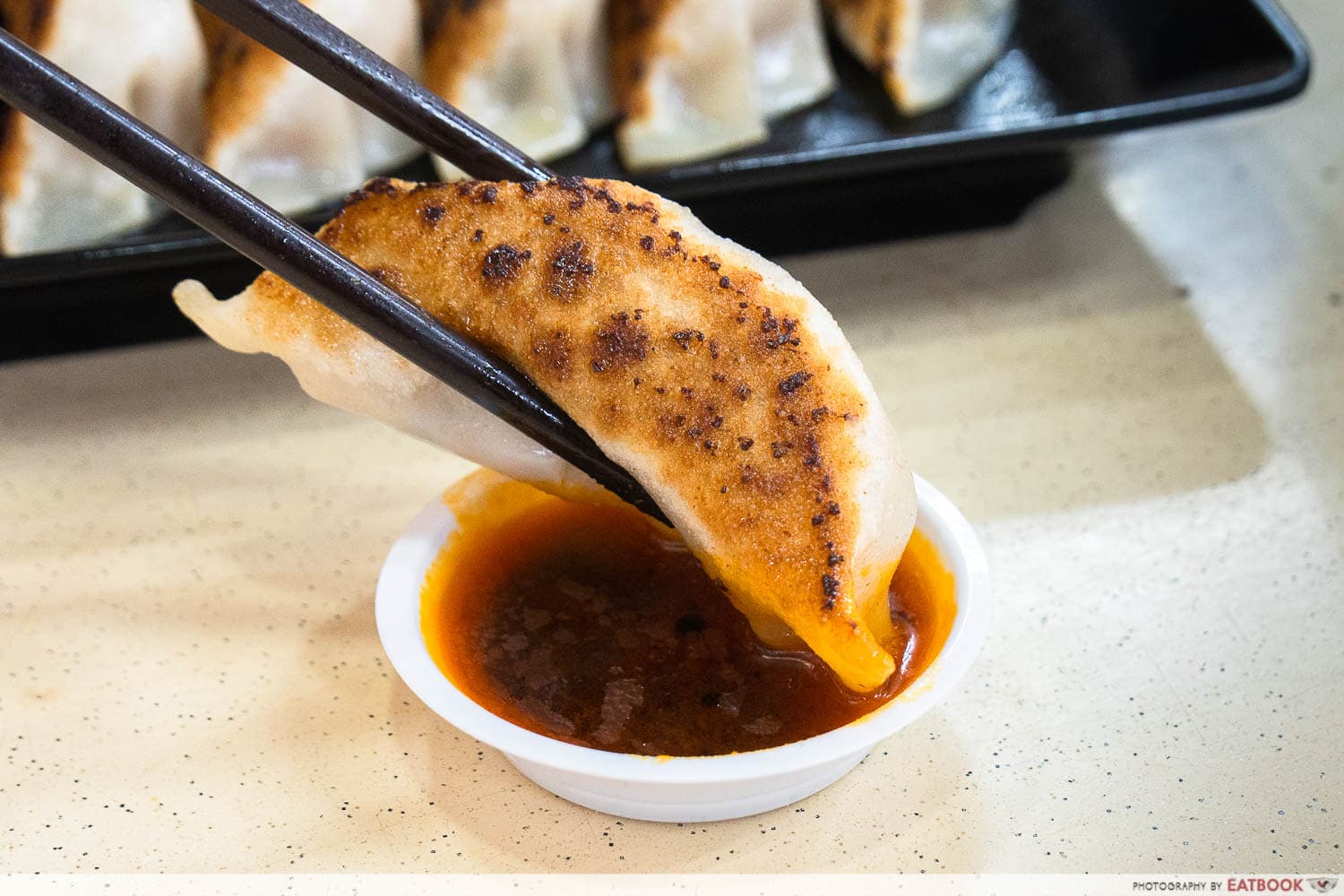 Each dumpling was quite sizeable, and best enjoyed with the house-blended sauce of chilli oil, shoyu, and white vinegar. I particularly liked the addition of water chestnut to the filling, which added a pleasant crunch. 
Ambience at Shinjitsu Ramen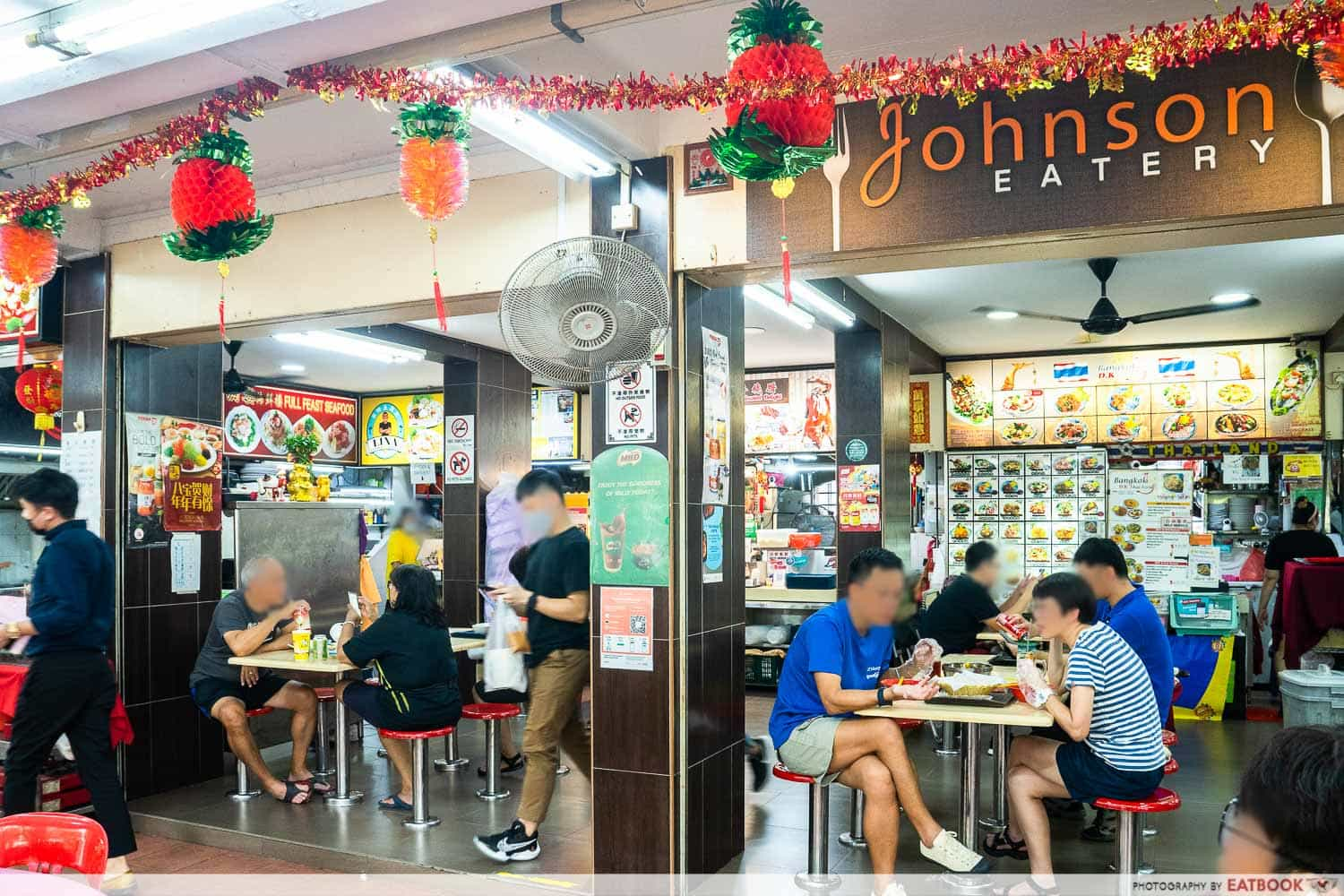 For those travelling by the Circle Line or Thomson-East Coast Line, Caldecott MRT Station is just 800m away from Shinjitsu Ramen. Otherwise, it only takes four minutes to walk from Braddell MRT Station.
Shinjitsu Ramen is located in a nondescript coffeeshop named Johnson Eatery. Despite its sleepy appearance, the kopitiam actually houses a wide variety of Asian cuisine. As such, the place can be quite packed come lunchtime. 
It doesn't help that Shinjitsu Ramen is short on staff at the moment, which might compound your waiting time. But be patient still; uncle tries his best to juggle all his duties while maintaining friendly conversation with customers. 
The verdict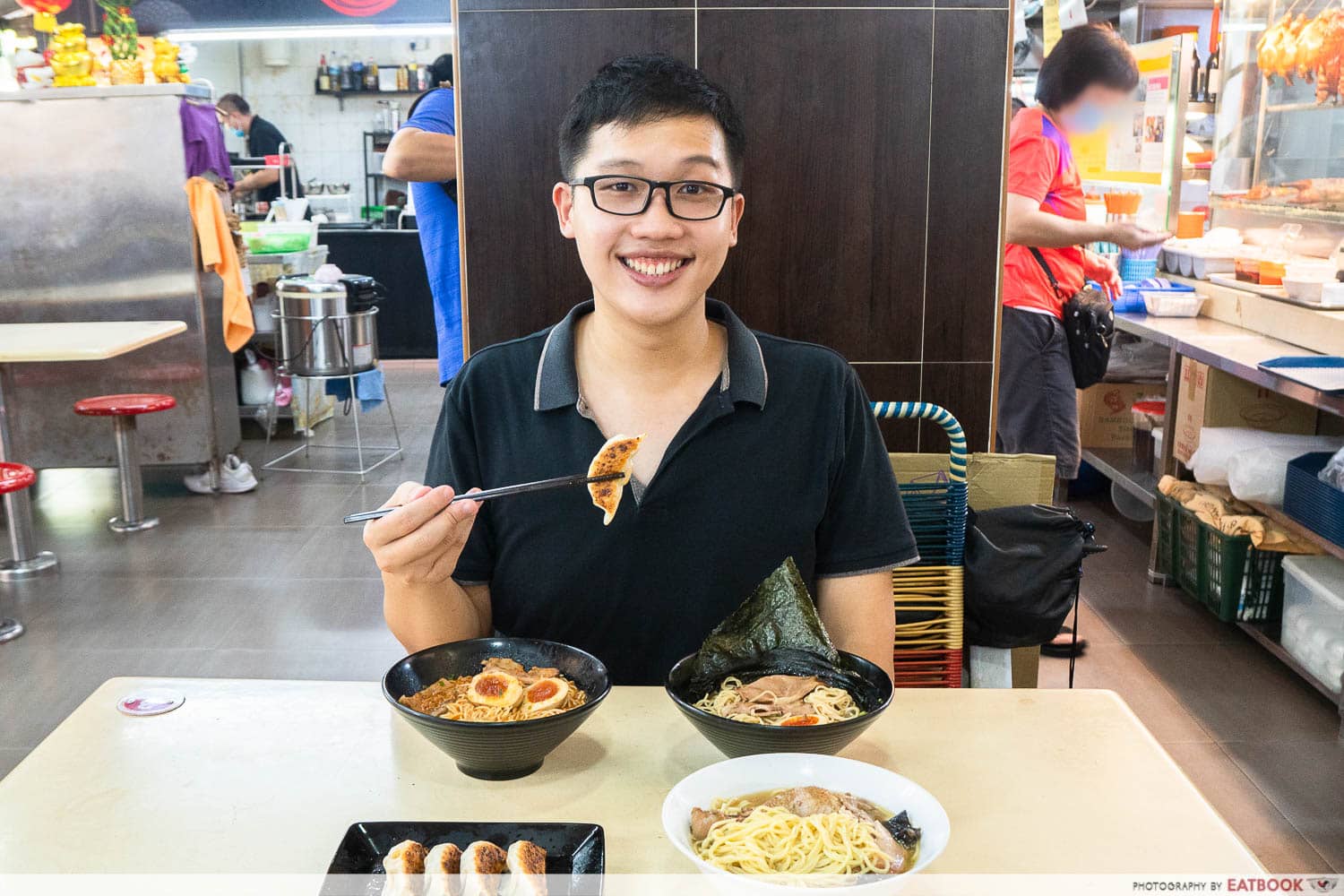 '信実' or 'Shinjitsu', is Japanese for honest, and as far as I can tell, you're getting an honest bowl of ramen here. While it's quite no-frills, Shinjitsu Ramen is still decently delicious. In fact, I particularly relished the Ajitama and Clear Chicken Broth, and would recommend anyone living nearby to give the place a shot. 
They also have two more outlets at Ang Mo Kio and Hougang, so you can visit those locations if you're nearer to those instead. For even more convenience, Shinjitsu Ramen is available on both GrabFood and Deliveroo.
Also located at Toa Payoh is Lok Me Up, which has free-flow mentaiko sauce to pair with your lok lok. Prices range from $0.60 to $1.20, which makes them very affordable! If you want to enjoy more ramen without breaking the bank, check out our recommendations for cheap ramen under $10!
Address: 125 Lorong 1 Toa Payoh, #01-523, Johnson Eatery, Singapore 310125
Opening hours: Daily 10:30am to 8:30pm
Website
Shinjitsu Ramen is not a halal-certified eatery.
11 Cheap Ramen Places To Get Your Ramen Fix At Less Than $10
Photos taken by Kong Zu Yi.
This was an independent review by Eatbook.sg
Shinjitsu Ramen Review: $6.50 Ramen With Whole Chicken Drumstick In A Toa Payoh Coffeeshop
Shinjitsu Ramen Review: $6.50 Ramen With Whole Chicken Drumstick In A Toa Payoh Coffeeshop -

7.5/10
Summary
Pros
– Affordable prices
– Egg was jammy and well-marinated
– Soup bases were flavourful and not salty 
Cons
– Spicy minced meat was overpowering
– Chicken drumstick was powdery
Recommended dishes: Clear Chicken Broth ($6.50), Tonkotsu Special ($11.30), Pork Gyoza ($6)
Opening hours: Daily 10:30am to 8:30pm
Address: 125 Lorong 1 Toa Payoh, #01-523, Johnson Eatery, Singapore 310125