Smith Marine serves fresh seafood in the middle of the sea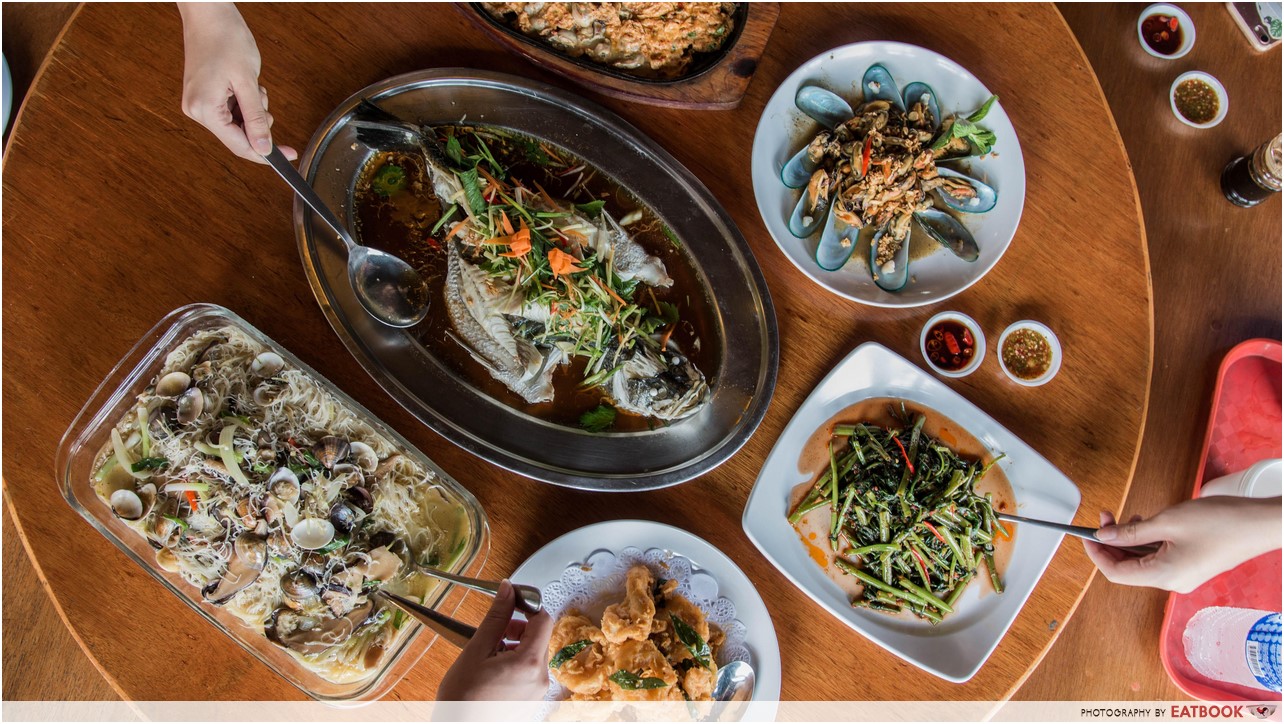 It's not everyday that you get to take a boat ride out into the middle of the sea for delicious seafood. At Smith Marine, Singapore's first halal-certified kelong restaurant, you'll be able to enjoy a wide spread of seafood while looking across the water and reveling in sea breeze.
So whether you need a quick getaway from the bustle of the city or if you're looking for an unconventional dining experience, make a reservation and the restaurant will hire a boat for you to get there – you won't even need a passport!
Food at Smith Marine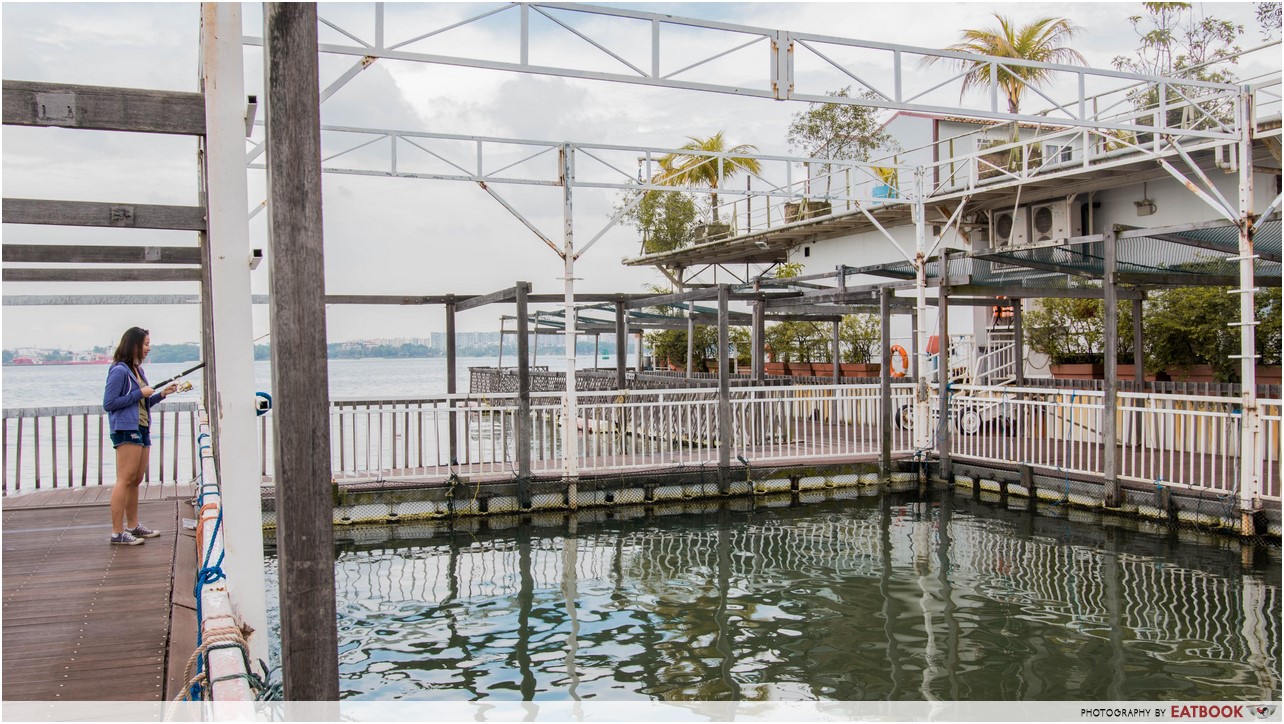 One of the highlights was fishing from their "sure-catch" pond. We went to the back of the restaurant where we tried our hand at reeling in our own lunch. With the help of their experienced staff and the fact that this netted up portion of water contains hundreds of fish, fellow amateurs should be able to secure a catch within minutes.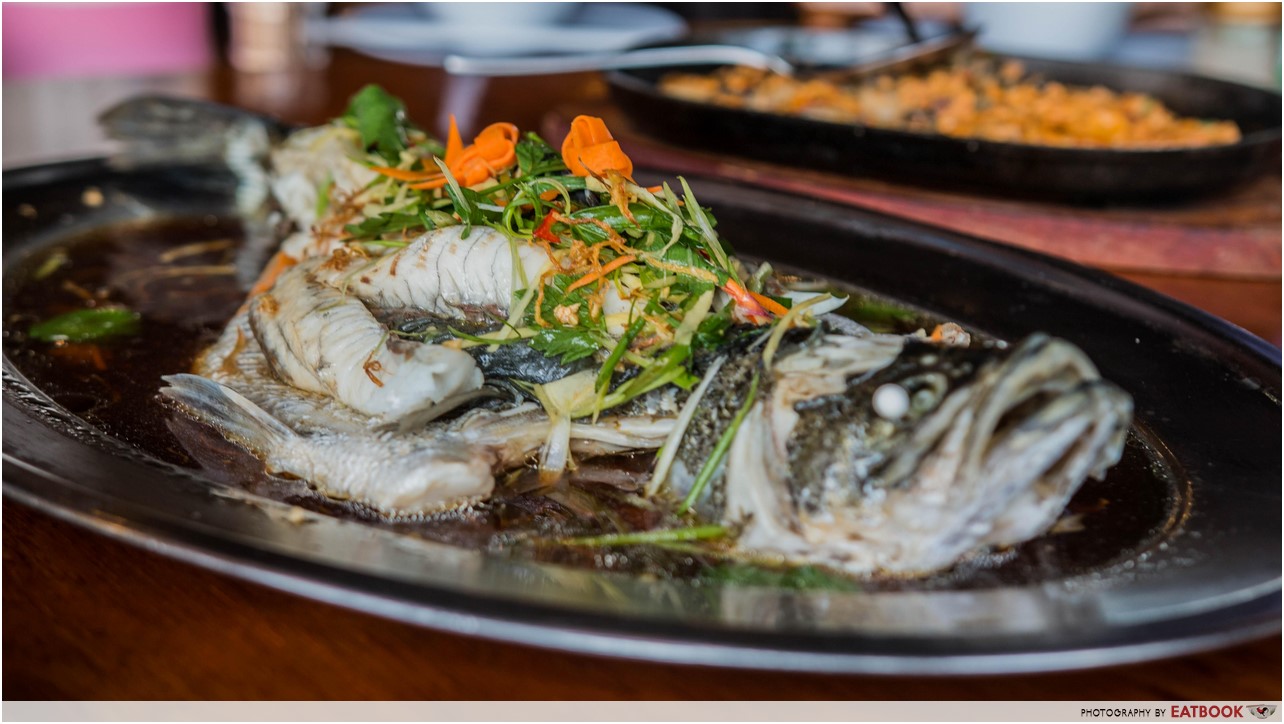 It costs $35 to catch your own fish and have the restaurant whip it up for you. We managed to snag a fleshy sea bass that was steamed in Cantonese style. You can also have your fish done other ways, including Teochew-style, assam-style, or with fried soya sauce.
This reminded me of the steamed fish dishes that are usually served during Chinese banquets. The chef skillfully butterflied the fish, making it easy for us to polish off every piece of meat from the bones. Fresh and tender, the fish was cooked just right and went well with the soy sauce.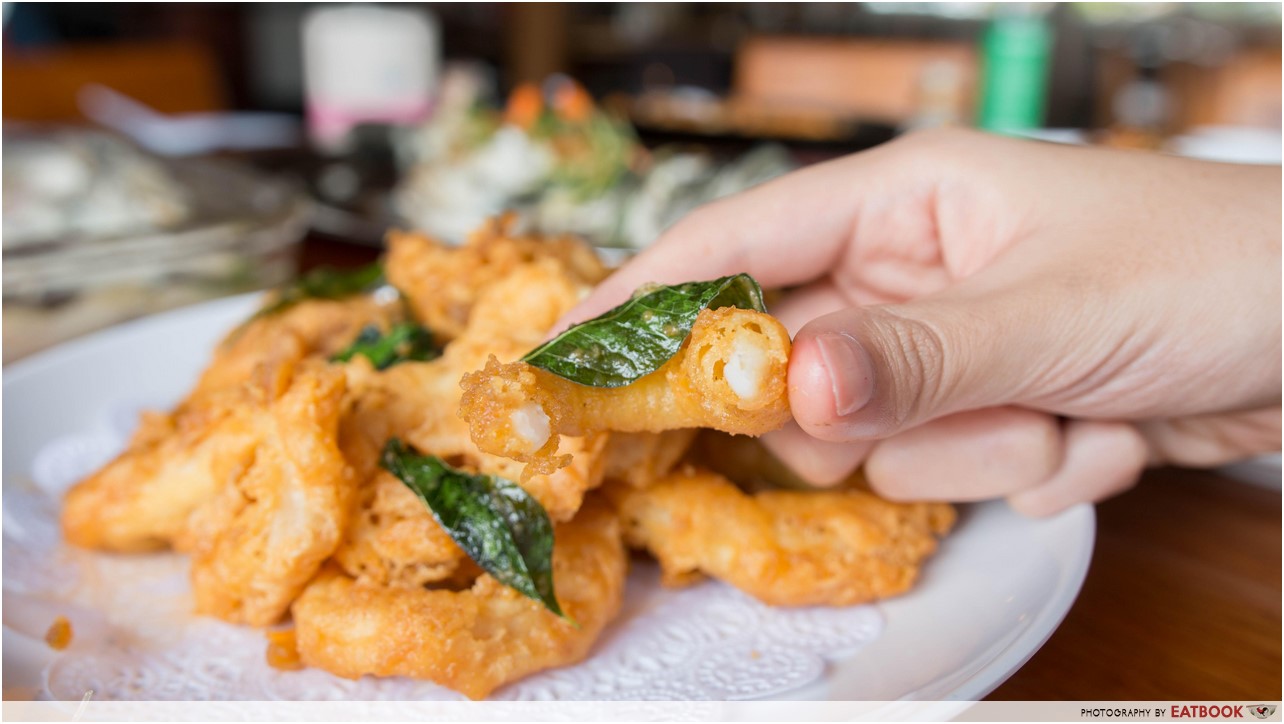 If you're a hard-core salted egg yolk junkie, their Salted Egg Sotong ($25) is sure to satisfy. Each piece of sotong was pretty large and had a springy texture. It was also coated with a generous layer of potent salted egg yolk batter before being deep-fried. Since the batter was quite thick, it formed a substantial layer around the squid ring. Aside from having a strong salted egg yolk flavour, the dish also had a slightly smoky aroma from stir-fried curry leaves.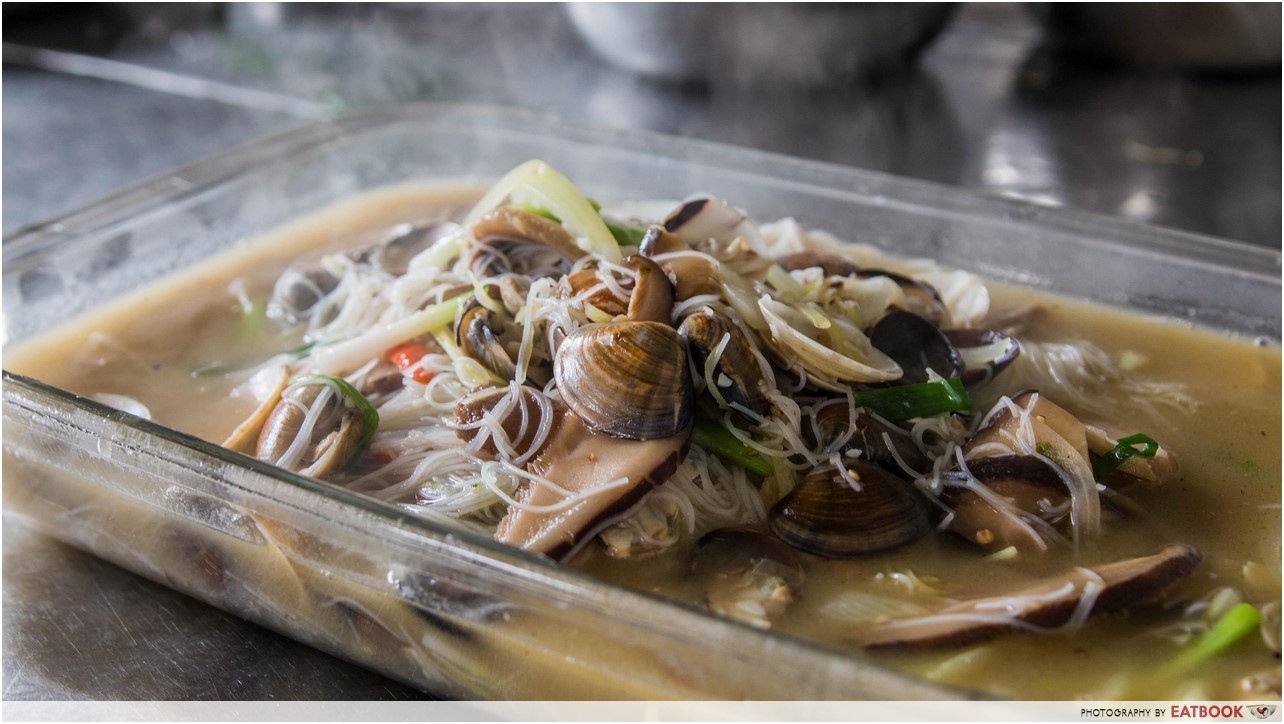 For an addictive main, get their Lala Bee Hoon ($28). This dish was made with white bee hoon, large mushroom slices, and a generous amount of clams, all drenched in a flavourful broth. Overall, the dish had a pleasant wok hei flavour but it is better suited for those with a light palate.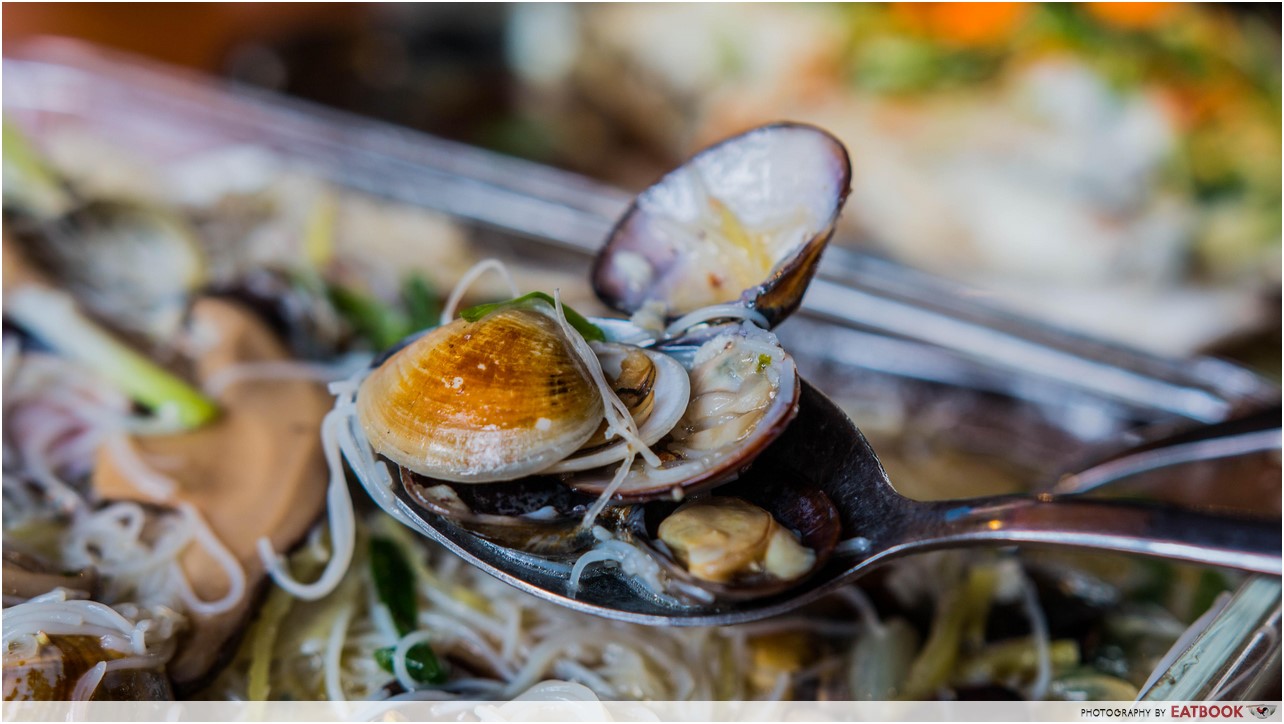 The clams were slightly chewy and had a natural sweetness to it. These complemented the soft beehoon strands well as they provided more texture and flavour to the dish.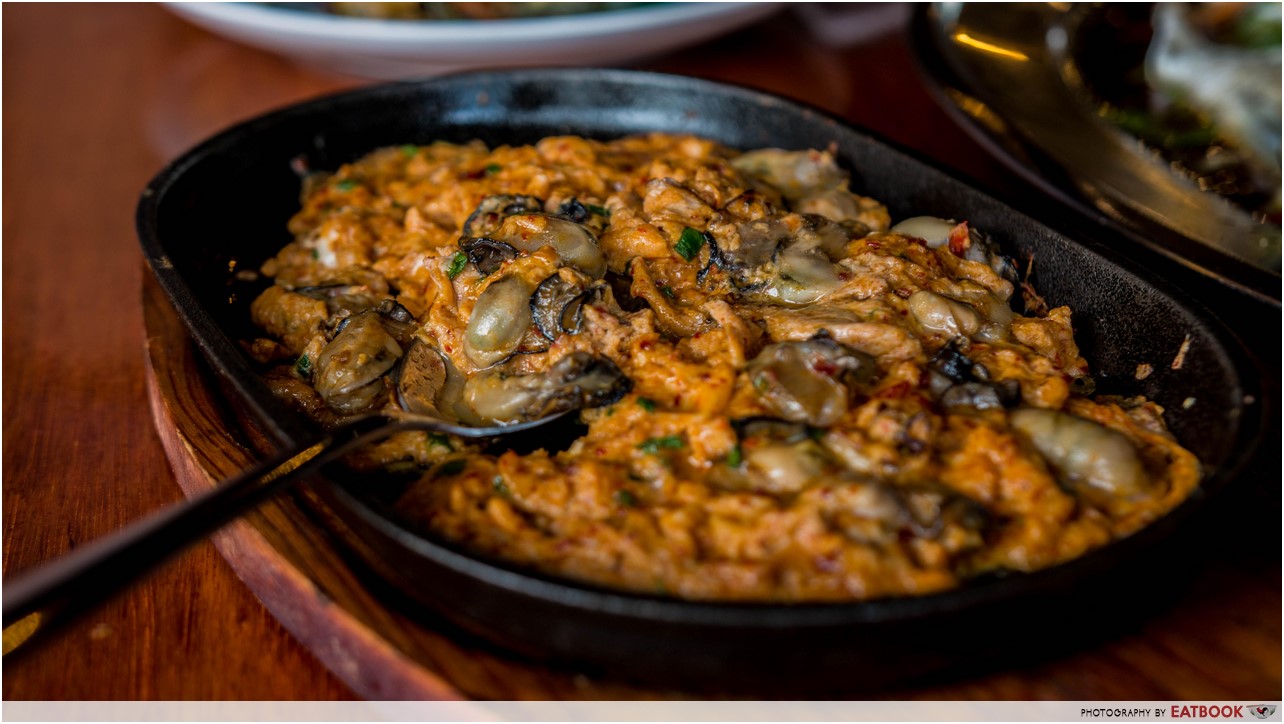 Their Hot Plate Oyster Omelette ($20) may not be the hawker-style, starchy omelette you're used to, but it was good nonetheless. The moist omelette was heavily spiced and reminded me of otah. Fellow chilli lightweights need not worry as the spiciness was very manageable.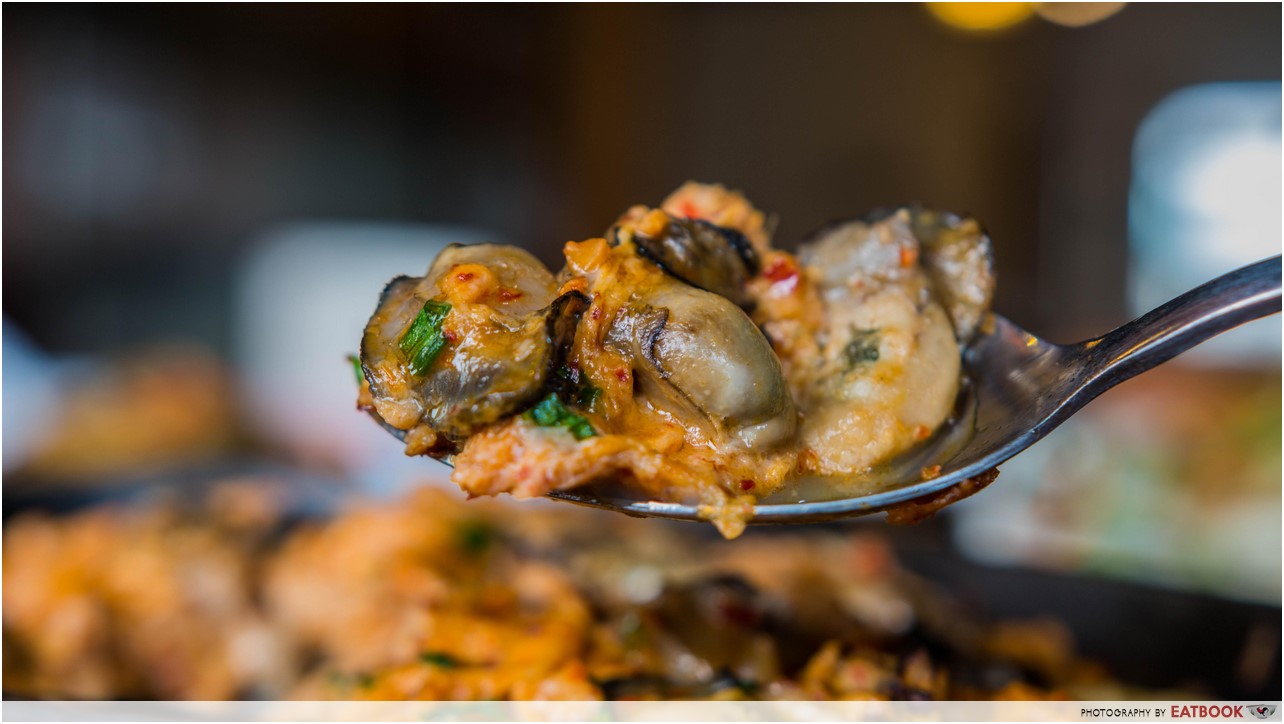 They were extremely generous with the portion of juicy oysters. If you're looking to satisfy a typical, starchy oyster omelette craving, this probably won't do the trick. That being said, it was a flavour-packed dish that is worth trying if you're open to something a little different.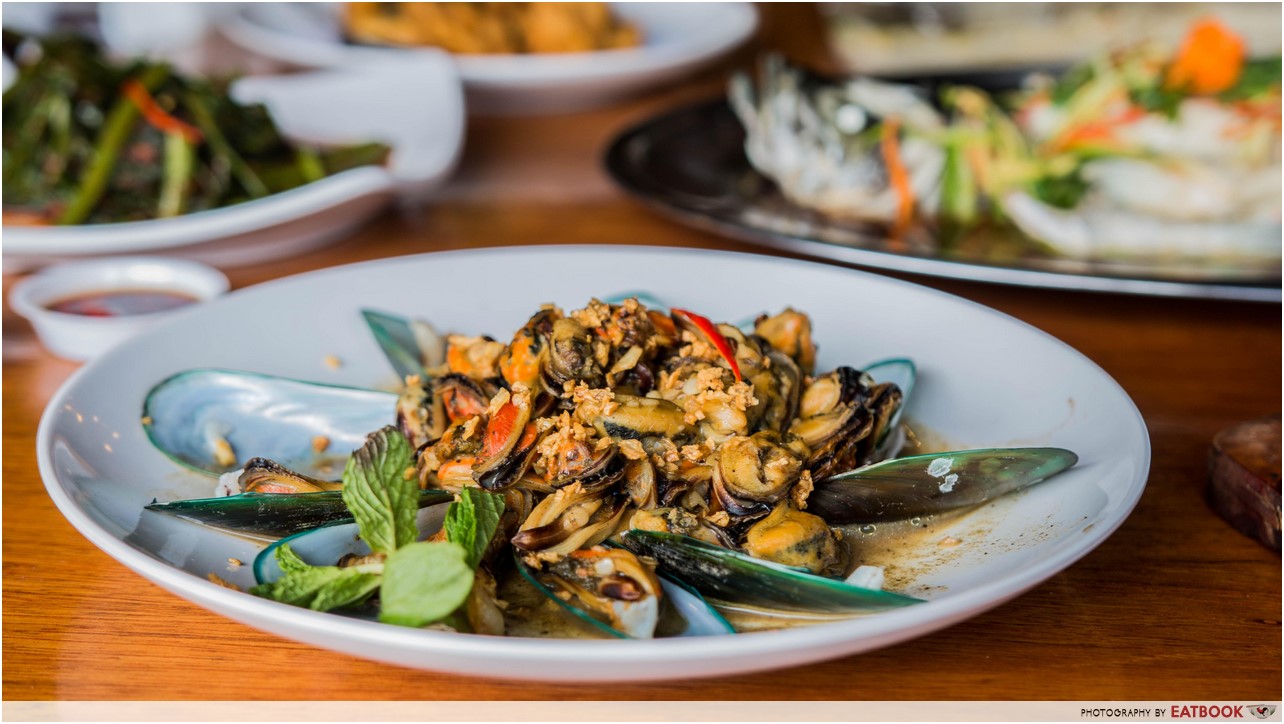 Next up were Garlic Mussels ($22).  If you aren't a fan of garlic, you can also opt for chilli or black pepper sauce. Right from the get-go, we were impressed by the presentation of the dish, which comprised a pile of mussels surrounded by their shells in a flower formation.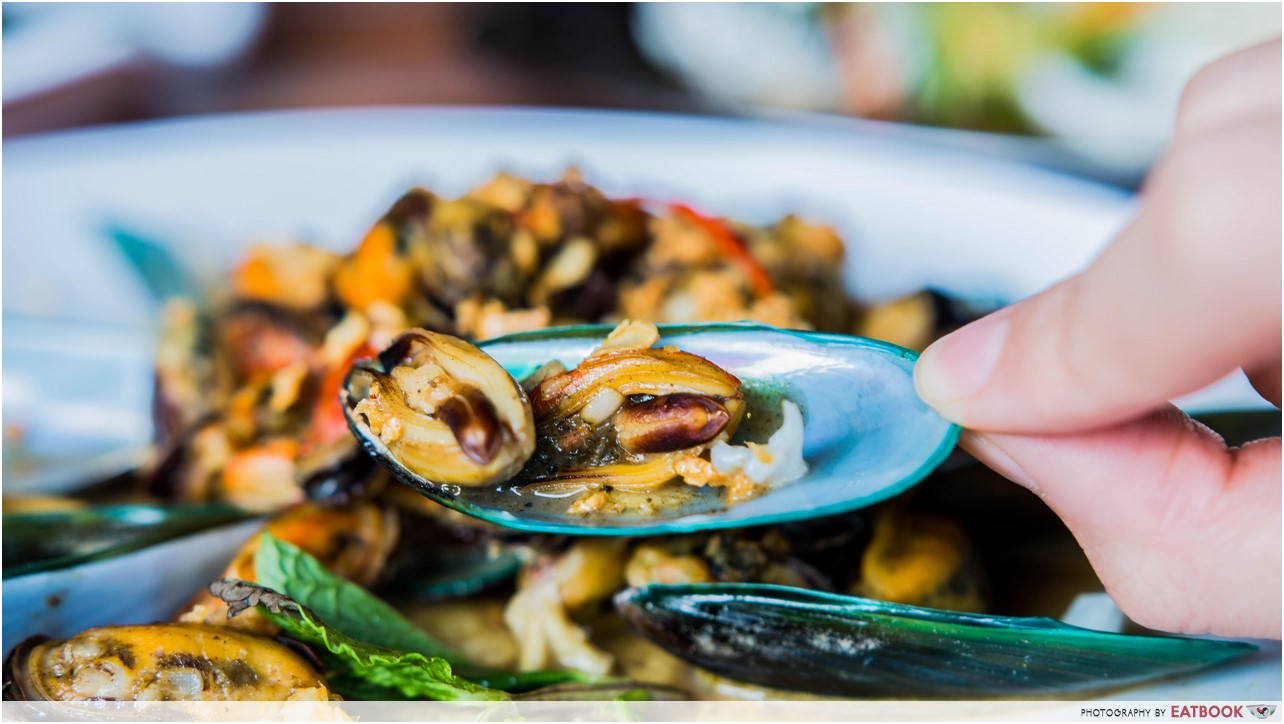 This dish was surprisingly one of our favourites from that day. The flavourful garlic complemented the mussels well without overpowering their natural brininess. These were done just right and weren't rubbery or tough. In fact, their texture was almost comparable to the tender oysters.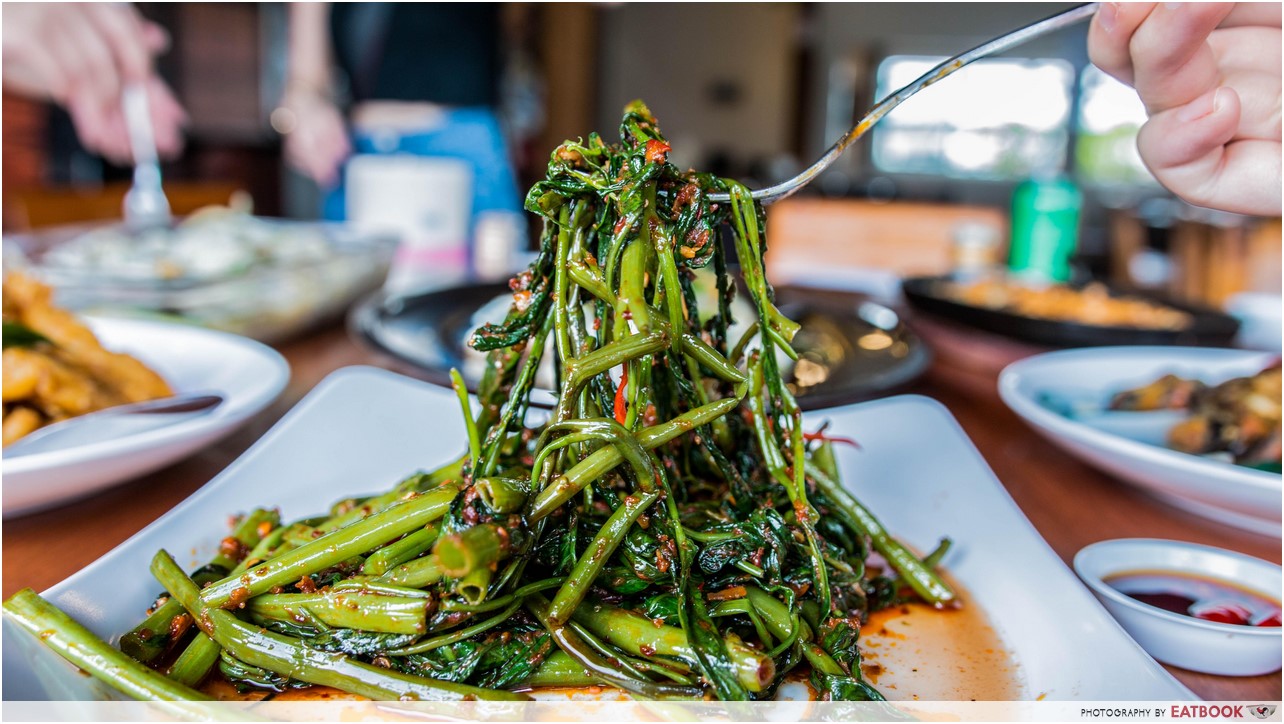 I'm not a big fan of kang kong, but this plate of Sambal Kangkong ($15) was a game changer. The kang kong had slightly crunchy stalks and tender leaves, unlike overcooked kang kong elsewhere that is usually too slimy and stringy for my liking. The sambal was significantly spicy and had a distinct shrimp paste flavour without being greasy.
Ambience at Smith Marine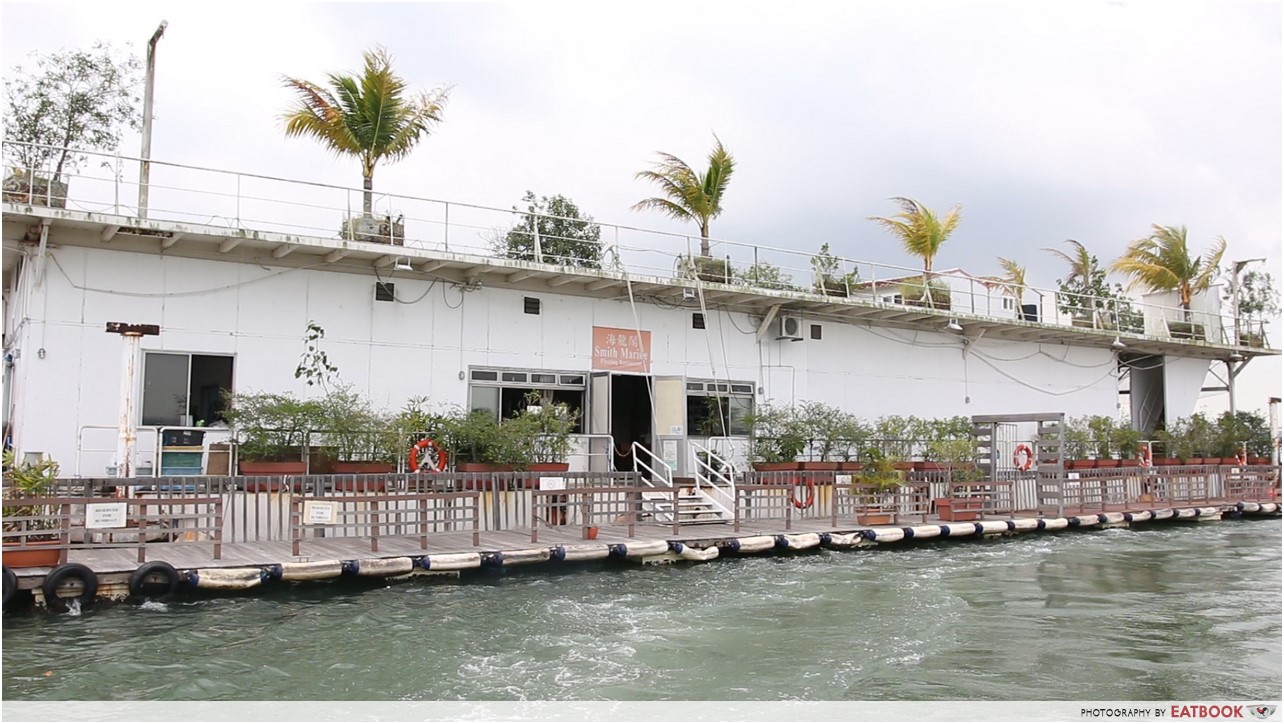 Located next to Pulau Ubin, you'll need to take a 10-minute bumboat ride to get there from Changi Point Ferry Terminal. When you make a reservation, the restaurant will help you book a two-way boat ride at $100, which you will pay directly to the boatman. The boat can take up to 12 people, including toddlers. The price is fixed at $100, regardless of the number of passengers, so jio more friends to make your trip less costly. Once you get there, the cool sea breeze and great view will make you forget you're just minutes away from Singapore.
You'll need to make a reservation at least three days in advance, and let the restaurant know what you'd like to order, as they'll have to make arrangements for the ingredients to be brought in from the main island.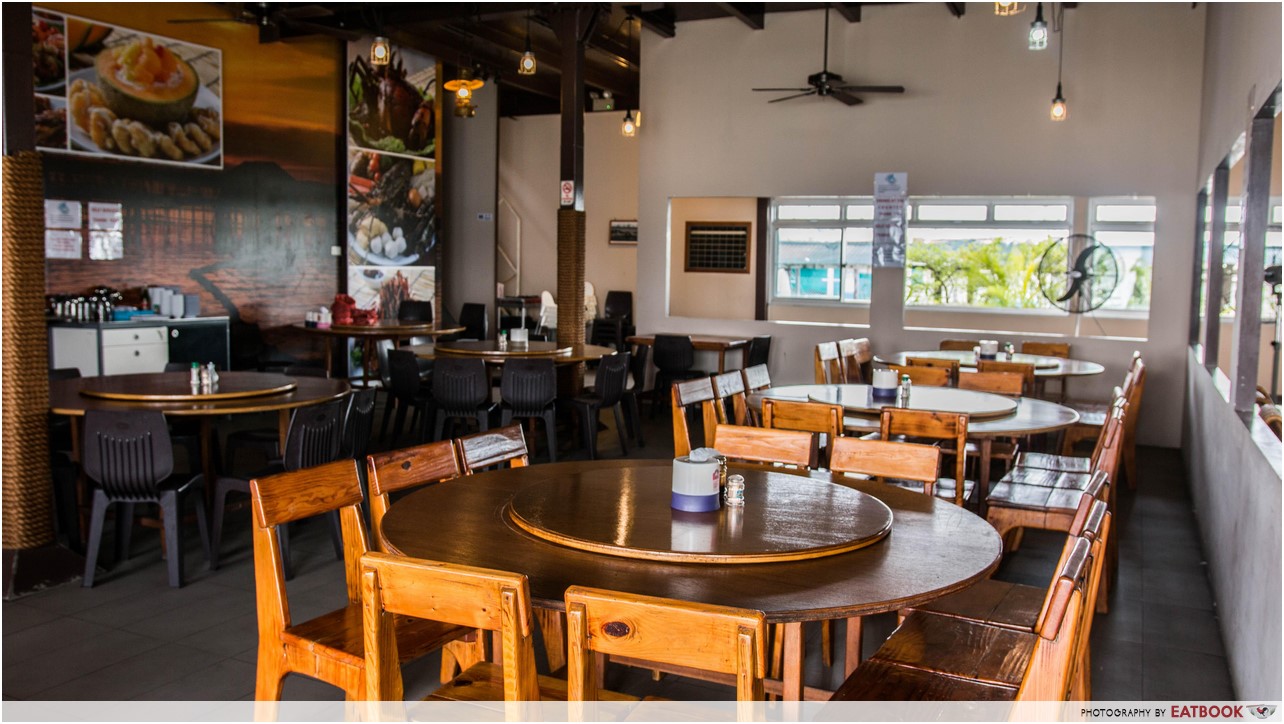 The seating area has enough room for six large round tables. Each one can comfortably sit up to 10 people. Do note that you should try to come in bigger groups as they don't allow diners to share tables with other diners. This makes the restaurant better suited for family gatherings or even company events.
The verdict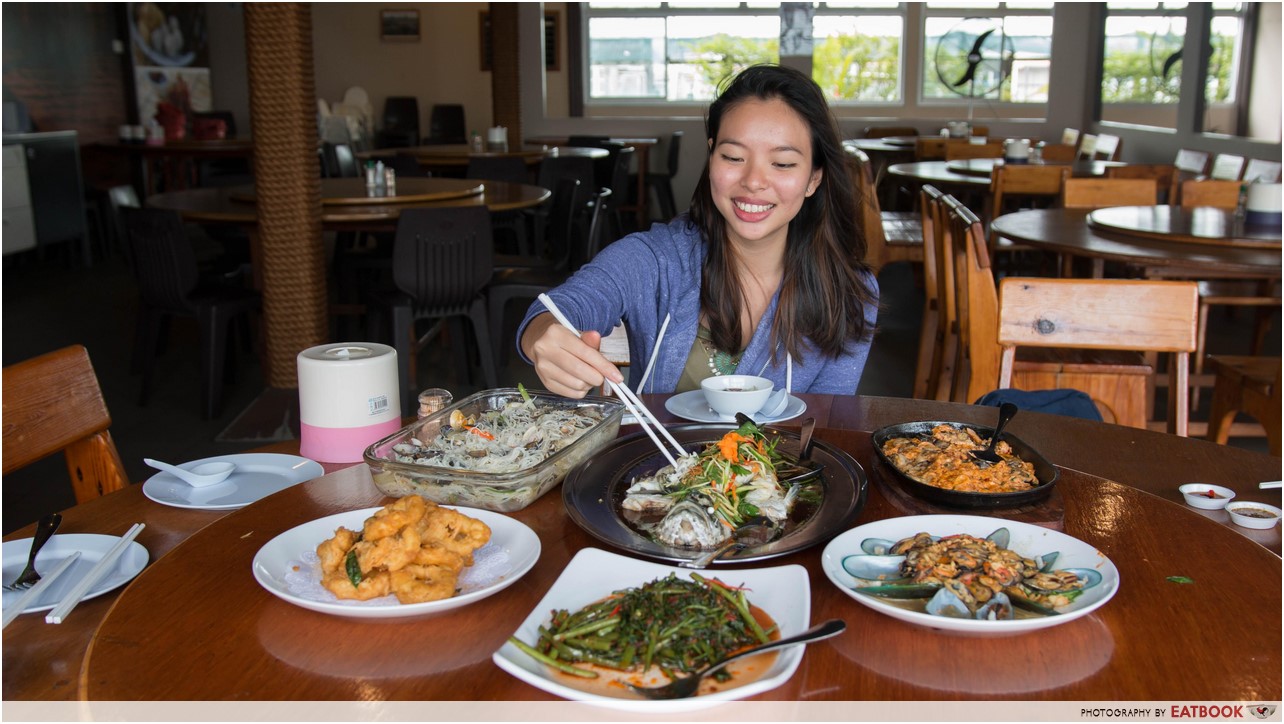 Overall, we thoroughly enjoyed ourselves at Smith Marine. From the bumboat rides and fishing, to the beautiful view and great seafood, this was one unconventional dining experience for me. If you want your next group meal or family gathering to feel like a quick getaway from the city, it's worth checking this restaurant out. For a zi char feast that doesn't involve the ocean, check out these zi char restaurants in the East or these famous zi char spots!
GPS Coordinates: 01'23'5″N, 103'57'42″E
Opening hours: Daily 10am to 7pm
Tel: 9792 7609 (WhatsApp or SMS only)
Website
Menu
Smith Marine is a halal-certified restaurant.
This was a media tasting at Smith Marine.
Summary
Pros
– Unique experience
– Fresh seafood
– Good for groups
Cons
– Inconvenient location
– Relatively expensive
Recommended Dishes: Salted Egg Sotong ($25), Garlic Mussels ($22), Hong Kong Style Sea Bass ($35)
Operating Hours:
Daily 10am to 7pm
Tel:
9792 7609 (WhatsApp or SMS only)
Address: 01'23'5″N 103'57'42″E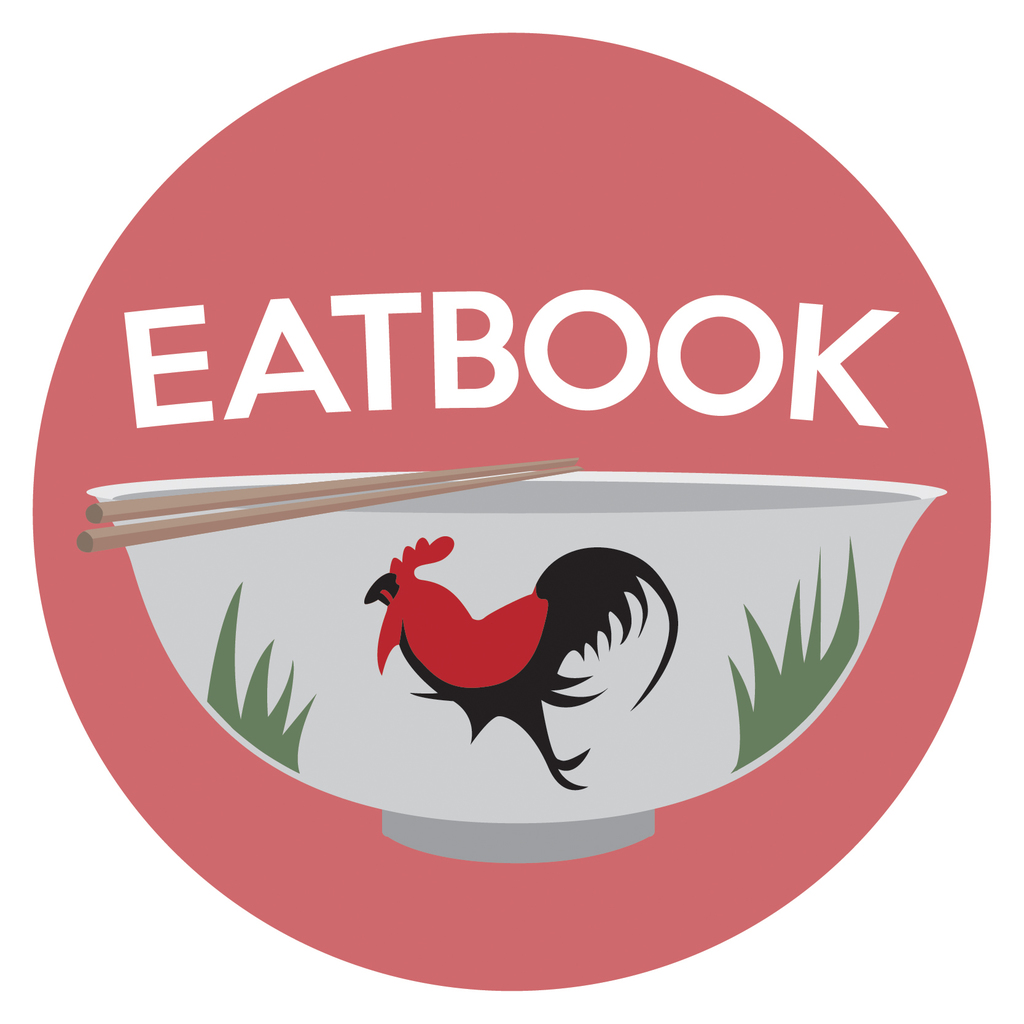 Drop us your email so you won't miss the latest news.