Update (4 March 2021): Som Tam is now permanently closed.
Som Tam at Orchard Central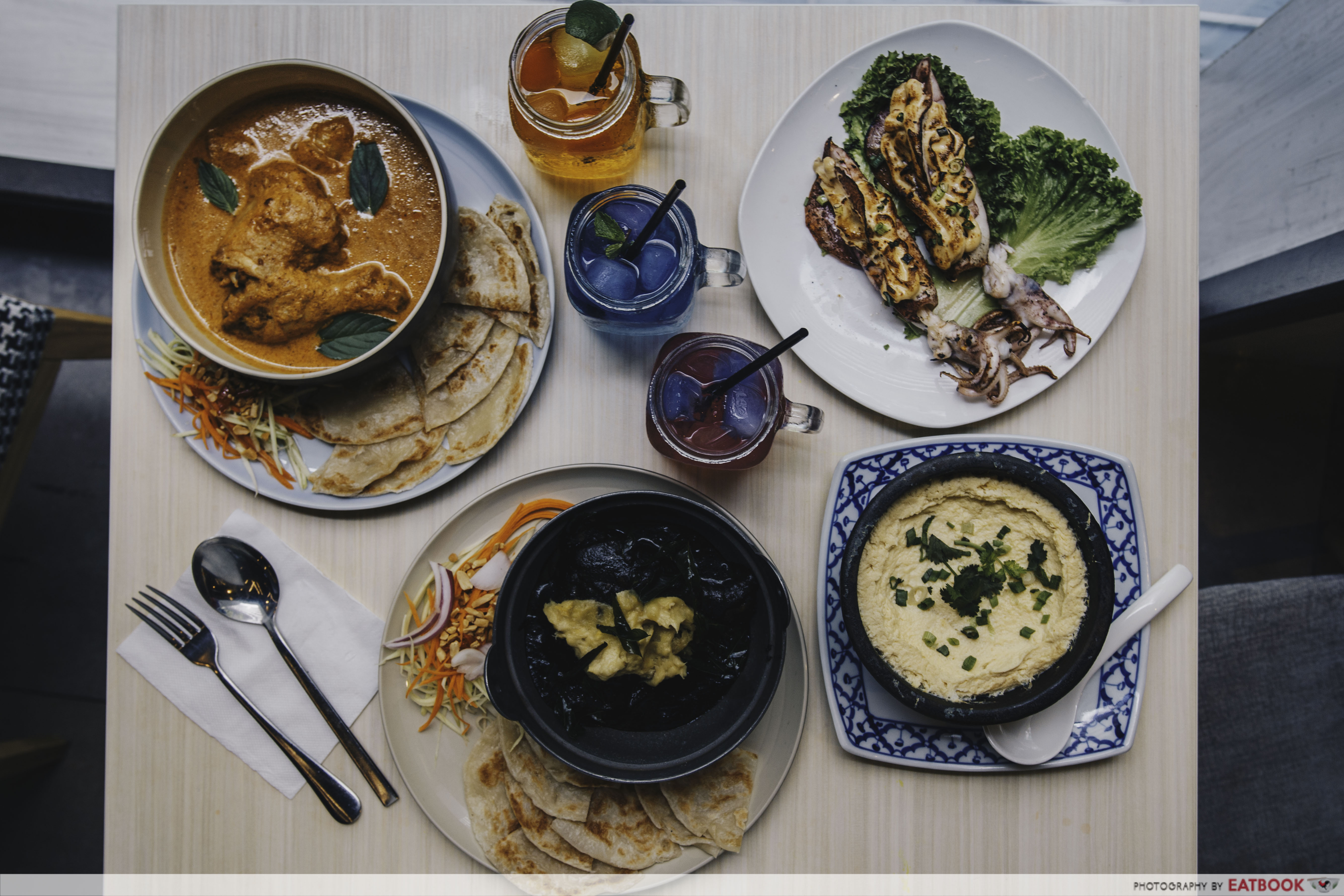 Even though there is no lack of places to eat in town, finding a restaurant that pleases the majority is no easy feat. Thankfully, Thai food and its medley of intense flavours have charmed the masses. Som Tam is a modern Thai-fusion restaurant located in Orchard Central that can be the next place to head to for your group gatherings or dates.
Food at Som Tam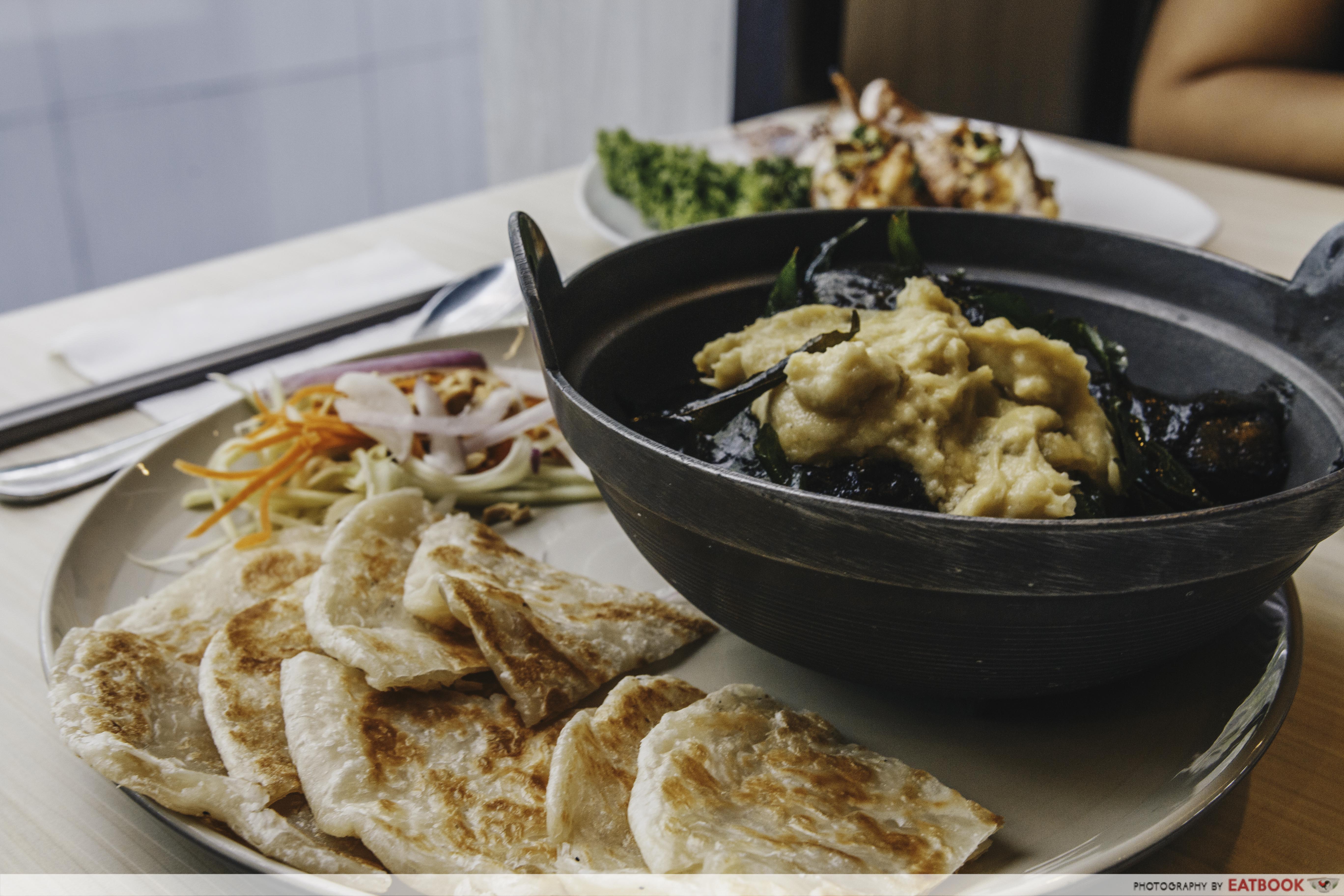 As if durian fries and pizza from Mao Shan Wang Cafe has not intrigued us enough, Som Tam serves Black Chicken Curry With Musan King Durian ($26.80++). Presented with roti prata on the side, a slab of thick durian paste contrasted beautifully with the curry that's coloured black by squid ink beneath.
10 Affordable Durian Snacks From $0.80 To Satisfy Your Durian Cravings Without Going Broke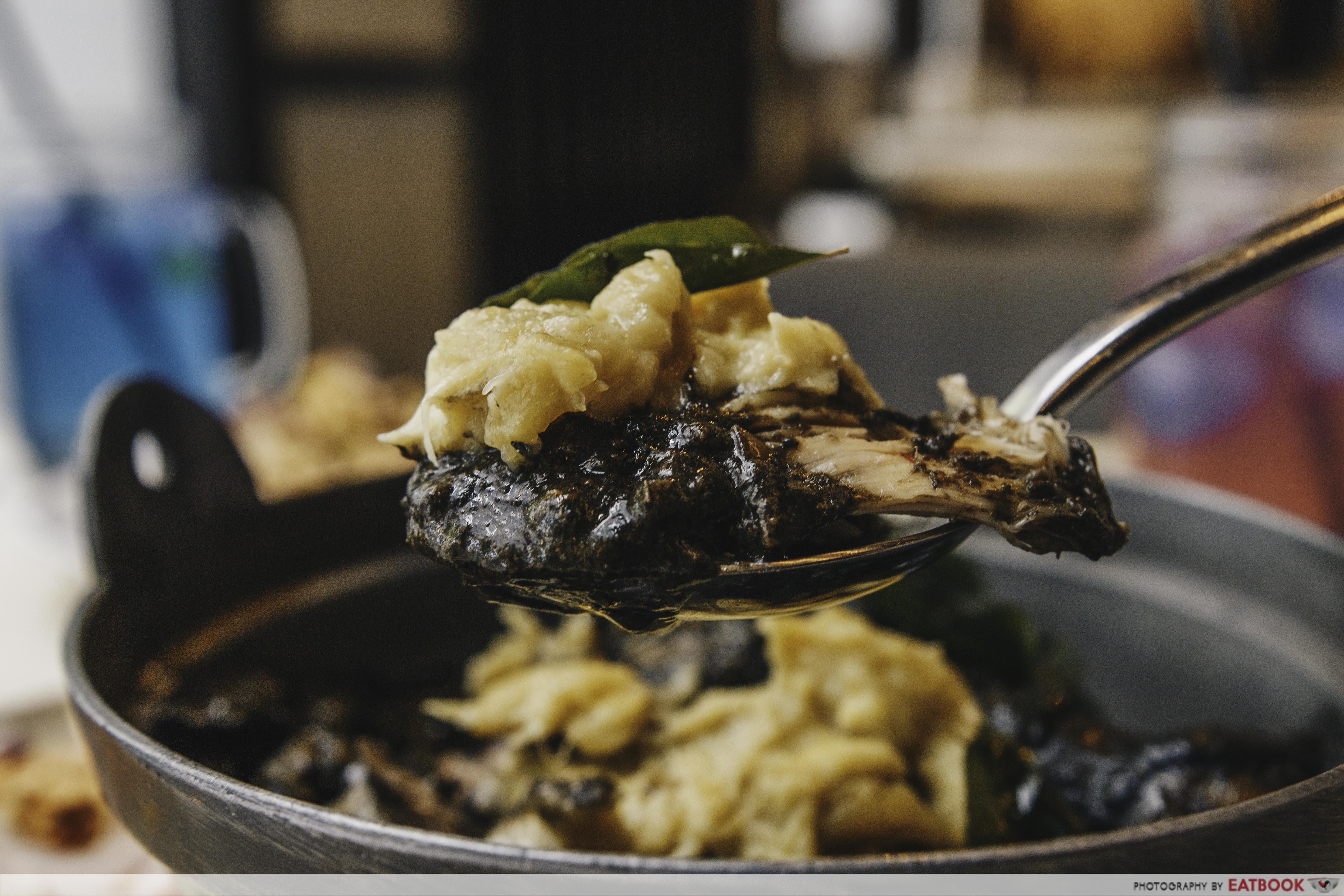 With ants in our pants, we hurriedly snap pictures of this novel dish and dove straight into it. Tearing off a piece of the fork-tender chicken thigh proved to be an easy task. You can mix it all up, or taste the components separately – the curry was delicious both ways. On a scale of one to 10 with one being not spicy and ten being numbing hot, this black mao shan wang curry gets a one.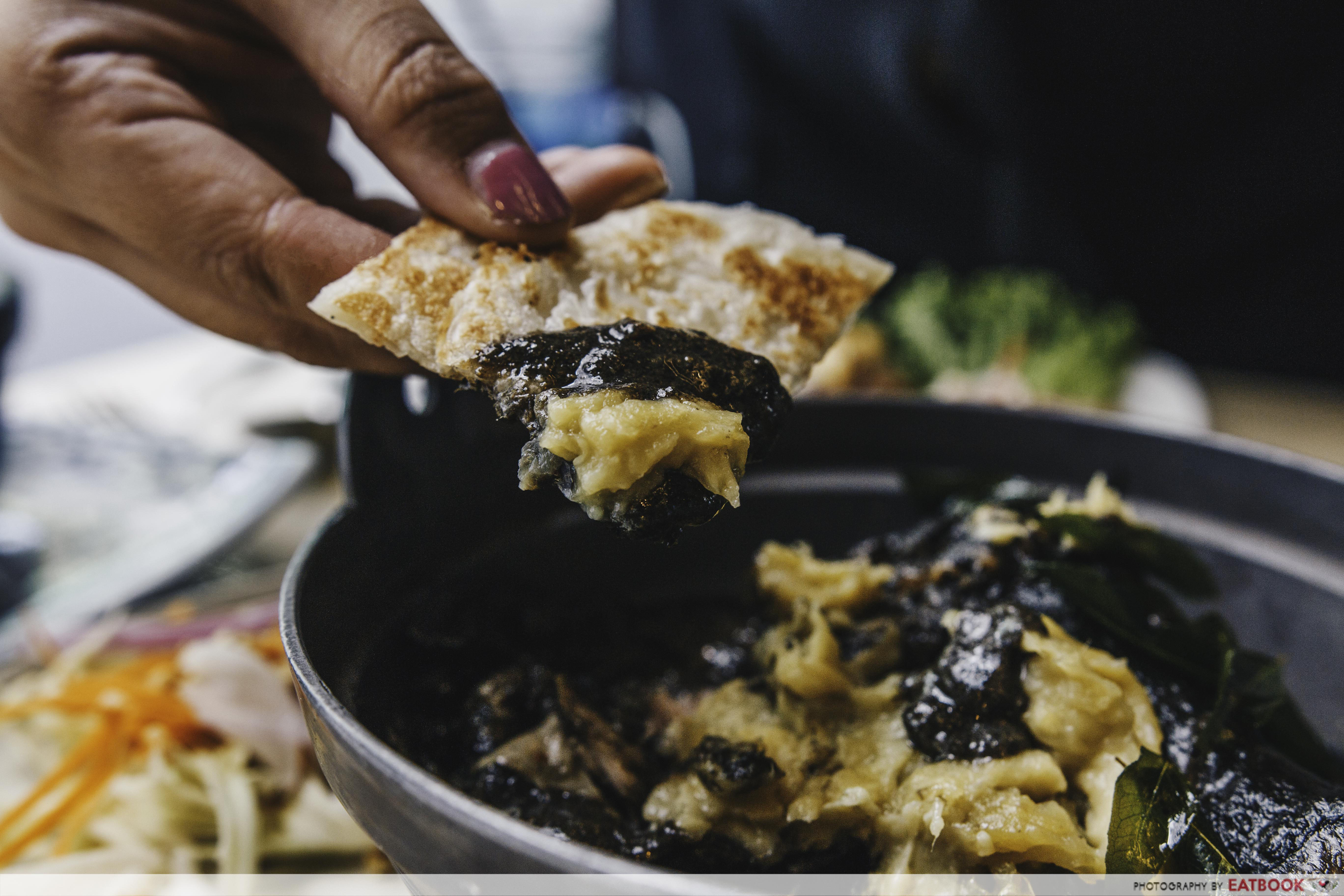 Mixing the durian paste into the curry, the consistency turned thicker but stayed jet black in colour. The durian highlighted the curry in new ways, bringing out the flavours of the spices used in it. A cacophony of tastes really sets this one apart.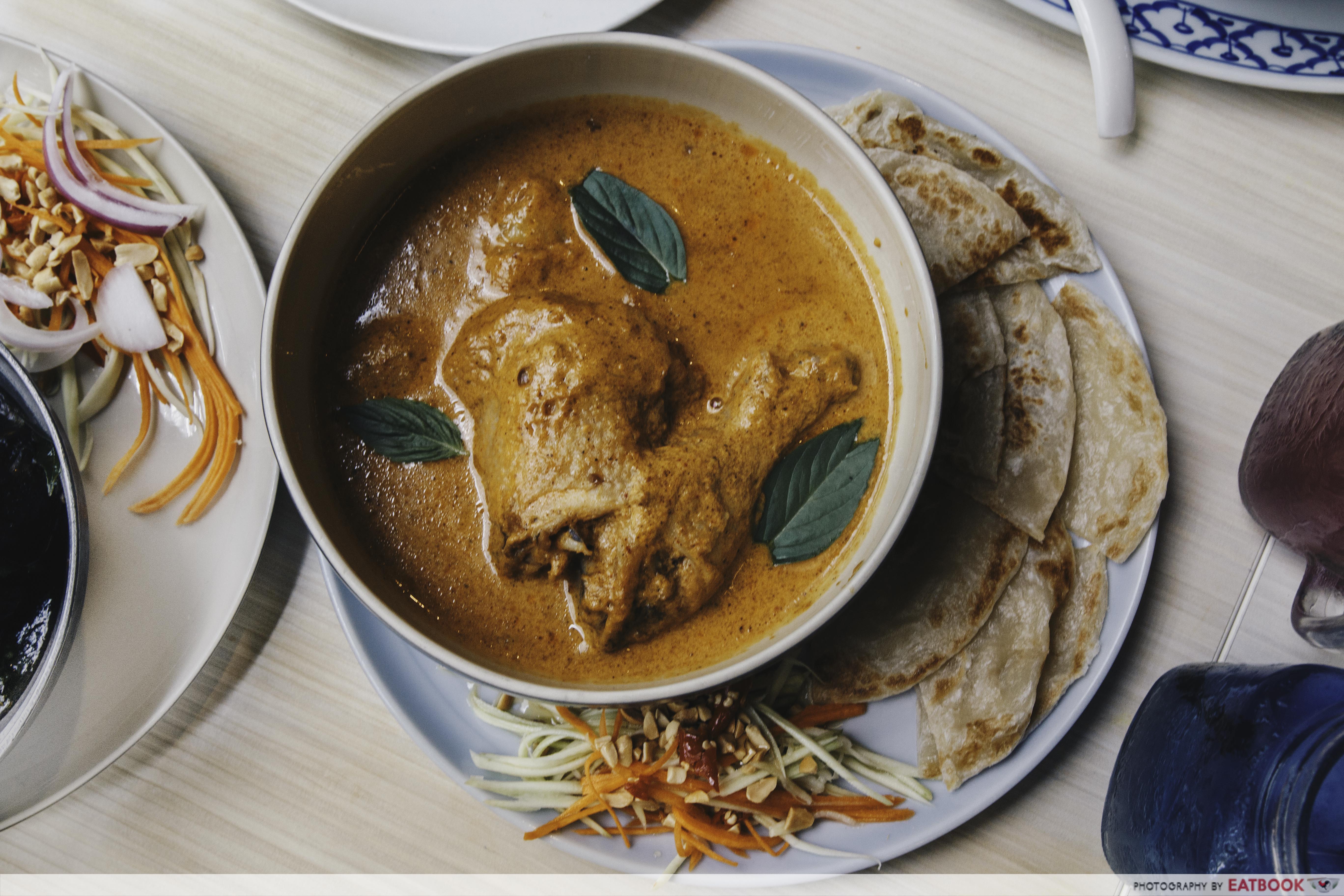 For the less adventurous, order the Massaman Curry With Roti ($23.80++). Like the black chicken curry, it also came with chicken thigh and a side of roti prata. With a spoonful of curry, I am transported to the streets of Bangkok in an instant. This massaman curry is mildly spicy and slightly sweet, getting a two on the scale of spiciness.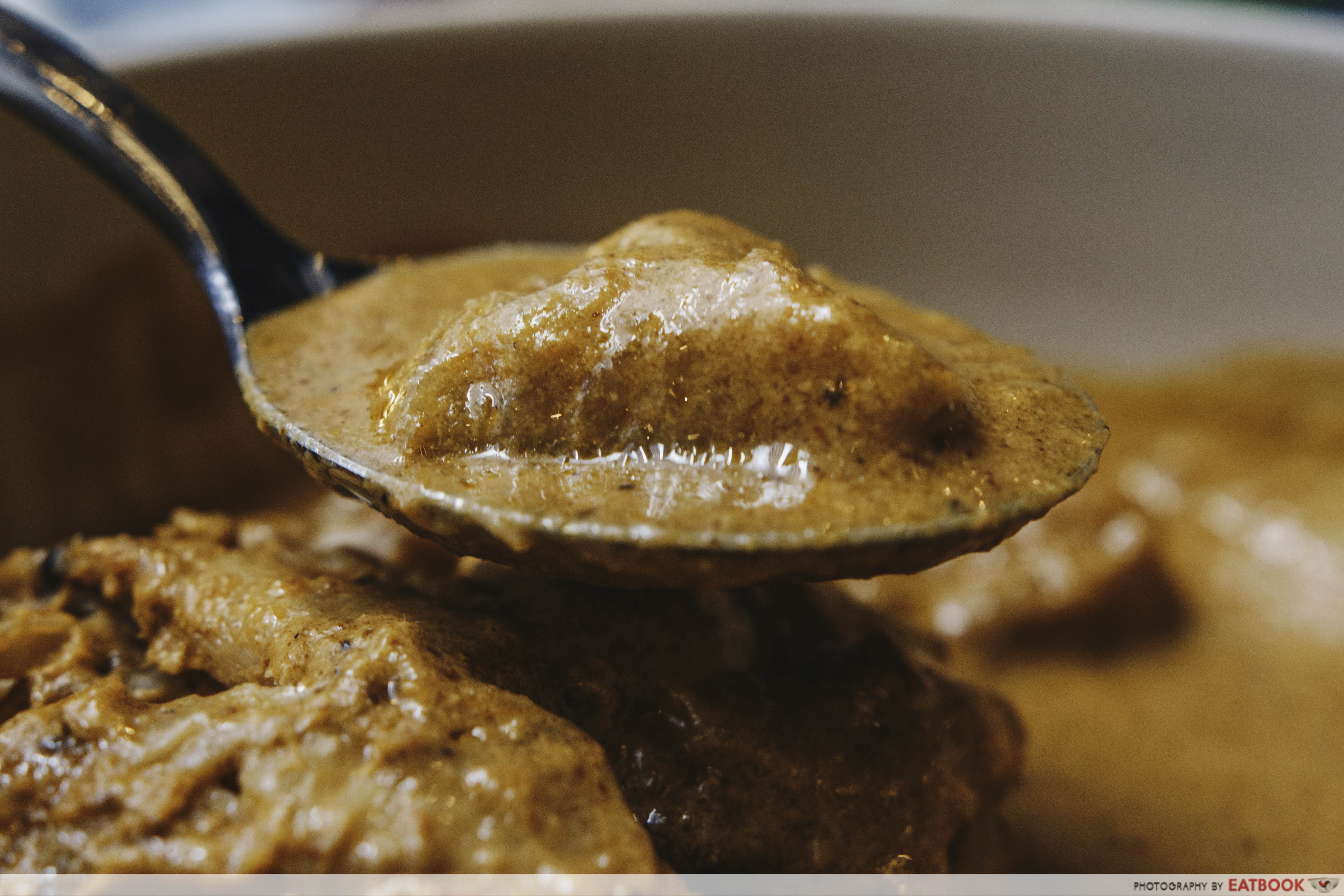 Similar to the black curry, I wished for a higher level of spiciness. That being said, my favourite part of the dish was the chunks of soft potatoes and roasted peanuts in the curry. The gravy was a tad too salty and might make a better pairing with steamed white rice rather than prata.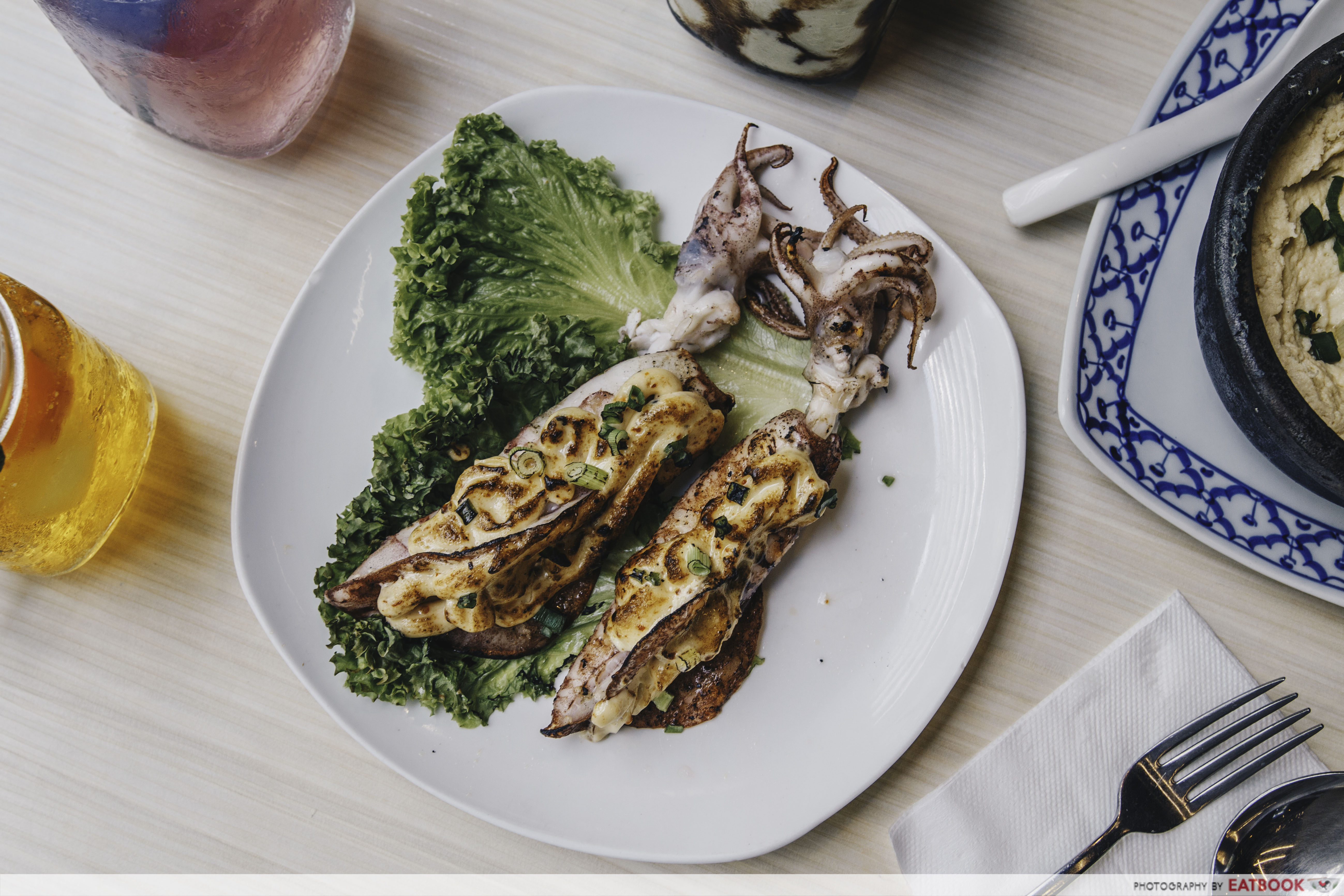 If, like me, you crave for something spicy at a Thai restaurant, their Thai Style Grilled Squid with Mentaiko ($18.80++) would do the job. Doused with a copious amount of mentaiko sauce, each squid was torched to a slight char. They came in two whole pieces, which made it a little unglamourous to eat. I recommend asking for it to be sliced for ease of sharing.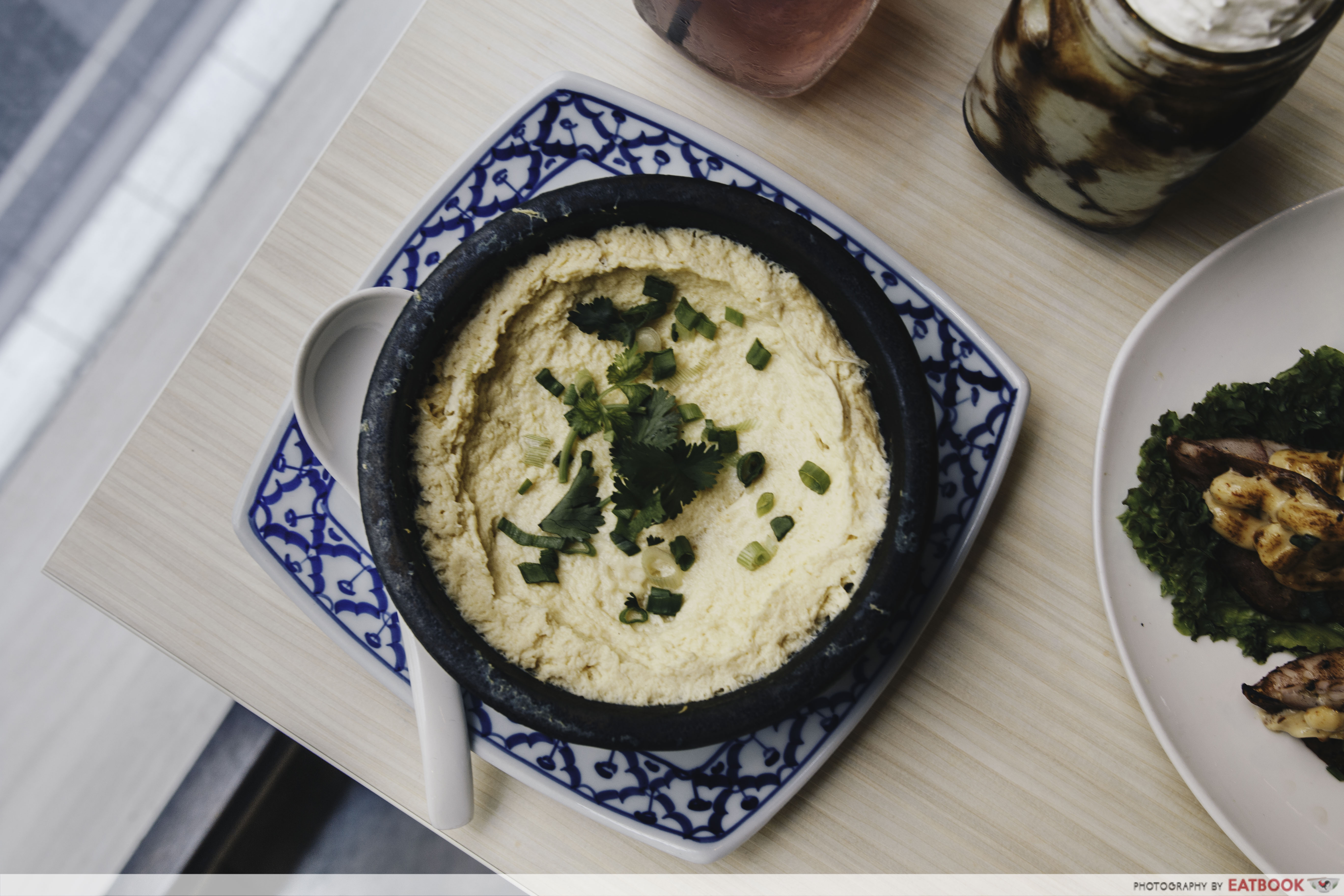 We also tried their Thai Souffles Steamed Egg ($10.80++). Do not be fooled by how plain it looks. Its fluffy exterior hides a depth of flavours synonymous with Thai food. Umami-rich from the addition of Thai fish sauce, this egg souffle is worth a try.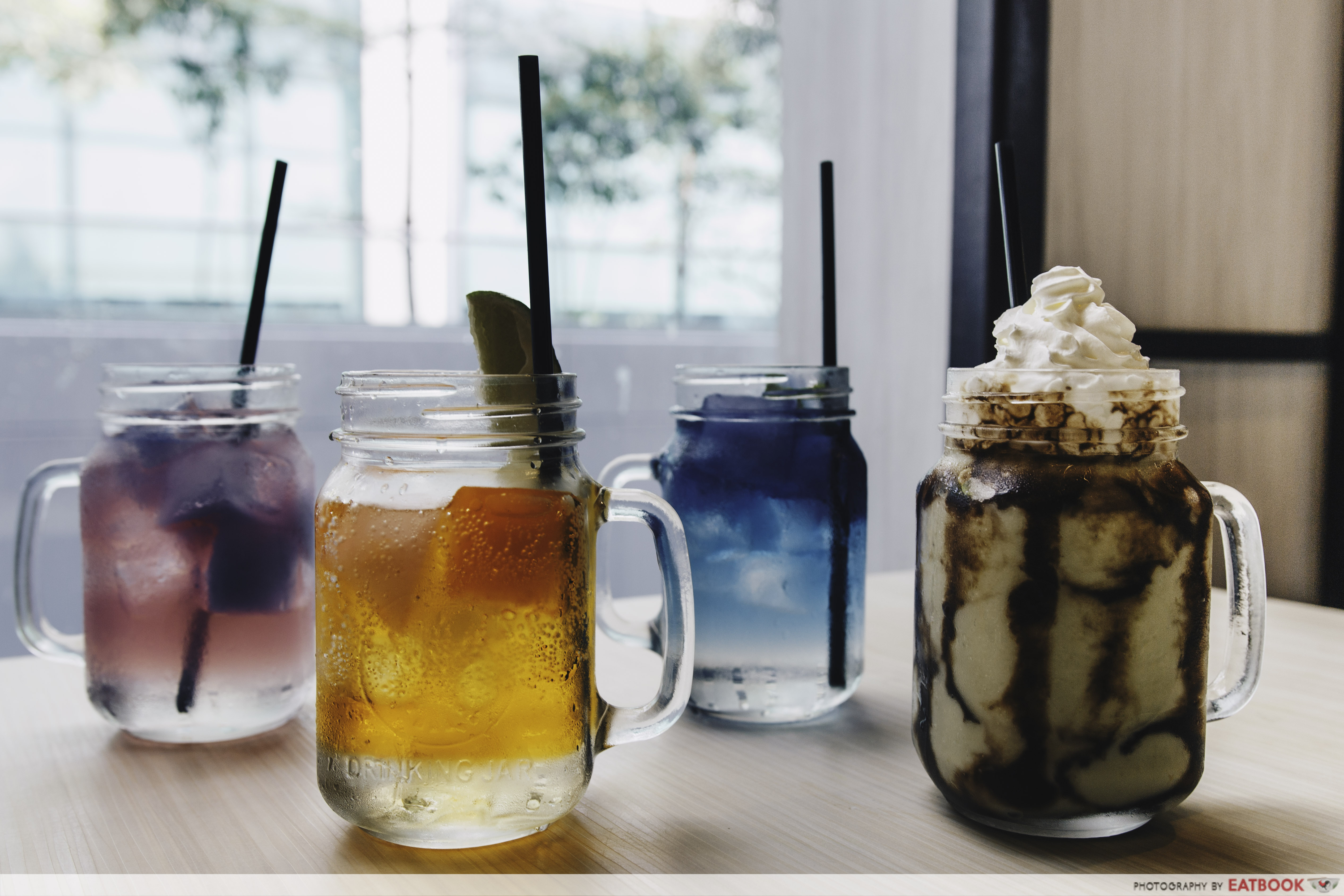 Kids would love Som Tam's colourful menu of drinks. The most interesting one for me was Purple Rain ($6.80++), which features a blue gradient drink that turns purple when you add the shot of lime juice that comes with it. Blue Cha with Coconut ($6.80++) was a refreshing option as well. I would suggest giving the Rainbow Perrier Ice ($6.80++) a pass though, as it was too artificially sweet for me.
Ambience at Som Tam
Located on the eighth floor of Orchard Central, Som Tam is a great place to bring your family to. Adults would enjoy the unique black mao shan wang curry while kids would love the colourful drink concoctions. The wide space along with classy vibes also make for a good place for after-work meet-ups.
The verdict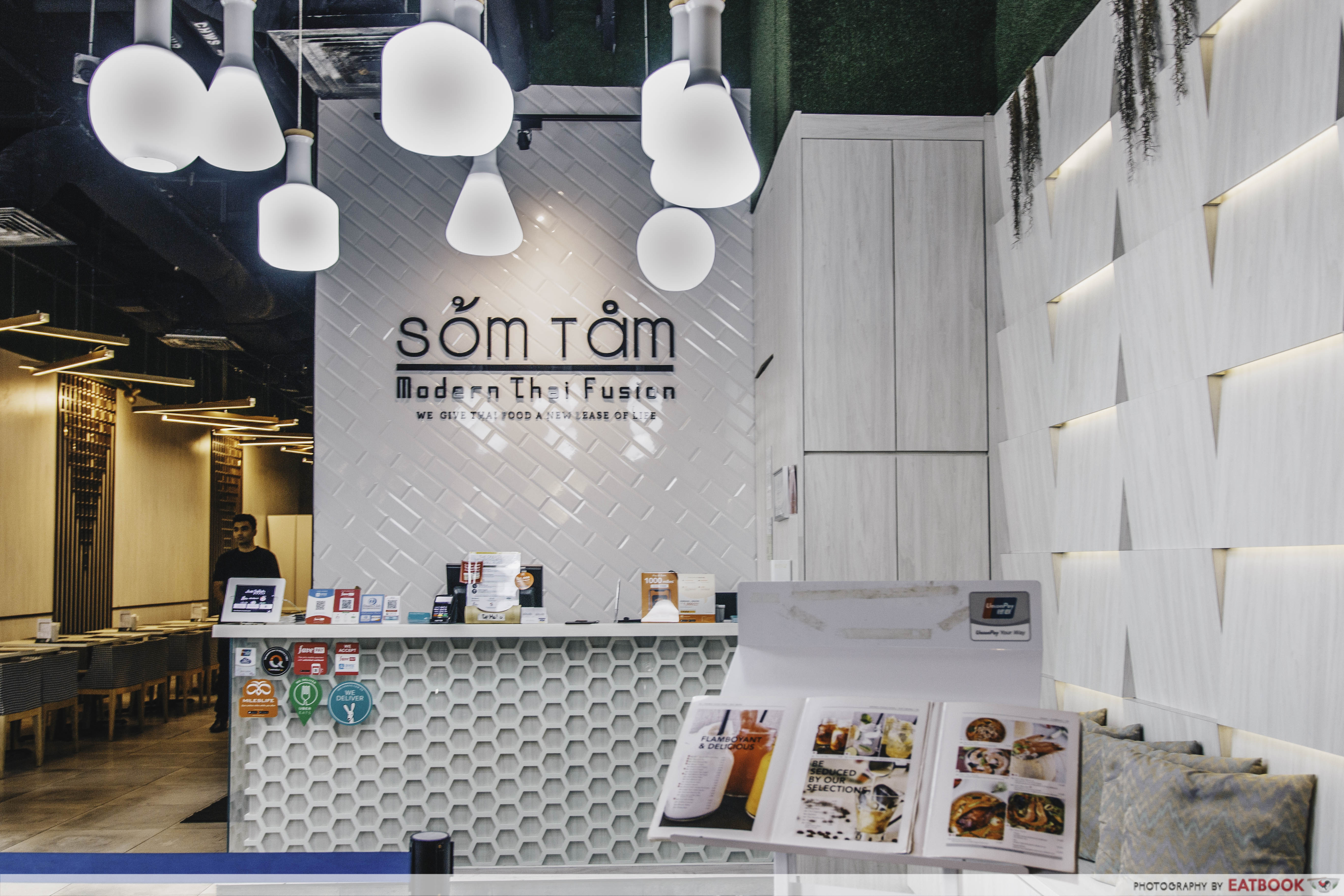 When you can't decide on a place to eat in town, Thai food is a safe bet. Durian lovers should give Som Tam a try as their black mao shan wang curry definitely warrants a visit. However, while we were impressed by the creative fusion dishes from Som Tam, we were disappointed by the underwhelming drinks.
If you are looking for more Thai food options, check out Fatty Thai and Noodle Thai Thai Kitchen.
10 Cheap Thai Food Places In Singapore To Eat At When You're Missing BKK
Address: 181 Orchard Road, #08-13, Orchard Central, Singapore 238896
Opening hours: Mon-Thur 11:30am to 3pm, 5:30pm to 10pm, Fri-Sun 11:30am to 10pm
Tel: 6238 6872
Website
This was a media tasting at Som Tam.
Summary
Pros
– Quality ingredients
– Well-flavoured dishes
– Interesting menu
– Good service
– Convenient location
Cons
– Expensive
Recommended Dishes: Black Chicken Curry With Musan King Durian ($26.80++), Massaman Curry With Roti ($23.80++)
Operating Hours:
Mon-Thur 11:30am to 3pm, 5:30pm to 10pm, Fri-Sun 11:30am to 10pm
Tel:
6238 6872
Address: 181 Orchard Road, #08-13, Orchard Central, Singapore 238896