---
Value lunch deals at The Star Vista
---
Deciding what to eat for lunch is hard. A rainy morning might cause an intense craving for something warm and soupy, while the relentless afternoon sun might motivate the entire group to choose a place with cool air-conditioning. To alleviate potential lunchtime woes for you and your colleagues, we've compiled a list of 10 lunch places within The Star Vista that offers great bang for your buck and a well-deserved break during lunchtime.
---
1. Porn's Sexy Thai Food
---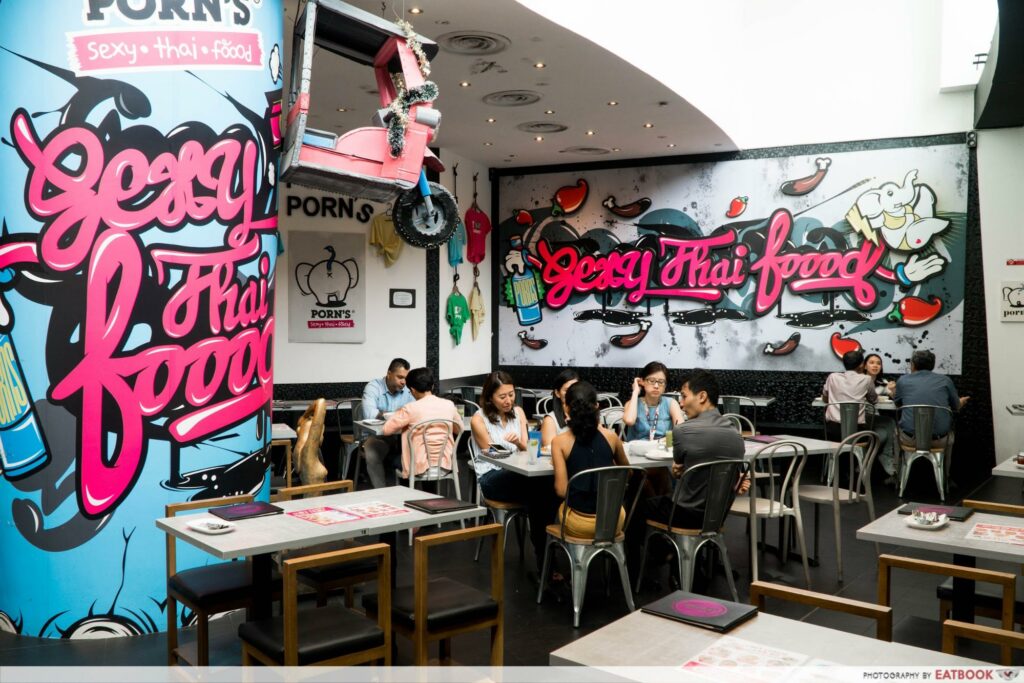 With a tuk-tuk fixed right on top of the restaurant and colourful graffiti strewn across the wall, Porn's Sexy Thai Food makes you feel like you're in Bangkok with these little nuances.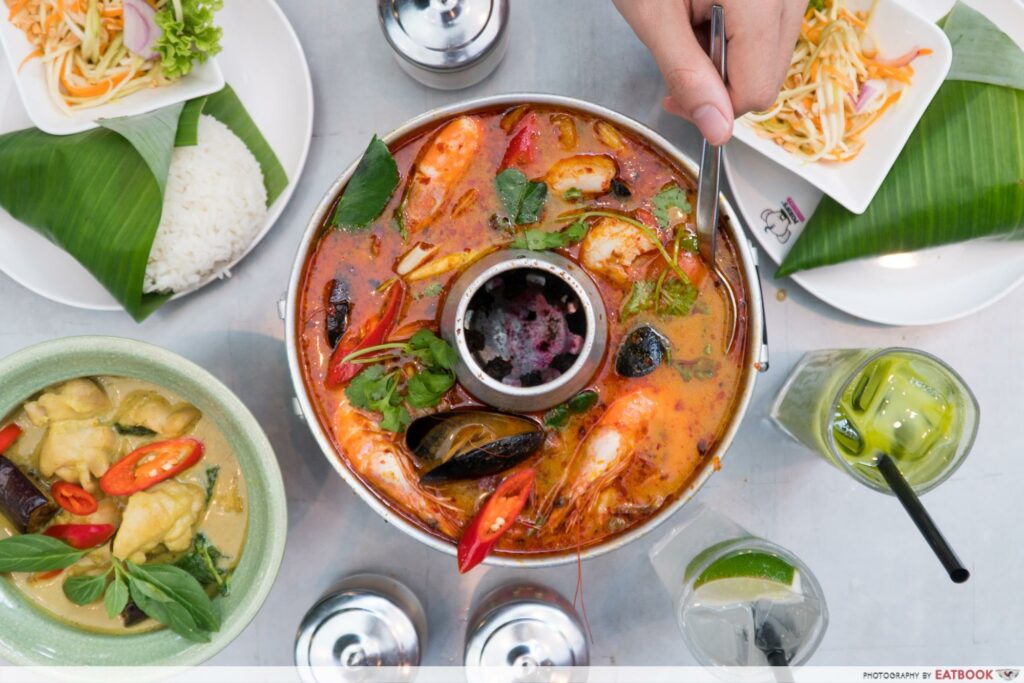 The Set Lunch Promotion ($9.80++) offers great value that is hard to beat. You get a choice of seven mains that are accompanied by rice, refreshing mango salad, and Thai green tea or lime juice. The Tom Yum Rice Set comes served in a formidable looking hot pot that is topped with a generous amount of fresh prawns, sliced fish and even mussels. Try not to slurp too much of the addictively spicy broth at one go though, I found myself desperately gulping down my drink after just a few mouthfuls.
Unit number: #02-09
Opening hours: Mon-Fri 11:30am to 3pm, 5pm to 10pm, Sat-Sun 11:30am to 10pm
Tel: 6334 1623
Website
---
2. OMOOMODON
---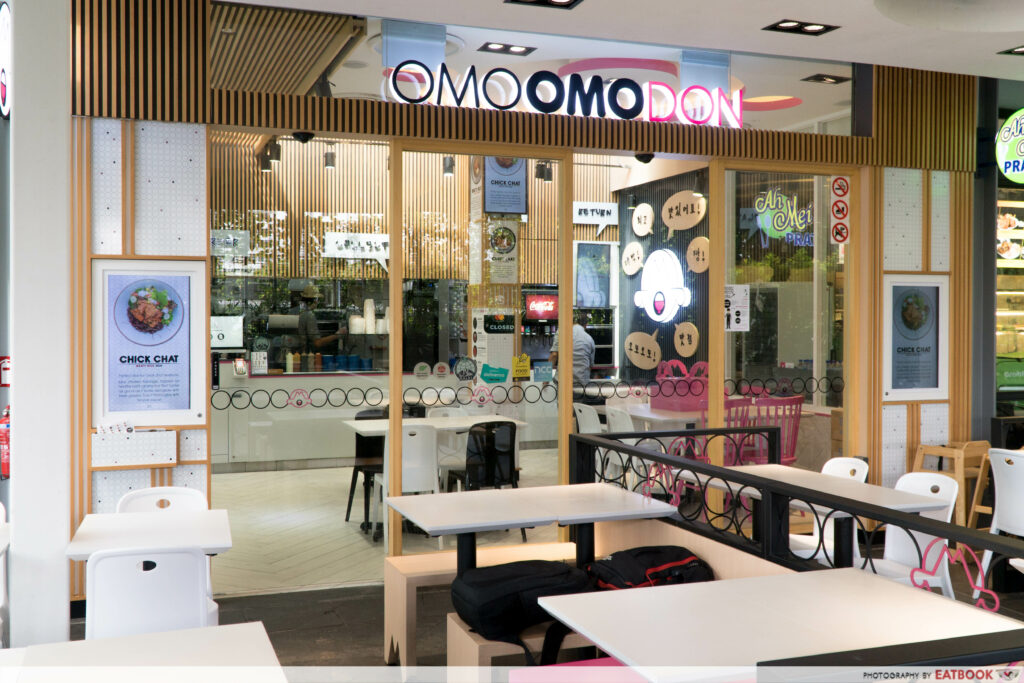 Serving a fusion of Japanese and Korean cuisines, OMOOMODON offers over 17 rice bowls that start at just $8. The halal-certified eatery also lets you build your own don and customise it to just the way you like with prices starting at $8 as well.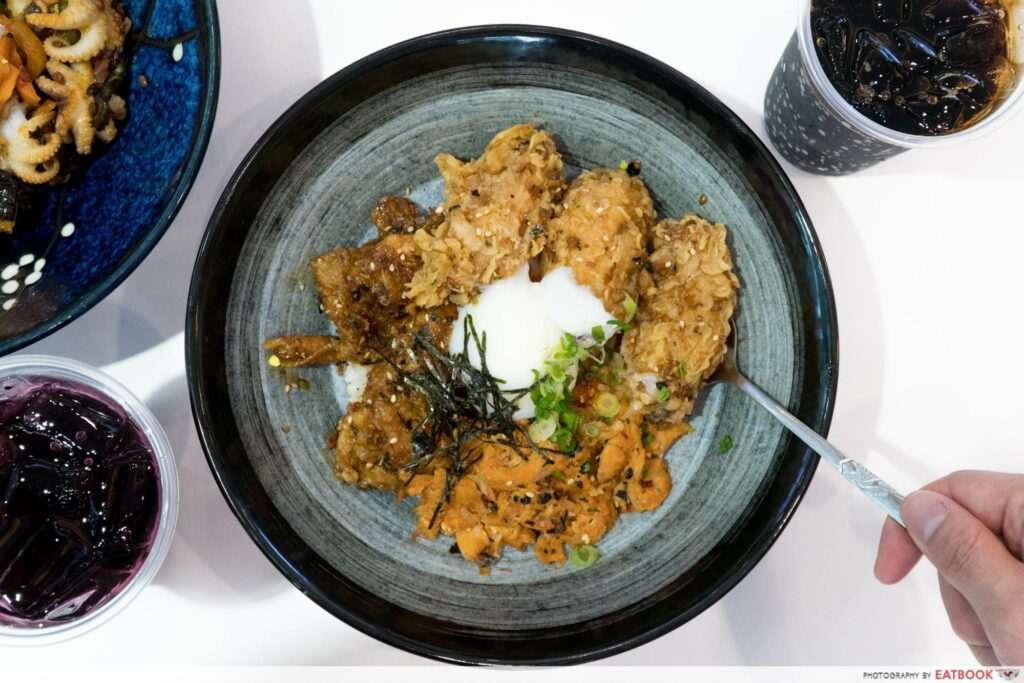 Featuring three different types of chicken, crowd-favourite Ji-Ji Don ($10) is a real treat for chicken lovers. Spicy chicken, teriyaki chicken, soy garlic winglets, and Korean white rice are combined with bibimbap sauce that is just slightly spicy. It's then topped off with an onsen egg, which can be mixed together with the sauce to coat everything in a rich and creamy concoction. All three varieties of chicken have varying textures with the winglet emerging as my personal favourite, thanks to the soy garlic marinade that was delicately balanced with plenty of sweet and savoury flavours.
As quite a big eater myself, I found the don quite filling and highly recommend diners to order a few to share among themselves. They don't accept any liabilities for reports of food coma though.
Unit number: #02-14 and #02-15
Opening hours: Daily 11:30am to 10pm
Tel: 6734 1863
Website
---
3. Imakatsu
---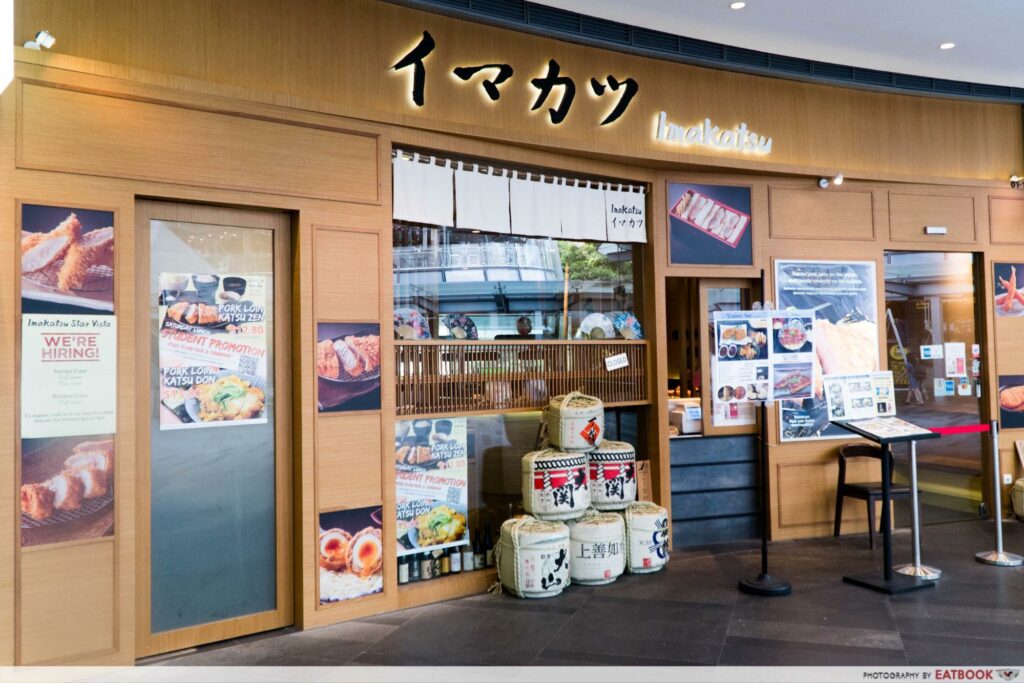 Originating from Japan, Imakatsu specialises in just tonkatsu, or breaded deep-fried pork cutlet. They obtained Bib Gourmand status in the 2015 Tokyo Michelin Guide and get their pork straight from the famous Kagoshima prefecture.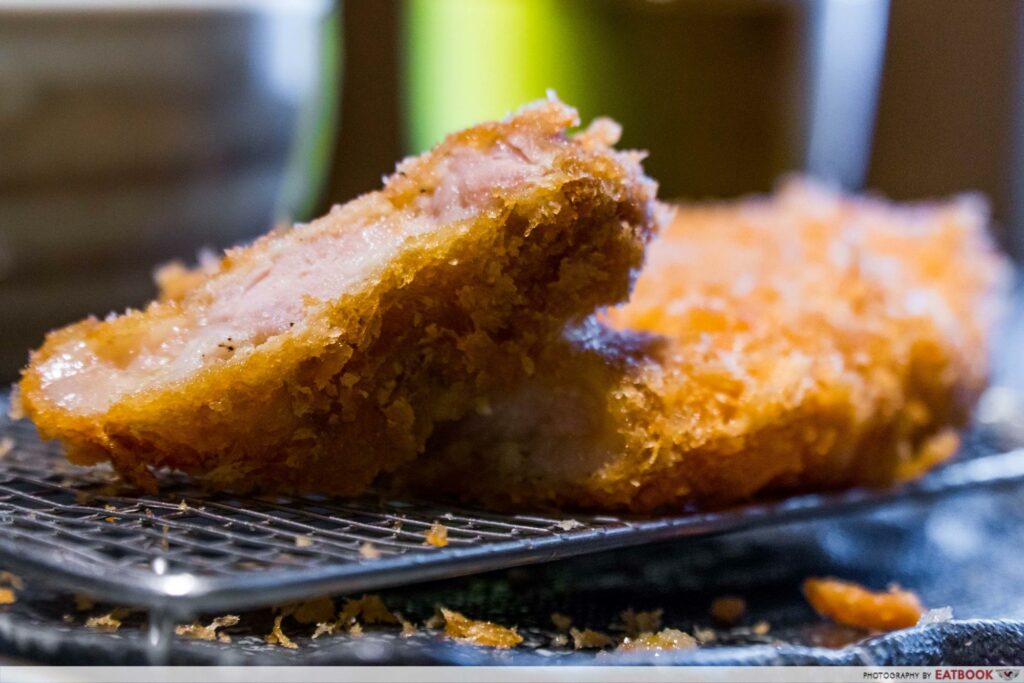 Heads up to hungry students on Saturdays, the Pork Loin Katsu Zen ($18.80++) is going at just $12.80++ when you flash your student pass. For office workers, you can get lunch sets that range from $13.80++ to $19.80++ from 11:30am to 3pm daily. Each set comes with a free flow of shredded cabbage and fluffy white rice, along with miso soup and pickles.
The tonkatsu was fried to perfection with the breaded skin cooked to a golden-brown crispness. I also loved how the pork loin stayed succulent and moist, even after the deep-frying process. Dip it in the house-made tonkatsu sauce, imported from Japan, for a slightly sweet and tart taste.
Unit number: #01-17
Opening hours: Daily 11:30am to 3pm, 5:30pm to 10pm
Tel: 6694 6148
Website
---
4. WATAMI Japanese Dining
---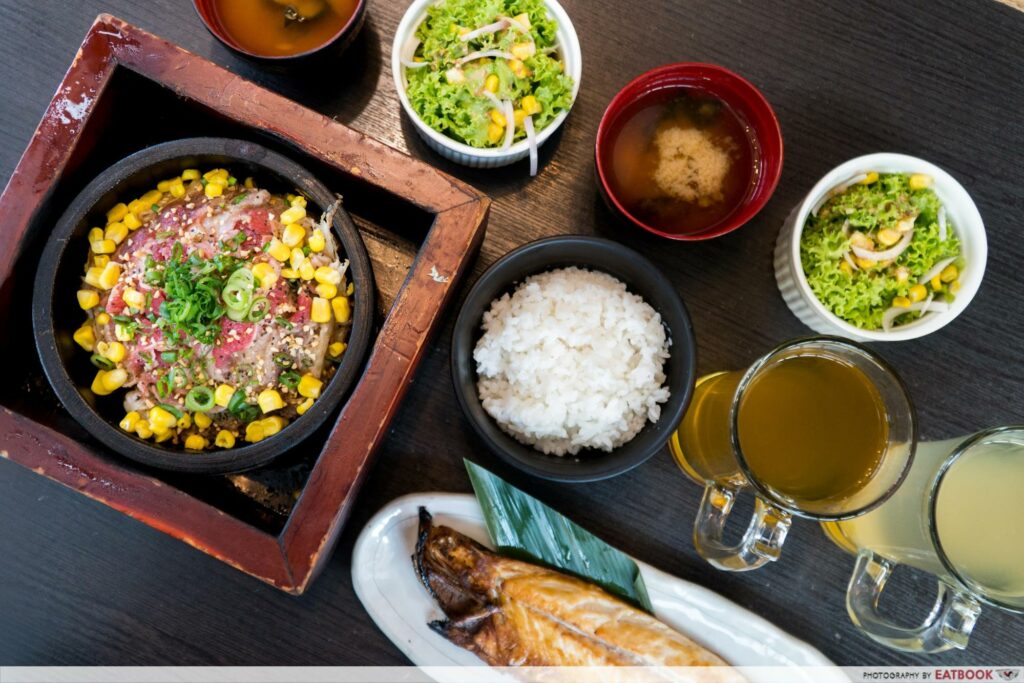 WATAMI Japanese Dining comes with plenty of large tables, making it an ideal place for team lunches or casual lunch meetings. Check out the restaurant's lunch menu that offers plenty of value-for-money set lunches such as rice bowls, stone pot rice, fish and noodles. Each set also lets you choose from nine different drinks, including house-made beverages such as yuzu tea and lemon tea.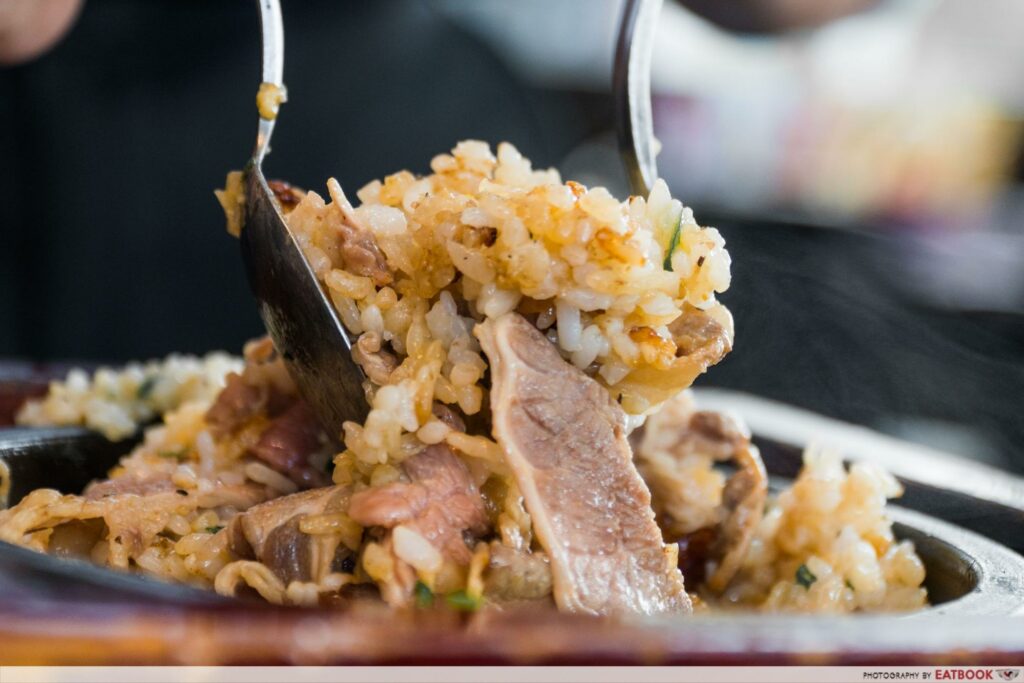 The Pepper Beef Rice in Stone Pot Set ($9.90++) comes sizzling hot, with the sweet aroma of seared beef hitting our noses immediately. Served on a stone pot, Japanese rice is plated together with well-marbled beef, corn, butter, and black pepper. Mix everything up for a rich and hearty treat. If you like your rice nice and crispy, just like how it's done in Chinese-style claypot rice, you'd be glad to know that the rice in this dish burns at the bottom quite quickly to create a nice characteristic char.
Unit number: #02-16
Opening hours: Daily 11:30am to 10pm
Tel: 6694 3643
Website
---
5. Lao Huo Tang
---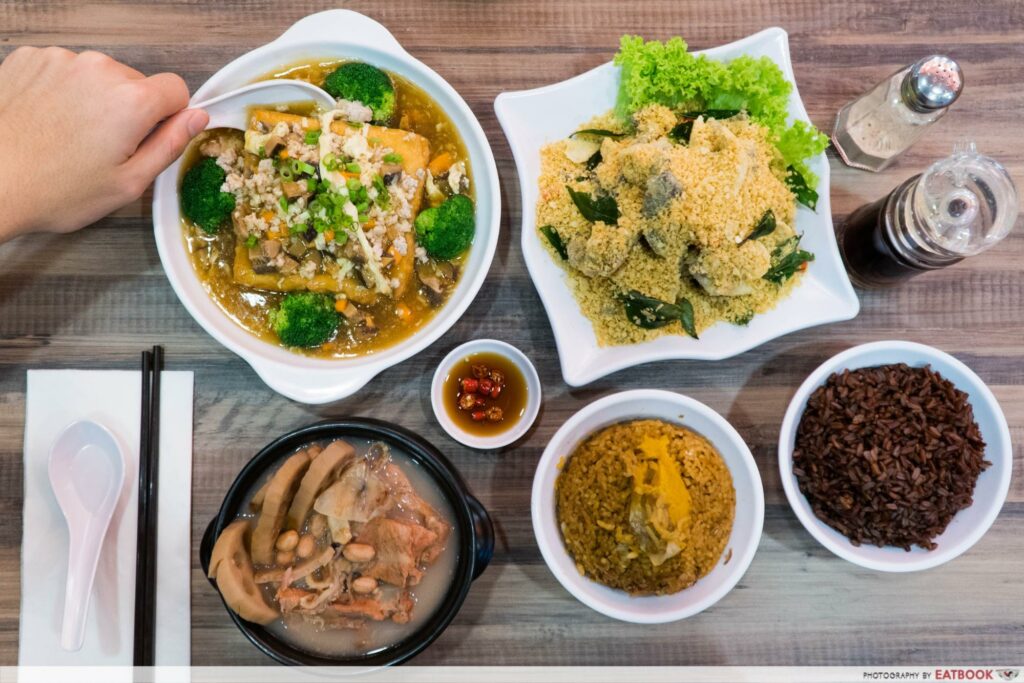 There are times when a piping hot bowl of soup and a warm bowl of rice is all you want for lunch. Lao Huo Tang offers healthy and nourishing soups, along with complementing dishes that are great to share in groups.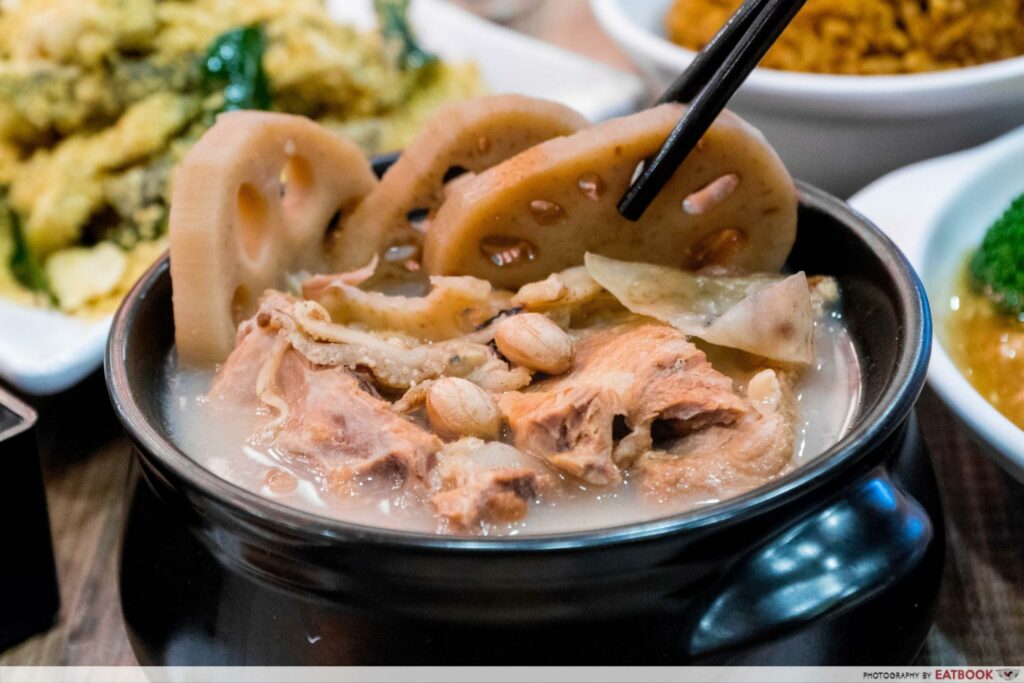 The Lotus Root Soup with Peanut ($9.80++) reminded me of home-cooked soup with its comforting flavours and does not include MSG or colouring. The soup comes filled with fork-tender pork ribs, sliced lotus roots and plenty of peanuts to make it a healthier alternative to other oily lunch options. If you like your rice to consist of a little more flavour, try their special Pumpkin Rice ($2++) where steamed pumpkin is cooked together with rice, resulting in a sweet and flavourful treat.
Unit number: #B1-31A
Opening hours: Daily 11am to 9pm
Tel: 6262 3125
Website
---
6. Nando's
---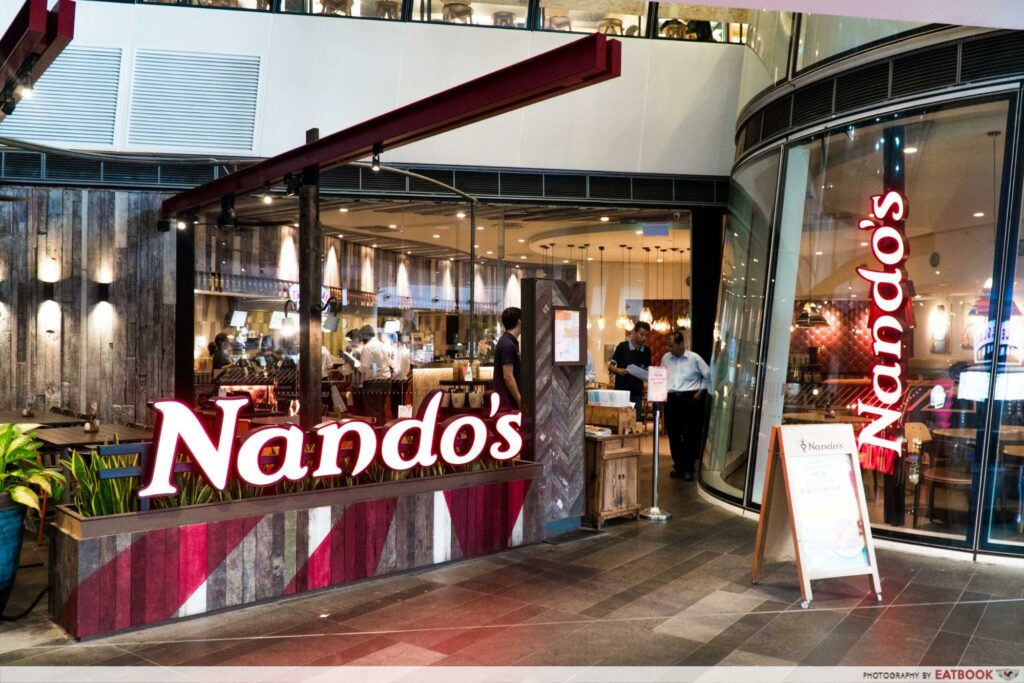 Nando's just got better with a brand new concept that features plenty of self-service options. The new fast-casual concept requires diners to order their food at the counters, so you won't need to fork out any service charge.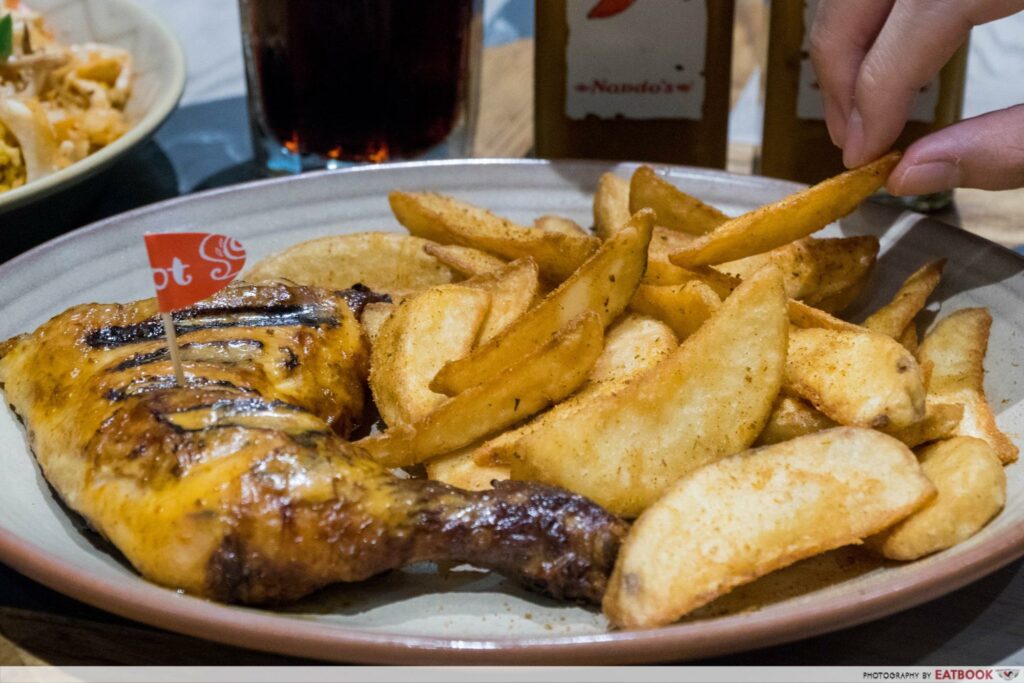 Their lunchtime promotion features their signature grilled ¼ Chicken ($12.90+), as well as a choice of regular side and bottomless drink. The chicken was juicy and tender with the accompanying Peri-Peri sauce, or African Bird's Eye Chilli sauce, providing an added tanginess to the grilled chicken. The sauce can get really spicy so be sure to not add too much. I learned that the hard way and the bottomless drinks proved to be quite handy.

Unit number: #B1-09
Opening hours: Daily 10am to 10pm
Tel: 6694 0630
Website
---
7. Segar Restaurant
---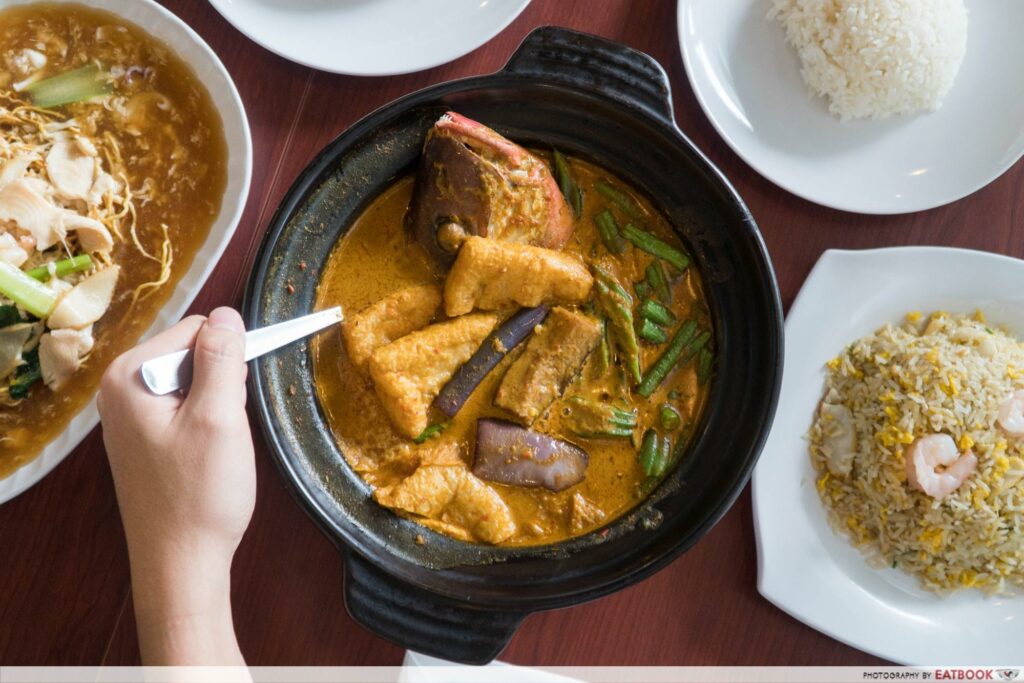 Nothing beats the taste of home-cooked food. Segar Restaurant comes close to replicating that taste, with unpretentious food that focuses on communal dining and plenty of familiar flavours.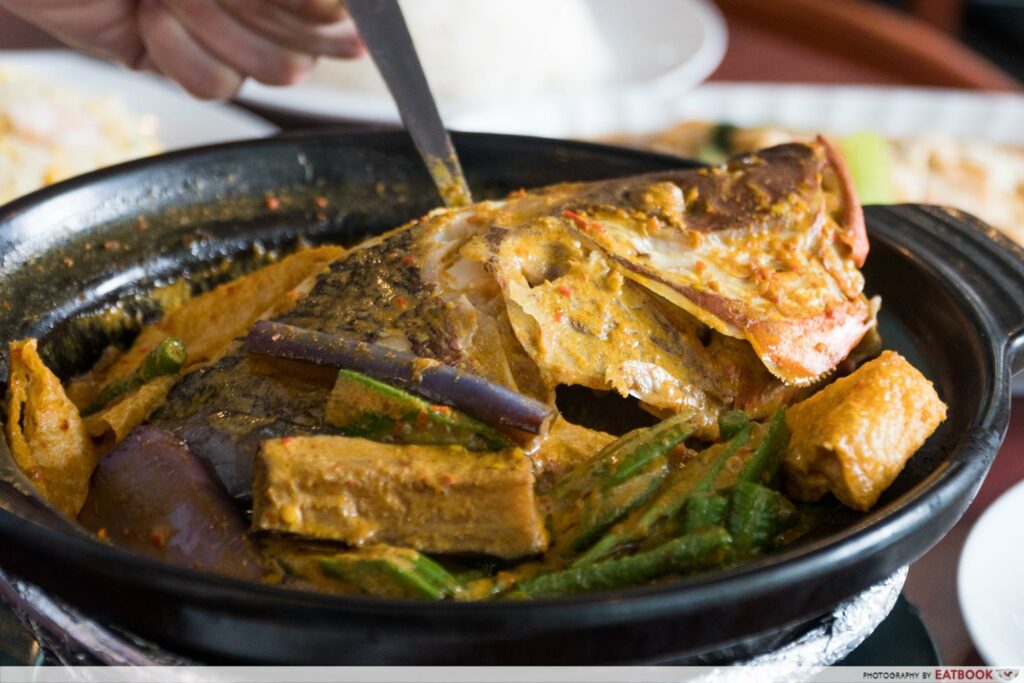 Their best-selling Curry Fish Head ($22++) comes in a bubbling pot that is filled with long beans, tau pok, eggplant and okra to soak up the rich and creamy sauce. Ideal for sharing with two to three others, this version of Singapore-style fish head curry omits the use of assam, which explains the lack of sourness in the curry. The red snapper fish was delicately flaky, with the spiciness nicely balanced. The halal-certified eatery also offers plenty of wallet-friendly options such as Seafood Fried Rice ($6++) and Crispy Egg Noodles ($5++) that are great for individual diners.
Unit number: #02-08 and #02-28A
Opening hours: Daily 11:30am to 9:30pm
Tel: 6262 6609
Website
---
8. Menya Musashi
---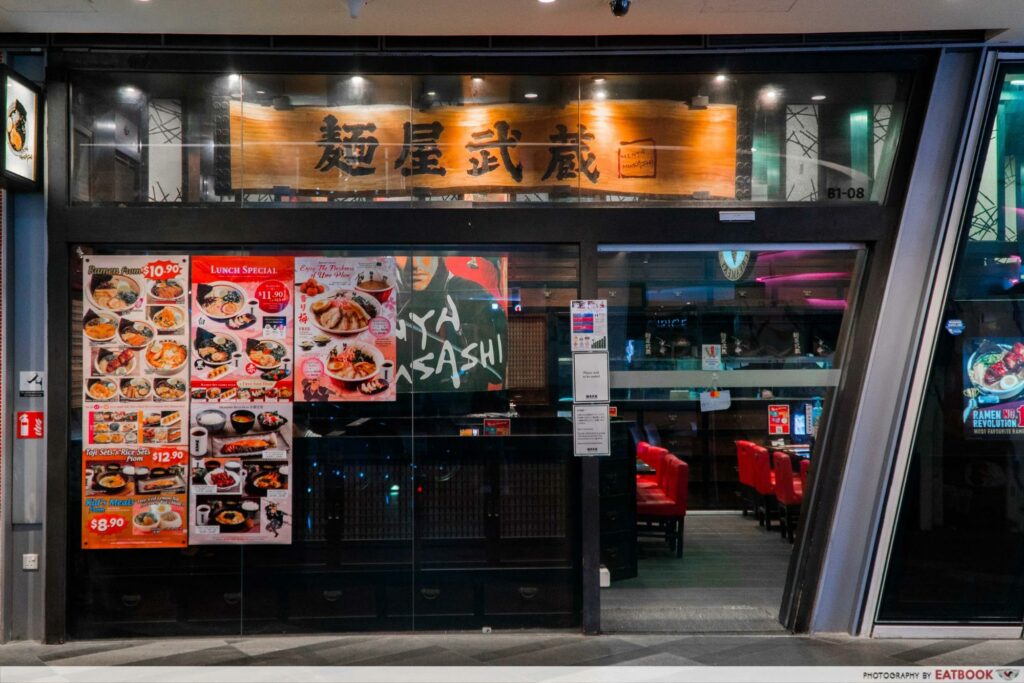 Ramen is always a good idea, especially when there are different varieties available. The Ramen Set ($11.90++) at Menya Musashi lets you choose from creamy and classic tonkatsu "white" broth, "black" garlic broth, or fiery "red" broth with spicy chilli oil. The set also comes with a variety of side dishes to choose from such as chicken karaage, chashu maki, grilled gyōza, and more.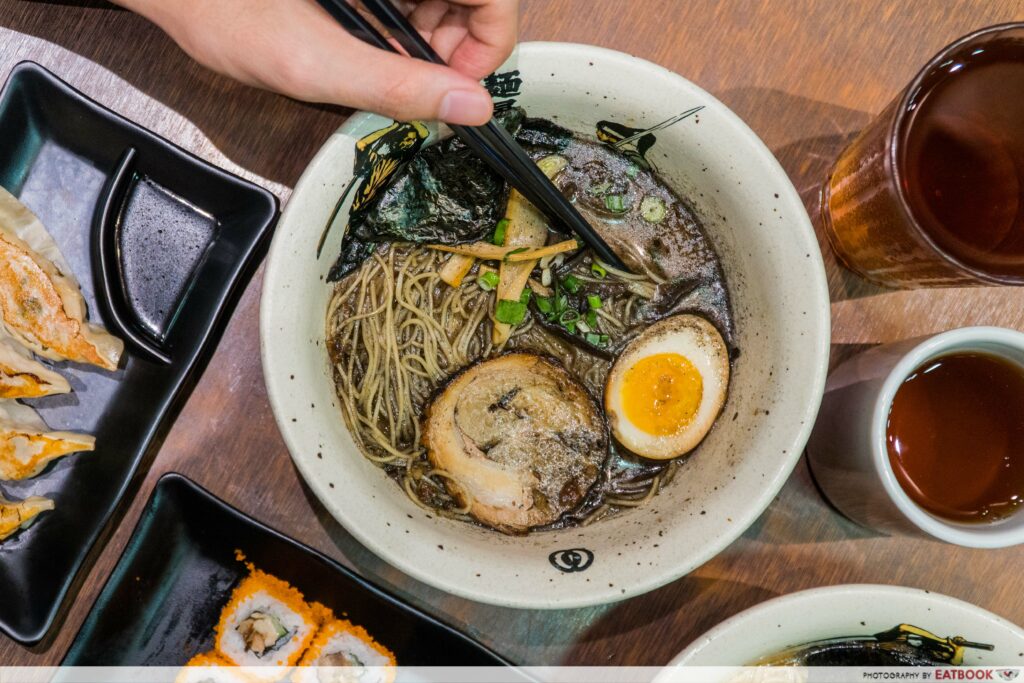 The Black Garlic Ramen consists of roasted black garlic broth topped with a piece of chashu, onsen egg, thinly sliced bamboo shoot, and a sheet of seaweed at the side. I liked how the noodles had a nice springy bite, but found the garlic to be sorely missing from the broth. Crispy and golden brown on the outside and juicy on the inside, the Grilled Gyōza ($5.90++ for a la carte) also gives great value as it comes together with the ramen set.
Unit number: #B1-08
Opening hours: Daily 11am to 10pm
Tel: 6694 2515
Website
---
9. YOLO
---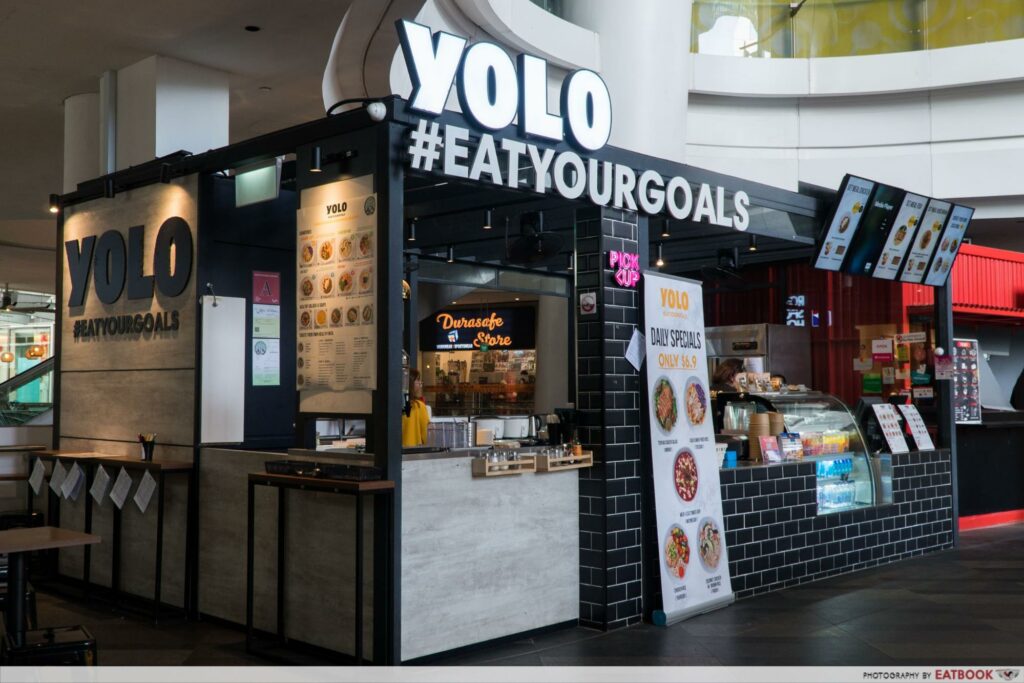 Eating healthily doesn't have to be dull. YOLO provides plenty of healthy options that are beyond green leafy salads. The halal-certified eatery's recipes are designed with the help of an in-house nutritionist, who is also officially certified in sports nutrition by the International Olympic Committee. You can choose from an extensive list of mains or inject a bit of personality in your diet by building your own bowl (from $7.90).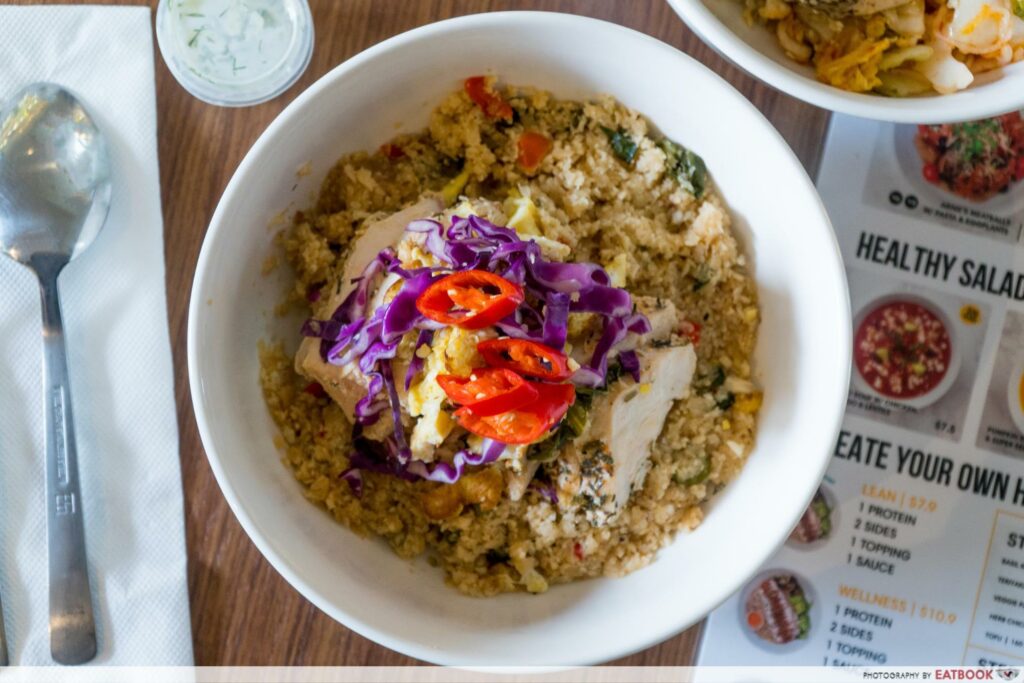 Their Cauliflower Fried Rice ($7.50+) is made by blitzing cauliflower in the food processor until they're the size of rice. The cauliflower blend is then fried with a variety of vegetables such as kailan and corn. Shredded purple cabbage, slices of chicken breast and omelette are heaped on as a final touch. While the chicken was a little dry, the rice was full of flavour and I really liked how there are varying textures in each bite. The best part was that I didn't feel bloated after munching down the entire bowl, as it consist of just 300 calories. More room for my fried chicken indulgence.
Unit number: #01-48
Opening hours: Daily 11am to 10pm
Tel: 6694 0612
Website
---
10. Gyu Kaku
---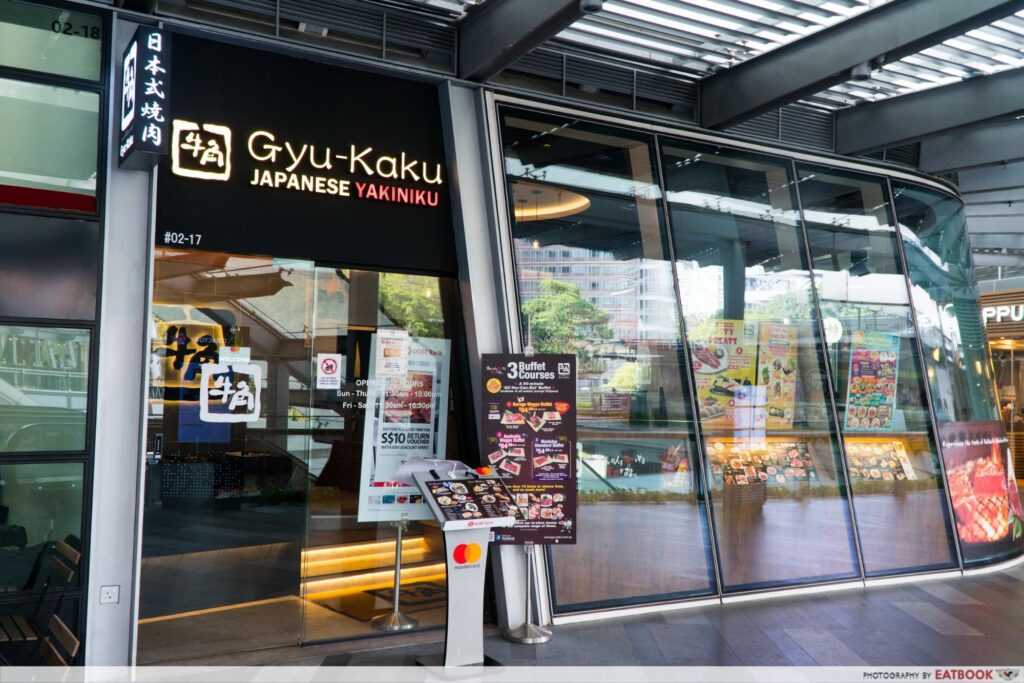 The low and warm lighting, along with the sturdy wooden furnishings at Gyu Kaku make it the perfect place for a cosy lunch. Their weekday lunch menu offers plenty of value-for-money options such as Oyako Don ($11++), Spicy Ramen ($13++), and Chicken Teriyaki Don ($11++). The rice sets also come with a daily special salad, miso soup, and kimuchi – the Japanese transliteration of kimchi.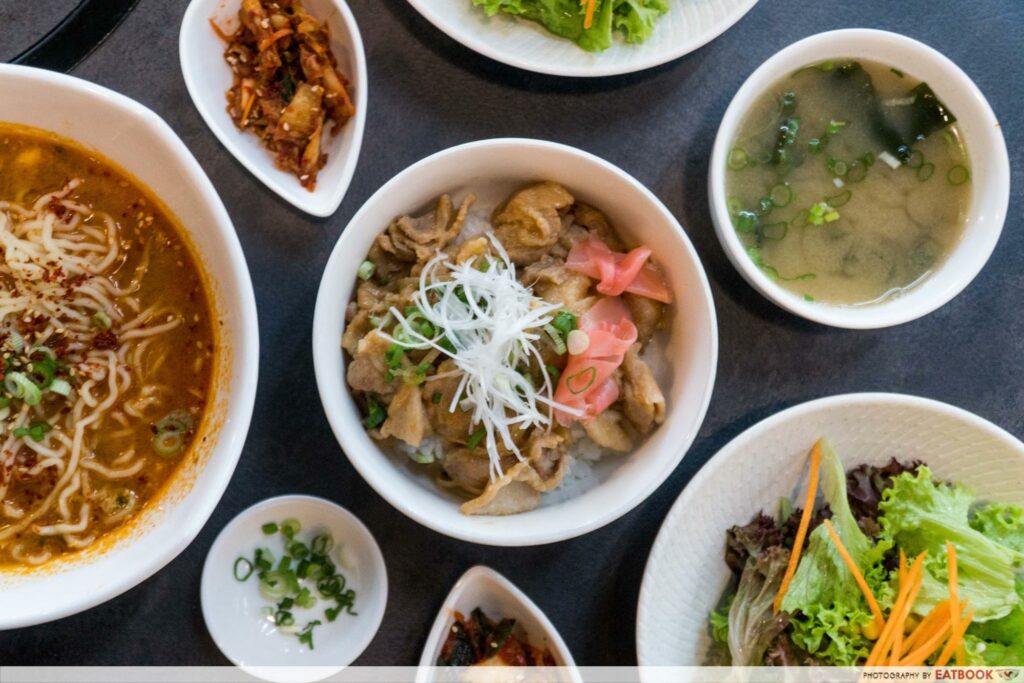 The Miso Pork Don ($10++) was a personal favourite of mine with its slightly sweet and savoury miso flavour. Fatty and juicy pork belly slices are stir-fried with slivers of onions and miso sauce, then topped off with spring onions and finely sliced leek. Along with the salad, miso soup, and kimuchi, the meal offers great value for a hearty lunch.
Be sure to also keep an eye out for their "lunch planner", which offers a different lunch promotion according to the day of the week. I'll probably be in line on Wednesdays for their free 30% upsize on rice and toppings for all rice bowls.
Unit number: #02-17
Opening hours: Sun-Thur 11.30am to 10pm, Fri-Sat 11.30am to 10:30pm
Tel: 6735 4001
Website
---
Something for everyone at The Star Vista
---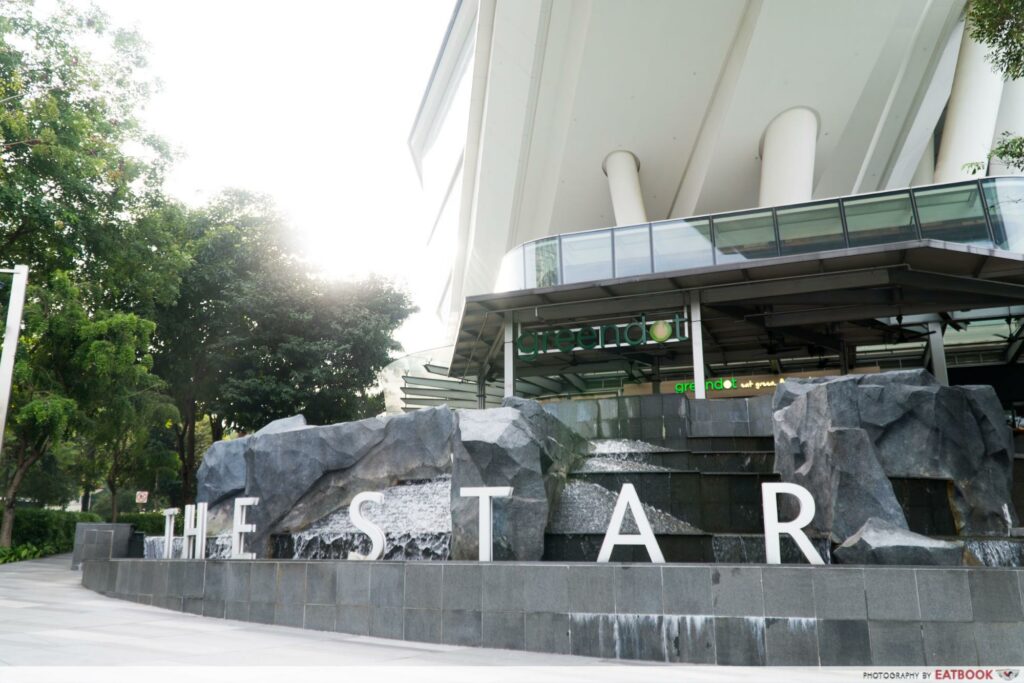 Located next to buildings such as Biopolis and the Metropolis, The Star Vista offers great value and quality for hardworking office warriors and diligent students. From fuss-free healthy dining at YOLO to Japanese meals at Gyu Kaku, there's something for everyone at this mall that is located just minutes away from Buona Vista MRT Station.
There's also a lunch time shuttle service that connects nearby offices such as Helios, Sandcrawler, and Solaris to The Star Vista. If you're driving, there's also free parking from 12pm to 3pm from Monday to Friday!
The Star Vista will be giving plenty of F&B related giveaways in the following months, so be sure to follow them on Facebook and Instagram.  
Address: 1 Vista Exchange Green, Singapore 138617
Nearest MRT Station: Buona Vista (EW21/CC22)
This post is brought to you by CapitaLand.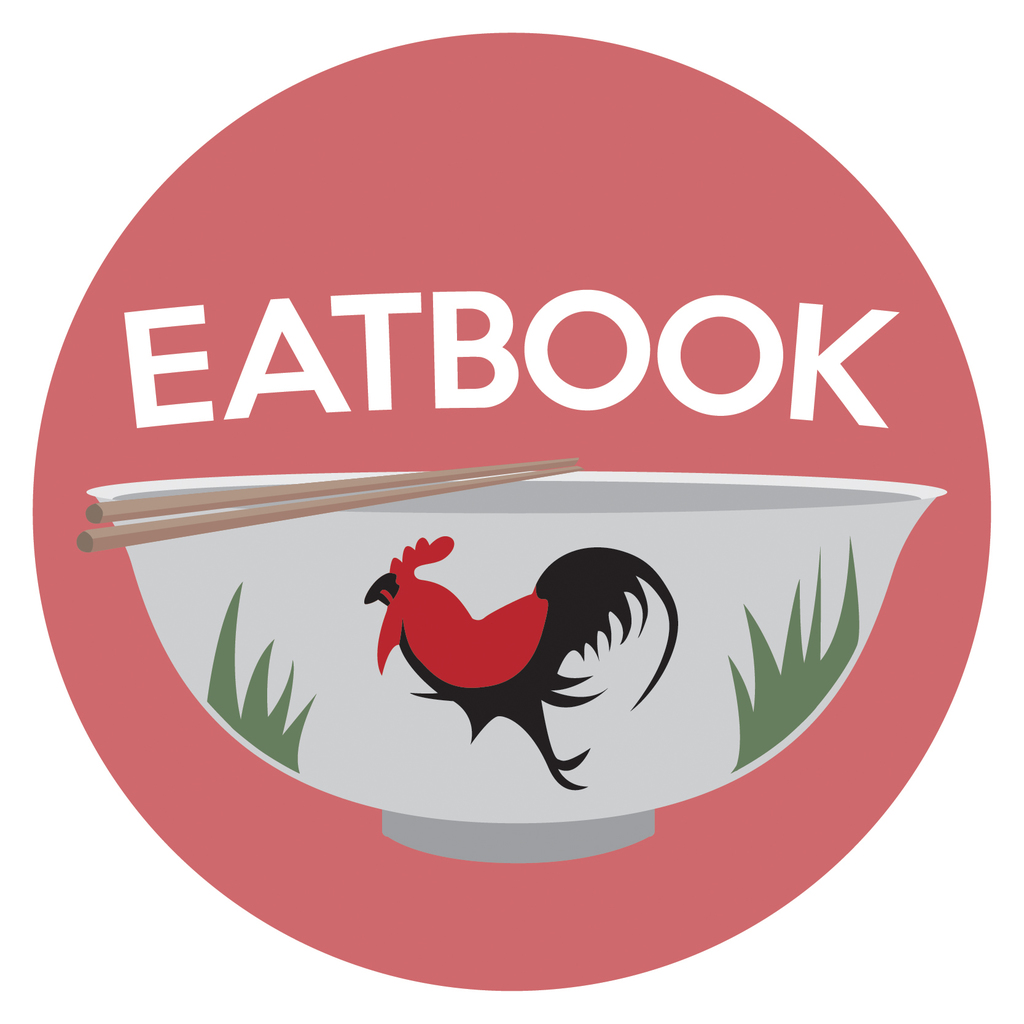 Drop us your email so you won't miss the latest news.