Stixers At Jalan Besar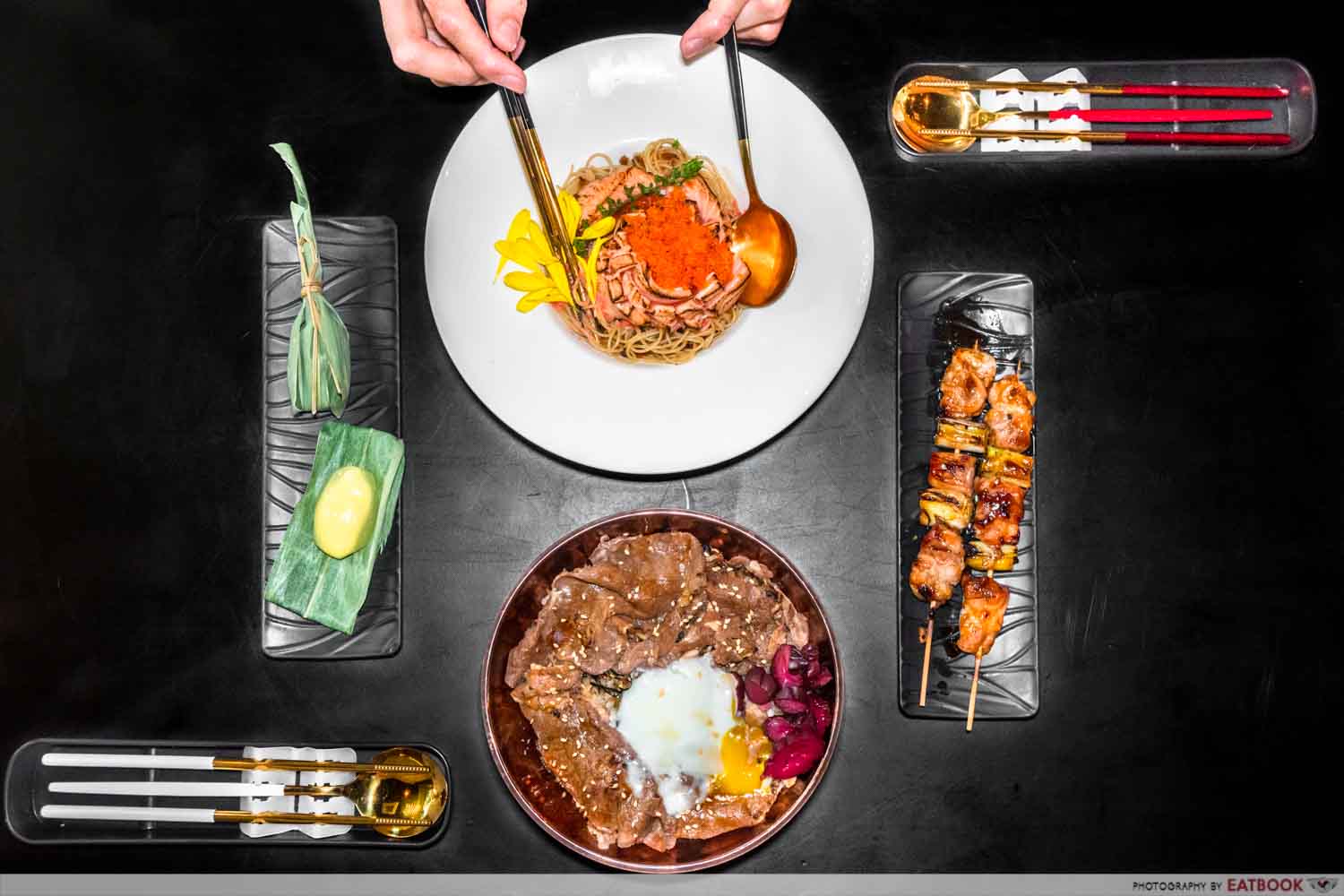 While modern bars with neon lights are no longer a novelty, Stixers at Jalan Besar caught our eye thanks to the solid credentials of its Chirashi King Kong-backed origin. The highly raved truffle-infused rice bowls of Chirashi King Kong can also be found in this modern izakaya-inspired bar.
Do note that during this heightened alert period, Stixers is still open for takeaways and provide islandwide deliveries.
Chirashi King Kong Review: Unagi Truffle Rice Don And More At Tanjong Pagar
Food at Stixers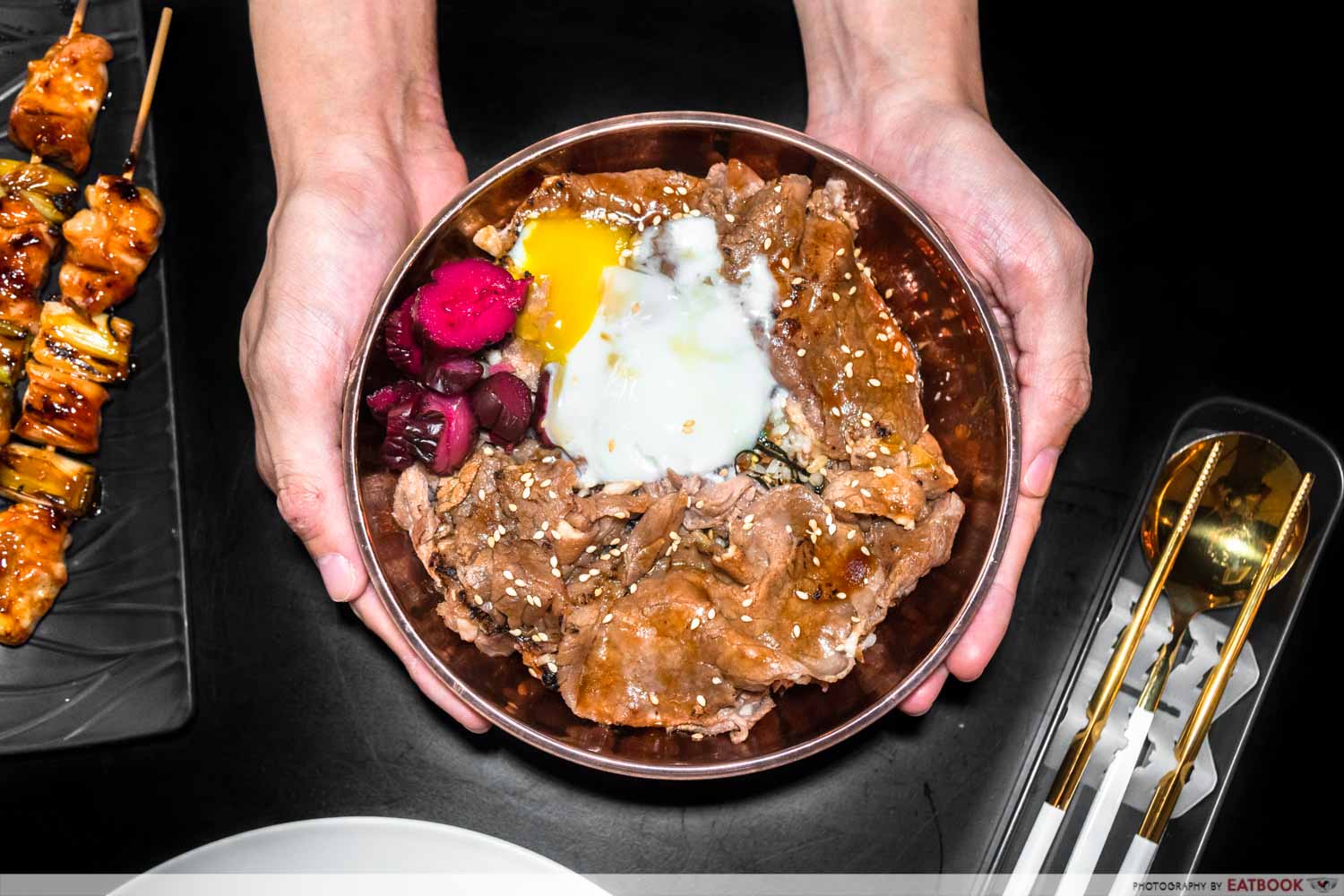 Since my childhood diet consisted of weekly bowls of beef rice, I love starting off with a Gyudon ($16.90+) as my 'litmus test' for a good donburi stall.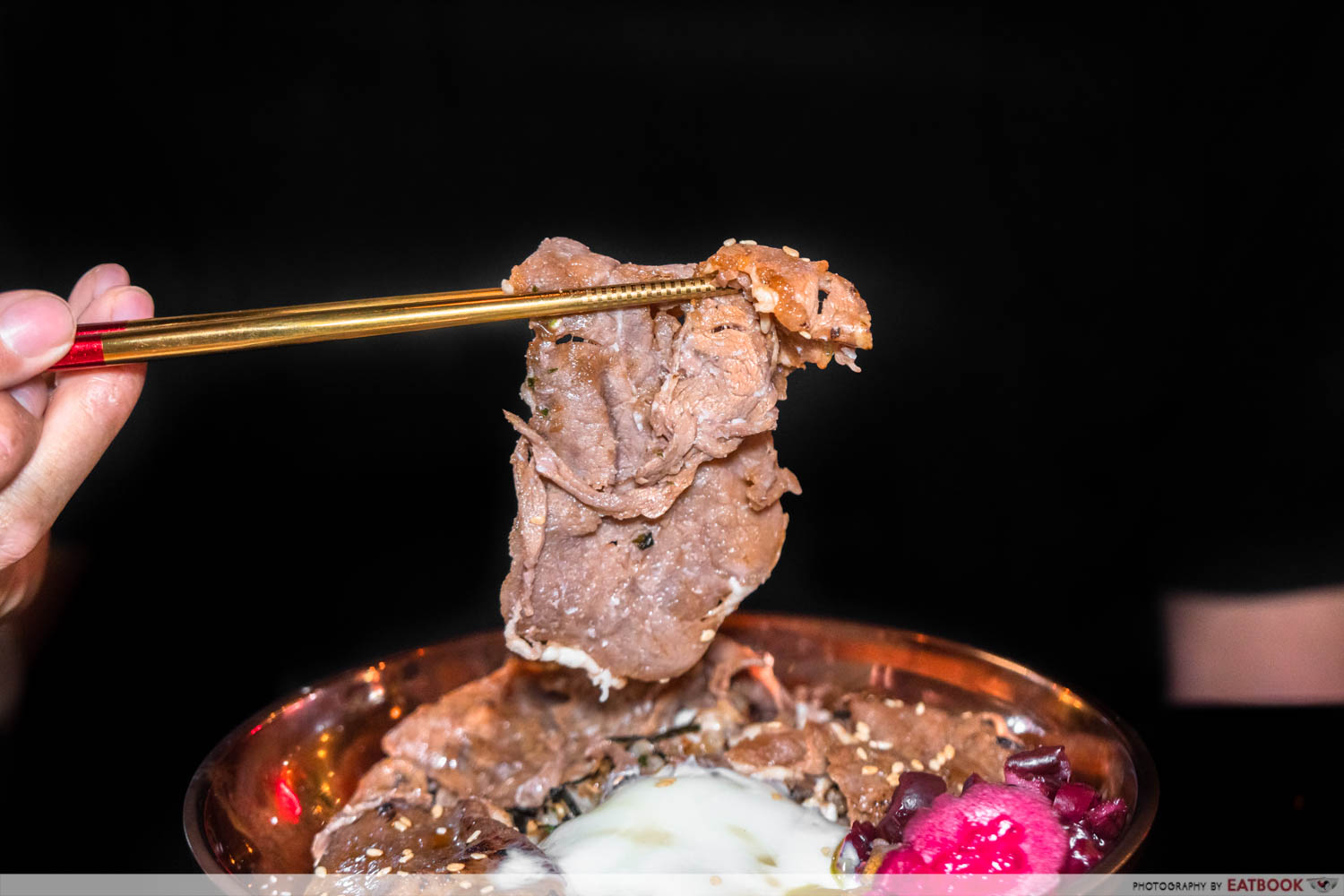 Their tender, thinly-sliced beef was given in generous portions. While my dining companions found the mirin sauce too liberally doused, I enjoyed the sweetness and slight acidity that the sweet rice wine introduced to the beef slices.
The bowl also came with the common shibazuke, which are purple pickles. Not only did the pickles gave a pop of colour, they also provided a splash of acidity, which brightened the savoury dish.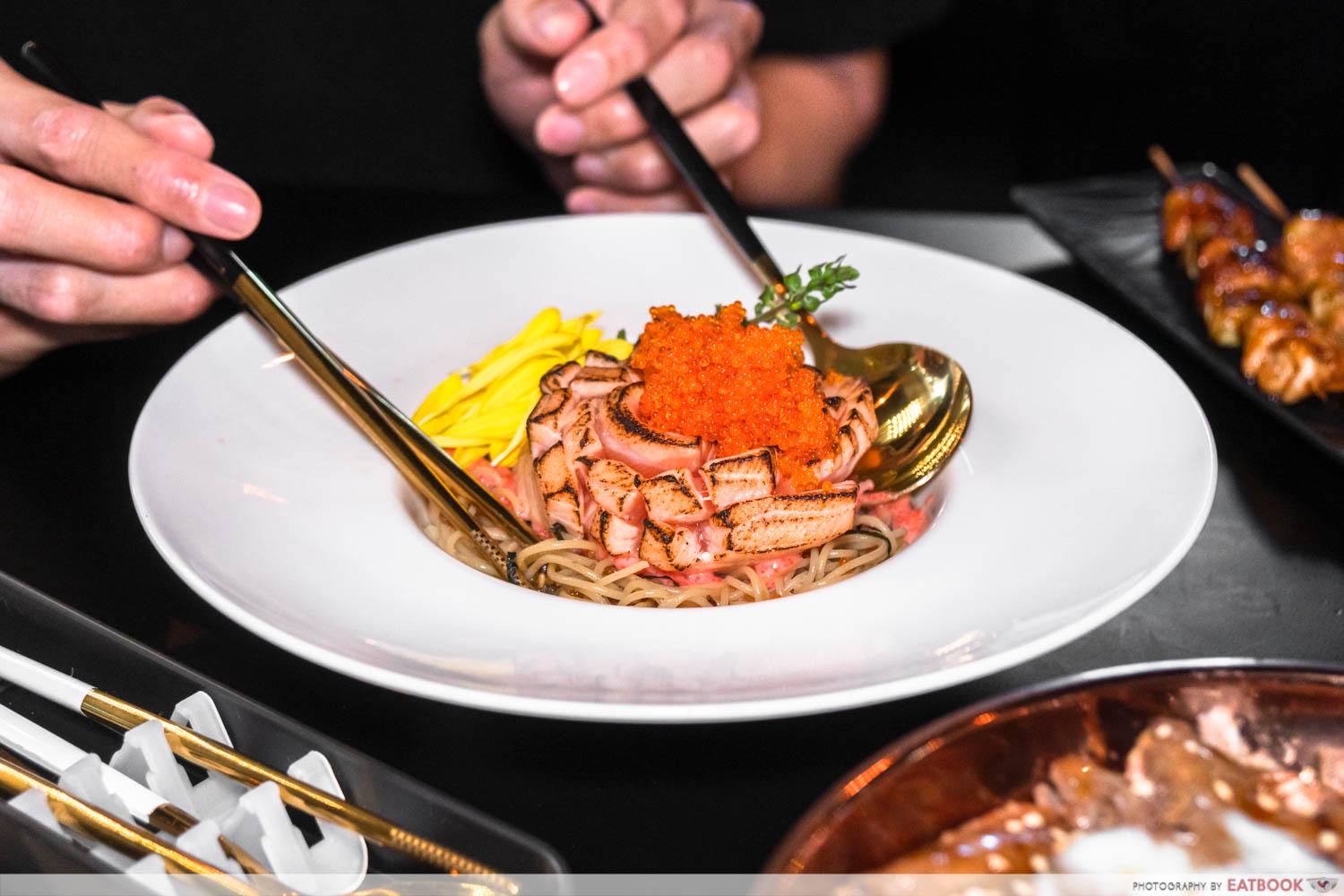 The not-so-traditional izakaya also serves up Angel Lover ($16.90+), a wafu pasta, which combines angel hair pasta with salmon, mentaiko, and flying fish roe.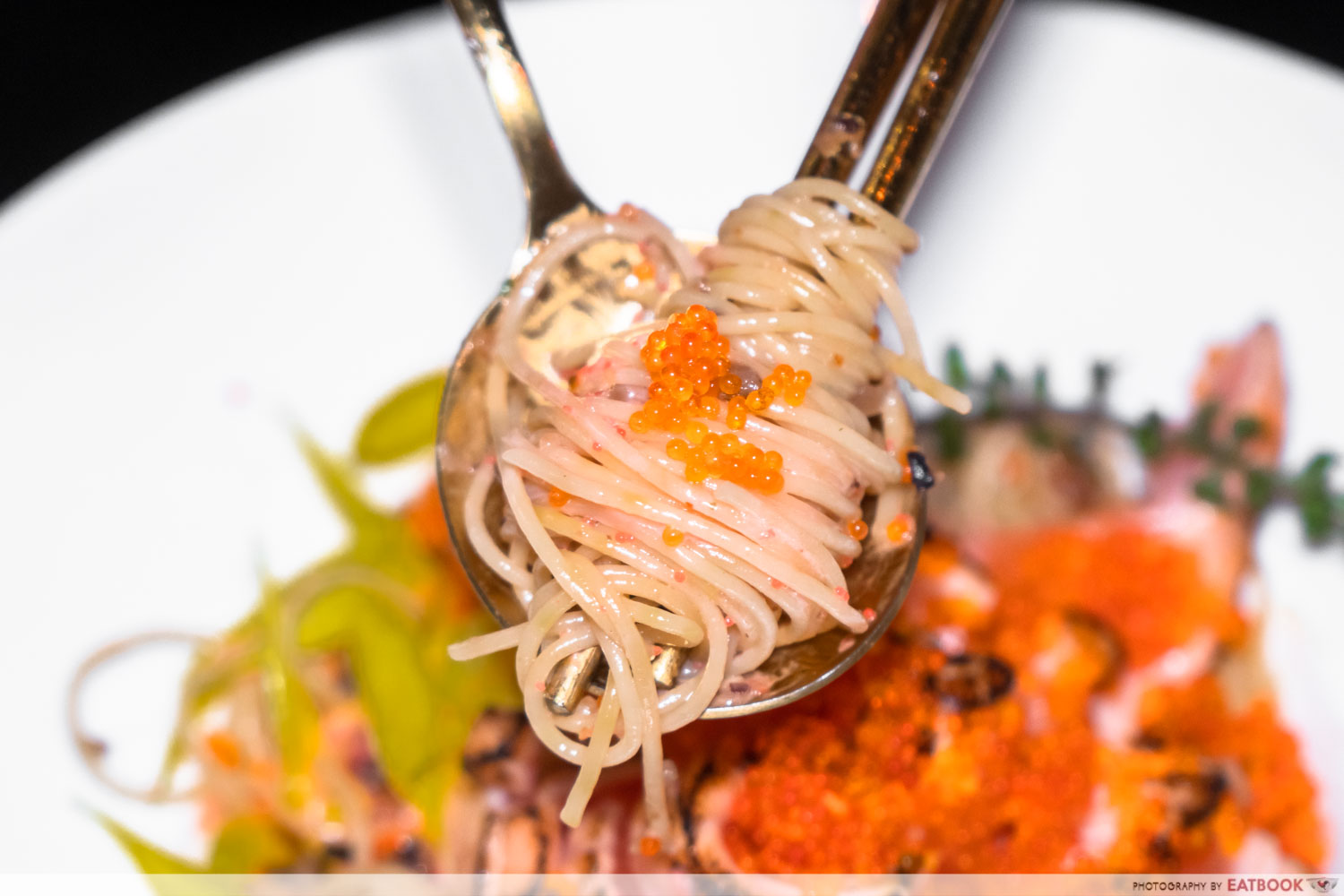 I suppose angel hair pasta was a clever and deliberate choice as the thin pasta is typically paired with lighter sauces, making the noodles easier to toss in the sauce. The tobiko also provided a nice crunch that burst with salty flavours.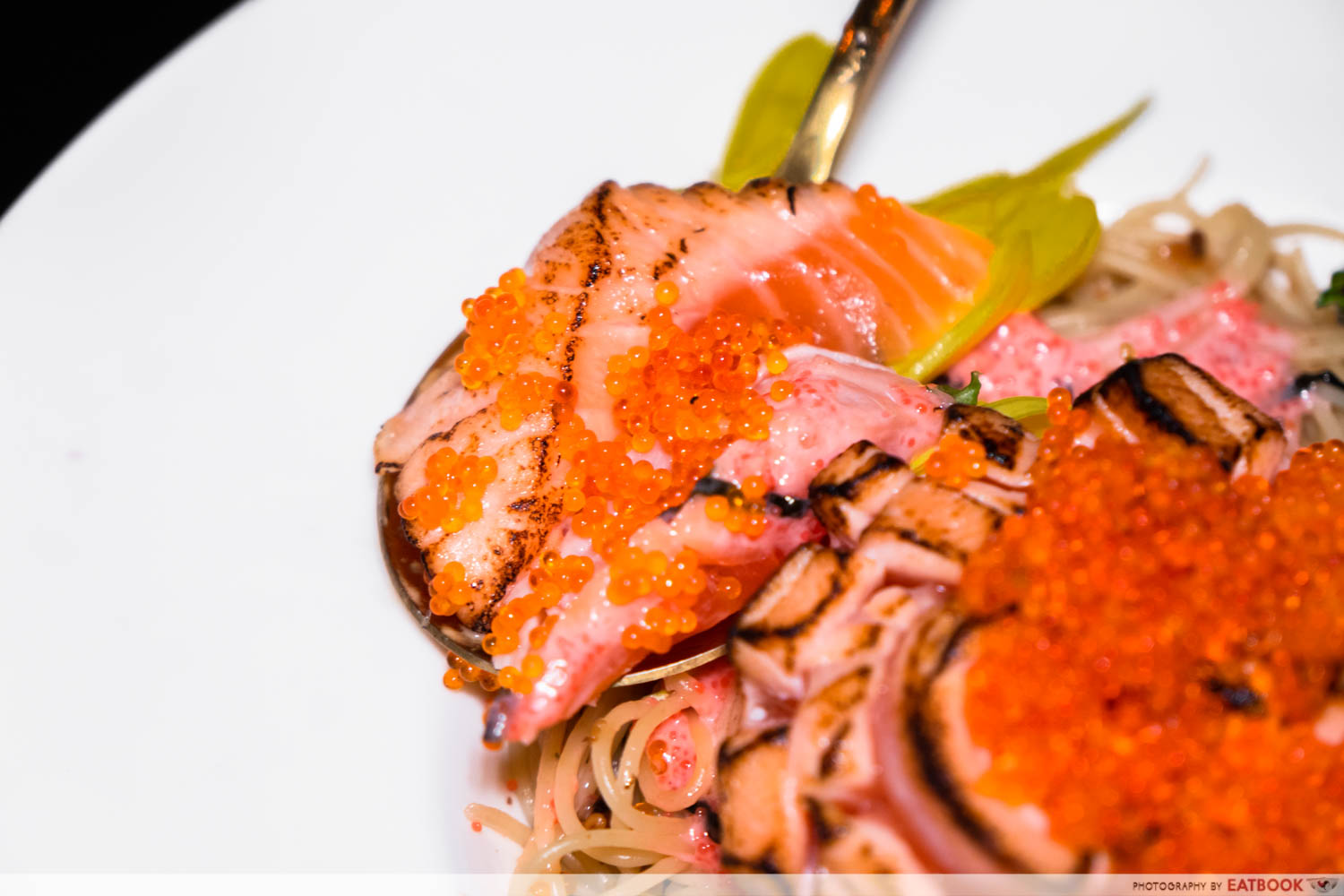 The generous pieces of salmon are torched to a seared finish, but still maintained the buttery texture of raw salmon.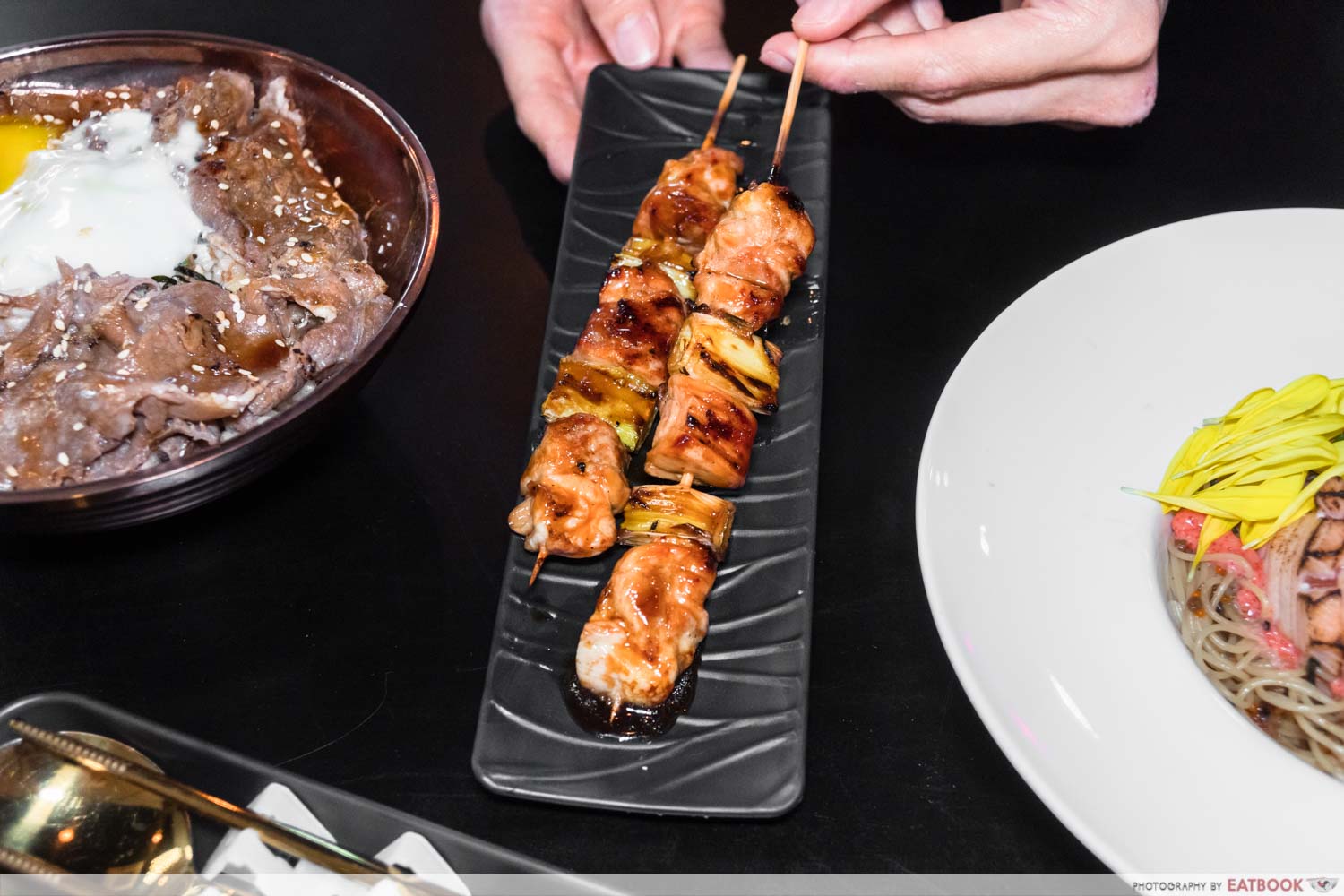 Noticing the charcoal grilling station at the back of the store, I felt obliged to try out their Yakitori ($7+ for two pieces). These sticks came in alternating pieces of grilled chicken and leek.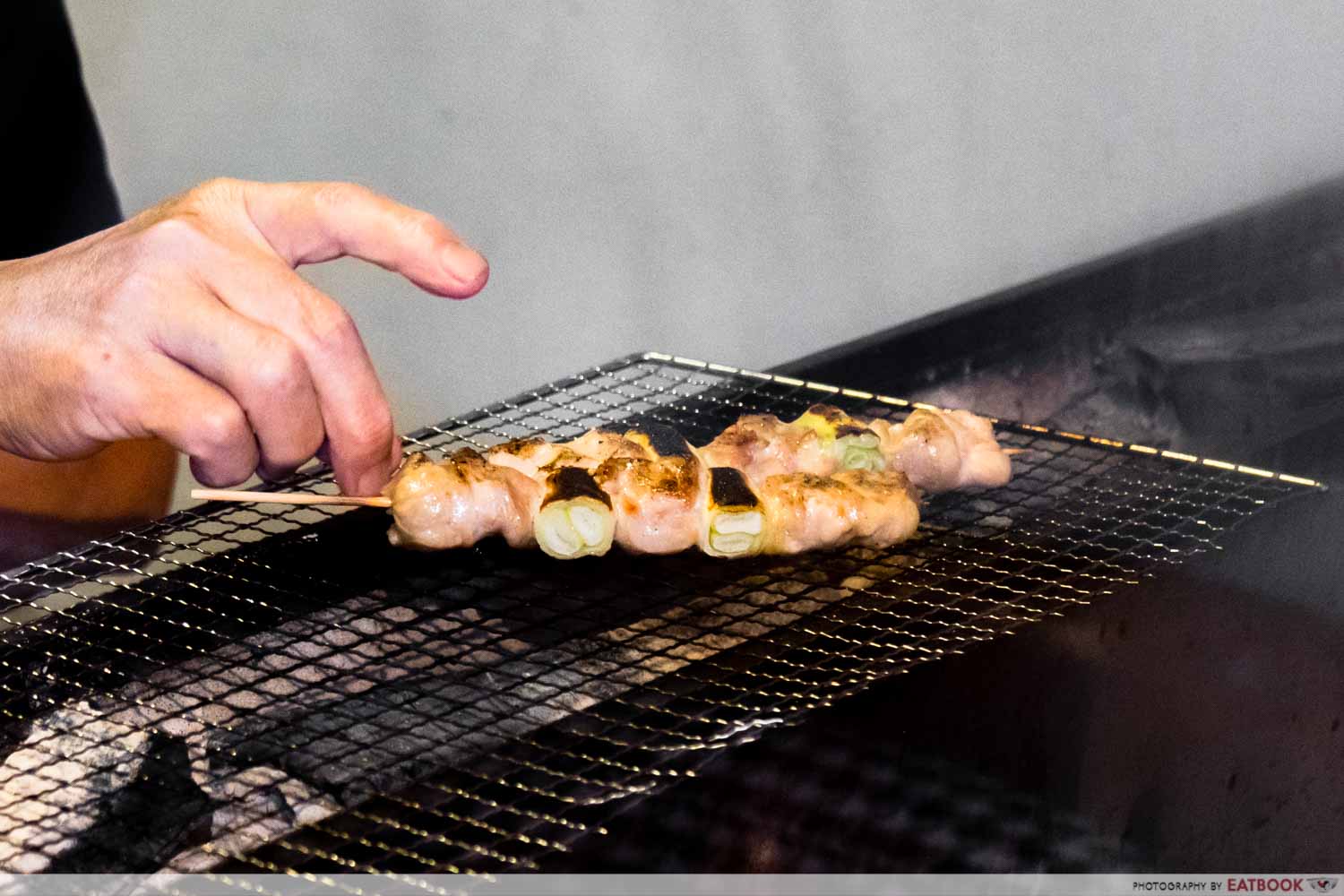 Sadly, the charcoal grilling process wasn't as evident in the flavours of their skewers as I hoped for, and the skewers might have benefitted from being on the grill a bit longer.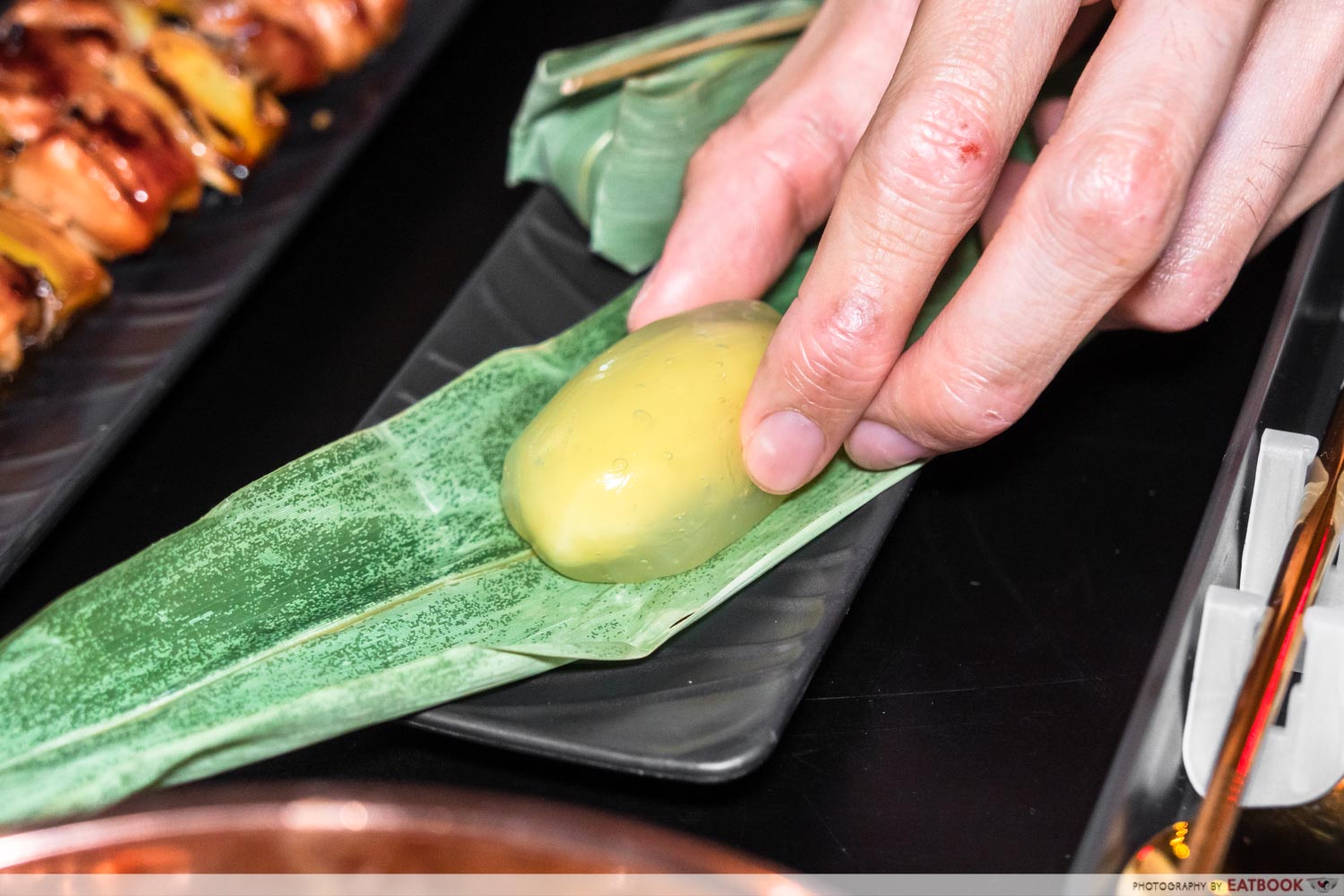 For desserts, the gelatinous Sasa Custard ($4+) came wrapped in bamboo leaves, preventing the custard mochi from drying out.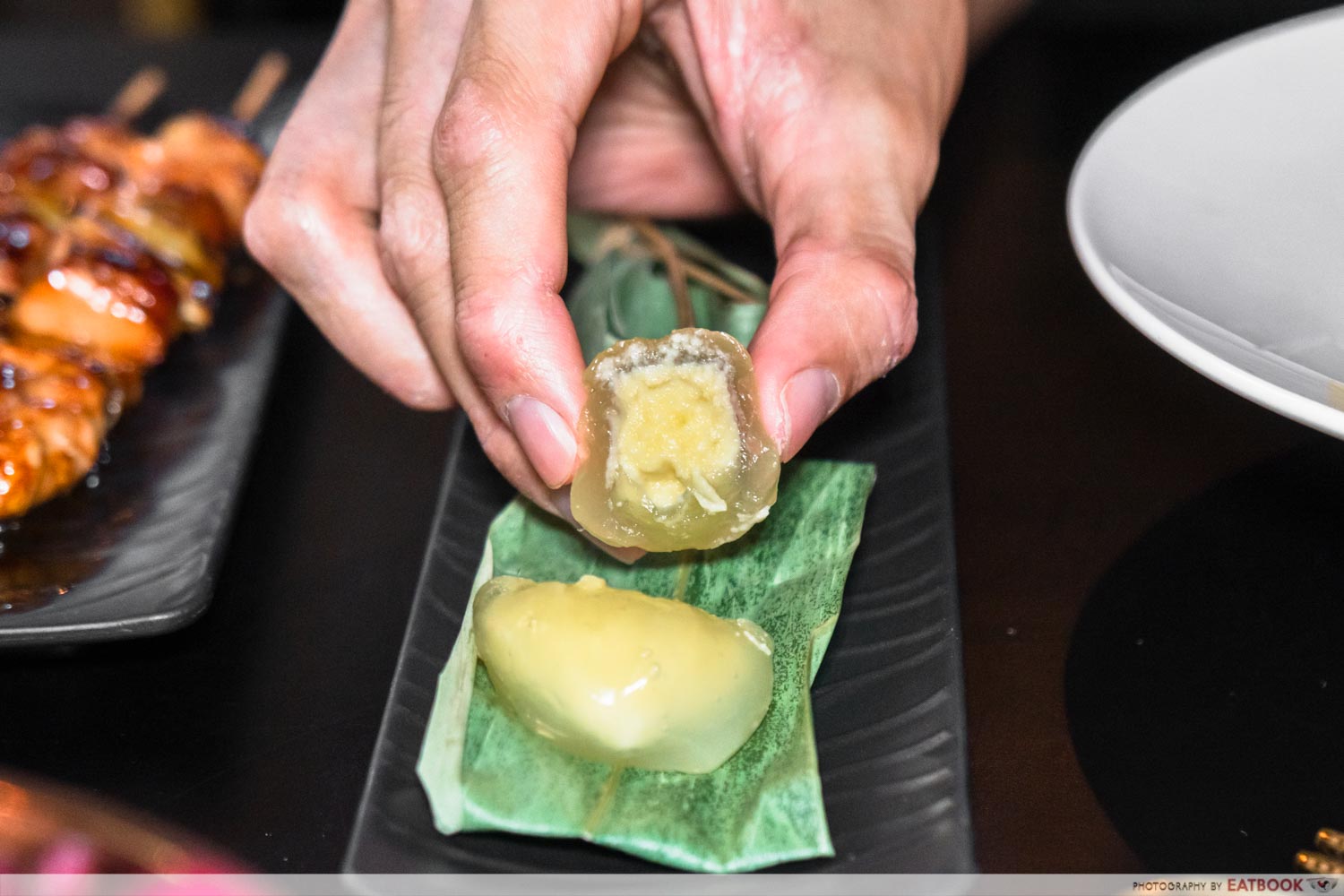 The smooth, slippery, and cold surface of the mochi made for an enjoyable mouthfeel. They were also pleasantly sweet, which provided a good contrast to the savoury mains. Bouncy like a baby's cheeks, the mochi also carried a good filling to skin ratio. Every bite was filled with egg-like custard and chewy mochi skin.
La Vie Review: Minimalist Dessert Cafe At Jalan Besar with IG-Worthy Lychee Boba Cake, Baileys Tiramisu And More
Ambience at Stixers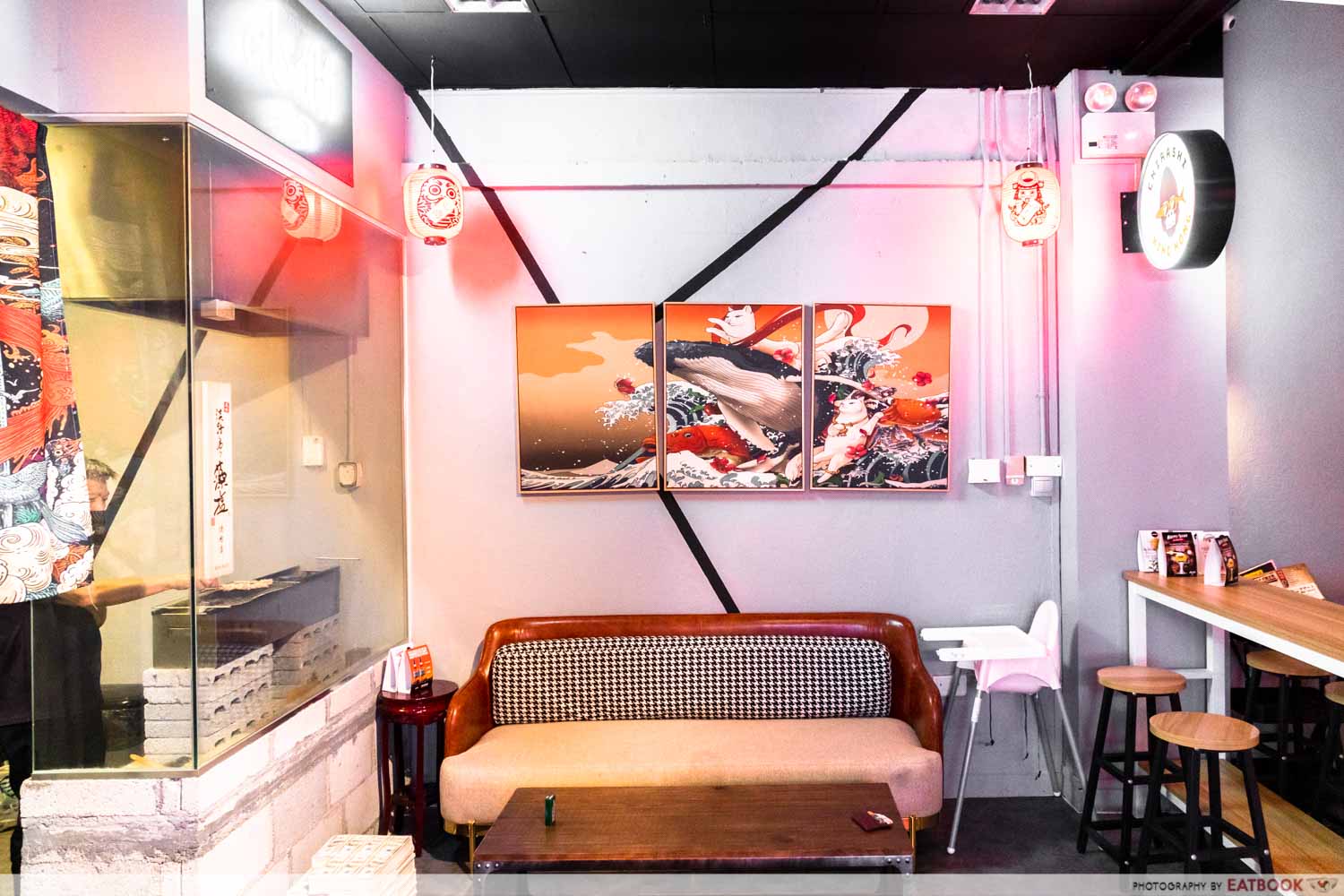 Stixers is only located at an eight-minute walk from Jalan Besar MRT Station. This cosy outlet is adorned with Japanese-style artwork. Plus, the addition of red lanterns traditionally associated with izakayas shows an attention to details.
Tian Wang Desserts Review: Mahjong-Themed Cafe With Orh Nee, MSW Mousse And More
The verdict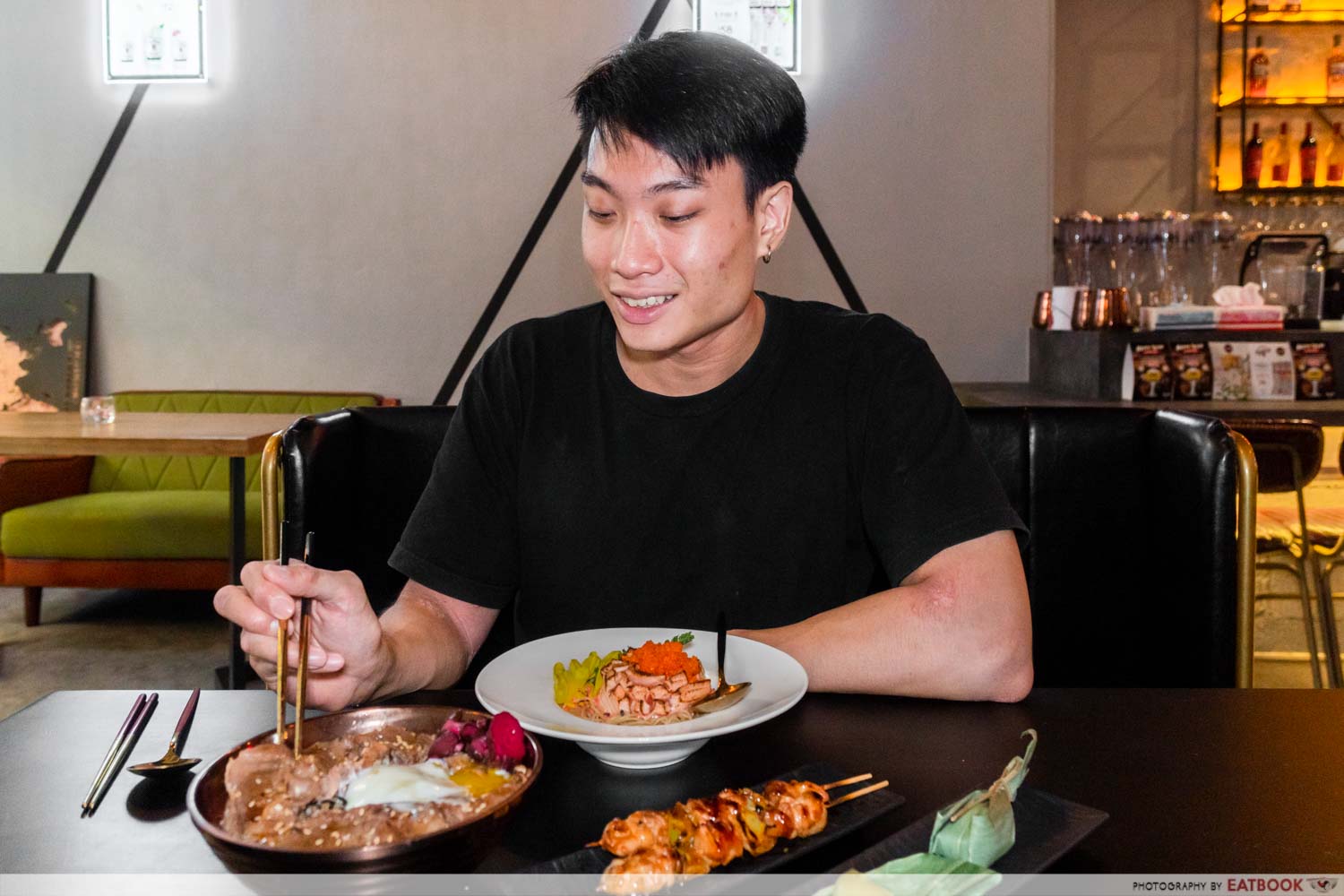 My only qualm about the place would be the prices of the skewers. For a snack so easy to finish in two bites, two sticks per order might mean that multiple orders might be required. Otherwise, despite the slightly steep prices of their mains, Stixers backs it up with generous portions of ingredients that are decently executed. 
If you are into the izakaya concept, check out our Japanese izakaya restaurant guide for mains below $20++. Otherwise, stay home and stay safe and check out our ramen delivery services guide for michelin-starred noodles, dan dan noodles and more.
Address: 35 Tyrwhitt Road, Singapore 207536
Opening hours: Tue-Sun 5:30pm to 10:30pm
Tel: 8333 3934
Website
Stixers is not a halal-certified eatery.
17 Ramen Delivery Services In Singapore For When The Tonkotsu Cravings Hit
Photos taken by Chew Yi En
This is an independent review by Eatbook.sg.
Stixers Review: New Izakaya Opened By Chirashi King Kong For Truffle Beef Rice Bowls, Mentaiko Pasta And More
Stixers Review: New Izakaya Opened By Chirashi King Kong For Truffle Beef Rice Bowls, Mentaiko Pasta And More -

7.5/10
Summary
Pros
– Rice bowl had generous portions
– Cosy ambience
Cons
– Prices are slightly steep
Recommended dishes: Gyudon ($16.90+), Angel Lover ($16.90+)
Opening hours: Tue-Sun 5:30pm to 10:30pm
Address: 35 Tyrwhitt Road, Singapore 207536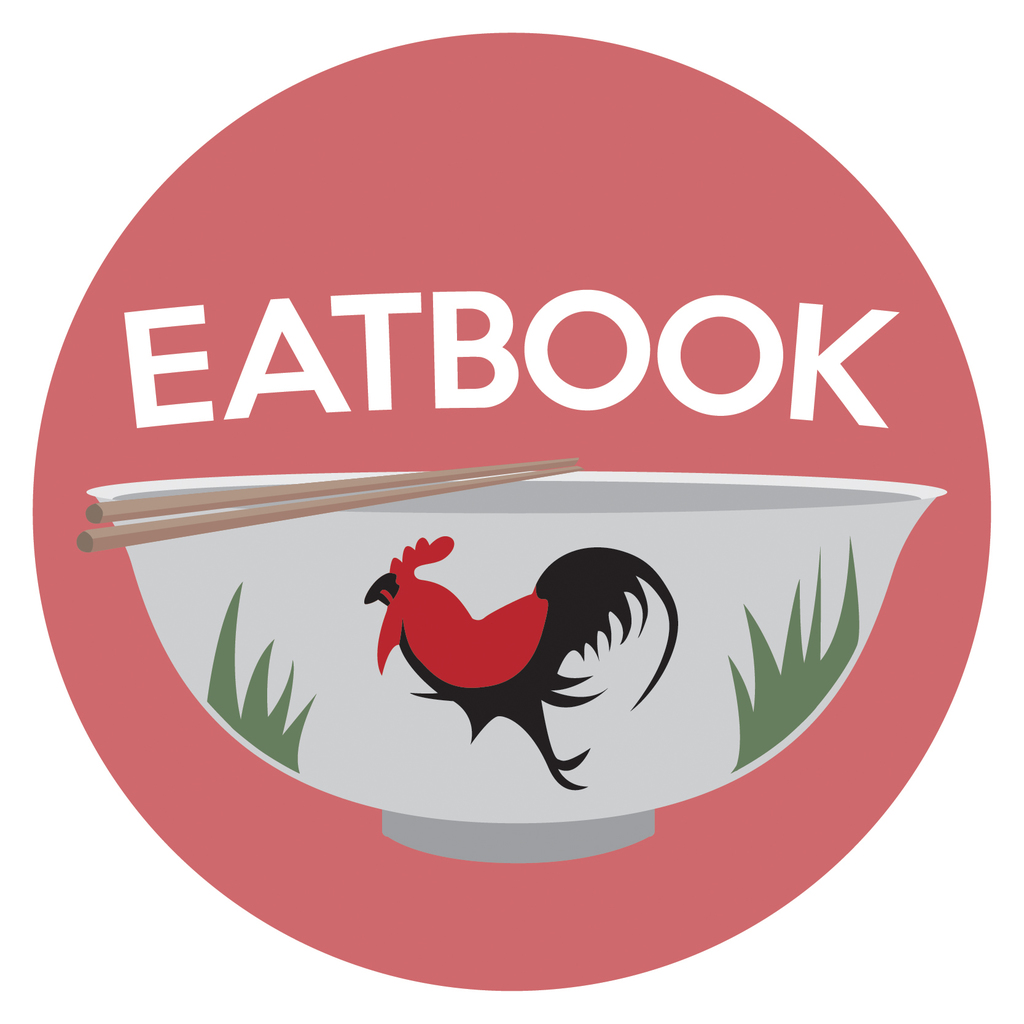 Drop us your email so you won't miss the latest news.