Chirashi King Kong is here at Tanjong Pagar Plaza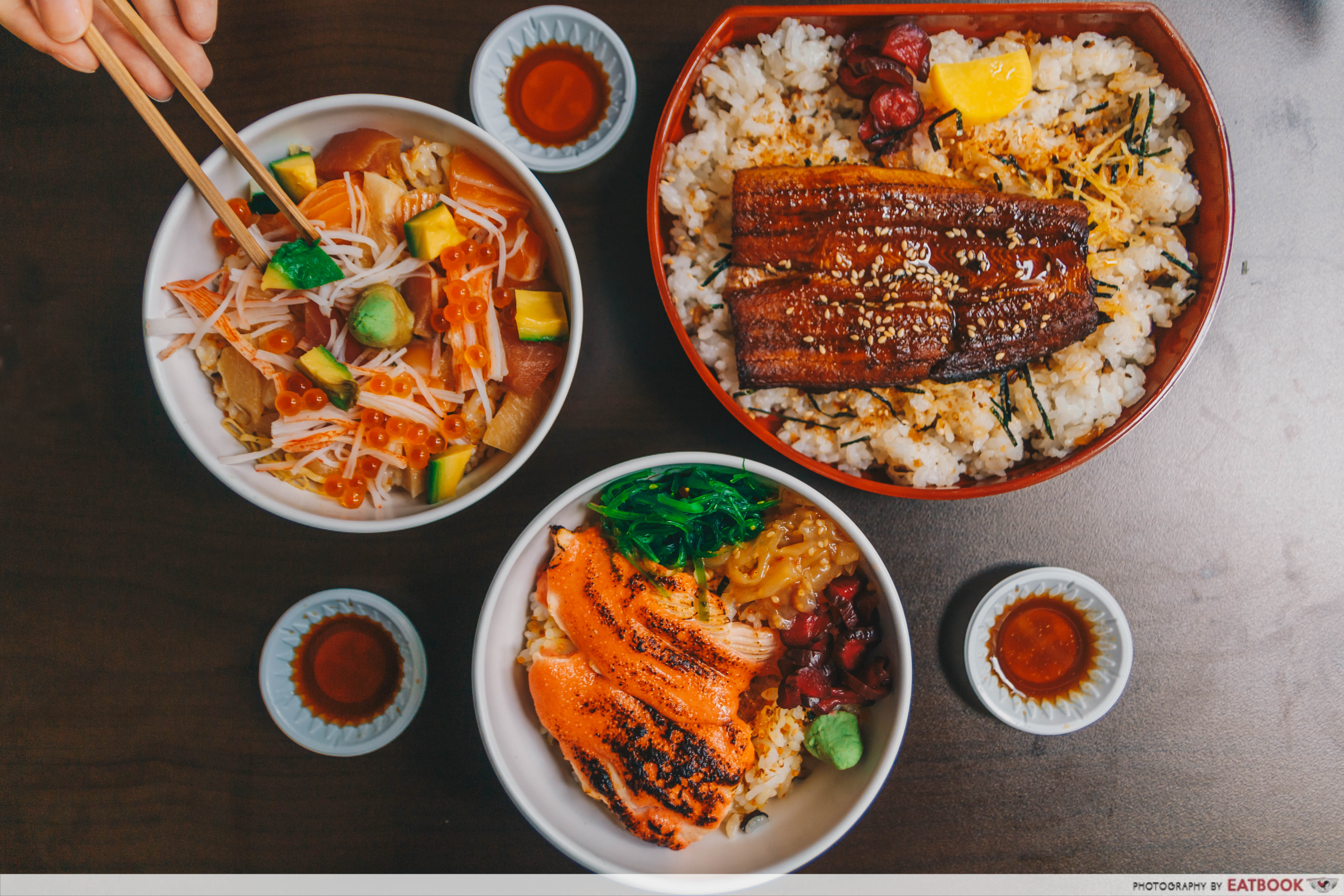 Lately, I've gone on a rice bowl frenzy. From Sutachi to Big Bowls Project, I've had my fair share of donburi and grain bowls. Unsurprisingly, all of them have been nothing short of delicious. When I realised I would be heading down to the new Chirashi King Kong for a taste test, my heart did a joyful little flip. I was hugely excited for this one. In case you missed the headline, Chirashi King Kong combines two major food trends in one dish – rice bowls…and truffle.
Food at Chirashi King Kong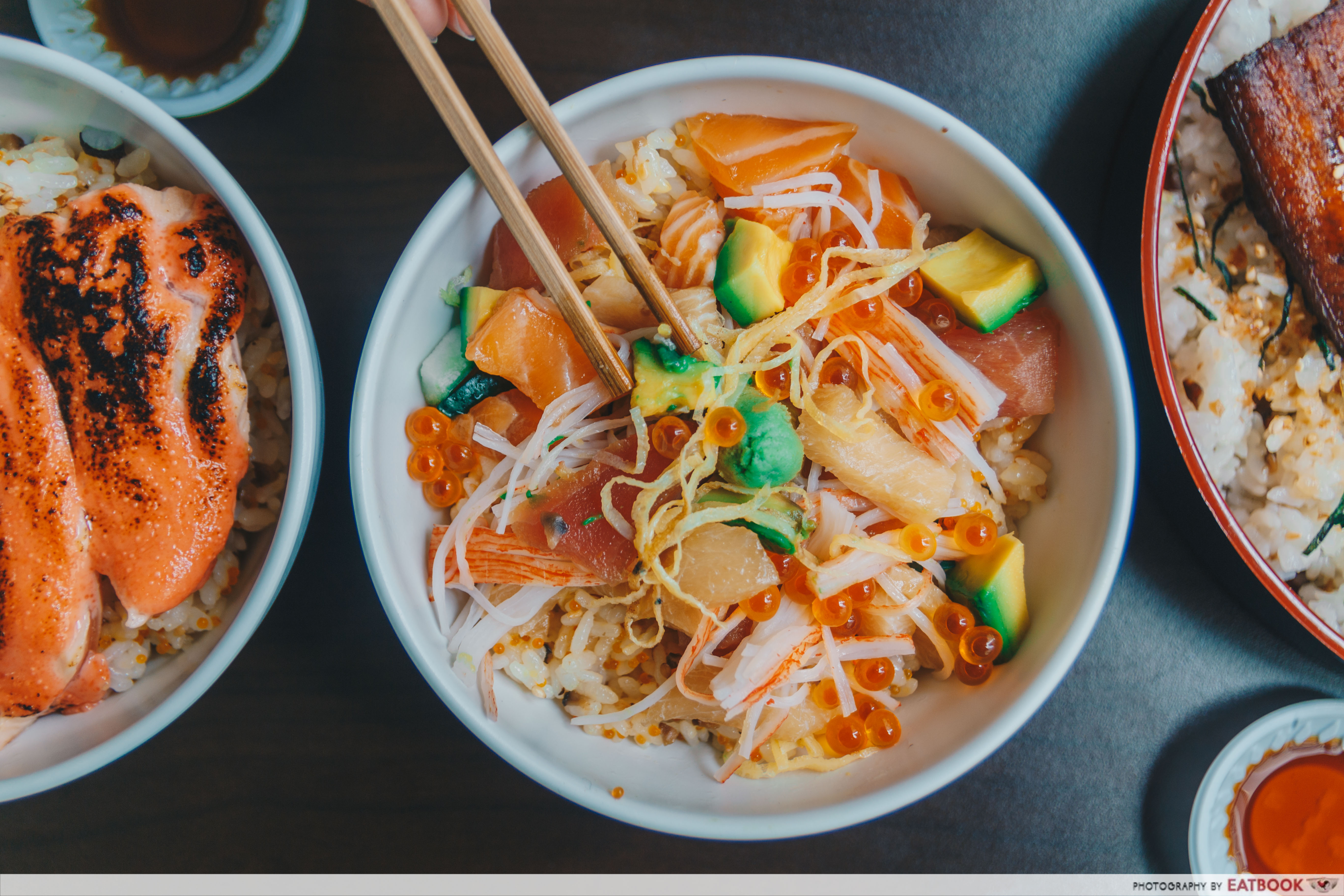 When you're at a Japanese joint with 'chirashi' in its name, you already know which dish to try first. We got the Bara Chirashi at $13.90 nett. With other affordable eateries such as Teppei Syokudo and Sushiro out there, this certainly isn't the best place to go to get your fix of cheap chirashi don. However, factoring in the drool-worthy truffle rice, which was blanketed in a generous helping of sashimi, avocado, crab meat, kinshi egg, cucumber and ikura, I actually found the price pretty reasonable.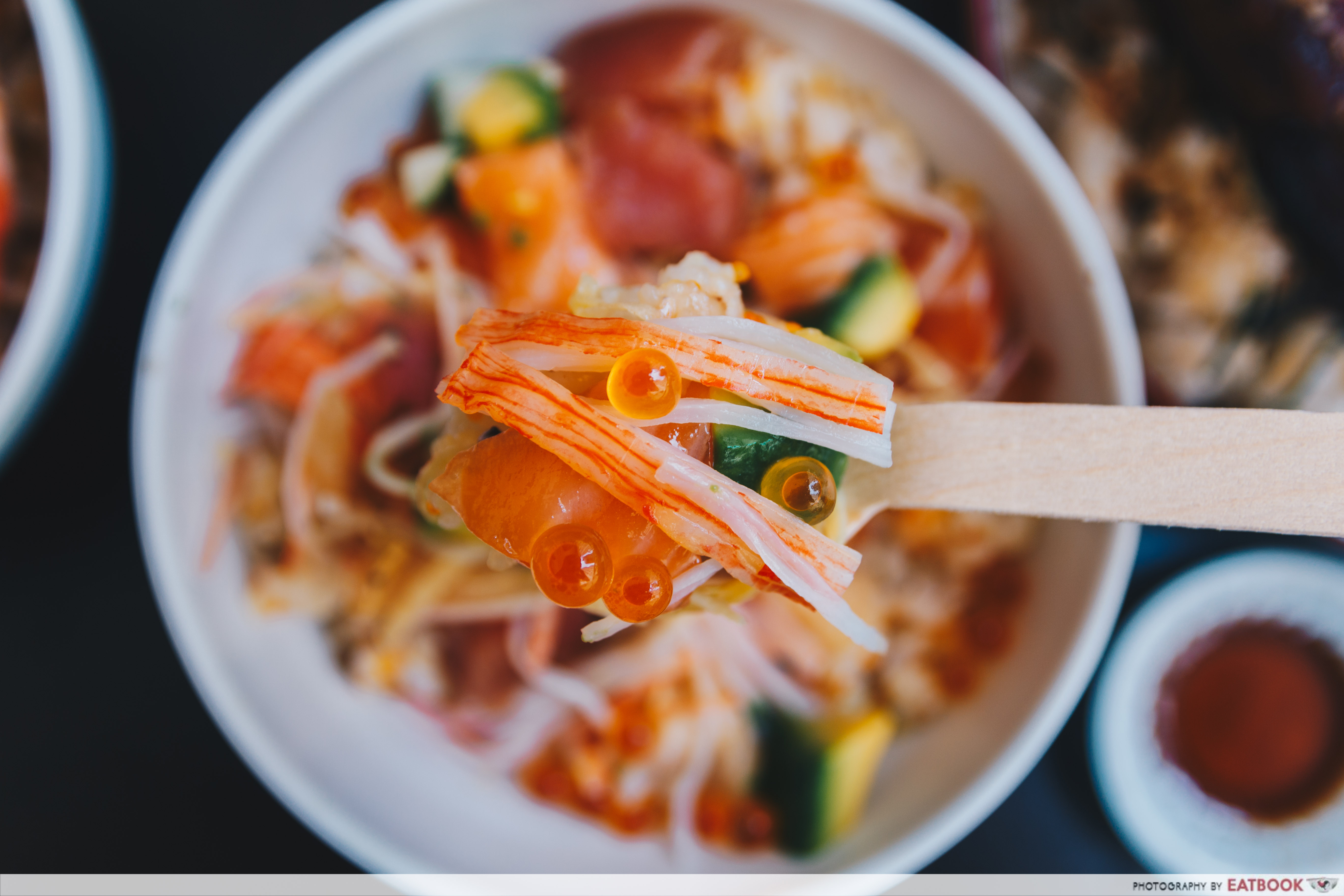 The Bara Chirashi included three different kinds of diced sashimi: salmon, tuna and swordfish. The fish tasted fresh and surprisingly salty, despite the lack of sauce. I seldom eat raw swordfish, and I found its texture tougher compared to the other two. Regardless, my colleague and I wiped all the sashimi in this bowl clean.
The earthy aroma from the truffle oil-infused rice made my stomach growl endlessly as I waited for the photos to be taken. According to a tiny wooden sign hanging from its door, Chirashi King Kong uses premium Akita rice. Hence, it was little surprise that every spoonful of rice tasted sweet, springy and moist. This, coupled with the truffle oil's heady fragrance, and the salty addition of ikura, created something truly worth shouting about.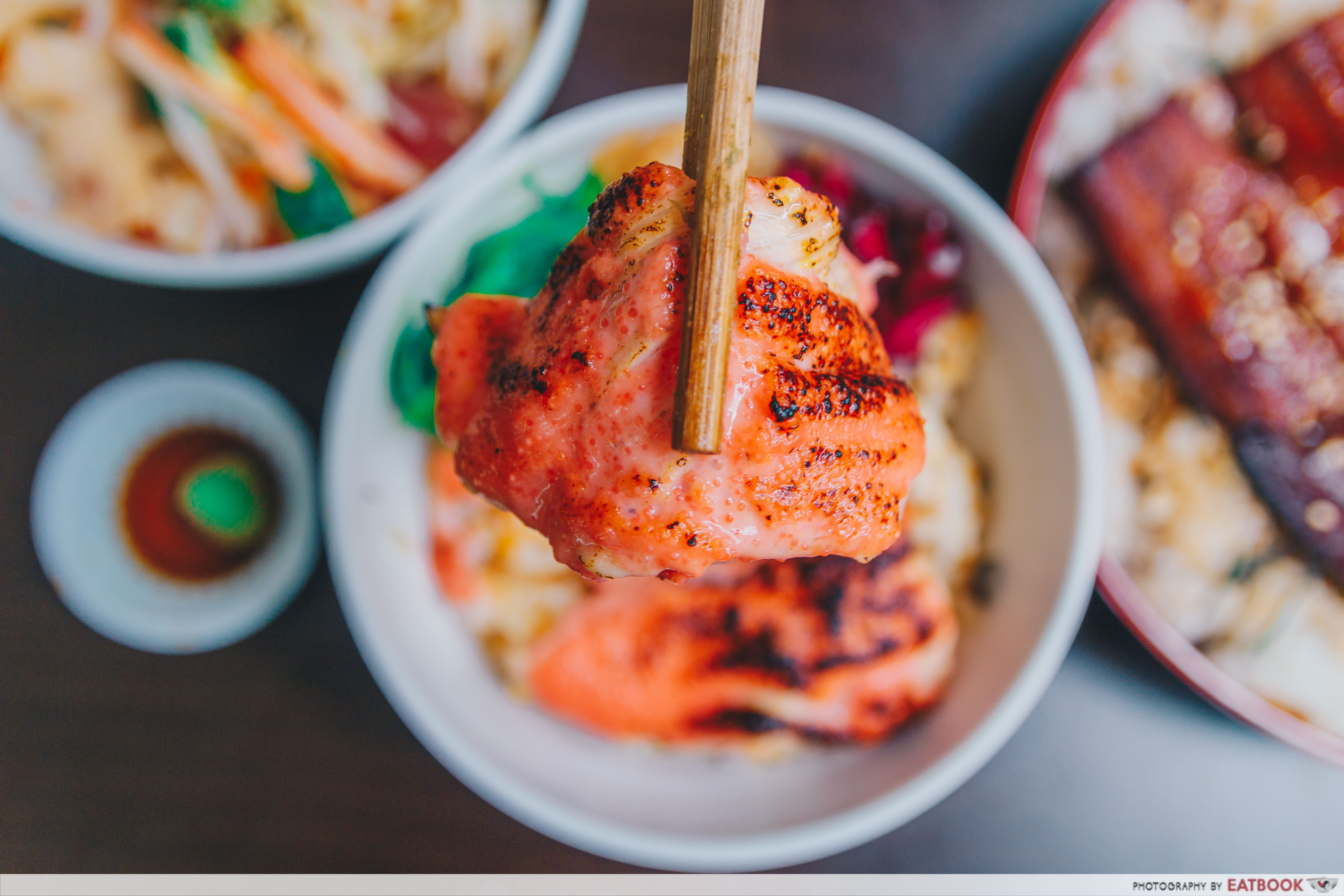 These days, are rice bowl menus ever complete without mentaiko? Riding on the waves of the mentaiko craze, we got ourselves a bowl of Salmon Mentaiko ($9.90), which came with a side of wakame, jellyfish and pickles.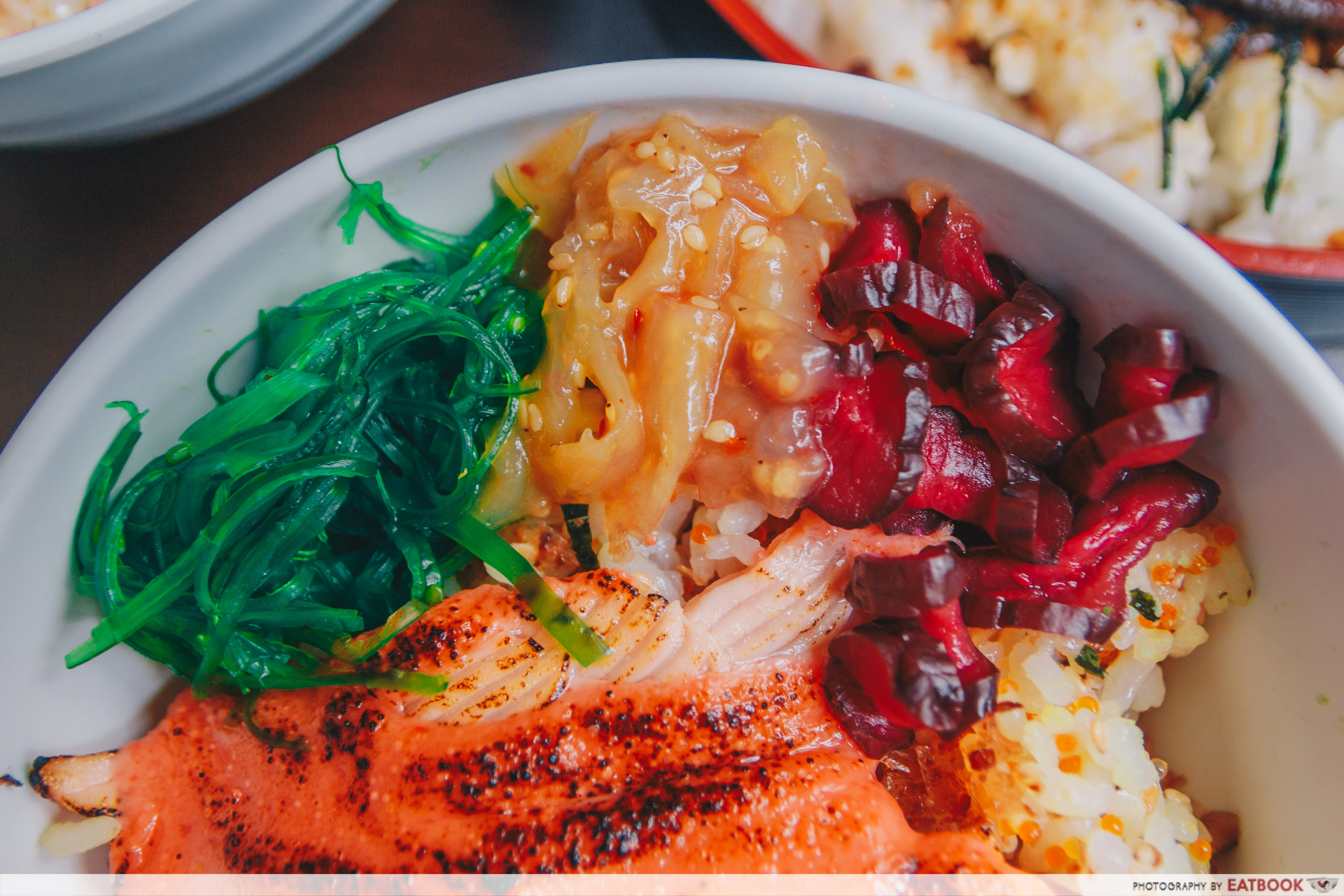 I liked how the slices of salmon fish were half-cooked, for once. In the past, I've only ever had fully cooked salmon mentaiko. While the cooked version is great, there's something quite delectable about the silky texture and smoky flavour of a torched slab of salmon sashimi.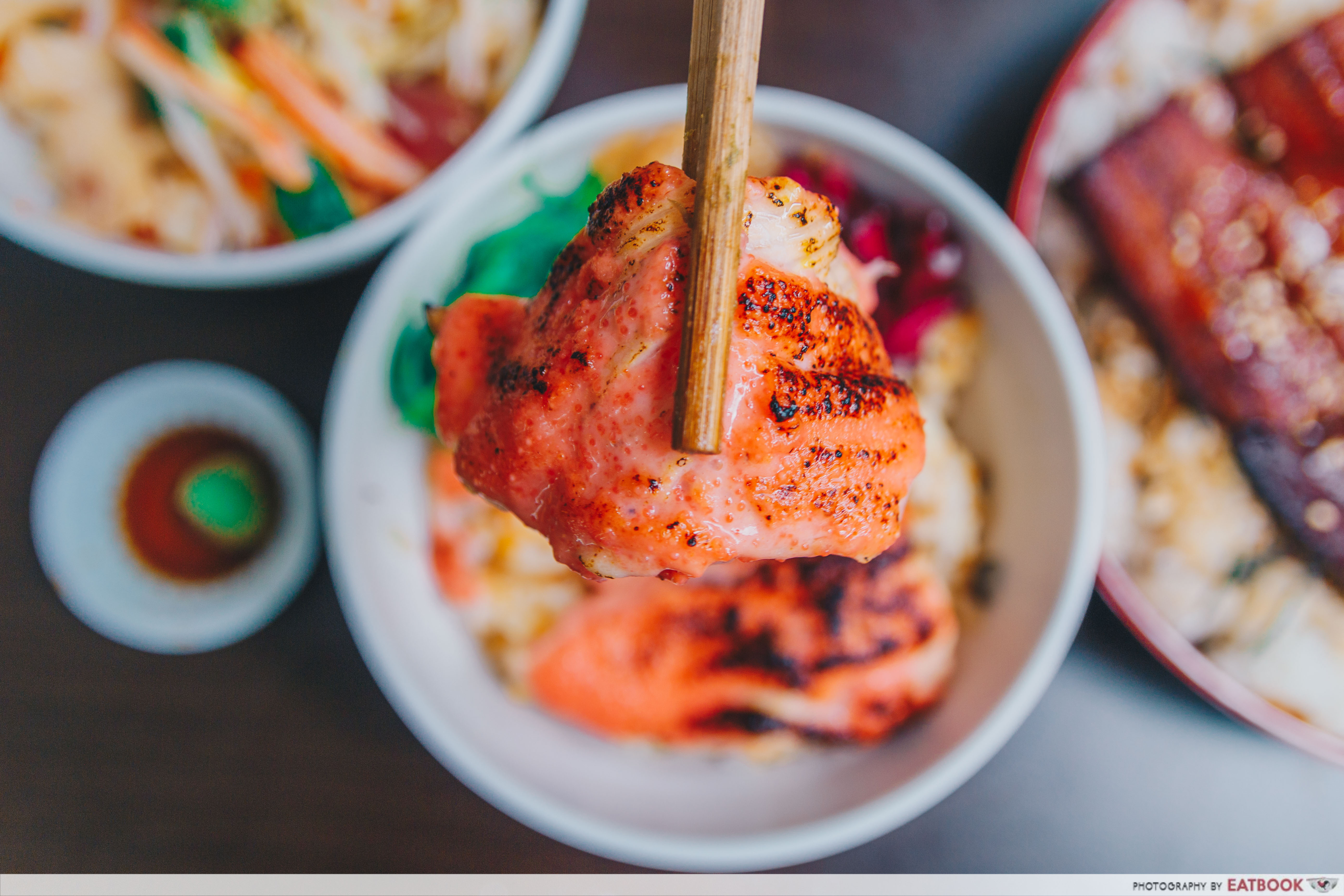 The house-made mentaiko sauce was slightly charred on top and took on an unusually bright pink hue. In fact, its colour was the first thing that stood out to me when the dish was delivered to our table.
Turns out, Chirashi King Kong creates their own mentaiko sauce from scratch! The mentaiko sauce was intriguingly more on the sweet side, and while I have a theory that sweet food cannot blend well with savoury ingredients, this worked! Ultimately, all I found myself lamenting about was how only two pieces of salmon had actually been served.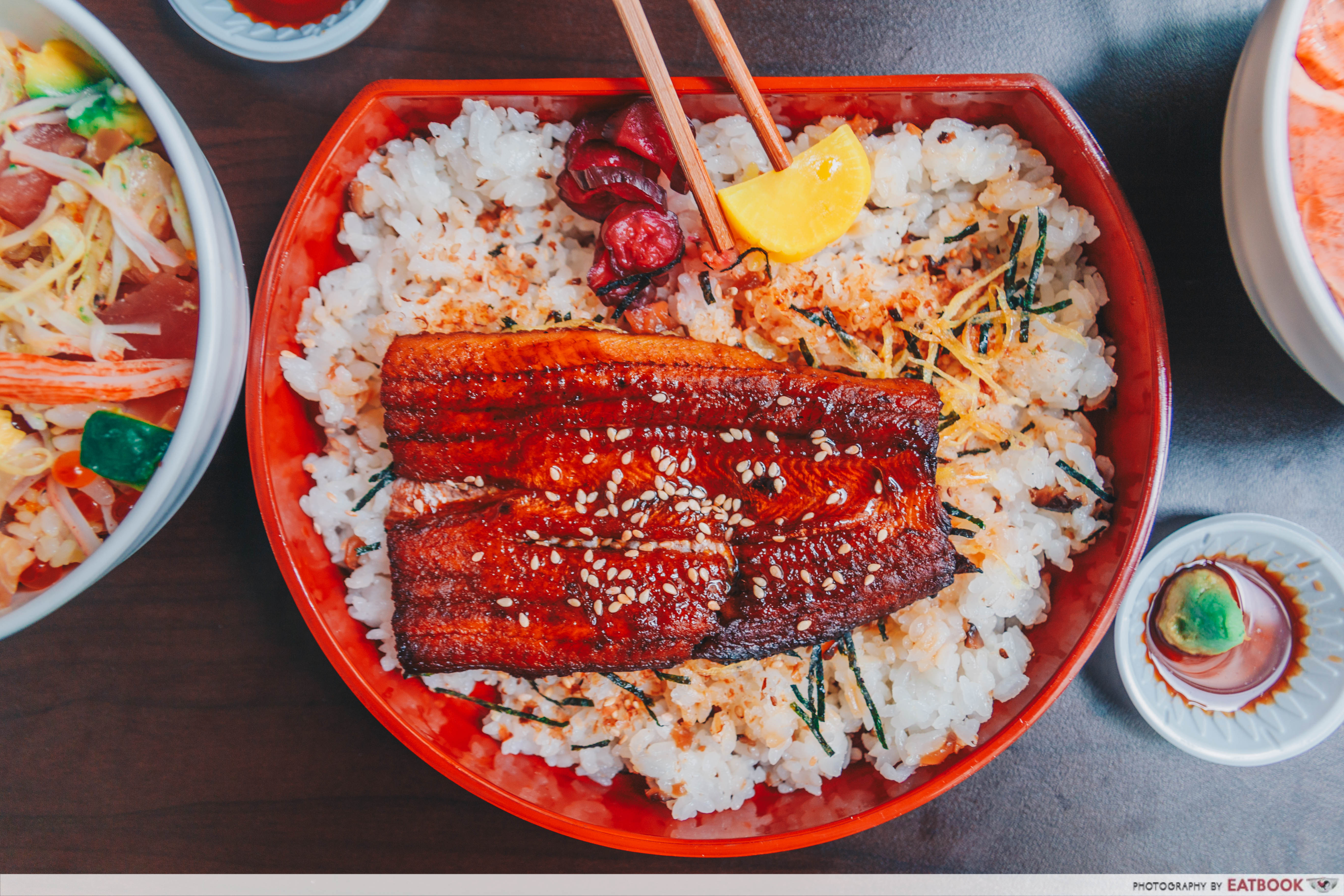 Our final dish was the Unagi Truffle Rice Box ($11.90). Order this if you don't feel like having raw food, but be prepared to wait for your meal. This dish took the longest, at approximately 15 minutes, to arrive.
The unagi was long and fleshy, and coated in a salty-sweet basting sauce to remove any fishy taste. Beneath the unagi lay a base of kinshi egg and rice, and pickles on the side. Unlike in the previous two dishes, the rice here fell a little flat, probably because it wasn't vinegared and did not seem to contain a strong truffle flavour. This was weird, since it was, after all, described as a 'truffle rice box'. Instead, it was garnished with bonito flakes, seaweed and sesame seeds.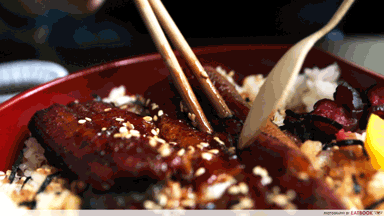 While the unagi was crispy on the outside and flaky inside, it contained many fine bones that felt a little grating.
Ambience at Chirashi King Kong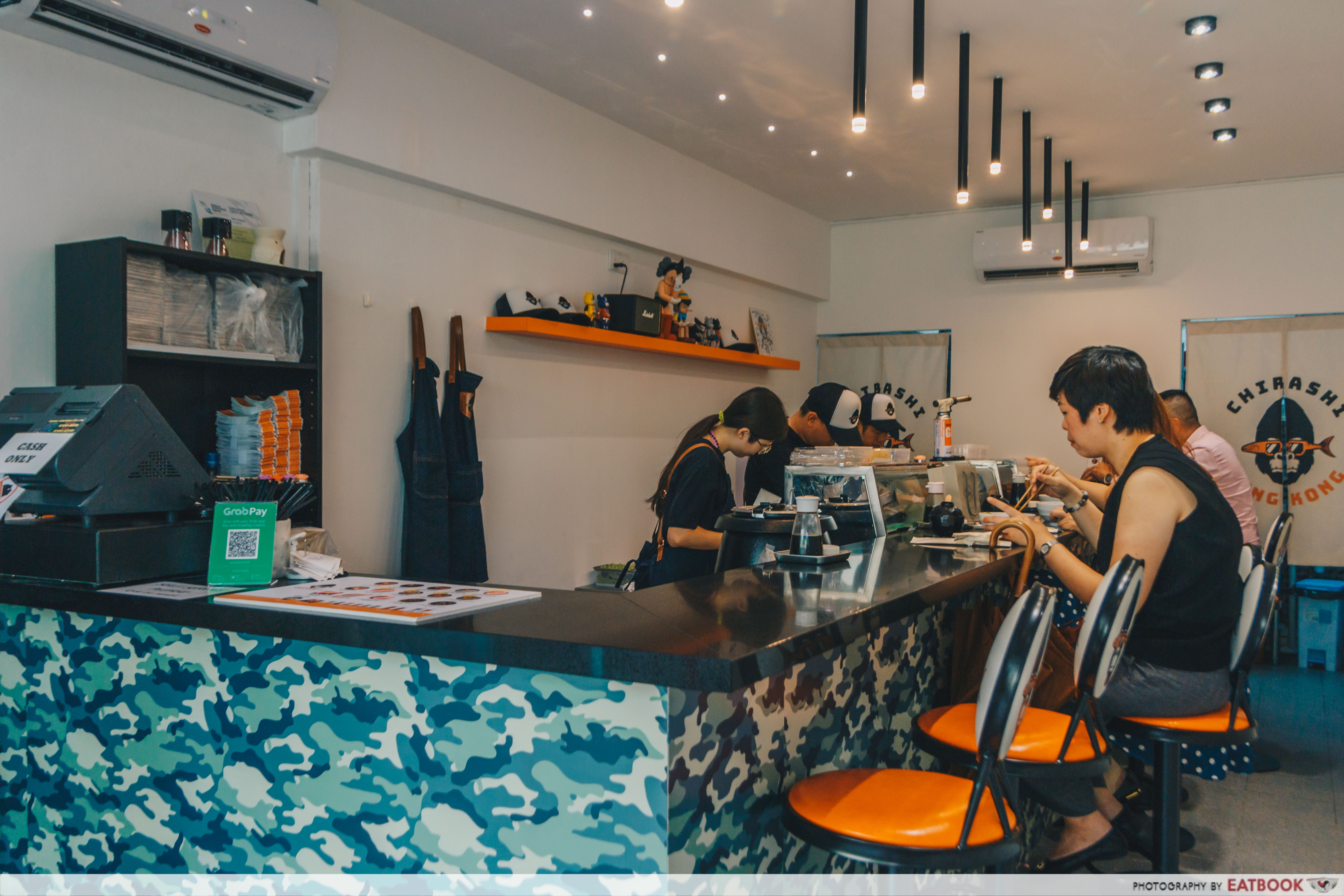 Chirashi King Kong is a small store located on the second floor of Tanjong Pagar Plaza. When we visited, the whole eatery was overflowing with the intoxicating scent of truffle that got my stomach growling.
If you're coming during lunch hour, be prepared to wait in line. The store got a little crowded between noon and 2pm, bustling with hungry office workers.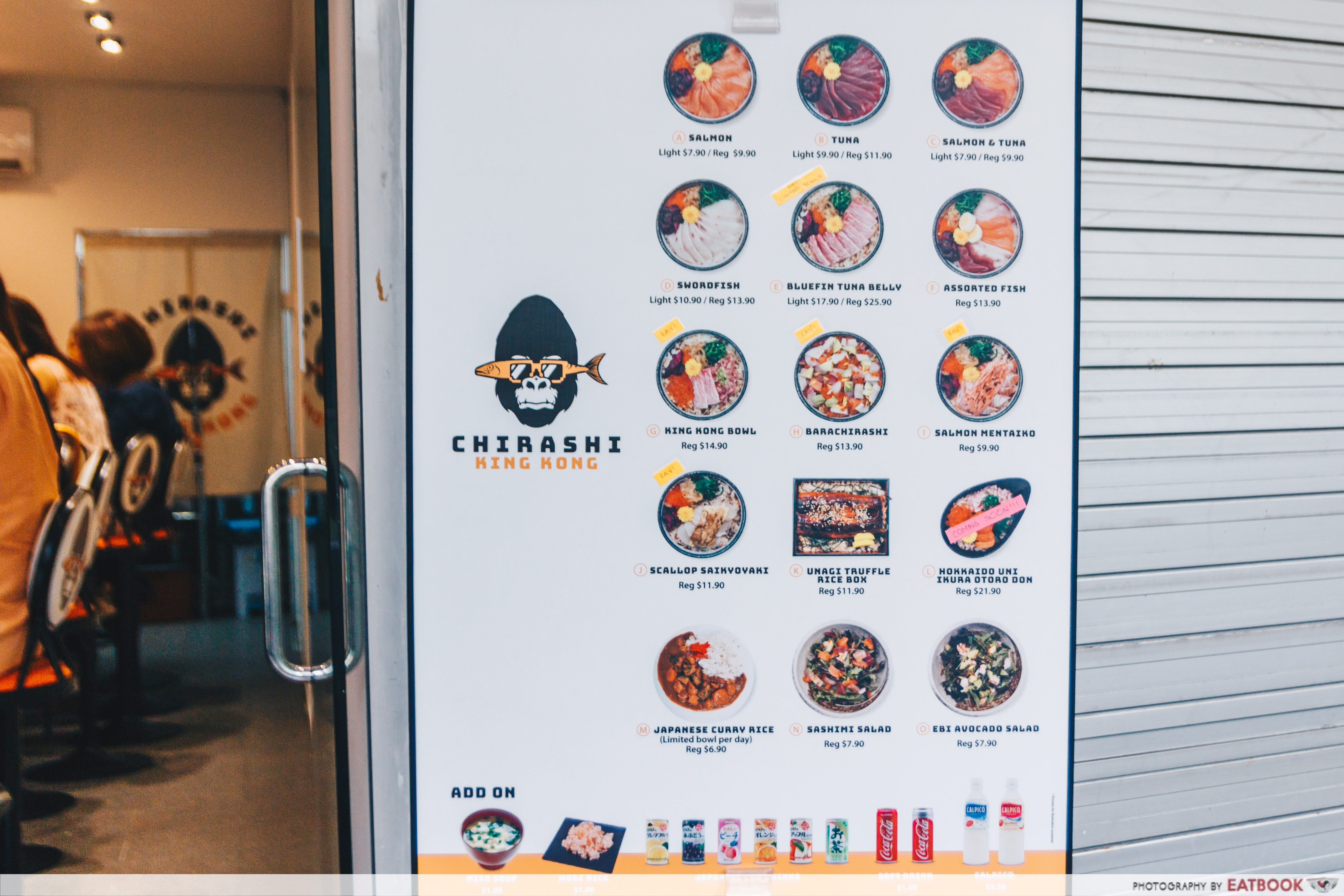 The cheapest dish on the menu, the Salmon bowl, starts from $7.90. Add $1 to your meal for a wholesome bowl of miso soup! I'd advise you to do so, as it's super worth it. The miso soup comes simmering with salmon belly and steamed onions – really hearty fare to fill your stomach for when you're extra ravenous.
Seating here is rather limited. You can either opt between cushy bar seats inside the store, or if you're in a group, tables and chairs lining the corridor. Alternatively, you could always do a takeaway!
The verdict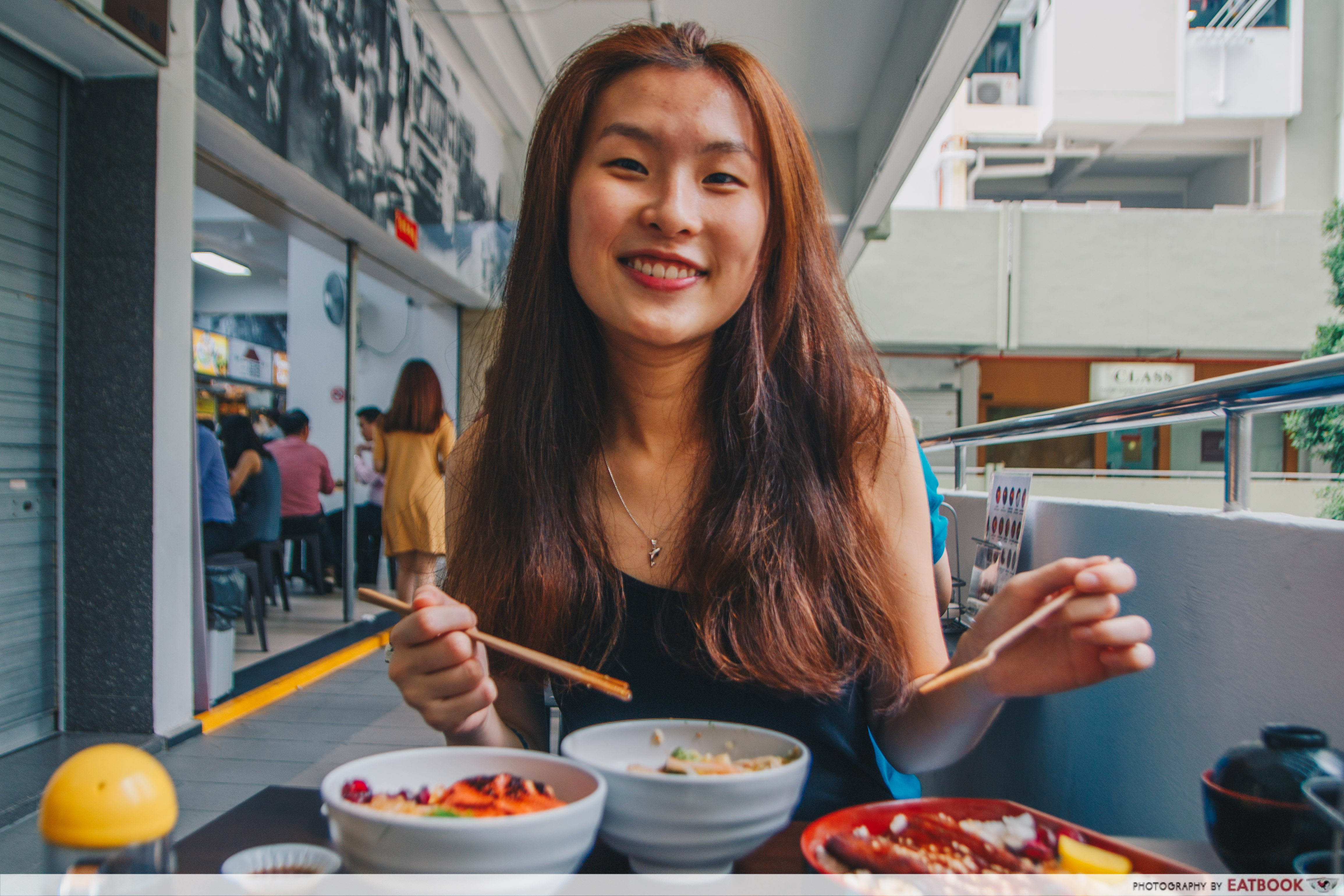 This was one of the best meals I've had in a while. Then again, that might not be saying very much, since living on a budget tends to restrict your diet to instant noodles and fast food. However, I can confidently say that the truffle rice was next-level good. For the flavourful grains alone, I'd come back again for sure.
Check out our review of Bami Express, a cheap Vietnamese food gem also located in Tanjong Pagar Plaza, or discover good rice bowls elsewhere, in this compilation of affordable donburi places!
Address: Block 1 Tanjong Pagar Plaza, #02-06, Singapore 082001
Opening hours: Mon-Sat 11am to 7pm
Website
Chirashi King Kong is not a halal-certified eatery.
This is an independent review by Eatbook.sg.
Summary
Pros
– Affordable Japanese food
– Delicious truffle rice
– Nice presentation
Cons
– Salmon Mentaiko serving was small
– Unagi had many fine bones
Recommended dishes: Bara Chirashi ($13.90), Salmon Mentaiko ($9.90)
Opening hours: Mon-Sat 11am to 7pm
Address: Block 1 Tanjong Pagar Plaza, #02-06, Singapore 082001