Sumo Bar Happy serves ramen with huge short ribs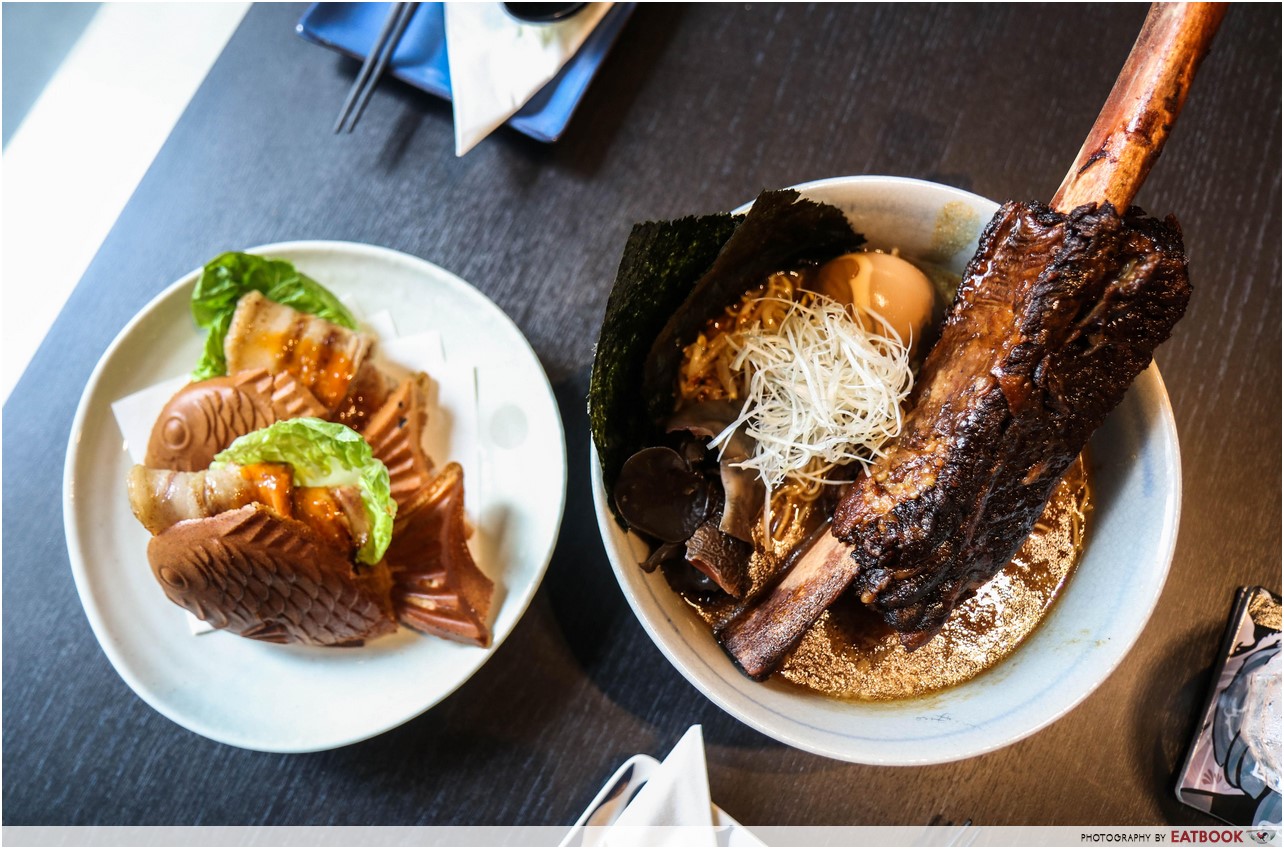 While viral food trends come and go in Singapore's food scene, the one thing that never seems to phase out is our love for Japanese food. Along with the recent hype for XXL portions such as giant donburi and giant seafood soup, comes Sumo Bar Happy's giant bone-in short rib ramen. Opened by the brains behind Tanuki Raw and Standing Sushi Bar, this new restaurant at Bras Basah offers a variety of interesting and unique Japanese dishes.
Food at Sumo Bar Happy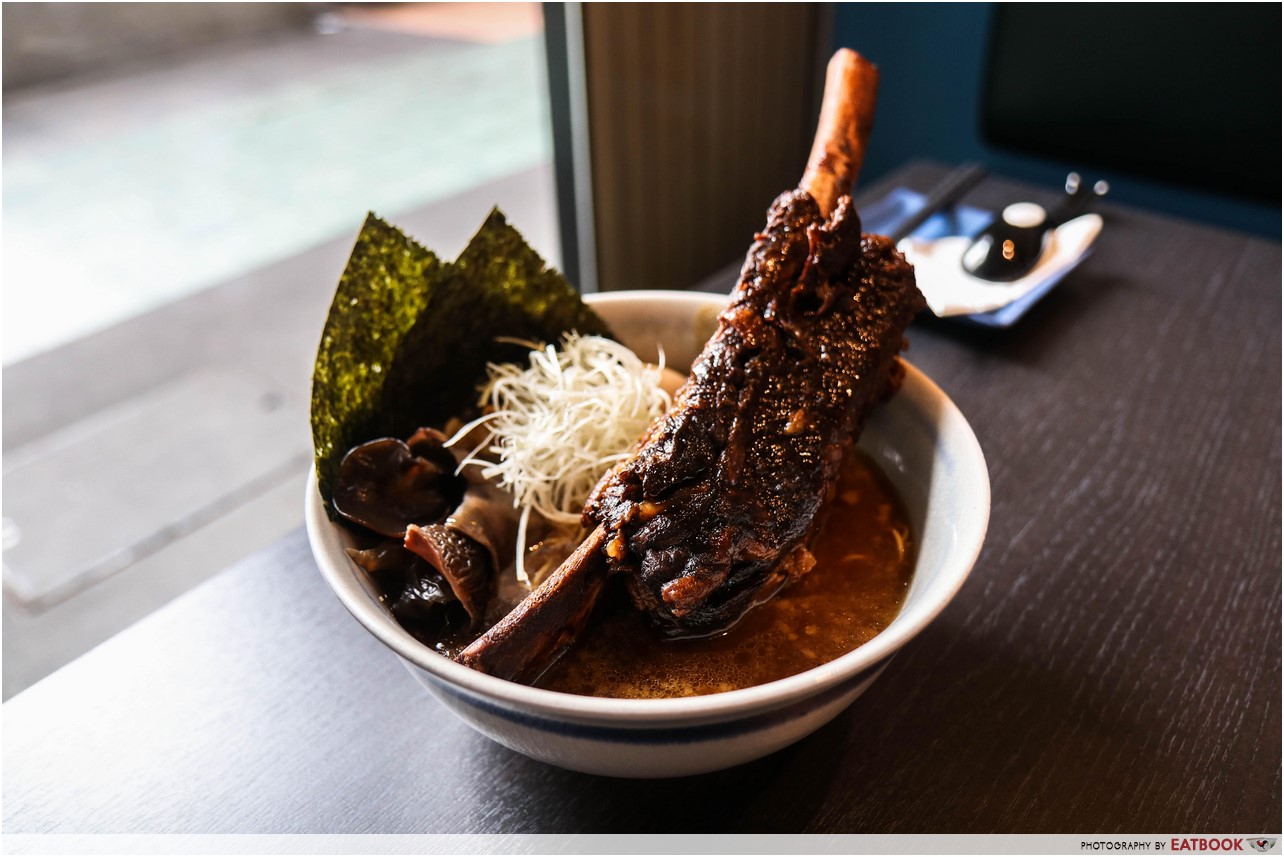 Thrilled by photos and comments we saw on their Facebook page, we ordered their signature Bone-In Short Rib Ramen ($42++). After a 20-minute wait, the bowl arrived and the look of it did not disappoint. Served in a regular-sized bowl, the short rib, which weighed around 600g, extended well beyond the ends of the bowl. Besides the size of the rib, the other thing that hit me was the intense aroma of the tawny braised beef.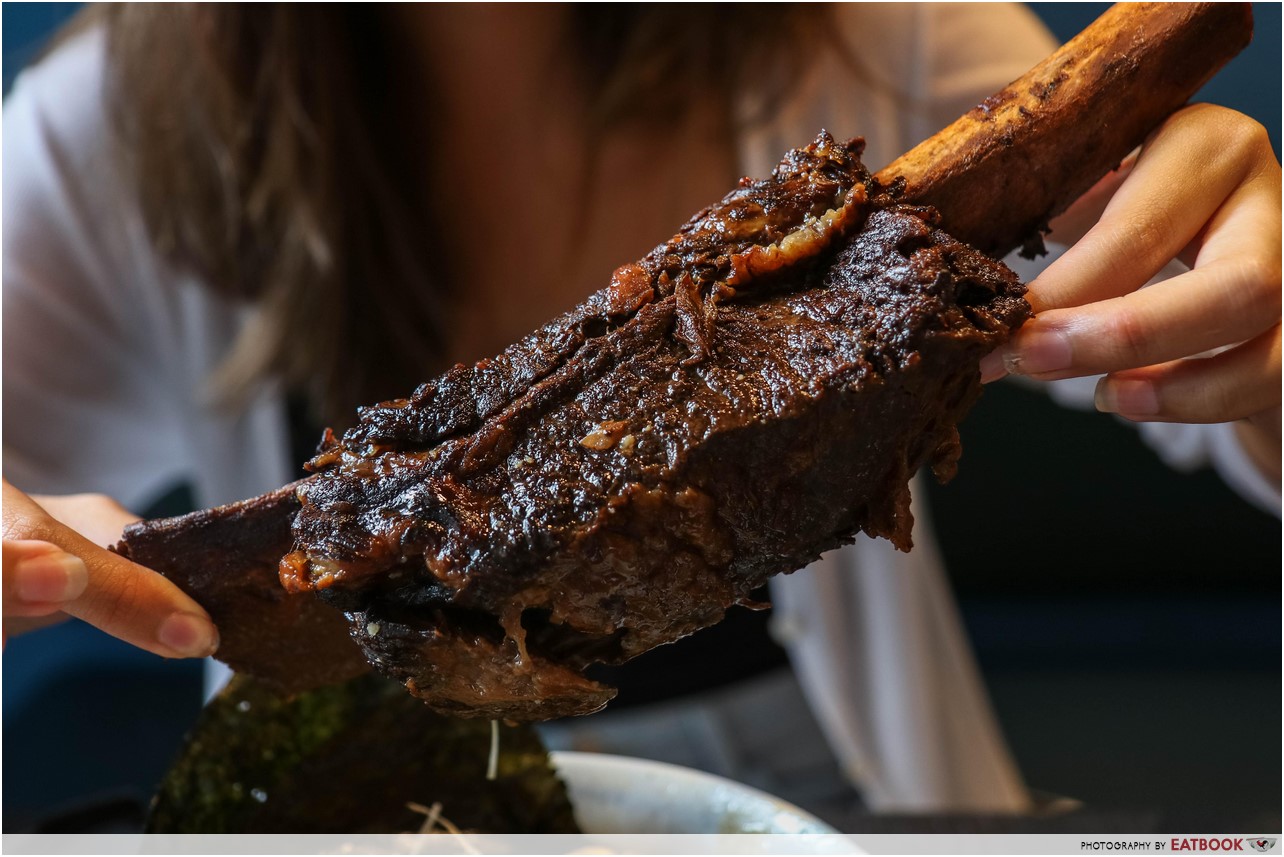 Slow-roasted for eight hours and braised in a mix of red wine and house-made yakiniku sauce, the bone-in US prime short rib was thoroughly seasoned and soaked in both the sauce and broth. It was not overly mushy or soft, and was firm enough for me to pick the bone up without the meat falling right out.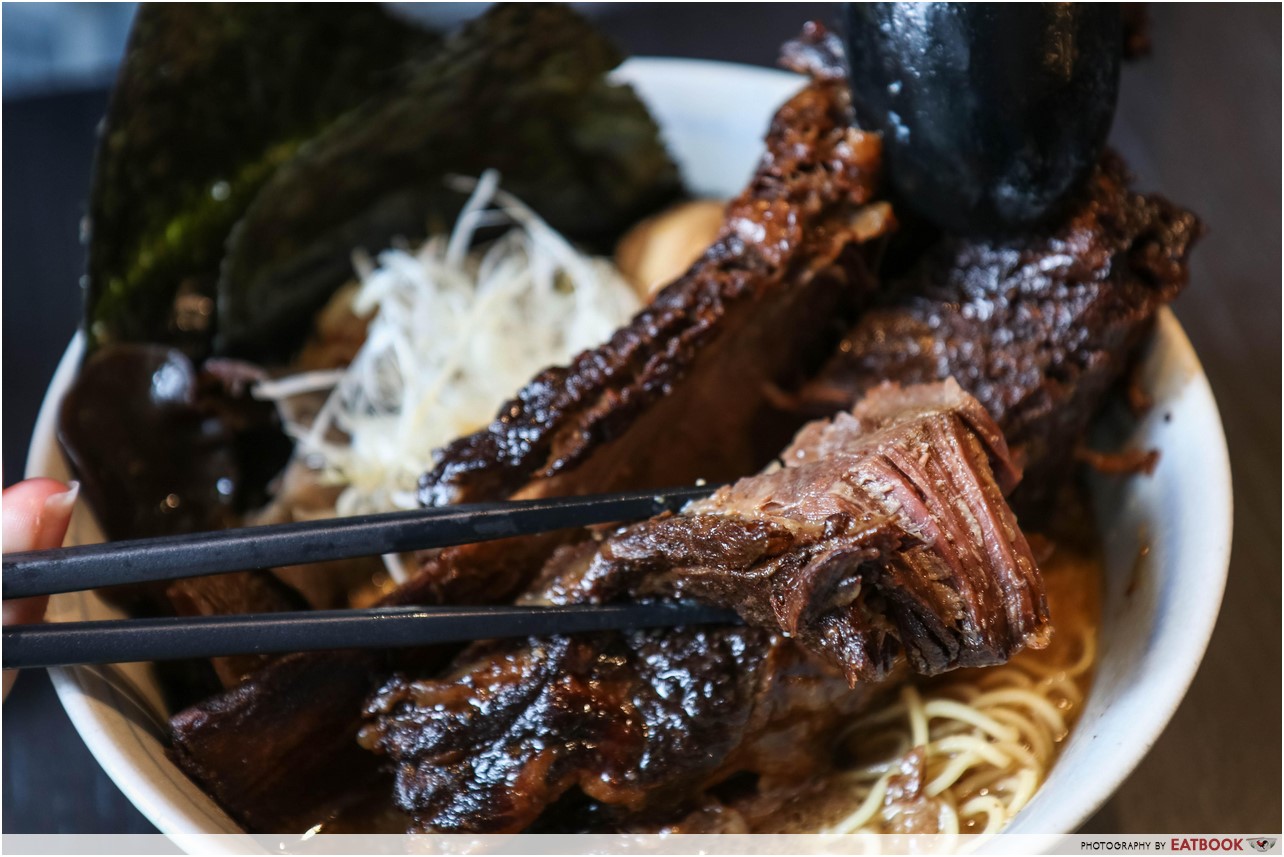 Fulfilling the dream of any meat lover, the beef was tender and succulent, with a prominent taste of red wine in each bite. The generally lean meat was also laced with a good amount of fats that gave the meat a soft texture and melt-in-the-mouth sensation without tipping to the point of being jelak.
From the fatty and extra savoury sides to the firm, lean meat in the middle, each bite gave a slightly different texture but was altogether mouthwatering and delectable.
The ramen broth, however, was light and underwhelming. Despite being simmered for 48 hours, it was lacking in taste besides carrying a slight hint of sesame oil. While some may find that the lightly flavoured soup complements the meat, I prefer my ramen broth to be richer so it can flavour the noodles.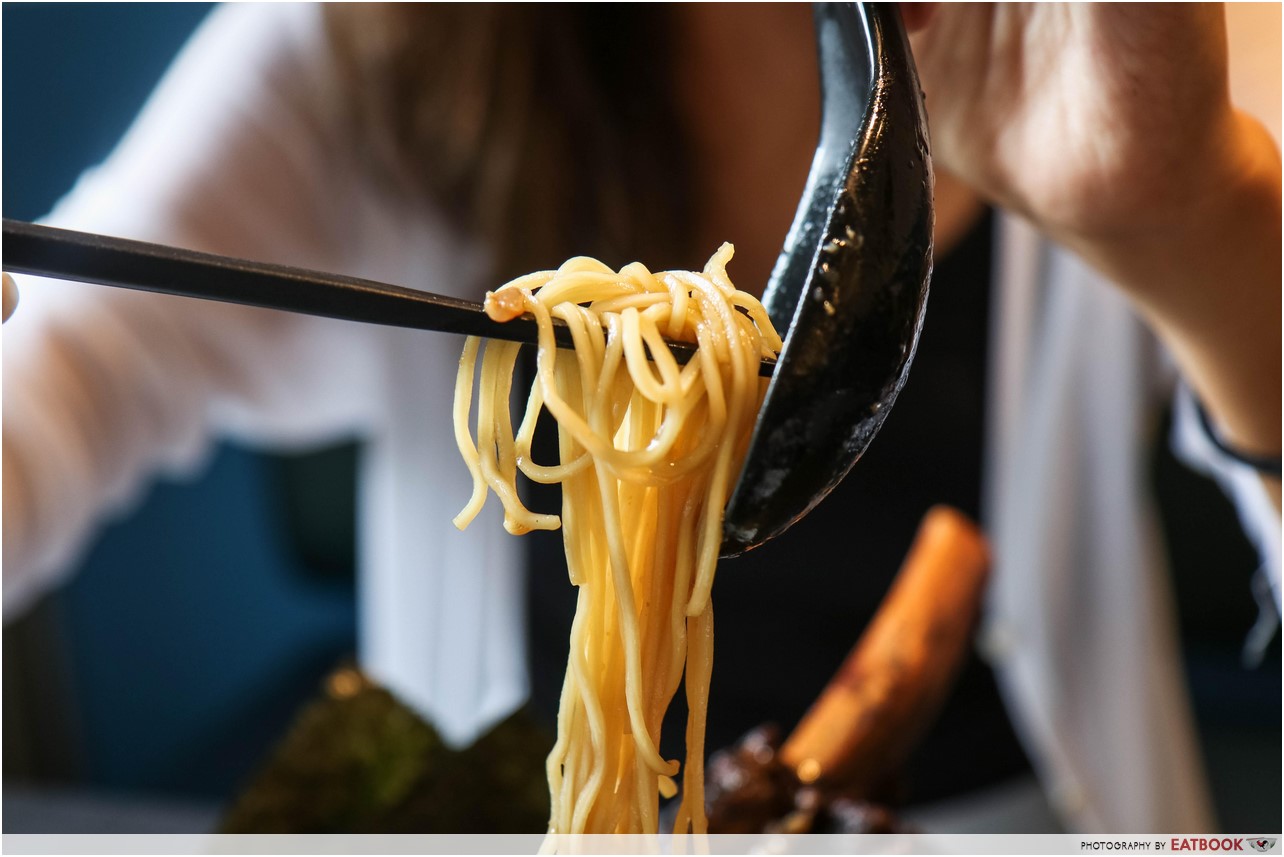 The thin noodles were also disappointing. They were neither chewy nor springy, and didn't add much to the dish. While the meat was delicious, it overpowered the soup and noodles, which I thought was disappointing for a shop that specialises in ramen.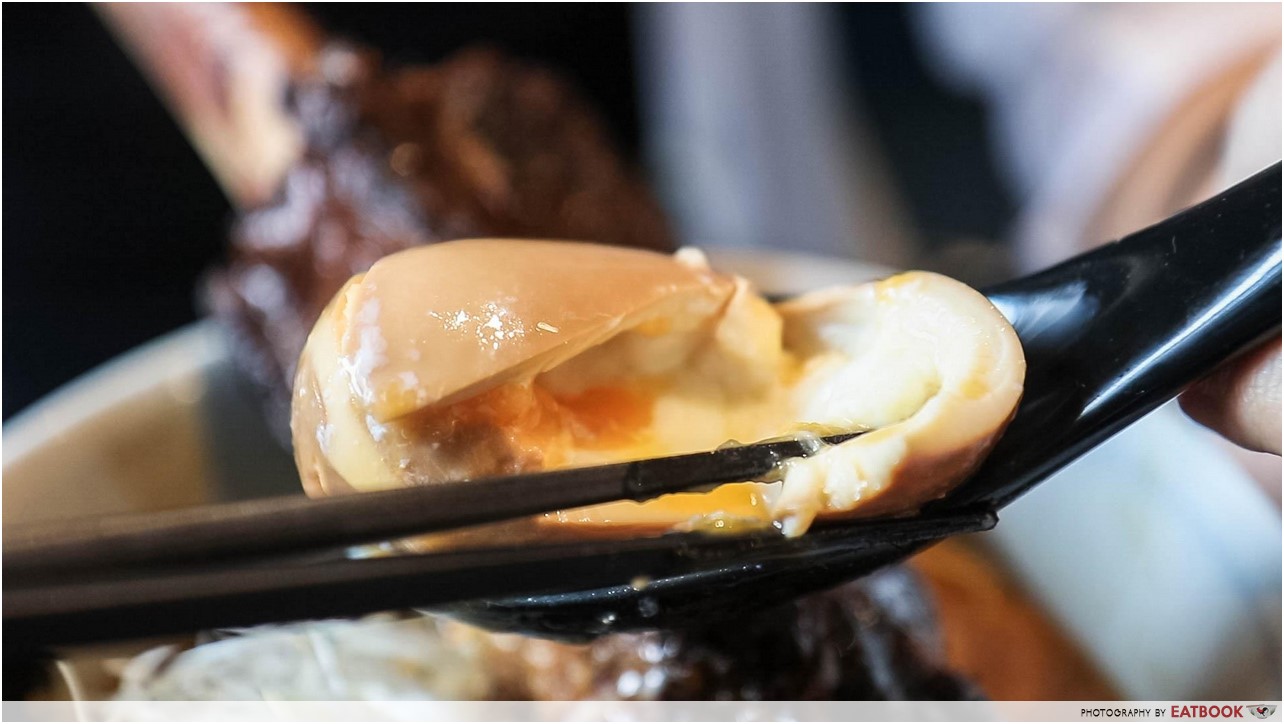 A plus point would be their generous amount of side toppings, which include black fungus, seaweed, kimchi-flavoured bean sprouts, and free-flow soft-boiled eggs. The pile of kimchi-flavoured bean sprouts took me by surprise as it was a twist from the usual at ramen joints, and added a tangy and slightly spicy kick to the dish.
Besides the Bone-In Short Rib Ramen, the restaurant also offers Oxtail Ramen ($21++), Char Siew Ramen ($17++), and more. Those who are not a fan of noodles will be glad to find donburi, such as their signature Loco Moco Don ($18++) that comes with luncheon meat and foie gras, on their menu.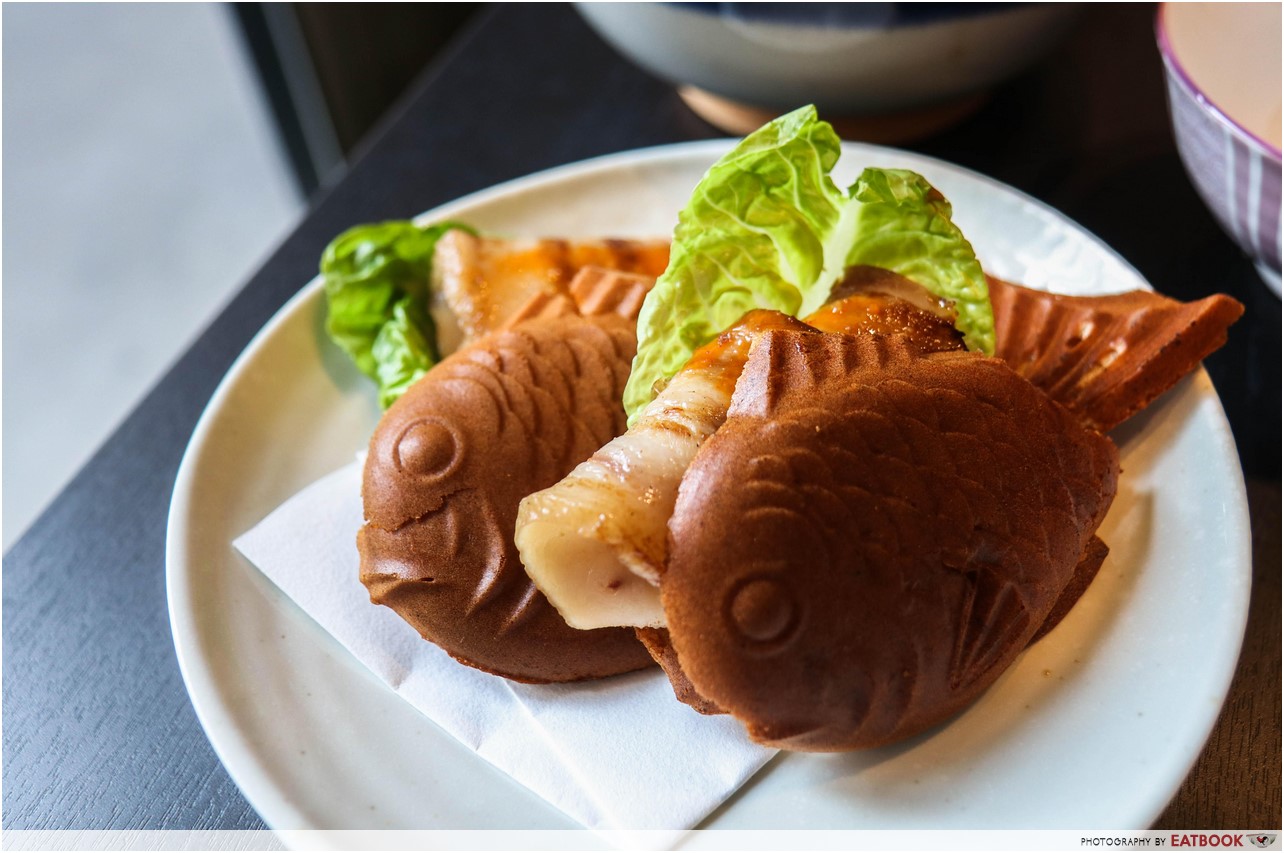 We also tried their Char Siew Taiyaki Sliders ($14++). Unlike some taiyaki pancakes that come with overly thick and undercooked batter, the batter of this taiyaki slider was thin and slightly crispy on the edges. The subtle sweetness of the pancake was accompanied by a touch a spiciness and saltiness from the sesame sauce that coated the chunky pieces of char siew.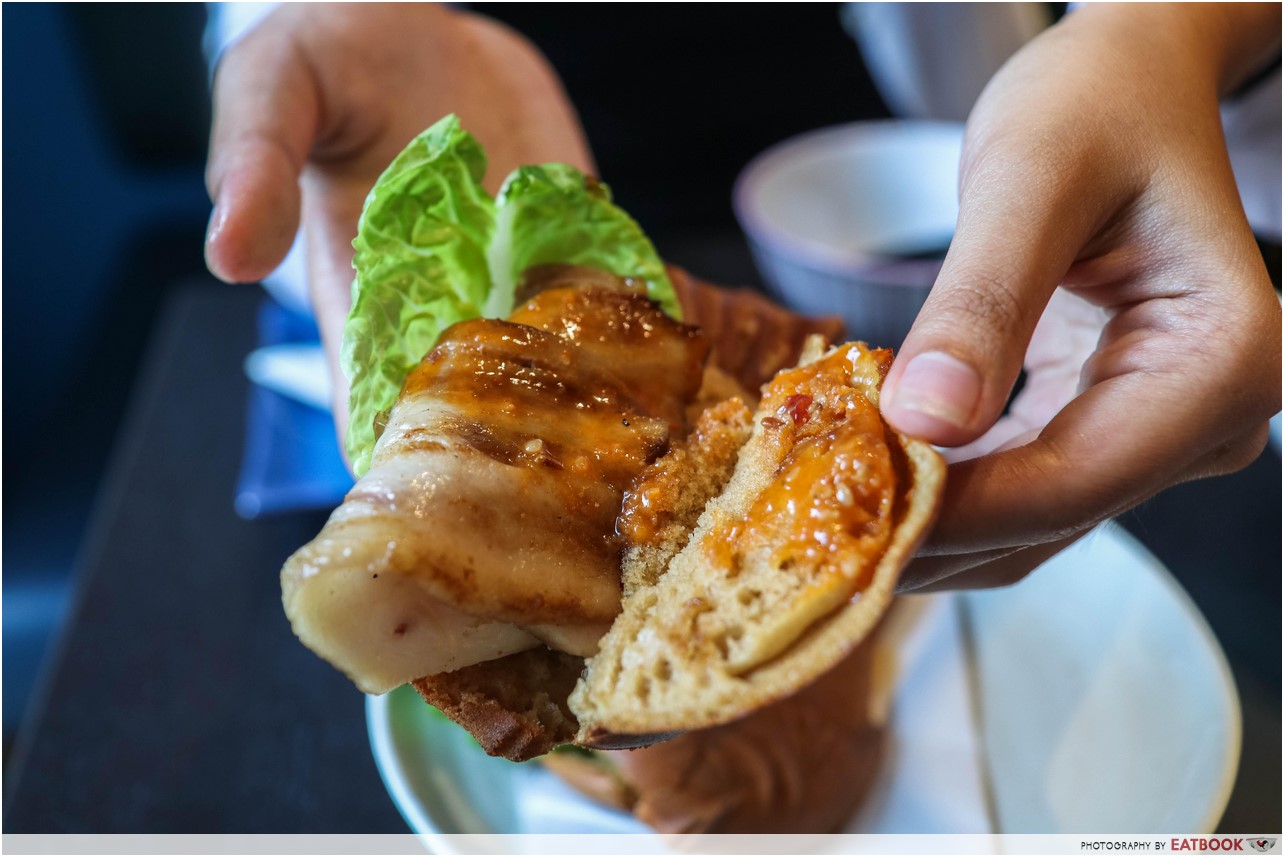 I was impressed by how well the sweet and savoury combination came together and was especially fond of the fluffiness of the sweet pancake. However, it would have been better if the char siew itself was marinated with the sauce as well, as our char siew had an uneven coat that made certain parts tasteless and the rest overpowering.  
The meat was also slightly too fatty for my liking and this would serve as a great snack for those popping by for drinks, instead of having it as a side dish alongside the filling bowl of ramen. Other interesting sides here include Pork Trotter Korokke ($12++) and Yuzu Pepper Chicken Skin Chips ($10++).
Ambience at Sumo Bar Happy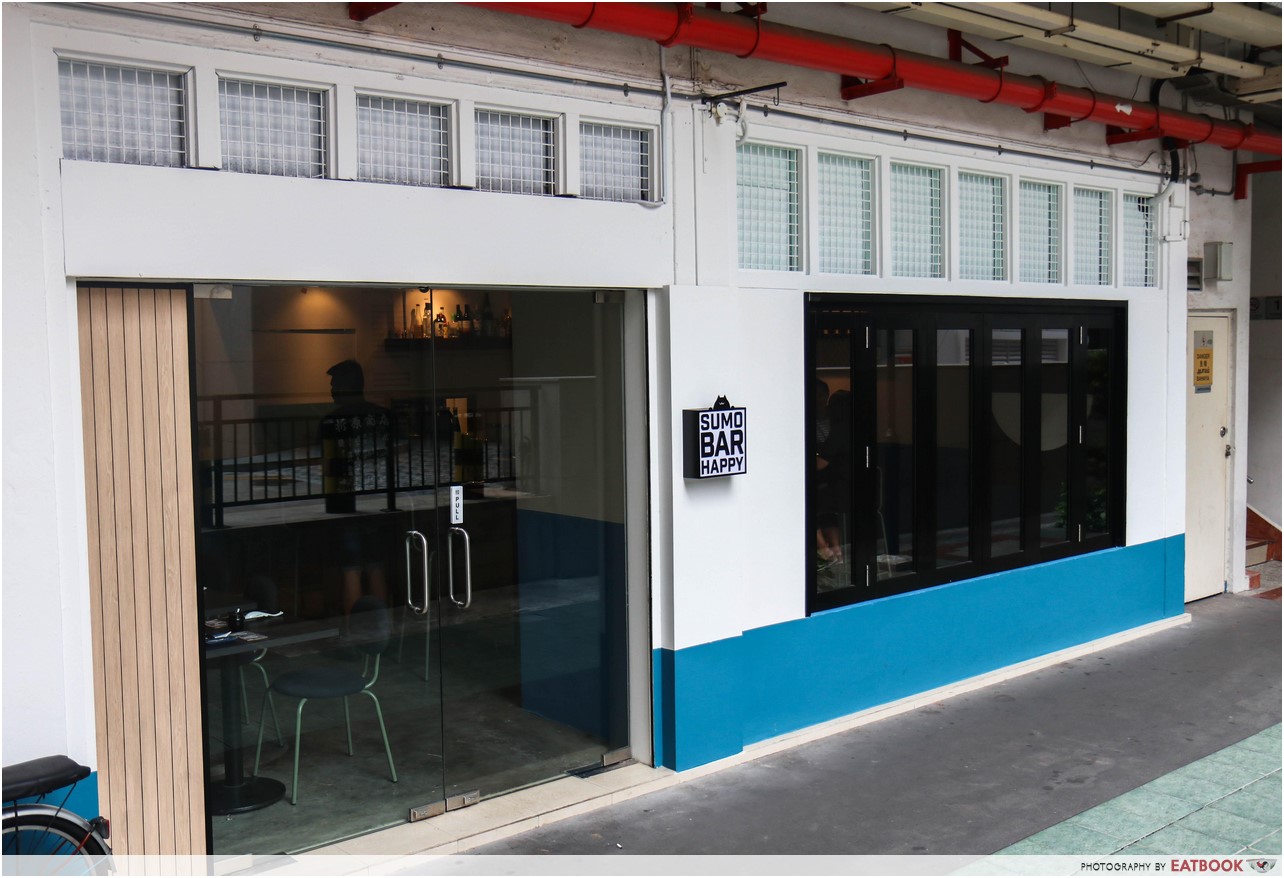 Found indistinctly along Waterloo Street, Sumo Bar Happy is a ramen restaurant and sake bar. It is within walking distance from both Bugis and Bras Basah MRT Stations. Their opening hours are slightly different from the norm. They only open at 5pm from Monday to Saturday, and operate from 12pm to 5pm on Sundays, so don't jio your friends here at the wrong time!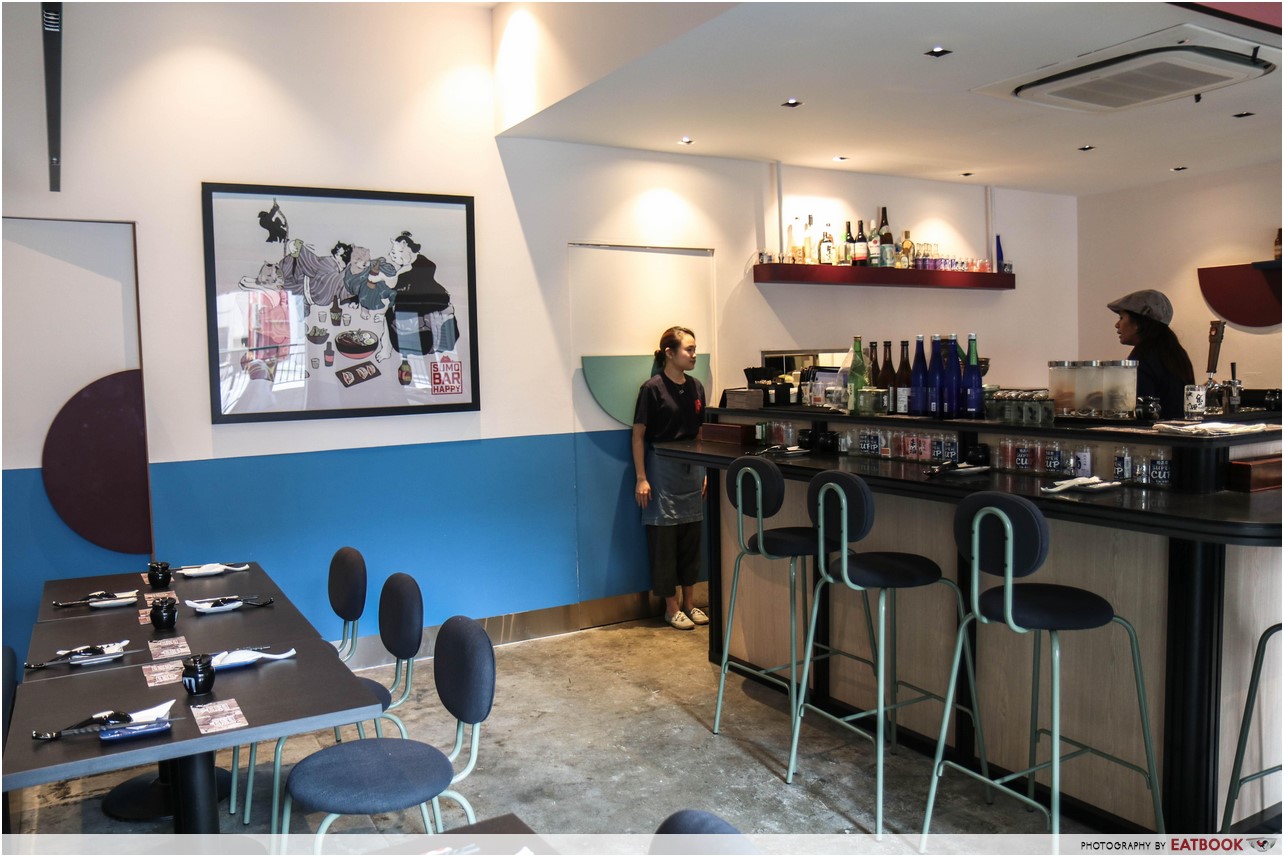 With half the space taken up by a bar counter and high chairs, Sumo Bar Happy is great for some booze accompanied by loud Japanese pop music after a hectic work day. The limited space may, however, get claustrophobic when the evening crowd streams in, making it less comfortable for those looking for a relaxing dinner spot.
The verdict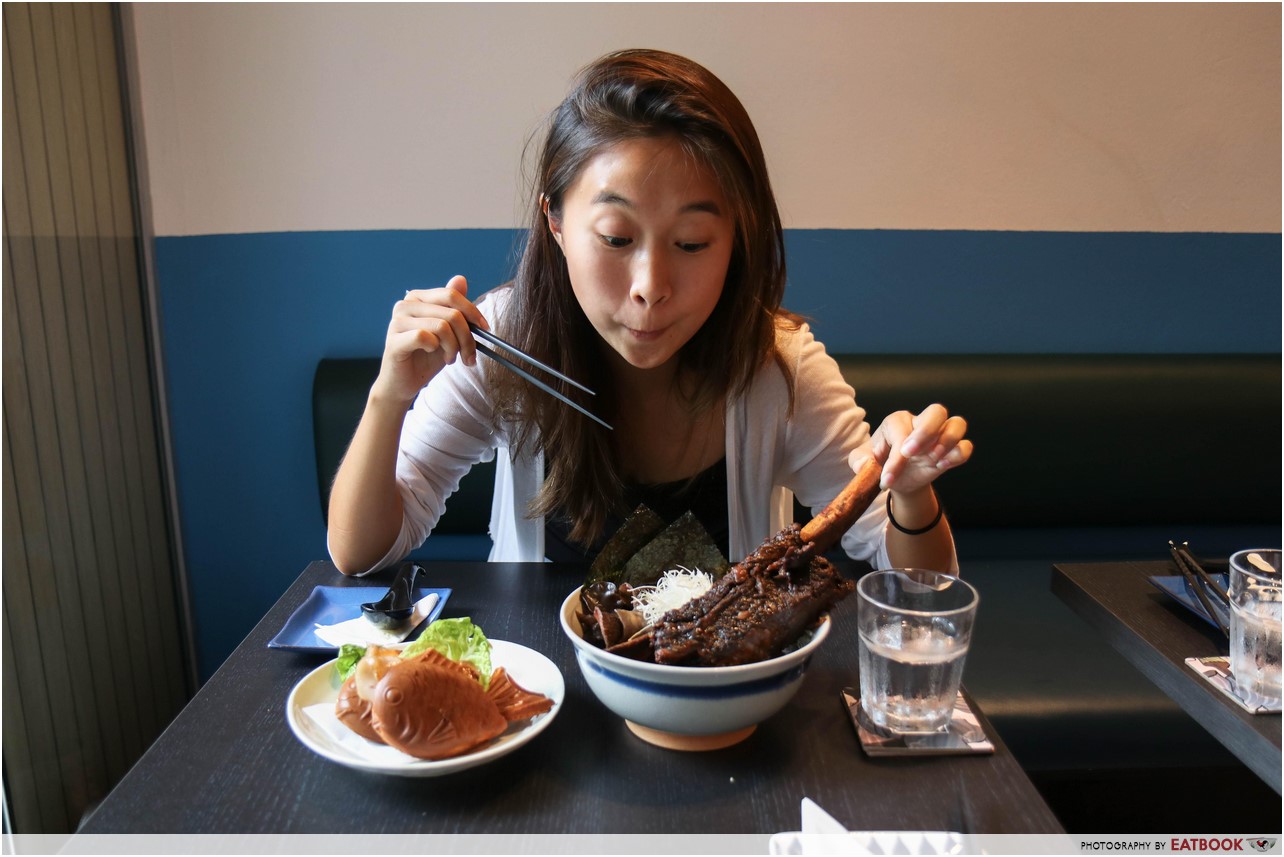 In general, I found the food here rather pricey and average in taste compared to some other ramen stalls in Singapore. That being said, their unique bone-in short rib ramen is worth a try.
Though it is a whopping $42++, the huge portion of beef is definitely more than enough for two to share. It was a satisfying experience but will probably remain a one-time adventure for me. If you're keen on trying, remember to drop them a Facebook message to reserve it as they only serve five bowls of this a day.
For more of such OTT ramen, check out our list of unique ramen in Singapore. Alternatively, those on a budget can check out these cheap ramen around Singapore.
Address: 261 Waterloo Street, #01-24, Waterloo Centre, Singapore 180261
Opening hours: Tue-Wed 5:30pm to 10:30pm, Thur-Fri 12pm to 2:30pm, 5:30pm to 10:30pm, Sat 12pm to 10:30pm, Sun 12pm to 10pm (last order at 9:30pm on Sunday and 9:45pm for the rest of the week)
Website
Sumo Bar Happy is not a halal restaurant.
This is an independent review by Eatbook.sg.
Summary
Pros
– Unique dishes
– Convenient location
Cons
– Few seats
– Expensive
– Only five bowls of Bone-in Short Rib Ramen served daily
– Closed during lunch hours on most days
– Closed during dinner hours on Sundays
Recommended Dishes: Bone-in Short Rib Ramen ($42++)
Operating Hours:
Monday – Saturday 5pm to 12am (last order for food at 10pm)
Sunday 12pm to 5pm
Address: 261 Waterloo Street, #01-24, Waterloo Centre, Singapore 180261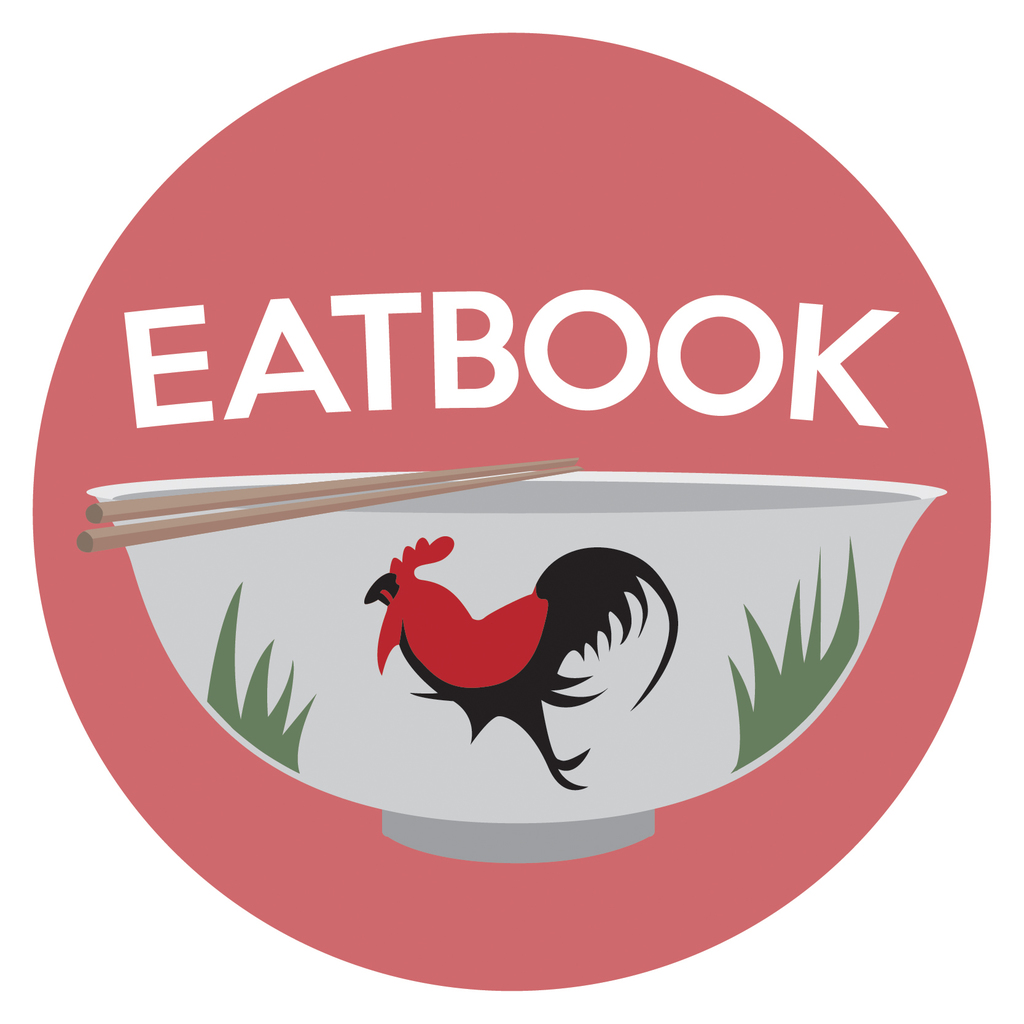 Drop us your email so you won't miss the latest news.