Super Sub Hotdogs has new XXL hotdogs and drinks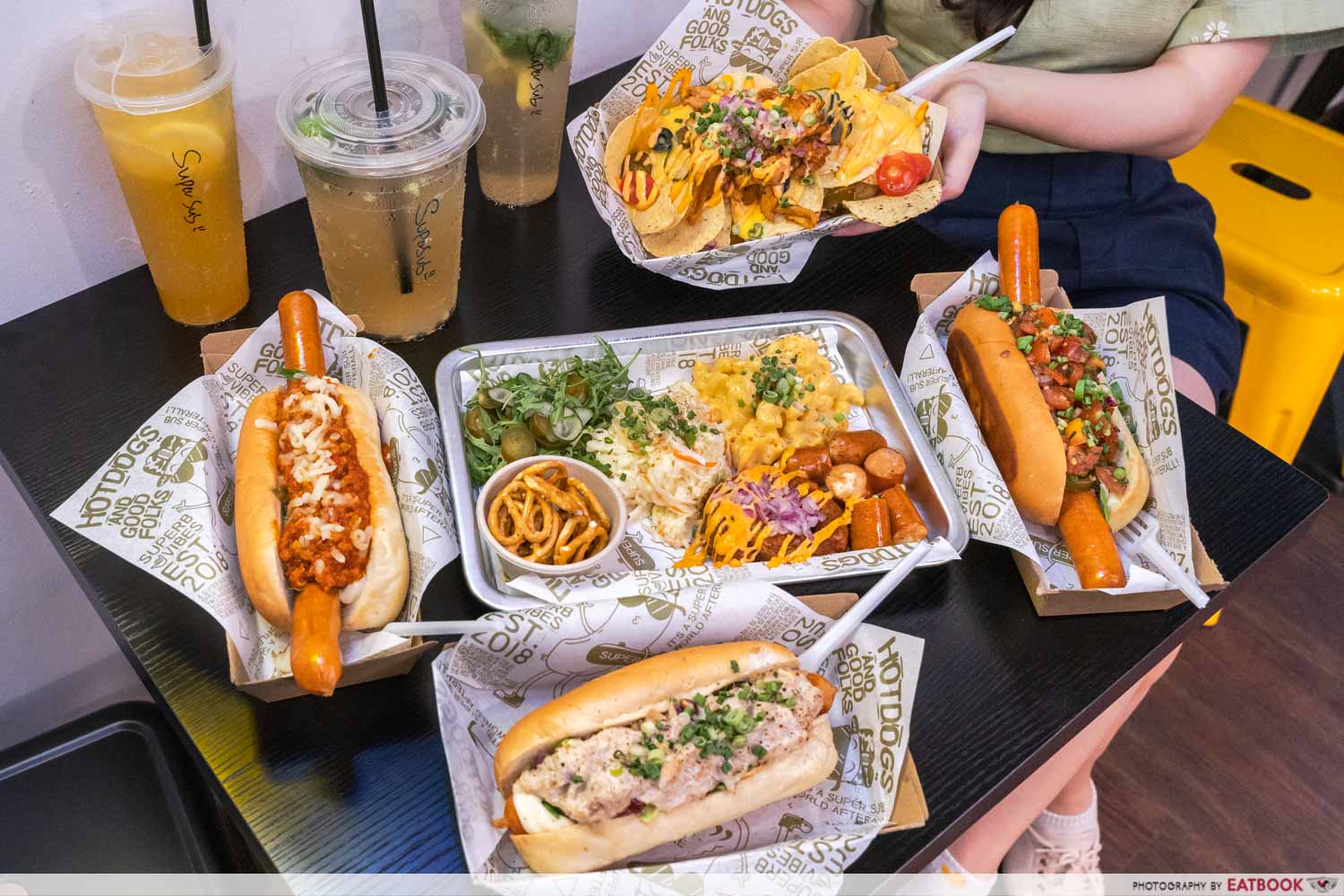 If you're a blur sotong like me and missed the memo about the 12-inch IKEA hotdogs that are no longer available, there's no need to fret. Swooping in to save the day is Super Sub Hotdogs, a local fast casual chain that specialises in gourmet hotdogs. They've recently added some new, delicious additions to their menu, including a XXL hotdog of their own, XXL drinks, and much more that are here to stay!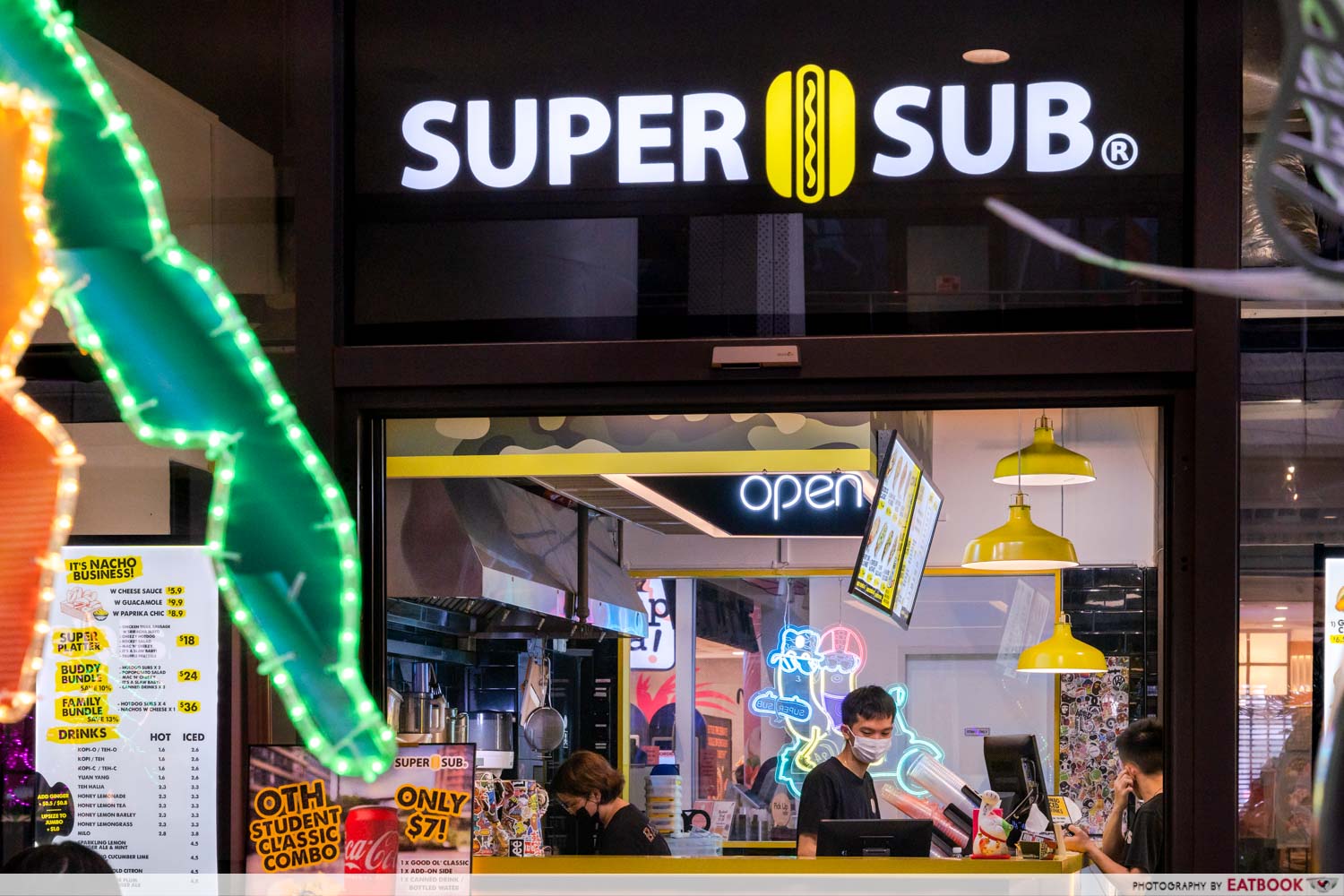 Super Sub Hotdogs offers grilled hotdogs loaded with a range of fillings on top of a hot, toasty hotdog bun, submarine sandwich or 'sub' style. While not as wallet friendly as IKEA's $1 hotdog, they're definitely more substantial and incredibly value-for-money for the portion served, with all hotdog subs priced under $10 a la carte.
Food at Super Sub Hotdogs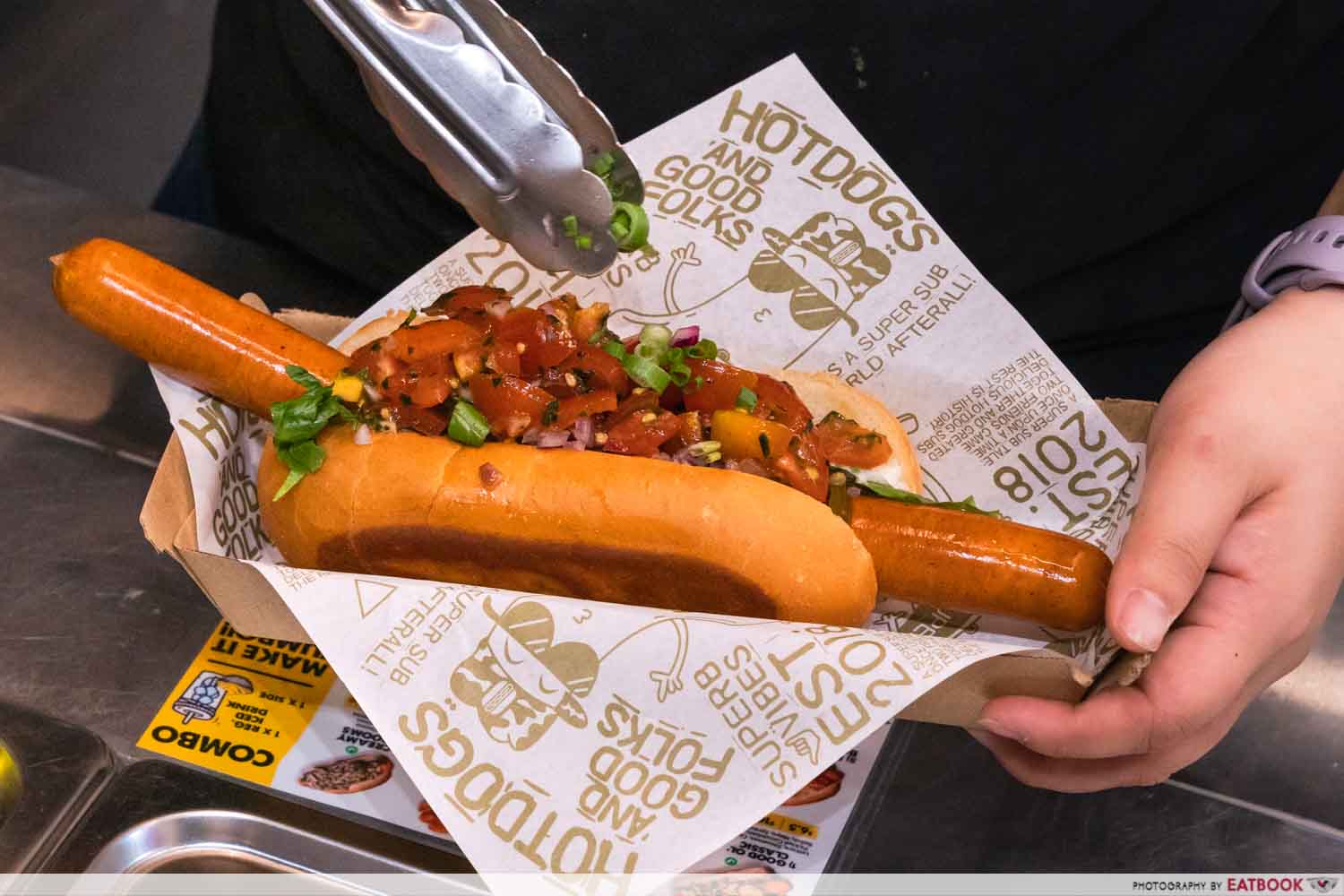 Although the brand is not halal-certified, they use no pork or lard in their preparation process, and only offer chicken hotdogs prepared by a halal-certified factory in Singapore. They also have a huge range of vegetarian-friendly options, making them a good, inclusive choice for lunch without fear of leaving anyone out.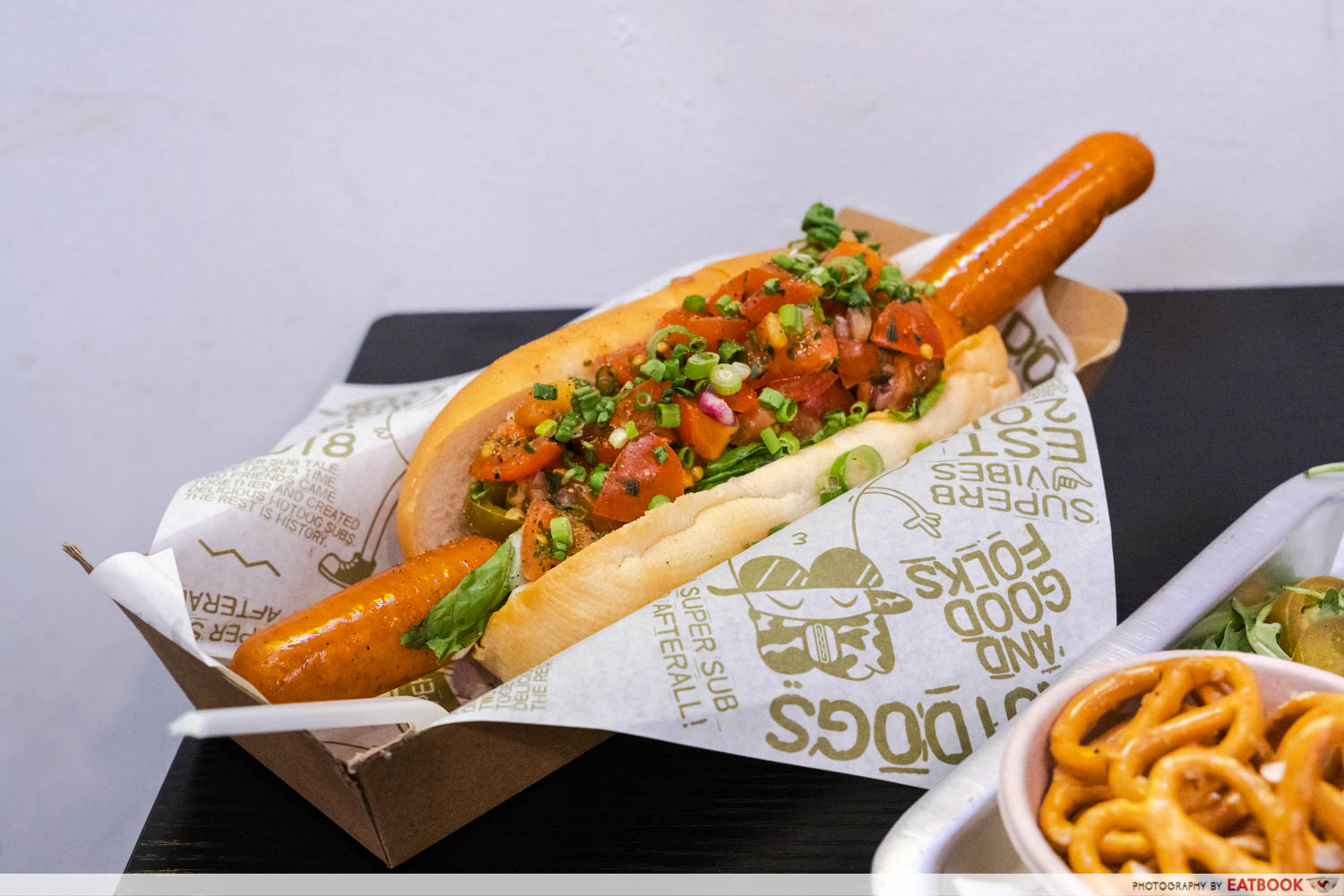 One of the new items is the Spicy Pomodoro With Pesto ($8.50), a hotdog sub topped with a spicy salsa of tomatoes, spring onions, cucumbers, lettuce, peanuts, mayo, and jalapeno peppers. If you'd like, get the 12" Jumbo Hotdog, which is nearly double the size of their regular 7" hotdog, and therefore double the meat, for just an extra $2. 
Novelty aside, the fact that the XXL hotdog sticks out so much means that unless you're scooping the filling out to eat with every bite, you'll be eating five inches of plain wiener until you get to the true meat of your sub. Great for those of us who appreciate gourmet sausages, but something to consider for everyone else. 
The chunky salsa meant that it was a futile endeavour to eat the hotdog without the condiments falling off, making this one of the messier subs we tried. 
I liked the sweet, fresh tomatoes and the crunchiness of the peanuts, but for a sub with spicy in its name, it was too mild, even after I deliberately picked out the jalapenos to eat. As a salsa, I also felt that it would benefit from more tang.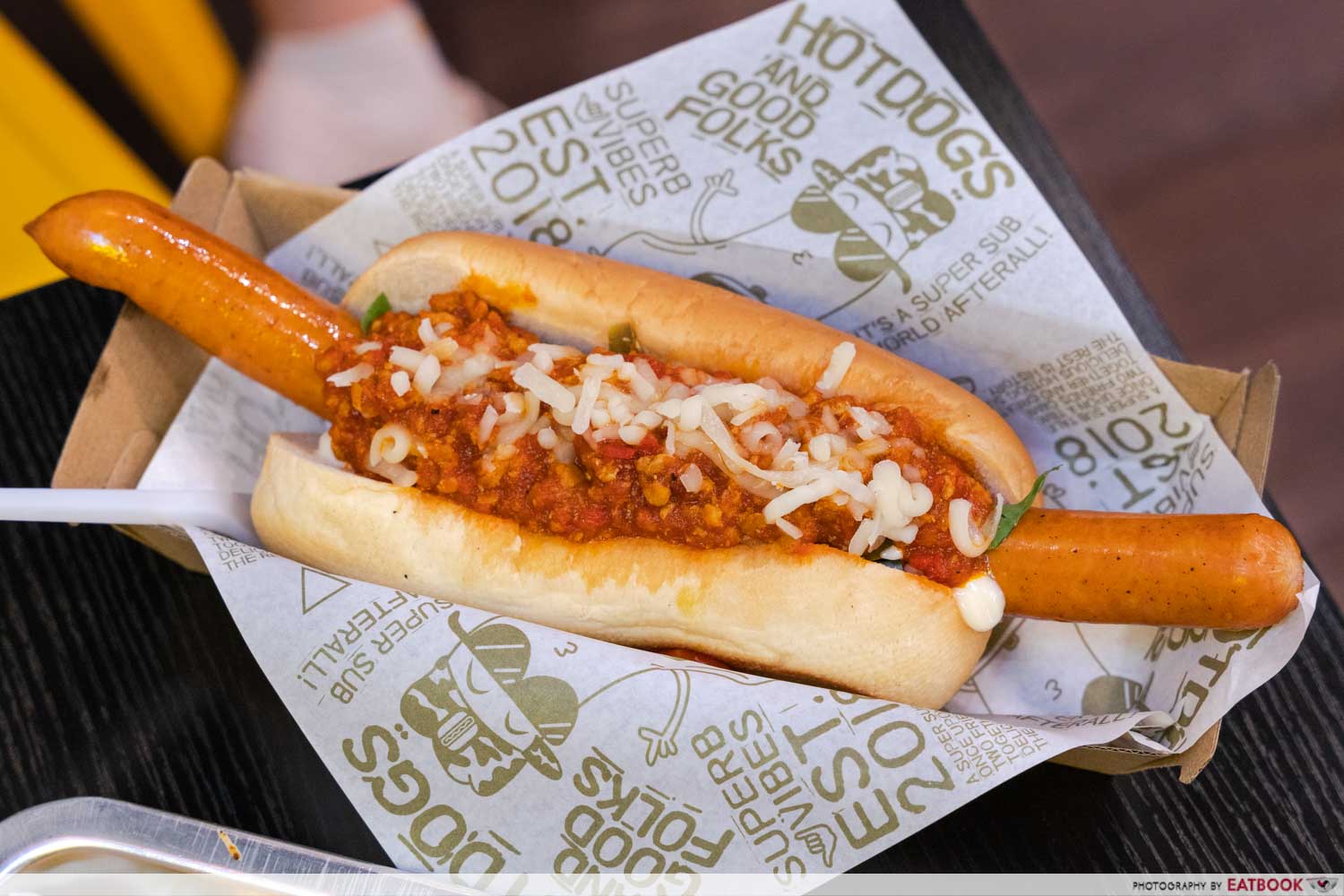 Next up, an old favourite: the Fiery Chic Bolognese ($8.50), which adds minced chicken, jalapeno, cherry tomatoes, and mayo to your sub, topped with shredded cheddar cheese.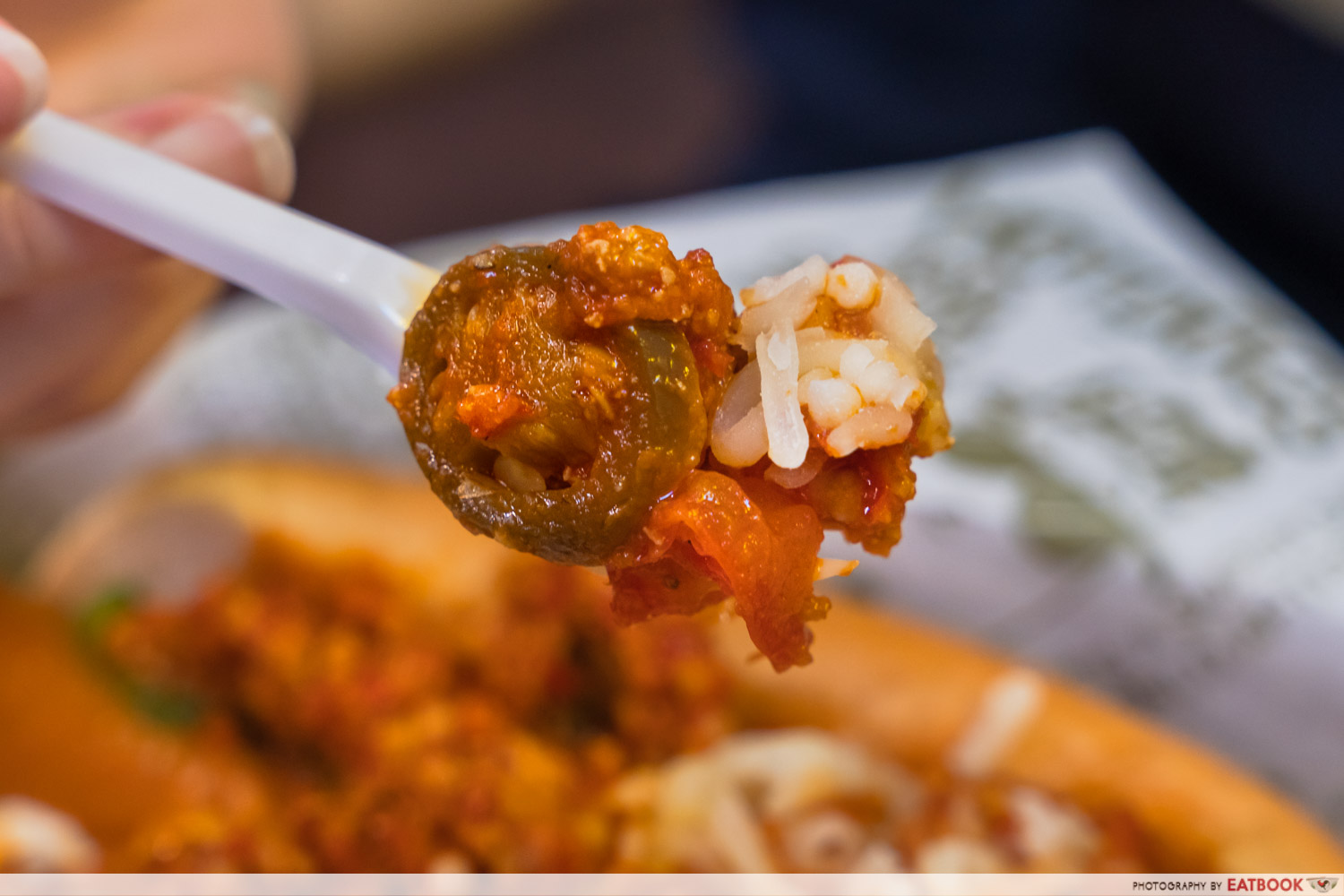 The chicken bolognese filling was delicious. It had a great texture and savoury flavour that went well with the fluffy sweet bun and firm sausage. Much like the spicy pomodoro sub though, this did not live up to its 'fiery' title, instead having a slight heat that surfaces after a while. I don't have an unusually high spice tolerance, so if I think it's not spicy, it's really not spicy.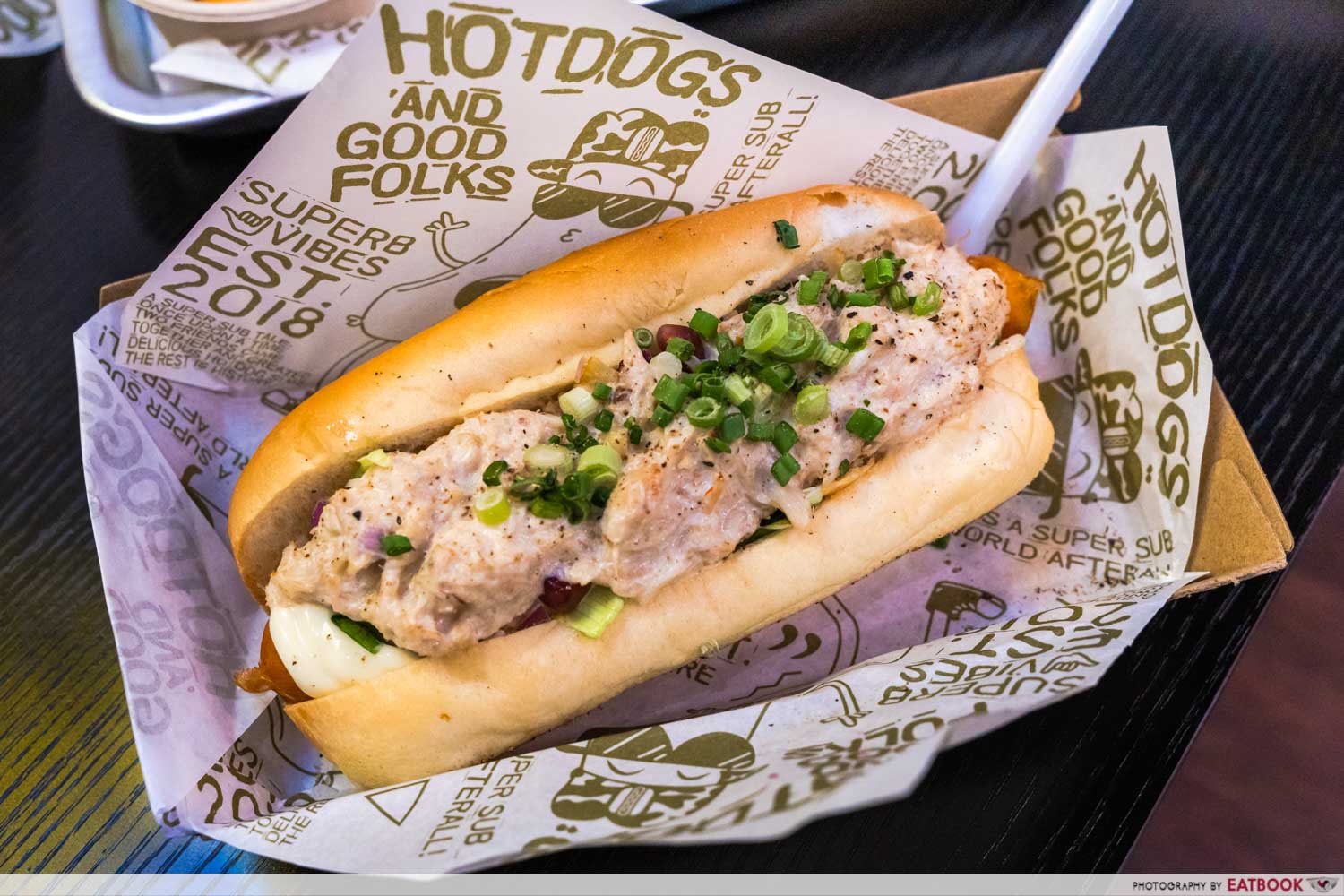 Switching things up a bit, we got their Heavenly Yuzu Crab ($9.50) with a Cheezy Hotdog instead for an extra $1. Another popular choice at Super Sub, this sub has an indulgent mix of crab meat and yuzu sauce over mayo, pickled cucumbers, onions, lettuce, and pomegranate seeds.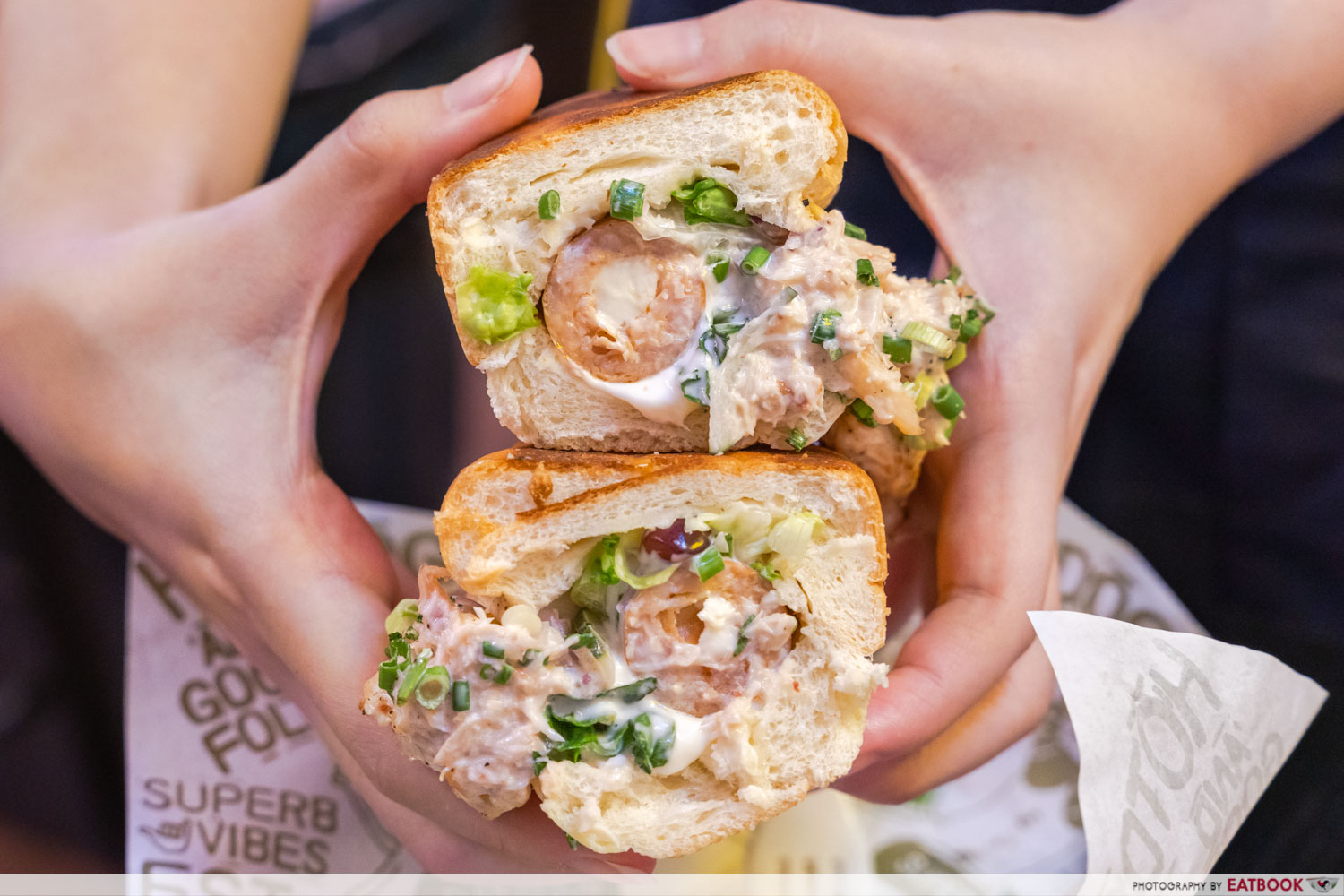 I did not like this as much as the bolognese due to the texture of the crab filling, but I have to admit that this had the most unique flavour of the three subs we tried, due to the crunchy pickled cucumbers, pops of fruity flavour from the pomegranate, and sweet, creamed crab. Though there was no cheese pull when biting into the cheesy hotdog, the added savouriness that the cheese in the middle gave the sweeter sub was satisfying enough for me.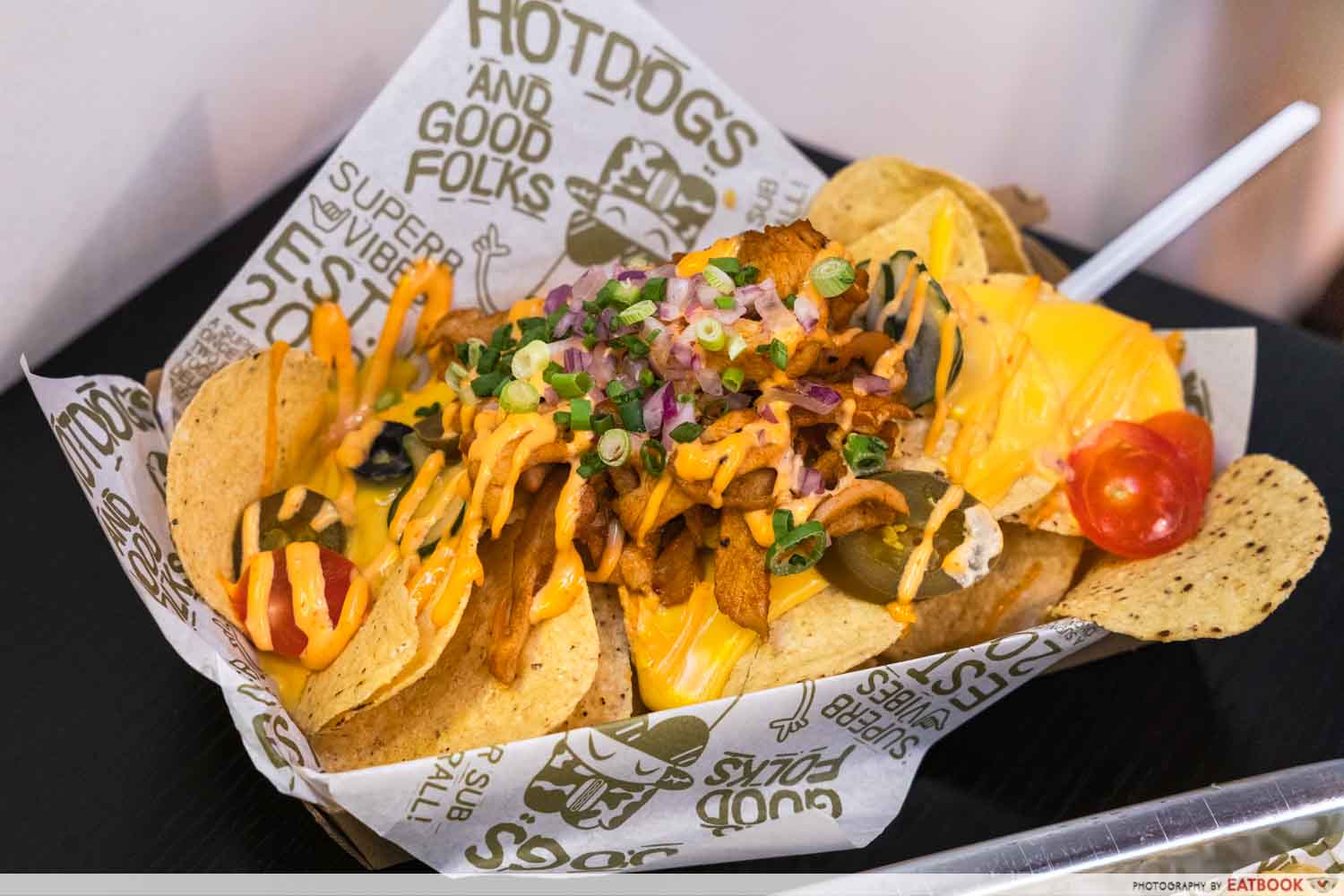 Aside from hotdogs, Super Sub offers sides with pretty generous portions, such as the new Nachos with Paprika Chicken ($8.90), topped with olives, peppers, minced onions, and nacho cheese. The chicken needed more seasoning, particularly the paprika as it was barely there. The nachos themselves were fine, but do become soggy if you don't eat it fast enough. 
Big Boy Franks Review: Popular GastroBeats Smashed Burger Stall Opens New Outlet In Sembawang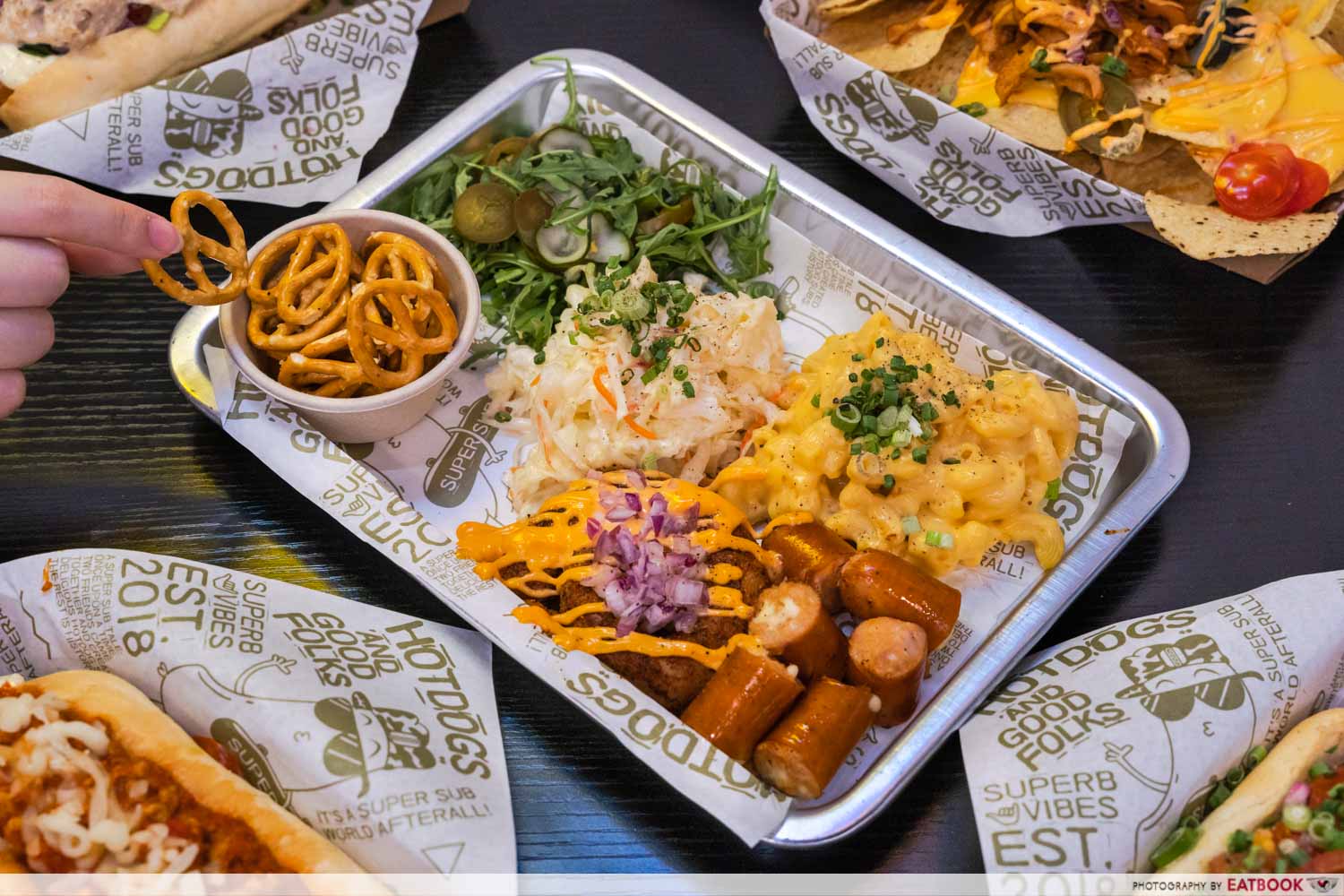 If you're peckish and here with a large group, consider getting their Super Platter ($18) to share. This is a platter of six small bites: Chicken Snail Sausage with Sriracha Mayo, Cheezy Hotdog, Rocket Salad, Mac 'N' Cheezy, It's a Slaw Baby!, and Truffle Pretzels.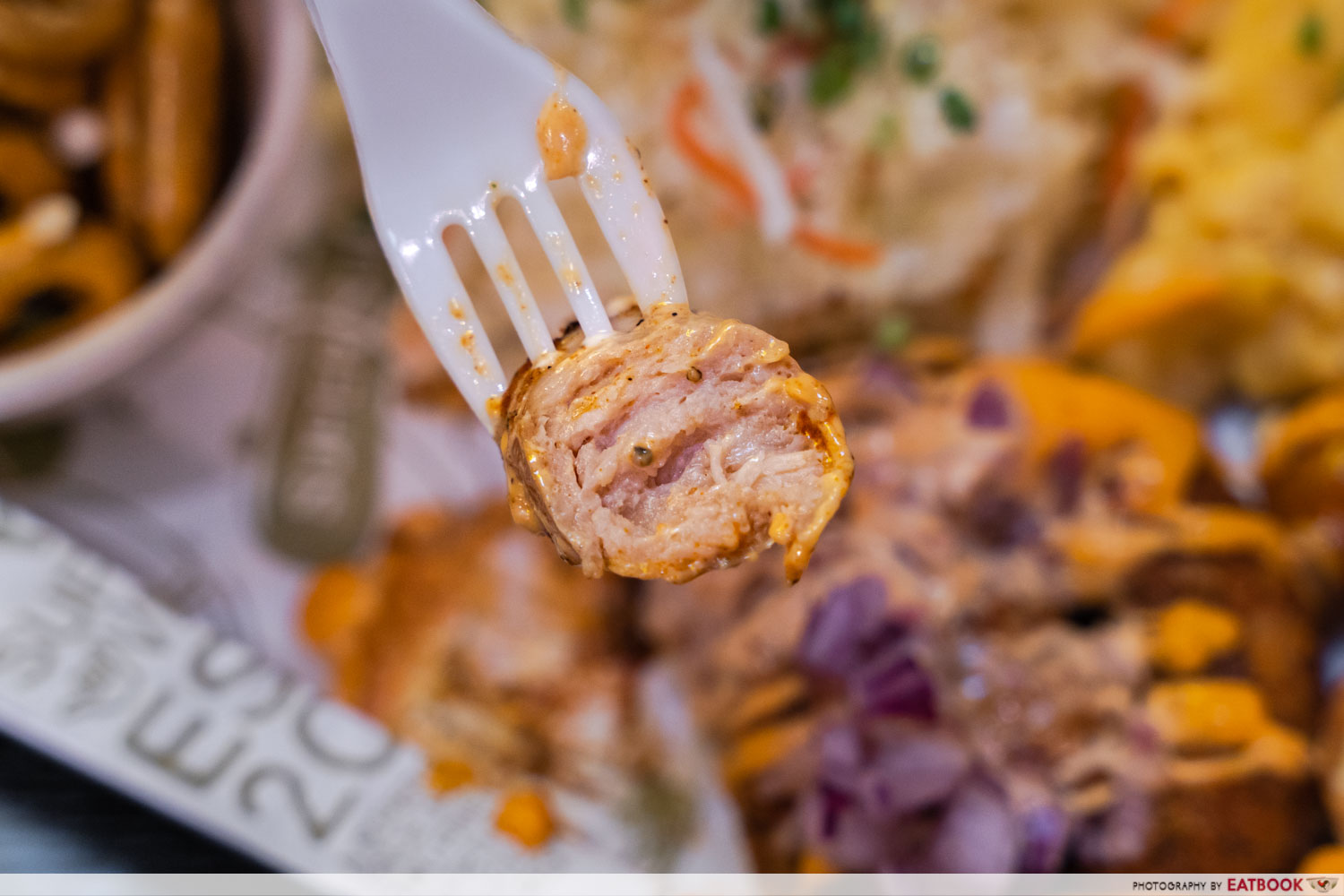 There are two sausages included in the platter: the cheezy sausage that was also in our yuzu crab sub, and the chicken snail sausage with sriracha mayo. Of all the sausages we tried here, the snail sausage was our favourite. Other than the amazing sriracha mayo sauce, the sausage itself had a uniquely textured exterior due to its peppery seasoning that also gave it an elevated flavour.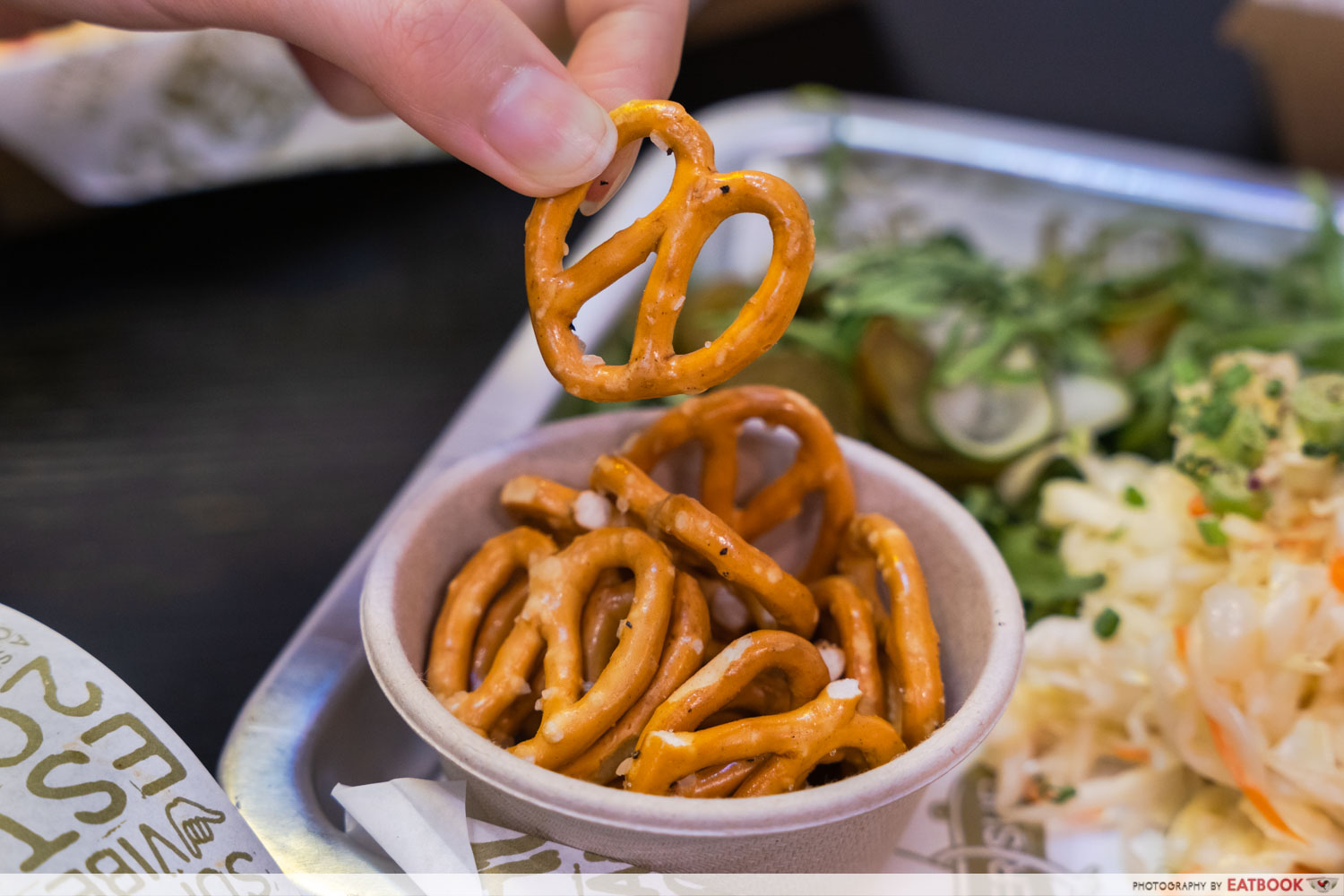 On the downside, I found the truffle pretzels underwhelming, being too lightly dusted with truffle powder.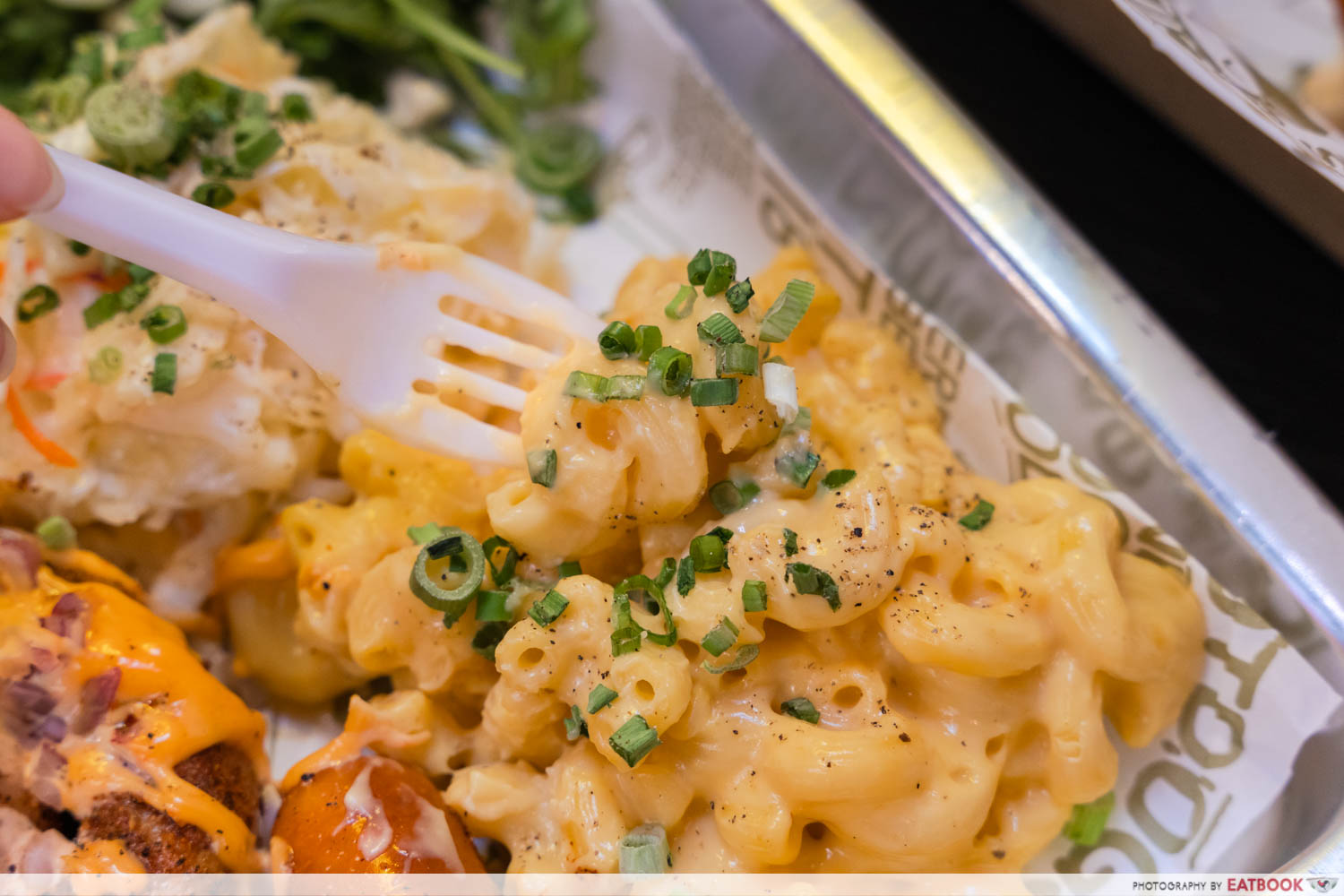 I mostly found the rest of the platter quite standard, with nothing overly good or bad. The mac and cheese was okay, the rocket salad tasted like salad, and the slaw was a run-of-the-mill coleslaw.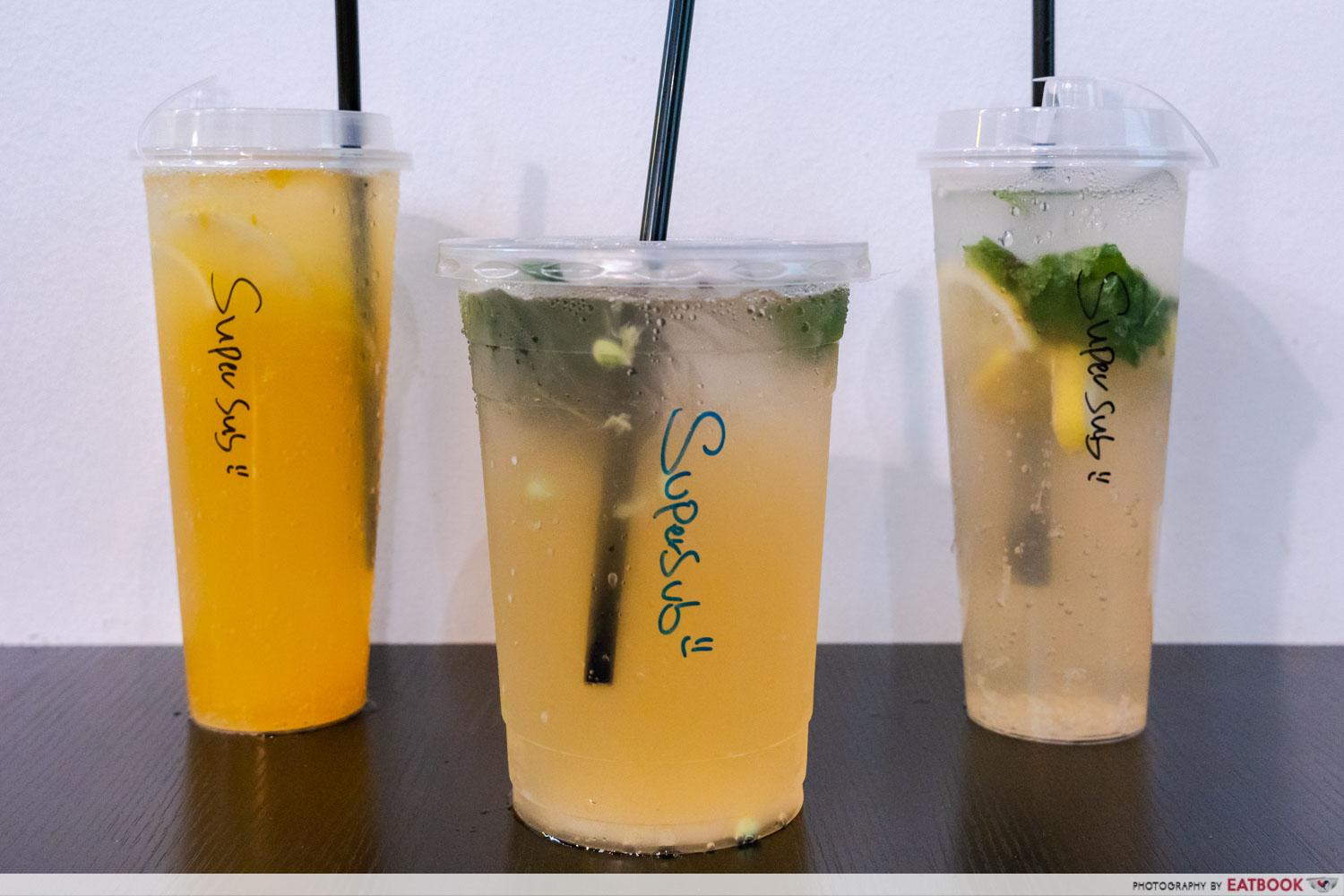 Much more interesting were the drinks offered at Super Sub. There are regular kopi, teh, and honey lemon drinks that I saw numerous office workers ordering to-go, as well as more indulgent thirst quenchers such as the vibrant orange Sparkling Gold Citron ($4.50), and the minty Sparkling Lemon Ginger Ale & Mint ($4.50). 
We particularly liked the new Sparkling Sour Plum Calamansi Ginger Ale ($4.50), with its refreshing mix of sweet and salty. While the normal sized drinks already come in extra-tall cups and are filled to the brim, you can also add-on $1 to get a Jumbo size drink that will require both hands to carry and at least two people to finish.
Ambience at Super Sub Hotdogs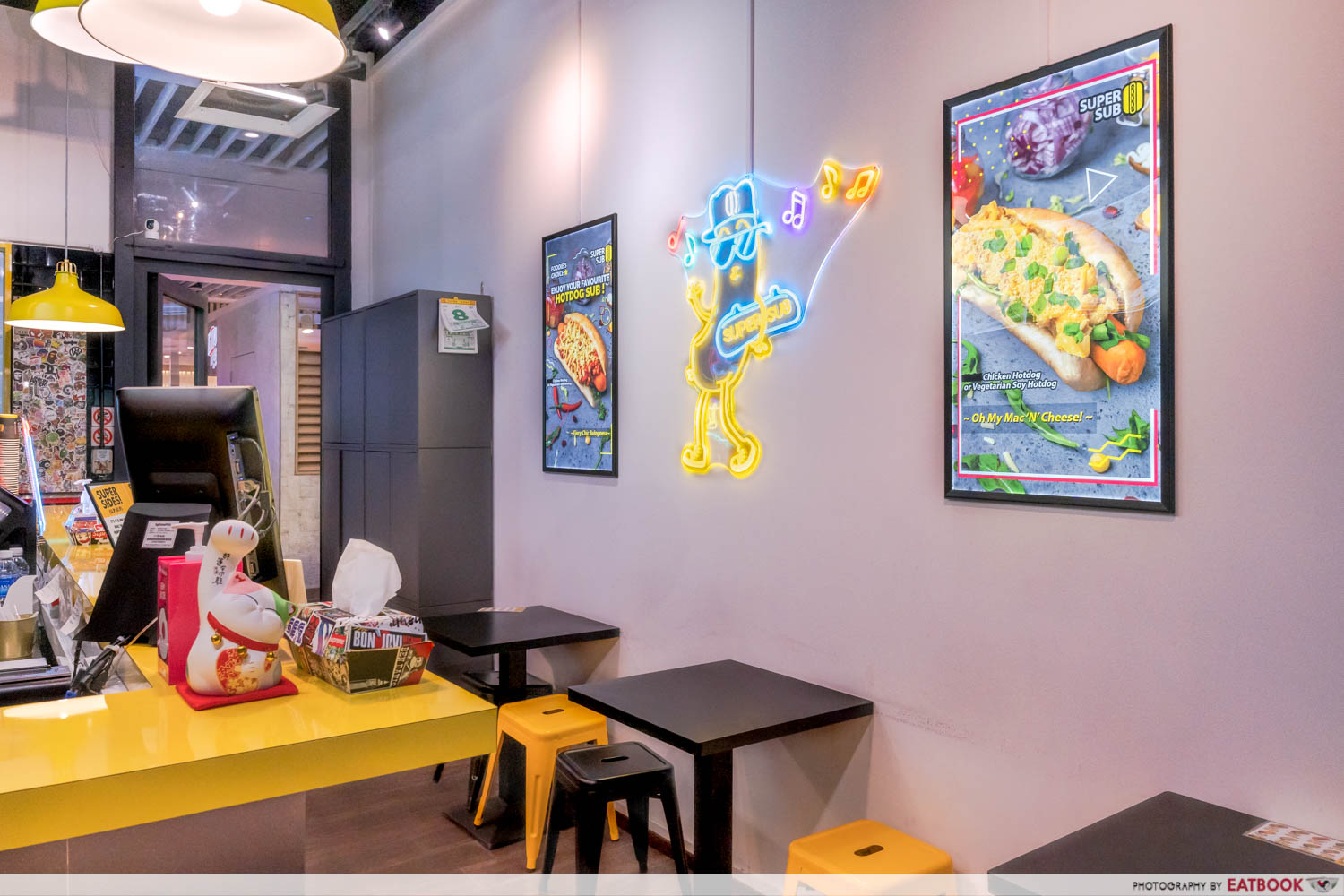 Since opening their Suntec City food kiosk four years ago, the brand has expanded to four outlets in the country. We visited their newest outlet in Tampines, which is an actual eatery with a small dine-in area, comprised of bar seats and small tables for two. The store itself is brightly lit and has a rather loud design choice of black, yellow, and khaki, plus neon signs scattered throughout.  
While not the best atmosphere if you want to have a chill meal in peace, its highly convenient location in Our Tampines Hub and friendly staff are definitely reasons to stop by. The mall itself is a 6 minute walk from Tampines MRT Station, and I noticed that most customers are ordering their food to-go.
The verdict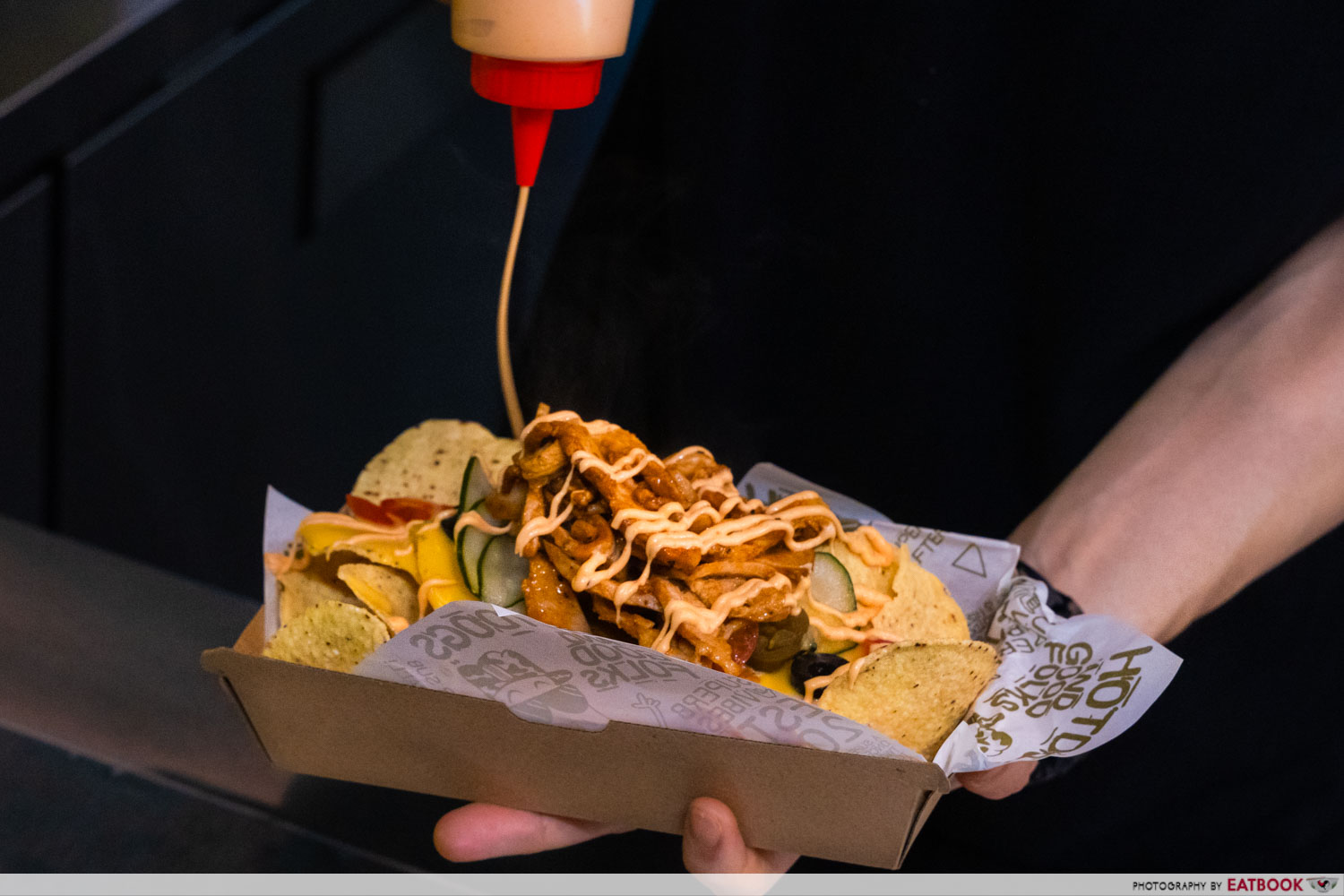 Overall, Super Sub Hotdogs has solid food options and drinks at highly affordable prices. Even if you don't buy into the novelty of XXL food and drinks, their regular portion sizes are large enough to provide a satisfying meal. I find travelling to Tampines inconvenient, but they do have other outlets in more central regions that I may check out in the future. 
For more XXL food at affordable prices, check out our Big Boy Franks review for beef burgers with a whopping eight patties in between. Also, read our Tampines hawker food guide for cheap and good food in the East worth travelling for. 
Website | Full list of outlets
Tel: 9742 3095
Super Sub Hotdogs is not a halal-certified eatery but uses no pork or lard.
28 Tampines Hawker Food You'll Want To Travel Across Singapore For
Pictures taken by Tan Jia Hui
This was a media tasting at Super Sub.
Super Sub Hotdogs Review: New XXL Loaded Hotdogs And Jumbo Drinks In Tampines
Super Sub Hotdogs Review: New XXL Loaded Hotdogs And Jumbo Drinks In Tampines -

7.5/10
Summary
Pros:
– Portion sizes were huge and value-for-money
– Vegetarian and halal-friendly
Cons: 
– The spicy hotdogs subs were not spicy
– Would appreciate stronger flavours and seasoning

Recommended Foods: Fiery Chic Bolognese ($8.50), Sparkling Sour Plum Calamansi ($4.50)
Opening hours: Daily 10am to 9pm
Address: 1 Tampines Walk, #01-84, Our Tampines Hub, Singapore 528523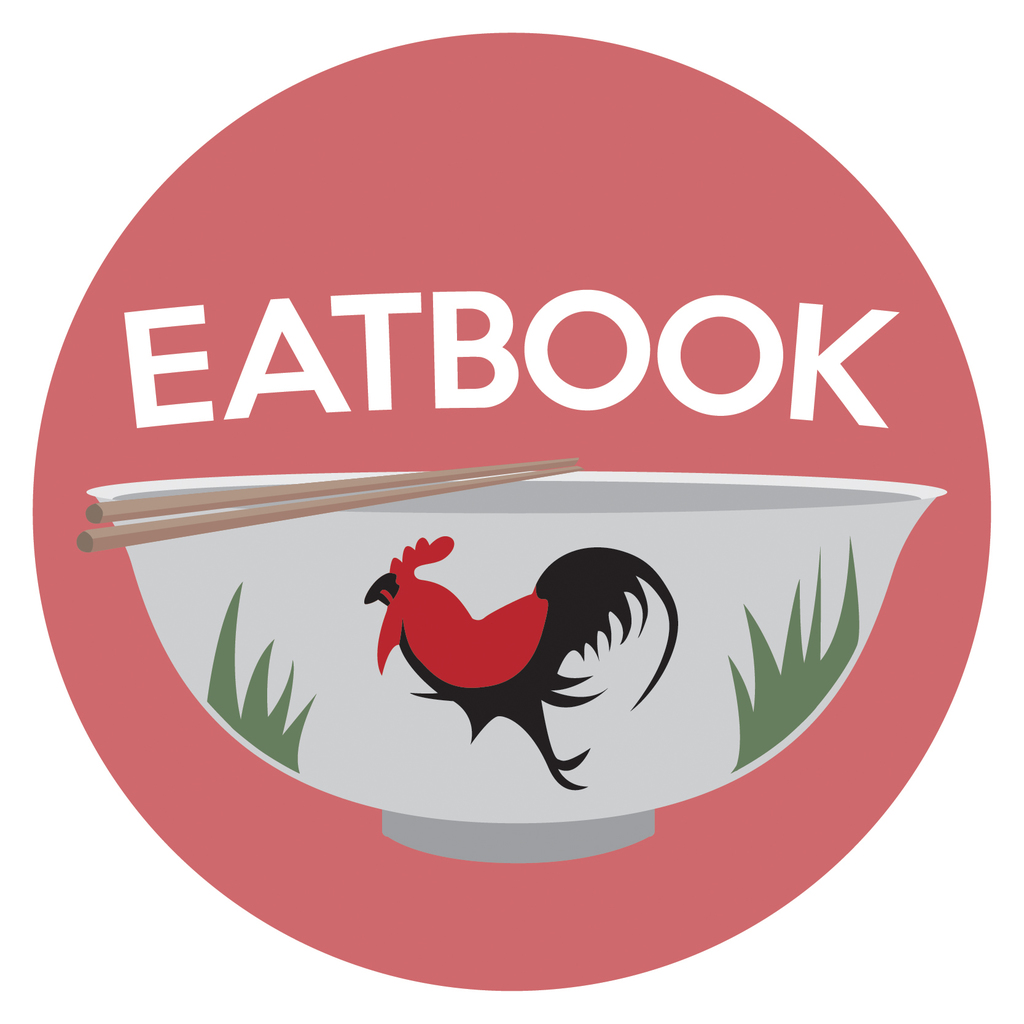 Drop us your email so you won't miss the latest news.