Sushi-GO has affordable sushi at Marina Square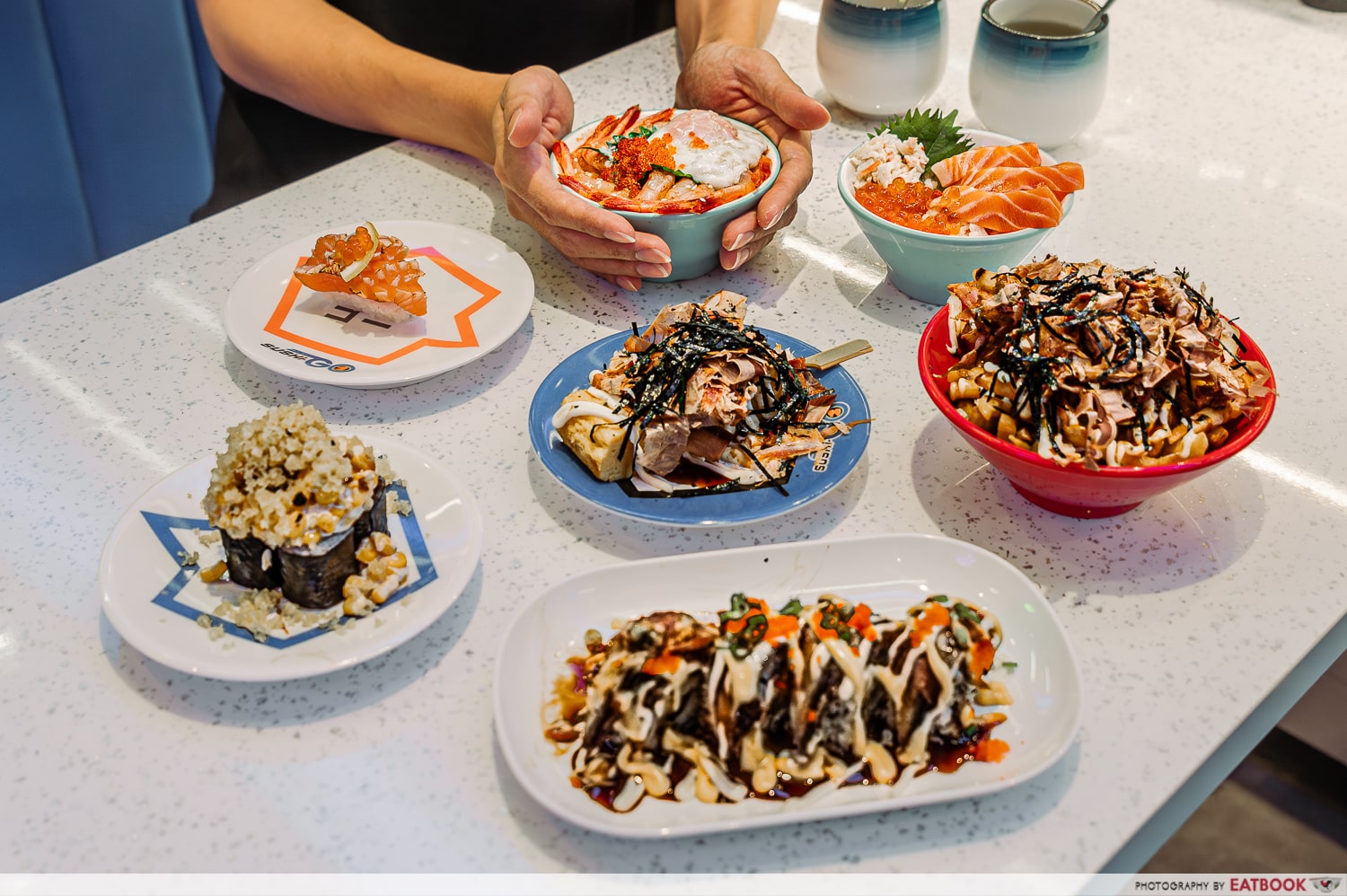 Singapore has plenty of casual sushi chains, with Sushi-GO being one of the latest entrants. They first opened in Jurong Point as a sushi joint with a shinkansen delivery system. That was soon followed by an Ang Mo Kio outlet that made waves for their adorable AI robot servers. Now, they have opened their third establishment on the second floor of Marina Square with over 150 items on the menu, including all-new outlet exclusives.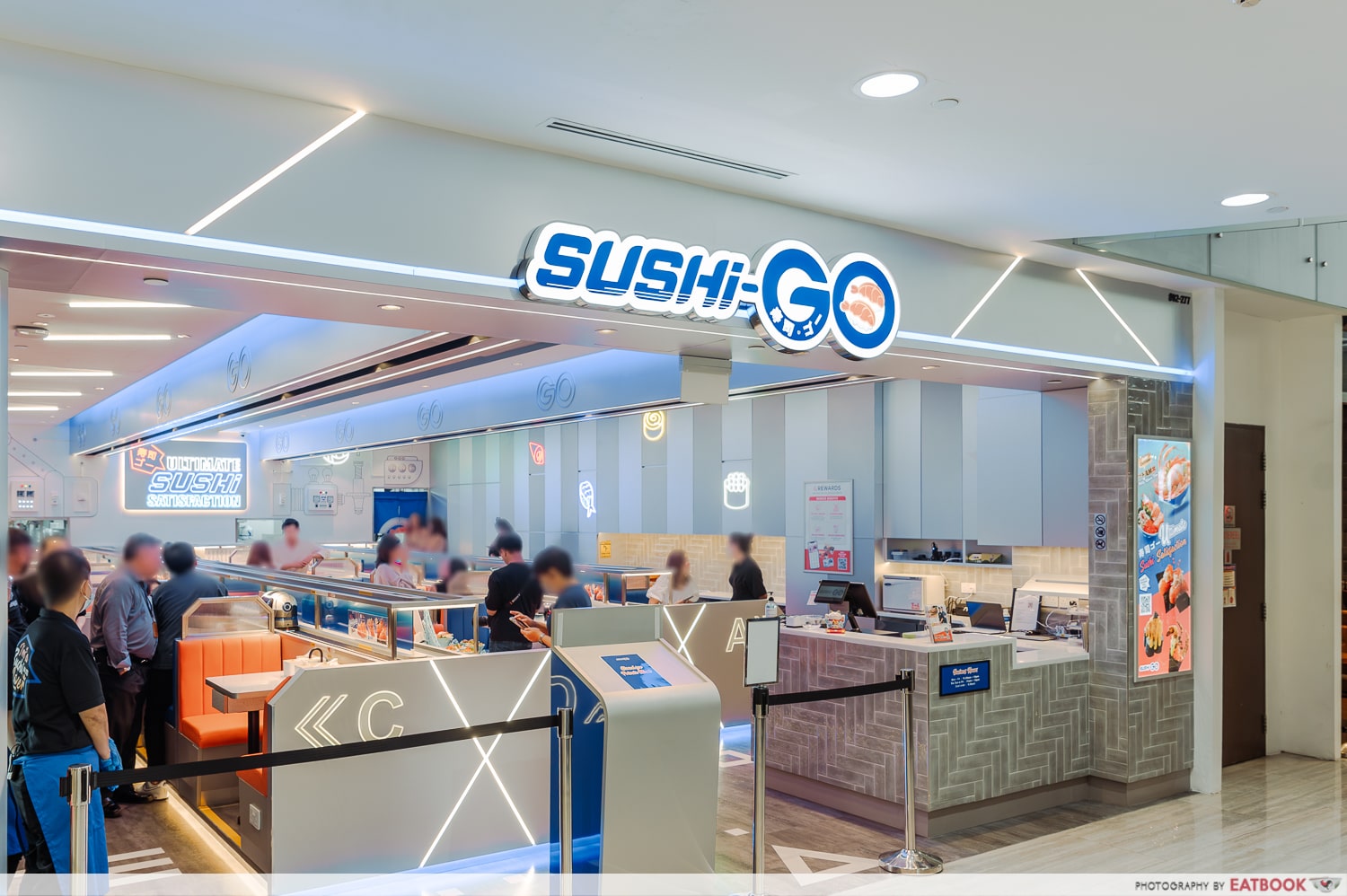 Like the AMK branch, Sushi-GO Marina Square also delivers sushi to the table via its network of robots on tracks, named the GO-Bots. The cute robots and wide range of eats intrigued us enough to drop by the new eatery to see if the food was any good.
Inochi Review: New Japanese Restaurant With Wallet-Friendly Chirashi Bowls At Shaw Plaza
Food at Sushi-GO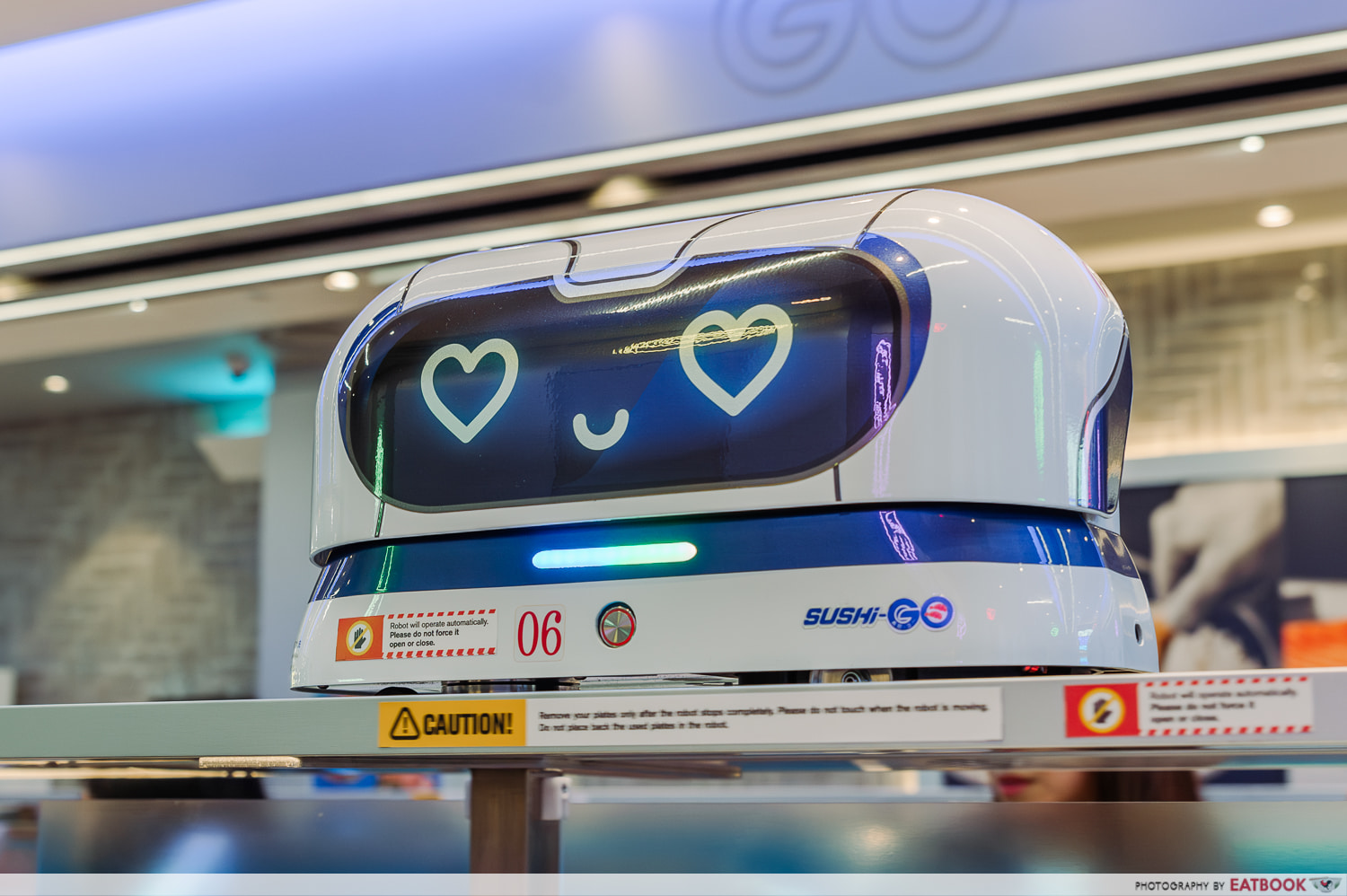 A majority of the menu items at Sushi-GO are priced under $10, with sushi items going as low as $2.50. Aside from your classic nigiri, gunkan, sashimi, and handroll options, the eatery also has a selection of donburi and other hot dishes.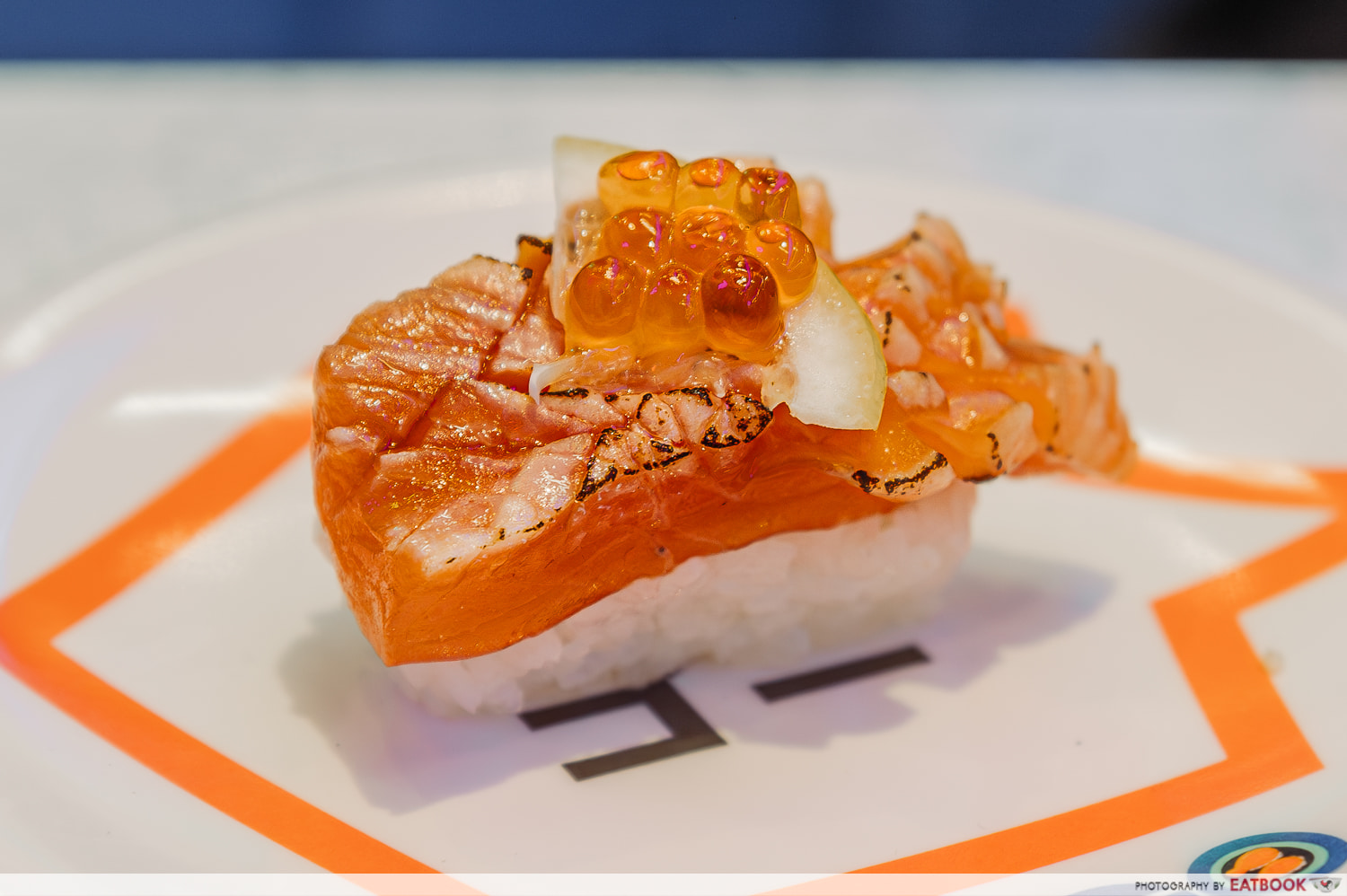 There are plenty of creative dishes to choose from, but we wanted to start with something relatively safe. That came in the form of the Aburi Hanasaki Salmon Sushi ($3.50++), which features seared thick salmon and ikura.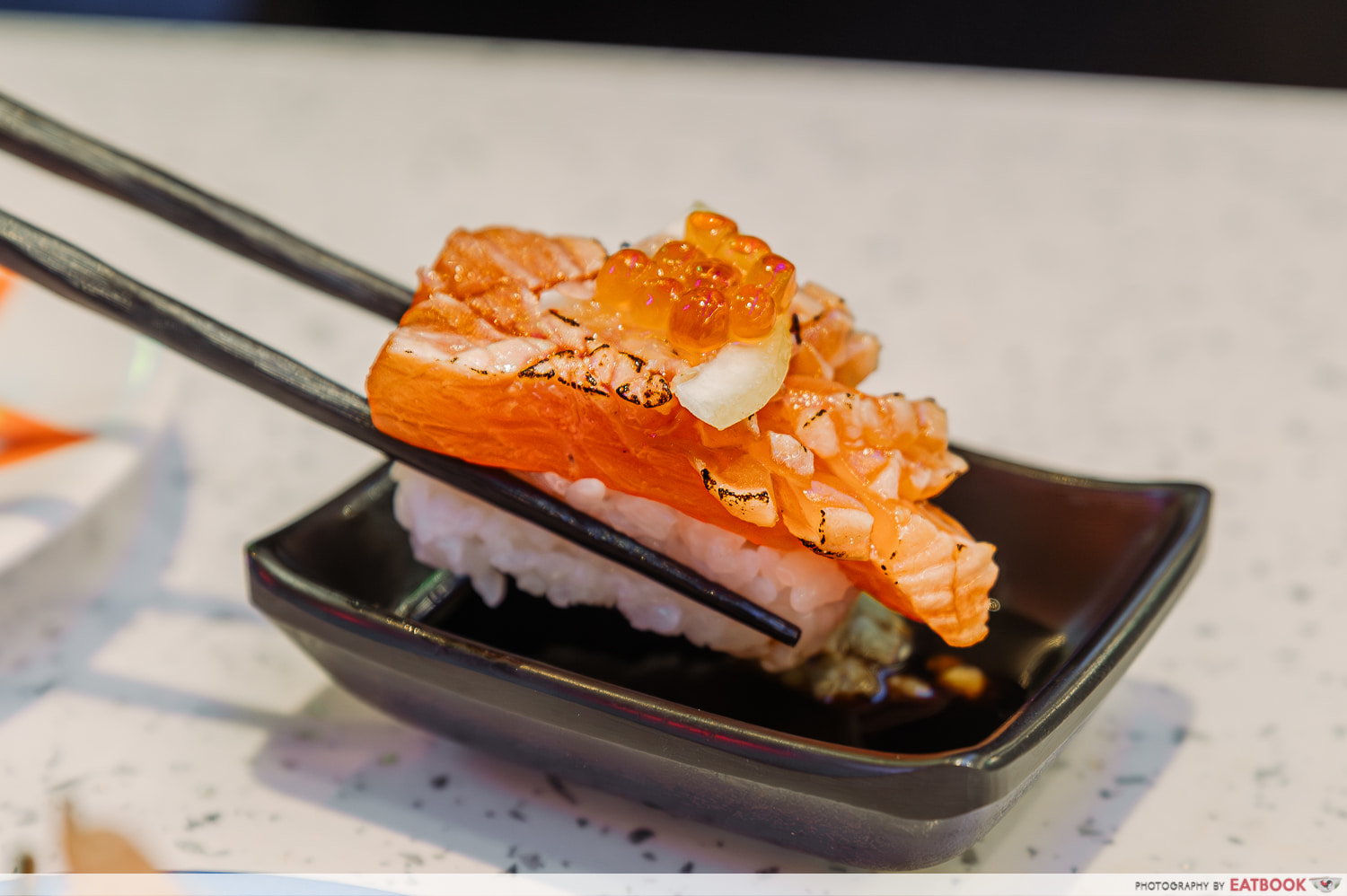 Nigiri such as this one hinges on, of course, the raw fish that sits atop the ball of rice. I would say the salmon here is in the same ballpark as other popular sushi chains in Singapore. What I mean by that is, in terms of freshness and melt-in-your-mouth quality, it was fairly lacklustre.
The fact that it was seared did give it a nice hint of smokiness, and the ikura added a burst of umami and sweetness. But overall, don't get this dish expecting it to be more impressive than what you can get at other wallet-friendly sushi places.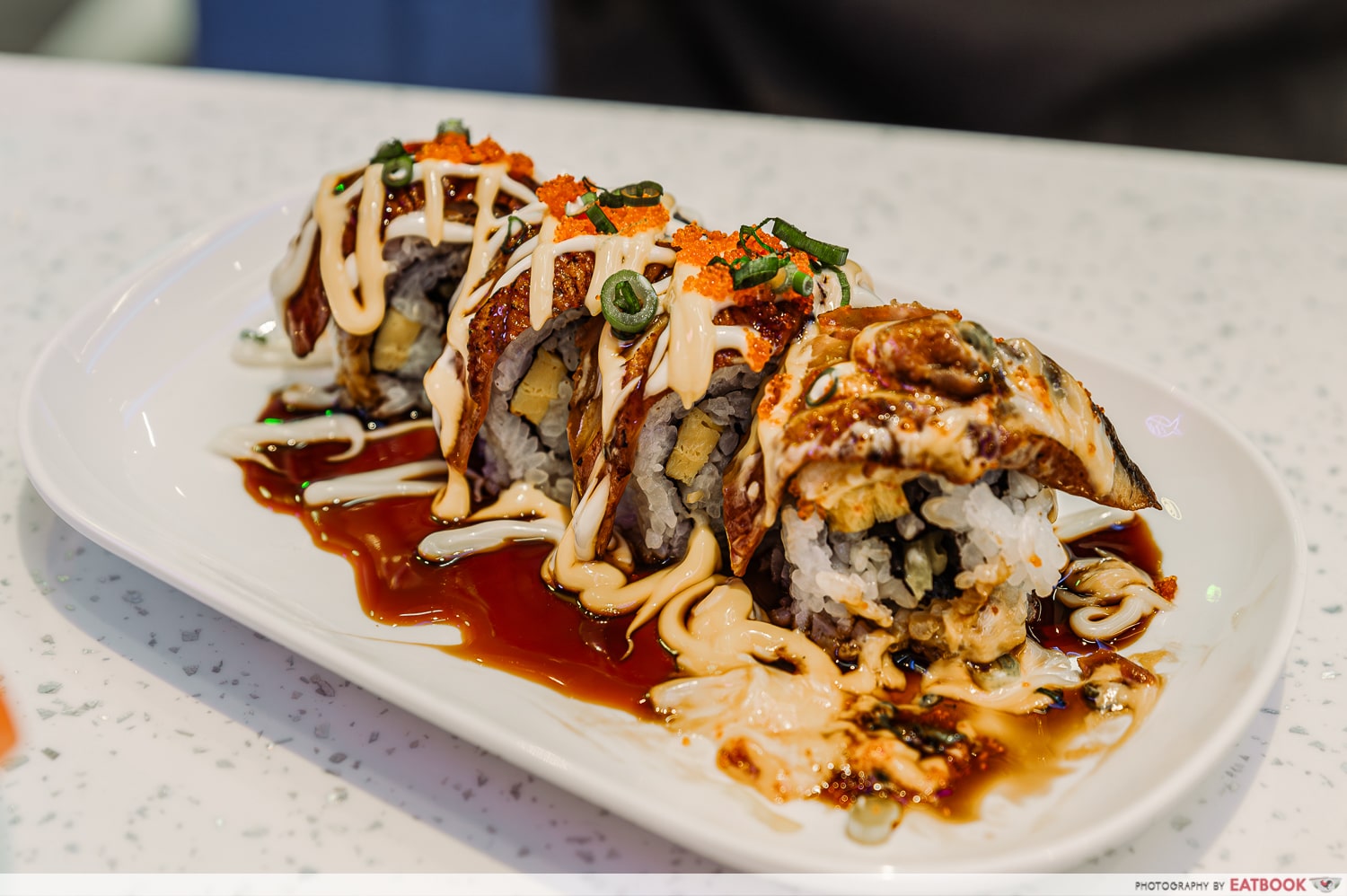 Our next dish, the Cheezy Dragon Roll ($9.20++), fared much better. It is a maki packed with barbecued eel, shrimp roe, cream cheese, omelette, and Japanese pickles. The rolls are finished off with teriyaki sauce and drizzles of cheddar cheese sauce and mayo.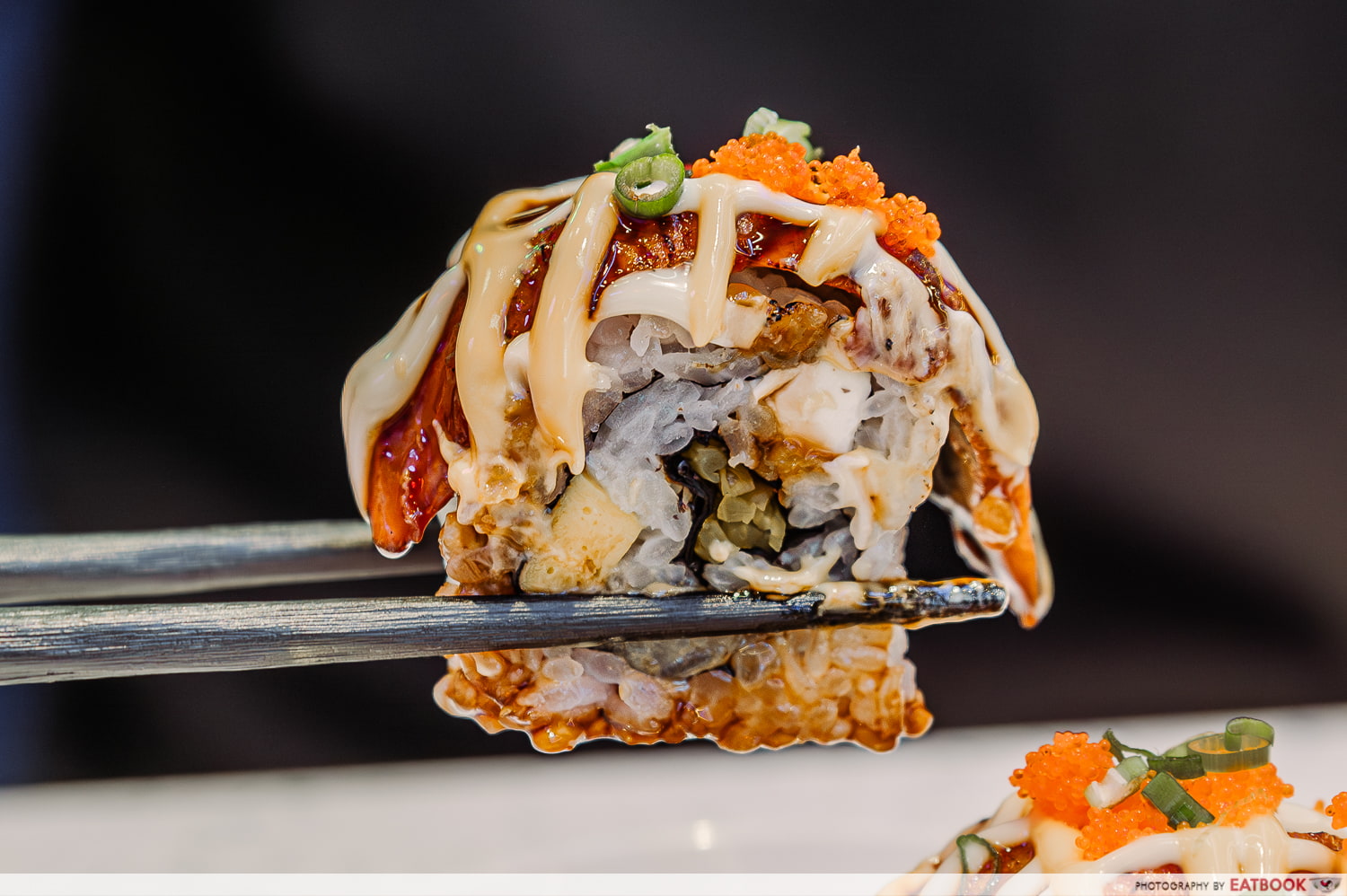 While the unagi here is, again, far from the highest quality, the combination of the unagi's natural taste and sauce, along with the savoury cheese and umami shrimp roe, made this quite the flavourful maki. The textural interplay between the fluffy rice, omelette and crunchy pickles was quite pleasing, too.
We moved on to another interesting creation, the Okonomiyaki Tamago ($3.80++), which has rolled omelette skewered on a stick and topped with okonomiyaki sauce and garnishing such as bonito flakes.
While the okonomiyaki and garnishing imparted plenty of flavour to the omelette, I felt that those elements didn't mesh too well, and the omelette itself wasn't silky or moist enough for my liking. Not the perfect appetiser, but tasty nonetheless.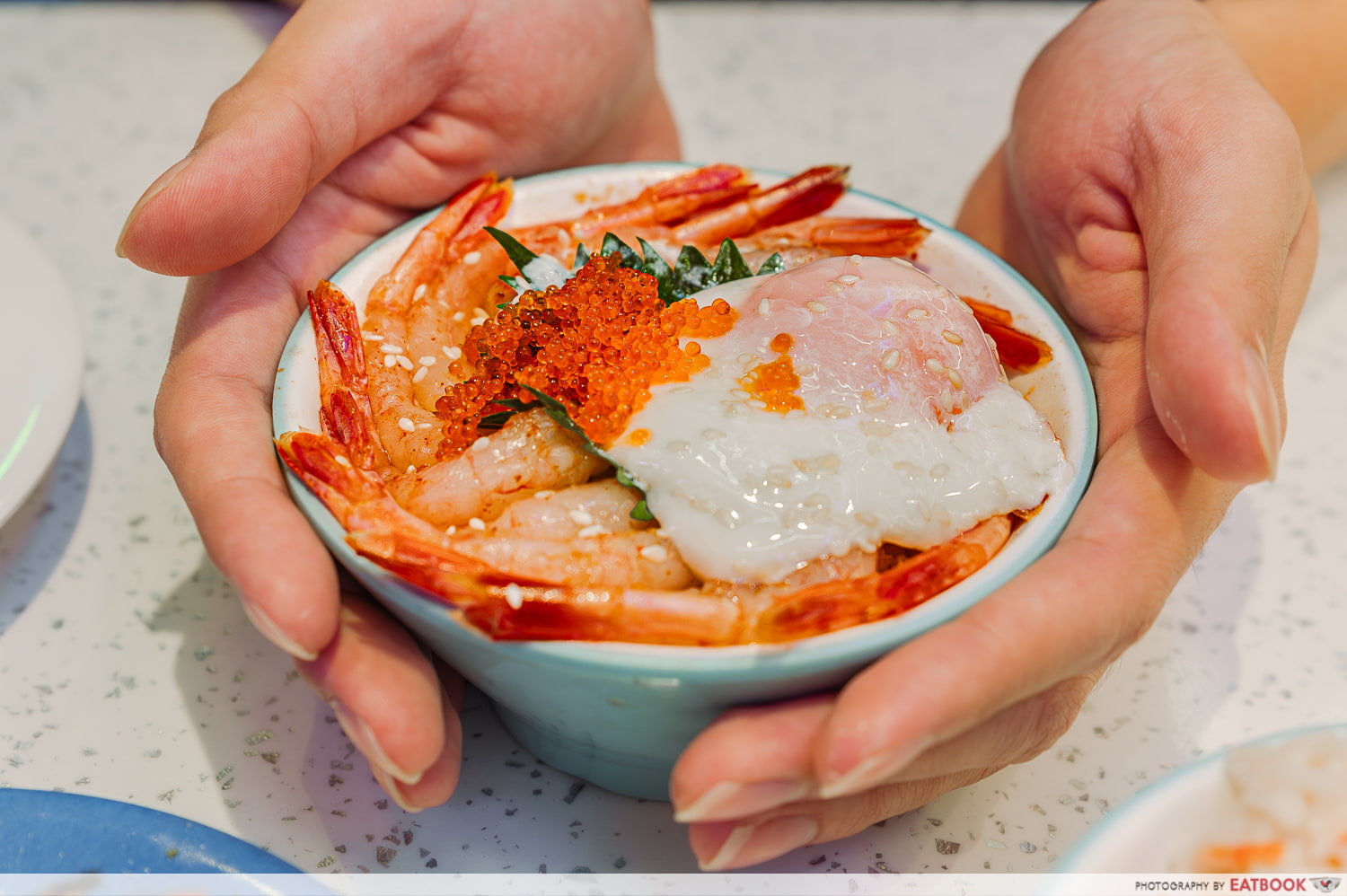 Sushi-GO launched eight new petite donburi options, only available at the Marina Square outlet. We got to try two of those, the first of which was the Amaebi Yukke Don ($10.90++). Said to be Inspired by the Korean dish yukhoe, which typically comprises raw meat paired with a raw egg, this donburi has sushi rice topped with shrimp sashimi, onsen egg, and rich yukke sauce.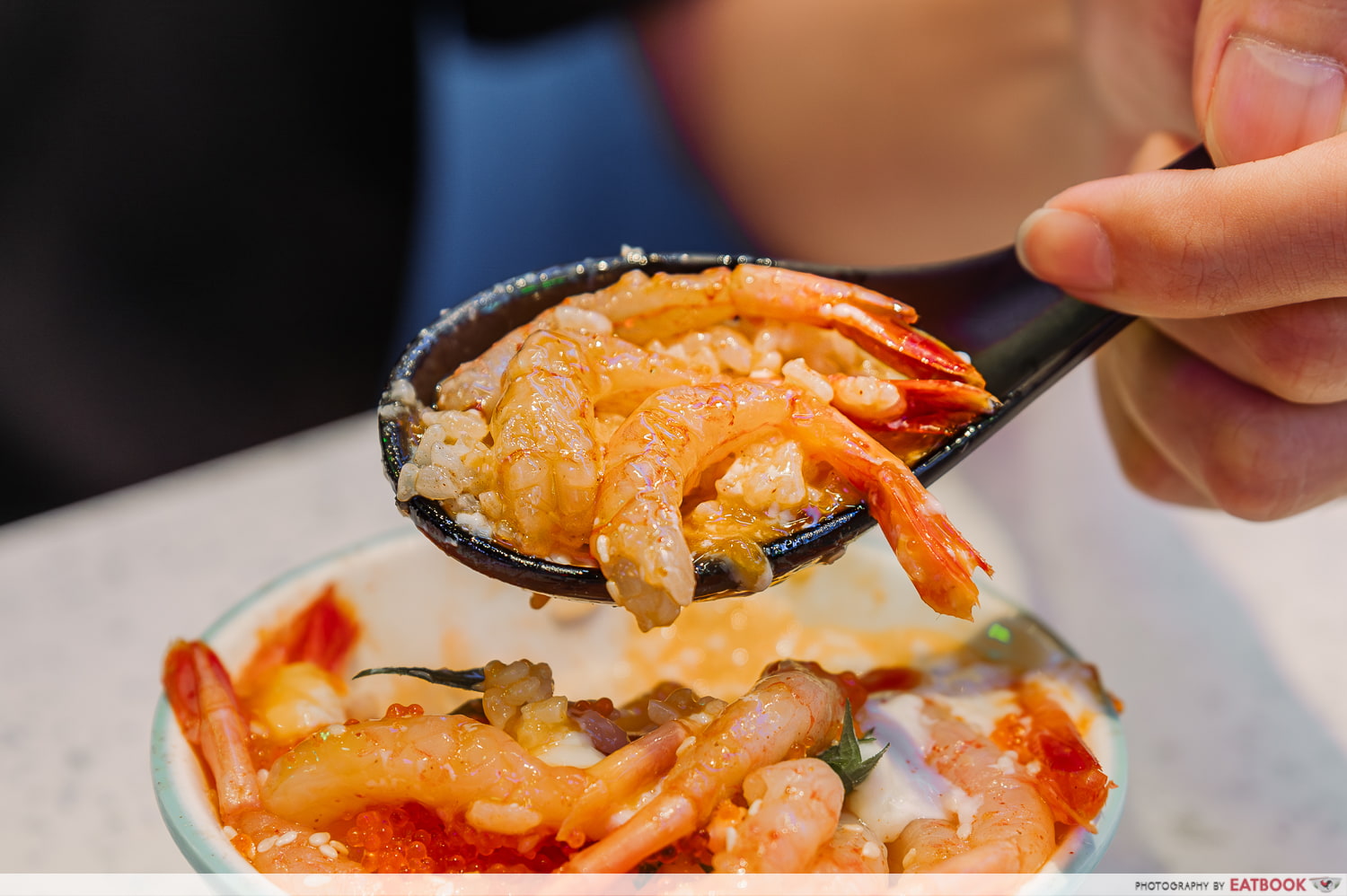 This was easily the best dish of the bunch, as the sweet, juicy shrimps were complemented by the creamy onsen egg and rice pairing, as well as the savoury sauce. For that price though, I don't understand why it had to be a petite bowl, and not a regular-sized don.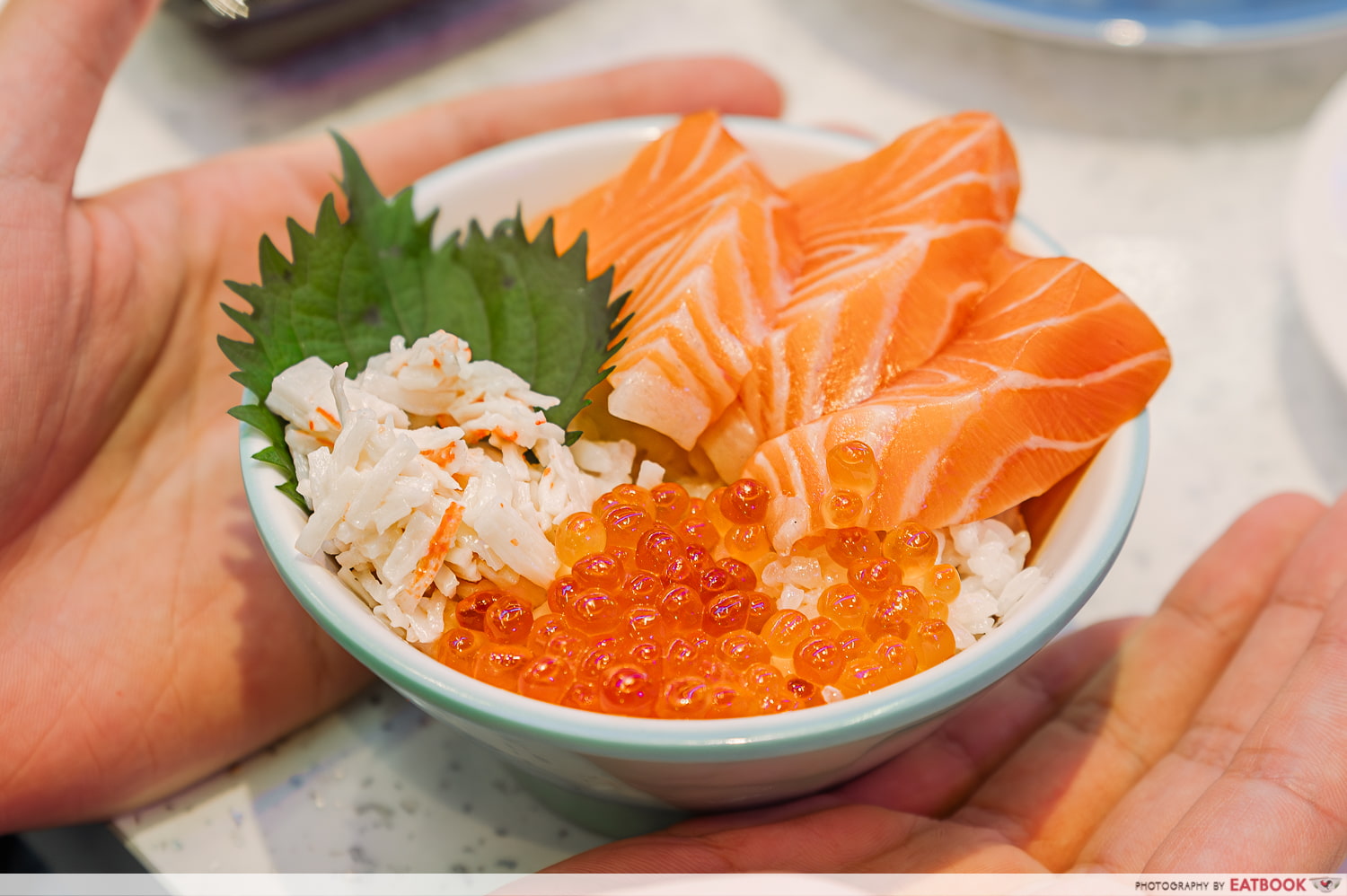 The other petite donburi, however, was underwhelming. The Atsugiri Salmon Ikura Don ($13.90++) with its thick-cut Norwegian salmon slices, salmon roe, crab salad, and sushi rice, had the same issue I felt was detrimental to the Aburi Hanasaki Salmon Sushi—the salmon wasn't the freshest, nor was it particularly succulent.
Ambience at Sushi-GO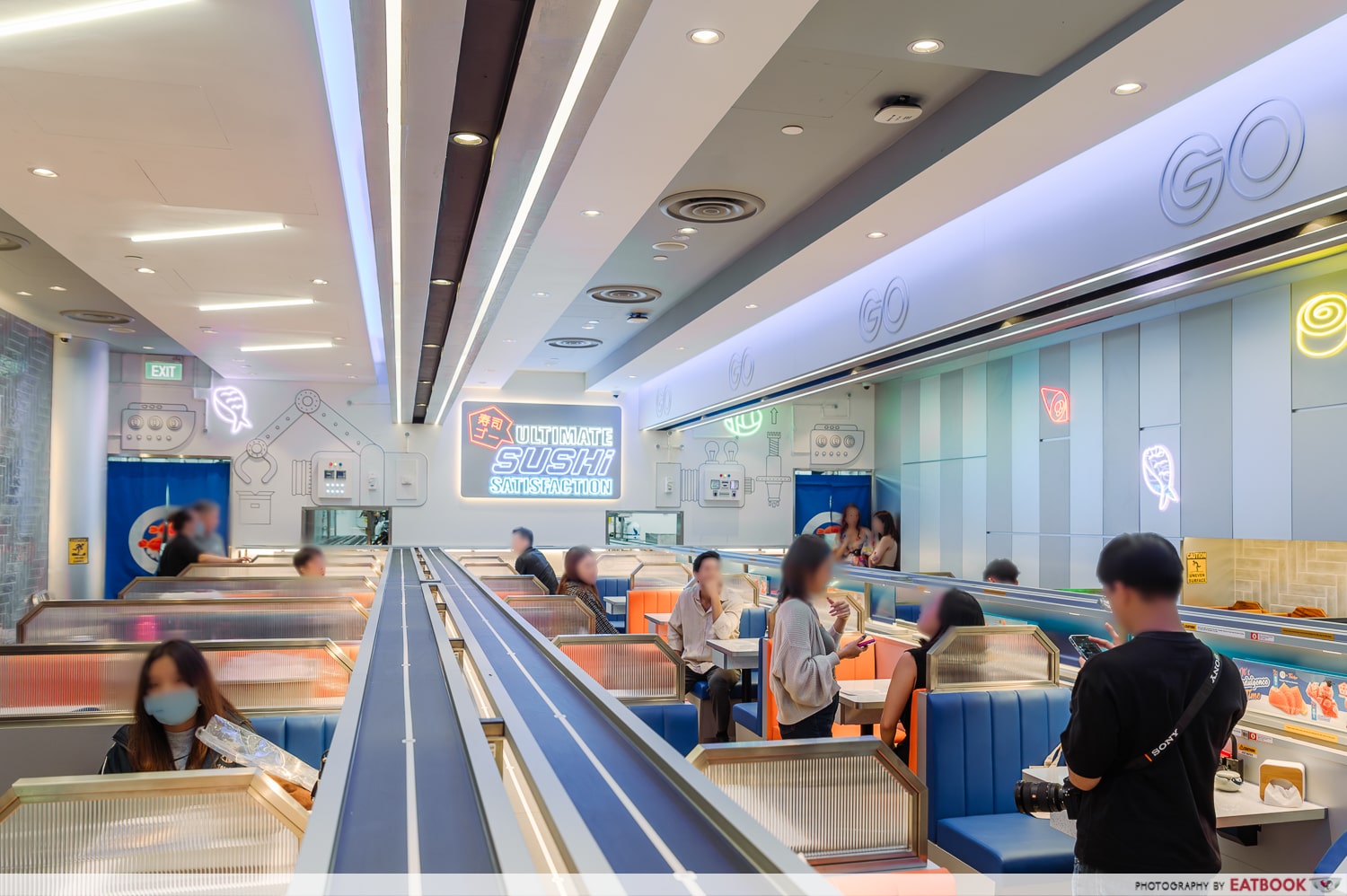 With robots whizzing around to serve you your food, Sushi-GO has a futuristic look and feel that makes dining there quite the fun experience. Be sure to get your phones ready to snap a picture or video as the robot approaches your table—but don't dawdle, as the robot may leave with your food if you wait too long.
Sushi-GO is an eight-minute walk from Esplanade MRT Station.
The verdict
Sushi-GO offers a wide range of food options, some of which are creative and moreish, while others are what you'd expect from a sushi chain. If you want Japanese eats that won't break the bank, Sushi-GO is a decent enough choice, but don't go expecting top-tier food.
For a sushi restaurant with an eight-course omakase for $68++ at Great World, read our Haku Sushi coverage. For 36-hour Japanese curry in SMU, check out our Kuro Kare review.
Address: 6 Raffles Boulevard, #02-277, Marina Square, Singapore 039594
Opening hours: Mon-Fri 11:30am to 10pm, Sat-Sun 11am to 10pm
Tel: 6980 8812
Website
Sushi-GO is not a halal-certified eatery.
This New Sushi Restaurant Has $68++ Omakase With Eight Courses At Great World
Photos taken by Ke-ian J Leong.
This was a media tasting at Sushi-GO.
Sushi-GO Review: Affordable Sushi Chain With Cheesy Unagi Rolls And Okonomiyaki Omelette
Sushi-GO Review: Affordable Sushi Chain With Cheesy Unagi Rolls And Okonomiyaki Omelette -

6.5/10
Summary
Pros
– Wide selection of affordable Japanese food
– Cool robot concept
Cons
– Sushi is not the highest quality
– Petite donburi is not value-for-money
Recommended dishes: Cheezy Dragon Roll ($9.20++), Amaebi Yukke Don ($10.90++)
Opening hours: Mon-Fri 11:30am to 10pm, Sat-Sun 11am to 10pm
Address: 6 Raffles Boulevard, #02-277, Marina Square, Singapore 039594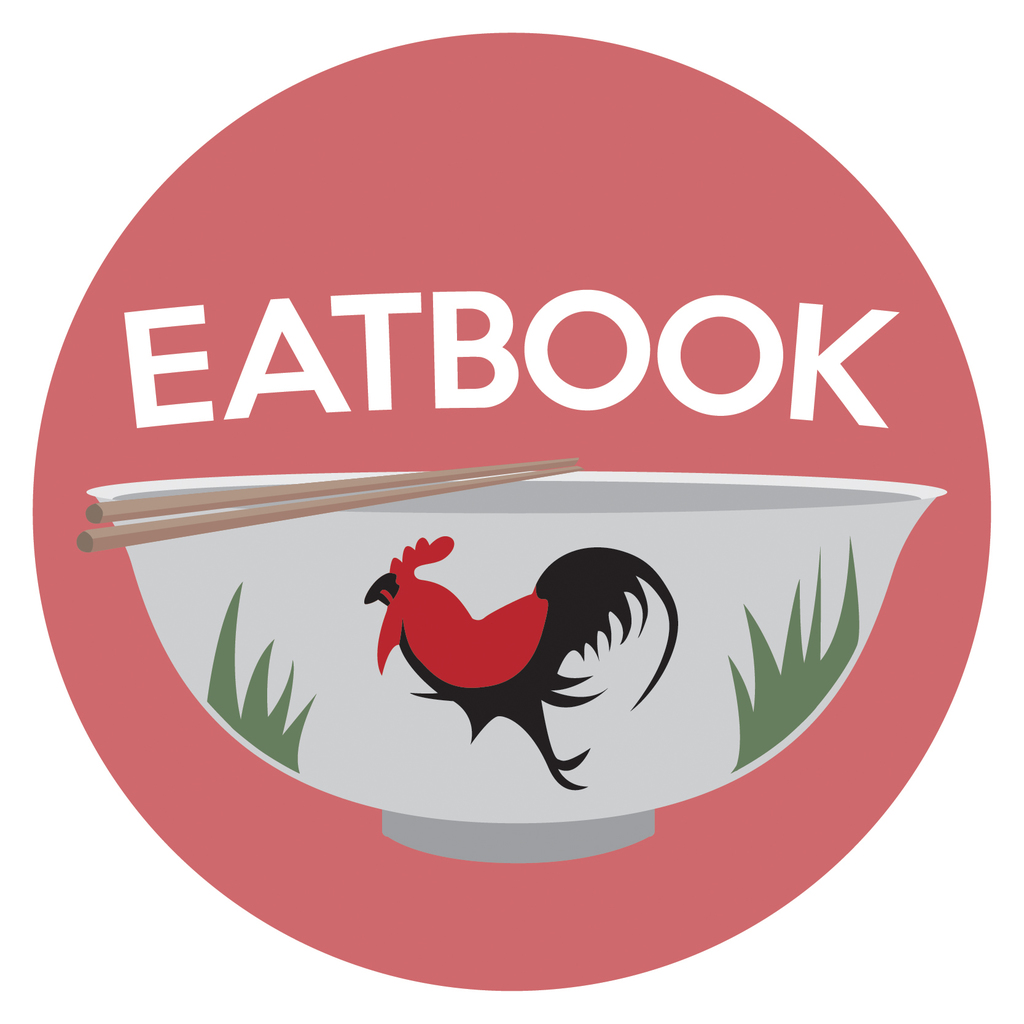 Drop us your email so you won't miss the latest news.