Swatow Is Here at Buona Vista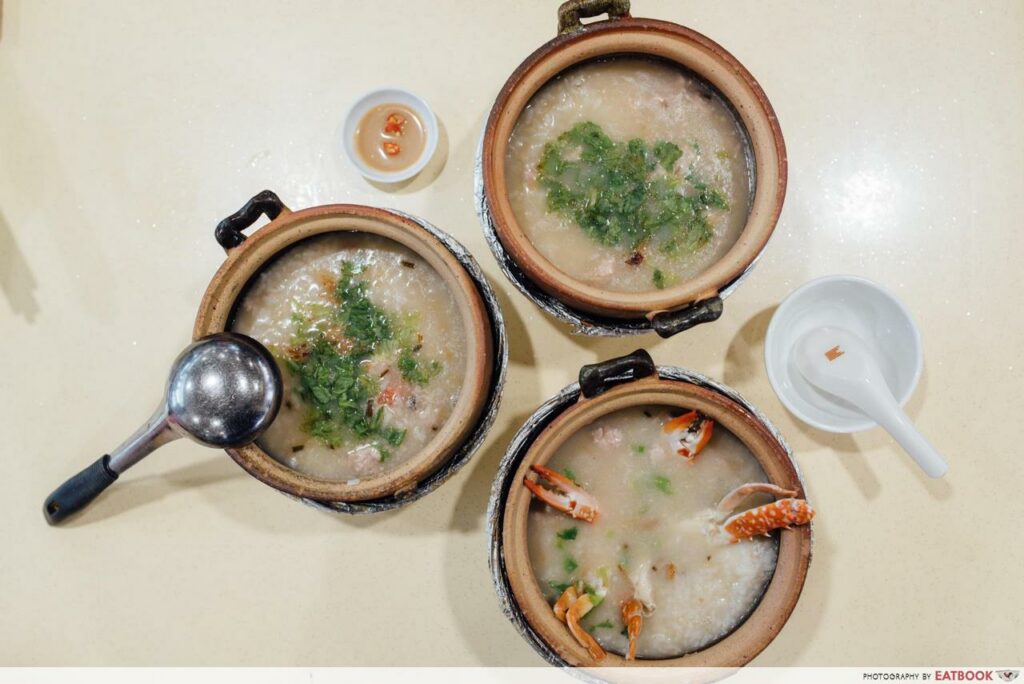 I used to frequent this side of our little red dot when I was in secondary school even though I lived in the far East – my mom decided for me to have my braces done at a dental clinic at Holland Village. This was long before the Circle Line opened, so I always had to take the East-West Line to Buona Vista MRT Station and walk through Holland Drive to get there. How much things have changed since, with so many new hawker stalls including Supreme Ramen Xiao Long Bao and two-year-old stall, Swatow is Here. Zero affiliation to the stalwart Teochew restaurant Swatow, this hidden hawker gem serves up claypot porridge that's commonly found in Shantou.
Food at Swatow Is Here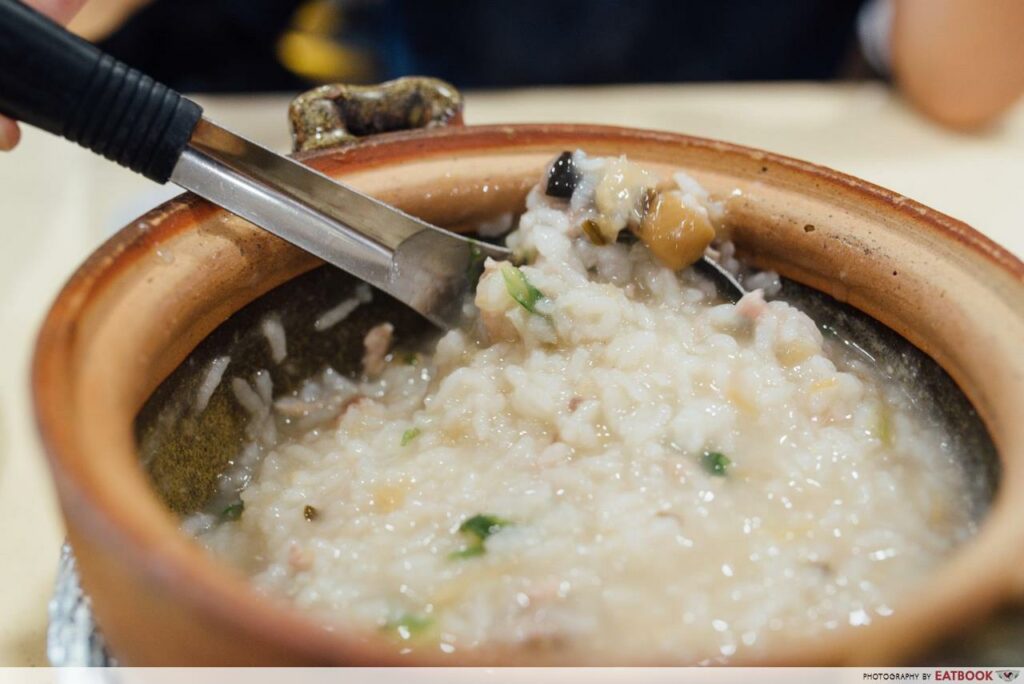 The owner claims that he spent two years in Shantou to master the secrets behind whipping up a gruel those from the prefectural city would be proud of. But as China is one country I've never got the chance to visit, I can't judge whether or not it is as legit as he says it is. Here, the porridge straddles between grainy Teochew mui and silky Cantonese congee, and the end result is a creamy porridge with some bite.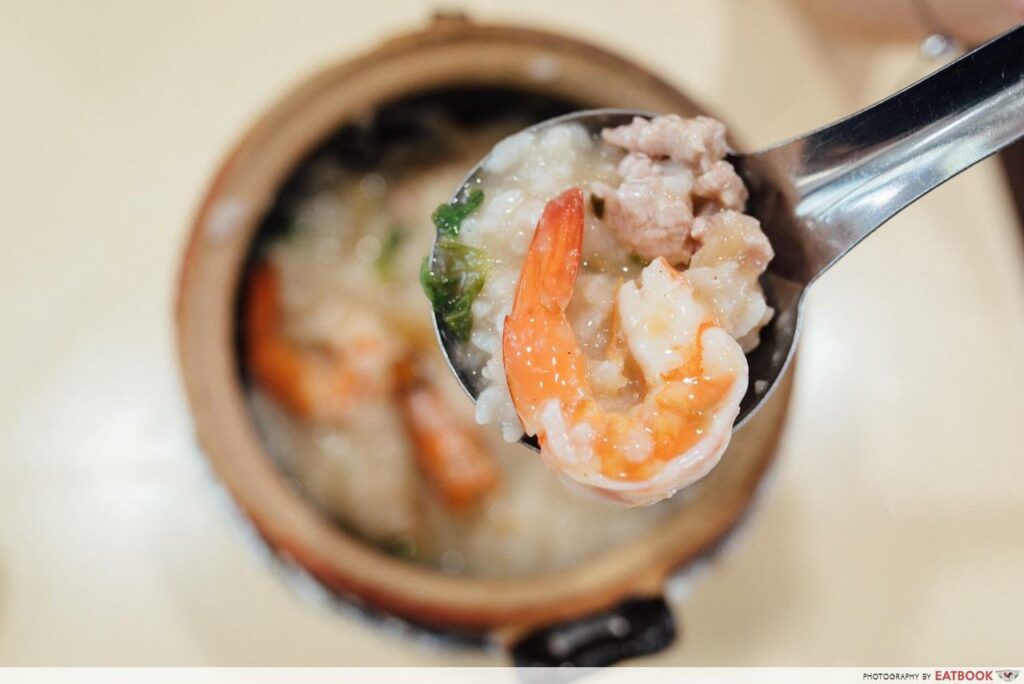 Recommended for first-timers, the comforting Special Pork and Prawn Porridge ($5/$12/$18) was a standout. The pieces of fresh prawns provided depth to the simple minced pork base, giving it a scrumptious tinge of oceanic umami. The prawns helped to mask any saltiness present too. We only wished they had given us more prawns instead of just two measly pieces.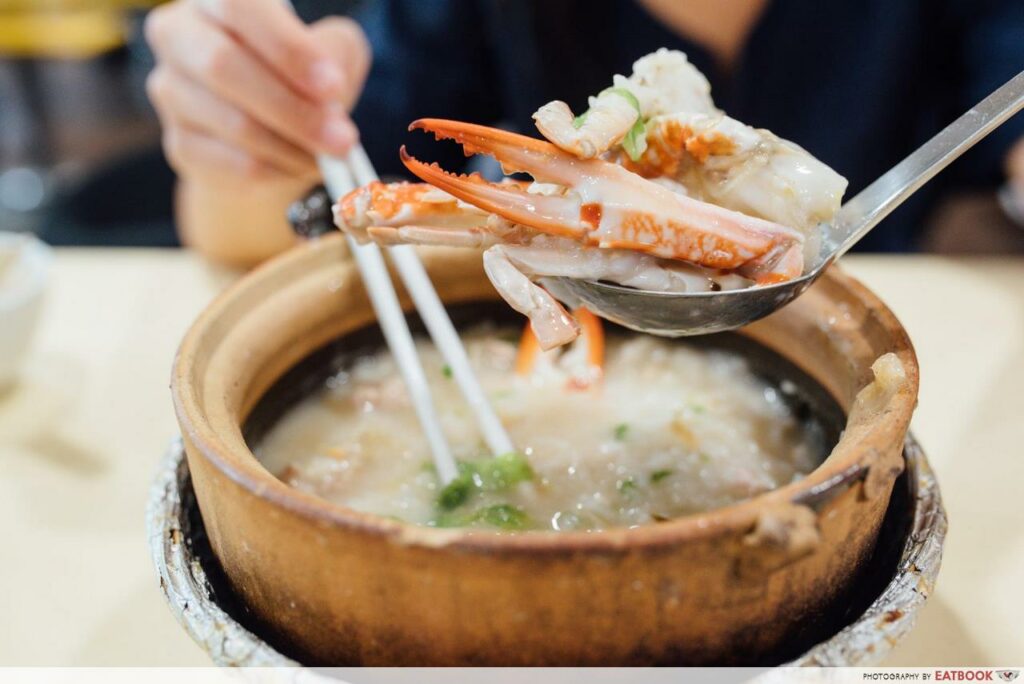 Another porridge that delivered an enjoyable, ambrosial taste was the Flower Crab Porridge ($8/$18/$28). Boasting one full flower crab, this was a fancy umami-flavoured congee that I would be more than happy to devour every day. The crab was surprisingly fresh too, with tender, flaky flesh that was easy to get to with just a chopstick and spoon.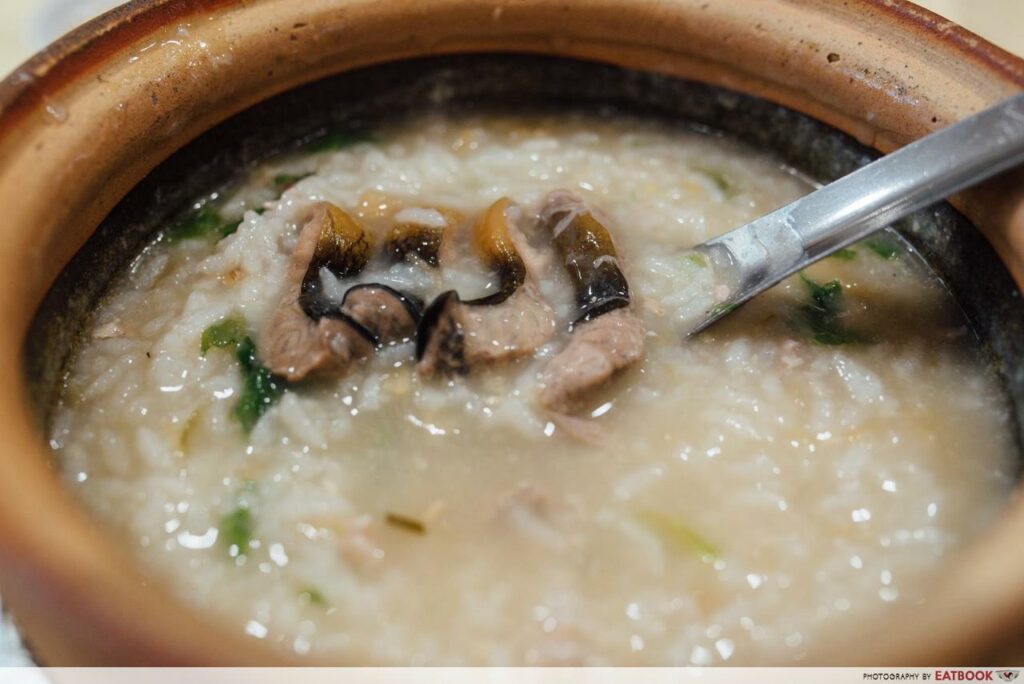 The Yellow Eel Porridge ($6/$13/$20) was actually the dish that got me eager to try Swatow Is Here. Sadly, it left me frowning in absolute disappointment. Okay, it was not that terrible, but after having such a remarkable experience with the previous two items, I was hoping for three wins at this humble hawker stall. The dry eel did not impart much flavour and tasted rather bland to me – even ordinary fish porridge fared better. I guess eels are just meant to be grilled and placed over a bed of Japanese rice rather than submerged in water and rice.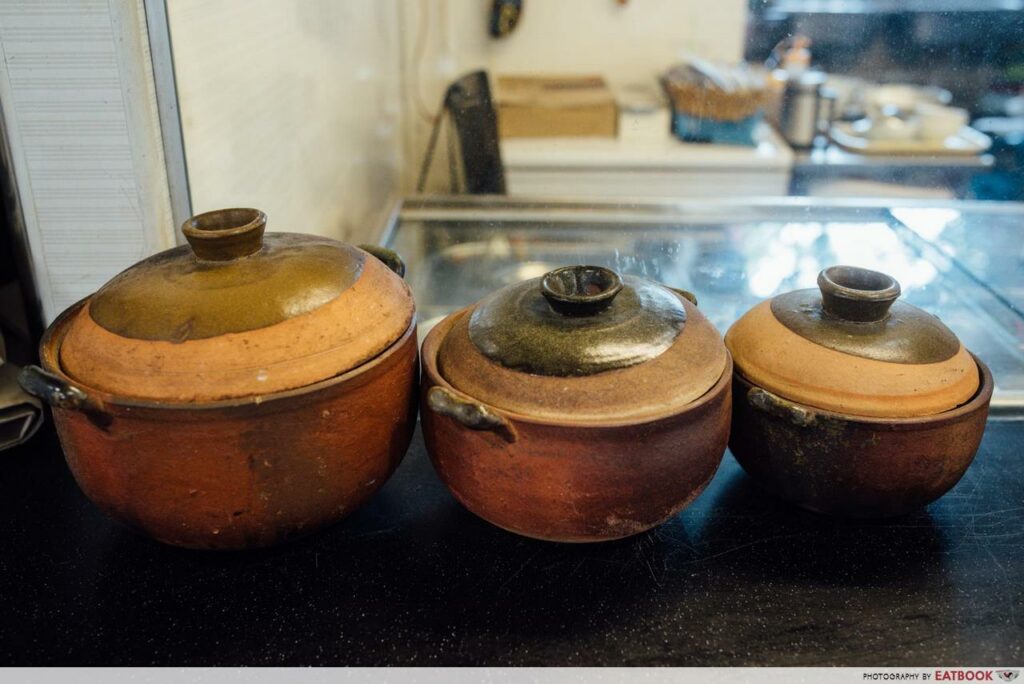 The porridge is served in a rustic clay pot, and comes in three sizes. We recommend ordering the small for two diners with wee appetites. You also have the option of topping up ingredients including oysters ($2), scallops ($2), and la la ($1).
Ambience at Swatow Is Here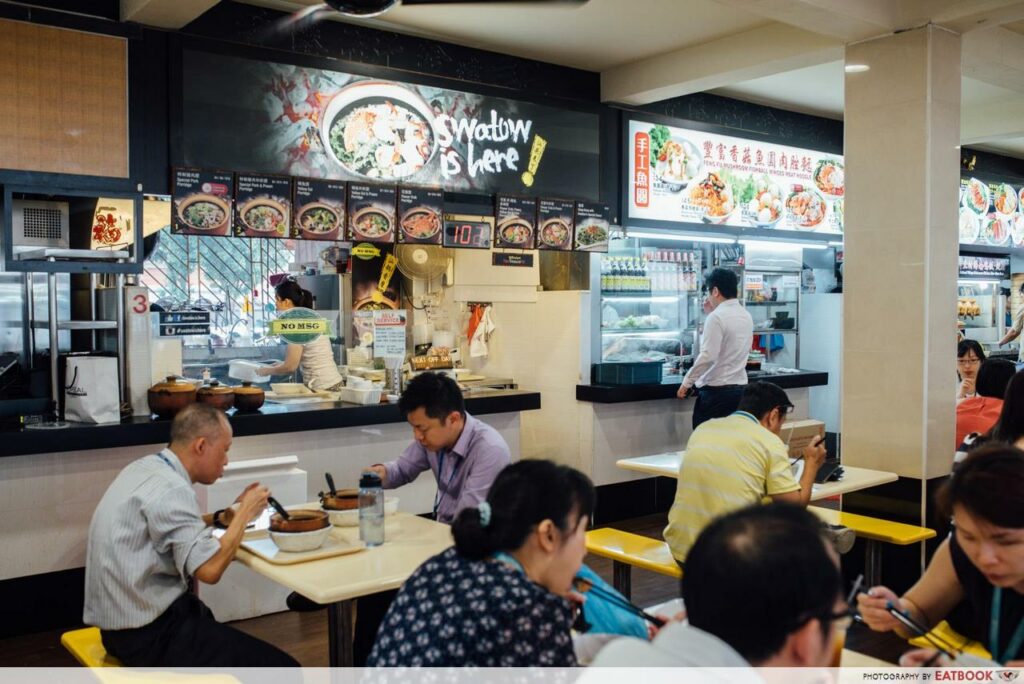 Swatow Is Here stands out from its neighbours with its eye-catching signboard and menus. When I first came across the stall, I didn't expect them to serve up traditional porridge – I thought it would be one of those atas hawker stalls serving up wacky fusion dishes. Like Koi, they flash out your queue number once your food is ready for collection, so you don't have to stand around and wait.
The verdict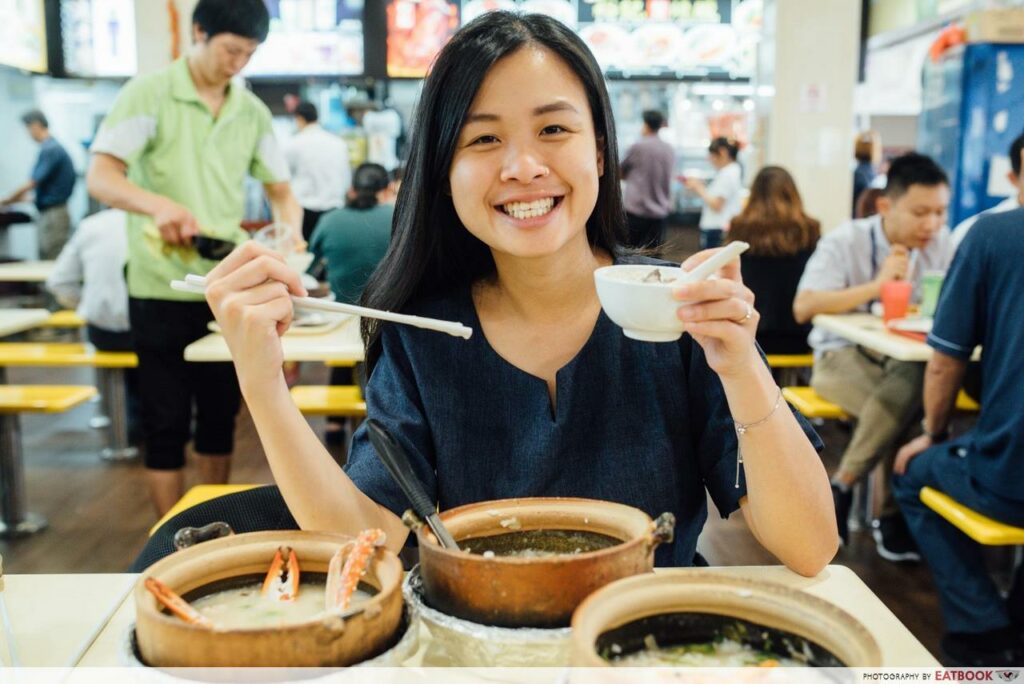 If you're around the area and looking for a bout of comfort, Swatow Is Here's moreish porridge will hit all the right spots. The porridge certainly takes regular pork porridge up a notch with its immersion of sea creatures. That being said, I do wish they were more liberal with their ingredients – I still can't get over the fact that I only had two prawns! But I suppose for the friendly price tag, complaints shall be kept to a minimum.  
Warm your heart further with a visit to the Eatbook team's favourite Empress Porridge, or bring the fambam for a late-night feast at these Teochew porridge supper spots.
Address: Blk 46 Holland Drive, #01-359, Singapore 270046
Opening hours: Daily 11am to 2:30pm, 5:30pm till everything is sold out
Follow them on Facebook to keep track of their off days.
Website
This is an independent review by Eatbook.sg
Summary
Pros:
– Fresh seafood
– Huge portions
– Affordable
Cons:
– Quite stingy with the amount of prawns and yellow eel
Recommended dishes: Special Pork and Prawn Porridge ($5/$12/$18) and Flower Crab Porridge ($8/$18/$28)

Opening hours: Daily 11am to 2:30pm, 5:30pm till everything is sold out. Follow them on Facebook to keep track of their off days.
Address: Blk 46 Holland Drive, #01-359, Singapore 270046