Spicy noodles at TamJai SamGor 
TamJai SamGor has recently opened its first outlet at Bedok Mall. This noodle chain is highly rhapsodised in Hong Kong, with its customisable noodle bowls, soul-warming broths, and Yunnan mixian (rice noodles). What's even more noteworthy about this place is that they offer up to 10 levels of spiciness for you to test your limits. With my competitive nature and love for spicy food, I had to get a taste of TamJai SamGor's noodles. 
Hong Kong's TamJai SamGor To Open First Noodle Stall In Singapore At Bedok Mall On 30 October
All it takes is just three simple steps to order. First, choose your toppings, ranging from typical options like enoki mushroom and chicken pieces to more premium beef slices and shrimp wonton. Secondly, pick a soup of your choice out of their six bases offered ─Ma La, Wu La, San Suan, Tangy Tomato, Suan La ,and Fragrant Clear Soup. Lastly, choose your spice level. The spicier you want your soup to be, the more chilli paste and oil is added. This is where I'd go all out and ask for the spiciest level on the meter, but if you're not a chilli freak like me, feel free to opt for non-spicy. 
Food at TamJai SamGor
The first bowl was child's play. We started off with the non-spicy Wu La Soup ($8.20), topped with chicken, pickled cabbage and beansprouts. The broth is simmered with charred pepper and spices. I could smell its earthy aroma the moment it was served. 
The taste of spices, mainly that of cloves, shone through in the broth, along with a distinct smokiness. It was well-seasoned and definitely packed with flavour. I would assume that this soup was cooked for ages because of its concentrated flavour. While the aromatics were a tad too strong for me, my colleague loved it.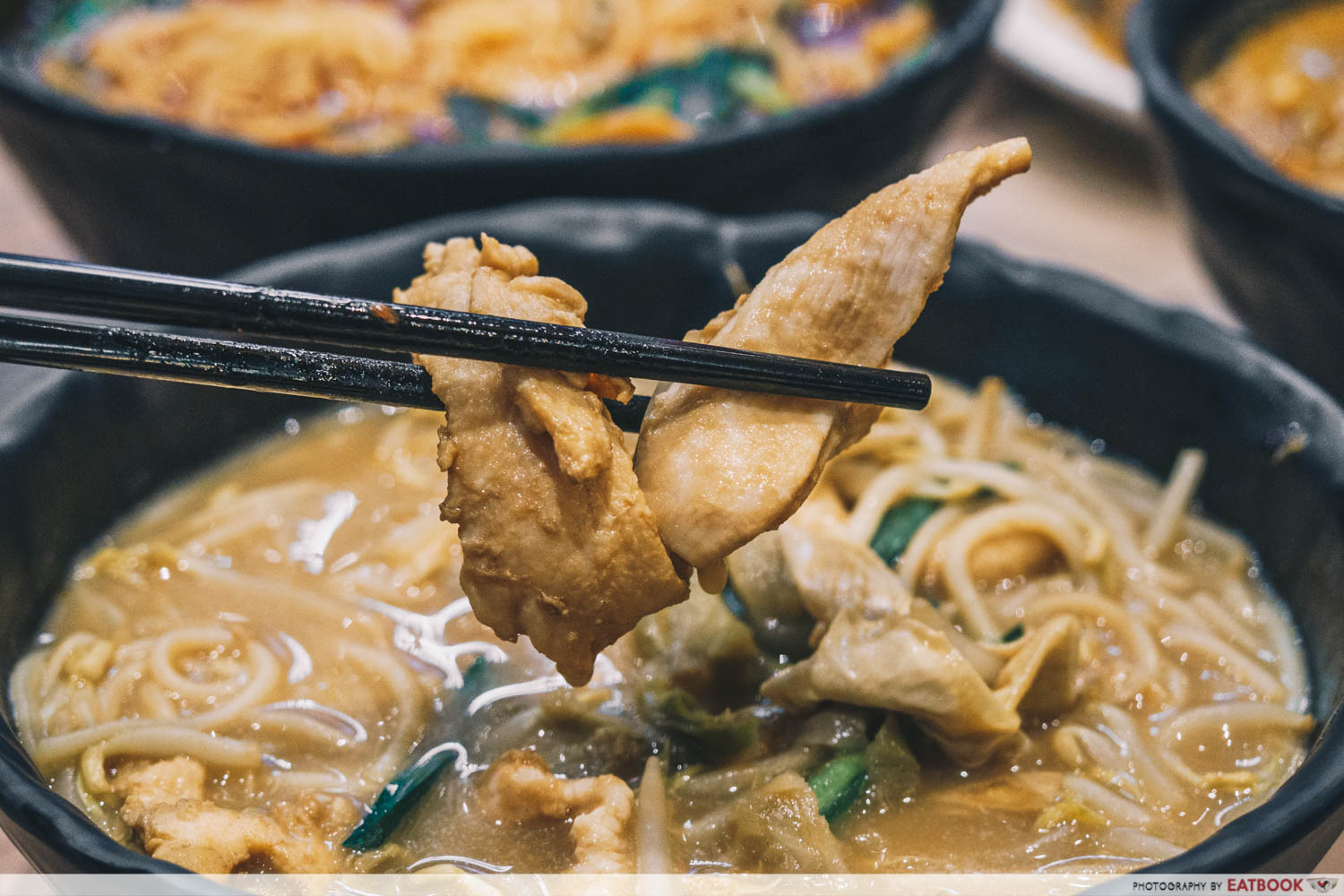 The chicken pieces seemed to be dry at first glance but it turned out to be decently tender.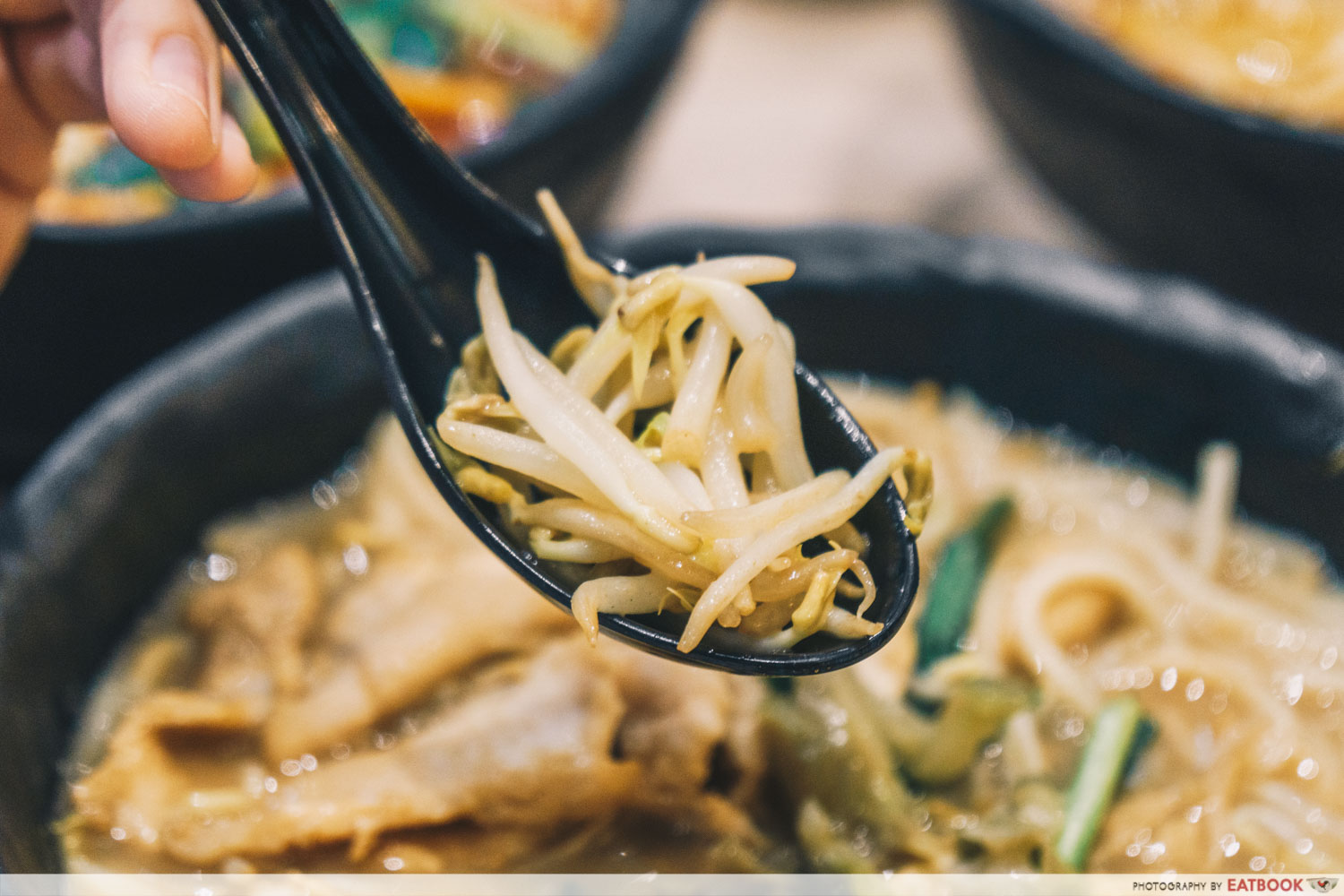 The beansprouts were a pleasant touch to the dish because of their crunchiness.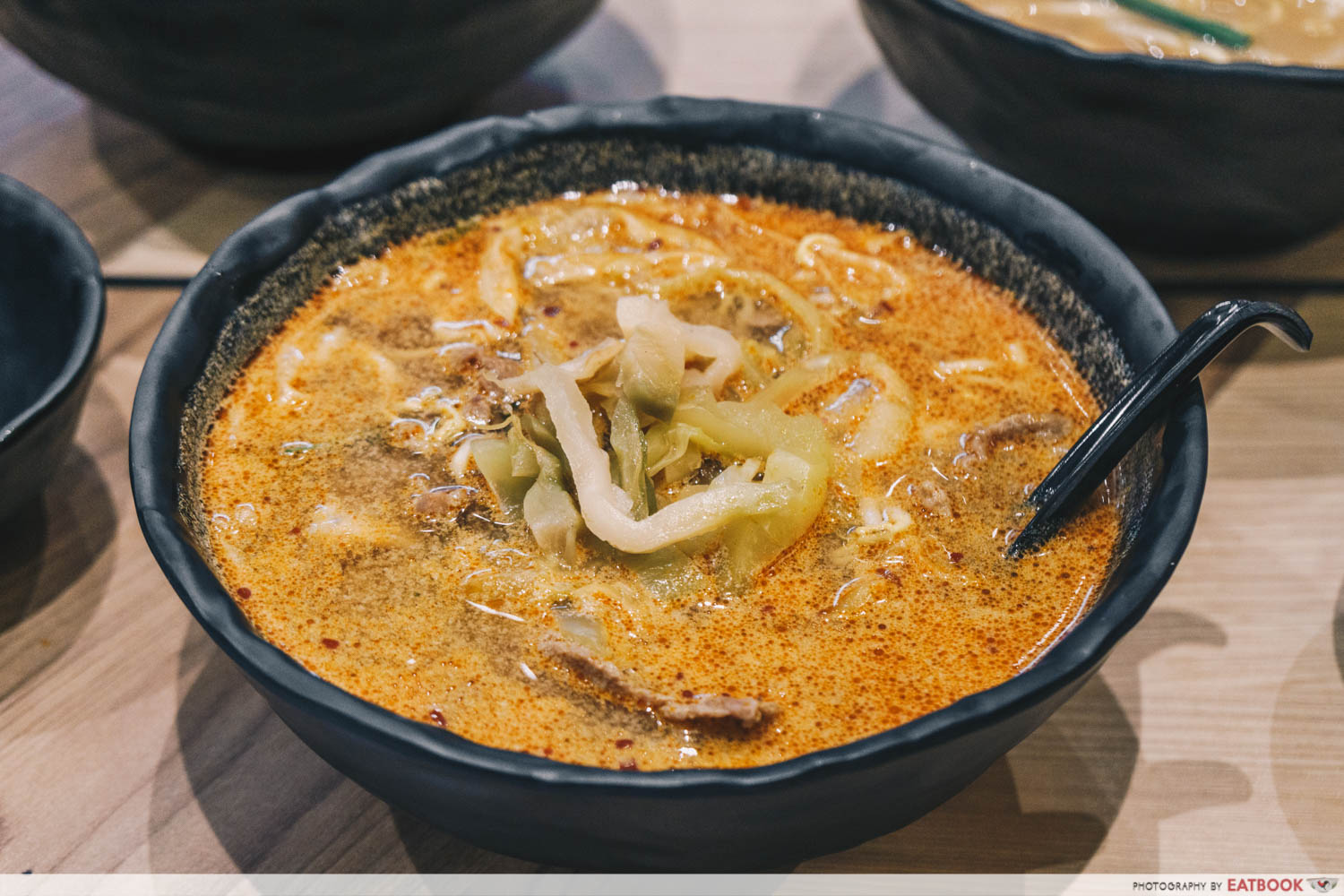 Next, we went for the San Suan Soup ($9.20) at a spice level equivalent to a level four, paired with beef and pickled cabbage. This hot and sour soup is TamJai SamGor's signature offering, infused with their secret blend of spices.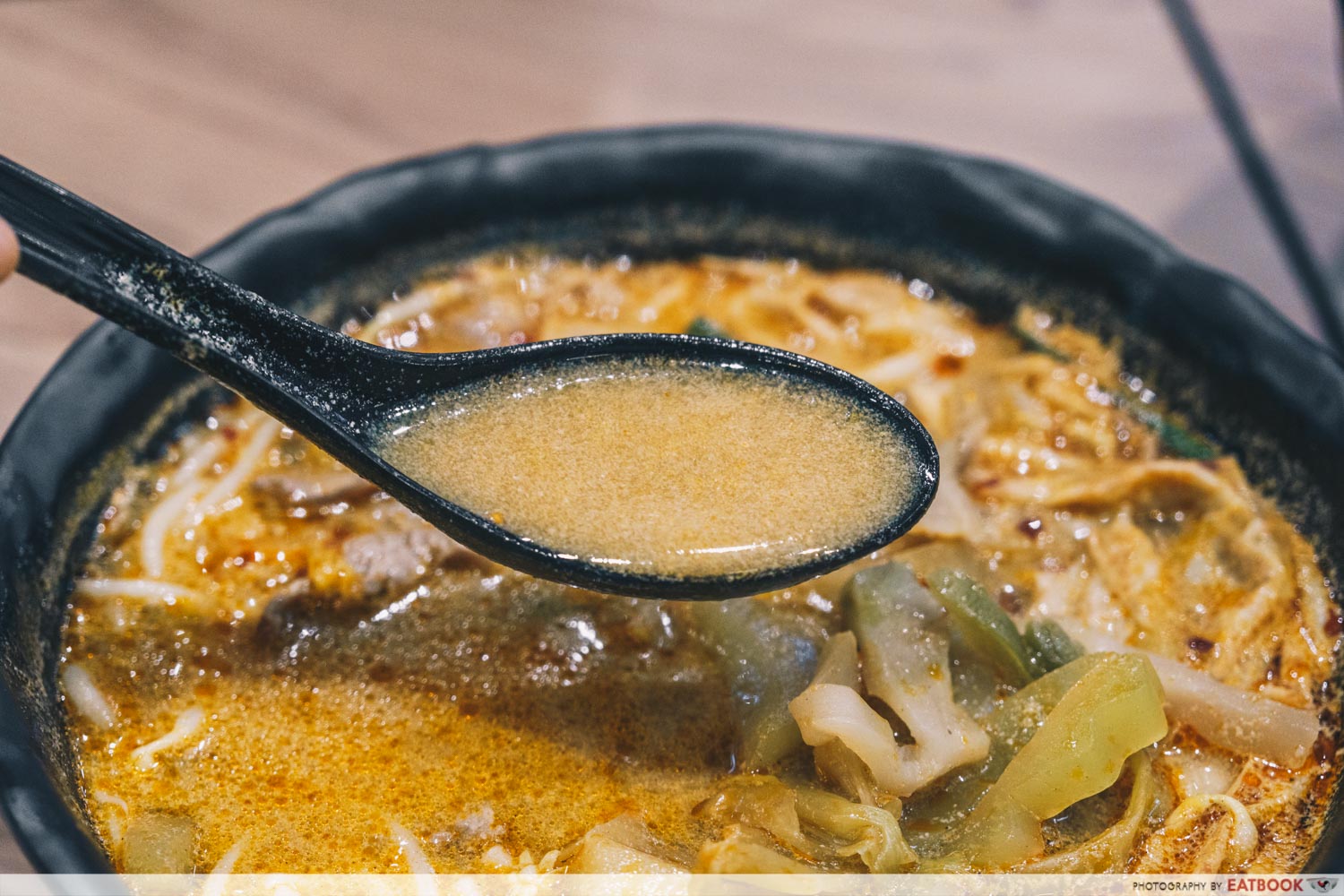 Spicy and sour, the flavours bore a resemblance to the famous suan la fen. The intensity of the spice was manageable to me at this particular level, as it was comparable to zhong la. There was a discernible throat-itching and lip-numbing sensation. 
Chen Cun Suan La Fen Is The Latest Food To Hit Singapore – Here's Where To Buy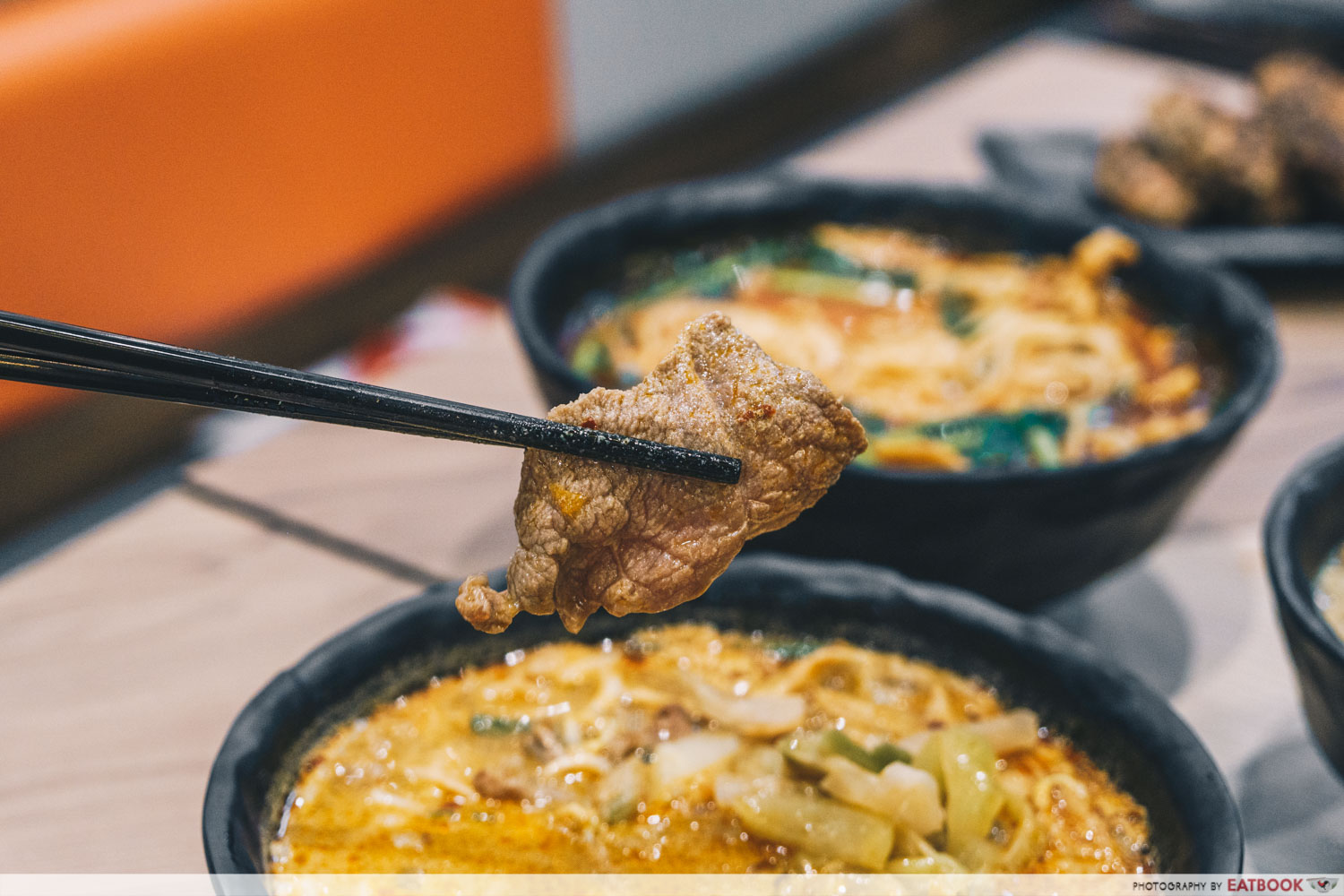 The texture of the beef was passable, though it wasn't as tender as I had hoped it would be.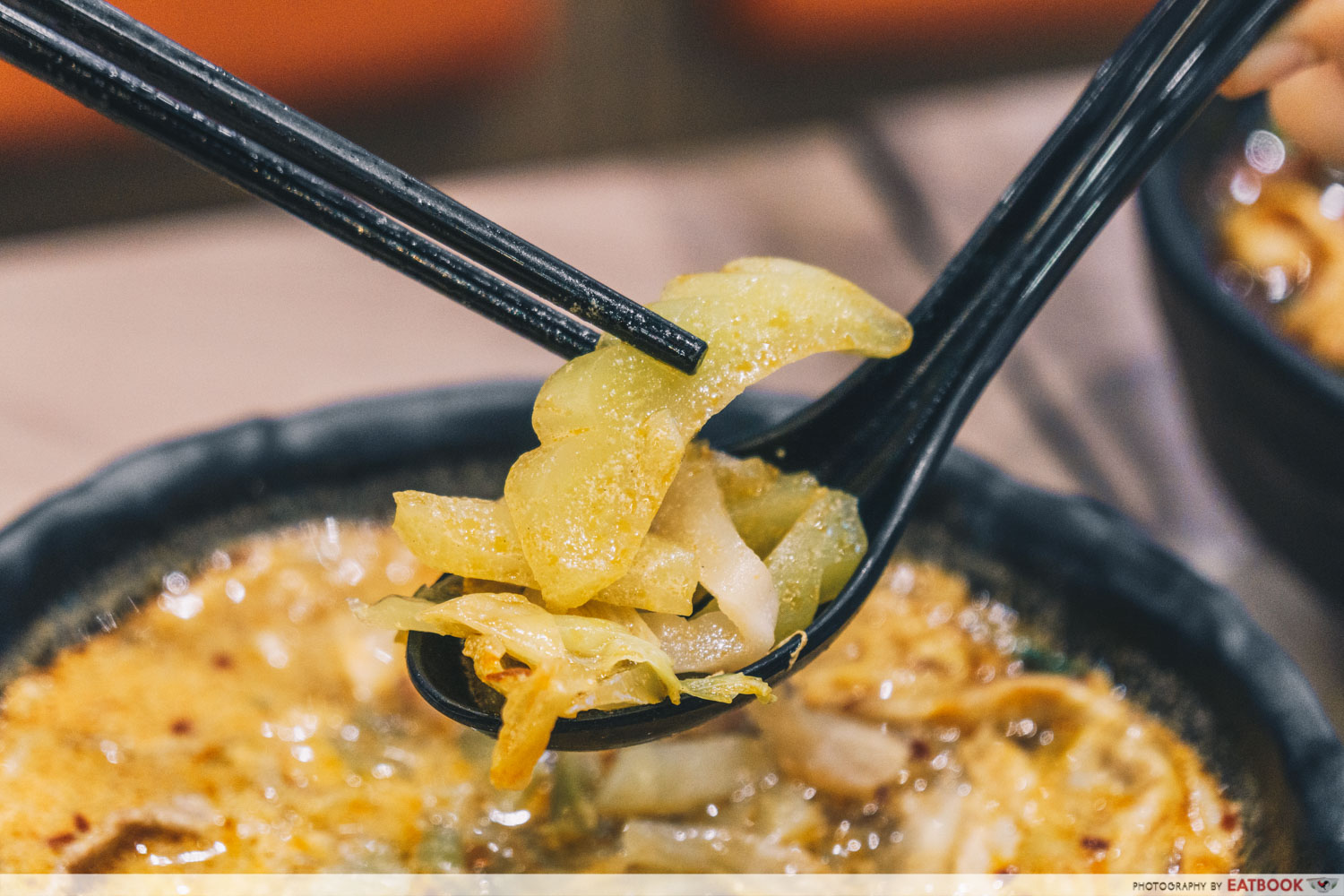 I enjoyed the addition of the pickled cabbage since it was tangy and had a good bite.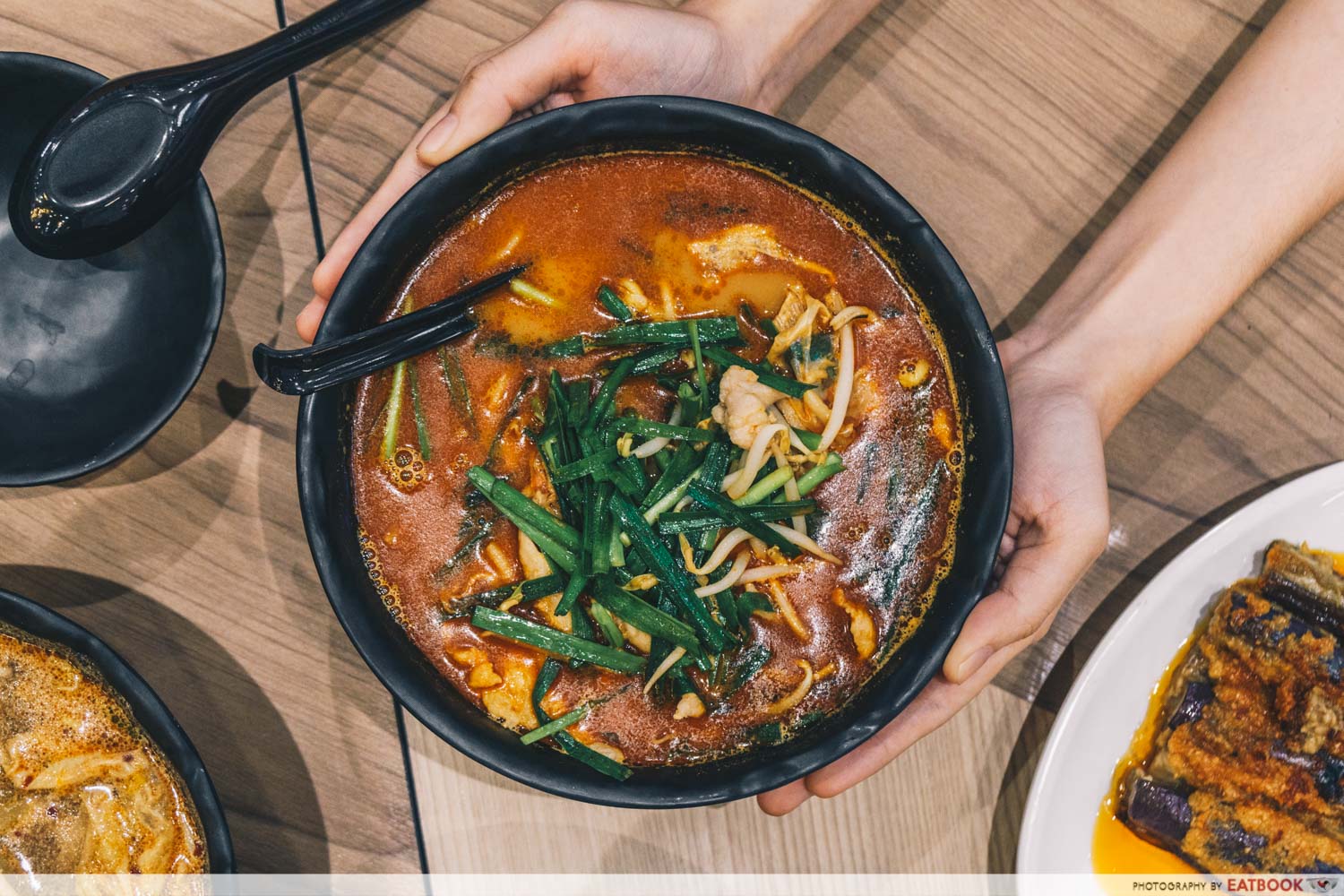 The daunting Ma La Soup ($8.50) that we ordered was the actual challenge, hitting level 10 on the spiciness meter. We chose pork and Chinese chives to go with this bowl.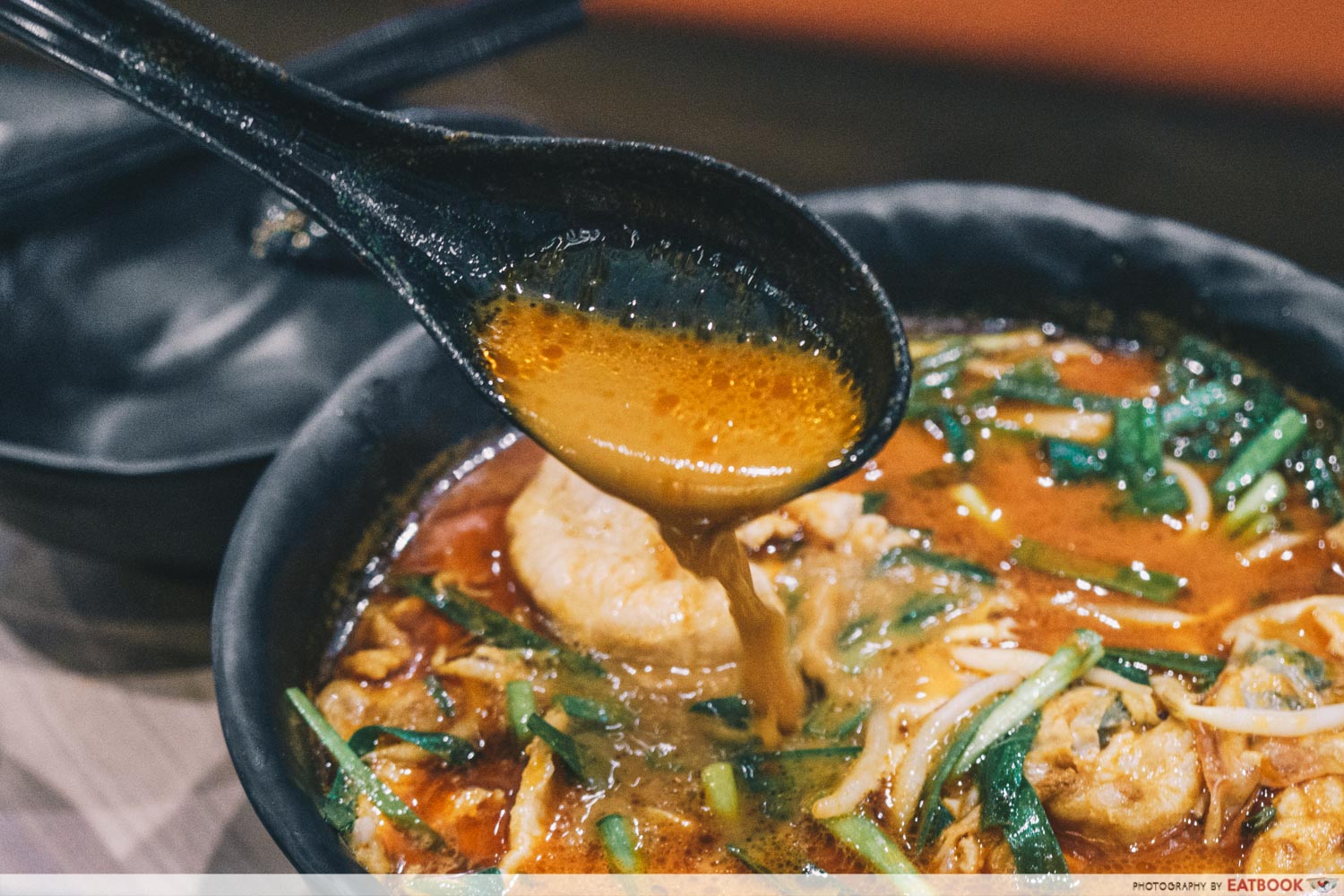 Just a little sip was enough for the intensity of spice and numbness to kick in. A parched throat, runny nose and bright red lips, were just some of the side effects from this dangerously spicy soup. I obviously overestimated my ability to beat the challenge. 
Here's a tip to make the heat more tolerable─order the minced meat as a topping to go with the soup. The minced meat is cooked in a creamy, savoury sauce, and it did help to dial down the spiciness of the broth. 
Spice aside, the ma la soup was tasty and had a good depth of flavour.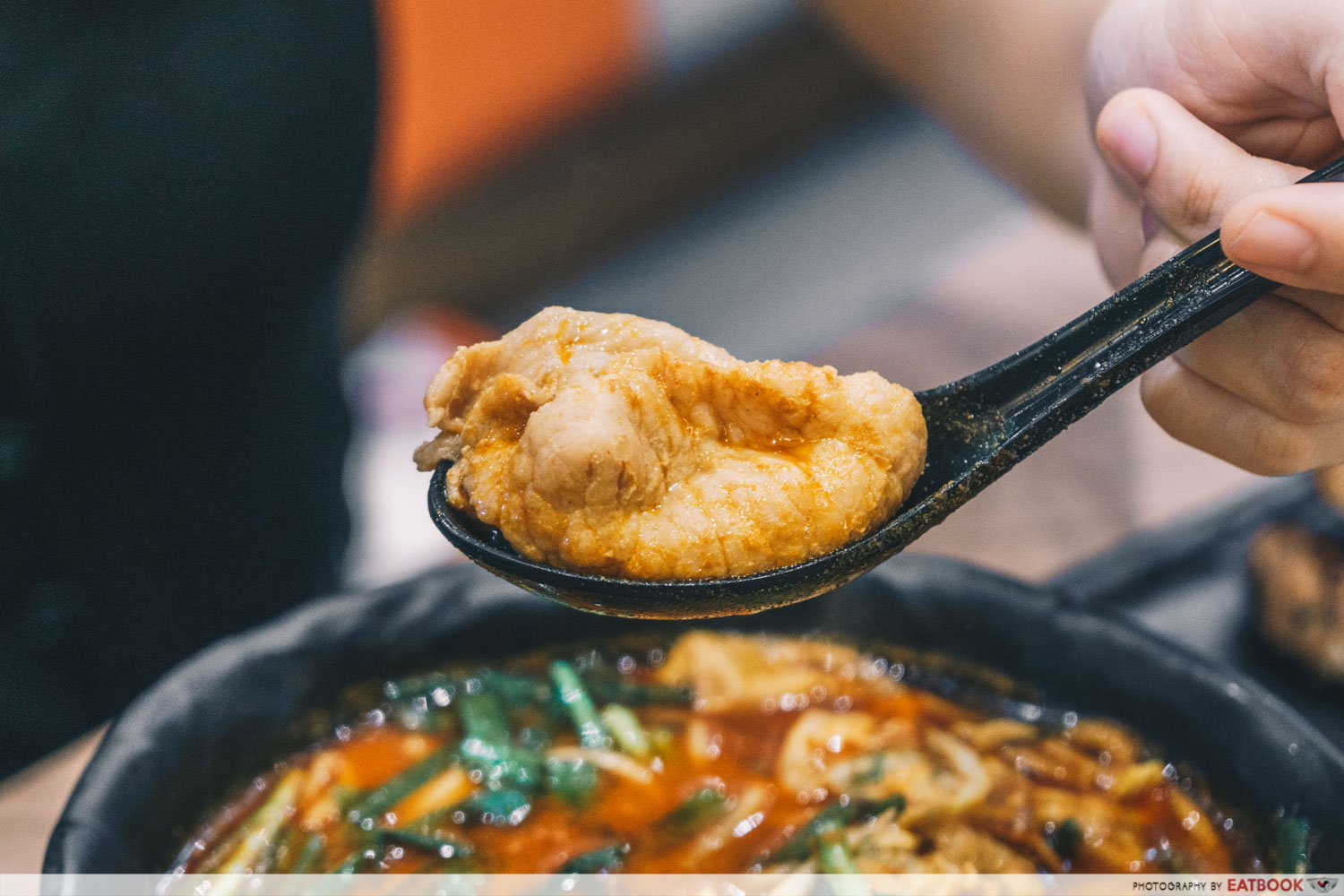 Similar to the chicken pieces, the pork was also tender, though a little under seasoned.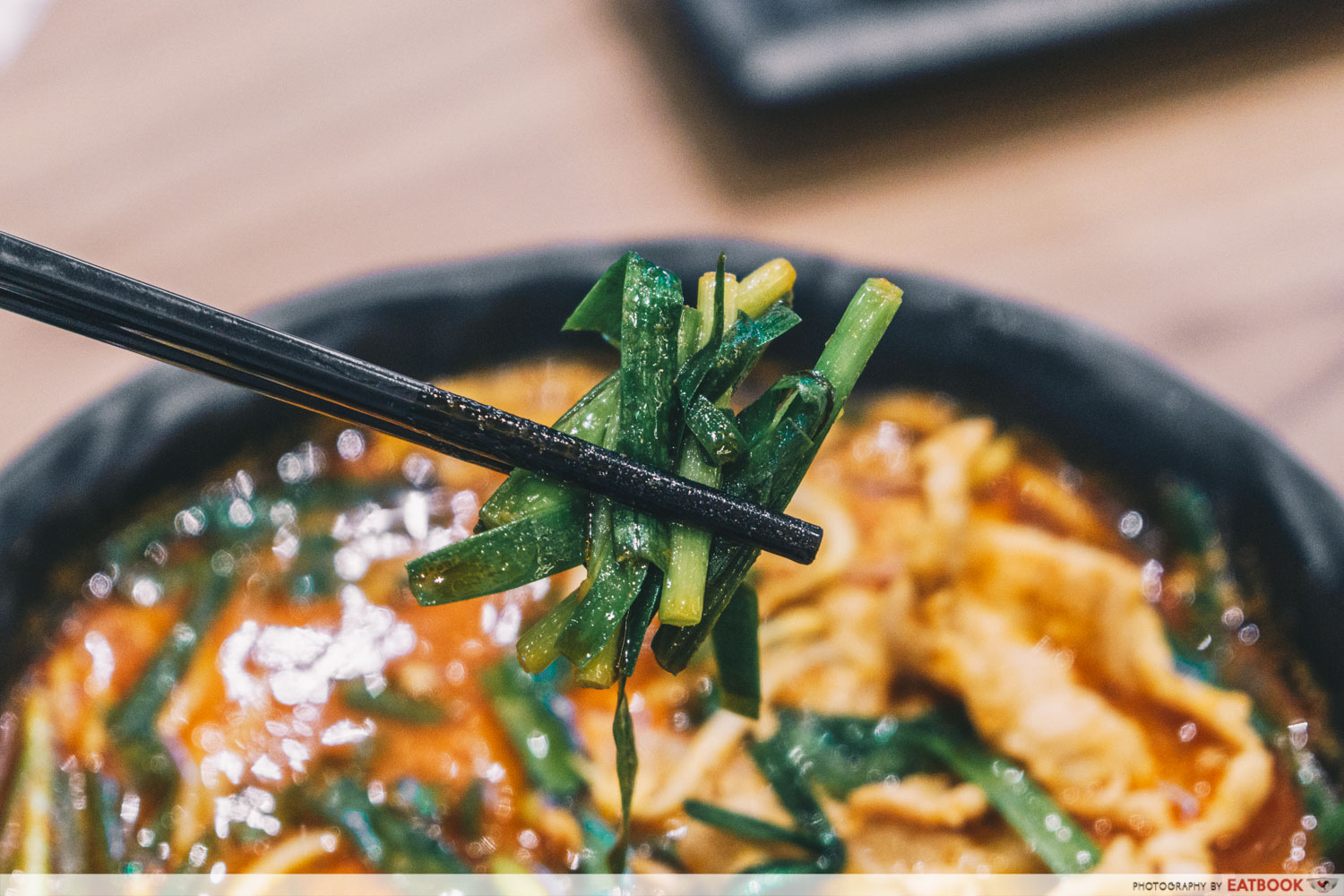 The chives added an element of freshness in the dish.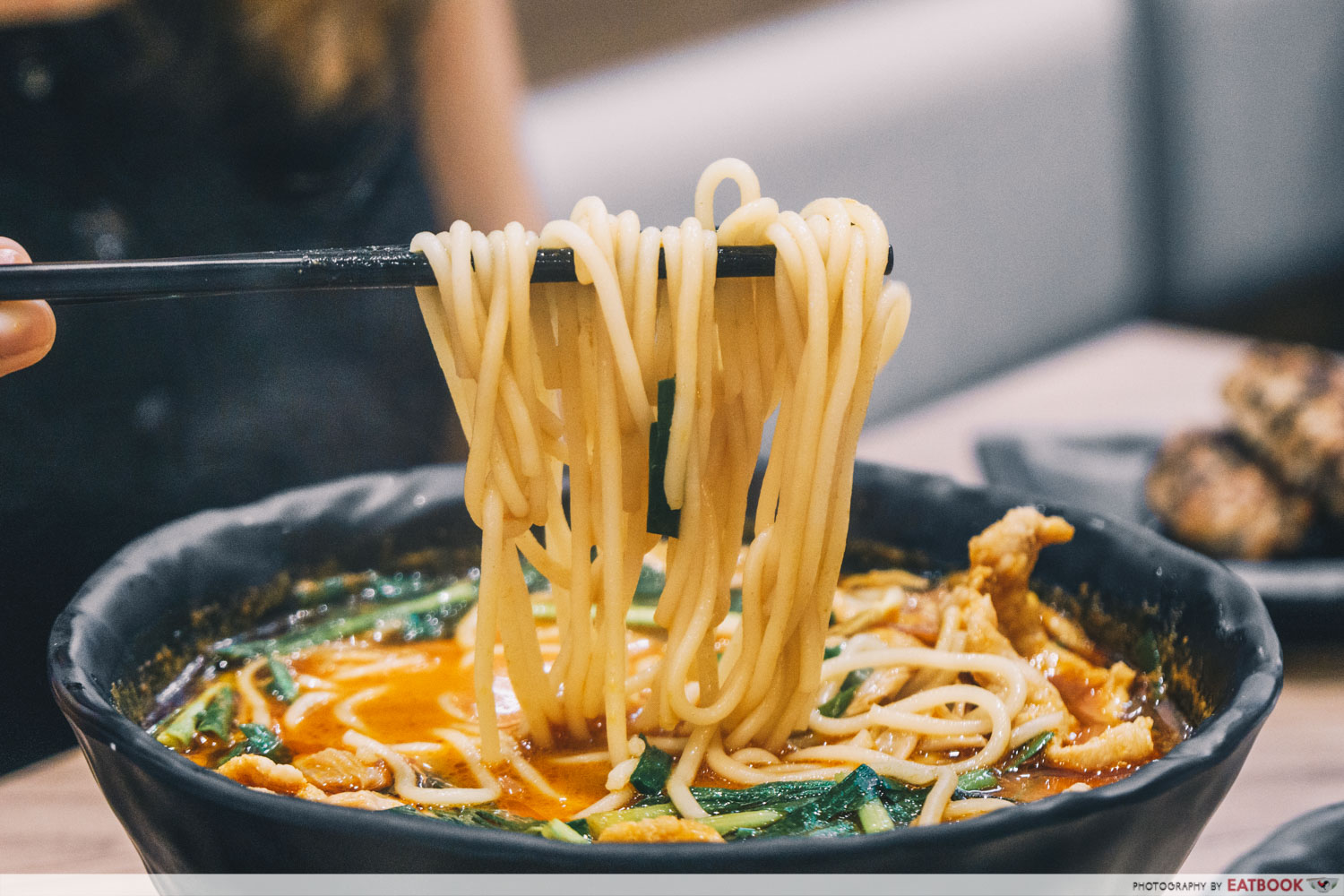 TamJai SamGor takes pride in their mixian, which is made with rice flour and water. With everything customisable on the menu, the one thing that is fixed in every bowl is their noodles. I'm not complaining though, because these gluten-free noodles had a great texture.  It looks similar to thick bee hoon, except that the mixian is far more al dente and chewier. Also, it doesn't turn mushy like most noodles do when left submerged in broth for some time. Besides that, I found that the mixian was a great carrier of flavour for the soup.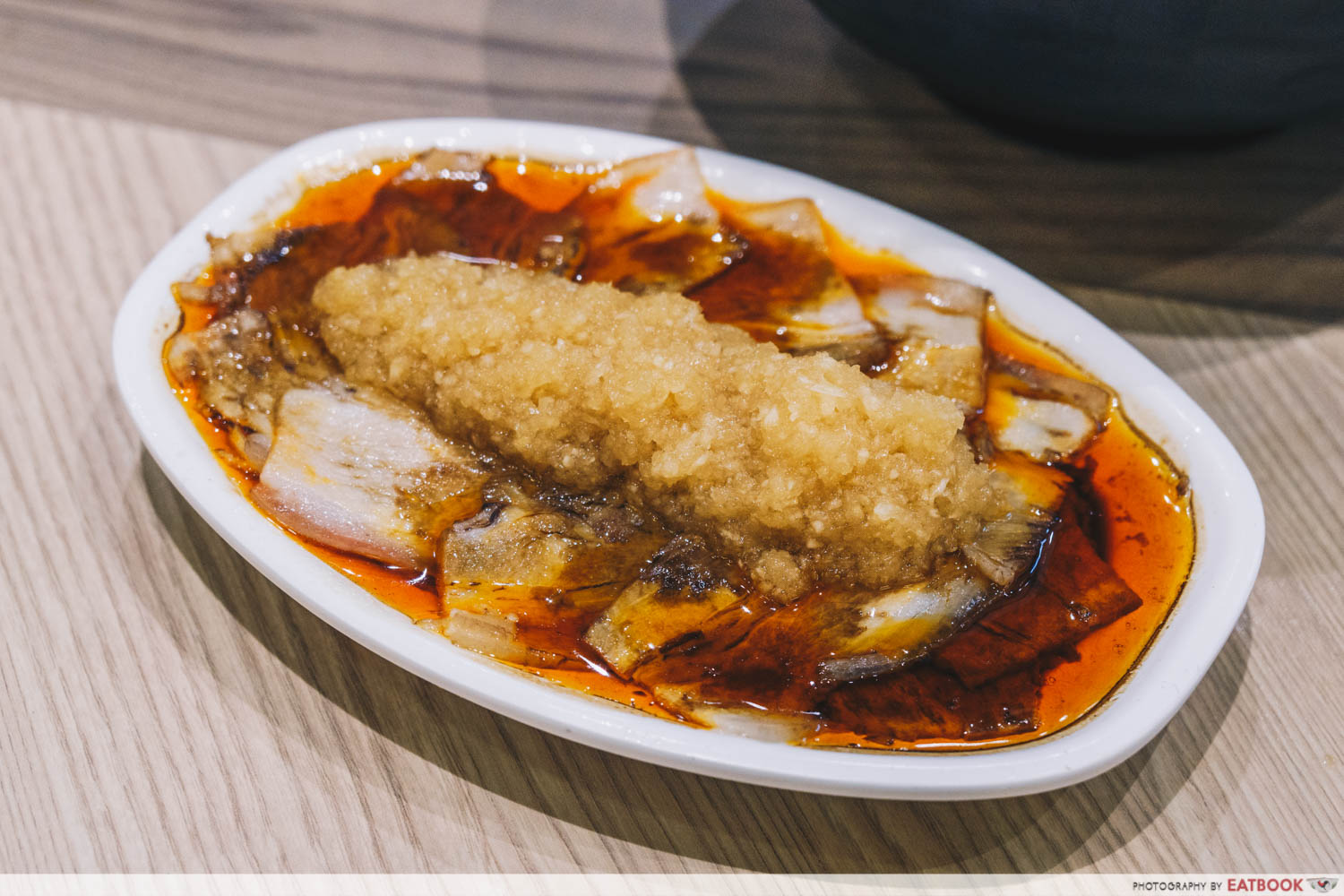 Noodles are not all that TamJai SamGor has to offer. They also serve an array of delectable side dishes. The Sliced Pork Belly with Mashed Garlic ($4.80) is one of the recommended sides.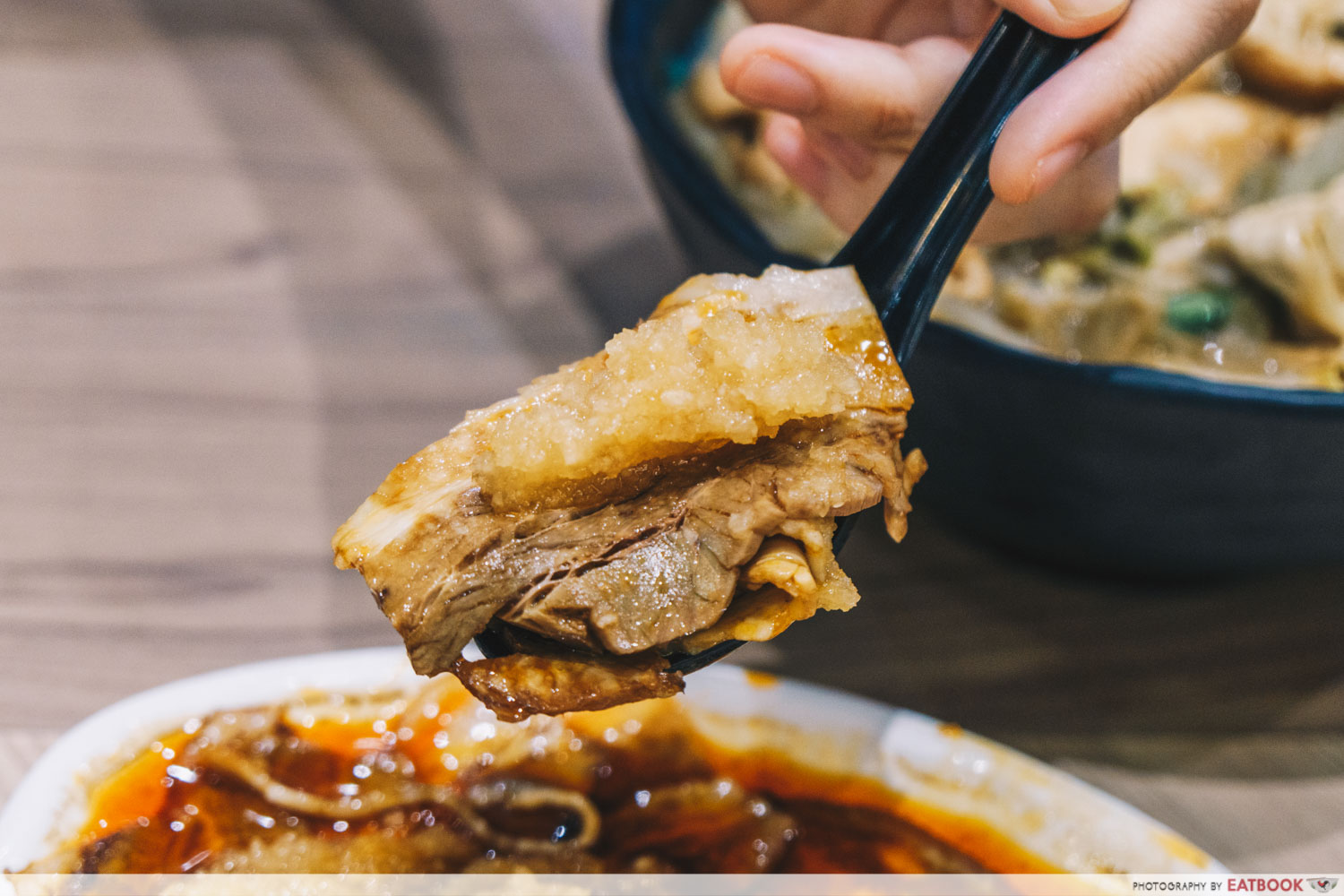 Even though it was a little oily, each slice was melt-in-the-mouth and silky. The meat's profile was also further enhanced by the flavour of the minced garlic.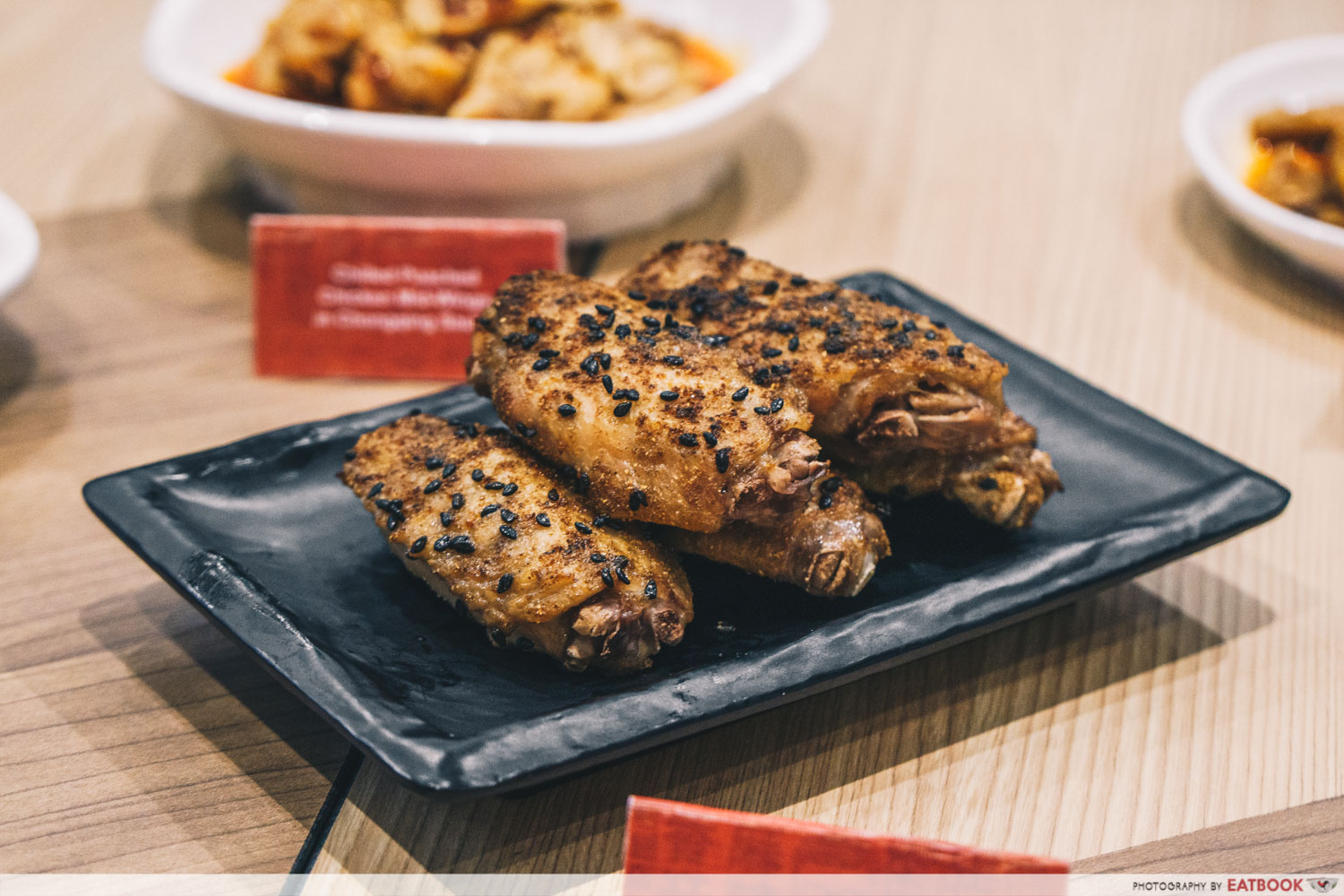 My favourite has got to be the TuFei Chicken Mid-Wings. Opt for six pieces ($6.80) instead of three ($4.80) because these wings were borderline addictive. It was well-seasoned and there was a potent char, as well as a predominant soy sauce taste. The wings were also incredibly juicy. 
Ambience at TamJai SamGor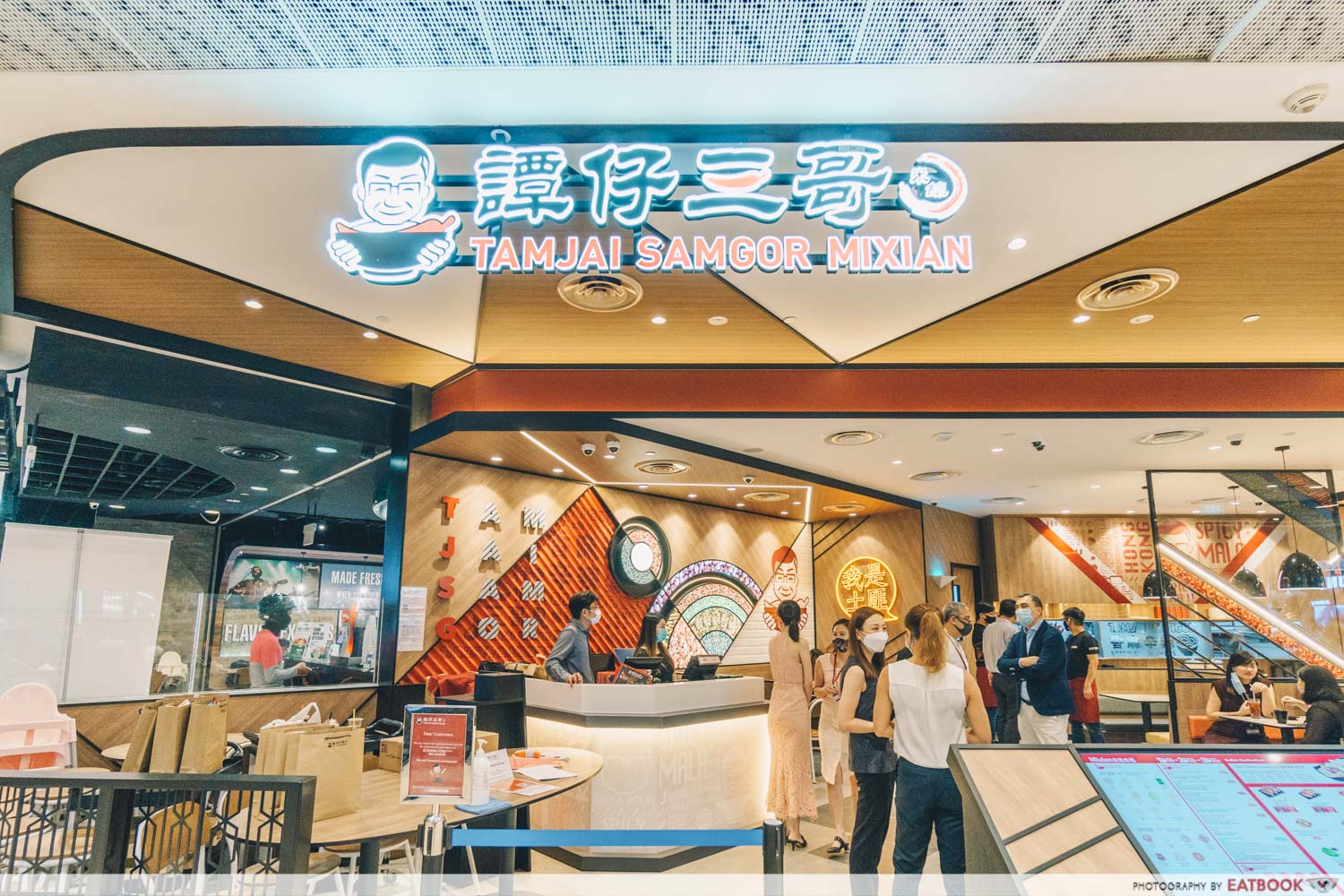 TamJai SamGor is located at basement one of Bedok Mall. It isn't very spacious, but the brightly-lit space exudes warmth, making it a cosy and comfortable setting to dine in. Do expect a queue, especially during peak hours. 
The verdict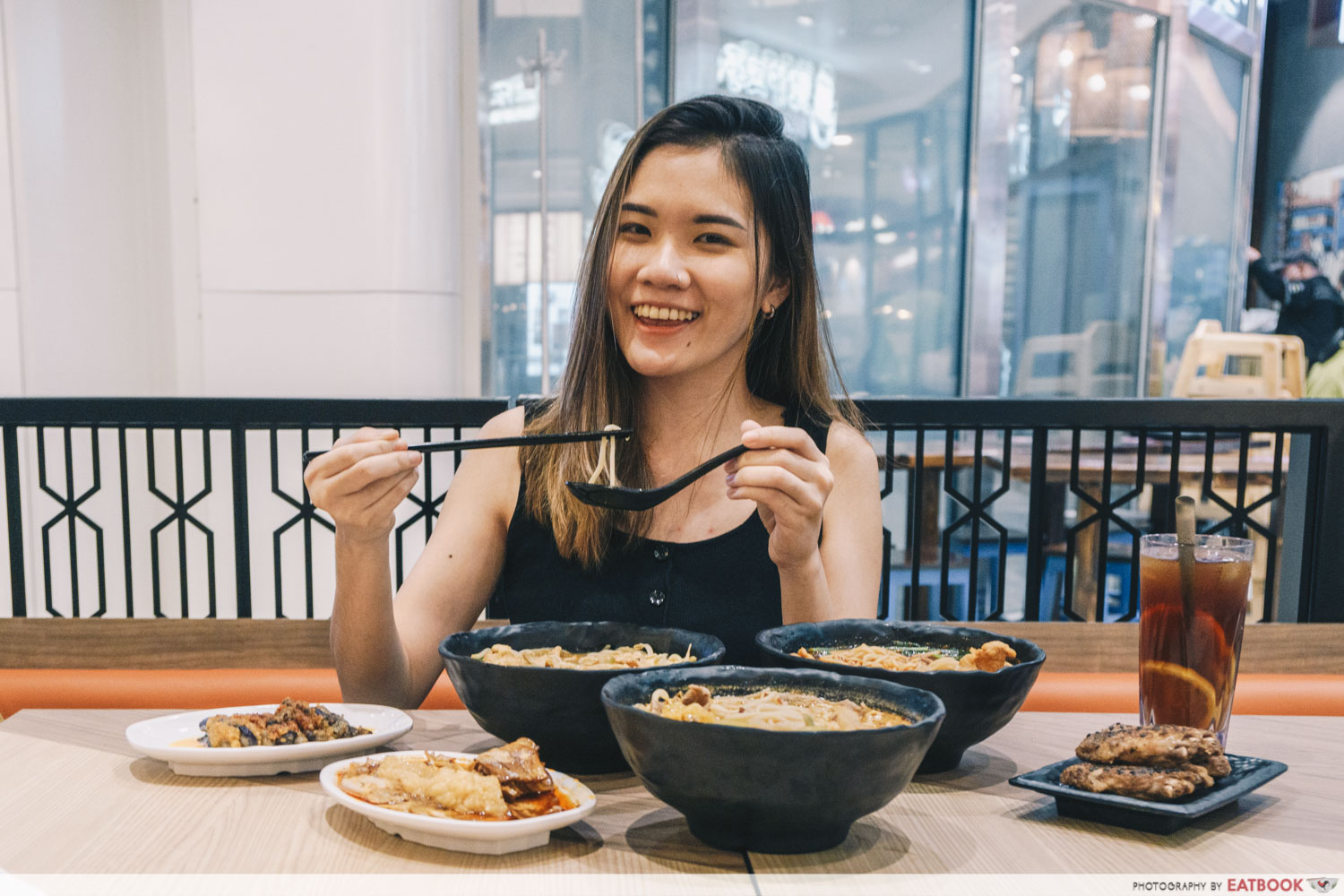 For me, the most memorable part of the meal would be the noodles because of their lovely texture. I also liked the fact that their spice-laden soups are strained, saving you the trouble of picking out those little peppercorn shells or the star anise that are commonly left in ma la dishes and Chinese-style herbal soups. Though satisfactory, the flavours don't particularly stand out.
With regards to the spice level, I'd recommend going for the level two option for a good balance of soup flavour and comfortable intensity of heat. Otherwise, jump straight to level 10 if you're daring enough to take on the spicy challenge. 
4 Best Suan La Fen Brands Ranked, Including Hai Chi Jia, Chen Cun Chong Qing And More
While you're here, find out which suan la fen brands made it to the top of our ranking. Otherwise, for more spicy challenges, read our post on the recent ghost pepper fish skin snack from London Fat Duck Restaurant. 
London Fat Duck Introduces Ghost Pepper Fish Skin Snack For $5.80
Address: 311 New Upper Changi Road, #B1-52, Bedok Mall, Singapore 467360
Opening hours: Daily 10am to 10pm
Website
Photos taken by John Lery Villanueva.
This was a media tasting at TamJai SamGor.
TamJai SamGor Review: Famous HK Restaurant Serves Noodles With Up To 10 Levels Of Spiciness
Summary
Pros
– Mixian has great texture
– Customisable options for people with different spice preference
– Flavourful chicken wings 
Cons
– Some dishes are a little too oily
– Spice fragrance in soups can be too overpowering 
Recommended Dishes: TuFei Chicken Mid-Wings ($6.90), Ma La Soup ⅕ mild spice ($8.20)
Opening hours: Daily 10am to 10pm
Address: 311 New Upper Changi Road, #B1-52, Bedok Mall, Singapore 467360