---
Best suan la fen in Singapore
---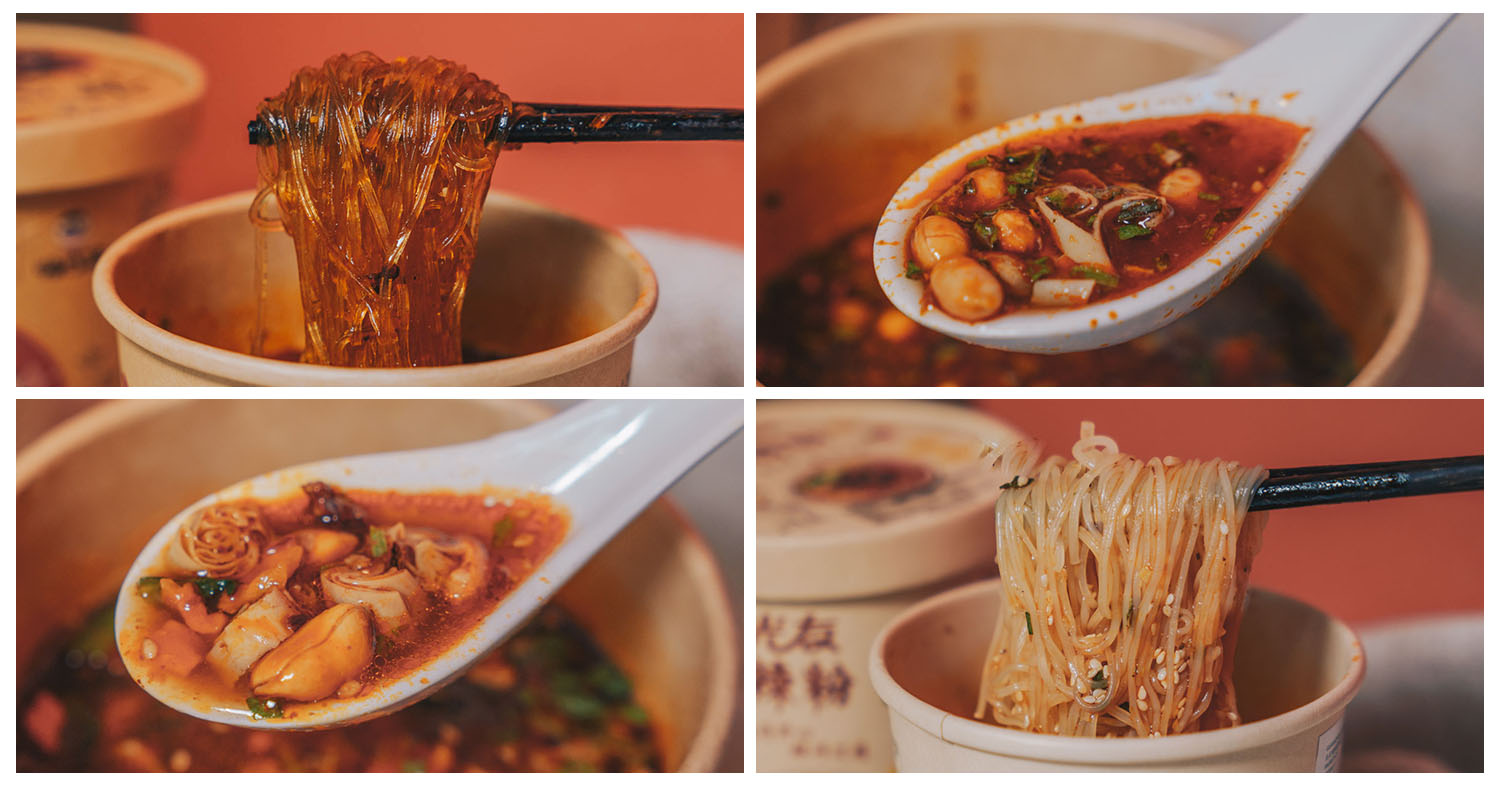 You will know what the latest trend in Singapore is when you start being bombarded with pictures of it both on Facebook and Instagram. The most recent fad would definitely be the one that comes in a cardboard tub, usually with the picture of a man bearing a mushroom hairdo—Suan La Fen.
To the common-man, there seems to only be one brand of instant suan la fen. However, there are actually a handful of brands offering different variations of this tangy, spicy, and dangerously addictive cup of vermicelli. We did the groundwork and tried all four of the most popular suan la fen, so you didn't have to. From the least to most favourite, here is our list of the best suan la fen ranked.
---
The criteria
---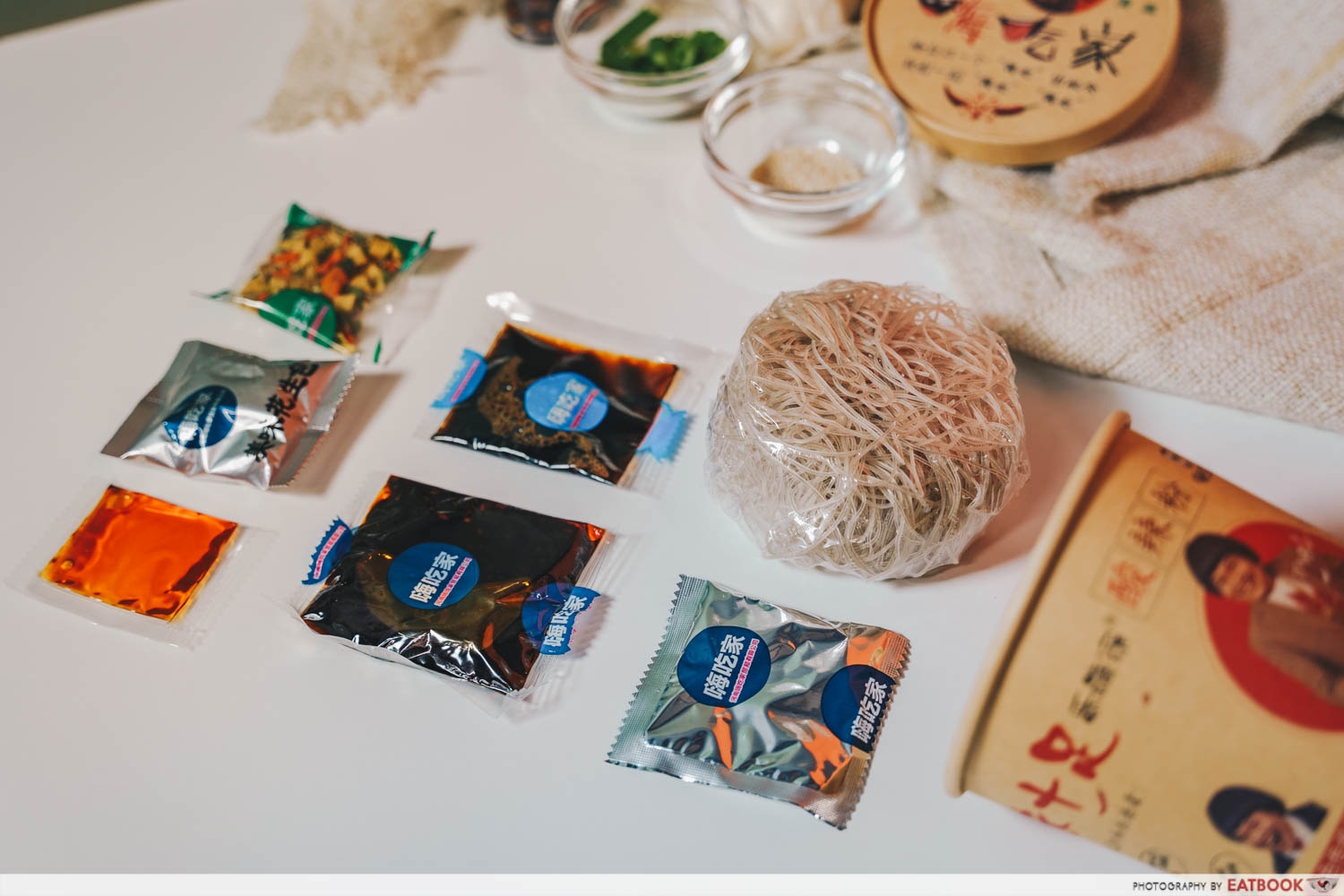 Since this isn't your typical instant cup noodle, each suan la fen will be graded individually according to its broth, toppings, and noodles. Taste can sometimes be subjective. For extra caution, this taste test will be done with three other colleagues with varying degrees of love for spicy food. Price will not be part of the consideration as each suan la fen comes in a pack of six tubs around the price of $20.90 to $21.90.
Just like how we ranked the best chicken rice in Singapore, each component will be graded upon 10, and finally added up against a percentage of 100.
---
4. Guang You
---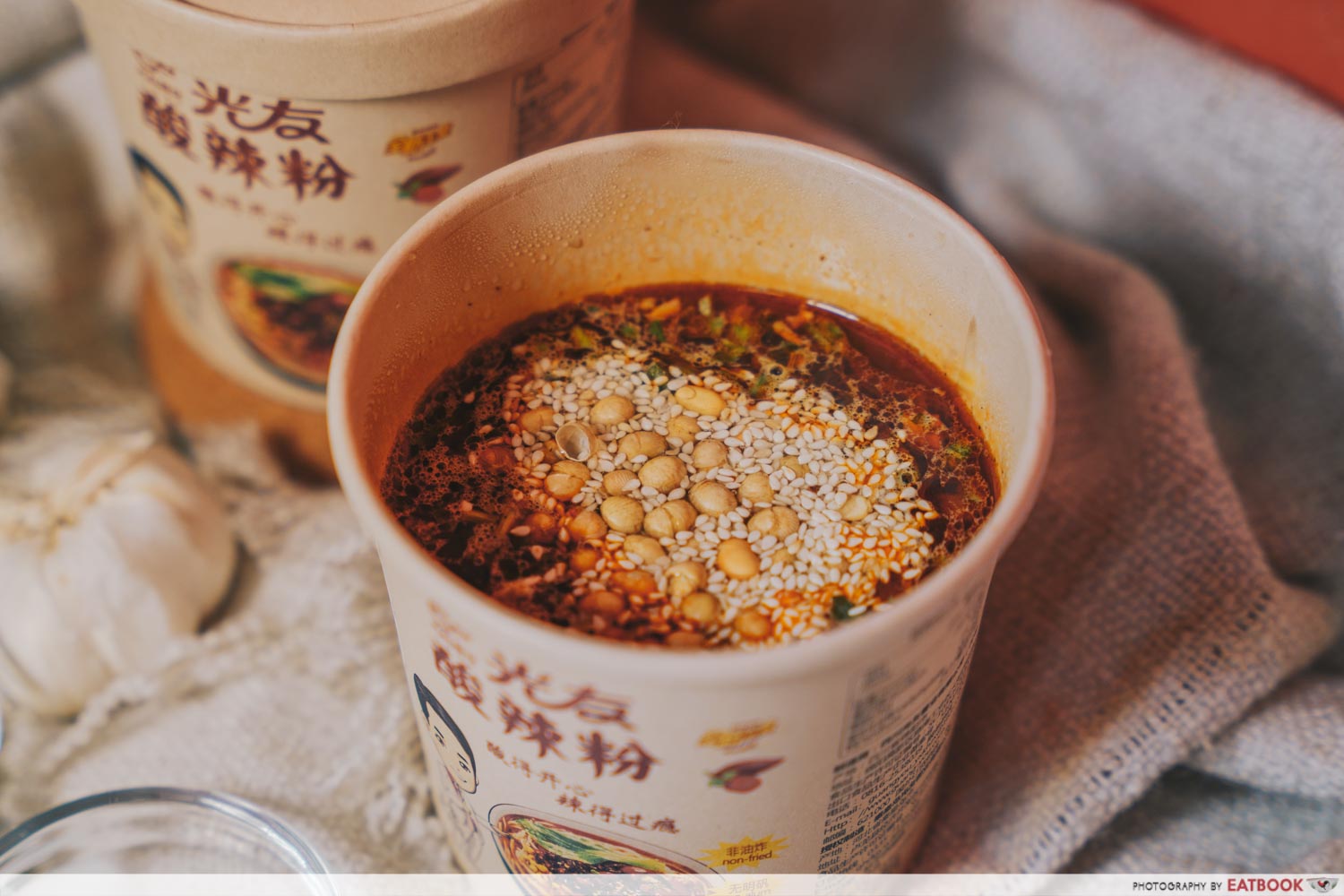 If there was to be an introductory course for suan la fen fanatics, the one from Guang You would have to be it. 
Do not be fooled by the amount of red chilli oil covering the surface of the noodles. The broth is actually really low on spice, making it an almost child-friendly version of the sour and spicy noodles. Taste-wise, it is like a delicious and heart-warming bowl of chicken noodle soup. However, it is definitely missing the tinge of sourness which I personally enjoy in my cup of suan la fen. 
Broth: 6/10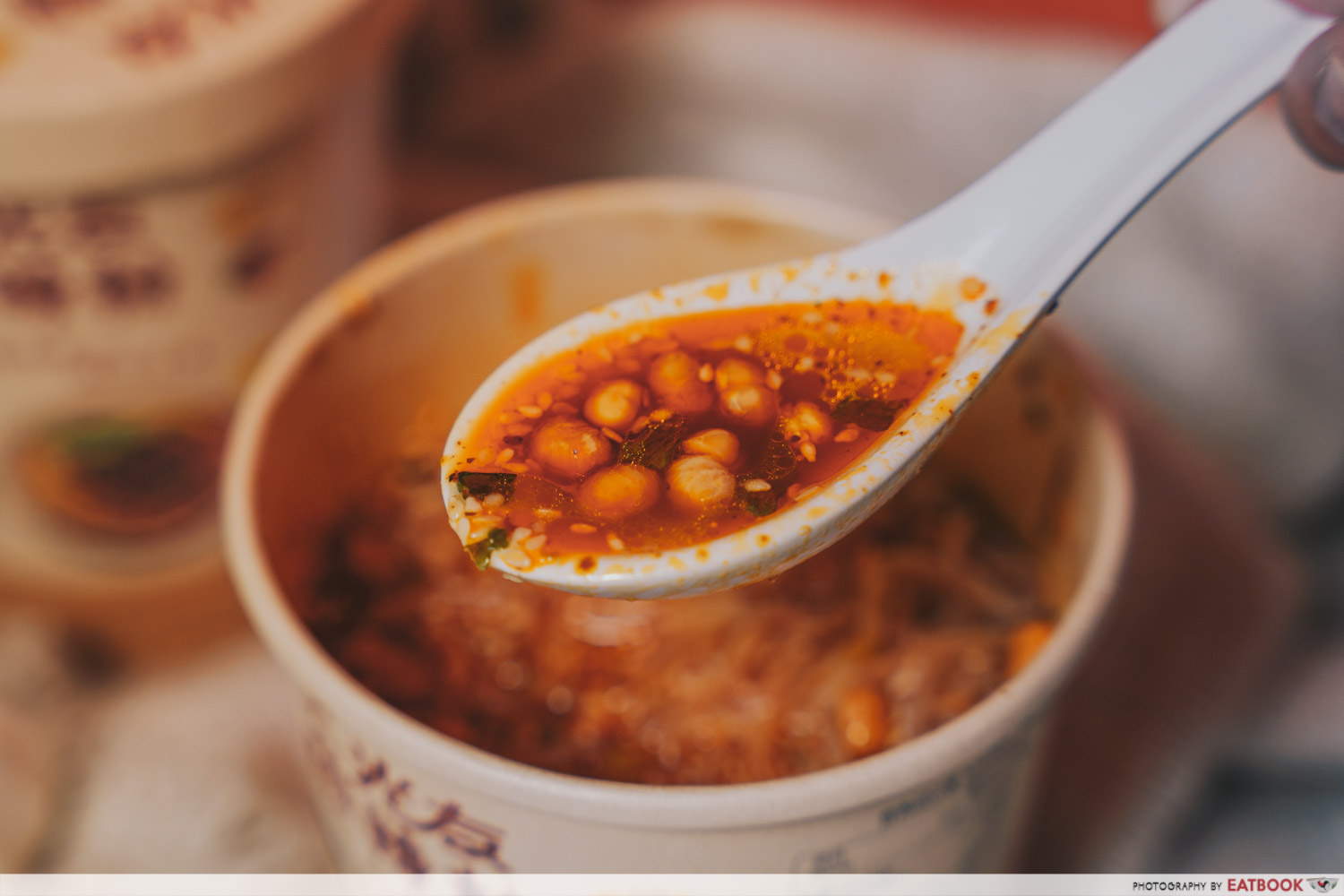 Other than the typical dehydrated vegetables, there is also a very generous serving of white sesame seeds and roasted soy nuts. The sheer amount promises each spoonful of soup to be peppered with enough toppings, contributing to an extra wealth of flavour and texture. 
Toppings: 7/10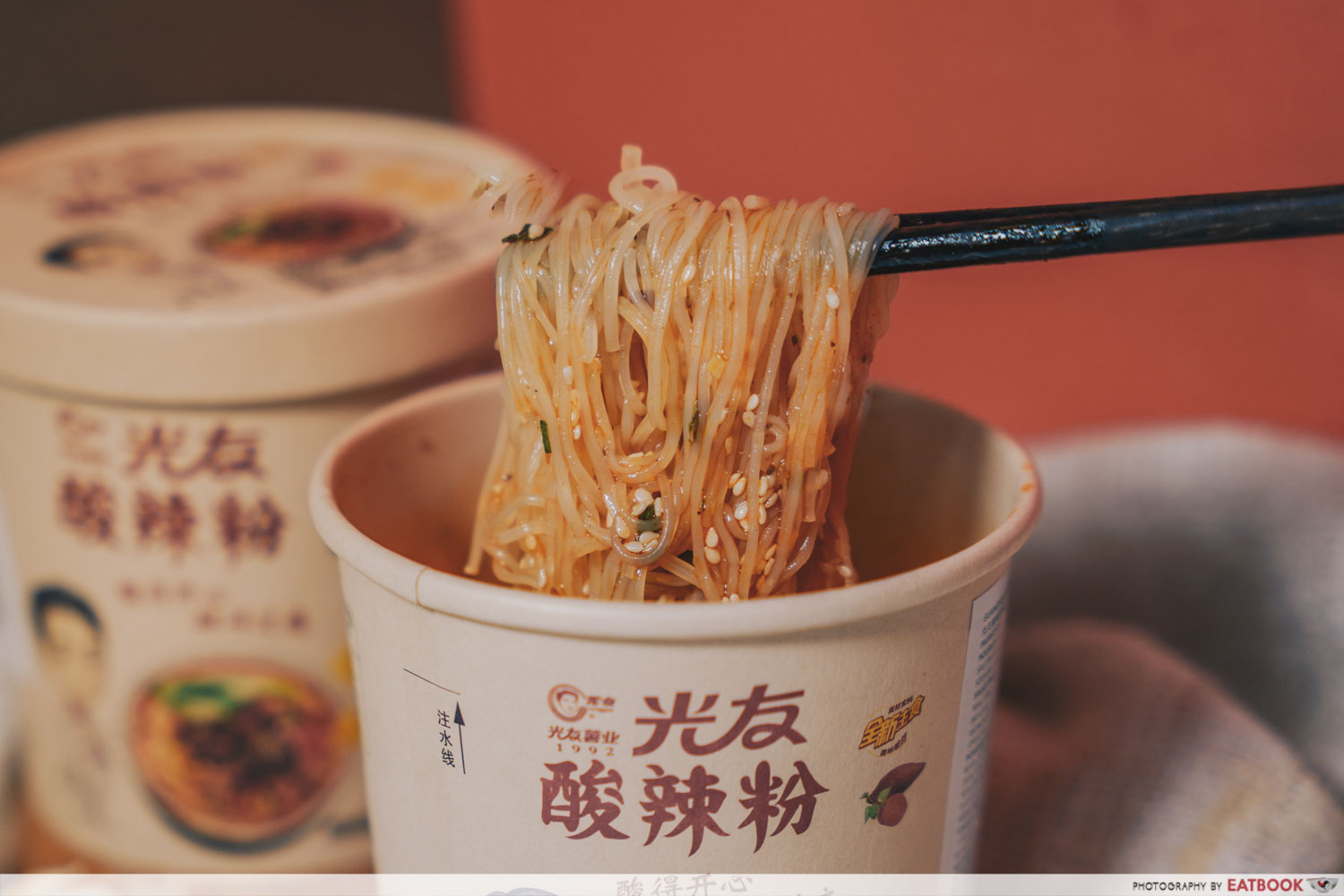 On top of the lack of acid and heat in the broth, Guang You's choice of noodles didn't draw much nods from the table as well. Expect soft bee hoon strands instead of chewy vermicelli. Though they are lacking in texture, the noodles work as great vessels for soup-soaked slurps.
Noodles: 5/10
If we were grading Guang You suan la fen as an instant noodle, they would have garnered a thumbs up from us. In short, this is a great option if you're looking for a chicken-flavoured bowl of noodles. However, when pitted against other suan la fen brands, they unfortunately fell short in terms of spice and texture.
Total: 60%
---
3. Da Boss
---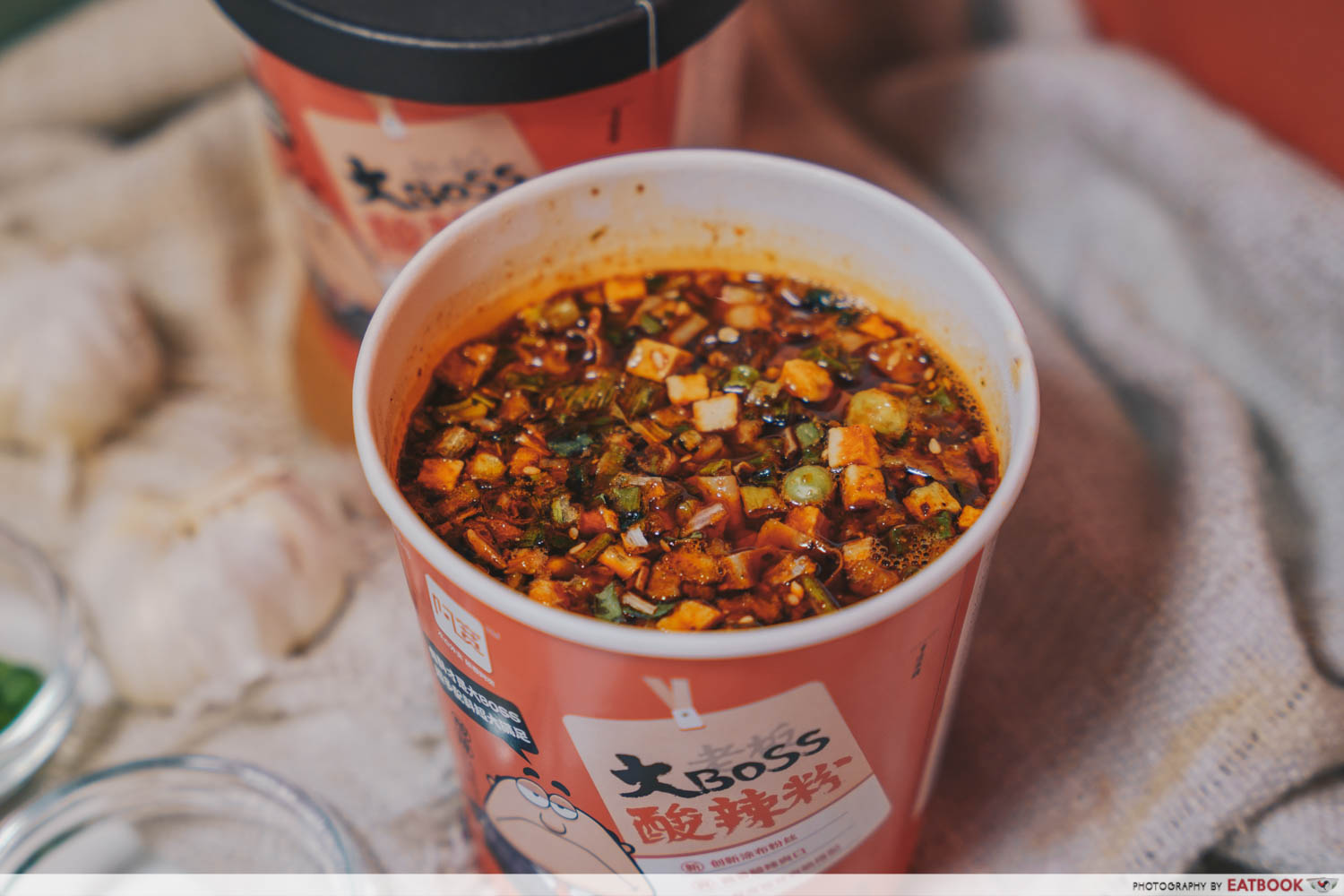 Da Boss threw us a curveball as its dangerously red broth was lacking a much-needed kick of spice. The broth is heavily speckled with tiny chilli flakes, but they provided almost no heat. This might also have thrown the flavours off-kilter, especially because there's a heavier dose of piquant vinegar in the broth. Though there was a split in opinions amongst us, I actually appreciated the appetising boost of tangy flavours in each spoonful.
Broth: 6.5/10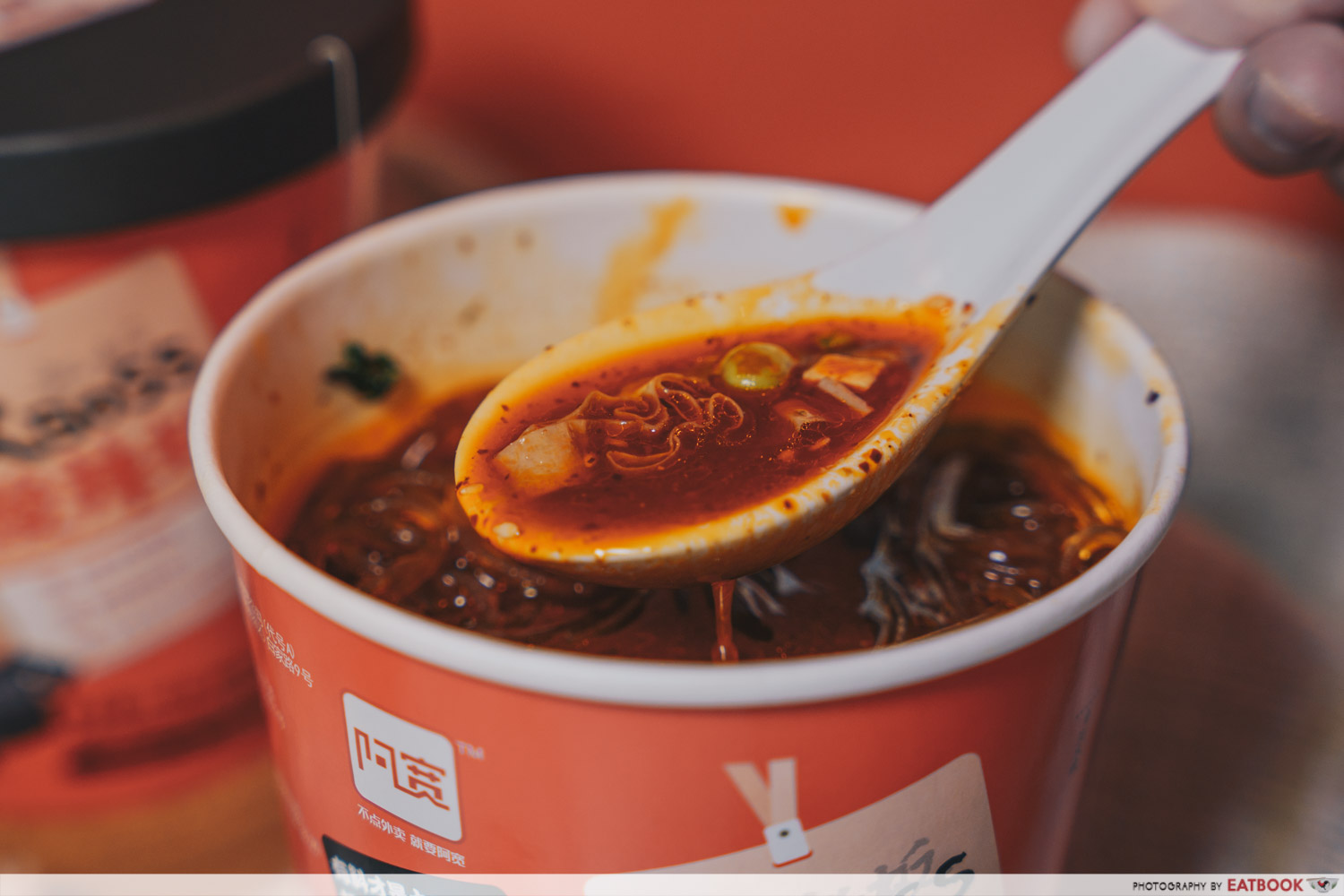 Rather than relying on the crunch of nuts for texture, Da Boss uses dehydrated green peas, small broccoli florets, tofu skin strips, and mini beancurd cubes instead. These toppings not only give variety in texture, but they also add a tinge of sweetness that otherwise won't be found in the typical dehydrated chives or spring onions.
Toppings: 7/10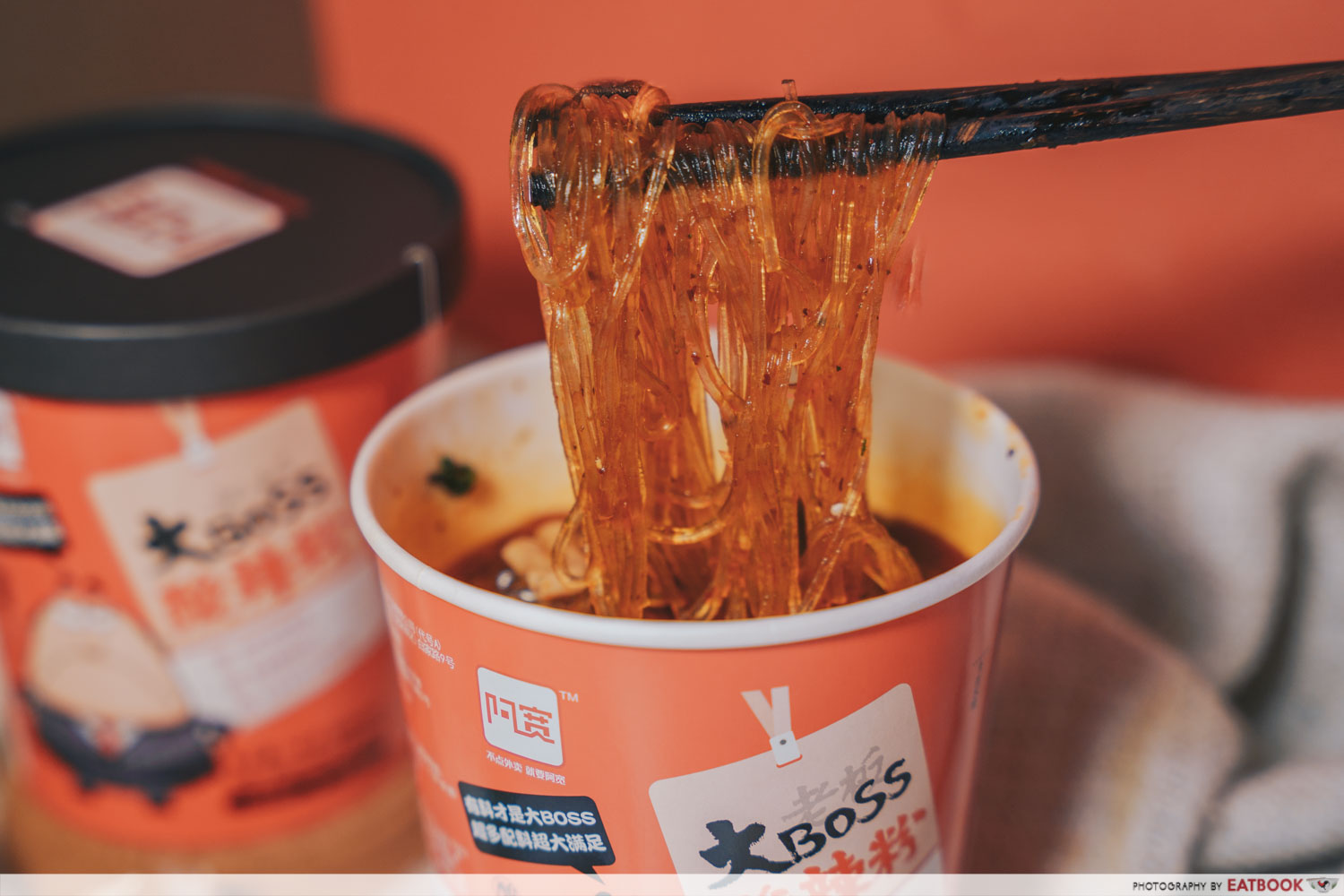 The noodles used for Da Boss provided a firmer bite than the noodles used in Guang You. Though there wasn't much chewing needed, these glass noodles were firmer and more springy, making this a more toothsome treat than the other.
Noodles: 7/10
Total: 68.3%
---
2. Chen Cun
---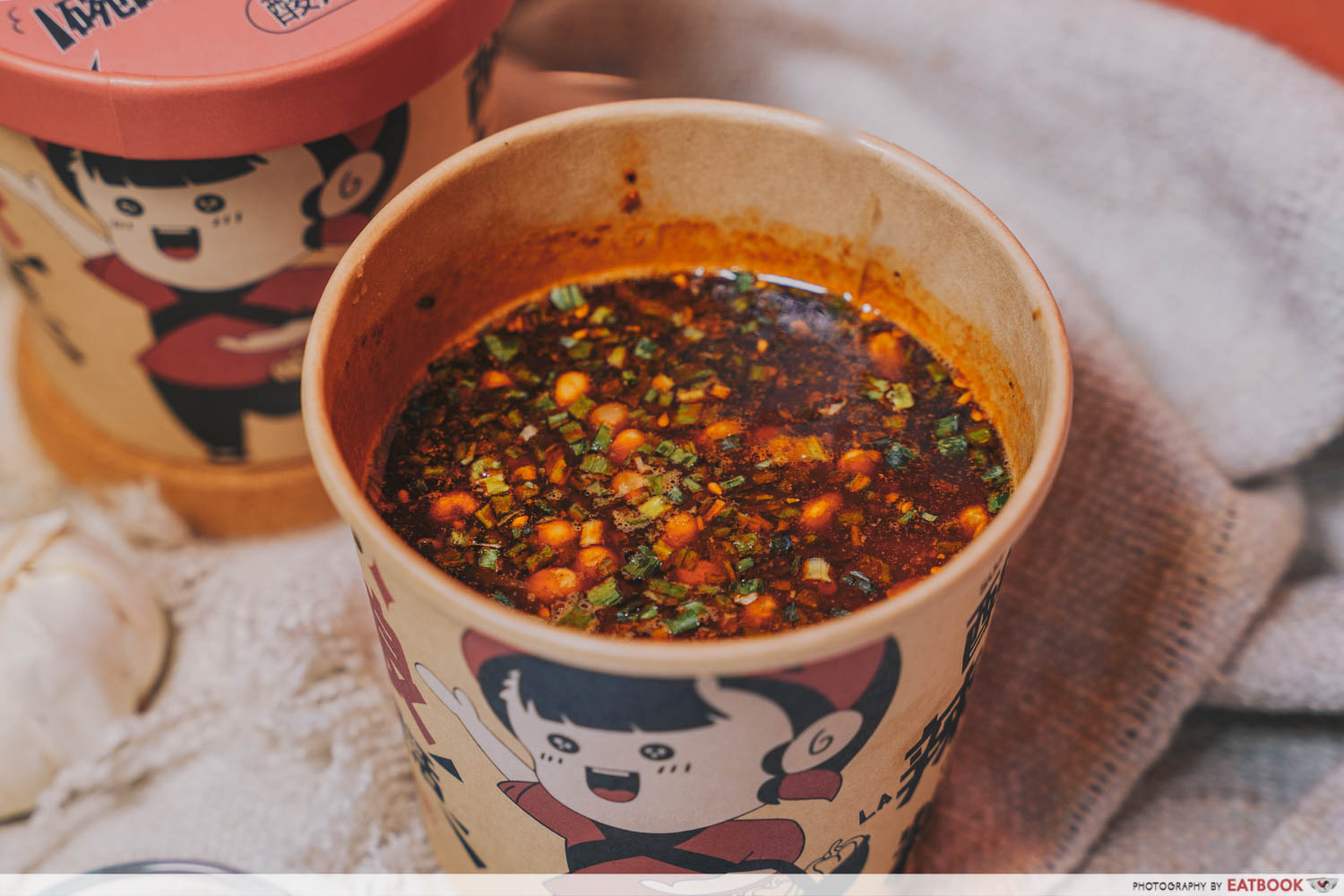 Having visited China during the cold season, I've tried enough bowls of 'authentic' suan la fen there to tell you Chen Cun's suan la fen pretty much hits the spot. Imagine an aromatically spicy broth, tempered with the right amount of tang from vinegar. Be warned: this is a blissful affair only for those who walk on the spicier side of life. Though as equally tainted in red from chilli oil as the other suan la fen, Chen Cun is the spiciest one on the list. 
Broth: 8/10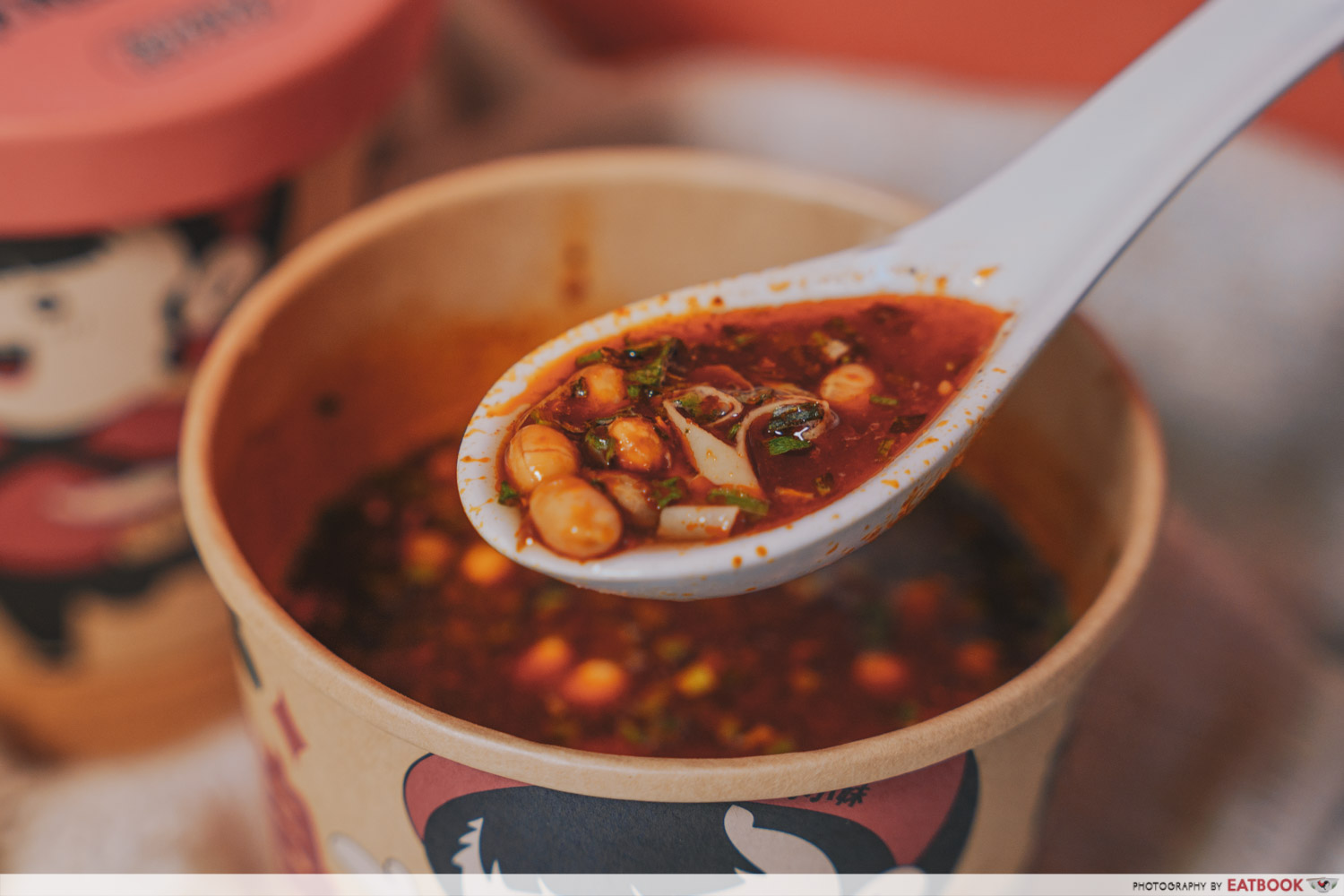 Just like Guang You, Chen Cun uses soy nuts and sesame seeds that boast a fragrant and roasty flavour at every spoonful. The tub is also generously garnished with chives which give a pop of colour and earthy flavour. You will also find some chewy tofu skin strips in the mix, adding another texture profile to the suan la fen. 
Toppings: 8/10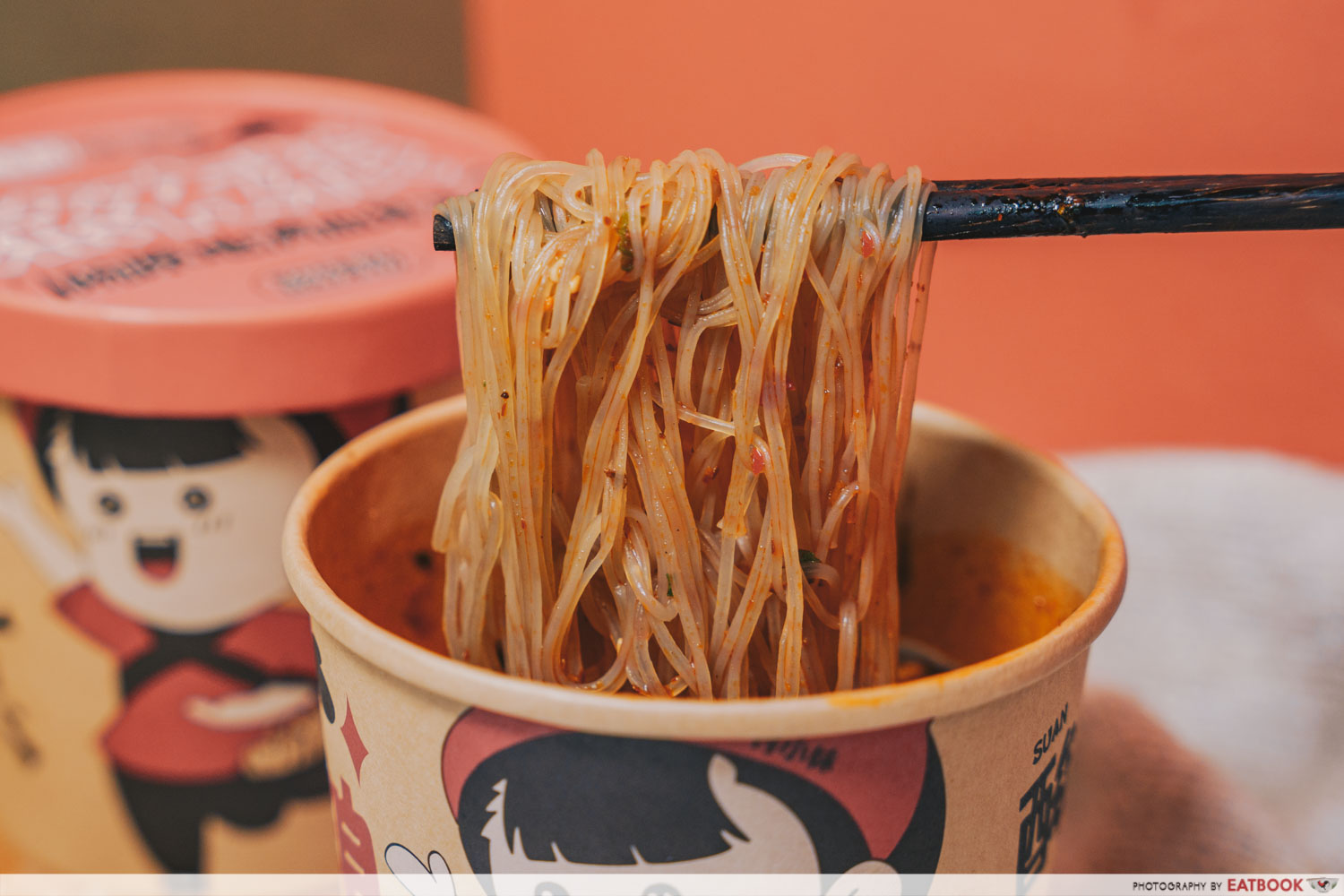 The only thing I didn't enjoy about this suan la fen is the noodles. Again, just like Guang You, the noodles used in Chen Cun break immediately when you bite into it. If you're a fan of delicate bee hoon, this would be the ideal suan la fen to try. Otherwise, I suggest reading on to find out what's my #1 recommendation!
Noodles: 6/10
Total: 73.3%
---
1. Hai Chi Jia
---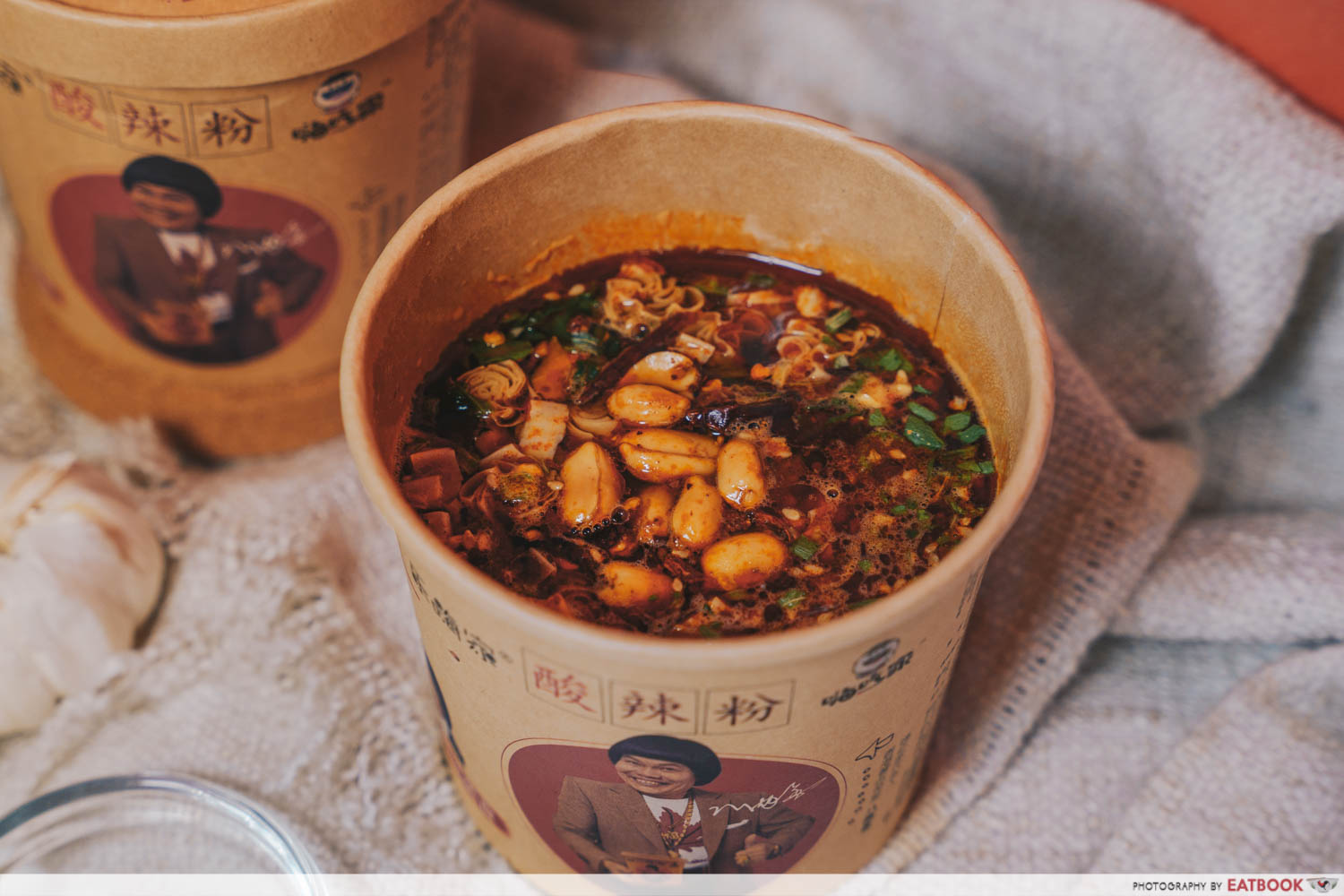 I was pleasantly surprised that Hai Chi Jia's suan la fen ended up to be the best of the bunch. They have indeed lived up to the hype. 
The Sichuan spice and tangy vinegar can both prove to be overbearing characters in many dishes. However when put together with a good balance of spiciness and sourness, the duo becomes unbeatable. Hai Chi Jia has successfully created harmony between the two in their toothsome and full-bodied broth. Though not as spicy as Chen Cun's, the broth was the only one which gave a tongue-tingling numbness, something I quite enjoy from spicy dishes.
Broth: 9/10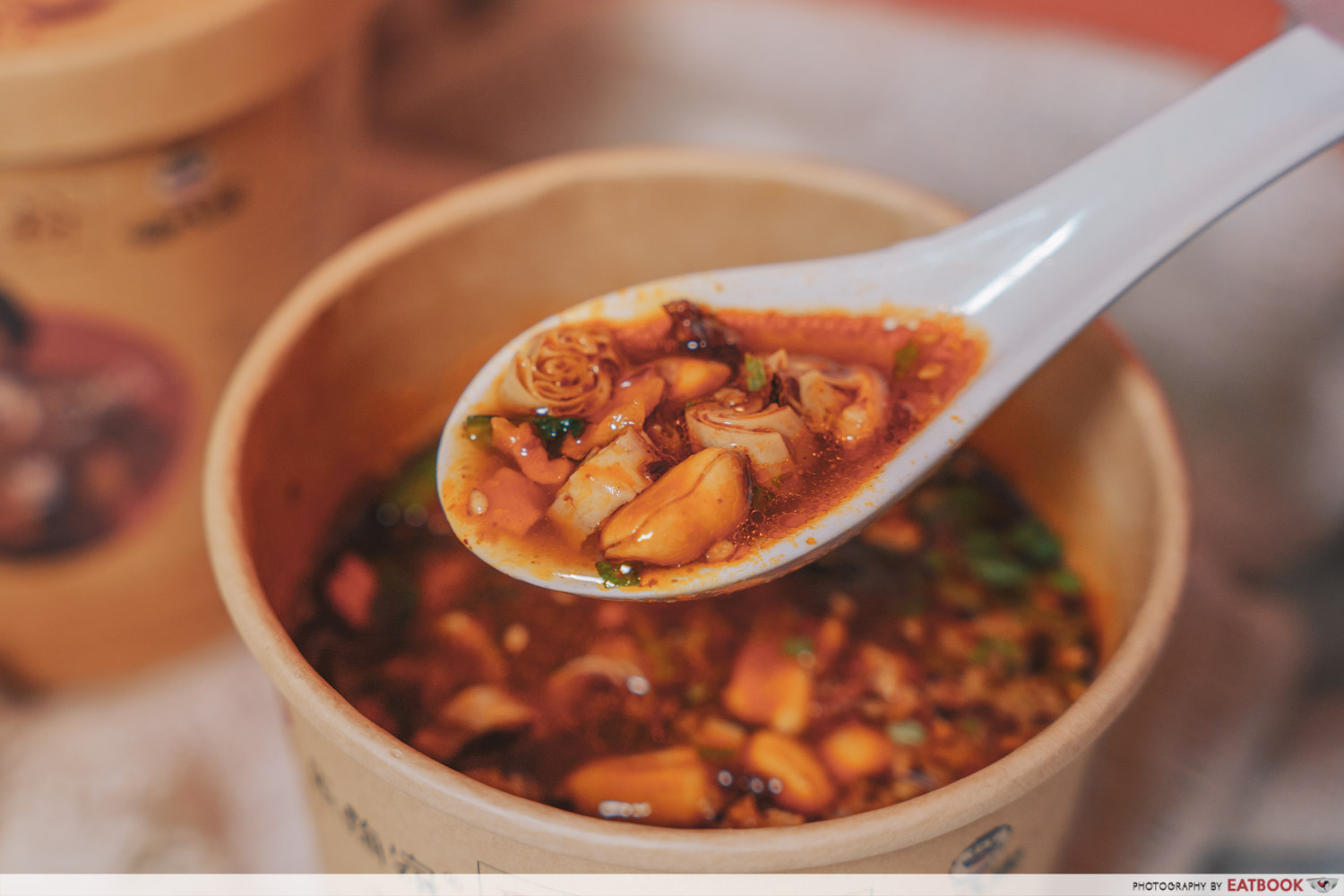 For instant cup noodles, something which sets one apart from the rest would be the variety of texture it provides. Just like cooking a one-pot dinner or whipping a dish up with a rice cooker, dishes fall flat when everything comes out in a mush. 
Hai Chi Jia offers an assortment of toppings such as peanuts, cubes of carrots, balls of tofu skin, sesame seeds, and chunks of dried chilli. Other than crunch from the peanuts, there are textures from the tender carrots and chewy tofu skin. Each topping also plays their own role in adding extra flavour to the suan la fen. 
Toppings: 8/10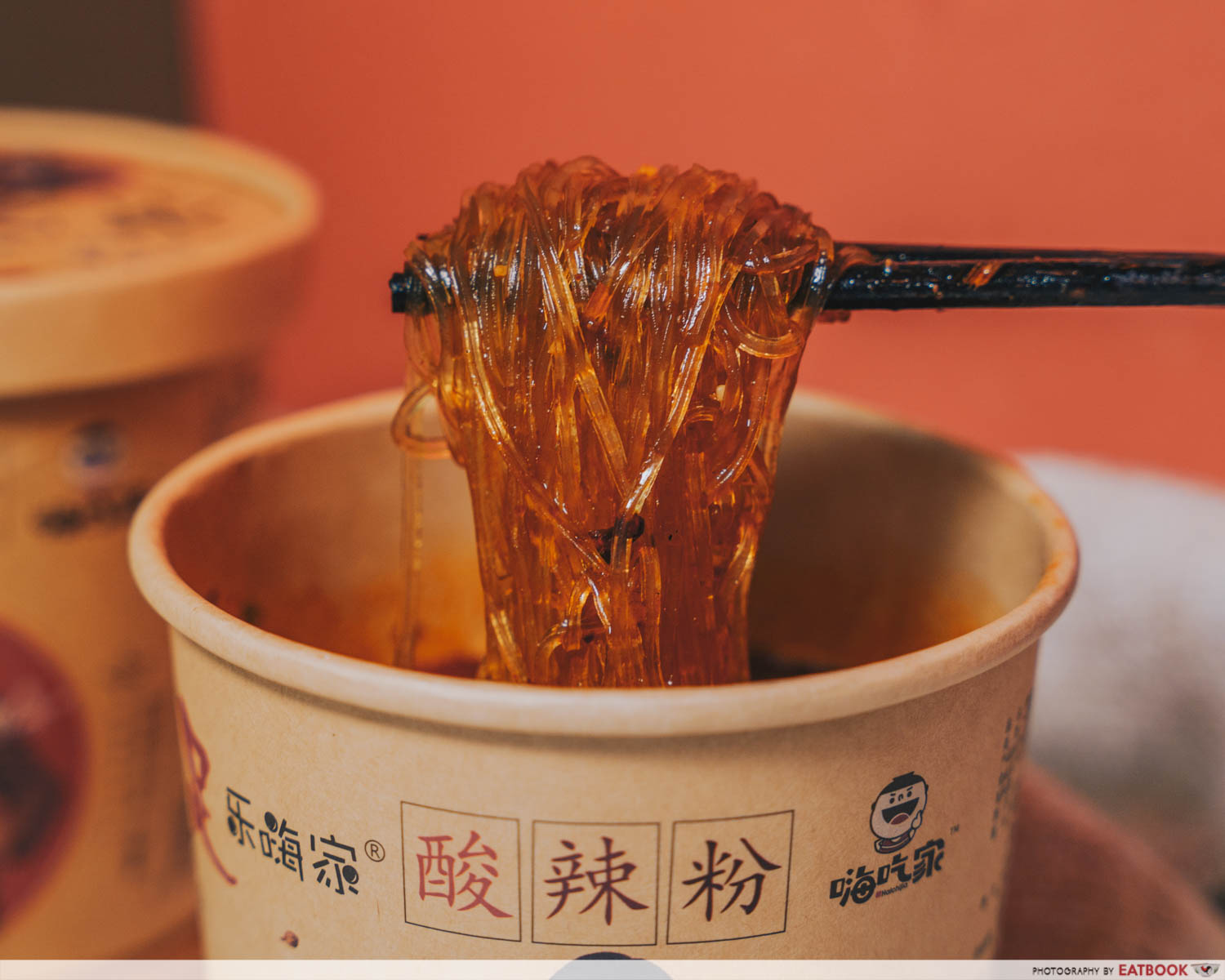 Hai Chi Jia uses a thicker cut of sweet potato noodles, the kind you find in many mala xiang guo stalls. They are super QQ, and absorbed the bold flavours of the broth. The more you chew on these noodles, the more pronounced the flavours will get. 
Noodles: 9/10
Total: 86.7%
---
Bonus: Hei Ren Bu Luo
---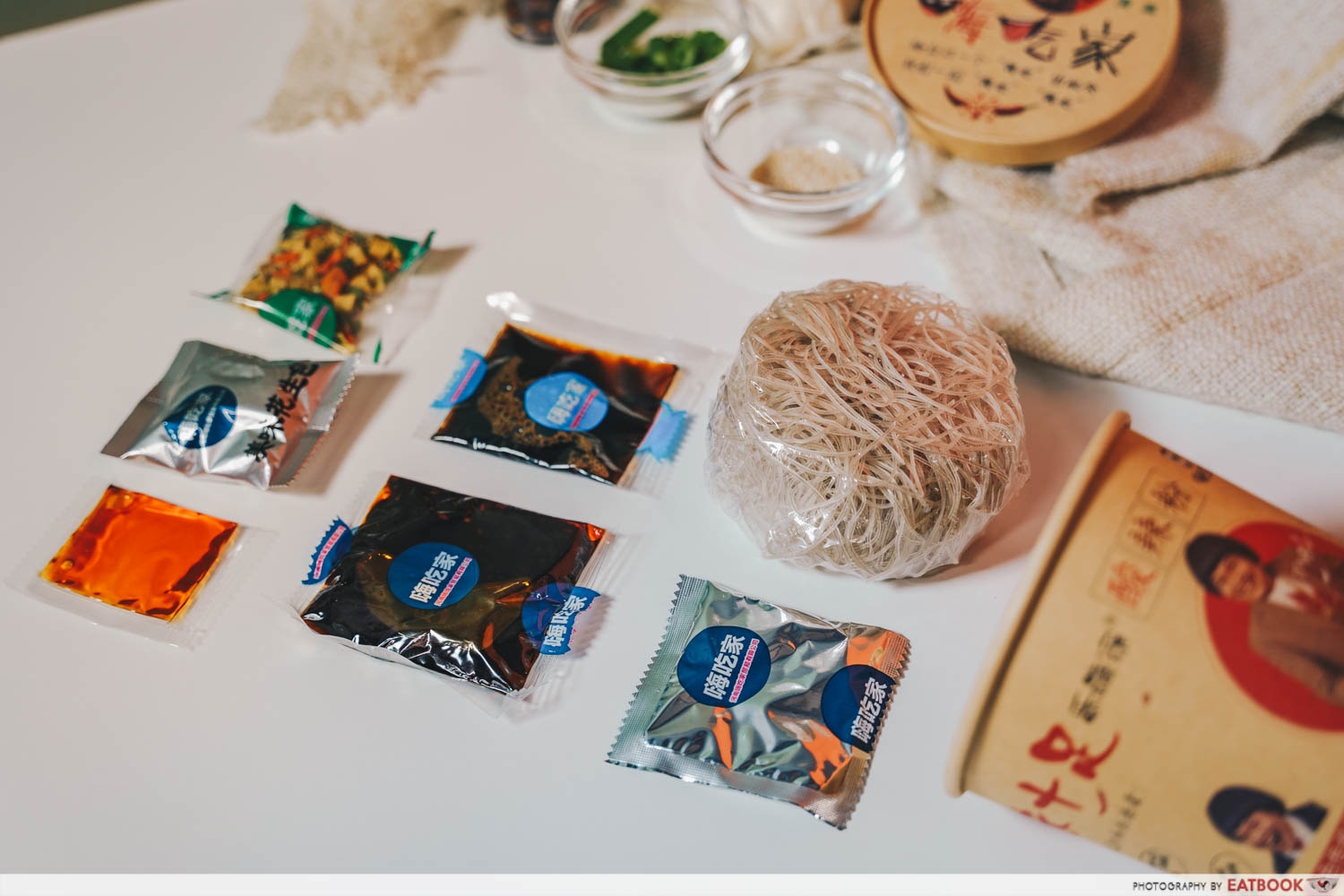 Other than suan la fen, there is also "the oden one" which many people have raved about as well. This instant mala cup noodle tastes more like a spicy beef noodle soup with special toppings such as kelp, fish balls, fish cakes, and a teardrop-shaped fish ball with orange roe in it.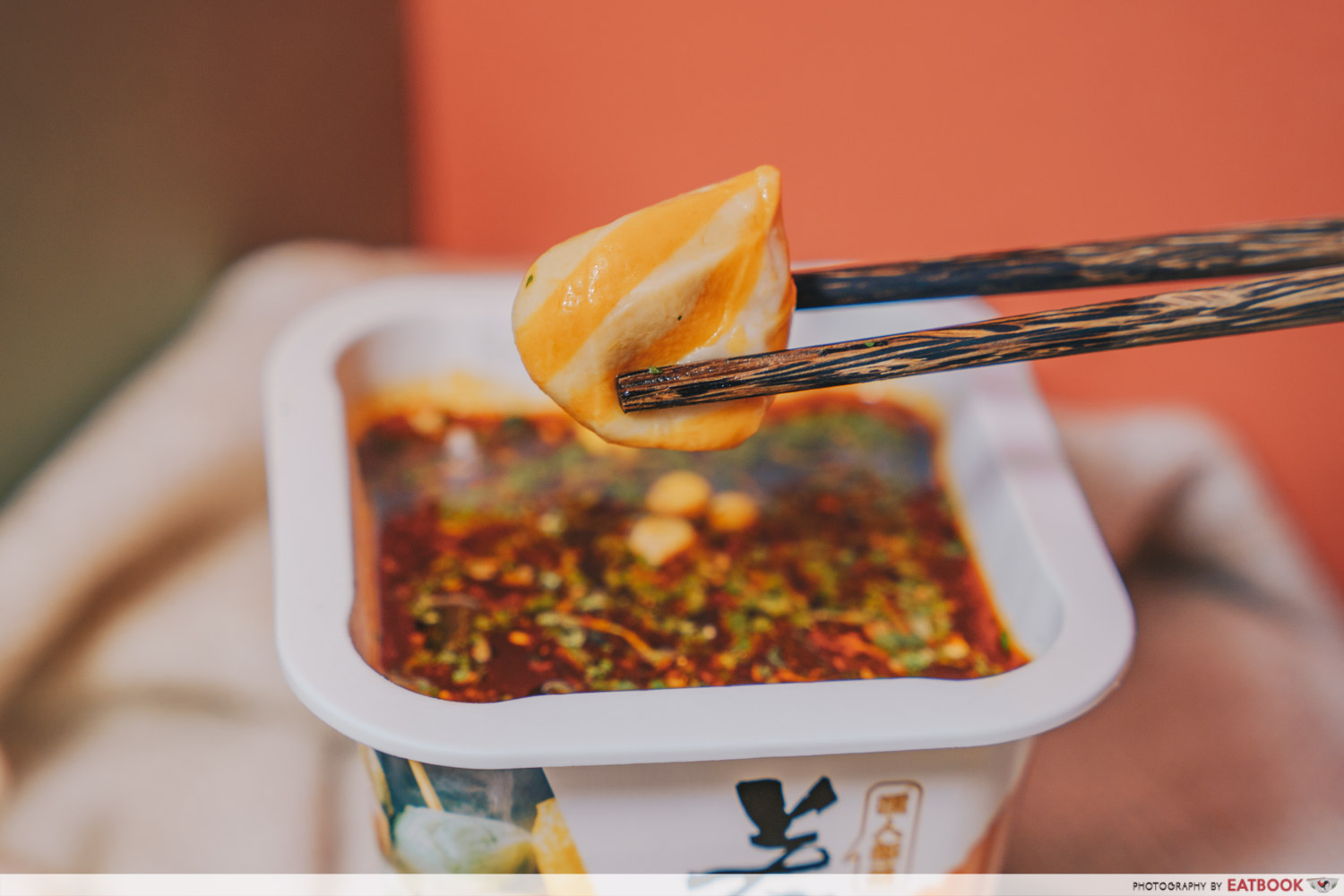 Having oden ingredients in a cup noodle is something very novel to my colleagues and I. However, they didn't manage to impress any of us tasters to reach for a second bite. The fish balls and cakes were too briny and sweet. They were also too firm to bite, and had zero bounce.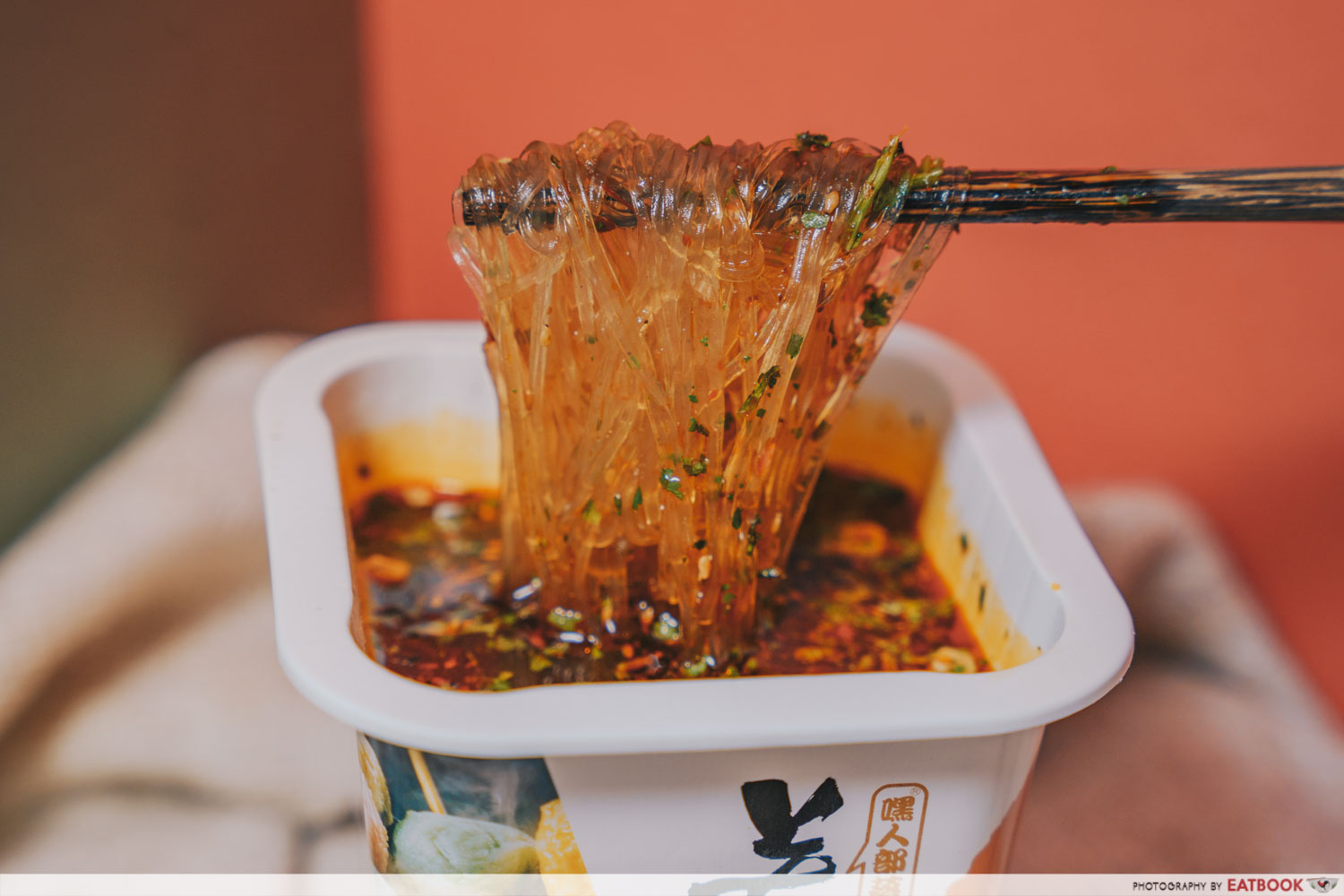 What was lost in the taste and texture department of the oden ingredients were made up for with the broth and noodles. The noodles were chewy, and the broth was sufficiently spicy and laden with umami. Tons of corn kernels and finely minced coriander also peppered each mouthful with sweetness and brought the dish up another level on the savoury scale.
---
Here's to the reign of suan la fen
---
Instant noodles have found their way into many of our lives. They are super easy to prepare and some even taste as good as a bowl of noodles that was cooked up in the kitchen. Suan la fen is one such example. Depending on what kind of noodles you prefer, and what intensity of suan (sour) and la (spicy) you're looking for, each of these suan la fen is worth a try.
If you are looking for ways to zhng up your meals in a jiffy, check out this list of instant noodles recipes which includes cheesy ramen, Indomie pizza and more.
Photos taken by Koh Hui Qing.
This post is brought to you by Asia's Best.