tcc – The Connoisseur Concerto freshens up their menu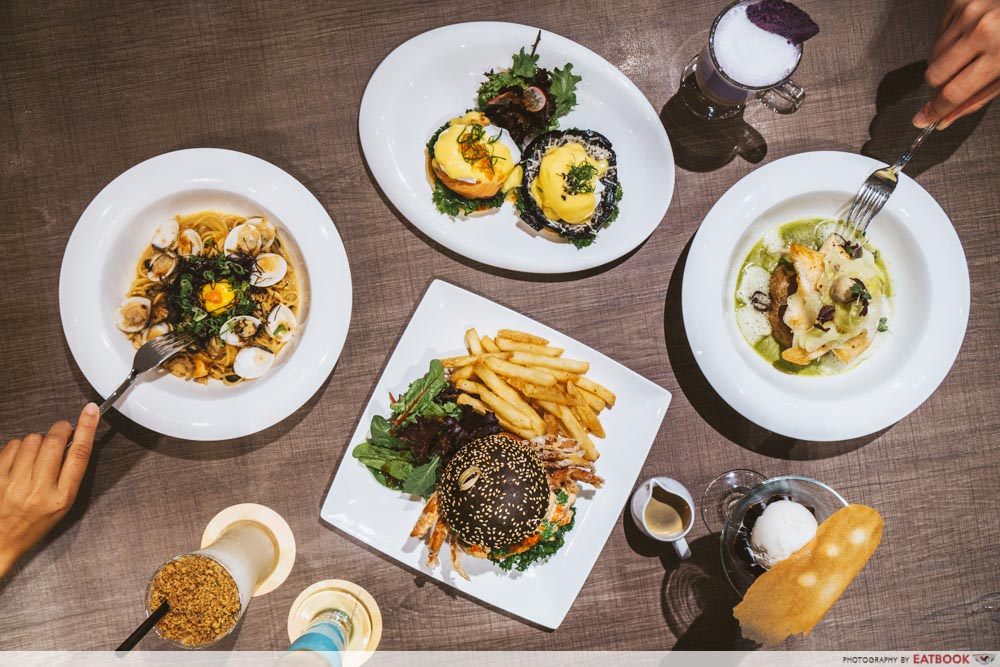 Spending an afternoon chilling in a cafè over pretty cups of coffee has become a beloved millennial pastime. But what makes a great lazy weekend hangout spot? Yummy food, aesthetic drinks and a cosy atmosphere come to mind. That's exactly what home-grown cafè tcc – The Connoisseur Concerto promises.
The local cafè stalwart is kicking off 2019 by rolling out a new menu that innovatively zhngs up standard cafè fare. Along for the ride is a Healthier Choice-certified line of dishes, which aims to keep the pounds off without sacrificing flavour. We headed down to find out whether this new lineup would help strengthen tcc's status as a prime relaxing weekend haunt.
Food at tcc – The Connoisseur Concerto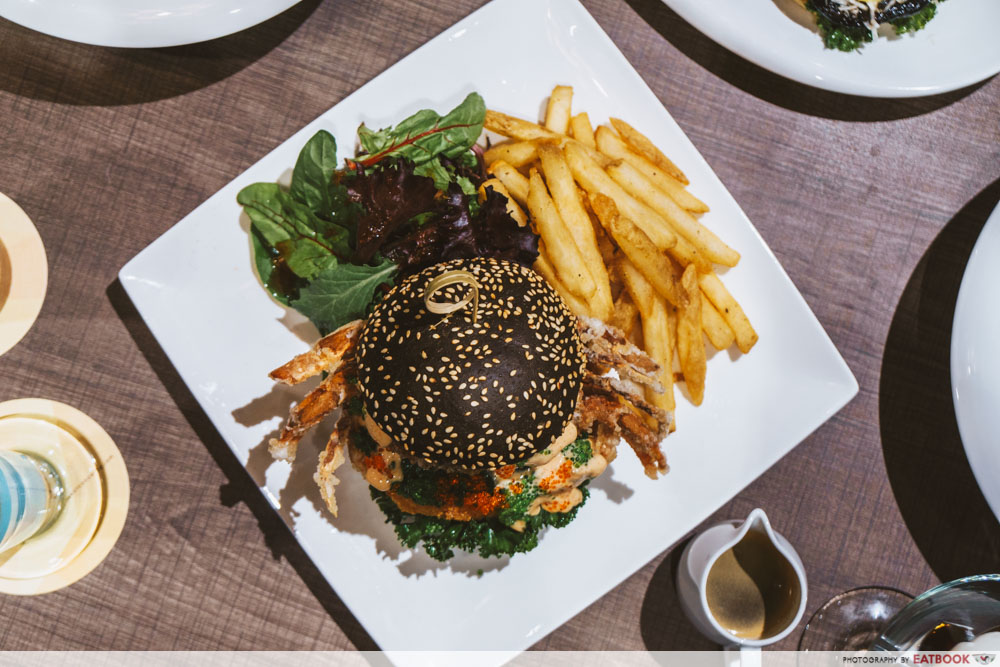 "Seafood fiesta" is an uncannily accurate way to describe the Seafood Fiesta Charcoal Burger ($25++), which is accompanied by wafu-dressed mesclun salad and truffle fries. With a prawn and squid patty, hulking soft shell crab, wasabi-mentai mayo and two types of tobiko, it was almost as if they tried to stuff the whole cast of SpongeBob SquarePants into a burger. As a seafood lover, I was salivating.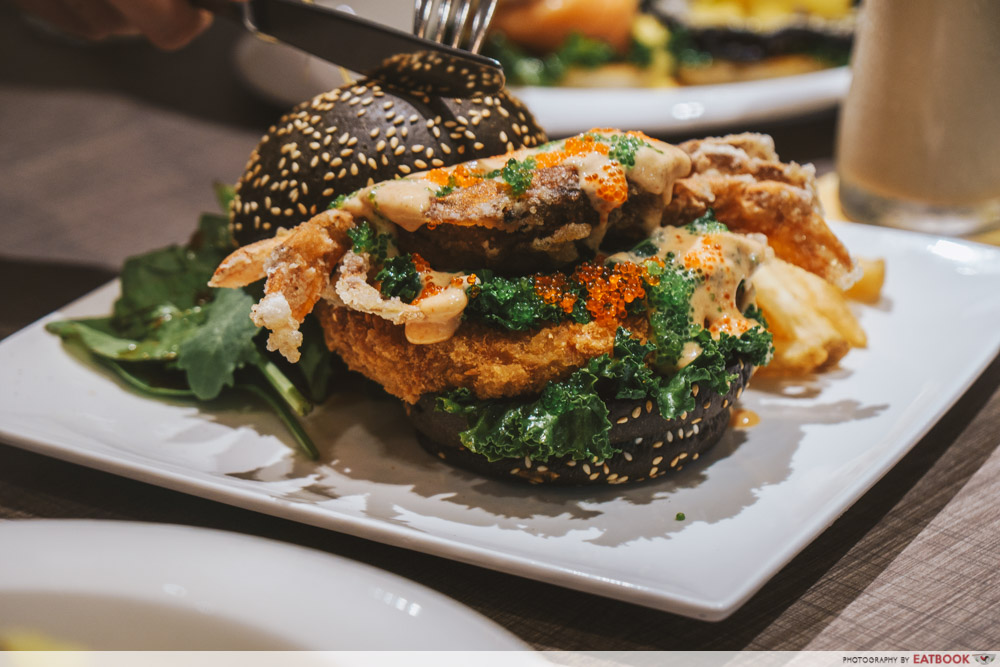 With twin deep-fried elements from the patty and crab, it would have been easy to create a jelak burger. Hence, we were pleasantly surprised not to be hit by a wave of unpleasant oiliness at any point, suggesting that any excess oil had been eliminated.
Any latent oil was counteracted in part by the freshness of their produce. Our crab was luxuriously creamy in the centre with crisp, stubby legs, and was devoid of any stinky metallic odour that signals seafood that's past its prime.
The patty reminded us of a more refined version of MOS Burger's popular Kakiage Burger. I mean that in the best way possible. It was bursting with seafood flavour from the medley of shrimp and squid, which had been minced to a smooth paste. That creaminess was juxtaposed by a crispy, panko-coated outer layer.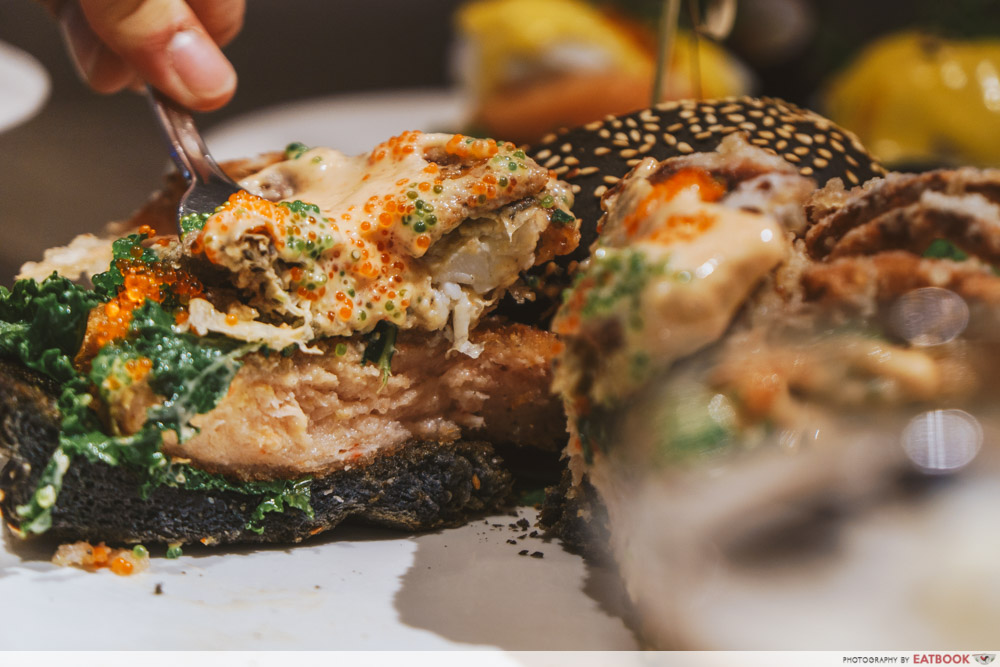 An emerald bed of kale was this burger's unsung hero. The leafy vegetable's mild, bitter edge and subtle crunch added contrasting flavour and texture, flying under the radar to give a welcome new dimension to this heavy dish.
Another detail that complemented our seafood protagonists was the injections of sharp heat from wasabi-mentai mayo and wasabi tobiko. Both imparted a mild hit of wasabi's characteristic nose-clearing heat, while the mayo's creaminess also balanced out the other crunchy components.
With creaminess, heat, crunch, concentrated seafood flavour and pops of brininess from tobiko, we were impressed with the burger's multi-faceted flavours.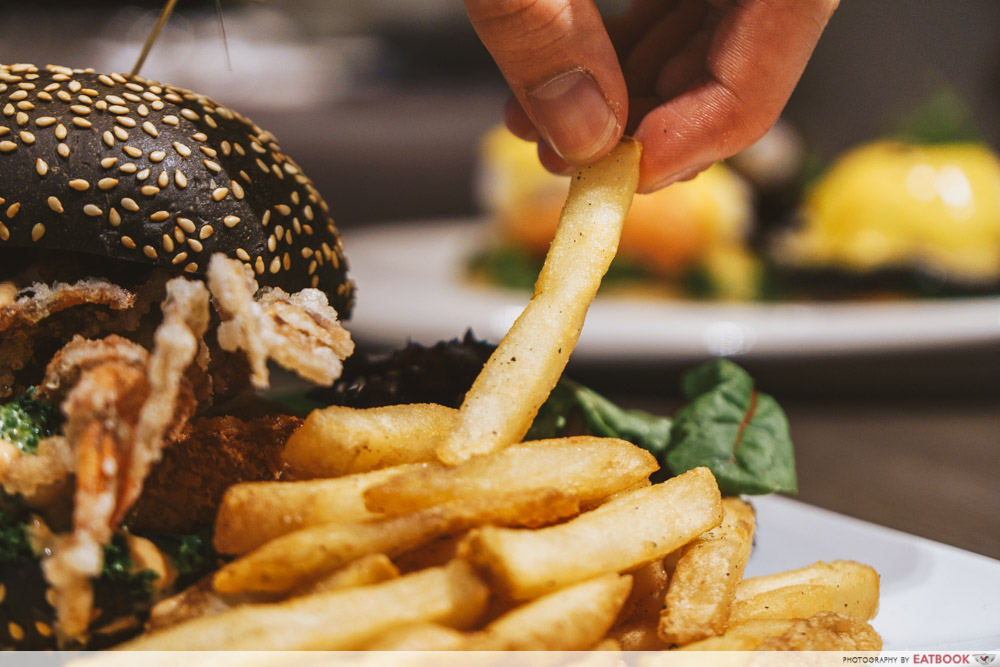 Truffle fries are ubiquitous cafè food these days, but this rendition was a cut above the rest. Crispy on the outside and fluffy within, our potato sticks had a strong, but unobnoxious infusion of legit truffle flavour.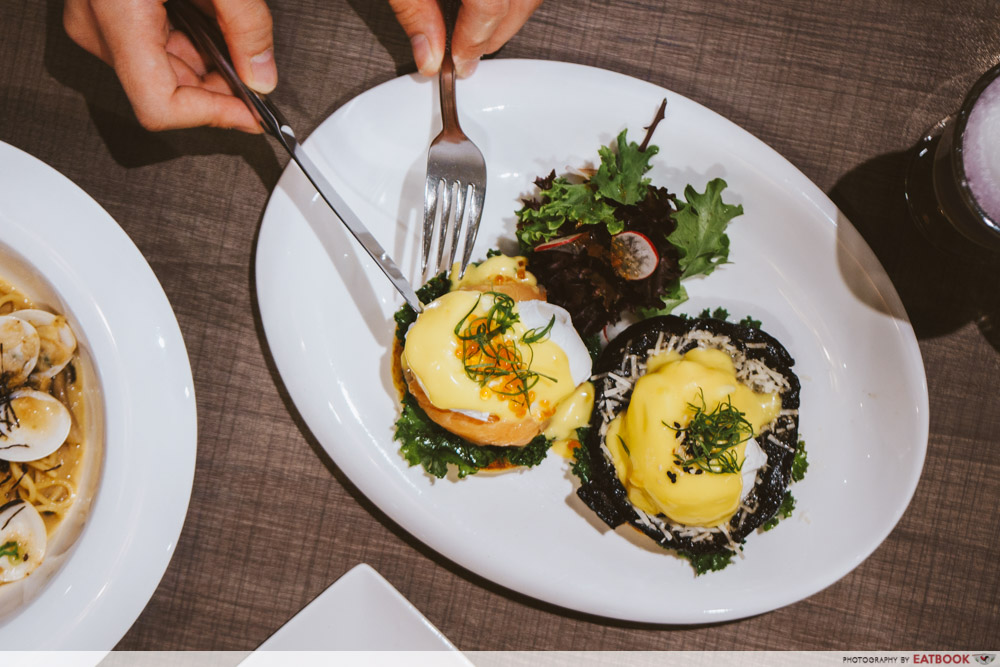 Throw a stone in Tanjong Pagar and you'll likely hit a cafè serving eggs Benedict. tcc – The Connoisseur Concerto spruces up this cafè staple with their Eggs Benedict, Two Ways ($19.50++), instilling it with a fresh twist in the form of Japanese influence from yuzu and ikura.
That "two ways" aspect comes from grilled portobello mushroom and a generous layer of smoked salmon, each of which cradle a poached egg. A tutu of kale then juts out under each egg, returning to lend crunch and a bitter edge.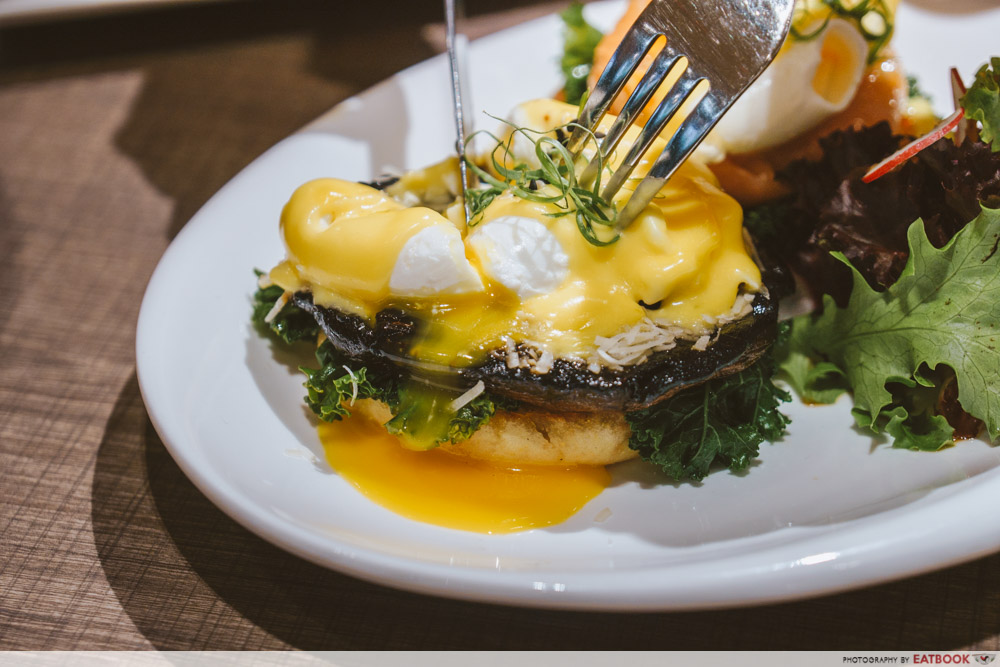 The muffins are drenched by rich Hollandaise, which is given a jolt of citrusy sweetness by the addition of yuzu. The Japanese fruit is a welcome inclusion, cutting through creaminess from the Hollandaise and egg yolk.
Both eggs were poached wonderfully, with orange-hued yolks that flowed out like lava, and whites that were soft rather than rubbery. Surprisingly, for a carnivore such as myself, I gravitated toward the mushroom variant.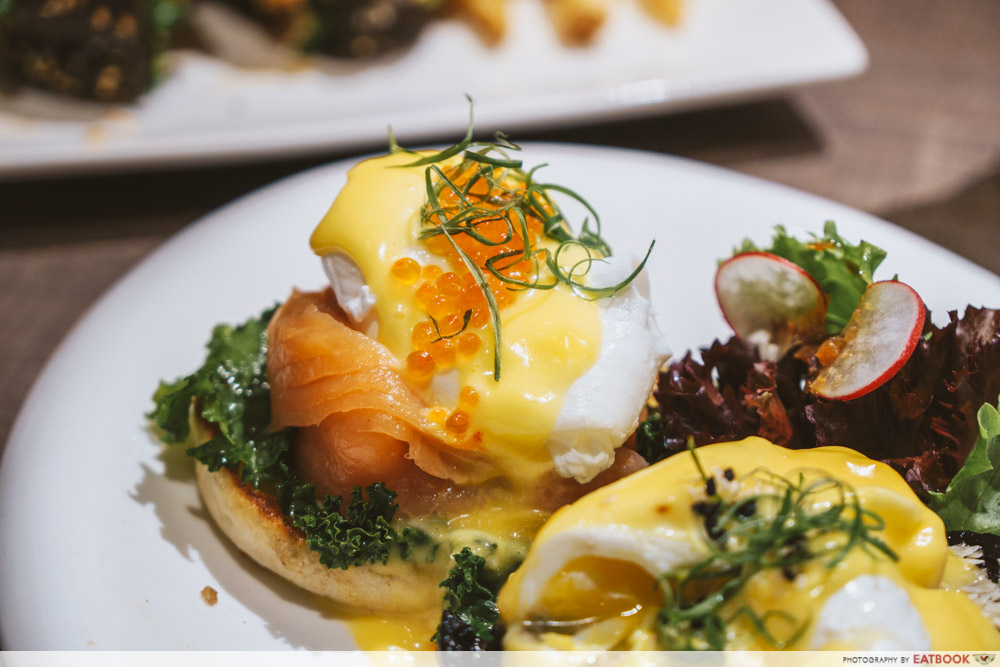 The smoked salmon muffin was decent – you can't go wrong with salty fish and creamy egg – but its ikura topping was overshadowed. We had hoped for exciting pops of briny flavour, but the roe faded into the background.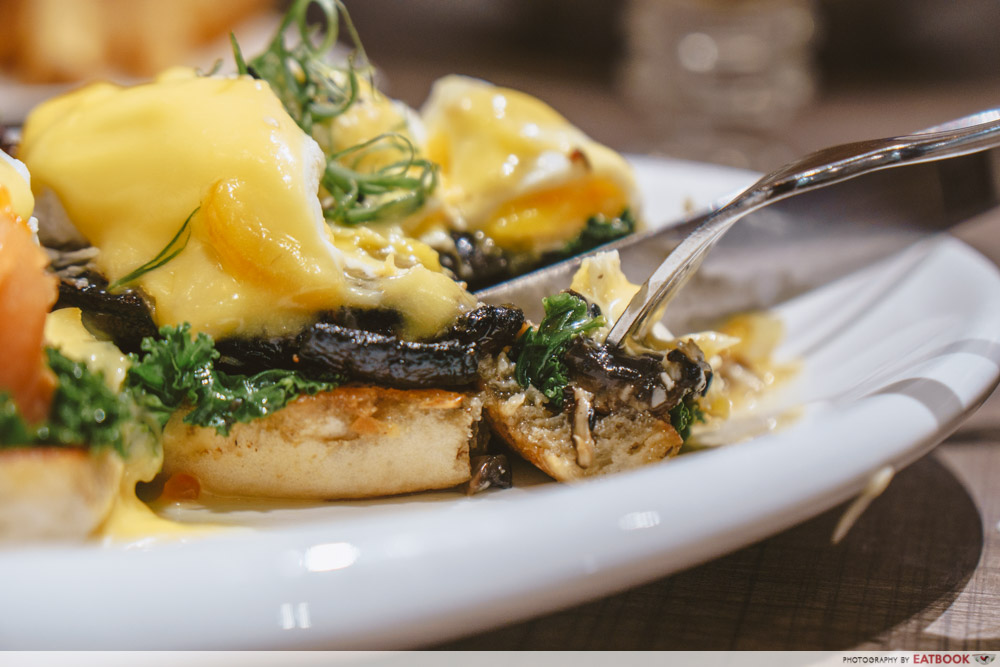 On the other hand, its portobello cousin had savoury umami flavour from a shower of melted Parmesan cheese, pairing superbly with the smoky and earthy grilled fungus. That earthiness was reinforced by a sprinkle of toasty sesame seeds that crowned our poached egg.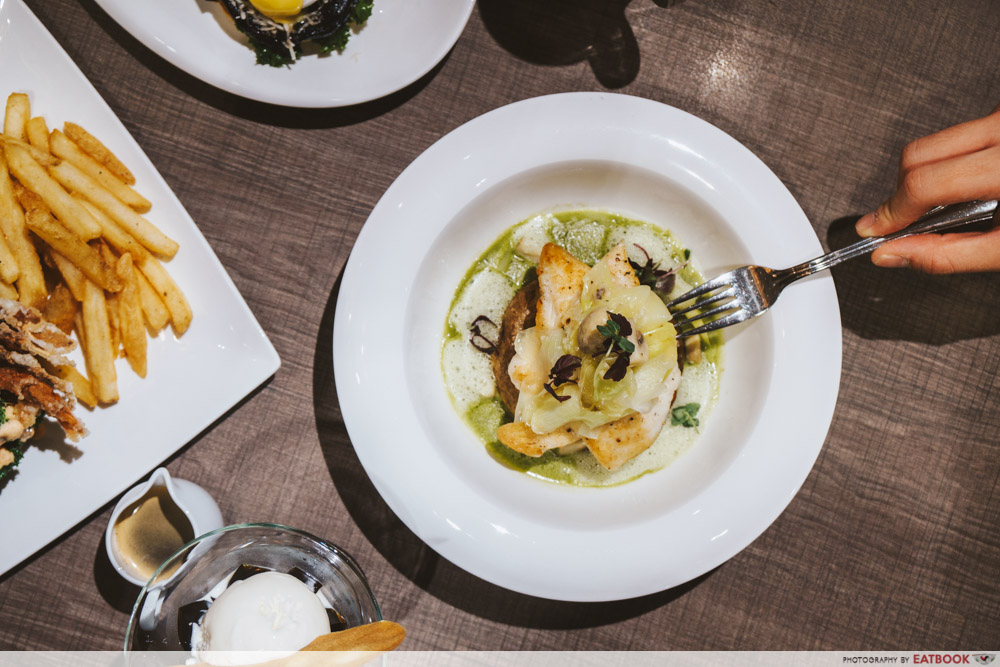 Grilled Snapper With Matcha-Lemongrass Veloute ($23++) is one of the most eye-catching dish on their new menu, combining bitter Japanese matcha with the spunky and pungent South-East Asian flair of lemongrass. Considering that matcha is usually seen as a dessert ingredient, we were intrigued to see what role it played here.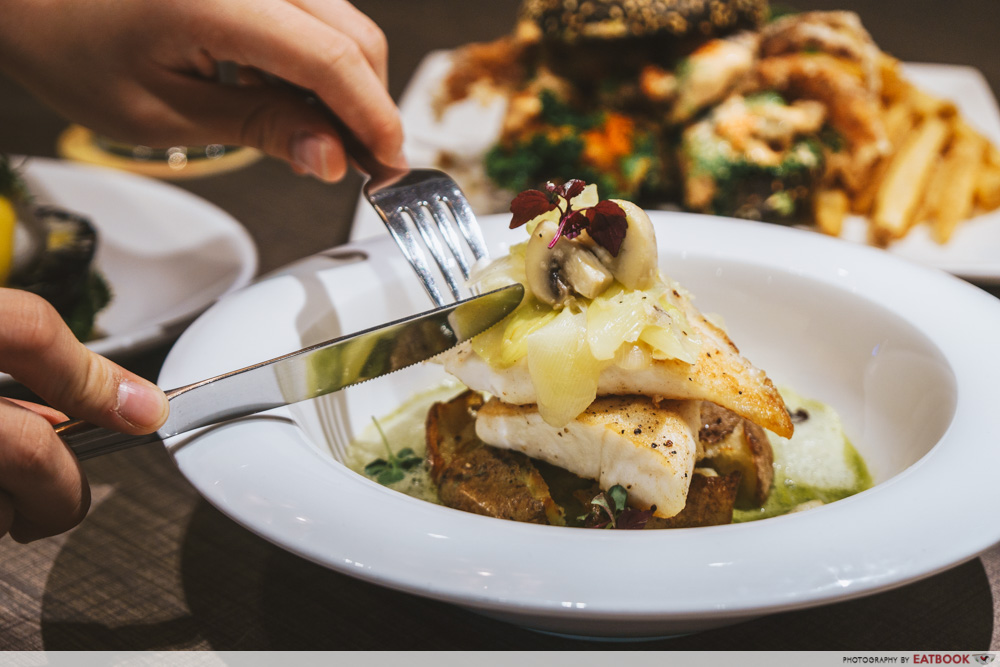 This dish was perhaps the most visually stunning of all, its components forming an intricate hill, encircled by a moat of jade-green veloute. The attention-to-detail in plating was superb, bringing a fine dining-esque feel to our comfy cafè surroundings, as bubbles of foam lay tranquil atop our sauce.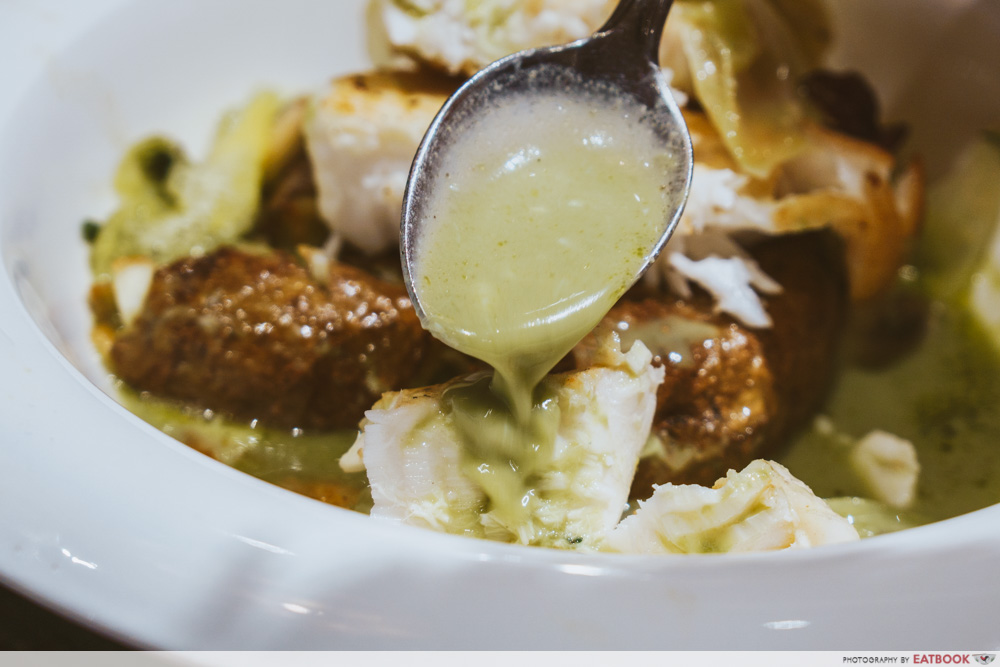 Despite the sauce's bright green hue, it was dominated by lemongrass flavour, giving our dish an unexpectedly tropical flavour profile. While we enjoyed its fragrant, spiced taste, we wished for stronger matcha influence.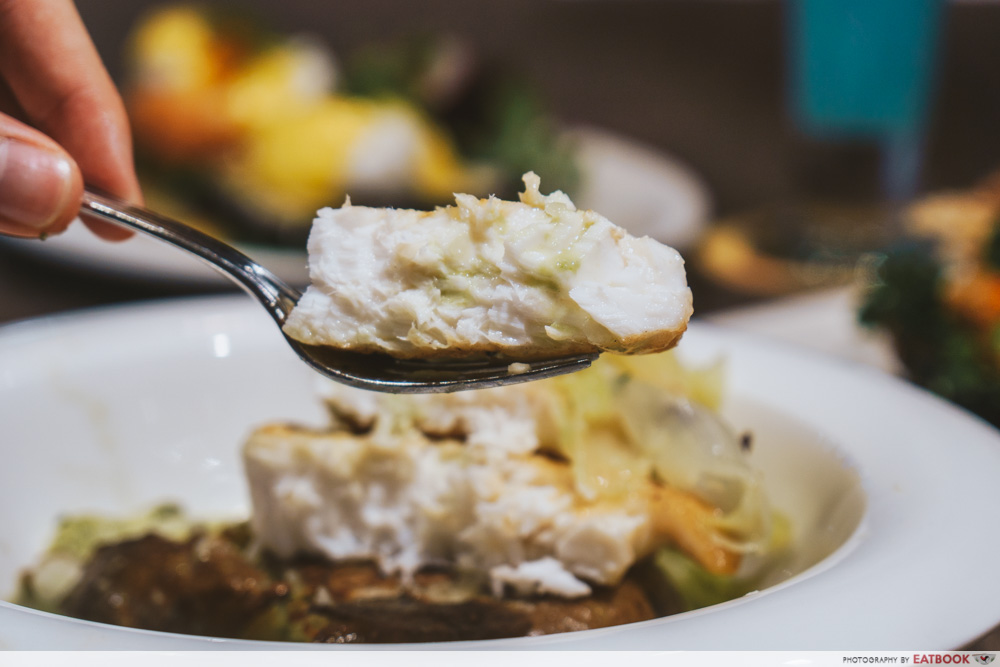 The pristine white fillets of snapper were soft and flaky, absorbing our aromatic sauce well. What really impressed us was that the fish was enjoyable by itself, fresh and seasoned simply.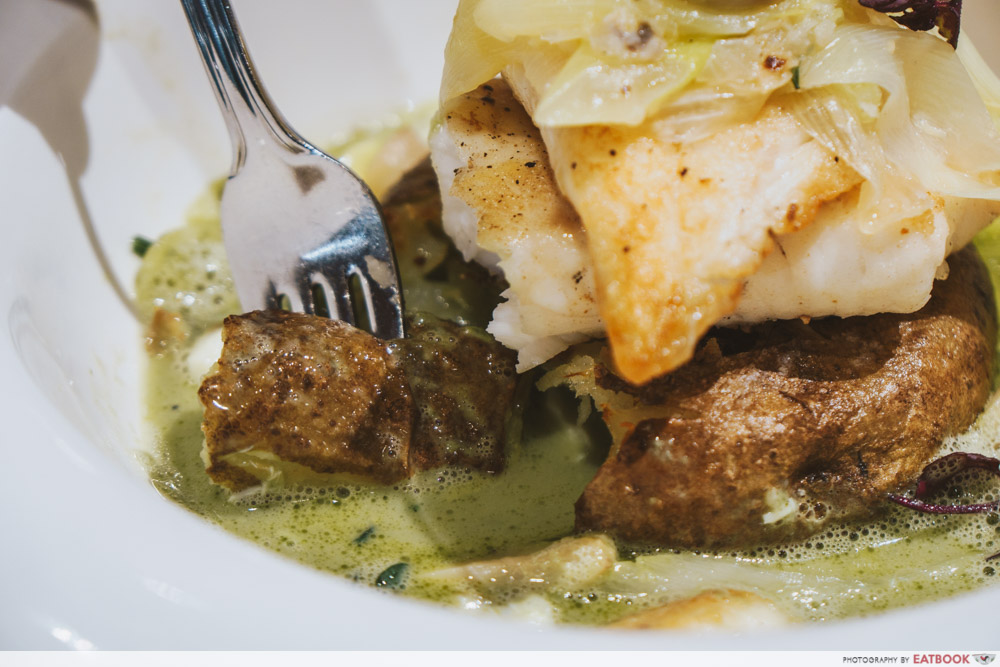 A thick, compressed disc of potato formed the foundation of this pretty plate. The tuber was tender and moist; its mildly creamy flesh acting as a great vehicle for the aromatic sauce.
Our plate was completed by a twirl of leeks. Sauteed with butter and garlic, their richness and astringency providing a nice change of pace from the other components.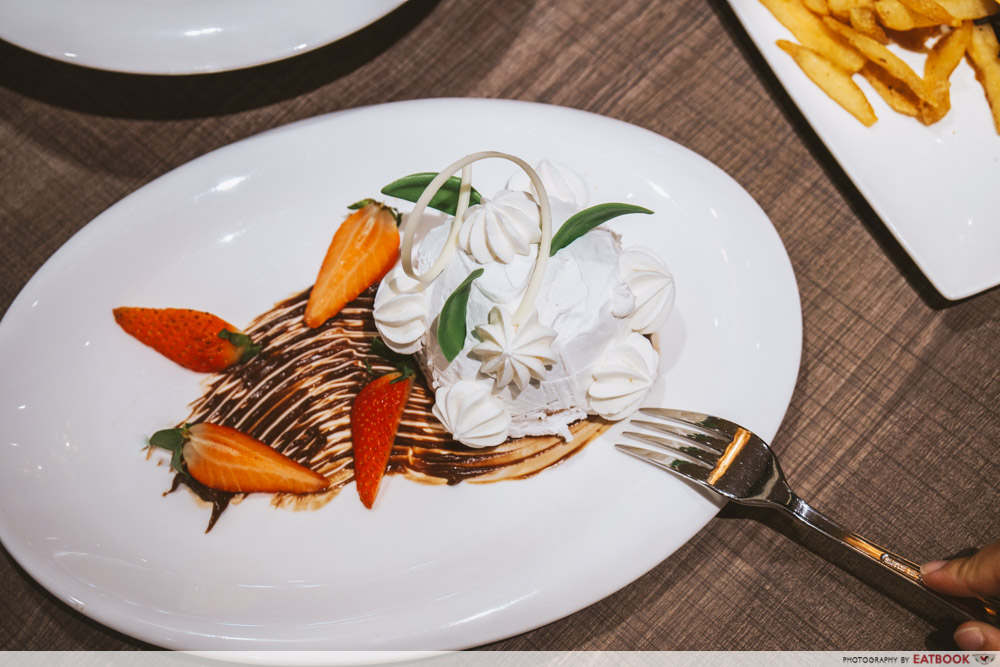 With leaves of green chocolate that appeared like horns, our Chocolate & Raspberry Surprise ($13++) wouldn't have looked out of place in Pokemon. Its cute shell of cream and meringue peaks hid silky milk chocolate mousse and a molten raspberry centre.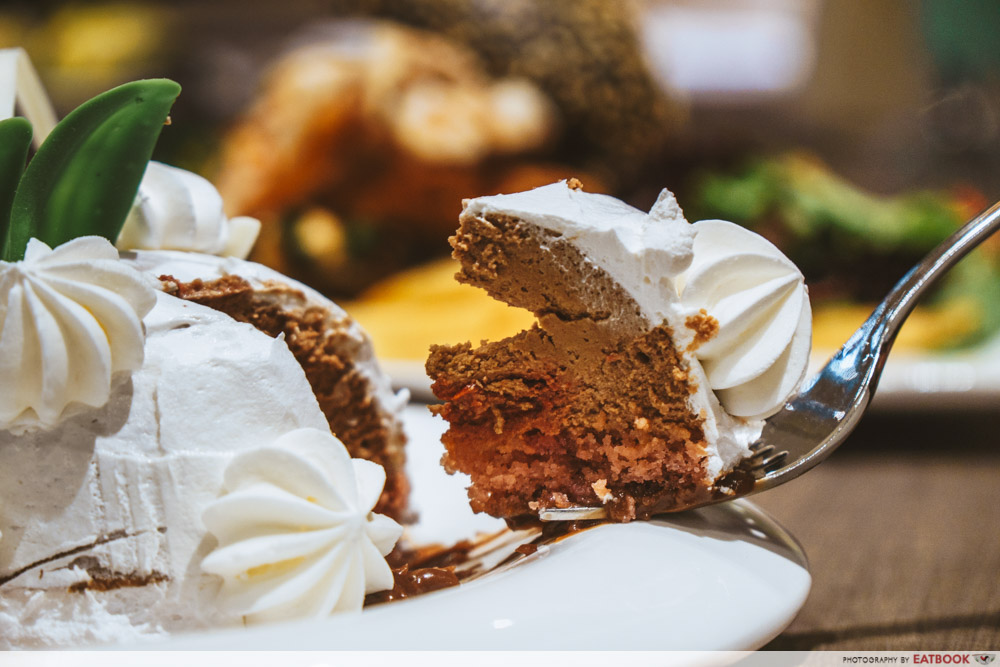 Indulgent chocolate and fresh raspberries jive harmoniously, and is a flavour combination that has stood the test of time. We particularly liked the uber creamy mousse, which evoked an aura of luxury.
However, eaten with the crunchy meringues, this dessert was a tad too sweet. To combat this, be sure to get a slice of tangy fresh strawberry in each bite.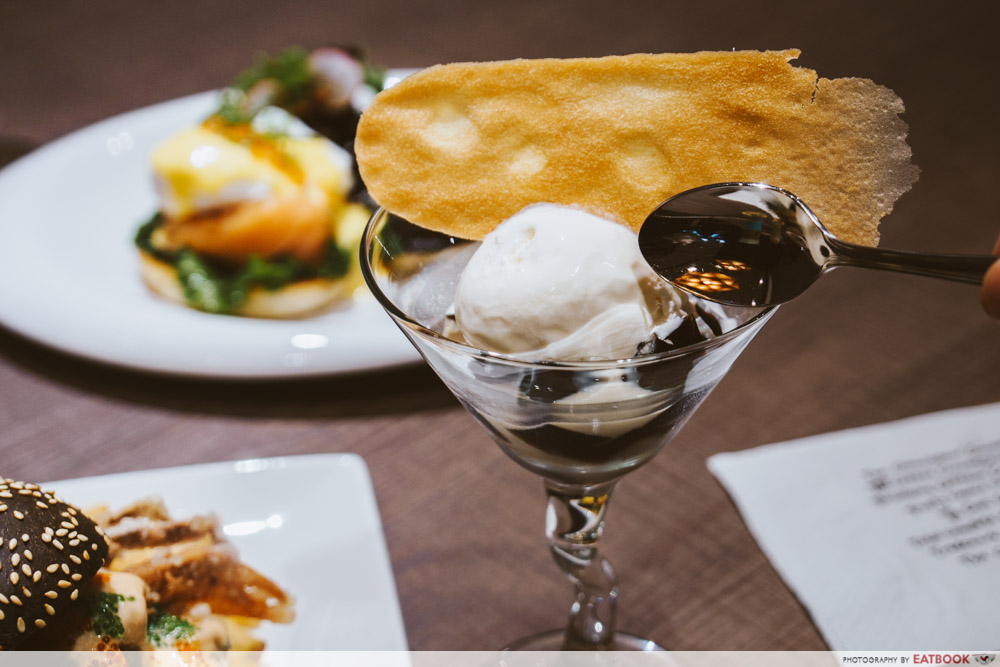 Our meal was escorted by a lineup of four aesthetic drinks. Tiramisu lovers will be enamoured with the Ultimate Crème Brûlée Affogato With Coffee Jelly ($15.80++). This dessert-cum drink comes with Bailey's, brandy, espresso, house-made crème brûlée coffee jelly and vanilla ice-cream, mimicking the classic Italian confection's hallmark flavours.
The star here was the coffee jelly that's specially made in-house. It was bursting with bitter coffee flavour that formed a wonderful contrast to the sweet vanilla ice-cream and Bailey's. Texturally, it was just as lovely. Like a cross between Jell-O and chin chow, our jelly cubes were gelatinous and bouncy, a real pleasure to chew.
A wafer of tuile wasn't just for presentation purposes either, bringing a crunchy aspect that offset the beverage's overall soft texture.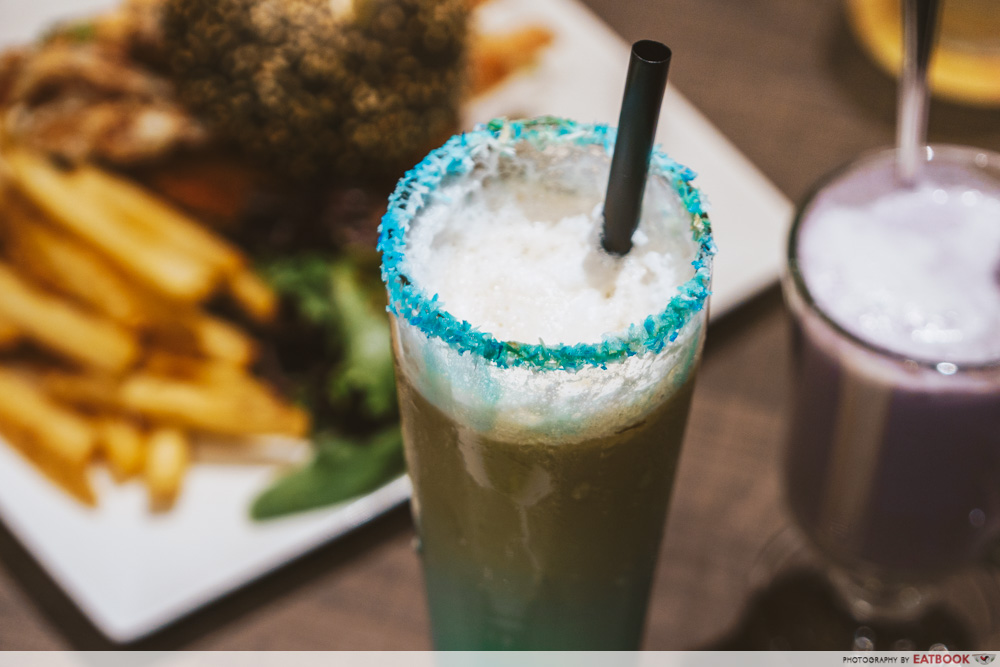 I'm hugely sceptical of blue drinks, but I'll grudgingly admit that the Iced Blue Latte ($8.30++) was decently enjoyable. That sky blue tint is the result of blue curacao, a citrusy syrup famously seen in cocktails like Blue Hawaiian. Its addition here results in a glass that tastes like yuan yang, but if the teh bing was replaced by milk tea from your favourite bubble tea stall.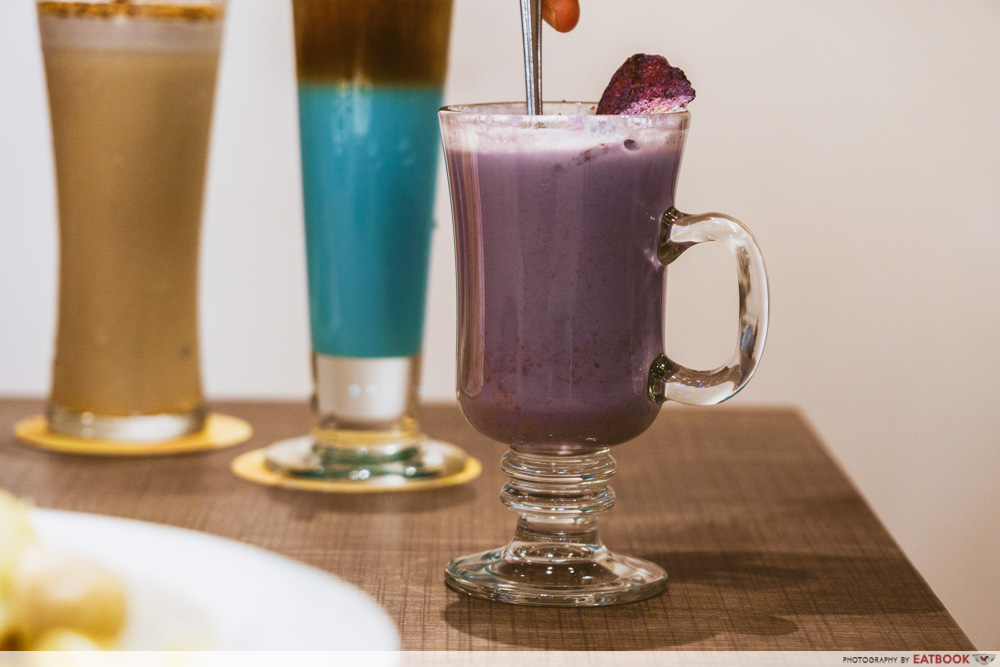 If I had to describe what purple tastes like, I would describe this Taro Latte ($7.50++). This warm drink was even adorned with a taro chip, an indication that it was positively crammed with yammy flavour. Fans of the purple root are best suited to this drink – like my dining companion who practically gulped it down in one sitting.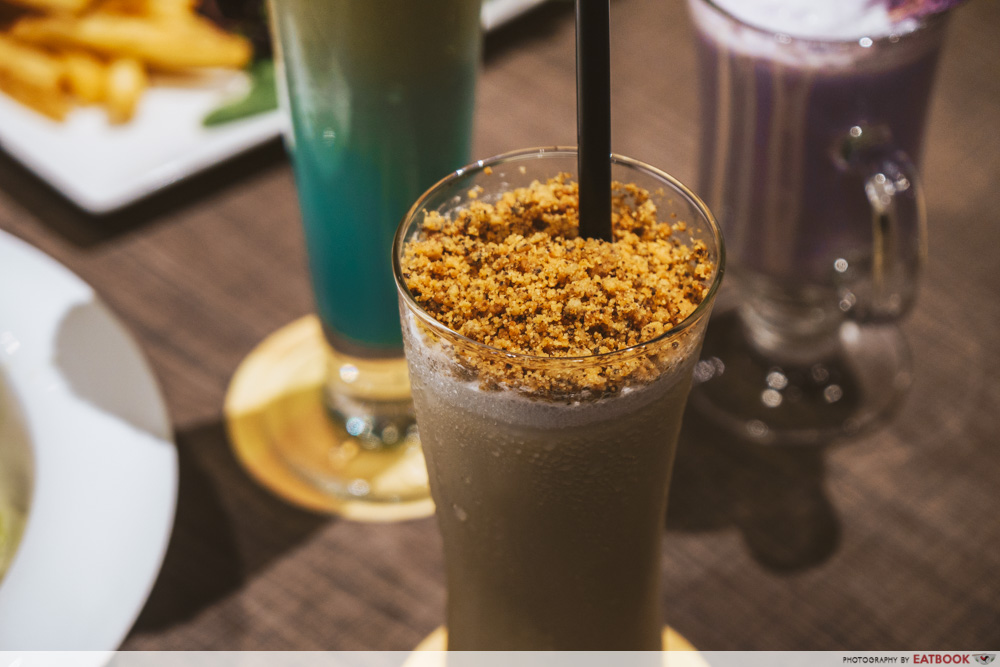 Cappuccino Cheesecake Blend ($8++) adeptly combined its two eponymous flavours, as the extravagant richness of cheesecake was backed up by coffee punch, resulting in a smoothie-esque texture. There's a fine line between sugary indulgence and cloying sweetness, but this drink skillfully straddled it.
Ambience at tcc – The Connoisseur Concerto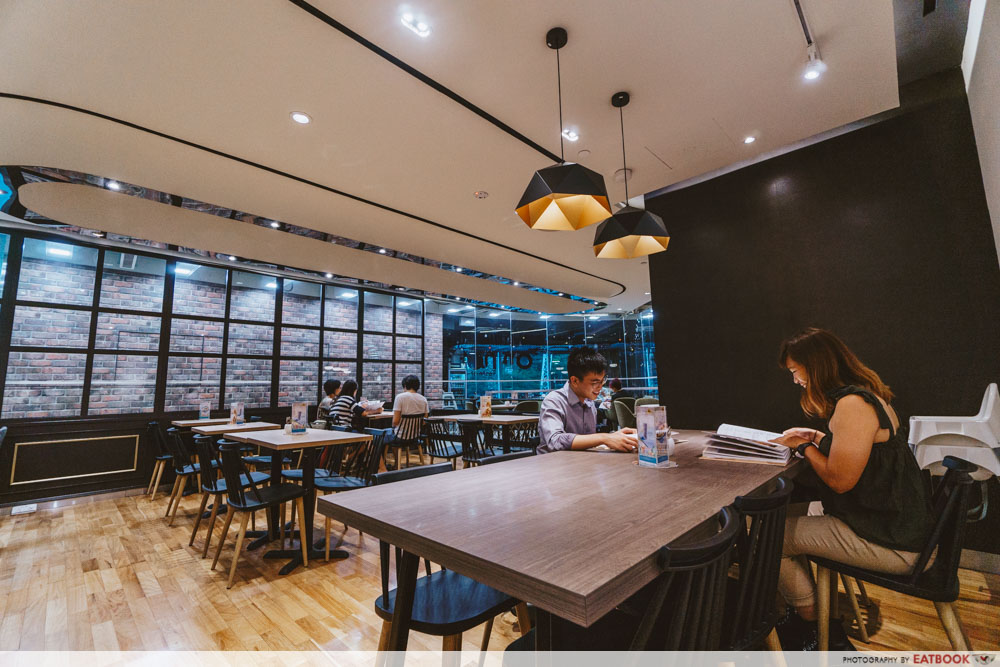 Every outlet of this homegrown cafè is classy and comfy, with warm hues that make you feel at home. Each one does have a slightly different vibe though, from snug smaller branches to expansive and welcoming larger spaces. With 15 restaurants dotted around the island, it's easy to find a convenient outlet for a cosy dinner date or relaxed brunch.
The verdict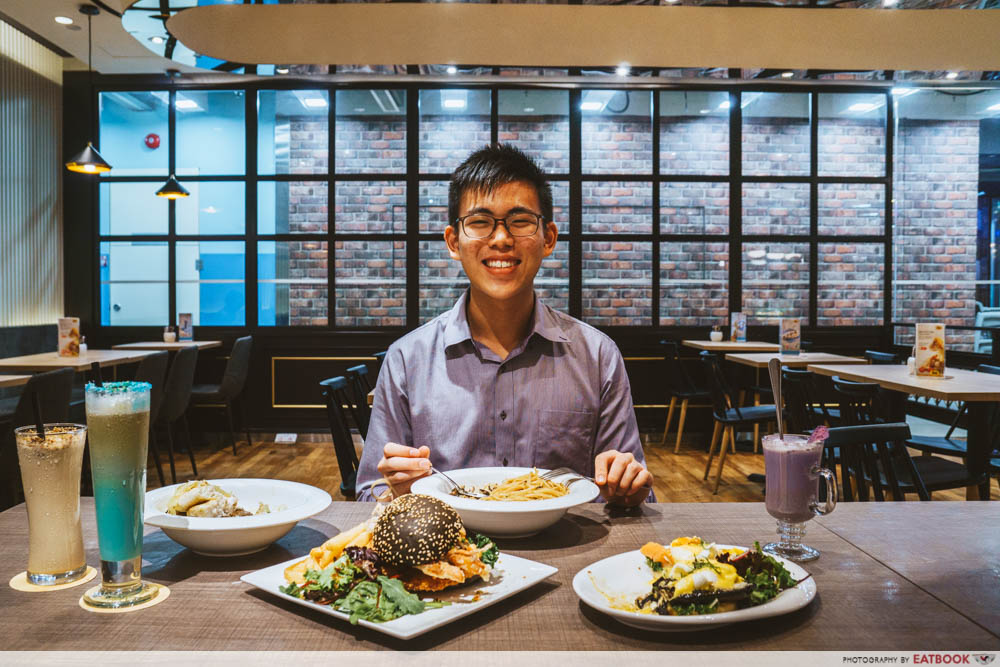 You'd be hard-pressed to find another local chain that churns out premium dishes at a consistently high quality like tcc – The Connoisseur Concerto does. Their new menu puts an unexpected, yet thrilling spin on classic dishes like burgers and eggs Benedict, catering to the local palate while dreaming up innovative new flavour combinations.
Alongside their trademark warm service and chill atmosphere, this Singaporean stalwart is a great option for weekend hangouts with your family.
Address: 360 Orchard Road, #01-01, International Building, Singapore 238869
Opening hours: Daily 24 hours
Tel: 6732 3696
Website | Full list of outlets
Photos taken by Pepita Hope Wauran.
This review is brought to you by tcc – The Connoisseur Concerto.
Summary
Pros
– Creative play of ingredients in each dish
– Premium ingredients
– Wide menu
Cons
– Dessert was a touch too sweet for those who prefer savoury food
Recommended dishes: Seafood Fiesta Charcoal Burger ($25++), Ultimate Crème Brûlée Affogato With Coffee Jelly ($15.80++)
Opening hours: Daily 24 hours
Address: 360 Orchard Road, #01-01, International Building, Singapore 238869