Just like IKEA at The Canteen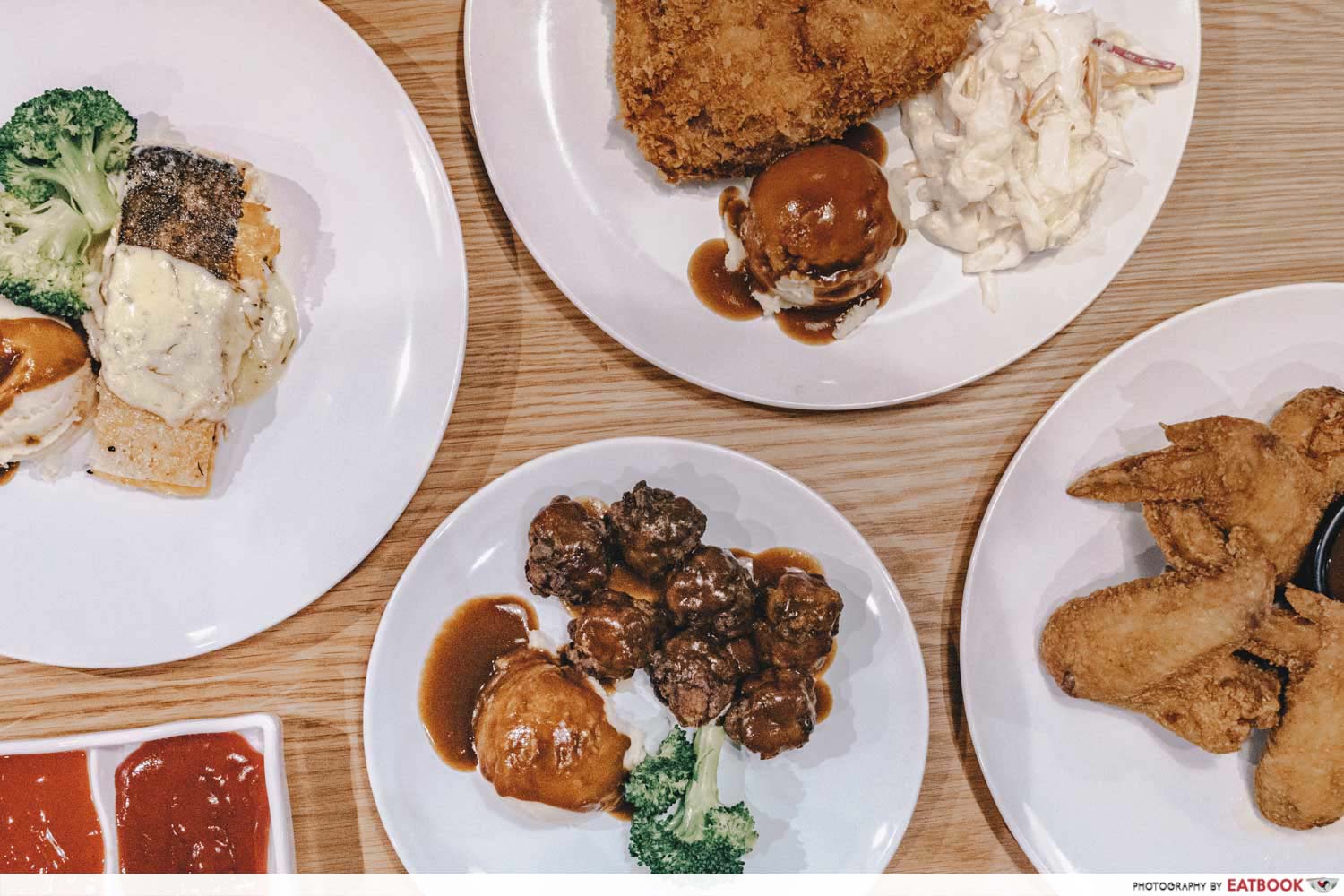 Agree to disagree, but if you aren't newlyweds shopping for furniture to spruce up your BTO flat, you're probably visiting IKEA for their food. And what keeps most of us returning is their signature Swedish meatballs, which are nearly impossible to find elsewhere.
I was therefore surprised when I chanced upon The Canteen, which seemed to borrow a leaf out of IKEA's book with their Swedish meatballs and minimalist interior.
Food at The Canteen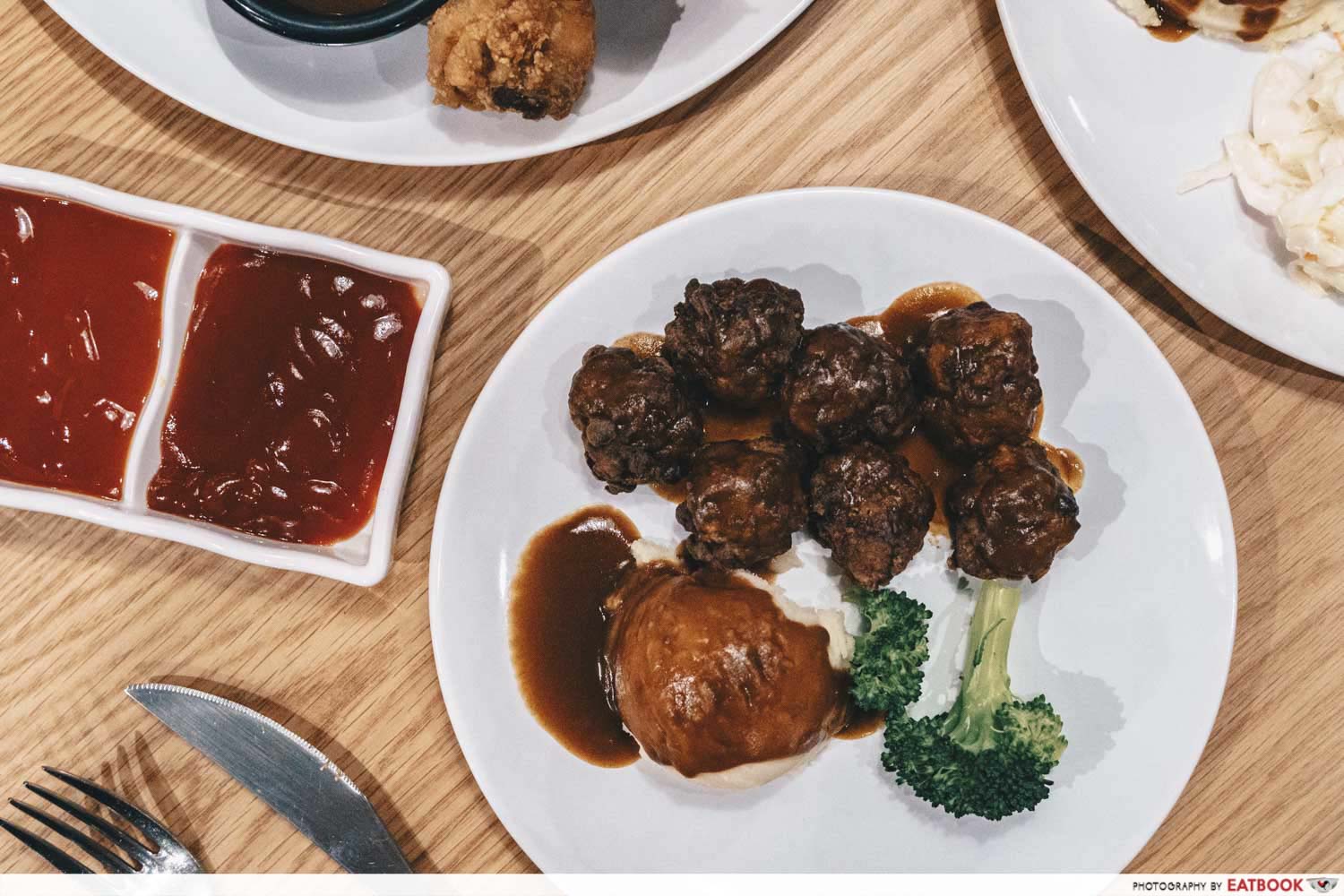 Strictly speaking, their Meatballs With Housemade Sauce ($6.90) doesn't qualify as Swedish meatballs. Though they are prepared from the usual blend of minced pork and beef, they are served without lingonberries jam – the defining element of Swedish köttbullars.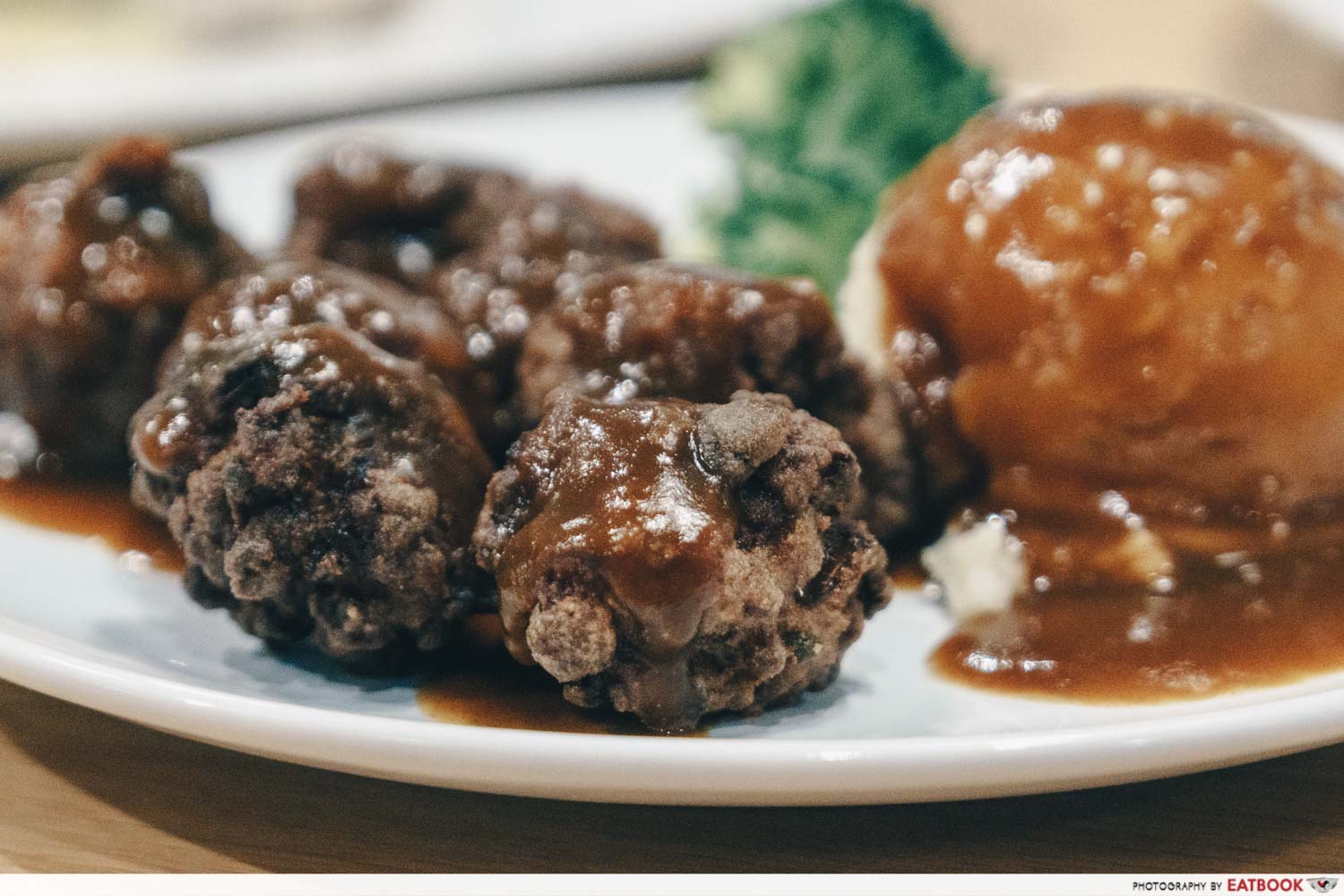 That being said, the myriad of flavours packed within their meatballs were reminiscent of those found in IKEA. Each bite unfurled a burst of savouriness, which was accentuated by the smoky aroma perfuming the meatballs. Interestingly, I also detected caramelised accents of onions, which lightened the robust taste of the meat.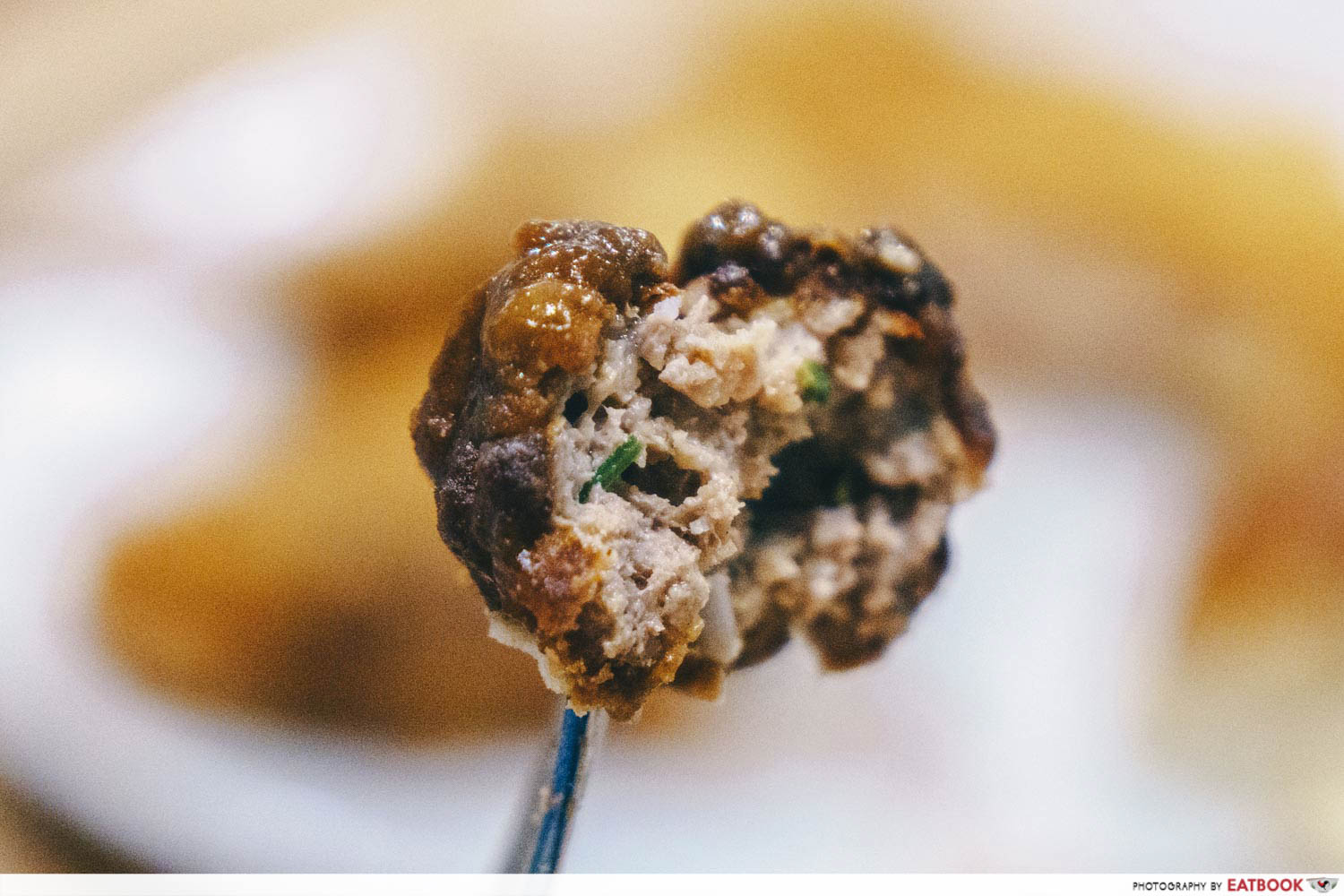 For a richer tang, the meatballs were prepared with a higher meat to fat ratio, which in turn contributed to a flakier consistency.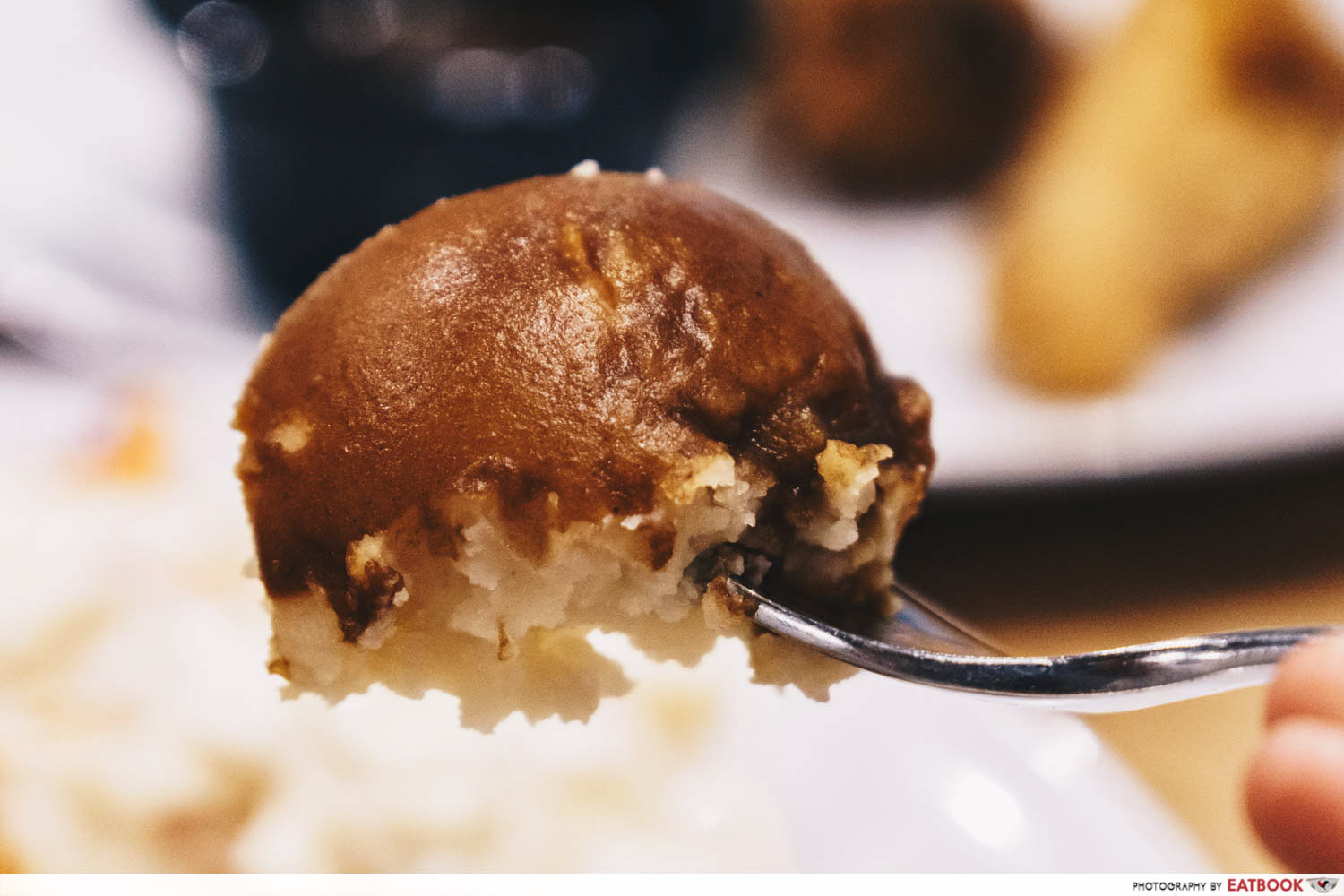 Other than the meatballs, the dish also featured a dollop of mashed potato. Finely pureed, the velvety mash glided over my tongue. The brown gravy was another nice touch, as its savoury kick married nicely with the potatoey sweetness of the mash.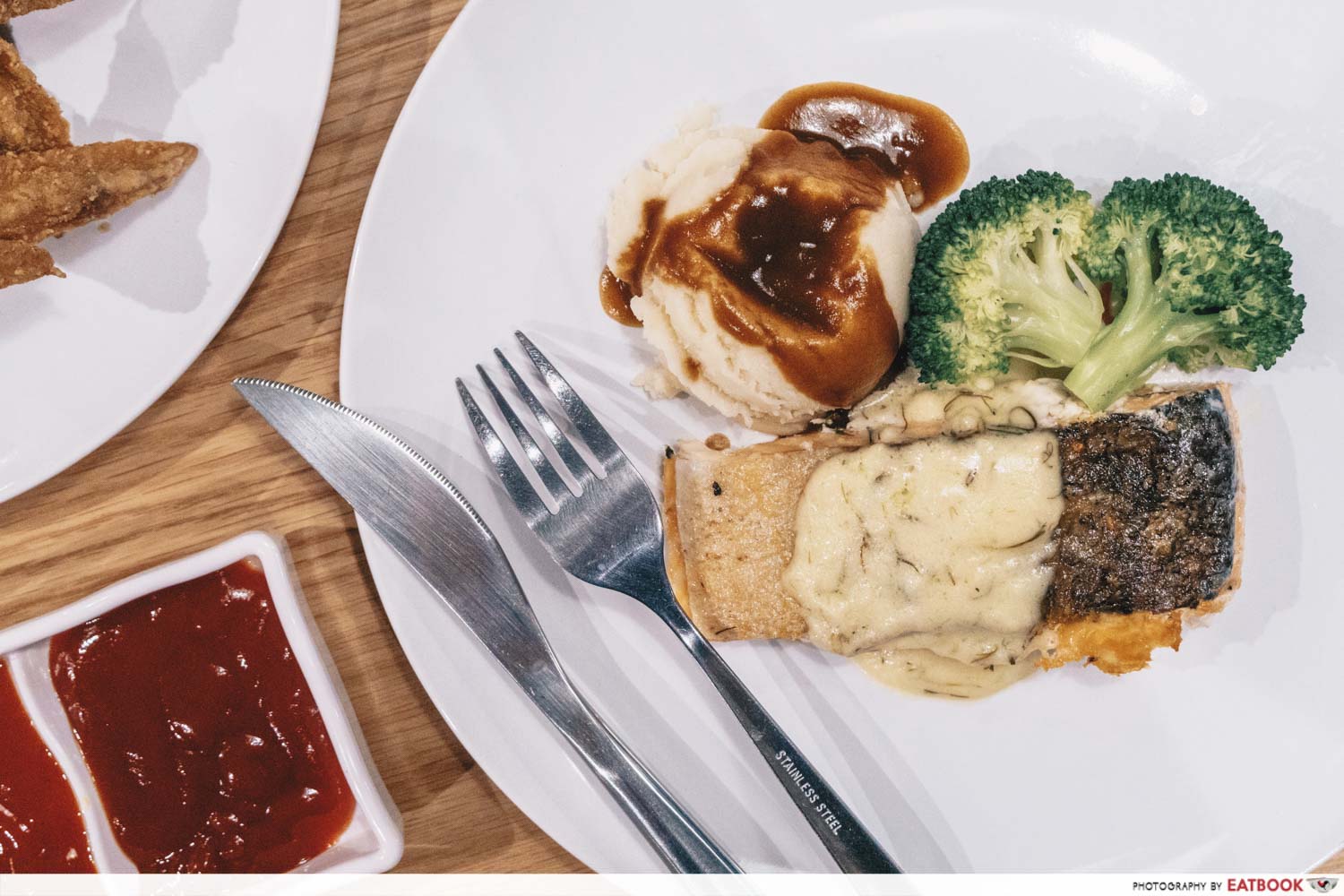 These meatballs formed part of their Western-centric menu, which also impressed with mains such as Grilled Salmon With Dill Sauce ($7.90) and Chicken Cutlet ($6.90).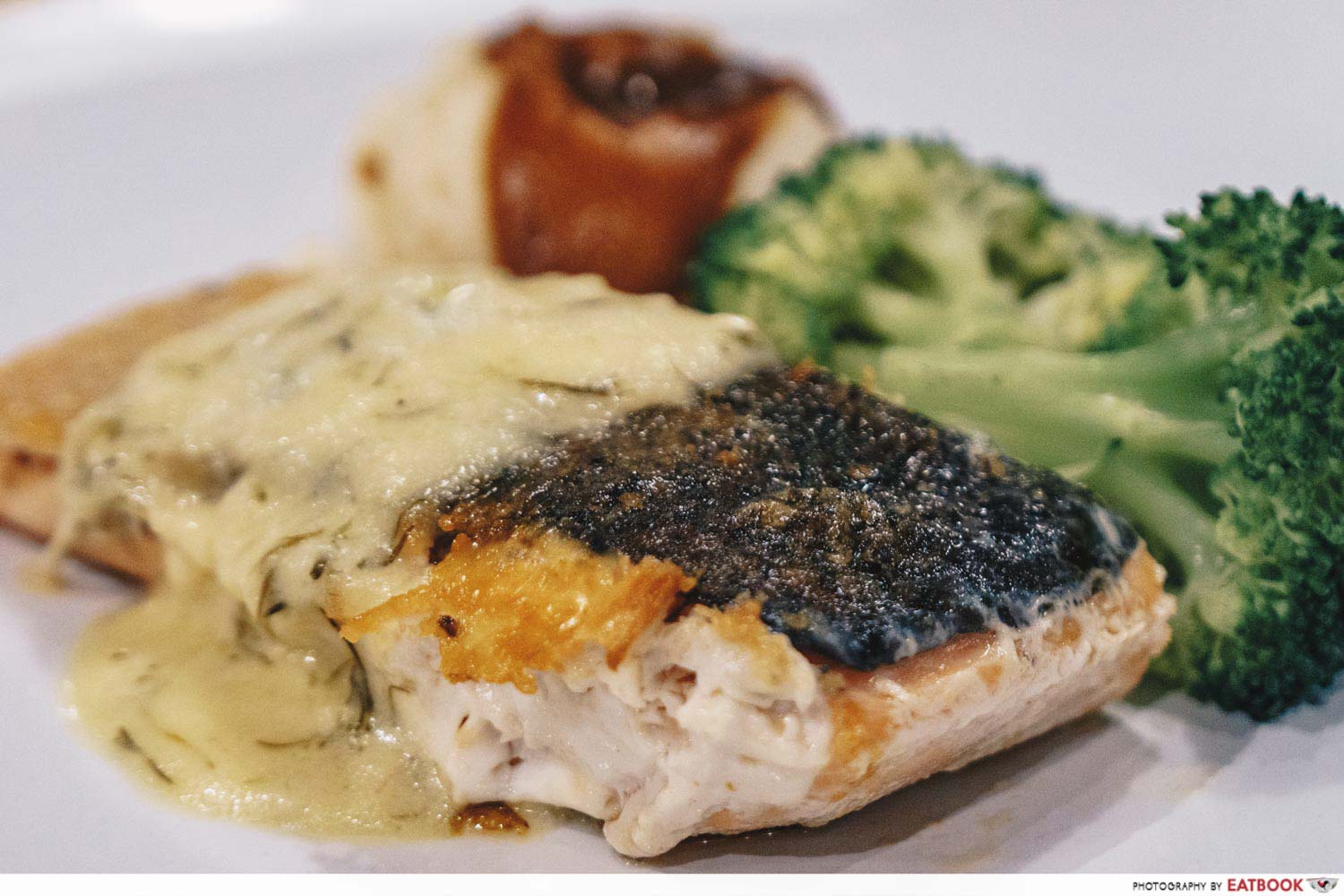 Lightly seasoned with salt and pepper, the grilled salmon reeled me in with its luscious taste before sweeping me away with its buttery flavour.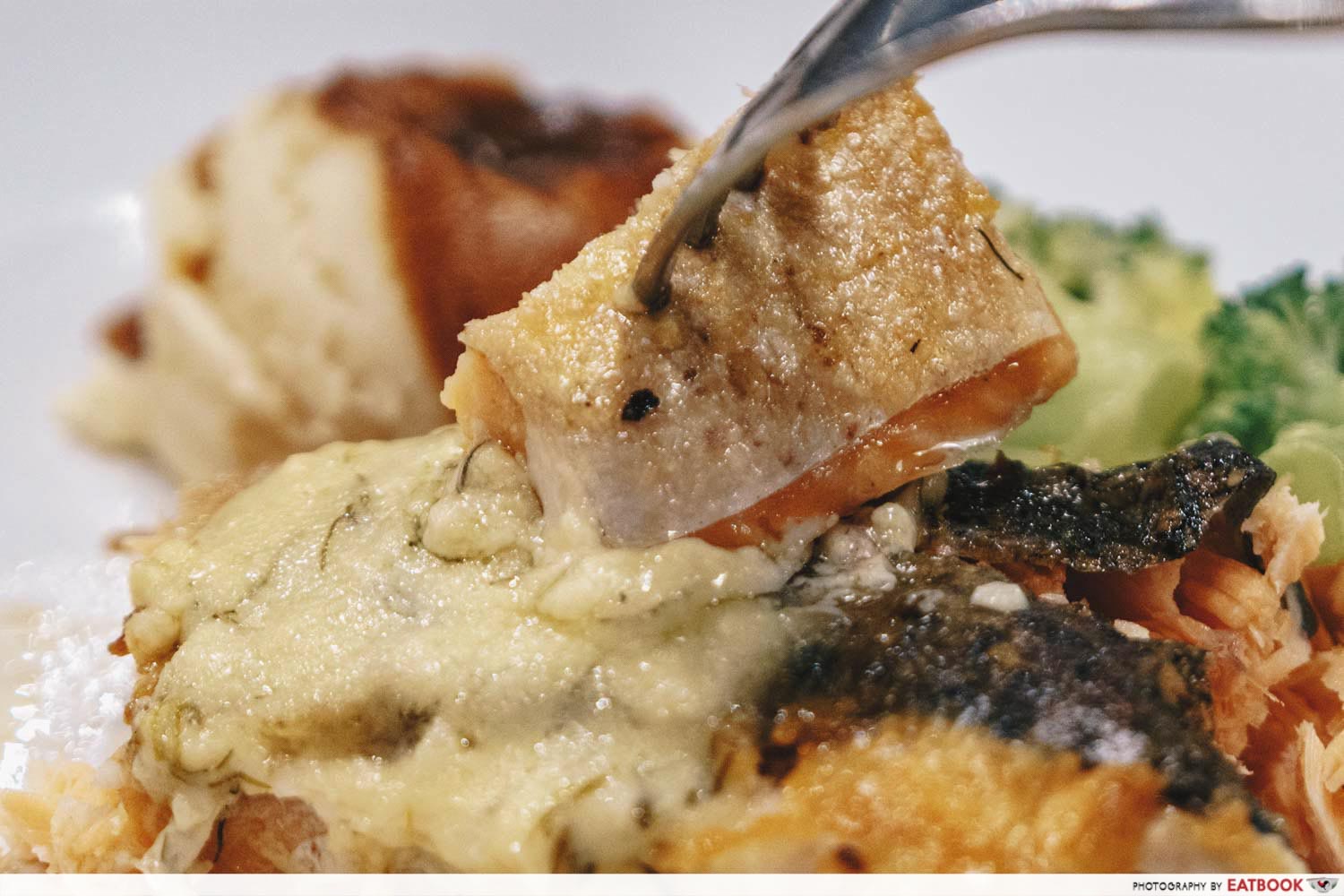 The crowning glory was their dill sauce, which added depth to the salmon with its creamy tang. I also appreciated that the dressing was undercut by slightly bitter undertones, which balanced out the fatty salmon. Interestingly, while dill sauce usually carries a tinge of lemon zest, their rendition was spiked with a garlicky aftertaste.
If the salmon hadn't been a tad overcooked, the dish would have been a 10/10.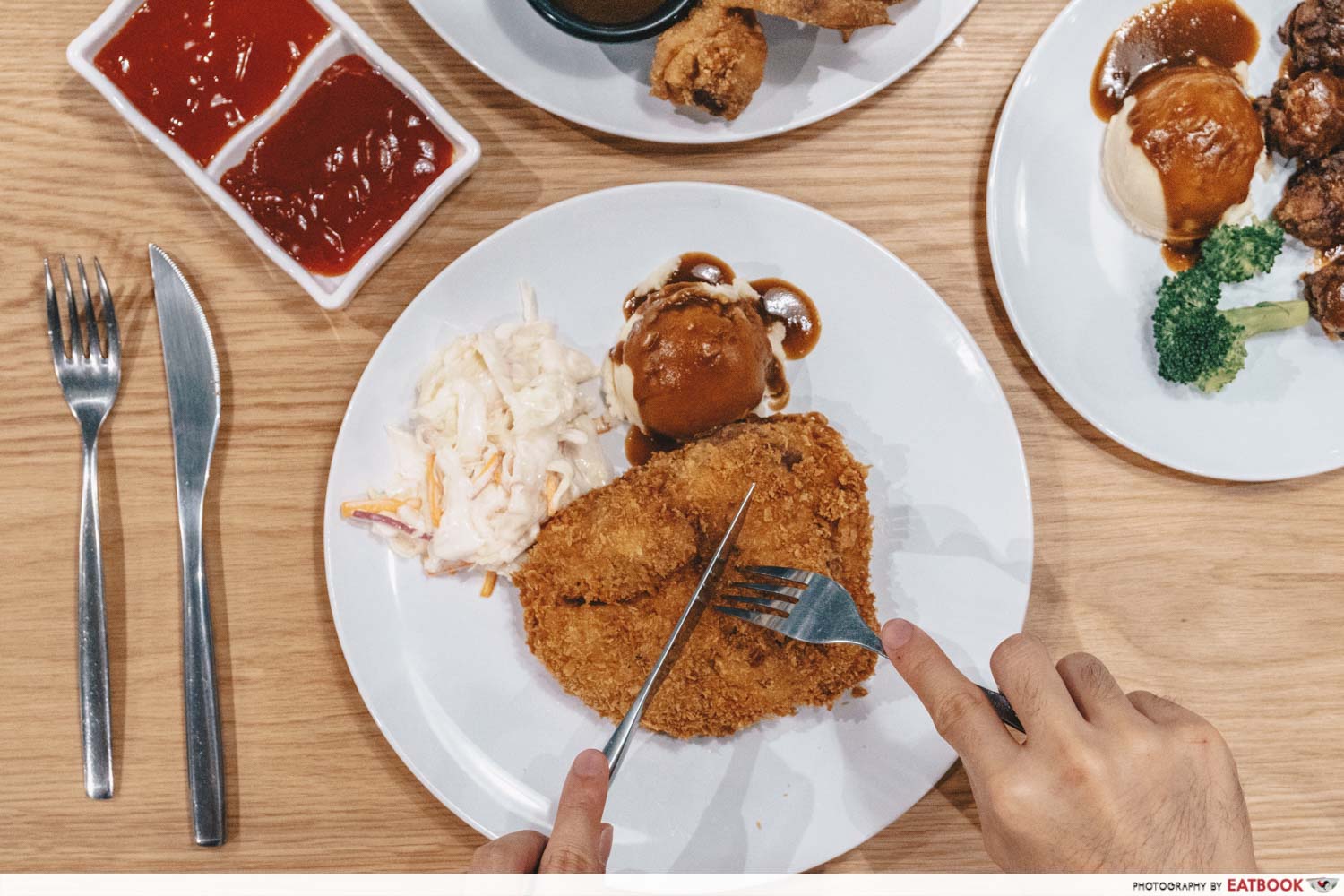 Their Chicken Cutlet came as a generous slab of chicken thigh. Thoroughly breaded with panko, the well-fried protein emanated satisfying "ting-ting" sounds as I knocked my fork against it.
The fine breadcrumbs also retained less oil, and biting into the cutlet came without a cloyingly greasy aftertaste.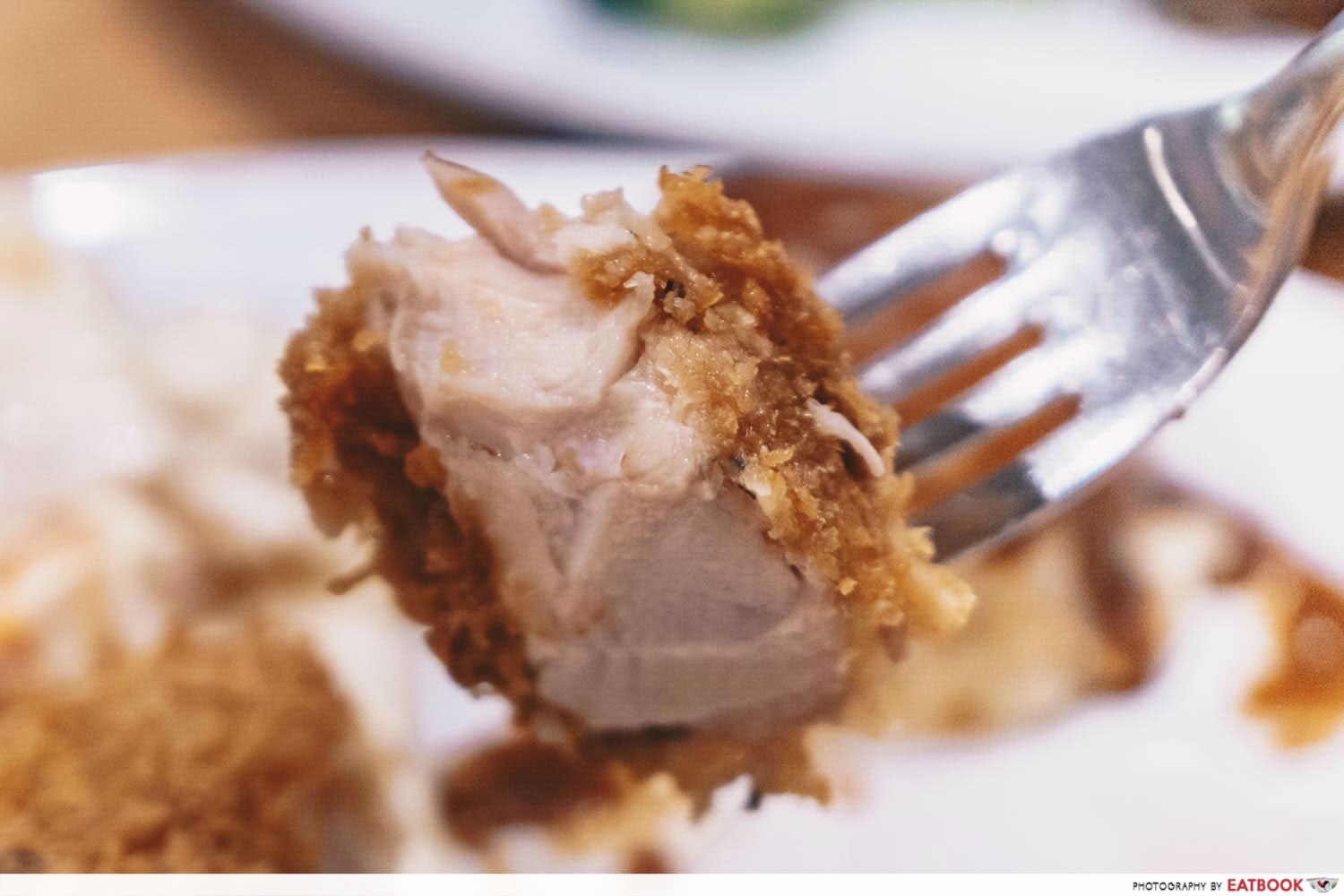 The crust of the fried chicken was also peppered with black patches, suggesting a touch of black pepper. Unfortunately, I felt they could have been more liberal with the seasoning, as the bland meat was punctured by faint whiffs of spiciness.
My greatest dissatisfaction lay with the stiff meat, which required multiple forceful slices to cut through. While I was expecting an explosive rush of juices, I was locked in a rigorous tussle with the meat instead.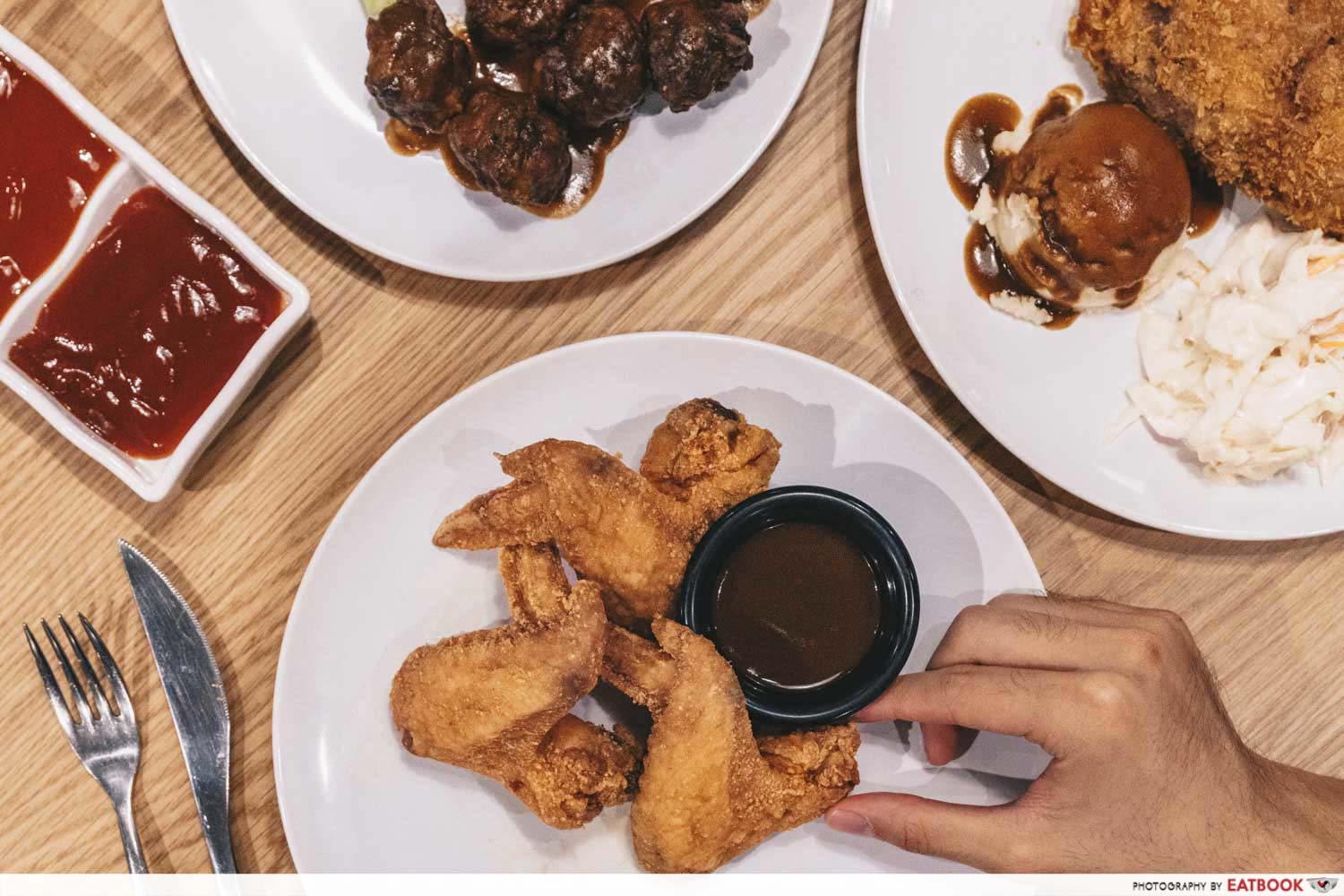 Unlike their chicken cutlet, their Fried Chicken Wings ($6/$12) were tender and succulent.  With their golden-brown and thinly coated crust, these wings reminded me of Arnold's Fried Chicken.
Arnold's Fried Chicken Review: Still The Best Homegrown Halal Fried Chicken Chain
Their fried chicken brought an inexplicable feeling of deja vu, as I was hooked by the decadent combination of salt, pepper, and luxurious chicken fats.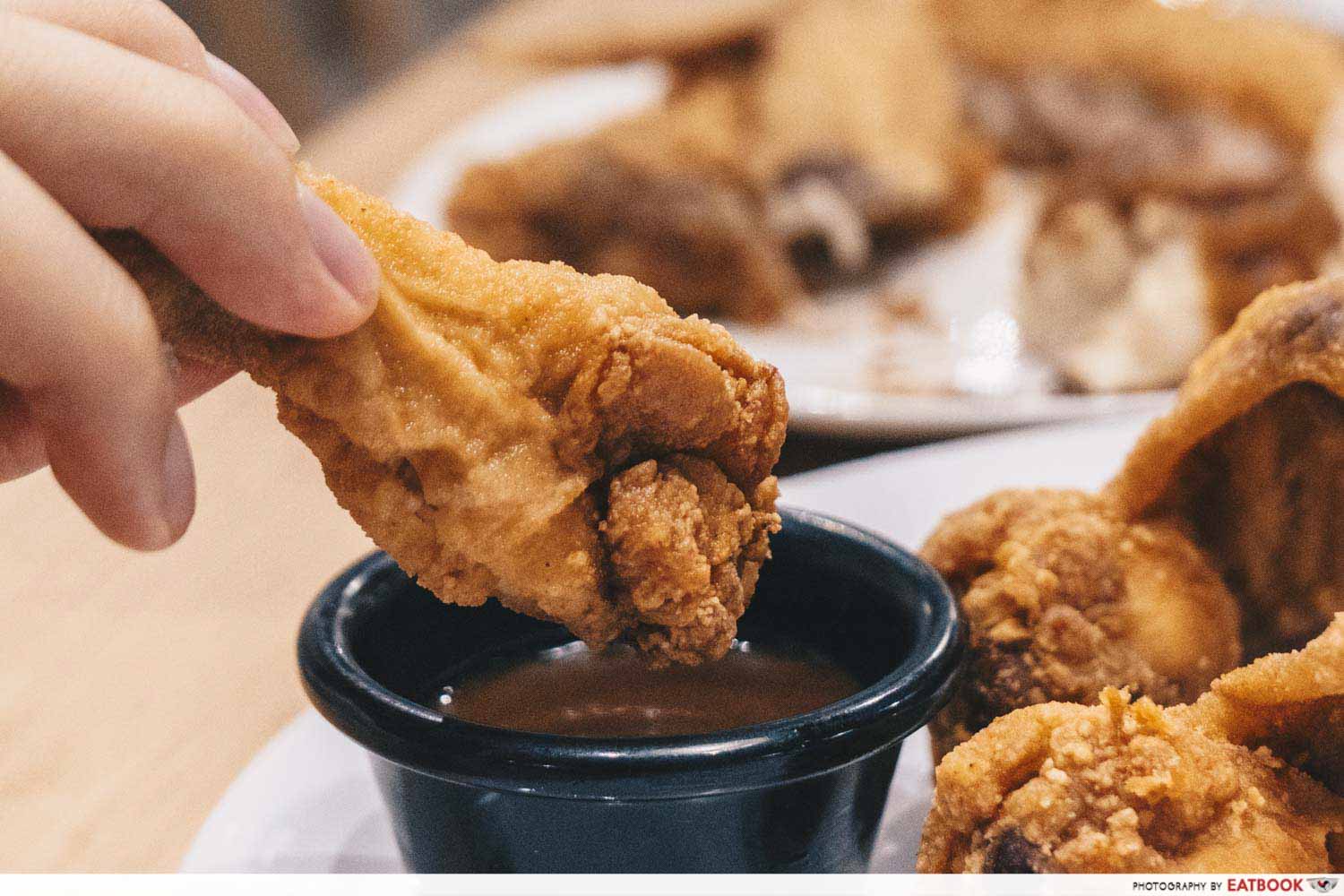 A thick brown gravy is served on the side as well. Its identity wasn't specified on the menu but it seemed Southern-style. The relish supplied a blend of savoury and sweet flavours – hinting the addition of sweet onions – which highlighted the natural goodness of the meat.
Ambience at The Canteen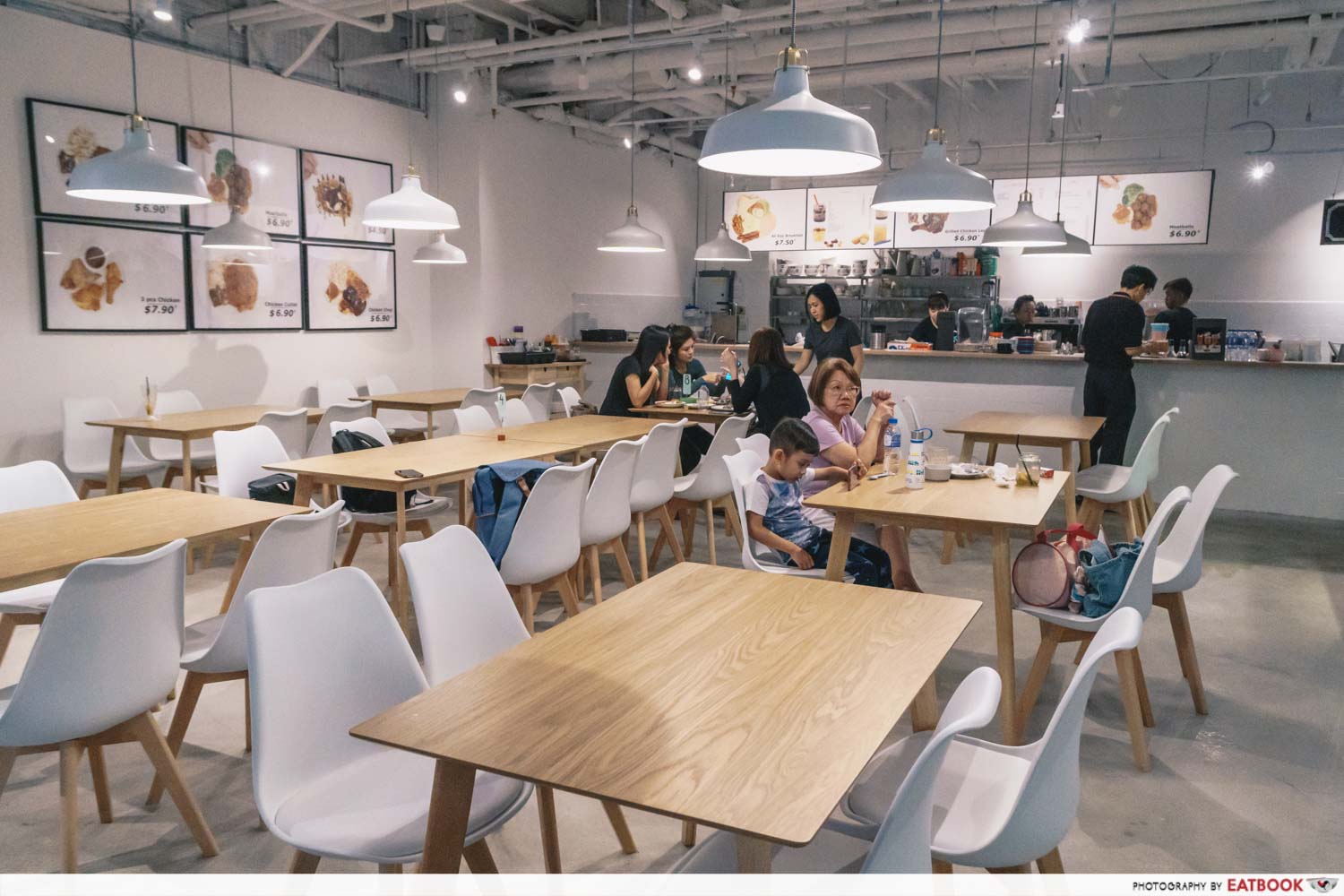 Just like its sleek and clutter-free interior, The Canteen encourages you to cast your worries aside once you walk through its doors.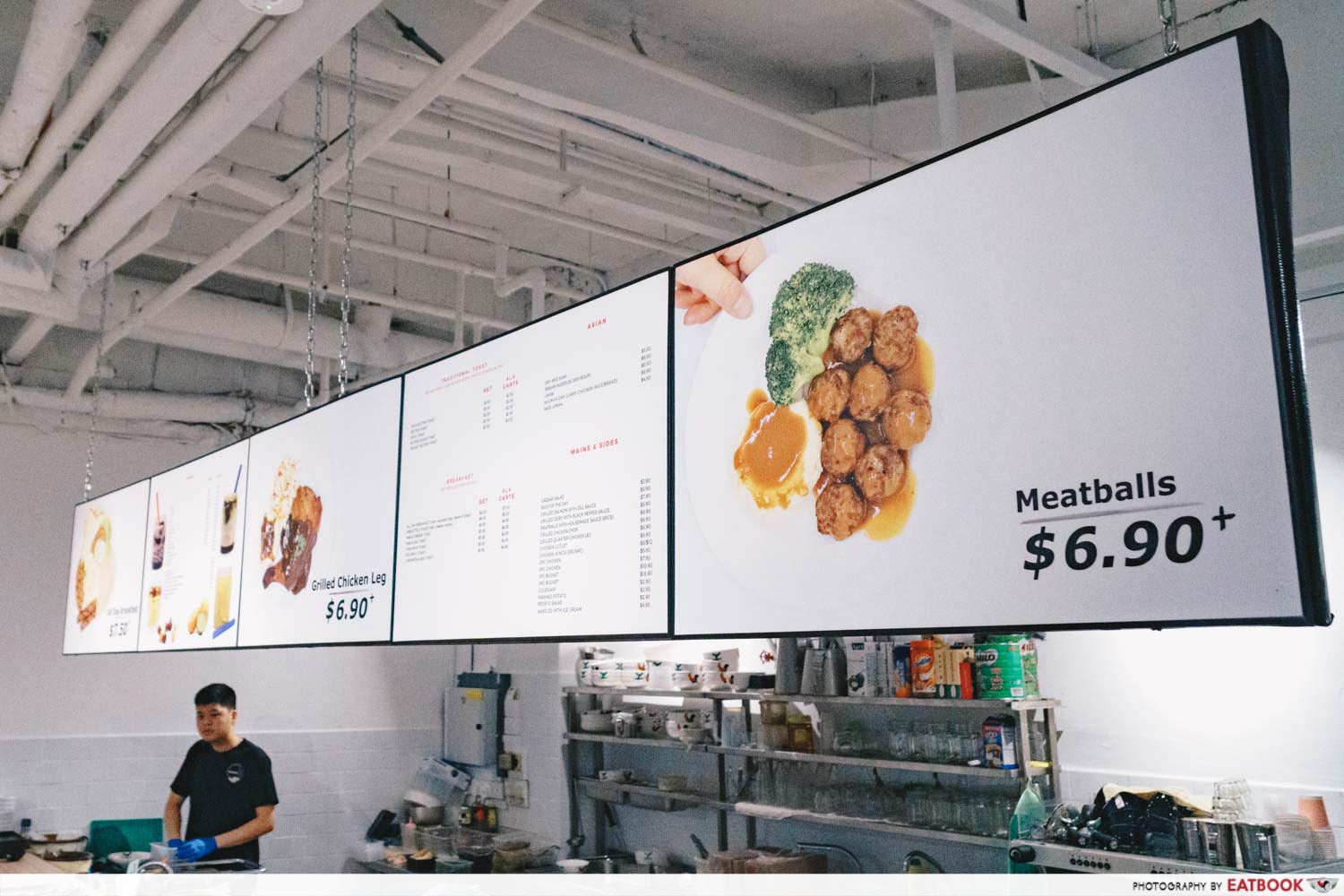 Admittedly, there are certain elements of the cafe which seem to imitate IKEA.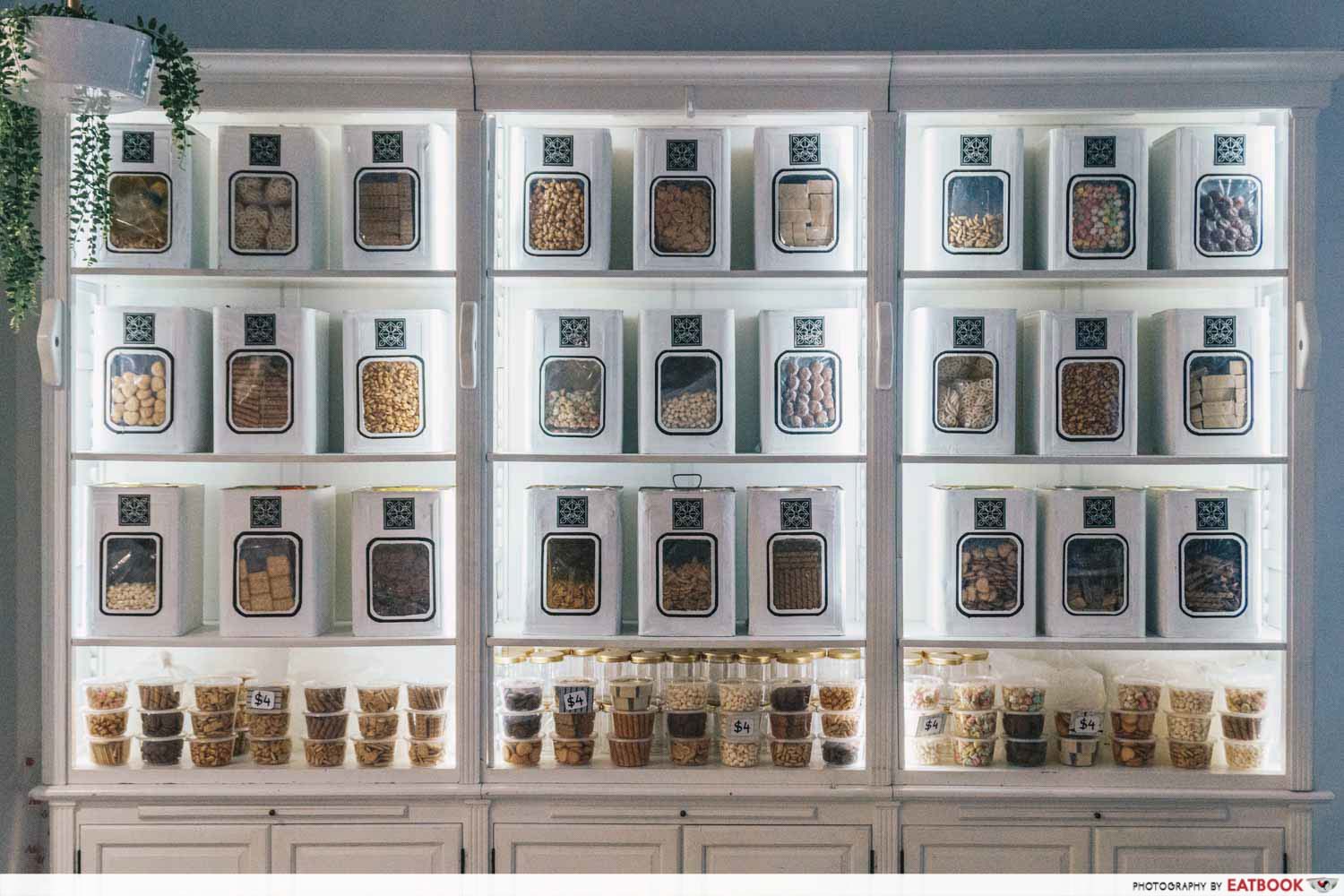 To dismiss The Canteen as an IKEA wannabe would be to ignore its retro charm. Its walls are spruced up with rows after rows of old-school snacks. Staring at the tin containers of gem biscuits and wheel crackers, I felt like I had just chanced upon an old friend.
The verdict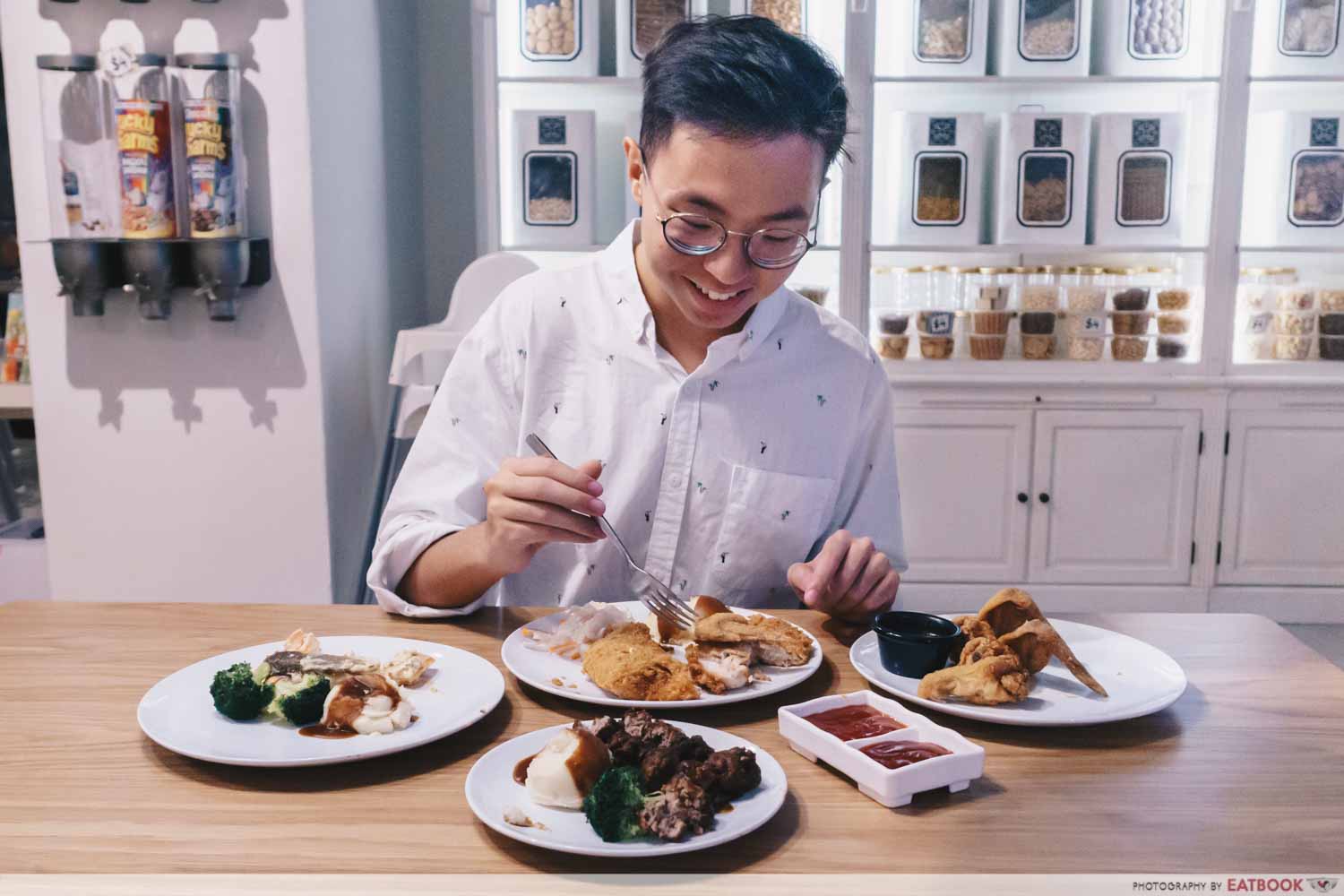 Imitation is the sincerest form of flattery. The IKEA-inspired interior and menu by extension reflect the cafe's vision of providing cheap and good food in a comfortable setting.
Although the food dished up here are typical Western nosh, all of these dishes are pretty well-cooked.
And with its wallet-friendly prices – considering its central location – The Canteen is an ideal rest stop to recharge after a long shopping marathon at Orchard.
If you are a fan of minimalism, check out our these 10 minimalist cafes, which will pander to your inner Marie Kondo with their chic design. In particular, we recommend Lee's Confectionery – a hidden cafe in Jurong serving French pastries that are totes gorgeous.
Lee's Confectionery Review: Minimalist Jurong Cafe With Beautiful Desserts That Can Rival Janice Wong's
Address: 583 Orchard Road, #01-18/19, Forum The Shopping Mall, Singapore 238884
Opening hours: Mon-Thur 10am to 8pm, Fri 10am to 9pm, Sat 9am to 9pm, Sun 9am to 8pm
Website
The Canteen is not a halal-certified eatery.
Photos taken by Crystal Tan.
This is an independent review by Eatbook.sg.
Summary
Pros
– Cosy ambience
– Located in town
– Affordable Western food
Cons
– Ordinary menu
– Average taste
Recommended Dishes: Meatballs With Housemade Sauce ($6.90), Grilled Salmon With Dill Sauce ($7.90)
Opening hours: Mon-Thur 10am to 8pm, Fri 10am to 9pm, Sat 9am to 9pm, Sun 9am to 8pm
Address: 583 Orchard Road, #01-18/19, Forum The Shopping Mall, Singapore 238884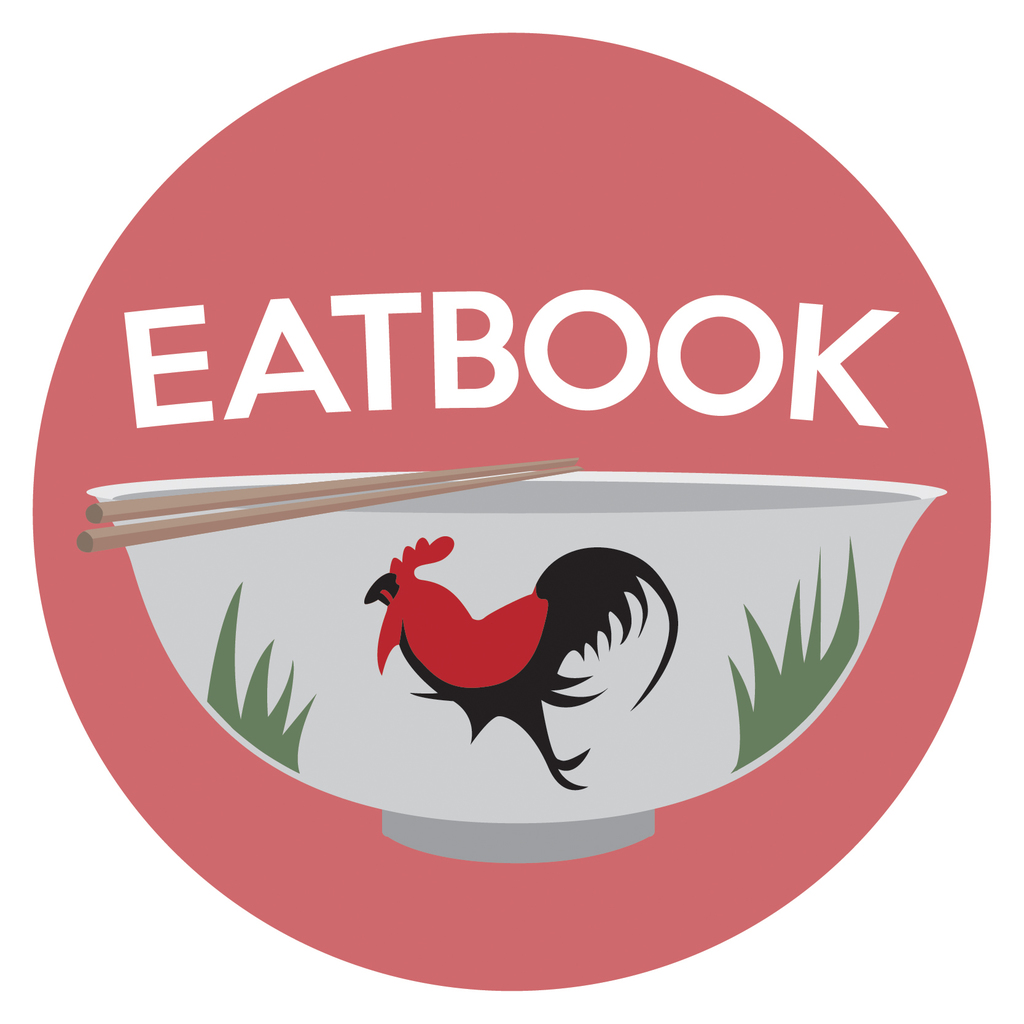 Drop us your email so you won't miss the latest news.