The Kampong Bakery for locally inspired bakes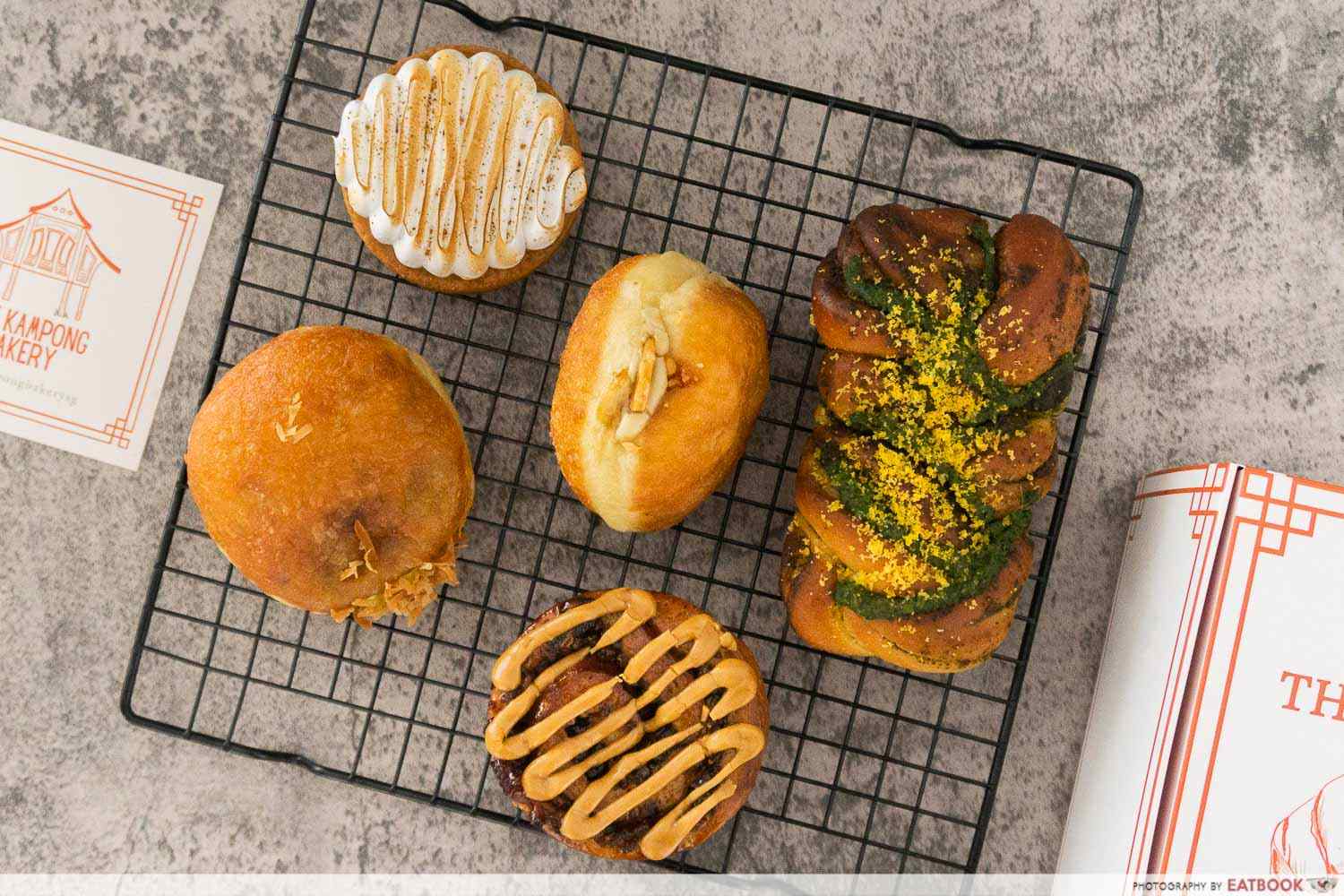 Pastry fiends, heads up: there's a brand new online bakery you'll want in on. Just launched on 19 November 2021 is The Kampong Bakery, a cloud bakery concept helmed by 28-year-old pastry chef Ng Si Ying. The online-only bakery specialises in modern treats served in innovative, Asian-inspired flavours.
The Tartlery: Ex-MasterChef Asia Finalist Launches Home-Based Business With Herb-Infused Tarts
For a sample of everything on the menu, go for the Bake Box ($28). This box features a medley of five different 'kampong'-inspired bakes, including a one-of-a-kind Rojak Bombolini, which combines ginger flower cream, hei ko AKA shrimp paste, caramel, and peanut brittle for a sweet-salty crunch, held within a fluffy doughnut.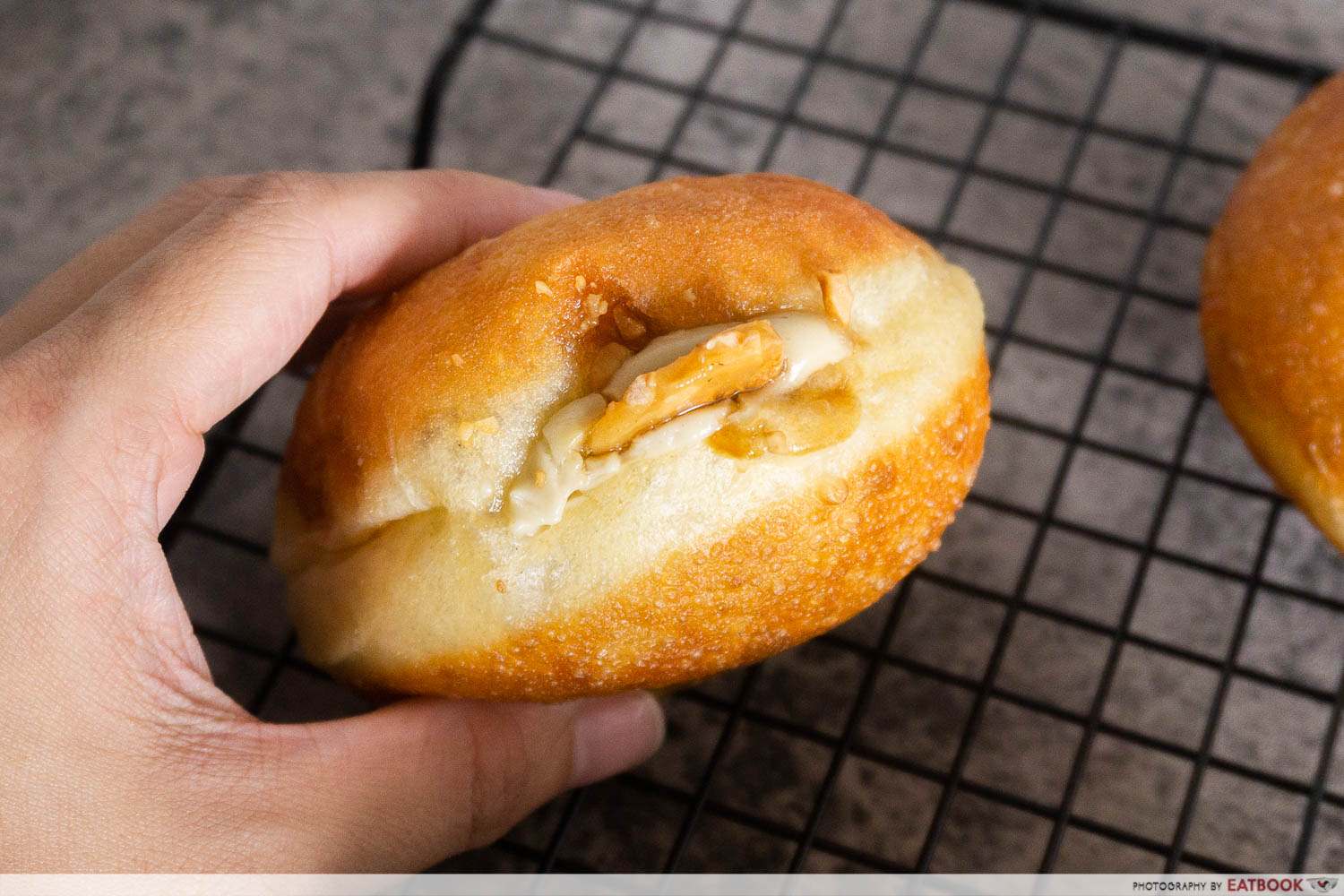 Another interesting creation is the Kampong Babka, filled with swirls of a housemade laksa leaf and Thai basil-infused pesto spread, and peppered with cured egg yolk bits. This savoury rendition of the traditionally sweet loaf is fragrant and additive with each bite.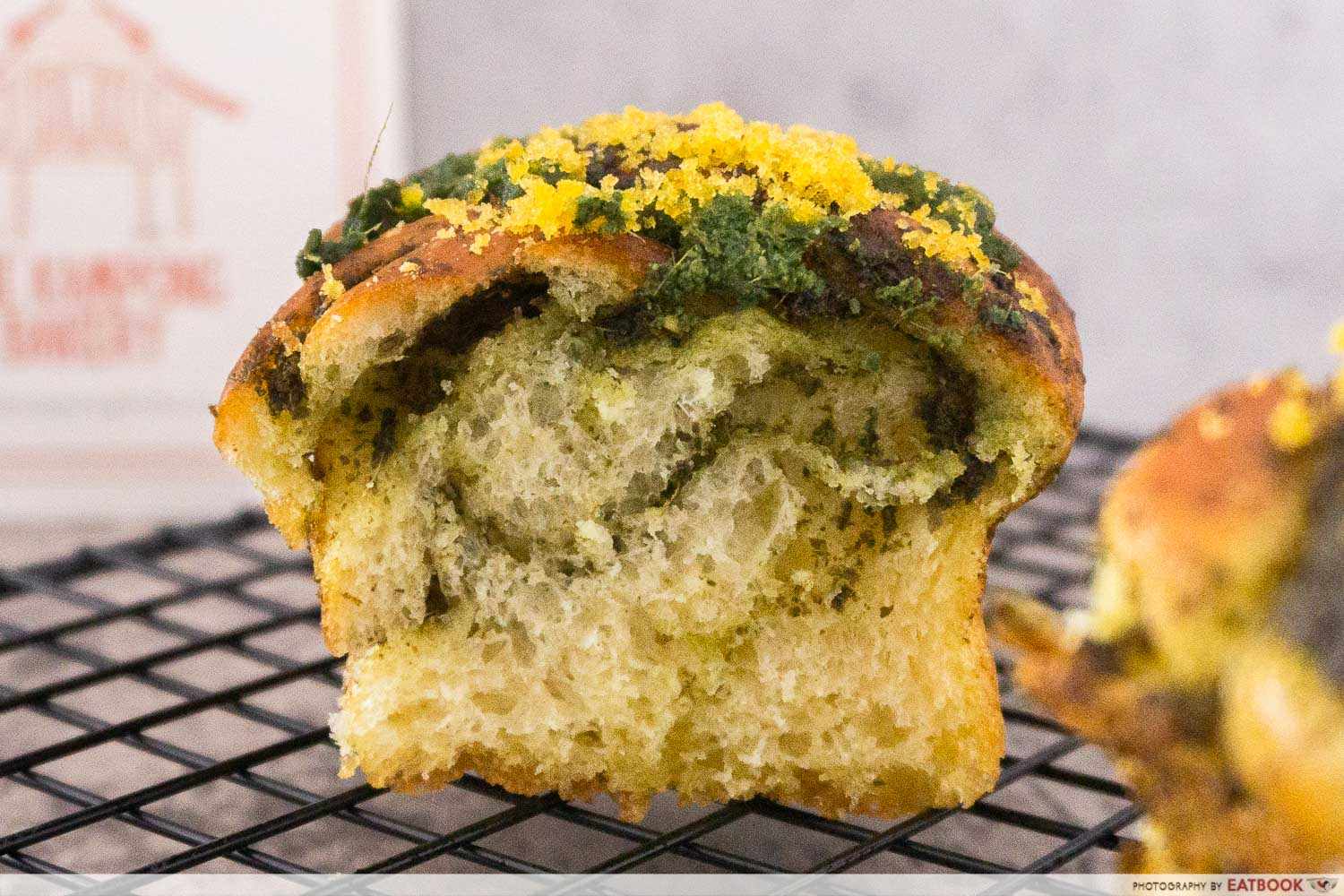 Citrus fans are not left out, too. The Amchoor Tart, also included in the Bake Box, spotlights a tangy and refreshing curd of lemon, lime, tamarind, mango, and amchoor, which is an important element in Indian masala mix.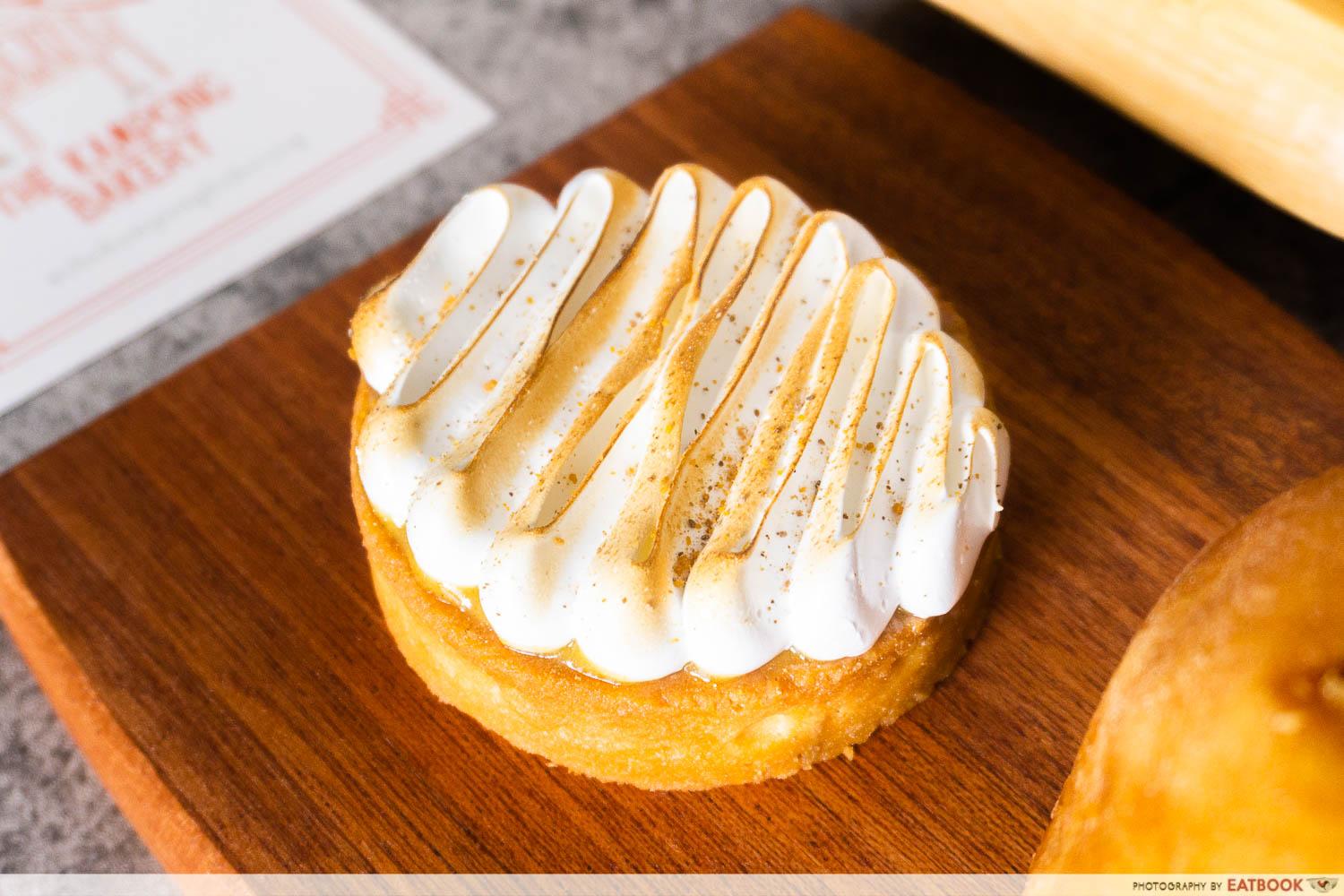 Those who love donuts can go for the Kampong Bombolini Box ($23), which consists of two Rojak, and two Ondeh donuts. Taking inspiration from the familiar kueh, the latter comprises a pandan diplomat cream painstakingly made by cooking pandan leaves, enriched with a gula melaka centre.
Instead of using a sourdough starter, Chef Si Ying uses commercial yeast, and leaves the dough to rest at a lower temperature for a longer period of time. The slower proofing process allows the dough to grow airier and the flavours to develop.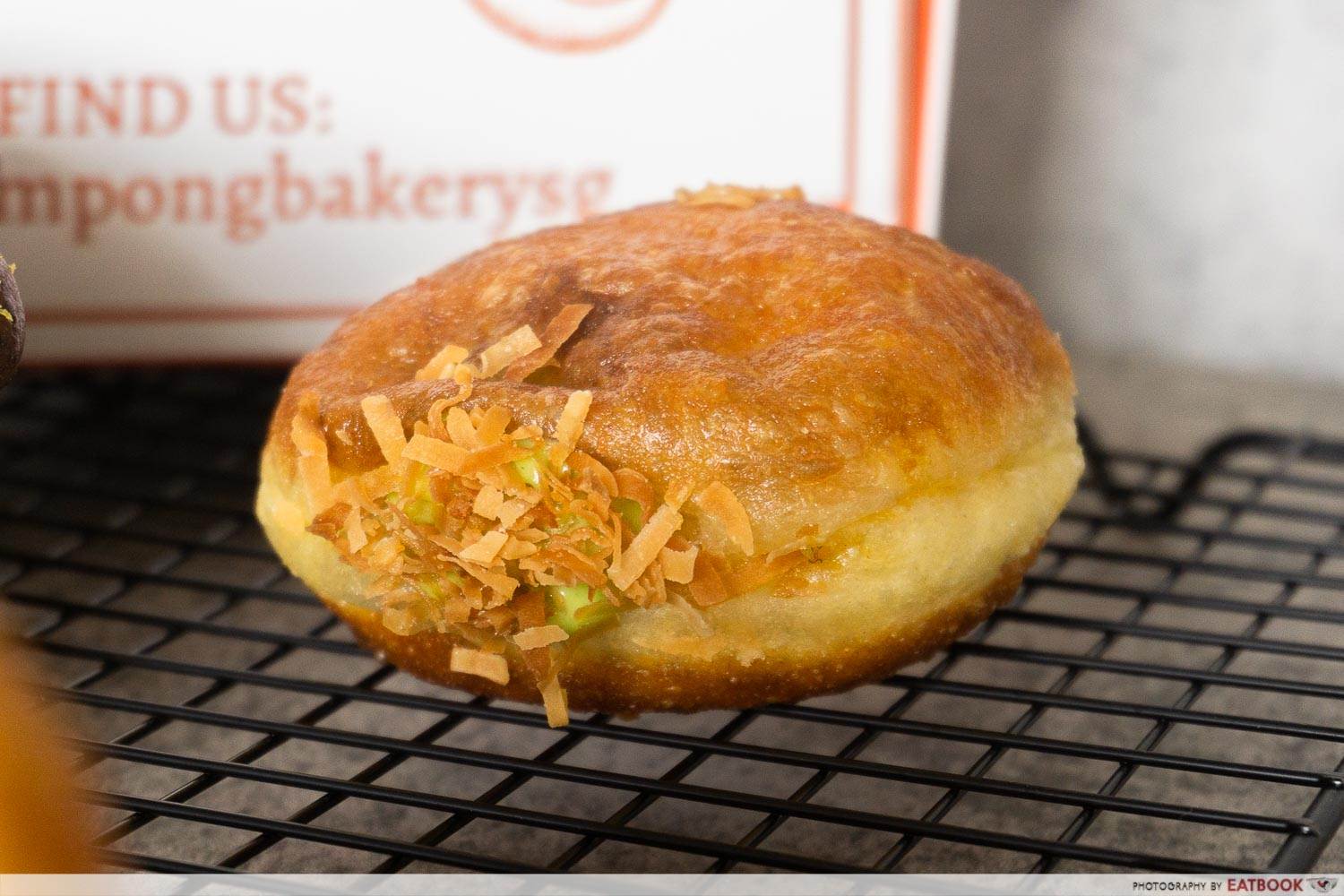 The Kampong Bakery has only just launched, and the flavours already sound so exciting. We can't wait to see what they'll come up with for their future bake sales!
The pork- and lard-free bakes can be ordered on The Kampong Bakery's website from 19 November. Orders may be placed from Monday to Friday, 11am to 5pm, at least two working days before your preferred delivery time. Delivery costs only $5 per location. For the latest updates, visit their Instagram page.
If you're looking for more home-based bakeries to support, check out our list of dessert box delivery services for beautiful bakes. Alternatively, try The Tartlery, a tart business founded by an ex-Masterchef Asia finalist!
25 Dessert Box Delivery Services For Beautiful Baked Goods From Home Bakers
Photos taken by Lim Yu Hui.
This was a media drop from The Kampong Bakery.