The One Tom Yam Mee has customisable tom yum soup in Ang Mo Kio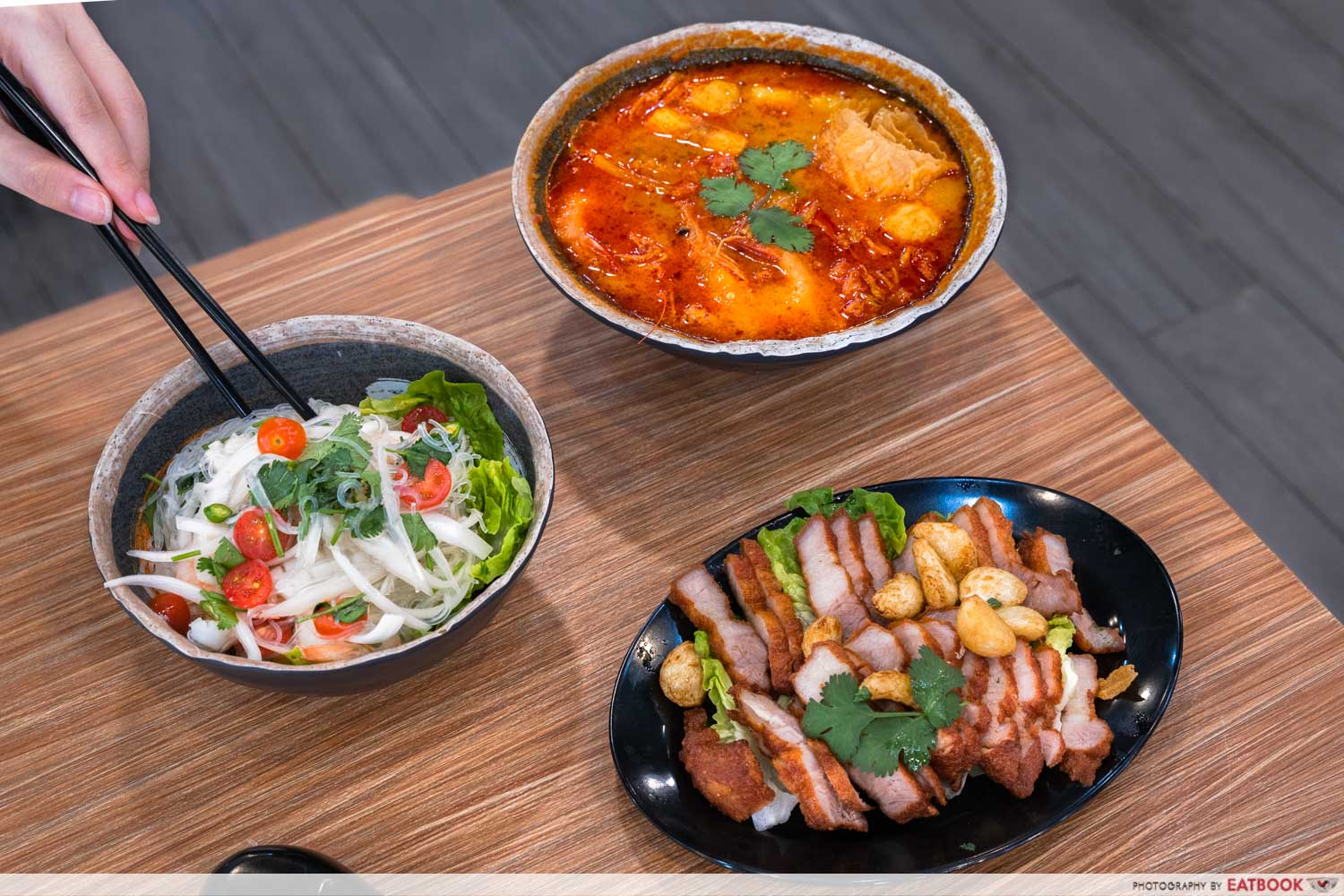 While I'm not great with spice, I genuinely think Thailand with it's typically spicy dishes has one of the best cuisines out there. So when I heard that The One Tom Yam Mee was offering DIY tom yum soup, yong tau foo-style, I was intrigued enough to go down and check it out.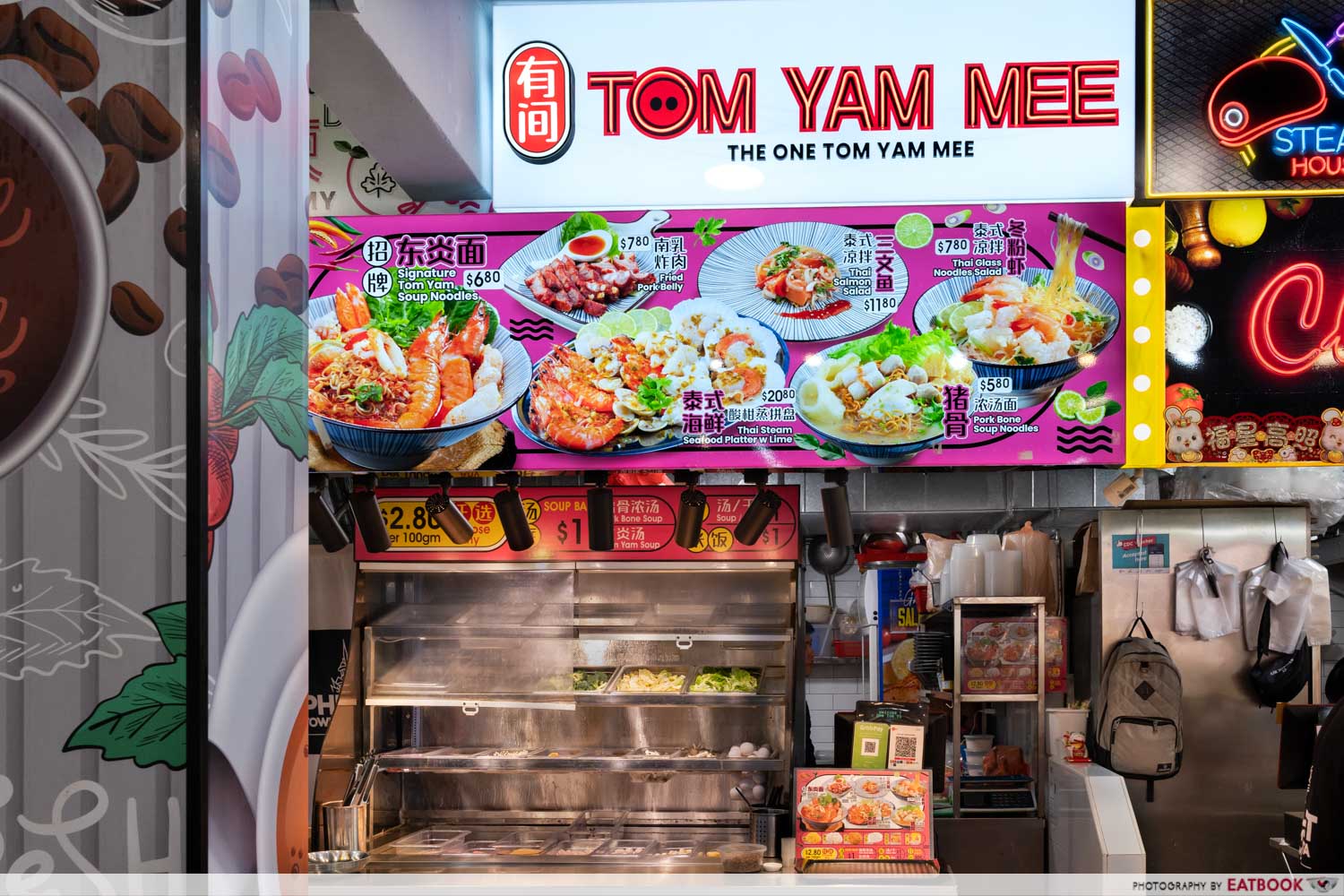 The One Tom Yam Mee is run by John, a friendly and somewhat philosophical Malaysian chef with over a decade's experience in the hotel and food industry. He decided to strike out on his own, selling his take on Thai cuisine, where you could either order off the bright pink signboard or choose your own items, soup base, and noodle type from the large display out front. 
Food at The One Tom Yam Mee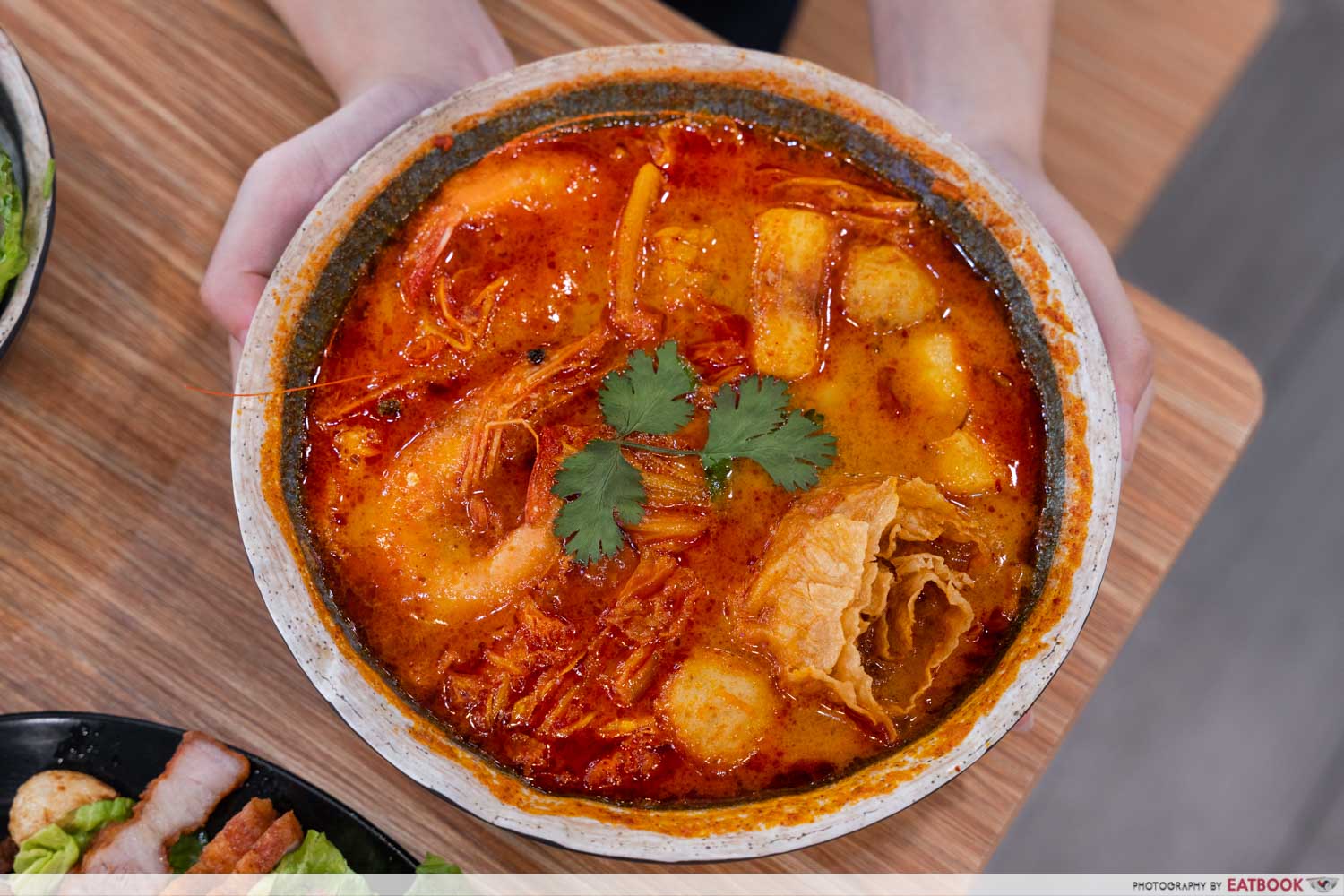 We got to the kopitiam around mid-afternoon, too late for lunch, but too early for dinner. At the time, there wasn't much variety of ingredients available for the DIY tom yum soup option, so we went for the stall's Signature Tom Yam Soup noodle ($6.80). John did say that there are more options for the DIY tom yum at dinnertime, including seafood!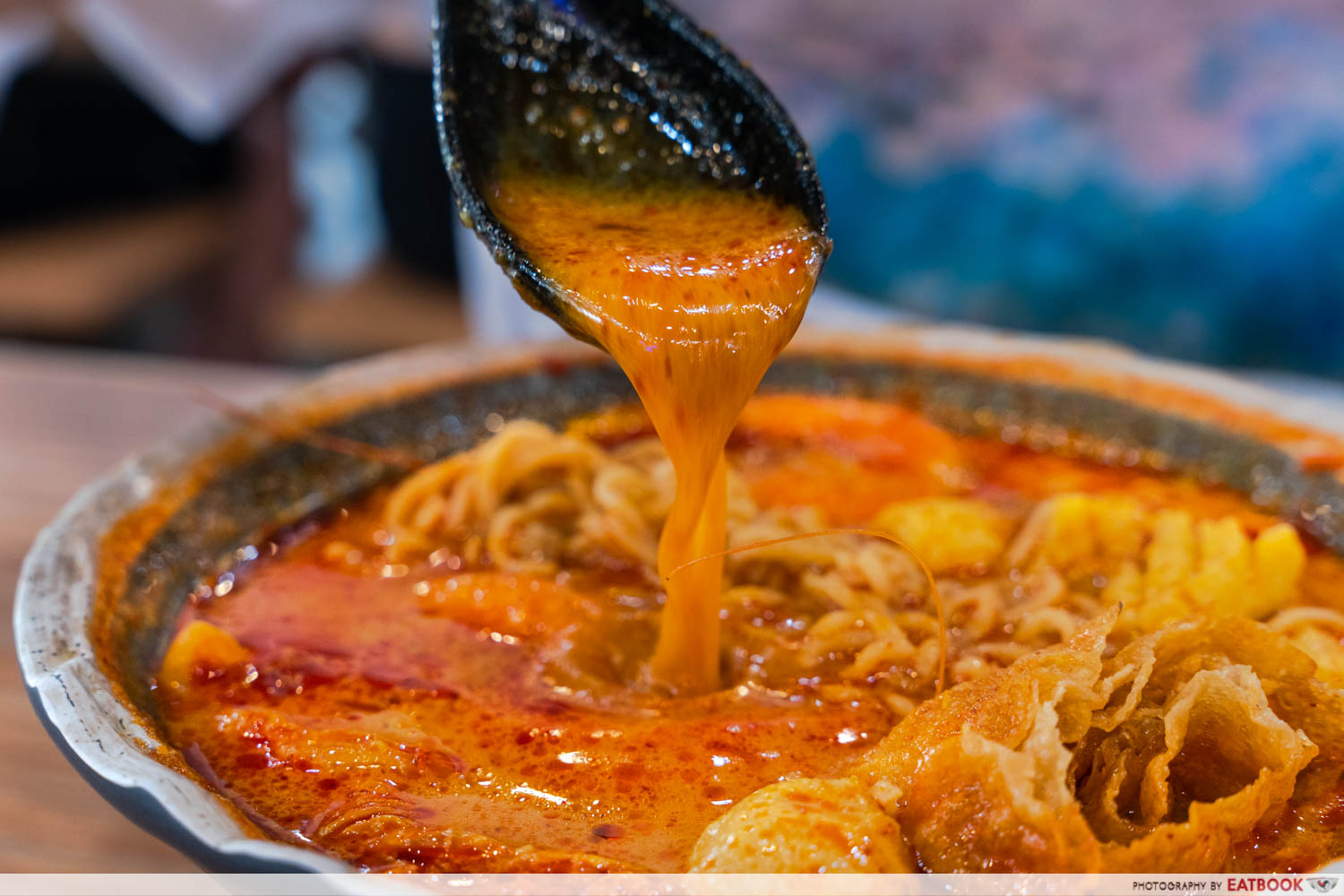 We found the complex red broth here to be super shiok, with just the right balance of sour and spicy in every sip.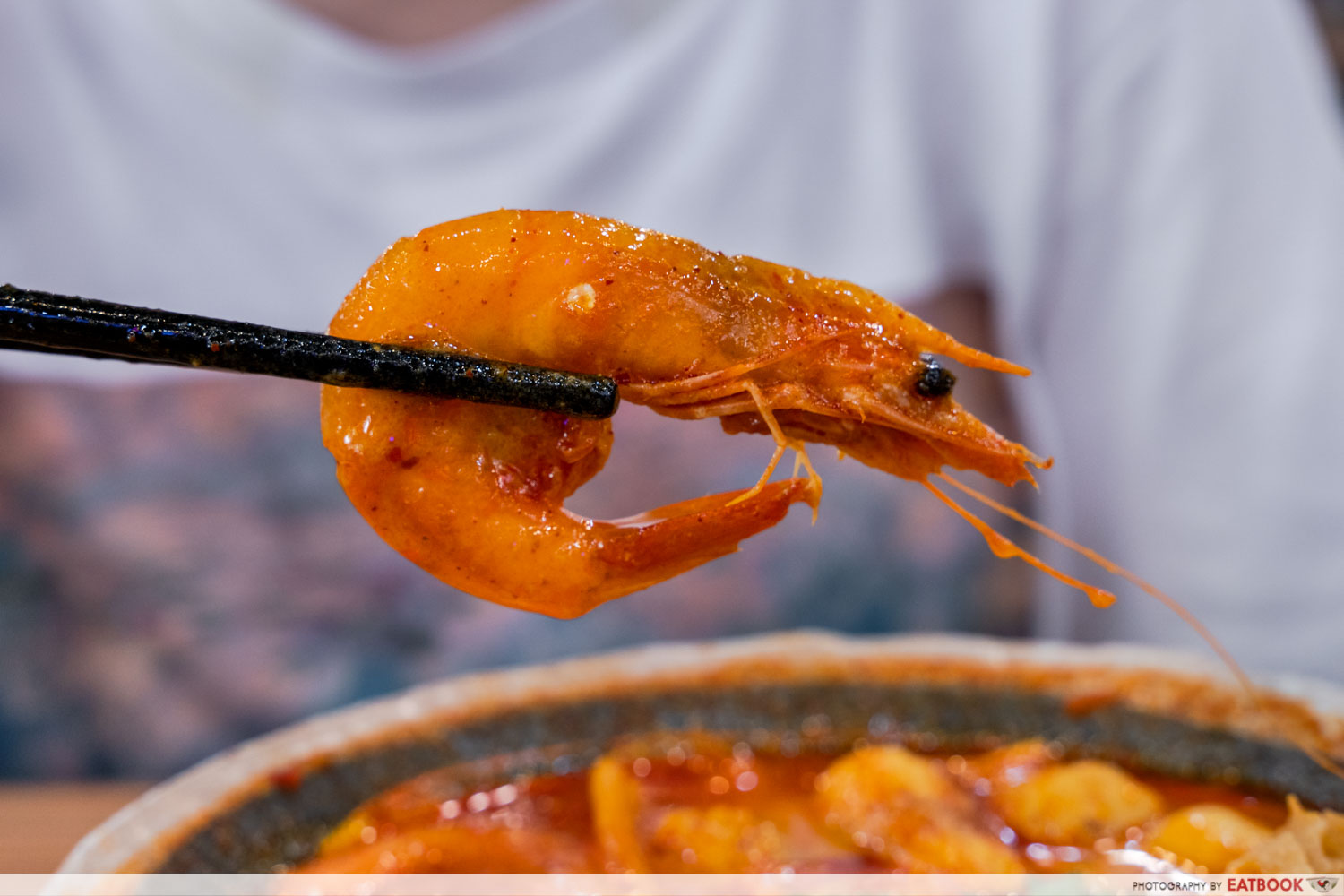 Liao-wise, there was a good amount of ingredients in our bowl, including two mid-sized, fresh brawns, fishcakes, chewy sotong, and firm meatballs. My favourite ingredient had to be the rolled up beancurd skin that had been positively soaked in the broth, but that might just be my love for tau kee showing.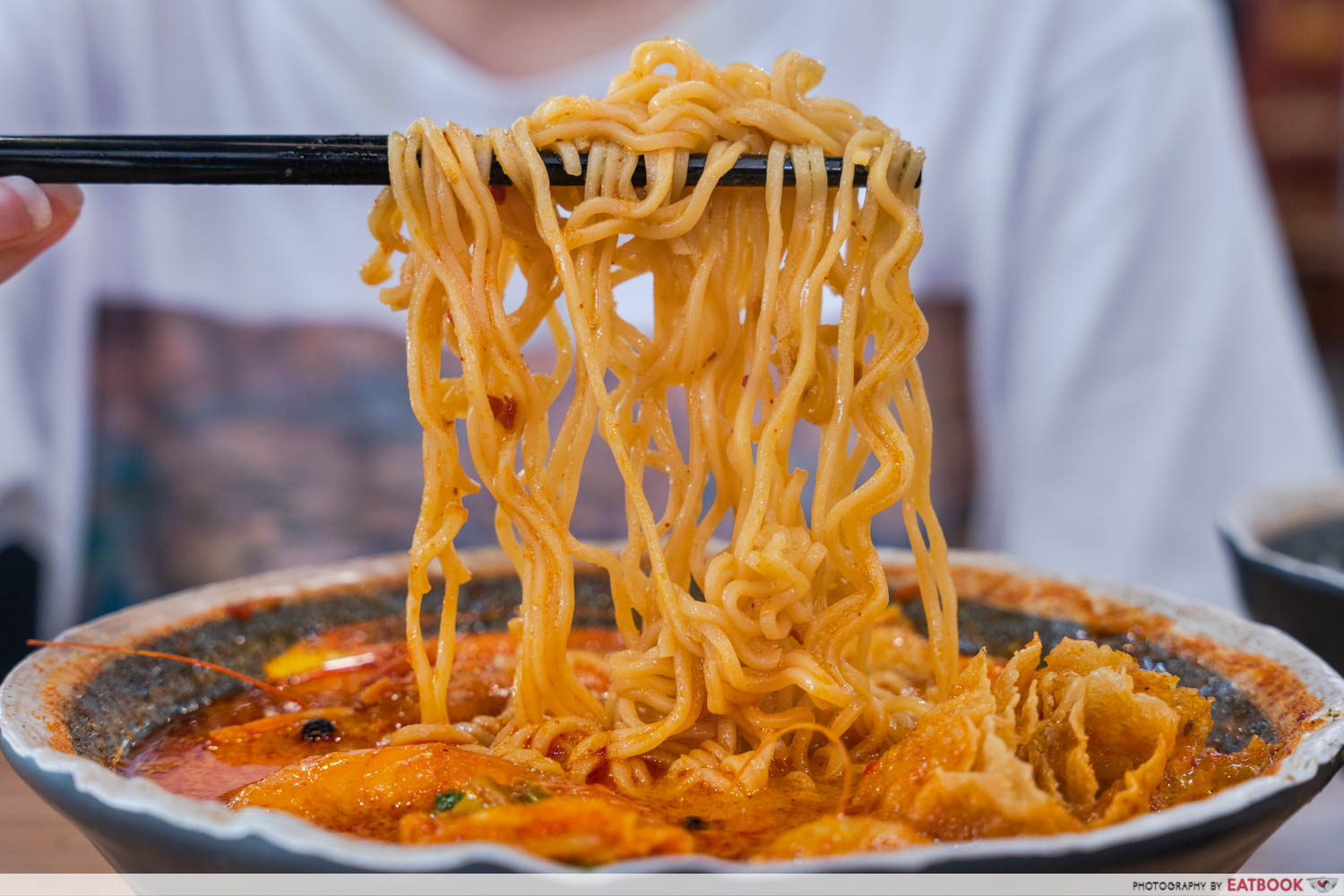 The default noodles in the signature tom yum soup seemed to be of the instant noodles variety, and while I felt that they were fine, my friend thought that the dish would have benefited from being paired with a different noodle.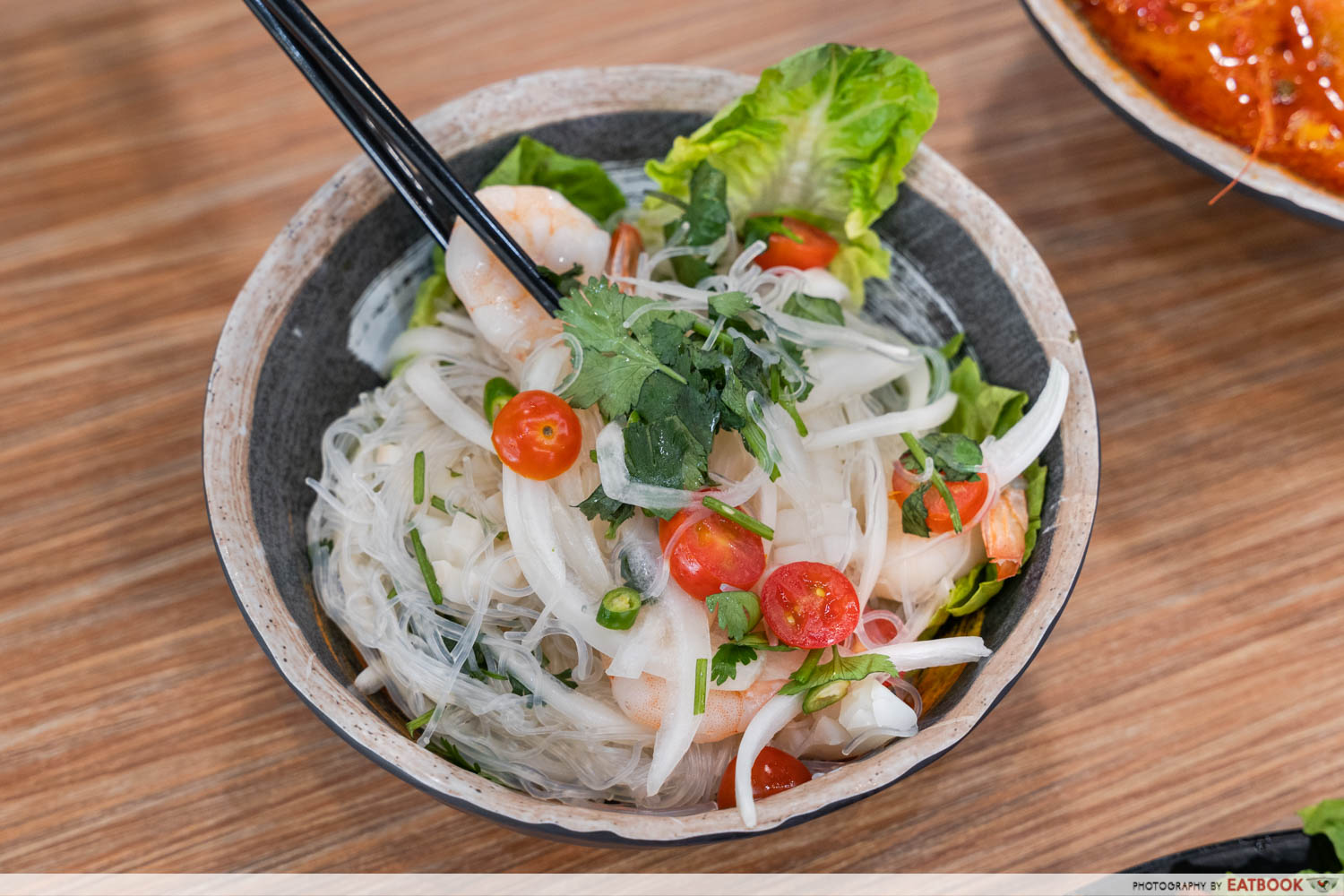 Interestingly, the Thai Glass Noodles Salad ($7.80) found itself repurposed as an unlikely solution to our noodle problem. Tossing the springy glass noodles of the salad into the tom yum soup on a whim led us to discover that this combination worked surprisingly well together.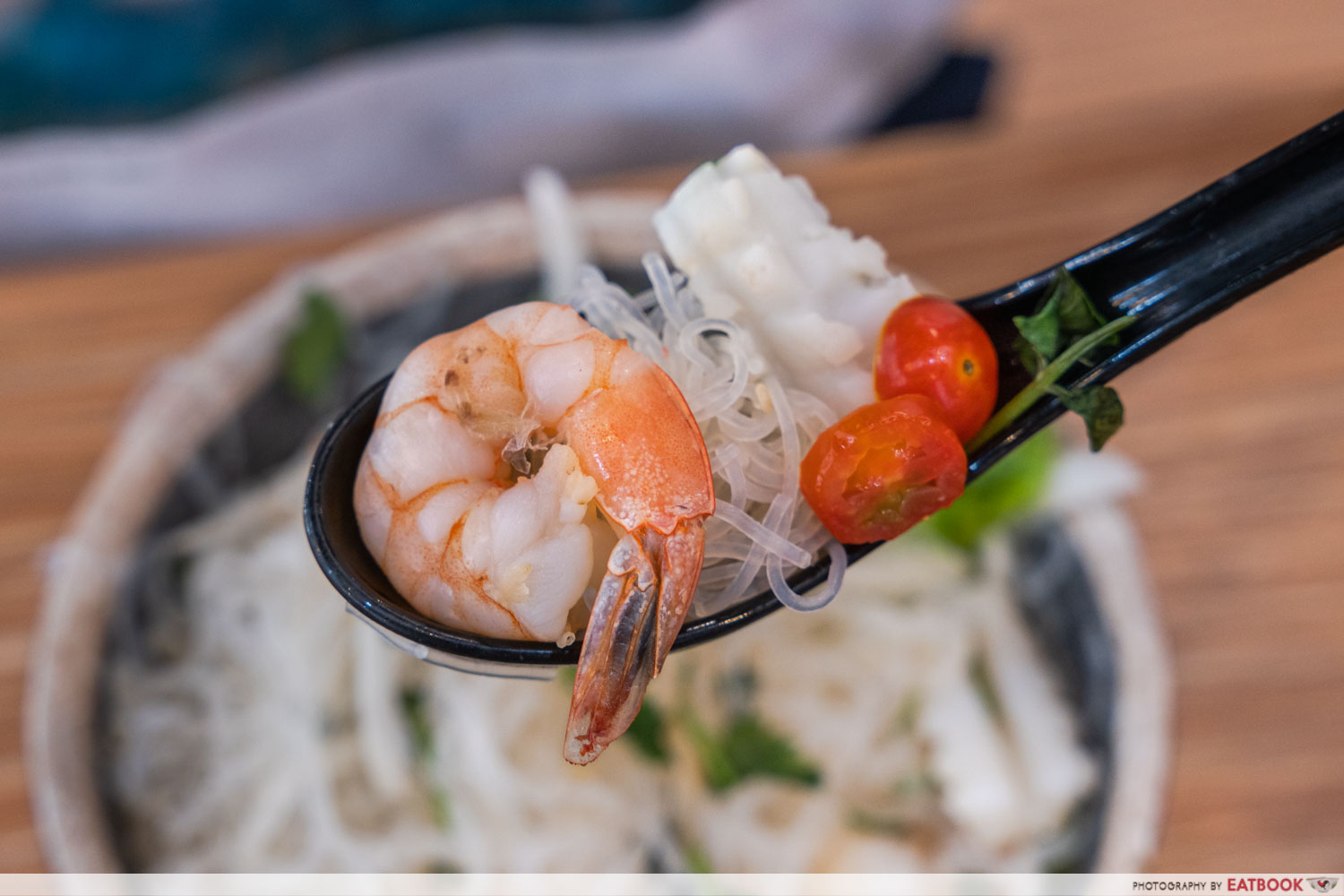 By itself, the salad was pretty much a regular salad. Palatable and easy to eat, but not something my friend and I would order if we were craving Thai food. I did enjoy the generous amounts of ingredients here, as well as the refreshing, strong lime taste that was the primary flavour of the dish. Unfortunately, I prefer noodles in soup, so these drier noodles aren't my style.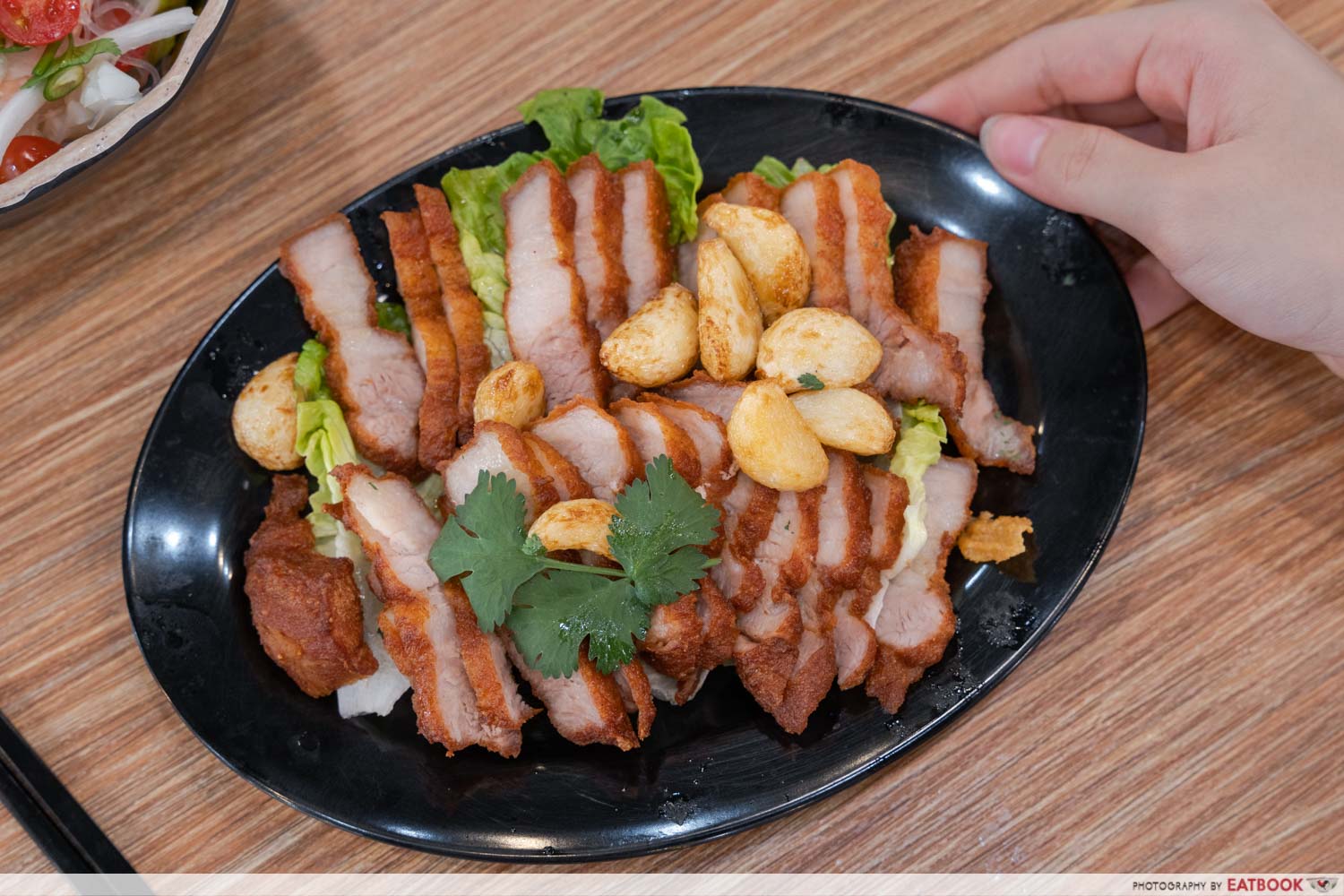 We also had stopped by originally for the other popular item at the stall, the Pork Bone Soup Noodles ($5.80), but that was regrettably sold out at the time. We substituted this for another pork appetiser, the Fried Pork Belly ($7.80). For the price, you get a rather generous amount of pork belly slices deep fried with garlic cloves.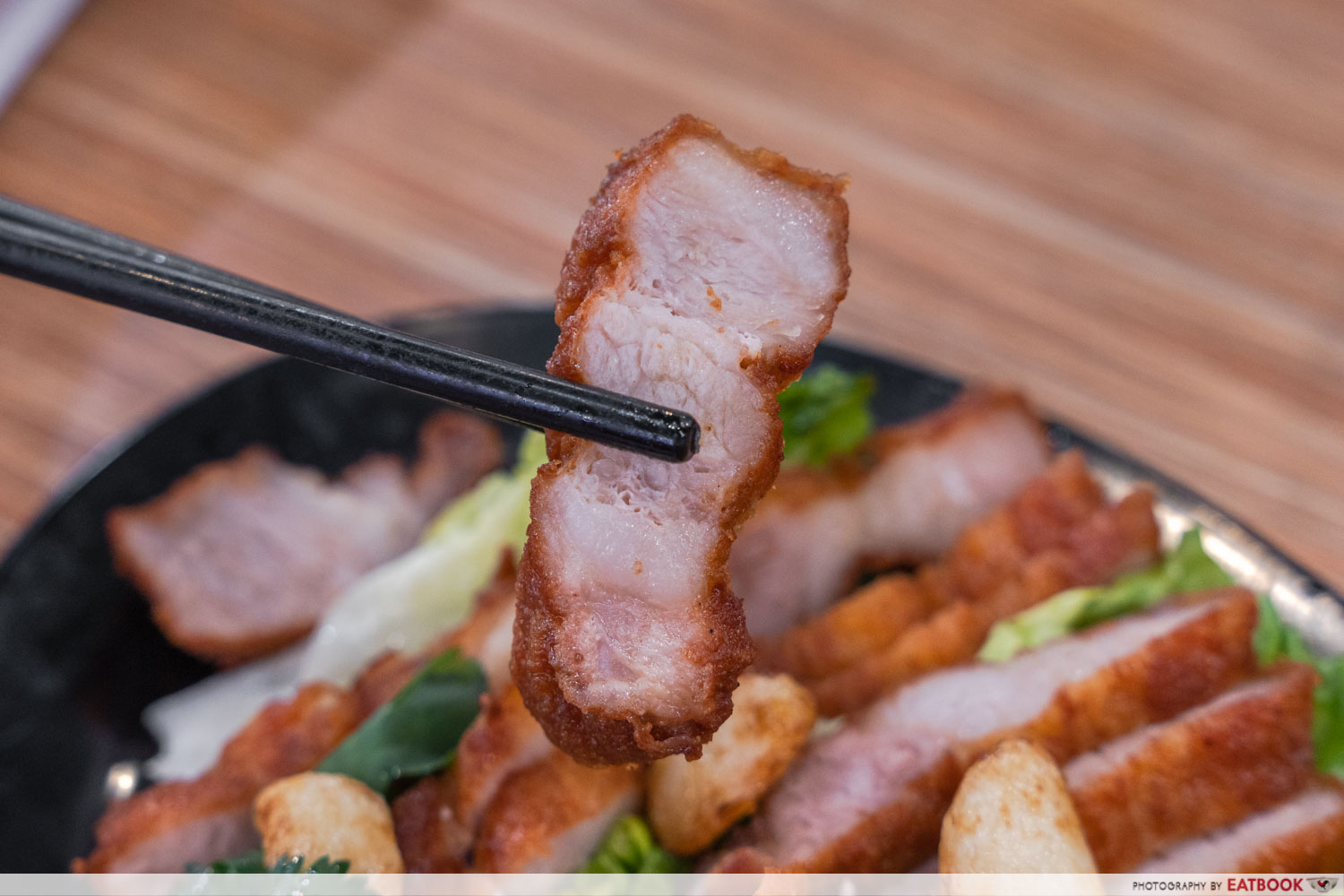 If anyone happens to be a garlic hater for whatever reason, the garlic taste of the pork itself isn't apparent. The slices were all sliced to a uniform thickness too, with a nice crisp on the outself and fatty bits that melt in your mouth when hot. While most of the meat we had was tender and juicy, some were a little too dry for our liking. 
Thailand Street Food Review: Wallet-Friendly Thai Bistro-Bar With Boat Noodles, Sambal Cockles And Mookata
Ambience at The One Tom Yam Mee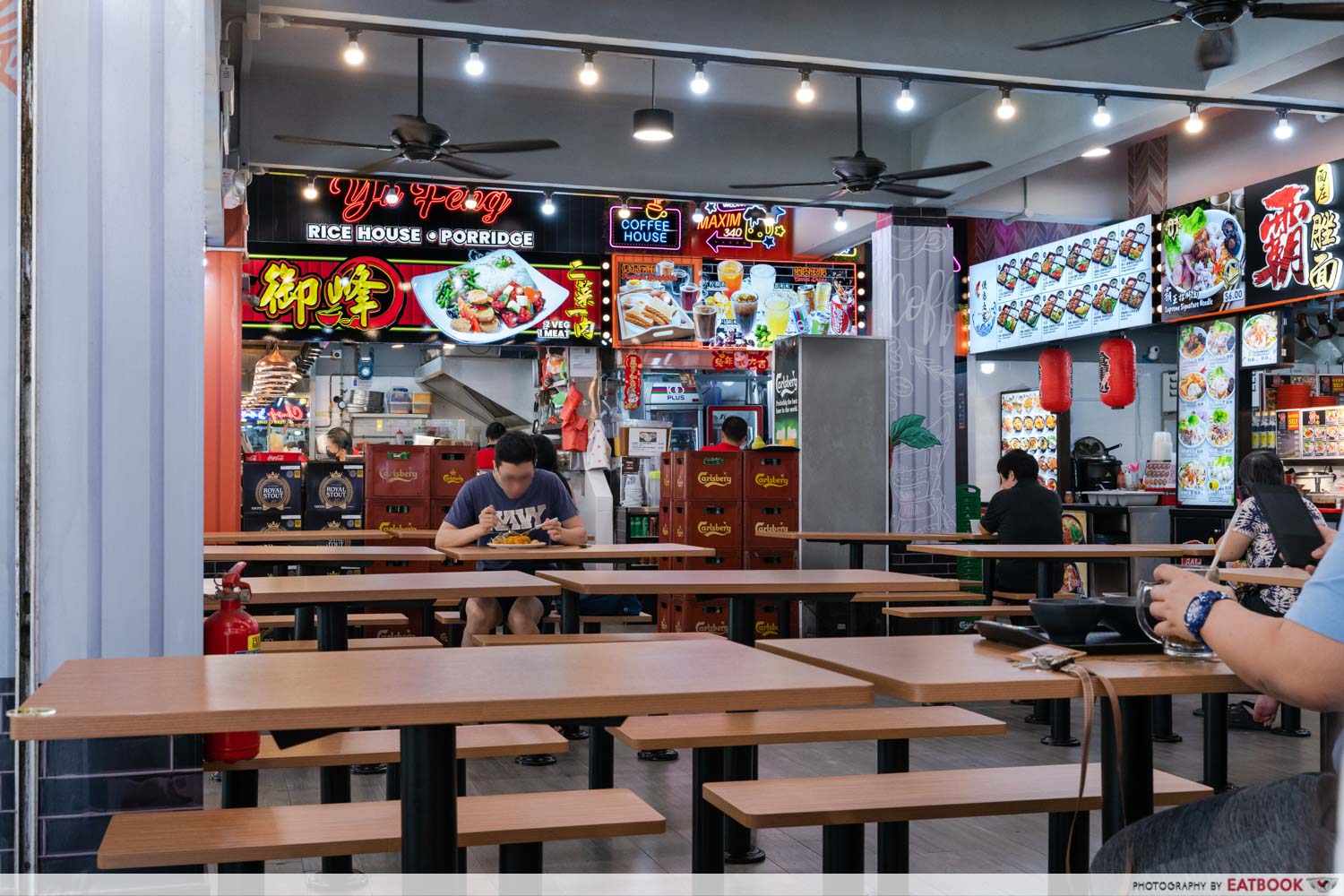 The One Tom Yam Mee is located in a newly revamped Ang Mo Kio kopitiam, which was very clean, well-lit, and ventilated. There seems to be quite a few notable stalls here, including Char Siu Lang and a halal chicken rice stall next door with a long queue even at 3pm that makes it hard to stand around and pick your DIY ingredients. The kopitiam itself is about a 10-minute walk away from Ang Mo Kio Mrt Station, and right around the corner from Teck Ghee Court Market and Food Centre. 
The Verdict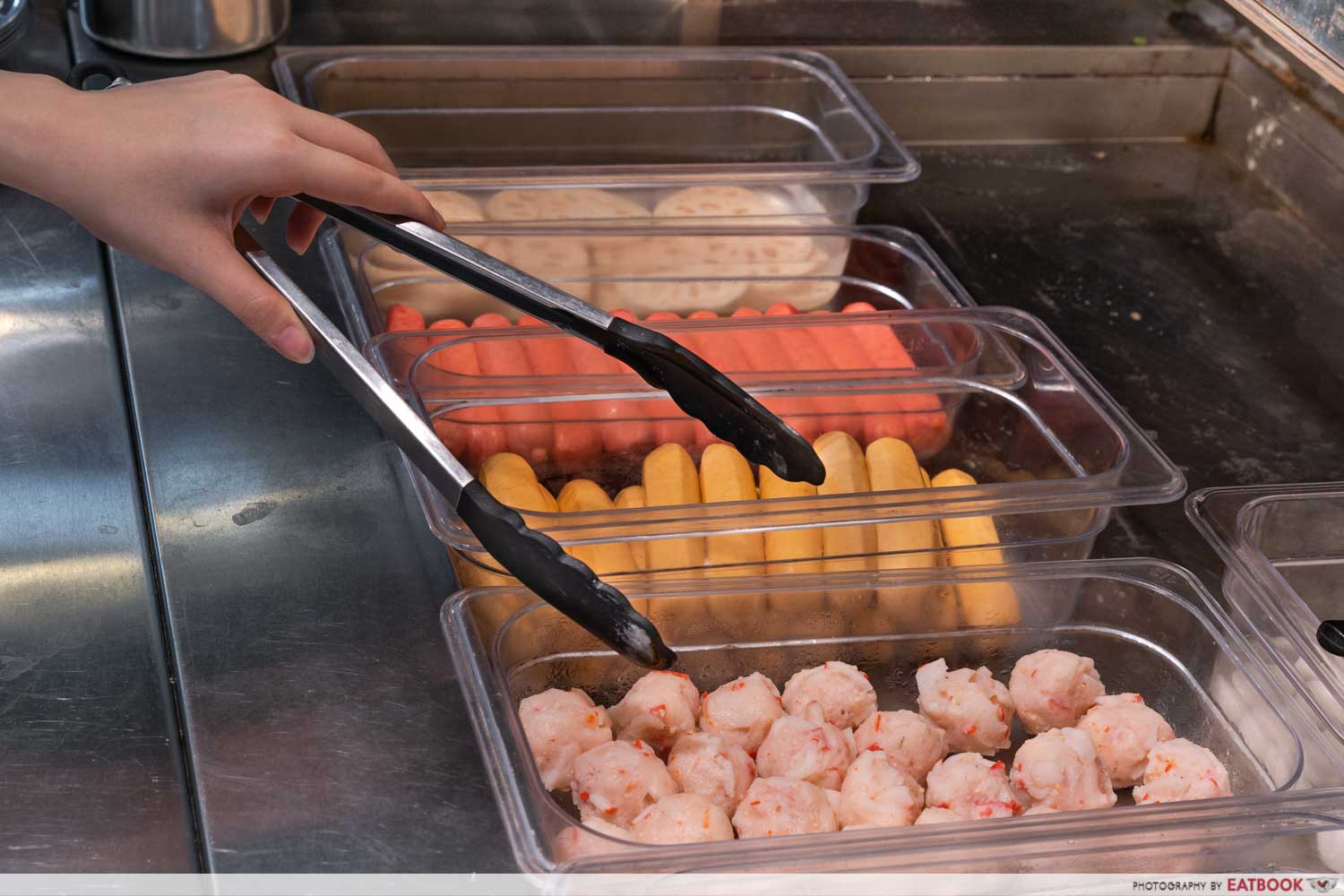 Overall, I left The One Tom Yam Mee with a sated, full belly. This isn't the place to go if you're looking for legit Thai food, but I'd still recommend giving the tom yum soup here a try. It was regrettable we didn't end up customising our own tom yum soup with the full range of ingredients they had, but other than the noodles we did like John's version, especially the very shiok soup.
For more affordable Thai food, check out Thailand Street Food, a bistro-bar with boat noodles and mookata in MacPherson. Otherwise, check out our Ang Mo Kio food gems guide to more hidden gems in the area. 
Opening hours: Daily 12pm to 11pm
Address: 340 Ang Mo Kio Avenue 1, #01-1697, Maxim Stars Coffee Shop, Singapore 560340
The One Tom Yam Mee is not a halal-certified eatery.
17 Ang Mo Kio Food Gems Including Cheesy Korean Corndogs And $1.30 Dim Sum
Pictures taken by Tan Jia Hui
This was an independent visit by Eatbook.sg
The One Tom Yam Mee Review: DIY Tom Yum Soup In Ang Mo Kio
The One Tom Yam Mee Review: DIY Tom Yum Soup In Ang Mo Kio -

7/10
Summary
Pros: 
– Shiok soup
– Friendly hawker
– Interesting DIY concept
Cons:
– Default tom yum soup could benefit from a different noodle
– Some of the pork belly slices were a bit dry
Recommended dishes: Signature Tom Yam Soup noodle ($6.80)
Opening hours: Daily 12pm to 11pm
Address: 340 Ang Mo Kio Avenue 1, #01-1697, Maxim Stars Coffee Shop, Singapore 560340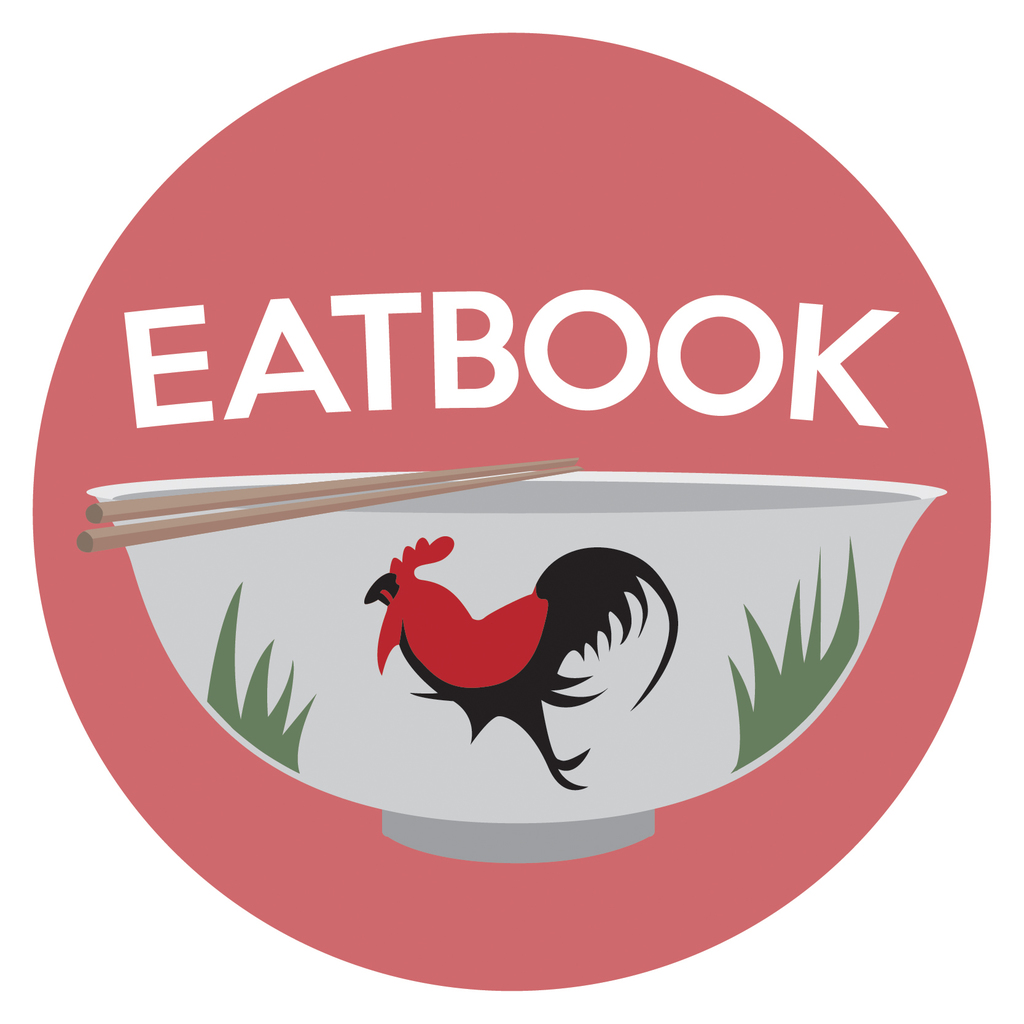 Drop us your email so you won't miss the latest news.