Pretty cakes at The Twisted Trio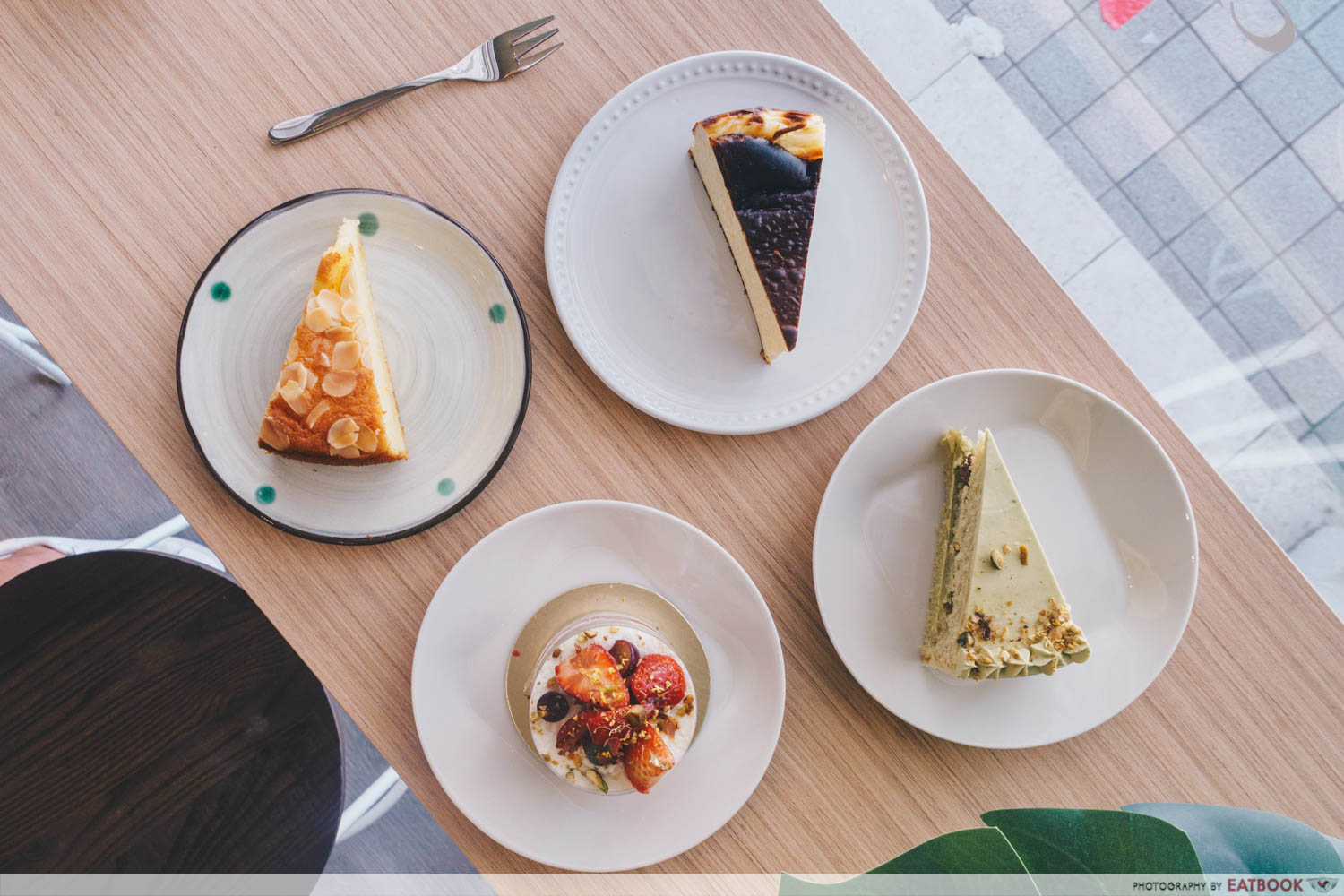 As #basic as it makes me sound, I am someone who will go to great lengths to find quiet, hidden cafes in the heartlands, just to relish in some of that homely charm they emanate. The Twisted Trio is a humble HDB cafe that fits right into the profile. Only recently opened, the patisserie sells elegant, freshly baked goods right out of their one-unit outlet in Toa Payoh.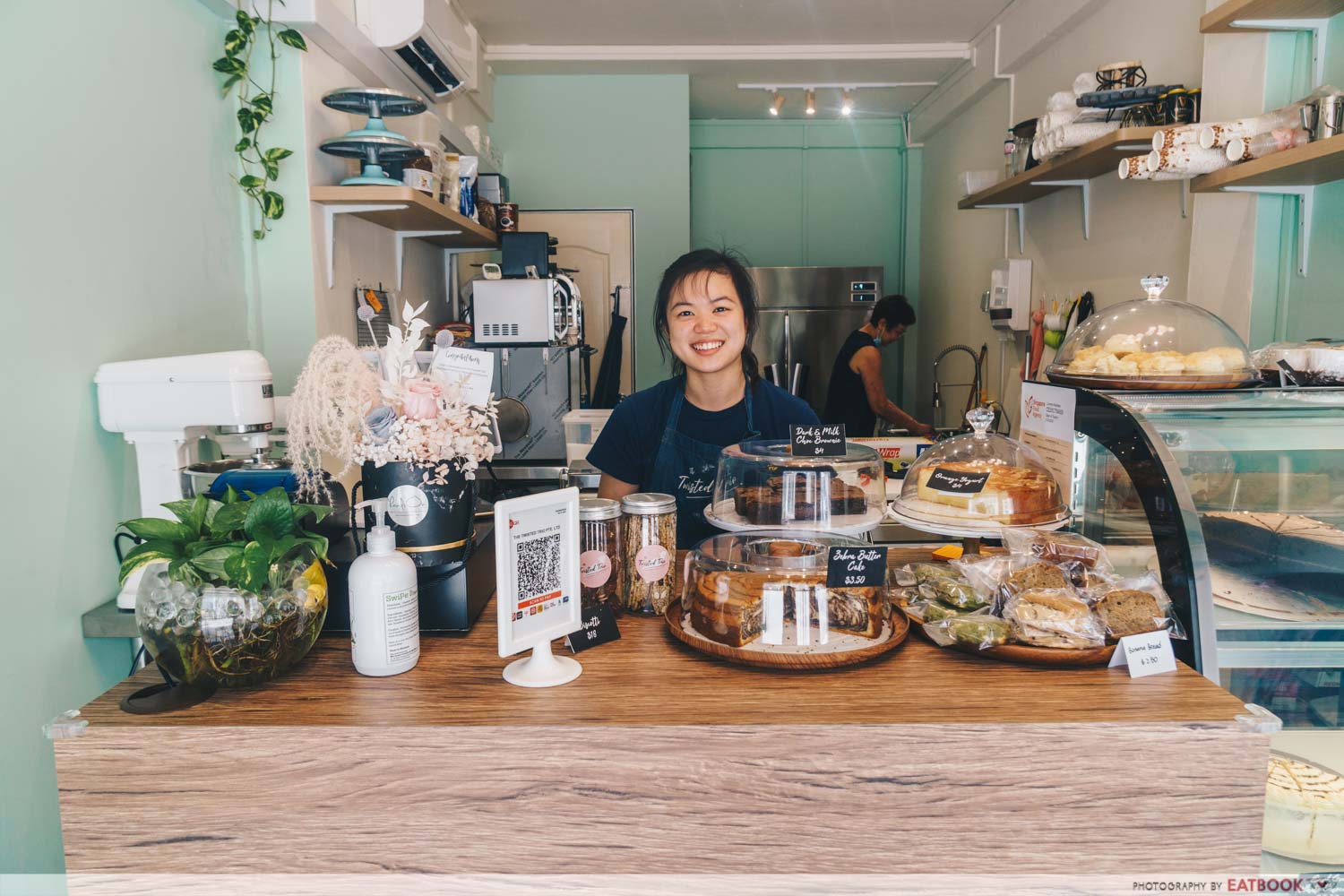 The story of this hole-in-the-wall cake shop began with three friends who shared the same passion for pastry-making. The young trio were distinctly different individuals, but they managed to put their heads and taste buds together to create unique and beautiful pastries.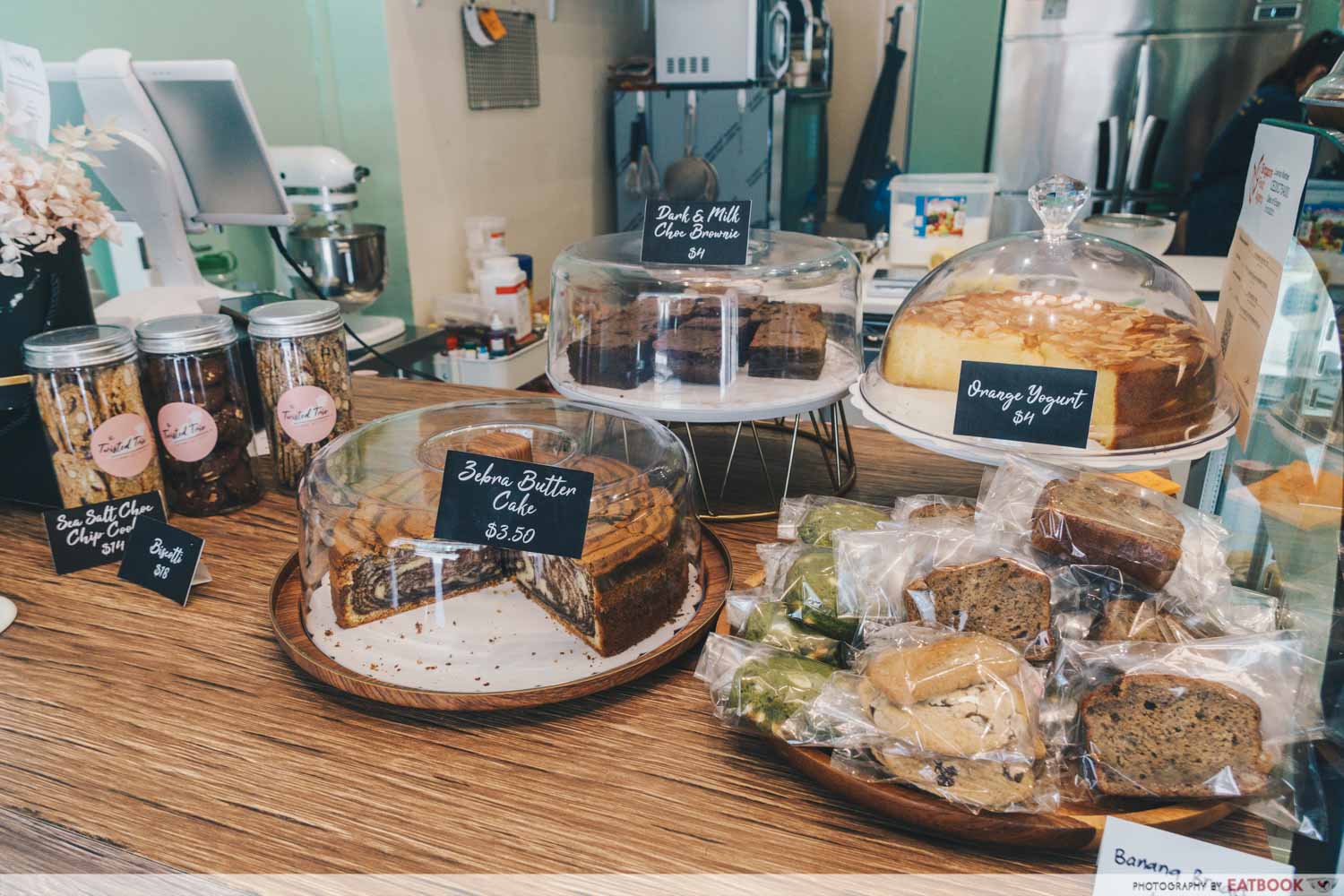 There's no lack of options here. The moment you walk in, you'll be greeted with a spread of baked goods including Zebra Butter Cake ($3.50), fudgy Dark & Milk Choc Brownies ($4), assorted cookies, alongside one-of-a-kind cakes such as the Blue Pea Passionfruit ($5.50) and Lychee Rose ($5.50).
Food at The Twisted Trio
Looking like a mini version of a cake, the satisfyingly round Watermelon Rose ($8) sports vibrant pops of colour, thanks to intricately stacked layers of cream, sponge, and fruit.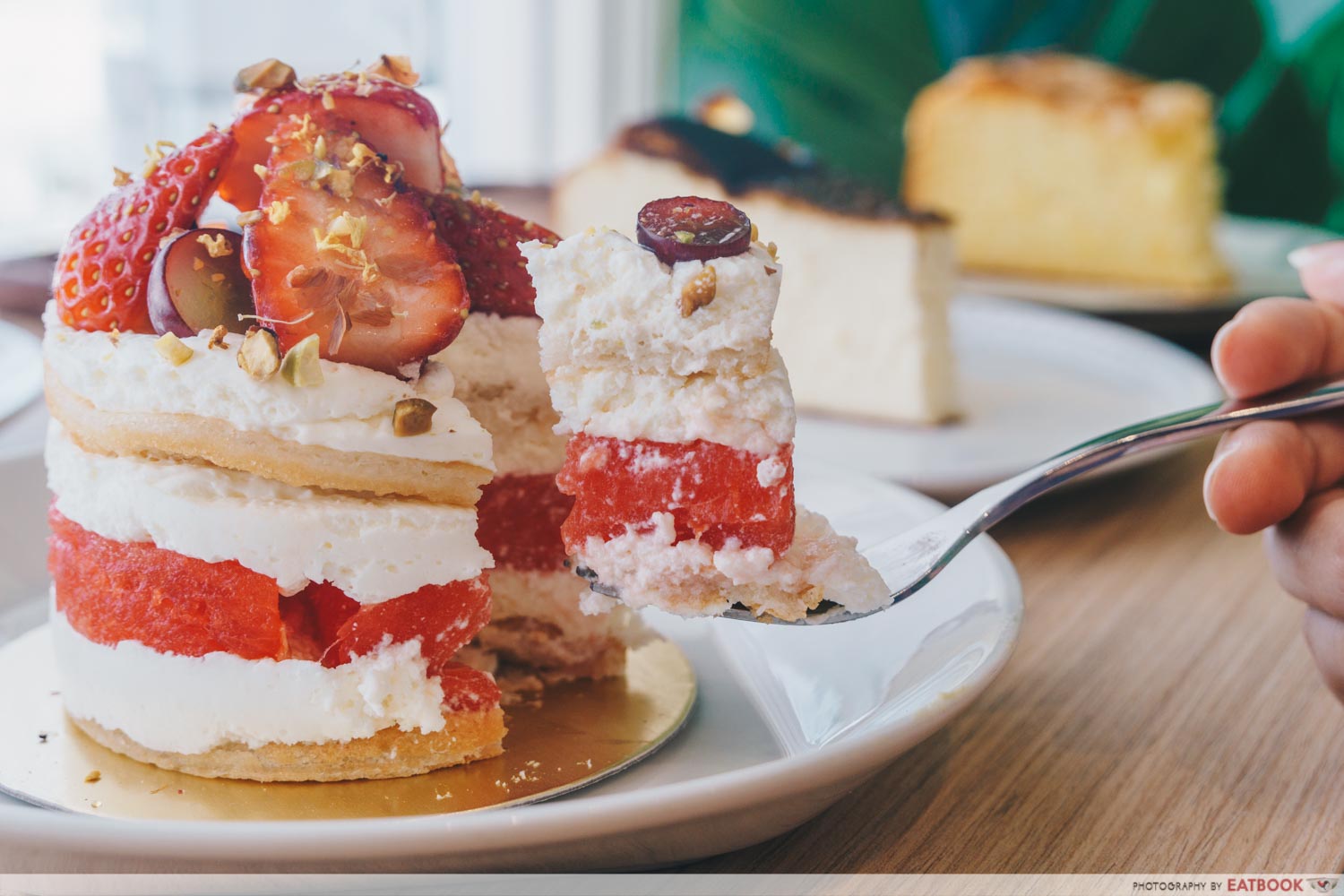 The neat freak in me celebrated when the cake remained intact even as I cut a full-length wedge out of it. If anything, it's a testament to its well-made construction. More than its design, flavour-wise, the cake struck a tasteful balance as well. 
The fragrant perfume of rose in the sponge and cream was light but still detectable, and it melded harmoniously with the juicy, sweet watermelon. Admittedly, I'm quite a cake snob when it comes to cream. It can't be too oily or sweet, and consistency is key. This cake's cream ticked all the boxes for me. It was smooth and wonderfully fluffy.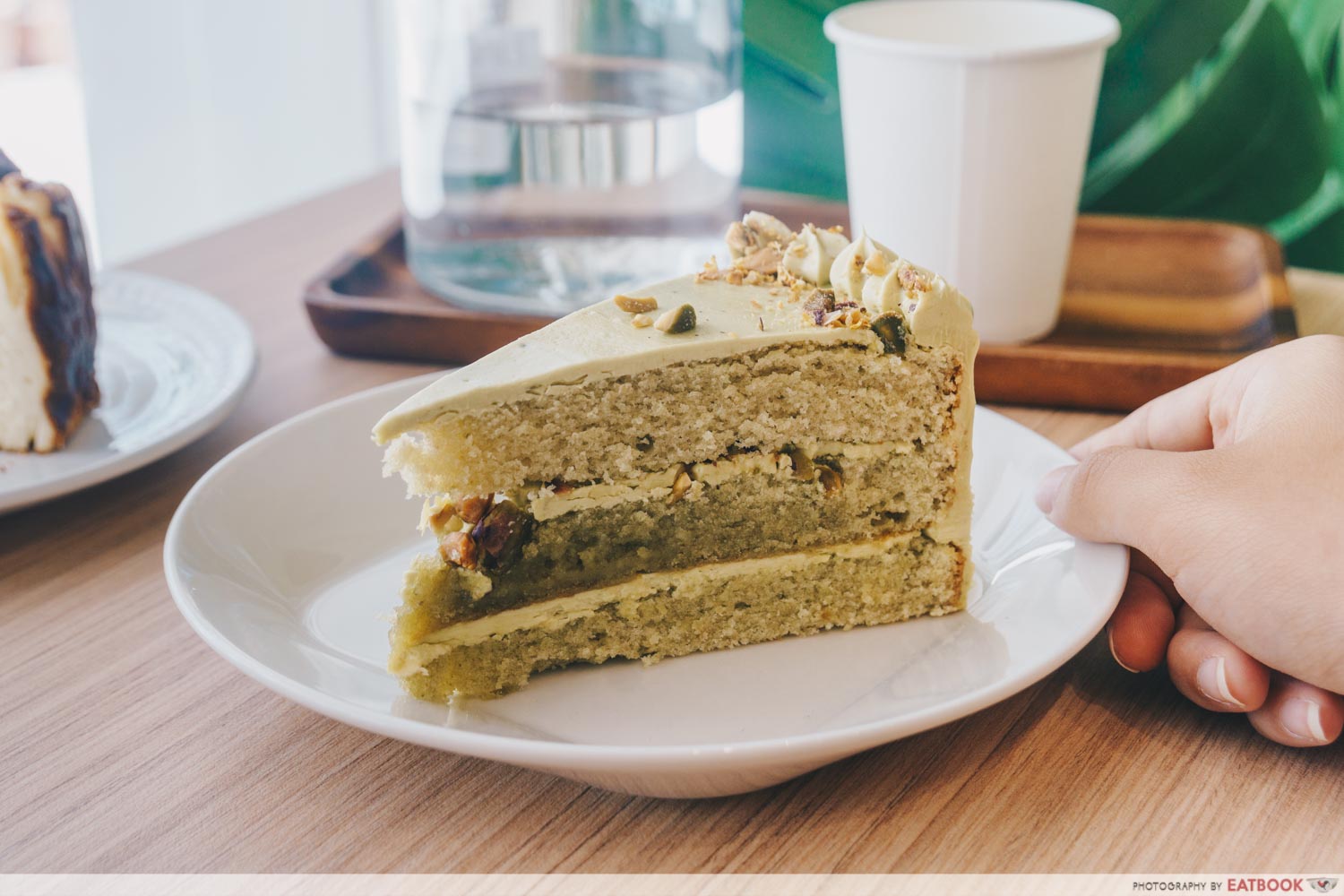 Their Pistachio ($7) cake was a comforting shade of light green, and had impressively thin layers of cream sandwiched between sponge and pistachio nuts. Dainty dots of piping lined the edge of the slice, and a sprinkle of chopped nuts completed the look. This was a strong contender for a spot on my IG feed.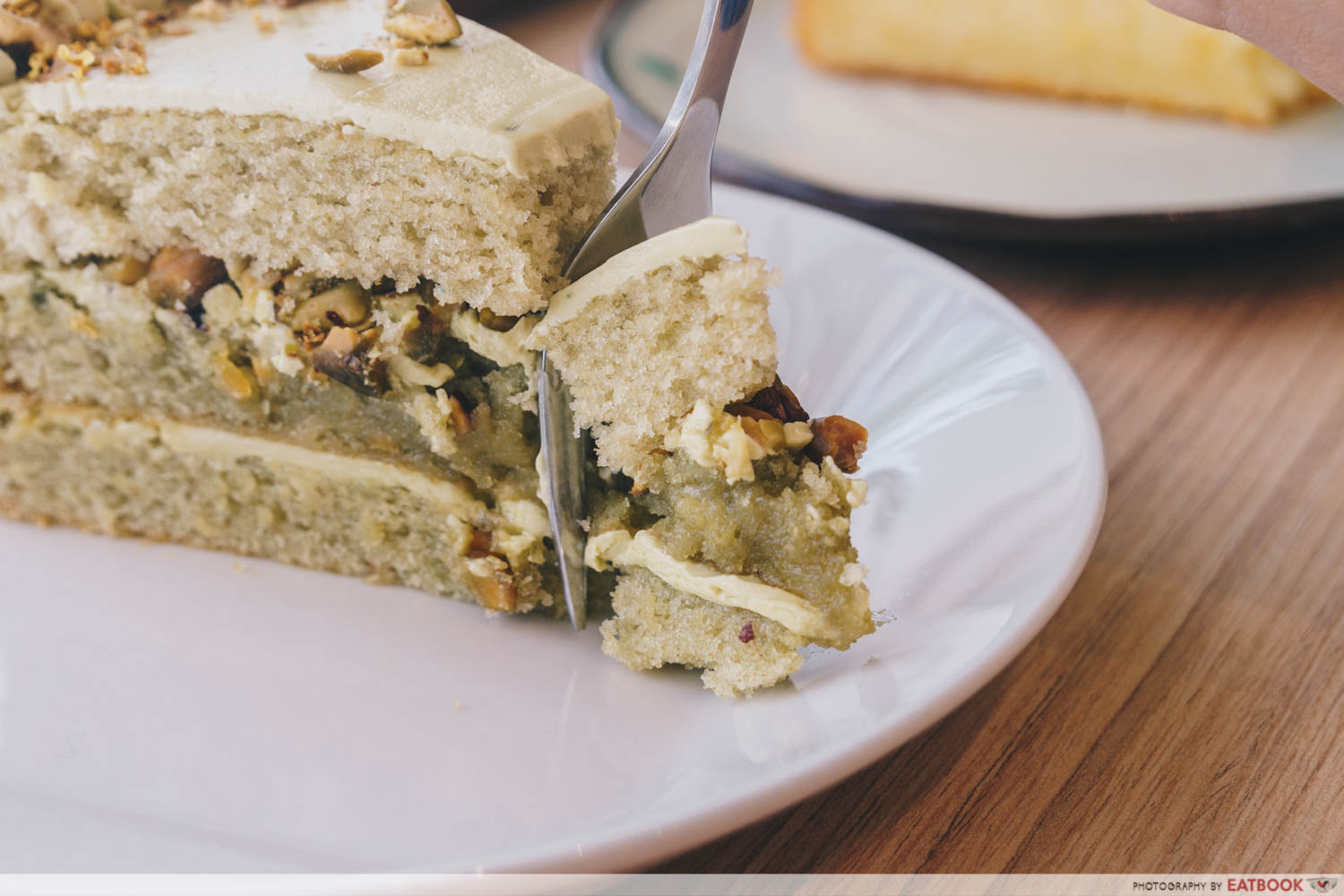 The sponge had a tightly packed crumb and immensely moist. I'm unsure if it was intentional or accidental, but the centre of the cake had a paste-like layer that seemed slightly under baked. Along with the embedded pistachios, they gave a subtle earthy flavour that wasn't overly sweet. 
Eating all of the cake's components together made me a little jelak after a short while. The ultra-moist sponge, combined with the gloppy centre layer, and dense icing, left an oily sheen on my tongue. Though the cake wasn't too sugary, it was unfortunately on the heavier side.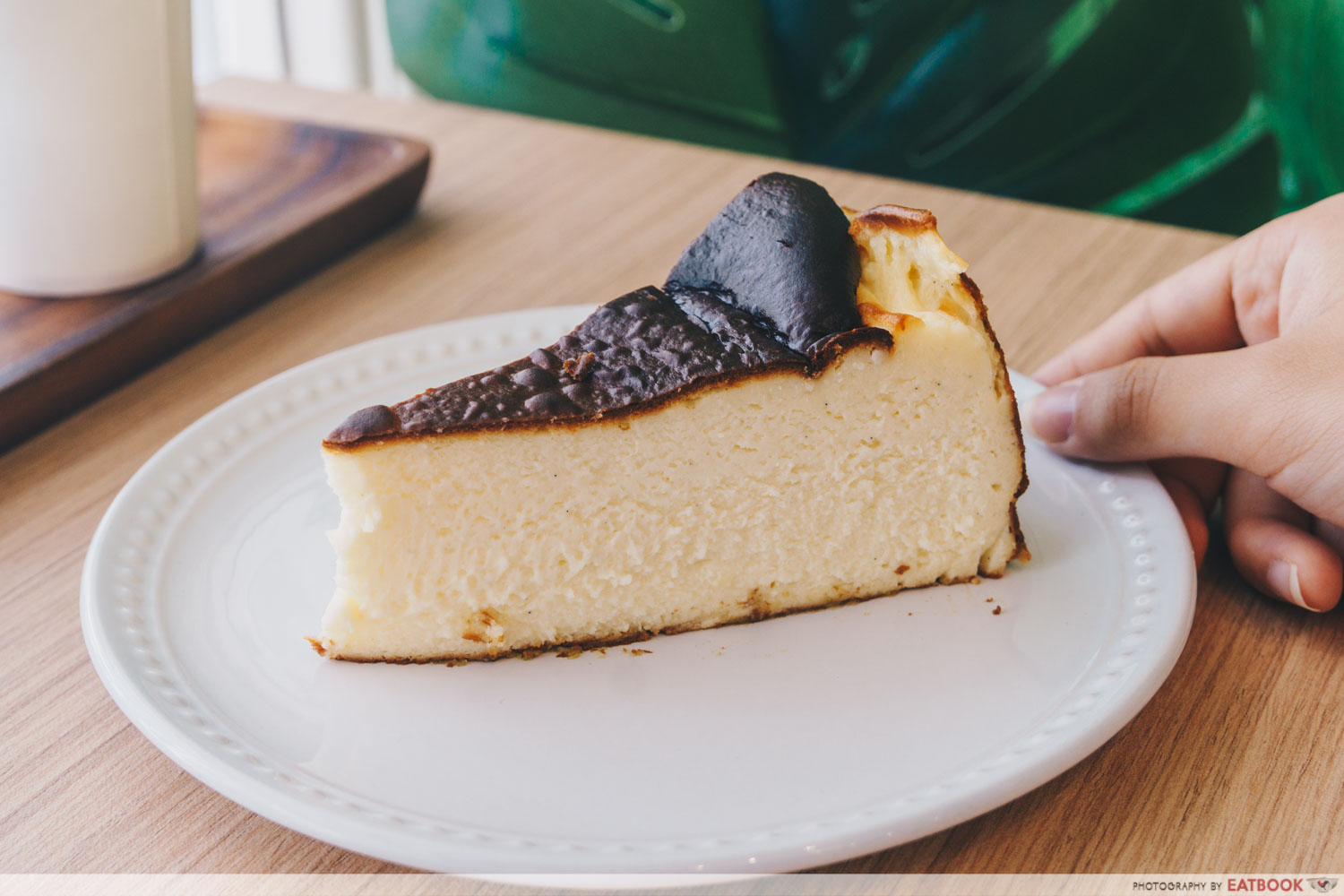 Spotting this Burnt Cheesecake ($8) in the refrigerated display stirred up some excitement in me. Speaking as someone who would choose cheesecake over other types of cake any day, it's still a mystery how I've never gotten down to trying this iconic cheesecake at the peak of its hype. 
Created in Spain almost three decades ago, this cheesecake style is absent of a crust and boasts a blackened top as well as a soft, custardy centre. 
The Twisted Trio managed to achieve a rather photogenic version of the classically messy cheesecake. Its burnt parts, just shy of being carbon black, formed delicious caramelised edges that encased the soft centre. The undercooked middle was amazingly light, and dissolved quickly in my mouth.
Taste-wise, I wished for a stronger kick of acidity, since it was a little light-handed on the cheese flavour. This style of cheesecake is also traditionally served at room temperature, but it was unfortunate that the slice was plated right out of the refrigerator.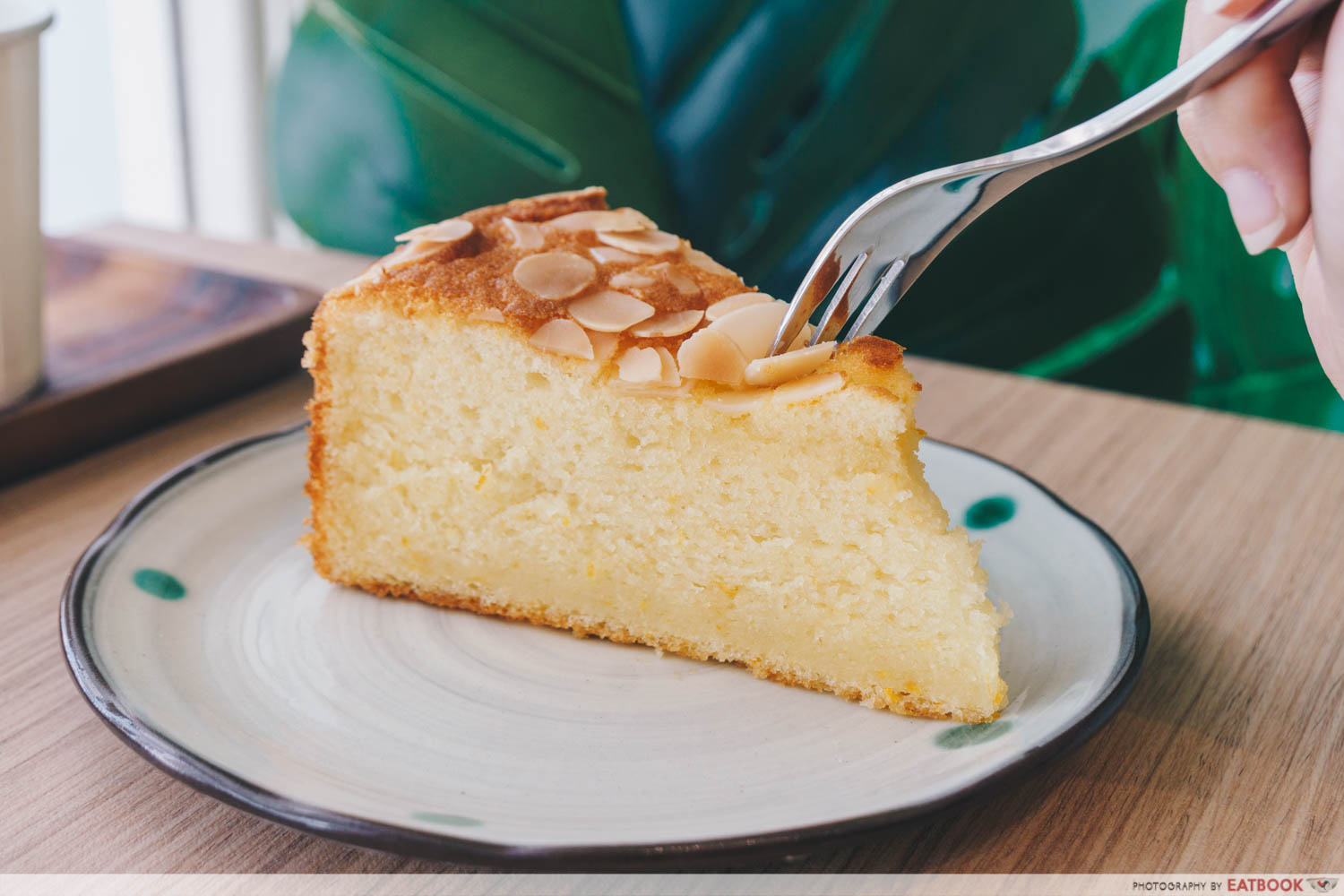 We picked this Orange Yogurt Slice ($4) out of their counter display of pound cakes, brownies, and cookies. This orange and yoghurt combination is reminiscent of a classic French recipe that goes by the name Gâteau au Yaourt, which is known for its plush crumb, citrusy flavour, and simple construction.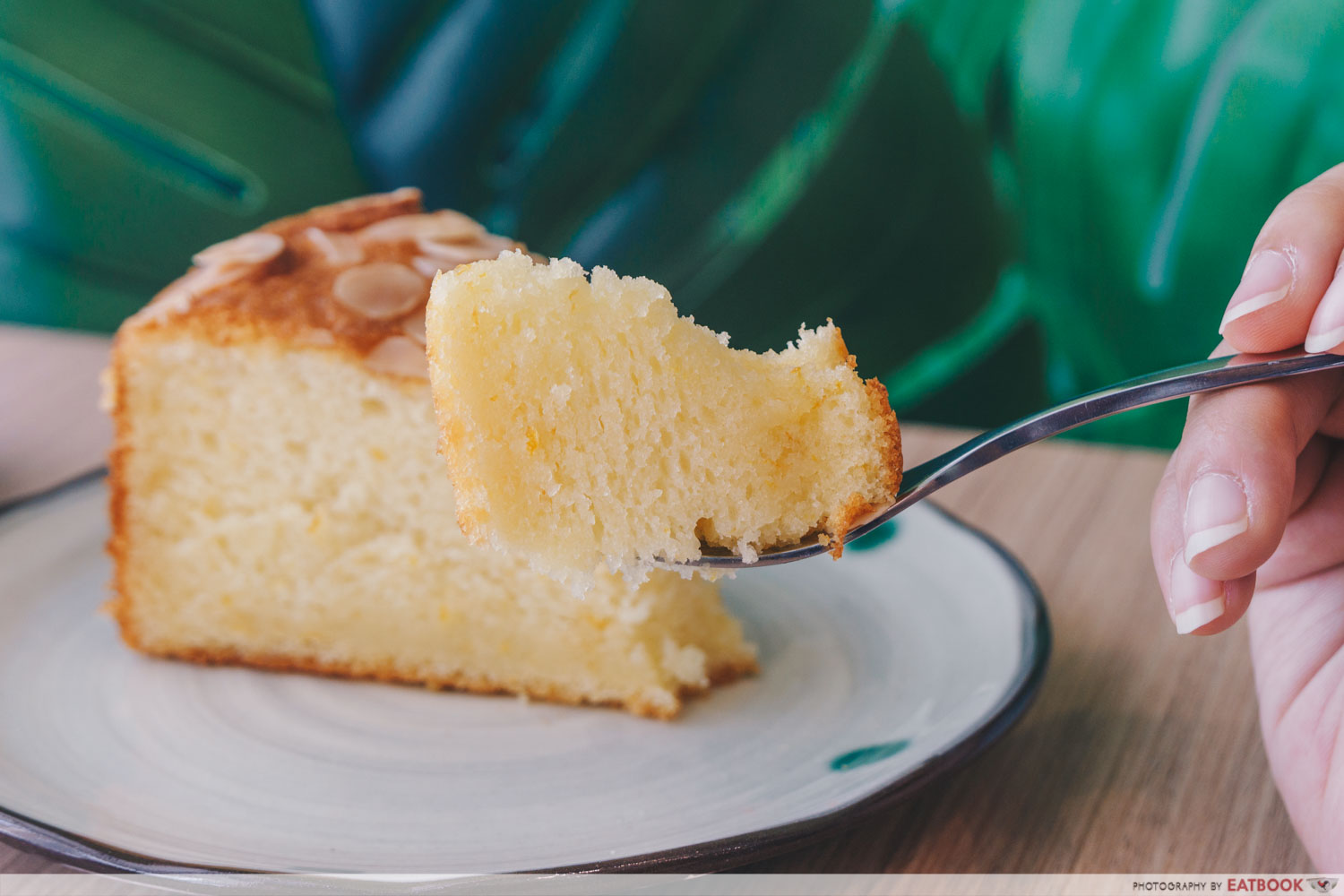 I thoroughly enjoyed this take on the timeless recipe. A fragrant, citrus orange aroma took the centre stage in each bite, while the golden, caramelised edges added another depth of flavour. 
The slice had a butter cake texture with its exceptionally moist and soft crumb. Surprisingly, it wasn't too oily. The use of yoghurt in place of other forms of fat kept the cake supple whilst holding back on the heaviness.
Ambience at The Twisted Trio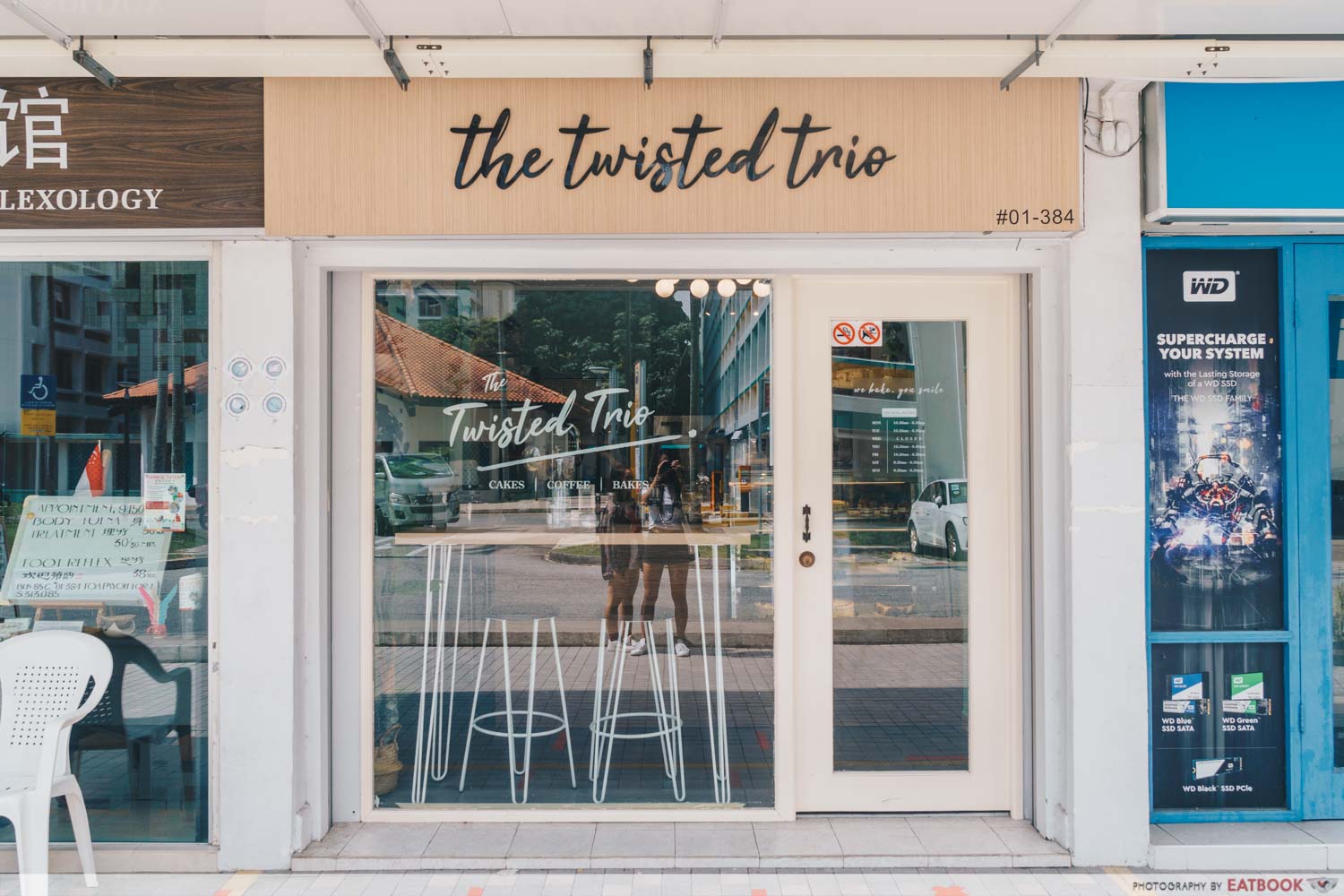 The Twisted Trio is a six-minute walk away from Toa Payoh MRT Station and is nestled under a HDB block. Since the patisserie occupies only a single stall unit, the kitchen, display counter, and seating area are all squeezed together in the small space. They have implemented SafeEntry measures in view of the COVID-19 situation, so make sure to maintain safe distancing while doing your takeaway.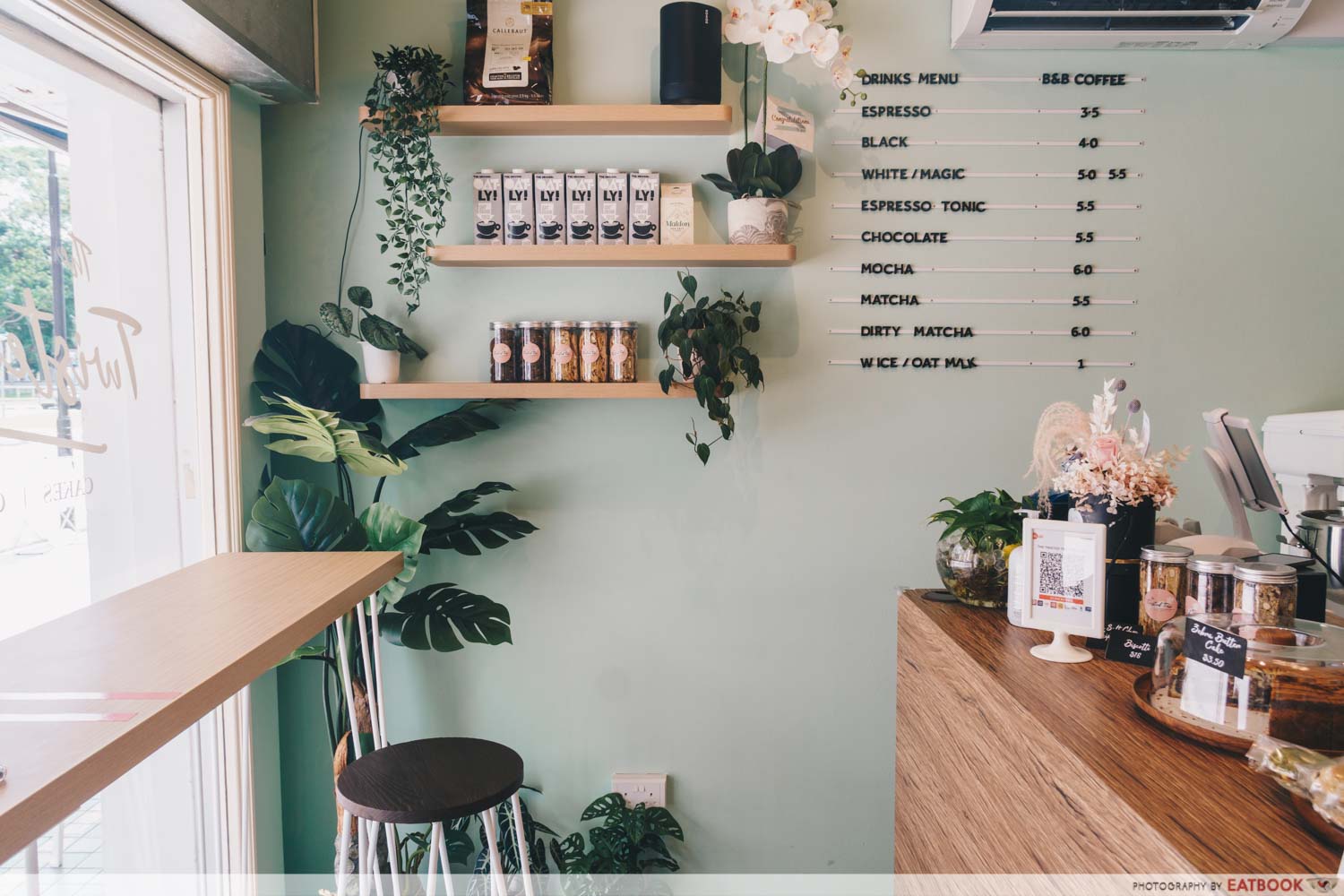 The interior of the cake shop is decorated naturally with soft, earthy colours, and the smattering of plants grants some character to the quaint cafe. With the kitchen taking up half the floor space, expect to hear the whirring and humming of baking equipment in the background while you enjoy your pastries. 
If you plan to make a trip down once the COVID-19 situation has eased up, sitting by the floor-to-ceiling window whilst having some cake and coffee is a wonderfully serene way to spend your afternoon.
The verdict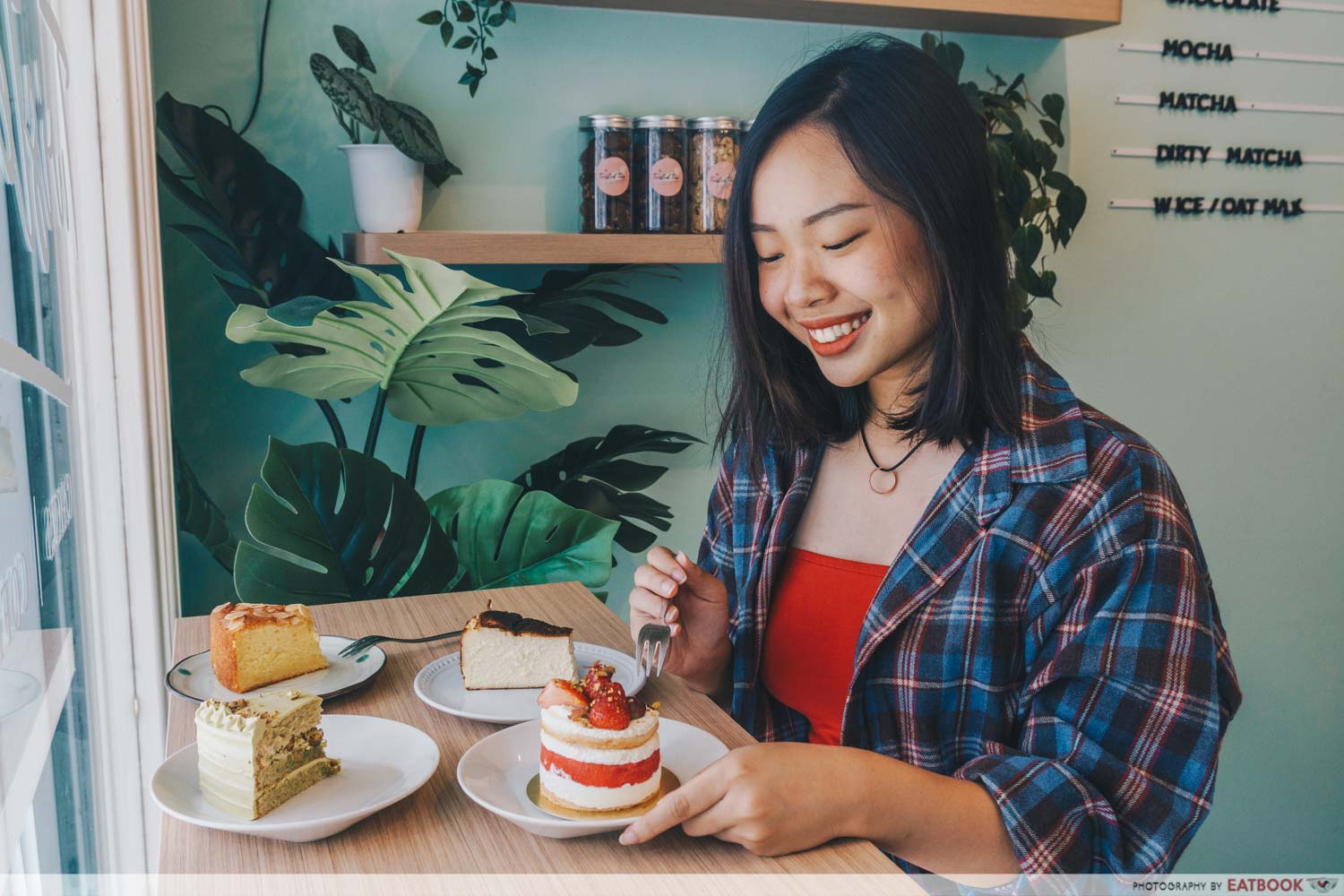 I can't stop myself from having a soft spot for little dessert nooks like The Twisted Trio. Despite its humbly sized kitchen and small team, this young cafe puts loads of delicate care into their bakes—and it shows. I'll definitely be sticking around to try out more of their creations and ,perhaps, cop a few more pictures of their pretty cakes!
The Better Half Review: IG-Worthy Cakes With Unique Flavours In A Hidden HDB Cafe
Check out our review of The Better Half for more beautiful, IG-worthy bakes. Or, for more newly opened eateries, read our list of new restaurants in 2020.
9 New Restaurants In April 2020—Beef Stroganoff Omurice, IG-Worthy Cakes And More
Address: 85C Lorong 4 Toa Payoh, #01-385, Singapore 313085
Opening hours: Tue-Sun 12pm to 5:30pm
Website
The Twisted Trio is not a halal-certified eatery.
Photos taken by Chng Jia Yan.
This is an independent review by Eatbook.sg, and was written before the Circuit Breaker measures.
The Twisted Trio Review: New HDB Cafe Selling Atas Cakes And Pastries From $3.50 At Toa Payoh
Summary
Pros

– Beautiful cakes
– Interesting flavour combinations
Cons
– Small seating area
– Pricey for some cakes
Recommended dishes: Orange Yogurt Slice ($4), Watermelon Rose ($8)
Opening hours: Mon-Tues & Thurs-Fri 10:30am to 6:30pm, Sat-Sun 9:30am to 6:30pm
Address: Blk 85C Lorong 4 Toa Payoh, #01-385, Singapore 313085