---
New restaurants in April 2020
---
Update: Icenoie Hokkaido is no longer in operation.
April has arrived and with it, comes nine new restaurants to check out. This month's food spots sell the likes of creamy omurice, cheap baked goods, delish dim sum and more!
---
1. Canteen Bistro
---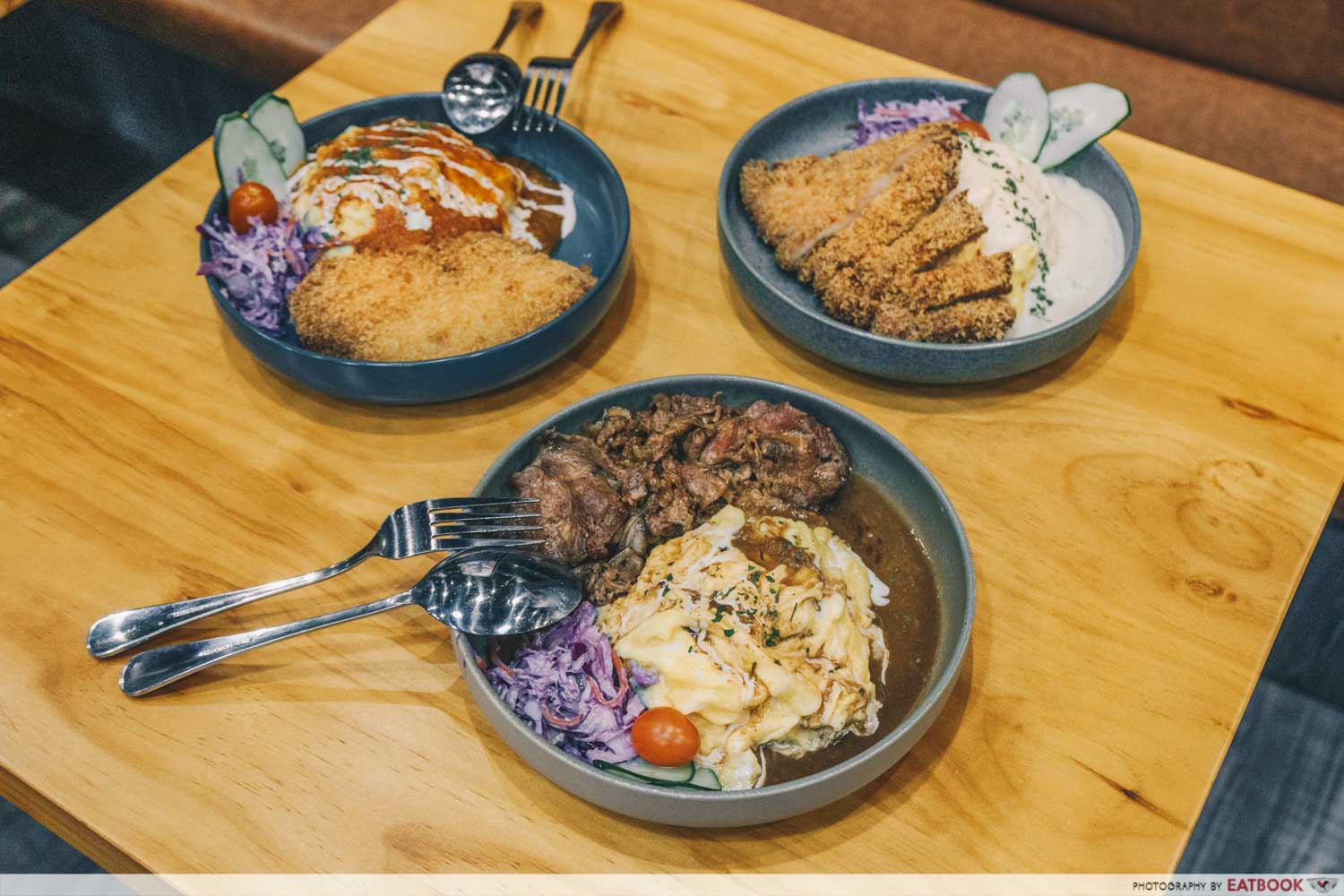 Opened in January 2020 by the owners behind Chop Chop, Canteen Bistro serves up yummy plates of omurice at affordable prices. Just like how omurice is traditionally prepared, no butter, cream or cheese is added to the eggs. Try their Crispy Chicken Omurice ($8), Crispy Fish Omurice ($8), Beef Stroganoff Omurice ($11). The meats are crisp and succulent, and pair beautifully with the creamy omurice goodness. SMU students and alumni get $1 and $1.50 off the price of the lunch sets respectively.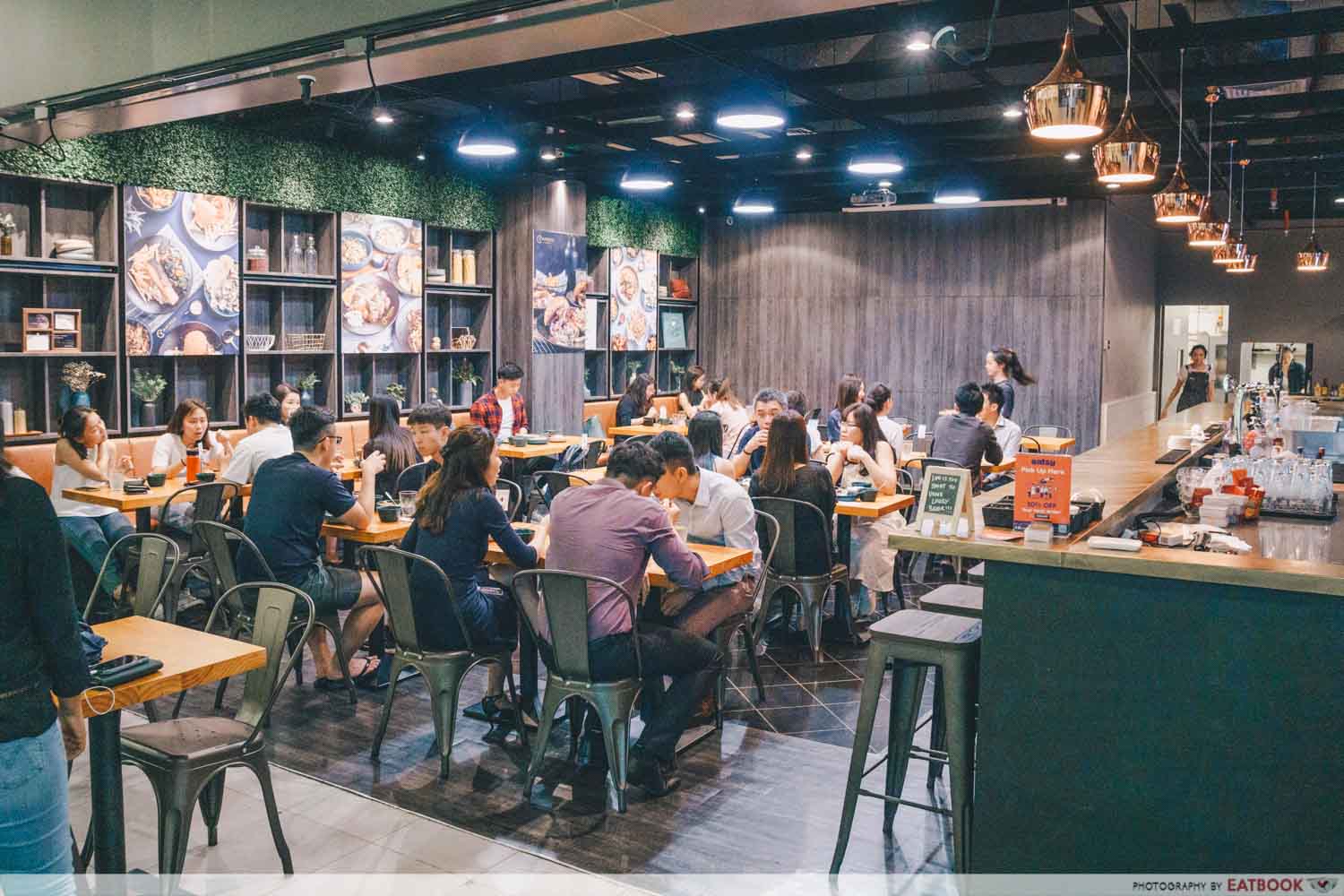 This restaurant is located in the basement of SMU's School of Information Systems, and becomes a lively bar at night. The omurice sets are only available as part of their lunch menu, and their dinner menu consists of a wider range of classic Western dishes.
Check out our full review of Canteen Bistro!
Canteen Bistro Review: Beef And Fried Chicken Omurice Lunch Sets From $8 Nett Hidden In SMU
Address: 80 Stamford Road, #B1-61, Singapore Management University School of Information Systems, Singapore 178902
Opening hours: Mon-Sat 11am to 3pm, 5pm to 1am
Tel: 6250 2238
Website
Canteen Bistro is not a halal-certified eatery.
2. The Better Half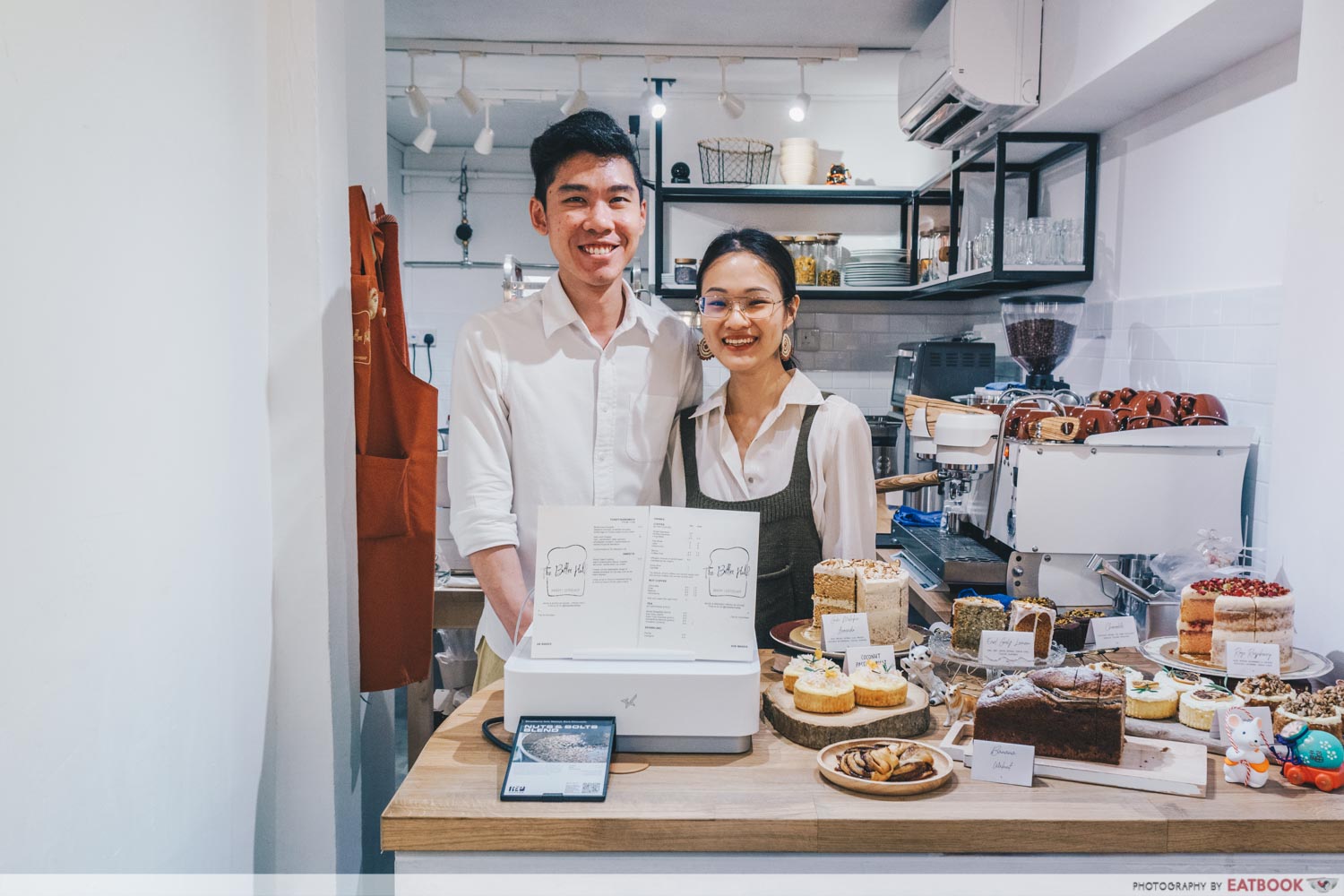 Newly opened by a young and passionate duo, this hidden HDB cafe sells IG-worthy baked goods. The Better Half started out as an online bakery, before setting up its own physical store under a flat in Everton Park. The couple freshly bakes beautiful cakes with unique flavours such as Gula Melaka Avocado ($8) and Rose Raspberry ($8).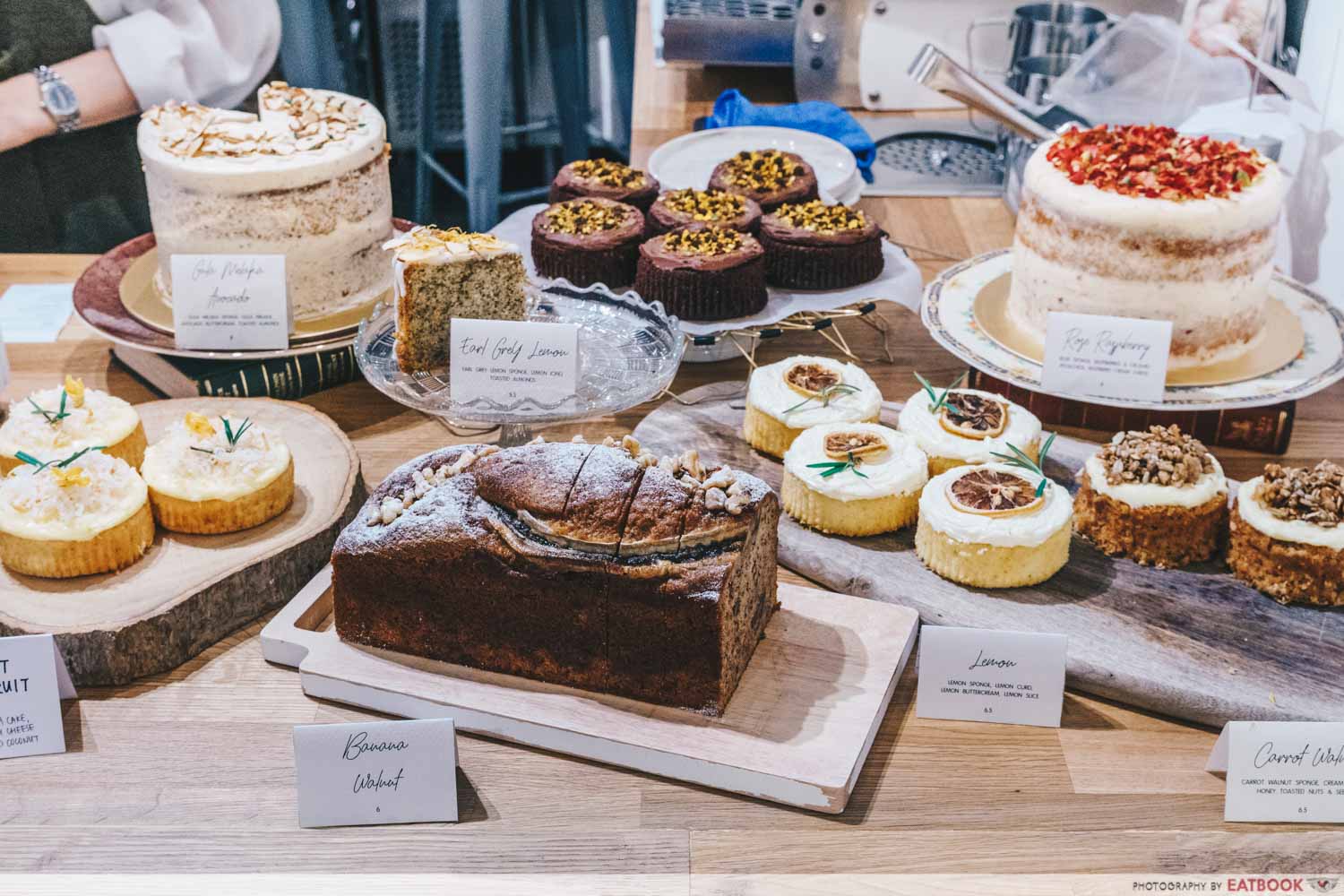 If you're looking for something smaller, you can try one of their IG-worthy tea cakes which feature their own flavour combinations. The Carrot Walnut Tea Cake ($6.50) boasts a rustic aesthetic with its crumbly sponge and topping of nuts and seeds. Its sponge is packed with finely shredded carrot, incorporating both moisture and a subtle sweetness into the batter. 
Check out our full review of The Better Half! 
The Better Half Review: IG-Worthy Cakes With Unique Flavours In A Hidden HDB Cafe
Address: 1 Everton Park, #01-43, Singapore 081001
Opening hours: Tues-Sun 10am to 5:30pm
Tel: 9248 7088
Website
3. Sum Dim Sum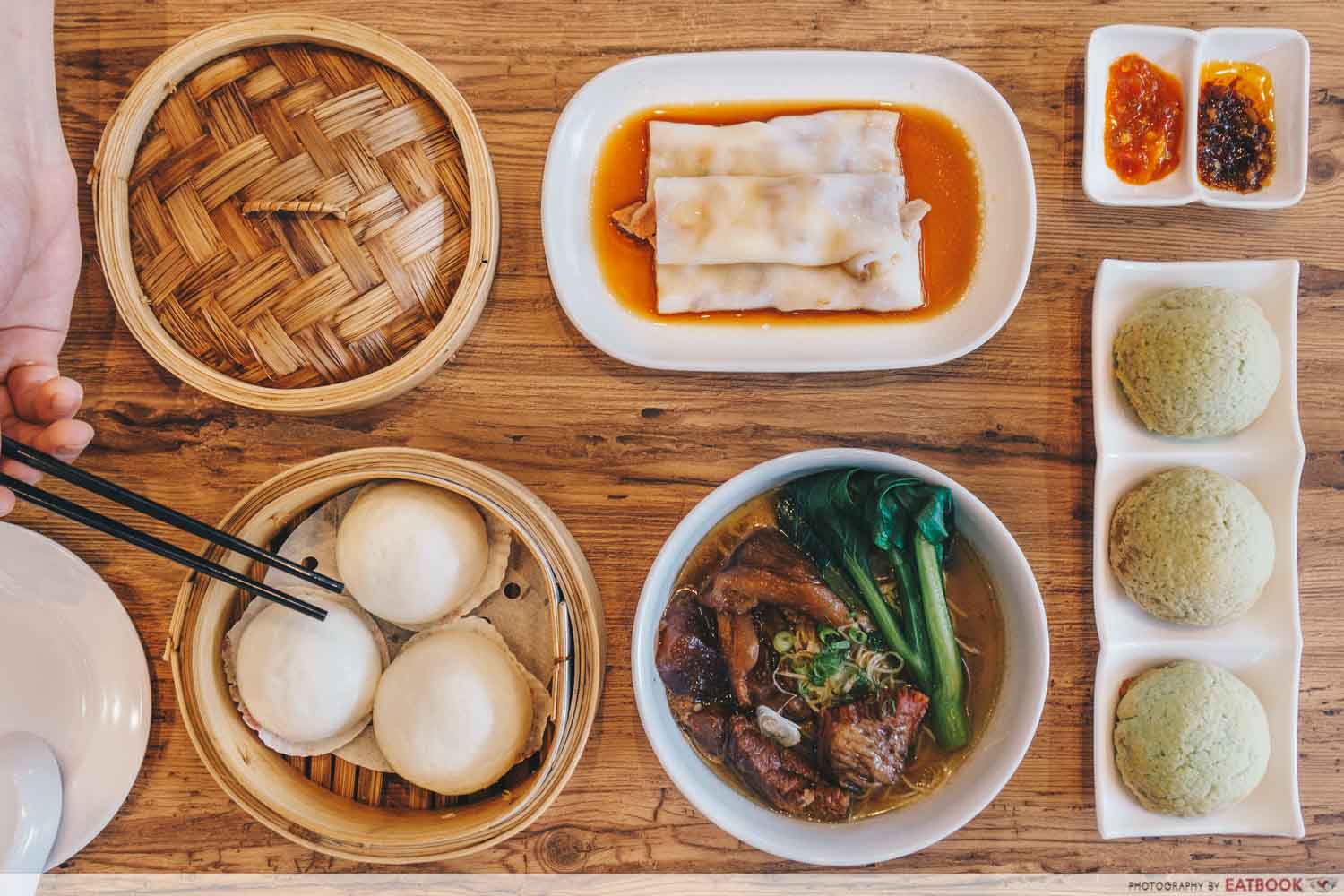 Open until 1:30am, Sum Dim Sum serves delectable dim sum in a cosy setting. Do get a taste of their Signature Crispy Pork Bun ($6) which, unlike most pork buns, has a unique shade of green from pandan flavouring. Their fluffy Golden Custard Bun ($4.50) is filled with creamy, golden salted egg that flows lusciously with every bite.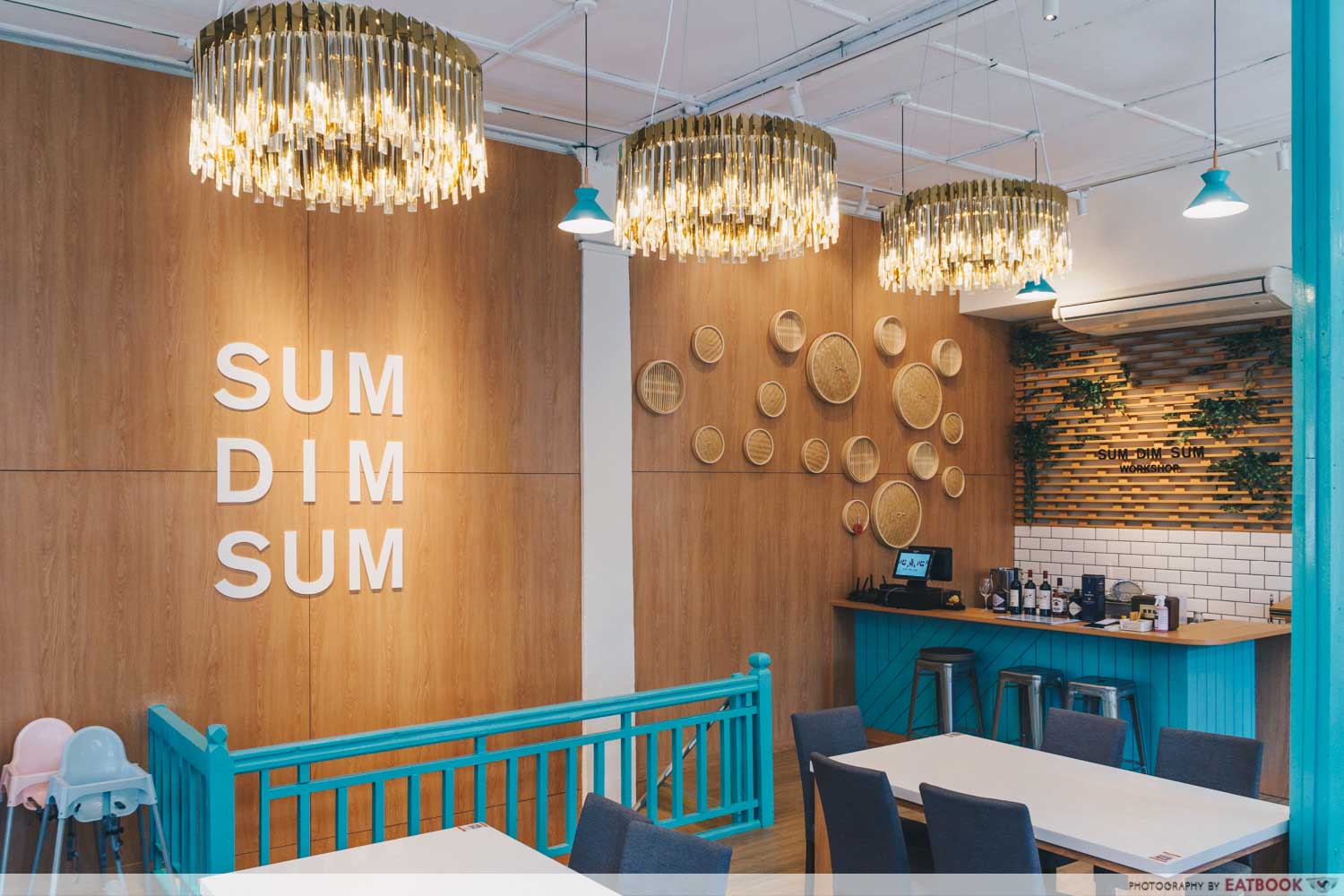 The ambience at Sum Dim Sum is superb, especially at its second storey which is spacious and wonderfully designed. With a laid-back, chill atmosphere, coupled with picturesque views of the streets below, this space is suitable for family gatherings and romantic date nights.
Check out our full review of Sum Dim Sum!
Sum Dim Sum Review: Beef Noodles And Pandan Crispy Pork Buns That Can Rival Tim Ho Wan's
Address: 161 Jalan Besar, Singapore 208876
Opening hours: Daily 11:30am to 1:30am
Website
Sum Dim Sum is not a halal-certified eatery.
4. Steeped Tea Bar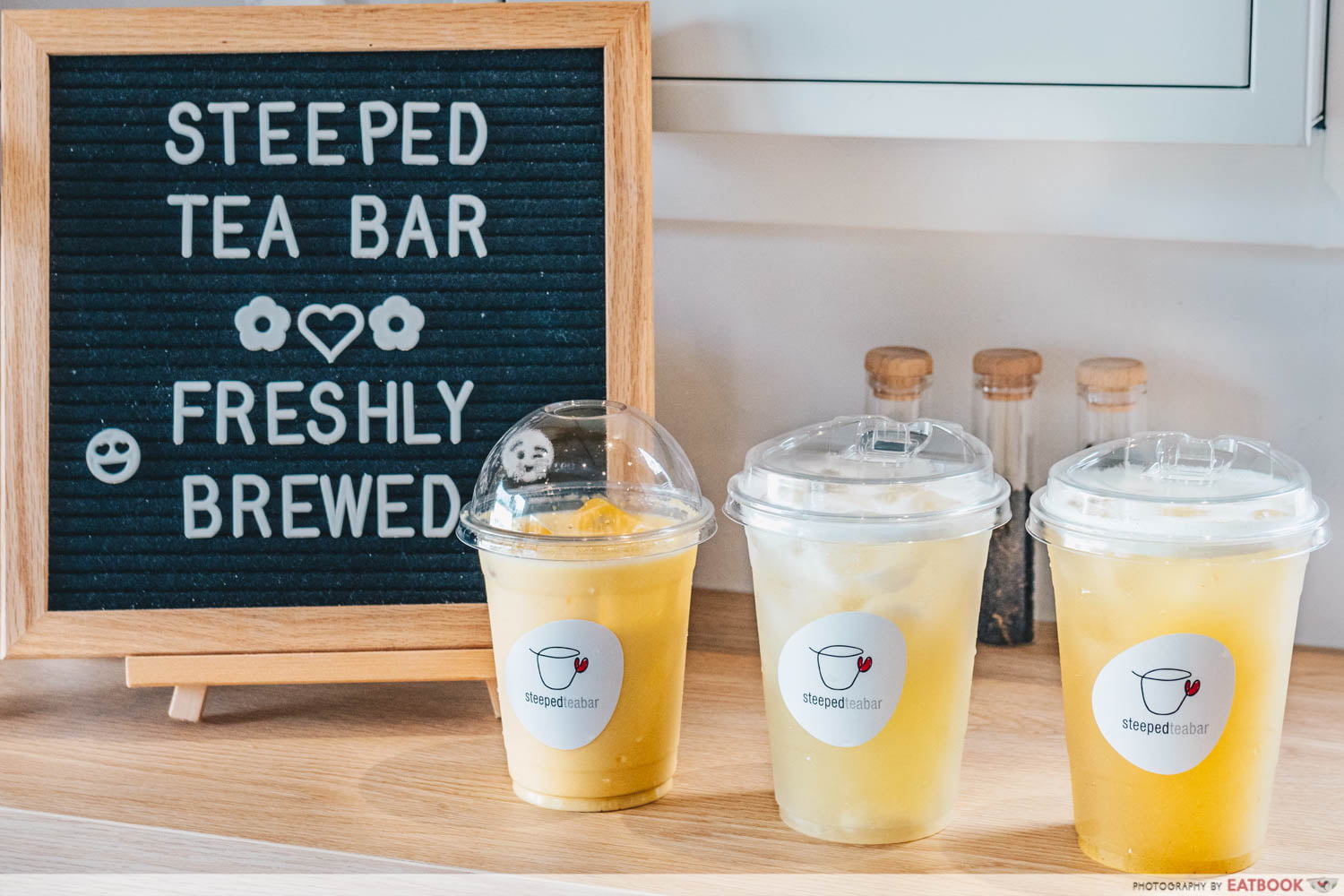 Situated in the heart of Bugis, STEEPED Tea Bar serves fresh fruit teas, milk lattes, and various cakes in a minimalistic cafe environment. All their teas are freshly brewed to order with their in-house espresso machine. Sip on their speciality blends, such as aromatic Soursop Sencha ($6.60), creamy Mango Fruit Latte ($6.30), and refreshing Pear High Mountain Oolong ($6.30).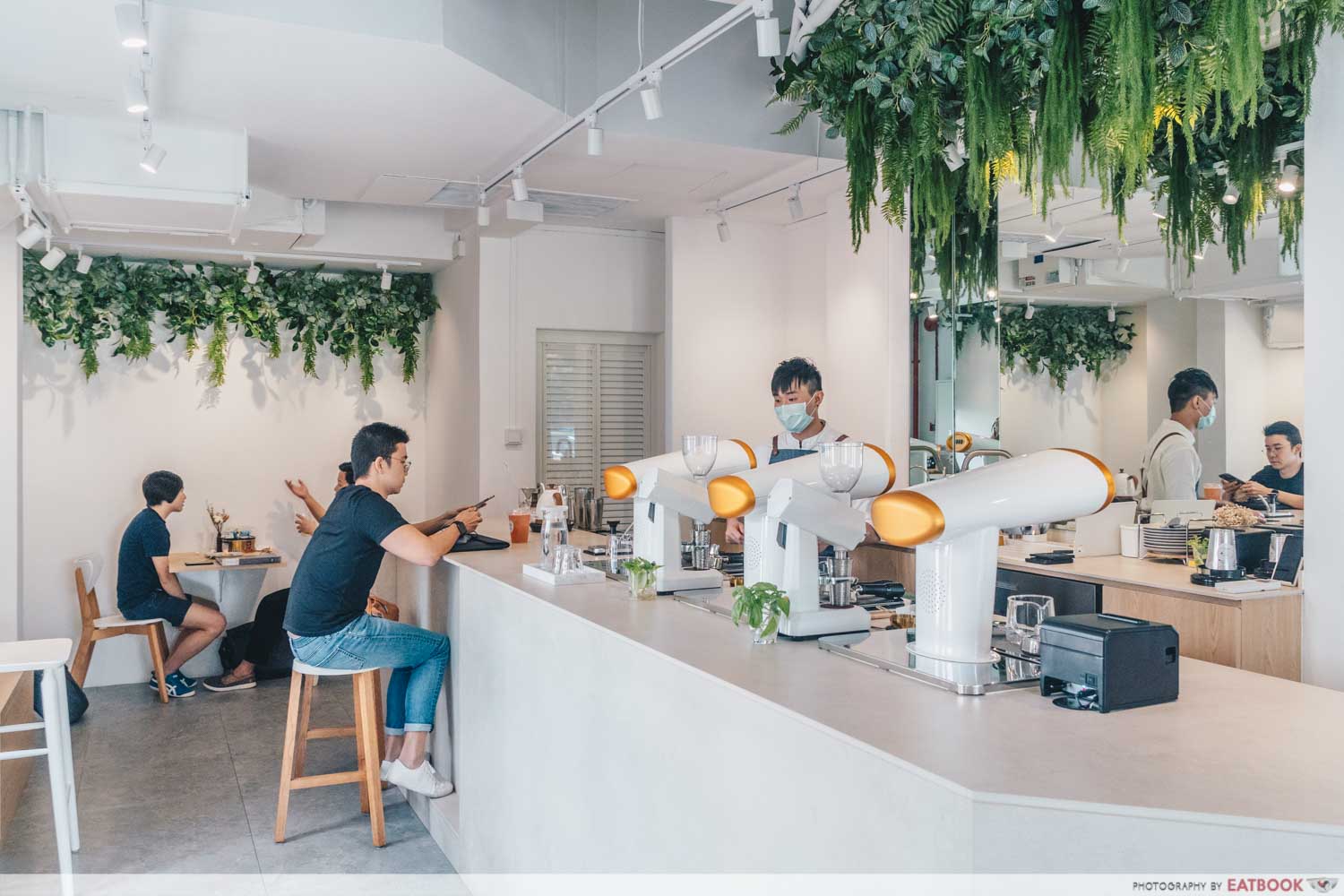 Green leafy plants are hung downwards on the ceiling, making for a lush, verdant setting above your eyes. The cafe's minimalist, Instagram-worthy interior, and its chill atmosphere make for a rather therapeutic experience. 
Address: 2 Tan Quee Lan Street, #01-01, Singapore 188091
Opening hours: Daily 11am to 9pm
Tel: 9120 116
Website
STEEPED Tea Bar is not a halal-certified eatery.
5. Monarchs & Milkweed Gelato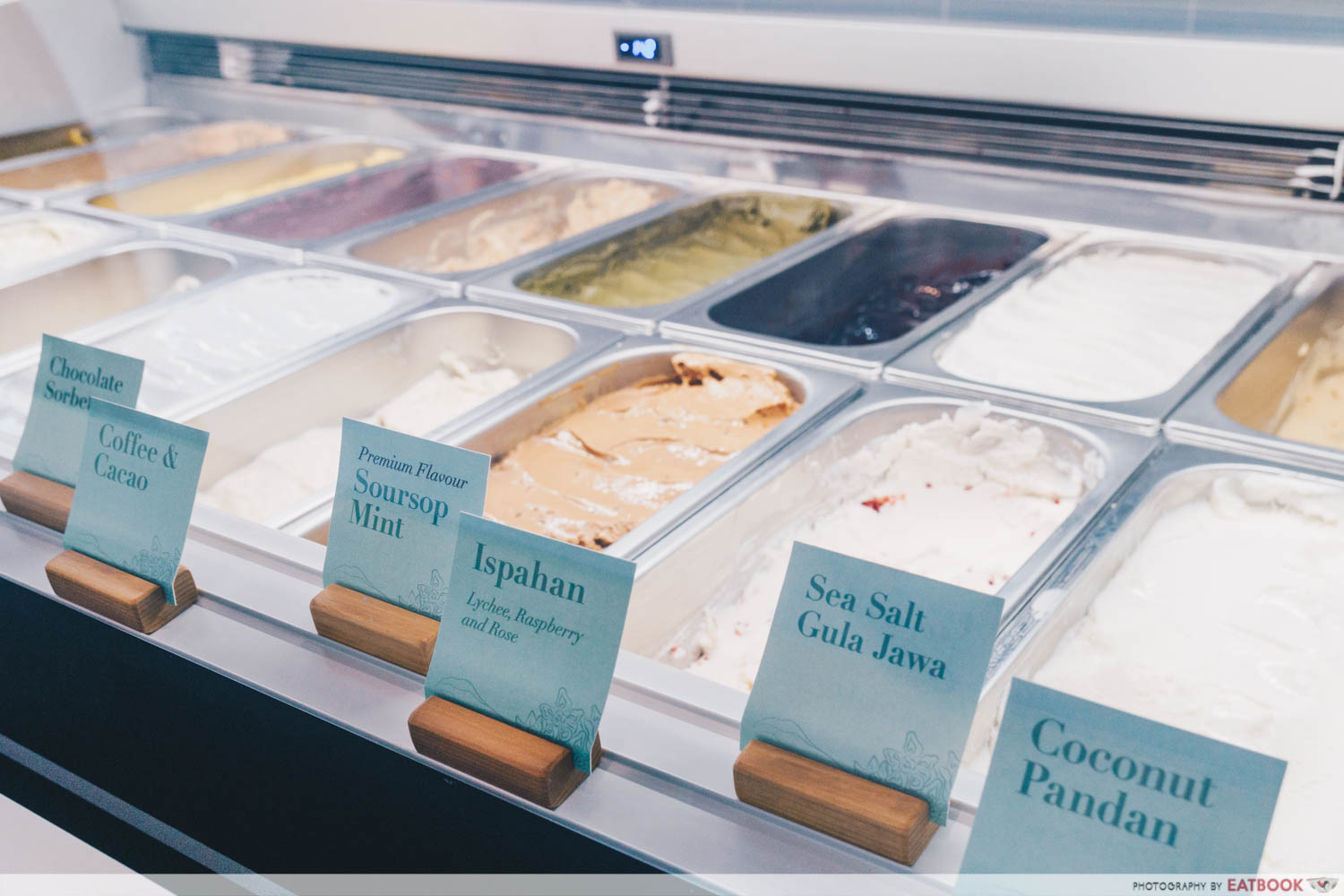 Lately, speciality stand-alone spots and artisanal coffee shops have been sprouting up in Singapore. Newly opened by ex-fine dining pastry chefs, Monarchs & Milkweed Gelato is one of such places to head for unique and quality desserts. A single scoop here goes for $4.90, and a double scoop goes for $8. Add $1 more for premium flavours or one of their French butter cones.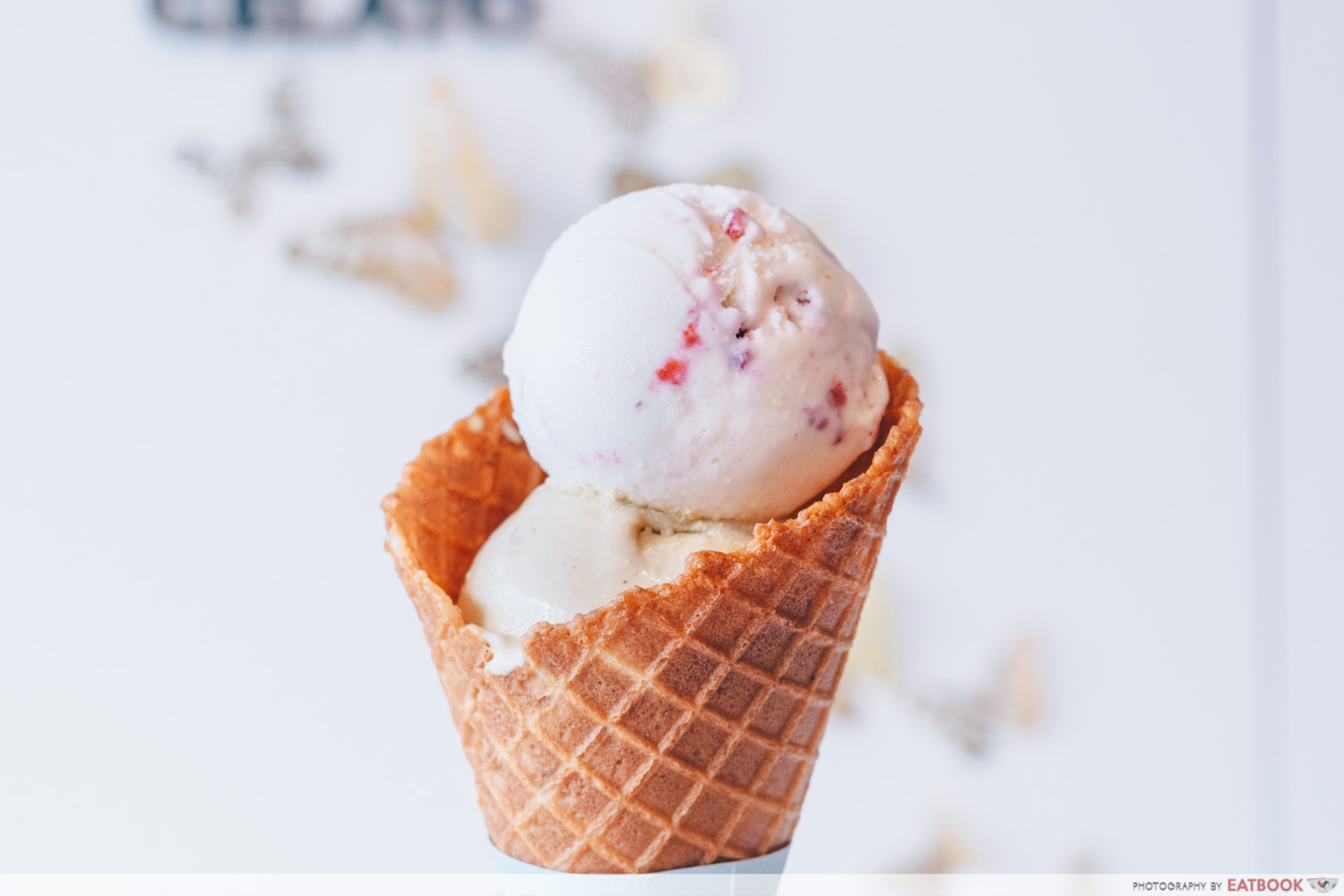 Be spoilt for both classic flavours and one-of-a-kind creations such as Brown Butter Sage, Rhubarb Buttermilk, Sea Salt Gula Jawa and more. A popular flavour is Ispahan, which is inspired by the famous Pierre Hermé Ispahan macaron. Relish in the tart bites of raspberry bits, floral sweetness of lychee and faint hints of rose. 
Check out our full review of Monarchs & Milkweed Gelato!
Monarchs & Milkweed Gelato Review: New Gelato Cafe With Unique Flavours By Ex-Fine Dining Pastry Chefs
Address: 802 North Bridge Road, #01-01, Singapore 198770
Opening hours: Tues-Sun 12pm to 10pm
Website
Monarchs & Milkweed Gelato is not a halal-certified eatery.
6. Moonstone Bar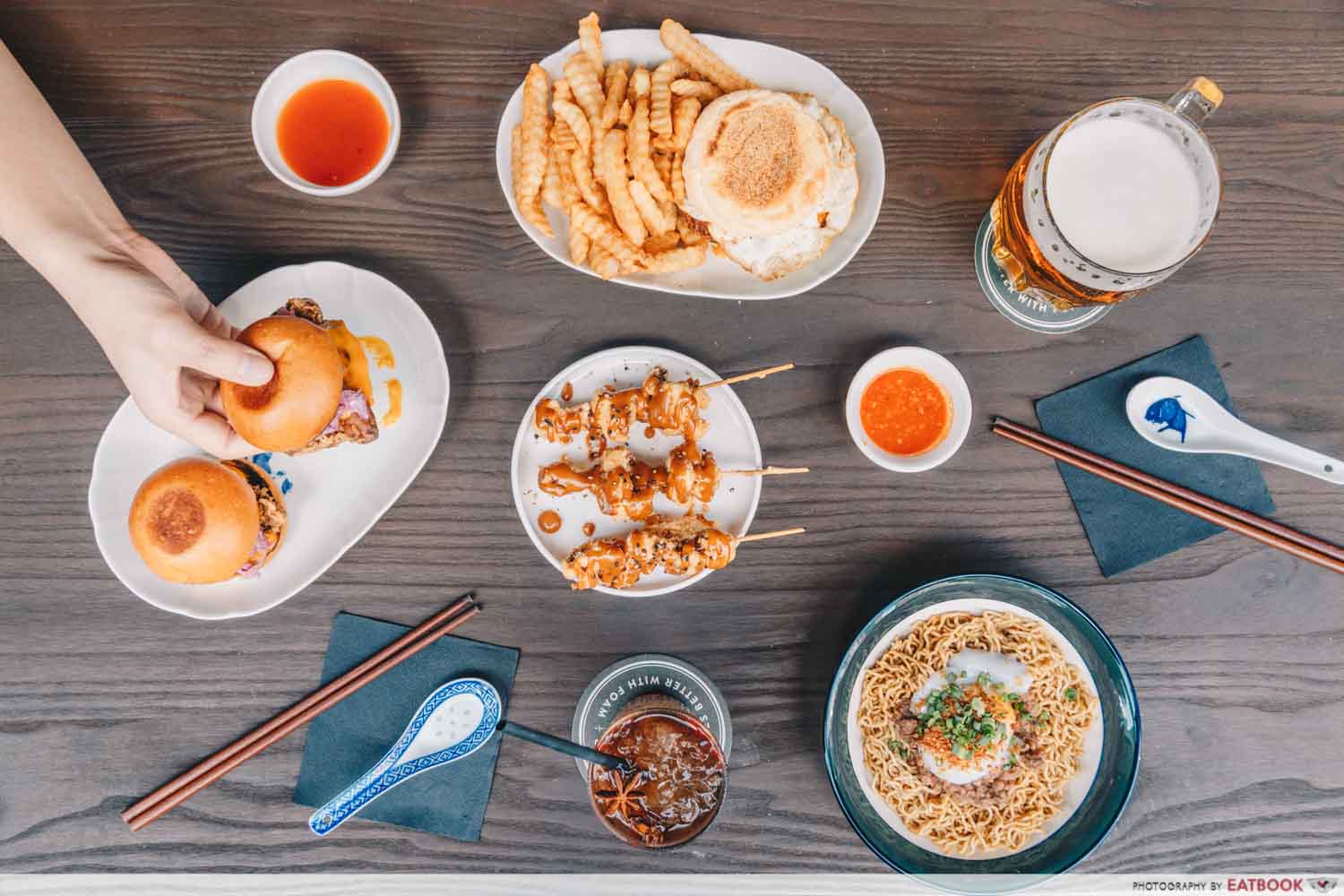 Previously a hipster hang out spot at Poh Leong Building, Moonstone Bar has relocated to Telok Ayer. On top of innovative cocktails and exotic beers, they now have a hot food menu that's filled with a variety of bar bites that are inspired by Indonesian flavours.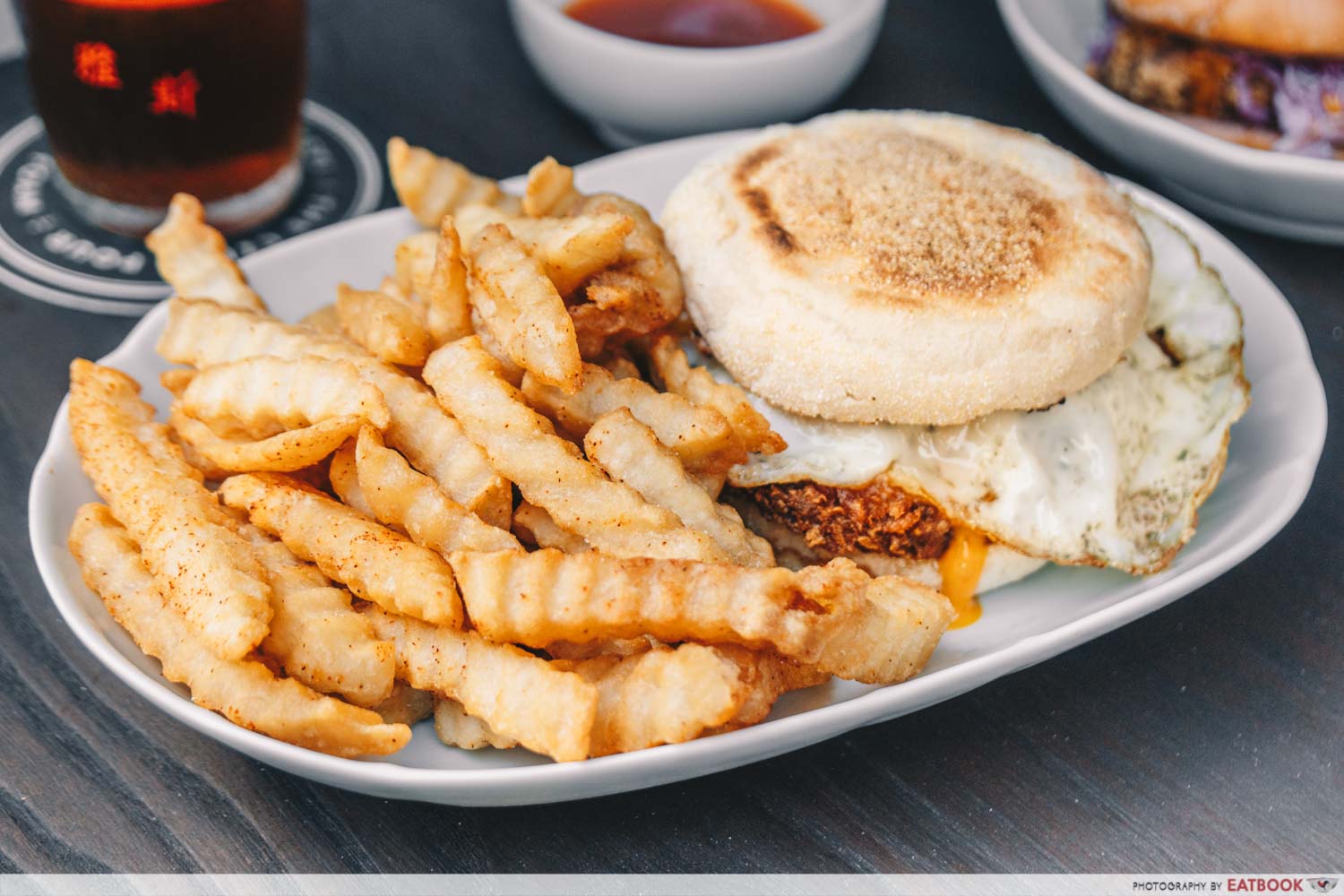 The food differs for lunch and dinner. One dish that we liked on the dinner menu was the Bon Joe ($14+). It's heavily inspired by the classic Sausage McMuffin with Egg, and comes with a sausage patty, fried egg and hashbrown that are all sandwiched between an English muffin. The flavours and texture were all nicely balanced, going well with each other.
Check out our full review of Moonstone Bar!
Moonstone Bar Review: New Hipster Bar With Beef Indomie And Sausage Egg Muffin At Telok Ayer
Address: 103 Amoy Street, Singapore 069923
Opening hours: Mon-Fri 12pm to 12am, Sat 5pm to 12am
Tel: 6610 3029
Website
Moonstone Bar is not a halal-certified eatery.
7. Congee Legend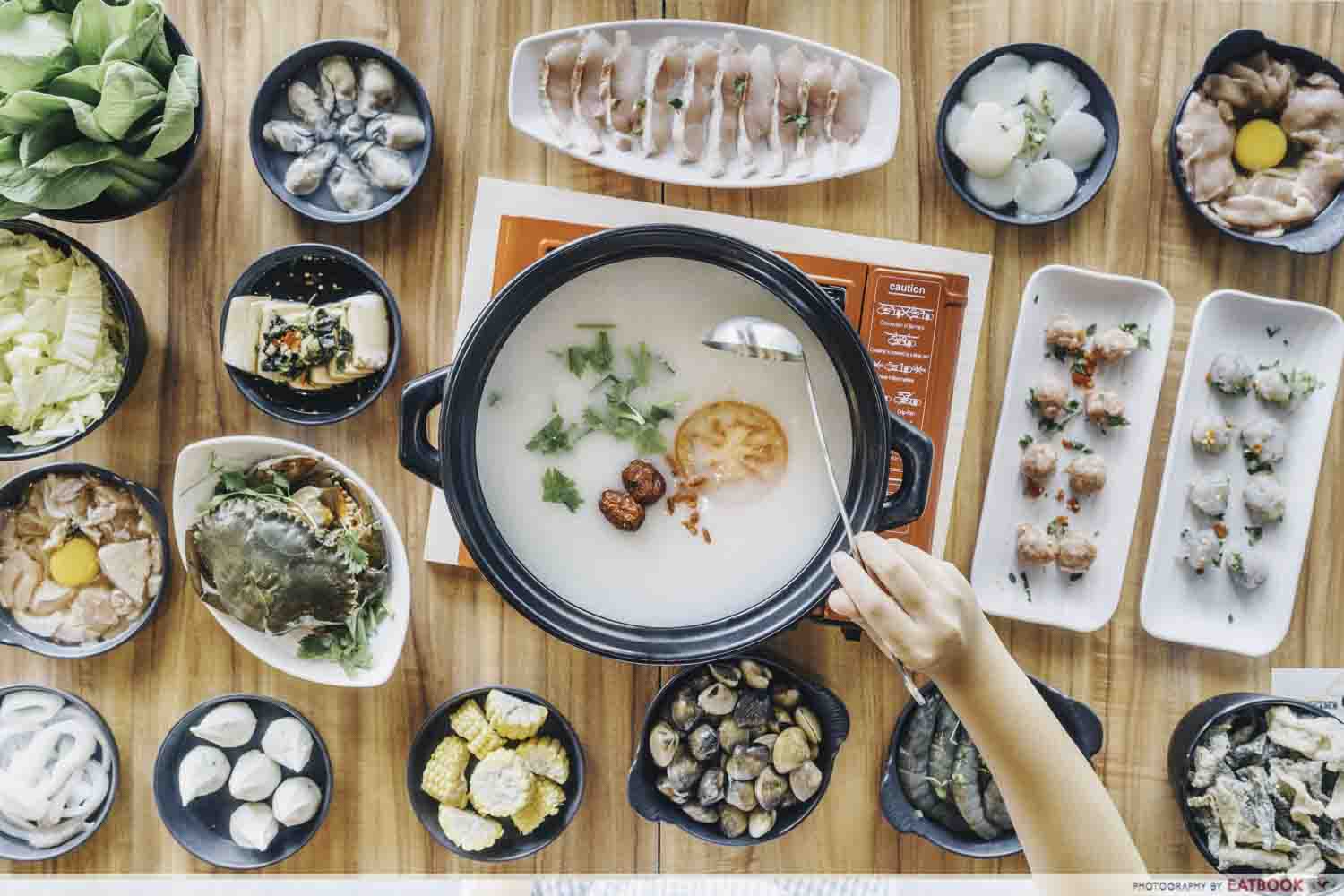 Congee Legend has just opened a new outlet at Wisteria Mall in Yishun for their unique congee hotpot concept. Instead of the typical chicken or tomato broths, Congee Legend offers a gruel-like Guangdong-style Porridge Base ($3++ per person) which is made with rich, house-made chicken stock and a runny congee that is free from rice grains.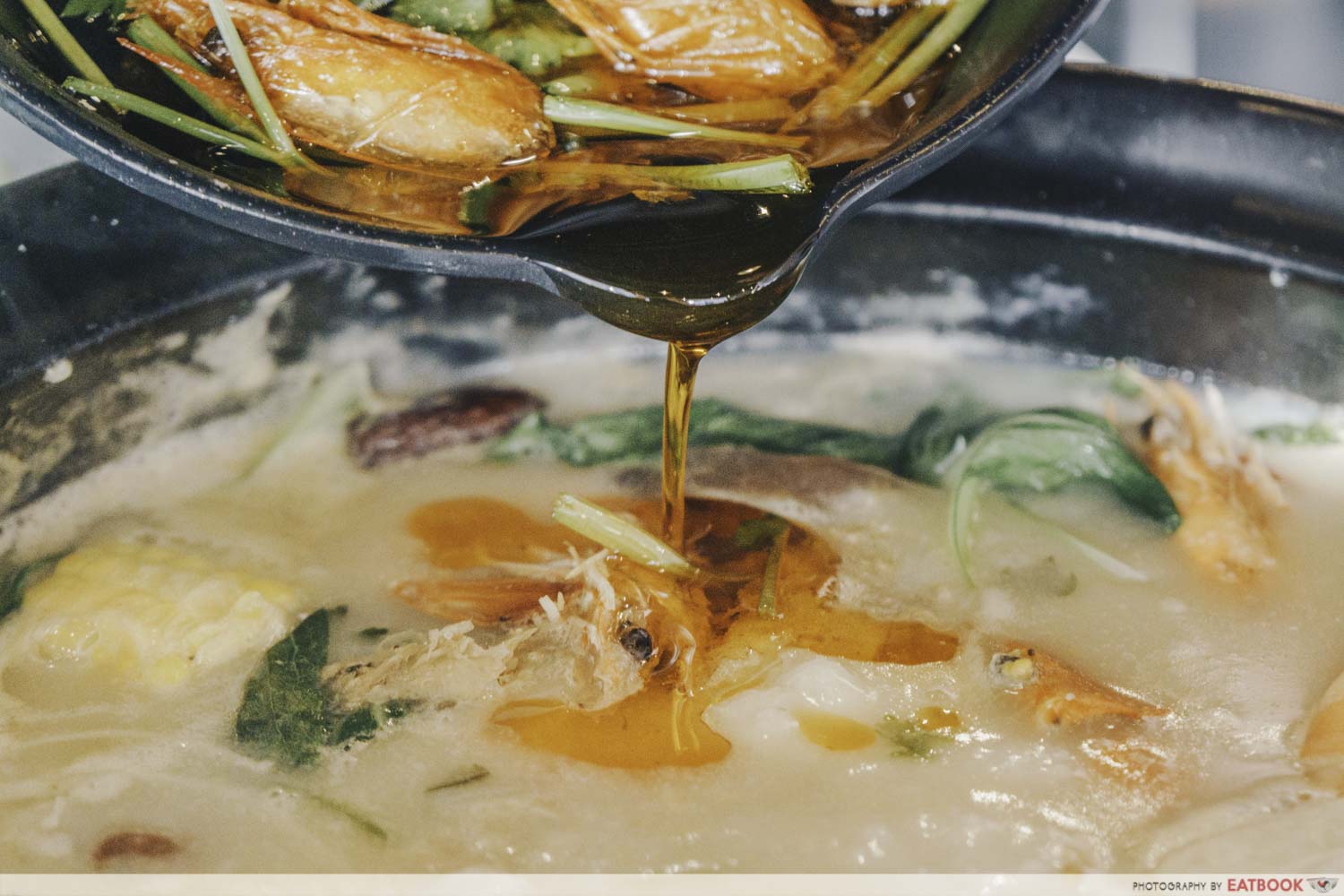 There are 50 items featuring seafood, meat, vegetables, and other hotpot essentials to choose from. We highly recommend ordering their Beef Karubi ($18++) slices and Signature Prawn Porridge ($4++ per person). The latter comes with a bowl of porridge, two large prawns per person, chye poh, and a pan of fragrant prawn oil for you to create an aromatic and umami-filled DIY prawn porridge.
Check out our full review of Congee Legend!
Congee Legend Review: Unique Congee Hotpot In Singapore With Prawn Head Porridge, Beef Karubi Slices And More
Address: 598 Yishun Ring Road, #01-37/38, Wisteria Mall, Singapore 768698
Opening hours: Daily 12pm to 10pm
Website
Congee Legend is not a halal-certified eatery.
8. Torasho Ramen & Charcoal Bar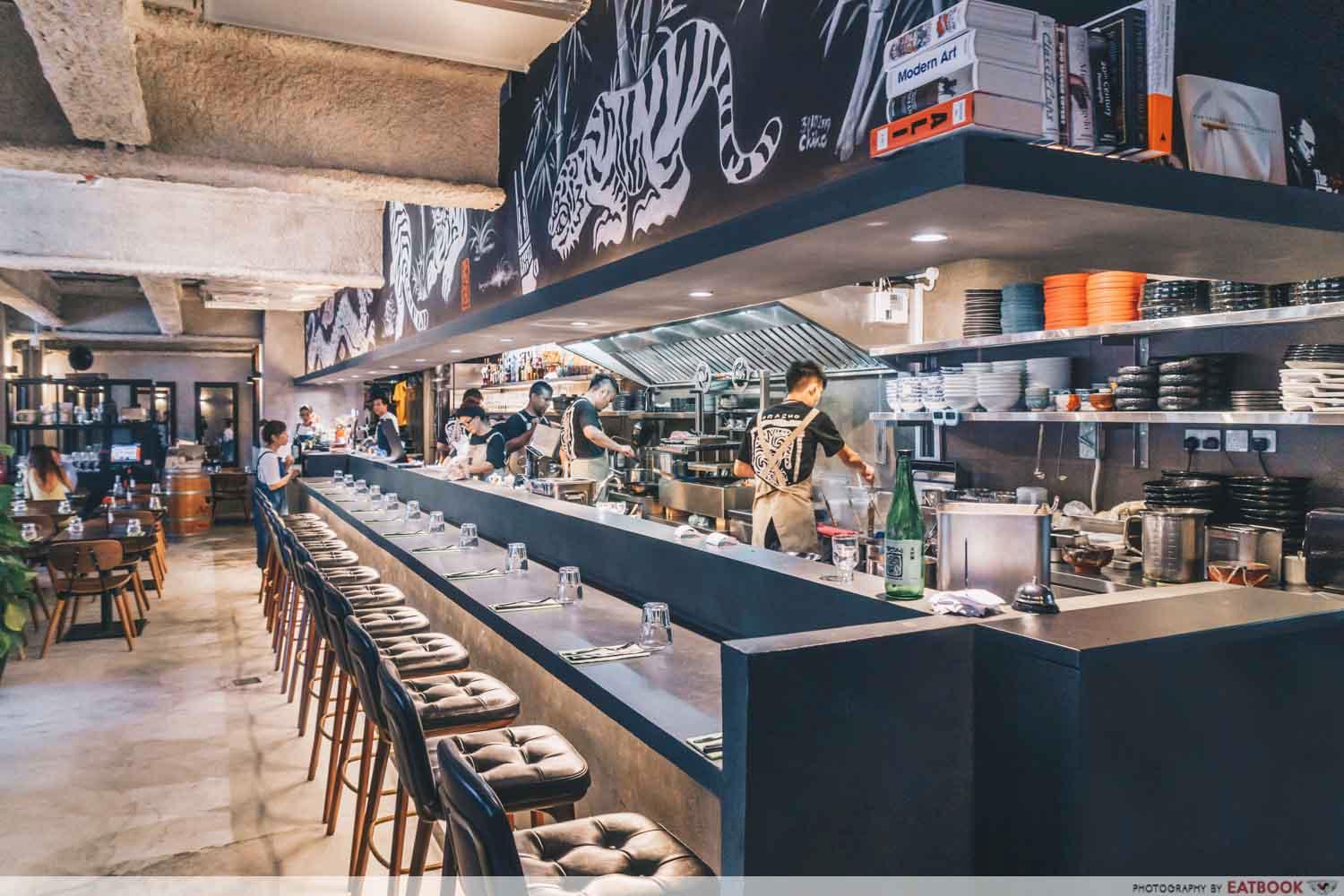 With a kitchen helmed by an ex-Hide Yamamoto chef at Marina Bay Sands, Torasho Ramen & Charcoal Bar serves dry ramen, dipping ramen, soup ramen, and a wealth of appetisers that impressed us as much as the mains did. Start off your casual but classy dinner with their umamified Wagyu Chips ($8++) which are fried in beef fat, or their salty-sweet Uni Pillow ($15++).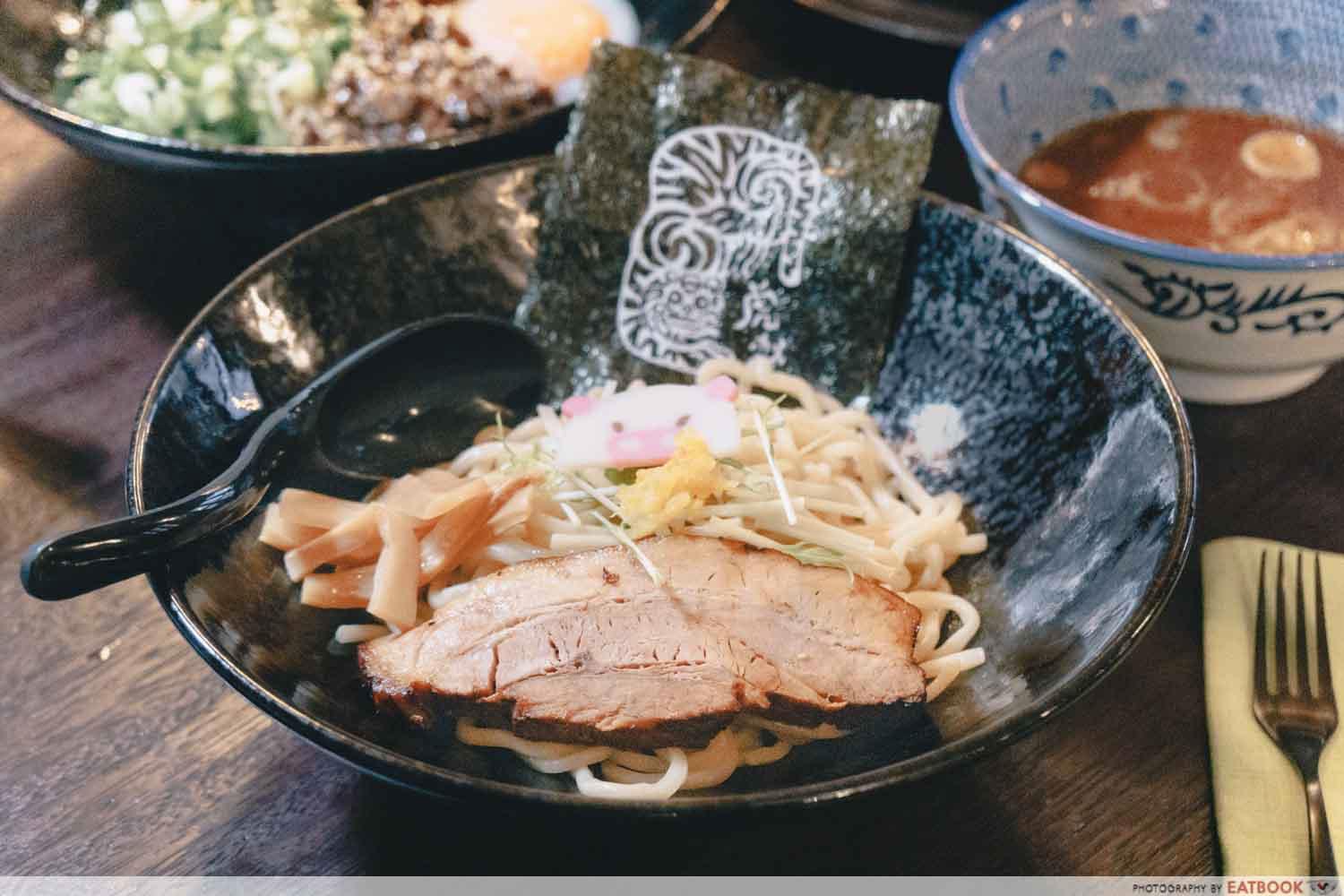 A must-try main is the signature Torasho's Tsukemen ($14++). It features a bowl of cold and chewy ramen noodles with a slab of grilled pork belly, along with a dipping concoction of tonkotsu and seafood broth. Slurp the noodles up with the intensely flavoured mixture and finish it with crunchy bamboo shoots.
Address: 32 Tras Street, Singapore 078972
Opening hours: Mon-Sat 11:30am to 12am
Tel: 6970 5055
Website
Torasho Ramen & Charcoal Bar is not a halal-certified eatery.
9. Chun Fun How BBT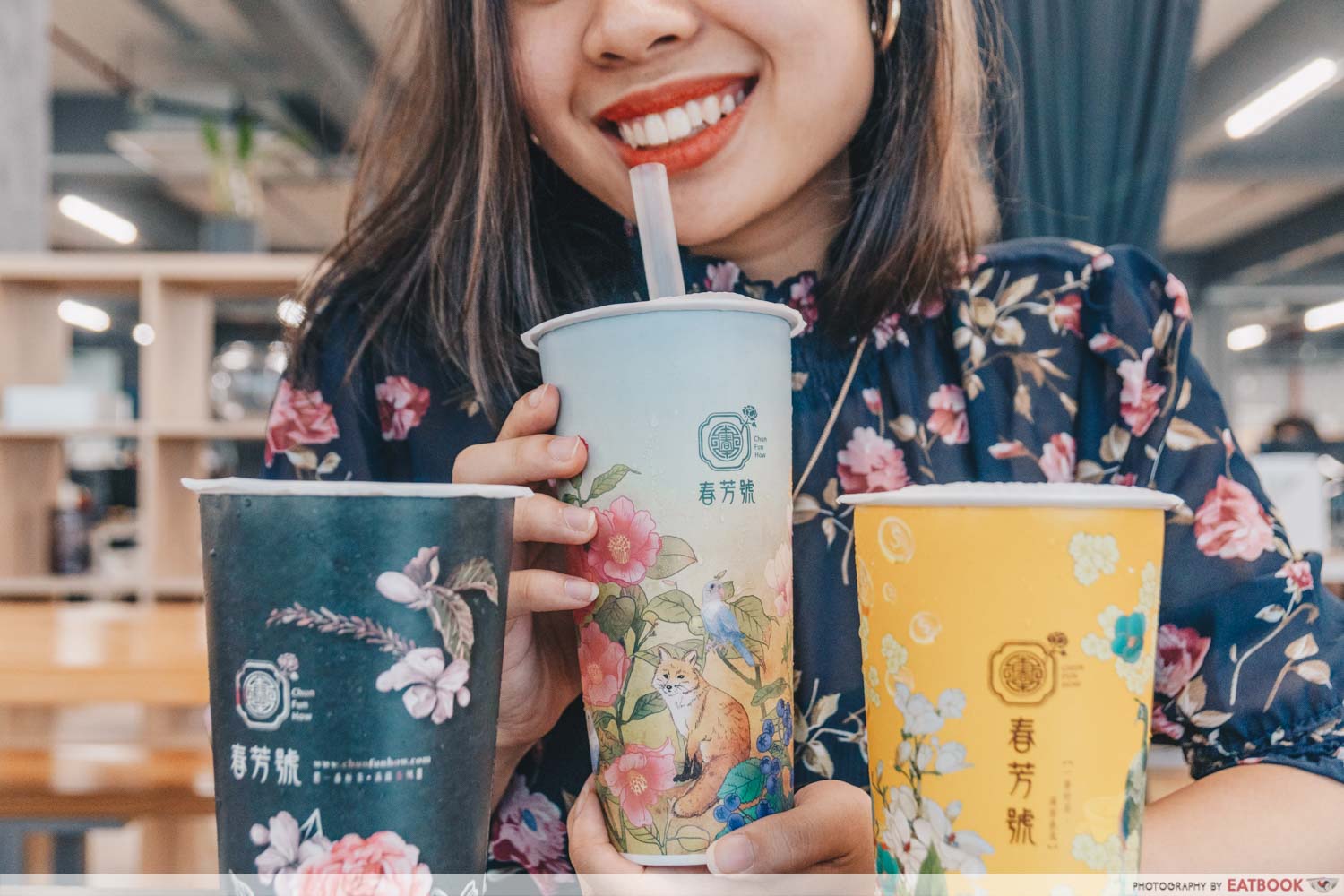 Hailing from the birthplace of bubble tea, Taiwanese BBT chain Chun Fun How has opened its first international outlet in Singapore. Out of their top five most popular drinks, our favourite has to be the refreshing Lychee Four Season with Aloe Vera ($6.60) that's made from fresh Taiwanese fruit, traditional longan honey, and natural lychee juice.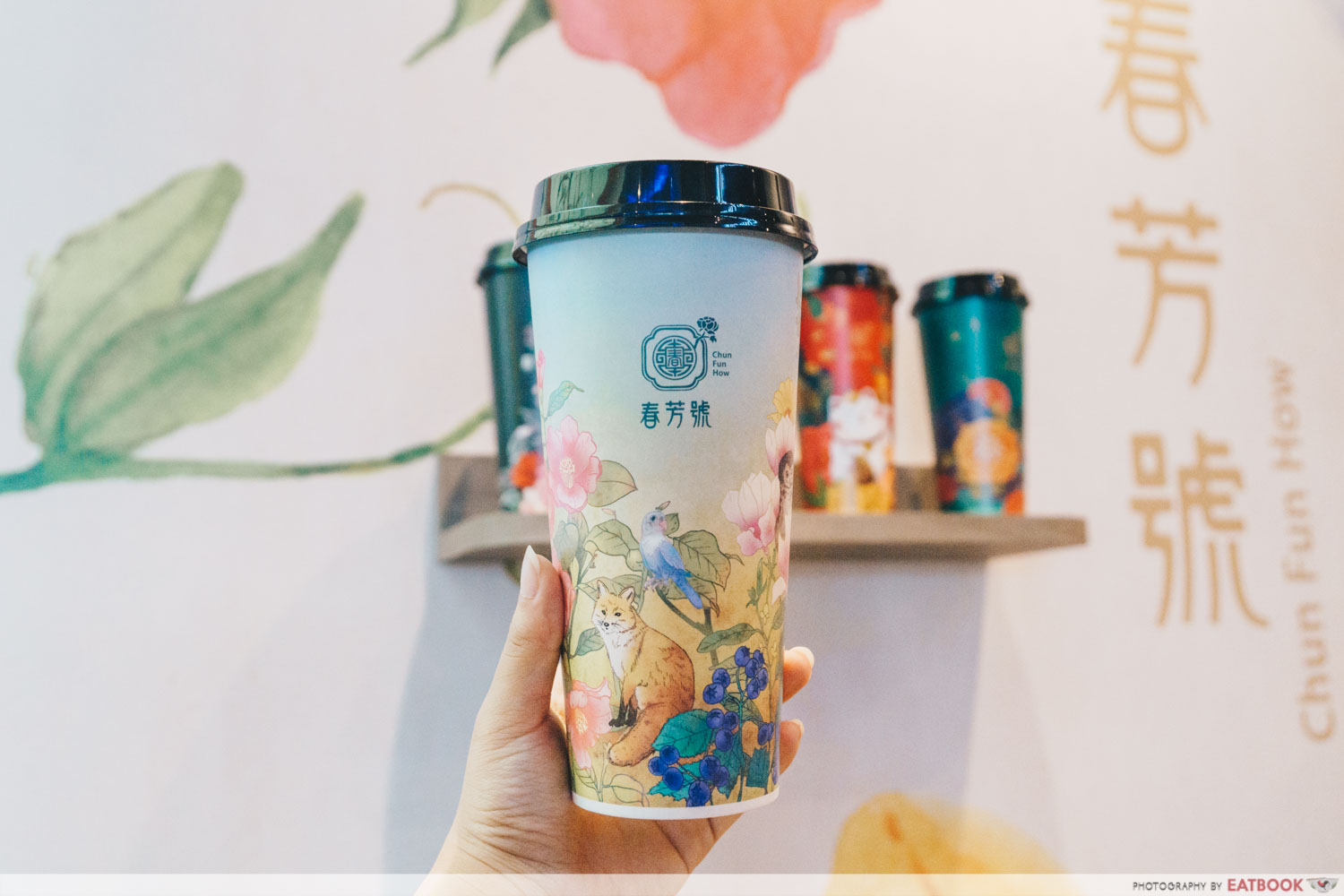 Another cult favourite is their signature Sweet Potato Black Tea Latte with Pearls ($7.60) that's made from blended sweet potatoes and premium black tea. Head down to their kiosk in Esplanade Mall to cop one of their vibrantly decorated cups that are sold only in the large size. If you're an avid bubble tea fan, Chun Fun How Singapore will make one iconic BBT name to check off your list!
Chun Fun How: Famous Taiwanese Fruit Tea Opens Its First Singapore Store At The Esplanade
Address: 8 Raffles Avenue, #02-13, The Esplanade Mall, Singapore 039802
Opening hours: Daily 10:30am to 10pm
Website
---
New restaurants in March 2020
---
1. Apollo Coffee Bar
---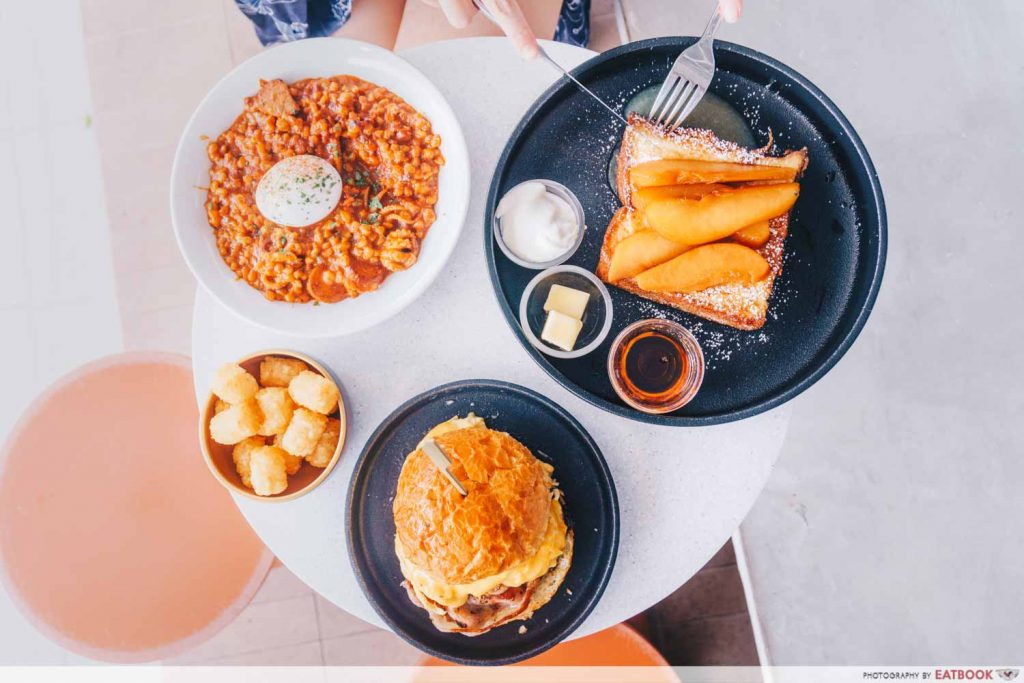 Opened by the people behind Atlas Coffeehouse and Columbus Coffee Co., Apollo Coffee Bar is a new cafe at Serangoon Gardens that's been raking in crowds. The menu comprises brunch staples, such as burgers, waffles, and risotto, which have been elevated with scrumptious ingredients including fatty bacon, chorizo, and octopus.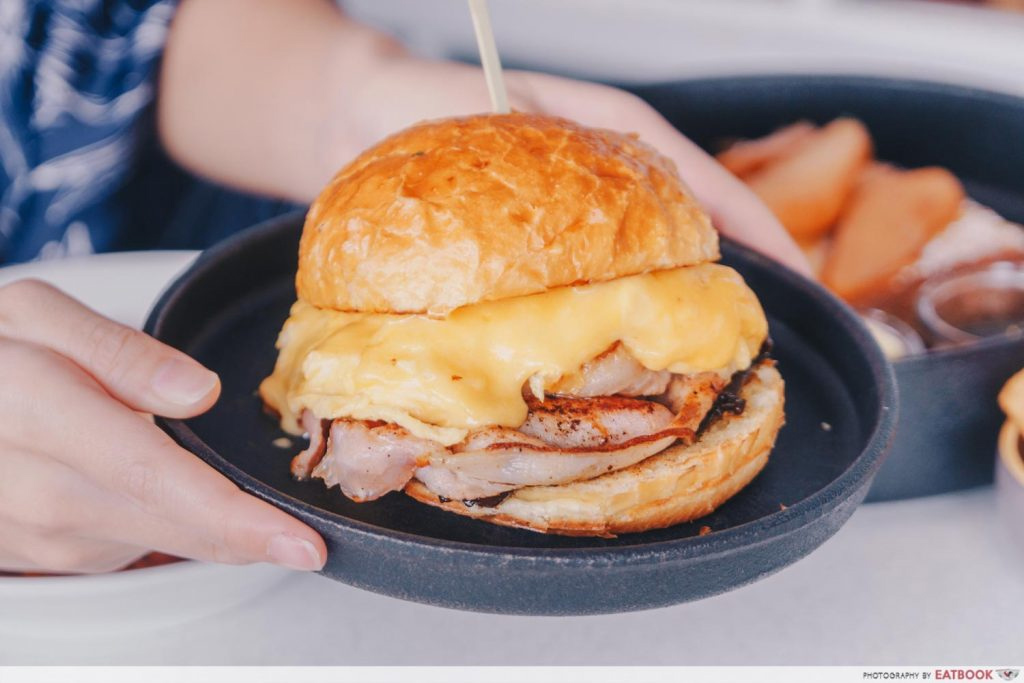 Their signature Breakfast Burger ($17.70) makes the trip here worth your while with hefty potato buns that sandwich gooey cheese, scrambled eggs, bacon strips, and onion jam. The result is a filling tower with bursts of savouriness, saltiness, and sweetness.
Check out our full review of Apollo Coffee Bar!
Apollo Coffee Bar Review: New Cafe At Serangoon Gardens That Reminds Us Of Bali's Sisterfields
Address: 65 Serangoon Garden Way, Singapore 555961
Opening hours: Tue-Sat 9am to 10pm, Sun 9am to 7pm
Tel: 6246 3875
Website
Apollo Coffee Bar is not a halal-certified eatery.
---
2. The Halal Corner
---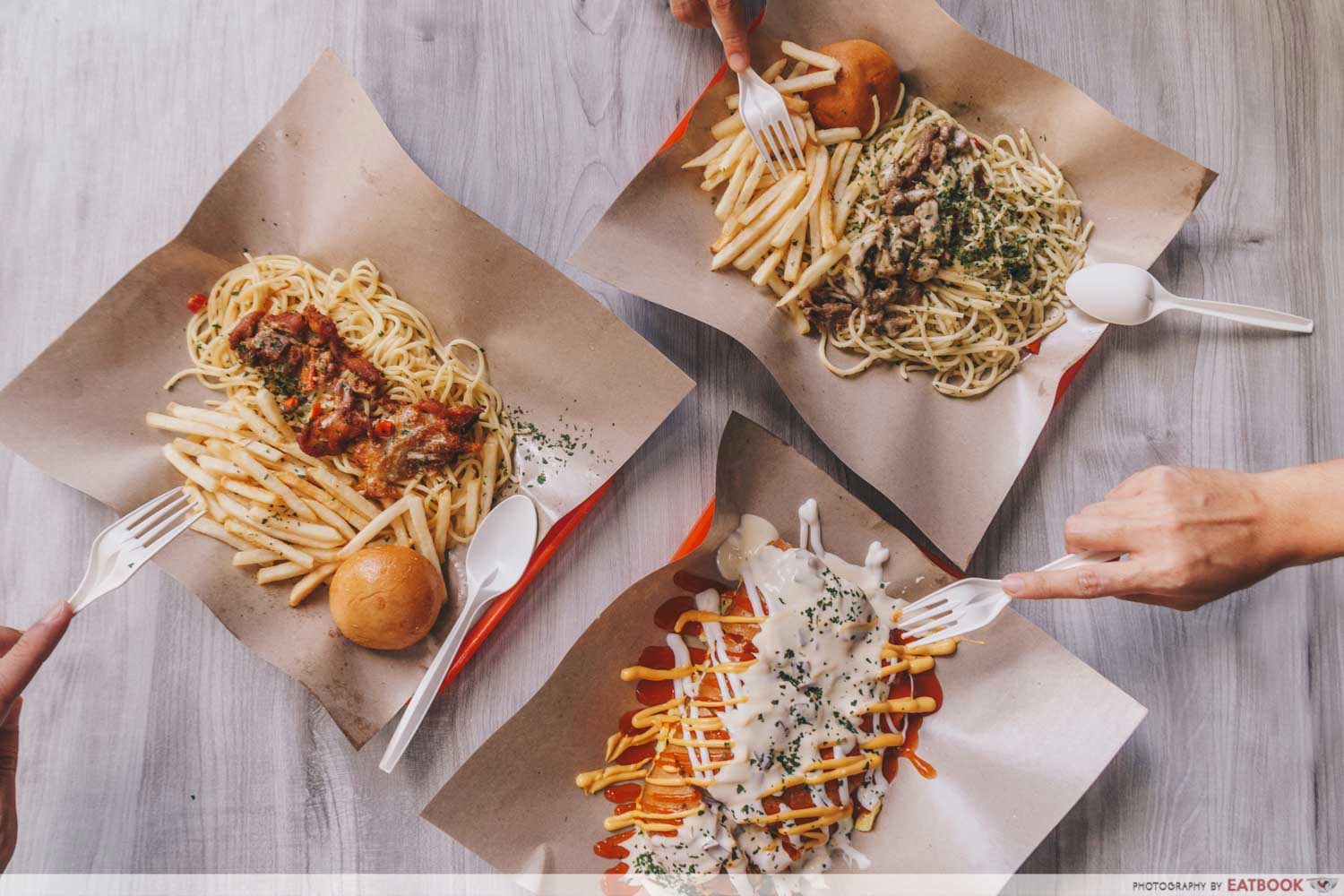 Looking for halal spots for lunch might not be the easiest task, but The Halal Corner checks off all the boxes. Located in Bedok, this cafe serves Western food and local delights such as prata and mee goreng. They are all priced under $7, making it a great place to visit before payday arrives.
We recommend trying the sauce-drenched Carbonara Beef Steak Mr John ($6), which is actually a roti john stuffed with cheesy pasta. If Western-fusion food is your kind of thing, try their Cheesy Beef Steak Pasta ($6.50) which comes with cheese-coated morsels of beef atop a bed of herby pasta.
Check out our full review of Asyraf's Halal Corner!
Asyraf's Halal Corner: New Halal Cafe In The CBD With Prices Under $7
Address: 527 Bedok North Street 3, Singapore 460527
Opening hours: Sun-Thurs 2pm to 9pm, Fri-Sat 2pm to 11pm
Tel: 8198 2851
Website
The Halal Corner is a halal-certified eatery.
---
3. Baker's Bench Bakery
---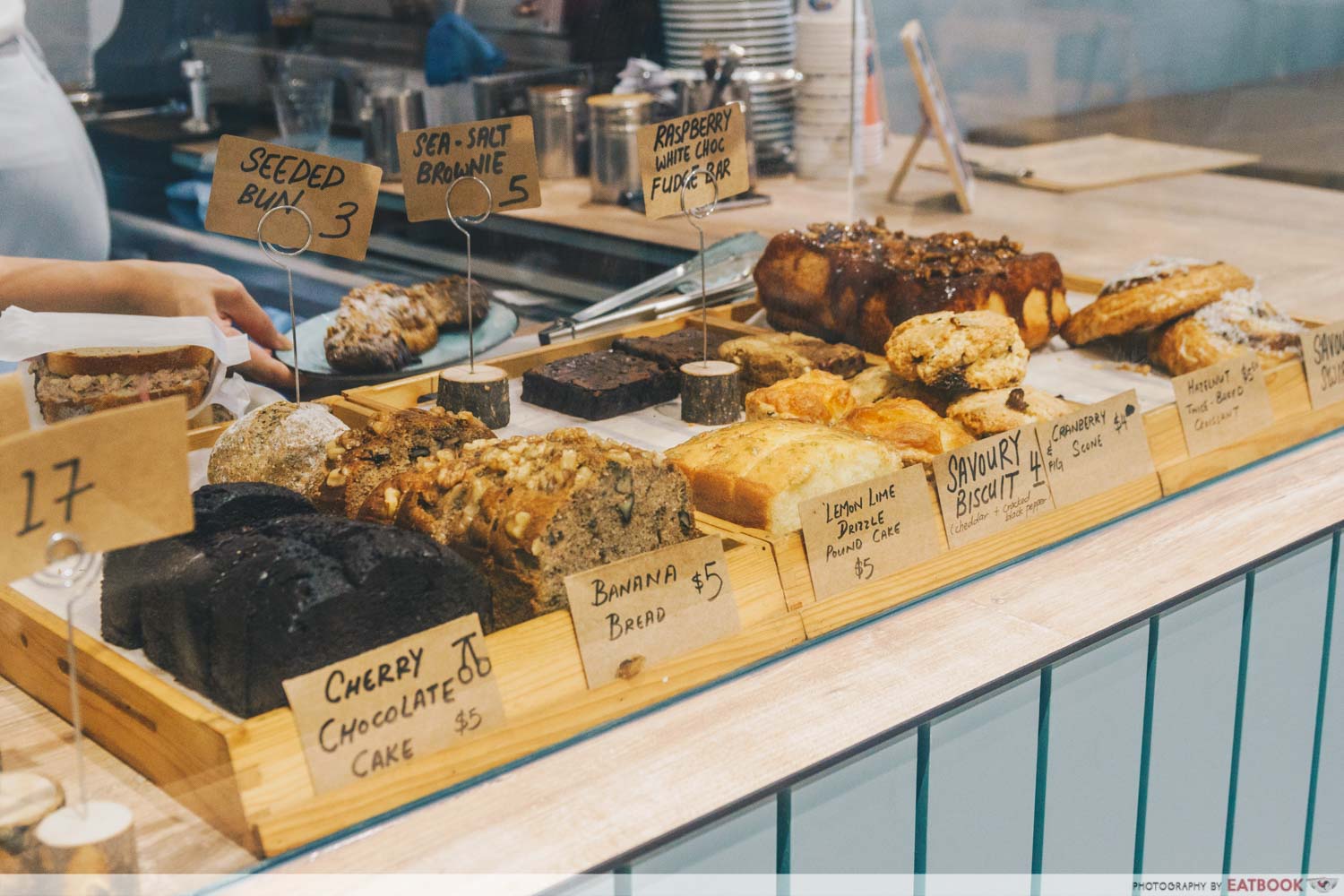 Baker's Bench Bakery is a wholesome little bakery cafe at Bukit Pasoh that makes everything—from bread and cakes to kimchi and kombucha—in-house. A nod to old-fashioned American favourites, some of their best sellers include Banana Bread ($5) and Sticky Bun ($5), a cinnamon roll lookalike covered in sticky toffee.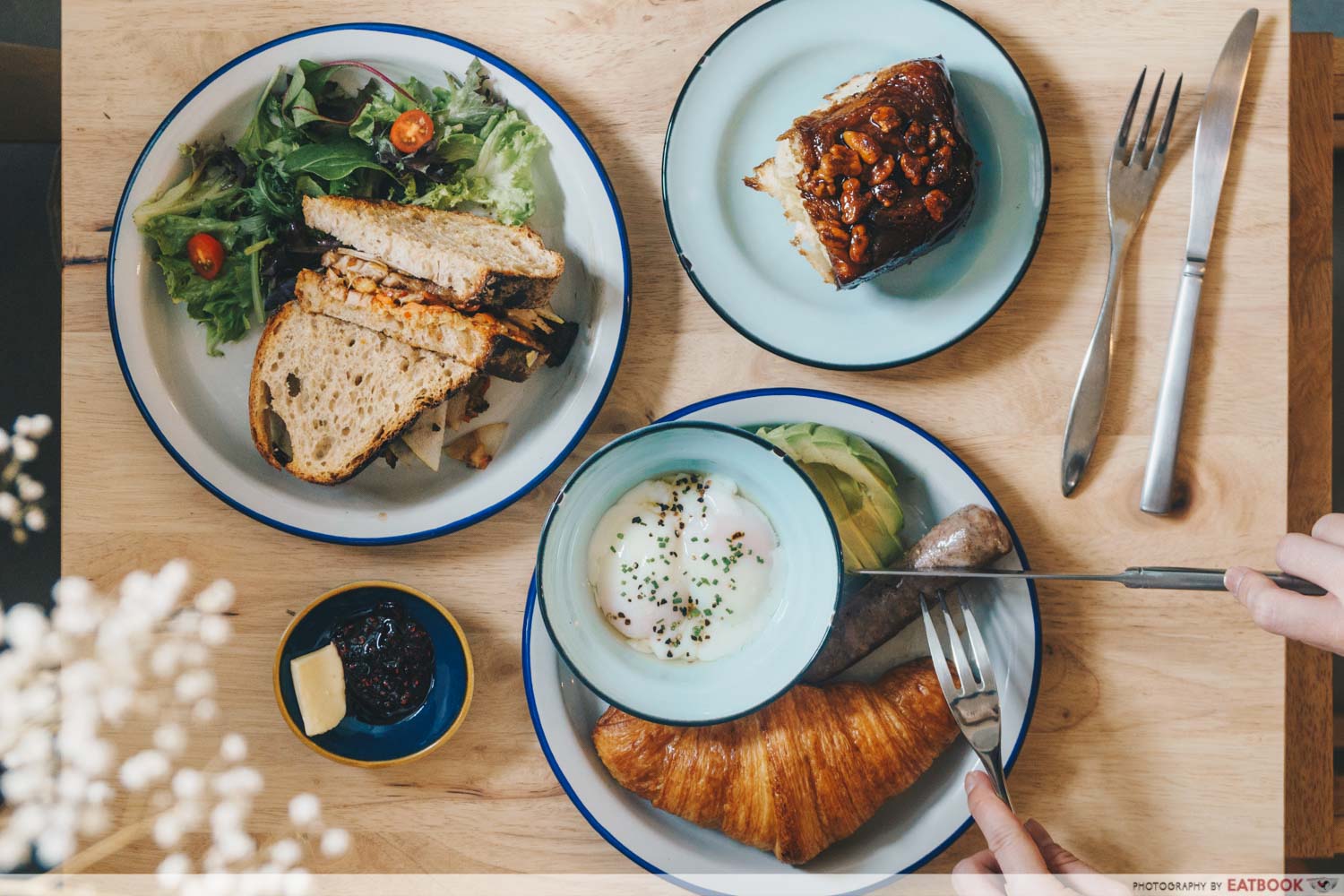 A highlight of their menu is the Build-Your-Plate which lets you customise your platter with the likes of 65.5°egg ($3), Ripe Avocado ($3), and a Pork & Fennel Sausage ($5). Those looking for something lighter can get sandwiches such as the Pork Belly Sandwich ($14) that comes with a slab of pork pan-fried in coffee marinade.
Check out our full review of Baker's Bench Bakery!
Baker's Bench Bakery Review: New Minimalist Cafe With Build-Your-Own Brunch Platters And Pork Belly Sourdough
Address: 6 Bukit Pasoh Road, Singapore 089820
Opening hours: Wed-Mon 8:30am to 5pm
Website
Baker's Bench Bakery is not a halal-certified eatery.
---
4. Carmen's Best
---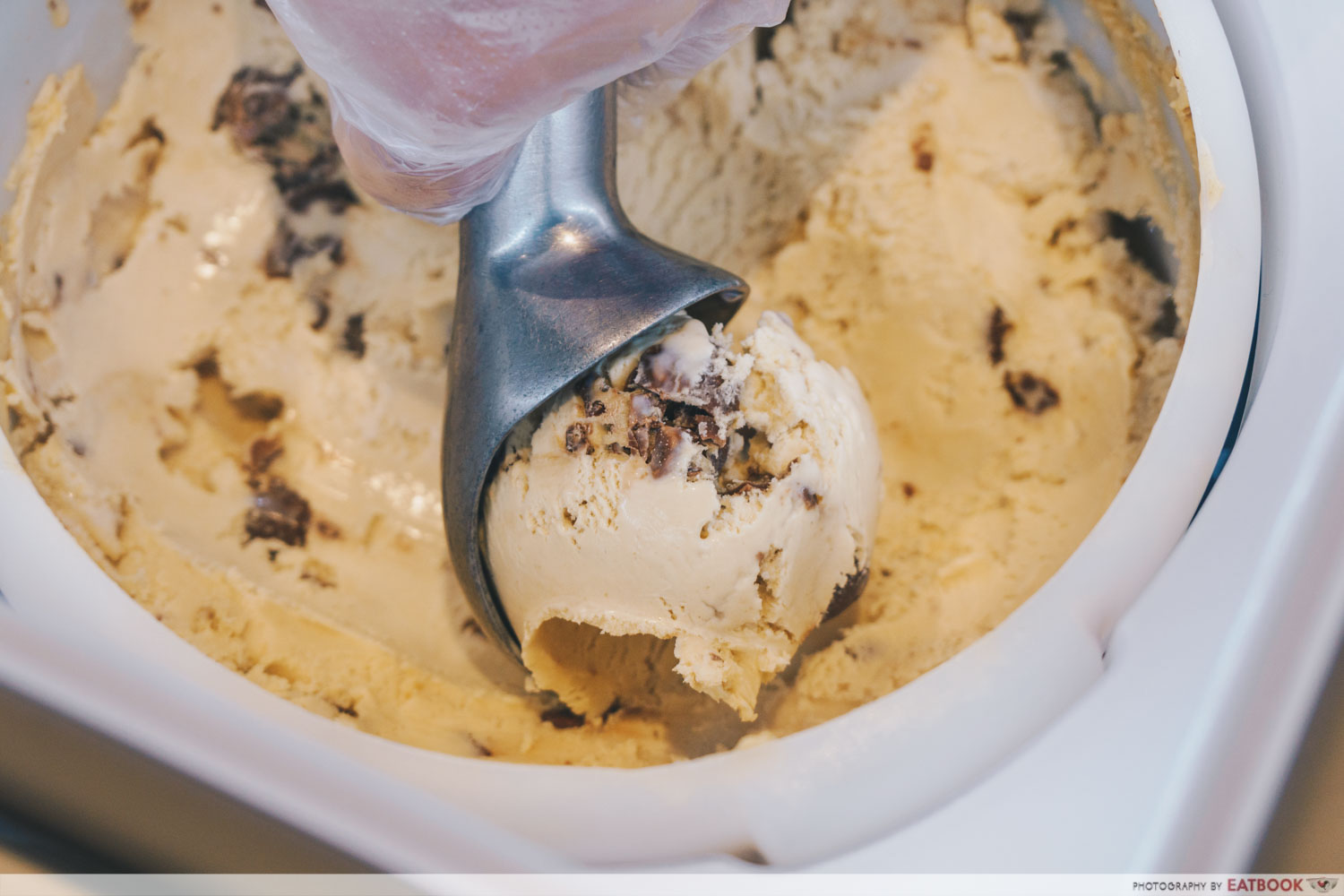 Famous Filipino ice cream brand, Carmen's Best, just opened their very first international outlet at Capitol Piazza. The brand first started out as a farm with too much milk to spare and was able to quickly amass a loyal following by focusing on quality ingredients over scale.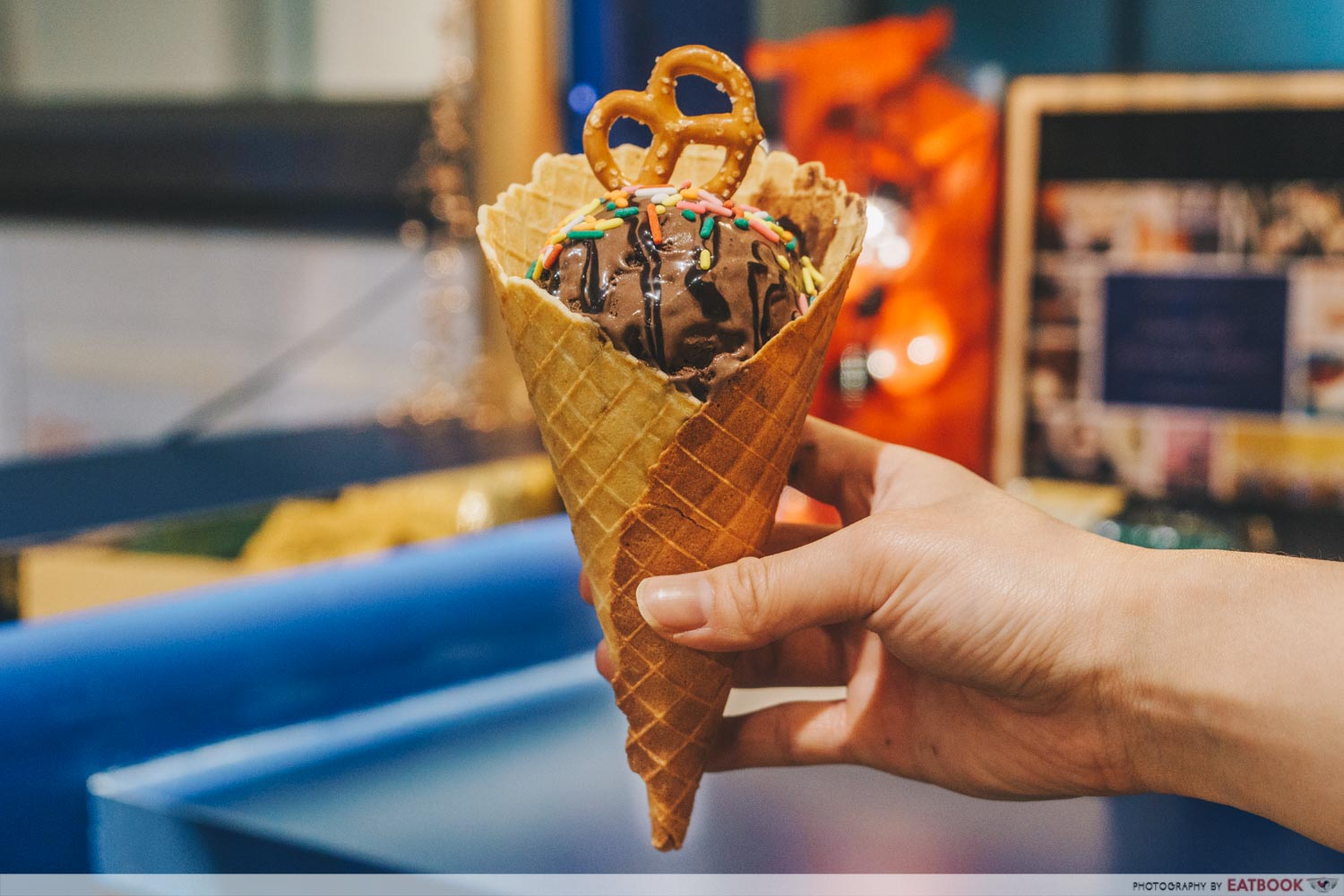 Popular flavours include Butter Pecan and the quirky He's Not Worth It, a chocolatey nod to anyone's who's binged on ice cream after a breakup. A single scoop goes at $4.90 while the double scoop goes at $5.90. For an extra $0.60, you can have it served in a house-made waffle cone.
Address: 13 Stamford Road, #B1-32, Capitol Singapore, Singapore 178905
Opening hours: Sun-Fri 11am to 9pm, Sat 11am to 10pm
Website
---
5. Ryan's Kitchen
---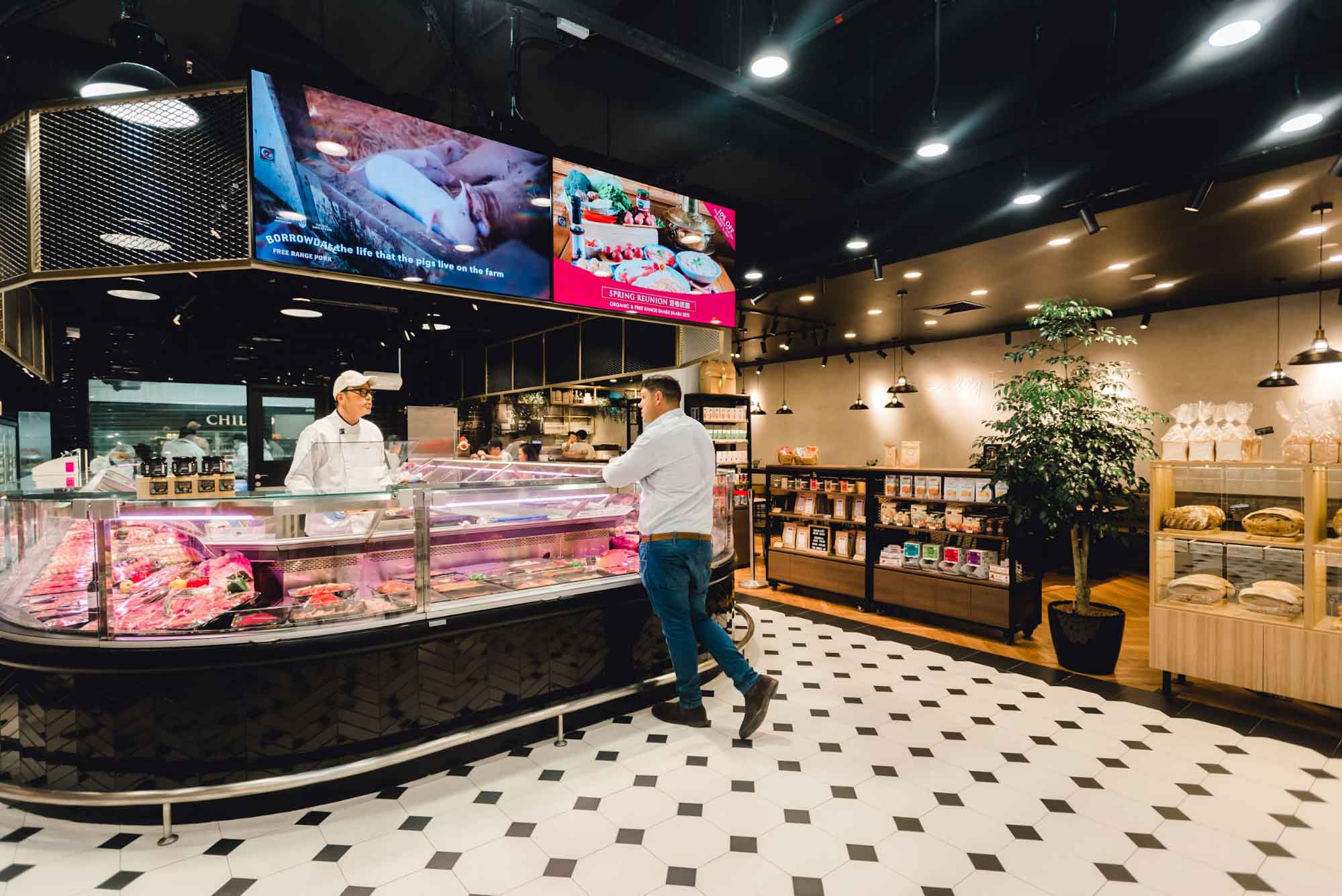 Ryan Kitchen is an Aussie-style restaurant that serves delectable dishes made from organic food that can be purchased from their grocery right next door. They have a large in-house butchery that offers dry-aged meats in the store's very own dry ageing chamber!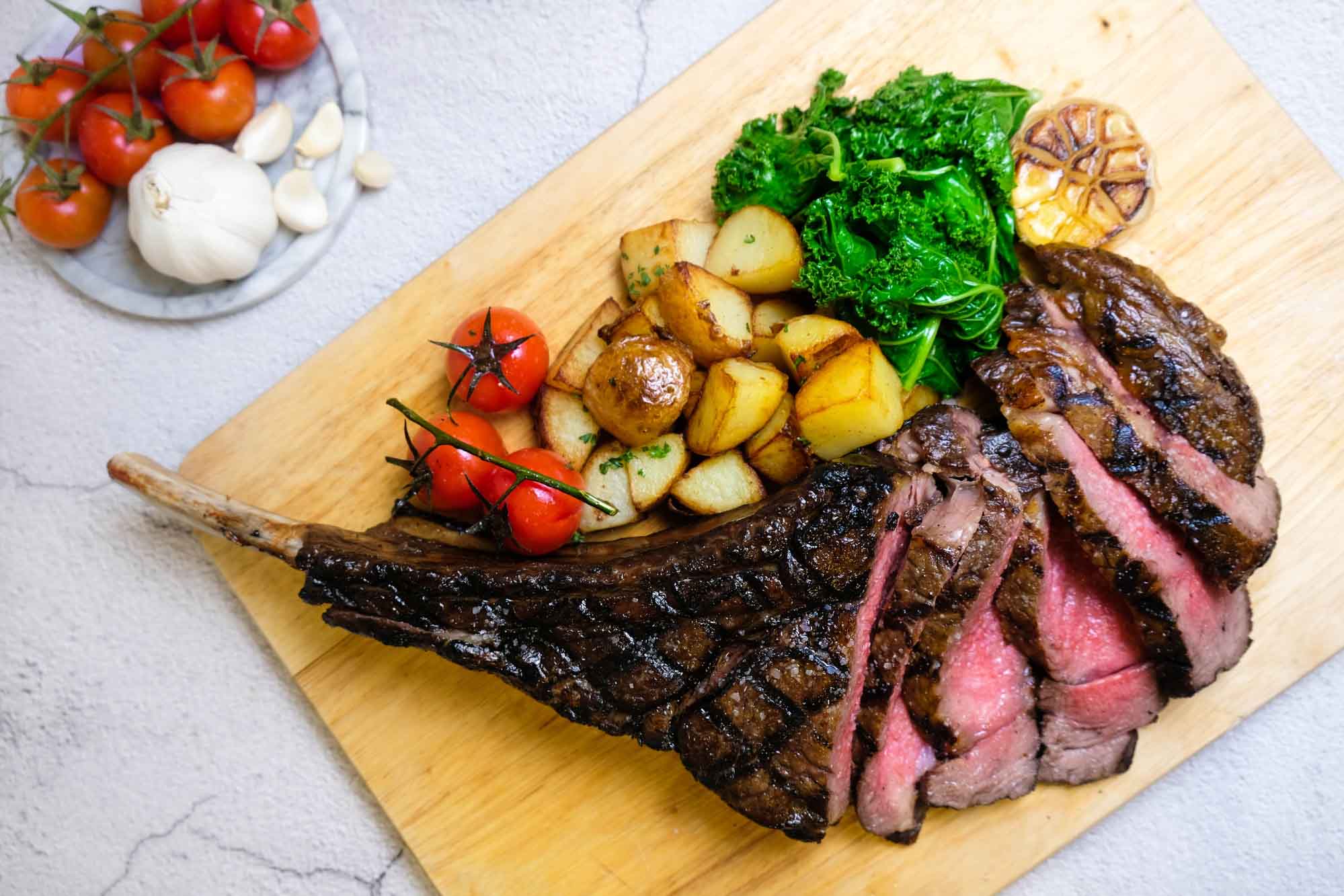 Their huge Five Founders Carbon Neutral Certified Beef Op Ribs ($148++) is served on a wooden platter, and features tender beef slices that are easily carved from the bone. It's served with fresh roasted potatoes, juicy vine tomatoes, refreshing greens, and a rich house-made demi-glace sauce. 
Top-up $4++ to get a taste of their Truffle Mustard sauce. The mustard's sweet sourness, combined with the earthy truffle flavour, will deepen the taste of the meat.
Address: 1 Kim Seng Promenade, #B1-146, Great World, Singapore 237994
Opening hours: Mon-Fri 9am to 10pm, Sat-Sun 8am to 10pm
Website
Ryan's Kitchen is not a halal-certified eatery.
---
New restaurants in February 2020
---
1. Black Marble
---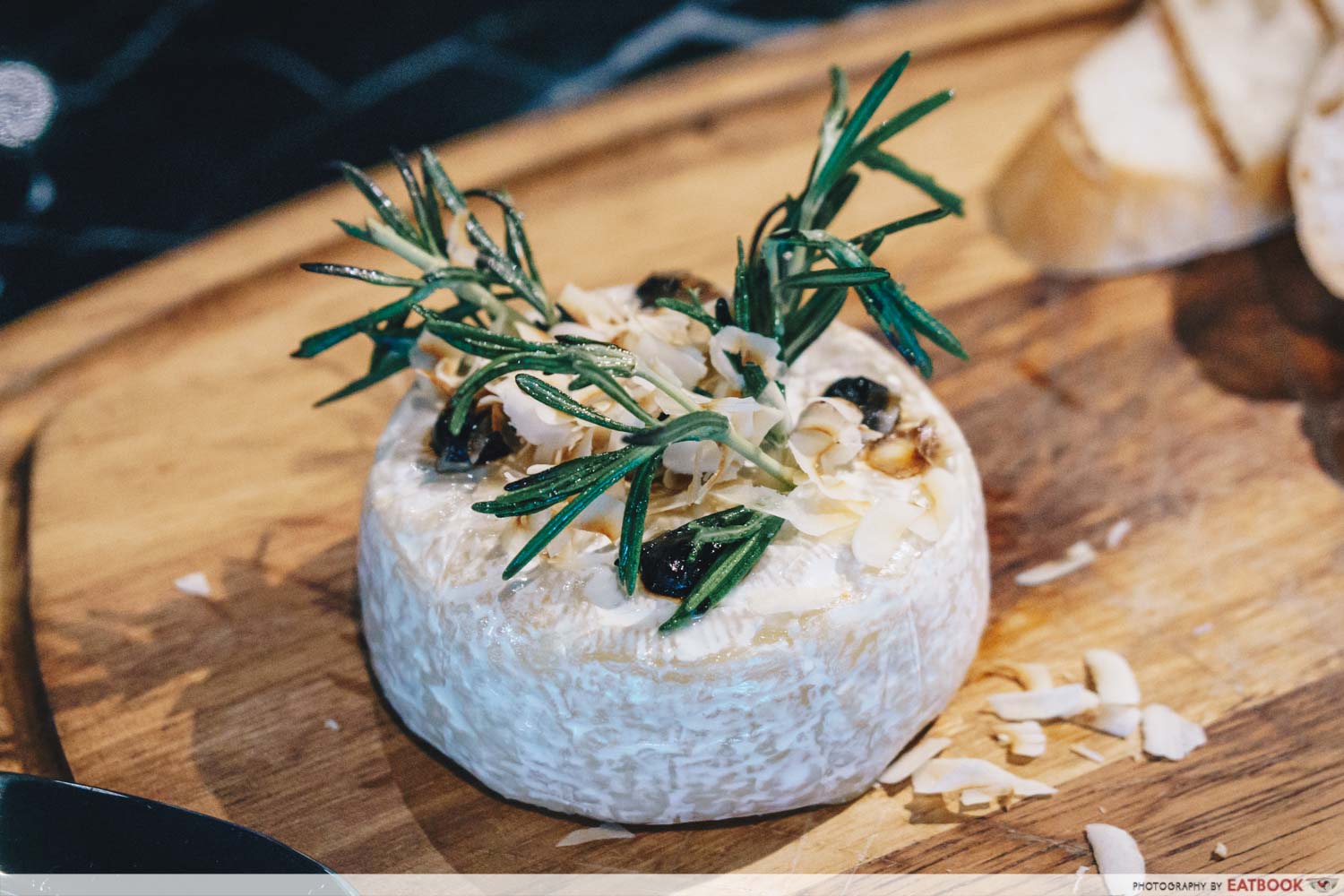 Opened by one of Singapore's most respected F&B veterans, Otto Weibel, Black Marble is a chic farm-to-table steakhouse at Holland Village. Start your meal with the fragrant and creamy Baked Brie Cheese ($16++) that's highlighted by rosemary, honey and fermented black garlic.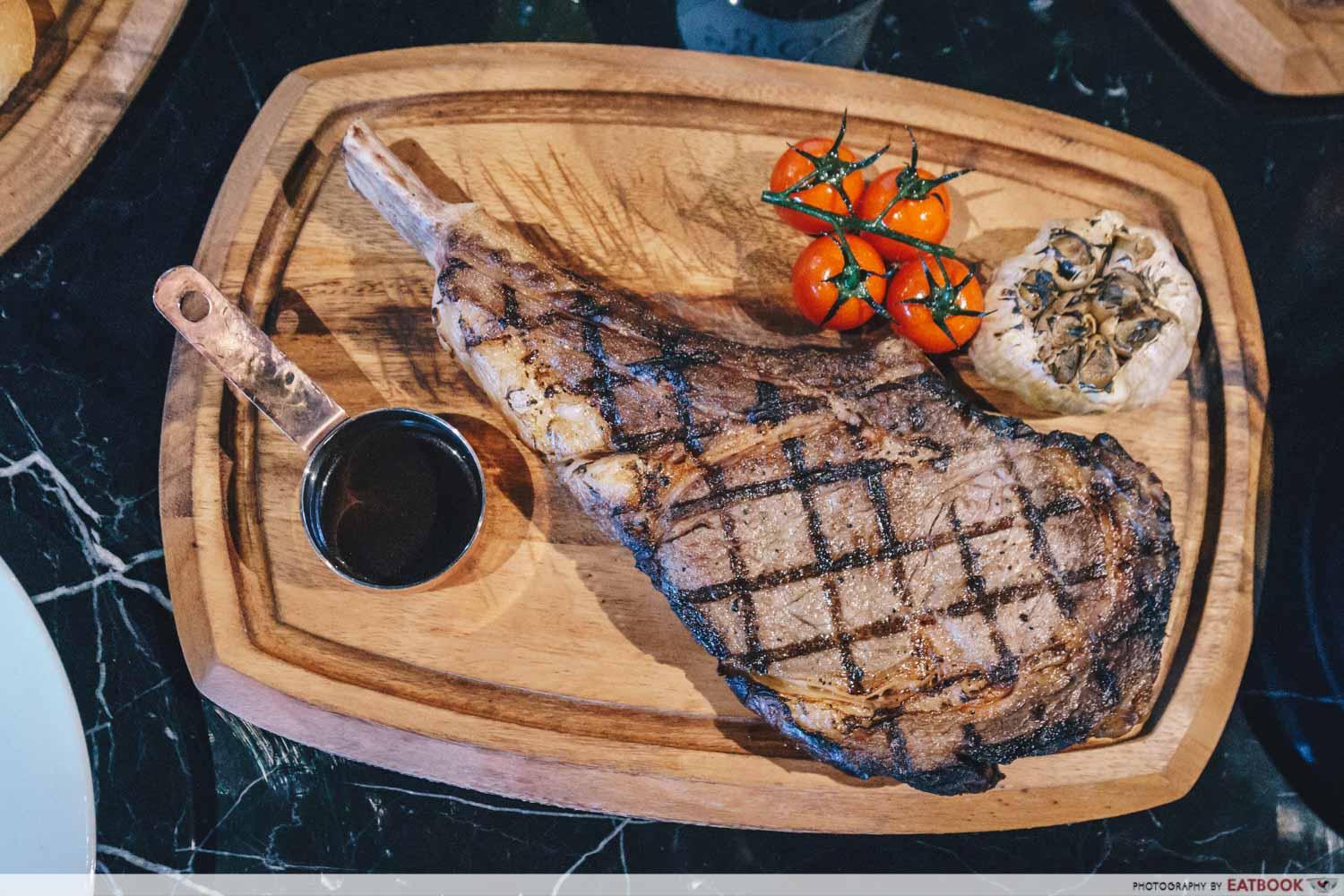 Load up on succulent meat with the 45 Days Dry-Aged Angus Bone-in Ribeye ($78++ for 600gm) and Grain-fed Lamb Rack ($38++ for 350gm), both of which are melt-in-your-mouth tender with a nice layer of fats. That being said, the Lobster & Scallop Saffron Risotto ($34++) is the star at this new restaurant here, as the medley of seafood, including Boston lobster tail, tiger prawn, and octopus, is brimming with smoky flavour from the grill.
Address: 118 Holland Avenue, #02-01, Raffles Holland Village, Singapore 278997
Opening hours: Daily 11am to 10pm
Tel: 9641 6913
Website
---
2. GO Noodle House
---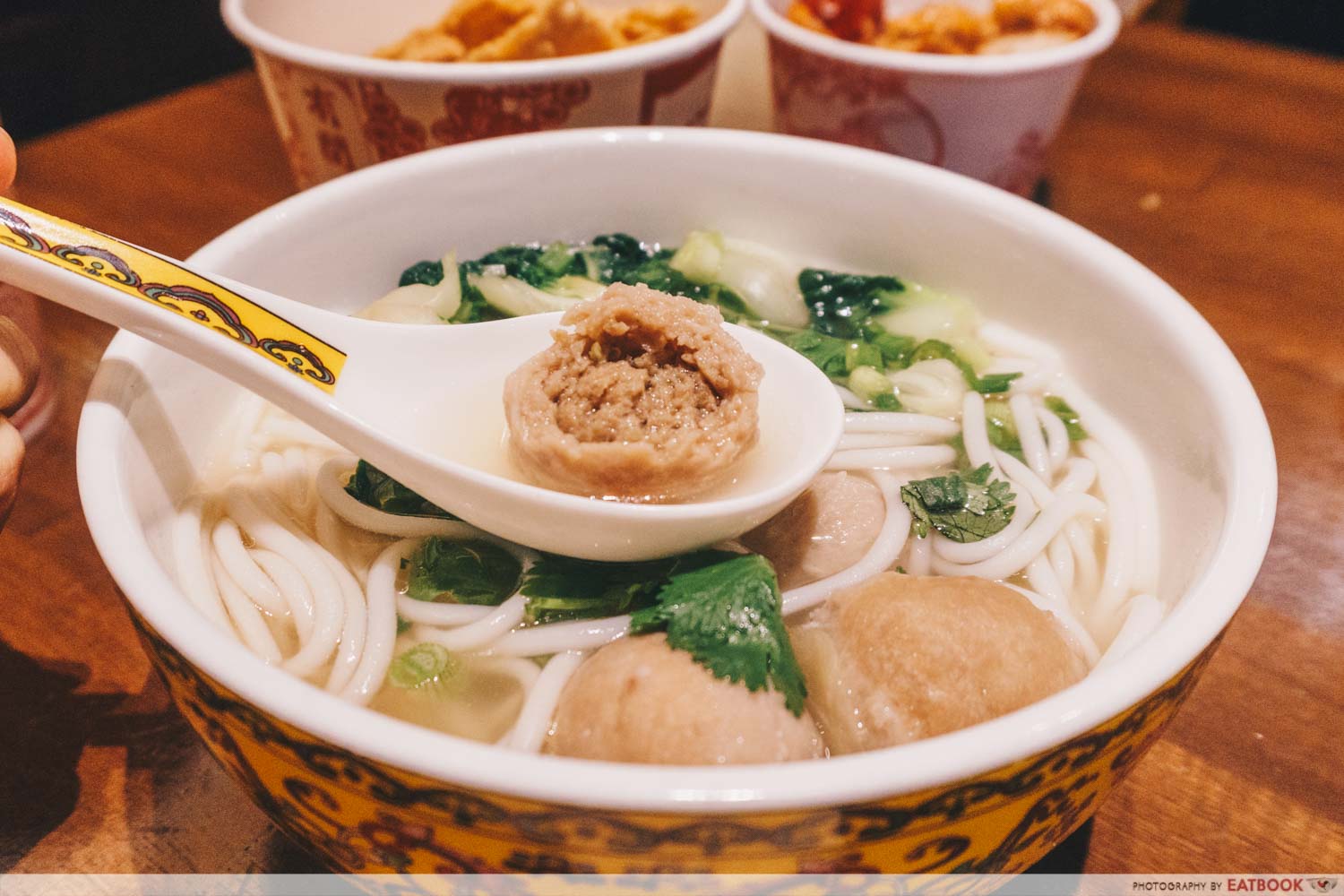 Gone are the days where you have to travel across the border to get a taste of GO Noodle House's bursting meatballs. This popular Malaysian noodle joint has finally opened their first outlet in Singapore, right in the heart of town. A must-have at this new restaurant is their Signature Bursting Meatball (from $8.90++). You'll get waves of rich flavours from the juicy meatball and robust fish broth.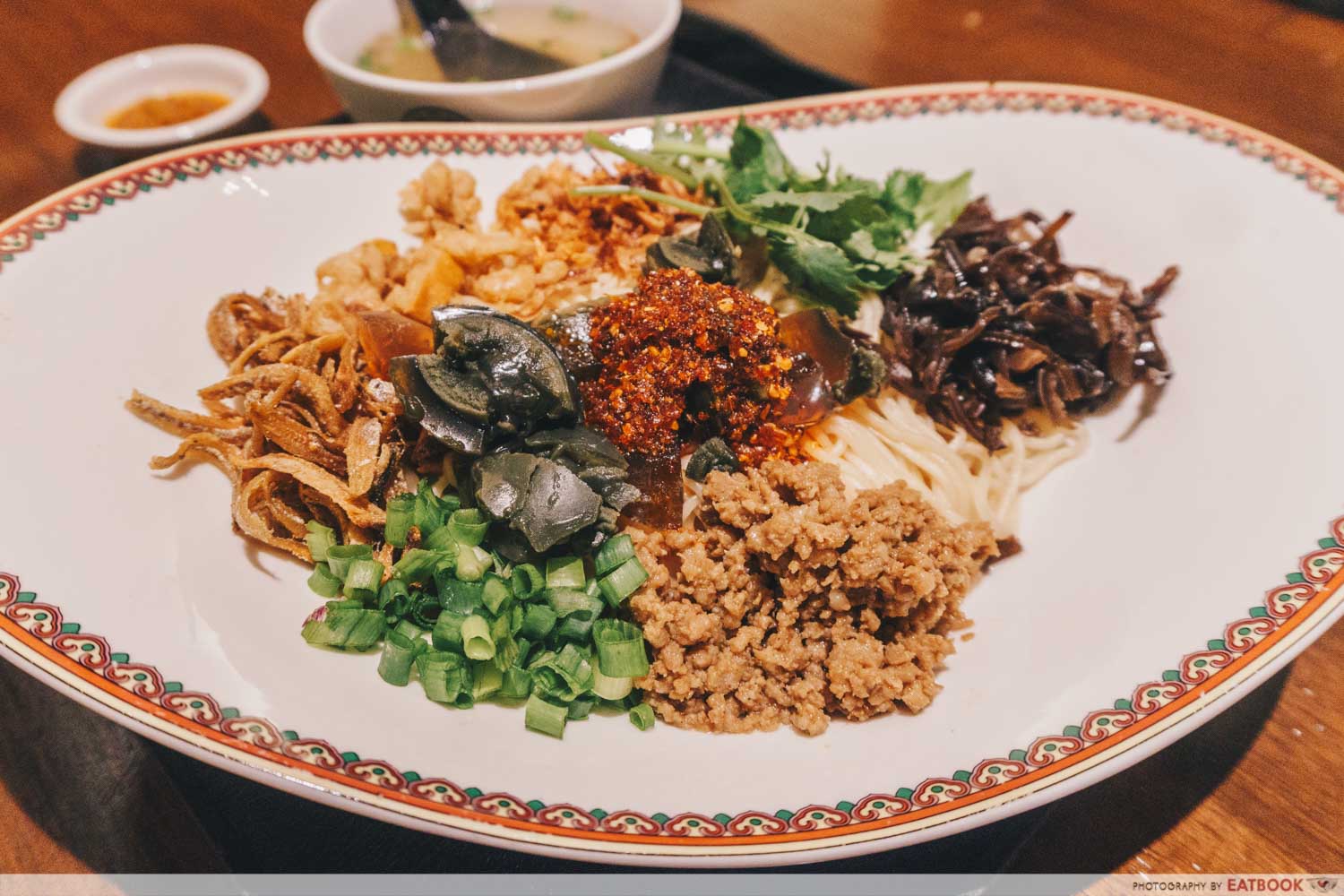 If you're in the mood for dry noodles, check out their Hakka Sauce Pan Mee with Century Egg ($9.90++). These handmade thin noodles are tossed in pork lard, giving them that sucker-punch of flavour. Those who want a lil' bit of everything can get the best of three worlds with the Trio Platter ($12.90++). You'll score Crispy Fuchuk, Five Spice Meat Roll, and Gold Coin. This roll is the Malaysian version of ngoh hiang while the coins are GO Noodle House's house-made bak kwa.
Address: 313 Orchard Road, #B3-37/38, 313@Somerset, Singapore 238895
Opening hours: Mon-Fri 11:30am to 10pm, Sat-Sun 11am to 10pm
Tel: 6363 5323
Website
---
3. We Bare Bears Cafe 
---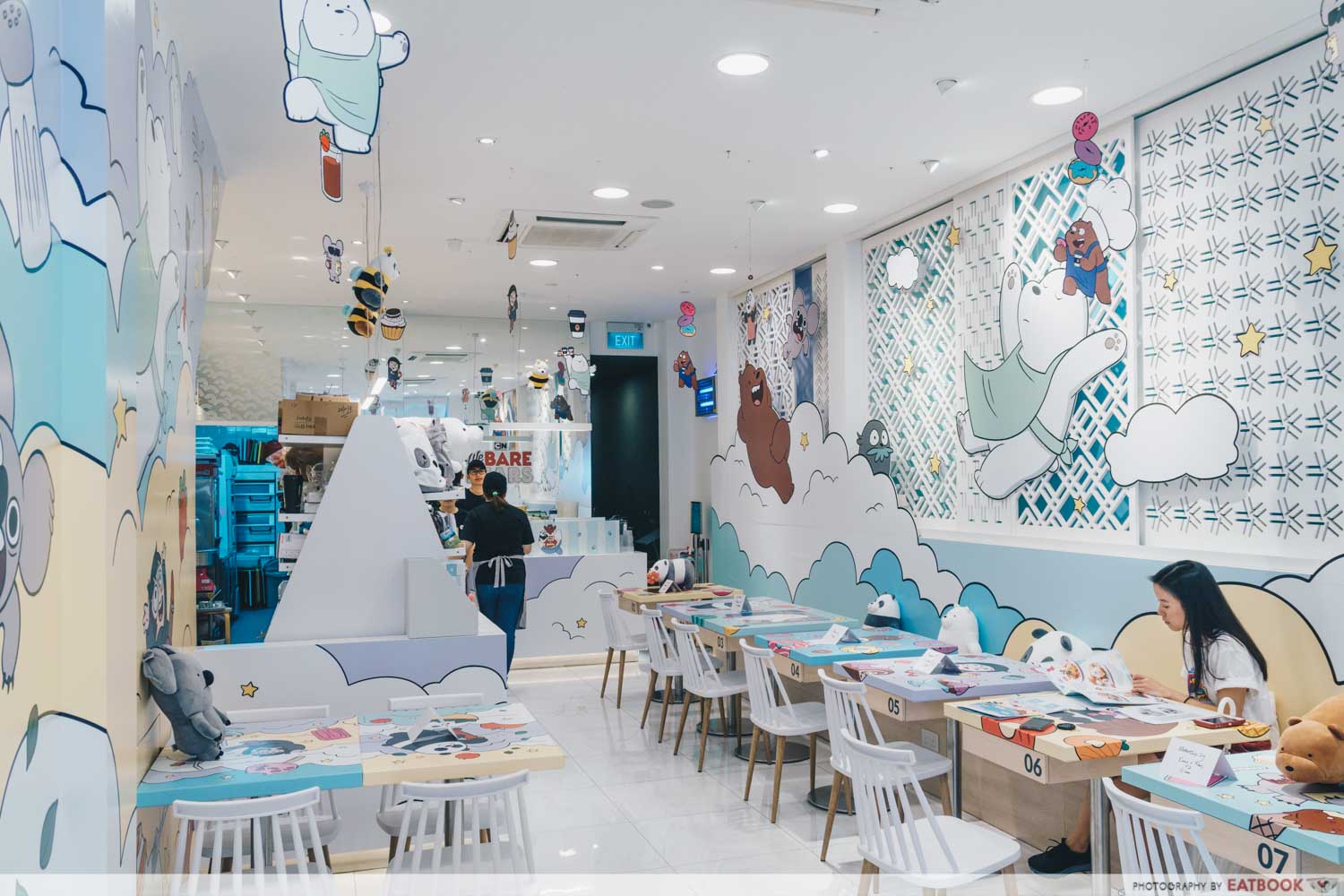 Kumoya Cafe transforms to a We Bare Bears cafe from now till 12 April 2020. With prints and plushies of the Bear Brothers plastered all around the space, this cafe is a treat for fans of We Bare Bears. This kawaii theme trickles down to the menu which is curated by award-winning food blogger, Little Miss Bento. Shop from their imported range of merchandise and take home your very own plushie. You could also try your luck with their claw machine.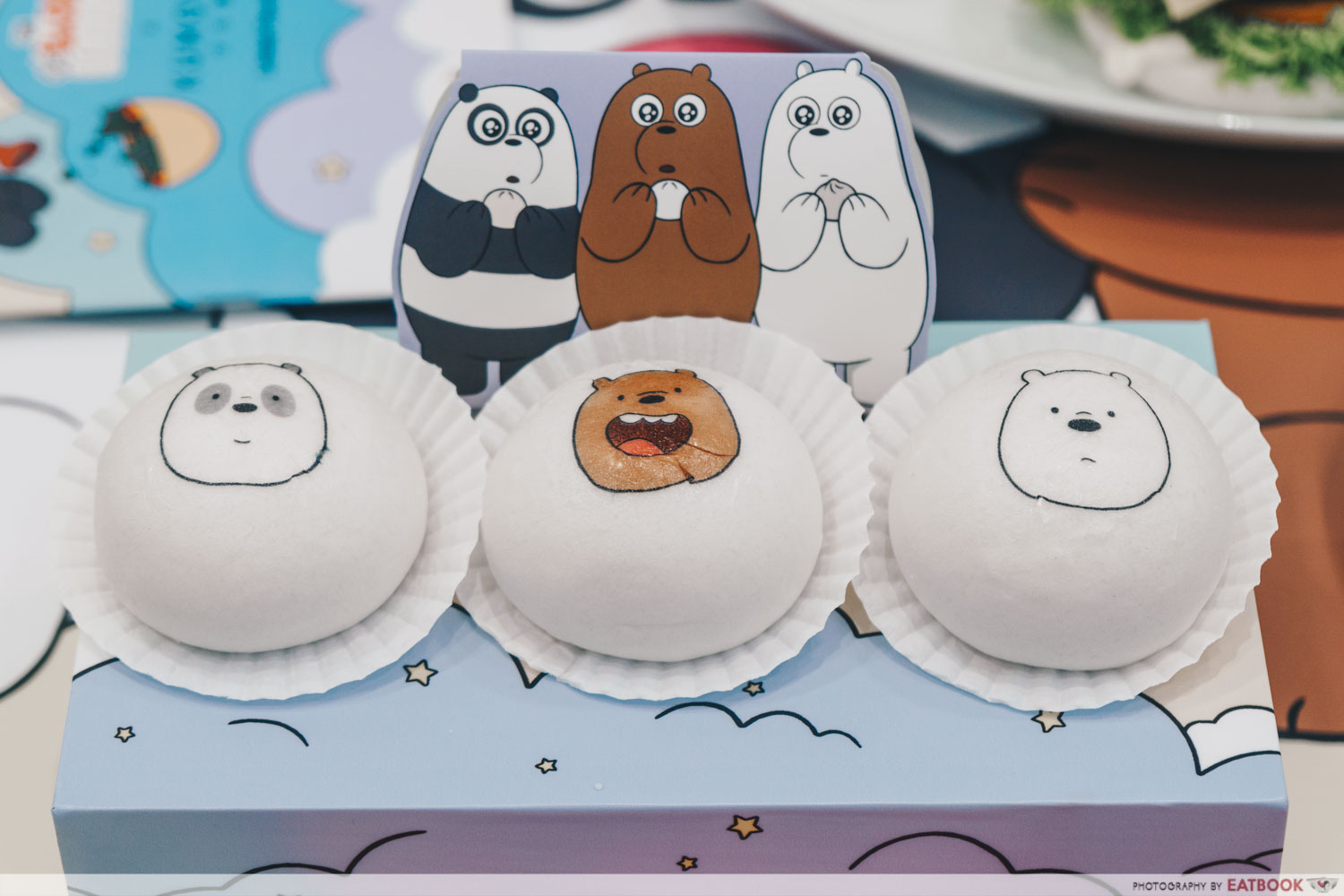 Feast your eyes and stomach on their extensive menu of adorable dishes. You even score some freebies with certain items. The cute Special We Bare Bears Baos with Sweet Matcha ($11.90+) comes with a limited-edition tent card. You can also top up $11.90+ to take home the exclusive Ice Bear mug which holds Too Cool Hot Latte ($10.90+).
We Bare Bears Pop-Up Cafe To Open At Bugis From 4 January To 12 April 2020
Address: 8 Jalan Klapa, Singapore 199320
Opening hours: Tue-Thurs 12pm to 9:30pm, Fri-Sat 12pm to 10:30pm
Website
We Bare Bears Cafe is not a halal-certified eatery, but their food contains no pork or lard.
---
4. Fluff Stack
---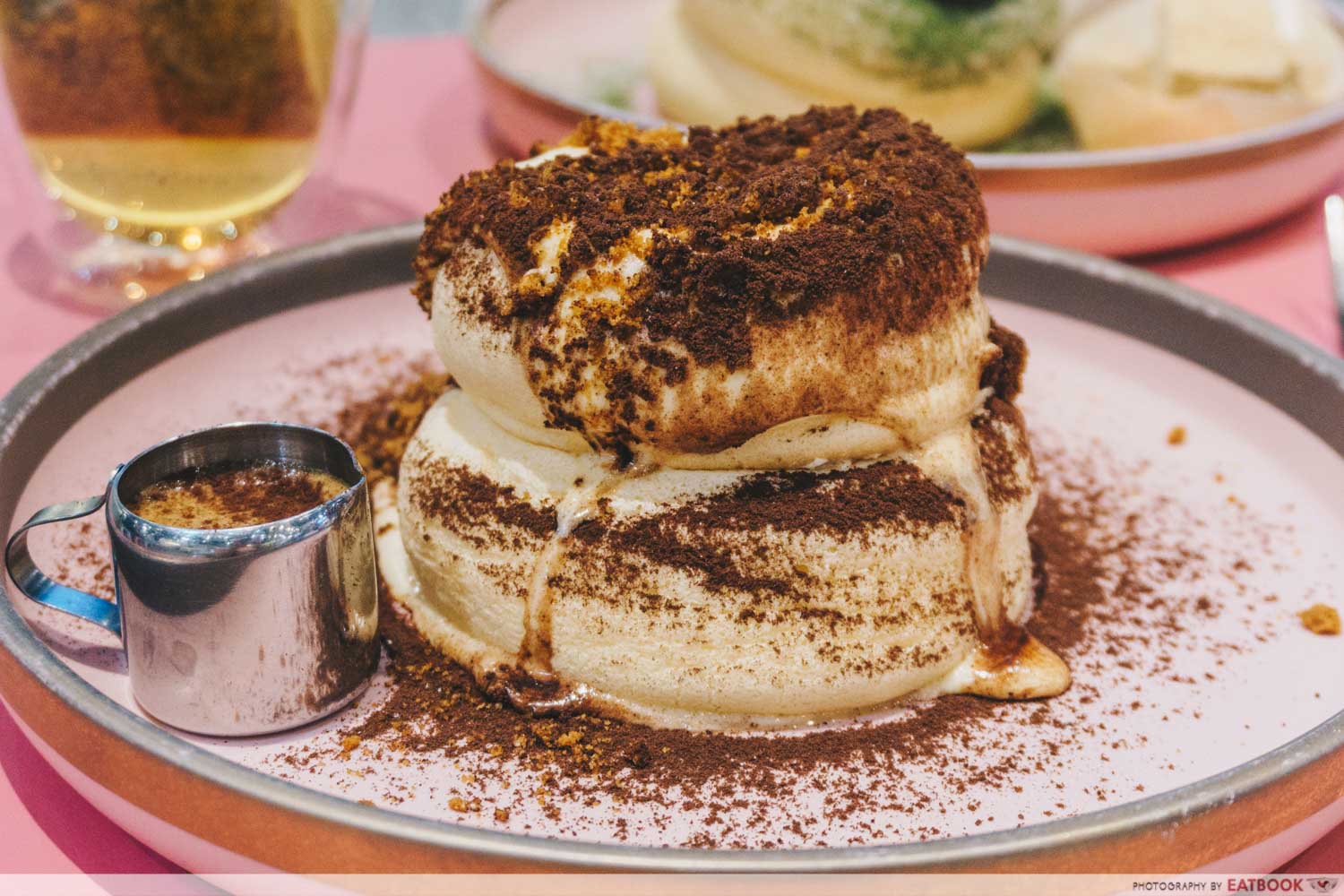 Souffle pancakes are very much in trend, and Fluff Stack is quick to jump onto this bandwagon. To keep up with the times, they've added a couple of exciting new additions to their menu. The Tiramisu Souffle Pancakes ($13.80) is made without any booze, so you can get your mid-day caffeine dose without the buzz.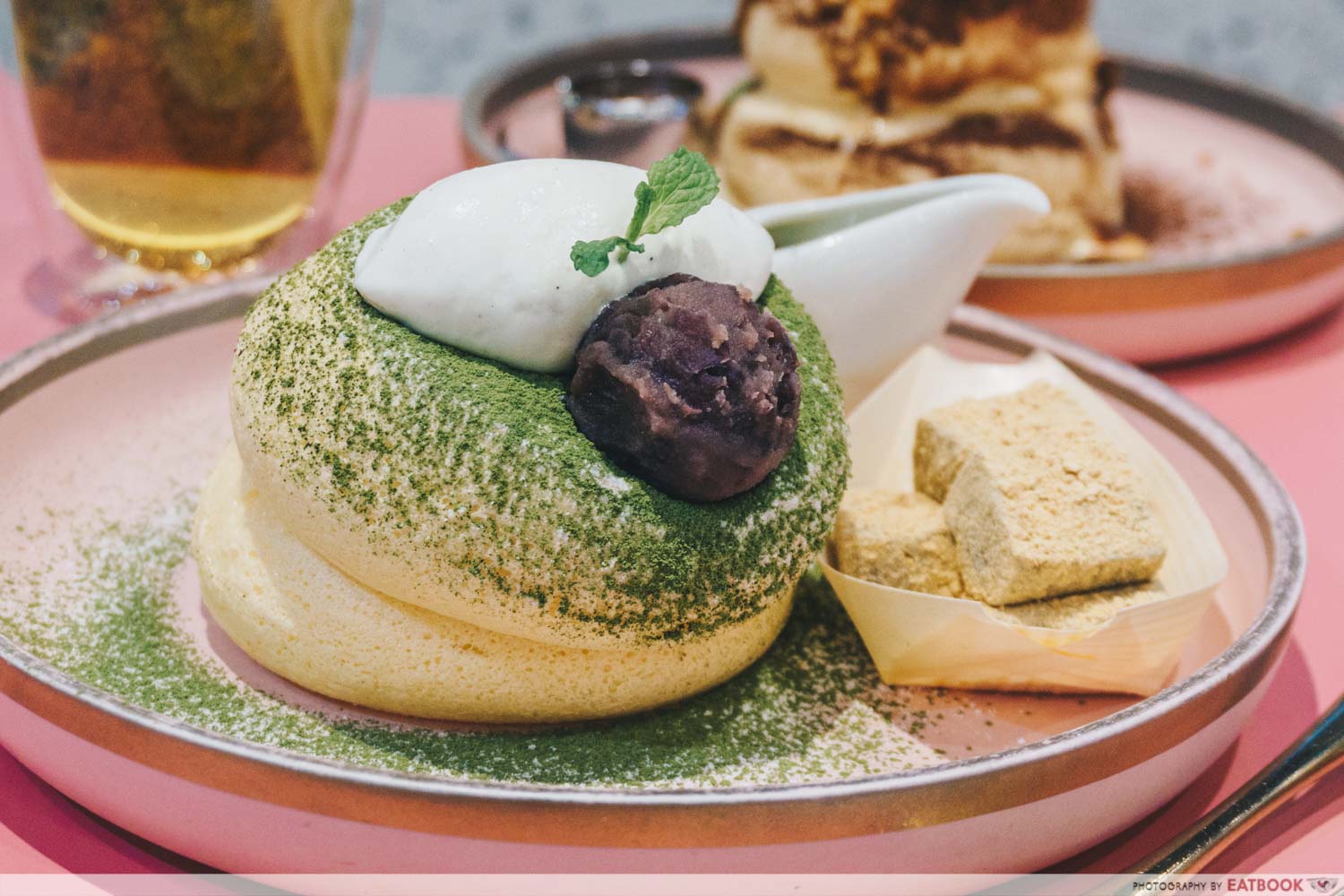 Another flavour joining the pancake fam is Matcha Souffle Pancakes ($13.80). Airy stacks of eggy pancakes are topped with billowy Chantilly cheese and scoop of red bean. Pour the matcha cream over the pancakes for more intense bitter notes. The dish also comes with a side of warabi mochi for a hint of earthiness. 
Check out our full review of Fluff Stack.
Fluff Stack Review: Souffle Pancakes With Strawberry Cheese And Chocolate Hazelnut Toppings
Address: 3 Temasek Boulevard, #B1-K4, Suntec City, Singapore 038983
Opening hours: Daily 10am to 10pm
Website
Fluff Stack is in the process of applying for halal certification.
---
5. Icenoie Hokkaido
---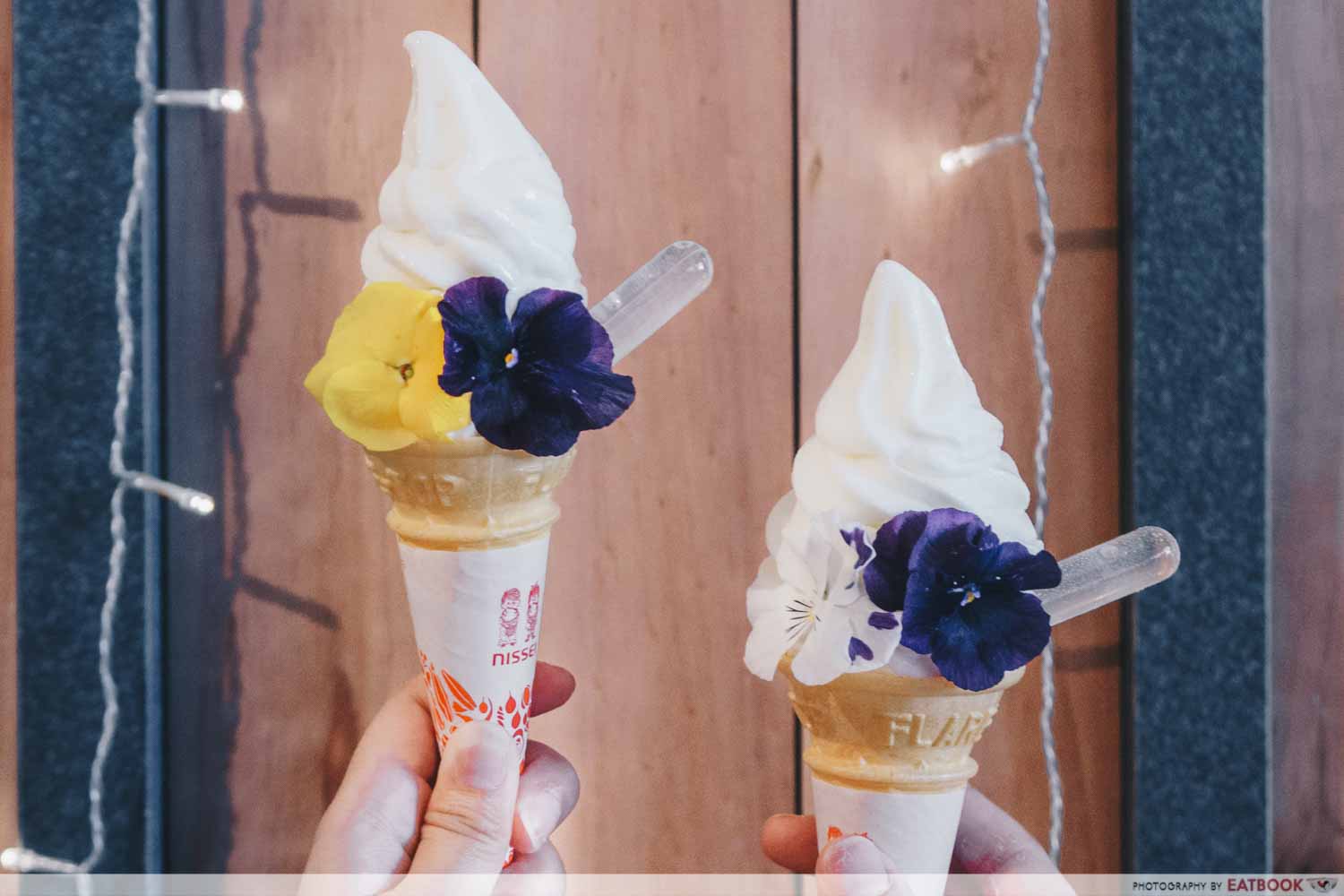 Icenoie Hokkaido at City Square's Don Don Donki previously impressed us with their highly IG-worthy Crème Brûlée Soft Serve ($8). This year, they have dolled up their popular raw milk soft serve with edible air-flown flowers and unpasteurised honey straight from Hokkaido. At $7 a pop for the new Honey Soft Serve, each lick of the dessert will bring you to an icy and milky abyss.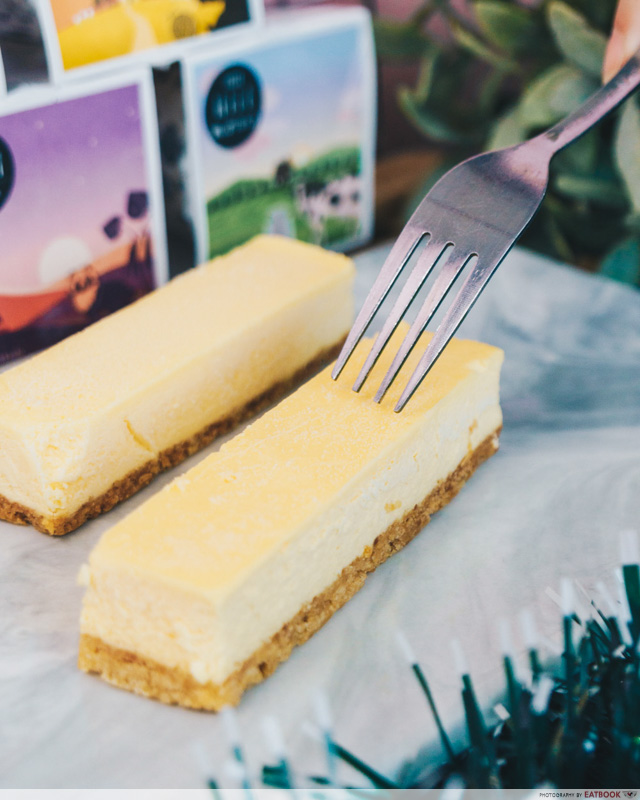 Cheesecake lovers will also be happy to find updated items in their menu such as the Baked Cheese Cake ($5.90). Those who want a zhnged up version of the treat can opt for their Triple Cheese Baked Cheese Cake ($10.90) instead. Dense, creamy, and melt-in-your-mouth, these cakes would make great gifts or after-dinner indulgence. 
Naganuma Ice Co Review: Famous Hokkaido Creme Brulee Soft Serve At Tanjong Pagar
Address: 180 Kitchener Road, #B2-05-5, City Square Mall, Singapore 208539
Opening hours: Daily 10am to 10pm
Website
---
6. Korio
---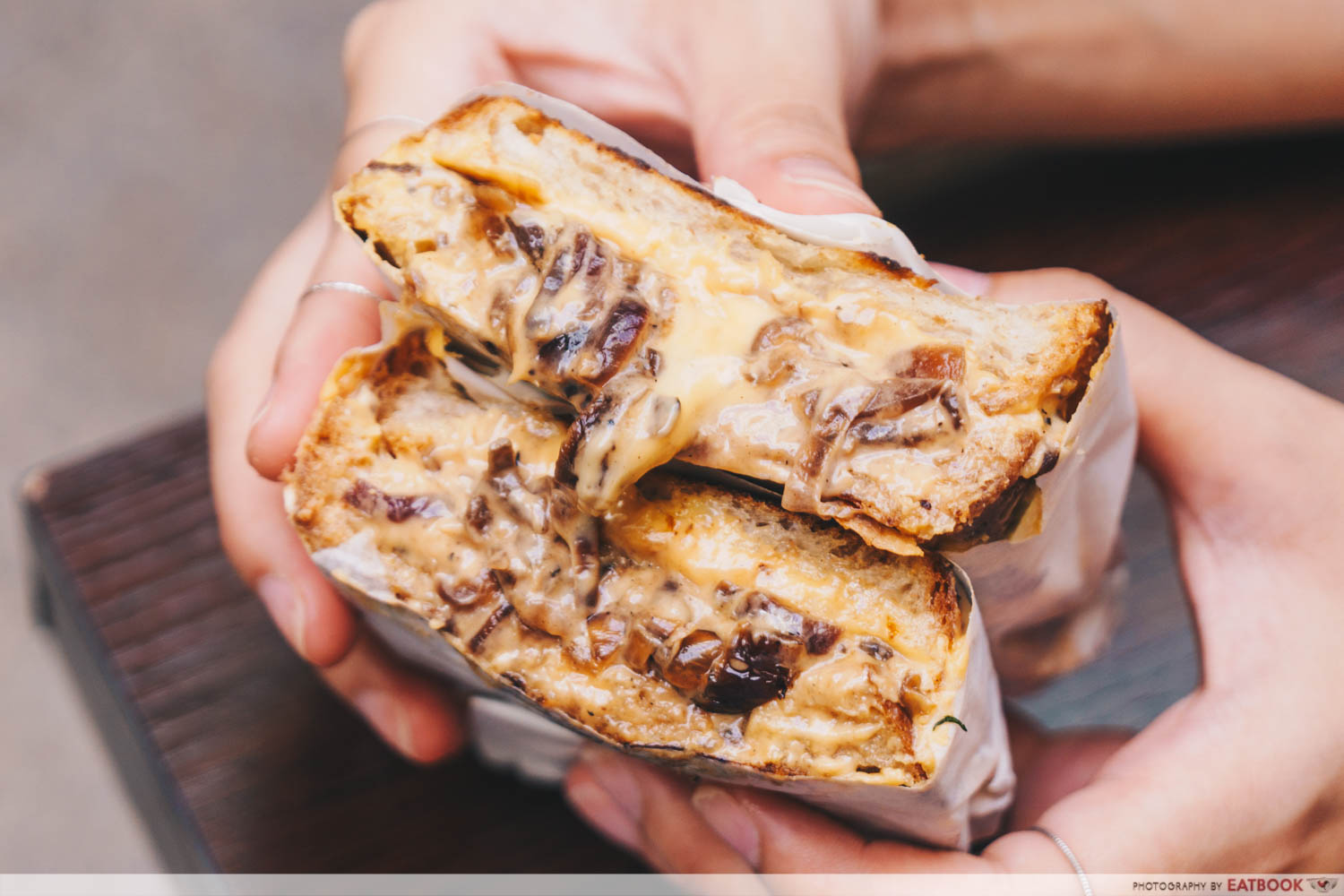 Do not miss this humble hole-in-the-wall eatery at Far East Square. Korio recently opened its doors in the CBD, serving pretty and atas doughnuts as well as hearty sandwiches with sick cheese-pulls and well-seasoned meats. Their Grilled Cheese ($8) ranks high on our list of favourite cheese toasts thanks to the melty mix of cheddar, American cheese, and caramelised onions.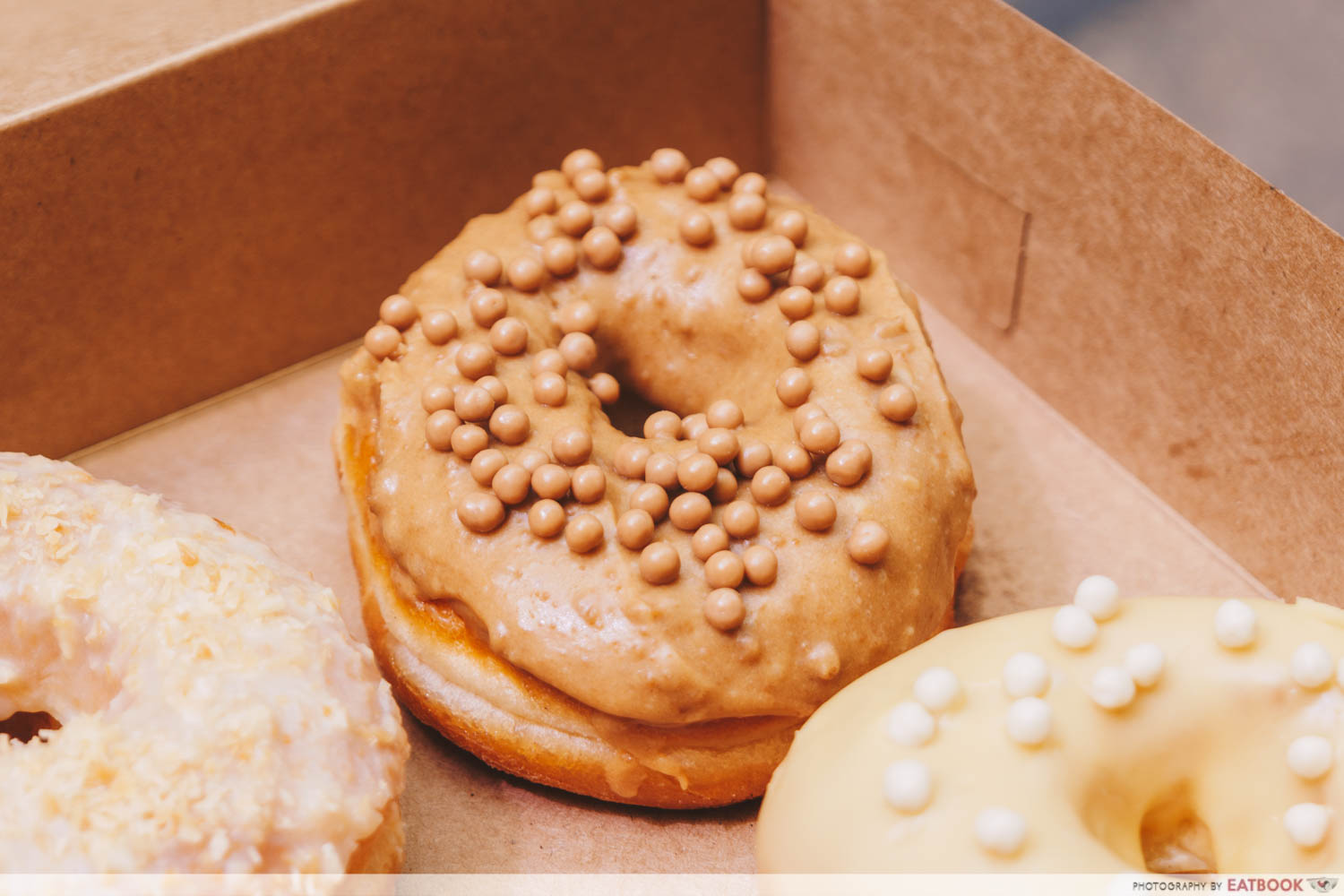 If you're looking for a little pick-me-up during work, pop by for their doughnuts which come in seven flavours: Caramelised Biscuits ($4.50), Peanut Butter Raspberry Jelly ($4.50), Passion Fruit White Chocolate ($4.50), White Chocolate, Coconut & Hazelnuts ($4.50), 70% Dark Chocolate ($4.50), Coffee ($4.50), and Original ($4). These cinnamon-based brioche donuts are fluffy, buttery, and made from scratch every day.
Check out our full review of Korio!
Korio Review: Brooklyn-Inspired Brioche Donuts And Grilled Cheese Toasts At CBD
Address: 135 Amoy Street, #01-03, Far East Square, Singapore 049964
Opening hours: Mon-Fri 8am to 4pm, Sat 9am to 3pm
Tel: 9771 6491
Website
---
7. Tablescape 
---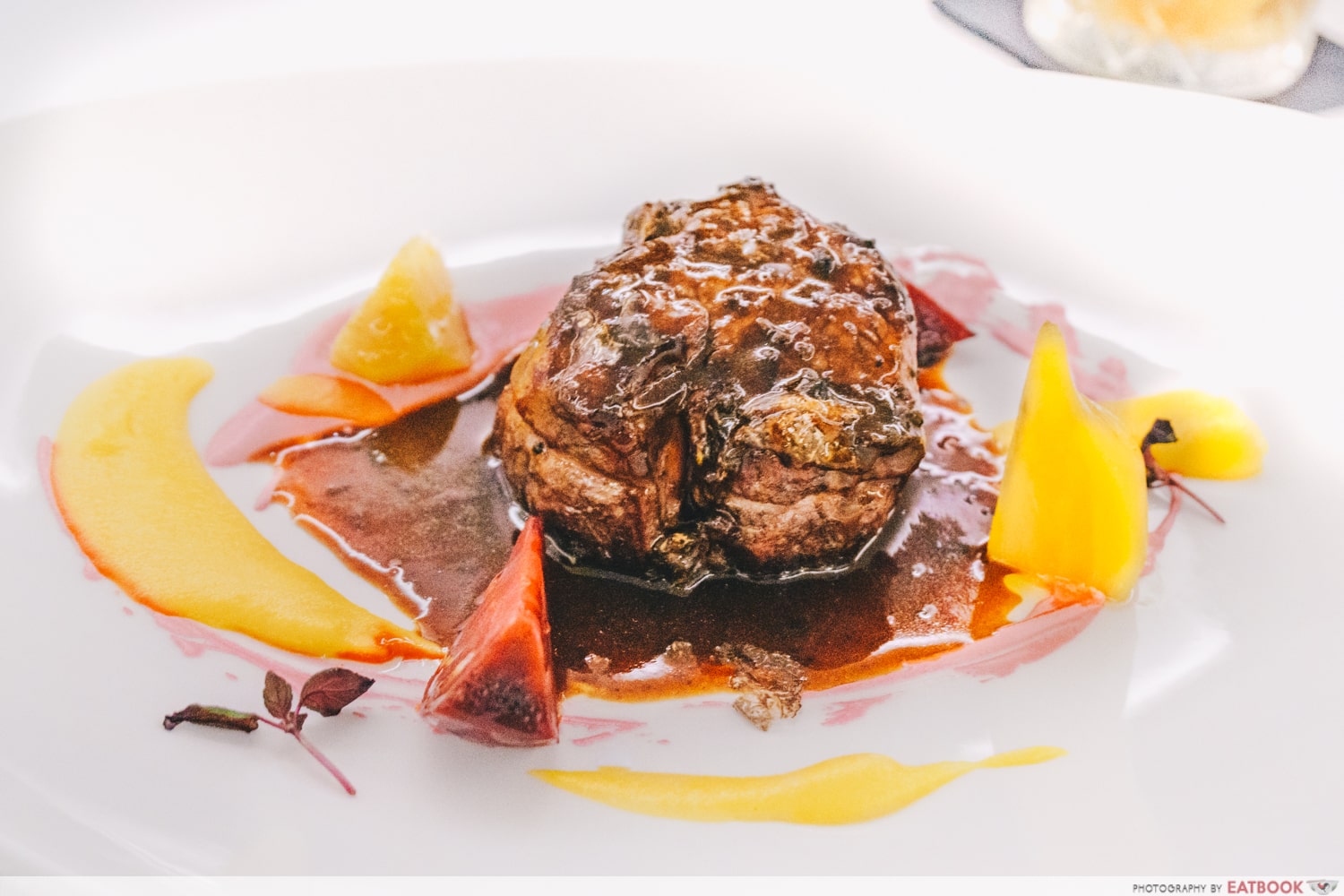 Modern European restaurant and bar, Tablescape, will be offering an exclusive five-course Valentine's Day Degustation Menu ($168++ per couple) from 8 to 16 February 2020. The set comprises smoked oysters, pan-seared foie gras, risotto, a choice of black cod or beef tenderloin steak, and a deconstructed tiramisu. The oysters are smoked in-house, and are given an added boozy boost thanks to a clever addition of Singapore Sling granita.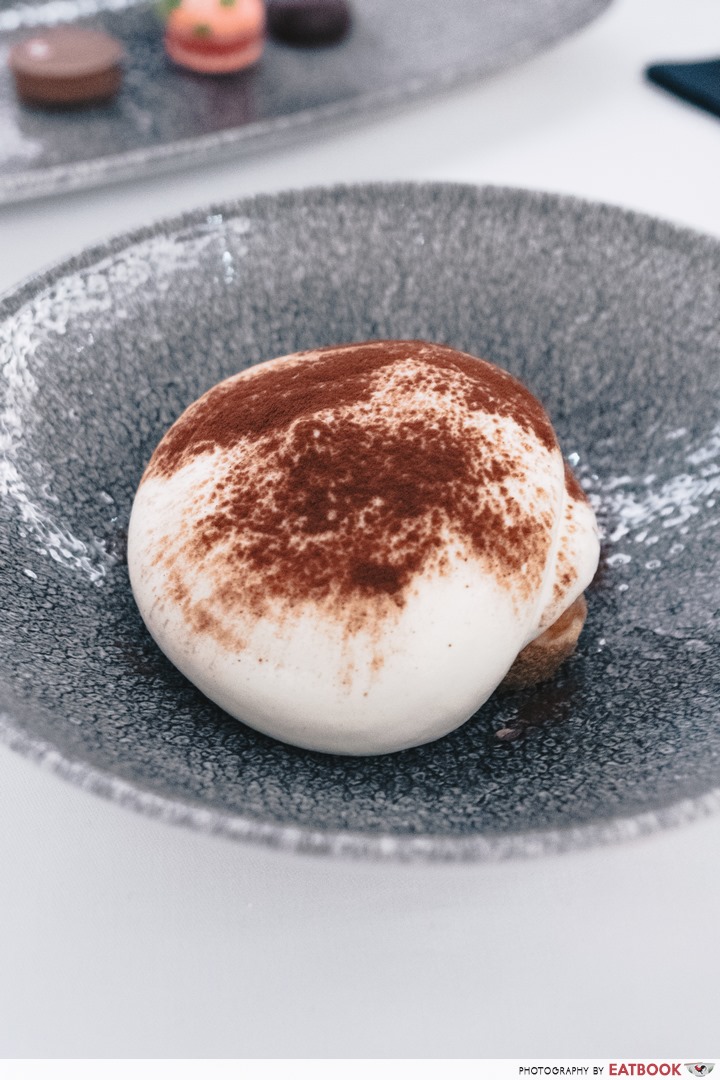 All the components were excellent, but the tiramisu was a delightful way to end the meal. The dessert is made with a sweet ladyfinger biscuit that's skillfully topped with rich mascarpone mousse. You can even score points with your date by piping the mousse yourself!
Address: 10 Coleman Street, Level 3, Grand Park City Hall, Singapore 179809
Opening hours: Daily 6pm to 10:30pm
Website
Tablescape is not a halal-certified eatery.
---
8. Tiong Bahru Bakery Diner
---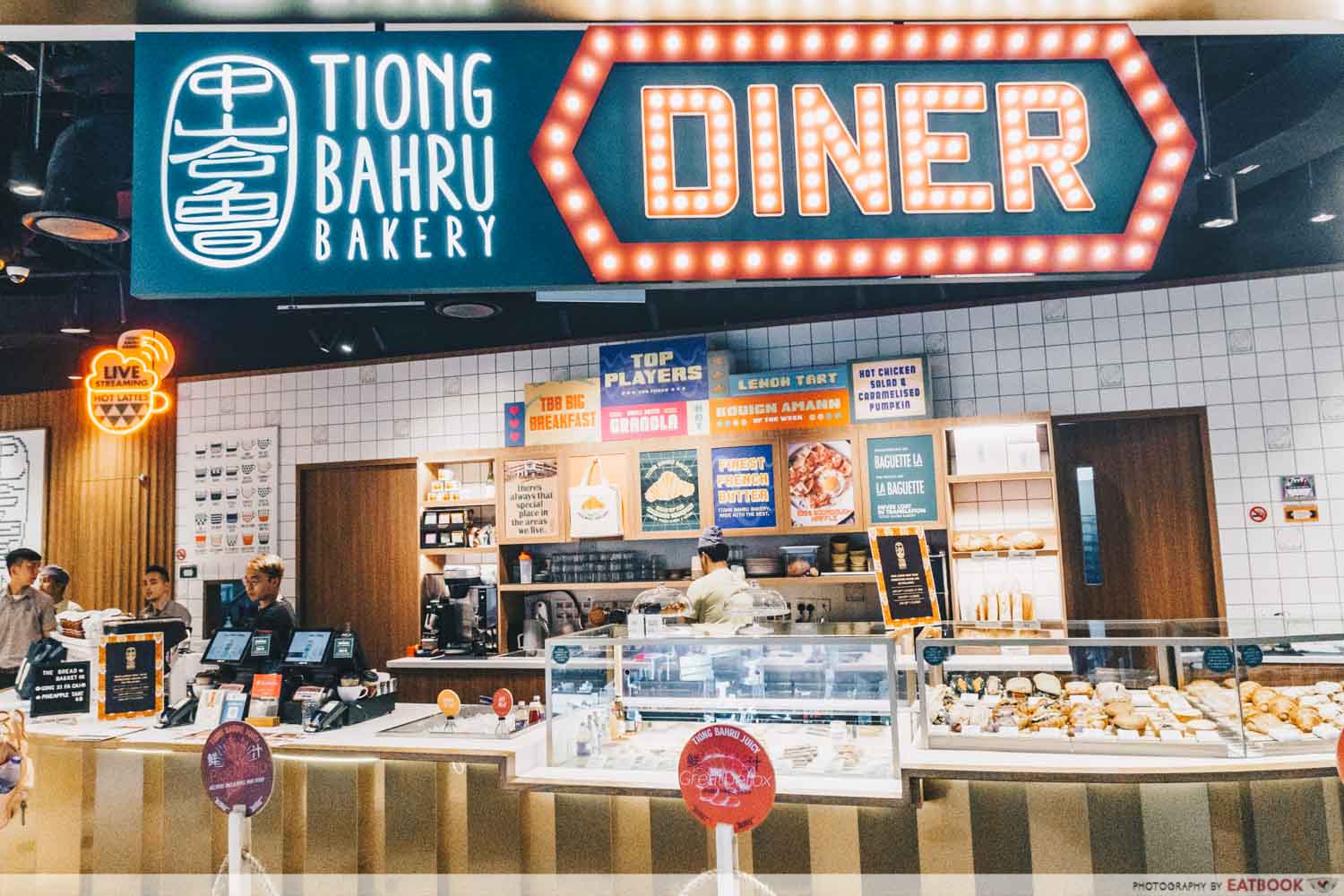 The Tiong Bahru Bakery outlets at Raffles City and Funan have been revamped to Tiong Bahru Bakery Diner, with a large DINER plastered next to their store signs. Besides their signature croissants and kouign-amann, they have a whole slew of hot food items that are masterfully prepared by Paul Albert, a 25-year-old French chef who has worked at cafes and bakeries in France and Brazil.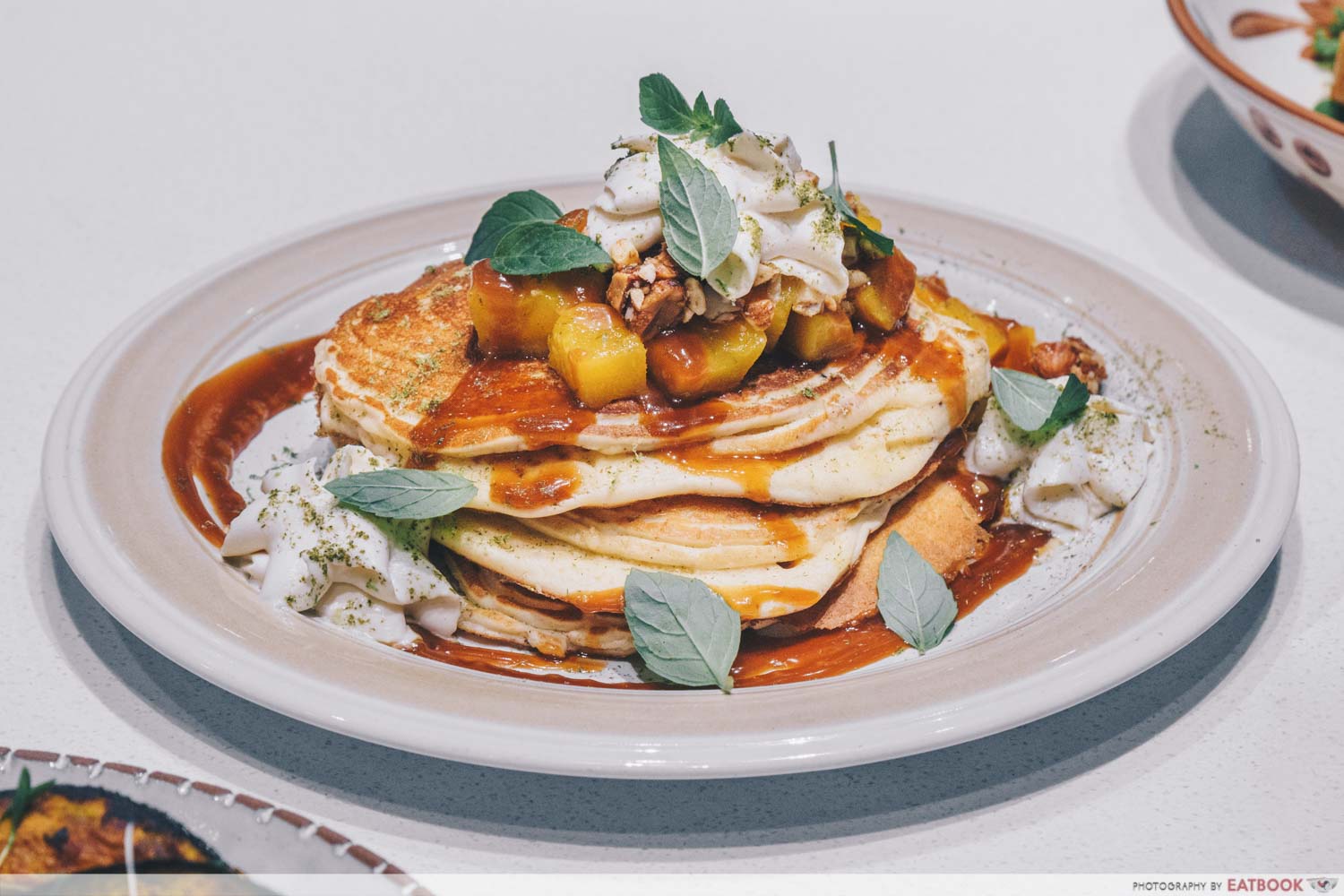 Those with a sweet tooth will like their Fluffy Brown Butter Pancake-Sweet ($21++), which is masterfully fermented for 24 hours by Paul and his team. Brown butter replaces regular butter, giving the pancakes a pleasant nuttiness and an extra golden-brown colour. There's also an addictive salted butter caramel sauce that binds everything together, along with a lemongrass and lemon zest infused Chantilly cream that gives a kiss of tartness to everything else.
Check out our full review of Tiong Bahru Bakery Diner.
Tiong Bahru Bakery Diner Review: TBB Opens A New Restaurant That's Led By A French Chef
Address: 107 North Bridge Road #04-22-25, Funan Mall, Singapore 179105
Opening hours: Daily 8am to 9pm
Website
Tiong Bahru Bakery Diner is not a halal-certified eatery.
---
9. Harry's 
---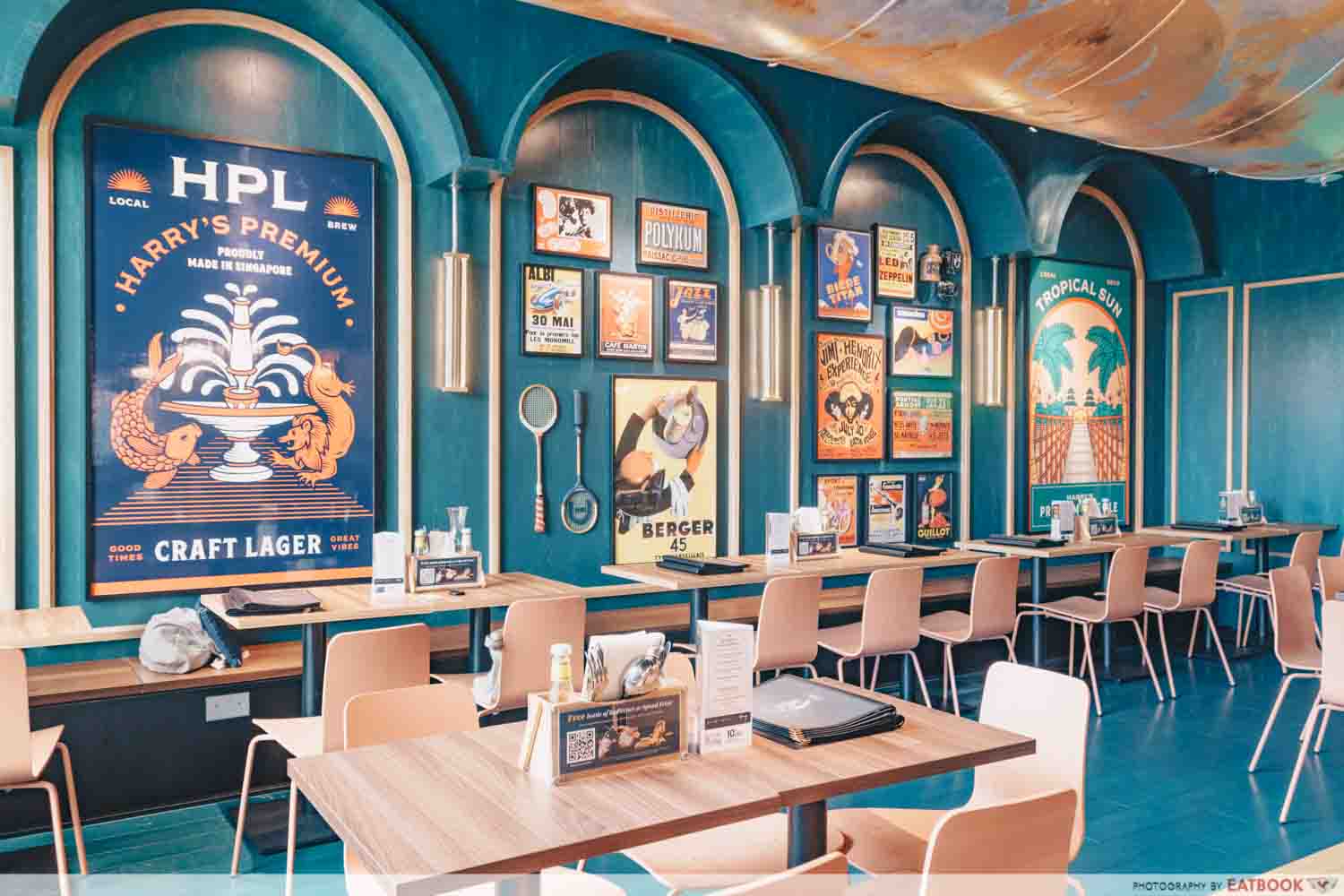 Harry's has moved their flagship outlet from Boat Quay to Resorts World Sentosa. The new joint shies away from the dark ambience, with a more vibrant and airy design marked by vibrant artworks. There is even a play area with old-school arcade games, a pool table, as well as toddler-friendly activities.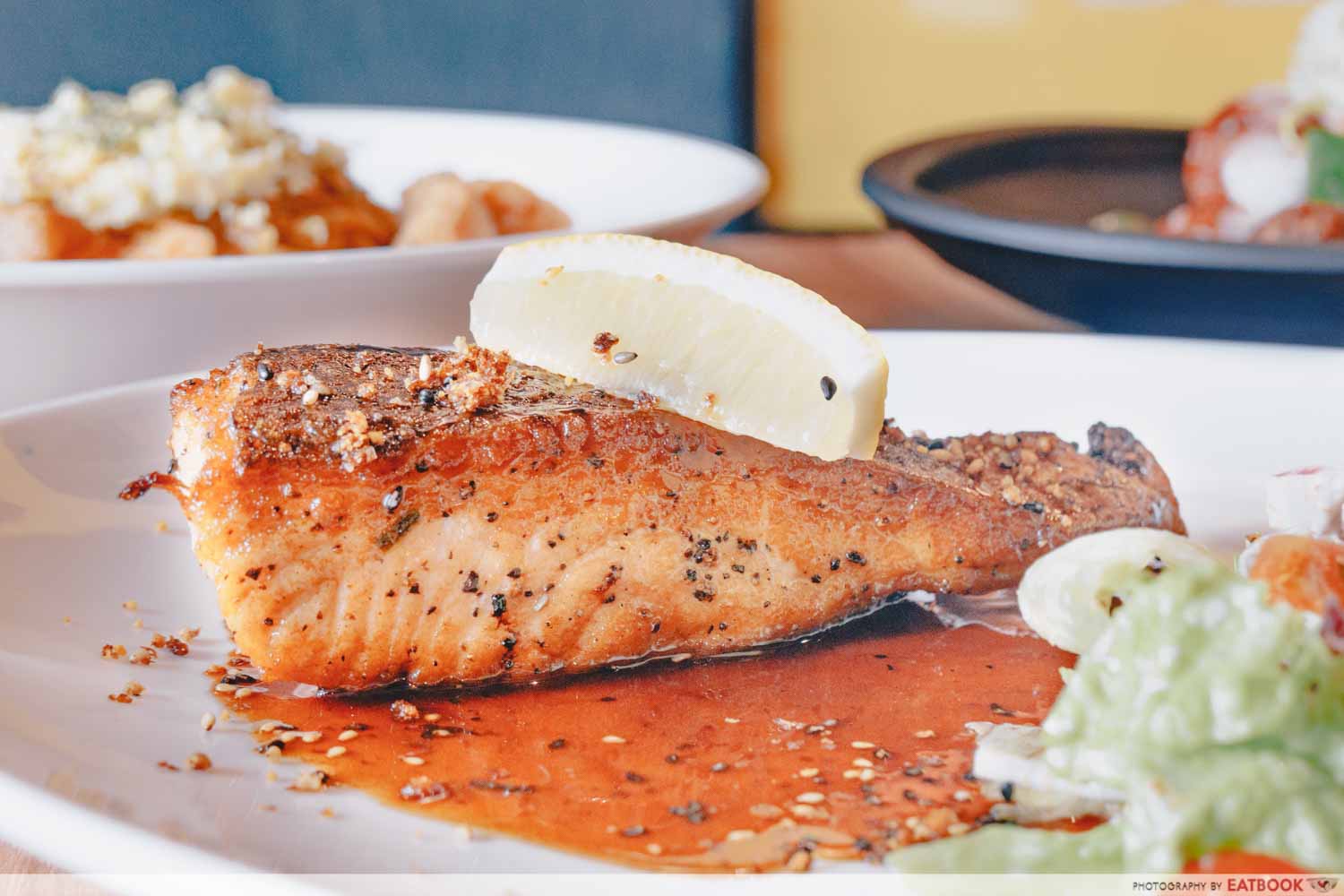 Tipplers can rejoice, as the bar has the largest selection of taps—32 to be precise—for you to choose from including Singapore Sling ($20++) and craft beers ($17++ for a flight of four) Food choices are aplenty too, with a wide menu showcasing hearty brunch fare as well as fusion grub. Savour the Dry Laksa Pasta ($24++) which comes with a piquant sauce, juicy prawns and crispy tao pok. The Grilled Teriyaki Salmon & Soba ($26++) is a good main to get too, as the salmon is nicely grilled and pairs well with the refreshing soba salad.
Address: 26 Sentosa Gateway, #01-215/216, Singapore 098138
Opening hours: Daily 10am to 1am
Tel: 6261 4548
Website
---
10. Yakiniku Like
---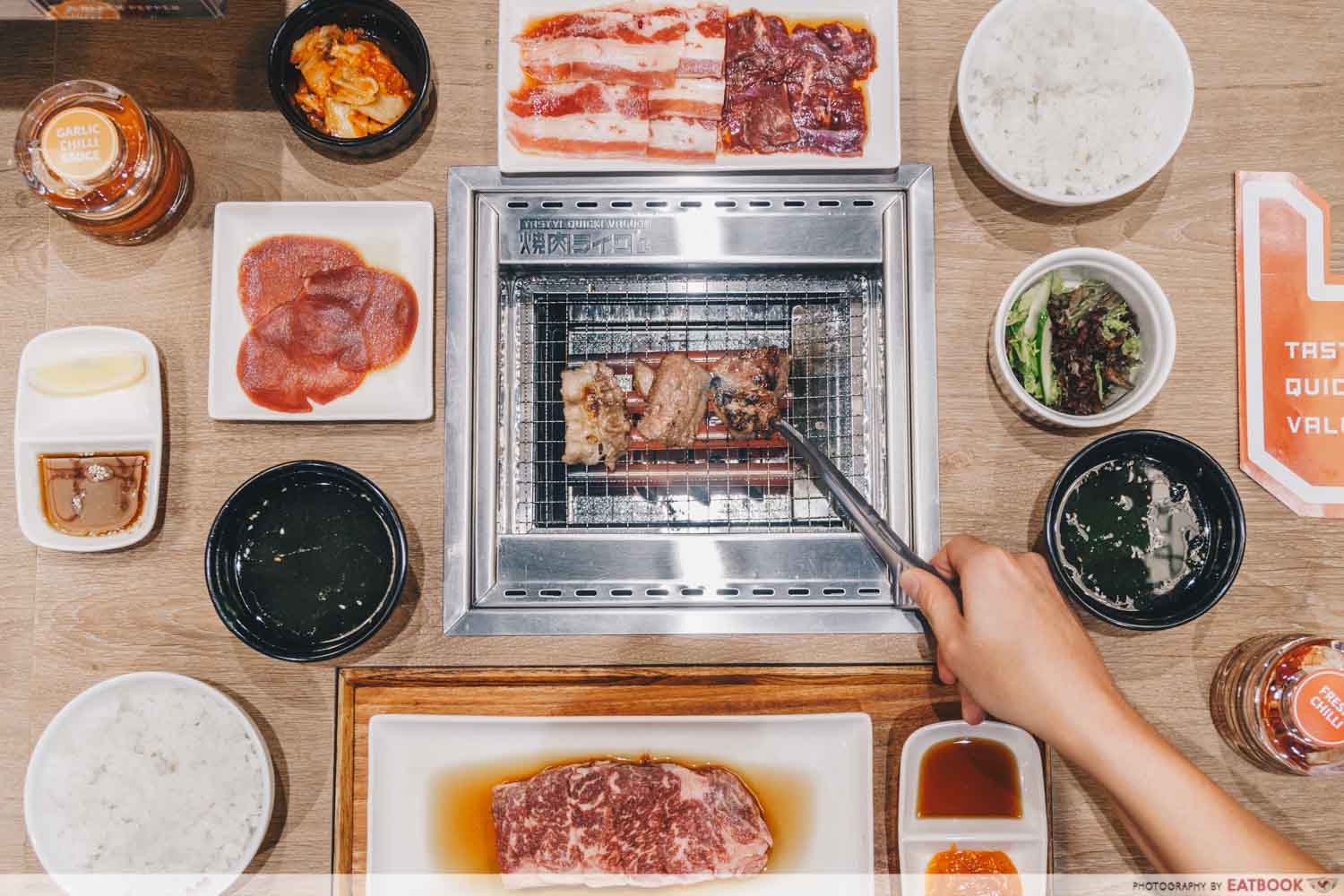 Yakiniku Like is a new affordable yakiniku restaurant in town that caters to solo diners. The Japanese restaurant comes with 16 solo electric smokeless grills that soak up all of the unpleasant barbecue odour. The restaurant aims to serve each diner within three minutes of ordering, so you can be assured of having a fast meal here.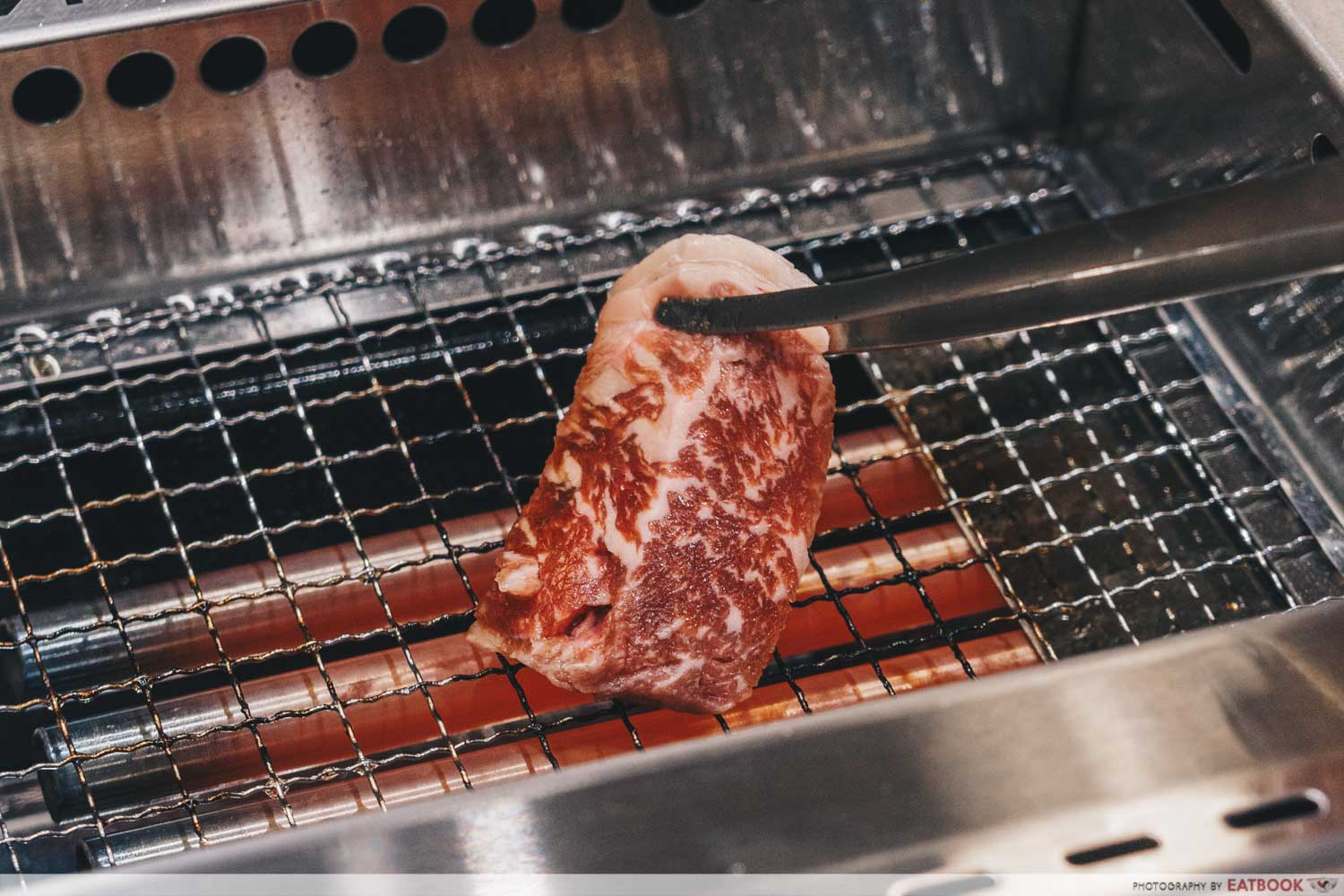 Prices start from $8.80 for a set meal that comes with meat, rice, soup, and a choice of kimchi or salad. The most expensive item on the menu is the Wagyu Steak Set 200g ($29.80), which features a thick slab of Australian Wagyu sirloin. We liked how the meat was juicy and succulent. However, it's marinated with a special BBQ sauce that was a little too sweet for our liking.
Address: 10 Paya Lebar Road, #B1-28, Paya Lebar Quarter Mall, Singapore 409057
Opening hours: Daily 11am to 10pm
Website
Yakiniku Like is not a halal-certified eatery.
---
New restaurants in January 2020
---
1. Tsuta
---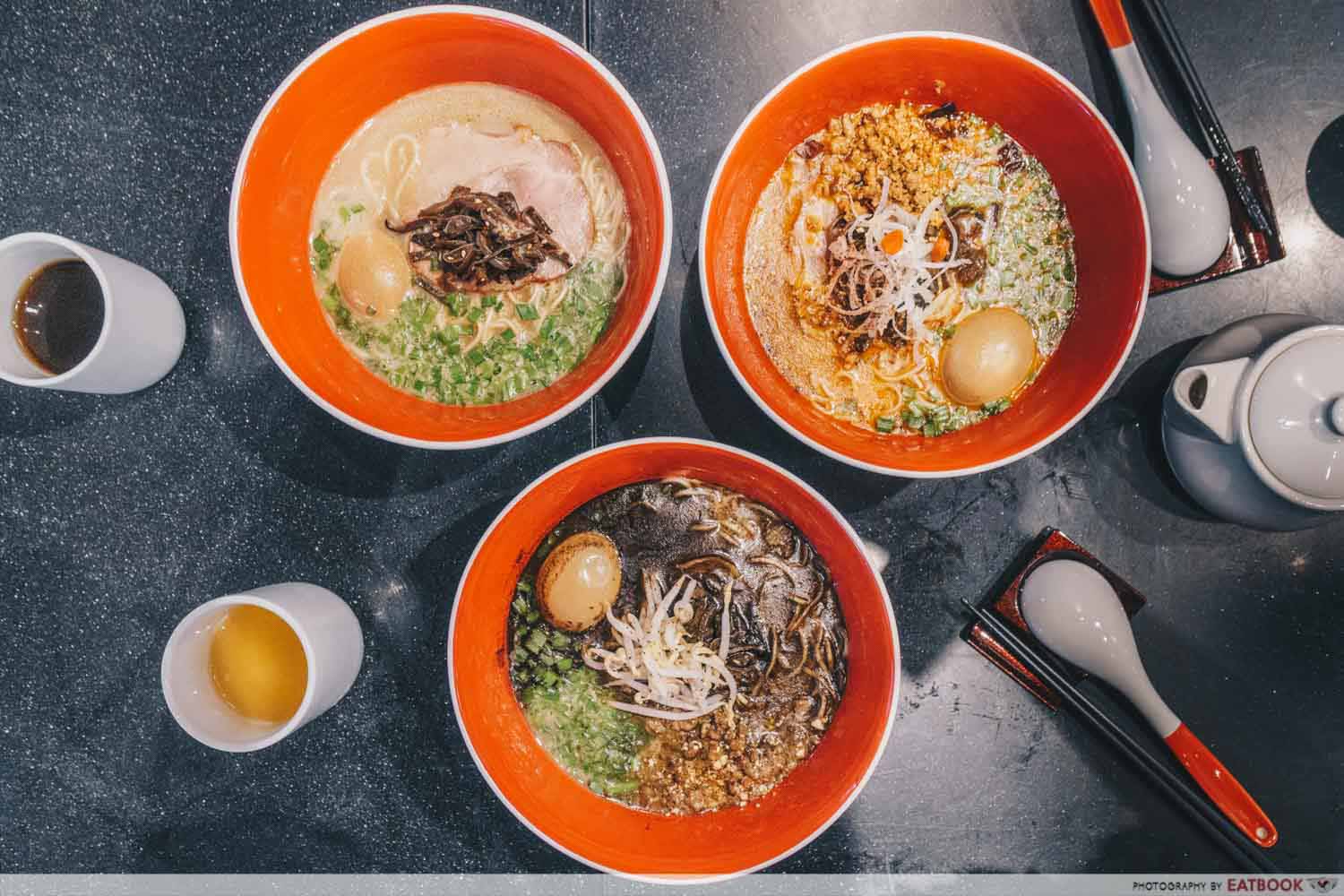 Michelin-starred Tsuta is releasing a new range of tonkotsu ramen without any MSG or artificial flavours. The restaurant previously focused on a lighter style of shoyu broth, with their main dish being the Shoyu Soba ($15) with truffle-flavoured broth. 
Due to a high demand for the tonkotsu ramen, head chef Yuki has come up with the three new recipes after a year's worth of kitchen trials.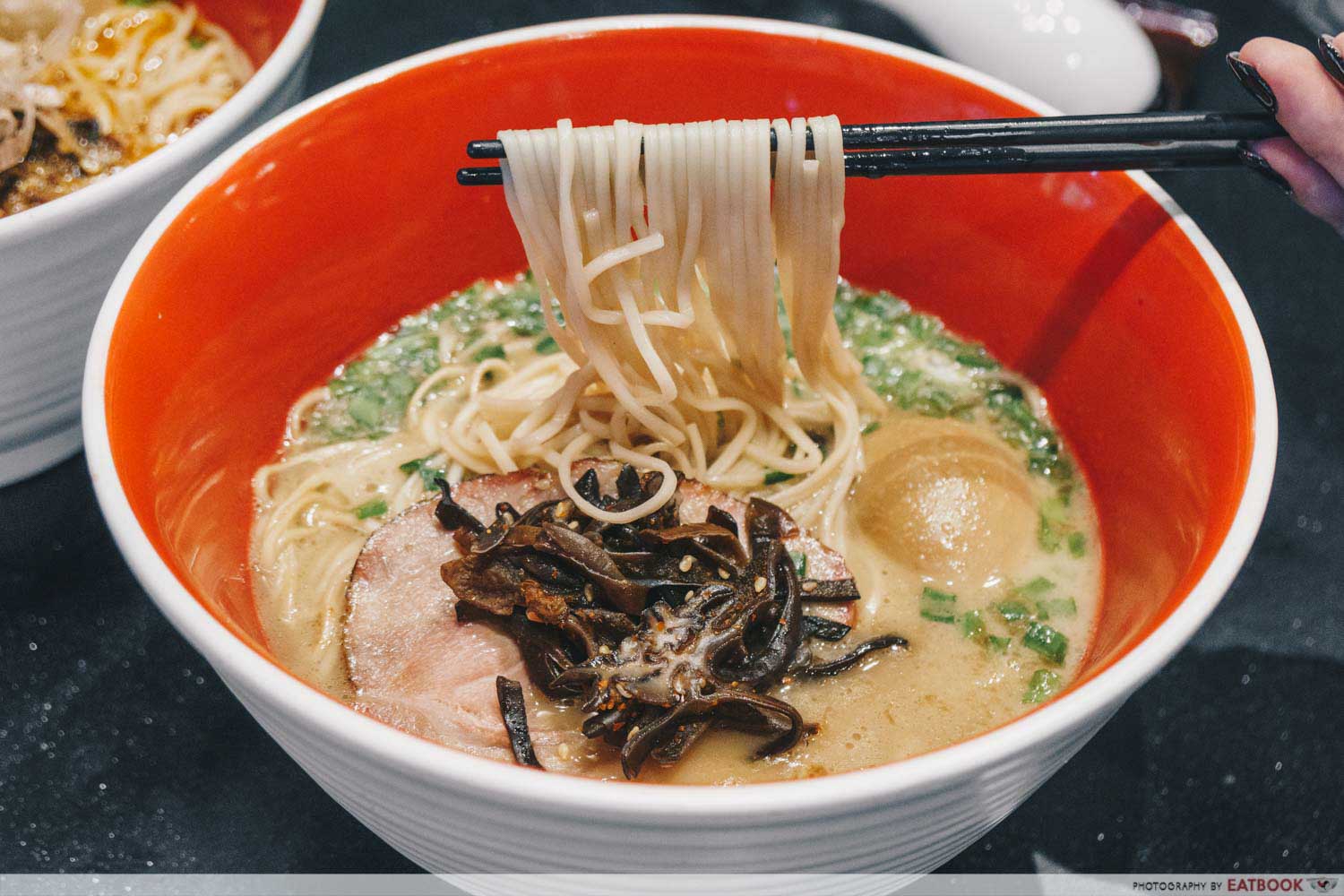 The main attraction is the Tonkotsu Soba ($12), which comprises classic tonkotsu broth and hard soba noodles. It's topped with crunchy black fungus and a tender piece of chashu. The broth is a bit lighter than the soup base that you'd find elsewhere and is less cloying. 
There's also the Kurobishio Tonkotsu Soba ($13) and Mala Tonkotsu Soba ($13). The former contains black garlic oil which makes it more fragrant. Fried garlic is sprinkled over the dish, providing smoky notes. The mala broth is rich, slightly spicy, and has the distinct aroma of mala. It's rather sweet, and the meatiness of the tonkotsu broth is slightly overpowered by the herbal flavours. 
Address: 109 North Bridge Road, #01-04, Funan Mall, Singapore 179097
Opening hours: Daily 11am to 10pm
Website
Tsuta is not a halal-certified eatery.
---
2. Tiger Sugar Dessert
---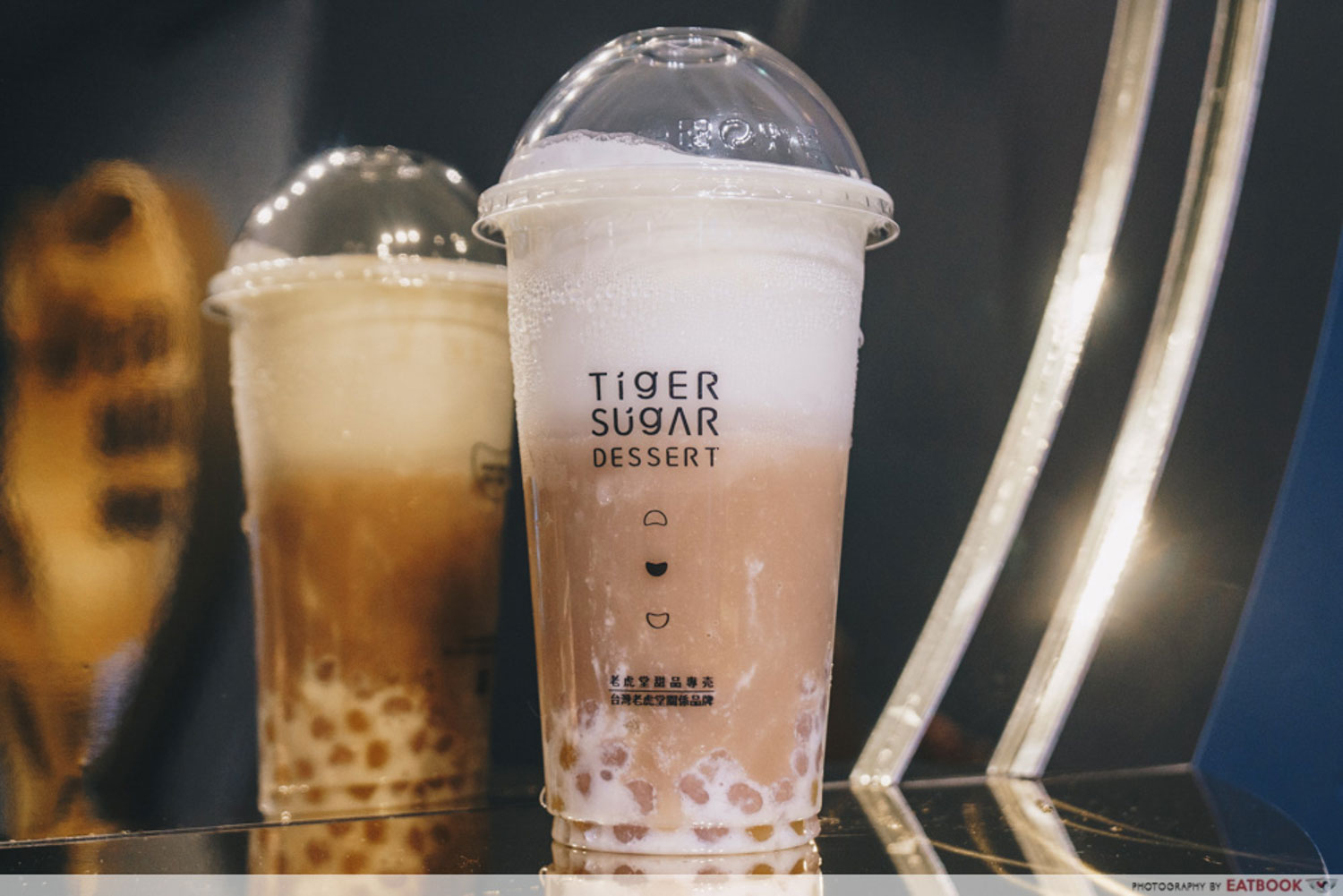 Tiger Sugar's newest concept, Tiger Sugar Dessert, specialises in Taiwanese desserts—so you can slurp zhnged up treats such as lava taro, mango sago, and mung bean soup in a bar-like setting. There are only five signature desserts on the menu, most of which are made with specially sourced ingredients from Taiwan. 
The Taiwan Taro Lava with Taro Pearl and Cream Mousse ($6.60) comprises taro paste mixed with tapioca balls, and topped with cream mousse from Germany. The taro flavour is gao and you can even taste shredded taro in the drink.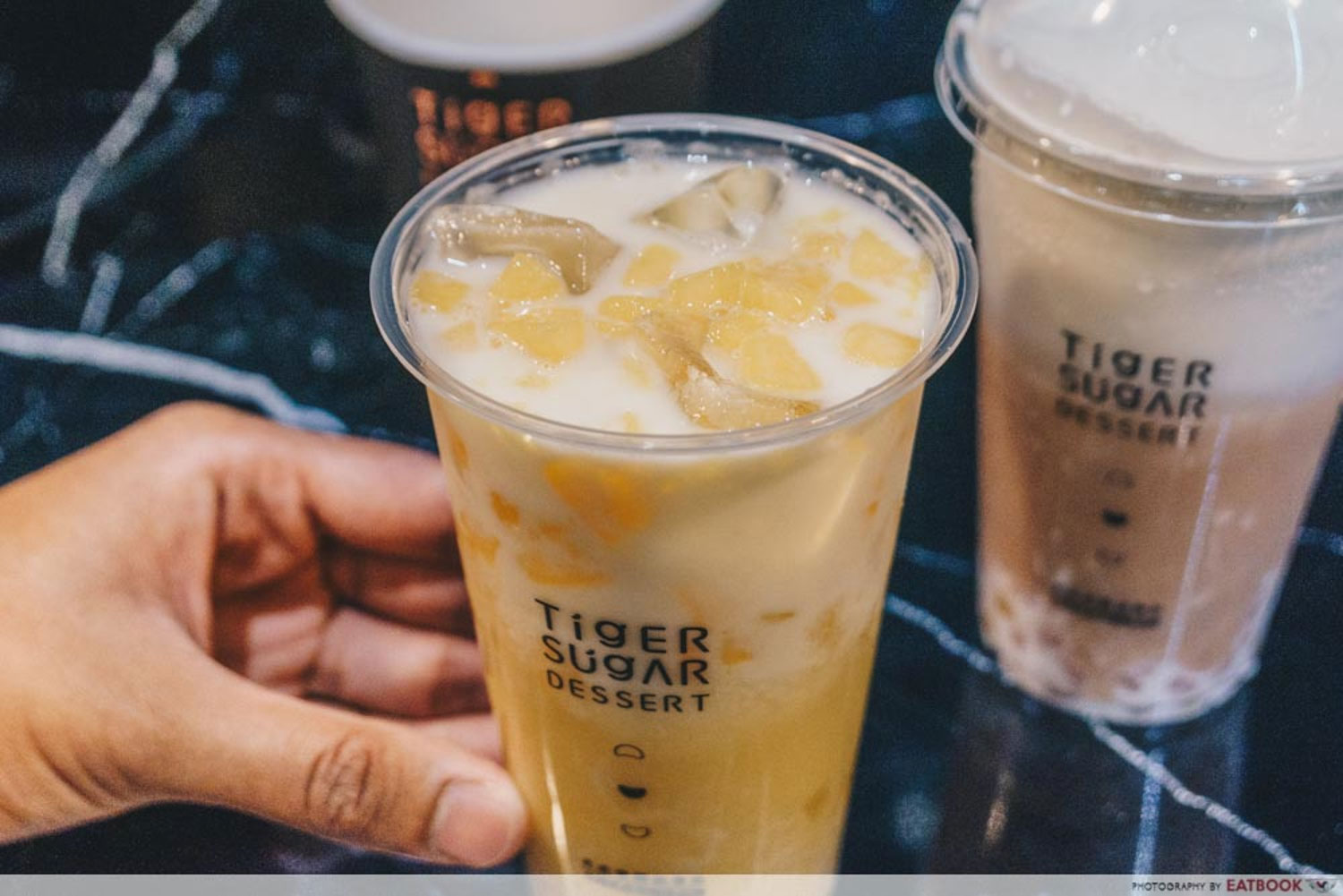 The Fresh Mango with Golden Crystal and Creamy Sago Milk ($6.90) is our favourite of the lot with its indulgent mango puree that's sandwiched between a bed of sago milk and crystal jelly. Topped with cubes of fresh mangoes, the drink is for those with a sweet tooth.
Tiger Sugar Dessert: Tiger Sugar Opens A Dessert Stall Serving Taro Lava And Mango Sago At Capitol Singapore
Address: 13 Stamford Road, #B2-32, Capitol Singapore, Singapore 178905
Opening hours: Daily 11am to 10pm
Website
---
3. Kómma Social Cafe
---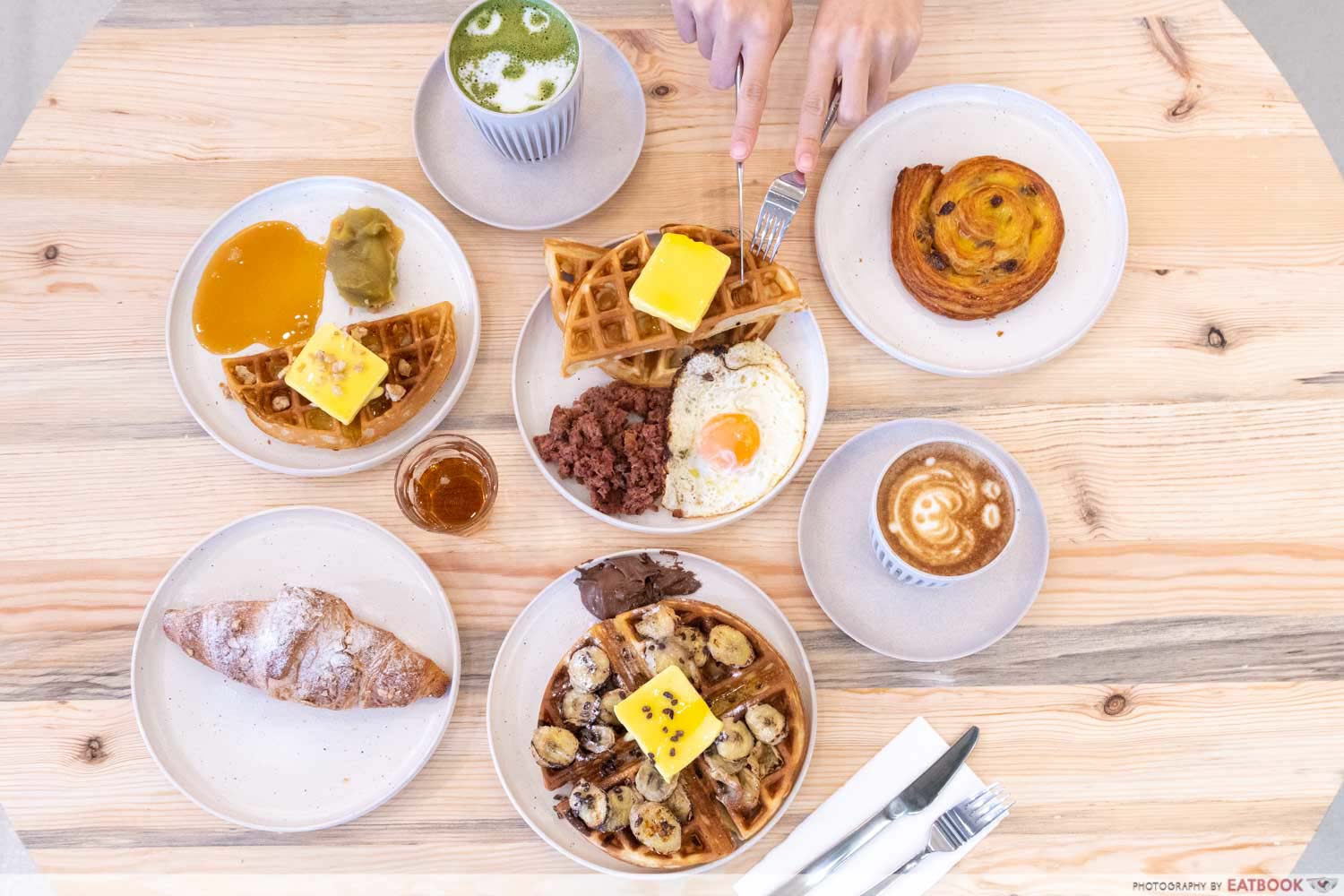 Straying away from big brand names is Kómma Social Cafe, the latest addition at Paya Lebar Quarter. This new joint refreshes cafe scene with its interactive element. Besides unwinding from coffee and pastries from Huggs Coffee, you can bring out your inner artist with their monthly creative workshops and selection of DIY craft kits. Alternatively, you could shop from their range of ready-made items by local makers.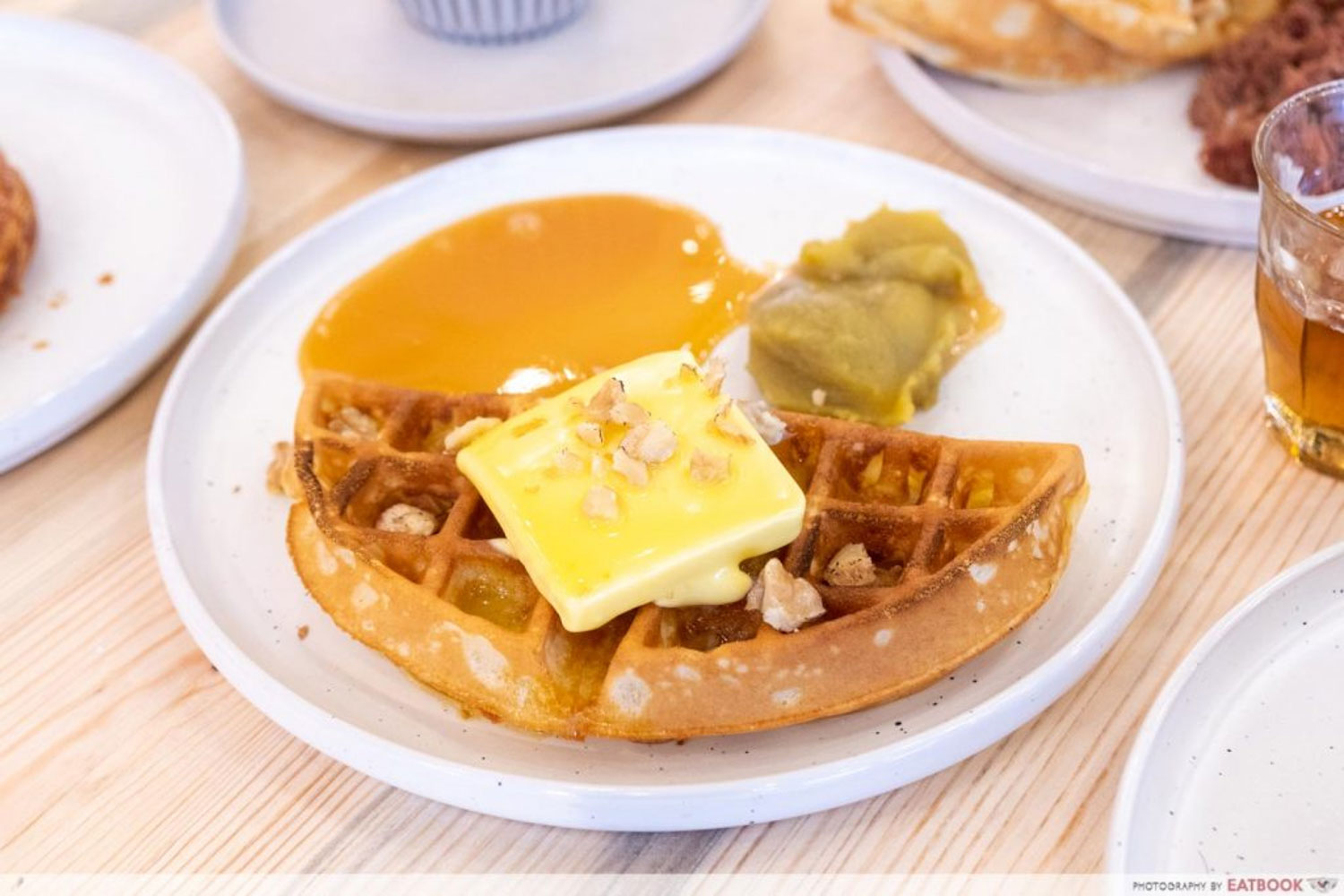 Once you're satisfied with your handiwork, reward yourself with their selection of waffles and pastries to go along with a cuppa joe. Their Kaya and Dulche goes at $7 for half a waffle or $10 for a full waffle. The sweet duo of kaya and butter complements the fluffy, toasty waffle. Dipping the combo in the dollop of malted caramel deepens the flavour of kaya spread. Pair the waffles with a cup of creamy Matcha ($6) for a wave of bitterness.
Kómma Social Cafe: New Cafe With DIY Craft Kits And Workshops At Paya Lebar Quarter Mall
Address: 10 Paya Lebar Road, #01-20, Paya Lebar Quarter Mall, Singapore 409057
Opening hours: Mon-Fri 8:30am to 10pm, Sat-Sun 10am to 10pm
Website
---
4. Five Guys
---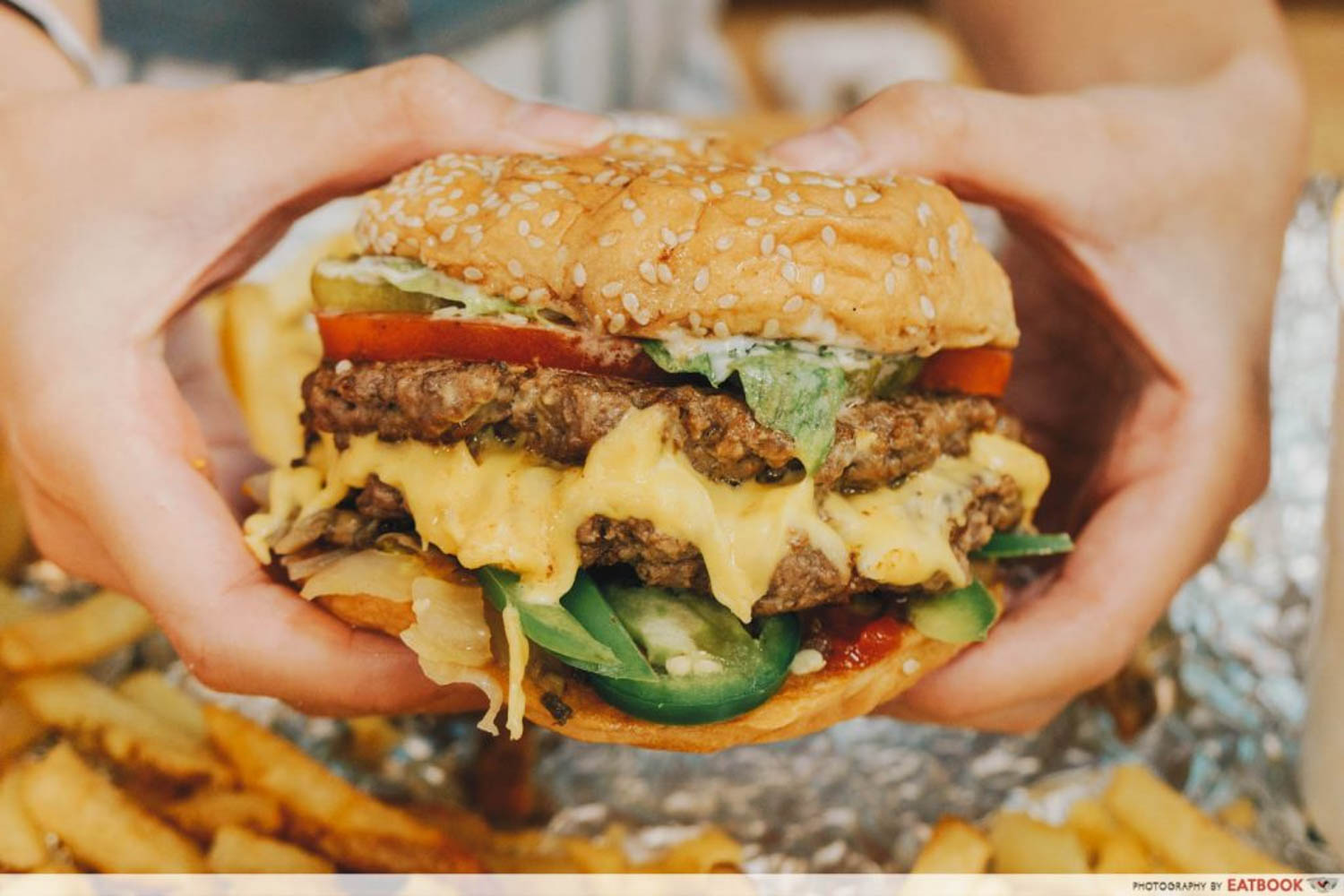 Joining Shake Shack and A&W on the list of new American fast-food joints in Singapore is Five Guys. While their burgers are pricey at $11 for a single-patty hamburger, you can design your burger with up to 15 toppings including grilled mushrooms, jalapenos, and green peppers. Their Cheeseburger ($15) is a sloppy yet delicious mess, which features fresh American cheese and two beef patties that are juicy and full of beefy flavour.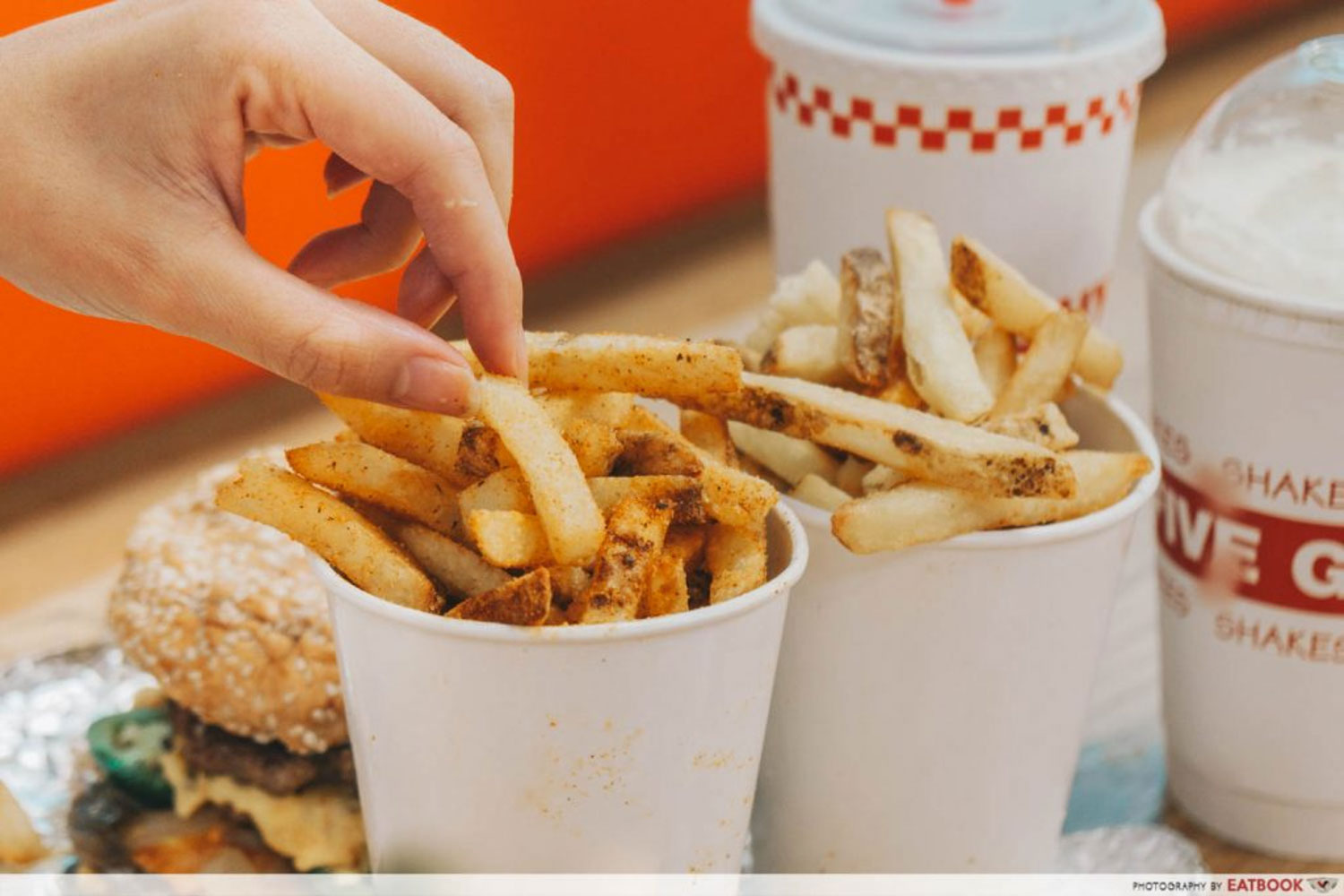 Their fries have the right amount crunchiness, and you can choose between Cajun and Original at $7 for a small cup. End it off with their Five Guys Shake ($11), which lets you pick from 11 different ingredients to make your own concoction. Our winning milkshake combo is peanut butter, salted caramel, and crushed bacon.
Find out more about Five Guys here!
Five Guys Review: Queue-Worthy Juicy Cheeseburgers And Peanut Bacon Milkshake At Plaza Singapura
Address: 68 Orchard Road, #01-32, Plaza Singapura, Singapore 238839
Opening hours: Daily 11am to 10pm
Tel: 6976 4385
Website
Five Guys is not a halal-certified eatery.
---
5. Kanada-Ya
---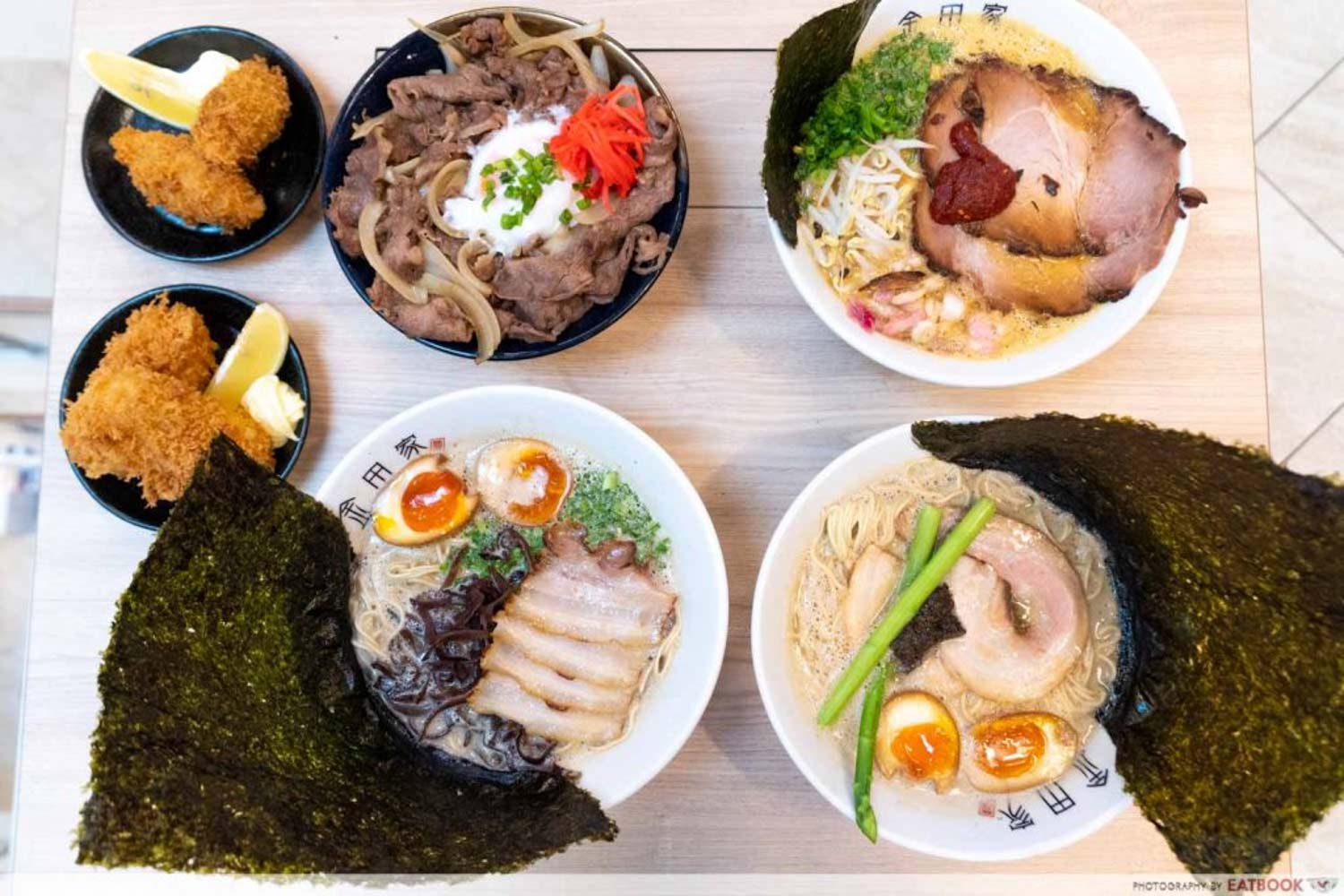 Drawing up long lines at its London outlet, Kanada-Ya has finally arrived in Singapore at Paya Lebar Quarter. This popular ramen chain originated in Fukuoka, the birthplace of tonkotsu ramen, and has won plenty of awards for its rich pork bone broth that's prepared for 18 hours.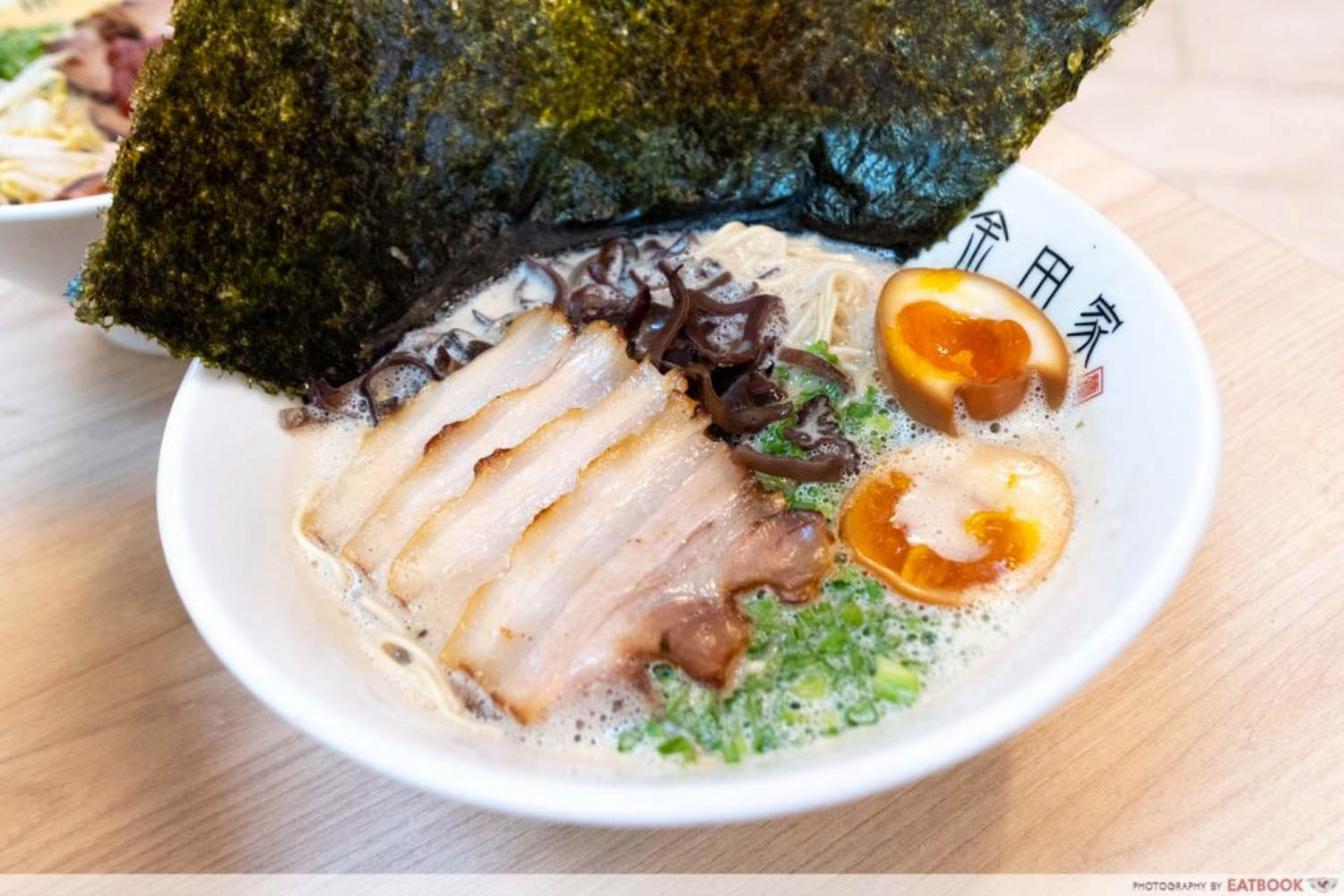 The Kotteri Tonkotsu Ramen Special ($18.90++) is their signature item and features classic Hakata-style ramen. It took only one sip for us to declare this store as a new challenger for the best tonkotsu ramen in Singapore. The addictive broth packed a creamy mouthfeel, along with a heavy and robust body that made us want to slurp everything up.
Kanada-Ya: Famous Ramen Restaurant From Fukuoka Opens With 100% Cash Rebate From 13 To 15 Dec 2019
Address: 10 Paya Lebar Road, #03-30, Paya Lebar Quarter Mall, Singapore 409057
Opening hours: Daily 11am to 10pm
Website
---
6. Burger Frites
---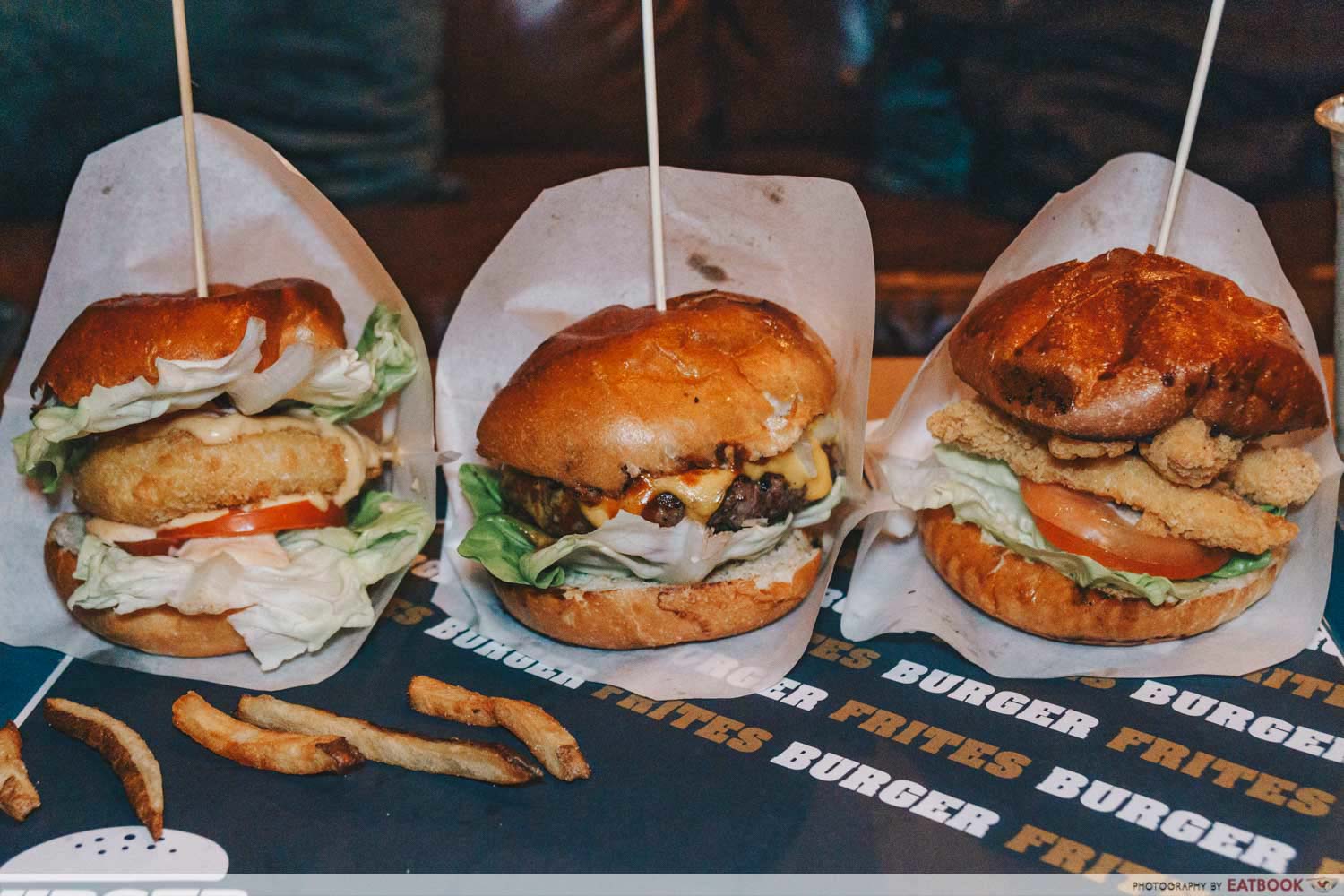 Burger Frites is a new gourmet burger entrant which serves up a mean spread of burgers at Joo Chiat. The store is founded by the same people behind Braseiro, and features patties sourced from Huber's butchery as well as custom-made brioche buns from artisan bakery Maison Kayser.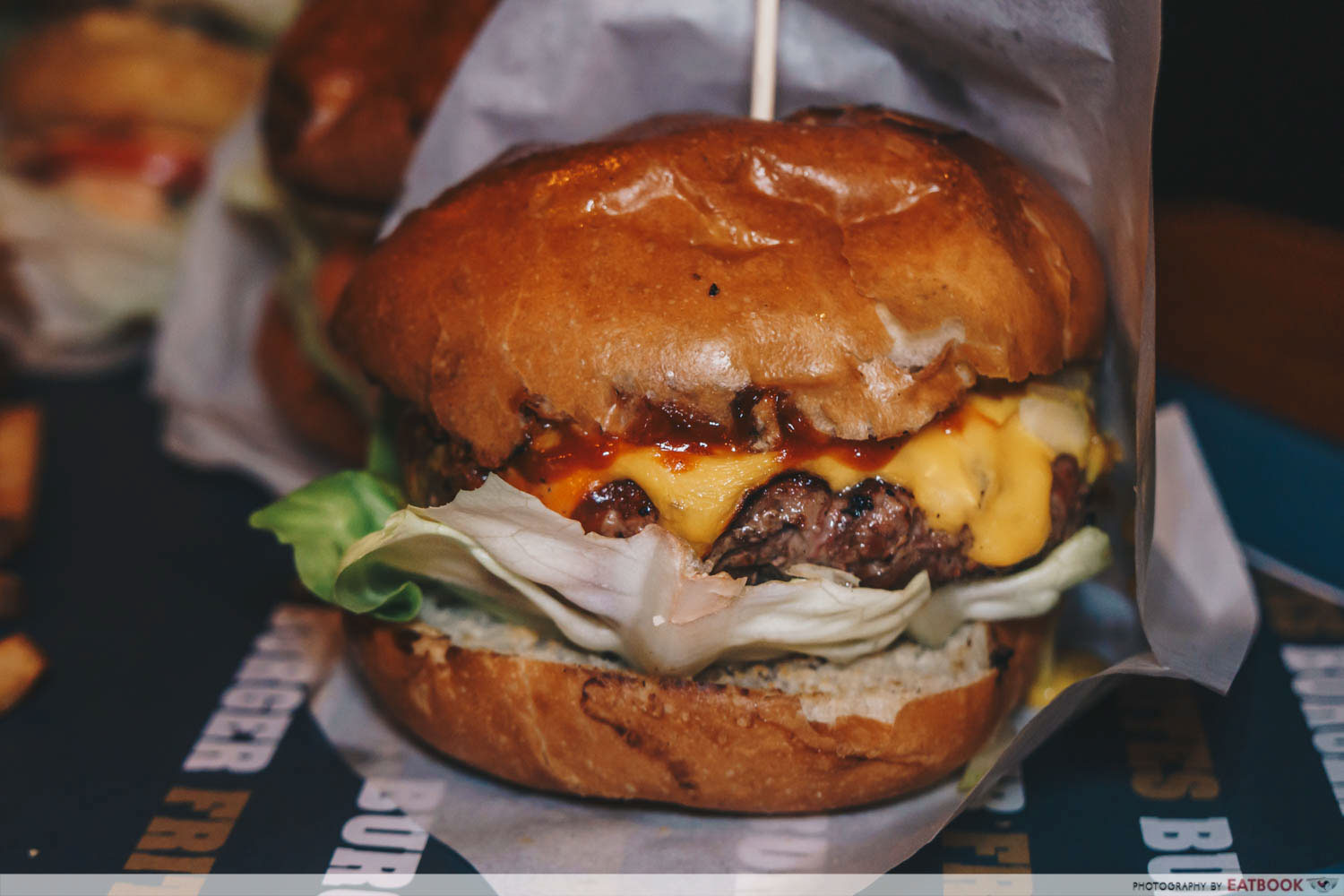 We're fans of their Angus Beef Patty Cheese Burger ($17++), which contains the staples of a classic cheeseburger such as melted cheese, greens, and a beef patty. The beef patty comprises three components: Angus brisket, striploin, and wagyu fat. The result is a hunk of meat that's umami-rich with the right amount of fattiness.
Address: 340 Joo Chiat Road, Singapore 427592
Opening hours: Tue-Fri 5pm to 11pm, Sat-Sun 12pm to 11pm
Website
Burger Frites is not a halal-certified eatery
---
7. Croquant Chou Zakuzaku
---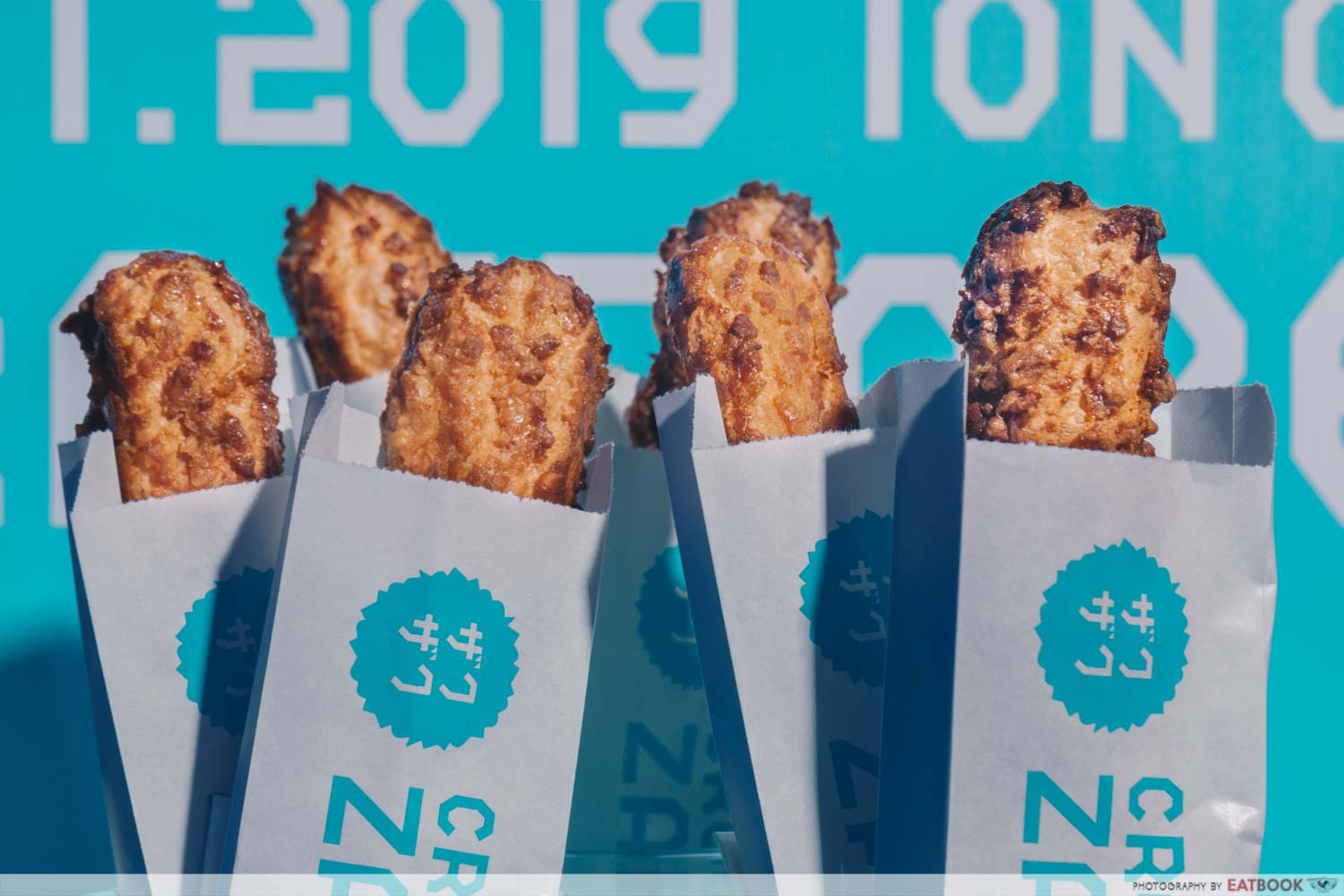 Croquant Chou Zakuzaku has long been a fixture in Japan, Taiwan, and Korea, but they've only just made it to Singapore! The dessert chain sells delicious Croquant Chou pastries at $2.80 a piece, with a set of four costing $10.50. The cream puffs are coated in a crisp, sweet crust, made from almonds and sugar. The custard filling within is made with fresh milk, and each snack is filled on the spot.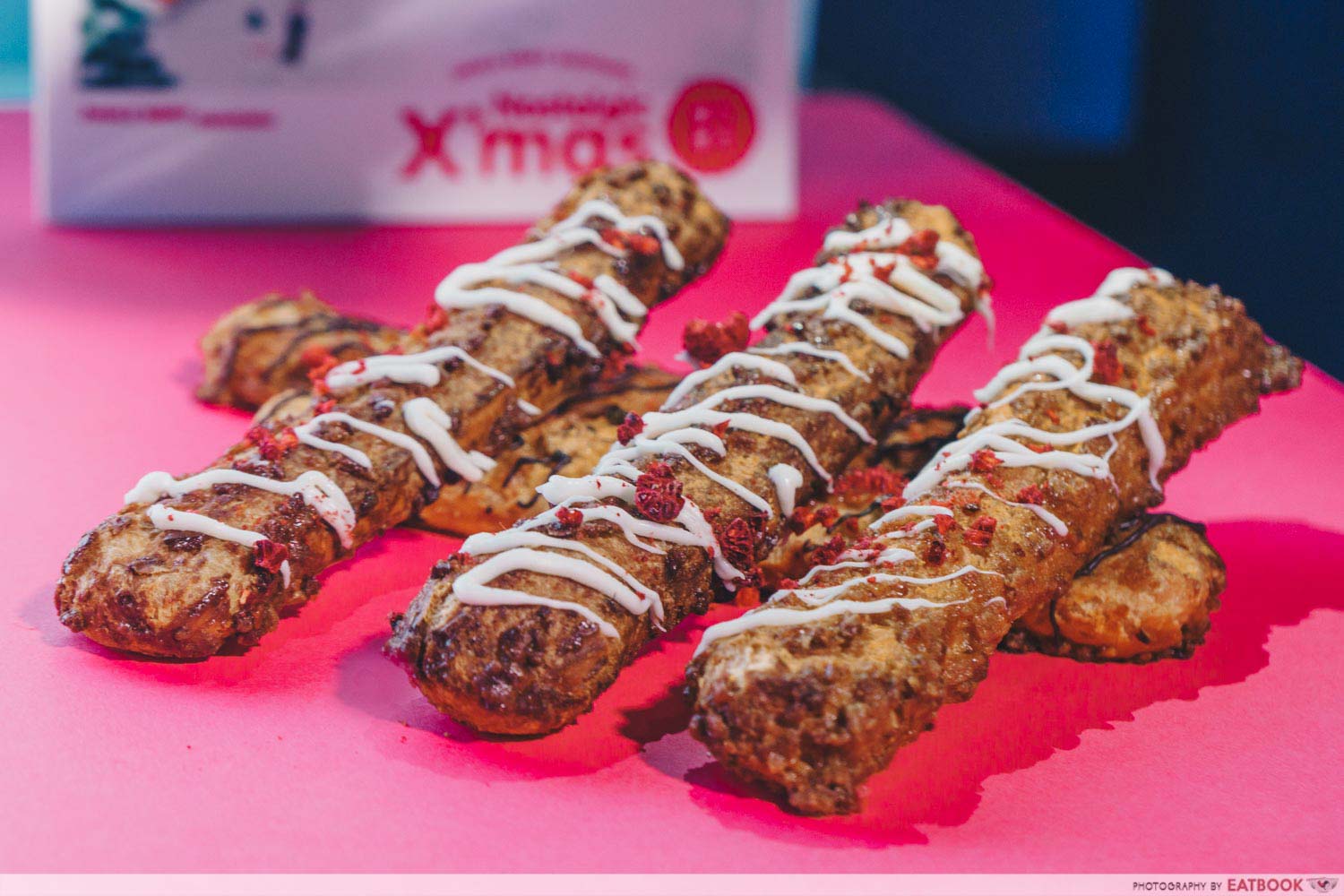 Zakuzaku occasionally introduces limited-time and seasonal specials. During the Christmas season, their special was the Jingle Berry Zakuzaku ($3.50), which had a strawberry filling and rich white chocolate. To start off the new year, the dessert kiosk is bringing in their Double Chocolate Zakuzaku ($3.60), which is a bestseller in Tokyo. The rich-tasting custard pastry will be available till 29 February 2020.
Address: 2 Orchard Turn, #B4-33, ION Orchard, Singapore 238801
Opening hours: Daily 10am to 10pm
Website
---
8. Kong Cafe
---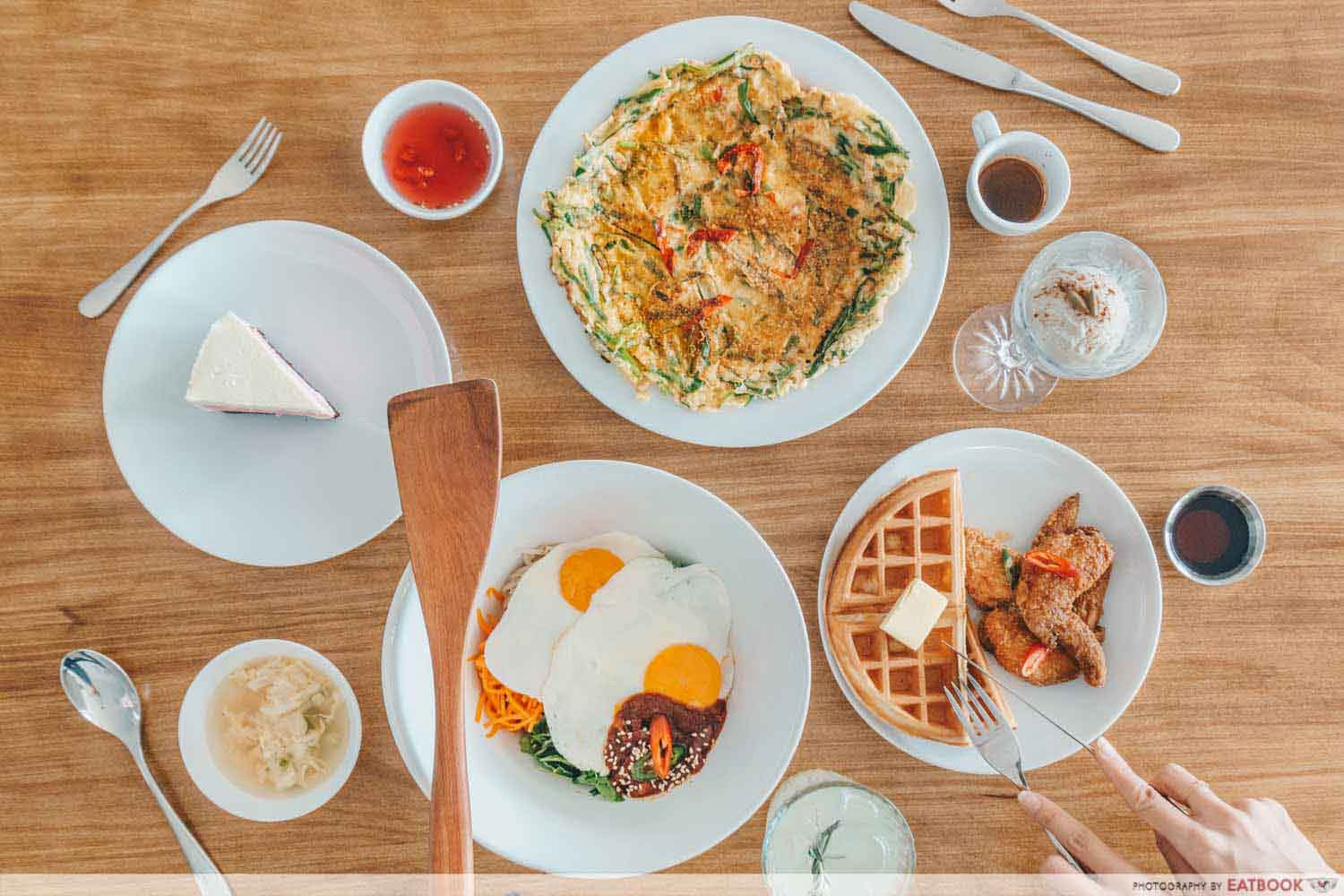 There's a reason why Kong Cafe made it to our list of 10 best cafes in Singapore. At first glance, this minimalist cafe seems like an art gallery with vibrant artwork decorating the space. These are creations by the owner, Hanna Mi Kim. Her artistic side also trickles down to the well thought out menu. You'll spot classic Korean dishes, such as Bibim Bowl ($26), as well as cafe essentials that basic girls can vibe with.
10 Best Cafes In Singapore Including Aesthetic Garden-Themed Cafes – Eatbook Top 50 Awards 2019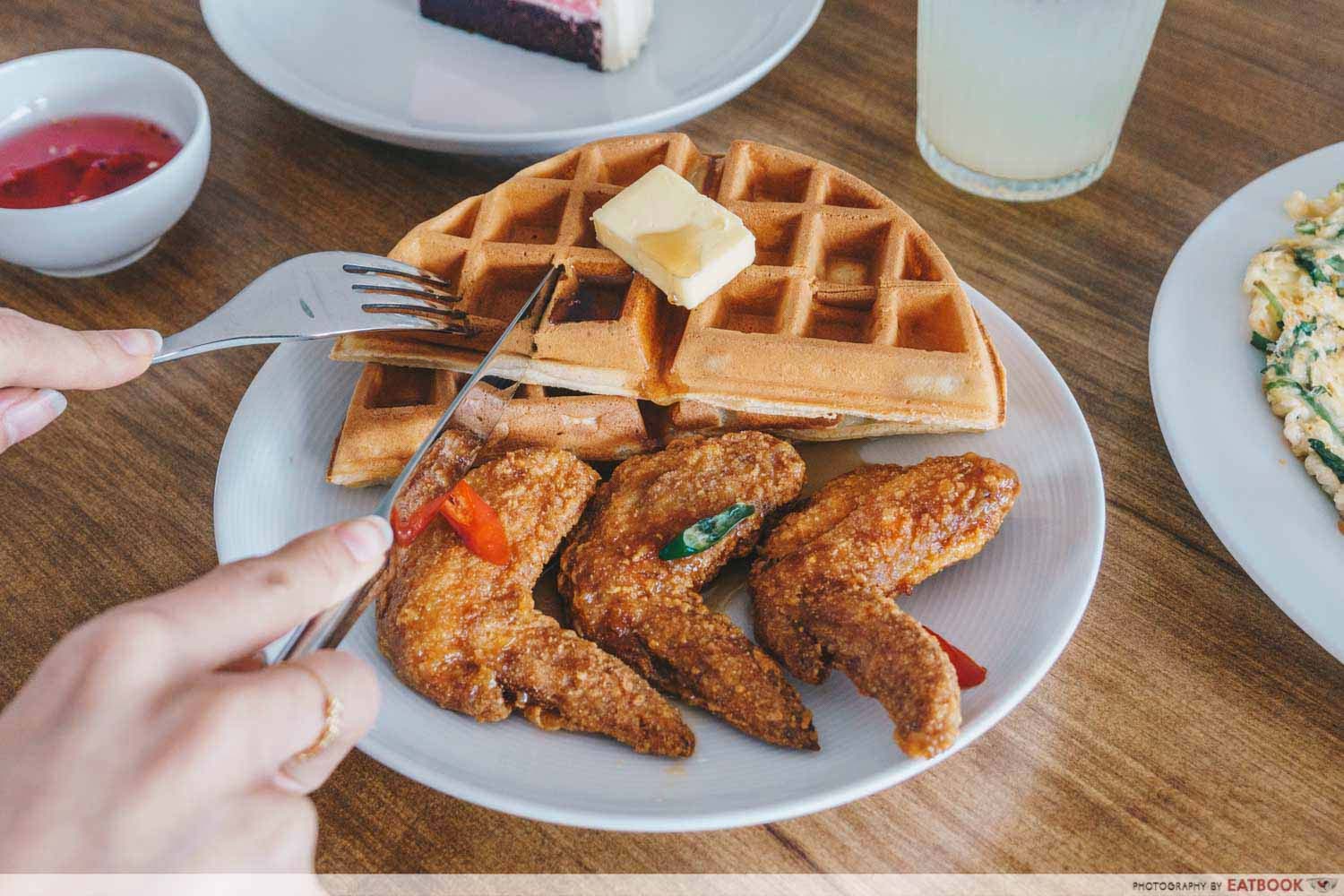 Don't let the steep price of their bibim bowl keep you from ordering this delicious medley of spicy and savoury flavours. This massive bowl is actually meant for two. If you can't decide between a main or dessert, have them both with the fluffy Honey Butter Waffles ($18) which comes with crispy honey glazed mid-joint wings. 
Kong Cafe Review: New Minimalist Korean Cafe With Honey Butter Waffles Opened By A Korean
Address: 896 Dunearn Road, #01-11, Singapore 589472
Opening hours: Mon-Wed 8am to 6pm, Thurs-Fri 8am to 10pm, Sat-Sun 9am to 10pm
Website 
---
9. Sushi Plus
---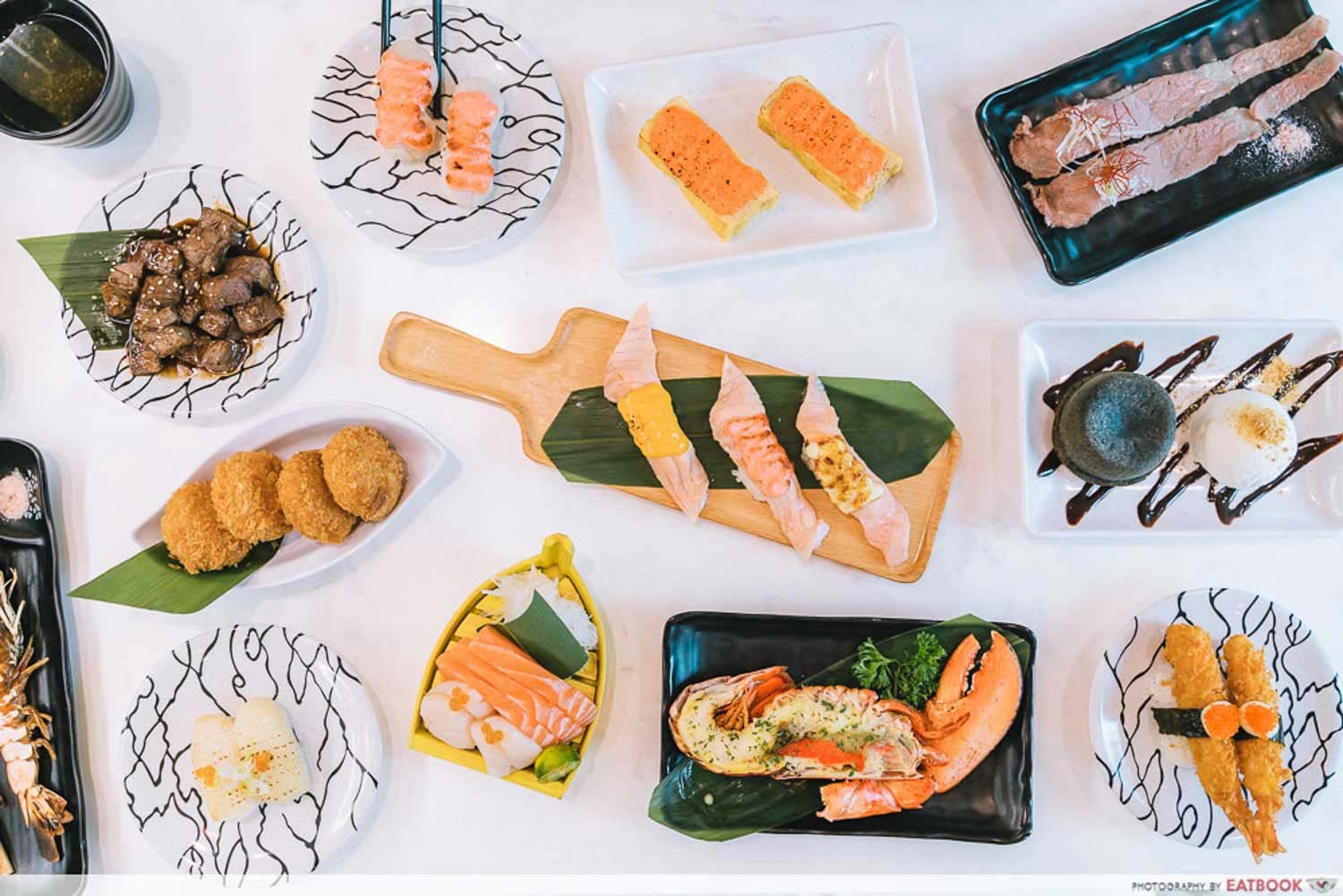 Dining at Japanese restaurants is a surefire way to burn a hole in your wallet. If you're still craving for a sushi fix, head down to Sushi Plus at Bugis Junction. This new sushi train and conveyor belt restaurant strays away from its sister eatery, Sushi Express, with their range of premium options. You'll still get to enjoy economical prices starting from $1.50++. Dive into the Assorted Sashimi ($6.50++) which features thick salmon slices and chunky scallops.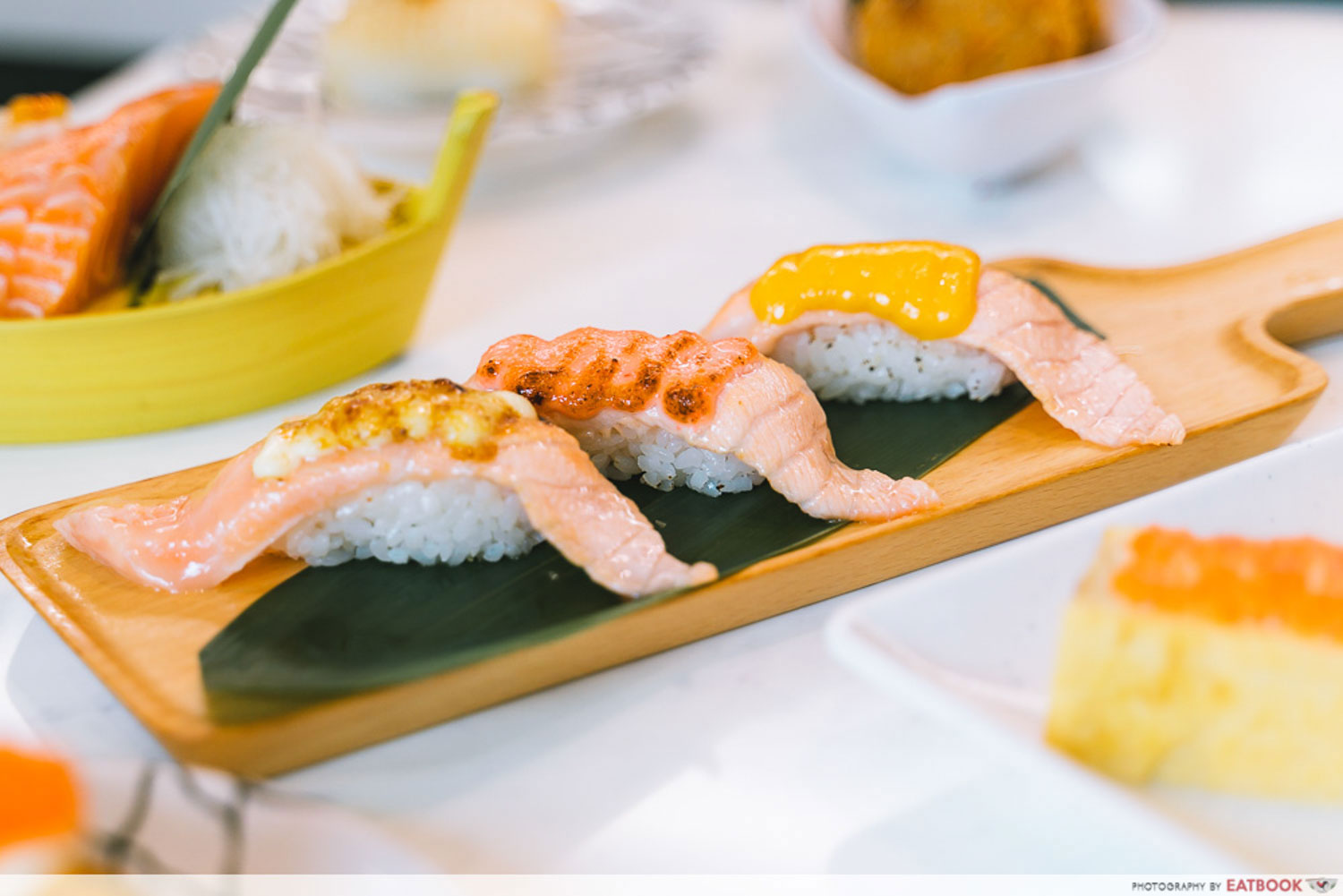 The Triple Flavour Salmon Selection ($5++) is a little sample platter of their aburi salmon sushi. You'll score smoky Jumbo Caramelised Salmon, savoury Jumbo Cheese Salmon, and creamy Jumbo Mentaiko Salmon. Check out their premier items including Sea Urchin Cream Croquette ($3++). This delicate uni-filled fried roll comes with a subtle umami taste.
Sushi Plus Review: New Sushi Train And Conveyor Belt Restaurant At Bugis With Prices Starting From $1.50
Address: 200 Victoria Street, #02-53, Bugis Junction, Singapore 188021
Opening hours: Daily 11am to 9:30pm
Website
Sushi Plus is not a halal-certified eatery.
---
10. Bread & Butterfly
---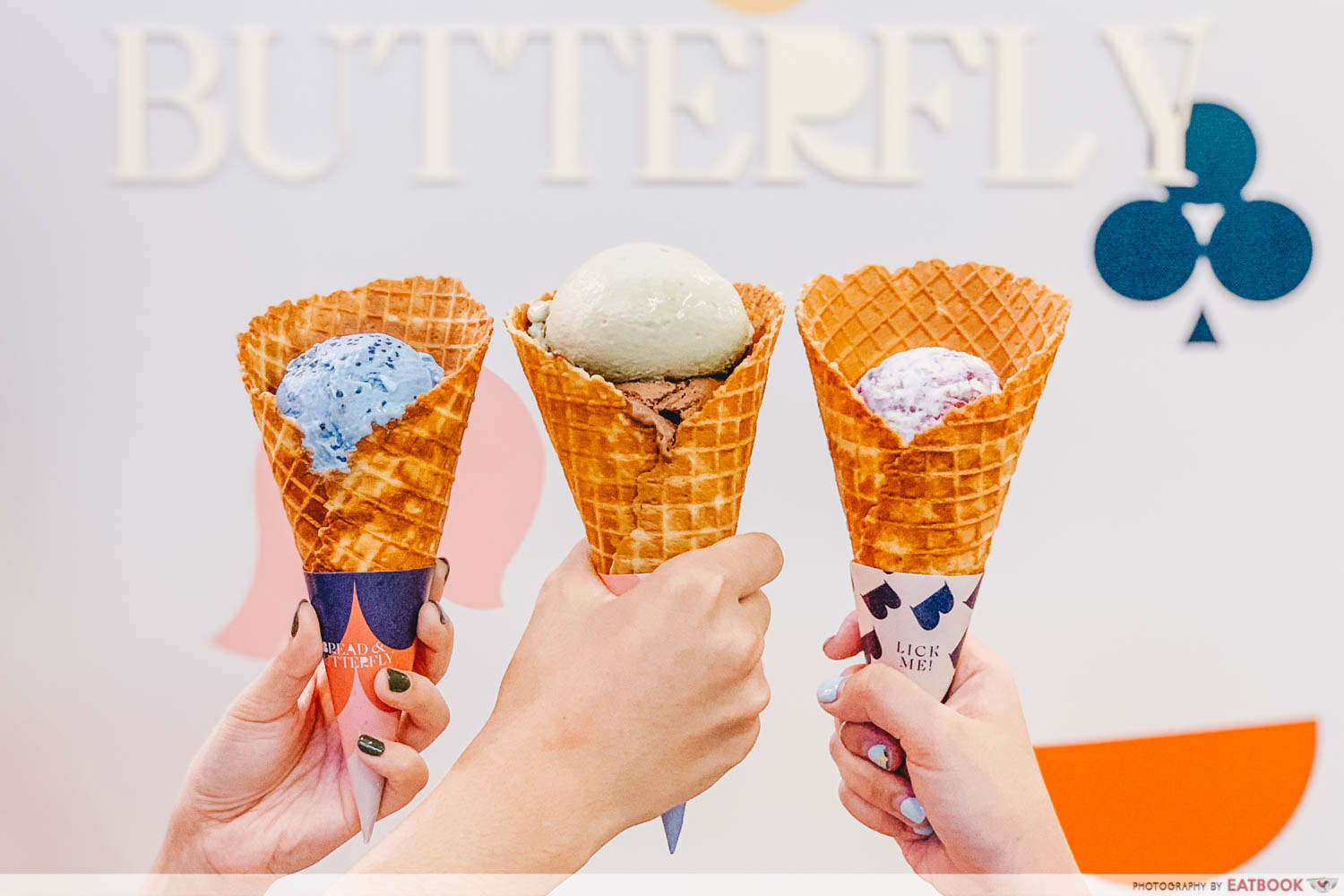 This month's sweltering weather only gives us more reason to check out Bread & Butterfly, the newest addition to Wisma Atria. Opened by the same people behind the affordable French restaurant Saveur, this ice cream kiosk serves up to 12 unique flavours as well as a lavender-infused cone.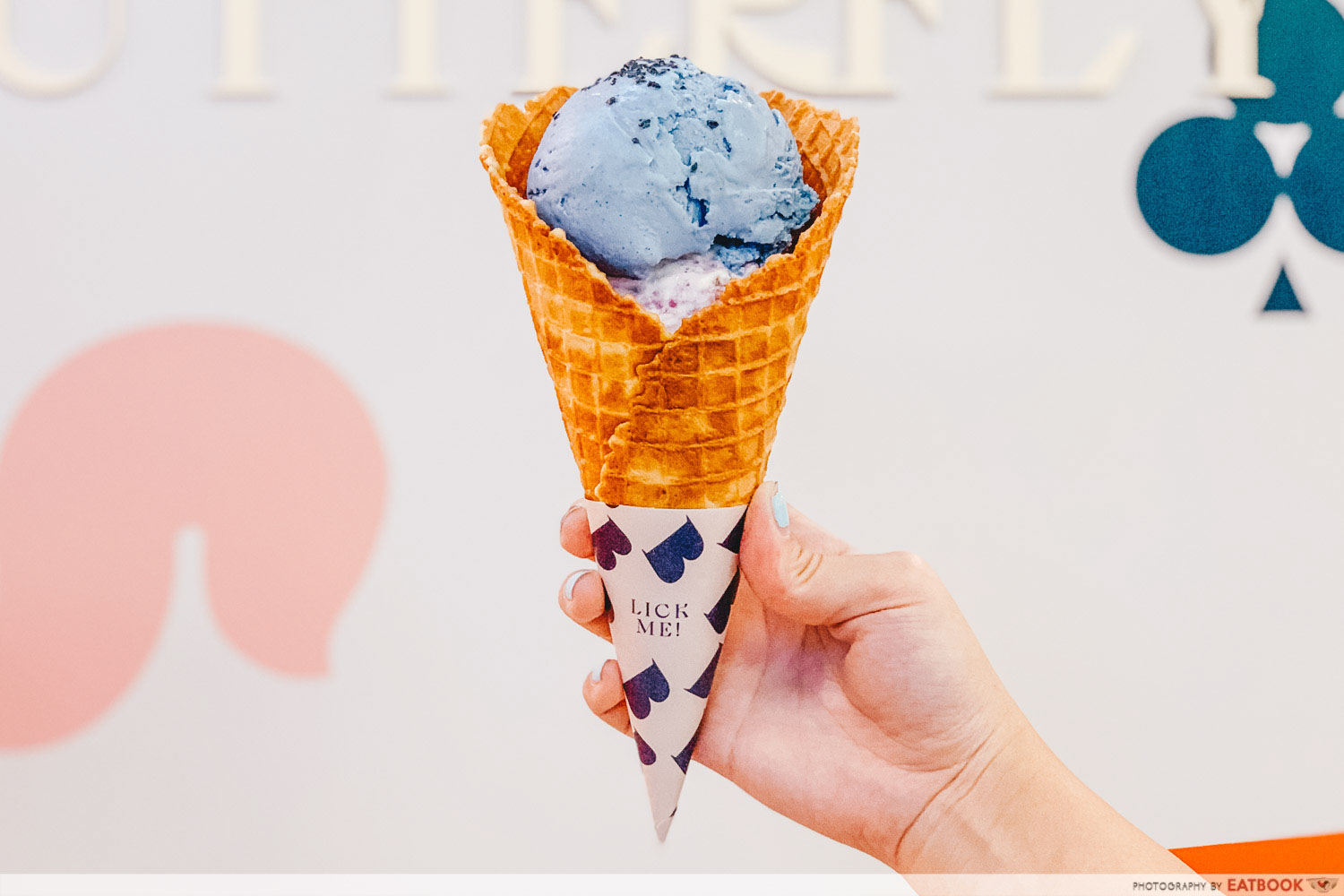 Each scoop will set you back from $5 for a single scoop, $8 for a double scoop, and $1 for their lavender cone. Whilst it's a tad pricey, the unique and full-bodied flavours make it worth every penny. Spring for the Blue Vanilla with Black Sea Salt which is milky with a tinge of saltiness, and Pistachio & Candied Pecans for that rich, nutty aroma, accompanied by crunchy pecans. 
Address: 435 Orchard Road, #B1-46, Wisma Atria, Singapore 238877
Opening hours: Daily 10am to 10pm
Website
---
Indulge at these new restaurants in 2020
---
Start the new year on the right note by spending whatever's left of your bonus at these new restaurants in Singapore which have dishes that will leave you satisfied! For a list of the best food places in 2019, check out the winners of Eatbook Top 50 Awards 2019.
50 Best Food Places In Singapore For All Budgets – Eatbook Top 50 Awards 2019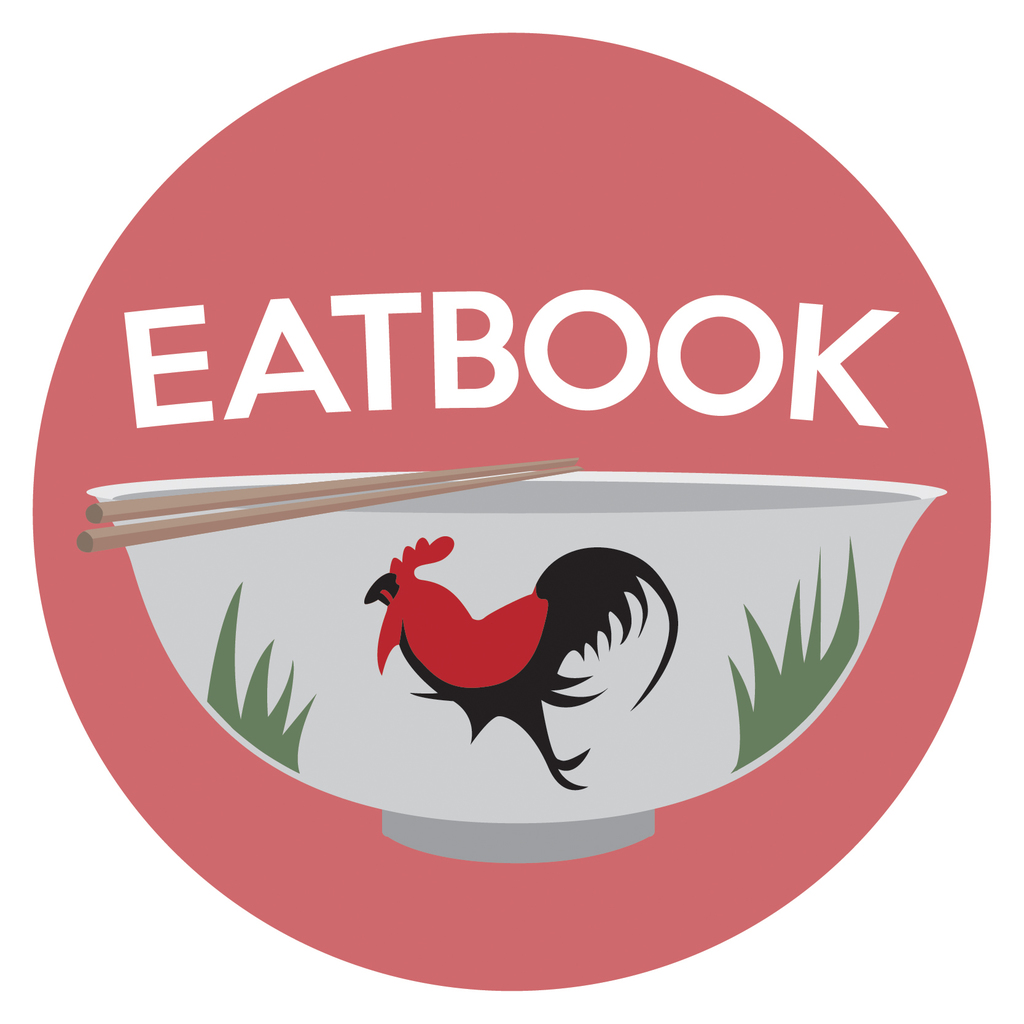 Drop us your email so you won't miss the latest news.