Moonstone Bar at Amoy Street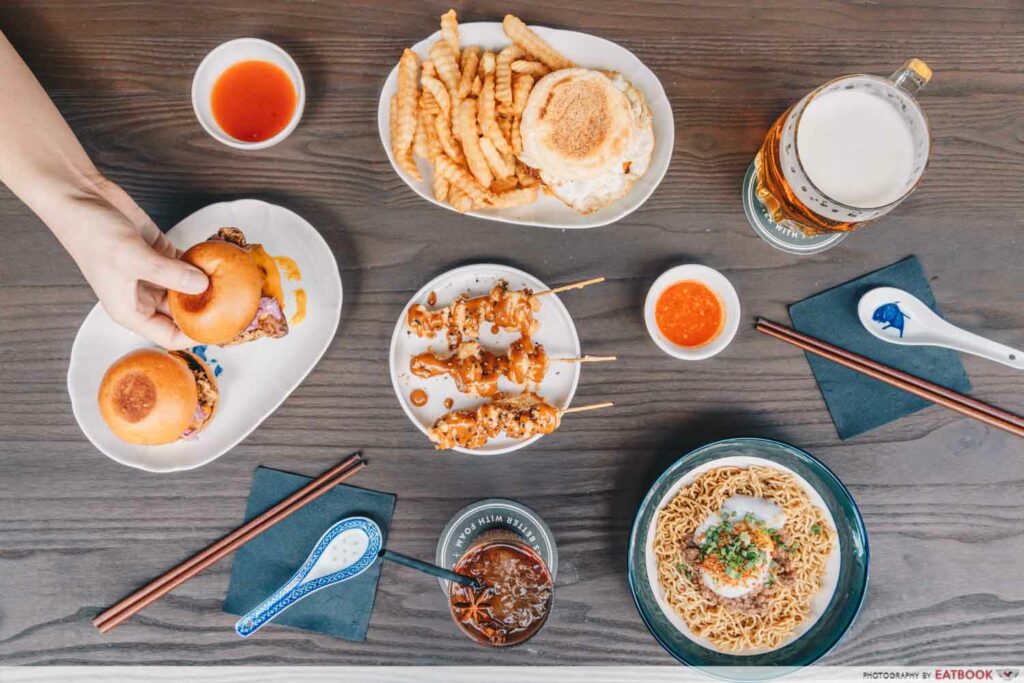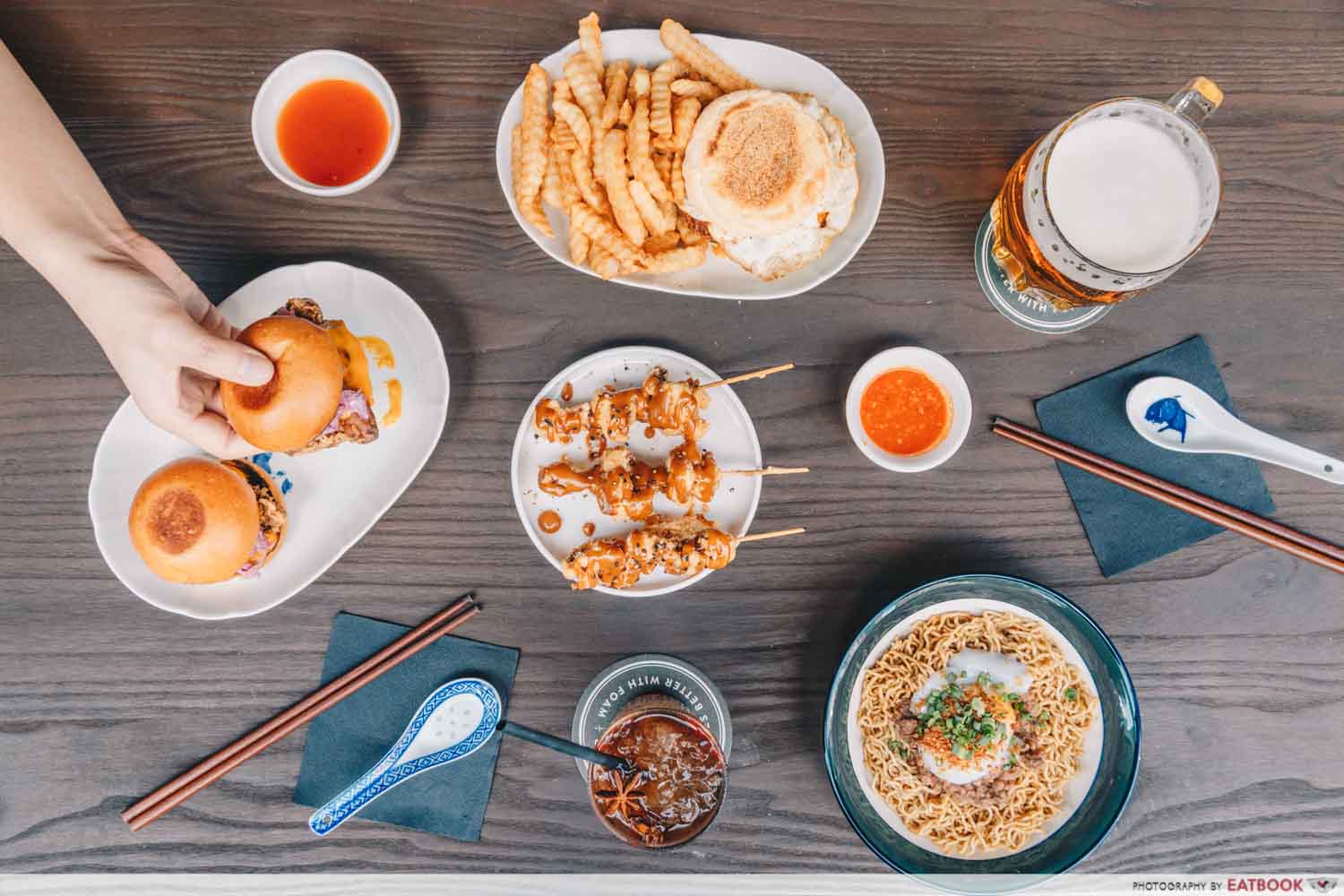 103 Amoy Street is a revolving door of sorts. It used to be occupied by A-rilang Korean Restaurant during the KBBQ wave in the early 2010s, before making way for Goldleaf Taiwan Porridge Restaurant in 2016. Australian seafood restaurant, Claypot Full Circles, took over in 2018 and it has only been recently replaced by Moonstone Bar earlier this year.
This lively bar has a bit of history to it. It was previously known as 21 Moonstone, and drew in the hipster folk from the film and music industry at Poh Leng Building. While they mostly pushed out bottled beers and bar snacks in the past, they've since gone through a massive transformation at Amoy Street. 
The restaurant bar now comes with two menus: a drinks menu that features a variety of cocktails and beers on tap, and a food menu that serves up bar grub inspired by Indonesian street food. 
Food at Moonstone Bar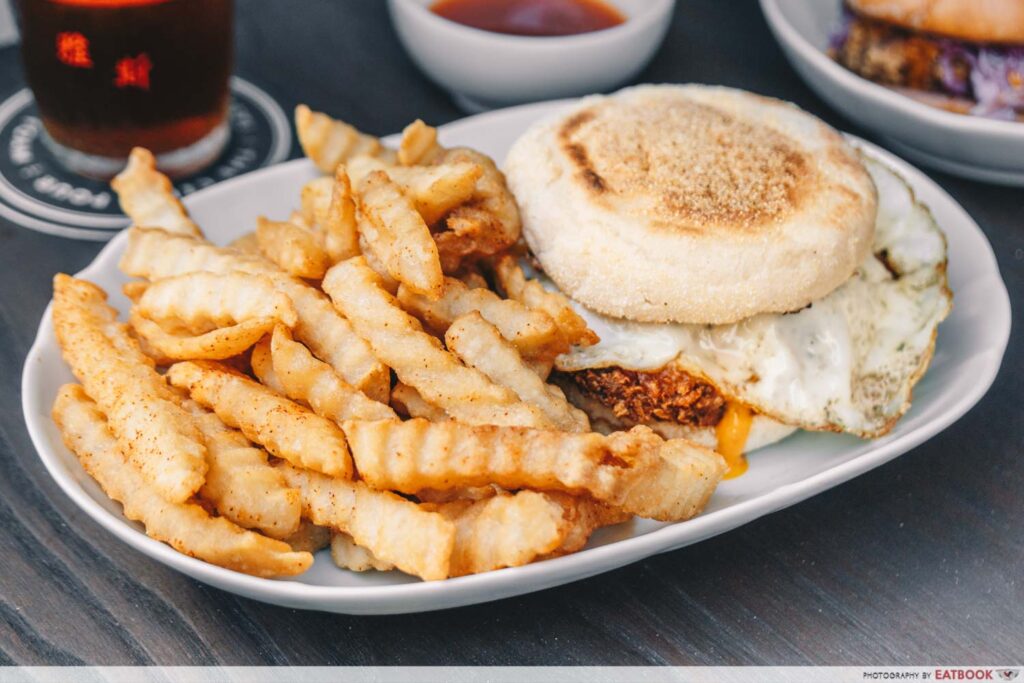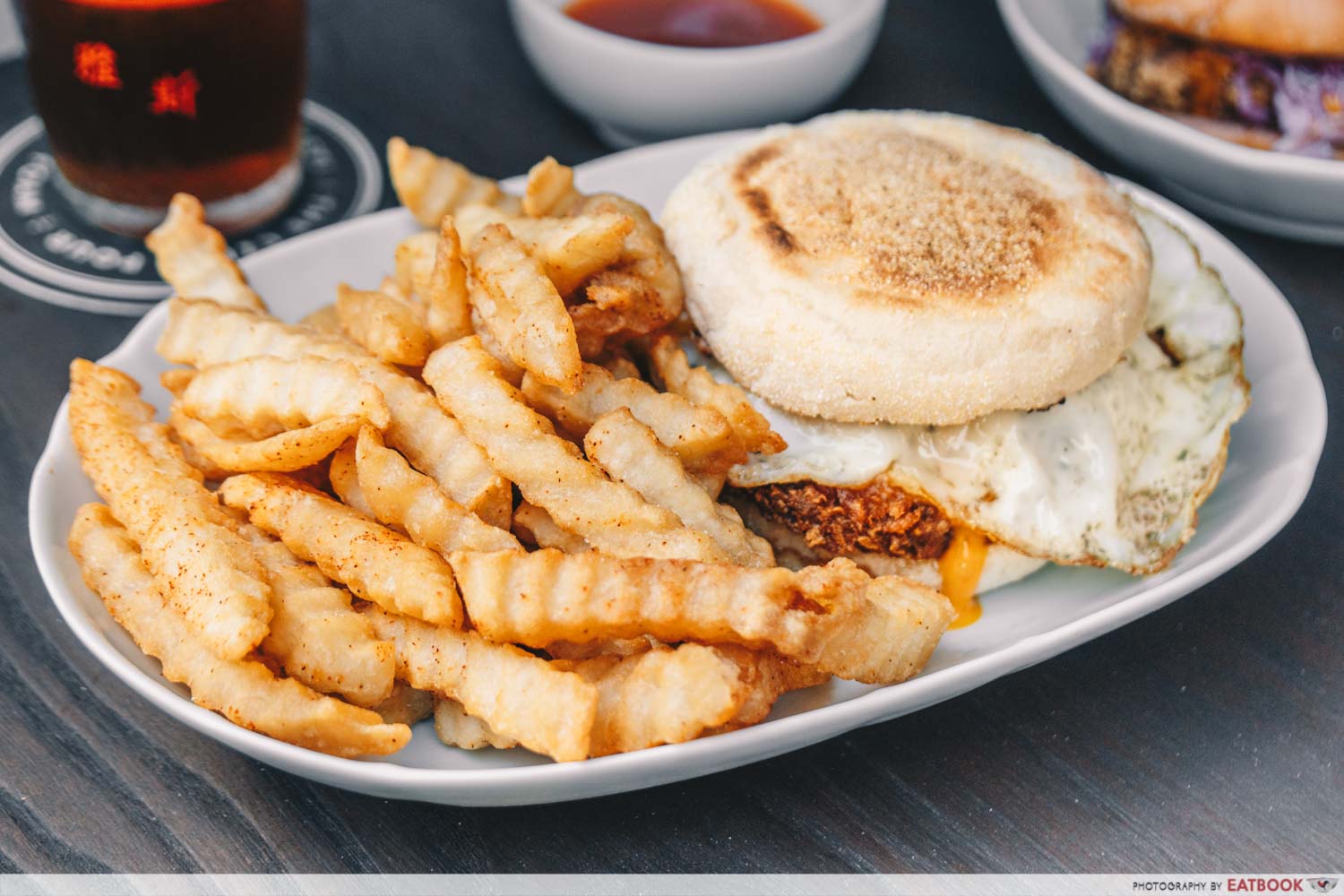 The restaurant's food menu is divided into lunch and dinner. It's a relatively lean menu, with seven mains for dinner and five for lunch. We visited for lunch and dinner on two separate occasions and got to try both of their menus. 
Indonesian flavours play a huge influence on the food here. The kitchen is helmed by Indonesian chef Anthony Utama, who also owns Tamade Cafeteria in Seminyak, Bali. The cosy family-run restaurant serves up a variety of local and Western-inspired dishes, with several of them making its way to Moonstone Bar. 
Bon Joe ($14+) is the eatery's take on a classic Sausage McMuffin with Egg. It comprises a sausage patty, fried egg and hashbrown sandwiched between an English muffin. Cheese sauce takes the place of regular American cheese, and a respectable portion of crinkle-cut fries and hot sauce were given on the side.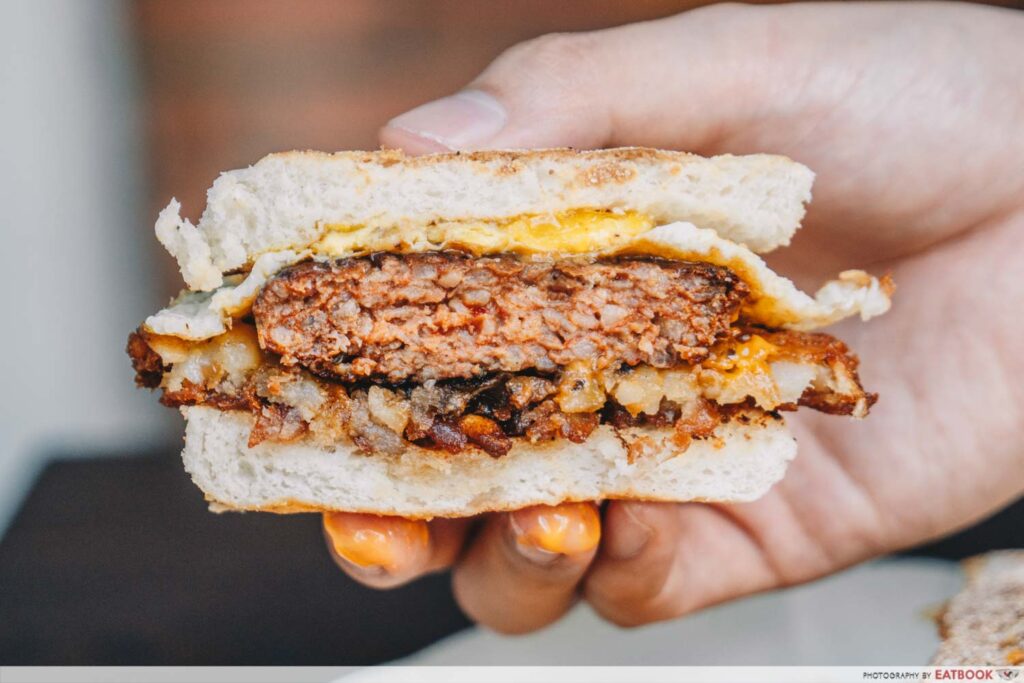 I liked how the burger stayed true to its promise of being a souped-up version of the popular McDonald's breakfast burger. The juicy sausage and crispy egg both gave contrasting textures that combined well together, with the creamy house-made cheddar cheese sauce binding everything else beautifully.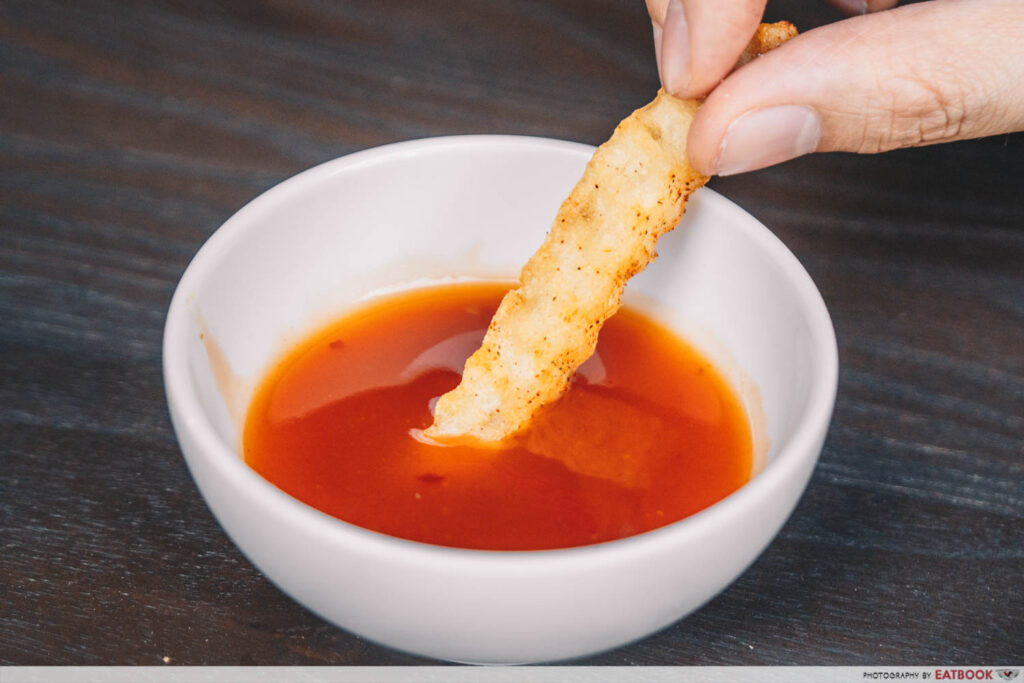 The frozen crinkle-cut fries were a little hard. Its insides were dense instead of being light and fluffy. They were dusted with a light sprinkle of paprika for flavour, but that was not enough to salvage them.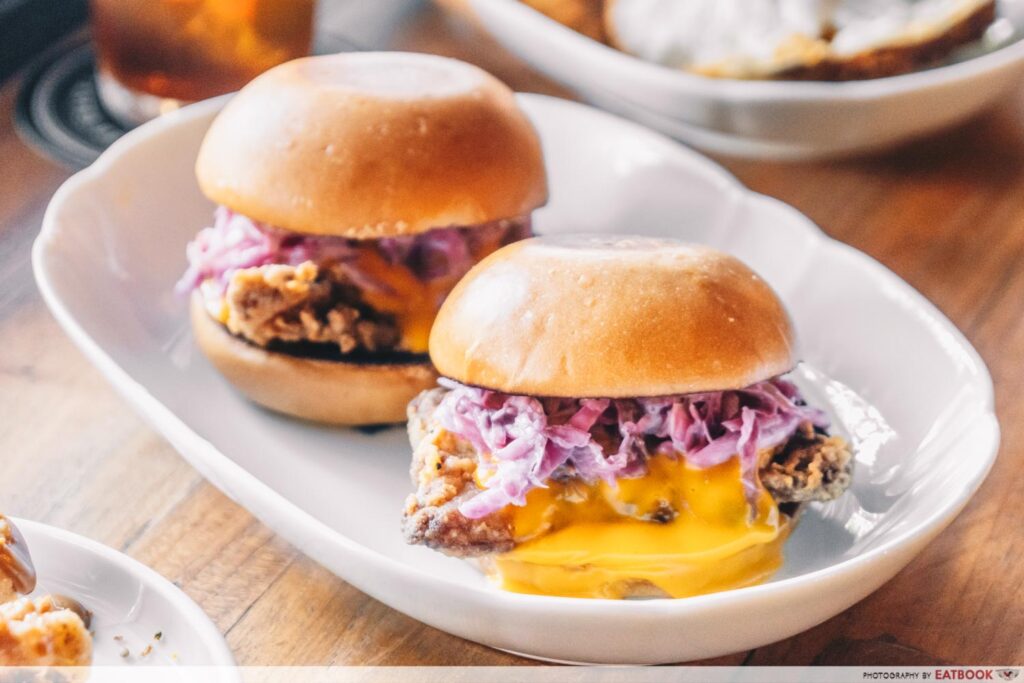 K.F.C Sliders ($14+) comprises two pieces of fried chicken slathered with the same cheese sauce as the Bon Joe, and a tangy house-made slaw. A delicate brioche bun then covers everything up.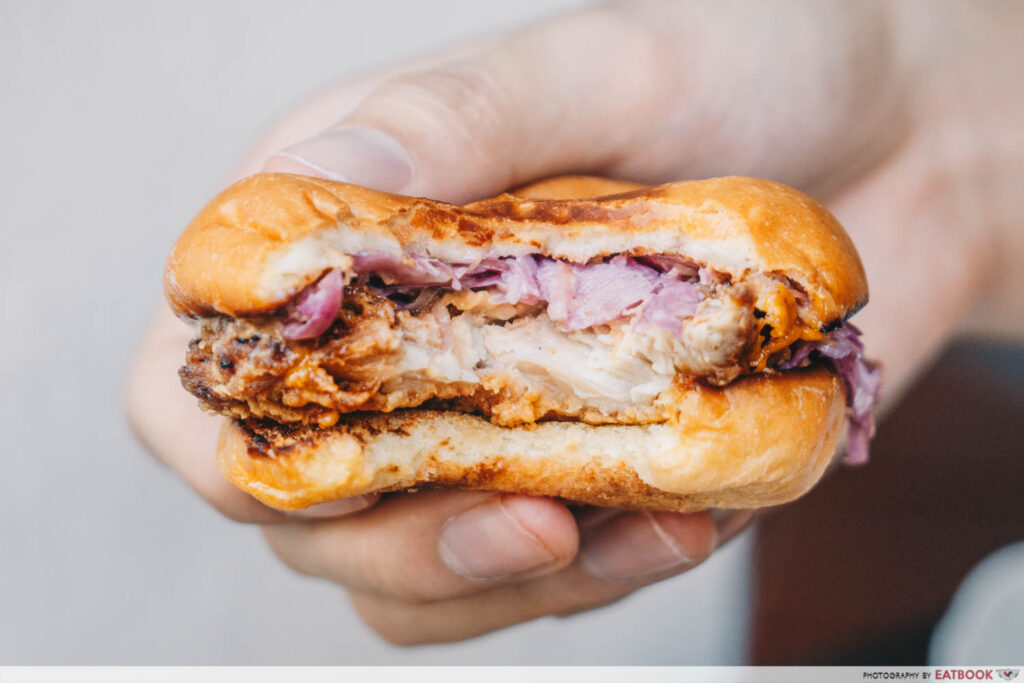 The burger has the right bun-to-meat ratio, and the crispy chicken packed loads of flavour as well. Everything was nicely balanced and the slaw did well in providing some crunch and acidity. 
However, considering that a single piece costs $7+, I find it difficult to get much value from it. I reckon that a single diner needs around three pieces to be full.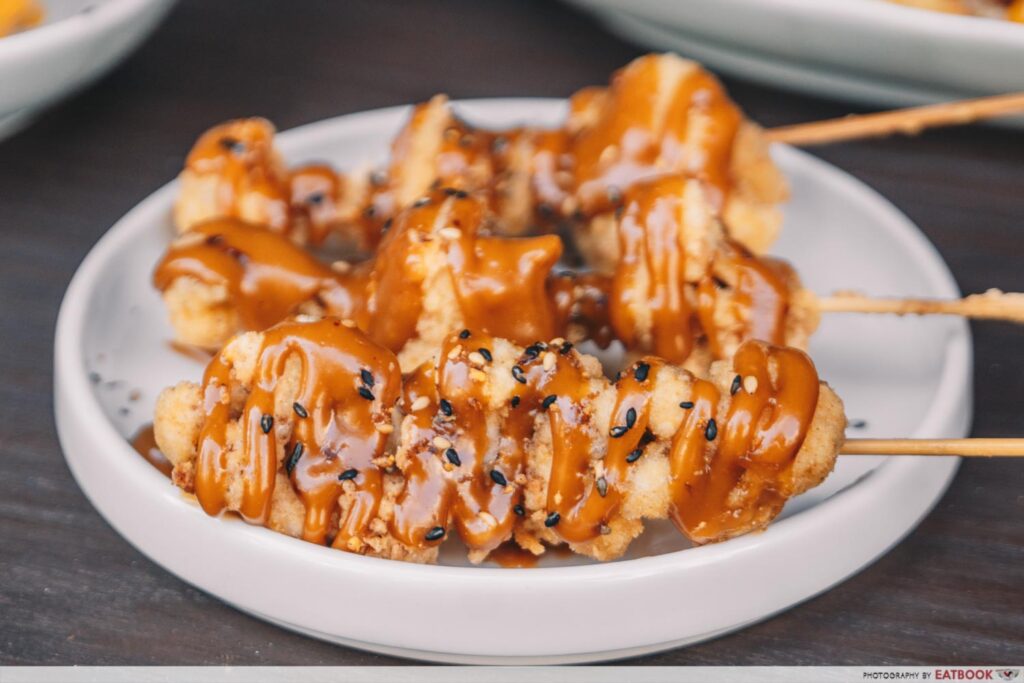 There are also other unique bar grub such as Browned Cauliflower ($7+). These skewers feature chunks of cauliflower that are battered and deep-fried to a pale golden brown. They're then brushed with a flavourful miso butter glaze and sprinkled with furikake.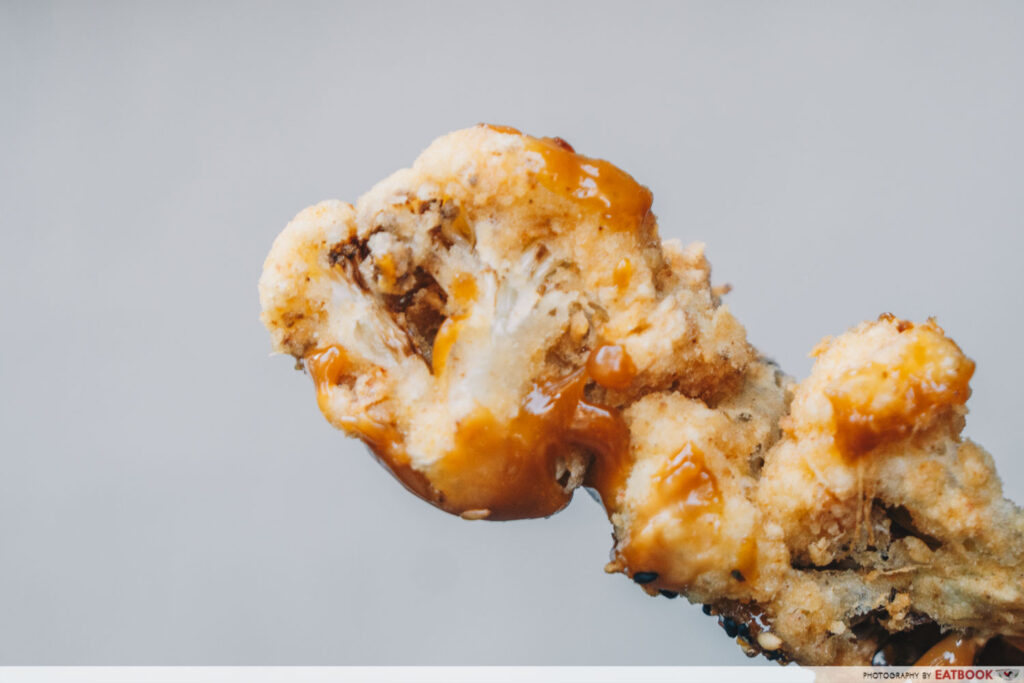 The cauliflower bites were crispy, and boosted with a nice depth of umami flavour from the miso glaze. They're a welcome addition to the otherwise stale bar food scene that's usually plagued with the ubiquitous truffle fries.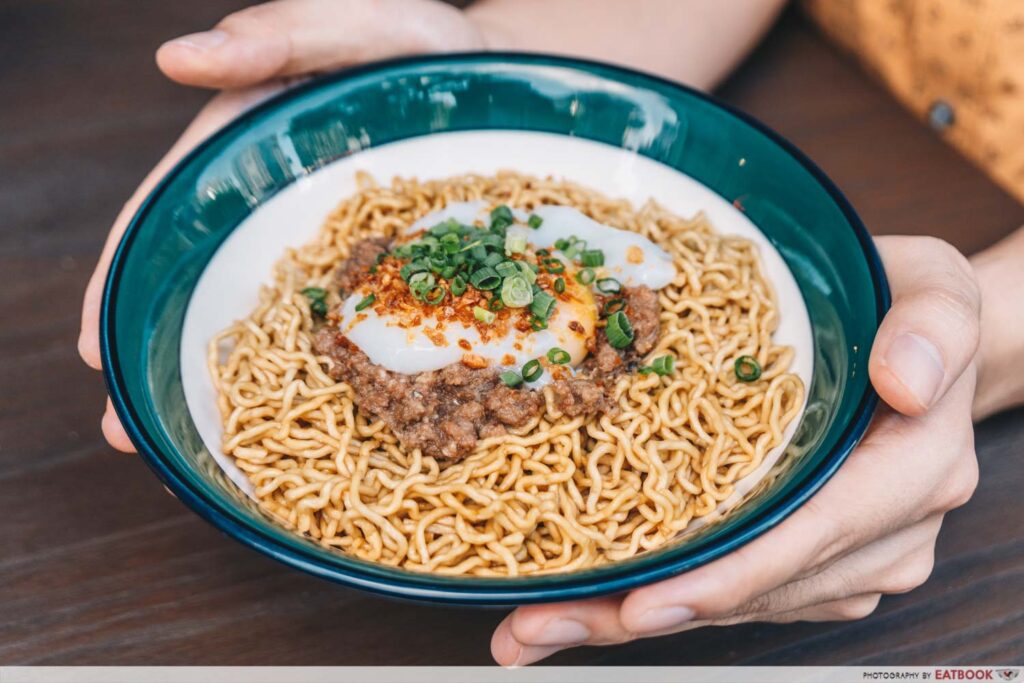 Noodles feature heavily on both the lunch and dinner menu and we got the dinner-exclusive In.ter.net ($12+). This dish is a take on the popular corned beef Indomie, which gets its name from Indomie, telur (egg), and kornet (corned beef). 
The corned beef is given an additional boost of spices and aromatics by Anthony and his crew, and it is noticeably darker in colour and more flavourful.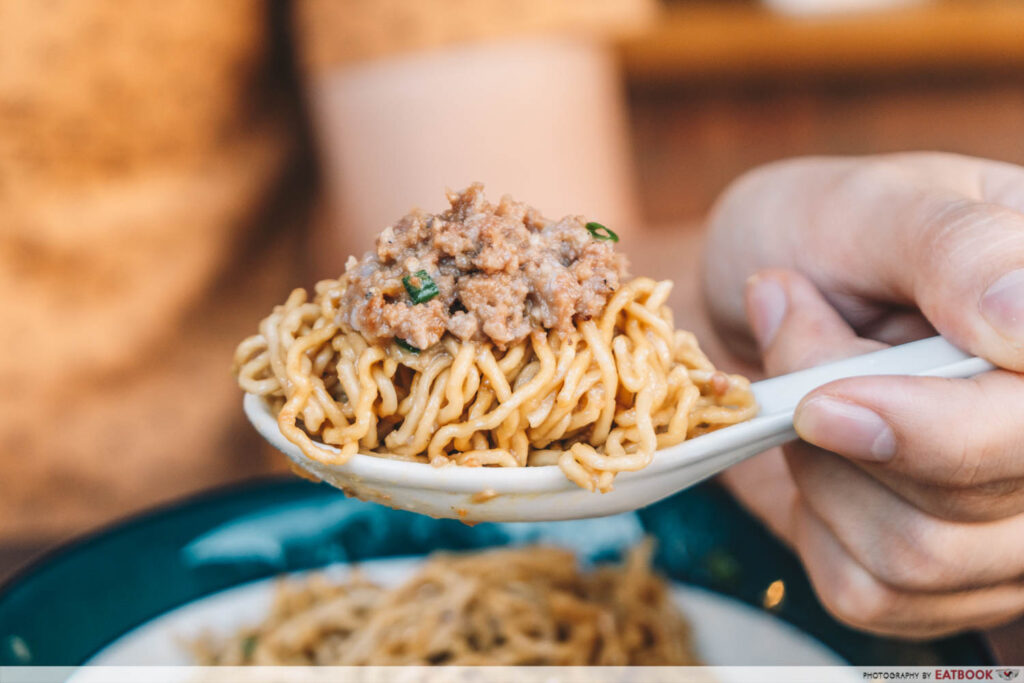 Anthony shares that the noodles are sourced from a supplier that specialises in kolo mee. However, other than being springy, they were otherwise unremarkable. 
I found it difficult to enjoy this dish. It tasted very similar to regular dry Indomie, which can easily be whipped up at home.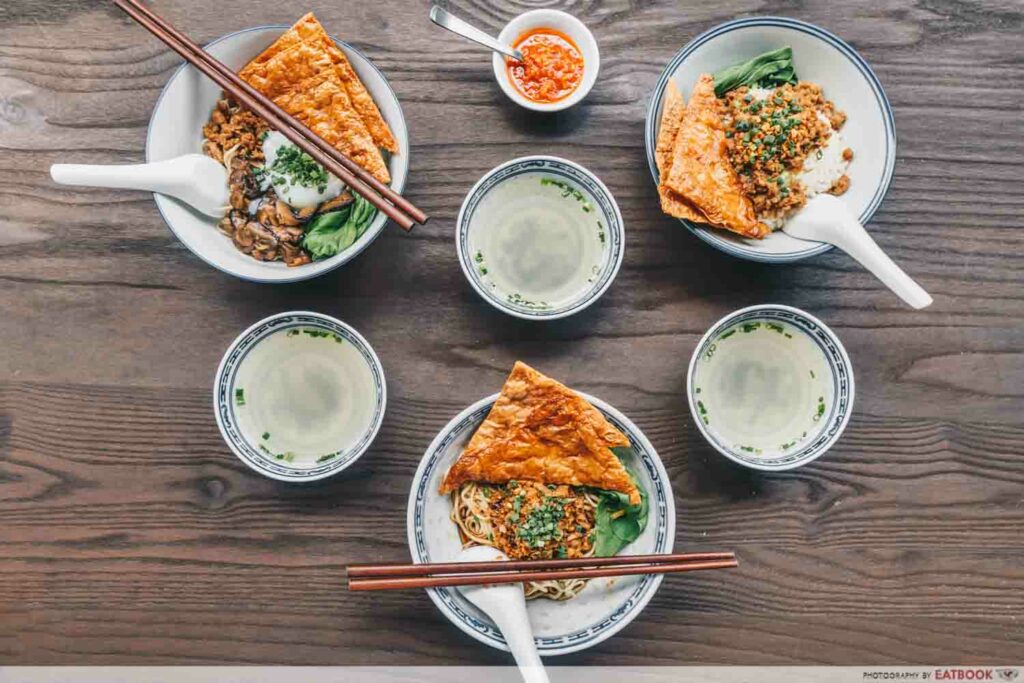 The restaurant has a smaller menu during lunch, with carb-heavy dishes front lining the show. The menu offers food that can be whipped up and eaten quickly, which makes it ideal for CBD folks working nearby.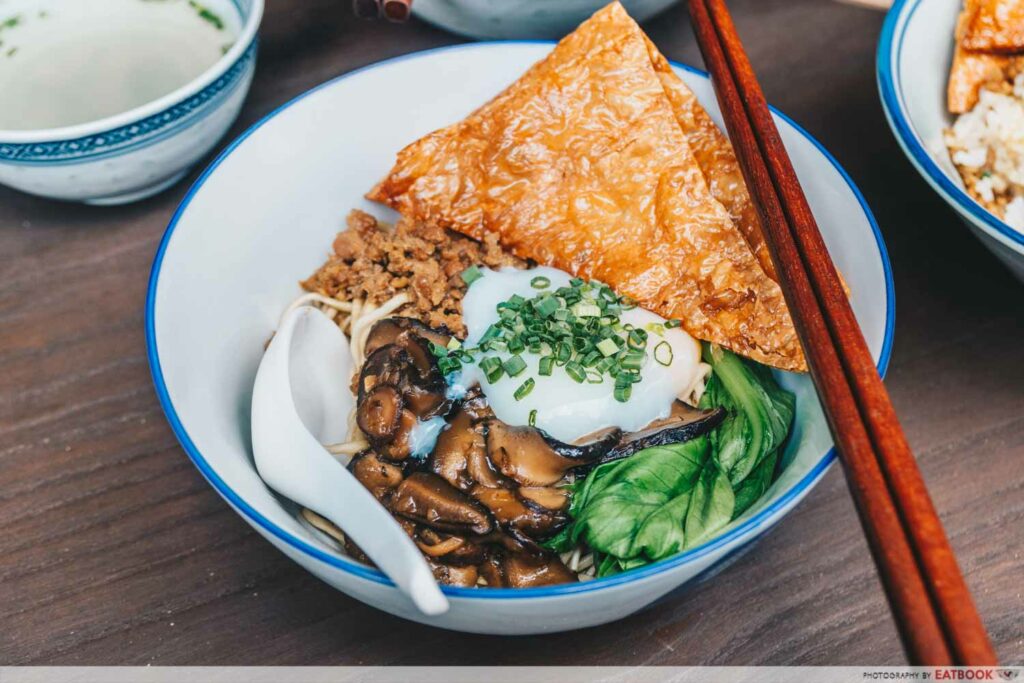 The Bakmi Ayam Mason ($10+) is loaded with braised shiitake, tofu crisps, onsen egg, and braised minced chicken. Braised minced chicken is the protein of choice on the lunch menu, dominating four out of the five mains.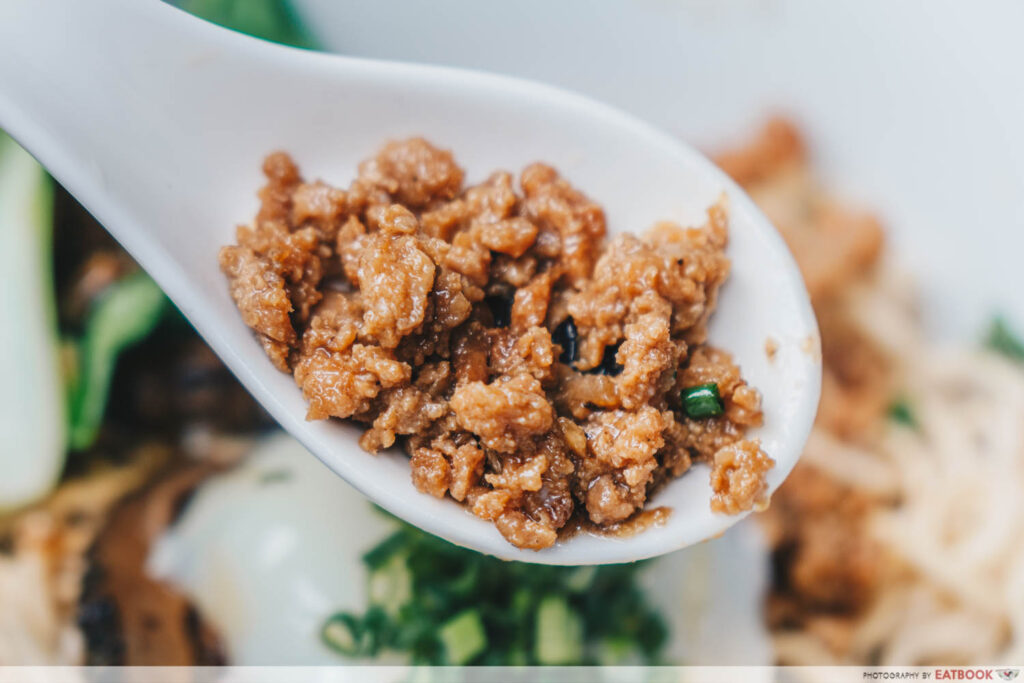 While the minced chicken was cooked till tender, the spices used were hardly inspiring. The main flavour profile seems to be an overly salty combination of kecap manis and Indomie seasoning. And while we gave everything a good mix, coating each strand of noodle with chicken meat, everything got boring after a while and we found it difficult to finish everything.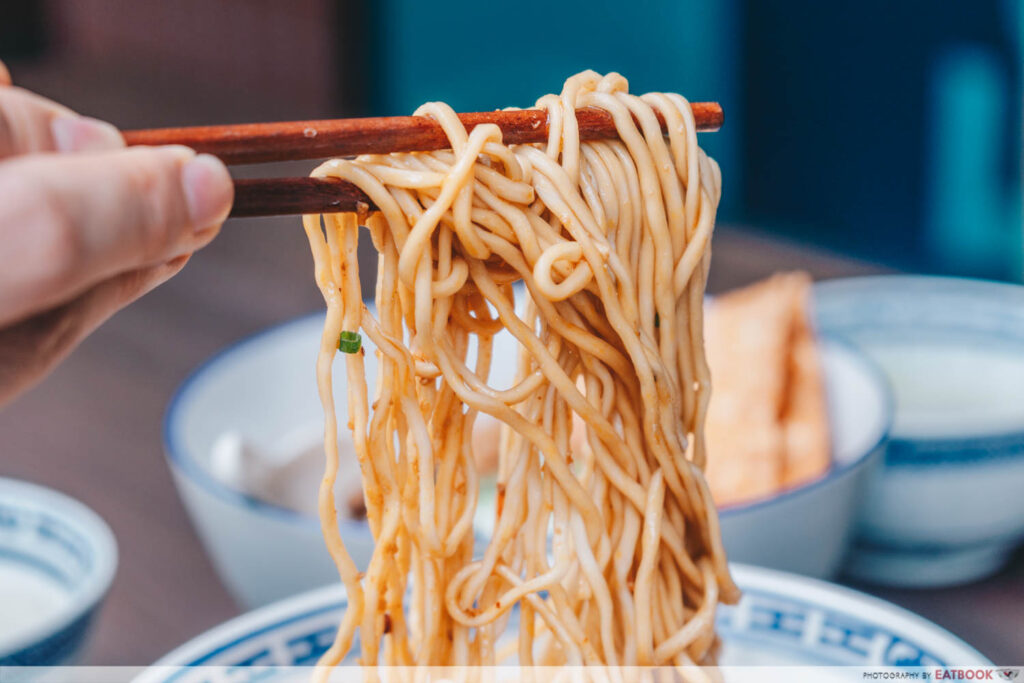 One redeeming quality was the noodles. They were cooked to the right doneness, packing a nice bounciness to them. However, they were let down by the ordinary minced chicken.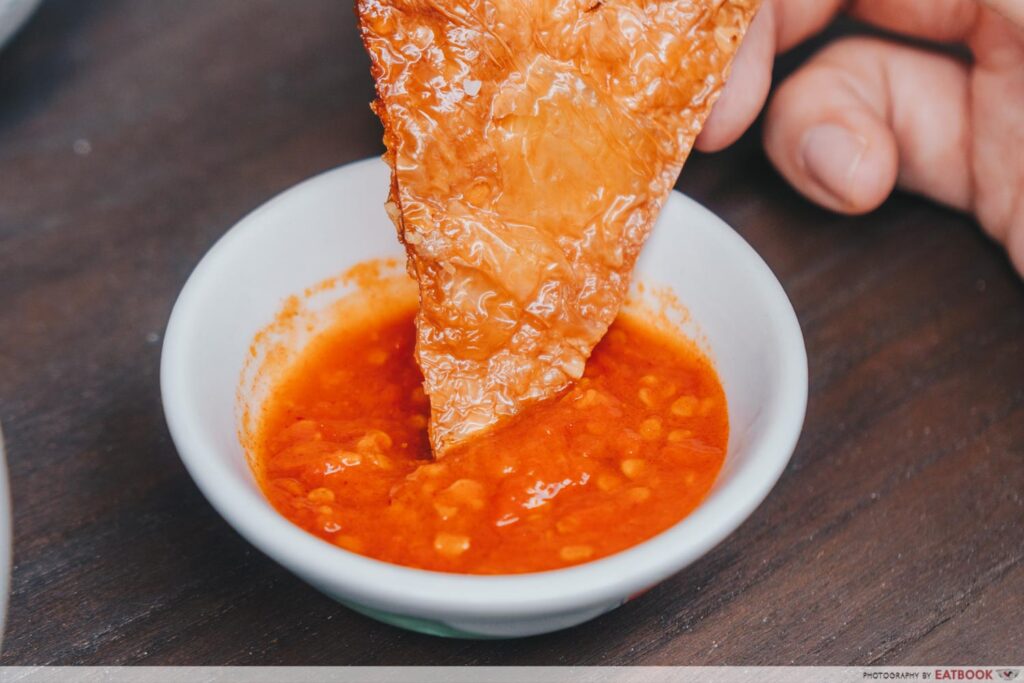 I also liked the garlicky chilli, which is a special recipe by Anthony's mother. Adding a dollop of it not only packed some extra heat but also helped in brightening everything up in the dish.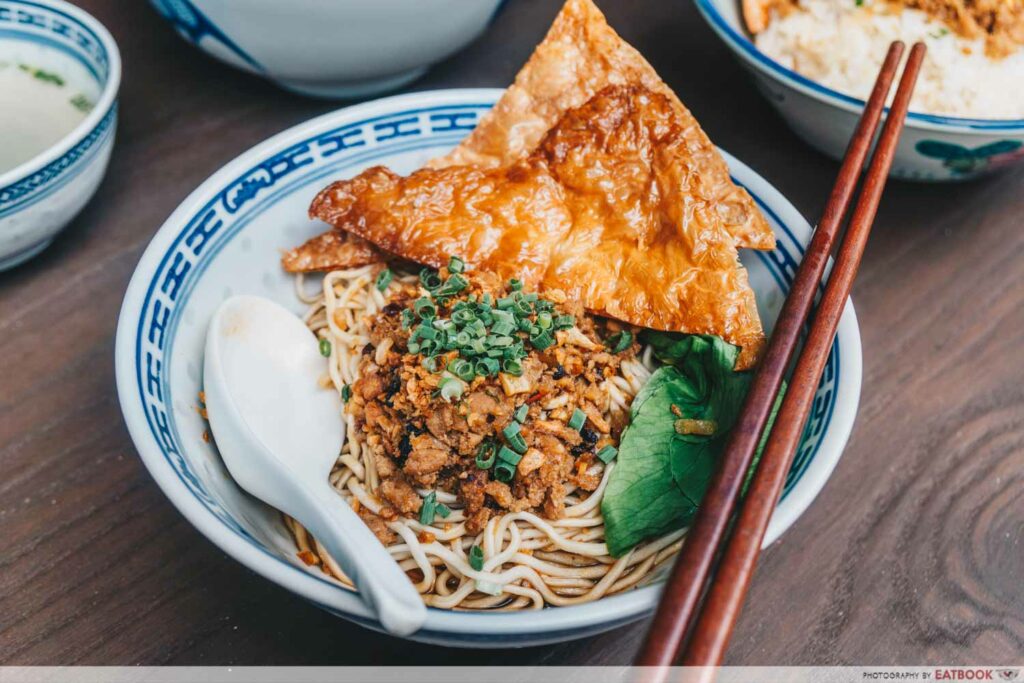 Riding on the mala wave is Bakmi 'Szechuan'($8+), which switches up regular Indonesian-style minced chicken with a twist of Sichuan-esque flavours.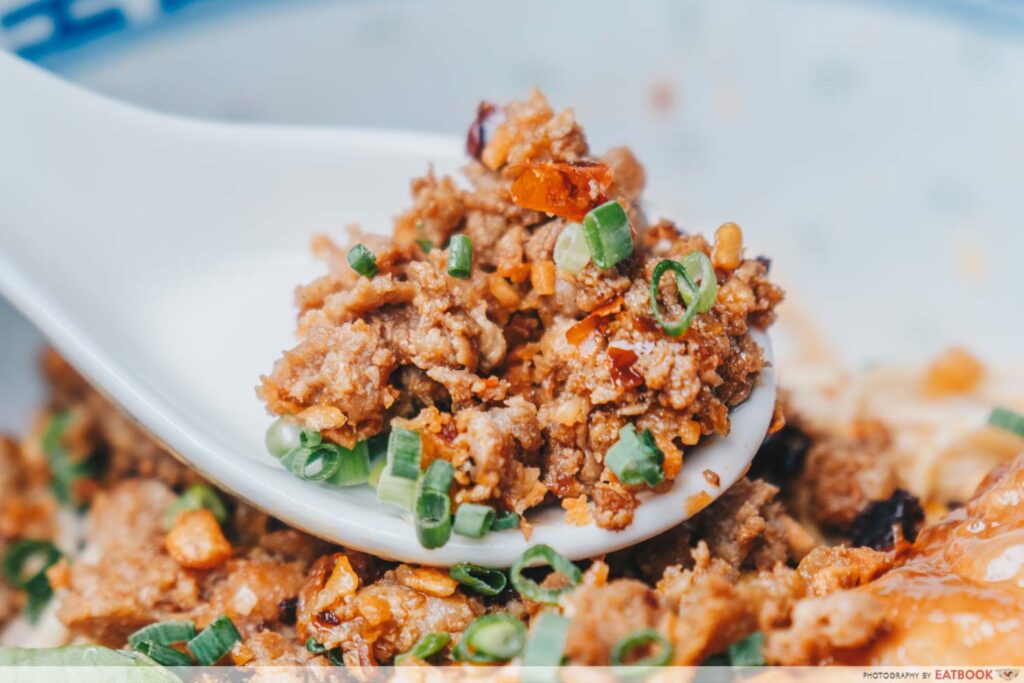 When mixed, the bowl of noodles had very minimal numbing properties to it. Although it packed a whole lot of heat, I was quite disappointed by how it didn't deliver on its promise of tasting anything remotely close to Sichuan food. It would have been if it were labelled as "spicy noodles" instead.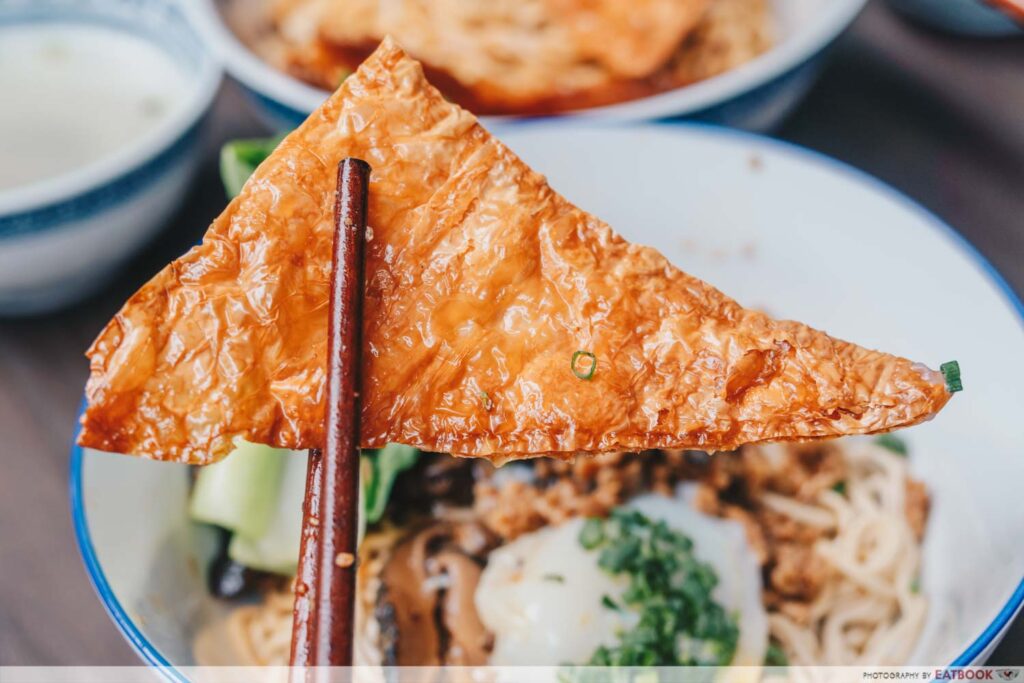 The tofu crisps were crispy and fried to a beautiful golden-brown. They didn't shatter easily and added something extra to the otherwise lacklustre minced meat. This was a component that we thoroughly enjoyed.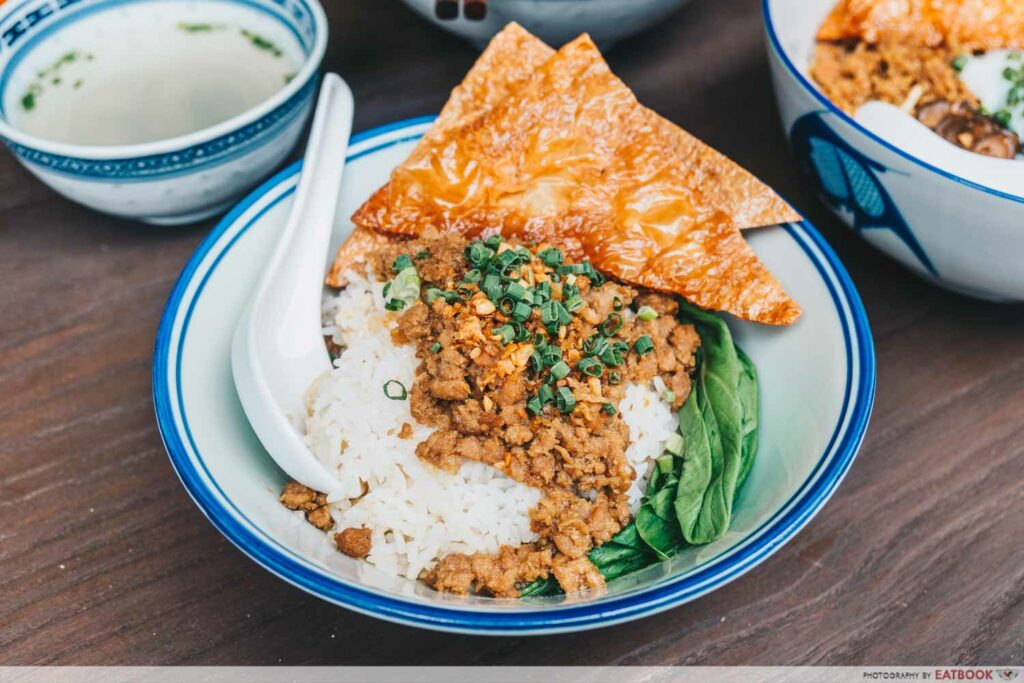 There's also a single rice option, and we rounded out our lunch with a mediocre serving of Nasi Ayam Mason ($8+). This dish features the same braised chicken as the Bakmi Ayam Mason, but with white rice instead.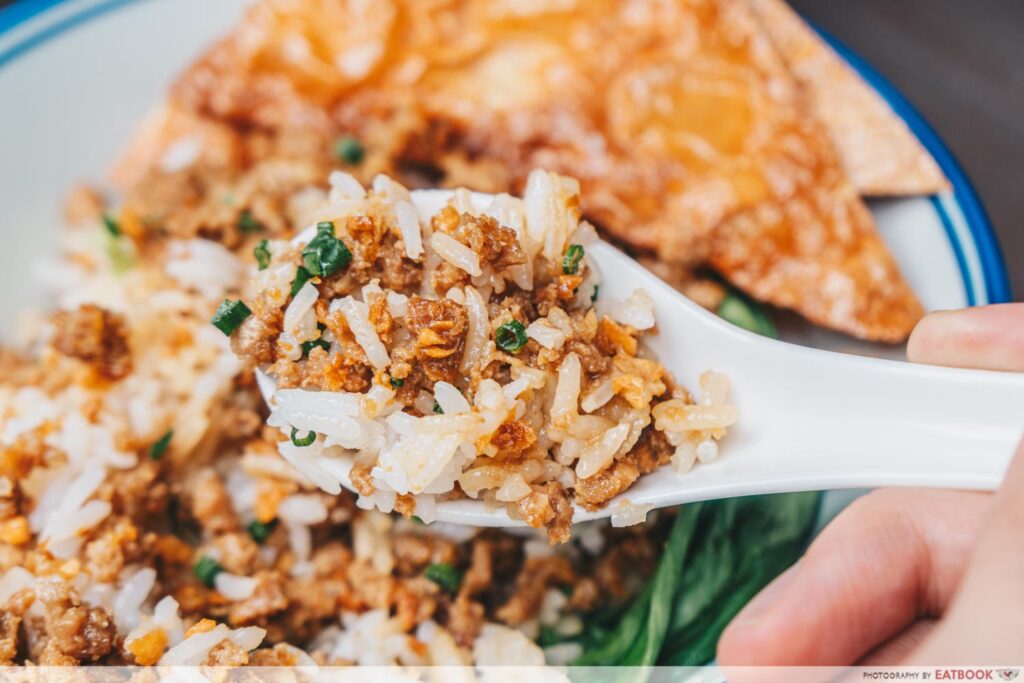 The dish is kept simple to showcase the minced chicken. However, the minced chicken was already unimpressive and as a result, this dish was a big let-down. I find it difficult for regular diners to pay $8+ for a rice dish that features minced chicken drenched in simple pantry sauces.
Overall, the lunch menu was a disappointment. While they tried to keep things simple, the basics were hardly executed right and it showed in their food.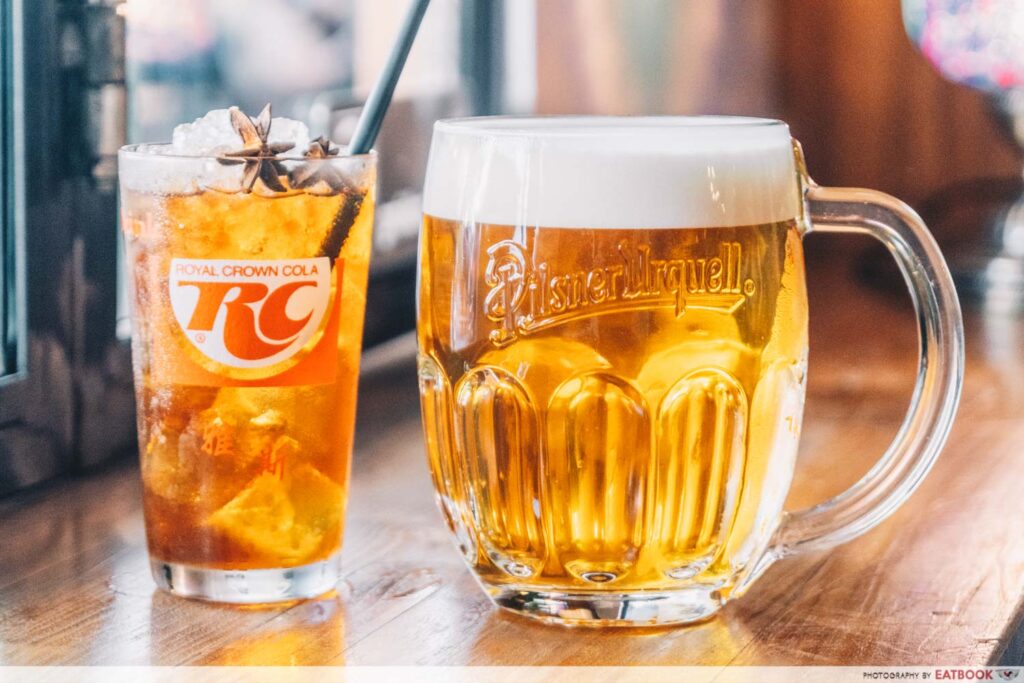 The place is more suitable for drinks, where they have an expansive cocktail menu and the popular Pilsner Urquell ($16+) on tap. This Czech beer is the world's first pilsner beer, and is known for being light-tasting and refreshing. I found it to be delicately balanced, and quite enjoyable. 
There's a special technique involved in pouring the beer and the owners have to go through an arduous two-week training course in the Czech Republic before being certified to serve the beer. 
Ambience at Moonstone Bar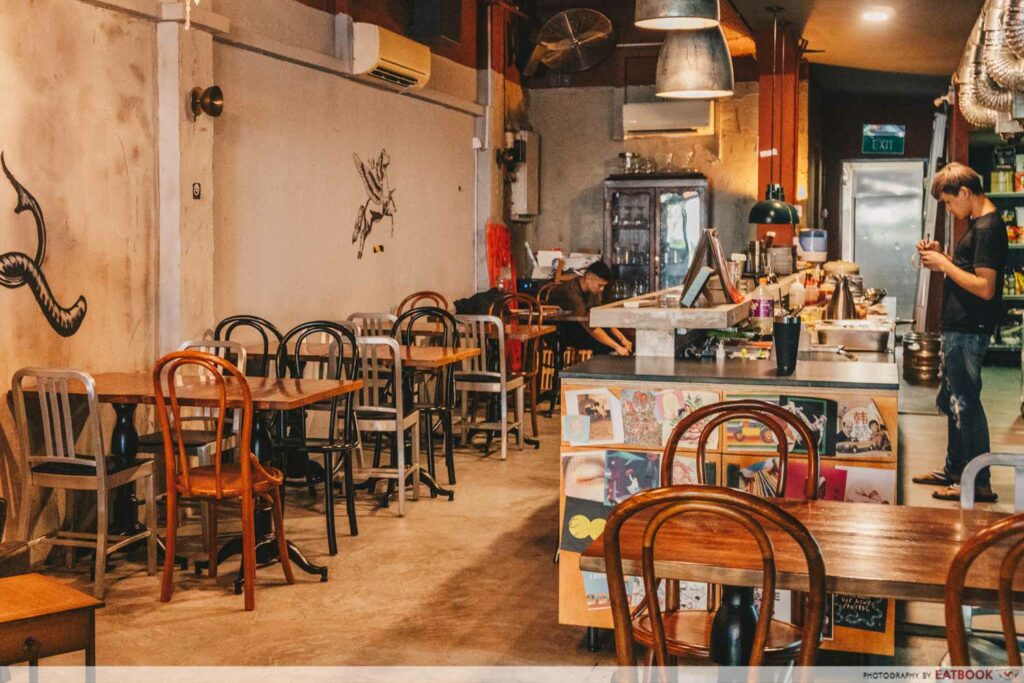 The cosy and dim restaurant retains plenty of the wood accents from the former Claypot Full Circles. The interior can be quite dark if you're seated deep inside, but the seats nearer to the windows are washed by a gentle glow of natural light.
It's a nice place for catching up with friends on weeknights or getting the first round of drinks before a big Friday night. 
The verdict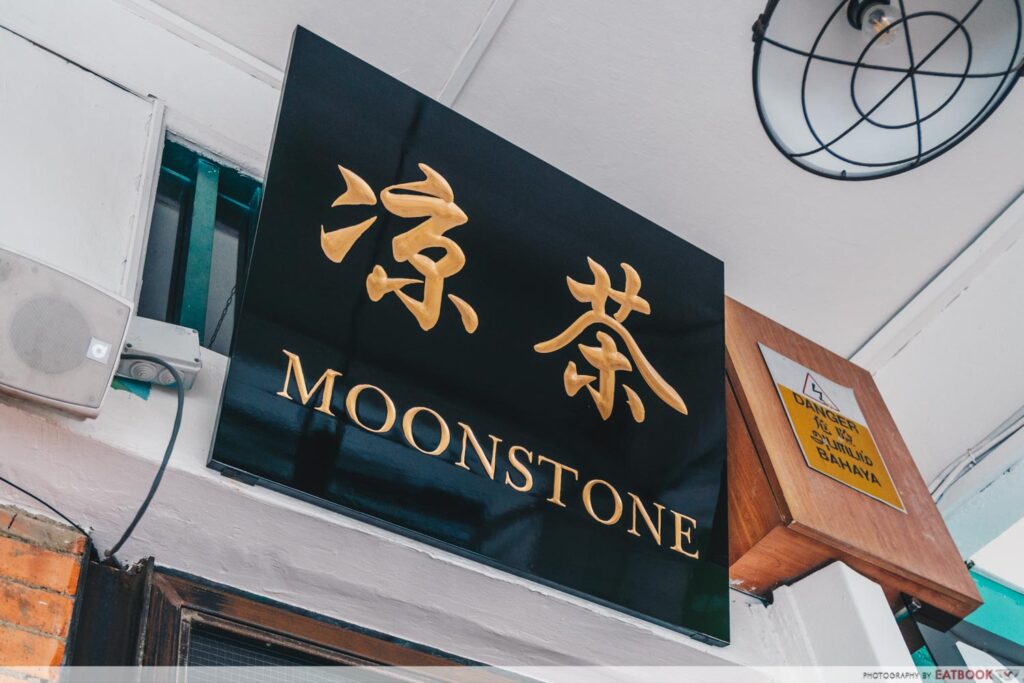 Comparing the lunch and dinner menu at Moonstone Bar was like visiting two different restaurants. One was made with care and purpose, while the other seemed to be haphazardly thrown together.
Most of the lunch dishes here hover at $10+, and I find it difficult for diners to pay a premium for such noodles when there are other options such as Quan Ji and Q Hor Fun nearby. Similar to Moonstone Bar, these stores also serve up simple and unpretentious dishes, but do them brilliantly well. 
Address: 103 Amoy Street, Singapore 069923
Opening hours: Mon-Fri 12pm to 12am, Sat 5pm to 12am
Tel: 6610 3029
Website
Moonstone Bar is not a halal-certified eatery.
Photos taken by John Lery Villanueva and Kerrianne Goh.
This was a media tasting at Moonstone Bar.
Moonstone Bar
Summary
Pros
– Nice ambience 
Cons
– Disappointing lunch menu
– Can be expensive
Recommended dishes: Bon Joe ($14+)
Opening hours: Mon-Fri 12pm to 12am, Sat 5pm to 12am
Address: 103 Amoy Street, Singapore 069923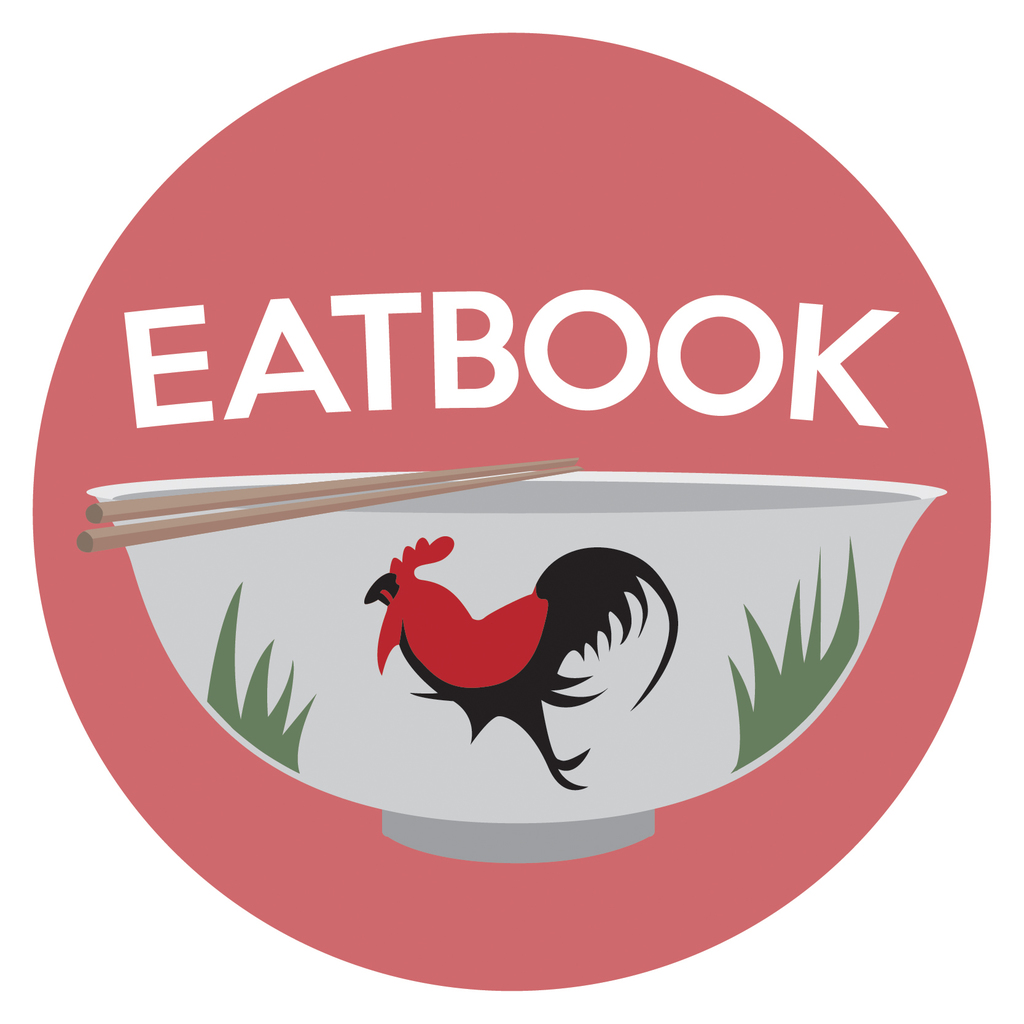 Drop us your email so you won't miss the latest news.