Q Hor Fun at Telok Ayer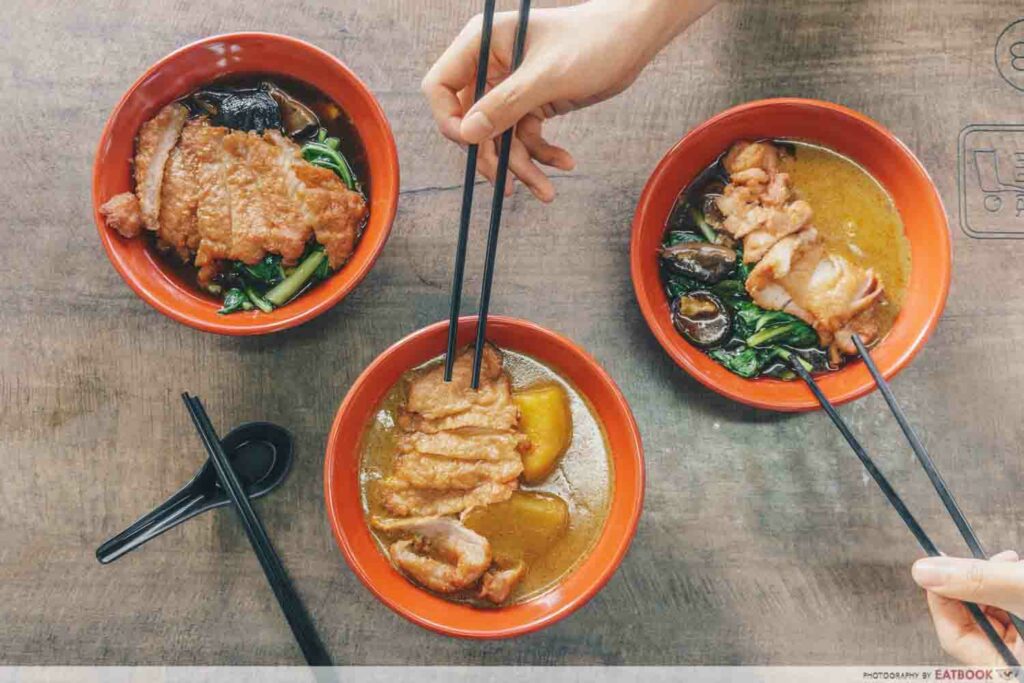 Despite its Malaysian origins, Ipoh hor fun has not caught on in Singapore as much as Penang char kway teow or assam laksa. Somehow, its thicker and more robustly flavoured cousin at zi char eateries are preferred by the locals. While there are a few notable players in the market such as Tuck Kee (Ipoh) Sah, Q Hor Fun is a relatively new hawker store at Telok Ayer that has been quietly charming the CBD folk with their own unique version of Ipoh hor fun.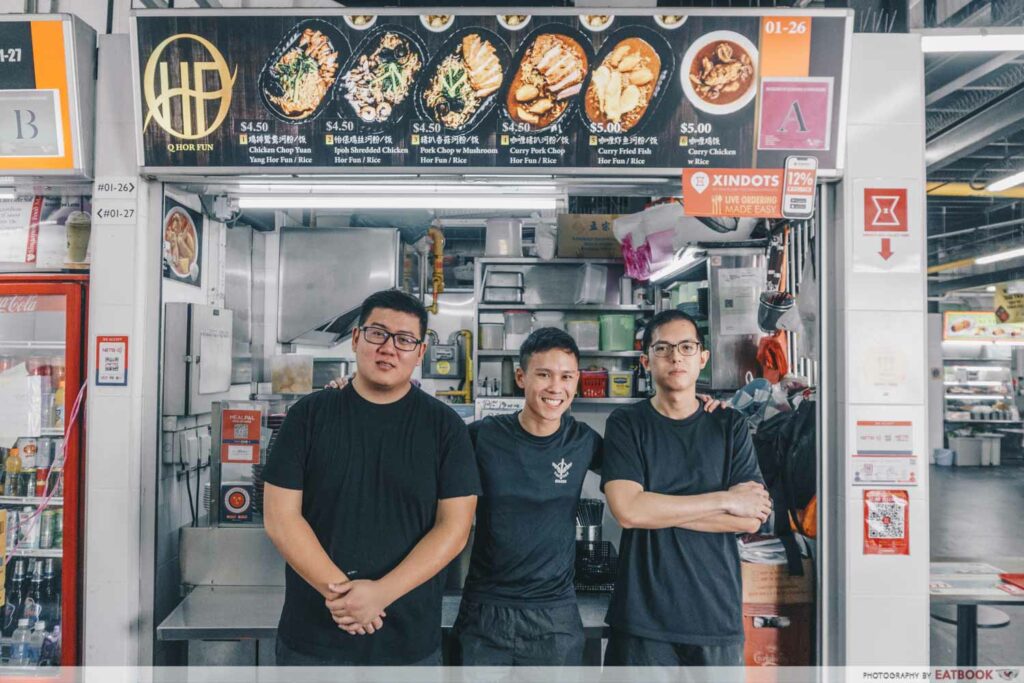 This one-year-old stall is run by three young hawkers, who gave up their careers in accounting and auditing for a life behind the wok. The business was first started by Lee Yong Qin, who later enlisted the help of his secondary school classmates.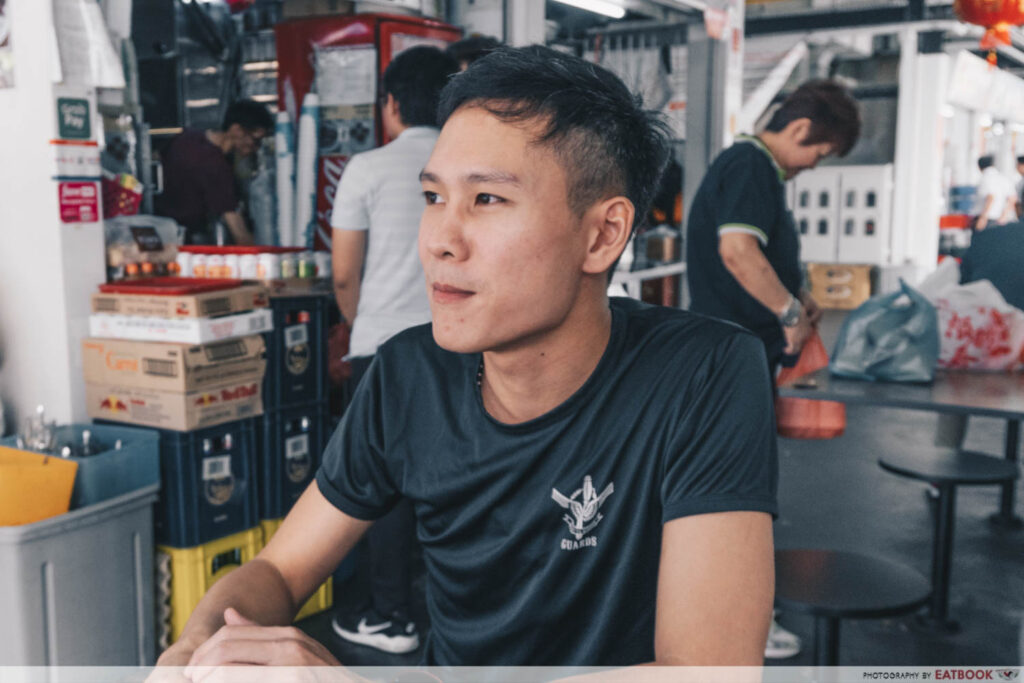 As all three did not have any professional kitchen experience or any formal culinary training, they slowly picked up the ropes from industry veterans and can now draw a crowd to their store during lunchtime.
Food at Q Hor Fun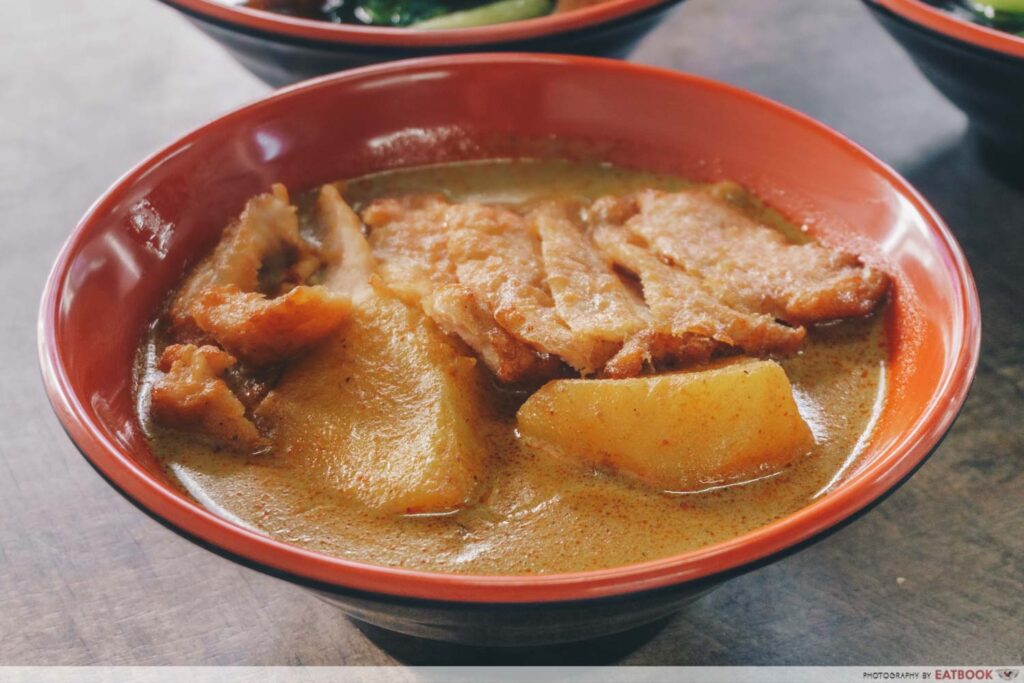 Deciding what to eat here is easy, as the menu is broken down into two types of sauces: a herbal variant and a creamy curry. We started with their Curry Pork Chop Hor Fun ($4.50), which came with a generous serving of pork cutlet that sat atop a bed of thin Ipoh hor fun and a pool of bright orange curry.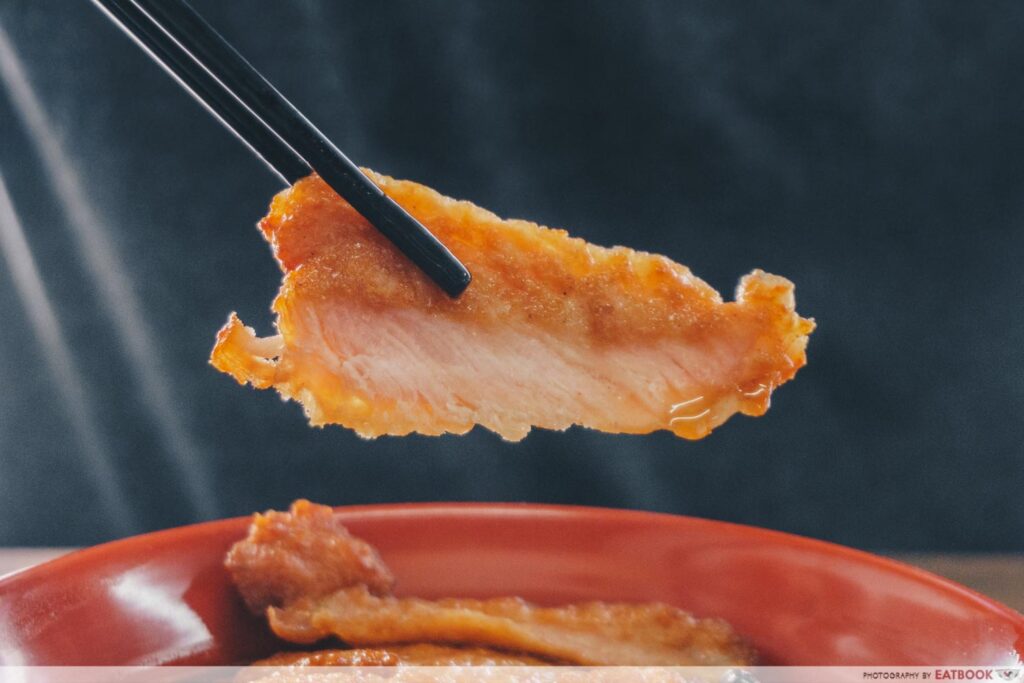 The golden-brown hunk of pork cutlet was sliced on the bias, giving an elegant appearance as compared to how they're usually roughly chopped up. They're also not heavily battered, allowing the juicy meat to shine through.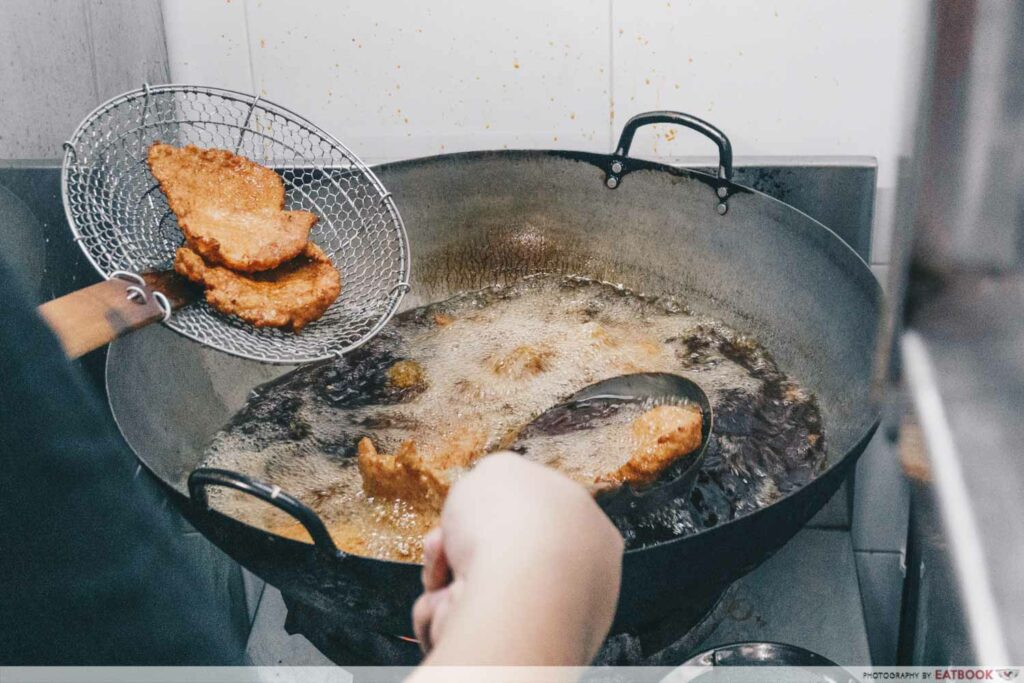 I was also impressed with the seasoning, which wasn't too salty and came with what I thought was five-spice powder. All in all, it ticks the right boxes for a good slab of tasty pork cutlet.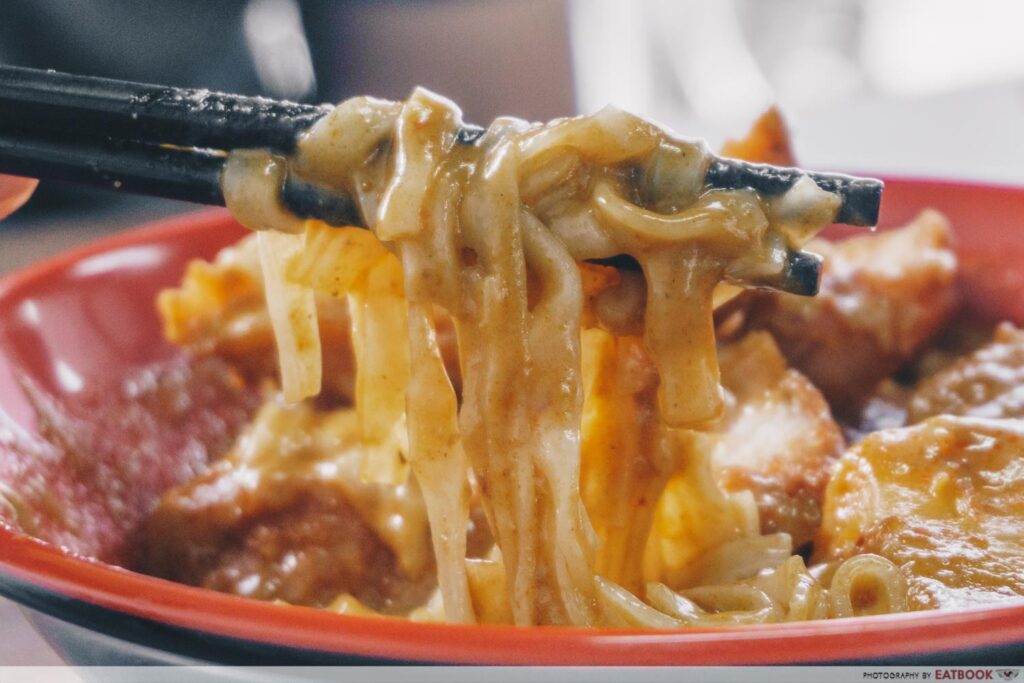 While the pork cutlet was good, the chicken curry sauce that covered every inch of the plate was even better. The delicious Nyonya-style curry tasted both homely and nostalgic, and had a rounded creaminess that's accentuated by a kick of spiciness.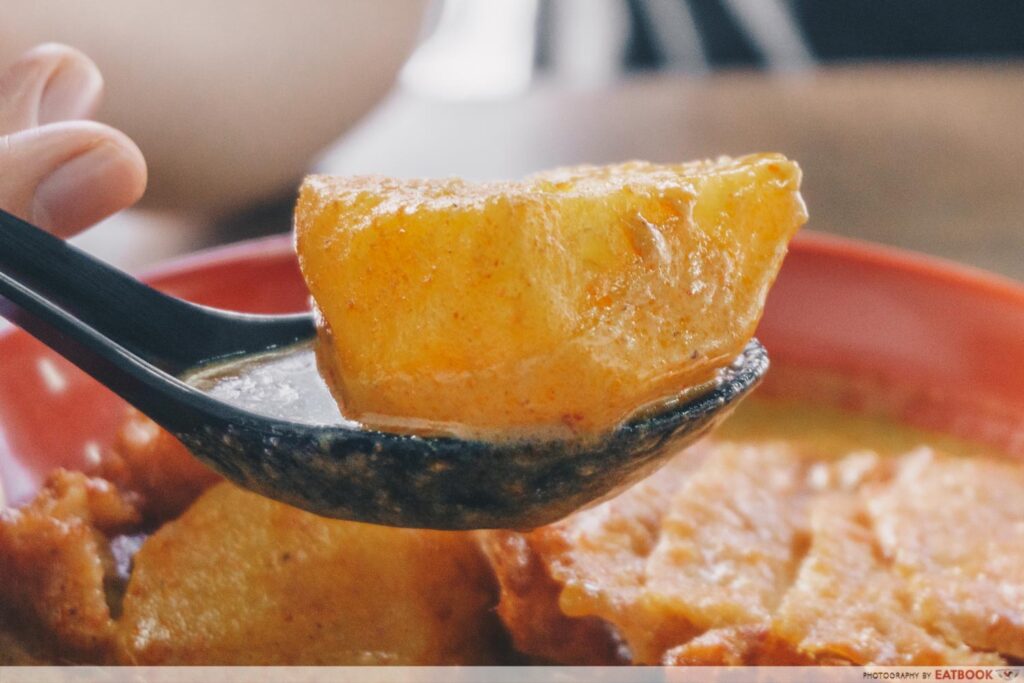 Large chunks of potatoes were also given on the side. They were cooked well, and had a nice consistency that wasn't too mushy or hard. 
I was impressed by this dish, and honestly did not expect a dish of this quality to be made by such young hawkers. Yong Qin told us that the recipe went through multiple iterations, but the special technique of stewing loads of chicken pieces to give the curry a meaty flavour still remains.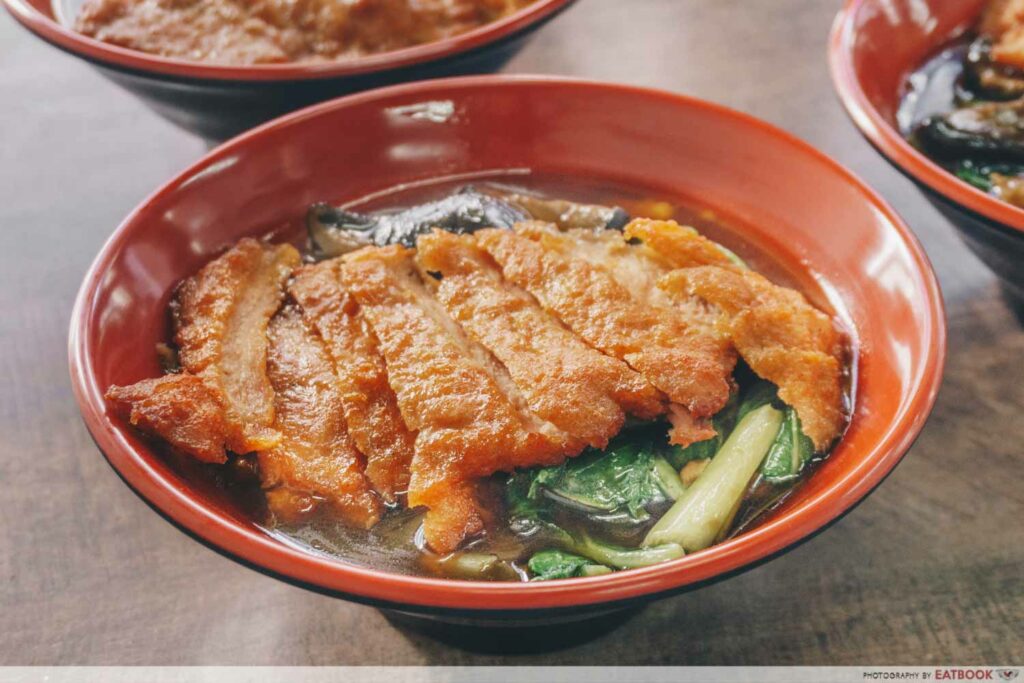 Aside from curry, the other sauce that dominates the menu is a thick and dark brown variant that's very different from any Ipoh hor fun we tasted before. We had this sauce with the Pork Chop With Mushroom Hor Fun ($4.50), and similar to the curry pork chop hor fun, the portions are generous and are enough for those looking for that post lunchtime food coma. 
While the essence of Ipoh hor fun is a light-tasting chicken and prawn stock, Q Hor Fun adds their own unique spin by turning it into a thick robust herb-based sauce instead. 
The sauce is akin to a thick ginseng soup. It tasted nourishing, and was definitely bursting with flavours. However, my dining companion and I were not fans of the sauce. We both felt that the herbal flavours were a little too overpowering, with the wolfberry giving a bitter sharpness that drew too much attention from everything else.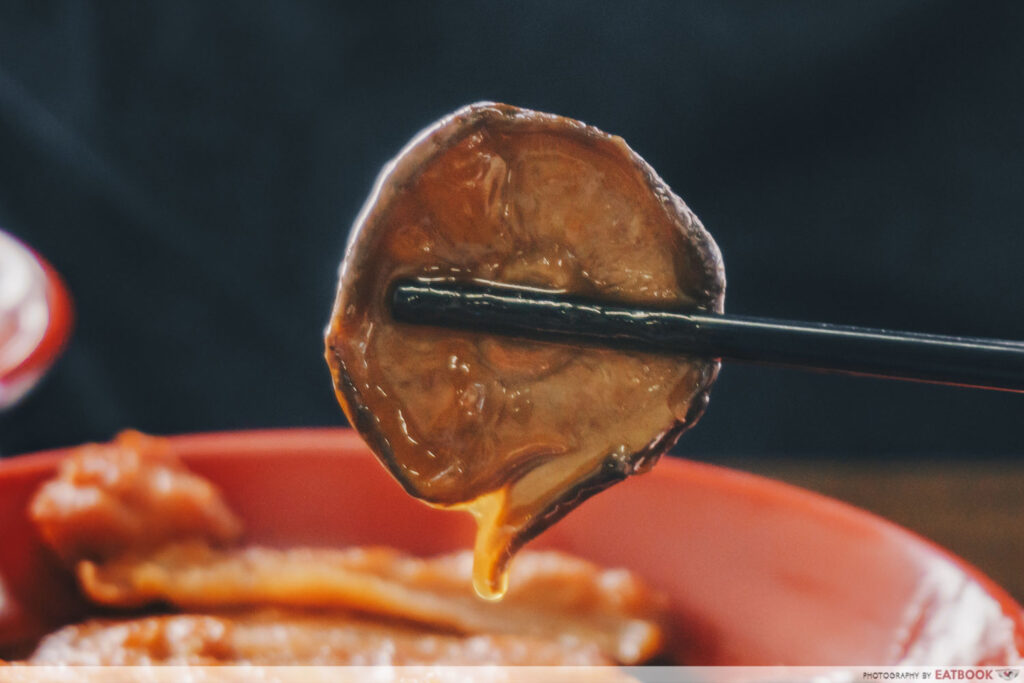 A couple of whole braised shiitake mushrooms can also be found inside. They weren't overly rubbery, and had a pleasant chewiness to them. It's also nice that the mushrooms were served whole, considering that most noodle joints prefer to serve up measly slices of mushrooms instead.
Yong Qin mentioned that the sauce didn't taste as consistent as he wanted to that day, but one thing that remained consistent was the noodles. They were silky smooth, and were incredibly easy to slurp up without it breaking midway through.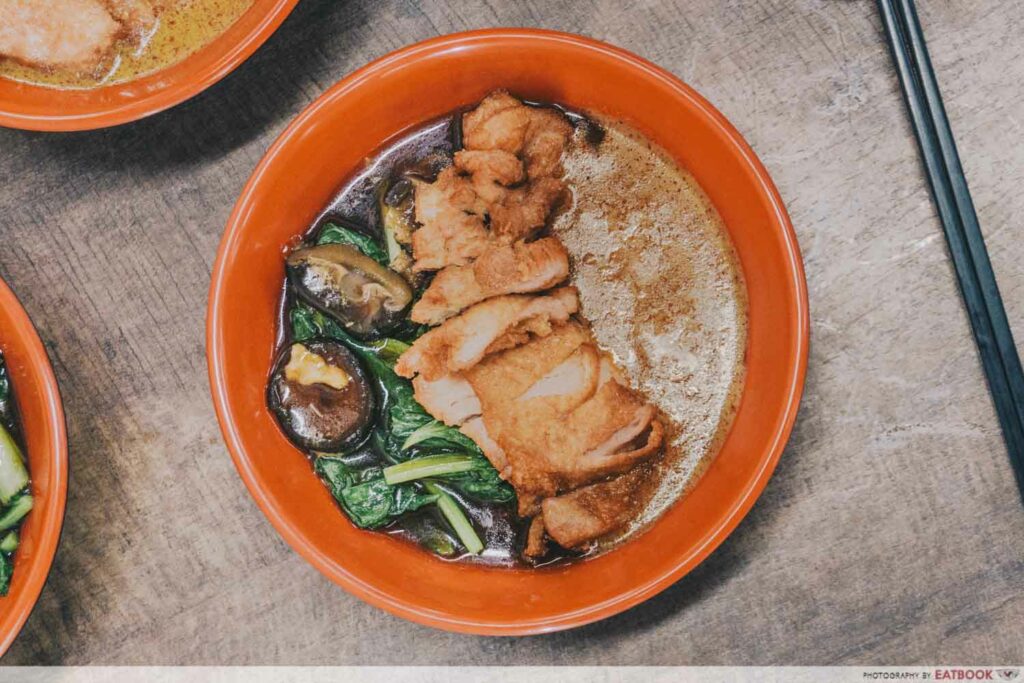 The Chicken Chop Yuan Yang Hor Fun ($4.50) combines both herbal and curry sauces. Each sauce is carefully poured on each side of the plate, with a pile of hor fun noodles sitting daintily in the middle. Instead of pork cutlet, a chicken cutlet is sliced into bite-sized pieces and neatly crowned the noodles.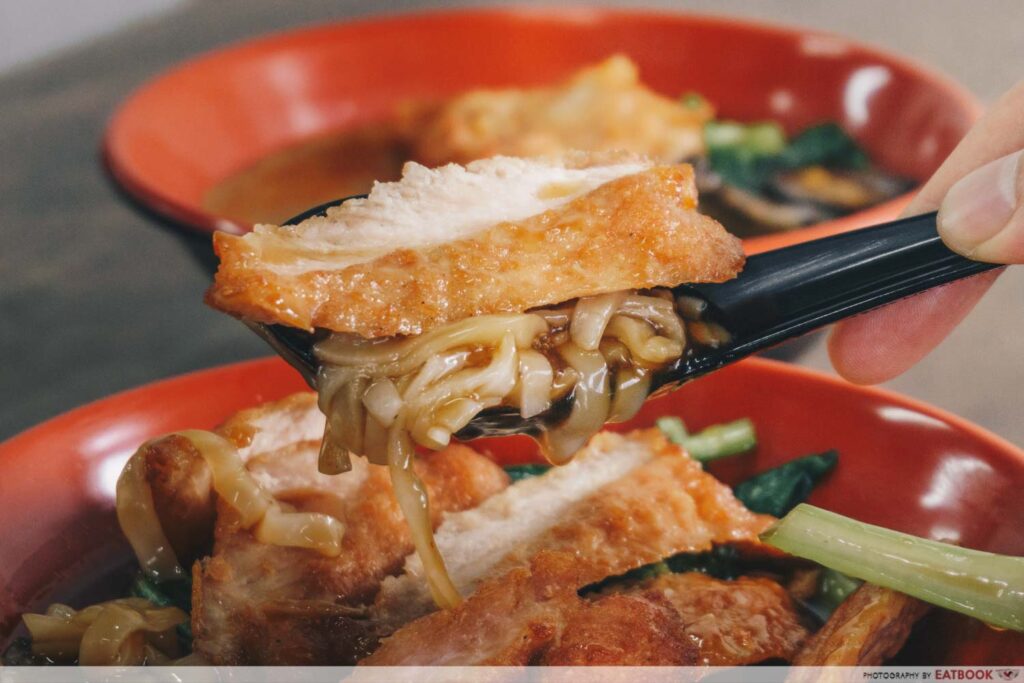 The marriage between the creamy curry and herbal sauce was interesting. The curry had some of its spiciness mellowed by the sharp herbal sauce. At the same time, it also gave a pleasant bit of body to the otherwise creamy curry sauce. It's something that we've never tasted before.
While I can't say that I'm a convert of mixing up two sauces with very different flavour profiles, this was quite an eye-opening experience. 
The chicken cutlet was prepared and cooked the same way as the pork cutlet. It wasn't too dry, and also had a craggy crispy exterior that gave a good crunch when bitten. 
Ambience at Q Hor Fun 
Q Hor Fun is located at Market Street Interim Hawker Centre, which is just outside Telok Ayer MRT. The store is conveniently located in the heart of the CBD and they don't open during dinner and weekends, so visiting this noodle joint during the lunchtime craze is your only bet.
The bustling hawker centre has the remarkable quality of being moderately soundproof. Somehow, the stores and seats are arranged in such a way that the place does not sound like a ruckus despite the CBD lunchtime horde.

The verdict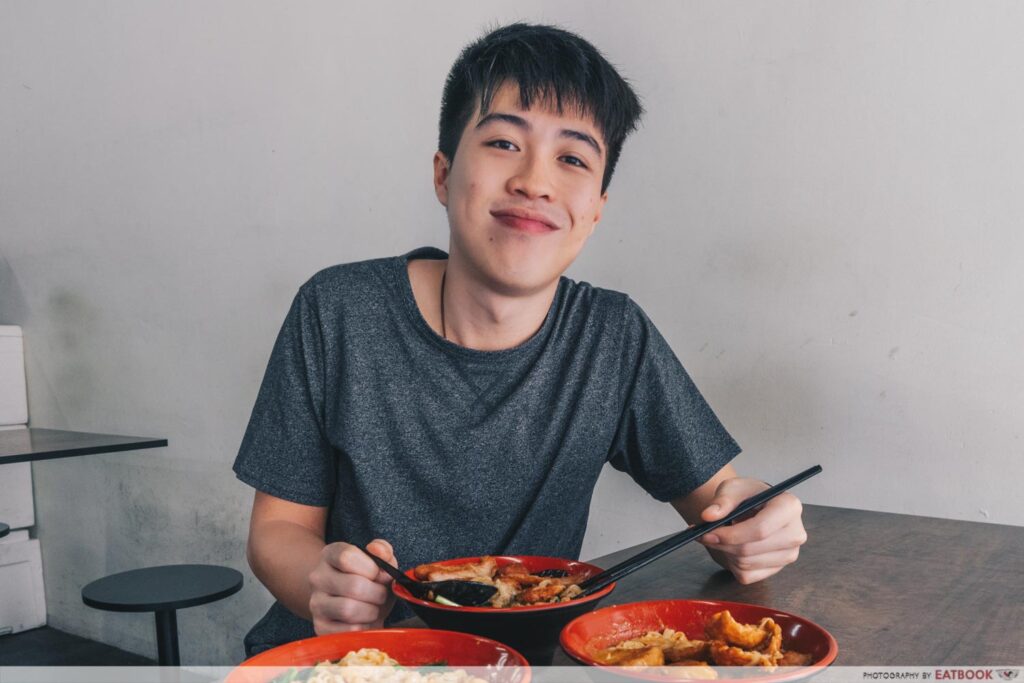 It's never easy being a hawker, let alone being one without any prior cooking experience. Yong Qin and his team are a bunch of bold individuals who have given up their jobs to pursue something that they're really passionate about, and that's a commendable effort in itself. 
The unique noodles at Q Hor Fun are no slouch, but I would find it difficult to make a special trip down for their tasty curry hor fun. However, I reckon that its affordable price and generous portions would be more than enough to make these noodles a lunchtime staple for those working nearby.
For more CBD eats, be sure to check out our guide on Market Street Interim Hawker Centre! 
8 Market Street Interim Food Centre Stalls For Crispy Chicken Briyani & Curry Hor Fun
Address: 5 Cross Street, #01-26, Market Street Interim Hawker Centre, Singapore 048418
Opening hours: Mon-Fri 11am to 3pm
Website
Q Hor Fun is not a halal-certified eatery

Photos taken by Huang Xiao.
This was a media tasting at Q Hor Fun. 
Summary
Pros
– Interesting food options
– Generous portions 
Cons
– Herbal sauce was a little too overpowering
Recommended dishes: Curry Pork Chop Hor Fun ($4.50)
Opening hours: Mon-Fri 11am to 3pm
Address: 5 Cross Street, #01-26, Market Street Interim Hawker Centre, Singapore 048418