Eat clean at Tiong Bahru Bakery Diner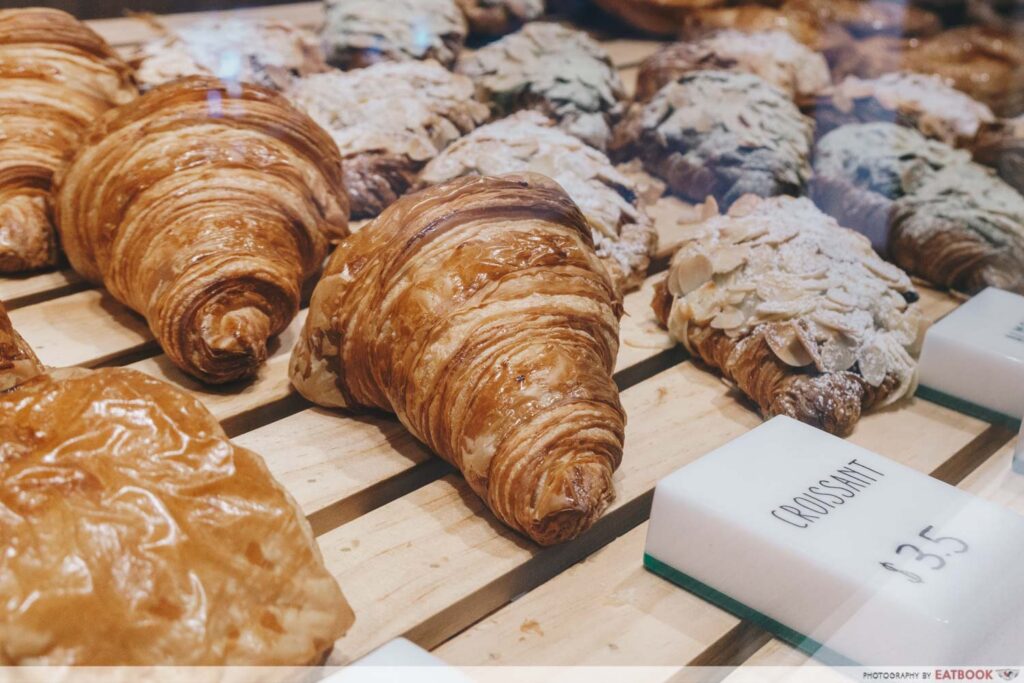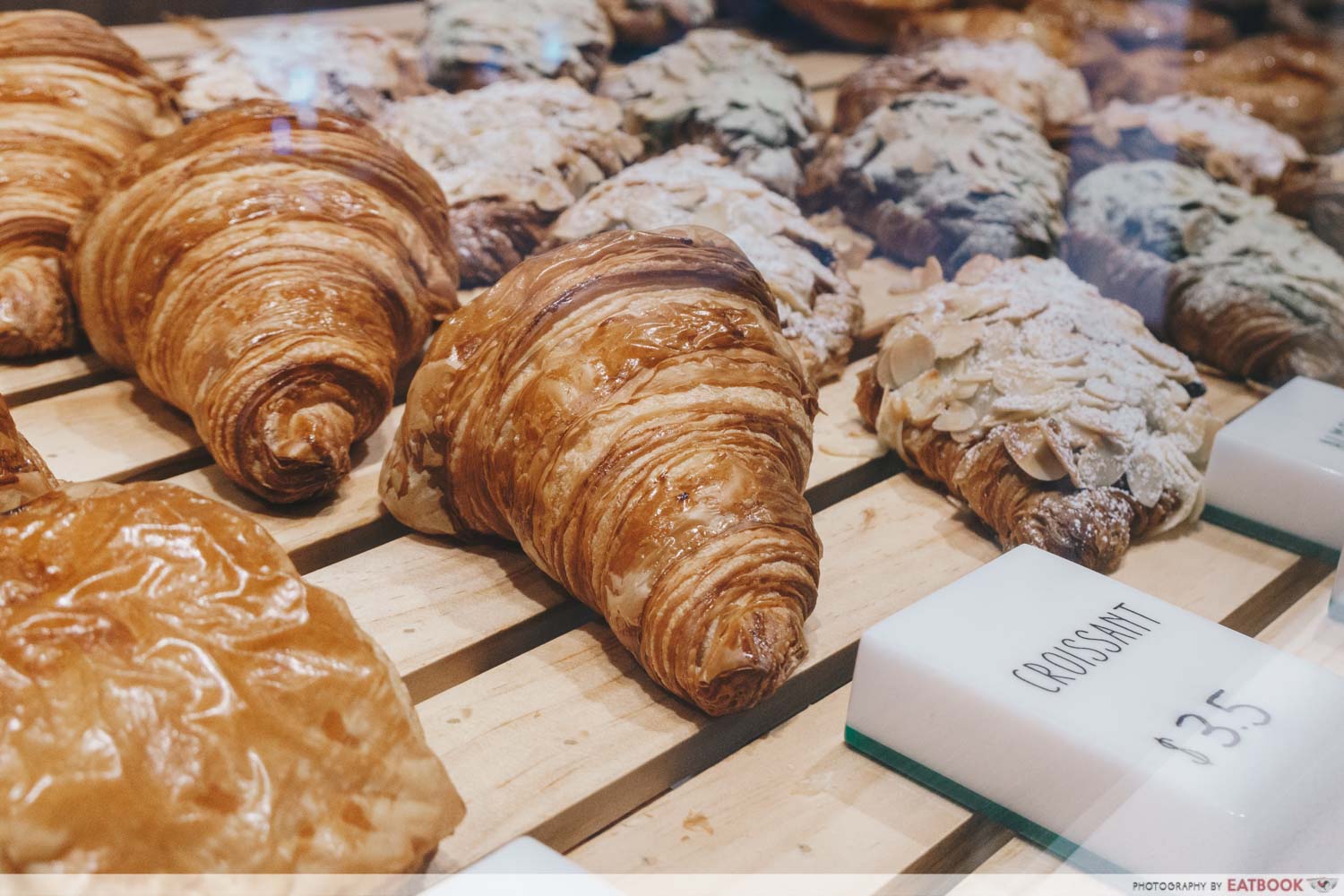 While Tiong Bahru Bakery has been a household name for its croissants and artisanal loaves since opening in 2012, the local bakeshop has been quietly serving up hot food such as pancakes and breakfast favourites at its Raffles City branch for over two years. The outlets at Raffles City and Funan mall have recently been revamped to Tiong Bahru Bakery Diner, with a glitzy 'DINER' slapped next to their store signs.
Similar to other dining concepts by its holding company, The Spa Esprit Group, everything is given a special spin here. This beautifully decorated restaurant takes inspiration from a variety of dining trends, with fresh vegetables, fermented, and unprocessed foods dominating the menu.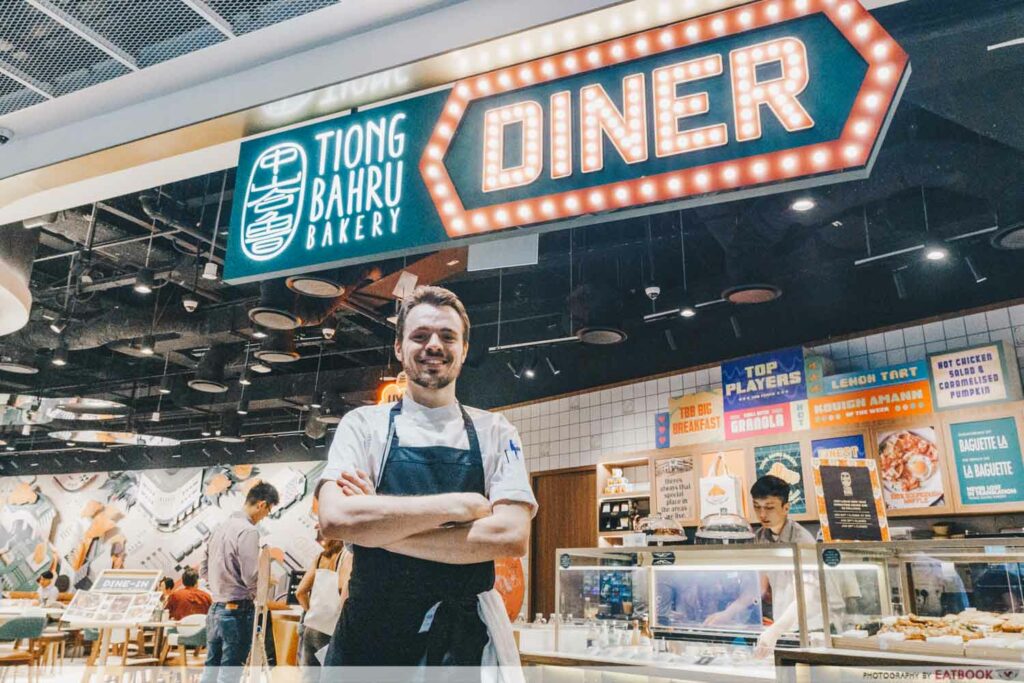 Driving this eye-opening change is Chef de Cuisine Paul Albert, a 25-year-old French chef who—despite his relatively young age—has spent seven years working at cafes and bakeries in France and Brazil. This also includes some time in The Slow Bakery, one of Rio's most popular sourdough bakery. His experience in France and Brazil is evident in his food, with loads of colours, textures, and techniques present in each dish.
Food at Tiong Bahru Bakery Diner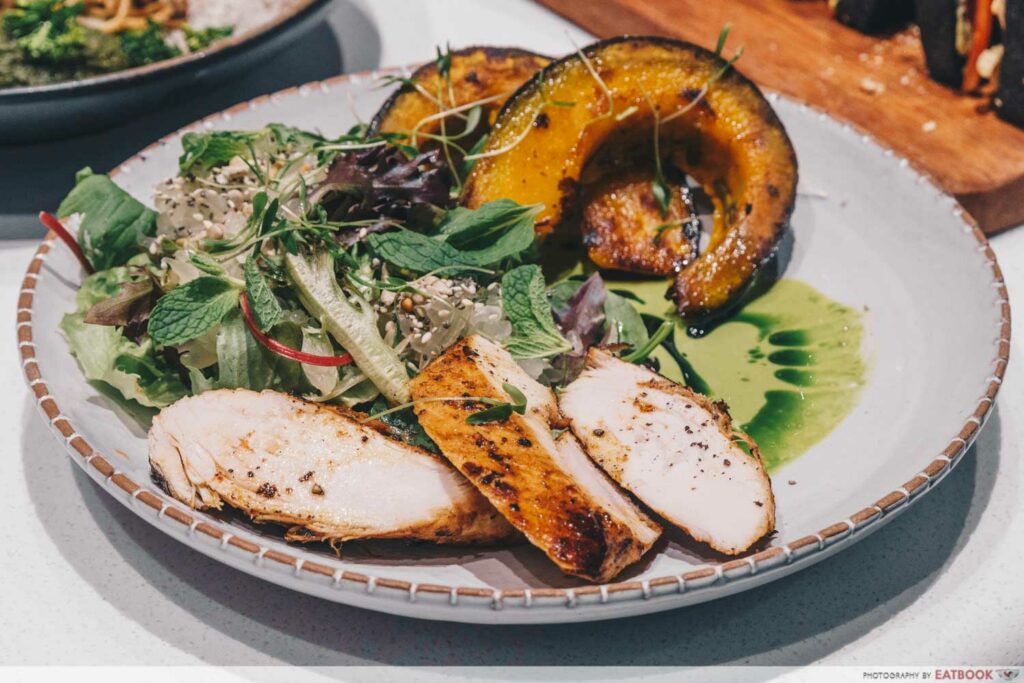 It might take some time to scrub through the extensive menu, as each dish comprises a variety of interesting ingredients. The dishes do not seem to follow any form of cuisine fiercely, but have a constant theme of being healthy. 
Hot Chicken Salad & Caramelised Pumpkin ($20++) is a good example of this. While chicken salad is stock standard across plenty of cafe menus, the ones here are marinated overnight with a variety of Asian-inspired spices, sous vide for hours, seared in the pan, and then basted with brown butter. 
It's a refreshing respite from regular dried up chicken breast salad, and the diced pomelo that came with it gave quite a zesty kick as well. I wouldn't be surprised to see this dish flying off the menu for those looking to watch their waistline. The wholesome ingredients and clean flavours also ought to make dieting feel less like a painful affair.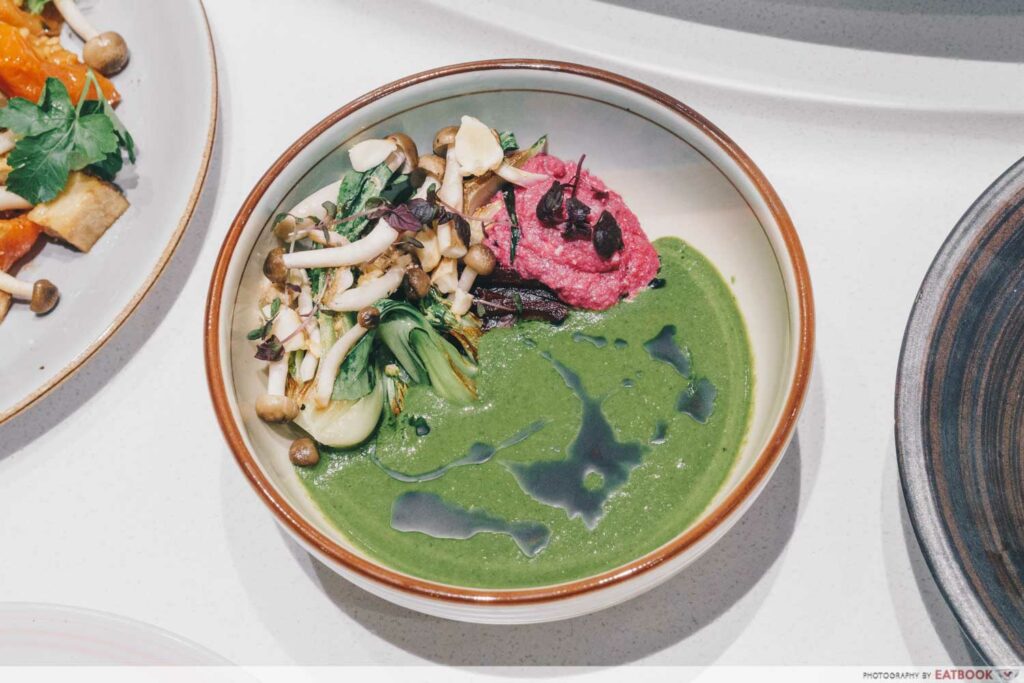 The Super Green Warm Soup ($16++) was my favourite item of the day. The bright verdant green soup is made from a variety of locally grown greens such as bok choy and chye sim, and is cooked in a mushroom broth and potato for a good bit of flavour and body. The soup is served with a dash of a brightly coloured beetroot pickled ricotta, which can be omitted for vegetarians. 
It's amazing to see how the soup's brilliant green colour was derived from vegetables. Drinking it was reminiscent of downing a bowl of expertly fried vegetables at a local zi char eatery. There's a slight kiss of smokiness, and a whole lot of dark leafy vegetable flavours that make this quite an addictive soup to slurp up.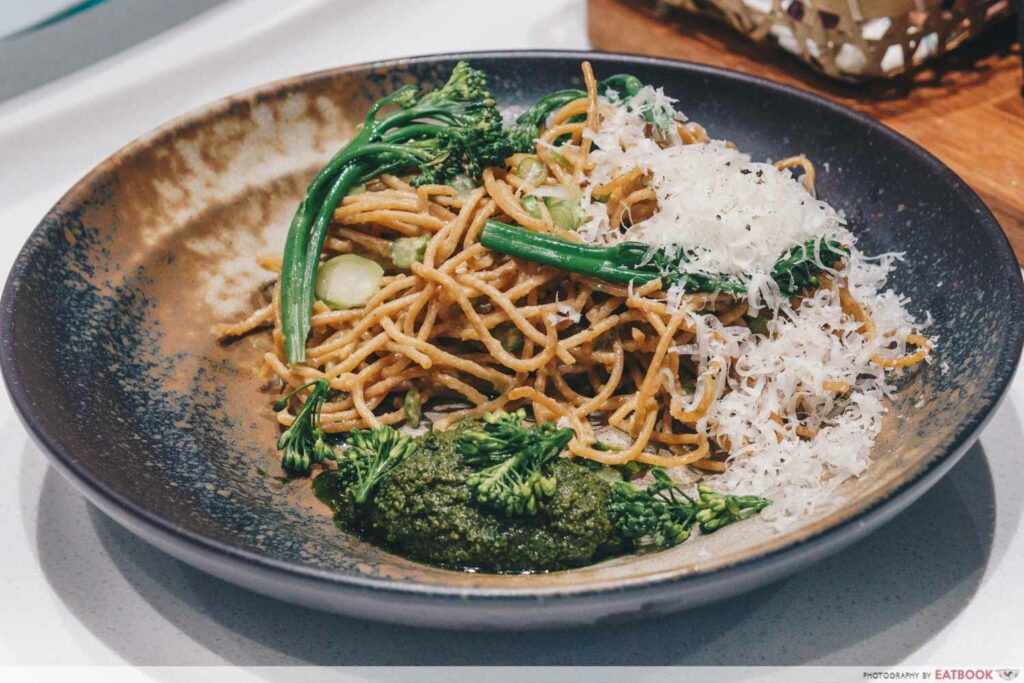 While the soup and salad were impressive, it's hard to say the same for the mains. The Miso Whole Wheat Spaghetti with Broccolini ($19++) features spaghetti that's tossed with miso. A dollop of pesto is given on the side, resulting in a funky combination when mixed.
The accompanying broccolini was cooked well and had a beautiful sear to it. However, despite the delicious vegetable and miso-pesto combination, the entire dish was lacking in flavour. I found it difficult to shell out close to $20 for the pasta.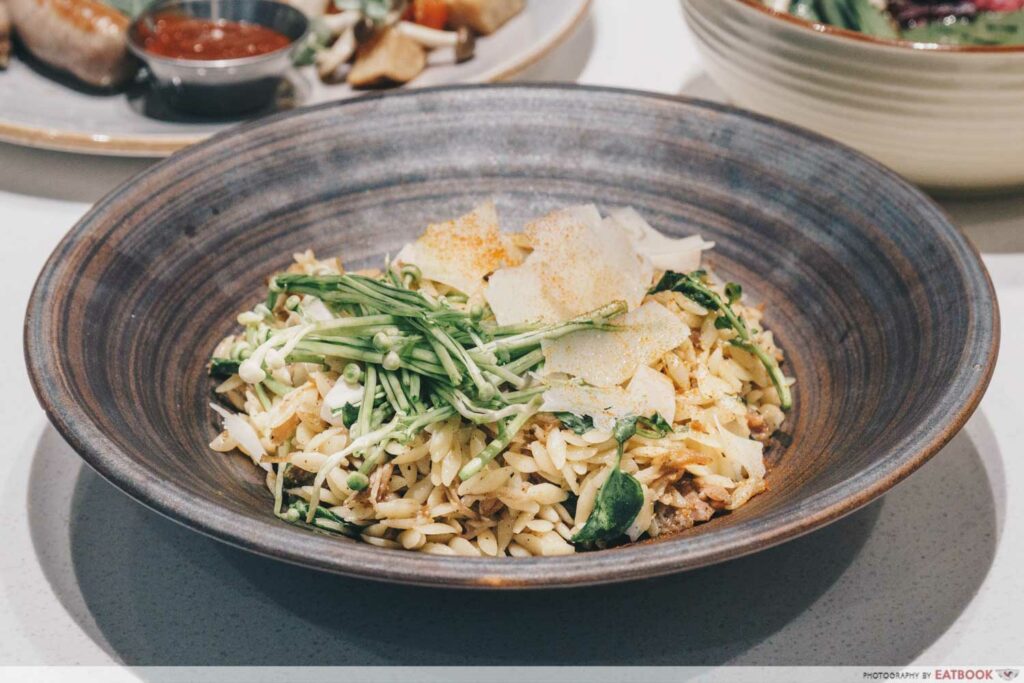 The menu also features several hearty dishes for meat lovers as well, and we got a chance to try the Pulled Pork Creamy Risoni Pasta ($22++). Similar to how risotto is prepared, risoni pasta is cooked with butter, broth, and cheese—enriching the pasta with an added touch of richness. Pulled pork, sauteed king oyster mushrooms, and raw enoki mushrooms are then crowned atop this dish. 
While the risoni was executed well, I wouldn't recommend this dish to others. It lacks a heavy protein element to tie everything down. The pulled pork, while tasty, was too thinly shredded and came in quite a small serving.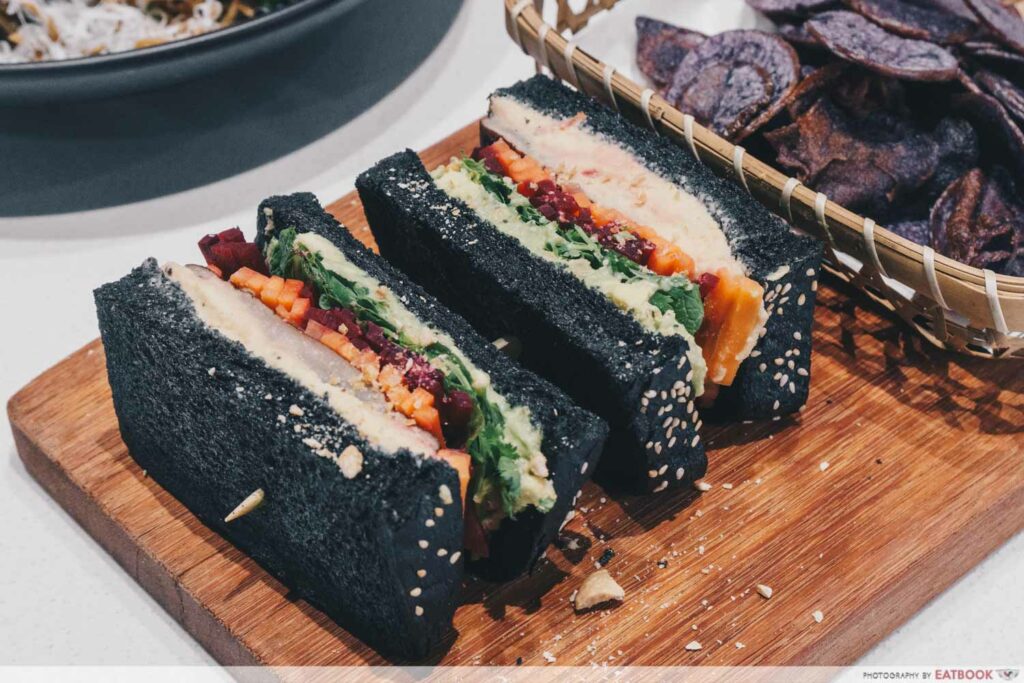 Portobello, Avocado & Hummus Black Sandwich ($19++) is a sandwich made for the camera, with a jet-black charcoal bread that's filled with a variety of colourful ingredients such as hummus, avocado cream, and a whole chunk of roasted portobello mushroom. 
Similar to the other dishes, there's a nice combination of flavours and textures that goes quite well with each other. While the nutty house-made hummus was delicious, $19++ for a pretty vegetarian sandwich might be too excessive for regular diners. This is especially so when there are numerous sandwich joints in town as well.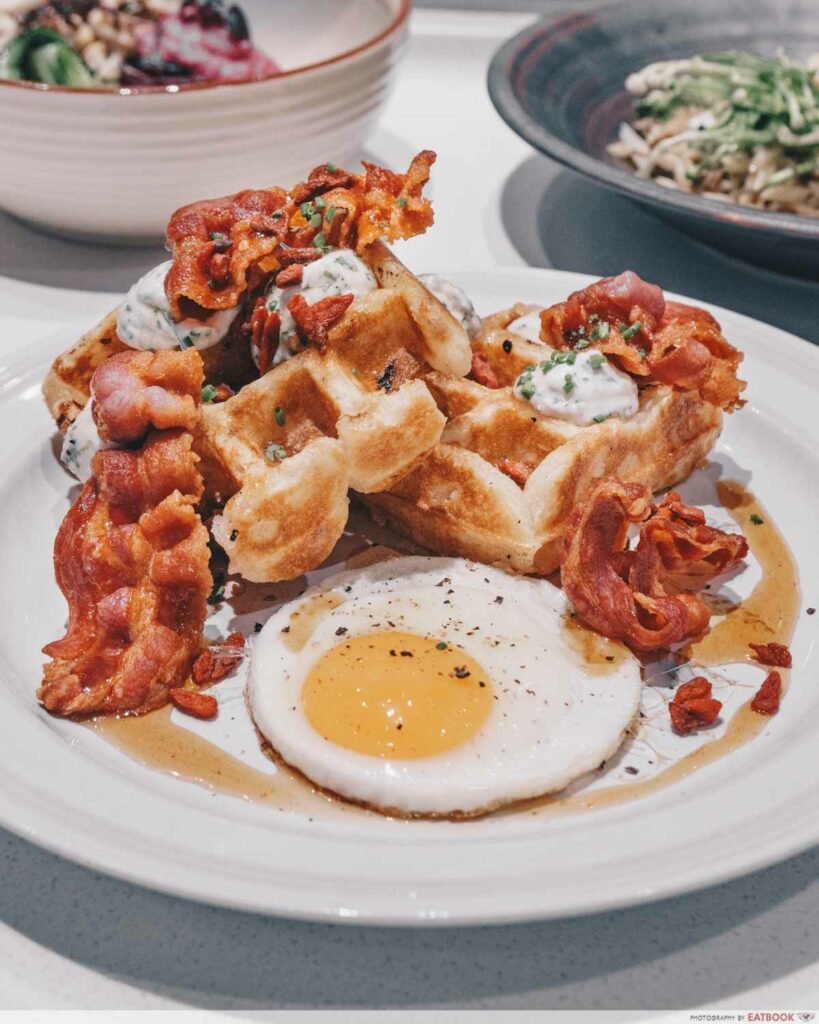 We tried the 100% Sourdough Waffle-Savoury ($23++) that comes with a fried egg, ricotta, honey, crisp bacon, and maple syrup that's seasoned with smoked paprika. This dish is the main headliner, combining a legendary 158-year-old sourdough starter and a Belgian style waffle batter.
It's slowly fermented for two days to give a gut-friendly batter and also a light bit of funky tartness. What struck me was how the waffles were exceptionally lighter than most of the other waffle players in Singapore. But other than that, they ticked all the right boxes for being good.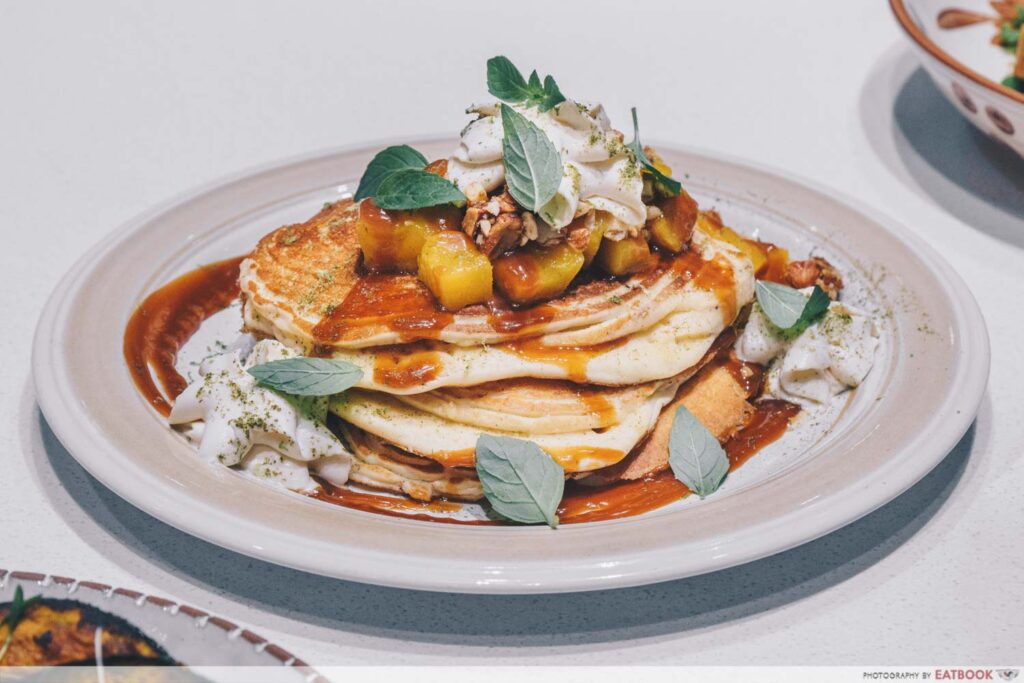 I preferred the Fluffy Brown Butter Pancake-Sweet ($21++), which is masterfully fermented for 24 hours by Paul and his team. Brown butter replaces regular butter, giving the pancakes a nice bit of toasted flavours and a golden-brown colour. The salted butter caramel sauce ties everything up, along with a light lemongrass and lemon zest infused Chantilly cream that adds a refreshing light zing to everything else. 
Ambience at Tiong Bahru Bakery Diner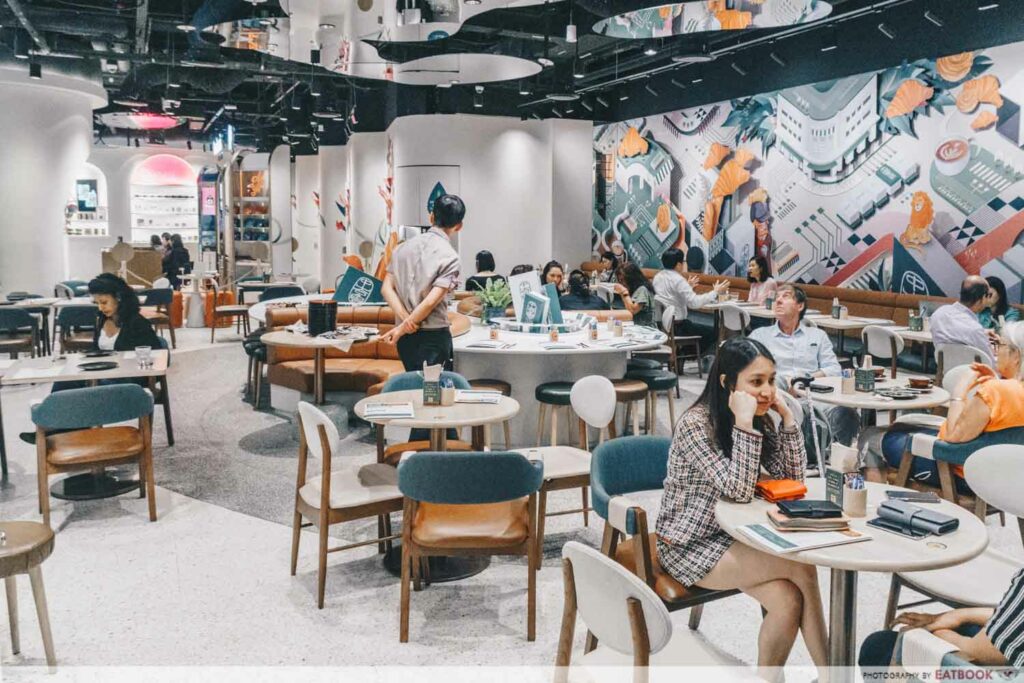 Similar to the other Tiong Bahru Bakery outlets, this restaurant is beautifully decorated with matching colour tones. It makes for a chill and relaxing atmosphere, and the staff are prompt and friendly. 
The restaurant's convenient location at Funan also makes it an ideal place for meetings, and I reckon that it'll be quite a popular place for brunches and long weekday lunches. 
The verdict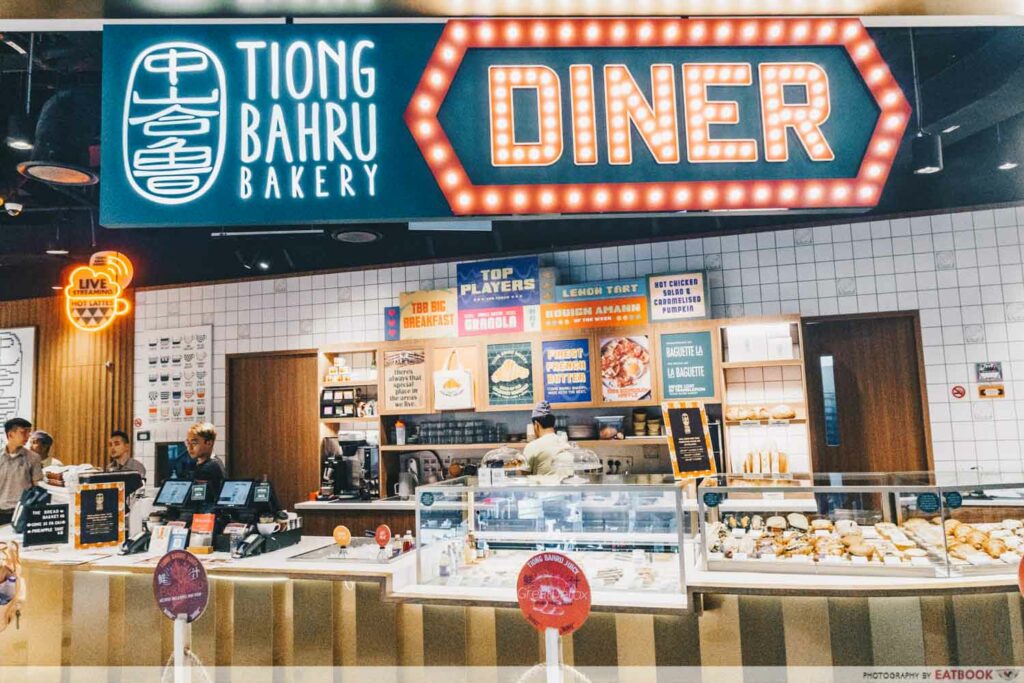 Those looking to #eatclean will like what Tiong Bahru Bakery Diner has to offer. The pretty-looking food oozes out a clear identity of being healthy and wholesome, and there's a growing number of people that are embracing this lifestyle. However, as someone who would pick a hearty plate of fried chicken over a brown butter chicken salad in a heartbeat, I will only be recommending this new dining concept to a selected group of people. 
For more wholesome and healthy food, check out our writeup on the best poke bowls in town.
Address: 107 North Bridge Road #04-22-25, Funan Mall, Singapore 179105
Opening hours: Daily 8am to 9pm
Website
Tiong Bahru Bakery Diner is not a halal-certified eatery

Photos taken by Huang Xiao.
This was a media tasting at Tiong Bahru Bakery Diner.
Tiong Bahru Bakery Diner
Summary
Pros
– Interesting food options
– Beautiful ambience
Cons
– Not value for money
– Some food lacking in flavour
Recommended dishes: Super Green Warm Soup ($16++)
Opening hours: Daily 8am to 9pm
Address: 107 North Bridge Road, #04-22-25, Funan Mall, Singapore 179105